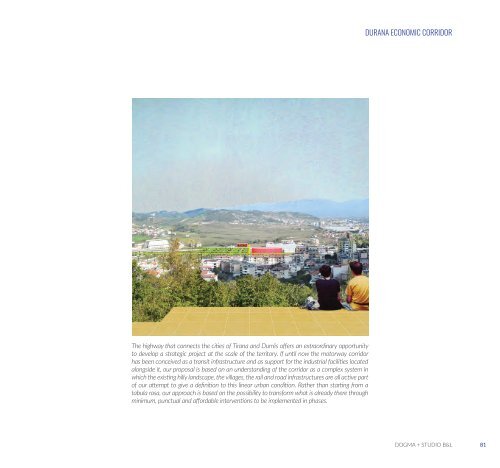 Durana Corridor
The competition for Tirana-Durres corridor stems from the need to improve the urban condition of the area along the corridor. It is one of main circulation axis of Albania that connects the two biggest cities in the country and again connects them both to the airport. It has become an economic corridor that brings large revenue to the country. It cuts through many small cities and in this perspective the whole country is the beneficiary, while the communities along the corridor will be direct beneficiaries. From an organizational perspective the competition slices the Tirana -Durres corridor into three segments/ lots: the area which connects Tirana to the metropolitan highway, the area which connects Durres to the metropolitan highway, and the city of Vora which is split in half by the metropolitan highway.
DURANA ECONOMIC CORRIDOR

The highway that connects the cities of Tirana and Durrës offers an extraordinary opportunity

to develop a strategic project at the scale of the territory. If until now the motorway corridor

has been conceived as a transit infrastructure and as support for the industrial facilities located

alongside it, our proposal is based on an understanding of the corridor as a complex system in

which the existing hilly landscape, the villages, the rail and road infrastructures are all active part

of our attempt to give a definition to this linear urban condition. Rather than starting from a

tabula rasa, our approach is based on the possibility to transform what is already there through

minimum, punctual and affordable interventions to be implemented in phases.

Dogma + Studio B&L 81
More magazines by this user