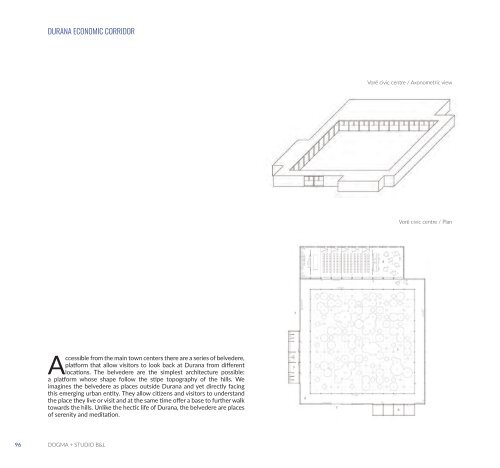 Durana Corridor
The competition for Tirana-Durres corridor stems from the need to improve the urban condition of the area along the corridor. It is one of main circulation axis of Albania that connects the two biggest cities in the country and again connects them both to the airport. It has become an economic corridor that brings large revenue to the country. It cuts through many small cities and in this perspective the whole country is the beneficiary, while the communities along the corridor will be direct beneficiaries. From an organizational perspective the competition slices the Tirana -Durres corridor into three segments/ lots: the area which connects Tirana to the metropolitan highway, the area which connects Durres to the metropolitan highway, and the city of Vora which is split in half by the metropolitan highway.
DURANA ECONOMIC CORRIDOR

Vorë civic centre / Axonometric view

Vorë civic centre / Plan

A

ccessible from the main town centers there are a series of belvedere,

platform that allow visitors to look back at Durana from different

locations. The belvedere are the simplest architecture possible:

a platform whose shape follow the stipe topography of the hills. We

imagines the belvedere as places outside Durana and yet directly facing

this emerging urban entity. They allow citizens and visitors to understand

the place they live or visit and at the same time offer a base to further walk

towards the hills. Unlike the hectic life of Durana, the belvedere are places

of serenity and meditation.

96

Dogma + Studio B&L
More magazines by this user