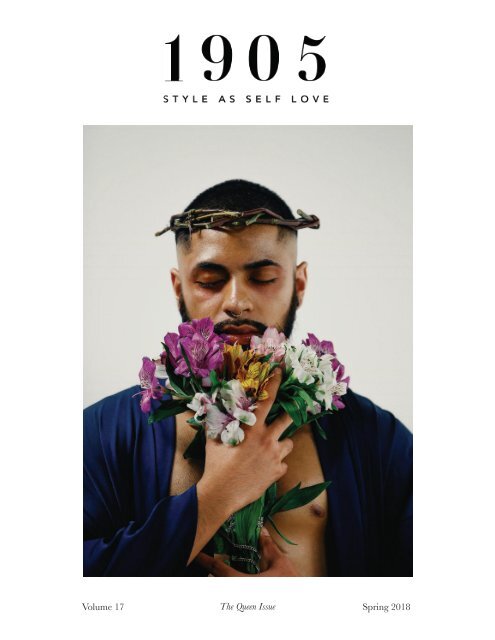 Create successful ePaper yourself
Turn your PDF publications into a flip-book with our unique Google optimized e-Paper software.
Volume 17 The Queen Issue Spring 2018
---
cover photography, Victoria Cardenas | cover design, Mariah Romero | this page: photography, Victoria Cardenas
---
hello

Welcome to the Queen Issue!

Here at 1905, we support Southwest businesses, artists, and

communities as each season rolls around. In this issue you can

expect to meet a variation of Queens! Artists and businesses

that are featured in this issue bring a unique flair to the Southwest

and we want to tell you all about it. Take a look at our

contributors page & index to follow and support these artists.

Spring is about getting in touch with your inner queen

whether that means focusing on your body and mind, taking on

a new persona, or just being a little extra with your style choices.

This is the season when the world gets more colorful and days

are longer for us to take in each moment before the sunsets.

WHAT MAKES YOU A QUEEN?

Darnell & Mariah

1905magazineblog@gmail.com

QUEENS THAT AWAKEN THE QUEEN

illustration by Lydia Abernathy
---
SHOP THE PAGES

SUPPORT SMALL BUSINESSES. SUPPORT BROWN

BUSINESSES. SUPPORT BLACK BUSINESSES. SUPPORT

WOMEN OWNED BUSINESSES. SUPPORT QUEER

OWNED BUSINESSES. SUPPORT ARTISTS. KNOW

WHO MADE YOUR CLOTHES. KNOW YOUR ARTISTS.

KNOW WHERE YOUR FOOD COMES FROM. BUY LO-

CAL. BUY FAIR TRADE. EAT LOCAL. BUY ITEMS THAT

MAKE YOU LOVE YOURSELF.

10 16 20

26 34 40

46 54 62

66 72 76
---
editors

Darnell Thomas

@dudeitsdarnell

Mariah Romero

mariahromero.com

@mriah_rose

photography

Anissa Amalia

anissaamalia.com

@ anissavisuals

Brad Trone

bradtrone.com

@bradtrone

Gabriel Mendoza Weiss

mendozaweiss.com

@mendozaweiss

Hayley Rheagan

hayleyrheagan.com

@heyraygun

Jazmin Ramirez

@notjeanette_____

Jenn Carrillo

jenncarrillo.com

@jennisradd

Marco Rivera

@marcorivers

Miles Brooks

@milescbrooks

Victoria Cardenas

@vcardd

good eats

Andie Fuller

okay-girl.com

@okaygirl.blog

illustration & design

Lydia Abernathy

@other.gal

Mariah Romero

follow our contributors

work by viewing their

websites & Instagram pages
---
CALL ME CURIO/US

clothing by CURIO | photography, Jenn Carrillo | art direction, Mariah Romero

styling, Darnell Thomas, Mariah Romero & Jessica Bovee | model, Selina Baca
---
CURIO
---
QUEEN OF THE COURT

clothing & shoes by Goler Fine Imported Shoes

photography, Jazmin Ramirez | art direction, Mariah Romero

model, Khalah Mitchell
---
HOLY

BROWN

GAY BOY

STEPHEN GARCIA

model & poet, Stephen Garcia | photography, Victoria Cardenas

fashion editor, Ernesto Prada | make up, Destiney Curry

assistance, Heidi Lightenburger & Markarius Williams
---
To be gay in the tone of brown boy

Is to love his skin in the dialect of morgue

It is to braille each kiss

Lowered hand sign "I love you"

Limit eye contact

Crutch your knees

Avoid him in public

To be gay in the tone of brown boy

Is to sing a song in the hue of Dangerous

Of fairy

Of pussy

Of fists with tempo faster than a faggot can sing to

To be choir of slit throat mocking birds

Swallowed by starving cages

It is to mold your voice a shovel

Dig deep

And spit your spirit in the pit

His face

Hidden in the brass of men that would steal the solo

Of the songs you sung in the shower

Of the boy's hands humming to the back of your skull

Of the melody you memorized in his back

The night sex became two part harmony

To concrete the soprano in your bones

To rearrange the joto in your pitch

To thicken your walk to the sound of rumors

You pray will never shake the wrong ears

It is to wear your father's shoulders like an untuned guitar

Perform for everyone but you

To be gay in the tone of brown boy

Is to leave every note in the hands of your brothers

To let their thick mouth comments drown the tone of truth

Your body will become the dead man's spiritual

That sings its self to sleep every night

A sweet melody of melanin and spit

Of brown and burning

Of sink or sink

Brown boy gay is the song sung through the crack and agony of Brown Boy bones
---
But you gon' sing that shit anyway

It's the note they will throttle from your throat

But not before they shred their fingers on the needles they made you swallow

The dirt they will marry to your skin

As if you ain't ready to wed the soil

Give it the names of your past lovers

Run your fingers through its damp body and Hallelujah

Your hallelujah does not swallow itself whole

You vibrato brown boy you

The noise they've made of your grace

The static they've made you believe in

Your symphony does not buckle to silence

You

You choir of midnights overdosed on good sex and lone wolf children

You

You sudden wake of throbbing bones bursting in queer gospels

Praise the day they try to shatter your holy and rise up singing

Praise the day they try to crash your spirit into crescendo

Into Empty

Into broken kettledrum

Into Silent

To be gay in the tone of brown boy

Is to learn how to love your skin when love has become an obituary

It is to rewrite the symphony into a queer ballad of

Fuck you! We stay shedding these gay notes

Stay manifesting these rhythms

Stay singing

Loud

Vivid

and Brown

As ever
---
DAN

DEL

ION

clothing by The Bookman & the Lady

photography, Marco Rivera

art direction & styling, Keynan Johnson

models, Savannah Archuleta & Aries Najahma Moody
---
BAD TO THE BONE

bone broth by Madre Foods | words, recipe, & photography, Andie Fuller

BONE BROTH DIET

It's me Andie, this issue, the creators of 1905 and

Madre Foods inspired me last month to step out and

try hard things. They didn't ask me to do this directly,

but their own presence made me feel more

confident to do more of my own thing. Health and

wellness is something that is near and dear to my

heart and mind. I've spent many years ignoring

my own health and needs and am just happy to be

back on the path to wellness in all aspects.

It's because of this that I was very excited

to work with Madre Foods on sampling their bone

broth diet plan. Think of it more as a reset than a

diet, it's not depriving in anyway. For me food can

be an easy escape from the day to day, the stress,

the feelings, the poor self-care. All of those things

can make me use food in a way that isn't just for

fueling my body, for me resets like this diet are so

important not only for my body but for my mind. It

helps me get some perspective on areas that I need

to give more attention or things I should just keep

out of my house for awhile.

This bone broth diet helped me get some clarity

and honestly made my body feel great, overall

just better functioning and clear. Madre Foods has an

awesome selection of broths. Some of my favorites

were; Marrow Bone Broth, Super Greens, Mushroom,

and Chicken Feet. But Duck Chai, Oxtail

and Sea were just as yummy too. Having the variety

was key!

The base of this diet is including a combination

of, protein, fruits, vegetables, and fats at every meal,

with a few days of only consuming bone broth.

Don't worry, bone broth is nutrient dense with good

fats, it's actually filling, soothing and satisfying.

I found that making sure I could have bone

broth as a snack in the afternoon around 3-4pm

was key to me feeling great overall. I personally

do so much better consuming warm, grounding

broth over cold juices or smoothies - it's all a balance

though!

As spring comes and 2018 moves forward I'd

encourage you to stop and think about your own

health and needs, if your someone dealing with high

stress or some food intolerance issues, a bone broth

diet could be really great for trying to get all of that

back on track. So much of our health starts in our

guts and bone broth is such a great elixir for them!
---
MATZO BALL SOUP

Spring is a time of rebirth, a time of change, new

colors, new weather, new vibes. Newness and

change can be uncomfortable but they can also be

so, so great. If you've been around for awhile you

might know that many of my recipes in this space

are relatively easy, uncomplicated, to the point and

often involve a cocktail. It's my comfort zone, not

venturing to far from what feels safe. But this issue

is called the Queen Issue, and part of our task as contributors

was to think, create, share something that

"projected confidence through bold colors with a

touch of softness."

So, I tried something new. It has more ingredients,

more steps, more time but the reward is just

so sweet. My favorite soup (of all time) is matzo

ball soup. Yes really, it's my total favorite, we've

been all over NYC trying the best ones. I have a

favorite place in Brooklyn but it's so perfect I think

I'll keep it a secret. Anyway, back to the soup and

this project. I was thrilled to get the opportunity to

work and collaborate with Katelyn Hilburn from

Madre Foods, here in Santa Fe. I've known Katelyn

for a few years but just as a passerby really. My first

meeting with her and 1905 was just, honestly so

soul sparking to me. To see her passion, her presence

and her product blew me away and made me

happy all at once. It's no surprise that someone who

is making such wholesome cups of warm goodness

is so warm, and bright herself.

It's because of this inspiring meeting I wanted

to branch out for both Madre Foods and for 1905

and try something harder. So, it's my first attempt

at "Matzo" Ball Soup. Matzo is used lightly here

because this recipe is gluten free and is made by

combining ground turkey and garbanzo bean flour.

Me being the matzo ball soup conosurer I am, I

ate up my cookbooks trying to pull on old world

inspiration but some modern twists on making sure

I was making this gluten free. To be honest, when I

made the "matzo" ball mixture, I thought I had for

sure failed, but in the end I didn't, it turned out so

delicious, it had a complex flavour that was pretty

perfect. If you haven't cooked with bone broth before,

you're missing out. It adds so much to soups,

that stocks just can't - it creates this ultra satisfying,

creamy, umami flavour.

I'm hoping this spring I continue to find more

time to be, to create, to take the time to do hard things,

this recipe proved to me that the risk can sometime be

so delicious.

I hope you try it and if you do, be sure to pick

up some Marrow broth from Madre Foods - it's just

a match made in heaven for this recipe.
---
INGREDIENTS & INSTRUCTIONS

WHAT YOU NEED

1 ½ teaspoon ground cardamom

1 teaspoon ground turmeric

2 Tablespoons avocado oil

2 small yellow onions

4 cloves garlic, chopped

Fresh dill

Fresh parsley

1 Lemon and Lime

Fresh spinach leaves

Salt and pepper

1 egg

2 cups garbanzo bean flour

1 lb ground turkey

4 cups bone broth (Madre Foods: Marrow

Broth)

4 cups filtered water

3 cups of chicken or veggie stock

3 carrots, cut thin

3 stalks celery, cut thin

15oz can of chickpeas, drained

WHAT YOU DO

Matzo Ball Prep (24 hours before soup)

Use blender/food processor to puree onions.

In a medium bowl combine pureed onions, egg,

chopped garlic, turmeric, cardamom, avo oil,

salt and pepper. Mix until well incorporated.

Add garbanzo bean flour and ground turkey.

Stir gently to combine mixture.

Cover and put in the refrigerator for 24 hours.

After 24 hours in the refrigerator, form little

dumplings with your hands. It will help to

keep a bowl of cold water next to you to

keep your hands wet while forming the sticky

"dough". Try to shape them into ping-pong

size balls.

The Rest Of The Stuff:

Heat your bone broth, water, chicken/veggie

stock in a large stockpot until boiling.

Carefully drop the matzo balls into the hot

broth, one at a time.

Turn down to a low simmer and cover. Allow

to simmer for 45 minutes.

After 45 minutes, remove the matzo balls

from the broth and set aside to rest.

It's time to add the sliced celery and carrots,

and the drained can of chickpeas to the both.

Allow to come to a boil, turn down heat,

cover and simmer for 15 minutes.

Add juice of a fresh lemon to soup.

To Serve:

Add fresh spinach to bowl, 4 or 5 matzo balls

and as much broth as you like, top with fresh

chopped dill and parsley (don't skimp on the

fresh herbs).

Serve with a lime wedge and salt and pepper!
---
jewelry by Annie Hackett

photography, Miles Brooks & Ysidro Barela

art direction, Darnell Thomas & Jacquie Baer

makeup, Jacquie Baer

model, Jasper Shorty

ESSENCE
---
CROWNED

IN MOONS

INTERVIEW WITH STELLA MARIA BAER

ABOUT THE PAINT PIGMENTS SHE CREATES,

HER CONNECTION TO THE SOUTHWEST

& ETHICAL FASHION CHOICES

images courtesy of Stella Maria Baer
---
HOW DID YOU GET INTO PAINTING

AND PHOTOGRAPHY?

Growing up in Santa Fe art was always part of our life as

a family. My mother was a weaver and my father owned

an art gallery. My grandmother was a sculptor and my

grandfather was a photographer. But I never thought of it

as something I wanted to do until after college.

I started painting eleven years ago. For many years

my paintings and drawings were a secret practice that

I showed to almost no one. While in graduate school

I got a job working for artist Titus Kaphar as a studio

and research assistant. Titus cast a vision for me for

what it meant to be a working artist. He gave me critiques

on my paintings and answered questions I had

about techniques, materials, and color. Titus taught

me to listen to my work. In graduate school I took studio

classes in painting and drawing, and in one class

the professor assigned a hundred paintings a week. In

those classes and in the critiques with Titus my painting

moved from being something private to out in the

open. At some point during those years I realized I

wanted to be a painter.

Photography was more of an experiment that eventually

became a medium. My grandfather was a landscape

and architectural photographer. When my brother

and I were little he used to take us on trips to Point Lobos

in Big Sur. We'd shoot with disposable cameras while

he worked with a large format 8 x 10" camera that he

would haul out into the landscape. Watching him take

photographs as a child still haunts me, especially when

I'm lugging my camera and easel out into a sand dune to

take a photograph or paint. In middle school I learned

how to shoot film on one of my grandfather's cameras

and develop photographs in a dark room. But I didn't

really view photography as a medium I wanted to work

in until I took a road trip through the Four Corners region

in 2014, and started shooting abstract landscapes.

Taking photographs helped me to see something I had

been blind to growing up.

HOW DO YOU JUGGLE BEING A MOM

& WORKING AS AN ARTIST?

It is difficult! But I wouldn't have it any other way. Logistically

it is a puzzle. Some weeks I don't get much done

in the studio and spend all my time with Wyeth. His baby

years are flying by, and I love and treasure my time with

him. Other months I'm in the middle of a big project

and need to work full time and really give myself to the

painting. On a good day my life as a mother offers a refuge

from my life as a painter, and vice versa. I value my

time in the studio more now than when I was working

in there every day 9-5. And I appreciate my time with

Wyeth more when I've had a chance to give voice to the

visions in my head.

ARE YOU FEELING ANY CREATIVE

TRAITS YET FROM YOUR BABY?

Good question. Wyeth is so free with dirt and paint. I love

watching him create things without any sense of what he

should or shouldn't do. Making something is pure sensory

experience for him without any regard for the end. I have

a lot to learn from him.

HOW DOES THE SOUTHWEST INFLU-

ENCE YOUR WORK?

Most of my work is a meditation on the cyclical, almost

gravitational pull I feel to New Mexico. When I was in

high school I wanted to leave the southwest and never

come back. I went to college and graduate school in the

northeast and didn't think I'd ever live in that part of

the country again. Then five years ago my husband Seth

and I took a road trip through southern New Mexico

and for the first time I fell in love with where I was from.

Photographing the landscape opened my eyes to some-
---
thing I hadn't been able to see when I was younger. A

couple months later I drove through the Four Corners

region, places we'd gone to often as a family on road trips

growing up, but that I'd forgotten. When I got back to

my studio I couldn't stop thinking about that part of the

country — the history, the mythology, the fragile, sacred

beauty. I found in moons and planets I could explore

what haunted me in the desert while still moving into

another space. In painting celestial spheres I found a way

to wrestle with a sense of feeling at home in a place that

looks like another world. There is a mythology of the

desert in the cosmology of space.

TELL US ABOUT THE PAINT PIGMENTS

YOU CREATE.

A couple summers ago I was painting outside in Abiquiu

when the wind knocked over my easel. The painting was

wet and filled with dirt. I realized it made sense that the

landscape should become a part of the painting. I started

reading about making my own pigments and experimented

with making paint from the sands I'd collect on

road trips. I'm slowly building a collection of color made

from sand, dirt, and cacti.

YOUR STYLE SEEMS VERY MINDFUL, HOW

DO YOU CHOOSE WHAT YOU AND YOUR

BABY WEARS?

Honestly most days I wear a dirty paint jumpsuit and

Wyeth just runs around in his diaper. But I love clothing

made from natural materials that echo the colors and

lines in the landscapes that haunt my work. We try to

only support independent designers whose pieces are

ethically made, who are honest about where their fab

rics come from and how their workers are treated. That

means buying Wyeth's clothing a size bigger so it will last

longer, shopping at thrift stores, having fewer things but

the things we do have being things we love and save up

for. It also means that when I get out of a jumpsuit I tend

to wear the same thing over and over.

above: photo by Richard Combs
---
80's mystic

naturalist

space age

painter

cowboy

DESCRIBE YOUR STYLE

80s mystic naturalist space age painter cowboy

HOW WAS IT PAINTING A MURAL? WAS

THIS YOUR FIRST ONE? TELL US ALL

ABOUT IT!

The mural took forever! The painting is of the 48 moons

closest to the sun, to scale, arranged according to their

closeness to the sun. I made a decision not to use traditional

mural techniques but rather build up textures and paint it

by hand like my other paintings, so that it would feel continuous

with my other work. That meant it took a lot longer

than expected. It was so physical, working at that scale, outside

in the sun, and I was exhausted at the end of every day.

But I had dreamed of making a painting that size for many

years, and when the owner of the restaurant approached

me I knew it was something I wanted to do. I loved being

able to interact with strangers on the street walking by as I

was making it. And I love having my work be visible in such

a great neighborhood in Denver.

WHAT INSPIRES YOUR BOOB PAINT-

INGS?

When I became a mother my body became my baby's

landscape. For the first few months especially the mother

is the baby's whole world. Making these paintings was an

attempt to honor the wonder-working female body while

wrestling with my owns sense of being more exposed than

ever before through breastfeeding. I asked friends to send

me photographs of their bodies and painted the forms in

celebration of all the different colors, shapes, and sizes.

Our culture usually portrays breasts in ways that are for

men or by men - I wanted to look women's bodies as part

of a different conversation, for women and by women.

We're at a moment in history when women are reclaiming

their bodies and voices in a way they haven't before, and

these paintings are part of that movement.

WOULD YOU SAY YOUR FEMININITY

PLAYS A ROLE IN YOUR ART?

It's interesting, a male painter once told me not to work in

watercolor or pastel colors because people would associate

that with "women's art" and not take my work seriously. I've

returned to watercolor and adobe pinks and browns again

and again. It seems like people respond most to my work

when I ignore that advice.
---
WHAT MAKES

YOU LOVE?

models, Gevan Wegener, Josh Vredevoogd, Leo III Alexander

clothing by Happy Loco | photography, lighting, styling, Anissa Amalia
---
XOXOphotography, COCO CALIENTE

Brad Trone

art direction by Darnell Thomas

MALCOLM MORGAN AS COCO CALIENTE | MISS PRIDE | SANTA FE, NEW MEXICO

COCO GIVES US HER INSIGHT ON APPRECIATING WOMANHOOD, WHAT IN-

SPIRES HER STYLE AND WHAT MAKES HER FEEL LIKE A QUEEN.

Let's start with the understanding that I appreciate

women, like crazy! Women are tough, work hard,

and can balance this with being loving and maternal.

Every aspect of a woman is beautiful; the

physical, the spiritual and the emotional. I try to

embody all of these traits within CoCo to give the

best impersonation of a woman that I can. Womanhood

can be fierce at times, and after countless

hours of becoming one, I walk away with even

more respect for the women in my life. As CoCo,

I try to combine all the entities that make me the

strong woman that straddles the fence of femininity

and masculinity. One of my friends, Donna Bella,

calls me mamma! She doesn't know it, but every

time she does, it tugs my heartstrings and makes

aspire to one day be as strong as a woman. One

of my biggest goals is to become a parent to many

children. I want to provide for them the love and

happiness that my parents failed to provide for me.

I have had the honor of watching many queens

around me, and have learned from all of them,

how to be a great mother!

What makes me feel like a queen is respect, love,

and power. You must respect my body, my presence,

my decisions. I'll respect yours and do not

mind letting you know when you are not respecting

mine. Love is another thing that makes me feel

like a queen. I love easily, and I love hard, but I

can also deliver some tough love when it is needed.

Knowing what type of love is needed for each

occasion makes me feel like a queen when I'm a

queen. Power is the final thing that makes me feel

like a queen. If I were to be a real queen reigning

over a kingdom, I would be a benevolent queen.

But as for now, I am a queen the reins within my

own body, my temple, my kingdom. The power I

admire is one of kindness, being in control of my

emotions and commanding respect with my presence.

Power does not mean that I need money, that

I need the biggest house and all the world's richest.

Power to me is more internal; it is a vibe, an energy

that emanates from within and draws others to me
---
West Texas Tee | El Cosmico | Marfa, Texas

A KISS FROM MARFA

photography, Hayley Rheagan | art direction, Mariah Romero

styling, Darnell Thomas | model, Jasmin Adams

Editors, Darnell Thomas & Mariah Romero visit Marfa, Texas and discover its

dreamy, small town charm. They gathered unique pieces from local shops & created

looks based on what they'd recommend wearing to Marfa.
---
Ashley Rowe Hoodie | Ashley Rowe | Marfa, Texas
---
Tote Bag | Do Your Thing Coffee | Marfa, Texas
---
EVERY CARD TURNED

WHAT THE QUEEN OF CUPS TAUGHT ME ABOUT

ART, LOVE, AND ENDINGS by Maggie Grimason

The Queen sits on the edge of the sea, her feet cloaked in a

sky colored coat, resting on a mound of round seashells. A

beachy scrim of light blue and sheer golden cliffs surround

her. The Queen of Cups belongs to the element of water,

so it matters, then, that she came to me on an island.

I sat on moss covered rocks around a driftwood fire

while he cooked nettles over an open flame. The Salish

Sea lapped rhythmically, bioluminescence faintly glimmering

on each wave while the far North sun lingered on the

horizon until well near 11pm. That is the place where the

Queen sits enthroned. Later on, we troubled the water to

agitate the lights and see them spark. He, spooning nettles

and avocado into a tortilla for me. His dog laying between

us. Then, nearly three years later, we broke apart in the

desert during a year of a drought. The inverse of the water

element, the card turned on its head.

Again and again—the card turned up. The card

turned over. Fish, sea nymphs, shells surfacing with each

reading. The unconscious mind, the encroaching water. It

felt almost like a threat.

I shuffled myself into a small room at Blue Eagle Metaphysical

and sat down with Rev. Rhonda Harris-Choudhry—a

metaphysician and empath—with my questions held close.

My partner and I had then been broken up for five months,

and while the mourning had yet to really happen, what I

wanted to know was why the Queen of Cups kept coming up

again and again for me. As I a waded through in a quest to understand

Her, I had three advisors—Harris-Choudry, Heather

Enders, maker of the Tarot of Plants, and my youngest

sister, Maureen, and her mystical eye.

In December Maureen had given me two readings

where the Queen of Cups came up twice—as a significator,

indicating "what's at hand," and once, in a position illumining

the future. It made me feel confident—Maureen's

book enumerated the meanings: calm, intuition, emotional

security, compassion, spirituality, tenderheartedness, all

with a suitable undercurrent of moodiness. I think that's

just the way of water.

I asked Harris-Choudhry about the card and the answer

came immediately, "Oh, she's the queen of hearts. It

has a connection to love. What's been going on with that?"

And like floodgate opening, I told her about the Capricorn

(that turned out to be significant) who I had met on

the seashore and had left me feeling the opposite of what

the Queen of Cups card seemed to tell me—I was less than

emotionally secure. She unpacked her psychic's tarot deck

and gave me a reading about he and I. "Let's see what the

outcome is if you stay in this relationship," she said purposefully

as she shuffled the cards.

She laid them down and I saw a trajectory play out—

there was heartache and loss and new beginnings. I braced

myself. "No worries, no fears," Harris-Choudhry cooed

when she noticed, in a tranquilizing voice that makes her

so apt at her work. She continued laying out the cards.

"Oh, it doesn't look like you're going to have a choice actually.

Yeah. You have no choice but to stay."

Soul mates. I didn't know if that was a relief or bad

news. "We have two soul mate cards here," Harris-Choudry's

jeweled hands indicated each one. "The soul mate

relationship is not what television makes it out to be. They

romanticize it. It's actually an I-hate-you-I-love-you-comecloser-stay-back,

dramatic relationship." This certainly

aligned with my experience. "We learn through conflict,"

she explained.

Mother of Summer from Heather Enders' Plant Tarot deck which represents the Queen of Cup
---
overblown.... It's a good reminder not to do that."

point. You're still figuring out how to process everything

In Enders' deck, The Tarot of Plants, she assigns the

and where to put it."

Cups suit as the suit of Summer, and the Queen as Mother.

It's hard to know when you've reached the end of the

As such, the Queen of Cups is the Mother of Summer, and

end, and have moved firmly, gratefully into new beginnings

is represented by Kava Root. "She's second in command

and waxing moons. I realized—holding firmly to the truth

to the High Priestess," she explained. Kava has the abili-

of what Harris-Choudhry had to tell me—that we learn

ty to open the mind, relax into and accept the world with

through conflict, yes, and we also learn through endings.

compassion. "But take too much of it, and it will turn your

Endings create the internal upheaval we sometimes need

stomach. It embodies the clarity of the Queen of Cups, but

to learn about the strength of our own convictions. When

it has the warning, too."

we're brave enough to ask for help, we also learn about the

In Enders' deck the rounded edges of the triangular

stuff that makes our friends. "If you have a good base level

leaves unfold across the matte card, simple and uncluttered.

understanding of a card," Enders had told me, "then, you

On this card in Leilah + Olive's Ophidia Rosa tarot deck,

can interpret it for yourself."

the deck Maureen used for my readings, a left hand extends

What I came to understand for myself about the

from beyond the frame, cuffed in a frilly unbuttoned blouse.

Queen of Cups is that she is someone to aspire to—her in-

Plants trail up her hand to her darkly painted fingernails.

tuition, her fluidity, her emotional honesty and the way she

Five burning candles float above each fingertip. Closed

surrenders to love when it reaches her shores, creating new

buds bloom on either side of the open palm. I saw the light

terrain in its wake. I feel like I am her, or more accurate-

and clarity of the imagery—the feminine hand open to the

ly, am trying to become what she represents. Perhaps most

negative space, a certain element of growth inherent in the

strongly, I see her reflected in the women around me—my

floral motif.

sister, Rhonda Harris-Choudhry, and Heather Enders, and

Three times. We had broken up in two seasons and

other intuitive women in my life who took the time to guide

had talked about it in two more—September, December,

me to an understanding of the card. The myriad friends

and October of the following year. We spent a night sleep-

that nurture me and encourage me toward greatness. I take

ing in the mountains, each quietly, separately, planning to

heart from the card itself, which offers proof that through-

above: image courtesy of Leilah + Olive

break up with the other, but then not following through.

out the nearly six hundred years that people have been us-

Two months later, we sat side-by-side on the couch outlin-

ing the tarot, that being tenderhearted has always been a

ing what we each knew to be true. We were so almost right.

super power.

So close to perfect, but something fundamental, something

"You have to be honest with yourself when you're do-

that felt unnameable but vital, missed the center mark.

ing tarot," Enders told me near the close of our conver-

The Queen of Cups is positioned by the water for a

reason—the water represents emotion, spirit, deep feeling. It

is a mirror, for herself and for others to see their own mysteries.

What is a relationship if it doesn't reveal us in some way

to ourselves? I had spent three years learning to see myself

the way he had ever seen me—as smart, calm, able, compassionate.

Traits that had contrasted the emotional intensity

and toughness I often saw in him.

Like the closed chalice she holds closely to her, the Queen

of Cups treasures the people she forges connections with—

which perhaps makes letting go harder. An experience that

had always, and this time too, unmoored me. Breaking up

feels so earth-shaking every time, but most of us feel that particular

grief at some point—there's not much special about

it, though every time is totally particular and completely devastating.

It seems universal, too, that we feel alone wading

through it. "Queen cards can have this callousness to them,"

Heather Enders had explained over the phone from her home

base in Taos, "because they've gone through so much, they can

be kind of bitter, moody, or victimize themselves, see things as

Without any fear because it felt impossible that the connection

would evaporate—we broke up. For months we continued

sleeping side by side and spending nearly every night

together, until we broke up for real in January.

So, it felt like Enders was speaking directly to me, not

just talking about a card when she said, "You're getting

close to the end of something. You can view the royal family

as a progression, like the phases of the moon. The king

is the very end, like the new moon, the younger ones are

the beginning phases, the queen is just gotten to the end

sation. And that's precisely what the Queen of Cups had

asked of me—to try to understand Her, and in doing so,

to test my own understanding of love in the many shapes it

takes. With every card turned, the Queen of Cups revealed

a new face—some familiar and some not so much—and as

I learned to identify her qualities, I saw her all around me,

as a promise of good things to come.
---
SPRING DAZE

Jewelry by Genuine & Ginger

photography & styling, Gabriel Mendoza Weiss | set design, Gabriela Cobar

hair, Lauren Mackellar | model, Isabel Durant

dress by Bright Volumes
---
louse by Bright Volumes
---
matching top & pants by Bright Volumes
---
uy local

ANNIE HACKETT

@anniehackett.studio

Metal. Fabric. Dream. Make. Play. Jump. Swing. Hand Made.New Mexico.

Find her work at Keep Contemporary, Santa Fe. Instagram @keepcontemporaryofficial

THE BOOKMAN & THE LADY

thebookmanandthelady.com

"We like to consider ourselves fairly literate people, and it is with this in mind that we have taken this approach

to internet shopping. Slightly tongue in cheek at times, often unabashedly geeky, but always with the

desire to convey the magic of real objects...be they books or clothes or perhaps the odd bit of ephemera we

run across."

CURIO

hellotherecurio.com

"Curio is a women's boutique offering an elevated shopping experience for the thoughtful consumer. We offer

a variety of clothing, shoes, accessories, shoes, jewelry and apothecary items. At Curio we like to showcase

smaller independent designers that focus on sustainability, but we also carry a few name brand favorites."

GENUINE & GINGER

genuineandginger.com

"Genuine & Ginger began in a modest studio in New Mexico in 2015. We create jewelry and home decor

with a warm toned minimalist aesthetic.

We don't do trendy, we don't do fast fashion, and we don't do excess. We like minimal, high quality design.

We love seeing women live passionate, powerful, and joyful lives in the things we create.

Our feet are deeply planted in our local community. We use our resources to empower & employ local

women to break through generational cycles of abuse, oppression, and hardship."

GOLER

golershoes.com

"Goler Fine Imported Shoes brings 30 years of experience and four generations of fashion savvy to historic

Santa Fe. Here you can always find products for your special event and products for the office that stand up

to your after-hours pursuits. While glamour and sophistication are given, we also carry products that will

keep the spring in your step while you walk the farmers market."

HAPPY LOCO

depop.com/happyloco

"Fashion art wear and found items by Jeremy Salazar. Happy Loco's mission is to provide a door for self-expression

and realization through fashion, art and community. We are all about giving wings to those who

wish to fly or don't know they can fly yet."

MADRE FOODS

madrefoods.com

"Madre Foods originates from a legacy of mothers cooking for their families, nurturing the people they love.

Generational wisdom has perfected each handcrafted recipe. Our broths & stocks, and nourishing food specials

are all made in a labor of love. We are extending our table to anyone looking to be nourished."
---
photography, Victoria Cardenas from Holy Brown Gay Boy
---
the Queen issue