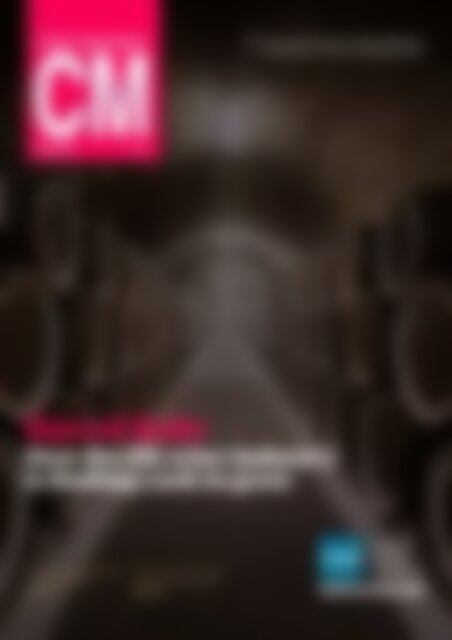 Credit Management magazine April 2018
The CICM magazine for consumer and commercial credit professionals
The CICM magazine for consumer and commercial credit professionals
SHOW MORE
SHOW LESS
Create successful ePaper yourself
Turn your PDF publications into a flip-book with our unique Google optimized e-Paper software.
CREDIT MANAGEMENT

CM

APRIL 2018 £12.00

THE CICM MAGAZINE FOR CONSUMER AND

COMMERCIAL CREDIT PROFESSIONALS

Barrel Role

How the UK wine industry

is finding cash to grow

How AI is challenging

our ethical code.

Page 17

The state of the credit

management nation.

Page 34
---
STAND OUT

FROM THE

CROWD

With over 2,400 qualifications awarded in the last

three years, CICM is the recognised standard.

Find out more about flexible options to suit your

role and lifestyle.

Visit qualifications.cicm.com
---
APRIL 2018

www.cicm.com

12

NEWS SPECIAL –

SEAN FEAST

17

TECHNOLOGY –

JAMES PERRY

CONTENTS

12 – NEWS SPECIAL

Sean Feast explores the UK wine

industry and one award-winning

producer.

17 – AI ETHICS

Addressing the rise of the robot in the

workplace and the future of AI.

26 – VIEW FROM SEAFRONT

David Andrews looks at what makes a

genius and who should or should not be

claiming themselves to be one.

34 – STATE OF THE NATION

An exclusive report produced in

conjunction with Sheffield Hallam

University.

40 – LEGAL MATTERS

In the first of a two-part series Jeffersen

Gledhill from DWF provides 12 tips for

debt recovery.

46 – EDUCATION

A focus on the newly launched CICM

Vulnerability Framework.

50 – HR MATTERS

What happens when an employee

refuses to work.

@Credit_Magazine

Publisher

Chartered Institute of Credit Management

The Water Mill, Station Road, South Luffenham

OAKHAM, LE15 8NB

CICM GOVERNANCE

President Stephen Baister FCICM / Chief Executive Philip King FCICM CdipAF MBA

Executive Board Laurie Beagle FCICM – Chair / Glen Bullivant FCICM / Sue Chapple FCICM

Larry Coltman FCICM / David Thornley FCICM(Grad) – Treasurer / Pete Whitmore FCICM – Vice Chair

Advisory Council Laurie Beagle FCICM / Jason Braidwood FCICM(Grad) / Glen Bullivant FCICM / Sue Chapple FCICM

Larry Coltman FCICM / Kim Delaney-Bowen MCICM / Victoria Herd FCICM(Grad) / Edward Judge FCICM

Christelle Madie MCICM(Grad) / Robert Marr MCICM / Debbie Nolan FCICM / Bryony Pettifor FCICM(Grad) / Allan Poole MCICM

Phil Rice FCICM / Charlie Robertson FCICM / Chris Sanders FCICM / Richard Seadon FCICM. / David Thornley FCICM(Grad)

Debra Weston FCICM Pete Whitmore FCICM

View our digital version online at www.cicm.com Log on to the Members'

area, and click on the tab labelled 'Credit Management magazine'

Credit Management is distributed to the entire UK and international CICM

membership, as well as additional subscribers

Reproduction in whole or part is forbidden without specific permission. Opinions expressed in this magazine do

not, unless stated, reflect those of the Chartered Institute of Credit Management. The Editor reserves the right to

abbreviate letters if necessary. The Institute is registered as a charity. The mark 'Credit Management' is a registered

trade mark of the Chartered Institute of Credit Management.

Telephone: 01780 722910

Fax: 01780 721333

Email: editorial@cicm.com

Website: www.cicm.com

CMM: www.creditmanagement.org.uk

Managing Editor

Sean Feast

Deputy Editor

Alex Simmons

Art Editor

Andrew Morris

Telephone: 01780 722910

Email: andrew.morris@cicm.com

Editorial Team

Imogen Hart and Iona Yadallee

Advertising

Anthony Cave

Telephone: 0203 603 7934

Email: anthony.cave@cabbell.co.uk

Printers

Stephens & George Print Group

2017 subscriptions

UK: £108 per annum

International: £140 per annum

Single copies: £12.00 ISSN 0265-2099

The Recognised Standard / www.cicm.com / April 2018 / PAGE 3
---
EDITOR'S COLUMN

Shurely Shome Mishtake?

Sean Feast

Managing Editor

IT'S not often that the pages in

Credit Management have much

in common with Private Eye. We

don't carry much in the way of

silly poems, rarely if ever report

on the activities of Brenda or

Brian, nor are our front covers likely to get

us sued. Well, not yet anyway.

So imagine my delight to read in a

recent issue the bones of a story that first

appeared in the pages of our own illustrious

magazine. And it's a story that doesn't look

like it's going to go away any time soon.

It was James Campbell of The European

Freight Transport Association (EFTA) who

was first out of the blocks, disturbed by the

number of his members being subjected to

short firm fraud. The scam is a relatively

simple one: a business is set up and trades

for a short while, pays its invoices on time,

and creates the impression of a legitimate

enterprise worthy of larger amounts of

credit. It then places a larger order, using

the extended credit granted by its suppliers,

only then to disappear with the cash.

The fraud in itself is far from new; it is

especially popular before Christmas, when

suppliers are even keener to sell. What

James is highlighting, and it is a cudgel that

has found favour with the Eye, is the role

of Companies House in this sorry affair.

While no-one is suggesting for one minute

they are encouraging the fraud, neither do

they appear to be doing much if anything at

all to prevent it.

The issue is that these bogus

companies file fictitious accounts,

and while Companies House makes

no claim to checking the accuracy

and validity of the information they

receive, this information is still used by

credit managers and credit reference

agencies as a key tool in assessing risk

and creating credit reports on which other

businesses rely to make vital investment

decisions.

Companies House, in responding to

the Eye, states that it does not have the

statutory power or capability to verify

the accuracy of the information it is

given. It goes further and warns credit

managers and others 'to seek independent

professional advice before acting on any

information they have obtained from the

register'.

On its website, however, Companies

House claims that one of its main

responsibilities is 'to examine and store

company information.' Use of the word

'examine' to me suggests some form of

due diligence is being performed on the

information received, but evidently not.

Which all rather begs the question:

what is the point of Companies House

if not to be a trusted first port of call for

anyone seeking reliable and accurate

information about companies whose

information they make available to the

public?

At the very least, the information

provided should come with a suitable

warning!

The Recognised Standard / www.cicm.com / April 2018 / PAGE 4
---
OURAML SOLUTION WILL

HELPYOU SEAL

THEDEAL

There's

no need

to make life

complicated, you

have three problems;

we have one solution!

We deliver AML, Sanctions &PEP checks "all-in-one"

search, individual checks take 5seconds, business checks

take longer, 1-2minutes! Daily monitoring of all your clients for

Sanction &PEP changes for the lifetime of your contract isincluded at

no extra cost. Automatic enhanced due diligence, biography, adverse media

and photographic evidence isalso included inyour basic AML price.

Call us now to book afree demonstration on:

0113 333 9835

Or visit us online:

SMARTSEARCHUK.COM

POWEREDBY

SmartSearch delivers UK and International Business checks in the UK and International

Markets with inclusive Worldwide Sanction &PEP screening, Daily Monitoring, Email

Alerts and Automated Enhanced Due Diligence.

The Recognised Standard / www.cicm.com / April 2018 / PAGE 5
---
CMNEWS

A round-up of news stories from the

world of consumer and commercial credit

Written by – Sean Feast and Alex Simmons

Small Business Minister

says Carillion must act as

the catalyst for change

THE Minister for Small Business says

the collapse of Carillion must act

as a catalyst to supporting small

businesses, and prompt payment is

a central part of the solution.

Interviewed exclusively for 'Credit

Champions', a news and current affairsstyle

programme created by The Chartered

Institute of Credit Management (CICM)

and ITN Productions and launched at

Credit Week, Andrew Griffiths MP also

championed the role of the Prompt Payment

Code:

"The Code is working well and we can

make it even better," he says. "The Code sets

the benchmark and Gold Standard to which

companies must adhere."

The launch of the programme coincides

with an announcement from the Chancellor,

Philip Hammond MP, in his spring

statement of a new consultation into late

payment, a call welcomed by CICM Chief

Executive Philip King: "The Code has played

an important part in beginning to change

attitudes to late payment, with more than

2,100 signatories to date," he says, "but there

is much more that can be done to promote

the benefits of the Code and to strengthen

the challenge process.

"Whenever a challenge has been raised

we have been successful in finding a

resolution. What we need, however, is for

the Code to be more widely promoted and

supported, and for business organisations

to get behind it, and actively encourage

their members to raise challenges where

appropriate, rather than appearing to

undermine its value and purpose through a

lack of understanding of its key aim."

Mr King and Mr Griffiths both feature in

the new programme which explores the

critical impact of the credit cycle, and how

taking an integrated approach to credit

management is helping raise industry

standards across the globe.

'Credit Champions' showcases the

principles of the credit management

lifecycle, and how it can be applied to

manage credit risk. During the programme,

a special animation explains how being

paid on time can be the difference between

success and failure.

There are 5.5 million small businesses

in operation across the UK and the

management of credit has unparalleled

influence on them and their supply chains.

'Credit Champions' brings to life why

relationship-building between creditors

and debtors is so important by illustrating

examples of best practice and highlighting

solutions to underlying problems. The

programme also looks into how poor credit

management or lengthy payment terms

can have a detrimental impact to not only

the business, but the mental health of those

involved in the supply chain.

"The credit management team can hugely

impact the success of a business and

'Credit Champions' looks at the training and

qualifications on offer from CICM as well

as showcasing those who are making best

use of the training on offer," Philip adds.

"The programme reveals how people skills,

the ability to understand customers and

personal development shine through in

those who work in credit management."

Drawing upon ITN's 60-year heritage

and expertise in storytelling, presented by

national newsreader Natasha Kaplinsky,

the news-style programme combines key

interviews, case studies and sponsored

stories from American Express, C2FO, Cedar

Rose International Services Limited, Darcey

Quigley & Co, Dun & Bradstreet, Elevate

Credit International Limited, Lovetts,

Pay360, Rimilia, TDX Group, The Lending

Standards Board, Vision Blue Solutions and

Zinc Group.

Simon Shelley, Head of Industry News,

ITN Productions, says that ITN Productions

has been delighted to partner with the

CICM in making the programme: "We hope

this programme will help to inform and

enlighten viewers of the importance of the

credit cycle and the destructive impact

of poorly managed credit management.

We are extremely pleased with how this

programme brings to life the people and

new innovations and hope this can be used

to share ideas and promote best practice

within the sector and wider audience."

The full programme can be viewed at

cicm.com

The Recognised Standard / www.cicm.com / April 2018 / PAGE 6
---
Cream goes sour for restaurants

OVER one third of the UK's top 100

restaurant groups are operating at a loss,

an increase of 75 percent since last year,

according to research by UHY Hacker

Young. The research revealed that 35 of the

top 100 groups are loss-making, up from 20

last year.

Trading conditions have become

increasingly difficult for restaurant chains

dealing with oversaturation in the market

as well as rising costs.

This research comes on the back of

the high-profile struggles of several

major restaurant chains in recent weeks,

including Jamie's Italian, started by TV

celebrity chef Jamie Oliver, which has

closed 12 branches as part of a Company

Voluntary Arrangement (CVA) to restructure

its £71.5 million debt.

The research shows that pressures of

competing with numerous similar 'fast

casual' restaurants in an overcrowded

high street are a major driver. The National

Minimum wage, which has risen by an

above-inflation 19 percent to £7.50 per

hour over the last five years, has added a

substantial cost burden to large restaurant

chains. From April 2018, the minimum

wage will rise even further to £7.83.

Peter Kubik, Partner in the London office,

says with Brexit hanging over consumers

like a dark cloud, restaurants can't expect

a bailout from a surge in discretionary

spending: "Consumers only have a finite

amount of spending power when it comes

to eating out, and the oversaturation of the

market means that groups that fall foul of

changing trends can very easily fail.

"The Government has ratcheted up costs

with a series of above-inflation rises in

the minimum wage, and we are just weeks

away from another 4.4 percent rise in April.

That will be tough for many restaurants to

absorb." uhy-uk.com

Online growth

Online retail delivery order volumes were up 20.6 percent year-on-year in January,

according to the latest data from the IMRG MetaPack UK Delivery Index, the strongest

January growth for online order volumes since 2013. During the same period, footfall fell

to its lowest January rate in five years possibly influenced by above-average rainfall

keeping shoppers away from the high street – which looks to have benefited online.

imrg.org

>NEWS

IN BRIEF

Purchasing low

THE UK manufacturing sector continued

to slow and has lost further ground after

hitting a four-year high in November

2017 according to the latest Purchasing

Managers' Index (PMI). Consumer,

intermediate and investment goods

sectors all saw decelerations in February.

One positive was shown by the increase

in new orders which was at a faster pace

than in January. Companies highlighted

that domestic demand was better and

new export business was also rising.

markiteconomics.com

Simply Loaded

Simply Asset Finance has received a £20

million block discounting package from

Aldermore.The facility, believed to be one

of the largest in the market, will help the

company to greatly increase the supply

of leasing and asset finance it provides

to small and medium-sized enterprises

in the UK looking to realise their growth

potential. simply.finance

Carpet blagging

Carpet & Flooring Limited has secured a

£15 million asset-based lending facility

from Secure Trust Bank Commercial

Finance to support strategic acquisitions.

Said to be one of the UK's leading

distributors of floor covering products, the

business was acquired in February 2017

from SIG Plc by transformational private

equity investor, Endless, which specialises

in acquiring non-core assets from

larger corporates.

securetrustbank.com

Crowdfunding framework needs to strike the right balance

THE European Commission's proposal

to create a harmonised legal framework

across Europe for the crowdfunding market

has been welcomed by The Association of

Chartered Certified Accountants (ACCA).

Ben Baruch, Head of SME Policy at ACCA,

says the current framework for regulating

crowdfunding platforms is fragmented –

with inadequate investor and consumer

protection as well as a lack of cross-border

provisions: "The creation of a Europe-wide

framework could enhance transparency

and traceability and could therefore

enable SMEs to better understand the

opportunities and risks of accessing this

type of funding.''

ACCA recognises the potential for

harmonised regulation to improve the

chances of SMEs securing the financing

they need to grow. The Association

warns, however, that striking the right

balance between regulating crowdfunding

platforms and encouraging competition

is vital in order to allow this increasingly

important area of SME finance to continue

developing in the future.

The Capital Markets Union (CMU)

Action Plan identified the importance of

breaking down the information barriers

that stand between SMEs and potential

investment. Whilst FinTech solutions

can help, innovation can also give way

to risks such as fraud and liquidity risks.

ACCA believes the new crowdfunding legal

framework needs to ensure that providers

of crowdfunders deliver the right level

of information to businesses regarding

the risks as well as receiving adequate

protection from becoming overexposed to

riskier investments.

However, ACCA also stresses that

more clarity is needed on the interaction

between this new framework and existing

EU directives, such as MIFID, which are

already used by some member states to

regulate crowdfunding. accaglobal.com

The creation of a Europewide

framework could

enhance transparency

and traceability

and could therefore

enable SMEs to better

understand the

opportunities and risks

of accessing this type of

funding.

Ben Baruch, Head of SME

Policy at ACCA

The Recognised Standard / www.cicm.com / April 2018 / PAGE 7
---
NEWS

IN BRIEF

Peter Collinson retires

from CICM senior team

PETER Collinson, CICM Head of Marketing

and Information Systems, has retired

Philip King, Chief Executive of CICM,

praised Peter for his valuable contribution

over more than six years with the

organisation: "Peter has transformed our

branding and web presence, brought a

more commercial approach to our activity,

ensured our awards have become and

remain spectacular and introduced strategic

marketing campaigns and facilitated the

replacement of our membership database.

"On a personal level, he has been a huge

support to me and I will miss his input and

challenges. We all wish him well in his

retirement."

CICM Knowledge hub

CICM members can now access more

than 1,000 useful resources and e-learning

modules to build their key business

and personal skills and support their

professional development, whatever your

their level.

Among the resources are the CICM UK

Credit Management Index, produced every

quarter, providing a detailed insight into the

thoughts, attitudes and levels of confidence

of UK credit professionals, plus useful

guides on topics such as How to write a

Credit Policy. There's also the CreditWho

Directory, highlighting leading suppliers

of products and services in the industry,

and we publish White Papers and arrange

Webinars from industry experts on topical,

key subject areas.

The aim is to equip members with the

information and knowledge they need,

whenever they need it. Members can access

all resources, including the CICM Knowledge

Hub by clicking on 'Resources' on the main

menu bar at cicm.com.

Five free tickets

The CICM, as an Association member of

FECMA, has five free entry tickets for the

FECMA Pan-European Credit Congress on

16 and 17 May in Malta. CICM members can

receive a discount on fees and delegates

who register during March will benefit

from a further ten percent discount.

Free tickets will be allocated on a firstcome,

first-served basis. To apply, or for

further details, contact:

governance@cicm.com

Calls for common Code and Standards

across all consumer collections

A senior executive within the debt

collection industry has again called for the

adoption of the Credit Services Association

(CSA) Code of Practice as the de facto best

practice 'standard' across all sectors and

organisations collecting consumer debts.

Whereas agencies collecting financial

services debts are regulated by the

Financial Conduct Authority (FCA) and

adhere to the CSA Code, there is neither a

single Code, nor a single regulator, for debts

that fall outside of those that used to be

governed by a consumer credit license.

Peter Wallwork, Chief Executive of the

CSA, says this adds to the real possibility

of consumer detriment and confusion: "It

means customers dealing with utility firms,

central government, local authorities and

even some telecoms companies and mail

order firms are not guaranteed the same

standards of treatment or safeguards as

those managed by FCA-authorised CSA

members."

ARC joins the CFA as an

Affiliate Member

ARC (Europe) has become an Affiliate

Member of the Consumer Finance

Association (CFA), the principal trade

association representing the short-term

lending sector in the UK.

Dewi Fox, Managing Director of ARC

(Europe), sees clear benefits in a closer

alliance with the Association and what it is

trying to achieve: "We work closely with a

number of short-term lenders in supporting

their collections activities and recognise

the work of the Association in representing

its members' view to Government and

Regulators."

The CFA comprises a growing number of

lenders including the market leaders such

Speaking at the Utility Week Consumer

Debt Conference in February, Peter said that

while some utility regulators, and notably

OFWAT, have been quick to recognise the

work of the CSA in treating customers

fairly, others have been slower to engage:

"The CSA Code was the basis of the original

OFT Guidance on debt collection, and

the more recent FCA Consumer Credit

handbook (CONC)," he continues."There is

good logic, therefore, to have one standard

that can be consistently applied across

all areas of consumer collections. The

CSA Code of Practice could become the

common denominator across all collections

activities."

The Credit Services Association, the voice

of the UK debt collection and debt purchase

sectors, relaunched its Code of Practice in

July 2017. Peter Wallwork will speak more

about the Code and the work of the CSA and

its members at the Money Advice Scotland

conference in June. csa-uk.com

as Enova, Dollar, Lending Stream and Sunny.

Other members include Uncle Buck, 24/7

Moneybox and Trusted Quid. Jason Wassell,

Chief Executive of the CFA, welcomed ARC

(Europe) to the Association: "Our focus is on

influencing the environment within which

our members operate and ensuring that

our members are fully informed of

latest developments. Broadening

our membership to include

businesses like ARC (Europe)

supports our ambition to become

an essential part of the consumer

finance industry."

arceuropeltd.co.uk

Dewi Fox, Managing Director of ARC (Europe)

1st Credit becomes Intrum

UK credit management services (CMS)

provider 1st Credit has become part of

Intrum following its acquisition by the

global firm in 2017.

Intrum will continue to focus on ethical

collections and has expanded from debt

purchase to a wider range of solutions.

These include early arrears outsourcing,

shared services and partial outsourcing.

As well as making use of white-labelled

technologies, clients can transfer their

entire collections teams to Intrum.

The company has been rated gold

by Investor in Customers four years'

running and has won a string of awards for

its ethical approach to collections. Eddie

Nott, UK Managing Director, said that the

change reflects 1st Credit becoming part

of a larger international business: "Backed

by financial strength and a broad global

presence, we are dedicated to helping our

clients get paid and freeing their customers

from problem debt."

intrum.co.uk

"Backed by financial strength and a broad global

presence, we are dedicated to helping our clients

get paid and freeing their customers from

problem debt."

The Recognised Standard / www.cicm.com / April 2018 / PAGE 8
---
New bank lending volumes

on the decline

SMEs are increasingly turning to

alternative sources of financing,

while new bank lending is on the

decline in a number of countries,

according to a new official report.

Many SMEs remain over-reliant on

bank credit, however, and the take-up of

instruments other than straight debt varies

greatly from one country to another, says

the Organisation for Economic Cooperation

and Development (OECD).

The report - Financing SMEs and

Entrepreneurs 2018: An OECD Scoreboard

- shows that a rise in venture capital

investments and private debt to SMEs

occurred in most participating countries

in 2016, along with rapid growth in peerto-peer

lending, equity crowdfunding

and invoice trading. The use of online

alternative finance was especially high in

China, the United Kingdom and the United

States. Leasing, hire-purchase activities,

factoring and invoice discounting, which

are based on asset value rather than credit

standing, also rose for a second consecutive

year.

OECD Secretary-General, Angel Gurría,

says challenges persist in SME access to

finance, but this visible growth in financing

alternatives is positive news: "In any

economy, small businesses are essential to

innovation, competitiveness and inclusive

growth; providing reliable access to finance

to such companies throughout their lives

is crucial if they are to prosper and fully

contribute to our economies and wellbeing."

A continued decline in SME bankruptcies

in 2016 pointed to improved business

conditions. The Scoreboard found a

median year-on-year drop of 6.5 percent

in bankruptcies in 2016, following a drop

of 6.9 percent in 2014 and 9.1 percent in

2015. Payment delays and non-performing

loans also remained at relatively low levels

in the majority of countries studied. SMEs

are also benefiting from favourable credit

conditions and low interest rates – the

median value of the average interest rate

charged to SMEs fell by 0.82 percentage

points on the year.

Despite these positive developments,

the report finds that new bank lending to

SMEs fell in 15 out of 25 countries for which

data was available in 2016, and the median

value growth rate in new SME lending fell

from 2.6 percent in 2015 to -5.6 percent. In

addition, accessing appropriate sources of

finance remains problematic for certain

categories of small business, in particular

micro-enterprises, young SMEs and startups,

and innovative and growth-oriented

ventures.

The seventh edition of the SME

Scoreboard collects data on debt, equity,

asset-based finance, solvency and

framework conditions. It assesses SME

access to finance between 2007 and 2016

in 43 countries and includes detailed

individual profiles of each participating

country.

In another recent report, more than

half of UK businesses are reported to be

unable to access the funding needed to

grow, mainly through lack of education or

understanding of their funding options.

Liberis, a business loans provider that

carried out the research, says that while 62

percent of UK SMEs said they need funding

to grow, 57 percent were unsure which

provider to obtain funding from and 53

percent did not have a set amount in mind

when looking to access finance. oecd.org

Trio of senior hires at Ardent as growth continues

Liverpool-based debt collection agency

Ardent Credit Services has made three

senior appointments as part of its longterm

investment plan.

Ruth Pointon has been appointed

Collections Director, having previously

worked as Head of Operations and latterly

Client and Solutions Director for akinika

Debt Recovery. Shahaab Afzal (Shabby) has

joined the company as its new Operations

Manager – Voice Systems. He was also

previously employed at akinika. And

Stefano Ciucci is the company's new Head

of ICT, having previously acted as senior

IT Architect and Manager for primary IT

companies and Government departments

in Rome.

Ardent CEO Steve Murray welcomed

the new members to the team: "The market

continues to evolve in light of regulatory

change and advances in technology and

strengthening our management team will

ensure that we stay ahead of the curve."

The company is currently investing

across its technology platform to facilitate

enhanced performance, productivity and

client satisfaction. ardentcredit.co.uk

The Recognised Standard / www.cicm.com / April 2018 / PAGE 9
---
NatWest begins testing AI advisor

NATWEST is testing an Artificial

Intelligence (AI) powered 'digital

human', which could in future

be used as an additional way for

customers to get answers to basic banking

queries.

Since the start of 2017 the bank has

deployed a text-based chat bot called 'Cora'

which customers can use on the bank's

online help pages. It can answer 200 basic

banking queries and now has 100,000

conversations a month. But drawing upon

advances in neuroscience, psychology,

computing power and artificial intelligence,

a new Cora prototype has been built to

include a highly life-like digital human

that customers can have a two-way verbal

conversation with on a computer screen,

tablet or mobile phone.

Cora the digital human is able to answer

basic questions like 'How do I login to

online banking?', 'How do I apply for a

mortgage?' and 'What do I do if I lose my

card?' It could serve as an additional way for

customers to get help, on top of the usual

branch, telephone and online services and

in the long run could answer hundreds

of everyday banking questions. The

technology relies on using audio and visual

sensors, which are standard in modern

computers and mobile phones.

NatWest has been building the Cora

digital human using technology provided

by New Zealand-based company Soul

Machines, whose co-founder and CEO, Mark

Sagar, won awards for his ground-breaking

facial technology in King Kong and Avatar.

Soul Machines uses biologically inspired

models of the human brain and neural

networks to create a virtual nervous system

for their digital humans that can detect

human emotion and react verbally as well

It could serve as an

additional way for

customers to get help, on

top of the usual branch,

telephone and online

services and in the

long run could answer

hundreds of everyday

banking questions.

as physically, through facial expressions.

Like humans, it is trained when dealing

with new subject matter and when she

makes mistakes she learns, so that over

time the interactions become more and

more accurate.

While NatWest will only deploy the

technology if it successfully completes a

pilot, it is thought it could be used to help

free up time for human advisors to answer

more complex customer questions and

could also be used to answer queries which

fall outside normal working hours and days.

Testing has suggested customers that have

avoided digital services in the past may

be more inclined to interact with digital

humans like Cora and it could help blind

and partially sighted customers who are

unable to engage with visual content.

personal.natwest.com

Transforming culture in financial services

THE Financial Conduct Authority (FCA)

has published a discussion paper on

transforming culture in financial services

which presents views from academics

and industry thought leaders. The paper is

intended to provide a basis for stimulating

further debate on transforming culture in

the sector.

The paper is a set of essays that discuss

what a good culture might look like, the

role of regulation and regulators, how firms

might go beyond incentives, and how to

change behaviour for the better.

Culture and governance is described as

a priority for the FCA and it has a strong

focus on the role of the individual as well as

the firm. The FCA has considered the role

of leaders, incentives and capabilities, and

governance of decision making.

The introduction of the Senior Managers

and Certification Regime (SM&CR) is said

to be an example of this; it sets minimum

standards for the behaviour of financial

services staff and aims to promote a culture

where Senior Managers take responsibility

for identifying where harm might occur and

take action to prevent it. The SM&CR creates

a formal link between the behaviour of

individuals and the conduct of the firm.

The FCA would like all those with an

interest in financial services to consider

the issues in the paper and to engage in the

debate about what constitutes a healthy

culture, and how to promote it. fca.org.uk

Transforming Culture in Financial Services

Discussion Paper

DP18/2

March 2018

The paper is a set of essays that discuss what

a good culture might look like, the role of

regulation and regulators, how firms might

go beyond incentives, and how to change

behaviour for the better.

The Recognised Standard / www.cicm.com / April 2018 / PAGE 10
---
Eight out of ten do not understand

the gender pay gap

A quarter (25 percent) of people believe

that men will always dominate the most

senior roles in UK businesses, according

to research by TSB that has also found that

eight out of 10 (82 percent) people do not

understand what the gender pay gap is.

Encouragingly, the majority of people (88

percent) have heard of the gender pay gap

but only one fifth (19 percent) know that it

is the difference between the total earnings

of all men and the total earnings of all

women across an entire organisation.

Nearly three quarters (73 percent) of

people mistakenly think that the gender

pay gap is the same as equal pay believing

it measures the difference in pay between

men and women doing the same job.

More than three quarters of Brits (77

percent) also admitted that they were not

aware of the requirement for companies

to publish gender pay gap data. And half

(51 percent) of those surveyed, who work

for companies required to report their

gender pay gap data, say they have no idea

whether their employer has reported its

data yet.

And looking to the future, a quarter

(25 percent) of people believe that men

will always dominate the most senior

roles in UK businesses. So, what can be

done about this? Almost half (48 percent)

of those surveyed think it is good that

companies are being held to account for

gender imbalance in their workforce. And

more than a third (36 percent) believe that

making companies publish their gender

pay gap will have an impact and will lead

to a more gender balanced workforce

in the UK. But a third (34 percent) think

businesses should do more to create

cultures and working practices that

support women more and help them to

reach their potential. Similarly, nearly two

thirds of people (61 percent) do not think it

is satisfactory that companies can publish

their gender pay gap data without having to

make clear their plans for improvement.

Around 9,000 companies in Britain are

required by the Government to publish their

gender pay gap by 4 April 2018 but, so far,

fewer than 2,000 have published their data.

tsb.co.uk

Young people at risk of fraud

>NEWS

IN BRIEF

APPRENTICESHIP

SCHEME

The Finance & Leasing Association

(FLA), working alongside employers in a

Trailblazer group, has launched its Motor

Finance Specialist apprenticeship to offer

employment and training opportunities

to those entering one of the UK's fastest

growing sectors.

A new section on the FLA's website

provides all the necessary information that

firms will need to get their apprenticeship

programmes underway – including contact

details for three well-established training

providers who have already signed up

to help employers develop tailor-made

courses, along with advice on how to hire

apprentices.

The launch of the apprenticeship is

said to be the culmination of 18 months of

discussions between FLA members, brokers,

dealerships and professional bodies, to

devise a training programme that matches

the specific skills and knowledge required in

a market where 88 percent of private new car

purchases are made using motor finance.

Adrian Dally, Head of Motor Finance at

the FLA, says the Apprenticeship Standard

will help to attract new talent who want to

build their careers in motor finance: "This

kind of commitment to the industry is good

for competition, customer service and the

responsible provision of credit that is central

to this market. fla.org.uk

CICM IN BRIEF

This month's briefing includes details of

the first candidates to attain CICM Level

2 Credit Controller Apprenticeship, new

CICM Vulnerability Framework, the CICM

Training Programme in May, and the

newly launched Knowledge Hub.

CIFAS has released new figures showing

stark increases in the number of young

people acting as 'money mules' and those

falling victim to identity fraud.

The data has been released to coincide

with the launch of new anti-fraud lesson

plans, developed by Cifas, in collaboration

with the PSHE Association, the national

body for Personal, Social, Health and

Economic education in schools.

The new figures reveal that Cifas

members identified 8,474 cases in relation

to under-21-year-olds acting as money

mules, 2,256 more than in 2016. This is when

an individual allows their bank account

to be used to facilitate the movement

of criminal funds, a form of money

laundering. Acting as a money mule is a

serious criminal offence, which carries a

maximum prison sentence of up to 14 years.

Furthermore, the new figures also show

that 2,321 under 21s were victims of identity

fraud, an increase of 541 compared to the

previous year. Together with the PSHE

Association, and in response to increasing

numbers of young people affected by fraud,

either being targeted by online fraudsters

or unwittingly engaging in fraudulent acts

themselves, Cifas has created four Anti-

Fraud Education lesson plans, targeted at

11-16 year olds, raising awareness of fraud,

common scams, identity fraud and money

mules.

Chief Executive of the PSHE Association

Jonathan Baggaley, says PSHE education

supports students to leave school

'economically literate' – ready to face

an increasingly complex world full of

new risks and opportunities: "As online

scams become a ubiquitous concern, and

fraudsters specifically target young people,

these new anti-fraud PSHE lessons could

not be released at a more relevant and

important time.

"The new materials will introduce students

to the risks of online identity fraud and

being recruited as a money mule, while

exploring the wider importance of online

safety and economic wellbeing through a

planned PSHE programme." cifas.org.uk

Passage to India

Callcredit Information Group has launched

CAMEO India, a new affluence segmentation

solution to provide insight on consumers

and help businesses to expand or launch into

India. Believed to be a market first, CAMEO

India is built at the most granular level of

geography available covering 605,789 zones

including villages, wards and districts. It provides

businesses with four affluence models

which show insight into how developed an

area is in terms of housing stock quality, access

to utilities and services, teleconnectivity

and internet availability.

Businesses can also make use of spatial

data within the product for activities such as

retail location planning to find the optimum

location to open any new branches. There

is also a complimentary suite of analysis

variables in addition to the affluence models,

including presence of children, household

size and property tenure.

callcredit.co.uk

The Recognised Standard / www.cicm.com / April 2018 / PAGE 11
---
NEWS SPECIAL

Bottoms Up!

Sean Feast reports on a subject

very close to his heart, wine, and how

one luxury wine producer has found

an innovative way of funding its

global expansion.

THINK fine wines and one

is naturally drawn to the

great vintages of France,

Le Montrachet and the other

splendid Chardonnay of the

Maconnais – Pouilly-Fuisse,

Pouilly-Vinzells and Meursault. Others

prefer the other great wine-producing

nations, Italy with their Borolos, Spain

with their Clos Martinet and Portugal with

their Esporao. Even the Germans, if we can

forgive them their earlier howlers, have

come good with their latest Riesling and

Gewurtztraminer.

Arguments rage as to the quality of the

'new world' wines – from California, New

Zealand and Australia – many of which

command a high price, as well as those from

more 'obscure' nations both near and far from

Argentina to Bulgaria, and almost every point

in-between.

Think English wines, however, and many

will still turn up their respective noses.

Early vintages were, quite frankly, pretty

horrid, but tremendous strides have been

made over the last 20 years across vineyards

located predominantly in the South East

corner of the UK.

The smart money backs not only the

sparkling wines for which the UK has

undoubtedly carved out a niche, but also

the whites and rosés which are steadily

gaining ground on their more-established

peers. We are even advised not to rule out

the reds, which although only produced in

small numbers, can still hold their own in

any blind tasting challenge.

Last year, more than a million vines

were planted, and a similar number will be

planted in 2018. Wine is now being produced

up and down the country, from Yorkshire in

the North, to Cornwall in the West.

The Recognised Standard / www.cicm.com / April 2018 / PAGE 12
---
The Recognised Standard / www.cicm.com / April 2018 / PAGE 13

continues on page 14 >
---
NEWS SPECIAL

Climate, and a lingering snobbery, are not

the only barriers to great British wines

making it on the international stage. Cash

is always an issue. But one of England's

leading producers of luxury sparkling wine

has found an interesting way of sourcing

investment to grow. It has joined the

growing ranks of firms turning to Peer-to-

Peer finance (or perhaps more accurately

described as Peer-to-Business) to fund

its growth. But what is perhaps most

imaginative about this 'alternative' method

of finance is how the funds have been

secured: against the value of the wine itself.

Digby Fine English approached F&P, a

business funding specialist, last year and

secured £400,000 to build up stock which

can take between three and five years to

mature. Since then it has never looked

back, finding markets for its wines not just

in the UK, but around the world.

It recently started exporting to the

US, the second largest export market for

French Champagne after the UK, and also

does business in Japan, Hong Kong and

Australia.

In talking to Credit Management, Trevor

Clough, Co-Founder and CEO of Digby Fine

English Wines, said that many of the more

'traditional' forms of lending were not open

to him: "It appeared that we did not have

the levels of security they were looking for,"

he explained.

In looking at P2P, and working with F&P,

he found them a little more imaginative:

"F&P recognised a value in the maturing

wine and viewed it as an appreciating

asset. They supported our loan application

by preparing the loan documentation in

the form of an Information Pack, listed

the loan on an appropriate platform which

successfully raised the funds we were

seeking to expand our business."

Digby Fine English partners with

vineyards across Kent, Sussex and

Hampshire to supply the finest grapes

which are then pressed using the

Traditional Method before blending. The

English chalk downs and moderate climate

provide ideal conditions for growing

grapes such as the Pinot Noir, Pinot

Meunier and Chardonnay varieties which

are Digby's speciality. Indeed, a number

of leading French Champagne houses

are buying land in the Kent and Sussex

area. This highly rated, multi-Gold-medalwinning

label is sold in leading stores

including Selfridges, Fortnum & Mason and

Harvey Nichols. It is also served at leading

restaurants and London hotels including

Dinner by Heston Blumenthal and the Hand

& Flowers.

"We have secured funding that has

enabled us to grow the business at a far

quicker rate than we would otherwise have

been able to," Trevor concludes, "and it is

exciting to see our export business is now

taking off."

THE WINE INDUSTRY

AT A GLANCE

Total tangible

Assets, on average,

have experienced

an increase in the

last three years,

as well as the total

debt. The increase

in the total debt

has been lower

than that of the

total tangible

assets.

The current ratio

indicates that

the industry has

enough short term

assets to cover its

short term debt.

However over the

last three years

the current ratio

has decreased

from 1.33 in 2015

to 1.29 in 2017.

The indebtedness

has slightly

increased from

2015. The portion

of the companies'

assets that are

financed by debt

has remain to

similar levels.

These figures and charts have been provided exclusively to Credit Management by Dun & Bradstreet.

The Recognised Standard / www.cicm.com / April 2018 / PAGE 14
---
INSOLVENCY

Regulation oversight

In the complex world of insolvency, who regulates

the regulators?

AUTHOR – David Kerr MCICM

David Kerr

INSOLVENCY practice in the UK

is a regulated activity. Those who

take appointments as liquidator,

administrator, trustee and

supervisor have to first obtain a

licence and will then be subject

to ongoing monitoring to ensure that they

remain fit and proper persons to retain that

licence. The regulators are five Recognised

Professional Bodies – mostly accountancy

bodies, plus the Insolvency Practitioners

Association which is the specialist insolvency

regulator. But these RPBs do not act in

isolation, nor with complete autonomy; they

are bound by understandings entered into

with the government agency, The Insolvency

Service, which is part of the Department for

Business, Energy & Industrial Strategy.

The Service publishes an annual report

which covers the work of the regulators in the

preceding year, as well as latest regulatory

policy and standards, and to a limited extent

a commentary on the effectiveness of the

regime. Publication of the most recent report,

for 2017, will likely coincide with release

of this edition of Credit Management. So,

what will it tell us about the Service's views,

as oversight regulator, of the insolvency

profession and its regulatory arrangements?

The first point to register is that Service

has a mandate to evaluate the current system

in the context of the recommendations it will

have to make in due course on whether or

not to use a statutory backstop measure to

impose a single regulator on the profession.

That is not an issue for now, but it forms part

of the environment in which the oversight

regulator and RPBs are operating. One of the

reasons for the drafting into legislation of a

single regulator power (which may or may

not be invoked) was the number of regulators

in the sector (eight when the provisions

were crafted); there are now effectively half

that number, as one of the five accountancy

bodies has collaborated with the IPA to

consolidate their monitoring and other

regulatory arrangements.

DE-REGULATION AGENDA

Notwithstanding that background, the

government's de-regulation agenda has led it

to seek to replace the more formal memoranda

of understanding it has with the RPBs with

published guidance on how it expects RPBs

to meet the statutory objectives for the

profession. That change is likely this year.

Oversight of the RPBs in 2017 was mostly

by a number of themed reviews, covering

areas such as bonding (fidelity insurance to

protect creditors – a matter on which there

will be a consultation in 2018), complaints

handling, monitoring (of practitioners

generally, with some emphasis on those

dealing with high volumes of Individual

Voluntary Arrangements) and fees.

Fees, of course, are likely to be of particular

interest to creditors. There is a statutory 'fair

and reasonable' test, and RPBs have given

guidance to practitioners on that as part of

their continuing education programmes.

The review is ongoing to ensure that RPBs

consider relevant action in appropriate

cases where fees misconduct is identified.

Regulatory powers have some limitation, as

issues over fees will sometimes have to be

resolved by the courts, but RPBs' committees

and tribunals will use regulatory levers to

facilitate refunds where appropriate, and

repayments are considered as mitigation

where misconduct is found. The number of

complaints about fees though is low – less

than one percent.

The total number of complaints referred

to RPBs in 2017 has fallen significantly

compared to 2016. In part that is because

there were fewer complaints, and also

because the Service's gateway has become

more effective as a first filter and has rejected

more complaints than it has hitherto.

IVAs account for the highest number of

complaints, where mostly consumer debtors

are the complainants.

Another element of the Service's oversight

is in relation to pre-pack administrations.

Again, the government is considering

whether to invoke legislative measures. Whilst

compliance with Statement of Insolvency

Practice 16 and noise levels generally around

pre-packs are seemingly less of a problem, and

there were fewer administrations in 2017 than

in the previous year, there is a concern that

referrals to the Pre-Pack Pool are fewer than

expected. This was only one of the measures

introduced to address issues regarding this

process, but creditors have a role to play here

if they want to be reassured that the Pool can

provide around these transactions.

The Service's annual report should be

available on its website this month.

David Kerr MCICM is the Chief Executive

of the Insolvency Practitioners' Association.

The Recognised Standard / www.cicm.com / April 2018 / PAGE 15
---
FROM THE CHAIR

Everybody knows somebody

Those who want to work in business and with money

do not have to be an accountant.

AUTHOR – Laurie Beagle FCICM

Laurie Beagle

ALMOST all of us are hooked

up to social media in

some way: LinkedIn; Twitter;

Facebook etc.

That should mean that we

all have plenty of friends or

colleagues and that we have all become very

good communicators. Maybe that's more of a

hope than a reality.

However, being a member of the CICM does

mean that you are very much part of a special

group of Credit Professionals. You may all have

different job titles and work in different parts

of the industry, but we are all colleagues and

hopefully, in some cases, friends. So back to

my key theme: everybody knows somebody.

Being part of the credit community, and

knowing people personally or through social

media, you have the opportunity to share

experiences, ask questions and keep learning.

I once said that credit professionals are like

sponges. I wasn't being derogatory or insulting

but I truly believe that my fellow professionals

don't want to stop learning. Especially in

today's business climate with Brexit and the

challenges and opportunities it will bring.

There is so much to learn and contribute to

your businesses.

So, who do you know? Are your friends

and colleagues working in a part of the credit

profession? Do they know what the CICM is,

does and stands for? Can you tell them the

benefits you have received since becoming a

member?

One challenge: is your manager or

supervisor a CICM member? If not, do you

think you can get them interested or at

least find out why they have not considered

becoming a member? We can support you

getting the key messages across.

Remember, if you participate in the 'CICM

Member Get Member' offer, you and the new

member both get an Amazon Gift Card for £25.

Growing the membership is important.

We want to retain members and help them

develop their careers, and attract new ones

to what is an exciting profession. The credit

management profession is more vital to the

economy than many others and adds real and

tangible value to businesses. Those leaving

school or college need to know that if they

want to work in business and with money

there are more choices than simply being an

accountant.

This year we are adding a whole host of

new member benefits, not least of which are

both the CICM Mentor Hub and the CICM

Knowledge Hub, as well as our developing

Advice Line. Any questions or advice you need,

and the answers should be there.

Credit Professionals on the whole are not

the greatest at marketing themselves. Perhaps

a skill we can learn from our colleagues in sales.

Remember we have plenty to offer businesses.

We are not just back office debt collectors. Let

your passion show through. It's infectious to

your team. And remember the words of former

US President, Teddy Roosevelt:

''Whenever you are asked if you can do a

job, tell them, 'Certainly I can' - and get busy

and find out how to do it.''

Laurie Beagle FCICM, is the Chair of the CICM

Executive Board.

The Recognised Standard / www.cicm.com / April 2018 / PAGE 16
---
TECHNOLOGY

THE ONLY

WAY IS ETHICS

Controlling the march of the business

robots means regaining the ability to

think for oneself.

AUTHOR – James Perry

THE Artificial Intelligence (AI)

revolution, which appears to

be shaping up nicely to be the

IT sector's second wind, is

seemingly sweeping through

every office, factory and general

workspace in the country at the moment. AI

fever is gripping the nation and we appear to

have quickly reached our crossroads - the point

where we determine whether these changes in

the way we live our lives will be of detriment,

and Terminator one will greet us to hand us all

our P45s, or, overall, it will be a positive thing

and the more friendlier Terminator two (the reprogrammed

one!) will greet us all with a smile

and a thumbs up!

As a lawyer and manager of a volume

team for a national law firm that uses a case

management system, AI is a hot topic I am

of course very interested in. If you read the

headlines (who can miss them at the moment!)

it is the age-old case of technology developing

quicker than regulation and at the moment we

are struggling with the change. Science seems

to always get the balance right when it happens

in their field but that is because science

breakthroughs tend to start in the controlled

environment of a lab. Business AI doesn't

have a lab. It is out there spreading and taking

root, available to all with no walls, boundaries

or limits. For some reason, even though we

have the capability to do great harm as well as

great good, advancements in business AI are

currently not subject to the same restrictions

as advancements in science.

UNINTENDED CONSEQUENCES

There are also no business AI ethics in place

yet. If the AI solution is a business one which

will drive profit it instantly, in the minds of

our boardrooms, qualifies as being for the

greater good. To a degree it will be. However,

along the way, the impact on the development

and progression of our workforces is being

overlooked; especially in the professional

services sector where logic and critical analysis

are key skills. Perhaps this is unintentional

but failing to think about the consequences on

workers is having a negative impact on business

who don't set their mind to the problem.

Employee development and progression

doesn't seem to currently form any real part

of this calculation because businesses are

focusing too heavily on the primary outcome

only - profit. Batten down the profit hatches and

then take stock is the panic reaction some areas

of industry are gripped by at the moment. I am

seeing this happen in many, many quarters.

As a result, our intelligence, development

and progression as workers is suddenly under

threat. We don't want AI to result in a dip in

our intelligence, otherwise it will become

our greatest failure, rather than our greatest

success. The problem is we haven't even really

set our minds to this point yet let alone done

anything about it.

An AI quota, which determines what can and

cannot be automated, would be a positive step

to put a brake on these advancements whilst we

pause, reflect and decide which direction we

should be heading in. Do we need a business

AI lab to pass or fail our creations first perhaps

before they are released on businesses? Should

Government be stepping in to regulate this area

in some way? This article sets out the reasons

why I think quotas and controls are not just

necessary but absolutely crucial for growth

in the medium to long term. It is something I

focus on as part of my job role.

To understand my point let me quickly take

you back to a time where the only mobile was

one you hung over a cot, a tablet was a pill

the doctor told you to take and the only

clouds we ever came across were those grey,

fluffy ones which seem to have hung over

Yorkshire all Summer! Apply the 80s wavy TV

effect to your two-tonne, two-foot deep 80's

telly and let me take you back to the start of

the consumer, technological revolution of the

1980s!

Ever since I was a small child, like most

boys from the 80s, I've been fascinated by new

technology, which deserves an award simply

for perseverance because on the whole it was

The Recognised Standard / www.cicm.com / April 2018 / PAGE 17

continues on page 18 >
---
TECHNOLOGY

pretty basic and rarely worked properly.

Computers were no exception to the rubbish

tech rule of the 1980s and back then we were

certainly easily amused. During Christmas

1983, changing the colour of my screen

from cyan to magenta on my Commodore

16 was perceived as the absolutely height

of technical sophistication and if you could

make it automatically flash between the two

colours you thought you were destined for

great things! We called it technology but to

my eight- and six-year old sons it seems only

one up from fire and inventing the wheel!

They think Dot Matrix is a Great Aunt!

As basic as it may have been we still

spent hours upon hours being told by the

grey box that there was a 'syntax error'

or the 'string is too long.' These days of

waiting for things to load (sometimes I

would have my tea while I waited!) hang

long in my memory. If my Father reads this

I am sure he will remember how 80s Tech

brought anguish and anxiety to 80s families

trying to help their frustrated children. He

would spend ages trying to fix that syntax

code for me just so I could go 'ooooh' at a

coloured pentagon for a few minutes before

I got bored!

TANGIBLE ADVANTAGES

However, as basic as that all seems, there

were the tangible advantages of learning

some skills from this early technology. To

achieve those fairy steps in technological

advancement you had to actually use your

brain, which would mean working through

something and then enjoying the fruits of

your labour when you got to the end of your

programming task. As Heinz used to say

when selling its ketchup in the 80s 'the best

things come to those who wait' and believe

me it did and it does. We sometimes would

cheer when something actually happened on

that computer!

The point is that back then you had to

understand a set of rules and be able to apply

them to get your reward, a bit like practising

law which is what I do. Practice of course

makes perfect. Doing a task which requires

a degree of thought forms and fuses the

synapses in your brain until the familiarity of

experience eventually turns a beginner into

an expert - which importantly for business is

a person you could turn to when things get

confusing or require a judgement call to be

made.

What concerns me massively is that I am

witnessing a silent shift in the way in which

we all work and we are watching it float by

us, hoping it won't cause any harm. Nobody

has realised that every expert was once a

beginner and AI certainly hasn't figured this

bit out! The modern-day advantage of having

access to libraries of online information and

tools to work quicker and more efficiently is

currently failing, in my opinion, to defeat the

negative outcome of a worker's opportunity to

become an expert as described above. It is also

damaging the worker's positive experience

of work, which is a crucial aid to learning. I

mean whoever did well at school in a subject

they didn't enjoy! To get the most out of a

workforce they have to enjoy what they do and

the monotony of repetition AI tends to create

will not achieve this goal. Dumb it down with

AI and your workforce will switch off so you

have to find a balance.

EXPOSED SITUATIONS

A junior worker's ability to be exposed to

situations where their neural pathways

become deeper as their experience and

exposure to solving their particular set of

bespoke work problems is very important

but this opportunity is quickly diminishing

faster than ever because all this technology,

we are hell-bent on convincing ourselves

must be the answer without questioning it,

is reducing those important opportunities to

learn. It is happening in every sector - not just

law and credit where I work. The opportunity

to master something is not as present as it

once was and instead of having that precious

time to wade through the treacle of a problem

and wrestle with it, it seems that the T1000 is

taking workers by the hand and tip-toing with

them across their neural pathways, leaving

little impression on them. The end result is

a frustrated worker who doesn't understand

or even remember how they got to their

destination when completing a task. A worker,

who as a consequence loses his sense of

achievement or worse still, never experiences

it. They just punch their keyboard day-in, dayout

because the computer tells them to - we

need to stop this.

During Christmas 1983,

changing the colour of my screen

from cyan to magenta on my

Commodore 16 was perceived

as the absolutely height of

technical sophistication and if

you could make it automatically

flash between the two colours

you thought you were destined

for great things!

The Recognised Standard / www.cicm.com / April 2018 / PAGE 18
---
TECHNOLOGY

AUTHOR – James Perry

If a senior worker can only achieve senior status by carrying

out junior tasks manually first then don't automate all your

junior tasks just because you can, otherwise you will create a

skills gap in your workforce.

By analogy, it is a bit like us never needing

a map anymore; working life is becoming

a bit like always driving with your Sat

Nav on. However, the skill of orienteering

when driving which has voluntarily

been surrendered (mainly to stop family

arguments) is acceptable. In contrast,

a worker's basic right to learn, progress

and thrive has not. As the most intelligent

species on our planet is that something

we really want? I have to say I have seen

many people start to suffer from this

academic amnesia. People are not as good

at solving problems as they once were and

it is because the support they get from IT

is not exactly right. It's a little bit out and

it needs tweaking a bit to improve the

user experience and protect our ability to

learn! At the moment there is a significant

problem with Artificial Intelligence in

situations where our understanding of

the work we do is still fundamentally

important? Just like in yours maths exams

you get more marks for your calculations

than your answers. Workers need to not

only know how they arrived at an answer

but also need to manually practice the

question.

Unfortunately, Air France knows

only too well about this, and it is a

problem which has been coined as the

'paradox of automation.' A few years

ago, an aeroplane crashed killing all of

its passengers. When the authorities

investigated they found that all the pilots

on-board failed to figure out how, or if, the

auto-pilot had failed. The error made was

simple and should not have happened.

When they checked to see how many hours

of actual flying time the pilots had recently

done it was clear that due to the lack of

time the pilots actually flew the plane

themselves they had lost the ability to act

quickly, as an expert, in those emergency

situations. This was because flying in autopilot

had damaged their ability to think.

It had filled in their neural pathways and

even the most experienced pilot on the

flight had seemingly become de-skilled

over time because he had been driven by

the computer, not the other way around.

HUMAN INPUT

So what is the solution? As with any

problem, the first step is to recognise it.

If automation is invading your business

and is not being controlled then assess

the need for having human input, how

often it will be needed in your business

and make sure employees can still do

it all manually. If a senior worker can

only achieve senior status by carrying

out junior tasks manually first then don't

automate all your junior tasks just because

you can, otherwise you will create a skills

gap in your workforce. It will maybe give

a business a short-term profit but in the

long-term the business will suffer!

Also make it a part of your risk-audit

to spot check understanding and ensure

that you always have experts within your

ranks. Then pay those people properly to

retain them for the long term and respect

the fact that they are your organisation's

goalkeeper. They might not touch the ball

as many times as other staff but when

they do it really does count. Then, once

your plan is in place, market that strategy

If the computer gets it wrong

just that once and there is

nobody there to fix it at that

precise moment, then it really

could be 'Hasta la vista' for

your business!

and set yourself apart from competitors

by acknowledging and respecting the fact

that you are in the ''business of brains''

and always will be! As a result, you will

attract the best staff and clear water will

begin to appear between you and your

rivals. I am absolutely confident of that

and it is a philosophy I adopt and support.

If we don't do it then the skilled worker

will become extinct because the habitat

will not exist to support the creation and

maintenance of those skills.

And do it because if you don't adapt

in the right way and take a sensible

approach to business AI then with all the

heavy, business regulation in place, if

the computer gets it wrong just that once

and there is nobody there to fix it at that

precise moment, then it really could be

'Hasta la vista' for your business!

James Perry is a Solicitor and Technical

Director for DWF LLP, a Top 30 National

Law Firm. He is also the Vice-Chair of

the Civil Section of the Law Society

The Recognised Standard / www.cicm.com / April 2018 / PAGE 19 continues on page 20 >
---
TECHNOLOGY

THE DANCE

OF THE ROBOTS

How to turn data into practicable insight

to benefit businesses, stakeholders and

individual customers.

AUTHOR – Brian Morgan FCICM

IN the 25 years I have worked in credit

management, the key tasks facing

our profession have essentially

remained unchanged: minimise bad

debt, maintain strong cashflow and

reduce business risk. Huge volumes

of data now underpin every task, challenge

or opportunity facing credit managers today.

Although some people may regard this data as

a complication, there are others like me who

can only see it as a huge opportunity.

DATA-DRIVEN DECISIONS

The volume, variety and velocity of data

within business is certainly unprecedented.

As finance professionals we now have more

data at our fingertips and disposal than ever

before. Our latest challenge, is how to turn

this data into practicable insight to benefit

businesses, stakeholders and each individual

customer.

The availability of so much data at our

fingertips has transformed the speed of

decision making. Credit management

decisions are no longer delayed by days,

weeks or months spent analysing reports,

spreadsheets or paper trails. Instead they

are made in seconds or minutes, with rich

insight available at the touch of a button. Core

analysis and tools such as segmentation and

dunning are still applied, but the breadth and

depth of available data has transformed how

we understand, segment, and communicate

with customers.

In my role, I am fortunate to steer credit

management technology and explore how

it can be applied by credit managers to

transform business processes and results.

Credit professionals can now access

multidimensional insight into customers

across collections, behaviour and risk,

enabling new strategies to be created in realtime.

Results are transformed, as collections

and risk are managed simultaneously.

Gone are the days of having one report in

a spreadsheet for overdue accounts, another

report for risk rating and scores, and further

separate reports for credit insurance and

other pools of transactional, behavioural

and historical data. All of this can now be

contained in one place with a single view

of the customer, allowing any changes to

be easily identified with visible, reportable

actions.

AN EVOLVING MARKET

As technology and data continue to drive

the speed of credit management decisions,

discussion must now turn to which

technologies to use. One of those technologies

driving innovation within financial processes

is Robotic Process Automation, or RPA.

RPA is software that methodically

automates repetitive, manually-intensive

tasks, processes and workflows. RPA

complements existing data sources, such as

ERP systems, which can provide important

historical facts about customers and account

standings. Applying RPA automation allows

employees to concentrate on tasks that add

greater value to a business and its customers.

RPA isn't a new term; it was first coined in

early 2000. It's also not a new concept; the core

of RPA simply uses automation to increase

efficiency over manual processes. However,

the market for RPA is developing rapidly as

businesses figure out innovative ways in which

to apply RPA and its underlying algorithms to

different workflows and scenarios, including

credit management and other back-office

functions.

RPA is transformational. It introduces credit

professionals to a new level of dynamic,

intelligent 'power' that increases efficiency as

well as accuracy. RPA brings easily overlooked

back-office benefits to the forefront of your

business. But how should you approach RPA

and what sort of results should you expect?

Traditional benchmarking depends on

your individual business. I've seen RPA credit

management technology applied to reduce

aged debt by 75 percent, or reduce headcount

focused on a manual process by 20 percent,

and cash collection efficiencies improved

The Recognised Standard / www.cicm.com / April 2018 / PAGE 20
---
y a factor of tenfold. Credit management

processes that lend themselves to RPA and

initial automation, include: allocation of

customer payments; collection strategies

and day-to-day activities; and dynamic diary

management.

The true business benefits of RPA are

several fold; alongside the accuracy and

insight it lends to credit teams, RPA crucially

allows credit management teams to focus

on value-added activities that drive further

improvement in performance.

RPA in the real world: Aggregate Industries

Aggregate Industries is a good example of

a business that has successfully applied RPA

in credit management. The company has been

using automation and RPA across its finance

team for several years - recently extending it

to credit management.

Credit Manager, Phil Rice, says his team

has measured several benefits from applying

RPA. These include:

• Reorganising finance functions around

core data to centralise risk and collections

activities – including payment behaviour,

risk and credit insurance data, and trend

analysis data

• Supporting innovative ways of working for

the credit management team

• Accessing new reporting capabilities based

on accurate, real-time data

• Establishing a central, trusted data

repository for all credit managementrelated

data.

OVERCOMING OBJECTIONS

So why aren't all finance teams adopting

RPA, if applying data, technology and new

processes to credit management opens up so

many opportunities?

Credit professionals can now access

multidimensional insight into customers

across collections, behaviour and risk,

enabling new strategies to be created

in real-time. Results are transformed,

as collections and risk are managed

simultaneously.

The truth is that adoption of transformative

technology is rarely possible without some

resistance to change or reluctance to rock the

status quo. Fortunately, this can quickly be

overcome through greater understanding and

communication of the size of the opportunity

offered by change, and alleviating specific

concerns over moving from existing paperbased

processes.

Forward-thinking businesses now realise

that "if it isn't broke, don't fix it" is no longer a

sustainable attitude. Customers have changed,

business expectations are evolving, and rapid

data-driven decision making is becoming

industry best practice.

The bottom line is that RPA automation

will free up time, creativity and skilled

resources, accelerating and broadening the

transformation of your business. Credit teams

work with rapidly expanding volumes of data

at the coalface of business opportunity, and

RPA provides the most efficient means to

maximise those opportunities.

Brian Morgan FCICM, is Product Director,

for Rimilia.

The Recognised Standard / www.cicm.com / April 2018 / PAGE 21
---
PAGE

TURNER

Sean Feast caught up with Jon Swan FCICM,

Head of Credit Services at Hachette UK to talk about

credit management, Harry Potter, and Maidenhead

United FC!

The Recognised Standard / www.cicm.com / April 2018 / PAGE 22
---
HACHETTE UK may not be

a familiar name to many

working in the credit

industry, but as the power

behind such brands as

Hodder & Stoughton,

Little, Brown Books, and Octopus

Publishing, its publishing credentials are

impeccable. Add to this its recent coup

of welcoming J.K Rowling into its fold of

world-renowned (and successful) authors

that include Stephen King and Iain Banks,

and the size and importance of the business

cannot be in doubt.

It is a business that rarely stands still,

competing in an industry that only has one

speed: fast. In 2016, it announced plans to

consolidate its distribution operations into

a new, world-class distribution centre in

Didcot, Oxfordshire. The site was chosen,

in part, to be close to an existing Bookpoint

distribution centre, which will be retained

as a bulk storage depot, but has not been

achieved without a modicum of pain. It

means closing down its Littlehampton Book

Services Distribution Centre next year.

ADVANCED WAREHOUSE

The new warehouse will be one of the most

technically advanced in the UK, including

sophisticated automation of processes.

According to the press statement issued at

the time, it will enable Hachette Distribution

to deliver 'significant improvements to

the already high standard of service that it

provides to its publishers and its customers,

in a world where next day and same day

delivery are expected'.

The substantial investment programme

includes the replacement of Hachette's Vista

warehouse management and sales order

processing systems, with modern, marketleading

software solutions from suppliers

including SAP and JDA.

As I join Jon Swan FCICM, Head of

Credit Services at Hachette UK's HQ on the

Embankment, the business is well on its

way through its transition to a new world

order, and his time is understandably short.

'Traditional' credit managers, he tells me,

often prioritise DSO and cash collections as

their key KPIs. And understandably so. With

Jon and his team, however, there is this

and more: "The Credit Services team's role

is about delivering a high-quality service

to our customers, particularly when onboarding

new publishers, and helping them

to succeed in taking on new markets."

DISTRIBUTION PARTNER

Jon's role is certainly an interesting one. As

well as Hachette providing a service to its

own publishing companies and imprints,

it also acts as the distribution partner

for third-party publishers, many of them

small, niche enterprises with specialisms in

certain sectors such as education.

"Imagine you are a small publisher

interested in exporting to the Caribbean

or the Middle East, where there is much

demand for education books. They look to

us for our knowledge of these markets, and

our own experience. We can tell them about

the political and economic risks involved

and present it to them in simple language

and reports that are easy to understand.

The Recognised Standard / www.cicm.com / April 2018 / PAGE 23 continues on page 24 >
---
OPINION

AUTHOR – Sean Feast

Although we cannot offer direct advice, we

can ensure they have all of the information

they need to make an informed decision," he

says.

Using boutique company information

agencies in certain territories is an option,

Jon adds, but nothing beats old-fashioned

due-diligence and KYC.

Competition within the publishing

industry is fierce, and Jon hopes that the

recent investment in Didcot and the new

software solutions will give Hachette the

competitive edge. Certainly, his present

focus is on ensuring the smooth delivery

of SAP and other 'smart projects' presently

underway, but without it impacting current

service levels. Migrating from Vista is no

mean feat, but when accomplished will

support significant improvements in terms of

automating workflows, enhanced reporting

and delivering real-time data.

PUBLISHING ISSUES

One issue that is peculiar to the publishing

world is 'Sale or Return' (SOR) which causes

all manner of headaches for the credit team.

Delivery shortages and shipments going

missing are all in a day's work for Jon: "Our

people are as much 'issue resolvers' as they

are credit managers," he laughs, even though

speedy resolutions are not always easy to

come by. "Imagine you are dealing with a

business like Amazon," he says, "and you

have to find the right person to speak to.

That is seldom straightforward, but often

very important.

"We are one of the top suppliers to Amazon

and get paid to terms, but that is often more

difficult for smaller firms."

Jon used to work for a UK video and

record distributor and sees many similarities

between distributing books and media

product. He also worked in the IT sector for

Dell for ten years but the differences between

computers and publishing could not be

wider. He joined the CICM 34 years ago and

is heavily engaged with the Thames Valley

Branch. "I very much enjoy the interaction

at job fairs and careers' presentations at

schools, meeting teachers, students and their

parents," he explains.

"It is quite a challenge. When we

are exhibiting alongside well-known

accountants, high-tech firms or the Army,

no-one really knows what credit management

is. When it is explained to them, however,

they understand straight away, and often the

first thing they want to know is how much

they are going to earn!"

Within Hachette too, Jon is a keen

supporter of the CICM. Within his team

of just over 30, some are at various stages

of their CICM qualifications and/or are

part-qualified, and their learning and

development plans invariably include an

element of further CICM courses. They also

have a CICM Apprentice and are looking to

attract more.

CENTRES OF EXCELLENCE

Jon has looked at CICMQ, but the peculiar

nature of the publishing world means it may

be difficult. That said, Jon regularly reaches

out to his fellow professionals at the CICM

Centres of Excellence, arranging exchange

visits to facilitate even greater knowledge

sharing and seeing how other industries

approach credit management.

He is encouraged by how many credit

managers are now being elevated to 'Heads

of' and Directors which he sees as a nod to

their increased professionalism, and growing

awareness of their role and commercial

value. He is a passionate professional

himself: "It is important we do not work in

silos," he explains. "Our role is to engage with

every part of the business, to interact with

our operations, sales, customer services,

treasury, audit etc and make things happen.

We must never be a barrier."

Within his own business, the team is

measured against an annual 'Client Survey'

which is held in particularly high regard:

"Yes of course we measure DSO and cash

collections, the same as every other credit

manager, but we also map our progress

against the survey, making sure we improve

year on year."

Jon believes that by improving their

service levels even by only one percent every

year, the cumulative effect can be significant.

He hopes the same can be true for one of the

other great passions in his life, Maidenhead

United FC, a club of which he was once

chairman: "They are exceeding expectations

and the highest placed they have ever been,"

he smiles.

It is important we

do not work in silos,

our role is to engage

with every part of the

business, to interact

with our operations,

sales, customer services,

treasury, audit etc and

make things happen. We

must never be a barrier.

The Recognised Standard / www.cicm.com / April 2018 / PAGE 24
---
Membership

Benefits

CICM membership gives you access

to all of these benefits

Credit Management

magazine

National and

regional events

Knowledge

Hub

Qualifications

and training

Professional letters

after your name

Branches around

the country

Industry

resources

Monthly

e-newsletter

Webinars

Mentor

Hub

Recruitment

Hub

Monthly

technical brief

Networking and collaboration

including social media

Legal, insolvency and

business advice lines

Continuing Professional

Development (CPD)

Benefits that keep you informed, help you in your

work and support your professional development

For details visit www.cicm.com,

call us on 01780 722900, or email

cicmmembership@cicm.com

The Recognised Standard / www.cicm.com / April 2018 / PAGE 25
---
VIEW FROM THE SEA

The genius effect

What makes one a genius, and who can rightly

or wrongly claim the title.

GENIUS and penury. The

two often seem to go

together. Skint, broke,

destitute, impecunious…

but what a great mind/

talent. You know the kind

of thing. Why is that, I wonder?

I'm standing at the neglected grave of

the great English writer Malcolm Lowry.

It is deep, dark winter, in the churchyard

of St John the Baptist. The church, its

spire rising majestically towards an

unforgiving grey sky, sits in Ripe, a lovely

village nestling in the bosom of the South

Downs.

Lowry's mournful headstone, now

badly faded, is battered by an epic,

howling wind. The writer's short, alcoholsoaked

life, ended at the age of 47 after

a particularly heavy bender. Apparently,

Lowry was so broken there was no money

to bury him after he went flying down the

stairs of his rented cottage and slipped

into a coma.

I'm thinking, how can someone in

command of a mind which gave us Under

the Volcano, one of the magisterial works

of 20th century literature, with a narrative

of such accomplished complexity it is

often compared to Joyce's Ulysses, have

ended up with barely the shirt on his

back?

It's a familiar tale, one way or another.

In Lowry's case, alcohol addiction clearly

played a major role in his downfall. But

look at the likes of Mozart, Van Gogh, Mark

Rothko, Jackson Pollack, DH Lawrence,

George Orwell, Renoir, Caravaggio…any

number of the romantic poets, all widely

to be considered geniuses within their

respected fields, all contemplating their

mortality with barely a penny to their

name.

Of course, there exists many

contrasting kinds of genius. And plenty

of greats throughout history invariably

described as such have not ended up in

pauper's graves.

Isaac Newton, for example, often

referred to as 'the greatest genius who had

ever lived,' enjoyed a secure, comfortable

and long life, following publication of

his Philosophiæ Naturalis Principia

Mathematica – which singularly changed

the way we looked at our world's position

within the universe.

Perhaps it is the nature of genius –

artistic vs scientific, for example, which

can lend itself to a more reckless lifestyle.

But whatever the reasons, one thing

The Recognised Standard / www.cicm.com / April 2018 / PAGE 26
---
VIEW FROM THE SEA

AUTHOR – David Andrews

is depressingly clear in our contemporary

society – and you don't have to be a genius

to work it out – having money, and an

abundance of it, is constantly associated

with a 'genius' for getting rich.

Donald Trump recently proclaimed

himself – not so modestly – to be a 'very

stable genius' – see Trump tweets passim.

genius

ˈdʒiːnɪəs/

Noun

1.

exceptional intellectual or creative power

or other natural ability.

"she was a teacher of genius''

synonyms: brilliance, great intelligence,

great intellect, great ability, cleverness,

brains, erudition, wisdom, sagacity, fine

mind, wit, artistry, flair, creative power,

precocity, precociousness

Following 'The Donald's' claim, even

some of his supporters sniggered. The US

president is clearly not a genius in any

'normal' sense of the word. Rex Tillerson,

his own Secretary of State, is reputed to

have described his boss as a moron, for

example.

But Trump has displayed a genius of

sorts – the genius that gets a complete

and absolute political outsider whose

belligerent self-belief has propelled him to

the world's most powerful position.

So, is Trump a genius? Really? I don't

know. But I do know that if I had a tenner

for the amount of times I have heard people

of (in my view) indisputable mediocrity

described as 'a genius', I would be laughing

all the way to my current account.

What Trump clearly does possess,

is a terrific facility for making money.

Considerable amounts of his own

greenbacks were invested in his campaign

for the US presidency. And as we know,

many ordinary, blue collar Americans

looked up to him and subsequently

voted for him – because he had made an

enormous pile of money. And America per

se worships at the altar of Mammon.

Naturally, it helped that Trump came

from a well-established real estate dynasty

with vast amounts of cash behind it. But

plenty of other off the scale wealthy people

have come up from ordinary beginnings.

George Soros, currently engaging

the ire of Brexiteers because of his

considerable donations to various anti-Brexit

organisations - is considered a

genius with money – mainly because he

has made so much of it.

And Microsoft founder Bill Gates is

often labelled a genius, partly because

he was one of the key players in founding

technology which unquestionably

changed the world, but mainly I suspect

because his particular genius – if indeed

he does have it – transformed his fortunes

and elevated him to being one of the

wealthiest men in the world.

Philosophy and mathematics – as

evidenced by Newton's transformative

theories – are also evident in Soros' early

money-making ambitions.

A proponent of philosopher Karl

Popper's General Theory of Reflexivity,

Soros subsequently harnessed aspects

of Popper's ground-breaking mid-

20th century philosophy to capital

markets, which (Soros claims) helped

him formulate a clear picture of asset

bubbles and fundamental/market value of

securities, as well as value discrepancies

used for shorting and swapping stocks.

In other words, the 'genius' calls Soros

has made in currency movements and

his hedging has made him one of the

richest people ever to have lived. Money.

It dominates our lives and the way we look

at the world. That is the nature, not just of

capitalism, but of all societies.

The peasant labouring in barren fields

under a hot sun who manages to sow a little

more seed than his neighbour, sell more

chickens at market and feed and clothe

his children, may well be considered a

kind of genius by his envious, less well-off

peasant neighbours.

And legendary crime bosses, such as

Al Capone and John Goti, displayed one

heck of a knack – some might say genius

– for amassing huge fortunes, driven by

ruthless cruelty and avarice. As they say

in the States, if you've got it, flaunt it.

Entrepreneurs such as Elon Musk and

Richard Branson, have, I believe, a terrific

flair not just for amassing stupendous

wealth, but for elevating themselves into

the central vortex of their own destiny.

Musk's recent space rocket launch,

sending one of his electric hyper cars into

orbit with David Bowie's seminal Space

Oddity playing on the soundtrack, was –

in my view – a stunt of not inconsiderable

genius.

Call it what you will, a knack, a

facility…a penchant for making money,

these guys have it. Respect. In Branson's

case, I recall securing a face-to-face

interview with him 20 years ago. He was

due in Manchester to open what was –

20 years back – the UK's first ever car

supermarket. I was the first journalist to

be granted an exclusive with the bearded

one.

I took one of his then fledgling Virgin

trains from London to Manchester. It was

a slow journey in old rolling stock. This

was in the days before the fleet converted

to much sleeker tilting trains.

How was the journey up, Mr Branson

beamed. Not great if I'm honest, I said,

explaining not very diplomatically that the

train was slow and rather dirty. The toilets

did not work, and the buffet remained

stubbornly closed for the entire journey.

He nodded, sagely. Ok, ok, so, so sorry,

he said, flashing a huge smile. We will

endeavour to make it up to you. I'll get my

PR people onto it.

It's fine Richard, I said, it's always a

mission, getting around the UK. How did

you get up here by the way? Did you also

hop on a train?

No, said one of the world's wealthiest

men, I flew up. In a Spitfire. A mate

of mine has just restored one. Great fun.

Took just over an hour from London.

Richard Branson. Showman. Billionaire.

Genius? Who knows…

David Andrews is a freelance business

journalist

Sir Isaac Newton

The Recognised Standard / www.cicm.com / April 2018 / PAGE 27
---
CICMQ

Top of the world with CICMQ

accreditation

AS a leader within the

European payments and

transactional services

industry, Worldline was

keen to reaffirm the

quality and professional

standards of its credit team. As such

it decided to pursue CICMQ and

has succeeded in attaining its first

accreditation.

With nearly 45 years of experience,

the company stands out in its sector for

providing products, services and solutions

along the full length and breadth of the

payments value chain, with customers

including financial institutions, retailers,

the transport industry, governments,

healthcare facilities, telecoms operators,

utility companies and businesses within

the hospitality sector.

Worldline employs thousands of

people worldwide generating estimated

annual revenues of 1.5 billion euros.

The credit team comprises 19 staff, and

is led by a Burnell Richards, Head of

Credit Risk: "As a Graduate Fellow of the

CICM, I was happy with our approach to

accreditation as this was underpinned

by my CICM learning and over 30 years'

experience in credit management."

CICMQ Assessor, Sharon Adams FCICM

(Grad) said in her report earlier this year,

that Burnell had clear confidence in his

team. The start of their journey included

a CICMQ Workshop:

'This approach always includes a

CICMQ event designed to focus on the

criteria for the CICMQ accreditation

and also target weak areas, bring the

department and stakeholders together to

work collaboratively for the same goal as

well as improving cash collection'.

CICMQ re-accrditation secured

for Adler & Allan

ADLER & Allan Group, including E&S, WES

and now OHES Environmental, is the UK's

leading supplier of environmental and

technical services, successfully protecting

the UK's critical infrastructure for over 30

years.

The Group is unique in offering a

broad range of operational capability

and consultancy expertise. This includes:

emergency response; environmental,

mechanical, electrical and civil engineering

services; specialist fuel service capabilities;

and services dedicated to land and marine.

Darren Allardyce, Credit Manager

at Adler and Allan says his small but

dedicated team does a fantastic job every

day in a sometimes very challenging,

response-driven industry: "Our work on

the BERG Flood Resilience Project in

response to the severe flooding in Cumbria

and Lancashire recently was particularly

notable and formed a specific part of our

re-accreditation," he explains.

"To win 'Project of the Year' in the CICM

British Credit Awards 2018 was the pinnacle

for the whole team."

Our work on the BERG Flood Resilience Project in

response to the severe flooding in Cumbria and

Lancashire recently was particularly notable and

formed a specific part of our re-accreditation.

The Recognised Standard / www.cicm.com / April 2018 / PAGE 28
---
TRADE TALK

It's good to talk

The threat of trade wars shows how important

WTO rules really are.

AUTHOR – Lesley Batchelor

Lesley Batchelor

PRESIDENT Trump's recent

assertion that 'trade wars

are good' following the

raising of tariffs on steel

and aluminium in early

March has caused quite the

stir. With the EU threatening a response

– including raising tariffs on things like

Levi jeans and bourbon – and Beijing

expressing 'strong dissatisfaction' with

Trump's decision, the prospect of a return

to the sort of fully fledged trade wars we

haven't seen since before World War II feels

worryingly real.

From President Trump's point of view,

he has decried the US' "$800 billion dollar

yearly trade deficit" and isn't alone in

calling for a reproach to China's aluminium

subsidies – under President Obama the

USA had complained to the WTO about

them. Indeed, since 2000 the US steel

industry has suffered, with production

dropping from 112 million tons to 86.5

million in 2016, accompanied by a drop in

employment from 135,000 to 83,600 in the

industry over that period.

Nonetheless, this change in approach

from the US is largely unprecedented in

modern trade between developed nations.

The US imports over four times as much

steel as it exports. Critics and trade experts

are largely agreed in saying that these

tariffs will fail to protect American jobs,

ultimately raising prices for consumers.

IMPACT ON THE UK

Our own Prime Minister, Theresa May, has

voiced concerns. Given the strong desire

among many Brexiteers for a trade deal

with the US following our exit from the EU,

her condemnation of President Trump's

stance is particularly striking, but the

impact of these tariffs will be felt here.

For the remaining period that we are

inside the EU, the EU's threats to raise

tariffs could impact on around $3.5

billion of imports from the US. Then there

are the threats of US tariffs increasing

on European carmakers. The US is the

largest export market for EU cars, making

up 25 percent of the €192 billion of motor

vehicles exported by the bloc. This is a

key industry for the UK more specifically

as well. US demand rose seven percent

for British-built cars in 2017 with 210,000

exports. The US is the second largest

trading partner for the UK car industry,

taking 15.7 percent of our exports.

With the US already considering and

even planning increased tariffs on the EU

which affect some of the UK's key export

markets, the idea that we can somehow

arrange a tariff-reducing trade deal with

President Trump's US – one that covers

all of our key industries – starts to appear

less likely. Looking at other industries

– including the food and drink industry

in which talk of importing chlorinated

chicken in a lowering of UK standards

caused serious anxiety across the nation.

IMPORTANT ROLE

The WTO, of course, came out and voiced

concern about the US administration's

plans.

"The potential of escalation is real, as

we have seen from the initial response of

others," said WTO Head Robero Azevedo.

"We must make every effort to avoid the

fall of the first domino."

A reasonable assertion to say the least,

but the WTO can get a bad press in the

UK, as well as in the US. When people

describe the prospect of the UK trading

by WTO rules with our main trading

partners in the event of a 'no-deal' exit

from the EU, they usually do so with an

air of trepidation.

Of course, until future trade agreements

are signed, this would represent an

increase in tariffs trading into countries

we haven't had tariffs for before, as part

of the EU. Yet, under the Most Favoured

Nation rule agreed in the Uruguay round

of negotiations in the 80s and 90s, we

would at least have a structured set of

tariffs and rules to trade by.

It's in comparison to the assertive and

impulsive nature of trade wars that we

should cherish the history and purpose of

the WTO. The WTO describes itself as:

"Essentially a place where member

governments go to try to sort out the trade

problems they face with each other. The

first step is to talk. The WTO was borne

out of negotiations, and everything the

WTO does is the result of negotiations."

Negotiations at the WTO take time of

course, and the rules and tariffs as they

stand are by no means perfect.

However, I think we all agree that

our trading terms with nations like the

USA should be set by an international

organisation dedicated to legal certainty

and fairness, no matter how long it takes.

Lesley Batchelor OBE FCICM is Director

General of The Institute of Export and

International Trade.

Essentially a place where

member governments go

to try to sort out the trade

problems they face with

each other. The first step is

to talk. The WTO was borne

out of negotiations, and

everything the WTO does is

the result of negotiations.

The Recognised Standard / www.cicm.com / April 2018 / PAGE 29
---
INTERNATIONAL

TRADE

Monthly round-up of the latest stories

in global trade by Andrea Kirkby.

GOING GUNG-HO IN SENEGAL

ONE of Atradius' top emerging

market picks for 2018

is Senegal. Favourable

demographics, domestically

driven growth, and a gung-ho

forecast of 6.8 percent economic growth make

it a good bet – as does rapidly improving

governance which has put it among the top

states in Africa for ease of doing business.

One difficulty is that the economy isn't

very concentrated - SMEs have a much

bigger share of business than in many

countries, with relatively few big firms. That

means tapping the fast-growing consumer

market will need a bit of smart thinking and

innovation. While consumption is the key

growth driver, the country is also involved

in huge investment in infrastructure –

road, rail and power supply – giving British

construction and capital goods firms a great

opportunity.

The drawback? The business language is

French. If you can cope with that, then a flight

to Dakar could be your next move.

Stock markets across the world wobbled in

February as investors suddenly woke up to

what rising interest rates actually meant for

their investments.

News media featured experts telling us

not to worry, it's just a temporary blip. Those

with longer memories may remember Nigel

Lawson using the same phrase.

Aron Pataki at fund manager Newton

GETTING THE JITTERS

believes we could be standing on the edge

of the abyss. He thinks there could be a latecycle

surge in inflation in the real economy,

bringing about a major crash in markets.

Stock markets are one thing, of course,

and the real economy is another. But an

upsurge in inflation and in interest rates is

something you need to take into account

when you're thinking about your credit

ON THE UP AND UP

policy. Funding your customers could get

much more expensive – and in a higher

inflation environment, that money won't be

worth as much when you finally get your

hands on it.

Besides, jittery markets could mean

volatile currencies. Keep an eye on

exchange rates and make sure you're not

caught short.

I read everything I can on the markets, but

for an overview I really love AU Group's

G-Grade, which summarises the major

insurers' views and gives you a bunch

of easily readable charts on the basic

economic stats for each country.

The Q1 2018 edition makes good reading

with a whole swathe of upgrades - Slovenia,

Azerbaijan, South Korea, Taiwan, Ukraine,

Egypt, Kazakhstan and Rwanda. Ukraine

seems to have turned the corner, with

steady three percent economic growth,

though of course there are still political

risks facing the country, while both

Slovenia and South Korea are growing

steadily.

Just two downgrades: the Philippines

and Bahrain. The Philippines could be a

great market – the economy is growing fast,

with a young and growing population – but

corruption, bureaucracy, and insurgents in

some provinces, all create a high level of

political risk. Bahrain's problems, on the

other hand, are fiscal – high government

debt, partly the fault of the low oil price

which has hit all Gulf nations badly.

The Recognised Standard / www.cicm.com / April 2018 / PAGE 30
---
SHOCK TO THE SYSTEM

Devon-based Fraser Anti-Static's job is

preventing static electricity from wrecking

manufacturing processes – very specialised

and really quite crucial. Like many

companies with specialised technology, it

exports to over 70 countries already – but

China is the new star business.

It recently hosted a visit for its Chinese

partners, giving them the chance to train

themselves up on new products as well as

introducing them to the production and

customer services team.

POST-BREXIT REBALANCING?

Boris Johnson and Liam Fox suggest British

exporters should forego their EU sales and

make a sales push for the rest of the world.

But Euler Hermes points out that while

markets like China, Saudi Arabia and

Malaysia might deliver growth in sales

figures, they represent a high credit risk.

The report certainly

shocked me. I thought

India would come out

badly – but Saudi, South

Africa, and Russia are all

much worse.

This kind of activity doesn't always get

included in the 'how to export' textbooks

– but knowing the face that goes with the

voice on the end of the phone line is one of

those little things that gives partners and

customers confidence in your service.

The huge Chinese manufacturing base is

a key opportunity for suppliers of industrial

equipment. And Fraser Anti-Static is clearly

doing things right, as evidenced by a 46

percent growth in its sales to China over the

last 12 months.

It's not so much the risk of customer

insolvencies per se, but the complexity and

difficulty of recovering debts. That contrasts

with EU markets where collection is easy

and straightforward.

The report certainly shocked me. I

thought India would come out badly – but

Saudi, South Africa, and Russia are all

much worse. And although Singapore does

much better than many other South-East

Asian countries, it still only ranks as high

as Romania. Within Europe watch out for

a little pocket of difficult debt collection –

Czechia, Slovakia and Hungary are all quite

tricky compared to most.

If you're expanding your markets,

make sure that you do your homework on

collection processes, as well as on economic

growth and bad debt risks.

WATCH OUT FOR OVERTRADING

For years, global economies have been

stagnant or growing slowly. Now, things

are changing, and that means the nature

of risk has changed. The companies you

had to worry about used to be the ones that

couldn't get revenues kick-started. Now,

the ones you need to check up on could be

the ones that are going gangbusters - but

haven't got the resources to keep on track.

Coface warned at its 2018 Country Risk

Conference that greater supply constraints

in developed economies could become an

issue – they could, quite simply, overheat.

Low levels of unemployment will make it

difficult to get staff – and that could mean

some companies can't produce enough

to keep their customers supplied. A nice

problem to have, maybe - but it could all get

very messy.

It's time to check customers' balance

sheets and make sure their working capital

can support their sales levels. If your ratio

analysis is a bit rusty, it's time you got some

practice. You never know, it could save you

quite a bit of money.

Now, the ones you need

to check up on could be

the ones that are going

gangbusters - but haven't

got the resources to keep

on track.

CURRENCY UK

EXCHANGE RATES VISIT

CURRENCYUK.CO.UK OR

CALL 020 7738 0777

Currency UK is authorised and regulated

by the Financial Conduct Authority (FCA).

HIGH LOW TREND

GBP/EUR 1.1434 1.1167 Up

GBP/USD 1.4266 1.3936 Up

GBP/CHF 1.3263 1.2896 Up

GBP/AUD 1.7932 1.7608 Up

GBP/CAD 1.7997 1.7381 Up

GBP/JPY 156.335

ATG ACCESS

145.363 Up

ATG Access has been scoring export success

with its vehicle barriers. First of all, it simply

identified countries where security issues

created a potential need for security barriers

and sold directly. But now it's moved on to

signing manufacturing partners in the areas

it's exporting to.

Subcontractor networks mean it can pass

big projects on to its local partners without

stretching its own finances too thinly. There's

a lesson there for those of you who are

wondering how to finance a big export push.

But the company warns it takes time.

Singapore is a great market for them now, but

it took three years from starting up to getting

their first order.

MURDERING THE

EXPORT MARKET

I was tickled to see Grimsby-based Red

Herring Games doing well in export markets.

You might not think the Agatha Christie or

Cluedo style murder mystery would export

particularly well, but Red Herring's scripted

dinner party murder mysteries seem to be

selling very well indeed abroad. They're

helped by their stringent quality control – all

their mysteries are equally difficult to solve.

The key success factor? Using Amazon.

com. Those of us with a background in more

traditional exporting may not realise quite

what a game-changer Amazon has been –

letting small businesses export globally. If

you're not looking at e-commerce, maybe

you should – Amazon is great for consumer

goods, but it's also now increasingly targeting

the B2B market.

The Recognised Standard / www.cicm.com / April 2018 / PAGE 31
---
COUNTRY FOCUS

Adam Bernstein concludes

his look at Austria and

considers the state of the

economy, taxation, and

business etiquette.

Austria: Part two

DOWN TO

BUSINESS

Austrian Parliament in Vienna

The Recognised Standard / www.cicm.com / April 2018 / PAGE 32
---
COUNTRY FOCUS

AUTHOR – Adam Bernstein

THE World Bank data suggests

that Austria appears to be

a mixed bag when it comes

to doing business in the

country. While it's ranked

22nd overall (according

to the 2018 rankings), starting a business

puts Austria at 118th, getting credit leaves

Austria ranked 77th, yet enforcing contracts

elevates Austria to ninth place and trading

across borders puts it in pole position.

Firms wanting to set up in Austria have a

number of options open to them including

establishment which doesn't mean creating

a separate legal entity but instead, using an

extension of the overseas parent company.

This route offers no limited liability, profits

are liable to Austrian corporation tax,

and annual statements must be prepared

in German and lodged at the Austrian

commercial register.

Another option is to form a limited

company to provide limited liability and

give an air of being a local business.

Companies must pay corporation tax on

profits and file annual statements with the

Austrian commercial register. Accounts

have to be audited if defined turnover,

assets and employee criteria are met. There

are a number of variants – the 'standard'

limited liability company (GmbH), the

larger joint stock corporation (AG), the

European company (SE) which has the

same law applied to it throughout Europe,

and the Foundation (Stiftung).

A third option is to use a limited (KG)/

unlimited liability partnership (OG)

where members (partners) have limited

liability (limited companies) or unlimited

liability (individuals). Profits are allocated

to members who then pay income (or

corporation) tax on these profits.

Those wanting to work in Austria on

a self-employed basis need to heed the

requirements of the Gewerberecht –

trade regulation legislation. In essence,

certificates of qualification are mandatory

for certain trades and crafts and generally

a business that can only trade after

registration with the Austrian authorities.

The net effect of this means that in certain

sectors, such as telecommunications,

engineering and construction, it is often

easier to have a head of the business who is

an Austrian national with the appropriate

qualifications rather than bring someone

in who has to meet the legal requirements

before they can work. Bureaucracy can

make it a lengthy process for other nationals

to obtain the correct qualifications.

Where companies need to protect

their intellectual property (IP), the UK

Government warns that IP law, especially for

patent protection, is not totally harmonised

within the EU. Those with concerns here

would do well to make contact with the

Austrian Patent Office (ÖPA) whose website

is at patentamt.at/ as it has responsibility

for IP legislation in Austria. It also makes

sense to seek professional legal advice.

TAXING MATTERS

In terms of taxation, Austria currently

operates a flat 25 percent rate of

corporation tax. Income tax is paid

according to which of the seven tax bands

that applies – zero percent (to €11,000), 25

percent (€11,001 to €18,000), 35 percent

(€18,001 to €31,000), 42 percent (€31,001 to

€60,000), 48 percent (€60,001 to €90,000),

50 percent (€90,001 to €1 million) and 55

percent (over €1 million). The income tax

rules apply if an individual is resident in

Austria and residency is triggered if the

individual has an Austrian domicile or his

habitual residence (more than half of the

year) in Austria.

The Austrian tax regime permits

tax loss carry forwards. While this is

limited to 75 percent of taxable income

for limited companies, it's unlimited for

individuals. One of the reasons that many

internationally active firms choose to

headquarter in Austria is that losses can be

carried forward in Austria, or offset against

profits of the foreign parent company.

There are, as might be expected,

employee related social security charges

to be paid which cover health insurance,

accident insurance, unemployment

insurance and pension insurance. These

can be seen in more detail at home.kpmg.

com/xx/en/home/insights/2011/12/austriaother-taxes-levie.html,

but in essence they

mean a 21.48 percent charge for employers,

and 18.12 percent for employees.

Being a member of the EU, Austria also

operates Value Added Tax (VAT) and applies

a standard rate of 20 percent (reduced rates

of 13 percent, ten percent or zero percent

may apply to some supplies). Registration is

compulsory for any Austrian business that

makes taxable supplies in excess of €30,000

in any 12 months period. Where supplies

from foreign businesses to Austrians

exceed €35,000 per year, they become

subject to Austrian VAT. Most services

provided in Austria to private customers

are subject to VAT.

As in the UK, there are different types of

supply: taxable where VAT must be charged

on supplies and input tax can be reclaimed;

exempt where the supplier cannot charge

VAT nor reclaim input VAT; and outside the

scope where the supply is not within the

Austrian VAT system.

SMALL TALK

Doing business in a foreign land is as much

about understanding people as it is the

market. Understandably, when engaging

in business small talk it's advisable not to

Admont Abbey in Styria, Austria

mention the role of the Austrians in World

War II, and conversations about money or

religion should also be avoided. Indeed,

it's important not to assume Austrians are

like Germans. While they speak the same

language, Austria is a country with a great

sense of history and a unique culture.

English is widely spoken in business circles.

Despite post-World War II cut backs

in state involvement and a series of

privatisations, there is a still a legacy of

bureaucracy and hierarchy that dominate

the Austrian business place today. Austrian

businesses tend to have a hierarchical

management structure, with respect

being granted to those in senior positions.

Business culture in Austria is not very

consensus-driven and managers are

expected to be experts in their field.

Lastly, and on a higher level, Austrian

business culture is based on what is

known as Sozialpartnerschaft, or social

partnership, the essence of which aims

to cultivate industrial harmony, dialogue

and cooperation. It's quite apparent to

the outside eye that many sectors, trades

and professions in Austria have their own

overarching organisations that work to

promote good working relations.

Adam Bernstein is a freelance

business writer

The Recognised Standard / www.cicm.com / April 2018 / PAGE 33
---
'

b

REPORT

The State of the Credit

Management Nation

– and exclusive report

CICM members are untroubled by Brexit

and unimpressed by GDPR.

Shared Services AUTHOR – Sean Facilities

Feast

MEMBERS of the

Chartered Institute of

Credit Management

appear untroubled by

Brexit, unimpressed

improve

by new

service.

regulation,

and keen to see how new technology can

enhance performance in the future.

They are also valued by the companies

who employ them, and actively involved

in the performance and success of the

businesses they represent.

These were among the key findings of

a major new report from Sheffield Hallam

University, commissioned exclusively for

the CICM, that sought to determine the

State of the Credit Management Nation.

In the report,

Finance.

70 percent of credit

managers interviewed said that Brexit

would have 'marginal' or no impact at all

on their credit risk policies over the next

12 – 24 months. Beyond this period, they

would review their terms and familiarise

themselves with the post-Brexit plans of

their customers. They also believe that

the credit manager's role will continue to

evolve to have an even greater 'risk' focus.

A similar percentage (70 percent) said

that new business would be affected

'signicantly' or 'marginally' in the next two

years and feared an increase in tariffs and

other barriers to trade. Almost half (47

percent) believe that export markets will

be affected, that the cost of raw materials

will rise and companies may have to lower

their prices.

As well as Brexit, the research also

looked at the impact of new regulation, and

in particular the General Data Protection

Regulation (GDPR). Only 15% a quarter (27

percent) said that it will be of benefit,

and many felt that it would simply make

their jobs more difficult. Gaining access

to data will be more time 22% consuming and

complex, and could actually affect new

business. Only 62 percent believed the

changes would benefit the consumer, but

that companies would be working harder

to protect the data they held.

Shared Services Facilities

The role of technology was also

considered, with nearly all of those

questioned agreeing that new technology

had significantly impacted their business

processes, people, and opportunities over

the last three years. The single biggest

benefit was seen to be an improvement

in operational efficiency. Other findings

included:

• 49 percent of credit managers believe

foreign exchange will be impacted

significantly in the next 12 – 14 months

• 80 percent say that political decisions in

the US will have little or no impact on

their UK business

• 53 percent use shared service facilities

to be more cost-effective and improve

productivity and service

• Only 17 percent use specialist credit and

collections software

In terms of payments, specifically, the

principal reasons for non-payment by

customers was given either as the invoice

being in dispute, or that they simply did

not have the money to pay. Despite the

emergence of new technologies to support

collections, the telephone is still considered

the most effective means of collecting the

cash, outstripping letters, emails, and even

personal visits by some margin across all

customer types: consumers; sole traders;

partnerships; micro businesses; SMEs;

and large businesses.

Credit managers also have a positive

attitude to training and development, with

in-house training being deemed the most

effective. Most Europe agreed that it was essential

that credit managers had regular training

and kept up-to-date with industry and

Asia

regulatory changes.

The qualitative research was undertaken

by four University America students studying in

their final year for a BA in Accounting and

Finance. The results were presented at the

CICM Think Multiple Tank in Countries

February, and the

full report can now be found on the CICM

website.

The Recognised Standard / www.cicm.com / April 2018 / PAGE 34

"The State of the Credit Management Nation"

Think Tank Consultation 2017

In association with

Just over half of members use shared service facilities (SSF), with 53% stating 'Yes' and 4

stating 'No' (See Figure 10). Companies may use shared service facilities to be more cost

effective, increase productivity and

Just over half of members use shared service facilities (SSF), with 53% stating 'Yes'

stating 'No' (See Figure 10). Companies may use shared service facilities to be more

Of the members that use SSF, most use

effective, increase the in-house productivity method, at 67% and (See Figure

SHARED SERVICES FACILITIES

improve service. 11). The in-house method may be

preferred as it offers the business more

Of the members control that over areas use SSF, such most as IT and use

the in-house method, at 67% (See Figure

11). The in-house Overall, the method facilities may are spread be

preferred as it offers the business more

control over areas such as IT and

Finance.

Just over half of members use shared service

facilities (SSF), with 53 percent stating 'Yes'

and 47 percent 47% stating 'No' (See Figure 10).

Companies may use shared service facilities

to be more cost effective, 53% increase productivity

and improve service.

worldwide (See Figure 12), with 55% located in the UK, followed

47%

by 22% in Europe. UK S

may be used more by members due to the short travel distance compared 53% to those loca

in Europe, Asia and America. This could improve communication between the SSF and o

departments within the business.

Overall, the facilities are spread

Of the members that use SSF, most use the

worldwide (See Figure 12), with 55% located in the UK, in-house followed method, at by 67 percent 22% (See in Figure Europe.

11). The in-house method may be preferred as

it offers the business more control over areas

may be used more by members due to the short travel distance compared to those

such as IT and Finance.

4%

in Europe, Asia and America. 4% UK

0%

This could improve communication between the SSF a

departments within the business.

55%

4% 4% UK

Europe

Fig. 10

Fig. 11

33%

Yes.

In-House

No.

0%

67%

Third Party
---
No Impact' could be waiting for the new legislation to come into force in May 2018,

efore coming aware of the full impact.

Impact of of Brexit

85%

15%

Limited

None

Limited None

BREXIT AND GDPR

91 percent of members have said that Brexit will not have an impact on their SSF,

and nine percent have said 'Limited/ Little Impact'. It may be that members will not

be fully aware until Brexit actually happens.

38 percent of members said that General Data Protection Regulation (GDPR) would

not impact the SSF and 37 percent also said would have a 'Limited' impact. Those

who stated 'Limited' or 'No Impact' could be waiting for the new legislation to come

into force in May 2018, before recognising the full impact.

Technology

Technology over the Last 3 Years

7%

and 47%

cost

Yes

No

TECHNOLOGY

Technology over the last three years

While the majority of CICM members agreed

that technology in the last three years affects

people, processes and opportunities, (See

Figure 3) with only four percent-11 percent

of members voting 'Not At All,' the majority

of members believe that business processes

have been affected 'Significantly' while people

and opportunities have only been affected

'Marginally'.

Fig. 3

While the majority of CICM members agreed that technology in the last 3 years affects

Cannot Afford to Pay at Present

CREDIT PAYMENTS

people, processes and opportunities, (See Figure 3) with only 4%-11% of members voting

Other Reasons for Non-Payment

'Not At All,' the majority 'Cannot of members Afford to believe Pay at Present' that business is shown processes as the have second been most affected

Some other reasons stated for non-payment were, customer's

'Significantly'

prioritising other debt,

while people common and reason opportunities for non-payment have only by been customers. affected This 'Marginally'. could be for the

bureaucratic issues with international payments and external funding issues.

reason that customers sometimes come across unforeseen financial

Regarding 42% and 47% of members believing that it has only 'Marginally' affected people

difficulties and 'cannot afford to pay at present time'. Companies could

Most Effective Methods of Paying

and opportunities, this take may precautionary be due to businesses steps like not assessing frequently customers adopting with the credit latest checks,

Between Q13a and Q14a (See Figures 19 & 20), 'In-House' method technology suggests 'telephone' for internal to

references, business use. paying This online could credit be due check to certain and lower businesses limits beforehand. attitudes

be the most effective method to obtain payment, followed by 'Ligation'. Of those using a

towards technology as They "there could are also always make some sure people terms and who conditions have their are routines, made clear and they and

'Third-party', companies found 'Ligation' was most effective then followed by 'Telephone'.

just don't want to change" have been (Knight, given 2015) to customers . However, to it avoid may disputes also be due about to hidden businesses financial

'Telephone' might be the most effective method as customers may feel more obliged to pay information. Regular payment schemes are also a good way to make

by telephone as one-to-one communication is mostly easier since believing questions that and answers there haven't been significant advancements in technology over the last 3

sure customers pay on time.

can be finalised at the time. If a customer has an enquiry, comments years can in order be explained to justify the cost of implementing new technology across their business, with

easier and faster, rather than time consuming methods like emails many and believing letters, particularly that "today's digital technologies are doing little to generate the kind of

when chasing payments are concerned.

prosperity that previous generations enjoyed" (Rotman, 2016).

SF

ted

ther

Yes

No

It should be noted that 17% of members believe that technology has 'Hugely' affected

business opportunities over the last 3 years. This may be due to factors such as

advancements in cloud technology and mobile computing allowing both the business and

customers to "spend their time wisely Page and work 23 anytime, anywhere" (Inc., 2016).This may

also be due to recent technology making it easier for businesses to enter new markets by

"making the tests for marketing products easier than they have ever been" (Gross,

2013).For example, 'computer cookies' allow even SMEs and start-ups to track potential

customers interests and disinterests regarding products or services to allow the business to

"tailor content" (Upward, 2014) towards different markets.

UK SSF

located

Fig. 19

nd other

In-House

Third Party

Additionally, 15% of members also believe that technology has 'Hugely' affected people

within business over the last 3 years. This may be due to technology such as eLearning

software being used more frequently in businesses to develop its staff in order to increase

productivity and job satisfaction, with the growth of the eLearning industry "expected to

Fig. 20

increase 11% by 2020" (Greany, 2017). Similarly, this may be due to collaborative software

such as 'Slack' growing to "fill the communication void in how people interact at work"

Other Methods

(Darbyshire, 2018) by allowing workers to efficiently send multimedia messages across their

64% of 'In-House' stated 'No' to adopting any other methods but, some consistent methods

whole business.

However, when you consider the in-house time spent trying to keep on top of careless

MOST customers, EFFECTIVE a collection agency METHODS is often more OF cost effective GETTING than trying PAIDto handle it with your

Between own staff (Street Q13a Directory, and Q14a 2015). (See This Figures may be why 19 & third-party 20), 'In-House' has preferred method 'Litigation' suggests as a 'telephone' to

first choice rather than telephone.

are mentioned such as 'SMS Messaging', with 12%. Almost everyone has a mobile device

be the most effective method to obtain payment, followed by 'Litigation'. Of those using a

these days, especially those in the business world (Rocket Receivable, 2018).This makes it

'Third-party', companies found 'Litigation' was most effective then followed by 'Telephone'.

much easier to get in touch with customers, therefore text reminders are ideal.

'Telephone' might be the most effective method as customers may feel more obliged to pay

by telephone as one-to-one communication is mostly easier since questions 'Third-Party' and 68.5% answers have stated 'No' and some who adopted methods like 'Doorstep

can be finalised at the time. If a customer has an enquiry, comments can Collection', be explained 'DCA', 'Mediation', easier 'Part 36 Settlement' and 'Insolvency'. With 'Doorstep

and faster, rather than time consuming methods like emails and letters, Collection' particularly other than when bailiff and debt collectors, this can sometimes be ineffective for

chasing payments are concerned.

individual employees for the reason that customers may not take them seriously, as "Debt

Page 25 collectors have no special legal powers" (Step Change, 2018).

"The State of the Credit Management Nation"

"The State of the Credit Management Nation"

Think Tank Consultation 2017

In association with

Think Tank Consultation 2017

In association with

Page 16

How can payment collection be improved?

Among Q13b and Q14b, of the members that use 'In-House' and 'Third-Party' methods both

demographics stressed that 'Having Correct Contact Details' would improve their payment

collection process. Chasing payments can be a very time-consuming procedure, especially if

The Recognised Standard / www.cicm.com the business has / April any 2018 incorrect / PAGE personal 35

details.
---
David Scottow FCICM

Senior Director

T +44(0)113 261 6169

M +44(0)783 309 2628

E david.scottow@dwf.law

James Perry

Director Technical

T +44(0)113 261 6533

M +44(0)770 284 7850

E james.perry@dwf.law

Kevin Feehan

Director

T +44(0)113 261 6158

M +44(0)782 785 2753

E kevin.feehan@dwf.law
---
PAYMENT TRENDS

A spring in your step

Has spring finally sprung in reducing

payment terms?

AUTHOR – Jason Braidwood FCICM(Grad)

CONTROL of cashflow is a key

element of success and one

of the biggest challengers

to that flow of success is

mounting debt brought on

by late payment.

Late payers come in all shapes and sizes

– from a sole trader that takes a couple of

extra weeks to settle an invoice to a larger

corporate that demands an extended period

of credit so its suppliers equally feel the

burn of tougher trading patterns. Neither

are right and both take up a lot of valuable

time in chasing up unpaid debts.

It also creates a risk reward culture

that endorses late payment by planning

for unpaid invoices and rewarding prompt

payment. Simply being mindful of doing

good business, for yourself and others,

would be the ideal way to improving late

payment ethics. The good news is that for

the past month, largely, UK businesses

have been improving on their payment

schedules and inching us closer to a point

where – fingers crossed – the phrase 'days

beyond terms', is no longer required.

Perhaps spring really has sprung.

SECTOR SPOTLIGHT

There are seven sectors this month that

have brought their DBT below the ten-day

double figure mark. To give this the kudos

it deserves, three months ago only three

sectors fell under ten-days DBT, so clearly

this is a positive upturn brought by 2018.

Of the 20 sectors we monitor every

month, 65 percent have dropped their DBT

score and 30 percent by two or more days.

Two days may not seem very much, but for

a small or medium-sized company, it could

mean two days not spent with increased

interest charges or time wasted chasing

unpaid invoices.

The particularly standout sectors this

month are the International Bodies and

Water and Waste sectors, which both

brought down the number days beyond

terms that they pay their invoices by over

six days. They both had a DBT score of 15

and 14 days respectively, making them

highly challenging sectors to do business

with. Let's hope this is more of a permanent

U-turn in good payment practice.

The IT sector also managed to drop

its DBT from over 14 days to nine and a

half days this month. Interestingly, the

sector is estimated to register the highest

levels of recruitment in 2018, attributable

to the rapid talent pool growth in new-age

technologies, such as artificial intelligence

and augmented reality. You would hope

that concurrent technology to manage good

payment flow would be a given.

Worryingly, the Energy sector continues

to hold onto its 20 DBT threshold for a

second consecutive month. It's impossible

to tell if this high figure directly links to

late payment coming into the sector from

energy customers or homeowners, but it is

certainly not helping. Last year the sector

pledged to fine customers that were late bill

payers – it would be interesting if that rule

was pinned on the sectors own supplier

payment habits.

This month also sees Business from

Home or the community of self-employed

workers struggling to get their invoices

paid within a reasonable period. In the last

12-months we have not seen this sector rise

much above 15 days beyond terms but this

month that figure has shot up to nearly 22

days, marking an increase of over seven

days on last month. This is the sector that

relies on timely payment and feels negative

cashflow the most. Again, this sudden shift

toward poor payment could signal fault at

the door of their clients and suppliers.

REGIONAL SPOTLIGHT

It's a 50/50 split in terms of positive and

negative payment performances, with

Wales and Scotland sitting at the top of the

leader board and the North West and South

West in the hot seat for worst performances.

It is worth saying that out of the 50 percent

that negatively increased their DBT by some

margin, only three regions increased by a

day or more – so relatively speaking, this

has been a positive month regionally.

We reported that Scotland had found

itself in the worst performing regions list

for the second month in a row and with a

DBT score hitting 17 days, Scotland was also

the worst performing region in over a year.

While the improvement is small (reduction

of 1.7 days) it is a positive step in the right

direction, although overall, Scotland does

have the worst DBT score of all the regions.

Over the last six months, London has

notably kept an even keel when it comes

to their payment performance – neither

impressing or overly rocking the boat.

Hovering around the 14 or 15 DBT zone –

it is still high and higher than it should be,

but it's good to see that the capital is at least

maintaining some consistency.

Jason Braidwood FCICM(Grad), Head

of Credit and Collections at Creditsafe

Business Solutions

The Recognised Standard / www.cicm.com / April 2018 / PAGE 38
---
PAYMENT TRENDS

Sector

Scotland

15.5 DBT

Getting Better

International

Bodies

-6.5

Water &

Waste

-6.2

IT and Comms

-4.8

Business

Admin &

Support

-3.4

Agriculture,

Forestry and

Fishing

-2.5

Getting Worse

Business

from Home

+7.1

Hospitality

+6.1

Education

+4.4

Mining and

Quarrying

+2.3

Wholesale

& Retail Trade

+1.7

Region

Northern

Ireland

11.6 DBT

ottom Five Poorest Payers

0.5 East Anglia

0.6

1.6

Getting Worse

West Midlands

Top Five Prompter Payers

Top Five Prompter Payers February 18 Change from January 18

Agriculture, Forestry & Fishing 6.4 -2.5

Yorkshire &

Water & Waste 8.1 -6.2

Humberside

International Bodies 8.6 -6.5

14.1 DBT

Entertainment 8.8 -0.4

Financial and Insurance 8.9 -1.6

London -1.1

Getting Better

-0.3

Sector

East Midlands

Region Wales February 18 Top

-2.3 Northern Change Five Prompter from Ireland January Payers -0.3 18

Top Five Prompter Payers February 18 Change from January 18

Scotland 17.2 -1.7 0.5 East Anglia

Agriculture, Forestry & Fishing 6.4 -2.5

South West Scotland 15.2 Water -1.7 3.8 & Waste 0.6 South 8.1 East-6.2

International Bodies 8.6 -6.5

North West 15.0 Entertainment 2.2

8.8 -0.4

London -1.1

0.6 West Midlands

West Midlands 13.6

Financial

0.6and Insurance 8.9 -1.6

1.6 Yorkshire & Humberside

London

East Midlands

13.4 -0.3 -1.1

2.2 North West

Northern Ireland

0.6

2.2

Sector

Wales

12.7 DBT

-0.3

North West

15.0 DBT

Region

South East

Yorkshire & Humberside

North West

3.8 South West

West

Midlands

14.2 DBT

International

South West Bodies

15.4 DBT

Getting Better

Getting Worse

Wales

Scotland

-6.5

Getting Worse

East

Midlands

12.5 DBT

London

14.1 DBT

Getting Better

-2.3

-1.7 +7.1

Business

from Home

Water &

Waste

-6.2

3.8 South West

Top Five Prompter Payers

Region February 18

Northern Ireland 11.6

East Midlands 12.5

South East 12.7 0.6

Wales 12.7 -2.3

East Anglia 13.9 0.5

East Anglia

13.9 DBT

South East

12.7 DBT

Hospitality

+6.1

IT and Comms

-4.8

Region

Change from January 18

-0.3

-0.3

The Recognised Standard / www.cicm.com / April 2018 / PAGE 39

Bottom Five Poorest Payers

Sector The particularly standout

sectors this month are the

Region

International Bodies and

Water and Waste sectors,

International Water &

which both brought down the

Bodies

Waste

IT and Comms

Getting Better

Getting Better

number days -6.5 beyond -6.2 terms -4.8

Wales -2.3

that Getting Worse they pay their invoices by

Scotland -1.7 Business

from Home

over six days.

London -1.1 +7.1

Business Agriculture,

Admin East & Midlands

Forestry and

-0.3

Support

Fishing

Northern -3.4 Ireland -2.5 -0.3

Top Five Prompter 0.5Payers

East Anglia

Bottom Five Poorest Payers February 18 Change from

Business from Home 21.7 7.1

Energy Supply 20.0 -0.1

Hospitality 16.2 6.1

Public Administration 15.7 -0.9

Construction 15.2 0.9

Hospitality

+6.1

Top Five Prompter Payers February 18 Change from January 18

Mining and Wholesale

Agriculture, Forestry &

0.6

Education

Quarrying Fishing & Retail

South

Trade 6.4 East-2.5

+4.4Water & Waste +2.3

8.1 -6.2

0.6 +1.7 West Midlands

International Bodies 8.6 Scotland -6.5

15.5 DBT

Entertainment

1.6

8.8 -0.4

Financial and Insurance 8.9 -1.6

Yorkshire & Humberside

2.2 North West

Bottom Five Poorest Payers

3.8 South West

Bottom Five Poorest Payers February 18 Change from January 18

Business from Getting Home Worse Northern 21.7 7.1

Ireland

Energy Supply 20.0 -0.1

11.6 DBT

Hospitality 16.2 North 6.1WestScotland

Public Administration 15.7

15.0 DBT

-0.9 15.514.1 DBT DBT

Construction 15.2 0.9

Top Five Prompter Payers

Wales

12.7 DBT

Yorkshire &

Humberside

West

Midlands

14.2 DBT

Region February 18 Change from January 18

Northern Ireland 11.6 -0.3

14.1 DBT

East Midlands Northern 12.5 -0.3South West

South East Ireland

15.4 DBT

12.7 0.6

Wales 11.6 12.7 DBT -2.3

East Anglia 13.9 0.5

Bottom Five Poorest Payers

Region February 18

Scotland 17.2

South West 15.2 3.8

North West 15.0 2.2

West Midlands 13.6 0.6

London 13.4 -1.1

Change from January 18

-1.7

Wales

12.7 DBT

East

Midlands

12.5 DBT

London

Education

+4.4

North West

15.0 DBT

Region

Scotland

12.7 DBT

South We

North We

West Yorksh Midl

London Humbe

14.1

West

Midlands

14.2 DBT

South West

15.4 DBT

Business

Admin &

Support

-3.4

Bottom F

Mi

Q

+

Bottom Five P

Business fro

Energy Sup

Hospitality

Public Adm

Constructio

East Anglia

Bottom

13.9 DBT

South East

L

1
---
LEGAL MATTERS

Top 12 Tips for Debt Recovery

Over the next two publications DWF will be affording

CICM members TOP TIPS on Risk Management and Debt

Recovery.

DD +44 (0)113 261 6124 E jeffersen.gledhill@dwf.law W www.dwf.law/recover

Jeffersen Gledhill,

Legal Recoveries and Operations

Manager

1. KNOW YOUR DEBTOR

'What's in a name? A rose by any other

name would smell as sweet.' William

Shakespeare.

Record the exact name and legal

entity of your debtor at the outset

and keep an eye out for any changes.

Even if you don't have access to more

sophisticated commercial credit

reports then the Companies House

new public beta service, for example,

can be accessed free of charge at beta.

companieshouse.gov.uk and contains

basic company details.

There is nothing more frustrating

than when a client is unable to tell

you who they have contracted with

or, worse, instructs you to obtain a

judgment and enforce it for you to only

later find that the name or address is

wrong and have to apply to set aside

judgment, amend the party name or

address for service, and go back to

square one.

2. CHASE YOUR DEBTOR

'Is it the thrill of the chase or just

something you do.' Luke Bryan.

As the largest recognised

professional body in the world for the

credit management community, its

unsurprising that the CICM's members

see their roles as not just a job but a

career and relish chasing debt.

From a legal perspective, there

is tremendous value in the work

that credit professionals do and

this includes the relatively routine

work of keeping attendance notes

of discussions that you have had.

Note-taking is important because it

can provide you with the necessary

evidence to achieve a quick win

in a disputed case that has been

compromised at an earlier stage.

3. KNOW YOUR CAUSE OF ACTION

'A debt is a debt and must be paid.'

Willy Russell.

Equally important to achieving a quick

result is knowing your cause of action.

In the case of a bounced cheque, for

example, a cause of action arises

against the drawer from the point at

which the cheque is returned unpaid

and presents an entirely different

cause of action to a debt for goods/

services that the cheque payment

relates to and, with it, much more

limited defences.

4. KNOW YOUR CONTRACTUAL

RIGHTS

'Verba Fortius Accipiuntur Contra

Proferentem' a contract is interpreted

against the person who wrote it.

You need to know which effective

terms have been incorporated into

the contract and which clauses

are important from a debt recovery

perspective. Some include: entire

agreement clauses, payment terms

(and 'acceleration clauses'), retention

of title clauses, late payment clauses,

liquidated damages clauses, dispute

resolution clauses choice of law and/

or jurisdiction clauses and indemnity

clauses.

With Lord Justice Jackson calling

for fixed costs to apply to all defended

claims up to £250,000, the need for

businesses to have a robust contractual

indemnity for costs is ever-greater.

Our commercial team provides expert

advice on contracts across all sectors.

5. KNOW YOUR STATUTORY

RIGHTS

Even if your terms don't provide for

recovery of interest and compensation

for late payment, statutory interest

may still be awarded. From individuals,

this generally equates to eight percent

per annum (s.69 of the County Courts

Act 1984) but for commercial debts

you may be entitled to eight percent

plus the Bank of England base rate, a

fixed sum of compensation for each

invoice paid late and the reasonable

costs incurred in recovering the debt,

if greater than the fixed sum provided

in compensation (the Late Payment of

Commercial Debts (Interest) Act 1998).

6.KNOW YOUR TIME LIMITS

'Bad cases don't age well.' An

Anonymous Insurer.

The older the debt the harder it is to

recover, not least because debtors

move on and their circumstances

change but also because staff do

too, memories fade with age and

documents are lost. Most people have

a recollection of significant details but

it can be hard to remember all of the

relevant circumstances, particularly

when being questioned as part of

cross-examination. This will always

raise doubts in a judge's mind as to the

reliability of the witness's evidence.

At the other end of the scale,

remember that there are strict time

limits on which an action founded

on contract can be brought – in the

case of a 'simple contract' an action

brought after six years from the

date on which the cause of action

accrued can provide a full defence, if

there has been no written and signed

acknowledgment or payment.

As a CICM member you can receive free legal advice from

DWF visit the cicm website and click on the free advice line.

The Recognised Standard / www.cicm.com / April 2018 / PAGE 40
---
THE PERFECT VENUE FOR THIS YEAR'S

CICM Fellows'

Lunch 2018

This year, we are inviting you to one of the most iconic buildings in the world, no

other venue is more instantly recognised than the Palace of Westminster. It is

impossible to walk through its corridors or dine in its imposing function rooms

without a deep sense of awe. Their reputation for outstanding events makes the

House of Commons the ideal venue for this year's Fellows' Lunch.

FRIDAY, 8 JUNE 2018

Arrival drinks served at 11:30am.

Tickets £135.00+VAT per person, which includes a tour after the lunch.

Please email fellowslunch@cicm.com to book

(please note that spaces are limited)

House of Commons, London, SW1A 0AA

The Recognised Standard / www.cicm.com / April 2018 / PAGE 41
---
FROM THE

ARCHIVE

Credit Management

magazine from exactly

46 years ago. 72

19

1972 was an eventful year that started with the coal miners strikes

and Bloody Sunday, Spurs beat Wolves in the first UEFA Cup

Final, Chancellor of the Exchequer, Anthony Barber announced

a decision to float the pound, the first official gay pride march in

London was held, the school leaving age was raised in England

and Wales to 16, and Access credit cards were introduced.

House of Commons Visit

The working relationship between the

Institute and Government stretches back

many years – to the time when entering the

Common Market was under discussion.

What I look for from a Credit Manager

An honest and frank assessment of the

relationship that should exist between

marketing and the credit management

department…not much has changed!

Credit Control and the Building Industry

FC Hyatt looked back on his 40 years working

within building and related trades and the

difficulties he has faced sound similar to those

we hear about on a regular basis.

The Recognised Standard / www.cicm.com / April 2018 / PAGE 42
---
Credit

Management

&Credit Collection

Cash

Allocation &Bank

Reconciliation

Intelligent

Analytics &Artificial

Intelligence

Transform your business operations with our market leading,

real-time Cash Allocation, Bank Reconciliation and Credit Collection

automation software solutions.

Use real-time predictive AI and intelligent analytics to achieve

unrivalled match rates and improve your cash flow.

Contact us to find out more:

Tel: +44(0) 1527 872123

Email: enquiries@rimilia.com

Web: www.rimilia.com

Global leaders in intelligent financial processing software solutions

The Recognised Standard / www.cicm.com / April 2018 / PAGE 43
---
CICM MEMBER

EXCLUSIVE

Your CICM lapel badge demonstrates your

commitment to professionalism and best practice

TAKE PRIDE IN

WEARING YOUR BADGE

If you haven't received your badge

E: cicmmembership@cicm.com

ELECTIONS2018

Nominations close 3 April

The Advisory Council influences the future direction of the Chartered Institute of Credit

Management. Its members reflect the diverse range of skills, roles and experience amongst

the Institute's membership, and bring valuable expertise and knowledge.

Being a member of the CICM Advisory Council is your opportunity to:

‣ Bring ideas and opinions to the table to help formulate strategy and direction

‣ Make a valuable contribution to the credit profession and the CICM

‣ Participate in the Institute's future

‣ Assist in raising the profile of the largest recognised professional

body in the world for the credit management community

There are 23 Advisory Council positions open for nomination representing our

11 regions and the trade, consumer, international and credit services sectors.

Your Institute needs you

Please visit www.cicm.com or email elections@cicm.com to find out more.

The Recognised Standard / www.cicm.com / April 2018 / PAGE 44
---
EDUCATION

How is Brexit likely

to impact your export

operations?

CICM export payments, procedures

and Brexit implications

BOOK YOUR PLACE NOW –

Open training being held in central London on

23 May and 11 October 2018.

£390+vat non-members: £310+vat members

➢IN-COMPANY TRAINING –

A tailored programme can be delivered at your offices at a

time convenient for your team

WHAT WILL YOU GAIN?

The current global financial situation

poses many challenges for traders

of all sizes who look to the export

market to maintain, or improve,

their profitability especially given

uncertainty around Brexit. It is

now more important than ever for

exporters to understand export

contract terms and the implications

of the various terms of payment to

their business. Careful selection of

payment methods will avoid the need

for costly downstream debt collection

processes. New letter of credit rules,

UCP 600, were introduced in 2007

and International Standard Banking

Practice was updated in 2013. You

will be briefed on these protocols and

recent rulings by the ICC leading to

reduction in discrepant documents.

Incoterms is currently under review

and a new version, Incoterms 2020 is

being prepared. You will be appraised

of the current state of that review.

This is a key opportunity for credit

managers to update themselves on

the latest processes and procedures to

ensure that payments for their exports

are made on time and export credit

risk is minimised. You will be alerted to

sensible preparation for Brexit.

WHO WILL BENEFIT?

The training is designed for all

managers and team members involved

in the export process, credit control,

finance, sales, documentation and

shipping. It is suitable for those with

no, or limited, experience and also as a

comprehensive update for those with

previous knowledge.

Contact E: training@cicm.com or T: 01780 722907 to

book your place and discuss your training requirements

The Recognised Standard / www.cicm.com / April 2018 / PAGE 45
---
EDUCATION

CICM Vulnerability

Framework

Following an initial focus on specialised training, the

CICM Vulnerability Group has agreed a best practice

framework for organisations.

DEVELOPED initially by

Debbie Tuckwood, CICM

Head of Education and

Professional Development,

the comprehensive 'CICM

Vulnerability Framework'

identifies key organisational criteria for

best practice collections from customers in

vulnerable circumstances. Fully supported

with links to research and best practice

examples, an online self-evaluation tool

enables organisations to benchmark their

performance against the framework and

establish an action plan to improve focus

in this important area.

The easy to use self-evaluation tool

enables organisations to:

Benchmark organisational performance

against best practice criteria

Access introductory elearning about

recognising and assisting the financially

vulnerable

Learn from the good practice of other

organisations

Source recommended advice and

guidance

Identify areas for development

Report on findings

Print a CICM certificate to confirm

completion of the self-evaluation

CICM Vulnerability Group members

have ensured that the framework's criteria

fit a wide range of organisations involved

in collections work. With backgrounds

ranging from charities, housing associations

and banks, to utilities, debt collection

and enforcement companies, the group

represents the full credit management and

collections lifecycle.

Debbie Nolan FCICM (Grad), Commercial

Director at Arvato, is impressed with the

framework and believes that CICM has

achieved its objective to consolidate best

practice advice into one simple, practical

tool that will help organisations focus on

vulnerability issues and translate their

vision into positive outcomes for customers.

"Because we work with many different

clients across a wide variety of industries,

vulnerability is a topic that is consistently

top of the agenda. The Framework

allows organisations to benchmark their

organisation with similar businesses and

learn from best practice.''

Northumbrian Water has piloted

the self-evaluation and Lisa Connell,

Customer Service Manager, Collections,

says the framework was a useful crossreference

tool when finalising their

strategy. "The Vulnerability Framework

aligns well with our strategy to provide

inclusive services for all our customers.

The output is easy to share with the

business to make this important area real

for other departments."

Richard Berger Accounts Receivable

– Lead, Severn Trent Water Ltd agreed,

stating 'The self-assessment tool is turning

into an extremely useful document!

NEW

Framework

"CICM Members

can access the CICM

Vulnerability Framework

self-evaluation tool free

through the new CICM

Knowledge Hub. The tool

includes links to relevant

research and elearning"

The Recognised Standard / www.cicm.com / April 2018 / PAGE 46
---
EDUCATION

The Vulnerability

Framework

aligns well with

our strategy to

provide inclusive

services for all

our customers.

The output is easy

to share with the

business to make

this important

area real for other

departments.

Nichola Walden, Affordability Manager at

Dwr Cymru Welsh Water used the framework

as part of defining their vulnerability strategy,

sharing the output with stakeholders as an

example of a best practice framework while

they were working on the project. She found

the self-evaluation tool useful: "Each question

makes you think which helps to highlight

potential gaps. Through other research

we completed, and this framework, further

questions were raised about how we support

customers who still do not engage."

Ralph Barnes FCICM, Credit Manager at

The National Trust, also found the self-evaluation

tool easy to use and helpful in identifying

potential areas for development. As a result

of this exercise he has reported a number of

improvements to arrangements.

The framework clearly benefits organisations

working towards CICMQ accreditation.

Additionally, Gill Everitt MCICM(Grad),

Collections Strategy Manager at Affinity Water

thought the framework articulates well with

the BSI (British Standards Institution) standard

18477 inclusive service provision and supports

gap analysis towards this code.

Debbie Tuckwood is delighted with the

positive response and input from the CICM

Vulnerability Group, who provided the

inspiration for the framework and expertise

across various sectors. CICM intends to keep

the framework up to date by adding further

guidance and best practice examples as they

are shared by the Vulnerability Group and

other Framework users.

"CICM Members can access the CICM

Vulnerability Framework self-evaluation tool

free through the new CICM Knowledge Hub.

The tool includes links to relevant research

and elearning," Debbie says. "When you

complete the self-evaluation, you can print

a report and if you provide feedback on

the framework and complete a short CPD

reflection questionnaire, you can access a

CICM certificate verifying completion of the

self-evaluation exercise which is worth six

CPD hours. Additionally, CICM members can

track their responses over time and access a

wide range of additional resources to support

their professional development."

If you would like to find out more about

the CICM Vulnerability Framework or start

the self- evaluation, search the new CICM

Knowledge Hub for the resource. You can

access this directly from the CICM website

once you are logged in as a member.

Access will be available for non-CICM

members soon. Email learningsupport@cicm.

com to register interest (£50 for 12-month

non-member licence), or to find out more

about the specialist CICM collections call

handling training for customers in vulnerable

circumstances.

One simple, practical tool, that will help

organisations focus on vulnerability

issues and translate their vision into

positive outcomes for customers

CPD

6

CICM Vulnerability Framework

1. Company leadership, vision and

strategic objectives

2. Credit policy

3. Focused risk management

4. Company-wide training

5. Prevention methods

6. Customer communication

7. Proactive partnerships

8. Internal and external customer

data

9. Collections procedures

10. Disclosure policy

11. Consent arrangements

12. Recruitment criteria

13. Regular focused training

14. Vulnerability experts

15. Staff support

16. Take up of independent specialist

support

17. Performance management

18. Review and evaluation

The Recognised Standard / www.cicm.com / April 2018 / PAGE 47
---
CREDIT CONTROLLER

APPRENTICESHIPS

A unique opportunity for your credit team

Levy funding available to provide significant

benefits to your business and workforce

‣ Don't lose out on this funding opportunity to

develop your credit team

Apprenticeships effectively combine on-the-job

development with off-the-job learning

‣ The learning is in context and provides a real

understanding of the working world

‣ Practical skills combine with theoretical

knowledge

Apprenticeships offer a career route for your

current or new employers

‣ Invaluable opportunity to develop the expertise you

need now and in the future

Tips to get started

• Remember you can choose CICM qualifications

and end-point assessment

• Visit www.cicm.com to familiarise yourself with

the Apprenticeship standards and process

• Contact CICM for further details

apprenticeships@cicm.com and select a training

provider

• Develop a plan and strategy, focusing on what you

want to achieve for your current and new team

members

• Get your senior manager on board to help drive the

programme forward

Over 60 Apprentices are currently working their way through

L2 & L3 Credit Controller Apprenticeship programmes.

CICM are delighted to announce the first three candidates have passed their

Level 2 Apprenticeship in Credit Control & Collections, and they are now looking

forward to progressing to the Level 3 Advanced Controller Apprenticeship.

If you would like to find out more about Apprenticeships

Contact: T: 01780 722909 E: apprenticeships@cicm.com

The Recognised Standard / www.cicm.com / April 2018 / PAGE 48
---
For more information call 01206 322 575

info@safecomputing.co.uk

www.safe-financials.co.uk

The Recognised Standard / www.cicm.com / April 2018 / PAGE 49
---
HR MATTERS ROUNDUP

Can employees refuse

work if wronged?

Tribunal cases of an employee refusing to work

when wronged, perceived disabilities and discrimination,

and changes to the Fit for Work scheme.

CAN a wronged employee

refuse work until the wrong

has been remedied? That

was the question answered

in Rochford v WNS

Global Services by the Court

of Appeal.

Mr Rochford, a sales lead with senior

vice president status, had been unable

to work for almost a year due to a back

condition. Occupational Health (OH)

recommended a phased return to work.

On this basis, when Rochford returned

from sick leave his employer gave him a

different role with reduced duties, however

his pay remained the same.

A recent EAT – Chief Constable of

Norfolk v Coffey – illustrates how a

non-disabled employee can succeed in

a claim for discrimination because of a

perceived disability.

The Claimant was a police officer

with a hearing condition that meant that

technically her hearing range was just

outside the Home Office police recruitment

criteria. In practical terms, the Claimant's

hearing condition had not impacted upon

her ability to perform her full duties and

was not considered a disability.

After two years' service, she applied for

a transfer to another force. Her transfer

application was rejected on the basis that

her existing condition could deteriorate in

AUTHOR – Gareth Edwards

Rochford subsequently refused to

do any work and was dismissed by his

employer for gross misconduct. He

brought various claims in the Employment

Tribunal (ET) including unfair dismissal,

disability discrimination and wrongful

dismissal.

In the first instance, the ET found that

Rochford's demotion followed by a failure

to indicate when he would return to his

full duties, amounted to discrimination

arising from disability.

The ET also found that his dismissal

was procedurally unfair. However, his

refusal to do work which was within the

scope of his contractual duties and which

Perceived disabilities and discrimination

the future such that she might have to be

placed on restricted duties. The Assistant

Chief Inspector could not accept the

risk of increasing the pool of officers on

restricted duties.

The Claimant brought a successful

claim for direct discrimination. The

Tribunal found that the decision to reject

her application amounted to an act of

direct discrimination based on perception.

This was because their decision to reject

her application was taken on the basis

that her condition may develop into a

disability in the future. She was therefore

afforded protection under the Equality

Act (EA) for disability discrimination by

Fit for Work changes

In an update to the way in which the Fit for

Work scheme operates, the Government

has announced that referrals and

assessments under the scheme will close.

Referrals and assessments are intended

to provide occupational health and support

on sickness absence for employers.

However, as part of a Government paper

published in November 2017, it was

confirmed that there had been a low takeup

of the assessment services.

The guidance states that as of 15

December 2017, if an employee has been

unfit for work for four weeks or more their

GP or employer will be able to refer them

to a Government occupational health

service. There will be some transitional

provisions in place before the assessment

services end in England and Wales on 31

March 2018 and on 31 May in Scotland,

he was fit to do, while on full pay and

despite a number of warnings, had

constituted gross misconduct. This would

therefore limit any compensation to an

award for procedural unfairness.

Rochford appealed against the

finding of gross misconduct to both the

Employment Appeal Tribunal (EAT), and

then Court of Appeal, which dismissed his

appeal. In its judgment, the Court of

Appeal emphasised that 'it is not the law

that an employee who is the victim of a

wrong can in all circumstances simply

refuse to do any further work unless and

until that wrong is remedied'.

perception, despite not being disabled at

the time of the claim.

The police force appealed

unsuccessfully to the EAT. The EAT agreed

that a person with the same abilities as

the Claimant, whose condition the force

did not consider likely to deteriorate

in future, would have been treated

differently. The EAT further noted that if

employers could avoid a future obligation

to make reasonable adjustments through

dismissal before a perceived or actual

condition developed into a disability

in the future, then there would be an

unacceptable gap in the protection that

the EA 2010 offered.

and it will still be possible to access the

helpline, website and web chat service.

It is hoped that this will allow employers,

employees and GPs to access general

health and work advice, as well as sickness

absence support.

Gareth Edwards is a partner in the

employment team at Veale Wasbrough

Vizards. gedwards@vwv.co.uk

The Recognised Standard / www.cicm.com / April 2018 / PAGE 50
---
CAREER'S ADVICE

Signs your interview

went well

It feels like the second interview went well. Here are

the ten signs that it went as well as you thought.

AUTHOR – Karen Young

Karen Young

IT'S usually a welcome relief

when you finish an interview

and your nerves begin to calm.

That is until you start to think

about how the interview went.

As you're reflecting on your

performance, it may put you more at

ease to consider the below signs that your

interview went well to help you make a

more educated guess.

THE INTERVIEW LASTED

LONGER THAN EXPECTED

You'll often receive a gauge of the length

of the interview from your recruiter. If the

conversation lasts the full amount of time

or longer, take this as a good sign. Time

is precious and if the hiring manager has

dedicated theirs to learning more about

you then they are clearly interested.

THE INTERVIEW FELT

CONVERSATIONAL

If it felt more like you were having a

conversation rather than a formal Q&A

then the chances are you've successfully

built up a good rapport with the

interviewer. This demonstrates some

strong interpersonal skills and by getting

along with them you've made it easier for

them to imagine you being part of their

team.

YOU WERE INTRODUCED

TO THE TEAM

Being introduced to your potential

colleagues is again a pretty positive sign,

and better still is if you felt like you got on

well with them.

If you were introduced to a director

or similar then this is often because the

hiring manager knows that they need

their sign off on the final hiring decision

and want them to see for themselves why

you are the right choice.

THE INTERVIEWER MENTIONED

WHAT YOU WOULD BE DOING IN

THE ROLE

If the interview phrased their sentences

like "you would be expected to…" rather

than referring to the 'the successful

candidate' then is highly likely that

they're already imagining you in this

position. But don't be complacent through

an interview should you hear this!

YOU'RE SOLD ON THE

ORGANISATION AND ROLE

Walking out feeling convinced and

excited about the opportunity is a sign the

interviewer spoke animatedly about all of

the best aspects of the opportunity. This

is a positive sign that the interviewer felt

sold on your suitability and wanted the

feeling to be mutual.

THE INTERVIEWER WAS

ENGAGED IN THE CONVERSATION

Did they demonstrate open body language

such as leaning in, nodding and smiling?

If the answer is yes then chances are they

were engaged and wanted to encourage

you to keep talking as they liked what they

were hearing.

YOU RECEIVED FULL ANSWERS

Receiving detailed, enthusiastic responses

to your questions is a positive sign that the

hiring manager wanted to impress you as

much as you wanted to impress them.

YOU WERE ASKED 'CLOSING

QUESTIONS'

This is different to 'closed' questions!

Such 'closing' questions include "what is

your current notice period" and asking

about possible start dates and any holiday

bookings. This is a very good sign that

the interviewer is thinking of next

steps.

THE INTERVIEWER WAS

CLEAR ON THE NEXT STEPS

Giving you information such as what the

next steps entail and when you can expect

to hear back is the hiring manager's way

of giving you a strong sign that you're in

with a chance of making it to the next

stage and don't want you to lose interest.

Although it is important to note that it is

generally accepted as best practice too!

THE INTERVIEWER GAVE POSITIVE

FEEDBACK TO YOUR RECRUITER

In your catch up after the interview your

recruiter will often give you any feedback

that has been passed on to them. If the

hiring manager has taken the time to give

some detailed positive comments shortly

after the interview, this implies they want

you to know you're in with a good chance.

It's worth mentioning at this point

that although the above are all positive

signs, they shouldn't be taken as absolute

confirmation that you have made it to the

next stage, and you shouldn't stop your

job search because of this. At the very

least they show you have performed well

and if in the end you weren't successful,

don't lose heart, as they are an indication

that you were a strong contender. Find out

from your recruiter if there is anything

you could have improved upon so that

next time these signs all point to a job

offer.

Karen Young is Director at Hays.

The Recognised Standard / www.cicm.com / April 2018 / PAGE 51
---
ASK THE EXPERTS

How do consignment

stock arrangements

work, and what are the

benefits?

AUTHOR – Nigel Fields FCICM

CONSIGNMENT stock agreements

are becoming increasingly

popular especially among some

of the larger retailers. It is

basically a supply chain management

strategy in which retailers

hold products from their suppliers in store for

sale without actually paying the supplier for

the products until they get purchased by the

end consumer.

This process has both advantages and disadvantages

that I note from my own experience of

using this process.

ADVANTAGES FOR THE SUPPLIER

• A good marketing tool to ensure products are

put into stores for purchase

• Allows the seller to get products into the

retailer that may not otherwise have been

ordered

• Allows for continuity of business when

retailers might otherwise decide to reduce

product lines

• Allows both supplier and retailer to

maximise sales

• Payments are made only for true sales to

consumers thus ensuring best product ranges

to consumers

• It reduces inventory and warehouse holding

costs

• Ownership and title of unsold products

remain with the supplier and are clear

• Payment terms are often shorter than with

standard credit sales

• The supplier also gets good visibility of what

is and what is not selling.

ADVANTAGES FOR THE RETAILER

• Less cost of sales on their P&L

• Better perceived margins

• The retailer is able to have a wider range of

products to bring in increased footfall and

sales

• The retailer only needs to pay when he sells

the items

• Less hassle to ensure the best product ranges

are on sale

• The supplier is more likely to price adjust for

promotions etc.

DISADVANTAGES FOR THE RETAILER

• Shelf space if the consigned goods don't get

sold

• Different processes to manage inventory

related to consigned and other goods

• Possible loss of focus on product ranges

• Generally shorter payment terms

Consignment selling may or may not be

attractive to you. It depends on your situation

and your systems. It might be a good way

to learn how or if a new product will sell.

It may get you shelf space that you might

otherwise have been declined. Keep in mind,

however, that you tie up your funds waiting for

merchandise to be sold. Also, the retailer may

still be a poor credit risk.

Nigel Fields is Director

of 20th Century Fox

DISADVANTAGES FOR THE SUPPLIER

• Increased shipping costs for the new

inventory, the sale of which he is not sure of

• Risk of loss or damage to the product or sale

• Reliance on retailers to correctly track sales

• Reliance on retailers to maximise product

exposure

• Reliance on retailers to continue to support

the product lines

• Tying up funds waiting for merchandise to

be sold

• The retailer may be a poor credit risk and not

able to transfer funds after selling goods

• Ensuring systems can cope with the new

processes.

The Recognised Standard / www.cicm.com / April 2018 / PAGE 52
---
SOAPBOX CHALLENGE

Chuntering away

The daily commute and the lack of basic courtesy

that some display when making their way to work.

AUTHOR – Rob Howard

As someone who commutes

into the city from outside

of London for work

every day, I find myself

spending an increasing

amount of my time on

trains. And with that, also increasing is

my level of irritation caused by the habits

and etiquette, or lack of it, of some fellow

passengers.

Just last week I became involved in

an exchange of words with a young chap

who took offence to my polite request

for him to remove his rucksack from his

back on a typically rammed Northern

Line tube so that there was more room

for other commuters to board the train.

He declined, and not so politely either.

Unfortunately, this complete lack of

disregard for other passengers seems to

be an all too common occurrence.

For some passengers, the ability to

sit down on a train is an increasingly

difficult challenge. On several occasions I

have been in the desperately unfortunate

position of being sat next to, what is now

popularly known as, a manspreader.

Manspreading was added to the online

Oxford Dictionary in 2015 and is used to

describe passengers who feel it is perfectly

acceptable to sit with their legs spread as

wide apart as possible regardless of the

fact that they are invading the space of

those sat next to or opposite them.

Getting a seat at all on the train is itself

worth celebrating these days. According

to analysis by the Labour Party in 2017,

UK trains are more overcrowded than

ever before, and the party's pledge

to renationalise UK railways gathered

supporters. Not only are the trains getting

busier, rail fares only continue to go one

way, and that's up. The average ticket

price across England, Scotland and Wales

increased by 3.4 percent in January 2018,

the biggest fare increase in five years.

Commuters are paying more than ever

before for a rail service that is busier and

more unreliable than ever before, seems

fair doesn't it.

As a bit of a music nerd, and in an

attempt to improve the commute, I often

spend the duration of my journey with

my headphones plugged in, but I am

conscious of the fact that not everyone

on the train wants to hear Bob Dylan's

screeching harmonica or the toe-tapping

riffs of Nile Rodgers. However, some

passengers are seemingly very keen to

assault the ears of everyone else on board

with their latest playlist so that you can

hear every beat pulsating through their

headphones, even if you've got your own

in. And don't even get me started on the

very small minority who play music out

loud from their phone on the train, it's

simply unacceptable.

However, in defence of the loud music

folk, there have been occasions where the

volume buttons have been my saviour

on a train, as some passengers find it

impossible to simply have a conversation,

instead choosing to yell at the person

next to them or on the other end of the

phone. It's as if these individuals are

broadcasting the news or putting on a

theatrical performance for the rest of the

carriage, in their eyes engrossing us with

their long-winded tales of KPIs, strategy

meetings and nonsense management

speak, regularly using phrases like 'lets

touch base' and 'we need some blue sky

thinking on this one'. Not only do they

insist on spewing this rubbish, they also

insist that the rest of us on board hear

every last word.

Oh the joys of being a commuter.

Rob Howard is still very young.

SOAPBOX

challenge

The Recognised Standard / www.cicm.com / April 2018 / PAGE 53
---
MEET THE PARTNERS

THEY'RE WAITING TO TALK TO YOU...

For further information and to discuss the opportunities of entering into a Corporate

Partnership with the CICM, contact Peter Collinson, Director of Business Development

and Marketing on 01780 727273 or email peter.collinson@cicm.com

Hays Credit Management is the award winning national specialist

division of Hays Recruitment, dedicated exclusively to the recruitment

of credit management professionals in the public and private

sectors. Whether you are looking to further your career in credit

management, strengthen your existing team, or would simply like an

overview of the market, it pays to speak to the market leaders.

www.hays.co.uk

HighRadius is the leading provider of Integrated

Receivables solutions for automating credit, collections,

cash allocation, deductions and eBilling operations.

The solutions are delivered as a software-as-a-service

(SaaS) or as SAP-certified Accelerators for SAP

Finance Receivables Management. With a track record

of reducing days sales outstanding (DSO), bad-debt

and increasing operational efficiency, HighRadius

solutions help teams achieve payback within a year.

www.highradius.com

We offer the most powerful comparable data

resource on private companies.

We capture and treat private company

information for better decision making and

increased efficiency, so we're ideally suited to help

credit professionals.

Orbis, our global company database has

information on 250 million companies, and offers:

Standardised financials

Financial strength metrics

Extensive corporate structures

www.bvdinfo.com

Sanders Consulting is a niche consulting firm

specialising in improving Credit Management

Leadership & Performance for our clients.

We provide people and process focussed

pragmatic solutions, consultancy, strategy days and

performance improvement workshops and we

are proud to manage and develop the CICMQ

Programme and the Best Practice Network on

behalf of the CICM. For more information please

contact: enquiries @chrissandersconsulting.com.

www.chrissandersconsulting.com

Key IVR provide a suite of products to

assist companies across Europe with credit

management. The service gives the end-user

the means to make a payment when and

how they choose. Key IVR also provides a

state-of-the-art outbound platform delivering

automated messages by voice and SMS. In a

credit management environment, these services

are used to cost-effectively contact debtors and

connect them back into a contact centre or

automated payment line.

www.keyivr.co.uk

CreditForce by Innovation Software is the leading

Collections and Working Capital Management

Systems used globally in over 26 countries and by

over 20 percent of the Top 100 Global Law Firms.

Our systems improve cash flow, reduce DSO,

automate cash allocation, control risk, automatically

generate intelligent workflows and tasks, speed up

query resolution and manage the entire end-toend

collections cycle. Fully integrated with over 40

leading ERP and Accounting systems and delivered

locally or through Microsoft-Azure's secure cloud

solutions.

www.creditforceglobal.com

American Express is a globally recognised provider

of payment solutions to the business sector

offering flexible collection capabilities to meet

company cashflow objectives across a range of

industries. Whether you are looking to accelerate

cashflow, create a competitive advantage to drive

business or looking to support your customers

in their growth American Express can tailor a

solution to support your needs.

www.americanexpress.com

Credica are a UK based developer of specialist

Credit and Dispute Management software. We

have been successfully implementing our software

for over 15 years and have delivered significant

ROI for our diverse portfolio of customers. We

provide a highly configurable system which enables

our clients to gain complete control over their

debtors and to easily communicate disputes with

anyone in their organisation.

www.credica.co.uk

The Recognised Standard / www.cicm.com / April 2018 / PAGE 54
---
Proud supporters

of CICMQ

With over 90 years' experience, we have an

in-depth understanding of the importance of

maintaining customer relationships whilst efficiently

and effectively collecting monies owed, we deliver

when it comes to collecting outstanding debts.

Our Client focus is reflected in the customer

relationships. Structuring our service to meet your

specific needs, providing a collection strategy that

echoes your business character, trading patterns

and budget.

www.atradiuscollections.com/uk/

Graydon UK provides its clients with Credit

Risk Management and Intelligence information

on over 100 million entities across more than

190 countries. It provides economic, financial and

commercial insights that help its customers

make better decisions. Graydon is owned by

Atradius, a leading European credit insurance

organisation. It offers its seamless service

through a worldwide network of offices and

partners.

www.graydon.co.uk

Rimilia provides award winning Cash Application

& Cash Allocation software products that deliver

industry leading tangible benefits like no other.

Having products that really do what they say

is paramount – add to that a responsive and

friendly team that are focused on new and

ongoing benefit realisation and you have the

foundations for successful long term business

relationships.

www.rimilia.com

Safe's Credit Control module manages the entire

credit lifecycle, from credit checking through to

cash collection and beyond, providing detailed

analysis of performance. Safe's single, intuitive and

easy-to-use application seamlessly brings together

the necessary data and tools you require to

achieve your objective of creating a profit centre

culture within your credit control function.

www.safe-financials.co.uk

Dun & Bradstreet grows the most valuable

relationships in business. Whether your customer

portfolio spans a city, a country or the globe, Dun

& Bradstreet delivers the data, analytics and insight

to grow your most profitable relationships and

obtain a global, unified view of your customer

relationships across credit and collections.

www.dnb.co.uk

Bottomline Technologies (NASDAQ: EPAY) helps

businesses pay and get paid. Businesses and banks

rely on Bottomline for domestic and international

payments, effective cash management tools,

automated workflows for payment processing

and bill review and state of the art fraud

detection, behavioural analytics and regulatory

compliance. Every day, we help our customers by

making complex business payments simple, secure

and seamless.

www.bottomline.com/uk

Data Interconnect provides integrated e-billing

and collection solutions via its document delivery

web portal, WebSend. By providing improved

Customer Experience and Customer Satisfaction,

with enhanced levels of communication between

both parties, we can substantially speed up your

collection processes.

www.datainterconnect.com

DWF is one of the UK's largest legal businesses

with an award-winning reputation for client service

excellence and effective operational management.

Named by the Financial Times as one of Europe's

most innovative law firms and independently

ranked first of all top 20 law firms for quality of

legal advice and joint first of all national law firms

for service delivery and responsiveness.

www.dwf.law/recover

Tinubu Square is a trusted source of trade

credit intelligence for credit insurers and for

corporate customers. The company's B2B

Credit Risk Intelligence solutions include the

Tinubu Risk Management Center, a cloud-based

SaaS platform; the Tinubu Credit Intelligence

service and the Tinubu Risk Analyst advisory

service. Over 250 companies rely on Tinubu

Square to protect their greatest assets: customer

receivables.

www.tinubu.com

Moore Stephens is a top ten accounting and

advisory network. Our national creditor services

team has expert insights in debt recovery. This,

combined with unparalleled industry and sector

knowledge, enables our team to assist creditors in

recovering outstanding debts.

www.moorestephens.co.uk

Organisations around the world rely on Company

Watch's industry-leading financial analytics to drive

their credit risk processes. Our financial risk

modelling and ability to map medium to long-term

risk as well as short-term credit risk set us apart

from other credit reference agencies. With our

unique H-Score® predicting almost 90 percent

of corporate insolvencies in advance, it is the risk

management tool of choice, providing actionable

intelligence in an uncertain world.

www.companywatch.net

The Recognised Standard

The Recognised Standard / www.cicm.com / April 2018 / PAGE 55
---
New CICM members

The Institute welcomes new members who have recently joined

MEMBER

NAME

COMPANY

NAME

COMPANY

David Benford

Michele Donohoe

Lawrence Martin

Countrywide Farmers

Science Power Systems Limited

DCH

Ralph Montforts

Robert O'Neill

Maxim Integrated

Saint-Gobain Delegation UK & Ireland

ASSOCIATE

NAME

COMPANY

FELLOW

NAME

COMPANY

Cheryl Grieve

Zahoor Suleman

Pertemps

xoserve Ltd

Paula Carney

Sean Mac Mahon

Kevin McLaughlin

Hugh J Ward & Co Solicitors

Abtran Ltd

Hugh J Ward & Co Solicitors

AFFILIATE

NAME COMPANY NAME COMPANY

Mark Alcock

Pile Chisulo

Lynn Christon

Kare Finnegan

Jordan Gulliver

Jason Harte

Zesco Ltd

Forums International Ltd

Zen Internet Ltd

QA Ltd

Mason Hayes & Curran

Lisa Jarvis

Thomas Kershaw-Whittle

Laurence Khellas

Avtar Singh

Saron Singh

Chartered Institute of Payroll Professionals

Network Rail (Infrastructure Ltd)

East Thames

QA Ltd

Debt Recovery and Administrative Services Ltd

STUDYING MEMBERS

NAME COMPANY NAME COMPANY

Khurram Abbas

Ulender Adams

MohammadAsghar

Justin Auld

Magdalena Babicz

Tracy Bray

Elliott Brookes

Sharon Brown

William Buckley

Alison Burke

Shaun Campbell

Samantha Coen

William Cope

Debbie Corbett

Julie Cox

Ciaran Dagen

Naomi Dale

Dalbinder Dulai

Gary Fenwick

Alan Fogg

Terry Garnett

Lilly Ann Greaney

Scott Griffiths

Chris Hardman

Kimberley Harris

Christopher Harrison

William Hayman-Brown

Lauren Heap

Gemma Helsby

Elaine Hing

Rebecca Houghton

Emily Huggett

Keith Hurford

Lewis Johnson

Jonathan Keen

Suraj Keshwala

Aneesa Khan

Aimee Lias

Helena Magyar

Shariq Mahmood

Grant Manuel

David McCaul

Andrew McDermott

Chris Miller

Jay Mouskos

Gillian Murray

Ashley Naylor

Jodie Nisbet

Samson Oyebamiji

Sean Pennington

Louise Perry

Daniel Popa

Saren Roberts

RAK Bank

NHBC National House Building Council

A+O IT Services

Enotria Winecellars Ltd

Shawbrook Bank

Croner

RMD Kwikform

G4S Cash Solutions (UK) Ltd

Glencore Energy UK Ltd

Target Enforcement

Loreal

Bristow & Sutor

Shawbrook Bank

FCC Environment

Asgard Financial Services

Poole Lighting Ltd

Hitachi Capital Invoice Finance

Andrew Wilson & Co

Chambers

NBrown

Express Vending Ltd

Securing Teachers

Bureau Veritas

N Brown Group plc

Bristow & Sutor

Andrew Wilson & Co

N Brown Group plc

Ashtead Plant Hire Co Ltd

Shawbrook Bank

Bureau Veritas

Andrew Wilson & Co

Swansea University

Euro Clad Limited

Bristow & Sutor

Bristow & Sutor

G4S Cash Solutions (UK) Ltd

Imperial Commercials Ltd

NSK Europe Ltd

Impact Debt Solutions

Phaidon International UK Ltd

Asgard Financial Services

Andrew Wilson & Co

Shawbrook Bank

Senator International Ltd

Andrew Wilson & Co

Powell UK Ltd

Bristow & Sutor

Express Vending Ltd

Gritit Ltd

Rocol Ltd.

Megan Rowcroft

Sean Skelly

Cryston Smart

Katie Smith

Nakita Speight

Richard Sule

Jamie Thornton

Cara Walsh

David Wastell

Alexander Watkins

Corinne White

Emily Wilson

Andrew Wyatt

Wendy Zhungu

Avril Adams

Yvonne Arva

Liam Ballinger

Sarah Baptiste

Kieran Barnes

Colin Barnett

Sylvan Barry

Candy Brown

Abbi Challis

Hayley Clarke

Amy Collcutt

Deborah Corbett

Giacomo Cosentino

Amy Crow

Mohammed Dadhiwala

Danielle Dalby

Billie-Rae Drewett

Nicole Egglestone

Kirsty Elliott

Daniel Everton

Anthony Farrell

Cliff Frazer

Giri Ganeshwaran

Dermot Gill

Ashlley Goss

Niamh Harper

Samantha Hastings

Tom Hatherell

Richard Hughes

Shabana Hussain

Debra Innes

Hemraj Jibodh

Ulrika Jilmstad James

Melanie Jones

Joanne Kelly

Louise Lawford

Shaun Leavey

Louiza Ledbury

Amy Maidment

Andrew Wilson & Co

Andrew Wilson & Co

Andrew Wilson & Co

Andrew Wilson & Co

The Sheriffs Office

Target Enforcement

HB Clark & Co (Successors) Ltd

Close Brothers Commercial Finance

Bristow & Sutor

City and County Healthcare Group

Senator International Ltd

Bristow & Sutor

MediaMath

Southampton City Council

R&B Star (Electrical Wholesalers)Ltd

StepChange Debt Charity

British Safety Council

Southampton City Council

Southampton City Council

Forestry Commission Scotland

Toyota Financial Services UK Plc

Ford Retail Ltd T/A TrustFord

Seetec Skills

Bookpoint Ltd

Hartlepool Borough Council

Huntsman Corporation

Bristan Group Ltd

Stepchange Debt Charity

Anchor Bay Construction Products Ltd

Chandlers Limited

Places for People Ltd

Bristow & Sutor

MWUK T/A Alexandra

Kelly OCG

Avis Budget Group

Bristow & Sutor

Southampton City Council

Jardine LLoyd Thompson JLT

Bristow & Sutor

Southampton City Council

Complete Monitoring Solutions

Hartlepool Borough Council

Bristow & Sutor

Muller UK & Ireland Group LLP

Edmundson Electrical

Onecall Service Ltd

Freeths LLP

Antalis Ltd

G4S Cash Solutions (UK) Ltd

Principality Building Society

The Recognised Standard / www.cicm.com / April 2018 / PAGE 56
---
THE

CREDIT CONTROL

RECRUITMENT

SPECIALISTS

www.portfoliocreditcontrol.com

As a market leading credit control recruitment

specialist, we are proud to have supported the

credit control sector since 2008, providing unrivalled

market knowledge and expertise. We provide a

comprehensive and highly tailored service across

permanent, contract and temporary recruitment.

Our highly experienced recruitment consultants match

the highest calibreindividuals with the most progressive

opportunities across the credit control profession.

We recruit into all industry sectors, with clients ranging

from FTSE100 to SMEs, as well as providing coverage

to the whole of the UK.

WE ARE

AN AWARD WINNING

RECRUITMENT AGENCY

An award winning recruitment agency, having won

places on The Sunday Times 100 Best Small Companies

to Work For,The Sunday Times Fast Track 100 and The

Recruiter Hot 100.

ROLES WE RECRUIT FOR:

CREDIT CONTROLLER

PROVIDING SALARY

BENCHMARKING FOR THE

INDUSTRY SINCE 2008

SENIOR CREDIT CONTROLLER

CREDIT MANAGER

HEAD OF CREDIT CONTROL

CREDIT AND BILLING MANAGER

COLLECTIONS ASSISTANT

COLLECTIONS MANAGER

PERFECTLY PLACED TO

SUPPORTYOUR NEXT

RECRUITMENT PROCESS

SALES LEDGER/ACCOUNTS RECEIVABLE

CREDIT ANALYST

If you are planning to recruit or looking for the next step

in your career please get in touch with the Credit Control

recruitment specialists on 020 7650 3199 or contact us at

recruitment@portfoliocreditcontrol.com.

We look forward toworking with you.

020 7650 3199

www.portfoliocreditcontrol.com

The Recognised Standard / www.cicm.com / April 2018 / PAGE 57
---
FORTHCOMING EVENTS

Full list of events can be found on our website: www.cicm.com/events

CICM EVENTS

5 April

CICM South West Branch

DEVON

Annual General Meeting and Networking

Contact : Please reply to Gerry Thomas at

gerrythomas1610@hotmail.co.uk

VENUE : Dartmoor Lodge, Peartree Cross,

Ashburton, Devon, TQ13 7JW

10 April

CICM Northern Ireland Branch

BELFAST

Annual General Meeting and Branch Meeting

Coffee & Registration from 17:30

Meeting at 18:00-19:30 followed by AGM

Contact : northernirelandbranch@cicm.com

VENUE : Clayton Hotel, 22-26 Ormeau Avenue,

Belfast, BT2 8HS

12 April

CICM South Wales Branch

CARDIFF

AGM, Networking and What do you want from

your Branch? Meet at 18:00 for the AGM and then

the rest is networking and discussion.

Booking deadline: 07 April 2018.

Contact : Diana Keeling (07921) 492348

VENUE : Holiday Inn Cardiff, Merthyr Road,

Tongwynlais, Cardiff, CF15 7LH

17 April

CICM East Midlands Branch

SANDIACRE

Can you make a career from Credit Management?

Contact : Email Branch Chair brent.cumming@

experian.com or eastmidlandsbranch@cicm.com

Booking Deadline: 13 April

VENUE : Novotel Bostocks Lane, Sandiacre, NG10

4EP

18 April

CICM Personal Skills Workshop; All Change!

A survival guide

LONDON

Change is an impact on all of us. This workshop

will give us the tools needed to not only cope with

change but to rise to the challenge.

Contact : https://form.jotformeu.

com/80103562030338

VENUE : Hays Recruitment, 107 Cheapside,

London, EC2V 6DN

25 April

CICM Thames Valley Branch

READING

People Development, Employment Update and

Membership Surgery (4 CPD hours)

Contact : To reserve a free place / Book

appointment for membership clinic:

thamesvalleybranch@cicm.com.

VENUE : Verizon, Reading International Business

Park, Basingstoke Road, Reading, RG2 6DA

TRAINING DAYS

18 April

GETTING STARTED IN CREDIT CONTROL AND

COLLECTIONS

VENUE : London

18 April

INSOLVENCY AND BANKRUPTCY

VENUE : London

8 May

ESSENTIAL TELEPHONE COLLECTION

TECHNIQUES

VENUE : London

9 May

INTRODUCTION TO CREDIT RISK

ASSESSMENT

VENUE : London

10 May

CREDIT RISK ANALYSIS

VENUE : London

11 May

CICM WEBINAR - CREDIT MANAGEMENT

IN A NUTSHELL

VENUE : London

OTHER EVENTS

6 April

Experian Credit Forum – FMCG Forum

SHEFFIELD

Contact : Please contact Brent.cumming@

experian.com on 07885 675 092 if you would like

further details.

VENUE : Hilton Hotel, Sheffield

10 April

Forums International – Credit Professionals

Forum (CPF)

BRACKNELL

Contact : For more information email

cpf@forumsinternational.co.uk

VENUE : Coppid Beech Hotel, John Nike Way,

Bracknell, RG12 8TF

11 April

Forums International – SAP User Group

(SAP-UG)

NOTTINGHAM

Contact : For more information email

sapug@forumsinternational.co.uk

VENUE : Experian, Riverleen House, Nottingham,

11 April

Experian Credit Forum – Credit Prof. Forum

(Sth)

BRACKNELL

Contact : Please contact Brent.cumming@

experian.com on 07885 675 092 if you would like

further details. NOTE: Date and venue are subject

to change.

VENUE : Coppid Beech Hotel, John Nike Way,

Bracknell, RG12 8TF

12 April

Forums International – IT Distributor and

Reseller Credit Forum (DRF)

STRATFORD UPON AVON

Contact : For more information email

drf@forumsinternational.co.uk

VENUE : Stratford Manor, Stratford Upon Avon

12 April

Experian Credit Forum – SAP User Group

BROMSGROVE

Contact : Please contact

Brent.cumming@experian.com on 07885 675 092

if you would like further details.

VENUE : Rimilia, Bromsgrove

17 April

Experian Credit Forum – Engineering

Distribution

DERBY

Contact : Please contact

Brent.cumming@experian.com on 07885 675 092

if you would like further details.

VENUE : PWC Pegasus Business Park, Beverley

Rd, Derby, DE74 2UZ.

19 April

Experian Credit Forum – FMCG Forum

Contact : Please contact

Brent.cumming@experian.com on 07885 675 092

if you would like further details.

VENUE : TBC

22 April

ICTF – Global Credit Professionals

Symposium – Chicago

USA

Contact : ICTF info@ictfworld.org

VENUE : The Gwen Hotel - Michigan Avenue,

Chicago, 521 N Rush St, Chicago, IL 60611, USA

30 April - 1 May

AMLP Forum – The Financial Crime and

Corruption Association

LONDON

Annual Anti Money Laundering Professionals

Forum – 14th Annual Financial Crime Seminar.

Take advantage of the 10 percent discount

rate if you are a CICM member. Please quote

'Association' when registering.

Contact : please email events@amlpforum.com

Alternatively, you can contact AMLP Team on

+44 (0) 20 8785 6300 or visit the AMLP Forum

website on: www.amlpforum.com

VENUE : Exchange House, Exchange Square,

Primrose Street, London, EC2A 2HS

The Recognised Standard / www.cicm.com / April 2018 / PAGE 58
---
Leader or follower?

CICMQ accreditation is a proven model that has consistently delivered

dramatic improvements in cashflow and efficiency

CICMQ is the hallmark of industry leading organisations

The CICM Best Practice Network is where CICMQ accredited organisations

come together to develop, share and celebrate best practice in credit and

collections

Be a leader – Join the CICM Best Practice Network today

To find out more about flexible options to gain CICMQ accreditation

E: cicmq@cicm.com, T: 01780 722900
---
TAKE CONTROL

OF YOUR CREDIT

CAREER

HEAD OF CREDIT

BUILD A SUCCESSFUL TEAM

High Wycombe, £40,000-£45,000

This industry leading food and beverage manufacturer

based in High Wycombe is looking for an enthusiastic

credit manager who enjoys creating and building

a successful credit team. Reporting into the Finance

Director, you will be required to streamline the credit

function to maximum cash collection. A proven

track record managing a successful team is essential.

In return, you will receive a competitive salary and

pension, as well as a desirable benefits package.

Ref: 3244808

Contact Emma Ruttle on 01494 419740

or email emma.ruttle@hays.com

ACCOUNTS RECEIVABLE SUPERVISOR

JOIN A REWARDING COMPANY

London, £35,000-£40,000 + benefits

A fantastic opportunity has arisen for an experienced

AR supervisor to join an internationally renowned music

media company on a 12 month FTC basis. This role

encompasses everything from credit control to billing.

Overseeing a team of two, you will maintain a hands-on

role, with the opportunity to review existing processes

and identify areas for streamlining and improvement.

This company offers amazing benefits including free

pilates and piano lessons, free breakfast once a week

and much more. Ref: 3245666

Contact Julia Foster on 020 3465 0020

or email julia.foster2@hays.com

ASSISTANT REVENUE MANAGER

SUPPORT NATIONAL GROWTH

Birmingham, £35,000-£42,000

This prestigious law firm in Birmingham is looking for

a motivated individual to join this newly created role

within the business supporting both the Revenue and

Credit Manager. Supervising a team of 20 heads, you will

support on new branch openings and put into place solid

billing processes. The organisation is also implementing

new systems, so this position would suit someone who

can manage and prioritize their workflow. In return,

professional development opportunities and training

are available. Ref: 3244741

Contact Peter Kidd on 0121 212 1814

or email peter.kidd@hays.com

CREDIT CONTROL TEAM LEADER

PROGRESS YOUR CAREER

Uxbridge, £25,000-£30,000 + bonus

+ CICM study support

This successful, niche recruitment business has more than

doubled its turnover in the last three years. Reporting to

the Credit Manager, you will support with the daily running

of the credit control department. Whilst managing your

own ledger of accounts, you will be the escalation point for

queries and issues for the team. The successful candidate

will be a progressive individual who is keen to develop

their career with credit management. You will either be

currently studying with the Chartered Institute of Credit

Management or keen to start studying straightaway.

Ref: 3249810

Contact Natascha Whitehead on 07770 786433

or email natascha.whitehead@hays.com

The Recognised Standard / www.cicm.com / April 2018 / PAGE 60
---
CREDIT CONTROLLER

MAXIMISE CASH COLLECTIONS

Oxford, up to £25,000 + excellent benefits

A leading Oxford based property consultancy is

expanding after the acquisition of a new commercial

portfolio. It is now seeking an experienced credit

controller to join its commercial client's accounts team.

You will support the commercial client accountant

to collect circa £12.5m in annual rent, service charge

and insurance payments. You will work as part of

a small finance team and be dedicated to the cash

management and debt collection for its largest client.

Previous experience within a similar role, excellent

time management, interpersonal skills and the ability

to take a proactive approach to complex queries

are essential. Ref: 3240943

Contact Bobby Le Feaux on 01865 727071

or email bobby.lefeaux@hays.com

MORTGAGE COLLECTIONS AGENT

TAKE FULL OWNERSHIP

Belfast, £20,000-£22,000 + benefits

A credit controller is required at this prestigious financial

services organisation with a reputation for dealing with

world famous projects in Northern Ireland. You will

take full ownership of collecting large sums of debts in

a fast-paced setting. You will possess strong problem

solving skills and be a first class communicator that is

able to work in a target driven environment. In return,

you will work alongside a credible employer with

opportunities to progress. Ref: 3240530

Contact Nicola McCallum on 02890 446911

or email nicola.mccallum@hays.com

COMMERCIAL CREDIT CONTROLLER

PROVIDE EXCEPTIONAL SERVICE

Manchester, £22,000

This successful business services company has been

a market leader in its field for nearly 100 years.

Managing the processes for its UK business, you will

be given varied responsibilities to assist across the

finance department and gain exposure to purchase

ledger. To be successful, you will be confident and have

a proven track record of managing your own credit

ledger, ideally within a business services environment.

This is a fantastic opportunity for a career minded

individual looking to achieve big results. Ref: 3212131

Contact Ashleigh Daniels on 0161 236 7272

or email ashleigh.daniels@hays.com

CREDIT CONTROL LEAD

MAKE AN IMPACT

Westminster, £201 per day

This central government organisation requires a credit

control lead to join its finance control team. You will

be responsible for developing strategies, policies and

processes governing income collection to ensure it

remains fit for purpose and meet the organisation's

needs. You will liaise with staff who carry out activities to

raise sales invoices and undertake credit control activities

within the business areas. Other key responsibilities include

management, transactions, audit support, housekeeping

and continuous improvement. Excellent knowledge

of the credit control cycle from start to finish as well as

experience of dealing with commercial and personal

debt are highly desirable. Ref: 3245109

Contact Soulyn Marouf on 020 7259 8744

or email soulyn.marouf@hays.com

This is just a small selection of the many

opportunities we have available for credit

professionals. To find out more email

hayscicm@hays.com or visit us online.

hays.co.uk/creditcontrol

The Recognised Standard / www.cicm.com / April 2018 / PAGE 61
---
View our digital version online at www.cicm.com

Log on to the Members' area, and click on the tab labelled

'Credit Management magazine'

Just another great reason to be a member

Credit Management is distributed to the entire UK and international

CICM membership, as well as additional subscribers

The Recognised Standard

www.cicm.com The | +44 Recognised (0)1780 Standard / www.cicm.com 722901 / April | 2018 editorial@cicm.com

/ PAGE 62
---
Cr£ditWho?

CICM Directory of Services

FOR INFORMATION,

OPTIONS AND PRICING

PLEASE EMAIL:

anthony.cave@cabbell.co.uk

ANTI MONEY LAUNDERING

COLLECTIONS LEGAL

CONSULTANCY

THE ONLY AML RESOURCE YOU NEED

SmartSearch

Harman House, Station Road,

Guiseley, Leeds, LS20 8BX

T: 01132387660

F: 0113 238 7669

E: info@smartsearchuk.com

W: www.smartsearchuk.com

KYC, AML and CDD all rely on a combination of deep data with

broad coverage, highly automated flexible technology with an

innovative and intuitive customer interface. Key features include

automatic Worldwide Sanction & PEP checking, Daily Monitoring,

Automated Enhanced Due Diligence and pro-active customer

management. Choose SmartSearch as your benchmark.

COLLECTIONS

Controlaccount PLC

Compass House, Waterside

Hanbury Road, Bromsgrove

B60 4FD

T: 01527 549522 (Sales dept)

E: sales@controlaccount.com

W:www.controlaccount.com

Controlaccount has over 30 years of Credit Management and

Debt Recovery experience, helping National and International

SMEs and blue chip organisations, across a wide range of sectors.

We provide a fast, proactive collection service on a no-collection,

no-fee basis, and for some clients a zero cost option,

utilising the late payment act to fund collection procedures. Our

trained collectors take into account your need to recover debts,

whilst maintaining your reputation and preserving customer relationships.

If we can't recover your outstanding debts through our

collection process, then our service won't cost you a penny; and

with our additional in-house legal & Trace service as well as our

credit reporting and corporate monitoring services we are ready

to help you every step of the way.

Atradius Collections Ltd

3 Harbour Drive,

Capital Waterside,

Cardiff Bay, Cardiff, CF10 4WZ

United Kingdom

T: +44 (0)2920 824700

W: www.atradiuscollections.com/uk/

Atradius Collections Ltd is an established specialist in business

to business collections. As the collections division of the Atradius

Crédito y Caución, we have a strong position sharing history,

knowledge and reputation.

Annually handling more than 110,000 cases and recovering

over a billion EUROs in collections at any one time, we deliver

when it comes to collecting outstanding debts. With over 90

years' experience, we have an in-depth understanding of

the importance of maintaining customer relationships whilst

efficiently and effectively collecting monies owed.

The individual nature of our clients' customer relationships is

reflected in the customer focus we provide, structuring our

service to meet your specific needs. We work closely with clients

to provide them with a collection strategy that echoes their

business character, trading patterns and budget.

For further information contact: Hans Meijer, UK and Ireland

Country Director (hans.meijer@atradius.com).

Blaser Mills LLP

Rapid House

40 Oxford Road, High Wycombe,

Buckinghamshire. HP11 2EE

T: 01494 478660/478661

E: Jackie Ray jar@blasermills.co.uk or Gary Braathen

gpb@blasermills.co.uk

W: www.blasermills.co.uk

Established in 1888, leading multi-disciplinary law firm Blaser

Mills specialises in services for businesses and individuals.

The Firm has particular expertise in Dispute Resolution and

Debt Recovery working with experienced credit managers and

finance directors providing solutions to both contested and

uncontested claims.

Blaser Mills provides an experienced team including CICM

qualified legal representatives and the Firm is cited in the

Legal 500 law directory based on quality of work and strong

client feedback.

Offices in Aylesbury, London (Central), London (Harrow), Old

Amersham, Rickmansworth, Staines-on-Thames.

Lovetts Solicitors

Lovetts, Bramley House, The Guildway, Old Portsmouth

Road, Guildford, Surrey GU3 1LR

T: +44(0)1483 457500 E: info@lovetts.co.uk

W: www.lovetts.co.uk

Lovetts has been recovering debts for 30 years! When you

want the right expertise to recover overdue debts why not use a

specialist? Lovetts' only line of business is the recovery of

business debts and any resulting commercial litigation.

We provide:

• Letters Before Action, prompting positive outcomes in more than

80 percent of cases • Overseas Pre-litigation collections with

multi-lingual capabilities • 24/7 access to our online debt

management system 'CaseManager'

Don't just take our word for it, here's recent customer feedback:

"...All our service expectations have been exceeded..."

"...The online system is particularly useful and is extremely easy

to use... "...Lovetts has a recognisable brand that generates

successful results..."

STRIPES SOLICITORS LIMITED

St George's House, 56 Peter Street, Manchester, M2 3NQ

W: www.stripes-solicitors.co.uk

T: 0161 832 5000

95percent success rate in disputed

litigation cases over several decades

Stripes technical excellence, tenacity and commercial insight has

led to this 95 percent success rate over several decades. We have

been particularly recommended as a leading law firm by the Legal

500 in the litigious field for representing clients with significant and

complex issues.

Our specialist commercial debt recovery and insolvency team work

with businesses ranging from SMEs to larger PLCs recovering

business debts on a no cost or fixed fee basis and often

recovering debts within days. We aim to understand your business

and tailor our services to suit your requirements. Our online service

provides you with 24/7 access to manage your account, to upload

new debtor cases and to generate new legal instructions.

Sanders Consulting Associates Ltd

T: +44(0)1525 720226

E: enquiries@chrissandersconsulting.com

W: www.chrissandersconsulting.com

Sanders Consulting is an independent niche consulting firm

specialising in leadership and performance improvement in all

aspects of the order to cash process. Chris Sanders FCICM, the

principal, is well known in the industry with a wealth of experience

in operational credit management, billing, change and business

process improvement. A sought after speaker with cross industry

international experience in the business-to-business and businessto-consumer

markets, his innovative and enthusiastic approach

delivers pragmatic people and process lead solutions and significant

working capital improvements to clients. Sanders Consulting are

proud to manage CICMQ on behalf of and under the supervision

of the CICM.

COURT ENFORCEMENT SERVICES

Court Enforcement Services

Wayne Whitford – Director

M: +44 (0)7834 748 183

T : +44 (0)1992 663 399

E : wayne@courtenforcementservices.co.uk

W: www.courtenforcementservices.co.uk

High Court Enforcement that will Empower You!

We help law firms and in-house debt recovery and legal teams to

enforce CCJs by transferring them up to the High Court. Setting us

apart in the industry, our unique and Award Winning Field Agent

App helps to provide information in real time and transparency,

empowering our clients when they work with us.

• Free Transfer up process of CCJ's to High Court

• Exceptional Recovery Rates

• Individual Client Attention and Tailored Solutions

• Real Time Client Access to Cases

CREDIT INFORMATION

Creditsafe Business Solutions

Bryn House, Caerphilly Business Park, Van Rd,

Caerphilly, CF83 3GG

T: 0292 088 6500.

E: ukinfo@creditsafeuk.com

W: www.creditsafeuk.com

Creditsafe is Europe's most used supplier of credit & business

intelligence. Creditsafe have helped over 60,000 customers

across Europe and the USA with a range of products which

includes our UK, European and International Company Credit

Reports, which reach over 129 countries and 90m companies;

customer and supplier Risk Tracker and our 3D Ledger product

which has captured over 35 million Trade Payment Data

Experiences since its launch in 2012. All of which will help

companies manage their exposure to risk, make informed

decisions in relation to credit limits whilst looking at how you

can identify gaps within your sales ledger to prioritise collections

and leverage sales.

continues on page 64 >

The Recognised Standard / www.cicm.com / April 2018 / PAGE 63
---
Cr£ditWho?

CICM Directory of Services

FOR INFORMATION,

OPTIONS AND PRICING

PLEASE EMAIL:

anthony.cave@cabbell.co.uk

CREDIT INFORMATION

CoCredo Limited

Missenden Abbey, Great Missenden, Bucks, HP16 0BD

T: 01494 790 600

E: customerservice@cocredo.com

W: www.cocredo.co.uk

Celebrating 15 years in business, CoCredo's award winning credit

reporting and monitoring systems have helped to protect and secure

over £27 billion of turnover on behalf of our customers. Our company

data is updated 500,000 per day and ensures customers have the

most current information in the market place. Access to the online

portal is available 365 days a year 24/7 from anywhere in the world.

At CoCredo we aggregate data from a range of leading providers

across the globe so that our customers can view the best available

data in one easy to use report. We also offer customers XML

Integration and D.N.A. Portfolio Management.

From simply looking at a prospect through to acquisition, to

monitoring, we pride ourselves on helping our customers every step of

the way. CICM members receive their first five credit reports for free.

Graydon UK

66 College Road, 2nd Floor,

Hygeia Building, Harrow,

Middlesex, HA1 1BE

T: +44 (0)208 515 1400

E: customerservices@graydon.co.uk

W: www.graydon.co.uk

Graydon UK is a specialist in Credit Risk Management and Intelligence,

providing access to business information on over 100 million entities

across more than 190 countries. Its mission is to convert vast amounts

of data from diverse data sources into invaluable information. Based

on this, it generates economic, financial and commercial insights that

help its customers make better business decisions and ultimately

gain competitive advantage. Graydon is owned by Atradius, a leading

European credit insurance organisation. It offers a comprehensive

network of offices and partners worldwide to ensure a seamless

service.

Credica Ltd

Building 168, Maxwell Avenue, Harwell Oxford, Oxon. OX11 0QT

T: +44(0)1235 856400

E: info@credica.co.uk

W: www.credica.co.uk

Our highly configurable and extremely cost effective Collections and

Query Management System has been designed with three goals in

mind:

• To improve your cashflow

• To reduce your cost to collect

• To provide meaningful analysis of your business

Evolving over 15 years and driven by the input of 1000s of Credit

Professionals across the UK and Europe, our system is successfully

providing significant and measurable benefits for our diverse portfolio

of clients. We would love to hear from you if you feel you would benefit

from our 'no nonsense' and human approach to computer software.

Company Watch

Centurion House, 37 Jewry Street,

LONDON. EC3N 2ER

T: +44 (0)20 7043 3300

E: info@companywatch.net

W: www.companywatch.net

Organisations around the world rely on Company Watch's

industry-leading financial analytics to drive their credit risk

processes. Our financial risk modelling and ability to map medium

to long-term risk as well as short-term credit risk set us apart

from other credit reference agencies.

Quality and rigour run through everything we do, from our unique

method of assessing corporate financial health via our H-Score®,

to developing analytics on our customers' in-house data.

With the H-Score® predicting almost 90 percent of corporate

insolvencies in advance, it is the risk management tool of choice,

providing actionable intelligence in an uncertain world.

BUREAU VAN DIJK

Northburgh House, 10 Northburgh Street, London, EC1V 0PP

T: +44 (0)20 7549 5000E: bvd@bvdinfo.com

W: www.bvdinfo.com

We offer the most powerful comparable data resource on private

companies. We capture and treat private company information for

better decision making and increased efficiency, so we're ideally suited

to help credit professionals. Orbis, our global company database has

information on 250 million companies, and offers:

• Standardised financials so you can assess companies globally

• Financial strength metrics using a range of models and including a

qualitative score for when detailed financials aren't available

• Projected financials

• Extensive corporate structures so you can assess the complete group

– or take the financial stability of the parent into account

Credit Catalyst is a platform where you can combine information from

Orbis with you own knowledge of your customers and get dashboard

views of your portfolio.

Register for your free trial at bvdinfo.com.

CREDIT MANAGEMENT SOFTWARE

Prof. Schumann GmbH

innovative information systems

Weender Landstr. 23, 37130 Göttingen, Germany

T: +49 551 38315 0 F: +49 551 38315 20

E: info@prof-schumann.de W: www.prof-schumann.de

Our Credit Application Manager (CAM) is a leading credit risk

management solution for major corporations, as well as insurance,

factoring and leasing companies. In their daily work, CAM allows

credit and sales managers to call up all the available information

about a customer or risk in a few seconds for decision support: realtime

data from wherever they are. CAM keeps an eye on customers

whose payment behaviour stands out or who have overdue invoices!

CAM provides an up-to-date forecast of customers' payments.

Additionally, CAM has automated interfaces for connecting to

leading suppliers of company credit data, payment record pools and

commercial credit insurers. The system is characterised by its great

flexibility. We have years of experience in consulting and software

support for accounts receivable management.

Top Service Ltd

2&3 Regents Court, Farmoor Lane, Redditch,

Worcestershire, B98 0SD

T: 0152 750 3990.

E: enquiries@top-service.co.uk

W: www.top-service.co.uk

Top Service is the only credit reference and debt recovery

agency to specialise in the UK construction sector. Top Service

customers benefit from sector specific information, detailed

payment history intelligence and realtime trade references in

addition to standard credit information. There are currently

3,000 construction sector companies subscribing to the service,

ranging from multi-national organisations to small family firms.

The company prides itself on high levels of customer service

and does not tie its customers into restrictive contracts. Top

Service offers a 25 percent discount to all CICM Members as

well as four free credit checks of your choice.

Innovation Software

Innovation Software, Innovation House,

New Road, Rochester, Kent, ME1 1BG.

T: +44 (0)1634 812300

E: jay.inamdar@innovationsoftware.uk.com

W: www.creditforceglobal.com

Innovation Software are the authors of CreditForce, the leading

Collections and Working Capital Management Systems. Our solutions are

used in over 26 countries and by over 20 percent of the Top 100 Global

Law Firms.

Our solutions have optimised Accounts Receivables processes for over

20 years and power Business Intelligence, with functionality to:

• improve cash flow • reduce DSO • control risk

• automate cash allocation • speed up query resolution

• improve customer relationship management

• automatically generate intelligent workflows and tasks

• manage the entire end-to-end collections cycle.

Fully integrated with over 40 leading ERP and Accounting systems,

including SAP, Oracle, Microsoft Dynamics and product partners with

Thomson Reuters Elite we can deliver on either your own computing

infrastructure or through Microsoft Azure's award winning and secure

cloud service.CreditForce remains the choice solution for world class

businesses.

Book a demonstration by calling T: +44 (0)1634 812 300 or visit

www.creditforceglobal.com for more information.

The Recognised Standard / www.cicm.com / April 2018 / PAGE 64
---
Cr£ditWho?

CICM Directory of Services

FOR INFORMATION,

OPTIONS AND PRICING

PLEASE EMAIL:

anthony.cave@cabbell.co.uk

FINANCIAL PR

Safe Computing Limited

20, Freeschool Lane, Leicester, LE1 4FY

T: 0844 583 2134

E: info@safecomputing.co.uk

W: www.safe-financials.co.uk

Designed to manage your customer credit accounts effectively,

Safe Credit Control enables your credit management team to:

• Improve cash flow

• Reduce debtor days

• Increase customer service

• Cut the cost of cash collection

• Eliminate manual processes

• Speed up the query resolution process

Safe's unique approach is centred on changing the perception

of the credit control function from a series of reactive processes

to proactive ones. Credit controllers are traditionally regarded

as an essential element in business to chase late payments

and respond to customer queries. Safe Credit Control has taken

the concepts of customer relationship management (CRM) and

applied it to the credit control function, providing a softer,

service orientated team of customer service representatives.

STA International

3rd Floor, Colman House, King Street Maidstone , ME14 1DN

T: +44(0)844 324 0660.

E: enquiries@staonline.com

W: www.stainternational.com

GETTING BUSINESS PAID

STA is an award winning B2B and B2C debt collection, confidential

credit control and tracing supplier. ISO9001 quality accredited, and

with the CSAs Collector Accreditation Initiative, duty-of-care is as

important to us as it is to you. Specialising in international debt, in the

past 12 months we've collected from 146 countries worldwide. "Your

Debts Online" gives you transparent access to our collection success

and detailed management information, keeping you in control of your

account. We look forward to getting your business paid.

Tinubu Square UK

Holland House,

4 Bury Street, London . EC3A 5AW

T: +44 (0)207 469 2577 /

E: uksales@tinubu.com W: www.tinubu.com

Tinubu Square offers companies across the world the appropriate

SaaS platform solutions and services to significantly reduce their

exposure to risk, and their financial, operational and technical

costs. Easy to implement, our solutions provide an accurate

picture of a customers' financial health through the entire

order-to-cash cycle, improve cash flow, and facilitate control

of risk across the organization whether group-wide or locally.

Founded in 2000, Tinubu Square is an award winning expert in

the trade credit insurance industry, with offices in Paris, London,

New York, Montreal and Singapore. Some of the largest

multinational corporations, credit insurers and receivables

financing organizations depend on Tinubu to provide them with the

means to drive greater trade credit risk efficiency.

Data Interconnect Ltd

Unit 7, Radcot Estate, 7 Park Rd, Faringdon,

Oxfordshire. SN7 7BP

T: +44 (0) 1367 245777 F: +44 (0) 1367 240011

E: sales@datainterconnect.co.uk

W: www.datainterconnect.com

Data Interconnect provides integrated e-billing and collection

solutions via its document delivery web portal, WebSend. By

providing improved Customer Experience and Customer Satisfaction,

with enhanced levels of communication between both parties, we

can substantially speed up your collection processes.

Proud supporters

of CICMQ

Rimilia

Corbett House, Westonhall Road, Bromsgrove, B60 4AL

T: +44 (0)1527 872123 E: enquiries@rimilia.com

W: www.rimilia.com

Rimilia excels in the design, development and implementation of

Intelligent Finance Solutions that drive value from existing manually

intensive finance processes associated with accounts receivable,

cash allocation, credit management, bank reconciliation and cash

forecasting. Based in the heart of the UK, our operations extend to

Europe, USA and Asia. Experienced in the field of technology and

accounting, our approach to business revolves around integrity

and enabling organisations to unlock their full potential though

innovation. Rimilia is proud to be a leading innovative supplier of

finance solutions that make a positive change to the blue chip clients

it supplies.

HighRadius

T: +44 7399 406889

E: gwyn.roberts@highradius.com

W: www.highradius.com

HighRadius is the leading provider of Integrated Receivables

solutions for automating receivables and payment functions such

as credit, collections, cash allocation, deductions and eBilling.

The Integrated Receivables suite is delivered as a software-as-aservice

(SaaS). HighRadius also offers SAP-certified Accelerators

for SAP S/4HANA Finance Receivables Management, enabling

large enterprises to maximize the value of their SAP investments.

HighRadius Integrated Receivables solutions have a proven track

record of reducing days sales outstanding (DSO), bad-debt and

increasing operation efficiency, enabling companies to achieve an

ROI in less than a year.

DATA AND ANALYTICS

Dun & Bradstreet

Marlow International, Parkway Marlow

Buckinghamshire SL7 1AJ

Telephone: (0800) 001-234 Website: www.dnb.co.uk

Dun & Bradstreet grows the most valuable relationships in business.

By uncovering truth and meaning from data, we connect our

customers with the prospects, suppliers, clients and partners that

matter most, and have since 1841. Whether your customer portfolio

spans a city, a country or the globe, Dun & Bradstreet delivers the

data, analytics and insight to grow your most profitable relationships

and navigate credit risk. By combining your insights with our own,

Dun & Bradstreet facilitates a global, unified view of your customer

relationships across credit and collections.

Gravity London

Floor 6/7, Gravity London, 69 Wilson St, London, EC21 2BB

T: +44(0)207 330 8888. E: sfeast@gravitylondon.com

W: www.gravitylondon.com

Gravity is an award winning full service PR and advertising

business that is regularly benchmarked as being one of the best

in its field. It has a particular expertise in the credit sector, building

long-term relationships with some of the industry's best-known

brands working on often challenging briefs. As the partner agency

for the Credit Services Association (CSA) for the past 13 years,

and the Chartered Institute of Credit Management since 2006, it

understands the key issues affecting the credit industry and what

works and what doesn't in supporting its clients in the media and

beyond.

INSOLVENCY

Moore Stephens

Moore Stephens LLP,

150 Aldersgate Street,

London EC1A 4AB

T: +44 (0) 20 7334 9191

E: Brendan.clarkson@moorestephens.com

W: www.moorestephens.co.uk

Moore Stephens is a top ten accounting and advisory network, with

offices throughout the UK.

Our clients range from individuals and entrepreneurs, through

to large organisations and complex international businesses. We

partner with them, supporting their aspirations and helping them

to thrive in a challenging world.

Our national creditor services team has expert insights in debt

recovery which, combined with their unparalleled industry and

sector knowledge, enables them to assist creditors in recovering

outstanding debts.

LEGAL MATTERS

DWF LLP

David Scottow Senior Director

D +44 113 261 6169 M +44 7833 092628

E: David.Scottow@dwf.law W: www.dwf.law/recover

Described by market commentators as "blazing a trail", DWF is one

of the UK's largest legal businesses with an award-winning reputation

for client service excellence and effective operational management.

Named by the Financial Times as one of Europe's most innovative

law firms and independently ranked first of all top 20 law firms for

quality of legal advice and joint first of all national law firms for service

delivery and responsiveness. DWF offers a full range of cost effective

debt recovery solutions including pre-legal collections, debt litigation,

enforcement, insolvency proceedings and ancillary services including

tracing, process serving, debtor profiling and consultancy.

continues on page 66 >

The Recognised Standard / www.cicm.com / April 2018 / PAGE 65
---
Cr£ditWho?

CICM Directory of Services

FOR INFORMATION,

OPTIONS AND PRICING

PLEASE EMAIL:

anthony.cave@cabbell.co.uk

PAYMENT SOLUTIONS

American Express

76 Buckingham Palace Road,

London

SW1W 9TQ

T: +44 (0)1273 696933

W: www.americanexpress.com

American Express is working in partnership with the CICM and is

a globally recognised provider of payment solutions to businesses.

Specialising in providing flexible collection capabilities to drive a

number of company objectives including:

•Accelerate cashflow

•Improved DSO

•Offer extended terms to customers

•Provide an additional line of bank independent credit to drive

growth

•Reduce risk

•Create competitive advantage with your customers

As experts in the field of payments and with a global reach,

American Express is working with credit managers to drive growth

within businesses of all sectors. By creating an additional lever

to help support supplier/client relationships American Express is

proud to be an innovator in the business payments space.

Bottomline Technologies

115 Chatham Street

Reading

Berks RG1 7JX | UK

T: 0870 081 8250

E: emea-info@bottomline.com

W: www.bottomline.com/uk

Bottomline Technologies (NASDAQ: EPAY) helps businesses pay

and get paid. Businesses and banks rely on Bottomline for domestic

and international payments, effective cash management tools,

automated workflows for payment processing and bill review and

state of the art fraud detection, behavioural analytics and regulatory

compliance. Businesses around the world depend on Bottomline

solutions to help them pay and get paid, including some

of the world's largest systemic banks, private and publicly traded

companies and Insurers. Every day, we help our customers by

making complex business payments simple, secure and seamless.

PROFESSIONAL BODIES

Chartered Institute of

Credit Management (CICM)

The Water Mill, Station Road, South Luffenham,

OAKHAM, LE15 8NB

T: 01780 722910 E: info@cicm.com

W: www.cicm.com

The Chartered Institute of Credit Management (CICM) is Europe's

largest credit management organisation. The trusted leader

in expertise for all credit matters, it represents the profession

across trade, consumer, and export credit, and all credit-related

services. Formed over 70 years ago, it is the only such organisation

accredited by Ofqual and it offers a comprehensive

range of services and bespoke solutions for the credit professional

(www.cicm.com) as well as services and advice for the

wider business community (www.creditmanagement.org.uk).

CICMos (CICM Online Services) WWW.CICM.COM

T: 01780 722 907. E: training@cicm.com

W: www.cicmos.com

CICMOS has been designed to help busy credit managers by

providing them with a suite of online tools to support and

quickly develop their teams. The virtual learning centre is an

open platform system, accessed via the website, which is

easy to use, modular and each module is completely optional,

which means the system can be tailored to suit specific

requirements and time constraints. This wide ranging system

is more than just a training tool it is easy to set up and use

and can be accessed securely via the CICMOS website for a

low annual subscription.

RECRUITMENT

PORTFOLIO

CREDIT CONTROL

Hays Credit Management

107 Cheapside, London, EC2V 6DN

T: 07834 260029

E: karen.young@hays.com

W: www.hays.co.uk/creditcontrol

Hays Credit Management is working in partnership with the CICM

and specialise in placing experts into credit control jobs and

credit management jobs. Hays understands the demands of this

challenging environment and the skills required to thrive within

it. Whatever your needs, we have temporary, permanent and

contract based opportunities to find your ideal role. Our candidate

registration process is unrivalled, including face-to-face screening

interviews and a credit control skills test developed exclusively

for Hays by the CICM. We offer CICM members a priority service

and can provide advice across a wide spectrum of job search and

recruitment issues.

ATTENTION

PRODUCT

& SERVICE

PROVIDERS

You can connect with them

all now by having a listing in

CreditWho.

FOR JUST

£1,247 + VAT per annum:

- your business will be listed in

Credit Management magazine,

which goes out to all our

members and subscribers and

has an estimated readership

of over 25,000.

TO BOOK YOUR

LISTING IN CREDITWHO CONTACT:

ANTHONY CAVE ON: 020 3603 7934

Portfolio Credit Control

Portfolio Credit Control, New Liverpool House,

15 Eldon Street, London, EC2M 7LD

T: 0207 650 3199

E: recruitment@portfoliocreditcontrol.com

W: www.portfoliocreditcontrol.com

Portfolio Credit Control, solely specialises in the recruitment of

permanent, temporary and contract Credit Control, Accounts

Receivable and Collections staff. Part of an award winning

recruiter we speak to and meet credit controllers all day everyday

understanding their skills and backgrounds to provide you with tried

and tested credit control professionals. We have achieved enormous

growth because we offer a uniquely specialist approach to our

clients, with a commitment to service delivery that exceeds your

expectations every single time.

The Recognised Standard / www.cicm.com / April 2018 / PAGE 66
---
Puzzle by © 2012 Mirroreyes Internet Services Corporation. All Rights Reserved

CREDIT CONUNDRUM

NAME ....................................................................................................................................

ADDRESS ..............................................................................................................................

...............................................................................................................................................

POST CODE .................................. TELEPHONE NUMBER .....................................................

The CICM is registered with the UK's Information

Commissioner under the Data Protection Act 1998 (the

"Act"). All the data contained on this form, is held and

processed electronically in accordance with the Act.

The Institute holds and processes your personal data in

order to give you the full benefits of being a member and for

administrative purposes.

We might from time to time notify you by post or email of

details of CICM events or other similar CICM services or

products which we think September be of interest to you. If

you do not wish to receive such notification please

tick here q

MONTHLY PRIZE CROSSWORD

For all email entries for the crossword please email: andrew.morris@cicm.com

If you subsequently decide that you do not wish to

receive such notifications please email the Institute at

unsubscribe@cicm.com or write to the Data Controller at

the address given below.

The Data Protection Act gives you the right at any time to

see a copy of all the data that we hold about you. If you

would like a copy, please send a letter requesting this

information together with a cheque for £10 payable to :

The Chartered Institute of Credit Management

to: Data Controller, CICM, The Water Mill, Station Road,

South Luffenham, OAKHAM, LE15 8NB.

£20 CROSSWORD PRIZE

THREE PRIZES OF £20 DRAWN EVERY MONTH

YOU NEED TO BE A MEMBER TO ENTER

ACROSS:

1. Beauties

6. Blend

10. A ceremonial staff

14. Drink garnish

15. Employ

16. Ailments

17. Scatter

18. Norse god

19. Coagulate

20. Arranged diagonally

22. Wander

23. "Phooey!"

24. Glare

26. Indian dress

30. Mire

31. Dawn goddess

32. By mouth

33. Nonsense

35. Come to pass

DOWN:

1. Pear variety

2. Countertenor

3. Ethiopian monetary unit

4. Not odd

5. Stitched

6. Salesrooms

7. News

8. Coloured part of an eye

9. Fail to fulfill a promise

10. Used to see small things

11. Yield

12. Split

13. A chemical compound

21. Jewish scholar

25. Coil

26. Fly high

27. Eyebrow shape

28. Dash

39. Eclat

41. Take up the cause

43. A watery discharge

44. Smack

46. Rind

47. Central

49. Mistake

50. Countercurrent

51. Salted roe of sturgeon

54. Ear-related

56. Not closed

57. Denial

63. Indian music

64. Anguish

65. Burn slightly

66. Buttocks

67. Feudal worker

68. Basic belief

69. Rational

70. Marsh plant

71. S S S S

29. Shed light on

34. Encouraged

36. Prompted

37. Previously owned

38. Depend

40. Dogfish

42. Bit of parsley

45. Strong and proud

48. A dealer in fabrics

51. Marine ___

52. 3-banded armadillo

53. A strict vegetarian

55. Hindu social division

58. Headquarters

59. Fastens

60. Hotels

61. Curved molding

62. Catches

CLOSING DATE: 12 April

LAST MONTH'S

CROSSWORD WINNERS

Tony John FCICM, Katherine Harley MCICM(Grad), Juliet Stadden

For the chance of winning £20, forward your completed solution to:

Art Editor, Andrew Morris, Chartered Institute of Credit Management,

The Water Mill, Station Road, South Luffenham, OAKHAM, LE15 8NB.

The Recognised Standard / www.cicm.com / April 2018 / PAGE 67
---
THE B2B DEBT RECOVERY SPECIALISTS

The complete commercial

debt recovery service

From outsourced 'early arrears collections'

through to expert litigation, all handled

in-house by a multi-award winning law firm

• Best in class collection results

• 24 hour turnaround for bulk LBA distribution

• Dedicated client teams with legally qualified

case handlers - even for 'pre-legal' collections

• Online case management system with real-time

reporting on all debt cases

Download your free

Credit Management &

Debt Recovery Toolkits

Ideal training tools to help

upskill large credit teams

www.fbdebt.co.uk/toolkits

• Highest customer service standards with

a Net Promoter Score of 100%

• Flexible charging structures to suit

• Over 170 lawyers and support staff

• Credit Management Legal Audit. Helping reduce your

delinquent debtors and ensuring that your paperwork

and processes are legally robust

For more information, call us free on:

0800 044 8120

or visit www.fbdebt.co.uk