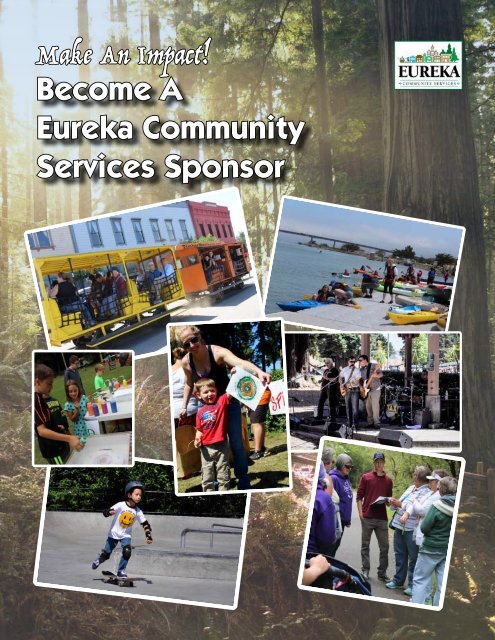 Eureka Community Services Sponsorship Opportunities
Eureka Community Services (formerly Parks and Recreation) has many ways in which local businesses can support our community through a series of fun, well-attended events. Check out this magazine to see more. If you're interested, reach out to smarcus@ci.eureka.ca.gov or call 707.440.9271
Eureka Community Services (formerly Parks and Recreation) has many ways in which local businesses can support our community through a series of fun, well-attended events. Check out this magazine to see more. If you're interested, reach out to smarcus@ci.eureka.ca.gov or call 707.440.9271
SHOW MORE
SHOW LESS
Create successful ePaper yourself
Turn your PDF publications into a flip-book with our unique Google optimized e-Paper software.
Make An Impact!

Become A

Eureka Community

Services Sponsor
---
Who is

Eureka Community Services?

The City of Eureka's Community Services Department

offers quality of life programming to the diverse populations within our community and strives to provide

access to this programming regardless of economic, social, and physical barriers.

Community events offer a unique platform for various populations to gather together to share in specialized

activities and experience parts of their community they may not otherwise have.

Eureka Community Services is proud to offer a variety of FREE events

that take place throughout the year, at multiple locations, with an emphasis on strengthening community

bonds, enhancing the quality of life for those in our community, and, of course, providing FUN!

Featured in this magazine are all of the major events offered by the Recreation Division, how they impact

those in our community, and how your contribution will support the unique needs of each one.

Eureka Community Services invites you to be a valuable part of these efforts

by supporting one or many of the community driven events offered by our department each year and

becoming a year-round donor and recognized supporter of local community events.

Thank you for taking the time to consider contributing to the many positive activities that support and

enhance our community. If you would like additional information on the specific needs of each event you

can contact the Recreation Supervisor at (707) 441-4374.

We would love to discuss this with you further.
---
Annual Sponsorship Opportunities

Carson Park Easter Egg-venture

Saturday before Easter • 10am-12pm at Carson Park

This annual free event provides Easter themed games and

activities for families, and at the end of their adventure

children get to take a spin in the egg hunt. This event features

local vendors who provide booths with activities for

families attending the event. Families also get the opportunity

to take a FREE picture with the Easter bunny. This

event needs assistance with purchases eggs, candy, prizes,

and activity supplies.

Avg. Attendance: 800-1,000

Father's Day by the Bay

Father's Day • 1pm-3pm Location TBD

The Father's Day on the Bay event is a celebration of the

fathers, and father figures in our community, with an

afternoon of fishing on Humboldt Bay. This free event is

open to all ages and skill levels. Poles are provided on a

first come, first served basis and instruction provided as

needed. This is event is in need of assistance with supplying

bait, tackle, and replacement rods, string, etc… as

needed.

Avg. Attendance: 15-20 families

Get Out & Play Day

Last Saturday in July • All Day (8am-10pm) • Various Locations All Across Eureka

This is our largest annual

event. Held throughout numerous

locations in Eureka, from the

Bay to the Redwoods, Get Out &

Play Day offers families a chance

to participate in an enormous

amount of recreational, entertaining,

and fitness activities.

From live music to kayaking, a trip to the Sequoia Park

Zoo to a ride on the Madaket, Skateboarding to Family

Olympics, Get Out & Play Day has something for everyone.

This entire event relies solely on the contributions

of businesses and organizations and is truly a community

funded effort.

Last Year's Attendance – 8,000+
---
Waterfront Trail Grand Opening & Cultural Celebration

2nd Saturday in September • Time & Location TBD

Halloween Carnival

Saturday prior to Halloween • 4pm-7pm at The Adorni

The Annual Halloween Carnival has been presented by the

City of Eureka for over 40 years!

This free family event features a variety of fun games,

activities and adventures for children 17 and under, where

they can win candy & prizes by completing carnival style

games. This event is made possible through a partnership

with Humboldt State University's Recreation Administration

Department. Event needs include support in purchasing

decorations, candy, prizes, and more.

Last year's Attendance 1,000+

Annual Holiday Crafts Bazaar

1st Saturday in December • 10am-5pm at The Adorni

The Grand Opening of the Waterfront Trail will feature

cultural festivities, entertainment and activities taking

place across the span of the trail system and will celebrate

the art, culture, and history of Humboldt Bay and the completion

of the Waterfront Trail. There will be a variety of

local artisans, cultural and ethnic groups, artists and many

more providing demonstrations, activities and entertainment

all throughout the day.

Inaugural event will be Sept 8, 2018.

The Annual Holiday Crafts Bazaar is the longest running

crafts show in the City of Eureka. Featuring over

45 vendors, the Crafts Bazaar is a wonderful opportunity

for the community to come and enjoy the holiday

atmosphere, while shopping for beautiful, affordable

handmade gifts crafted by local artisans. Featuring live

entertainment, a free raffle, family activities and even a

visit from Santa Clause. Admission to this event is free to

the public.

Avg. attendance 700
---
Sponsorship Packages

Pick a level and pick an event; it's that simple.

The following table shows you the options. Price listed is for any one event. Choose multiple events

and save 10% for each additional event chosen. (Due to the level of interest, the cost of Get Out & Play

day is twice the listed price for any other event and is therefore chosen separately.)

What you'll get $600 or more $300 or more $150 or more

Your Banner on City Park

Fence for one Month

One 3-Month Adorni Center Memberships

One Adorni Multi-Pass (10 Visits)

3 Hour Conference Room Rental

Your Business Logo on All Promotional

Materials for that event

Promotional Booth at Event

Adorni Lobby in-house Electronic

Billboard Advertisement

Social Media Promotion (Adorni Blog,

Facebook, Twitter, Instagram & More!)

Placement in Eureka Community Services

Newsletter with Links to your site

Prominent Announcement at Events

Framed Certificate of Appreciation

BONUS!

Credit and/or logo placement in all

Traditional Media Advertising

Ten Hours Conference Room Rental

Five Adorni Multi-Passes (Ten

Visits per pass; 50 visits total)

Five Three-Month Adorni

Center Memberships

Become a Premium Sponsor!

Support our biggest event, Get Out & Play Day.

Due to its immense popularity, the rate is double the rate for standard sponsorships (above).

Gold and Silver packages provide the same benefits as all other

packages. However, if you choose to be a Platinum sponsor for Get Out &

Play Day ($1,200), you receive the following additional benefits:.
---
Sponsorship Agreement

If you're ready to help, all you need to do is fill out this form. Thank you!

Date:

Your Name/Organization:

Address:

City: State: Zip:

Email:

Phone:

Which level of sponsorship do you prefer? (If you're interested in different levels for different event, please talk to a

City representative.)

Platinum Gold Silver

Please mark an "x" on each event you want to sponsor.

Easter Egg-Venture

Father's Day on the Bay

Waterfront Trail Annual Celebration

Halloween Carnival

Holiday Bazaar

PREMIUM: Get Out & Play Day (extra cost)

1. Number of Standard Sponsorships (checked above)

2. Cost per Sponsorship $

3. Total cost for Standard Sponsorships (multiply line 1 times line 2) $

4. Add Premium Get Out & Play Day Sponsorship cost (if desired) $

5. Subtract discount for multiple sponsorships

(10% for two; 20% for three; 30% for four; 40% for five; 50% for all)

$

6. Total Due (add line 3 and line 4; subtract line 5) $

Please make checks payable to "City of Eureka."

1011 Waterfront Drive

Eureka, CA 95501

(707) 441 - 4374
---
1011 Waterfront Drive

Eureka, CA 95501

(707) 441-4374

www.EurekaCommunityServices.com