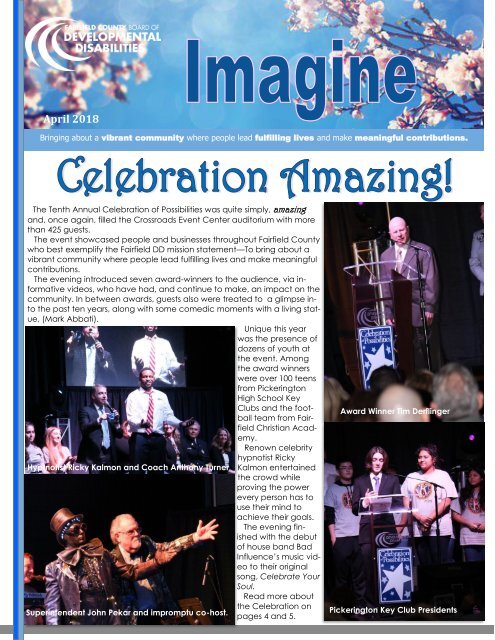 You also want an ePaper? Increase the reach of your titles
YUMPU automatically turns print PDFs into web optimized ePapers that Google loves.
April 2018

Bringing about a vibrant community where people lead fulfilling lives and make meaningful contributions.

The Tenth Annual Celebration of Possibilities was quite simply, amazing

and, once again, filled the Crossroads Event Center auditorium with more

than 425 guests.

The event showcased people and businesses throughout Fairfield County

who best exemplify the Fairfield DD mission statement—To bring about a

vibrant community where people lead fulfilling lives and make meaningful

contributions.

The evening introduced seven award-winners to the audience, via informative

videos, who have had, and continue to make, an impact on the

community. In between awards, guests also were treated to a glimpse into

the past ten years, along with some comedic moments with a living statue,

(Mark Abbati).

Unique this year

was the presence of

dozens of youth at

the event. Among

the award winners

were over 100 teens

from Pickerington

High School Key

Clubs and the football

team from Fairfield

Christian Academy.

Pam Whiteley

Renown celebrity

hypnotist Ricky

Vickie Rzanski

Hyptnotist Ricky Kalmon and Coach Anthony Turner Kalmon entertained

the crowd while

proving the power

every person has to

use their mind to

achieve their goals.

The evening finished

with the debut

of house band Bad

Influence's music video

to their original

song, Celebrate Your

Soul.

Read more about

the Celebration on

Superintendent John Pekar and impromptu co-host.

pages 4 and 5.

Award Winner Tim Derflinger

Pickerington Key Club Presidents
---
Mall Walkers Say Thank You

The hit sitcom Seinfeld ran successfully

for 9 seasons. The Andy Griffith Show ran

for 8 seasons. And Game of Thrones has

only 7 seasons under its belt with one

more to go.

It's fairly humbling then to know that

we just enjoyed our 10th Annual Celebration of Possibilities

and the excitement and inspiration present at the first

event was just as apparent this year.

Each year about this time we reflect on the Celebration

and think, "How in the world will we ever top that?" It's a

daunting question but somehow, every year, we manage

to recreate the atmosphere of this special night in a whole

new way.

Of course, having the honor of recognizing the many

accomplishments of the unique people and businesses in

the community guarantees some degree of success.

For me, the highlight of this year was the fact that so

many young people throughout the community were involved

with the event, from the high school award recipients

you will read about on page 4, to the teenage volunteers

who helped out in the kitchen. Nothing solidifies the

future like witnessing young people contributing to the

goodness of the world around them.

I also was very moved by the unsolicited comments

made in the award videos by some of the folks Fairfield

DD supports. To hear a man describe, in his own words,

how much he values the employment opportunities made

available to him by local businesses like ServiceMASTER

and Steak 'n Shake reiterates the importance of personcentered

planning. And recognizing Tim Derflinger for the

enormous value he is adding to our community through

his volunteering renews my faith in just about everything.

I'd be remised if I didn't, again, thank the many, many

volunteers who create this event from the ground up. It

simply would not be possible to pull this off without each

person playing their part.

As we bask in the afterglow of another successful Celebration,

I hope you will take a moment to savor the longevity

and the success of this unusual event. And I certainly

hope we will see you again next year.

Until then,

John Pekar, Superintendent

For the third

year in a row

Fairfield DD

kicked off National

DD

Awareness

Month by hosting

a Mall Walk

inside River

Valley Mall.

DiscoverU,

which partners

with over a

dozen retailers

throughout the

mall, coordinated

the effort

by posting

large signs outside

every business

partner's

location. Walkers

assembled

on a Saturday

morning and

walked a mile

or more

around the

mall, clapping

and acknowledging

the

businesses

while bringing

awareness to

this very important

month.

Over 100

people participated,

including staff and board members, as well as

many people supported by Fairfield DD and their

families.

Celebration Award

Winner John Verhovec

couldn't wait to get

back to his Steak 'n

Shake to share his

award with his interns

from Pickerington Central

High School. Several

of them were featured

in his award video.

Great job guys!
---
Local High School Students Spread the Word

Kiwanis Key Club Members at Lancaster High School, Pickerington North High

School and Pickerington Central High School took time from their lunch hours

in March to talk to their peers about the importance of disabling labels. As part

of the National Developmental Disability Awareness Month efforts, students

passed out over 2400 lapel buttons discouraging the use of the "r-word," and

other labels.

Students set up an

informational display

during all lunch periods and also made sure every

member of the school staff had a button to wear as

well.

"This is an important first step in recognizing that no

one wants to be labeled, " said Lancaster High School

Key Club Advisor Andy Knuckles. "Students respond

well to messages when they are delivered by their

peers."

The buttons were so successful that Community Relations

anticipates a re-order and will definitely expand

this outreach next year.

According to a publication on peer

pressure by Parent Further, only 10

percent of teenagers surveyed said

that they had not been influenced

by peer pressure. If this holds true,

positive peer pressure has the power

to influence nearly every teen it

touches for the better!
---
Fairfield Christian Academy

Football Team— The team has developed

friendships with the students at Forest

Rose School resulting in fishing trips and

outings to the county fair.

ServiceMASTER by

George— A long-time business partner

of Fairfield DD and Job Fusion, their

president also is a past Fairfield Industries

board member and a community

volunteer.

Michelle Dexter— Individual

Budget & Medicaid Services Supervisor

at Fairfield DD, Michelle is an exceptional

employee who also finds

time to volunteer for the central Ohio

Buddy Walk.

Gloria Oesterling— Job Coordinator

at Fairfield County's Educational

Service Center, Gloria had a

long career making a difference in

the lives of local children.

Tim Derflinger—

Tim brings about a vibrant

community through

weekly volunteering at

two locations and a long

career at a local restaurant.

Pickerington High

School Key

Clubs— Clubs at Pickerington

North and Pickerington

Central volunteer

every month to run a

playgroup for children on

the Autism spectrum.

John Verhovec—

General Manager at Steak

'n Shake Pickerington,

John opens his doors

weekly to high school students

in a transition program

for job development.

PROGRAM COMMITTEE

John Pekar

Gaynor Pfeffer

Susan Barnett

Temple Montanez

David Uhl

Bob Competti

Aaron Uhl

COMMITTEE MEMBERS

Lisa Boley

Angela Krile

Rachel McCoy

Beth Seifert

Pam Whiteley

Michelle Wright

Mark Giesler

Amanda Cruz

Shelly Holt

Cassie Richardson

Teresa Ruff

Laura Furry

SERVERS

Alisha Snoke

Amanda Snoke

Amber Armstrong

Andrea Headley

April Wagner

Bob Jumper

Brian Plummer

Carol Sayre

Cathy Anderson

Chelsie Graham

Chris Snoke

Darenda Geer

David Baum

Dawn Buser

Dean Raloff

Emily Plummer

Eric Geriner

Gracie Zinsmeister

Jason Headley

Jessica O'Reilley

Joelle Gardner

John Schoen

John Wagner

Julie Bruckelmeyer

Kali Mason

Karen Wagner

Katie Baum

Kelly Martin

Kyle Morris

Laura Furry

Lois Everitt

Lori Burns

Makalyn Williams

Malee Armstrong

Marcie Wesselhoeft

Marie Cummerlander

Mark Furry

Molly Zinsmeister

Monica Cooperrider

Nicole Kemp

Rylee Lent

Ryleigh Holt

Samantha Noll

Shelly Schoen

Shelly Holt

Sheri Bales

Sydney Clark

Tanner Pfeffer

Taylor Hardy

Teresa Ruff

Teresa Scarpitti

Tim Anderson

Tracey Wilson

Wendy Ricker

Yves Couasnon

EVENT

VOLUNTEERS

Evan Bruckelmeyer

Tim Heft

Carrie Oxenrider

Jordan Brown

David Baum

Jen Walling

KITCHEN

COORDINATORS

Janie Heston

Cathy Jumper
---
… and it seriously ROCKS

The 10th Celebration of Possibilities

ended on a very cool note

with the premiere of a music video

by our house band, Bad Influence.

Last year, band leader Bob

Competti, who also serves on the

Fairfield DD Board of Directors,

wrote the song Celebrate My

Soul. The band performed it that

evening and since that time, the

song has been widely received by

people all over the country. The

success prompted Bob to produce

and release an entire album under

the guise of a new musical

group, Breaking In, —a spinoff

from his work with his local band

Bad Influence. Several of the

new, original songs on the album

will be performed by these same

musicians.

Celebrate My Soul is the first

song to be released from the album

titled Stay a Little Longer

and is available for download on

Amazon, iTunes, Spotify, Pandora

and all major music outlets.

The video features children and

adults supported by Fairfield DD,

as well as some other very special

people who have been touched

by the song. The people highlighted

include students at Forest Rose

School, members of the Fiber Arts

Group and employees at Art &

Clay on Main/Square 7 Coffee

House. The song is performed by

members of Bad Influence and

Breaking In.

Congratulations to Bob and the

band. We are excited to see what

the future holds! For more information,

visit

www.breakinginmusic.com.

Download on Amazon, iTunes, Spotify, Pandora and all major music outlets.
---
CELEBRATION 2018 PHOTOS BY RACHEL MCCOY & EVAN BRUCKELMEYER
---
CELEBRATION 2018 PHOTOS BY RACHEL MCCOY & EVAN BRUCKELMEYER
---
Mark Everly Classic Bowling Season Set to Begin

The annual Mark Everly Classic bowling season, a league for adults with developmental disabilities, will begin

Wednesday May 2 at Tiki Lanes in Lancaster. Bowlers should be ready for warm-ups by 6:10 pm each Wednesday

and the season will end on July 25.

Thanks to generous donations, the cost is free but the league is limited to 90 bowlers. Bowlers are responsible for

their own transportation and each evening will consist of two bowl games ending at 8:15 pm.

Registration must be completed by April 23 and bowlers must be present the first night of bowling to be considered

a member of the league. To register, contact Kathy Dennison at 740.808.6858.
---
Collaborative Show on

Display Through April

National Developmental Disabilities Awareness

Month wrapped up with the gallery event Meet

Me @ the Studio, a collaborative show featuring

the art of the 2018 Art & Clay Artists in Residence.

Works by seven artists were unveiled and will remain

on display in the gallery at 150 W. Main

Street through April.

The work pictured (right) is a self-portrait by artist

J-Cat titled Autism Imagined.

The 2018 Techsummit

The Ohio State University will present Techsummit 9 am to 4 pm June 15 at the Renaissance Hotel in Westerville. Registration

is now open at https://nisonger.osu.edu/techsummit.

Technology has influenced the lives of nearly everyone in one manner or another. Most of us take it for granted, perhaps

not event noticing the extent to which our everyday activities are either completely reliant upon technological

advancement or have just been made significantly easier. In an age where every year technology takes a more

prominent role in our lives – it is imperative that we consider how technology may benefit individuals with developmental

disabilities.

The 2018 TechSummit is a one day event that presents an opportunity for self-advocates, professionals, and family

members to learn about ways the technology is being used and may be used in the near future to promote independence

for people with developmental disabilities. The event features speakers from across the United States. These

include experts in their field, self-advocates and family members who can share their personal testimony about the

way that technology has influence their lives.
---
795 College Avenue

Lancaster, OH 43130

Contact Us

Temple Custer Montanez, Editor

www.FairfieldDD.com

Administration ...................................................... 740-652-7220

Superintendent ..................................................... 740-652-7220

Services and Supports ......................................... 740-652-7220

Family Support Services ....................................... 740-652-7220

Department of Quality .......................................... 740-652-7235

Forest Rose School .............................................. 740-652-7225

Early Intervention/Birth to 3 ............................... 740-652-7225

Opportunity Center ............................................... 740-652-7230

Art & Clay on Main/Square 7 Coffeehouse ......... 740-653-1755

JobFusion ................................ 614-835-2700 or 740-652-7235

Transportation ...................................................... 740-652-7228

Pickerington Regional Office .. 614-835-2700 or 740-652-7235

Volunteer Opportunities ....................................... 740-652-7220

Our Mission

To bring about a vibrant community

where people lead fulfilling lives and

make meaningful contributions.

Superintendent

Board Members:

Mark Weedy, President

Theresa Nixon, VP

Linda Barber, Sec.

John R. Pekar

Robert Competti

Sharon Scruggs

Sharon Murphy

Elizabeth Burwell

Life should not only be lived;

it should be celebrated.

- Osho