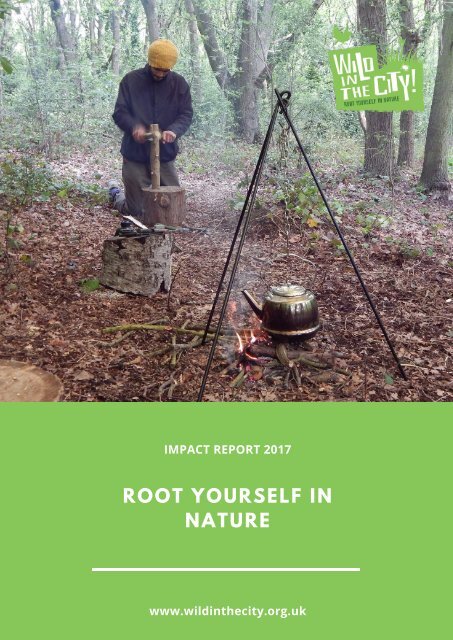 Wild in the City Impact Report 2017
Create successful ePaper yourself
Turn your PDF publications into a flip-book with our unique Google optimized e-Paper software.
IMPACT REPORT 2017

ROOT YOURSELF IN

NATURE

www.wildinthecity.org.uk
---
DIRECTOR'S MESSAGE

2017 has been a time of sprouting and growth!

Wild in the City had a very successful year, recruiting two part time positions, launching a

Natural Health Service and our Nature Connectors programme.

From our woodland bases in Croydon, we are supported by a regular commitment from a

team of 8 volunteers.

We have engaged widely in our aims to support people living in urban areas to make

nature a meaningful part of everyday life, including consultation with 10 Downing Street,

Royal Horticultural Society, Royal Park Foundation, Colourful Radio, City Hall, London

Sport, National Park City Foundation and local community groups.

Our Nature Connectors programme was so successful it has

led to us revising our business model to recruit and train

bushcraft leaders and nature guides from within the local

community.

In 2018 we look forward to increasing our capacity with two

new posts and the launch of our Outdoor Office.

Beth Collier

Director

Wild in the City Impact Report

01
---
ABOUT WILD IN THE CITY

Wild in the City supports wellbeing through

connection to nature in London's wild spaces.

We offer bushcraft, traditional skills and ecotherapy

for children and adults living and working in urban

areas.

We support urban residents to feel more connected

to people and place; using the skills of our ancestors

to give a sense of belonging to communities past

and present.

We're building a community of people who gather in

nature for fun, to learn and feel good.

Wild in the City was incorporated as a Community

Interest Company in April 2016.

Why we do what we do

Many people in cities have lost contact with nature

and what it can offer in terms of knowledge, health

and recreation. Increasingly urban lifestyles are

indoor orientated, isolating, lacking activity and

leading to poor quality relationships. Low incomes

can limit options for healthy entertainment and

recreation.

We work with residents to show how nature can

provide free activities which are fun, support health,

raise self-esteem and give a sense of meaning and

purpose in life. We aim to inspire people with ideas

and skills they can apply independently.

Wild in the City specialises in supporting people who

are unfamiliar with spending time in natural settings

and those who have an insecure attachment to

nature ("it's dirty/it's scary"), working with them

relationally to help them feel comfortable in natural

settings and encouraging them to see spending

time in nature as a healthy lifestyle choice.

Wild in the City Impact Report

02
---
OUR RATIONALE

Being in nature feels good and gives us a sense of connection to something bigger than

ourselves. Spending time in nature enhances our sense of wellbeing.

One of our key aims as a therapeutic organisation is to help people develop positive

relationships in and with nature, supporting human interaction in our social worlds but

also improving our connection to nature.

Within the ideal therapeutic connection, there is a triad; ourselves, others and nature.

It is important for our wellbeing to have good relationships with others, but it is really

powerful if we also have a good relationship with nature and can enjoy relationships

with other people whilst being in nature.

Our work is underpinned by attachment theory and the importance of having a secure

base, we aim to help people develop secure attachments with people and with nature.

Nature is a part of us and we are a part of nature.

Nature is...

a book that is telling us something, if we can tune in and read the landscape

a community, we can be part of a larger conversation happening around us if we learn

the language

a significant other offering the core conditions of a secure attachment if we can

embrace intimacy with her

Wild in the City Impact Report

03
---
"Nature is a significant other in

our lives, if we're not in touch

with nature we'll be affected by

the loss whether or not we

consciously acknowledge it"

Beth Collier, founder and Nature based Psychotherapist

Wild in the City Impact Report

04
---
OUR ETHOS

We are assertive, boundaried and self aware.

We seek relationships with other individuals

and organisations who are assertive,

boundaried and self aware.

We treat others as we'd like to be treated,

with respect and courtesy. We are clear

communicators.

We take pride in doing our work well. We are

creative problem solvers. We enjoy mutually

beneficial relationships. We make room for

humour in our work. We do not tolerate

psychological or physical aggression.

OUR VALUES

We provide fun, informative and therapeutic

immersion in nature; helping to reconnect

people with nature in London's green and

wild spaces.

We are therapeutic in our approach and

facilitate the development of positive

relationships in and with nature.

We see nature as an emotional support

system which can nurture our health and

wellbeing.

Wild in the City Impact Report

05
---
Learning bushcraft and traditional skills

helps us to create a meaningful

connection with people and place, giving a

sense of belonging to a community, past

and present; and nurtures a deeper

understanding of the natural world using

the skills of our ancestors.

Wild in the City Impact Report

06
---
OUR SERVICES

We offer a range of nature-based experiences

to help make nature a meaningful part of

everyday life, normalising contact during work

and recreation.

We keep group sizes small to allow intimacy

with nature and amongst participants.

OUR AIMS

To support the development of positive

relationships in and with nature

To promote the health promoting

characteristics of time in nature

To reintroduce traditional means for

understanding and utilising nature

To make nature a meaningful part of

everyday life

Bushcraft Traditional Skills Ecotherapy

Learning to live comfortably in

nature increases self-confidence

and resilience. We use bushcraft

to reflect on what it means to live

rather than survive.

Learning traditional skills for

utilising nature creates a

sense of belonging to

communities past and

present.

We help people develop

secure attachments with

people and with nature.

Wild in the City Impact Report

07
---
OUR STAFF AND VOLUNTEERS

We received funding to create two new posts

in spring 2017 and were delighted to welcome

Jenni in July, as our Engagement Manager (part

time). We benefitted from over 1200

volunteering hours in roles including;

marketing, fundraising, event organisation

and leading sessions. We're grateful to the

volunteers who supported us; Sally, Helen,

Hannah, Benedict, Dee, Anji and Richard. Our

current staff and volunteer team are below;

Beth Jenni Chibuzo

Brenda Karen Toby

Thuy

Mona

Wild in the City Impact Report

08
---
NATURE CONNECTORS

Nature Connectors supports people from

black and minority ethnic backgrounds in

London to feel more comfortable and

confident in natural spaces, to increase their

knowledge and lead others in engaging with

nature.

In the 6 week learning experience groups

explore local green spaces, learning about

local fauna and flora, acquiring woodland

skills and connecting around the campfire for

therapeutic reflection on barriers that people

from BME backgrounds experience in

accessing nature.

People from black and minority ethnic

communities are traditionally less connected

to nature in the UK and therefore miss out

on the health benefits and are less involved

in conserving and protecting green spaces.

There is a widely acknowledged underrepresentation

of black leadership within the

environmental sector.

BME people often feel unwelcome within

mainstream environmental organisations

and in green spaces, we are raising

awareness of these barriers and starting a

dialogue within the environmental sector.

Participants leave with the knowledge and

confidence to be able to lead their own

family, friends and communities in nature,

passing on the skills and experiences they

have. The training focuses on leadership in

urban parks and woodlands.

Black people are rarely presented as

knowledge holders in natural spaces in the

UK, further increasing a perception that

green spaces are not for them. We're

delighted that some of our Nature

Connectors have gone on to lead our Natural

Health Service sessions.

Wild in the City Impact Report

09
---
Brenda's Story

"Exceeded my expectations"

Brenda started the experience feeling unsure

about contact with nature and anxious about

animals and insects. By the end of the Nature

Connectors programme she was leading our

Natural Health Service sessions sharing her

knowledge with others.

I had an amazing time in the bush...still

buzzy. Yesterday exceeded my expectations I

thoroughly enjoyed it.

I learnt to identify trees like Ash, Silver Birch,

Willow trees, Oaks etc. How to make a fire -

very exciting, how to use a saw safely, how to

make a sliding knot to adjust a canopy, also

very exciting. Found it very funny to learn

about another plan called plantain.

I enjoyed sitting with others round the fire in

the Great North Woods which I only knew

existed yesterday despite living in South

Norwood for 49 years.

I'd like to thank each of you for being part of

my journey in reconnecting and learning

about nature.

Mona's Story

"a space where people look like me"

Mona helped to co-facilitate the reflective

elements of the programme. She started out

feeling unsure but her confidence increased

as a facilitator in nature and will join us again

in this role.

I think I learnt about the complexity around

the issue of black people in nature and that

there are so many facets to it.

Also the ways in which racism intentionally or

unintentionally plays out when we are in

nature. I gained much from what people

shared about experiencing it and how they

managed it.

What I enjoyed - lots of things. The making of

the fire sharing in a space where people look

like me and can understand some of my

experiences.

Was chuffed I managed to throw the rope

through the branch!! Would never think

about attempting something like that!

Had a brilliant time today still buzzing from

it!

Wild in the City Impact Report

10
---
NATURAL HEALTH SERVICE

In September we launched London's first

Natural Health Service, leading a consortium

of non-profit organisations offering activities

in green spaces to support emotional,

physical and social health. The service has

the added benefit of a social prescription

element, allowing health professionals to

refer as an alternative intervention.

Aims:

• Use nature to support individual wellbeing

and the development of resilient and healthy

communities

• Relieve pressure on the NHS – addressing

both preventative and reactive healthcare

and social pressures

• Enable GPs to offer social prescriptions

We designed a new website

www.naturalhealthservice.london which is a

shared portal for accessing the Natural

Health Service.

Wild in the City offered a programme of

bushcraft and walks in South Norwood, New

Addington and Elephant and Castle, including

walks, campfire and craft sessions led by

volunteers from our Nature Connectors

programme.

In partnership with the Croydon Voluntary

Association we have formed a social

prescription network in Croydon, developing

relationships with GP's practices. We now

have a presence in 4 surgeries, signposting

patients to non medical community based

alternatives.

Wild in the City Impact Report

11
---
Ross's Story

"feel fortunate to have had that

time in camp, sitting, learning

and sharing"

"My Sunday had got off to a bad start,

running late and a bit grouchy, but heading

into the hidden countryside behind New

Addington soon helped me let that go.

Especially as within a few minutes of setting

out we were lucky enough to see a hunting

Kestrel hovering overhead!

It was a pleasure to spend time with

everyone, all so keen to share their

knowledge and experiences of nature, and to

work together to get the camp fire lit in the

afternoon.

I feel really fortunate to have had that time

in camp, sitting, learning and sharing and to

have been made so welcome."

IMPACT

We evaluated our Natural Health Service pilot sessions to measure their impact. Every attendee

reported positive improvements to their wellbeing. Reasons given for enhanced indicators

included spending time in nature, learning new skills and socialising.

100

80

75

60

50

40

25

20

0

less alone

less sad

less angry

less stress

less scared

less anxious

0

more calm

more relaxed

more happy

more confident

more connected

Wild in the City Impact Report

12
---
OUTDOOR OFFICE

In 2016 we trademarked the name Outdoor

Office and have been piloting the concept

throughout 2017.

The Outdoor Office allows people to work

comfortably in nature, attended by an 'office

manager' trained in bushcraft.

We were pleased to host Starbucks branch

managers and M&S Head Office staff at our

woodland site in South Norwood. Both groups

helped us to make furniture for the Outdoor

Office using materials sourced from the

woodland.

Starbucks

Branch Managers from Starbucks

helped us in May, we taught them

safe tool skills and they spent the

day identifying suitable materials

to create table legs for the office

desks.

M & S

Volunteers from M & S Head

Office visited in October and

painted our storage unit, built

desks for the office and set up

our wifi.

Team Meetings

As a Wild in the City staff and

volunteer team we work

remotely and meet regularly

as a full group in the

outdoors around the fire.

Wild in the City Impact Report

13
---
LONDON NATIONAL PARK CITY

Launch of the National Park City

Foundation

Beth is a Trustee of the National Park City

Foundation which became a charity and

officially launched in October. The NPCF aims

to make London the world's first National

Park City, creating a new identity based on

our rich natural and cultural heritage.

Big Walk Around London

Beth joined NPCF founder Dan Raven

Ellison on two legs of his 500km walk

around London, walking from Croydon to

Bromley and Tooting Common to

Lewisham.

Urban Good Map

The National Park City Foundation

collaborated with Urban Good to produce a

map of London as depicted by its green

spaces, without roads and buildings.

Detailing the different green and blue

habitats within the city.

For your copy visit:

http://www.nationalparkcity.london/map

Wild in the City Impact Report

14
---
COMMUNITY

Royal Parks Foundation

During 2016/17 we partnered with the Royal

Parks Foundation to deliver a 6 week Natural

Skills programme in central London at The

Look Out Education Centre in Hyde Park.

London Design Festival

We exhibited natural wicker, pine needle and

straw baskets, cedar bark containers, nettle

and bramble cordage and hand carved

spoons at the London College of

Communication's Uncertainty Playground

*SPARK exhibition, as part of the London

Design Festival.

Friends of Park Hill Park

We had a fun Family Wildcraft Day in the

park with over 50 local families, whittling,

sawing and printing with natural materials in

the park.

Wild in the City Impact Report

15
---
CORPORATE VOLUNTEERING

Starbucks

In May branch managers from Starbucks

helped us create woodland furniture for our

outdoor office and piloted the set up, giving us

their feedback on the experience.

Marks and Spenser

In October Project Managers from Marks and

Spenser Head Office tidied and painted our

storage unit, building shelving, giving us a space

to store equipment and organise course

materials.

Get your team involved

Bring your team for a day in the woods to help us

plan, prepare and maintain community projects.

You can also support us with office tasks related

to strategy, governance, event planning and

marketing.

Wild in the City Impact Report

16
---
ADVOCACY AND POLICY

People of colour & Participation

A number of organisations approached us

seeking access to Black and Asian participants.

Not all have wanted to reflect on why they

might find it difficult to engage with diverse

audiences, or to acknowledge our experience

in this area; taking a reductive view of our

work and seeing us merely as being in a

position to give them access to participants

who will help them meet diversity targets. This

in itself reflects a dismissiveness with which

Black and Asian run organisations can be

viewed within the sector, paralleling the wider

barriers that people of colour people

experience in encounters in nature.

We welcome approaches from organisations

who want to work to better understand the

barriers to accessing nature that people from

Black and Asian communities experience.

However we will not allow ourselves to be

used to provide 'bums on seats' for

organisations that are unwilling to explore

the reasons why they might be finding it

difficult to engage.

PM's Special Advisor on the Environment

We were invited to 10 Downing Street to

discuss ways of connecting urban

communities with nature. Beth and Jenni met

with Sir John Randall, advising him on

engagement and black perspectives on

barriers to access

introducing the concept that there is a black

perspective on barriers to access connection

the role of racism in creating a barrier

raising awareness of the impact of white

environmental practitioners attitudes

towards black people and it's impact on and

experience of access and belonging

the importance of allowing black people to

be presented as knowledge holders and not

merely receivers

Wild in the City Impact Report

17
---
ENGAGEMENT

City Hall - Green Prescribing

We presented the Natural Health Service

model at a City hall event organised by the

Mayor's Environmental team, offering a

grassroots community led approach with

our self-sustaining model of nature

connectors leading sessions. Over coming

the challenge of competing with other

social prescribers by having a shared link

person with a presence in four GP

surgeries who can refer across different

programmes.

Friends of the Earth

Beth was featured in spring Friends of the

Earth magazine highlighting nature

champions, her story was also used to

illustrate FoE report on the impact of nature

on emotional health.

Colourful Radio

Beth was interviewed by Jacqueline Malcolm

about disconnection from nature in cities

and black presence in green spaces to

highlight the impact of our Nature

Connectors programme.

London Sport - Social Prescribing

We were invited to present the Natural

Health Service at a London Sport event

encouraging sporting bodies to think

creatively about how social prescription

programmes can make their sport

accessible to new participants of all levels

Wild in the City Impact Report

18
---
ENGAGEMENT

Croydon Local Plan

In October it was announced that 89 sites in

Croydon were to lose their Local Green Space

designations. We wrote a policy document

for use by Friends groups in making

submissions challenging the decision.

Croydon Citizen

We wrote articles on the benefits to Croydon

of London becoming the world's first National

Park City and announcing London's first

Natural Health Service.

Your Croydon

Our Nature Connectors programme was

promoted through Croydon Council's

magazine Your Croydon and local news

magazine Inside Croydon.

nutritional benefits of common garden

'weeds.' We ran four foraging tours of the

local Westminster area across the two day

event.

We met with Bill Oddie who kindly gave us

an interview about how people can enjoy

birdwatching on a budget.

Royal Horticultural Society

We were invited to the Royal Horticulture

Society Autumn show, running an interactive

stall teaching people about edible plants

growing in the city and the medicinal and

Wild in the City Impact Report

19
---
WHO WE'VE WORKED WITH

We facilitated a diverse range of communities in natural settings;

Local communities

BME communities

Corporate volunteers

Passionate nature enthusiasts

People who don't traditionally visit parks

Our average group size is 6 - 8 people to

allow intimacy between participants and

with nature.

CORE ORGANISATIONAL OUTCOMES

Our work showed that attendees experienced

positive benefits in their relationship with

themselves, others and nature;

Social activity in nature supports wellbeing

and resilience

Good relationships with nature and people

are important to our health

Increased time spent in nature

Increased connection to nature

Improved sense of wellbeing

Increased number of volunteers

More visits to natural spaces

1200 405

15

volunteer

hours

people

attended our

activities

organisations

collaborated

with

Wild in the City Impact Report

20
---
HOW YOU CAN HELP US

Support our Outdoor Office

A visit to our Outdoor Office will support young

people's training in bushcraft and business skills. A

perfect setting for contemplative, blue sky working

or bonding teams on an away day. Contact us to

book your visit.

Volunteer/Corporate Volunteering

Join our volunteer team and help to build a

community of people who gather in nature. We have

roles supporting both office and woodland based

activities. We provide bespoke experiences for

corporate volunteers.

Donate

We're seeking funding for projects large and small

and core funding to help our organisation build its

capacity. Your financial support will help us deliver

engaging and transformative workshops which

provide lasting change. Contact us for details of

specific projects we're seeking funding for.

Wild in the City Impact Report

21
---
F U N D I N G

We initiated and wrote two successful bids, submitted by partnership organisations

(funds released in 2017).

Natural Health Service

The consortium was awarded £30,000 over 3 years,

by Croydon Council. We're leading a consortium of

5 organisations (TCV, Good Gym, Good Food

Matters, Wheels for Wellbeing) to deliver a Natural

Health Service using activity in nature to support

emotional, physical and social health; offering

social prescriptions to reduce demand on GP's.

£30,000

OVER 3 YEARS

Nature Connectors

Awarded £90,000 over 3 years, by Croydon

Council. We're training BME volunteers to feel

more confident in nature and lead others,

supported by Croydon BME Forum.

£90,000

OVER 3 YEARS

Great Ideas Impact Report

22
---
THANK YOU

We'd like to thank...

Nero Ughwujabo - Croydon BME Forum

Jacqueline Malcolm - Colourful Radio

Dan Raven Ellison - National Park City Foundation

Jennine Bailey - Croydon Voluntary Association

Nell McDonald - Royal Parks Foundation

Sarah Temple - London College of Communication

Yaron Alam - Croydon Council Commissioning

Meike Weiser - Community Conservation

Partnership Officer, Croydon Council

Leona Daniels - Croydon BME Forum

Shaniqua Benjamin - Young People Insight

Alan Rowland - AN Rowland Tree Surgeon

Barry Goswell - Frylands Wood Outdoor Centre

James - All Gardening Services

Baqar Husain - Owadally and King

Amy Prowse - Owadally and King

Claudia Gold - TCV

Graeme Maynard - Royal Horticultural Society

Sussex Innovation

Amanda McGrath - Good Food Matters

Ed Field - Good Gym

Alice Chamberlain - Wheels for Wellbeing

John Rother - South Norwood Network

Beth Calverley - Neighbourly

Tom Black - Croydon Citizen

Friends of Park Hill Park

Simon Edwards - TICL

Christian Kerrigan - Astudio

Sarah Dillingham - Case Study NInja

Marks and Spenser

Starbucks

Chibuzo Ifweke

Thuy Nguyen

Toby Kenward

Mona Lesforis

Benedict Povey

Dee Fullerton

Wild in the City Impact Report

23
---
CONTACT & COLLABORATION

We welcome partnerships and opportunities to help people spend more time in nature.

Please get in touch for further details about our projects or to explore ideas for working

together.

info@wildinthecity.org.uk

W

www.wildinthecity.org.uk

www.naturalhealthservice.london

@wildinthecity1

wildinthecityUK

See you in the woods sometime soon!

Wild in the City team

Wild in the City Impact Report

24