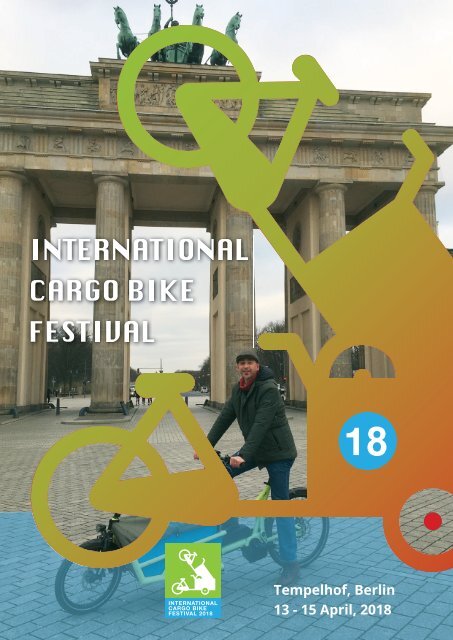 International Cargo Bike Festival 2018
You also want an ePaper? Increase the reach of your titles
YUMPU automatically turns print PDFs into web optimized ePapers that Google loves.
8

INTERNATIONAL

CARGO BIKE

FESTIVAL 2018

Tempelhof, Berlin

13 - 15 April, 2018
---
Protecting

your cargo

since 1975

In The Netherlands we love cycling. Some

people even say that it is in our DNA. But

that is not true. Building a cyclists' paradise

requires hard work, a clear vision and

defiance. We should know, because keeping

The Netherlands a safe and happy cycling

country is our main goal, ever since we

started, more than forty years ago.

We are Fietsersbond, the Dutch Cyclists'

Union. Thanks to our 34.000 members and

1.650 volunteers, we are the largest cycling

advocacy group in The Netherlands, and we

welcome you to try some of our best Dutch

cycling routes.

You can find more about us and cycling in

The Netherlands on our website:

fietsersbond.nl/english

2
---
Colophon: ICBF Magazine is a publication of Fietsdiensten.nl, copyright © 2018.

Coordination: LA Communicatie Design: Avancé Communicatie

Print: Zalsman Editing: Tom Parr Information: info@fietsdiensten.nl

4 New impetus for the ICBF

6 Cargo Bike in Oklahoma

Contents

7 Cargo Bikes in Rotterdam

8 ICBF @ VELOBerlin

10 RIPPL Project

12 The Ultimate Electric Cargo Trike

14 How cities can speed up containerisation

16 Cargo Bike Festival

18 The future of cargo bikes

20 Nijmegen, the Green Capital of Europe 2018

22 Carefree delivery

24 Futures for cycling you never saw coming

26 LEVV-LOGIC Project

28 Greenpack Pilot Project

29 Cargo Bike Poland

30 Destination City Centre - Groningen

3
---
INTERNATIONAL CARGO BIKE FESTIVAL 2018

New impetus for the ICBF

Text and photo Karin Veenendaal

Director Jos Sluijsmans felt it was time for a change. He wanted to reinvigorate

The International Cargo Bike Festival. What he didn't foresee was a whole new

partnership and a new location. This year the ICBF is hosted by VELOBerlin.

From the oldest Dutch city to a German capital brimming with both innovation

and history. Speaking of impetus…

Teaming up with VELOBerlin;

how did it come about?

Our two events sometimes have overlapping

dates. This has hindered us in the past and as

it turned out, we were once again planning the

same dates for 2018. VELOBerlin contacted

me to see if we could change our dates and I

had to tell them that unfortunately this wasn't

possible. To my surprise they suggested a kind

of merger. At first I was a bit hesitant to be

honest. For sure there were advantages, but I

wasn't sure whether or not ICBF participants

would embrace the change.

So what made you say 'yes'?

Tempelhof. The moment I found out this

would be the new location for VELOBerlin, it

clicked - it just felt right. This former airport

near the city centre is highly atmospheric.

Picture this; an historic place as a backdrop

for innovation. Despite this, cargo bikes are

really an old means of transportation and, for

me, this juxtaposition of old and new makes

Tempelhof the perfect venue. Not insignificant

was VELOBerlin's offer to take on part of the

costs and organisation. The combination of

these things made me say 'yes!'

How will ICBF and VELOBerlin benefit

from linking up?

I think everyone involved will benefit. ICBF

visitors will have a richer, more diverse

experience. ICBF exhibitors will have access

to a larger, more generic audience; Germany

is one of the biggest markets in the world for

cargo bike manufacturers. Cargo bikes are still

seen as something strange, we still occupy a

niche and I really want to change that. Linking

up with VELOBerlin has given the ICBF a higher

profile, which is great. I mean Berlin, that's

quite something!

VELOBerlin benefits by hosting ICBF; the

best, most diverse gathering of cargo bike

manufacturers in the world. Until now

VELOBerlin has been primarily focussed on

local consumers and visitors. It has been

their wish for some time now to include

cargo bikes and introduce an element of

Business-to-Business. Furthermore VELOBerlin

also benefits from adding an international

component to what is a local festival.

How about you and Berlin?

It's amazing, but until very recently Berlin was

a blind spot for me. I find the city enthralling.

Very relaxed. A bit un-German, if I may say so.

What fascinates me are those rough, old sites

right in the heart of the city. The combination

of the old and the new, establishment and

counter-culture all so close together is

extraordinary. But I also like the spacious,

clean streets and sidewalks. Pedestrians and

cyclists share space in harmony.

Nijmegen is European Green Capital

2018. Wasn't it more logical to stay put?

No, not necessarily. To clarify this I would

like to quote the European Commissioner

Karmenu Vella. In his foreword in the

brochure Nijmegen, Green Capital of Europe

2018 he states: "The centre of the cargo

4
---
#ICBF2018

bike movement, developments in this area

pioneered in Nijmegen, can change the

way we view transport in urban areas. The

European Green Capital Award is not just a

singular award for one city. It is a showcase of

best practices to inspire other cities to build a

more sustainable future."

With that in mind it is my pleasure to put the

values and ideas of Nijmegen Green Capital

2018 under the spotlights here in Berlin.

Besides, it's a great opportunity to reach

eastern- European countries such as Poland,

Hungary, Romania and the Balkans. Their

cities are also suffering from excessive air

pollution and traffic congestion. I would like to

demonstrate to them that freight distribution

by cargo bike offers a solution.

Next year: same time, same place?

No. In 2019 the ICBF will return to The

Netherlands. But to a different location:

Groningen. The municipality of Groningen is

very keen on sustainable city distribution and

is looking forward to our presence. They are

eager and already have many great plans.

Very motivating! I think this will be the future

for the ICBF: joining like-minded initiatives and

promoting Nijmegen's green values and ideas

elsewhere.

5
---
Cargo Bike in Oklahoma

By Keith Reed

Isn't it fun how the unplanned chance

meetings can sometimes have the most

profound influence on us? Three years

ago, as I was concluding a bike tour from

Milan to Nijmegen, I had the good fortune

of being introduced to Jos Sluijsmans by a

mutual friend. As a bicycle advocate back

home in the central United States, I was

already overwhelmed by the bike culture,

especially the remarkable infrastructure.

Spending a day with Jos touring the city and

experiencing one of the most progressive

commitment to bikes on the planet has to

offer was just about more than I could

take in.

Of course, part of that day was spent

talking about cargobikes. After a couple of

very brief test rides, the hook was set!

Fast forward to one year ago…. My dream

of owning a cargobike was finally achieved.

Since the nearest stocking dealer was more

than a 1000 kms away, I worked with a

local frame builder (Scissortails Cycles in

Norman Oklahoma) to create a front loader

cargobike, the Jos Express.

I wish I could say riding my bike around

the state has created a fire storm of

demand for similar bikes. While my bike

immediately led to the construction of its

twin and the purchase of a Yuba Super

Marché, frontloader cargobike demand

is not sweeping the area, at least not yet

anyway. Only time will tell if the locals

catch on to the incredible practicality a

cargo bike can offer.

What I can say with absolute certainty

is the cargobike is the most remarkable

advocacy tool ever devised, at least for

our part of the world. In the year I've been

riding my bike almost daily, including an

800km tour across our state, I have yet to

have a negative interaction with anyone on

the road. Instead, I find myself regularly

having the most amazing conversations

with people from all walks of life about the

bike, and riding in general. (yes, including

monster-sized pickup trucks with Trump

stickers all over them).

If you are reading this magazine, thank you

for what you are already doing. Please keep

up the fantastic work of changing the world.

6
---
#ICBF2018

Cargo Bikes in Rotterdam

By Tim Sjouke

Cargo bikes in Rotterdam to make the urban distribution more sustainable; it is an inspiring

vision of the future, yet it is one that is slowly turning into reality. The use of human-powered

vehicles in urban distribution is increasing, but to what extent should we remodel the city

to accommodate these newcomers? What infrastructural changes are necessary and what

opportunities arise in the design of public spaces?

The first step in improving the operability

of cargo bikes is simply following the

guidelines for the design of cycling

infrastructure. The Dutch guidelines are

managed by CROW; the Dutch technology

platform for transport, infrastructure

and public space. The Recommendations

for traffic provisions in built-up areas 1 are

also available in English and German.

Additionally, an upgrade in the design of

urban public spaces can also benefit a

sustainable way urban distribution.

It focuses primarily on reconfiguring the so-called urban traffic

environments. This allows the problems in the infrastructure to

be identified and addressed.

In addition, local opportunities can be found through a spatial

design framework. This framework, Functional Ambiance 3 , makes

the connection between traffic and the public space itself.

Flows and places come together within this framework. These

frameworks aid the integration of the cargo bike into the urban

traffic and show which local optimisations are possible. In Cargo

bikes in Rotterdam, seven streets in Rotterdam are analysed to

explore the opportunities in practice.

Two innovative design frameworks are used

to examine the infrastructural complexities

and to inspire a smarter design of the

public domain.

The traffic-based framework, Urban

Mobility 2 , is a new approach to the design

of urban public space.

1. CROW. (1998). ASVV – Recommendations for traffic provisions in built-up areas. Ede, The Netherlands: CROW.

2. Immers, Egeter, Diepens, & Weststrate. (2016). Urban Mobility. The Hague, The Netherlands: ANWB.

3. Verheijen, & Smidt. (2013). Functional Ambiance. Rotterdam, The Netherlands: Research Centre Sustainable Solutions,

Rotterdam University of Applied Sciences.

4. Hoogendoorn, van Lonkhuizen, van der Ree & Sjouke. (2018). Cargo bikes in Rotterdam.

Rotterdam, The Netherlands: University of Applied Sciences.

7
---
ICBF @ VELOBerlin 2018

Interview with VELOBerlin founder Ulrike Saade

By Christoph Schulz

The VELOBerlin was established in 2011

by Messe Friedrichshafen, organiser of

world's leading trade fair EUROBIKE,

and the Berlin based bicycle agency

Velokonzept Saade as the leading public

bicycle show in the German capital, with

an impact not only on consumers, but

also on politics and the media. This year's

VELOBerlin does not only move to the

fancy location of Tempelhof Airport,

Ulrike, what was your intention in

integrating the ICBF in this year's

VELOBerlin?

I first met ICBF founder Jos 2015 at the

Velo City Conference in Nantes. In fact our

festival dates unfortunately coincided in the

upcoming editions and already in that year

we tried to find a solution – two years later

we found it! I am really happy that the most

important gathering of cargo bike brands,

manufacturers, dealers, associations

and groups will take place in Berlin!

It will expand the cargo bike focus

we have established throughout

the years, especially in the direction

of smaller manufacturers, DIY

builders and non-profitorganisations

as well as

the expert programme.

but also co-hosts the International

Cargo Bike Festival ICBF.

8
---
What do you think Berlin will gain from the ICBF?

Cargo Bikes are a big issue in our city – we see more and more

families and delivery services on cargo bikes in the streets,

and at the same time the state government is also very

pro-cargo bike. We hope on a buyer's premium as already

exists in Munich for example. There is a large community

in Berlin that organizes shows, races and demonstrations,

so Berlin is taking the right steps I guess. ICBF will

help to show many great international examples of

new products, innovative ideas and inspire people

to get on a cargo bike themselves.

Is there a personal ICBF highlight you are

looking forward to?

To see 50 different cargo bikes in one place will definitely

be unique for me and many visitors. But on the other hand

the professional exchange, meetings and tours on the day

before our festival, welcoming people from all over Europe,

maybe the world, who are really deep into the topic – I am

really excited what will come out of that!

9
---
Register of Initiatives in Pedal Powered Logistics

RIPPL Project

By Tom Parr

As a visitor to the International Cargo Bike

Festival, you're probably aware that there

are many, many examples of businesses,

initiatives and projects around the world

doing exciting and innovative things with

cargo bikes, trikes or pedal-power.

RIPPL (Register of Initiatives in Pedal Powered

Logistics) is a project in which ICBF

Director Jos Sluijsmans and I (researcher

and writer Tom Parr) aim to highlight and

share examples of these initiatives. We've

hand-picked the most interesting case

studies and presented each in a short,

readable article. Along the way, we also

identify trends in cycle logistics and share

best practices.

With this in mind we've recently relaunched, with a new website

which will act as a resource for those interested in all aspects of

cycle logistics. There are now over 40 case studies available at

www.rippl.bike. We've made it easy to navigate by location or trend,

and for those interested in looking closer at particular initiatives

we've included links for further reading. Since RIPPL has been

running for over a year now, the International Cargo Bike Festival is

a good moment to look back at some of the trends we've

picked out.

Rita bringt's and Marleen Kookt

use fleets of cargo bikes to deliver

healthy food to their customers in Vienna

and Amsterdam; not because they love bikes,

but because it's the most efficient way to do it.

Food

[READ: RIPPL #16 and #38]

10
---
Multimodality

We covered a

pair of initiatives combining

boats and bikes to deliver

to city centres. In Amsterdam, DHL

have done this successfully for over

20 years. Meanwhile in Paris, Boat-

Bike initiative Vert Chez Vous didn't

get off the ground; we explored the

reasons why.

[READ: RIPPL #36 and #37]

A hot topic at the

moment; in the same way

that containers revolutionised

shipping, many people think a revolution

will happen in cycle logistics, but

with smaller containers. Swedish manufacturer

Velove are developing containers

compatible not only with their own cargo

cycles, but also with those of other manufacturers.

Containerisation

[READ: RIPPL #33]

[VISIT @ ICBF: Velove]

A recent

phenomenon from the

US is community movement

'Disaster Relief Trials', which

organises off-road races training

local people to respond effectively

to earthquakes using cargo bikes.

[READ: RIPPL #20]

Disaster Relief

Many local

authorities are experimenting

with pedal

powered waste collection and

street cleaning. Pilot schemes in

Hamburg and Waalre (a small town

near Eindhoven, in the Netherlands)

have seen larger vehicles replaced

by pedal power.

Waste

[READ: RIPPL #21 and #35]

London-based

startup Pedal Me

is taking on the likes of

UBER with a fleet of custom

built Urban Arrows; tests have

shown that their service is

faster.

Mobility as a Service

[READ: RIPPL #17]

[VISIT @ ICBF:

Urban Arrow]

So as you walk around the ICBF, try to keep these trends in mind.

We'd love to hear your thoughts on current and future trends in

cycle logistics; we'll both be present throughout the festival, feel

free to come and say hello.

RIPPL is supported by Topsector Logistiek and Connekt. Visit the

RIPPL website at: www.rippl.bike and follow us on Twitter: @RIPPL__

Photo credits: Vert Chez Vous, Velove, Pedal Me, Radio Hamburg,

Kelley Stangl, Rita bringt's

11
---
The Ultimate

Electric Cargo Trike

Always have the wind behind you

Details make the difference

At first glance, most cargo bikes seem quite

similar to each other. But take a closer

look and you'll discover that details make

the difference. soci.bike surprises you with

smart solutions that make your daily commute

safer, easier, more comfortable and

more enjoyable. Day after day, month after

month, year after year.

The soci.bike story

soci.bike is no ordinary cargo bike; it's a cargo

bike with a story, a social purpose. The

owners themselves have experienced the

feeling of standing on the sidelines in life

(either themselves or somebody close to

them); perhaps people who feel no reason

to get out of bed in the morning or who,

when they get home every evening, feel no

pride about what they have done that day.

This is our social purpose; we don't hire

people to build cargo bikes, we build cargo

bikes in order to hire these people.

Take a test ride

Want to test a soci.bike? No problem. Test

one thoroughly, listen to the experiences of

real users, compare it to other cargo bikes

and draw your own conclusions.

Request

a free test drive

in your area via

www.soci.bike.

12
---
Hatch open, hatch closed!

Our must have feature!

Children and dogs keep getting heavier. Thanks to the front

hatch, loading and unloading is easier than ever; even easier

than a car.

Bafang mid-drive

Comfortable and safe

Electric bikes can be fitted with two types of motor, a mid-drive (bottom-bracket)

type or a front wheel hub type. So why a mid-drive on the

soci.bike? A mid-drive system reacts quicker to your pedaling input,

leading to a more natural feel to your bike. The motor only gives you

assistance when you need it, it stops when you stop. The result is a more

comfortable and safe riding experience.

NuVinci Harmony automatic gearbox

Shifting is so 1996

Each soci.bike is equipped with a NuVinci Harmony automatic gearbox

as standard. Whether you're driving in traffic with a heavy load,

or you want to go fast on the flat, the soci.bike has got you covered!

Tektro hydraulic disk brakes

Hopefully they won't lose their breakfast

Sometimes there aren't enough minutes in the day and you need to go

fast. Luckily the soci.bike is fitted with hydraulic disk brakes, a technology

originally developed for Formula 1, so you can stop quickly and

precisely. Take comfort in the knowledge that you'll be able to react

quickly to the unexpected.

Specially developed mudguards

Its always good to look after your fingers

One of the nicest things about children is their curiosity. For example,

what happens if I put my fingers in the spokes? This is why we specifically

developed the soci.bike mudguards to protect you from spray

whilst simultaneously protecting the curious ones from the wheels.

Fits through any door

Easily get your cargo bike indoors

Your indoor bike storage area is your safe zone. soci.bike is designed

to easily fit through any door so you can store your bike safe and dry

behind closed doors with minimal fuss.

13
---
How cities can speed up urban

logistics using containerisation

By Johan Erlandsson

Specialised last mile delivery vehicles, like cargo bikes, have numerous advantages

and also great potential to replace a large portion of todays standard vehicle for last

mile delivery - the van. If cities would actively support city logistics containerisation,

a lot of this potential could be unlocked!

Cargo bikes have a higher productivity as

they don't get stuck in traffic like vans do,

they can take shorter routes and they never

have a parking problem. They also have a

lower total cost of ownership than vans.

Cargo bikes are particularly competitive in

cities with bike infrastructure.

Cargo bikes reduce congestion, eliminate

noise and emissions to air and also replace

vehicles with faces in the city - all of which

contributes to a more liveable city!

Todays standard process for last mile delivery -vans both bring the goods into the

city and do the last mile delivery.

Cargo bikes use only 6 % of the electricity a

small e-van uses, for doing the same transport

work. The reduction in material use

for the vehicle is similar. As long as we do

not have 100 % CO2 free electricity, energy

efficiency should be in everyone's focus

and here is an opportunity for cities to save

energy!

Until now, the use of specialised last mile

delivery vehicles has however been limited.

The van still stands strong, partly because

shifting the goods to a smaller vehicle

has been too difficult, time consuming

and expensive.

Enter the city container. By borrowing ideas

from shipping containers, which increased

productivity in loading and unloading

vessels by a factor of 15, shifting of goods

between ships, trucks and trains is now a

breeze, especially if cities support

containerisation.

Containerised city logistics. Containers are loaded in the terminal, brought

into the city with big vehicles, dropped off at terminals/handover points

where last mile delivery vehicles pick them up for last mile delivery.

City containers are loaded in terminals

outside the city, transported by big vehicles

(replacing many smaller vans) to terminals

in the final distribution area. Here, specialised

last mile delivery vehicles collect the

containers in seconds and off they go.

The goods have been safely locked,

weather protected and monitored during

the whole process.

14
---
There is an important precondition to make

this work: container terminals or some sort

of handover points within the distribution

area. We suggest that the city actively

support the setup of these terminals/

handover points. By staying in control of

terminals/handover points, the city:

• can make sure each carrier and goods

owner is treated fairly and given access

-no matter the amount of goods. This

will enable more businesses to

containerise.

• can subsidise the facilities (just like

public transport is subsidised) to make

them more attractive

• can decide where the terminal should

be located

• can argue more strongly for vehicle

regulation, as it also offers a solution for

last mile delivery

If your city has waterways - congratulations!

This makes finding terminal facilities very

easy, as floating terminals can be used

which dock during the day. All trucks can

be directed to a point well outside the city

centre, where the goods are loaded onto

the floating terminals. These terminals are

then taken to different points in the city.

#ICBF2018

15 15
---
INTERNATIONAL CARGO BIKE FESTIVAL 2018

"My dream of owning

a cargo bike was finally

achieved."

16
---
#ICBF2018

"The aim is a city for

people, not cars."

17
---
INTERNATIONAL CARGO BIKE FESTIVAL 2018

"The future of cargo bikes:

bigger and stronger!"

An interview with Bradford Vidal, Designer and Engineer at Urban Arrow's Cargo Division.

Could you introduce yourself?

Hi, I'm Bradford Vidal, 46 years old. I have

a background in mechanical engineering,

architecture and industrial design. At Urban

Arrow I coordinate our manufacturers and

suppliers and manage the in-house assembly

of the Tender. I'm also responsible for

some custom builds and developments

such as the Taxi-bike or Cargo Small.

I see Urban Arrow bikes everywhere I

go. You seem to be doing very well.

Thank you. A lot of the Urban Arrows you

see are from the Family division, but our

Cargo bikes are growing in number,

meaning they are more and more visible.

Our bikes are popular because they are

high quality and sturdy. This makes them

perfect for every day heavy use, from

school runs to hauling cargo.

What developments do you see in the

world of cargo bikes?

At the moment mobility is changing rapidly.

Especially in the city where air quality and

traffic congestion means that environmental

zones and restrictions on freight traffic

are becoming more commonplace. We are

slowly beginning to see in what direction

mobility will develop; bicycles seem to be

taking a more and more important role.

On one hand there is the somewhat traditional

two-wheeled cargo bike for the lighter,

less bulky cargo that can move through

traffic easily. At Urban Arrow, we meet this

demand with our Shorty, Cargo L, XL and

the quite big XXL.

On the other hand, there is increased

demand for bigger and much sturdier cargo

bikes that have very large capacity in terms

of both volume and weight. These bikes

are for city centre use by couriers; that

demands a strong bike which can withstand

rough use. For this we have the Tender

1500 and 2500. I'm also developing the Tender

1000, which is narrower and has a little

less volume, but keeps the same sturdiness

and weight capacity.

The Tender is enormous; why was it

necessary to create such a large bike?

Until the Tender there wasn't a cargo bike

that could transport such a large volume

and weight which was also strong enough

to withstand the rough daily courier use.

Urban Arrow

Tender 1500

18
---
#ICBF2018

We saw that occasional rough treatment of the bikes already on the

market would often result in damage or breakdown. So one has to

be very careful with them and of course couriers aren't always able

or willing to do that.

It has been my view for a long time that for cargo transport in the

city it is not necessary to use big and heavy trucks and vans that are

capable of highway speeds. This can be done with more economical,

smaller, less polluting and lighter vehicles that can transport

the same cargo with speeds which are appropriate for urban

environments. There is an existing and growing demand for these

larger cargo bikes, but they need to be strong enough for their task

in reliable every day use.

The Tender still uses our already existing rear frame albeit with the

very powerful Bosch CX, and very strong Rohloff hub. I designed

the front end to withstand the forces and abuse it will encounter in

daily use. To be able to do that, the design is inspired by custom automotive

techniques and solutions.

During the design process, the steering geometry

and front suspension received extra

attention; we wanted to make it very strong

and give it safe handling characteristics. The

result is a robust, stable bike that is up to the

task with an almost maintenance-free front

end.

Now that you have the Tender, what's

next?

The future is bigger and stronger still. There

is demand for even larger, more powerful

cargo bikes, and that is possible. Weight,

capability and volume will have to double

whilst keeping the overall dimensions of the

vehicle as small as possible. The size will

still be smaller and the energy consumption

much lower than the vehicle it replaces: the

delivery van.

"Our bikes are popular

because they are high

quality and sturdy."

19
---
INTERNATIONAL CARGO BIKE FESTIVAL 2018

Nijmegen, the Green Capital

of Europe welcomes you!

By Klaas-Jan Gräfe

The city of Nijmegen, in the east of the Netherlands, is proud to be the 2018 European Green

Capital. We have a year full of activities for both businesses and residents with a focus on five

themes: Vital City, Energy Transition, Climate Change, Circular Economy and Smart Mobility.

According to the report of the European

Green Capital Award Jury: "Nijmegen has an

extensive cycling network, including cycle

superhighways, which link to surrounding

towns, and thousands of bicycle parking

places, some of which have dynamic

referral. Mobility is an important theme

within Nijmegen's sustainability agenda."

Nowhere is the cycling culture of the Netherlands better

represented than in Nijmegen. It is a city where cycling has priority.

37% of journeys up to 7.5 kilometres are taken by bike, including

more than 65% of inhabitants travelling to the city centre and

Heyendaal university campus. 70 km of cycle superhighways

have been constructed with 10 km still to be completed. The city

was awarded best Cycling City of the Netherlands in 2016 / 2017

by Fietsersbond, the Dutch Cyclists' Union. Ambitious, long term

mobility policies brought this award to fruition and we showcased

our achievements, in conjunction with the nearby city of Arnhem,

when our region hosted the global cycling summit 'Velo-City' in 2017.

20
---
#ICBF2018

Nijmegen is home to the Dutch Bicycle

Centre at the "Honigcomplex", a hub where

20 independent cycling business work

side by side in sales, maintenance, design,

innovation, consultancy and advocacy. Here

you can see bikenomics in practice. This is

also the site where Jos Sluijsmans started

the International Cargo Bike Festival. We

are proud that this fabulous event went

international this year to reach even more

visitors and cargo bike enthusiasts.

During the European Mobility Week

(16th - 22nd September) in our Green

Capital year we will be focussing on smart

mobility. We are organizing a programme

of public events and campaigns - with a

different theme each day.

If you want to experience our cycling culture

and infrastructure for yourself, you are very

welcome to visit Nijmegen this year. For

more information about our programme

for Nijmegen European Green Capital 2018,

please visit greencapital2018.nl.

21
---
Carefree delivery

They are fast, they are durable and they are

trendy. The Ebike4Delivery is taking over

Europe. Big chains like Domino's, Burger

King and Subway are already using our

solution for door to door delivery.

With 16 years of E-Bike experience, we

have developed the Ebike4Delivery. The

Ebike4Delivery is specifically designed

for delivery services and is continuously

improved with the latest technology. The

Ebike4Delivery offers a cost-effective,

sustainable, and innovative solution for

delivering pizzas, meals, packages, etc.

Every Ebike is developed in our Ebike Development Centre in Cuijk,

The Netherlands. Engineers use top quality components from well

known brands to ensure that the bike is solid, safe and durable.

Our Ebike is specially designed for delivery and is sturdy as well

as strong. With the battery positioned within the frame, the

cables safely hidden inside the bike frame and solid grips on the

handlebars, we've minimised the chance of accidental damage.

Equipped with an automatic 2-gear hub, the bike

accelerates very swiftly.

With over 7,500

bikes already on the

road, and an average of

30 km per day per deliverer,

we provide about 225,000

clean instead of polluting

kilometers per day

22
---
Using the Ebike4Delivery brings many advantages. It has a modern,

trendy image and it's easy to park. The Ebike4Delivery reaches

speeds of over 25km per hour and no driver's license is necessary.

Because you can use bike paths, you are unlikely to get stuck in

traffic, enabling you to reach your destination on time.

Every Ebike4Delivery has a unique look because the bike is

completely customisable. With a wide range of delivery boxes

and bags to choose from, there's always a combination that fits

your needs. Want to add your company name, logo or contact

information? No problem! We take care of this for you.

And now, in addition to our classic Ebike4Delivery, we've developed

a whole new bike: the Ebike4Cargo. The Ebike4Cargo is a highly

customisable tricycle that greatly expands delivery possibilities.

Interested and ready for a test ride? Visit www.EBike4Delivery.com

and request your free week-long test.

23
---
INTERNATIONAL CARGO BIKE FESTIVAL 2018

Futures for cycling you

never saw coming

By Dr. Steven Fleming

For a clearer perspective on the future of shopping, we should look to the country

where most of it happens, the United States. Amazon are making it something you

do on a phone screen and that the merchant provides with a warehouse and drone.

As socially isolating as life in cars seemed, at least people used to have malls!

Some will resist. They will patronize

main streets in their hipsterish enclaves

where everyone cycles. However, most of

humanity is along for a very different ride.

They'll forget the time when attractions

were added to shopping districts—cinemas

and fountains, for instance. The shops

themselves will be the added attractions,

attached to places that still have a reason

for being, such as airports, train stations

and speculative real-estate ventures.

These are all privately owned places, and,

as such, are ruthlessly managed. You'll

never see private cars there. You might,

however, see bikes. Staff inside airports

already use them. Thousands cycle each

day into the bike entries of Utrecht train

station. How long before train stations

encompass so many real estate ventures

that the only practical way of navigating

their caverns is on a bike?

Those buildings should, if we think about,

be organised around cycling. Apartments

and hotels should spiral upward along

bikeable corridors. Their concourses should

be giant shared spaces, undulating to help

cyclists speed up and slow down.

Shops in mega buildings could be brilliant

to visit by bike, or a cargo bike with children

on board. Amazon's grocery store, Amazon

Go, shows how it would be possible to use

your cargo bike as a shopping trolley. Just

ride in, fill your bike from the shelves and

ride out with paying. Motion sensors know

what you've taken and bill you while you're

riding away, unaware cycling is something

that ever used to happen outside.

Those who like bikes the way they like

anything old, would rather cycling vanish

than be a part of this future. Those who like

bikes for what they can offer—health, time

savings, equity and low energy transport—

will be interested in ways cycling could work

in mega buildings, particularly in climates

that keep everybody indoors.

Dr. Steven Fleming is an architect and

bicycling futurist working with an international

client base to reveal the full potential of

bicycle transport. His books include Cycle

Space and Velotopia.

24
---
#ICBF2018

25
---
www.hva.nl/levvlogic | levvlogic@hva.nl | Project leader: Susanne Balm, Amsterdam University of Applied Sciences

The LEVV-LOGIC project explores the use of light

electric freight vehicles (LEFV) for city logistics

Researchers and students from Universities of Applied Sciences

in Amsterdam, Rotterdam and Arnhem/Nijmegen work together

with professionals from the logistics and automotive industry

and the public sector. Together they develop and apply

knowledge on new logistics concepts and business models with

LEFVs, supporting the ambition towards zero emission transport

in 2025.

Next to electrically assisted cargo bikes, the

project also explores non-pedal vehicles with

an electric motor such as Stint and small

electrics vehicles like the Goupil. The variety of

small, zero emission city distribution vehicles

is growing. This offers great opportunities for

experimentation and evaluation in daily practice.

Experiment in Maastricht – procurement subsidy for local entrepreneurs

Maastricht Bereikbaar ("Maastricht Accessible") has offered local

entrepreneurs a subsidy of EUR 4.000 for the procurement and

use of an electric cargo bike. The condition is that they should

make daily journeys in and around Maastricht during a trial

period of six month, which would otherwise be made by car

or van. To ensure this condition is met, each e-cargo bike has

a GPS tracker, which provides insights in user behavior. The

participants are very diverse and have different motivations to

use the cargobike:

PP Events: an artistic performer – "passing

by and arriving by cargobike brings a smile to

peoples' faces which adds to my image as clown"

HairVisit: a hairdresser that visits its clients

at home – "the bike fits with my ambition to

use sustainable products. And, cycling makes

me happy and healthy! On average, I cycle 26

kilometer per day, 6 days a week"

Blanche Dael: a coffee roasting factory

with daily trips between the store and

the office – "the cargobike is much faster

in the inner city and we save time

searching for a parking lot"

Photo by Jean-Pierre Geusens

Jules: a student-support

company with many field

service trips – "the bike is

more cost-efficient for small

deliveries and maintenance

tasks than a delivery van"
---
Experiment in Amsterdam – LEFV Battle: a practical competition with

students, teachers and researchers

The LEFV-Battle was organised for the first time in December 2017.

Two teams, each consisting of four students and two teachers/

researchers, experimented with LEFV in Amsterdam under real circumstances.

The competition started and finished on the premises

of logistics service provider Deudekom, just outside the environmental

zone. Both teams had to deliver 10 shipments in the city of

Amsterdam with three different LEFVs: an Urban Arrow cargobike,

a Stint and a Goupil. The shipments included a fruit basket, pillow,

boxes of coffee, printing paper, and a Christmas tree. The students

used the planning software of RoutiGo, which enables logistics

service providers to choose between cycling routes and car routes.

The teams experienced that cycling routes

can be much shorter than car routes. Using

the cycling path saved one of the teams 15

minutes as compared to the car route,

because of the many one-way streets.

Despite this saving, the other team won

the battle because their better score on

vehicle-efficiency.

Student, participant

LEFV battle:

"Finding the most efficient route and

navigating through the city was

challenging and fun. Being part of a

competition made it even more excited."

Student, participant

LEFV battle:

"It was nice to experience

logistics in practice,

instead of leaning

theory all the time"

27
---
INTERNATIONAL CARGO BIKE FESTIVAL 2018

Greenpack Pilot

Project "Infrastructure

with Battery Swapping

Stations"

By Tobias Breyer

One of the biggest challenges in electromobility is the

limited range of electric vehicles in combination with

what is still comparatively long charging duration.

Interchangeable batteries could be a solution to this. A

new pilot project is looking into the feasibility of joint use

of standardised battery modules and the infrastructure

necessary to support this.

Berlin-based startup GreenPack has initialised the pilot project

"Infrastructure with battery swapping stations – use of standardised

battery modules with various usages and different partners from

various sectors". Partnering with them on the project are eMO, the

Berlin agency for electromobility and the Bundesverband Solare

Mobilität (German Federal Solar Mobility Association). One of the

core aims of the pilot is to work out the potential fields of use for

the battery-swapping concept.

In order to test out the advantages of the joint use of standardised

battery modules, GreenPack will set up a network of battery

swapping stations. On the ground, this means there will be at least

5 stations at different locations in Berlin.

Further partners wanted

GreenPack will also link up many different participants during this

nationwide unique pilot project in the next two years. As part of the

project, firms from the fields of energy, logistics, administration,

trade and other areas will be able to test out the advantages of

the joint use of an infrastructure of battery swapping stations for

e-bikes, e-scooters, e-cargo bikes and other electric vehicles, as well

as equipment for professional green space care.

Partners are still being sought, so if you think your organisation

would like to participate in the project please visit GreenPack's

stand at the ICBF for further information. www.greenpack.de

28
---
Cargo Bike Poland

By Krzysztof Gubanski

Did you know there is a growing cargo bike community in

Poland? In 2015 a group of Warsaw families established

a cooperative to share a cargo bike. This very same year

we organized together the first Polish Cargo Bike Festival,

which was followed by annual editions in Kraków and

Wrocław. This September we are going to meet in the city

of Łódź. Each year we gather in a different city, in order to

promote cargo bike culture throughout Poland.

Being members of experienced cycling advocacy groups we are

using our resources to promote cargo bikes and introduce them

to local delivery companies and public institutions (libraries,

museums, city halls), while simultaneously encourage inclusion of

cargo bikes in public bike sharing systems all over Poland. They are

already in Łódź, Warsaw, Słupsk, Gdynia, Opole, Sosnowiec and we

are just getting started!

Since imported bikes are usually too expensive for our pockets,

more and more people are opening their own workshops (Wrocław,

Kraków, Łódż, Warszawa, Gdańsk) where they focus on true

craftsmanship and produce small numbers of high quality bicycles.

While our movement is still widely seen as a curiosity, we believe

that an avalanche starts with one snowflake. Come and meet us at

the ICBF non-profit area and find our FB group (Cargo Bike Poland).

29
---
INTERNATIONAL CARGO BIKE FESTIVAL 2018

Destination City Centre

By Jeroen Berends

The city of Groningen, with a population of 203,000, is by far the largest city in

the north of The Netherlands. A historic trading centre, Groningen's Hanseatic

roots are still evident from the many historic buildings and warehouses in this

compact, lively city, and today it is a major hub of urban life. Groningen is as

vibrant as ever, much of which can be attributed to a large student population.

The University of Groningen, established in 1614, has 30,000 students whilst

the Hanze University of Applied Sciences has 25,000.

Groningen is also a global leader when

it comes to cycling. 61% of all trips taken

by bike in the city and according to some

measures this is the highest level of

urban cycling in the world. For students in

Groningen, this figure rises to over 70%.

A city for people

Residents, students and visitors from the

region and further afield live, work and

play in the historic heart of the Groningen.

The old city centre is an attractive,

liveable and inclusive destination, and

this desirability has in recent years seen it

become increasingly busy. To retain this

attractiveness and welcoming atmosphere,

some thorough rethinking as well as

reshaping of public space has become

necessary. As the municipality of Groningen

we have therefore taken the decision to

redesign a number of streets and squares.

The objective is to increase pedestrianised

space by 20% over the coming years.

At the same time we will be working to

stimulate the economy, quality living spaces

and leisure activities. The aim is a city for

people, not cars.

Zero Emission City Logistics

The city centre's significance is projected to

increase further in the future in line with a

growth in demand for goods and services.

For this reason, we are making concerted

efforts to find and implement sustainable

concepts for city logistics. If current policies

remain unchanged, the status quo: growing

numbers of delivery vehicles clogging up

narrow streets, will remain. We know that

this is likely to be at the expense of the

accessibility, quality of life and safety in the

city.

If maximising efficiency whilst minimising

adverse spatial impacts is key, growing

concern over emissions is also a major part

of the story. With that in mind, back in 2014,

54 parties in The Netherlands including

municipalities, logistics companies, car

manufacturers and research institutes

signed the Green Deal for Zero Emission

City Logistics. As one of the signatories, we

in Groningen are committed to achieving as

much emission-free city logistics as possible

by 2025.

30
---
#ICBF2018

Cargo bike logistics

The challenges surrounding logistics in

our city form a complex, interconnected

web. Logistics involves many different

'stakeholders', many of whom have

differing, and often contradictory,

objectives and priorities. With this in mind,

we need to adopt a new approach to city

logistics; one that focuses on doing more

with less. This means fewer transport

movements, smaller vehicles and lower

emissions.

That's where cargo bikes come in!

Groningen is already a cycling city, and

we believe that using bicycles for lastmile

delivery can cut emissions without

compromising on efficiency. For example,

pedal-powered logistics via a network of

local delivery hubs or centralised facilities

could provide a way to improve the overall

efficiency of logistics in Groningen.

Welcome to Groningen: ICBF2019GRNGN

Within the next couple of years the city of Groningen aims to

facilitate and promote the opportunities of pedal-powered logistics

to their fullest potential. As a city in which cycling is already second

nature, this approach not only complements our compact city

strategy, but would also give a boost to our already robust cycling

network and diverse cycling economy. As host city for the 2019

International Cargo Bike Festival we are delighted to invite you to

our city as we explore and push the boundaries of what can

be achieved with pedal-powered logistics.

31
---
CYCLING CITY

INTERNATIONAL

CARGO BIKE

FESTIVAL

GRONINGEN

14 - 16 JUNE 2019

32

GRONINGEN, NETHERLANDS