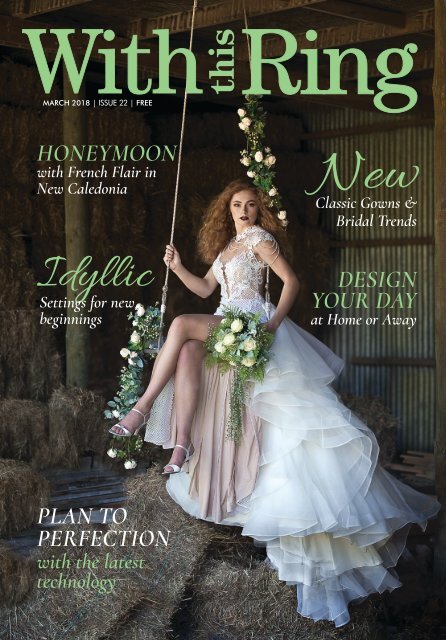 With This Ring: March 23, 2018
Create successful ePaper yourself
Turn your PDF publications into a flip-book with our unique Google optimized e-Paper software.
MARCH 2018 | Issue 22 | FREE

Honeymoon

with French Flair in

New Caledonia

Idyllic

Settings for new

beginnings

New

Classic Gowns &

Bridal Trends

Design

Your Day

at Home or Away

PLan to

perfection

with the latest

technology
---
2 With This Ring

22

MARCH 2018 | ISSUE 22 | FREE

PUBLISHER

Star Media

Level One, 359 Lincoln Road

Christchurch 8140

03 379 7100

SALES MANAGER

Mark Sinclair

021 913 566

mark.sinclair@starmedia.kiwi

EDITORIAL

Wendy Dunlop

DESIGN

Emma Smith

Contents

3–13 Bridal Trends & Fashions

14–15 Bridesmaids & Flower girls

16–19 Hair & Beauty

20–23 Jewellery

24–25 Grooms

26–31 Photography

32–35 Mother of the Bride

36–37 Themes & Flowers

38–39 Planners & Budgets

5

76

68

40–61 Wedding Venues

62–64 Ceremonies & Celebrants

65–66 Invitations & Speeches

The Christchurch Star Company Ltd is not responsible for any actions taken

on the information in these articles. The information and views expressed

in this publication are not necessarily the opinion of The Christchurch

Star Company Ltd or its editorial contributors. Every effort is made to

ensure the accuracy of the information within this magazine, however, The

Christchurch Star Company Ltd can accept no liability for the accuracy of all

the information.

67–71 Cakes & Catering

72–73 Wedding Styling & Décor

74–75 Wedding Transport

76–77 Gifts & Entertainment

78–87 Honeymoons

88–89 Hens & Bucks

90–91 Wedding Shows & Expos

92–100 Weddings in Hanmer Springs

88

ON THE COVER

Photography

Dolce Wedding Photography

Bridal Gown

Brides of Merivale

Makeup

Hannah Wilson

Flowers and Styling

Kim Chan Events

Model

Lily Fletcher from

Portfolio Model Agency

14

48
---
With This Ring

3

...it's all

about bridal

confidence and

sophistication.

MODERN MINIMALIST designs are for brides who love understated

elegance and uncluttered simplicity. To achieve it, the emphasis has

to be on cut and detail. Current styles feature sleek fitted bodices, the

flare of a panelled skirt, structured necklines and a single accessory such

as a metallic belt, a coloured or black contrasting ribbon or a row of

decorative buttons.

NOTABLE NECKLINES range from demure to dramatic. With

backless gowns, décolletage on show or deep Vs plunging to the navel,

it's all about bridal confidence and sophistication. But lace is heavily

featured to embellish, define or disguise showing too much skin.

SLEEVES AND SHOULDERS make their feminine mark on many

traditional and contemporary styles. Long fluttering bell-shaped

sleeves make seasonal sense, lacy or beaded cap sleeves provide elegant

alternatives to sleeveless and strapless designs, while the horizontal offthe-shoulder

look is both structured and sassy.

NEARLY NUDE is the colour sensation for modern brides who want

to forgo traditional white. From the palest pink to a whisper of blue,

gold or beige, it is often overlaid with lace, embroidery, applique and

metallics for genteel yet eye-catching effect.

BOHEMIAN CHIC is still on the agenda for brides wanting retrorelaxed

or back to the beach ambience. No-fuss fabrics, crocheted

lace, flared sleeves and loose floating skirts epitomise the carefree look

of the 70s.

NEW CLASSICS

for Bridal Inspiration in

2018

Many of the modern bridal styles

are a new take on designs that have

stood the test of time. But the range and variety also allows

you to personalise the look you love with contemporary

accessories and embellishments.

STRAPLESS REINVENTED: with our climate, the strapless gown

has been a firm favourite for many seasons. But it has been reinvented

with lace capes, coats and chiffon cloaks that rival veils and trains and

re-imagined with oversized bows and cap sleeves.

VICTORIANA INSPIRATION: the recently acclaimed British TV

series about the young Queen Victoria has been inspiring brides in the

UK to copy mid-Victorian fashions; off-the-shoulder elegance, the sheen

of silk, full skirted crinolines, lace shrugs, cameo brooches, pearl drop

earrings and low coiled hair bound with a braid, bow or flowers.

Even the bonnet lined with flowers and trailing satin ribbons is finding

favour with some brides as an alternative to a veil, fascinator, wreath or

barette. It was Queen Victoria who revolutionised wedding fashions by

wearing a white tulle dress for her marriage to Prince Albert and setting

the trend for brides ever since.

DETACHABLE OVERSKIRT offers two looks in one; the formal long

skirt for the ceremony and photographs, which is then discarded for

freedom, comfort and coolness for dancing at the reception.

ELABORATE VEILS to offset the simplicity of classic bridal gowns,

veils make a statement this season. Long veils that trail like a train, fall

from the crown of the head or from the shoulders. Veils are exquisitely

beaded, embroidered, sparkling with crystals, pearls or diamante, full

lace or lace edged and may be a delicate floral print on chiffon or tulle if

you like the idea of colour.
---
4 With This Ring

Wedding

CheCkLISt

A helpful checklist and step-bY-step guide to plan your big day.

9-12 MonthS Before

1

Month Before

PLAN Style and budget of the wedding

SET Date time & place

VISIT Minister, Priest or Celebrant

BOOK Venue(s), musicians/disco

SELECT Caterer

DISCUSS Wedding flowers with chosen florist

CHOOSE Your photographer

ARRANGE Video photography

ORDER Wedding transport

LOOK At wedding dress designs

DECIDE Colour schemes

6-9

CHOOSE Your wedding dress

SELECT Groom's and attendants' clothing

VISIT Minister, Priest or Celebrant

BAKE/ORDER the wedding cake

RESERVE honeymoon travel & accommodation

3-6

FIT Suits for Groom and Groomsmen

ESTABLISH Beauty and exercise regime

FINALISE Wedding invitations

ORGANISE Accommodation for guests

MAKE hair and make-up appointments

LIST Wedding gifts/registry

2

SEND Invitations

SETTLE on reception menu and beverages

CONFIRM floristry details

CHECK Passports, travel plan\documents

CHOOSE Gifts for attendants

SELECT Wedding rings

BUY Wedding shoes

MonthS Before

MonthS Before

MonthS Before

APPLY for Marriage Licence

PURCHASE thank-you gifts for parents

ARRANGE reception seating plan

ATTEND hairdresser with veil/headgear

ORGANISE wedding rehearsal

LIAISE with florist, photographer, chauffeur

and celebrant

FIT wedding dress

CONTINUE beauty and exercise regime

2

RECONFIRM All bookings, numbers, times

and details

WEAR Bridal shoes for wedding day comfort

ENJOY hen's night fun or pamper

FINAL FIT Your dress and attendants' outfits

WRAP Gifts for attendants

PRACTISE Your wedding vows

1

PACK for your honeymoon

CHECK All travel details

REHEARSE The ceremony

REST As much as possible

on the DAY!

SLEEP Late

WeekS Before

Week Before

EAT Breakfast

PAMPER Yourself

LET others do their job

THANK family and friends

RELAX Don't stress over tiny details

ENJOY YOUR WEDDING DAY
---
6 With This Ring

To ChERISh

the Complete Bridal Destination

Start your fairytale wedding journey at To Cherish. It is the complete

bridal destination where you will be mesmerised by the range of gowns,

excited by the superb selection of accessories, amazed by the purposebuilt

premises, pampered by dedicated staff and then dazzled by a range

of prices you CAN afford!

Located on a prime Barrington Street

site, To Cherish is Christchurch's most

extensive bridal boutique and offers the

ultimate "one-stop" for brides, bridesmaids,

flower girls and mothers of the bride or

groom. Exuding all the space, grace and

comfort required for brides to choose

their gown and accessories without haste,

they are assured of one of the most special

experiences of their lives.

With exceptional facilities, To Cherish

Bridal Boutique is able to provide

dedicated departments and specialist

consultants. As well as an impressive retail

area to buy your gown right then and there,

there is a separate designer bridal suite,

well appointed fitting rooms for brides and

bridesmaids and amenities for in-house

alterations and private final fittings.

With an international range of gowns

alongside a superb selection of bridesmaid

and flower girl dresses, complemented with

veils, jewellery and wedding accessories

including Trousseau Shoes, To Cherish is

the place for every new bride to make her

dream dress a reality.

Choosing a wedding gown should be

"pure delight," says Alison, Director of To

Cherish. Accordingly she has sourced a

phenomenal range of gowns comprising

both retail and designer collections that

capture every imaginable style, feature

exquisite fabrics AND are priced between

$1500 and $4500. Unbelievable.

Unlike many bridal boutiques, To

Cherish consultation appointments are

FREE but do require an appointment

for selecting a gown from the designer

collections of Justin Alexander, Fox

Bridal, Jean Fox, International Couture,

Zavana Bridal and Cizzy Bridal and

recently arrived Rembo label from Europe,

exclusive to To Cherish.

Alison recommends brides focus on their

day and what they want rather than listen

to too many conflicting tastes and opinions

of others. For this reason she believes

brides should only invite one or two

trusted people to share the experience of

choosing a wedding gown. "If a bride loves

what she has chosen, she will feel beautiful

and look radiant," says Alison.

Whatever style a bride prefers, Alison

believes it should always flatter their shape,

fit to perfection and above all be elegant.

"When a bride looks back at her photos in

years to come, wedding gown styles may

have changed, but the elegance will still

be apparent and will therefore remain

timeless."

Bridesmaid colours are very varied but

popular shades include blush pink, navy,

the re-emergence of red and beautiful

fabrics ranging from soft floaty chiffons to

rich patterned brocades. To Cherish has

also developed a department for fabulous

formal fashion, alluring accessories and

exquisite millinery – the perfect place to

discover your complete mother of the bride

or wedding guest outfit or choose a special

occasion or race day ensemble.

To Cherish aims to make you feel special

throughout your bridal experience and

beyond. Light, bright and resplendent with

mirrors and chandeliers, imagine seeing

how your gown will look as you glide along

the elegant catwalk, sharing the magic

with your beautifully gowned bridesmaids,

choosing all your accessories under one

roof and then having your gown expertly

fitted by the experienced staff at To

Cherish. What more could you want?
---
With This Ring

7

To Cherish

FOR ThE NEWEST

BRIDAL TRENDS

Exciting Trends

Among other exciting new trends are

two-piece wedding ensembles, fabulous

floaty bridal pants, gorgeous "illusion

pop-over" tops and detachable overskirts

that incorporate a beautiful train. They

allow a bride the versatility of two

different "looks" when worn for the

wedding ceremony and photographs, then

discarded for the reception and dance.

Among the breath-taking selection of gowns at To Cherish, you

will find the newest bridal trends that re-capture genuine classic

elegance and feature blush, rum pink and nude tones that are soft

and very flattering.

There are gowns that feature wonderful

textured lace, woven fabrics, exquisite

tulle and sleek heavy satin. On more

elaborate gowns, the beading and

bling is more subtle and styles provide

exceptional choice from flowing boho

designs to structured gowns that enhance

the silhouette. A more sophisticated boho

style is provided by the arrival of the

Rembo label designed in Belgium. Jean

Fox has launched a new special collection,

while Justin Alexander's signature gowns

bring a whole new level of magic to the

gowns on show at To Cherish.

Free Bridal Consultations

by appointment

Wedding Gowns,

Bridesmaids, Flowergirls,

Evening Shoes, Jewellery,

Vails, Hats, Facinators,

Handbags.

Mother of the Bride and

Special Occasion Wear.

246 Barrington Street,

Christchurch

Phone (03) 337 0787

www.tocherish.co.nz

Like us on Facebook
---
8 With This Ring

THE DRESS

of Your Dreams

Every bride wants that "once in a lifetime"

dress! Finding it may take you on a search

of many different options, whether you

buy, hire, make, borrow, inherit or have it

designed. Sometimes the gown a bride has

always imagined wearing is not the one

she eventually chooses. It's a wise bride

who goes looking with an open mind to

find the style and shade that suits her

to perfection.

Borrowed or Found

There may be a vintage or heirloom gown

belonging to family or friends that you could

wear. Borrowed or inherited, such gowns

provide special magic on your wedding day

and are becoming very sought after. Care must

be taken when handling a vintage dress as the

fabric becomes fragile with age and requires

expert cleaning and storage.

Expensive and exquisite dresses are often

to be found in the "for sale" columns, or on

Trade Me. Many have been purchased or

imported from overseas and you may

discover a genuine designer bridal gown

at a fraction of the original cost. You

can always have it re-fitted or altered

with beading, add a sparkly belt or

trim to your personal taste.

Top Shelf

Beautiful wedding dresses are available "off the peg" at specialist

bridal shops. As well as New Zealand designs, many are imported,

so be sure to allow adequate time for the dress you select to be

ordered from overseas. With a wonderful range of styles to "try

before you buy", your dream dress might be right there on the

rack! Once chosen, your gown can be expertly fitted and altered if

necessary. Bridal shops have an impressive selection of accessories

and attendants' dresses to complement your gown.

Designed & Made

Having a gown designed and made just for you is the ultimate in

individuality, but naturally it will cost you more than a readymade

dress. Your designer will want to discuss prospective ideas

and styles with you, as well as what suits both you and your

personality. Bringing an illustration, a piece of lace or item of

jewellery is helpful for inspiration. The designer will have access

to a range of fabrics and trimmings to create the dress you have

chosen. While white is the obvious choice for bridal gowns, ivory,

parchment, magnolia, silver, champagne, gold or blush can be

even more flattering on some brides.

Choose a pattern and some stunning bridal fabric and let a

skilled dressmaker create an exquisite gown for you. With an

inspiring selection of silk, satin, lace, brocade and voile, there

won't be another gown exactly like yours, and it won't be as

costly as a designer dress either. Be sure to choose a reputable

dressmaker and always ask to see examples of

their work before you decide.

Alternatives

Your wedding gown need not be a

traditional bridal style, colour or price.

Look at ball gowns, cocktail outfits

and maxi dresses. Try summer sales at

designer boutiques as well as chain store

racks and mail order companies. With

style and imagination, a simple dress

can always be beautifully and uniquely

enhanced with classy accessories.
---
With This Ring

9

Trousseau

SHOES

Trousseau Shoes Limited is the New

Zealand distributor for the London

Paradox brand of high fashion bridal

and special occasion footwear. Since

its establishment 30 years ago, Paradox

London's award-winning "Pink" label

is regarded as one of the leading bridal

and occasion footwear specialists in the

world and has outlets in 35 countries

including New Zealand.

shoes

Visit our online store at

www.trousseaushoes.co.nz

Ph: 03 3370 781
---
10 With This Ring

FINE FABRIC

Brocade

Brocade is a rich woven fabric

characterised by raised designs

of the same or contrasting

colours.

The name brocade is derived from the Italian "broccato"

meaning "embossed". Dating back to the Middle Ages,

the shuttle-weaving technique creates the fabric from

the usual warp and weft threads, but an additional

supplementary weft gives the appearance of an

embroidered pattern on top.

Brocade made of silk was one of the few luxury fabrics

worn by nobility throughout China, India, Japan and

Persia. In the Renaissance, trade between Italy and other

European countries with the east, brought both the silk

and brocade techniques to the west.

The complexity of the silk weaving looms and the

resulting quality of the silk made Italy the manufacturer

of the finest fabrics in Europe by the 16th century. The

fashions of the day paired perfectly with the luxury and

elegance of brocade, damask and other jacquard patterns.

Motifs initially remained Oriental, but over time Italy

developed its own designs that were further embellished

with precious stones and silver and gold thread.

Modern brocades can still be silk, but are now

predominantly manmade fibres that are less expensive to

make and to buy. Brocade fabrics are mostly produced for

upholstery and draperies and used for stage and theatre

costumes that require lustre. However, the use of brocade

for evening and formal clothing has been at the mercy of

fashion changes for centuries.

Brocade was extremely popular in the 1950s and 1960s

for luxurious-looking wedding dresses and formal

ballgowns, complementing the classic styles of the day to

perfection. The resurgence of these retro styles has revived

interest in elegant fabrics like damask and brocade for

weddings, including waistcoats for the groom.
---
Davis Bridal

BNZ Centre, 111 Cashel Street, Christchurch | Ph 343 3652

Davis Bridal Christchurch | www.davisbridal.co.nz
---
Exhibitor Website Products and Services

Alyssandra Striking Stationary

Terrace Downs

www.strikingstationary.com

www.terracedowns.co.nz

Invitations, Wedding Day Stationary and

Thank you Cards

Wedding Venue, Food & Beverage, Accommodation

& Activities

The Arena www.airsoftcombatguns.co.nz Entertainment, Sporting Goods

Tandem Photography www.tandemphotography.co.nz Photography

Photo Booth Fun www.photoboothfun.co.nz Photography, Entertainment

Crème de la Rose www.cremedelarose.co.nz Floral Designer

Mariessa Waddington www.mariessa.co.nz European Makeup artist & Stylist

Selwyn Wedding Car www.selwynweddingcarhire.co.nz Transportation

Christchurch Weddings www.christchurchweddings.co Wedding Directory, Blog, Planning

Davis Bridal www.davisbridal.co.nz Wedding Gowns

White Tie Catering &

The Catering Department

www.whitetiecatering.co.nz /

www.cateringdept.co.nz

Catering & Event Management

Hanmer Springs Retreat www.hsretreat.co.nz Accommodation, Wedding & Conference venue

VR Hotels www.vrrotorua.co.nz Accommodation, Wedding & Conference venue

Ilam Homestead www.ilamhomestead.co.nz Venue Hire

DJ Chick www.djchick.co.nz Entertainment, Karaoke, Disco

The Tannery www.thetannery.co.nz Venue, Planning Services & Catering

Larnach Castle www.larnachcastle.co.nz Wedding Venue

Continental Catering www.continental.co.nz Catering

The George www.thegeorge.com Hotel, Venue

Garden Hotel www.gardenhotel.co.nz Functions, Venue & Catering

Dean Norrie Photography www.deannorrie.com Photography

Caci www.caci.co.nz Beauty & appearance Medicine

Hanmer Springs & Huruni District

www.hanmersprings.co.nz

Venues, Food & Beverage, Wedding Planner, Bridal Party,

Accommodation, Celebrant, Photography, Activities

Plantation Island Resort www.plantationisland.com Venue

Heritage Hanmer Sprigs www.heritagehotels.co.nz Accommodation & Wedding Functions

G & T Catering & Larcomb Vineyard www.larcombvineyard.co.nz Wedding Venue, Catering, Planning

Chateau on the Park Christchurch a Double

Tree by Hilton

www.hiltonasiaweddings.com Full Wedding Venue & Accommodation

Black Shadow Project www.blackshadowproject.nz Car Hire, Birthdays, Wedding Celebrant, Promotions, Charities

Bourbon Rose Florist www.bourbonrose.co.nz Florist

Kelly Sheppard Hairstylist www.kellysheppard.co.nz Hairdressing

Select Braemar Lodge www.selectbraemarlodge.com Wedding Venue

To Cherish Bridal www.tocherish.co.nz Bridal Wear & Accessories

Something Borrowed Something New www.sbsn.co.nz Hire, Events, Styling

Chch Coach Charters www.chchcoachcharter.co.nz Taxi & Bus Transport

Brides of Merivale www.bridesofmerivale.co.nz Bridal Wear & Accessories

Dolce Wedding Photograpghy www.dolceweddingphotography.co.nz Photography

Hyde Park Hire www.hydeparkhire.co.nz Marquee & Party Hire

Tricia Warwick-Naziris

www.triciawarwick-naziriscelebrant.

co.nz

Marriage Celebrant

Hotshots Photobooth www.hotshotsphotobooth.co.nz Photobooth Hire

Verve Real Food Catering www.vervecatering.co.nz Catering Company

The Vines Club www.thevinesclub.co.nz Wedding Venue

Corporate Cabs www.corporatecabs.co.nz Limousines, Wedding Cars

Spit Roast Company www.spitroast.com Catering

Rosebank Estate www.rosebank.co.nz Venue & Catering

Polished Diamonds www.polisheddiamonds.co.nz Wedding Rings & Jewellery
---
Bridalshow

26th August 2018

Tickets $20pp

10am – 3pm

Air Force Museum of NZ
---
14 With This Ring

1

2

3

4

5

6

7

8

9

MAIDS are

MESMERISING

Whether you decide to have your BFF as your only bridesmaid

or a cluster of the closest from your clans, you will want them

looking fabulous in the most exciting styles and flattering shades

on show this wedding season.

A variety of current trends feature short, long, lacy, patterned, sleek, full

flared, demure or sophisticated as well as unusual and inspired by every era

from Victorian to Bohemian! So here are 10 new leads, looks and likes to

follow a trend or break with tradition while guaranteeing all your maids are

mesmerising!

FLORALS make their colourful way down the aisle this summer. Hot house

blooms, delicate florals or bold tropical prints provide exciting choice to

match your wedding theme and style. Not only do they add a whole new

dimension to your photos, but your bridesmaids can wear them again after

your big day. But keep accessories minimalist, team with strappy summer

sandals and simple toning bouquets to avoid a fussy look in the photos.

COLOUR SENSATIONS of the 2018 season are nude and navy, copper is

the metallic of the moment, lilac is favoured for vintage vibe and cinnamon

enriches country and rustic themed weddings.

SEPARATES return to favour and make a bridesmaid statement that can

suit all shapes and sizes. For formal elegance try a structured skirt with an

off-the-shoulder cropped top, for serious romance try a tulle maxi skirt and

loosely tucked cami or for stop press newness – add black to the ensemble

whether the top or the skirt.

CULOTTES & JUMPSUITS are re-introduced for formal occasions,

including weddings. Choose a tapered leg teamed with killer heels or wide

fluid flares with a cami style top, V neck or cap-sleeved crop. Complement

the sophisticated urban look with bling or a belt or both.

SHIMMER & SHINE are big news for 2018 bridesmaids. Either demure and

pretty with soft pink flowers and nude heels or the razzle dazzle glamour of

sequins, strappy metallic shoes and sparkly Art Deco wreaths or barettes in

their hair.

RED CARPET: steal inspiration from Academy Award fashion. Think

3D florals, second-skin metallics, knife-edged pleats, ballerina midis, 40s

Hollywood satin and silk, necklines that plung, reveal or conceal and chic

minimalist sheaths with a movie-star cape.

LACE & DRAPE offer a relaxed vibe for your girls as they float down

the aisle in soft sheer fabrics. Lace shrugs and capes equate with elegant

formality or Bohemian style, while low draped backs and off-the-shoulder

styles suit beach ceremonies and classic country weddings.

LENGTHS OR LAYERS: soft floaty layers create different lengths for the

girls' gowns. From a mini to a maxi, small girls and tall girls can wear the

length that suits them best. But to bring the look together, go for gowns in

the same fabric and team with matching shoes and bouquets.

MODERN & MISMATCHED: be subtle with bridesmaids in a colour

spectrum from light to dark, or be bold with a rainbow of different colours

chosen to suit each individual bridesmaid. Avoid a disjointed look by

choosing single-toned flowers to unify the colour range.

10

Classic Corsages

are revived as the ideal accessory for

your bridesmaids. Worn in the hair,

pinned to the gown or entwined

on the wrist they create a "pop" of

colour, delightful fragrance and

hands-free convenience for both the

ceremony and reception.
---
With This Ring 15

Small

WONDERS

There's nothing more adorable than cute kids in your wedding

party. For little girls it's the ultimate opportunity to be a princess

for the day and they get a thrill from the frills. For little boys you

sometimes have to work harder to make the idea appeal!

GIFTS

Gifts for Your

AdorAble flower Girl

• a music box

• a novelty money box

• a charm bracelet

• a collector's doll

• a favourite book

• a pretty picture frame

• a wedding photo

• a jewelled purse

• a picture for her bedroom

• an heirloom jewellery box

Gifts for Your

HAndsome PAGe boY

• a watch

• a wedding photo

• a collector's model car

• a favourite book

• a money box

• greenstone pendant

• a picture for his bedroom

• a wallet

• sport supporter's clothing

• decorative box for all his "stuff"

Outfits

You'll want them looking gorgeous, but they'll want to

feel comfortable. So whatever you choose make sure the

outfits are not too hot, too cold or too tight, that they

are the right length, suitable size and definitely aren't

scratchy.

Make Buy or Hire

Flower girl dresses can be purchased at bridal and ballet

shops or made at the same time as your own gown. For

a less expensive option, find a simple white or cream

dress in children's wear shops or department stores and

trim with your own choice of embellishments. Little

lad's suits can be purchased at some department stores

or bridal shops, but as they may not have many other

occasions to wear a suit again, hiring is often a sensible

option for your page boy.

For Her

Keep the dress simple and match a detail from your

gown such as a lace bolero, an overlay, a rosette or

appliqué or crystal beads that shimmer and shine just

like yours. Have her dress made in the same fabric,

but in a little girl style or in a shade that fits with your

wedding party colour scheme.

For Him

Little boys don't much like the constriction of a formal

style suit and tie. If you MUST do the suit, let him

discard the jacket later or wear a waistcoat instead. If

you plan to be less formal, your page boy can still look

adorable in a cotton shirt and casual trousers.

Colour Coordination

Add colour with accessories; a sash, a petticoat, posy of

flowers or hair ribbons for her and a button-hole, vest,

coloured tie and funky socks for him. If it's chilly, keep

your adorable flower girl warm with a colourful bolero,

cardigan, wrap or Victorian-style coat and a bright

lined jacket and cool dude hat for your page boy.

Tops and Toes

Keep hairstyles, hair decorations or hats as easy to

wear as possible and make sure their shoes fit properly

without slipping or rubbing. Don't expect them to enjoy

hours of fussing to get them ready and don't get them

dressed too early on the day or you risk creases and

stains on their clothes!

Practice Makes Perfect

Practice makes perfect so include your small fry in a

wedding rehearsal so they aren't overwhelmed on the

day. Don't give them too many instructions, provide

treats, drinks and toilet breaks, expect that they WILL

get tired, so keep it fun and don't get cross.
---
16 With This Ring

THINKING

About Ink

Tattoos are a popular personal decoration and New Zealanders

are among the most "inked" in the world. Tattoos range from

distinctive patterns of cultural significance, a small discreet motif

or an elaborate blend of colours and shapes that is meaningful to you.

While tattoos are generally an accepted style of personal expression and

decoration, when it comes to weddings, they can be quite controversial and

confronting for families and guests. Although you shouldn't let the opinions

of others determine your preferences at your own wedding, brides often face a

dilemma as to whether to show them or hide them.

Hiding Them

If you decide to hide your ink for your wedding you can either choose a

gown design that covers them or invest in a make-up like "derma-blend". The

cosmetic was developed to cover scars and skin discolourations like birth

marks, but its high-coverage ability has also made it popular among those with

tattoos they wish to disguise.

Like almost any trend, fashions come and go, so it is probable that tattoos

will too. Your wedding photos will be looked at for years to come and by

future generations. Consider whether you would later regret either showing

them or hiding them before you make the choice. You can also compromise

if you are unsure whether to show or hide your ink, by covering them for the

ceremony and in some of the photos, then revealing them at the reception.

Adding to Them

If both you and your partner are "ink

lovers" then an event like a wedding is often

an opportunity to mark the occasion with

a "his and hers" tattoo. It may be the date

of the marriage, you could have tattooed

wedding rings as a permanent reminder, or

a larger scale design with significance for

you both.

Showing Them

Your tattoos are already an accessory, often

a bold one, so it is important to choose a

gown that won't clash and become visually

distracting. Consider a custom-made gown

that is designed to show it off with attention

to necklines, sleeves, etc. Choose a fabric

with solid colour and avoid too many

textures and embellishments on the dress so

that the tattoos are the focus.

Don't be afraid to veer away from

traditional bridal colours or styles, perhaps

pick a dress colour that tones with something

in your tattoo design. A white gown is often

too stark against coloured tattoos, while

black or dark ink designs can look dirty

against bright white and in the photos. If

you do want to display your tattoos to best

advantage in your photos, put a light layer

of Vaseline on them before the ceremony so

their colours look clear and bright in

the images.

New Zealand's skin

and appearance experts

- Appearance Medicine - Laser Hair Removal

- Skin Treatments - Beauty Therapy

- Free Consultations - Payment Plans

- 232 Papanui Rd, Merivale - 170 Clarence St, Riccarton

- 39 Rolleston Sq, Rolleston - 383 Colombo St, Sydenham

0800 458 458 caci.co.nz
---
With This Ring

17

MAKING

MAKE-UP Last

Your wedding make-up needs to last from firstlook

dressing, to dewy-eyed ceremony, to onlocation

photo shoot, right through to dining,

dancing and departing the reception. Therefore,

you will want to use everything at your disposal

to prevent shine, fade or frequent fix ups.

• Start with skin that is cool to the touch – cold water,

ice pack or cooling gel.

• Prep your skin with pore-tightening products that

will keep make-up application smooth.

• Thick make-up can cause more problems than light

coverage because it's more obvious.

• Use an oil-free primer and less moisturiser to stop your

make-up "slipping".

• Avoid make-up products that run, smear, flake or clump.

• Waterproof and tear-proof mascara is essential.

• Invest in a setting spray that is designed to "hold" your

make-up in place.

• For long-lasting lippy apply a lip primer first.

• Blot if it's hot – a quick and easy way to remedy shine

or perspiration during the day.

• The simpler your make-up regime the easier it is to

touch-up quickly.

UP DOS & Fringes

Among all the ways we coax our hair into different

shapes and styles to beautify, cute-ify and specify

our particular look, the "up do" still has pride of

place for formal occasions and weddings.

An "up do" adds elegance, is usually more elaborate than an

everyday style and offers plenty of choice in finding a style

that suits your hair's texture and the shape of your face.

Dressed high on the head or low near the nape of the neck,

there are simple ponytails, braids, or a combination of both;

buns can be ballerina sleek or high fashion messy, there are

smooth chignons and pleats as well as loose coils and curls.

For brides especially, when the hair is up, your face is more

visible and there is more emphasis on the design of the dress,

particularly around the neck and shoulders. An up do stays

in place for the wedding and the reception, is impervious to

the wind for photographs and doesn't need extra attention

during the proceedings.

But if you want to add a bit more "sass", join the fringe

revival! The big textured fringe is back, resting just below

the eyebrows or layered to the level of the cheekbones at the

sides. A fringe softens the drama of the up do and provides

both elegant or casual style for formal weddings or beach

bride ceremonies. However, a big fringe doesn't suit every

face so think carefully before you make the chop or go for a

lighter, wispier forehead fringe.

Love is

in the hair

KELLY SHEPPARD HAIRSTYLIST

Phone/TexT 027 424 9853

www.kellyshePPard.co.nz

Follow me on Facebook

Phone 03 377 8883 or 021 427 433

www.angelaminson.co.nz
---
18 With This Ring

LACY

Lingerie

For a bridal gown to fit perfectly, it is important to

choose the best underwear to enhance the style of

the dress, support the body shape of the wearer and

combine comfort with luxurious wedding day fabrics.

If you want to be a bride with that gorgeous

golden glow, but without exposure to the

harmful rays of the sun, it has never been

easier to fake it and make it look real!

INSTANT TANNING – has really come of age since

the first streaky results appeared on the market and

on your skin. Most instant tan products offer you

immediate colour which develops into a deeper tone

over the next few hours. Containing both a tint and

a moisturiser, your skin appears smooth, nourished

and natural.

SELF-TANNING – is a DIY approach that you

can use in the privacy of your own home to create

a natural looking tan over a period of time. With a

milder perfume and smoother application than in

the past, the new green-based products produce a

more authentic tan to complement individual

skin tone.

GRADUAL TANNING – is achieved

with a moisturiser containing a mild selftanning

tint. A subtle change of colour

occurs gradualIy and particularly suits

fair skin or application in winter without

looking fake or unseasonal.

BRONZE-TANNING – can be used

beyond the face to provide depth of

colour on the body too. Avoid bronzers

with too much shimmer or it will look

fake, apply only to areas that are going to

be showing (shoulders, décolletage and

arms) and use a large powder brush to

get effective coverage.

SPRAY-TANNING – can be ultraeffective,

especially when applied

professionally and can last from 7-10

days. So, head for your tanning salon and

let an expert provide you with a seamless

tan from top to toe. Exfoliate beforehand

and avoid moisturisers and deodorants

on the day as they affect the tanning

product. Don't go for too dark a tan that

looks fake or too stark against the white

of your bridal gown and in your photos.

FAUX AGLOW

Once the dress style has been chosen, even if the gown has

not been made, you can purchase your underwear. But always

purchase it before the second fitting of the wedding dress in case

alterations need to be made.

For the ultimate fit beneath their beautiful gown, brides

should arrange a consultation with a lingerie specialist. Research

shows almost 50% of women buy the wrong bra size, but with so

many underwear styles and shapes available it's understandable,

especially as sizing can often vary from brand to brand.

Traditional light shades of white, cream and champagne are still

the most sought after lingerie colours for brides. Strapless styles

that work well under wedding gowns with open necklines are

always in demand and many ranges of bridal lingerie are designed

without seams to give a smoother shape under the dress.

However the current popularity of wedding dresses from bygone

eras has fostered a noticeable trend to vintage-inspired underwear

and accessories including garters and parasols. White, ivory or

nude stockings are "in" as well as the 40's styles

that have back seams. But corselets still top

the list, they are elegant and slimming

and those with suspender

belts are currently very

popular.

As well as providing the

ideal fit for the gown, a

bride's underwear should

also be comfortable. So

don't wear your wedding

lingerie for the first time on

the day, instead, hand wash

items beforehand to remove

any unnecessary stiffness.

While soft, pale tones in silk

and lace are an obvious choice for

the big day, honeymoon lingerie

is often colourful, racy and lacy!

Brides may have chosen classic white

for the wedding day, but they often

want something a little sexy for the

honeymoon or wedding night.
---
With This Ring 19

MAKE YOUR OWN

Sugar Scrub

Making your own anything is usually pretty

satisfying, but an all-natural sugar scrub for face,

hands and feet is easy, effective and the least

fattening use of sugar imaginable! Combining simple

home ingredients, you will produce a unique beauty

product in minutes that will leave your skin silky

smooth.

INGREDIENTS

½ cup of sugar (either white or brown)

½ cup of oil (olive, coconut or almond)

1 tsp of essential oil of your choice

Optional essence or spice

(cinnamon, turmeric, vanilla)

2 drops of food colouring if desired

METHOD

Combine the oil and sugar and mix well.

Stir in the essential oil(s) of your choice.

Add optional spice or food colouring.

Store in an airtight container or screw top jar.

Lasts 2-3 months

CHOICE OF ESSENTIAL OILS

As well as selecting your favourite essential oil for its

fragrance, also consider its particular

therapeutic qualities:

LEMON & LEMONGRASS – fresh and invigorating

GRAPEFRUIT, ORANGE OR LIME – tangy and

refreshing

PEPPERMINT – cool and soothing

TEA TREE – cleansing and purifying

EUCALYPTUS – medicinal and healing

PATCHOULI – earthy and relaxing

LAVENDER – calming and rejuvenating

BERGAMOT – gentle and uplifting

GOOD TO GO OR GIFT FOR THE GIRLS

Try your homemade sugar scrub on your hands first

using 1 tablespoon rubbed in then rinsed – so good,

so soft, so simple! But pimp the jar and make some

fancy labels and you have a gorgeous gift for your

girls as well.

Weddings are hard on the feet – especially for brides,

bridesmaids and mothers of the bride and the groom.

To manage several hours of standing, walking and

dancing in your elegant heels or strappy shoes try the

"On Your Feet" wedding day guide!

Choosing the Shoes

You may wish to select shoes of a particular style to

complete your wedding outfit. Choose your shoes after your

outfit is confirmed so that the style and colour are exactly

right whether you favour a court, pump or platform sole.

Remember sparkly sandals and sassy heels make you look

taller and your legs look more shapely! Shoes can also be

coloured or covered as required by professional shoe dying

services, matching them to the fabric of your outfit.

Compatible and Comfortable

Choose them well in advance, but while you're looking for

shoes to die for, look for comfort, comfort, comfort! Your feet

swell in summer heat and during the course of any day, so

choose a half size larger than usual and buy your shoes in the

afternoon. For extra comfort you can try gel inserts – great

for added "danceability"! Consider the height of the heels,

especially if you're having a garden or beach wedding and

look for footwear that is appropriate for the season. If the

wedding is outdoors choose thicker heels that won't sink into

the grass.

Walk and Wear

Best advice is to wear them in before you wear them out

anywhere. Pop on a thin pair of socks and wear your wedding

shoes round the house often, to allow them to stretch and

soften. If the heels are higher than you are used to, practice

frequently so that your walk down the aisle is confident and

effortless.

Pedicures and Pampering

Elegant shoes deserve elegant feet inside them! Have a

professional pedicure or purchase a home pedicure kit for

well presented toenails – especially for open-toed shoes!

Indulge in regular heavenly foot spas at home to soften

and remove hard or calloused skin. Nourish and

massage daily with soothing peppermint

foot lotion.

BACK ON YOUR FEET
---
20 With This Ring

RING IN A

Rainbow

One of the new style trends in engagement rings,

is the return of coloured stones.

Combined with the sparkle and purity of diamonds, multistone

designs can include your favourite shade of gemstone

or your birthstone. While sapphires, rubies and emeralds are

the "big 3" that always spring to mind, there are other stones

representing all the colours of the rainbow that will make

you an engagement ring of value and unusual individuality.

RED - Garnet

The name garnet comes from the old English "gernet"

meaning "dark red". Garnets have a crystal structure and

range in colour from mid to dark red and from transparent

to opaque. They are less valuable than rubies but an

affordable and popular gemstone as well as being the January

birthstone. Garnets are mined in many parts of the world but

particularly India, USA, Australia and China.

ORANGE - Tourmaline

Tourmaline is a semi-precious hexagonal crystal gem that

can be of various colours including the unusual "chrome

tourmaline" which is orange. Produced in Zambia, India, Sri

Lanka and USA, the stone varies from transparent to opaque.

However, the rarest and most recently discovered variety of

tourmaline is the Paraiba which was found in Brazil in 1989

and has become sought after for its quality and value.

YELLOW - Topaz

Topaz is a rare combination of brilliance, hardness and

colour, with yellow topaz being more unusual and valuable

than blue. Meaning "fire" in the Sanskrit language, the

golden colour of yellow topaz has fascinated people

since ancient times and been associated with the

earth, harvest and fertility. It is mentioned in the

bible as one of the 12 gems worn by High Priests.

In modern times it has been adopted as the

November birthstone.

BLUE - Aquamarine

Known as "the gem of the sea" and chosen as the March

birthstone, aquamarine is derived from the Beryl mineral.

Aquamarine is favoured for its glorious blue-green colours

but the best quality gems combine high clarity with ice blue

colour. Because of the light colour that shows any flaws, it is

important to cut the stone carefully in order to maximise its

brilliance. The best aquamarine is sourced from Brazil, East

Africa, Australia and India.

INDIGO - Tanzanite

This blue-violet toned gemstone is a variety of the mineral

zolsite and changes colour when illuminated, becoming

bright blue under fluorescent light. It was only discovered

in 1967 and has become particularly sought after as it is

only found in a very small area of Tanzania, hence its name.

Renowned international jeweller Tiffany's uses the rare

tanzanite in a luxury selection of jewellery for wealthy

clients from all over the world.

VIOLET - Amethyst

Amethysts are violet-hued quartz stones named from the

Greek "amethystos" meaning "intoxicate". The value of an

amethyst is primarily in its colour, ranging from violet to

deep purple – the darker the better. Purple was a colour

associated with royalty, so amethysts have always been

accorded status despite being widely available. The best

quality amethysts are found in Russia, Sri Lanka and Brazil.

GREEN - Peridot

The peridot is a pale green silicote

mineral gemstone. It is the August

birthstone, but was called the "gem

of the sun" by the Egyptians. The

intensity of the peridot's colour

depends on the level of iron in the

stone and varies from pale leaf

green to olive. Peridots were first

found in ancient times on an

island in the Red Sea, but recent

findings of flawless crystals

Myannmar and Pakistan have

created new interest in the stone.
---
With This Ring

21

CANTERBURy jEWELLERS

Proven Quality & Craftsmanship

Canterbury Jewellers has earned a

reputation for fine craftsmanship and

honesty in a trade where the client relies

on information that is true and the quality

of workmanship is high. Providing these

two key attributes has allowed Canterbury

Jewellers to be one of Christchurch's leading

repair, alteration and handcrafted jewellery

manufacturer since the company was

started 35 years ago.

Some people may find their perfect

engagement ring already made, sitting in a

showroom waiting for them. Others aren't

so fortunate, having to trawl through 100s

or even 1000s of designs. Some will decide

to start from scratch and have their ideal

ring sketched and then handmade.

Finding your ideal ring is a bit like looking

for a home, you know it's just right when

you see it. But unlike buying a home, having

exactly what you want in a ring needn't

require a visit to the bank manager. "A

common misconception is that hand-crafted

pieces are an unaffordable luxury for most

people. However you may be pleasantly

surprised how they stack up against the

average mass-produced rings pricewise", says

Jason Baylis of Canterbury Jewellers.

Responding to an increasing desire

from clients for a more personalized look,

Canterbury Jewellers are fully equipped

to create something incredibly unique. It

may traditional with lots of fine detail, or

bold and modern. With their experienced

and fully-qualified team of on-site artisans,

clients are invited to contribute to the

creative process as little or as much as they

like and are encouraged to visit at various

stages of manufacture.

"We see some amazing engagement rings

that need a wedding ring. But finding a

wedding ring to fit around these elaborate

rings can be impossible, so generally a

custom wedding ring is the only solution",

notes Jason.

Ideally

engagement

and wedding

rings should

be made at

the same time

to ensure a

complementary

style and perfect

fit. But for those

who already have an

engagement ring that

doesn't lend itself well

to any of the readymade

wedding rings, Canterbury

Jewellers can always make

one to suit.

For sparkle that will last a lifetime, call

Canterbury Jewellers on 03 366 7737.

Leading the way in design, manufacture

and repair of exquisite jewellery

Unit 8, 73 Peterborough Street,

Central City, Christchurch

P. 366 7737 E: enquiries@canterburyjewellers.co.nz
---
22 With This Ring

4Cs FOR

Diamond Dazzle

While diamonds are dazzlingly beautiful, valuable

and the most sought-after jewel for engagement

and wedding rings, they are also the hardest

substance on earth and will therefore last a lifetime.

All over the world, jewellers and gem experts rate diamonds

according the 4 Cs of Cut, Carat, Clarity and Colour.

CUT makes the diamond dazzle according to number of

surfaces or facets that reflect the light. Most diamonds are

cut with over 50 facets and geometric angles. These act as

mirrors and reflect the light from one to the other before

dispersing through the top of the stone. If the cut is too deep

or too shallow, light escapes and the sparkle is reduced.

CARAT refers to the weight rather than the size of the

diamond. Originally calculated on scales against carob seeds

that weighted 0.2g each, modern metric measurements define

a "carat" as 200mg. Each carat is further divided into 100

points thus allowing precise categorising of diamond value.

CLARITY relates to the brilliance of the stone and is

graded according to the combinations of mineral traces,

imperfections or visible fractures within it. Completely

flawless diamonds are extremely rare and therefore extremely

valuable as they offer the most natural brilliance.

COLOUR is also related to the diamond's ability to reflect

light. While we think of diamonds as white, the colour varies

from white to yellowish. Jewellers grade a diamond's colour

on a scale from D (colourless) to Z which can contribute or

detract from its overall value.

Your Diamond Investment

For future proofing your investment, buy the best diamond

you can afford. To stay within your budget you can

compromise on size, colour and clarity of the diamonds,

but don't compromise on the cut. But be sure to choose

your diamond and rings from a reputable jeweller who will

provide you with a valuation certificate for insurance and

proof of purchase.

For Her:

The unbroken shape of the ring has traditionally

symbolised the enduring vows of marriage and is a

custom of many cultures, especially in the western world.

Although wedding rings are still predominantly made

of gold, the use of other metals can provide modern and

creative alternatives.

Yellow gold in 18 carat or 9 carat is often chosen for its

longevity and its association with quality and riches. Since

12th century royal wedding rings have been traditionally

made of Welsh gold. Yellow gold keeps its bright golden

appearance, looks good with most precious stones and will

usually last a lifetime if the design is not too delicate.

White gold, either 18 or 9 carat depending on the amount

of alloy added, is a popular alternative and is well suited to

diamonds and ornate settings. You will sometimes see "bimetal"

wedding rings featuring both white and yellow gold

in the design. Rose gold is a combination of yellow gold

and the addition of copper to produce a reddish metal.

Platinum's silvery look is currently in vogue for wedding

rings. It is also the strongest of metals and will last a

lifetime. Special skill is required to work with platinum

consequently it is also the most expensive wedding band

option.

The wedding ring should always match and fit with the

engagement ring in style, shape and colour of the

metal. They are often designed as a set and

can be purchased together, or the

wedding band put on "layby" until

nearer the date of the wedding.

For Him:

Modern chunky bling has really caught on for wedding

rings that are masculine statements of style and

engineering! Shunning shiny gold for their wedding rings,

many bridegrooms are choosing innovative designs in

black, silver and steel.

The popular, weighty industrial look of steel

can be polished, engraved or set with stones

for bling that's rock-star bold! Tungsten is

often chosen for its strength and longevity

– it's scratch resistant, hypo allergenic and

won't tarnish. But it does have a down side –

you can't cut a tungsten ring if your fingers or

hand are injured!

Platinum and white gold rings are often

more traditional, but the "beaten" look is

more contemporary and may also complement

the bride's rings without losing ruggedness of

style. Traditionally the wedding ring is worn

on the third finger of the left hand, based on a

Greek legend that a nerve from this finger led

directly to the heart.

Ensure you buy your precious rings from a

reputable jeweller. If they are members of a

recognised jewellers association, standards of

design and codes of ethics can be guaranteed.

On purchase a valuation certificate should be

issued to make sure that the ring is

adequately insured.

RING TONES
---
Perfection Made Possible

Custom Wedding Rings

Nestled among the boutiques on New Regent Street, Polished Diamonds provides a

unique experience allowing you to personally design the wedding ring of your dreams.

We realise that putting on a wedding can be an expensive task, which is why at

Polished Diamonds we aim to provide you with excellent value.

Advanced technology promises precision that ensures ultimate perfection. Laser engraving,

3D printing and virtual CAD modelling produce flawless symmetry and ensures the stone

and setting fit seamlessly together, as well as fit perfectly around other rings.

We can size and measure your existing engagement ring and create your wedding ring

to form a perfect set.

Each 'haute couture' item comes with a lifetime guarantee and the factory direct value

is simply exceptional – why go anywhere else?

• Lifetime Guarantee

• Made to Match Existing

Rings

• Platinum, Gold, Palladium

• Diamond, Ruby, Sapphire

• Gents Titanium, Platinum

• Custom Made – CAD Engineered

• Satisfaction Guaranteed

• Best Value Price Check

JEWELLER OF DISTINCTION

30 New Regent St, Christchurch CBD. 0800 233 299 www.polisheddiamonds.co.nz
---
24 With This Ring

SUIT-ABLE Wedding

For grooms and male guests, fashion etiquette for a wedding can be confusing in this day and age! In the past

there were clear guidelines for formal or semi-formal attire when weddings were held in churches and chapels.

But with modern weddings at secular venues, in gardens or on beaches, there's a change in the style of clothes

that are now considered "wedding-suitable."

Formal

– as dressed up as you can ever be!

TRADITIONAL A top hat and tailcoat

with pinstriped striped grey trousers,

white gloves, a white vest, shirt and bow

tie OR a black dinner suit worn with a

white shirt, cummerbund and matching

tie.

CONTEMPORARY Any suit with shirt

and tie is now considered formal. It can be

any colour, any cut and almost any cloth.

For most seasons suits may be grey, black

or navy but suits for summer weddings

favour lighter shades, fine stripes or

checks, shirts may be pastel rather than

white, but ties are bold and bright.

Semi Formal

– as dressed up as you want to be!

TRADITIONAL A two or three

piece suit, plain coloured shirt and a

coordinating tie OR a tuxedo with

coloured jacket or cummerbund and

matching bow tie.

CONTEMPORARY A suit jacket, sports

coat or blazer teamed with tailored pants,

chinos or khakis, but not denim. Add an

open neck or button down shirt that's

worn without a tie and finish the look

with swanky lace up shoes in leather or

suede.

Smart Casual

– as confusing as it gets!

TRADITIONAL Two piece suit or

tailored pants with a blazer or sports coat,

shirt and tie.

CONTEMPORARY Because "smart"

doesn't always equate to casual and vice

versa this dress guide causes more agro

than anything else. Your best guess is semi

formal minus the jacket, but it still doesn't

mean jeans!

Casual Beach

TRADITIONAL Rarely applicable,

but for those who did have low-key

weddings it was still a suit or at the very least

a waistcoat with shirt and tie.

CONTEMPORARY A cool short-sleeved shirt

over chinos, linen pants or tailored shorts. Boat

shoes, clean canvas sneakers or sandals are

preferable to jandals and a hat is great for

the sun – a fedora or straw panama is way

better style than a baseball cap. If the

wedding is island-themed you can

be more flamboyant with

the shirt!
---
STYLISH SHIRT ACCESSORIES

Shirt accessories are back in style! Once you have

selected your wedding shirt for its style, fabric and

formality, you can choose the ideal shirt accessories

for yourself and/or your groomsmen; tie tacks,

pins or bars, collar tips or cufflinks.

Tie Tacks and Bars

The tie "tack" was worn by wealthy gents to secure the folds of

cravats which were worn in the 19th and early 20th centuries.

Commonly made of silk, satin, lace, lawn and brocade, the tack

held the expensive slippery fabric in place. By the end of the

19th century tie pins were worn more widely as cravats became

favoured sporting attire at golf, tennis, cycling and riding.

Tie tacks and pins used pearls and other gemstones together

with gold, silver and other metals, but were also custom

designed with initials and family crests and later with sporting

club emblems and logos. When the Windsor knotted tie became

an integral part of menswear and school uniforms for both boys

and girls, the tie "bar" also had the purpose of holding the tie in

place, but was attached to the placket of the shirt front.

Collar Tips

Collars required stiffening to allow the pointed ends of the

collar to either stand-up (like the winged collar) or sit neatly

against the waistcoat front or lapels of a jacket. Accordingly,

small whale-boned "collar tips" were inserted into the

pointed collar via a tiny hemmed slit, which allowed

them to be removed for washing.

Cufflinks

Traditionally used to secure the buttonless

cuffs of mens' shirts, post-war mass

production of shirts included machine sewn

buttons, so the use of cufflinks declined. However they have

recently made a comeback as a distinctive fashion statement

and feature anything from antique to ultra-contemporary

designs.

Dress etiquette once demanded gold cufflinks be worn by day,

silver in the evening and pearl for white tie occasions. There are

two main styles of cufflinks; double panels linked by a bar or

chain and a single panel with a swivel toggle to secure the cuff.

The decorative style of cufflinks often included inlays and

gemstones and featured family emblems, monograms and logos,

while today's designs are colourful, frequently quirky and still

an acceptable gift for the groom and his wedding party.

With This Ring 25

BEARD

BASICS

In the same way that hairstyles change

with seasons and fashion trends, so do

beards. While it is usually appealing for

guys to enjoy time out from the daily

shave, but women either love beards on

their man, or hate them!

Many beards develop over a summer holiday

when there is sufficient time to grow one beyond

the stubble stage. However, while keeping one

eliminates the daily "razor abrazer," a beard still

requires some grooming to keep it looking tidy

and trendy.

Just like the hair on your head, the skin beneath

the beard needs to be healthy so there's no itch or

scaliness. So buy some beard balm to condition

the skin while the beard thickens, then invest in

some Beard Oil to keep the hair itself moisturised.

Trimming and shaping the beard is a matter of

preference, but the style can change the shape of

the face and enhance other features like eyes and

teeth. Ideally it is best to visit a local barber to

establish the shape and style of the beard first, so

that you only have to trim it yourself from time

to time.

For grooms who want to sport a beard for their

wedding, be sure your bride is in favour of the

idea and if so, be fastidious about the length and

the longevity of the look in your photographs!

BUT if the beard has to go for clean-shaven

nuptials, remove the growth a week before the

big day so your skin has time to heal from any

irritation that results from clippers or blades. Use

a healing balm to moisturise the skin and SPF

protection if removing the beard leaves your skin

at increased risk of sun burn.
---
26 With This Ring

In Awe of VIDEOS

Having your wedding captured on film is not only a

keepsake for you, but provides future generations with a

unique record of family members, friends, fashions,

food and the traditions at one of life's greatest milestones.

Surprisingly many couples entrust the recording of this

milestone to an amateur videographer rather than a professional

with the experience and technology to make your wedding into

a story rather than a potentially disjointed sequence of events.

Good videographers are booked well in advance so checkout

costs, styles and packages early in your wedding planning. Ask

to see examples of their work including colour quality, picture

clarity, sound levels and special effects.

Discuss what is required to get the style and length of film you

envisage; how long they need to be at the wedding, how many

cameras they use, whether they have all the digital equipment to

cope with low light and bright sunlight, add music and special

effects and edit the film seamlessly.

Discuss the terms and conditions of any contract, ensure the

videographer is available for the date, time and location of the

wedding and negotiate the fee for both filming and finishing.

Check whether your venue has any restrictions on videography

then provide the videographer with the order of events at the

wedding. List the special guests and important moments you

especially want them to record and get them to liaise with your

photographer so that they don't impede one another's work

on the day.

PRICELESS PICTURES

Because a photographer only gets one chance

to capture the magic of a wedding you need

to know they are up to the task.

Rather than simply taking photos, the photographer's

job is to record a family event for generations to come.

Staying within your budget is always important when

planning a wedding. But because your photographs

are literally priceless, cost should not be the sole

consideration. If you have a limited budget, you can

always book the photographer for a shorter period

of time.

A few stunning professional images are better

value than a host of unremarkable ones by amateur

friends or family. Alternatively you could suggest a

contribution towards photography, album or prints as

a wedding present or gift registry item.

It is important to find a photographer whose style

you like, so look at the work of several different

professionals before you decide. Do their portfolios or

online examples provide a range of formal images as

well as fun, creative and spontaneous shots and is the

quality of colour and clarity consistent throughout?

Also find out if the photographer has studio facilities

and "Plan B" in the event of bad weather!

Ideally choose a photographer who is a member of the

New Zealand Institute of Professional Photographers

(NZIPP) which requires high standards of professional

ethic and expertise. Members are listed under "Find a

Photographer" link on www.nzipp.org.nz
---
28 With This Ring

Promotion:

Book your wedding with us

before: 31st August 2018

and receive 2 complementary

6" parent albums with all

wedding album packages

- conditions apply.

Testimonials

"A wedding day comes and goes so very fast, many months

of planning pass in the blink of an eye. The photographer

is the most important presence on that day as the photos

taken are the memory of that special day, capturing all

the moments that in time can easily be forgotten. We

chose you as we both felt right from the start, very at ease

with you and after viewing your portfolio we were certain

you would do a great job. I am not even sure how to say

thank you as it seems to short change you somehow, the

images you took of our wedding day left us amazed, the

way you used light, angles and color, was truly beautiful,

you were very gracious to our family and guests and your

presence was unobtrusive. We would be more than happy

to personally recommend you to anyone who is looking

for a first-class photographer with a warm and friendly

manner". Tina-Marie & Brendon Wright

"Thank you very much for the great job you did with

our photos, we were thrilled with them. We both had a

fabulous wedding day and have lots of special memories.

Thanks again! " Annabel & Craig

DeAn nOrrIe

Photographer

International award-winning celebrity photographer

Dean norrie has photographed some of the world's

most famous people including; Johnny Depp, Jean

Claude Van Damme, Kylie Minogue, Harry Connick Jr,

Madonna, George Clooney, Bear Grylls, rachel Hunter,

Michael Schumacher, Kelly Slater and the best rugby

player in the world, richie McCaw, to name a few!

My uniQue experience:

Dean Norrie, one-eyed Cantabrian studied professional

photography in Christchurch in 1991, since than he has travelled

extensively and photographed in over 70 countries from 1993

to 2006. After 12 years living and working abroad he finally

returned to his mother country to set up business, buy a slice

of paradise, get married and start a family. Experiences include;

fashion photography internationally, working for London's

largest night clubs (Hippodrome) shooting events, four years

at sea managing the photographic department on board some

of the world's largest cruise ships. It has photographed over 500

weddings around the world from Miami and London to Sydney

and Christchurch.

Why book DeAn:

• Photographed over 500 Weddings internationally

• Confident managing people and directing large groups

• Friendly, assertive and relaxed personality

• Specialises in wedding photography

• 27 years professional wedding photography experience

• Creative eye for truly beautiful imagery

• Professional photographic member of the SWPP

• Creative wedding album design included in all wedding

photography services

• "I cherish getting to know you personally, and the special

details of your big day to capture images to truly reflect you."

• Offers affordable photography packages from $1600

DeAn's proMise to you:

"It would be an absolute privilege to get the opportunity to tell

your unique love story, I will bring my refined technical ability,

creative, candid and unobtrusive approach to your wedding

photography. My passion for story telling through authentic,

intimate and romantic imagery and my relaxed style of taking

photos will excite you. I will maximize your time creatively

breathing life into your images for you to cherish."

DeAns tip for the big DAy:

"The day goes by so fast! make sure to take the time to smell

the roses, delegating the management of the day to your MC

and others. Also make sure to book an experienced professional

wedding photographer early! you only get one shot at it."
---
* Best quality & options.

* Lifetime of experience.

* Awesome prices.

* Packages tailored to suit.

* Interest free terms.

* Photography & DJ Combo.

* No charge for travel.

* Two person team.

* Super fast service.

* Many extras available.

* We listen to you.

* Free planning advice.
---
Garry and Karyn are a sought after Husband and Wife photography, video

and D.J. music team with many years of wedding industry experience.

Call them for a no obligation chat about your plans and discover

how they can help make your wedding day simply perfect.

Ph: 03 313 8774 - Mob: 0274 330 733 - E-mail: garry-karyn@xtra.co.nz

Web: www.garrywalls.co.nz
---
32 With This Ring

CATWALK

Confidence

You should look and feel fabulous on your

wedding day, so why not show some catwalk

confidence as you walk down the aisle?

DON'T RUSH – instead take time to enjoy

the moment. Take a deep breath, then

make your entrance with a smile – it makes

you look happy and confident even if you

are nervous. Make eye contact with your

groom, let him see you are ready to begin

the ceremony.

BE REGAL – hold your head up high,

stand straight and tall and make sure your

shoulders aren't hunched. Don't look down

at your feet, instead, glance at your guests

and give them a little smile too. Remember

good posture makes you look taller, more

confident and shows your beautiful gown

off to best advantage.

WALK WELL – don't stride or shuffle and

be sure that you aren't wincing with every

step because your shoes hurt! Avoid shoes

with heels that are too high for you to

manage or throw you off balance. Walking

in a long gown also takes practice; the

technique is to use the toe to gently push

the hem ahead of you as you walk.

LISTEN TO THE MUSIC as you make

your way down the aisle. It helps you to

focus on something other than taking the

steps and creates the right pace for you

to reach the altar. Don't be afraid to use

something with a beat for timing your

walk or something you really like so that

you proceed up the aisle in an unhurried

manner.

SMELL THE FLOWERS – literally as

well as figuratively. Take time to savour

your own ceremony, but also enjoy the

fragrance of the flowers you have chosen to

carry just before you begin your walk down

the aisle – your senses will remember the

smell for years to come and you will always

associate that fragrance with your wedding

day. The bouquet gives you something to do

with your hands and disguises any nervous

shakes! Holding your bouquet at waist

height looks natural and relaxed.

DON'T LOOK AT THE

CAMERA

– instead

concentrate on your

PRACTICE MAKES

PERFECT – make sure you

practice at home and in front of

a full-length mirror to get the

full effect. Play your music, grab

some flowers, practice wearing

a long skirt and break in those

wedding shoes so they don't feel

new, even if they look it!

groom, family

and friends

and trust your

photographer

to capture

your most

cherished

moments

on film in an

unobtrusive

way.
---
A

DATE

WITH

YOUR

DAD

It's a proud day for most

Dads when their son or

daughter gets married.

Traditionally the father of the bride

has more duties than the father

of the groom, although modern

weddings often share responsibilities

for hosting the occasion.

Dad's first main duty is to pay for much

of the wedding! The groom and his

family traditionally help with the costs of

beverages, but they and the bridal family

may also contribute to other aspects of

financing the wedding.

Dads offer love and support and should

enjoy quality time with his son or his

daughter in the days or weeks before

the wedding. So make the most of those

moments and find some space in your busy

pre-wedding schedule to let Dad know he is

still important in your life – enjoy a coffee

or a quiet drink with just him, take him out

for breakfast or dinner, play a game of golf

or go to a movie you would both enjoy.

Dad is also meant to get his daughter to

the ceremony on time and look smart for her

special day. Dad escorts his daughter to the

ceremony, whether a church or civil occasion

and traditionally "gives her away" to the

groom.

Dad must also give a "father of the bride"

speech with anecdotes about the bride's life

growing up, a welcome to his new son-inlaw

or life partner and a toast to the newly

married couple. Dad and the mother of the

bride are the primary hosts of the wedding,

mingling, meeting and greeting guests

throughout the reception

In modern families there are often Step-

Dads who may wish to be included in the

wedding day celebrations. Depending on

the family relationships and the level of

diplomacy required, step-parents may jointly

host the reception, give a speech or a reading

at the ceremony or simply be among the

invited guests.

If your wedding gown, bridesmaid

dresses or mother of the bride

outfit is being couturedesigned

or made by a

skilled dressmaker from a

commercial pattern, you

may be unsure of some of

the technical terms used

to describe or create a

particular design effect.

DRAFTING is the technical

process of making a paper pattern

for the garment, based on the exact

body measurements of the wearer.

TOILE is a cotton calico version of the gown

or garment. It is made first so that a perfect fit is

achieved before the actual gown is cut from the chosen,

more expensive fabric.

FRENCH SEAMS are sewn twice to provide extra

strength and prevent fraying or unravelling of the fabric.

Modern sewing methods often use overlocking for the

edges and a straight seam to join the parts of the garment.

GODET is a triangular piece of fabric sewn into a dress

or skirt. It adds extra width and volume to the hem and

allows the fabric to flare from the waist or hip.

BIAS CUT is when the pattern is laid across the grain of

the fabric when the garment is cut out. The bias cut is used

to achieve a draped effect, particularly with light materials

such as silk, chiffon and voile.

STRUCTURED gowns are those that are styled with

boning, stiffening or extra lining to ensure a firm fit.

Structure is particularly necessary for strapless dresses or

designs using heavier weight fabric or embellishments such

as crystals or beading.

ILLUSION is a sheer panel of mesh, organza, chiffon

or lace on the front or back neckline of a gown. It

provides delicate design detail and is more modest

than a strapless or backless dress.

APPLIQUE is the addition of pieces of material

or lace that are cut out and then stitched onto

the fabric of a gown to create decorative detail.

Beading is also stitched to the fabric and is

sometimes described as applique.

WEIGHTED HEMS allow the skirt or

train of a long gown to skim the floor and

prevent the skirt catching on the shoes or

heels. Small invisible weights are sewn or

taped along the hem of the gown.

RUCHING is when the dress fabric

is gathered, fluted or pleated for

trimming or to create a style effect.

PLEATING refers to folds in the

fabric which are stitched at the

top to create fullness for the

skirt. Pleating styles can

include inverted, box,

knife or sunray shapes.

With This Ring 33

DECODED

Couture Jargon
---
34 With This Ring

BAGS OF

Style

A handbag is the final touch for your

wedding ensemble. Unlike everyday

handbags and totes that contain

absolutely everything, a wedding handbag

only needs to carry the essentials for a few

hours.

Evening bags and clutches are brilliant and

beautiful; beaded, embroidered, silk, satin, leather

or metallic, they can be soft or hard sides with

clips, clasps, domes or zips.

Fashion fanatics recommend choosing a bag that

either matches your shoes, or complements an

outfit in a similar or contrasting colour. But for

a wedding you also need to consider the size and

shape of the bag, so that the overall impression is

balanced. If it is metallic, match the bag to your

other jewellery and if it's a clutch bag, look for the

practicality of a shoulder strap or fine chain to

keep hands free for greeting guests, clasping a glass

and managing canapés!

THE CLUTCH BAG is the overwhelming

favourite for weddings and evening wear.

Carried in the hand or under the arm, it can be

unobtrusively elegant or supremely sassy with

decorative details. The structure and material

define the formality of the bag; leather, satin, silk,

manmade fibre or metal and its modest size forces

you to de-clutter so that it does not bulge or spill

out your essentials. For practicality it should close

securely and fit your cards, keys, phone and lippy

at the very least.

THE POMPADOUR BAG is a soft material

pouch with a drawstring worn round the wrist.

Originating in medieval times to carry money

and a sweet-smelling pomander, its popularity

re-emerged in Jane Austen's regency era and in the

1920s when they were made of the same material

as the flapper girl's dress and were embellished

with jet beads, fringing and embroidery. The

pompadour is a pretty option for

a flower girl or a way

of introducing

vintage style to

bridal party

gowns and

wedding

outfits.

In Awe of MUMS

Mums are special and never more so than on the day you get

married. She will be so proud of you, so why not pay tribute

with some thoughtful ideas that say how important your

Mum(s) is to you.

INCLUDE HER in your wedding

planning, choosing a gown,

bridesmaid pamper sessions,

hens' night celebration and the

excitement on the day of getting

ready together.

PHOTO CALL and get some

special images just with you and

your Mum. In the busy-ness of the

day it's a perfect pic opportunity

that is sometimes overlooked with

later dismay.

SOMETHING OLD, NEW,

BORROWED OR BLUE often has

extra special meaning if it has come

from your Mum. So ask her and if

nothing springs to mind, consider

replicating her own bridal bouquet

to represent an older era, new

flowers, a borrowed design and a

blue ribbon or blossom!

PUT IT IN WORDS and invite

your Mum to do a reading, a speech

or a toast at your wedding if she is

agreeable. But don't forget to thank

her in your own wedding speeches!

A NOTE OR MESSAGE of thanks

is often all she needs. Send her a

note of thanks on the morning

of the wedding, present her with

flowers at the reception or give her

a little gift the day after.

ARM IN ARM with your Dad and/

or Mum and Dad down the aisle is an

increasingly popular trend. Or you

may ask her to be a matron of honour

– there are no rules, just wishes.

VIP OR MVP make her a special

sign, decorate her chair or reserve a

place at the top table.

SALUTE her signature specialty

from the kitchen by including it on

the reception menu or the wedding

favours.

FOCUS ON FAMILY with a table,

photo board or power point of

family occasions which also show

her role in your life growing up.

NEVER FORGET – even if you

no longer have a Mum she can still

be part of your special day – carry

her photo, wear her gown or her

jewellery, play her favourite music

and toast her memory.
---
With This Ring

35

CLASSIC or Sassy

As a mother of the bride or the groom you will want

to look your absolute best at the wedding but often agonise for

months over what to wear.

Like the bride herself, mothers can be

spoilt for choice and unsure whether

to have their outfit designed, made or

bought off the peg.

But whether you favour classic or

sassy designs, always aim for a colour

that suits you, a style that's ageappropriate

and feminine and never

compromise on getting a perfect fit.

Go shopping with an open mind.

Have fun trying on styles and colours

you have never worn before – you

might be surprised how much you like

them.

Be dazzling on the day in a dress,

jacket or ensemble and if you are

unsure of the weather you'll find layers

are a versatile choice. In a hot climate,

you can always wrap yourself in a

luxurious pashmina or gorgeous shrug

if the evening cools down.

Unless you are a completely standard

height and size, choosing an outfit that

is sold as separate pieces can achieve a

better overall fit. Although an outfit

can be altered or shortened, it is

always less stressful and less expensive

if alterations are not required.

Classic or simple pieces look good

in photos and can be jazzed up with a

stunning hat, statement jewellery or

elegant shoes. Quality garments made

in luxury fabrics also add "special

occasion glamour" to the simplest of

designs. You may have a favourite dress

or style already in your wardrobe that

can be copied and reinvented for a

wonderful wedding outfit.

Select a fabric that breathes, that

doesn't crease too much and enhances

the style of the outfit. Always choose a

colour range that suits your skin tone

and hair shade, but avoid white or

cream – that's the bride's prerogative!

Hats can set off an outfit with

real style and flair and for mothers

of the bride or groom, as well as

guests, hats are back whether the

wedding is formal or informal. The

choice of colours, styles and fabrics is

exhilarating, whether you are choosing

from a range of ready to wear hats or

employing the services of a milliner to

create that special "one off" model.

The style of your outfit, your height,

face shape and hairstyle are all factors

affecting what will suit you. For

weddings the flattering wide brimmed

hat is still favoured for its elegance as

well as the 1920s cloche style. If you

prefer a smaller style, little cocktail

hats and fascinators are very popular

and easy to wear with numerous

shapes and designs to suit the occasion.

Also be careful that your hat will not

hide your face in the photographs.

But if you aren't planning on a hat or

fascinator, experiment with an elegant

hairdo for the big day.

Traditionally Mothers of the Bride

choose their outfits before the Mother

of the Groom, but there's nothing

to stop you discussing your ideas or

even shopping together to ensure

the colours and styles you wear

complement one another.

magazine

designer clothing

Sizes

10 - 26

Wedding?

congratulations

We have

fashion for YOU

Sizes 6 - 22

Something special for every occasion...

Windmill Centre, 188 Clarence Street, Riccarton, Christchurch

Phone 021 686 929

www.magazineclothing.co.nz

SMITH & BOSTON

Shop 6, 573 Springs Road | Prebbleton Village | Christchurch

Ph: 03 349 5646 | www.smithandboston.co.nz
---
36 With This Ring

DREAM IT

& Theme It

Themed weddings are very popular overseas, often

involving guests in a costumed production like a

Hollywood movie set. While less prevalent in New

Zealand, the idea of modestly theming your wedding is

catching on. So try these ideas for size and for fun!

Bollywood

Rig up a big screen with a Bollywood movie in the background,

get dressed in spectacular sari silks, put on an Indian food feast

and learn some Bollywood dance moves to share with your guests.

Kiwi Classics

Enjoy iconic Kiwi bach style or a marquee by the beach.

Decorate with kiwiana and cook up a barbecued feast

followed by pavlova, strawberries or hokey pokey ice-cream

in a cone. Enjoy the best New Zealand wines or keep it

casual with handles, jandals, beach cricket and the music of

your favourite Kiwi bands.

Masked Ball

Go glitz and glamour with all the fun of a ball. Include

masks in the dress code and keep your guests guessing,

provide elegant dance cards for your friends to fill and

twirl the night away with romantic waltzes and your

favourite music. Serve canapés and a carvery then unmask at

midnight with a wicked laced punch.

Love Boat

Cruise through your reception with a captain's table, an elegant

sit-down dinner and silver service by waiters in crisp nautical

whites. Decorate walls with posters of gleaming ships and

stunning destinations, hang bright coloured bunting and dance

the night away to a big band sound or orchestra.

Musical Moves

Choose a well-known musical like Mamma Mia and guests of all

ages will happily sing for their supper. Do a full 70s retro with

outrageous fashion and a buffet supper or delight the guys with

a 50s Jersey Boys theme, diner-style reception and rock around

the clock until you drop.
---
With This Ring

37

COLOUR – traditionally bridal bouquets were often white

with leafy green foliage. While still a popular choice with

brides, the trend of using colours that match the shade of

bridesmaids' gowns has become more prevalent and is more

vibrant in the wedding photographs.

SIZE – the size of your bouquet is a matter of personal

choice, but florists often advise smaller brides to choose

a smaller bouquet so they don't appear overwhelmed or

hidden by foliage. Fashions in flowers also come and go

ranging from tight posies to the current popularity of hand

tied bouquets.

SHAPE – the style of your gown whether full

skirted or slimline will dictate the optimum

shape of your bouquet to achieve balance and

proportion. Bouquets can be created in many

different ways, but there are 5 main floral shapes:

1. POSY – a circular shape using flowers of equal

size which are grouped in a close, structured

bunch. Colours can be varied, concentric or

random and the flowers can be contained within

a circlet of leaves, lace or ribbon.

2. TRAIL – uses long stemmed flowers like roses

or orchids to create a slender shape from top

to tip, complemented by a wide or narrow trail

of foliage, ribbons or both. The flowers may be

wired to maintain the shape.

3. TEARDROP – combines a round posy-shaped

top with a trail that narrows down to the tip. The

flowers are usually wired so they do not droop.

4. SHEAF – also known as a spray, the sheaf lies

along the forearm or hangs down from the hand.

It is formed with stems of even-length flowers

bound together with ribbon or leaves such as

flax.

5. HAND TIED – these bouquets look "just

picked". The stems are visible and the flowers are

unwired to appear the most natural.

BUT always heed the advice of your professional

florist who will discuss the best flowers for

your preferred shape of bouquet and provide

numerous floral ideas for your bridal party as

well as eye-catching arrangements for decorating

your cake, tables, venues and vehicles.

BRIDAL BOUQUETS

A beautiful bridal bouquet is a visual work of art, but

fittingly the French word "bouquet" not only means a

bunch of flowers, but is also the word for fragrance.

As one of the most exquisite wedding day accessories, a bouquets

colours and style should always complement your gown and the season

of the wedding.

Historically bridal bouquets featured fragrant herbs and wild flowers

before becoming more formally arranged with special blooms. The

Victorians attributed special meanings to particular flower varieties

such as love, faithfulness and purity, but top of the list then and now,

are roses.

Beautiful Flowers for

Beautiful People

The Crossing Building, Level 1, Lichfield Street

Christchurch Central / 03 348 4103

bourbonrose.co.nz
---
38 With This Ring

AMOUNTS

Accounts

& Discounts

Weddings are expensive, but you can trim the expense

without forgoing style and use a bit of cost-saving savvy

so you don't overspend and finish up in debt to start your

married life.

Accounts

Set up a special high-interest savings account as soon as you have set

the date. Have regular salary deductions paid into it. Pay deposits

from the account to secure your venue well in advance and then make

payments for other services and products as you confirm them. Avoid

credit card purchases but if you do "put it on the plastic" pay the bill

on time and don't incur any late payment penalties.

Discounts

Can save you hundreds of dollars if you use some financial and

negotiation skills; buy in bulk, sale or return, end of season sales,

customer loyalty rewards and discounts for cash.

SO…..

• Shop around for everything – you'll be amazed at the variation

in price

• Use the same location for ceremony and reception – it saves extra

transport costs

• Marry any day but Saturday – it's cheaper and you'll get the venue

you want

• Have an off-season wedding – it's fun and far less expensive

• Reduce the number in the wedding party – saves on wedding attire

expense

• Trim the guest list as much as you can, then trim it again!

• Buy your own wholesale beverages with return option

• Cocktail style and finger food is less costly than buffets or banquets

• Use a single layer wedding cake as your dessert, decorate with fresh

flowers

• Dispense with expensive and unnecessary wedding "favours"

• Serve jugs of water not bottles

• Make, borrow or hire anything if it helps your budget

• Use an iPod playlist for reception music

• Use the skills and expertise of family and friends

• Enjoy a current wedding style that is "small, chic and classy"

• Avoid expensive hen/buck celebrations – keep it simple

• Honeymoon in NZ or look for all-inclusive packages overseas

• Invite guests to contribute to a money wishing well rather than to gifts

• Don't arrange a lavish wedding that will put you in debt

Amounts

With a regular savings plan your estimated wedding

budget will become apparent. You can then allocate

the percentage of the budget you have available for

each category of the wedding costs:

RECEPTION 35%

FLOWERS 5%

CLOTHING 20%

STATIONERY 5%

PHOTOGRAPHY 15%

GIFTS 5%

CEREMONY RINGS

& LICENCE 7.5%

TRANSPORT 3%

MISC COSTS 4.5%

Rather than over-spend, look for ways to "cut

according to your cloth" as the old saying goes. It

means be realistic, find ways to stretch your budget

and be prepared to compromise on some of your

plans if they don't justify the cost.

Avoid

credit card

purchases but if

you do "put it on the

plastic" pay the bill on

time and don't incur

any late payment

penalties.
---
With This Ring 39

Professional

TROUBLE

SHOOTERS

If the time and stress of organising your wedding

is going to create personal panic, help is at hand

in the form of a professional wedding planner/

coordinator/trouble shooter!

Increasingly, couples are turning to experienced wedding

planners whose knowledge and contacts are often worth

their weight in gold. Sometimes over-looked or viewed as an

unnecessary expense, hiring a professional can often save you

valuable time and money.

The Total Event Coordinator

– will cover all the bases from sourcing products, places and

options, creating the theme, confirming all the details, budget

management, liaising with suppliers and celebrants, arranging

accommodation and styling the day. Many of the most successful

wedding companies offer a variety of wedding coordination

packages that take care of the tiniest details from first discussion

to honeymoon departure! The total event coordinator is

particularly indispensable if you are planning a ceremony away

from home or a destination wedding overseas.

Hiring a

professional can

often save you

valuable time

and money.

The Partial Planner

Many wedding planners offer custom-designed packages allowing

brides to choose the amount of professional help they need.

It may simply be during the final week before the wedding,

allocating a specific task or two that you can't manage yourself or

acquiring general hands-on-help on the big day. Planners often

step in to define and refine plans in the months leading up to

the wedding especially if there is disagreement or the myriad of

decisions becomes overwhelming.

A Wedding Stylist

While there are many coordinators and planners who can style

your wedding beautifully, a stylist is a specialist in creativity.

Focusing on the artistry of a picture-perfect setting, stylists will

"dress" or "stage" the venues for your ceremony and reception.

Using flowers, lighting effects, props, furniture and decorations,

every detail of your design and colour ideas comes to life.

A Wedding MC

Your MC may be a trusted family friend or a hired professional

who keeps the wedding itinerary "on song and on time". As

well as ensuring the smooth running of the reception, the MC

also acts as a toastmaster, introduces the speeches and speech

makers, controls the line-up for the buffet, conveys important

information or "housekeeping" details, gets the dancing going and

makes announcements.
---
40 With This Ring

VENUES

Unlimited

Although some of Christchurch's favourite

wedding venues disappeared after the earthquakes,

many have re-opened, re-located or

re-created amenities with much admired

individuality. Within the city and beyond there's

an impressive variety of venues to suit the style,

size and ambience of your wedding.

Vineyards & Wineries

Quiet country settings amid productive vineyards and

charming local wineries provide wonderful locations for a

wedding celebration and photo shoot. Some venues provide a

"one stop" location for the entire wedding from ceremony to

reception, and even guest accommodation too. Alternatively

you can have your ceremony elsewhere and your reception

on the estate. You will probably be expected to purchase the

vineyard's own wines, but their buying power and food/wine

knowledge make for a memorable dining occasion.

Hotels, Resorts &Event Centres

Most hotel resorts and event centres have services for weddings

to be accommodated with style and space, inside or out. Many

have dedicated wedding and event coordinators to arrange

your chosen theme, catering, entertainment and ceremony

and they often have a range of competitively priced wedding

packages to suit different budgets.

Marquees

Mobile and moveable, you can have your wedding almost

anywhere if you have a marquee. Always popular in summer,

they can also be adapted all year round to provide unique

shelter in any weather and are available in a variety of sizes.

Erected on a field, a farm, a beach, a garden, a hilltop or

at your place, marquee hire can include silk linings, tables,

chairs, dance floor, buffet, bar, lighting, sound, heaters and

decorations!

Houses

& Heritage

Christchurch's heritage buildings

have been badly damaged, so those that

remain are doubly precious and in great

demand for weddings. Check-out their

availability for your proposed date. If it's not

possible but you have always imagined your

wedding in a restored Edwardian home or

at a beautiful church, look beyond the

city to country houses, B&Bs, and

the churches of nearby rural

towns.

Church Halls & Sports Clubs

With a little imagination, almost any venue can become an appealing

place for a wedding supper, reception or dance. Halls can be

decorated, furniture hired, caterers booked and music made.

Gardens, Gazebos & DIY

For a low key alternative, especially in summer, a garden and gazebo

wedding can be charming and less expensive. Hire, buy, borrow or

make what you need for an alfresco barbecue, an afternoon picnic or a

"bring a plate" old time wedding.

Uniquely Re-Purposed

Be bold and imaginative; ultra stylish weddings seek art galleries,

cloisters, atriums, museums, arcades and theatres as wedding venues

of unique re-purpose, accoustics and ambience.
---
Your Choice for

STYLE & ELEGANCE...

The George is Christchurch's luxury

boutique hotel offering style,

elegance and personalised service.

Each of the venues and the 53 spacious

bedrooms and suites are designed with a

stylish eye for detail. The central location,

beautifully appointed facilities and tranquil

surroundings make it a sought-after

wedding and honeymoon venue. Located

opposite Hagley Park and the River Avon,

the hotel offers an exquisite setting for

your ceremony, photographs, reception and

accommodation. Your simple solution.

Wedding facilities at The George include;

Parkview, which can be configured and

decorated to accommodate 90 guests for a

sit-down dinner or high-end buffet, or 150

To look, to book or

simply to enquire about

The George for your

wedding, contact us

P: 03 371 0255,

weddings@thegeorge.com

www.thegeorge.com

guests for a cocktail themed event; and The

Residence, an adjoining heritage property

with beautiful lawns and gardens for the

ceremony and a gracious intimate dining

room for up to 18 guests.

Multi award winning, The Residence

offers privacy and elegance and is an

increasingly popular setting for those

looking for a boutique wedding experience.

Its delightful ambience is ideal for intimate

wedding parties and renewal of vows

ceremonies. It is also possible to book the

entire villa and its accommodation rooms

for your exclusive use.

The cuisine team from The George provide

a variety of menu options to suit your

individual tastes, including fully plated

two or four course dinners, buffets, or the

With This Ring

popular and innovative "trio set" of plated

entrees and desserts complemented by a

buffet or plated main course.

Having your wedding at The George

means personalised service from an

experienced team. "We take away all the

stress of organising your special day while

you enjoy every moment with your guests,"

says the hotel's wedding coordinator.

Couples are encouraged to meet at the

hotel with the wedding coordinator, to

discuss the many options available to

them. It is the ideal opportunity to view

the accommodation, the different venues

and examples of various menus and setups,

so you can create your perfect day

together. When you meet with the wedding

coordinator to discuss your special day, you

will receive a glass of Nautilus on arrival

(terms & conditions apply).

With their renowned flair, enthusiasm and

meticulous attention to detail, you can be

assured that your wedding at The George

will be chic, stylish and remarkable. The

George are hosting a wedding open day on

Sunday 29 April where you will be able to

view the venues, meet with the team, ask

questions, and check availability for your

preferred wedding date. Mark the date in

your diaries!

41

LOVE

celebrate

weddings at the george

Open Day Sunday

29 April 2018 from 11am until 4pm

50 Park Terrace

P: 03 371 0255

E: weddings@thegeorge.com

www.thegeorge.com

Come and view the venues and rooms at The George, meet our team and

talk about your plans for your wedding day.

Plus a range of our favourite wedding suppliers will be on site from cakes

to flowers, photographers to wedding planners, shoes to jewellers.
---
42 With This Ring

A-Z

of

Canterbury

Venues

With most

wedding venues

now repaired or

rebuilt following

earthquake

damage,

Canterbury can

offer plenty of

innovative and exciting

venues from A to Z.

Imaginative, original or even quirky locations are

becoming popular for wedding ceremonies and

receptions, whether you favour traditional church,

historic significance, dramatic backdrop, contemporary

style or a unique place of special appeal.

Consider the size and style you want for your wedding

and whether you will have the ceremony and reception

at two different venues or in the same place. The latter

is often chosen for appealing continuity, cost and

convenience. There's no break in the proceedings, the

ambience is not interrupted and your guests can relax

while you have the photos done.

a Ambience of a small wedding at home

b Beach at numerous options around the city or peninsula

Cruise your wedding on the water with Black Cat at Akaroa

c

d

e

f

g

h

i

j

k

l

Dedicated wedding centre at Riccarton Park or Pemberton

Event-managed at a city hotel like The George or Garden Hotel

Farm friendly at Alpaca Farm's Valley of Peace Wedding Centre

Garden setting at Taunton, Hampton Lea or the Botanic Gardens

Heritage church like St Michaels or St Augustines

Ice cool wedding at the Antarctic Centre

Jump aboard a double-decker London bus

Kiwis witness your wedding at Willowbank Wildlife Park

Luxury at Terrace Downs, or Hanmer's Select Braemar Lodge

m Marquee anywhere you want it

New owners, Dan Shanks and Jonny Schwass, at ilex Cafe

n

o

p

q

r

s

t

u

v

Old historic homes like Tangley on Clyde and Otahuna

Planes to test fly your wedding at Air force Museum of NZ

Quaint and authentic at Ferrymead Heritage Park

Restored and resplendent at Mona Vale or Knox Church

Sports clubrooms Russley, Netball Centre, Cashmere Club

Themed and theatrical at Auroroa Centre or Isaac Theatre Royal

Uniquely scenic at Church of the Good Shepherd or Mt Cook

Vineyards for wining and dining amid the vines

w Wineries in and around the city – Trents, Langdale or Waipara

eXtraordinary quarry (Halswell) or outdoor chapel (Gethsemane)

x

y

z

Yacht Club at Akaroa for indoor-outdoor maritime setting

Zoo your wedding on safari at Orana Park

dee@spitroast.com | 021 351 905

0800 333 666

SPITROAST.COM

If you're looking for delicious food at competitive

prices, Spitroast.com is the perfect option.

Our 'I do' wedding package menu includes our famous mouthwatering

meats cooked on the spit and a selection of great Kiwi

veggies, salads, and dessert favourites. Ideal for large or small

groups from 40-500 people, we have pick-up/delivery options

available or we can bring the spit and cook onsite at your

reception, serving your guests their meal with a smile. Whatever

your choices and however you roll, Spitroast.com will be a

popular, welcome addition to

your wedding party. 0800 333 666
---
J.Mc J.Mc Photography & & Cinema

j Jump aboard a double-decker London bus

k Kiwis witness your wedding at Willowbank Wildlife Park

l Luxury at Terrace Downs, or Hanmer's Select Braemar Lodge

m Marquee anywhere you want it

n New owners, Dan Shanks and Jonny Schwass, at ilex Cafe

o Old historic homes like Tangley on Clyde and Otahuna

With years of

experience in the wedding

industry, The Vines Club team

provide a genuinely warm welcome and

top-class, professional service. For extra

peace of mind, one of the crew will be on

hand throughout to take care of all the details,

so you can truly relax and enjoy your big day.

Set in a relaxed, rural environment, The Vines

Club is close to town and the airport, and has

ample onsite parking. With beautiful food

and beautiful surroundings, it really is

the perfect spot to celebrate and

create wonderful memories

to cherish forever.

J.Mc Photography & Cinema

a Ambience of a small wedding at home

b Beach at numerous options around the city or peninsula

c Cruise your wedding on the water with Black Cat at Akaroa

d Dedicated wedding centre at Riccarton Park or Pemberton

e Event-managed at a city hotel like The George or Garden Hotel

f Farm friendly at Alpaca Farm's Valley of Peace Wedding Centre

g Garden setting at Taunton, Hampton Lea or the Botanic Gardens

h Heritage church like St Michaels or St Augustines

i Ice cool wedding at the Antarctic Centre

The

With This Ring

VINES CLUB

Tucked away in spacious landscaped grounds down a

long, tree-lined driveway, The Vines Club is the ideal

place to celebrate your wedding day.

An inviting entranceway sets the scene on arrival, with a

meandering pathway leading you to spacious, well established

gardens overlooking a miniature vineyard. If you are planning

an outdoor wedding, our unique wedding dell provides a

picture perfect spot for you to exchange your vows.

The beautiful, natural surroundings also provide lots of

great photo opportunities and, as the venue opens out onto

a sheltered patio, your guests can relax, mingle and enjoy the

view while you are having your wedding photographs taken.

With room for up to 100 people, a marquee on the lawn adds

extra space and there is plenty of room for dancing the night away.

Our philosophy is "Your day, your way". We are flexible in

our approach, and with various different packages on offer, will

work together with you to create the setting and feel you want.

As well as a fabulous venue, we appreciate that good food

plays an important part in your wedding celebrations. The

Vines Club offers a range of different catering options from

delicious, traditional Kiwi food from SpitRoast.com, through

to sumptuous boutique wedding feasts by Verve Real Food

Caterers, who will prepare whatever dishes you wish to serve.

We have a fully licenced bar available and/or you can BYO if

you prefer.

43

With years of

experience in the wedding

industry, The Vines Club team

provide a genuinely warm welcome and

top-class, professional service. For extra

peace of mind, one of the crew will be on

hand throughout to take care of all the details,

" Your day,

your way."

extra space and there is plenty of ro

Our philosophy is "Your day, yo

An inviting entranceway sets the

meandering pathway leading you

gardens overlooking a miniature

an outdoor wedding, our unique

picture perfect spot for you to ex

The beautiful, natural surround

great photo opportunities and, as

a sheltered patio, your guests can

view while you are having your w

With room for up to 100 people

651 Pound Road, Christchurch

Contact: Dee Taylor

Phone: 021 914 817

info@thevinesclub.co.nz

www.thevinesclub.co.nz

VINES

Tucked away in spacious lan

long, tree-lined driveway, Th

place to celebrate your wedd

The
---
44 With This Ring

TICK LIST

What to ask your Wedding Suppliers

PHOTOGRAPHER

What style of photography do you specialise in?

May we see a folio of your work?

What prices and packages can you offer?

Are you available for our wedding date?

Are you a member of NZIPP?

How long will you attend the wedding for?

When will images from the wedding be available?

Can you provide a mix of colour and black

and white?

When do we need to confirm booking?

CAKE MAKER

What size cake do we need for our

number of guests?

Can you provide a variety of flavours?

Do you have photos of cakes you have

made/decorated?

Can we have a tasting?

What prices and packages do you offer?

When will it be delivered?

Will you provide a display stand?

When do we need to confirm and

pay a deposit?

VENUE

Is the venue available for our date?

Are you licensed for civil ceremonies?

How many guests will it accommodate?

What do your packages include?

What deposit do you require?

What is the cancellation policy?

Would we have exclusive use on the day?

Is there guest accommodation?

Is it discounted?

Do you have mandatory suppliers we must use?

CATERER

What is the cost range per head?

Do you offer menu tastings?

Do you cater for vegetarians and other

dietary requirements?

Do you provide crockery, cutlery and glassware?

Have you worked at our preferred venue before?

Do you have your own serving staff?

How many weddings do you cater in one day?

When do you require confirmation?

What is your cancellation policy?

What other catering costs are there?

Weddings with style, elegance,

beauty and atmosphere.

Facilities and catering for your Special day!

• Beautiful Banquet room complete with wine barrels,

French trellises

• The Cabernet Cottage for smaller intimate weddings

• Beautiful gardens with many special areas like

a pond to tie the knot

• Gardens lit up at night to create a great atmosphere

• Excellent dance area with party lights

• Weddings large and small (25-250 people)

• Affordable wine, beer and aother beverages

• Excellent catering and menus

• Low venue hire charges for off-peak weddings

Call 03 323 7353 or 323 9314 to make a booking

or email: bookings@rosebank.co to discuss the

arrangements with our Function Manager to make your

special day, really special.

www.rosebank.co
---
GRACIOUS CANTERBURY

Christchurch is aptly named the Garden City and

several of its public gardens and parks can be used

for weddings for free or for a modest fee.

Established grounds, well maintained plantings and seasonal

colour provide a wonderful natural backdrop for an intimate

ceremony or photo location. Some can also be used for a

garden ceremony with permission from the local councils

that administer them and sometimes a modest fee or

donation. Beyond the city there are equally delightful outdoor

venues where your ceremony can be conducted simply and

inexpensively.

CHRISTCHURCH BOTANIC GARDENS

was established beside the Avon River in 1863

and an English oak was planted to celebrate

the marriage of Prince Albert and Princess

Alexandra of Denmark. Impressive plantings

over 21 acres include 5 specific areas available

for wedding ceremonies and photographs;

Cockayne Memorial Garden; The Pinetum;

The Azalea and Magnolia Garden; the historic

Bandsmen's Memorial Garden and the

Daffodil Woodland, while the conservatory,

fernery, rock garden and water garden are

complemented by the iconic tea kiosk and new

visitor and function centre.

EDMONDS FACTORY GARDEN on Ferry Road is an oasis

of smooth lawns, bright borders, a rose garden and a lily pond

providing a variety of settings for a pretty wedding. Thomas

Edmonds, manufacturer of New Zealand's baking powder,

commissioned the gardens to be built around his factory in

1923. Depicted on the cover of the iconic Edmonds Cookery

Book, the beautifully maintained garden is now all that remains

of the famous Christchurch landmark.

ORTON BRADLEY

PARK is located on the

shores of Lyttelton Harbour

overlooking Charteris Bay,

the tree lined grounds provide

a superbly natural setting for

picnics, events and weddings.

The old schoolhouse dating

from 1876 can also be hired

and will seat 40 guests.

MONA VALE'S beautiful

established grounds are

still available for outdoor

ceremonies and photographs

on the Mound Lawn, the

Mill Stream Lawn and the

formal surrounds of the Lily

Pond. The house has recently

re-opened as a function venue

following its earthquake

repair and refurbishment.

It is now back to its elegant

best so you could have your

reception here as well.

With This Ring 45

Gardens and Parks

WOODHAM PARK is beautifully endowed with mature trees

including Daimo Oak, Trembling Poplar, Chinese Wingnut and

Slippery Elm specimen varieties. Border plantings feature hedges of

laurel and yew and herbaceous plants interspersed with hydrangeas,

camellias and an outstanding selection of rhododendrons. Add a

romantic gazebo and you have a charming Old English style venue

for photos and ceremonies.

MORE INFORMATION WWW.CCC.GOVT.CO.NZ
---
46 With This Ring

To Book

your wedding at

Terrace Downs and to enquire

about special rates for mid-week

and winter weddings visit

www.terracedownsresort.co.nz

or wedding@terracedowns.co.nz

HIGH COUNTRY

Romance

If you are looking for a truly beautiful wedding venue, then look

no further than the scenic tranquility of Terrace Downs Resort.

With indoor and outdoor spaces for your ceremony, reception

and dance as well as luxurious accommodation for the wedding

party and guests, Terrace Downs is the perfect choice for a

wedding at any time of the year.

Located in the heart of a high country, yet within an

hour's convenient drive of Christchurch and its airport,

Terrace Downs Resort features breath-taking mountain

vistas, deluxe accommodation, superb cuisine, an 18-

hole championship golf course and numerous on site

adventure activities.

A unique rustic Clubhouse overlooks panoramic

views of the golf course up to the Alps and Mt Hutt,

and offers a spacious and spectacular venue for dining,

with different space options for weddings large or small.

There are wonderful wedding photo opportunities

nearby as well as more secluded locations accessible by

helicopter or jet boat.

The warm and distinctive décor of the Clubhouse

reflects the high country surrounds making it the ideal

backdrop for indoor photography, while the open fire

creates a magical atmosphere for winter weddings.

Part of the excitement is the wedding party's

preparation: the generously sized Ladies Powder Room

in the Clubhouse is simply stunning and the perfect

place for the bride and her bridesmaids to have their

hair and make-up done while enjoying delicious snacks

and beverages.

As well as a dedicated Wedding Coordinator to

ensure everything about your special day is perfect, the

Terrace Downs food and beverage team will present a

wedding menu designed to match your theme or style,

served with flair and an attention to detail that will

ensure total enjoyment for you and your guests.

For the ultimate in guest entertainment, pre and

post wedding activities can include the fun of golf,

archery, clay pigeon shooting, horse riding and spa

treatments, with plenty more nearby. And to complete

the total experience, a range of stylish accommodation

is available for up to 110 guests, in beautifully appointed

villas or chalets with stunning views over the golf

course to the Alps. The option of booking the whole

resort is also available for that extra level of privacy and

enjoyment.
---
Romance

A VISTA FOR

AT TERRACE DOWNS RESORT

Terrace Downs Resort is the perfect setting for your special day, whether it's an intimate wedding or

lavish affair. We offer multiple ceremony sites such as The Gorge, with its dynamic scenery or the

cosy atmosphere of The 4th Hole. Indoor venues are also available for weather contingency.

Come for a site view and enjoy a complimentary lunch for the bridal couple.

Book your Summer 2018-2019* wedding before May 31st and receive our unique Powder Room

to spend the morning of your special day getting ready in, free of charge. Book a site view

through our website and quote 'unique' in the comments for this to be available to you.

*Summer, November 2018 - March 2019

Photos courtesy of Mandy Caldwell Photography (TOP ROW) & Handmade Photography (BOTTOM ROW).

Please contact our Events Team for a personalised service.

PHONE 03 318 6943 || wedding@terracedowns.co.nz

www.terracedowns.co.nz
---
48 With This Ring

TECHNOPHILE

or Technophobe?

You can't ignore technology, it is with us every day, so it

definitely has a role in planning a wedding. It can save you

time, money, mileage and aggro, it can be creative, make a

statement and involve your tech-savvy guests at the press of a

button or scroll of a screen.

But it can also be over-used, gimmicky, intrusive and make your wedding

sound impersonal and impolite. It can also exclude older or technophobic

guests who don't have the latest model, the means to access your clever

communications or find the process too complicated to participate. So a bit

of both tech and tradition is a nice touch and a wise move.

Avoid a Data Disaster

Whatever organisational methods you choose to plan and convey your

wedding arrangements remember to back up your computerised records

on discs and drives if you are a TECHNOPHILE. Losing any of it

would be a data disaster, so to be on the safe side, you can't go past the

TECHNOPHOBE'S paper trail that includes print or photocopies of

important documents and decisions.

Technophobes Love:

A diary for important dates

Books and magazines for

research

Calendar or Yearly planner

Newspaper wedding

announcements

Paper perfection for your

wedding stationery

Post or couriers to send

invitations

A guest list for RSVPs

Mood boards of design ideas

Blackboard seating plans

A Marriage licence

Pre-nup agreements

Insurance Certificates

Passports

Tickets and travel vouchers

Marriage Certificate

Maps for out-of-town guests

Guest visitor book

Photo album on display

Files for important quotes and

documents

Thank you notes

Postcards from your honeymoon

destination

Technophiles Love

A bit of both

tech and

tradition is a

nice touch and

a wise move.

Facebook, Tweet, Twitter or Text for

updating friends and status

A spreadsheet for costs and budgets

Apps to enter wedding and reception

information for guests

Pinterest forum for a zillion wedding ideas

Websites to research wedding suppliers and

services

Email to confirm quotes and bookings

Internet banking to pay deposits and bills

Paperless Post to send online invitations and

receive RSVP

Online website for gift registries

GPS directions to wedding events and venues

Digital photography on CDs and mobile

Instagram the wedding with a hashtag

Snapseed to crop, colour, frame and edit pics

Printstagram pics into posters, prints, books

& calendars

Stickygram their pics into fridge magnets for

gifts and guests

Eventstagram live feed for absent guests to

share the wedding as it happens

iPod the music selections

You Tube any wedding bloopers

Visa all the wedding/honeymoon travel

Selfie pics from their honeymoon

Language App for overseas destinations

Electronic cards to say thank you
---
CONTAINING

the Kids

Children can make or break a wedding! Don't feel

bad if you decide not to invite the children of all

friends and family. But if you do want youngsters

at your wedding, make it "child friendly" for you

and your guests by keeping them restrained and

contained with activities to keep them amused.

EXPECTATIONS: Don't be too formal or want your littlies

to be. Their attention spans can be short and a wedding is not

everyday-familiar to them, so get their photos done as quickly

as possible.

ENTERTAINMENT: Let them dance and use up some energy.

If that's unsuitable have some "kids only" moments on the

dance floor. Have a children's corner with favourite toys or

games, put on a movie in a special "kid zone" or give them

some time in the photo booth with some dress-up items.

FULL HOUSE

Guest lists can be one of the biggest wedding

nightmares. Guest list expectations are why families

fall out, couples elope and friends get offended!

Naturally you and your families want everyone to share your

happiness, but unless you have unlimited funds, you can't

invite "the world and his wife". So if you have a full house and

need to prune down your guest list, do it fairly and without guilt.

Make a potential guest list before you start planning the

wedding budget. Include those who have been the most

important influences in your lives growing up and add those

who are important parts of your lives now. They should be the

core of your guest list.

But there will also be pressures to invite your parents'

friends, ex-neighbours, work colleagues, the children of friends

and family and distant relatives! But if your budget is modest

or you simply prefer a small wedding, eliminate the following

from your guest list:

• Children (except your own!)

• Ex wives or husbands (really?)

• Single friends' new partners (too soon)

• Workmates (except for a special colleague perhaps)

• Relatives you haven't seen for a decade (too late)

• The boss, bank manager, doctor or accountant (keep a

professional distance)

Don't feel obliged to invite someone because they invited you

to their wedding, don't invite anyone you actively dislike and

don't be bullied into inviting people neither of you know!

If you absolutely can't bring yourselves to reduce the

numbers or cope with the flak, compromise; invite everyone

you want to the ceremony, serve a toast and wedding cake

afterwards to all guests, then have only your nearest and

dearest at the reception, or elope to a distant destination!

FOOD: Make sure some things on the

menu are suitable for children. Keep sugary food

and drinks under control and don't require them to sit through

several courses. If need be, feed them earlier than the adult guests.

CURFEW: Don't expect young children to last until midnight.

Have a couch or two where they can lie down or arrange a room

and a babysitter. Perhaps invite little children just for the ceremony

and nibbles or have a friend or relative take them home early.

Tie the knot & kick up your heels

49

DISTRACTIONS:

Keep the day fun with

treats and rewards, provide

food, drink and toilet stops.

Give them "activity" packs like

the airlines to avoid boredom

or join in with guest games

if you have some

arranged.

Nestled amongst five acres of beautiful rose gardens, Chateau

on the Park, a DoubleTree by Hilton is the ideal backdrop for

the big day you've been dreaming of.

With packages starting from just $2,000, our dedicated

wedding experts will take care of every detail from ceremony

to reception to ensure your wedding day is unforgettable.

182 Deans Ave, Riccarton, Christchurch 8011

christchurchdoubletree.com | 03 343 9744 | chcnz_cb@hilton.com
---
50 With This Ring

A newly popular

trend is for the

"top" table to be

located centrally

among the guests'

tables

PLeAse

Be seAteD

The bridal or "top" table is the centre of attention at the

reception. Guests want to see the happy couple and those making

speeches during the occasion, but how to seat the bridal party is

often a dilemma without offending your nearest and dearest.

The traditional seating of the bridal table used to include the bride and

groom and their parents, plus the best man and the chief bridesmaid.

However blended families and the trend to larger numbers in the bridal

party has made this arrangement more difficult.

Contemporary solutions are often to seat the newlyweds and their

attendants at the top table, while their parents each host a nearby table

of their relatives and close friends. This can still work even if one or both

sets of parents are divorced. A newly popular trend is for the "top" table

to be located centrally among the guests' tables, thus allowing them to be

more social and interactive with their guests.

Reception Guest-iquette

When deciding who should sit where and with

whom, the following guidelines are useful for

creating a seating plan that works for your

guests whether they are family, friends, single,

couples, families or different age groups.

• seat guests who already know each other together

• OR seat those together who you think will get

on well

• Don't split up couples to even the numbers per table

• Don't stick rigidly to equal numbers of males and

females per table

• The closer people are seated to the bridal table,

the more honoured

• Avoid seating divorced couples next to each other

• Create a specific seating plan for formal weddings

• For informal weddings, designate the table but

allow guests to choose their seat

• Allocate an area for families with young children

with highchairs and activities

• seat older guests together where they can hear

speeches easily

• Display your seating plan prominently

• Don't allow guests to swap seats – it upsets

numbers and ruffles feathers

• Choose the best table size and shape for

convenience and conversation

• Make sure there is adequate space for guests

to sit comfortably
---
At home, on a beach, in the middle of nowhere -

where ever it might be, we've got everything you need to create a

beautiful marquee or destination wedding.

We'll help you create a venue that's just right for you and your guests. We offer various marquee styles and

sizes, all with beautiful fitout options. We've also got all the accessories you need to add your personal touch

and bring your vision to life. From elegant glassware, crockery, cutlery and high-quality furniture to

beautiful silk liners and options for the all-important dance floor. We can also provide outdoor and location

based wedding event essentials like luxurious portable toilets, lighting and power.

continentaleventhire.co.nz

Ph 0800 252 555

Auckland • Feilding • Nelson • Blenheim • Rangiora • Christchurch • Queenstown • Dunedin
---
52 With This Ring

STYLING

Your Venue

Styling your venue should be fun! But before

you start looking at all the fine details and

decorations you need to establish the colours

you like, the level of formality you are comfortable

with and the theme you envisage, whether classic,

rustic, romantic or quirky.

If you already have the colour, formality and theme sorted, you can

decide on who and how it is all going to take shape. If you want

spectacular wow and your budget allows for it, then engaging the

services of a stylist will give you an expert eye for the detail. Their

skill and experience can create a mood or a look that brings furniture,

lighting, fabric and décor together in a way that complements the

style of the venue and the theme you desire.

It is helpful to a stylist if you meet over an inspiration board that

highlights your favourite fashion and decorator ideas and gives

them an insight into your personality and individual style. They will

certainly be full of innovative ways to bring your theme and colour

palette to life with flowers, linen, lights, tableware and accessories.

Flowers are ideal for establishing mood, colour and formality.

There are flowers to suit every taste and budget; they can decorate

aisles, tables, walls and marquees, they can be the star attraction or

a beautiful backdrop and they can be romantic, exotic, minimal,

colourful, simple or elaborate.

Fabrics can transform a room from plain to elegant

effortlessly. Draping swathes of fabric on the walls or ceilings,

around poles or over chairs is a clever disguise that swaps

functional for magical in an instant.

Table Linen is a key component of creating the

right atmosphere. Most venues provide floor length white

tablecloths and napkins that can be accessorised with your

colour theme, although usually you will have to pay extra if

the venue supplies the non-white items. Alternatively, you can

source coloured table cloths, runners and napkins yourself,

either purchased or hired.

Tableware supplied by the venue will most often

include white china, standard stemware and cutlery that can

be dishwasher-cleaned. But there are venues that provide

luxury level crystal, silverware and fine china if you wish

to pay more. Whatever you choose or afford, be sure all the

cutlery matches and the china and stemware conform to the

same design, size and shape.

Table Sizes &Shapes are also part

of styling the room depending on its dimensions and the

formality of the wedding. Round tables create intimacy,

oblong tables are good for seating a large number of guests

and long tables are ideal for a banquet-style reception.

Décor: Accessories comprise all the finishing touches

to the room and make your style visually apparent; lights,

lamps, candelabra, urns, pedestals, plants, topiaries, vases,

table decorations, bowls, baskets, bunting, signage, menus and

place cards. By all means dress up the room but be sure your ideas

won't impede the waiting staff and don't clutter the tables with so

many decorations that there is no room for plates and glasses!
---
DIPLOMACY

With This Ring

&Divvy-ing the Duties

Organising all the aspects of a wedding is difficult enough, but family dynamics

can be dynamite! The pressure on the bride and groom to meet everyone's wishes

and expectations can be immense, especially if there are blended families, divorced

parents, step relationships and new partners to consider.

53

...be gracious

and leave no

one outside

the circle.

There's no formula to successfully sorting the

situation, but avoiding potential strife, tension,

offence and disagreement is always easier if

you can talk things over before they get out of

hand. The bride and groom need to take the

lead, be firm, be diplomatic and be as inclusive

as possible when it comes to divvy-ing up the

wedding duties.

If divorced parents are on good terms, they

will want to share a happy, stress-free wedding

day and are also likely to share its expenses. If

there is tension, the bridal couple can simply ask

the various parties to put aside their differences

so that the occasion can be enjoyed on the day

and in retrospect.

Invitations usually name both sets of birth

parents as hosts of the wedding, but if there

are step parents and new partners, an agreed

compromise might have to be made – name all

of them or none of them and just provide the

names of the wedding couple!

The bride chooses who will walk her down the

aisle, gives her away and makes a speech. It can

be Dad or Mum, or both, it might be a Stepdad

or even both Dads, or a brother if it becomes

too competitive. But involve your Dad and your

Stepdad in some way to avoid them feeling

unimportant on your big day. Also ask the

partners of your divorced parent(s) to help with

something at your wedding so that they can also

feel included.

Seating can also become too associated with

family hierarchy. Disputes about who sits closest

to the bride and groom can be alleviated if the

top table accommodates just the bridal party,

while divorced parents can each host their

special guests at their own table nearby.

Make sure your wedding photos include your

birth parents together as well as with their new

partners/other children. Your wedding is your

day for sure but it is also a family milestone so

be gracious and leave no one outside the circle.
---
We make good things happen,

when you say 'I do'.

Riccarton Park have so many ways to create the wedding of your

dreams, with a lifetime of memories.

Experience the Riccarton Park difference. With beautiful parkland settings, a wide

selection of indoor venues and outdoor areas, and an experienced team of wedding

co-ordinators and caterers on hand, we can make your very special day, perfect.

We welcome enquiry, so visit our website for

lots of helpful information, and to explore

all our venues and current menu options.

Remember, these can all be tailored to

suit your individual requirements, so don't

hesitate to give us a call.

03 336 0055 www.riccartonpark.co.nz

IDEATION-RP0059
---
56 With This Ring

For further

information or to

view the venue

contact the Wedding

Team on 03 385 3132

or: functions@

gardenhotel.co.nz

Love

ON THE LAWN

"Love on the Lawn"

is the Garden Hotel's

intimate wedding venue.

Located at 110 Marshland Road, the hotel is

well known for its Garden Buffet Restaurant,

GBC (Garden Bar Café) and selection of

accommodation options. But with the

addition of facilities dedicated to wedding

ceremonies, the Garden Hotel offers a venue

that covers all the bases and is ideal for

intimate weddings of up to 60 guests.

"Wedding receptions have always been

popular at the Garden Hotel, but we are

now pleased to offer a special area that can

accommodate wedding ceremonies too," says

Margaret Wong, General Manager. "An ornate,

romantic gate opens to a private courtyard

with a manicured raised lawn surrounded by

paving, plantings and a spectacular pagoda

that was specially designed to resemble a

wedding veil".

Beyond the courtyard is an attractive

function room with full bar facilities and

comfortable amenities for a wedding

reception. The simplicity of the area means

that a bridal couple can transform it with

their own theme, personalised with flowers,

plants, chair covers, decorations and candles

and lights to make it magical.

Catering can be created according to the

couple's preferred style and taste. From dainty

canapés or cocktail finger food to a seated

banquet buffet complemented by a selection

of New Zealand wines as well as imported

wines, beers and spirits, Margaret and the

Wedding Team at the Garden Hotel can

design a menu to suit any budget.

On-site accommodation and various

accommodation packages also provide the

ideal comfort and convenience for the couple

and their wedding guests.
---
Say oo I II doo

SEE US AT THE

WEDDING SHOW

FOR EXCLUSIVE

SHOW DAY DEALS

at Garden Hotel & Restaurant's

Love on the Lawn

At the Garden Hotel & Restaurant we are

delighted to provide you with a range of

options to tailor your special day and

assist in making your day unforgettable.

For more information please contact THE WEDDING TEAM on 03 385 3132

Email: functions@gardenhotel.co.nz

110 Marshland Road, Shirley, Christchurch

www.gardenhotel.co.nz

fb.com/GardenHotelRestaurant
---
58 With This Ring

Superb

DUNEDIN

VENUES

Dunedin is one of New Zealand's iconic cities

and combines strong Scottish heritage and fine

architecture. Alongside a scenic location of

hills and harbour, the Dunedin City Council

operates some superb venues that offer unique

ambience for your wedding ceremony, civil union

or reception.

THE DUNEDIN CHINESE GARDEN is New Zealand's

only authentic Chinese Garden, the only authentic Scholar's

Garden in the Southern Hemisphere and one of only three

outside China. A perfect miniature of a traditional Chinese

landscape painting, this garden encapsulates the essence of

nature.

There are many different spots around the garden which

will provide beautiful backdrops for your wedding photos.

The traditional high garden wall encloses you and your

guests in your own private sanctuary, and the rest of the

world seems far removed.

The Dunedin Chinese Garden is a flexible venue offering a

sophisticated, memorable setting for up to 100 people.

THE DUNEDIN PUBLIC ART GALLERY is a distinctive

and elegant venue for your civil union or wedding ceremony

and reception. A team of professional, friendly and

experienced staff will work with you to put together the

right combination of spaces for you and your guests.

These can include canapés and a glass of champagne on

arrival in Donaghy's Foyer; the couple's entrance down the

Gallery's grand staircase and a dine and dance in the ODT

Gallery under the glass ceiling. The Gallery is fully licenced

and you have the option to use your own caterer if you wish.

TOITŪ OTAGO SETTLERS MUSEUM is within walking

distance of the Octagon and accommodation facilities and

is the perfect venue for your wedding reception. Offering

a combination of diverse spaces, the museum is able to

accommodate everything from small, intimate functions to

larger, lavish events.

With floor-to-ceiling glass windows overlooking Dunedin's

Heritage District, warm heart rimu floors and Oamaru and

local bluestone detailing, the expansive Josephine Foyer

is large enough to accommodate up to 500 people. The

stunning Art Deco NZR Lounge is an ideal space for drinks

and nibbles and great for small social events at any time of

the day or evening.
---
60 With This Ring

DUNEDIN'S

Peninsula Playground

Just a few kilometres from downtown Dunedin, Otago Peninsula

forms the southern boundary of the harbour. While small

settlements cluster around some of the many bays, others are

the preserve of a rare variety of protected wildlife. This largely

unspoiled environment of hills and coastline provides Dunedin

with a unique recreational, historical and ecological playground.

Best known among the attractions of the peninsula are the Royal Albatross

colony at Taiaroa Head and Larnach Castle. Taiaroa Head is home to the

only mainland colony of albatross in the world as well as a unique number

and variety of seabirds and marine life, attracted to the area by an abundant

source of food. Wildlife can be viewed on land or from a cruise on the

harbour.

Other ecological attractions are the Yellow

Eyed Penguin Conservation Reserve and

the New Zealand Marine Studies Centre

at Portobello. The reserve offers an

amazing opportunity to view the

activities of the penguins within 2m

without the birds being disturbed

and to learn about conservation.

This largely

unspoiled environment

of hills and coastline

provides Dunedin with

a unique recreational,

historical and ecological

playground.

Larnach Castle was built in 1871 by merchant,

baron and politician William Larnach. The

finest materials were sourced from all over the

world to complement its imposing grandeur and

spectacular peninsula location. A fascinating past

of drama, scandal and ghosts adds to the castle's

intriguing history. As well as a tearoom, gift

shop and a plant boutique, the modern Larnach

Lodge is set in the castle's magnificent grounds

accommodating overnight guests.

Also in 1871 George Gray Russell purchased 30

acres of land on the Otago Peninsula and built a

fine home which he named Glenfalloch. Around

the homestead he planted magnificent trees and

gardens which subsequent owners have added to.

Today Glenfalloch Woodland Garden is popular

with many visitors who can also enjoy a meal at

the homestead, or cafe and wine bar as well as

the facilities for conferences and functions.

The peninsula has also become home to many

local craftsmen; potters, spinners, weavers and

painters, many of whom combine their crafts

with homestay and farmstay opportunities

for visitors. Fishing, swimming, sailing, horse

treks, 4WD tours, rock climbing, tramping and

kayaking are all made possible by the diversity of

Otago Peninsula's hills and harbour. While easily

explored independently, visitors can also enjoy

the peninsula experience by joining a number of

small group tours that are available, taking the

Otago Peninsula Express, flightseeing or cruising.

Discover Larnach castLe

New Zealand's Castle

"THE

PERFECT

SETTNG

FOR YOUR

WEDDING"

Phone 03 476 1616 Freephone 0800 527 6224 | Email functions@larnachcastle.co.nz | www.larnachcastle.co.nz
---
DISCOVER DUNEDIN

Discover a city of quintessential

Scottish charm which has

provided New Zealand with its

first university, the only castle,

the steepest street, a city of fine

Victorian buildings and naturally,

its own Scotch whisky!

The Octagon is the civic heart of Dunedin and is

dominated by a statue of Scottish bard, Robbie

Burns who has stared benevolently over the

city for 150 years. You will also find St Paul's

Cathedral, Dunedin Public Art Gallery and the

Visitor Centre, plus various shops, cafes and a

thriving Saturday market.

Trek steeply up Stuart St to find Moana Pool

and the stately Olveston House, while a stroll

towards Otago Harbour takes you to the Railway

Station. Nowadays, the building houses the New

Zealand Sports Hall of Fame and only the Taieri

Gorge Railway departs on its scenic excursions

daily from this grand Edwardian edifice. Nearby

is the magnificently redeveloped Toitu Settlers

Museum and the Chinese Garden or you can

indulge in a Cadbury World experience or visit

Speight's Brewery which produces a fearsome

number of pints each week.

Forsyth Barr Stadium is the only covered

stadium in the country and is a fine venue for

sporting and concert events too. The university

buildings date from 1869 and the Otago Museum

is renowned for its excellent exhibitions, The

long established Botanic Gardens are beautifully

maintained, while nearby Baldwin Street rises

an impressive 200m and its steep gradient has

challenged the fit and the foolish for decades.

Dunedin has its share of superb restaurants and

cosy pubs with live music, the Fortune Theatre

produces fine professional productions and the

Casino is open late for a supper 'n' flutter. Built

during goldrush prosperity its opulent gaming

rooms are a visual treat whether you win at the

tables or not!

With

accommodation

ranging from castle

to camping, visitors to

Dunedin are well catered for

whether you stay put and get

to know Dunedin in depth or

the city is an integral part of

your southern road trip

itinerary.

With This Ring

61

There are so many romantic, beautiful wedding venues located on the

rail links. At a church, a restaurant, on a beach, in the country, or in

the Taieri River Gorge? You can even get married on a train.

We can accommodate any number of guests. You can hire a complete

train set, or a single carriage, or travel on the first class comfort of the

'Dunedin Silver Fern' railcar which seats 94. All trains are fully licensed

and have buffet nibbles. Give our Rail Journey Planner a call today.

P (03) 477-4449 • E reserve@dunedinrailways.co.nz • www.dunedinrailways.co.nz
---
62 With This Ring

Standing on

CEREMONY

Your ceremony is the heart of the wedding and the

reason for it. What, how and where you say your vows

should be the most meaningful aspect of the day whether

you choose a religious or secular marriage service.

A RELIGIOUS CEREMONY

Takes place in a house of worship according to the religious beliefs

of the couple. They may be members of the local congregation

or marrying in a different location. The ceremony is usually

structured to include traditions and customs of their faith.

AN INTERDENOMINATIONAL WEDDING

May be held in an "all faiths" chapel with the minister or celebrant

of your choice and include religious and non-religious traditions

and blessings.

A CIVIL CEREMONY

Generally takes place at a registry office, town hall or embassy. It

is non-religious, is officiated by a Registrar of Births Deaths and

Marriages, a Judge or a Justice of the Peace and includes a simple

exchange of vows with a minimum of two witnesses.

A SECULAR WEDDING

Non-religious and usually conducted by a registered marriage

celebrant. The venue may be formal or informal, indoors or out, large

or small. The couple are free to adhere to traditional formalities or

customise their wedding as informally as they wish.

SAME SEX CEREMONY

This may range from a commitment ceremony or civil union to a

wedding service depending on the law of the location where it is held.

If same sex marriage is legalised and accepted by the church the couple

may opt for a religious wedding or choose a secular ceremony.

A MILITARY WEDDING

Contains many formalities and traditions and includes the wearing of

a full dress uniform for enlisted members of the wedding party. The

couple may be married by an armed forces chaplain, or participate

in a civil ceremony, but rituals usually include a special salute from

guests who are also enlisted personnel.

Your

ceremony is

the heart of the

wedding and

the reason

for it.

A SHIPBOARD CEREMONY

These occurred more frequently when long journeys were by ship

not aeroplane, but the popularity of cruise travel has seen increased

interest in shipboard wedding. The ceremony is conducted in port by

the ship's captain, the chaplain or a celebrant who comes on board to

officiate. Most couples continue afterwards on a honeymoon cruise.

ELOPEMENTS

May be carefully planned "getaway" weddings or spontaneous

ceremonies once the couple reaches their destination. The marriage

usually takes place with few guests or none at all. In the past Gretna

Green in Scotland was popular for elopements because you could

marry at 16 there without the parental permission required in

England!

DOUBLE WEDDINGS

Are quite rare because most couples want their own celebration, but

for siblings or close friends who would be inviting many of the same

guests, a double wedding can be fun and financially sensible. Couples

can share the ceremony or have individual rituals and celebrants

followed by a shared reception.

DESTINATION WEDDINGS

These are exceptionally popular and usually include all inclusive

wedding and honeymoon packages for the couple and a holiday for

their guests. Often held in in picturesque locations in the same

country or overseas, the number of guests is usually quite small due

to cost and travel time, but allows an intimate wedding with close

family and friends.

OVERSEAS WEDDING

Held in an overseas destination, couples need to comply with all

legal requirements for marriage in that country. It may include a

period of pre-wedding residency, a civil and a religious ceremony,

extra paperwork and the services of a dedicated planner if there's a

language barrier.

PROXY WEDDING

A marriage "by proxy" is where one or both of the individuals

being united in marriage are not present at the ceremony and

are represented by another person. While this is rare, it usually

relates to situations of military service, imprisonment, travel or

Visa restrictions or when the couple lives in a jurisdiction in which

they cannot legally marry. In wartime proxy marriages are more

common and in New Zealand, marriage by proxy is only permitted

when one party is on active military service and cannot return to

New Zealand.
---
With This Ring

63

HANDY HINTS...

FOR YOUR

CEREMONY

• APPLY FOR YOUR MARRIAGE

LICENCE IN PLENTY OF TIME

• WRITE DOWN YOUR VOWS IN

CASE YOU FORGET THEM

• HAVE A BACK-UP PLAN FOR BAD

WEATHER

• DO A MUSIC SOUND CHECK

BEFORE THE BIG DAY

• CLARIFY THE VENUE'S POLICY

ON CONFETTI

• BRING PEW OR AISLE

DECORATIONS

• ENSURE YOU HAVE CANDLES,

LIGHTER AND A PEN

• HAVE READING GLASSES ON

HAND IF YOU NEED THEM

• DON'T FORGET THE RINGS

• ALWAYS HAVE A REHEARSAL

WITH THE WEDDING PARTY

A CEREMONY

of Meaning &Dignity

The main event of any wedding is the ceremony which legally

binds two people to the promises they make to one another.

Amid all the details of planning the big day, never forget

that the ceremony is more about what you say than what you

wear or what you eat!

When planning to marry, a couple should consider when and where the

ceremony will be held. The setting helps to create a special atmosphere for

their marriage vows, enhanced by the music, readings and rituals they choose

to include. Whether a wedding is religious or secular, certain ceremonial

elements are usually present and help to establish the format of the

ceremony:

CONVOCATION The gathering family and friends to witness the

ceremony

INVOCATION The actual words of the marriage ceremony

CONSECRATION A reminder of the serious intent of the ceremony

READINGS To illustrate values of special significance to the couple

VOWS The promises of a lifetime

RINGS Blessed and exchanged

PRONOUNCEMENT Recognition that the couple are now legally

husband and wife

KISS OR EMBRACE Seals the promises they have made

BENEDICTION To offer good wishes to the newly married couple

SIGNING Of the register which is a legal requirement of any wedding

You may choose to marry in a church, a hall, house or hotel, in a park, garden,

vineyard or marquee, on a boat or a beach, in a forest or on a mountain, but

if your wedding is non-religious, you will need the services of a registered

marriage celebrant to ensure the legality of the marriage.

Provided you observe the legal requirements of marriage in New Zealand,

your ceremony can be as individual as you wish. However, a wedding has

serious intent and therefore the ceremony deserves some solemnity. It can be

spiritual without being religious, but it should always be meaningful

and dignified.

The perfect venue

for both indoor and

outdoor weddings.

ILAMHOMESTEAD.CO.NZ
---
64 With This Ring

WEDDING

TRADITIONS

to Do or Ditch

Many wedding traditions are based on cultural customs or

superstitions, or are long standing. In New Zealand, due to

decades of immigration by many different cultures we have

embraced a hybrid of customs from all over the world.

Frequently they have evolved into modern versions of old traditions

and sometimes the original meaning has been lost. Today's wedding

couples may want to do the traditional things, but if not, it's ok to

ditch them and create new customs of your own.

TRADITION

Brides wear

white

It's unlucky for

the groom to see

the bride before

the ceremony

Diamonds

are the only

real wedding

jewellery

A Father gives

the Bride away

DO IT

Tradition began when

Queen Victoria wore

white for her wedding

and we have continued

it ever since

Enjoy the element of

surprise when you

meet at your wedding

ceremony

Diamonds are the

hardest stones hence

the belief that they

"last forever".

Most Dads are proud

to do this special duty

DITCH IT

Wear any colour you like from

shades of cream or subtle

pastels to bold red, gold, silver

or even dramatic black

Embrace the new trend of

"first look" photos before the

ceremony or arrive together

Sapphires are the colour of

fidelity and many coloured

stones can be just as rare and

valuable as diamonds

But you can be given away by

a brother, mother, friend, or

no-one if you prefer

Choosing a

CELEBRANT

Finding the right celebrant to conduct your wedding

is not always easy. If you are not planning a church

wedding, where the local minister will preside, you

will need to engage a registered celebrant.

But… what do they do, what will they charge, will they help

with writing vows, what are the legal requirements, will they

accommodate your wishes, can you meet them beforehand

and do you like them?

A marriage celebrant is registered by the Deptartment

of Internal Affairs Births, Deaths and Marriages to legally

conduct wedding ceremonies. To find out about those in your

area or the location where the wedding will take place, visit

www.celebranz.org.nz

Choose two or three to contact and discuss your

wedding plans with them. From their response

you will be able to decide who "fits" with your

plans best and of course who is available for

the date you have set. Expect fees of up to $500 for

their services on the day.

Most celebrants like to meet the couple two or

three times before the wedding to go through the

ceremony and the vows they will make. Often,

they will be able to suggest appropriate readings,

music or order of service if you are unsure about

some details.

Best Man

and Chief

Bridesmaid

Throwing the

bouquet

Brides change

their name after

the wedding

Are usually your

nearest, dearest and

most trusted guy and

girl respectively

It's expected by the

guests and a lighthearted

moment

Becoming "Mrs" may

be thrilling for a new

bride

Roles are no longer genderspecific.

A girl can be your

supporter in the role of

Best Man and a guy can be the

Bride's attendant if you wish

You might prefer your

bouquet to be a keepsake or

donate it to someone

Many brides choose to keep

their maiden name, especially

if it is their business profile and

inconvenient to change or explain

Creating

unforgettable

memories

Kim Woodham Jackson

Marriage Celebrant

027 319 3145 | kimwoodhamjackson5@gmail.com

www.celebrant4ceremonies.co.nz

Words With Soul

Creating Everlasting Memories

MARRIAGES • ELOPEMENTS • LGBTQI • VOW RENEWALS • ANNIVERSARIES

My genuine passion, creativity, knowledge and experience enables

me to create a partnership with my couples. I have a special interest

in Social and Cultural Diversity, Traditions and Rituals. This enables

me to encapsulate and reflect the "True Essence" of the couple

throughout their ceremony. Styled with a refreshing, fun experience

by blending both Traditional and Contemporary elements within my

ceremonies.

Delivered with a unique, candid and modern feel.

Tania Johnson Scott CELEBRANT

Certificate in Celebrant Studies Member of the Celebrants Association of New Zealand

M: 027 751 8753 E: tania@taniajohnsonscott.co.nz W: www.taniajohnsonscottcelebrant.co.nz

F: www.facebook.com/TaniaJohnsonScottCelebrant

Tricia WarWick-Naziris

Marriage Celebrant

Creating with you

a personal service

to reflect your love

021 143 9488

triciaandathawn@hotmail.com

WWW.TriciaWarWick-NaziriscelebraNT.co.Nz
---
With This Ring

65

Your Guide to

WEDDING

STATIONERY

1. CREATING AN IMPRESSION

Once you have announced you are getting married, you will begin

to plan your wedding day, one of the biggest events of your life.

The role of your invitations is to get your guests excited about the

event and the effort you put into your stationery style tells your

guests what to expect. A gorgeous invitation instead of a plain card

conveys an elegant impression and makes them want to attend.

2. AVOID A STATIONERY DISASTER

Decide whether you want to make your own invitations or

purchase your wedding stationery – it's all about the money or

the time! Making or buying a sample of your stationery design

helps you make a confident decision. Investigate the costs – you

may find DIY less economic than you expect once you have added

up all the components. Every stationer is different so ask what is

included and what is extra so that you can make a fair comparison.

3. AVOID PROCRASTINATING

Life just gets busier so get organised! Traditionally wedding

invitations are sent out 6-12 weeks in advance of the wedding.

However, out of town guests who may need to make travel and

accommodation plans, will need an earlier invitation or perhaps

a "save the date" card. Invitation designs and printing can take

several weeks, so order them so you have plenty of time to get

them to your guests.

4. CONFIRM THE GUEST LIST

Guest list expectations can become awkward and often require

compromise to keep the numbers realistic. Some brides have

a "must invite" list and a backup list of guests who receive an

invitation if another guest can't attend. Make sure you have a

comprehensive and accurate record of addresses for all your

potential guests.

5. AVOID ETIQUETTE MISTAKES

Some modern brides save time and money by using email

or social media to invite people to their wedding. But many

wedding consultants discourage the practice as "poor etiquette

and disrespectful to their guests". They accept email, Facebook or

texts for low-key events and parties, but they believe a posted or

hand-delivered invitation is a better match for the specialness of a

wedding.

6. HAVE CLEAR RSVP INFORMATION

It is recommended to have the RSVPs returned a month after

sending the invitations allowing you time to confirm numbers

with your reception venue and caterers. If your invitation also

includes guest information about transport, accommodation,

babysitters you are arranging for them, be sure to include a space

to RSVP on those as well.

7. PROOFREAD YOUR STATIONERY

Typos are so easy to miss, but any mistakes are guaranteed to

spoil the effect of your wedding invitations. Go through every

word, every line and every name to ensure there are no spelling or

grammar errors, the information is correct and makes sense, that

the font size and style is suitable and the layout is consistent. If

you are not confident to proof everything yourself, get a trusted

friend or family member with an eye for detail to help you.

8. ORDER YOUR

INVITATIONS

When you are happy with

your proofing the final version

is confirmed you will need to

order your stationery, which

may include RSVP cards, place

cards and thank you cards as

well as the invitations. Total

how many of each item you

will require as an all-in-one

purchase is usually more cost

effective. Order a minimum of

10 extra invitations just in case

and keep one as a memento.

9. ADDRESSING YOUR ENVELOPES

If you are hand-addressing your envelopes order 10% more of them

to account for smudges or errors. Alternatively you could create

some fancy labels with guest names and addresses to put on the

envelope.

10. PAYING THE POSTAGE

Envelopes with distinctive shapes and sizes are exciting to receive,

but posting them can cost more if they don't conform to standard

weight, shape, dimensions and thickness. So make up a sample

and check out the potential cost at the post office first because

you wouldn't want your beautiful invitations returned for lack of

postage.Other options include hand delivering to guests who live

locally so that you only need post those at distant locations.
---
66 With This Ring

SPEAKING

with Confidence

Wedding speeches are meant to convey good wishes to the

bridal couple and good manners to the parents and the

guests. A fluent, audible and entertaining speech is always

appreciated, but an inappropriate one can spoil the event

and give offence long after the celebration is over.

Don't freak if you have to speak! If the

wedding is formal, simply provide a

formal toast to the Bride and Groom

and some gracious comments about the

couple's lifestyle relationship and future

together. Further toasts and replies to

parents, bridesmaids and absent friends

may follow.

A good speech is all about preparation,

so speak clearly, be sincere and natural,

keep it short, practise beforehand,

have prompt cards if you wish, make

eye contact with the guests, propose

A good speech

is all about

preparation..

the toasts properly, pronounce names

accurately and use humour carefully.

If the wedding is informal, there is

scope for introducing more creative

speech making that involves interaction

between the wedding party and their

guests. With technology you can prepare

your speech as a documentary about

the couple. Introduce a weddingthemed

quiz with rounds of questions

throughout the reception. Put your

speech to music or write it as a poem or

a rap with a chorus from the guests.

Care to

DANCE?

If there's going to be music at

your wedding, then as the hosts

you'll be expected to dance!

Instead of an embarrassing

shuffle round the floor, why not

approach your first dance as a

couple with confidence?

Dancing has become popular again and

there is plenty of dance tuition available,

both private of in a class. Many dance

studios offer special lessons for the bride

and groom or even the entire wedding

party.

Most dance tutors can help a novice

with some simple steps for a first

wedding dance, or choreograph a special

routine for you to perform at your

wedding if you wish. Beyond a one-off

brush up of basic moves, you could

throw yourself into dancing as a new

activity for fun and fitness together!

DJ

Chick

Great receptions don't happen by chance...

Christchurch's elite professional mobile disco.

Providing high quality, tasteful entertainment for

wedding receptions for over 20 years, with the

experience and the skill to create something

special just for you.

Therese Mitchell

(a.k.a DJ Azure)

Ph: 349 2501

Mob: 021 216 2610

www.djchick.co.nz

djchick@djchick.co.nz
---
VERVE

With This Ring

Real Food

67

CATERING

We all know that along with the venue and your

dress, the food you serve plays such a special part in

your wedding day.

From traditional

venues and marquees,

to wool sheds and beachside

settings, we work our culinary magic

in all sorts of wonderful locations. We

partner with a huge number of wedding

destinations and venues, and we also have

a fully mobile commercial kitchen, which

means we can treat your guests to

delicious, real food wherever you

are celebrating.

Real food, wherever you want it

From traditional venues and marquees, to wool sheds and beachside

settings, we work our culinary magic in all sorts of wonderful

locations. We partner with a huge number of wedding destinations

and venues, and we also have a fully mobile commercial kitchen, which

means we can treat your guests to delicious, real food wherever you

are celebrating. We also pride ourselves on providing exceptionally

high levels of service so that your wedding feast is sure to be a truly

memorable part of your celebrations.

If this all sounds like a fairytale, please do visit our website,

www.vervecatering.co.nz to see testimonials from our very happy

customers. Please note, we are a boutique catering company and our

diary fills particularly quickly in the wedding season. We have chosen

to remain small so that you receive the first class service personal you

deserve. This exclusivity means that you do need to book us promptly if

you want your guests to enjoy the Verve Real Food experience on your

wedding day.

You'll enjoy real food prepared with flair and the freshest of

local seasonal ingredients when you choose Verve Real Food

Catering to look after you on your special day. Our talented

team cook everything from scratch and are well known for

being flexible when it comes to menu design. We can make

recommendations from our extensive repertoire to create

exactly the menu you want and are more than happy to

incorporate your favourite dishes, make your favourite family

recipes and, if you've caught your own crayfish or venison for

example, can even use your own special ingredients.

We are real foodies and true romantics at Verve, and will be

flexible not only with your menu, but can also work within

your budget to give you the wedding feast your heart desires.

And what's more, we can cook for you and your guests, pretty

much anywhere.

"The food was delicious,

the service was faultless

and they were such a lovely team of people.

Our guests raved about the food.

We honestly could not have asked for

anything more."

Mr & Mrs Jones, wedding breakfast,

January 2018

Real food,

freshly made,

served with love.

Whatever you want,

wherever you want it.

Fresh and exquisite...

a real food experience.

Contact: Nicky Geddes,

03 374 6662, 021 709 220

info@vervecatering.co.nz

www.vervecatering.co.nz
---
68 With This Ring

SWEETInspiration

There is some sweet new inspiration and innovation in wedding

cakes! You no longer have to have a rich traditional fruitcake

unless you want one, but with the trend to having your wedding

cake as a dessert, style, taste and flavour take precedence and you

can let your sweet imagination run wild.

RED VELVET

CAKE

MUD CAKE

MADEIRA

CAKE

MARBLE CAKE

FRUIT CAKE

CHEESECAKE

CROQUEM-

BOUCHE

MACARONS

CUPCAKES

TORTE

BLACK FOREST

CAKE

SPICED APPLE

CAKE

A decadent scarlet-coloured sponge beneath dark

chocolate icing or white cream cheese fondant. Serve it

spectacularly with berries.

A dense very moist chocolate cake that keeps well and

cuts without crumbling. Its richness means only small

slices are required offset with fresh fruit.

A light sponge which can be flavoured to your taste;

lemon, orange, coffee, chocolate, banana or a different

flavour for each tier of the cake.

A sponge cake with layered swirls of vanilla, chocolate

and strawberry to create a marbled effect.

Traditional celebration cake with dried fruits, nuts and

spices. Sometimes chosen for one tier to have with coffee

or kept as for the 1st anniversary or birth of the 1st child.

Custard-like dessert cake made with cream cheese over

a biscuit base. Rich creaminess can be offset with citrus

zest, mango, apricots or berries.

Tower of individual profiteroles filled with cream and

drizzled with toffee. Can be served with fruit and ice

cream or alongside end-of-meal coffee.

Two soft-coloured almond-based biscuits sandwiched

with ganache or buttercream. Can be served as finger

food or to top a sundae.

Small individually baked cakes in a variety of

flavours and elaborately decorated with coloured icing

A dense sponge made with eggs, sugar, and

flavoured with fruit syrup or liqueurs. Best

served warm with crème fraiche, yoghurt

or a tart ice cream.

A chocolate sponge layered alternately

with cherries and cream, or raspberries if preferred.

A moist baked sponge layered with apple slices and

cinnamon, served warm with cream and caramel sauce.

There are

many exciting

ways to make

your cake a

statement!

TOP it off

Stylish cake toppers are a sweet way

to finish off your beautiful wedding

cake.

Traditionally, plaster figurines of a bride

and groom were popular and symbolised

their future life together. But with the

artistry of modern cake decorators, there

are many exciting ways to make your cake a

statement!

Cake decorators can handcraft amazing

individual toppers or you can find a

selection of ready-made toppers from cake

shops, stationery stores and bridaldécor

outlets. Some toppers are

made from edible substances

like modelling fondant and

chocolate, some are painted

onto non-edible materials such

as Styrofoam and plastic. Your

choice of edible or non-edible

depends on whether you wish

to retain your topper as a

keepsake.

Toppers are often designed

to complement the chosen

wedding colours and themes,

but popular trends for cake

toppers include symbols

such as hearts, stars,

rainbows, bunting and

doves; replica flowers,

fruit and foliage;

flags, figures and

animals; names,

letters, monograms

and quotes; or laser

cut shapes, jewellery

and even sparklers!
---
Win your

Wedding

with

Book your catering with Continental at any of our venues

or the venue of your choice before 31st August 2018 and

you will be in the draw to win a Continental Food and

Beverage Package to the Value of $10,000. (T&C'S apply)

Venues

- Mona Vale - The Great Hall - Christchurch Art Gallery

- Lacebark - Harpers Homestead - The Christchurch Gondola

- Omarino Wine Park - Isaac Theatre Royal

- Waipuna Estate - Your Place or a Marquee

Continental's Annual Win your Wedding Competition.

enquiries@continental.co.nz

or Ph 0800 426 684

# trustedcaterer
---
70 With This Ring

Your Signature

WEDDING

COCKTAIL

For couples on a budget, or couples who want a

special drink for themselves or their wedding party,

serving a signature cocktail can be a smart move and

a romantic one. Even the simplest of ingredients can

look spectacular once shaken, stirred, poured and

garnished. But for your special cocktail to be totally

memorable, make it taste FRESH, put it in a classy

glass to look FABULOUS and then give it a fancy

name for FUN!

COCKTAIL RECIPE

30ml vodka

50ml limoncello liqueur

1 scoop of lemon sorbet

1 scoop of vanilla ice-cream

300ml of sparkling white wine

MOCKTAIL VERSION

30ml lemonade

50ml lemon syrup

1 scoop of lemon sorbet

1 scoop of vanilla ice-cream

300ml sparkling white grape juice

BOMBONIERES

Bombonieres is an Italian word meaning

"sweet favours" that were given to guests

at Italian and also at Greek wedidngs.

Traditionally wrapped in a lace doily, these

bomboniere were five sugared almonds

representing health, wealth, happiness,

fertility and good luck.

Today, "bomboniere" has come to mean any gift that

the bride and groom give to their guests to thank them

for their presents and presence at the wedding. Sugared

almonds are still popular at receptions, but other

edible options now include chocolates, biscuits, jams,

chutneys, preserves and fudge or small bottles of wine

with personalised labels.

Modern couples have also expanded the idea into a

range of merchandised favours including personalised

soaps, pens, photo frames, pot plants, packets of seeds,

tins of tea or coffee beans, candles, bottle openers,

fridge magnets, keyrings, engraved glassware, mugs, golf

balls and coasters!

Giving favours is a nice tradition, but be careful that

the cost of these commercial items does not blow your

budget, otherwise get creative and give something

simple and inexpensive – like sugared almonds maybe!

METHOD

Pour all the ingredients into a large blender.

Blend until evenly mixed and smooth.

Pour into a champagne glass.

Garnish with a slice of fresh lemon.

NAME IT

Cool, white and elegant with the pure taste of

lemon. Celebrate a beautiful bride or "Bella Sposa"

in a glass.
---
Be specific with

your caterer

about timing,

set-ups and

service

Best Advice from

With This Ring 71

A CATERING

PROFESSIONAL

Your wedding day has been months in the making, so don't

let the stress of planning the catering overwhelm you or

underwhelm your guests! So here are a few tips from a

catering professional that make perfect sense.

• Organise a tasting with your caterer to sample food options before

you decide on the menu

• If your reception is in a restaurant, book in for a meal beforehand to

check food and service

• Be specific with your caterer about timing, set-ups and service

• Be guided by the fact that "fresh is best" and "local" is easiest to source

• Discuss dietary requirements early to give your caterer time to design

the menu accordingly

• Trust your caterer to provide menu options that cover all the major

food groups

• Decide if the wedding cake will also be your dessert

• Keep cocktail food bite-sized as a pre-cursor to the main meal

• Ask your caterer for their food-wine match recommendations

• Encourage your wedding MC to liaise with catering staff so the

reception runs smoothly

Relaxed,

Rustic,

Romantic

Specialists in relaxed

rustic style weddings

for 30-250 guests

307 Larcomb Rd, Rolleston 022 425 8628 info@gtcatering.co.nz www.larcombvineyard.co
---
72 With This Ring

What to ask about

hiring a

mArquEE

A marquee literally creates a venue for your

wedding, family event or corporate function.

As a portable blank canvas, the marquee can be

decorated with silks, lighting and various tablecloth/

sash combinations, turning it into a place of style and

elegance, whether large or small. But before you decide on

a marquee, here are some questions you should ask first.

We have everything you need to

hire for your wedding.

• Marquees

• Chairs

• Tables

• Tablecloths

• Chair Covers

• Crockery

• Glassware

• Cutlery

• Dance Floors

• Chiller Trailers

and much more!

Contact us today to see how we can help you.

61 Shakespeare Road, Christchurch

P: 03 365 3339 E: events@hydeparkhire.co.nz

• What size marquee will I need for my number of

guests?

• Do I have enough space for it?

• Is the ground level?

• Can it be erected on uneven ground?

• Can the marquee be adjoined to a building?

• What will it cost?

• What does a basic hire consist of?

• What extras/packages does the supplier offer?

• How long is the hire period?

• What is the difference between a lined

and an unlined marquee?

• How much time is required to set it up?

• How soon after the wedding must it be dismantled?

• Can the marquee sides be opened in warm weather?

• Do I need a dance floor installed?

• Is lighting/heating supplied?

• Does the supplier need a power

source or bring a generator?

• What health and safety regulations

must be adhered to?

• Is a local council permit required?

• If so, who arranges it?

• What vehicular access does the supplier require?

• Is the supplier insured?

• Can a quote be provided?

• What are the payment and cancellation options?

• How long before the wedding should a marquee

be booked?
---
With This Ring

73

Something Borrowed

SOmEthINg NEW

Located

at 311 Blenheim

Rd with parking right

outside. Open 10am-5pm

weekdays & 10am-2.30pm

Saturdays. Ph 03 343 5984,

visit www.sbsn.co.nz

& like us on

Facebook

As Christchurch's leading store for

all your decoration requirements,

SBSN has an impressive selection of

products available to view for hire or

to purchase.

With all the latest décor trends and props,

you can set up your own displays in store

and experiment with your own colours and

ideas from classic to contemporary and

simple to flamboyant.

We have a vast selection of event product

for sale, including, rolls of fabric, sashes,

table décor and wedding accessories just

to name a few. Items for hire reflect the

current trends of the vintage and rustic

look including very lifelike foliage garlands

for centre pieces, festoon lighting, coloured

linen tableware including 10 m soft muslin

table runners, signage, blackboards, as well

as fabulous glassware, rustic lanterns and

stunning candelabra, for table decor.

We also have a great range of backdrops

including floral, fern and greenery walls, a

2 metre circle, 2 metre wooden freestanding

love sign and wooden posts backdrop just

to mention a few.

With free in-store consultations Lynn

and her team can offer advice based on

many years of experience, to help achieve

distinctive individuality of style for your

special occasion. You may choose to

decorate your own venue or take advantage

of the company's Venue Setting Service as

we offer a styling and setup/pack down

service.

Our motto is "You Get Dressed We'll

Dress the Rest!"

SBSN also has a comprehensive and

affordable catalogue of props for themed

functions, including back-drop displays,

furniture, palm trees, enchanted forest

trees, floral displays and children's themed

displays on the website. "We can also

provide bespoke items to fit a particular

theme," says Lynn.

You'll find everything you could possibly

need to create a bespoke theme for your

special occasion. "Wedding decorations and

ideas are naturally an important part of

the business, but we can also theme private

parties including engagements, hens' nights,

corporate functions, balls, 21sts, birthdays

and anniversary celebrations," says Lynn.

"We even have the things you haven't

thought about yet, so come in and talk to

us about what we can do for you. Don't

forget to like us on FACEBOOK and

check it regularly for in store specials too,"

suggests Lynn.

OPEN 6 DAYS A WEEK

Specialising in:

• Wedding/Event Hire

• Corporate Functions

• Styling & Set Ups

• Wedding Supplies

Mon to Fri 10am - 5pm

Sat 10am - 2.30pm

311 Blenheim Road

03 343 5984

www.sbsn.co.nz
---
74 With This Ring

ENTRANCE

or Exit

The theme, style or atmosphere of a wedding is often

reflected in the mode of transport chosen for the bride's

arrival and sometimes the couple's departure from the

reception. You might want to make your entrance or exit

in unique style, but it is wise to check out availability and

practicality when making your choice of wedding vehicle.

Classically Vintage

Vintage and classic cars can sometimes be hired from dedicated

wedding transport companies. Alternatively you can contact local

car clubs and enthusiasts who are often asked to source vehicles

and drivers among their members. You may also know someone

with a restored vehicle who would drive it for your wedding

transport.

Last Word in Luxury

Luxury vehicles like a Rolls-Royce or limo provide the bridal

couple with "once in a lifetime" grandeur. A bride's gown, train

and veil are less likely to be creased in a spacious limousine and

there are the additional facilities of bar, privacy screen, sound

systems and tinted windows for your comfort and relaxation on

the big day.

Rent a Car

Rental car and taxi companies are usually able to provide matching

vehicles as well as the services of a chauffeur for the occasion if

required. They often have a selection of decorations and ribbons

that suit the colour and theme of the wedding.

Friends & Neighbours

Your guests may own late model cars that you could use for

the wedding, or you could hire identical vehicles from a rental

car company and find reliable drivers among family, friends or

neighbours.

On the Hoof

There's something special about arriving at the wedding by horse and

carriage. Look for local listings and ensure you will have experienced

drivers and horses with a friendly, unflappable temperament.

Trains, Boats & Planes

Arriving by air or sea is a spectacular way to make a wedding

entrance. Hot air balloon, chopper, plane or launch may be

possible options, if you are prepared for the cost and logistics. But

in New Zealand there are fewer and fewer train options unless you

hold your wedding in a Heritage Park.

Cool & Creative

You may plan to be unconventional and

arrive by truck, motorbike, rickshaw

or sedan chair. Perhaps, in European

tradition, you'll walk to the wedding

so that local residents can wish you

luck!

Paying your Way

Wedding transport is generally booked

for the estimated time and number of vehicles required to take

the bridesmaids and the bride and her father to the ceremony,

the bride and groom from the ceremony to the location for

photographs and from there to the reception venue.

Arrangements other than this can usually be accommodated if

they are discussed with the company concerned and a written

estimate is provided for your additional requirements. But

whatever type of transport you choose, you will still want comfort,

punctuality and reliability.
---
With This Ring 75

DECORATE Your Wedding Car

Christchurch for your

Wedding Transport

#1in

Also available for General Charter,

Corporate functions, Childrens birthday parties etc plus

a genuine English 70 seater Double Decker bus.

Organise your guests' and

Bridal transport, in Classic

vehicles with one phone call

Christchurch

Coach

Charters

Flowers are

increasingly

used to make a

colourful and

elegant

statement.

The theme of your wedding can be

continued through to the decorations

on your wedding car. Overseas there

are dedicated wedding car decorators,

who may also be the florist or reception

stylist. In New Zealand it is usually

the wedding vehicle company who

provide decorations, although most will

accommodate your own ideas or items

of decoration.

PH: (03) 355 6159 | www.chchcoachcharters.co.nz

Traditionally ribbons are the most

popular and adorn the bonnet to

the windscreen. There may also

be rosettes or bows at the front

radiator grille, or tied to door handles

like pew decorations. Some couples like

to use bride and groom figurines or soft toys,

while overseas balloons, hearts and rings are popular motifs on

the grille and bonnet, although in some countries you will see

outrageously elaborate decorations, themes and vehicles.

Flowers are increasingly used to make a colourful and elegant

statement. Artificial flowers are preferable for decorating the

exterior of the vehicle because they are more durable, don't

lose their colour or their shape and will not stain the car's

paintwork with pollen.

Shops sell a range of decals and stickers but be careful that

choice does not mark or mar the paintwork. Also ensure that

any decorations do not impede the driver's vision or create a

distraction to other drivers. Inside the car you may like flowers

along the back-window shelf, silk covers on the seats to protect

your gown and in winter, a warm wrap.

After the wedding it is traditional for guests to decorate the

car with balloons, "just married" signs and the rattle of noisy

tin cans, designed to ward off evil spirits. More high-spirited

decorations have included wrapping the entire car in toilet

tissue or filling it completely with balloons!

But whatever you do you DON'T USE; spray paint, glue and

confetti, whipped cream or Sellotape!. But you

CAN USE:

soap, shaving cream, streamers, placards, balloons and string.

Going the Extra Mile

NZ Limousines provides

both dressed and undressed

bridal cars in Christchurch,

Queenstown and Dunedin.

Our drivers who have been

trained in bridal work, take

great pleasure in providing a

reliable, professional and fun

service for the bridal party.

Whether it be calming the

nerves of the bride or assisting

with both planned and

unplanned last minute events

we do it with a smile and

considerable pride.

Our extensive fleet enables us

to supply multiple matching

vehicles so no matter how

many you need we will be able

to help.

Wedding guests can also travel in the luxury of our 6 seater vans

Contact gerard@corporatecabs.co.nz

or phone 03 379-6162 for further details.
---
76 With This Ring

THE WISH

List

Let your guests know gift registry details when you

send your invitations. Choose nationwide stores for

the convenience of your guests and include a selection

of items with a wide price range to suit all budgets.

The Wishing Well

For couples who have already set up a home, or will be living

overseas after the wedding, money is a welcome and convenient

alternative. The Wishing Well provides an acceptable way of both

giving and receiving gifts of money and the request for money is

usually worded in the wedding invitation.

Most venues can provide a wishing well, but there are other

options that may fit suitably, creatively or quirkily with your

theme or wedding décor; a basket, a barrel or a letterbox, a

suitcase, treasure chest or phone booth, a pin board, a silver tray

or a collection plate.

Pledge a Gift

For older couples or those with well-established homes already,

the idea of receiving a pledged gift from guests has considerable

merit. It may be a gift of time (to help prepare food, flowers,

decorations or outfits for the wedding) or a gift of expertise (to

renovate or landscape the couple's home, maintain their car, fix

their computer, frame their photos, make some furniture).

Gifting to Charity

This has become increasingly popular with couples who feel they

don't need wedding presents. Instead guests are asked to give a

donation to a charity, special fund or an organisation here or

overseas.

Giving Thanks

At the reception be sure to thank guests for their contributions

in your speech but also send an individual message of thanks to

each guest for their gift and if it is money, tell them what you

have decided to do or to buy as a result of their generosity.

APPLIANCES

Washing machine

Clothes dryer

Fridge/freezer

Dishwasher

Lawnmower

BEDROOM

Sheet sets

Quilt/blankets

Duvet/cover

Pillows

Radio alarm clock

Mirror

KITCHEN

Saucepans + steamer

Electric frypan

Mixing bowls

Utensils + knife block

Chopping boards

Casseroles

Baking tins + dishes

Slow cooker

Food processor

Toaster

Kettle

Espresso machine

Blender/juicer

Sandwich press

Scales

Spice + storage jars

Plastic storage boxes

Dinner set

Cutlery

Glassware

SHED & GARDEN

Handyman tools

Power tools

Solar lights

Security lights

Garden tools

BATHROOM

Towels

Bathrobes

Bathroom scales

Electric toothbrushes

Toilet bags

OUTDOORS

Beach umbrella

Chilly bin

Picnic rug

Table and Chairs

Welcome mat

HOMEWARE

Lounge suite

Dining suite

Entertainment unit

TV/DVD player

Coffee table

Bookshelf

Mirror

Cushions

Floor rug

Wall clock

Artwork

Vases

Lamps

Photo frames

Ironing board + iron

Laundry basket

Trays

Wine rack

Table linen

Cookbooks

TRAVEL

Travel

Luggage

Digital camera

Luggage straps

Luggage labels
---
With This Ring 77

Once upon a time the wedding was the

entertainment for the guests! They ate,

drank, danced, chatted and generally

caught up on the news of family, friends

and other events. But guests at modern

weddings are often provided with various

activities to keep them amused until the

couple return from their lengthy photo

shoot between the ceremony and the

reception.

If you plan activities for your guests, look for ideas

that are inclusive, suit different age groups, break

the ice without breaking any bones and don't add

unnecessary dollars to your wedding budget.

CROQUET is a genteel game of accuracy but

requires no previous experience of the participants.

All ages can play, you won't get hot and sticky, a

croquet set is inexpensive to buy and it's easily set

up on a patch of lawn.

PROPS AND PHOTO BOOTHS are increasingly

popular, allowing guests to dress up and take

quirky pics to add to the couple's collection of

candid wedding day images. Look for inexpensive

op-shop hats, glasses, ties, jackets or themed outfits

alongside umbrella, chairs and colourful backdrops.

JIGSAW PUZZLE of a well-known destination set

up on a side table that guests can try and complete

before the wedding is over.

TREASURE HUNT – hide clues around the venue

to find your way to your table, win a bottle of

bubbly, a dance with the bride or the groom, or a

seat at the top table.

MESSAGE BOARD – set up a message board, a

guest book or a letter box for friends and family to

record special thoughts, wishes, jokes and messages

for your day and your future.

CROSSWORD – guests complete a crossword

about the bride and groom; their family history,

their childhood, their likes and dislikes. Answers

are given during the speeches with a prize for the

winner if you wish.

DANCE LESSON – teach your guests a simple

group dance they can perform for you or with you

during the reception. Make sure the steps are easy

and the music has a definite regular beat.

KARAOKE can be a mixed blessing. It's great if

someone can sing but excruciating if they can't.

It's no good if guests are shy or ill at ease with each

other, but it can be a guest bonding exercise if

someone takes the lead.

MOVIES – run those old home movies, slides or

family videos on a big screen for your guests to

reminisce or see for the first time.

NAME THE COCKTAIL – serve a delicious

signature cocktail and ask guests to name it or

design a label for it.

Look for

ideas that are

inclusive & suit

different age

groups

Mix and Mingle Quiz

Print out a sheet for every guest and let them get

busy! You can even quiz them on how well they

know each other in the speeches.

FIND A PERSON WHO… NAME:

Is wearing the same colour as you...

Whose name starts with the same letter...

Is drinking white wine...

Is wearing a hat...

Drives a Toyota...

Lives in the North Island...

Lives in the South Island...

Has come to the wedding by plane...

Is aged under 21...

Has grey hair...

Is blonde...

Can speak another language...

Wears glasses...

Has a birthday in the same month...

Owns a dog...

Is left handed...

Is wearing a tie...

Owns their own business...

Is wearing nail polish...

Looks happy...

GUEST ENTERTAINMENT
---
78 With This Ring

If time allows, venture

by flight or catamaran to

more Pacific perfection with a

day or two on the Isle des Pins or the

Loyalty Island destinations of Lifou,

Mare or Ouvea. World renowned for

their unspoiled beauty and simple

Melanesian lifestyles, these islands

are a paradise for visitors looking

for a tranquil escape from

civilisation.

VIVE la Différence

For a honeymoon destination that offers fun, flair and isn't far away, New

Caledonia is just a little bit fancy! A world of difference awaits just three

hours flying time from New Zealand; a Pacific island paradise combining

the finesse of French customs with the relaxed pace of Melanesian culture,

New Caledonia is a destination like no other.

Whether you choose the sophisticated

resorts of popular Anse Vata for your

honeymoon, an apartment or bungalow

that gives you the freedom to self-cater

with divine French foods and wine, or the

solitude of a sojourn on the near-perfect

Loyalty Islands or Isle of Pines, New

Caledonia gives you sun, sand and special

ambience. Salut!

Situated on the south west coast of the

main island of La Grande Terre, the capital

of New Caledonia is Noumea, a bustling

cosmopolitan centre originally founded by

the French in 1850. Delightful remnants

of French colonial architecture share

boulevards and pretty side streets with

modern businesses that cluster around the

Place des Cocotiers, an attractive square

shaded by superb flame trees in the heart of

the city.

Explore on foot to discover the shops and

markets, enjoy an espresso or café au lait at

a sidewalk café and the leisurely pursuit of

people watching. The patisseries are mouthwatering

and local produce in the busy

market of Port Moselle is an invitation to

pick up a picnic to savour on your balcony

of local beach.

Be tempted by the local and international

cuisine which has French flair and

Melanesian flavour. The French most often

eat their main meal at lunchtime, so the

cafés and restaurants offer varied and

affordable dishes at midday. Tourists who

discover this custom will delight in a twocourse

lunch with a glass of wine and coffee

at prices that are far less expensive than

evening dining. So look for a "Plat du Jour"

or a "Prix fixe" menu and sample the "real"

taste of New Caledonia.

Board "Le Petit Train" for a scenic circuit

between the city and the popular beaches

of Anse Vata stopping at key attractions

along the way like the Noumea Museum,

Mt Koghi, the Aquarium and the Botanic

Gardens with its colourful tropical plants

and wildlife including the cagou (or kagu),

the exotic white plumed national bird of

New Caledonia.

Anse Vata and Baie des Citrons are focal

points for beach activities with watersports

including some of the best diving in the

world, petanque, entertainment, market

stalls and the alluring chic of French

boutiques close to the island's best hotels,

casinos, marinas, clubs and restaurants.

Absorb the cultural history of New

Caledonia that encompasses the sea

voyages of the Melanesians, colonization

by the French, convict settlements, wartime

American Military Bases, the nickel

mining boom of the 1970s and the fight for

independence in the 1980s. A visit to the

Tjibaou Cultural Centre is a "don't miss"

experience of music, theatre, dance and

crafts that showcase the various cultures of

the Pacific.

But surrounded by the azure blue ocean,

be sure to indulge in some exquisite time

out. A day trip to Phare Amedee is utterly

and visually memorable. In the middle of

the ocean, Amedee Lighthouse stands on its

own tiny isle, fringed by crystal clear waters

and impossibly white sand. Laze in the sun,

snorkel or scuba to your heart's content,

feast on a sumptuous lunch and swim in

warm relaxing shallows before boarding

your vessel back to reality.
---
Dazzling honeymoon IN QUEENSTOWN

It's a year round resort that captivates its visitors

from near and far; a romantic getaway with scenery

to sigh for, wild adventures to nearly die for, a

winter wonderland to see and ski or a summer

sojourn of lakeside leisure. But for a honeymoon,

Queenstown is a destination that dazzles like your

diamonds!

Rising 800m above Lake Wakatipu, Bob's Peak has to be one

of the most romantic views in the world. Accessed by gondola,

or perhaps a champagne helicopter ride, enjoy a candlelit

meal high above the lights of Queenstown at the skyline

restaurant, which has delighted diners for decades.

The lakefront dazzles at night and is also home to some

of Queenstown's most historic attractions. Eichardt's is the

town's oldest hotel and has an atmosphere all of its own as

well as a long pedigree of refurbishments from gold rush to

contemporary plush. The TSS Earnslaw has been cruising

Lake Wakatipu since 1912 and nostalgia is all part of the "Lady

of the Lake's" allure. But if a trip on the historic steam ship is

too genteel, hop aboard the Kawarau or Shotover Jet boat for

a wet and wilder ride.

Your honeymoon may be the ideal time to enjoy one of

Queenstown's wacky adventures together. Depending on your

bravery rating, you can do anything from the fun of a luge

or Ziptrek flying fox to iconic bungy jumping, white water

rafting or the lunacy of a canyon swing.

Then again you may prefer taste adventure at Central

Otago's best wineries; Gibbston Valley, Chard Farm or

Amisfield where you can sample fine wine, fine food, fine

surroundings and fine company, of course.

The romance of the area's gold mining past is worth a trip

to Skippers Canyon where the Shotover River was once

the world's largest gold-bearing river. It squeezes through

a narrow gorge that is now the venue for a heart-stopping

9km Skippers Jet boat ride. High above the canyon, Winky's

Museum traces Skippers gold history from boom to bust

and the original miner's cottage is crammed with authentic

memorabilia, implements and relics including a stack f gold

pans for you to try your luck.

Nearby Arrowtown offers a heritage adventure among

restored pioneer cottages and picturesque shops and pubs

dating from the 1860s when the town's population reached

7000 at the peak of the gold rush. There's still gold in the

Arrow River and beside it, the Chinese's miner's village is an

authentic reconstruction of life as they knew it. Surrounded

by self-guided walking tours, bike trails and three golf courses,

Arrowtown is a treasure in its own right and its remarkable

history is well documented at the Lakes Museum.

For a romantic indulgence, book a spa treatment at one of

Queenstown's premier hotels or retreats. Discover fine dining

restaurants, enjoy wicked cocktail concoctions or experience

the quirky chill of the Icebar which gives you a taste of winter

by the glass!

When it is really winter, Coronet Peak and The Remarkables

will lure you to the slopes to ski, snowboard, toboggan or

go tubing. If it's summer you can still ride the chairlifts

or mountain bike from top to stop and Queenstown is a

heavenly hub for exploring Fiordland by road, boat or scenic

flight.

Adventure, heritage, indulgence or all three, Queenstown is

a resort for all seasons and all reasons, and what better reason

than your honeymoon?

Adventure,

heritage,

indulgence or all

three, Queenstown

is a resort for all

seasons

With This Ring 79
---
80 With This Ring

Supreme

comfort, exceptional

cuisine and guided

visits ashore to the

many stops along

the way.

THE GENTLE

Journey

A cruise seems such an exotic word, conjuring visions of sparkling

waters, dazzling sunshine and all the facilities for a luxurious

holiday with a few destinations to explore en route.

For a honeymoon you should choose the best standard of cabin you can afford

so that you have a comfort, privacy, a view and preferably a balcony too. If

you haven't ocean cruised before you will be amazed at the onboard amenities;

swimming pools, spa pools, movie theatre, casino, gymnasium, restaurants,

cafés, beauty therapy, bars, shops and lounges.

The irresistible excitement of shipboard

life is offered in a tantalising selection of

cruises starting and ending in Auckland or

"fly cruises" that take you to a departure

point overseas. You may choose to cruise the

Pacific Islands or the Queensland Coast or

go further afield if time and money permit.

As well as ocean cruising there are popular

river cruises along the some of the world's

largest waterways; the Rhine, the Seine, the

Danube, the Yangtse, the Mekong, the Nile

or the Mississippi. Their gentle journeys can

range from a few days to several weeks and

represent a new class of travel that combines

supreme comfort, exceptional cuisine and

guided visits ashore to the many stops along

the way.

But if you prefer a more private holiday

for your honeymoon, why not hire your

own houseboat on Australia's Murray River

or at Myall Lakes in New South Wales.

Luxuriously appointed like a floating

apartment with a spa pool too, you can stop

when and where you like and add a city stay

in Adelaide or Sydney too.

Then again you could visit the tropical

north and charter your own yacht from

Queensland's Airlie Beach. Either go it alone

or have a crew sail your private sailboat

through the magnificent Whitsunday

Islands. Discover secluded bays, swim and

snorkel off your own bows, enjoy fabulous

food prepared by you or your crew, moor at

the deserted pristine sands of Whitehaven

Beach or tie up at Hamilton Island for some

onshore entertainment.

So if the idea of a honeymoon cruise

tempts you, cruise down to your travel

agent and take advantage of the deals,

discounts and destinations on offer. Near

or far you'll find surprising affordability

and variety whether you island hop in the

Pacific or the Caribbean, head for Alaska or

Antarctica, river cruise the heart of Europe,

circumnavigate New Zealand or float your

own boat in Oz.
---
For further

information on these

and more honeymoon

destinations, phone the

Honeymoon Experts at House of

Travel 0800 838 747, "Proud to

be your locally owned and

operated travel

company."

The complete "flop and drop" honeymoon is

still very desirable, with couples frequently

looking for easy-to-access destinations

where the pace of life instantly reduces

to an amble. Conversely, many active

couples not wishing to take the foot off

the accelerator are craving adventure, and

cultural immersion. For those reasons Fiji

and Vietnam are the current honeymoon

destinations of choice.

Fiji is just 4 hours non-stop travel time

from Christchurch and the strength of

the New Zealand currency makes it more

affordable currently too. From Nadi airport

Destinations of Choice

With This Ring

Following the excitement of the wedding preparations, ceremony and

reception, couples often look to customise their honeymoon experience to

provide that complete break from their daily lives. And interestingly there are

contrasting preferences on what the perfect honeymoon looks like.

there are a plethora of locations awaiting awaken the senses.

your Fijian escape.

A country, with land mass not a great

Whether you choose the exclusivity deal larger than New Zealand, Vietnam

of your own beachfront bure in the

is home to over 90 million of the most

Mamanucas for your honeymoon hideaway, friendly faces you could meet anywhere.

or the luxury and variety at one of Denarau Take an overnight Junk cruise of Ha Long

Island's 5 star resorts, Fiji sets the tropical Bay, a UNESCO World Heritage site, meet

scene while you set the pace.

the Hilltribe locals when trekking in the

Another great alternative for a Fiji mountains around Sapa, try a cooking

honeymoon is a 7 night Blue Lagoon Cruise, school whilst your new clothes are being

sailing the Yasawa Islands, where the most tailored in Hoi An, crawl through the Cu

active you will be is diving over the back Chi tunnels after some target practice with

deck for a swim in the morning before an AK47, just out of Ho Chi Minh. The

breakfast. New islands to explore every day, diversity of exciting activities is endless, and

all meals included, and you unpack only once! then there are the beaches….

Vietnam is desirable as an exotic Asian If the allure of an overseas destination

honeymoon and surprisingly accessible seems beyond reach, or you would like

too. Within hours you can be amongst the to further enhance your honeymoon

throng of busy Ho Chi Minh, experiencing experience, set up a House of Travel

fresh taste sensations from street vendors Honeymoon Gift Registry and let family

and wandering the enormous Ben Thanh and friends contribute to your post-wedding

market with all its intense aromas to holiday costs – the gift you'll never forget.

81

Dreaming of the perfect

Honeymoon

destination?

Make your dreams a reality with the House of Travel Honeymoon Bridal Registry! Allow

your guests, both overseas and at home, to contribute to your honeymoon with ease.

It works in the same way as any gift registry except that your guests' gifts to you are in

the form of monetary contributions directly towards your wedding and honeymoon.

Benefits of the Honeymoon Bridal Registry are:

• FREE to set up so you will receive the entire monetary contribution

from your guests to use towards your honeymoon or travel

requirements booked with House of Travel

• Hassle free, gives you a gift you really need and helps reduce your costs

• Allows you to add activities to ensure you get the most from your

honeymoon experience

• For a minimal cost we can supply Honeymoon Bridal Registry cards

which can be sent out with your wedding invites

• Your register has no cut-off date prior to the wedding

The best holidays are created together. HOT.CO.NZ

BARRINGTON 331 7182 I CHRISTCHURCH CITY 365 7687 I FERRYMEAD 376 4022 I HIGH ST LANES 339 3440

HORNBY 344 3070 I MERIVALE 355 2200 I NORTHLANDS 352 4578 I RANGIORA 313 0288 I RICCARTON 341 3900

SHIRLEY 385 0710 I UPPER RICCARTON 343 0869
---
82 With This Ring

Don't over pack,

instead mix and

match and then

you'll have plenty

of space for gifts.

Couples in search of tranquil days and romantic nights

will know that tropical resorts and cruises are ideal for

newly-wed relaxation and stres-free holiday packing.

With sun sizzle all day and warm balmy temperatures

by evening, the dress code is usually simple.

PACKING FOR YOUR

HONEYMOON

Resort or Cruise

HOME from your Honeymoon

• Have your dress professionally

cleaned as a keepsake or to sell

• Write your "Thank You" cards

and messages without delay

• Post reviews of your suppliers

on relevant websites

• Change your name on any

necessary documents

• Update friends with your news

on social media

• Close your gift registry

• Order your wedding photos

and album

• Pay all your bills, especially

your credit card expenses

• Go shopping with any

wedding vouchers or

monetary gifts

• Host your

first "Mr

& Mrs"

dinner

for

family

and

friends

FOR HER: light floaty kaftans, pretty summer dresses that go

from daytime to dinner time; a sassy swimsuit (or two) and a

couple of gorgeous sarongs.

FOR HIM: board shorts, T-shirts, light cotton pants, polo shirts

and cool cotton shirts for evening, togs, tanks and a hat or cap for

on the beach.

Your resort room or cabin may be some distance from beach, pool

or sundeck, but even if it isn't you'll want all your stuff close at

hand:

FOR HER: a stylish tote to carry camera, sunnies, towel, book, or

beach mat.

FOR HIM: a day pack or drawstring duffel for iPod, keys, e-reader

and cap.

Stay sun smart, tan over time and make for the shade in the heat

of the day:

FOR HER: a wide-brimmed hat, big framed sunnies, cool cover

up and some high SPF.

FOR HIM: a cap with a peak, serious sunnies, slip-slop-slap and

rash top or T-shirt.

Pool sides and boat decks can become slippery, sand gets hot and

coral can cut you so don't assume you'll be footwear free:

FOR HER: bright summer sandals for beach or boat deck, reef

shoes for swimming and chic ballet flats for evening.

FOR HIM: jandals for beach, sand shoes for boats and sandals at

sundown.

The secret of savvy packing is easy care clothes, a few basic colours

then dress up your outfit with simple accessories or a splash of

colour:

FOR HER:

dress up with heels, beads and bling. Sparkle in cool

marine shades of turquoise and blue or dazzle in coral and gold to

offset your tan.

FOR HIM:

dress up crease-free in crisp shirt and dark pants.

Don't over pack, instead mix and match and then you'll have

plenty of space for the gifts and the treasures you'll want to bring

home!
---
All Inclusive

Wedding Package

NZ$4699

Offer Includes:

4 nights accommodation | Personal wedding coordinator | Wedding license processing |

Beachside fijian wedding bure venue | Church minister/celebrant | Private buffet &

3 hour beverage package for 30 people | 3 course candlelit romantic dinner |

Wedding cake (based on 1 tier) | Seasonal tropical flower arrangements |

Bouquet & button hole | Fijian warriors to escort the Bride

Why Choose Plantation Island Resort For Your Wedding?

• Stunning beach location & photo backdrop

• On-site wedding celebrants offering a one stop shop

• Easy access from the mainland & Nadi airport

• Range of wedding and accommodation packages to suit all budgets

& family sizes

• Beautician, hair, cake & florist services all available onsite

• Activities that cater to all ages so friends & family have a holiday too

• Exceptional value for money

Reservations Contact Details

Email: wsc@raffehotels.com | Call: (+679) 6722444 | Website: www.plantationisland.com
---
84 With This Ring

A REAL

Wedding in Fiji

When Shontelle and Steven Roe got married last year,

they chose Plantation Island Resort in Fiji.

After deciding to get married overseas and do something different

from their friends, the idea worked perfectly as they also wanted a

small intimate wedding. Plantation Island has an enviable variety of

exquisite locations in and around the resort and all the services on

site for a unique memorable wedding and the romance of an island

honeymoon.

Shontelle already knew Plantation Island having stayed there as

a child and also when celebrating her 21st birthday. "It seemed to

be the perfect place for us," she said. Anticipating 27 guests, the

couple booked an all-inclusive wedding package for 30 people that

incorporated all the food and drinks as well as accommodation and the

ceremony itself.

The resort also provided the services of a wedding planner who

made most of the arrangements. "Everything was done for you", said

Shontelle of her wedding day. We had breakfast at a different time to

the boys, who could go off and do what they wanted while we got our

hair and make-up done and they brought us platters of food. It was so

relaxed."

The couple's top tips for planning an island wedding are; to do the

research, know what you want and take pictures of your preferences

to show the resort; check the seasons to be sure you have the right

weather; and try to deal with one person who has all the information

so that you don't have to repeat all your requests.

Shontelle and Steven particularly liked how relaxed it was to get

married in the islands and how they could include the local culture

into the wedding. "We had fire dancers come and do a show for us. It

was amazing and everyone loved it." Their guests were also thrilled that

they could attend the wedding and all have a holiday too.

"We loved our wedding. There's nothing we would change and

we would do it all over again if we could. We even like the idea of

repeating a visit for our 10 year anniversary."
---
Plantation

Island has an

enviable variety

of exquisite

locations
---
86 With This Ring

Relaxation

is mandatory

amid the

warmth of

a tropical

climate.

VANUATU

on Show

Wing your way to Vanuatu and you will discover an

archipelago embroidered with lush tropical jungle,

extraordinary geographical features, a natural adventure

playground, outstanding resorts and restaurants, unique

customs and ancient cultures and the quirkiest language

you will ever hear! Best of all, this honeymoon destination

is barely three hours flying time from home to hideaway!

At Port Vila on the main island of Efate you will find agreeable

places to stay around the sparkling Erakor Lagoon. Whether you

choose all-inclusive resort amenities and activities, the independence

of a self-catering bungalow or the luxury of a private paradise like the

Havannah on the northern coast, relaxation is mandatory amid the

warmth of a tropical climate.

But for perfect bliss indulge in a unique volcanic spa and massage;

a volcanic ash scrub to exfoliate, a mud wrap to detox, a deep tissue

massage for your muscles and a hedonistic bathe in coconut milk to

de-stress completely.

Vanuatu offers visitors a variety of cuisines and you'll find

everything from a tempting island-style buffet to international fare.

Vanuatu was under French rule until 1980 and their legacy is alive

and well in food with flavours to savour!

Sightseeing on Efate includes Port Vila's colourful history, markets

and shops, as well as an insight into traditional village life at the

Ekasup Custom Village or the Botanic Gardens. At the stunning

Cascade Falls, walkers are rewarded with wonderful waterfalls and

rock pools for a cool freshwater swim and nature's own hydro-slide.

For a delightful day out, take the tour or ferry to the marine reserve

of Hideaway. As well as an excellent restaurant and beach bar, guests

and day trippers can hire snorkelling and diving equipment to make

the most of the spectacular marine life around the island. Get wet on

the Thunder Jet boat, book a Reef Explorer trip or board the wooden

ketch "Coongoola" to discover some of Efate's finest diving and

snorkelling sites and a turtle farm on the Island of Tranquility.

Among Efate's newer adventures is the Jungle Zipline, which

comprises a kilometre of six zip lines and suspension bridges high in

the jungle canopy, plus the more recently opened Big Zip Trek – a

seven zip 1.4km zap over a 300m canyon if you dare! Or, combine the

two with a heli tour to the Summit above Mele Bay and then come

down to earth in the soothingly tropical Summit Gardens.

Beyond Port Vila, the many outer islands allow visitors to

appreciate the distinctive geographic and cultural entities that make

up the 83 islands of Vanuatu. Among them Espiritu Santo, Tanna

and Pentecost are the best known and are accessible by Air Vanuatu

services for day trips or longer.

On Tanna, Vanuatu's "Island of Fire" fascinates visitors, who peer

into Yasur's molten heart and feel a deep rumble shudder from its

depths. At night, stand riveted by its sound and light show as embers

fall around you like glow-in-the dark confetti. Nearby, Tanna's

custom villagers shun modern comforts to live traditionally in

simple palm woven huts. Pentecost is famous for its "Land Diving"

ceremonies – forget elastic, this is the original bungy using vines and

a less than scientifically calculated tower to launch from! It's not

for tourists however, and you only get to watch this cultural rite of

passage into male adulthood.

Espiritu Santo is a diver's mecca featuring clear waters with

stunning reefs and shipwrecks from WWII, when 100,000 American

troops were based here, including Million Dollar Point and the SS

Coolidge. Hidden in Santo's tangled interior the Millenium Cave is

open-mouthed in a 15-metre yawn leading to the Vantar River and

provides an Indiana Jones experience you will never forget.

Alternatively you could be super-indulgent and stay at Bokissa

Private Island Resort. Just a 20-minute boat ride from Santo, its

"away-from-it-all" environment makes you feel there's nothing but

you surrounded by blue.

So, if you want a good holiday you belong in Vanuatu – or in

Bislama, the country's wonderfully idiomatic language… "yu wantem

sam gud holede, yu blong Vanuatu."
---
Honeymoon

in Vanuatu

SPA AND

SAILING AND

DINING AND

T R A N Q U I LI T Y

HONEYMOON HERE

WAT E R S P O R TS

R O M A N C E

In just three hours you can be carried away to a

memorable honeymoon in Vanuatu. Lay back and indulge

yourselves with amazing cuisine, sun-drenched beaches

and crystal-clear water, or get active and explore.

BOOK NOW!

REDRET017

generated at BeQRious.com

www.airvanuatu.com

PH: 09 373 3435 | airvanuatu@airvanuatu.co.nz

Like us on Facebook: /airvanuatu

© 2017 Kirkland Photos.
---
88 With This Ring

LOVE

Tokens

In the days

when your beloved picked

wildflowers to give you, or handcrafted

a gift to delight you, love tokens

were often useful items for the home you

would eventually share and could range from a

utensil to an item of furniture.

Shells appeared in a variety of 19th century

decorative objects and were popular sailor's love

tokens. Trinket boxes were fashioned out of

driftwood and then decorated with shells gathered

on their travels. Sometimes crushed shells of

various shades would be formed into a unique

pattern on the box, or the whitest shells the

sailor could find would symbolise the

purity of his bride-to-be.

REMEMBER WHEN

Wedding veils were once re-used to drape the bassinet

of your first child and the fabric of your wedding

train, underskirt or lace trimming was made into a

christening gown for the next generation. Recycling

is not a new phenomenon and the tradition began

when fine fabric was hard to come by and expensive.

New Zealand's early settlers were thrifty and

practical, turning scraps of material into rag rugs and

patchwork quilts and deconstructing existing clothing

into items for their children.

WHAT IS Old? WHAT IS New?

WHAT IS New?

The earliest surviving needlework sampler was made

in America in 1647 by a descendant of the Pilgrims. By

the 1700s it had become a popular custom to develop

needlework skills by creating cross stitch samplers of

the alphabet and numbers. Later they became a feature

of almost every home as betrothed young women

designed intricate examples incorporating names,

emblems and the date of their marriage as well as

quotes, psalms and inspirational messages on love and

marriage. In the USA and in the UK, heritage samplers

are still valuable, while the idea of making your own

wedding sampler is finding favour again.

The "Man-gagement" ring first became a trend in the USA

among celebrities. Just like HER engagement ring, his

also says "I'm spoken for" and found favour

with fiancees during a long engagement!

Designs can be as simple or elaborate

as you wish but is usually distinctly

masculine in style while

often incorporating

diamonds, onyx or

engraving into the

gold, platinum or

titanium metal.
---
New Age STAG PARTIES

Guess what guys – dodgy pub

crawls, tacky strip clubs and stupid

stunts are all old hat. The new

age bachelor party is all about

awesome activities with your real

mates and enjoying some good fun

with a bit of class and maturity.

Some modern bachelor parties

even invite the bride and her

bachelorettes along too!

Craft beer has come of age, so why not

choose a tasting at a local craft brewery or

outlet with some good food too. Breweries

often offer great "dude food" matched

with a pint of your favourite cold beer.

Test your nerve with a big ticket activity

like sky diving or a tandem sky dive.

Maybe give it a go on a flight simulator

or race track or take your friends to an

escape room experience at Escape Artists

and test your ability to solve puzzles and

crack codes as a team!

Enjoy a local gig or music festival,

book tickets for a show, a favourite

international artist on tour or a comedy

club evening. Spend a day at the races

in town or out in the country or enjoy

yourselves at a sporting spectacle like Big

Bash, ODI or rugby sevens.

Get away from it all on a traditional

fishing, camping or road trip, or book

a bach by the beach, hire a jet ski, learn

to sail or have a surf lesson or try a new

activity like paddle boarding.

Challenge your sidekicks to golf, a car

rally, an "Amazing Race", a poker evening

or a mini Olympics with quirky activities,

sports and challenges. BUT whatever you

decide to do, make it fun, play it safe, be

sure it is legal and take some photos to

look back on later!

With This Ring 89

Afternoon

DELIGHT

A sugar-licious bridal shower tea party is in

vogue, romantic, elegant and easy on the bank

balance, so what's not to like for your girly

guests of all ages?

Picture a range of beautiful teas, served in beautiful fine

china cups, with dainty finger food displayed on tiered

cake plates and delicate platters.

Tea foods won't break the budget and you can prepare

many of the selections yourselves – remember New

Zealand has a long tradition of "bringing a plate" so it's

perfectly acceptable to continue the custom.

You will want to feature light, delicate sandwiches

with dainty fillings and crusts removed, little vol au vent

cases oozing with savoury flavour, cute little quiches and

tasty bites on sticks or in tiny cones and perhaps some

international finger foods like mini samosas, sushi or

arancini balls.

Follow up the savoury with sweet treats – cookies,

cakes, featherlight biscuits, chocolate-dipped

strawberries, iced muffins, buttered loaves, sugared

almonds, praline, fudge and handmade chocolates.

Compliment your beautiful edibles with a menu of

fragrant teas; traditional, Earl Grey, herbal, and fruit

flavours, served hot or ice cold. Make them by the cup, in

a chilled glass or in a silver teapot. Go fancy with sugar

cubes and tongs, petite milk jugs and silver spoons.

Use beautiful table linen that is genuinely vintage or

evokes the elegance of the past, tie napkins with pretty

ribbon and decorate the table with posies of tea roses.

Best of all you can have your tea party at the traditional

time of 4pm, make it a morning event, or serve it as a

light and languid ladies lunch to sit over and savour well

into the afternoon!
---
90 With This Ring

WEDDING SHOWS

& EXPOS

Wedding shows and expos have become ideal

"one stop" events to provide information,

advice and inspiration for couples planning a

wedding.

Offering comprehensive information on wedding attire,

flowers, jewellery, cars, venues, caterers, wining and

dining, chapels, celebrants, locations, photographers,

music, honeymoons and gifts, wedding shows and expos

are an "A to Z" resource where you can browse at your

leisure, gather useful information and consult suppliers

about their products and services.

You can also discuss your ideas in person with

experienced wedding planners who can offer a variety

of solutions and options you may not have considered.

Shows are also an opportunity to compare the prices

of different suppliers, see the latest styles and trends

and try your luck in many of the competitions and

giveaways that are often part of each show.

Held in many main centres and provincial towns

throughout New Zealand, wedding shows are the ideal

way for wedding service providers and customers to

"find each another". Look out for the next wedding

show in your area and plan your perfect wedding.

Insurance

SAVES

THE DAY

You've heard the horror stories of things

going wrong at weddings – gowns not

arriving, rings being stolen, hotels being

flooded, reception venues double booked,

photographers becoming ill – yet many

couples never give a thought to protecting

one of their biggest expenses!

Wedding insurance provides cover in case a prebooked

wedding service is faulty or unable to be

supplied before or on your big day. It may seem

unromantic but it can offer genuine peace of mind

when thousands of dollars are at stake for the

event.

Before searching for the best wedding insurance,

check first to see if your car or contents insurance

company has a relevant policy that is available

to you as an existing customer and possibly

discounted for your loyalty.

Most wedding insurance policies cover supplier's

products and services from the date of your

deposit and include your wedding dress and your

venue, both of which comprise the largest portion

of your wedding costs.

Inclusions may involve cancelled venue, stolen

rings, non delivery of flowers or cake, liquidation

of suppliers, photographer's equipment failure,

breakdown of transport, personal accidents, death

or illness of a family member causing wedding

cancellation and possible liability of damage to a

venue.

However, you are not usually covered for a

situation you have control over, like changing

your mind or cancelling a service or product you

can't afford. They can also refuse cover if you

haven't "minimised risk" such

as rings being stolen from an

unlocked car or leaving gifts in an

unsecured location.

When trying to budget for all

the components of your big day,

you may view wedding insurance

as an unnecessary cost. But, like

travel insurance, it's a small

price to pay if something does

go wrong, and far cheaper than

trying to replace or re-book at

your own expense.
---
92 With This Ring

amaZing

Days

amazing Days, based in Hanmer Springs,

is owned by Debbs moody, who has over

12 years of experience working with happy

couples in Hanmer Springs.

amazing Days has huge knowledge of all aspects of

preparing for your wedding, from venues in Hanmer

Springs and the Hurunui District, to local make-up

artists and hairdressers.

Hanmer Springs is a popular destination for couples

who are looking to celebrate their wedding

for more than just one day with their

family and friends. The large range of

options from camp grounds, boutique

properties and private homes

includes The Heritage Hotel,

offering pure elegance for your

formal wedding with the option

of having your ceremony within

their 9.5 acres of lush gardens.

Heritage Hotel, the historic

hotel situated in the centre of

Hanmer Springs, offers either the

ballroom or the large restaurant for

weddings.also in Hanmer Springs

there is Waiau river estate, Hanmer

Springs retreat, Select Braemar Lodge and

several more casual options. new to the town is the

beautiful percival Homestead, which is beautiful for a

garden ceremony and offers a grassed tennis court for

a marquee wedding. Debbs works with all the venues

and is very passionate about the Heritage Hotel after

working there for 8 years.

Debbs moody is also a registered marriage Celebrant

and works with her couples to create the ceremony

they are looking for. No question about weddings is

too big for amazing Days. amazing Days also has a

selection of centre-pieces for hire and by working with

Amazing Days you can be sure they will help you find

your ideal wedding venue and help create the perfect

ceremony.

Hanmer Springs has such uniquely stunning venues

that there is bound to be something for everyone.

But no trip to this beautiful alpine village is complete

without a visit to Hanmer Springs Thermal Pools and

Spa or the new artisan Spa which

specialises in pampering and

preparing couples for their

big day.
---
With This Ring

93

HeriTage

Hanmer

SpringS

For

Exquisite

Weddings

Transform your day into something truly

spectacular at the Heritage Hanmer

Springs, with majestic mountain views and

immaculate gardens providing an amazing

backdrop for your ceremony.

This romantic landmark venue has been completely

restored to complement an alpine village experience

for guests. While you are just 90 minutes from the

heart of Christchurch, you're a world away from the

ordinary, in a stunning alpine retreat that will enchant

you and your guests.

The Heritage Hanmer Springs team can take the

stress away by arranging all the details for your special

day – from tailor-made menus to pampering massages.

There's a range of venue options – a fabulous ballroom

complete with open fireplace, or a stylish charming

and unforgettable lawn wedding in the picturesque

gazebo. Walk amongst beautiful gardens for fabulous

photographs and enjoy a complimentary honeymoon

suite on your wedding night with complimentary

bottle of bubbles (conditions apply).

Heritage Hanmer Springs offers elegance, a

spectacular location, and personalised service –

making it a year-round wedding destination like

no other.
---
94 With This Ring

Contact us

on 0800 315 000,

stay@hsretreat.co.nz

or visit us at

www.hsretreat.co.nz

We have options

to suit all!

Hanmer Springs

RETREAT

Located in the panoramic alpine setting of

Hanmer Springs, the resort offers on-site

accommodation and catering options to suit all.

At Hanmer Springs Retreat, your wedding reception can

be held in the rustic atmosphere of the dining room or set

up within the privacy of the conference centre. The resort's

Wedding Portfolio sets out a selection of menus and useful

guidelines to help you plan the ideal day for you and your

guests.

Get ready for the wedding in hassle-free space and enjoy

a relaxed day with everything arranged at one venue. Join

your guests for a post-wedding brunch the next day or stay

on for a honeymoon in Hanmer Springs.

The facilities are idyllic for a wedding reception. The

hotel garden and function rooms look out over the Amuri

Ranges, offering a lovely ambience. With all the comfort

of home and the atmosphere of your local, at Five Stags

Restaurant Hanmer Springs, you can enjoy high quality

food and a menu tailored to match the drinks along with it.

With 33 well appointed rooms ranging from studio rooms

to three-bedroom units, you and your guests will appreciate

warm comfortable accommodation at Hanmer Springs

Retreat. It is fully equipped with guest laundry along with

dryer or clothes lines, a BBQ area – where guests can relax,

cook their own meals and enjoy the views from a sheltered

outdoor dining area.
---
96 With This Ring

SELEct BRAEMAR LODGE & SpA

DREAM WEDDING

Dream Location

Select Braemar Lodge and Spa has always been

renowned for refinement and exclusivity, so a

wedding there is sure to be in a class of its own.

Offering elegant surroundings and dedicated experienced

staff to take care of the smallest details, Select Braemar

Lodge and Spa can give you a dream wedding in a dream

location.

Nestled within the hills overlooking the Hanmer Valley

and facing the majestic peaks of the Southern Alps, Select

Braemar Lodge and Spa has captured one of Hanmer's most

remarkable settings. Amid snow-capped winter splendour or

basking in the rich colours of summer, Select Braemar Lodge

is like nature's stage set for your special day.

Make your vows on the picture-perfect landscaped

terrace or within the ambience of a log-fired lounge, share

champagne and canapés with your guests, be photographed

in stunning surroundings and then enjoy an exquisitely

prepared meal, wines and your wedding cake. A divine

selection of menus and catering styles ensures your wedding

reception is tailored to your needs and tastes.

You will have exclusive use of the lodge's public rooms

for your reception and special rates can be arranged for

those attending the wedding. But for the most memorable

wedding of all, you can enjoy the exclusive use of the entire

lodge!

There's no better place to be. Everything can be arranged

by Braemar's wedding coordinator; flowers, photography,

celebrant, ceremony set up, decorations, venue, menu and

luxurious accommodation too. You can simply concentrate

on spending time with your in-house guests, pampering

yourself with spa treatments to look your loveliest and

celebrating your marriage with style and sophistication.

While Hanmer Springs is a magical destination all year

round, you could have your dream wedding in a winter

wonderland! Select Braemar Lodge and Spa offer fantastic

all inclusive winter weddings between May and September.

Imagine your day starting with snow sparkling on the

mountains, dazzling you with clear blue skies and winter

sunshine and ending with the romance of a sugar pink

sunset.

Then, when all the guests have gone, you can truly relax in

Braemar's wonderful Bridal Suite and enjoy a honeymoon

destination with as much or as little to do as you wish.

Select Braemar Lodge and Spa welcomes wedding

enquiries and looks forward to arranging a preliminary

visit for you to discuss your ideas, sample the food

of the Altitude Restaurant and Bar and savour the

special surroundings of one of New Zealand's

most beautiful international properties.
---
Dream Weddings, Dream Location

All inclusive packages

• 24 Suites for the night of the wedding

• Including the Braemar Honeymoon Suite

• Exclusive use of The Lodge for up to 48 guests

Prices from $10,995

• Celebrant & Cake from Divine Desserts

• Canapés and bubbles after the ceremony

• 3 course set menu

Conditions apply

Call us on 03 315 7555

or visit our website for further information

www.selectbraemarlodge.com
---
98 With This Ring

HAPPILY EVER AFTER

in Hanmer Springs

Paul Flanagan's a romantic at

heart and he chose the perfect

spot to ask his now-wife, Anna,

to marry him – on a boardwalk

over a lake in the picturesque

alpine village of Hanmer Springs.

"It was perfect," says Anna. So, when

it came time to tie the knot, the

Christchurch couple headed back to

Hanmer Springs to look for venues.

"We'd looked at a lot – and I mean a

lot – of venues around Christchurch

but nothing seemed right. As soon as

we arrived in Hanmer Springs to look

around, we relaxed and immediately

knew it had to be there."

Just over a year later, Anna and Paul

said "I do" under the gazebo at the

Heritage Hanmer Springs.

"It was an absolutely stunning day

with a glorious blue sky. Being close to

Christchurch meant that most of our

friends and family were able to come.

And, because so many of us were away

for the weekend, everyone was relaxed

and in no rush at all."

On the morning of the wedding, Anna

and Paul managed to sneak an hour to

themselves so they headed back to the

boardwalk and gave each other a gift.

"That was such a lovely way to start

the day," says Anna. "From there, the

boys headed off to one holiday home

and the girls stayed at another to get

ready."

Together Anna and Paul have six

children from previous marriages so

they wanted to allow plenty of time for

photos.

"We decided to take some before the

ceremony. We did capture the 'first

look' when Paul saw me. It was a really

lovely moment and, of course, it took

place on our boardwalk," says Anna.

With forests, mountains and

incredible views over the Waiau River,

Hanmer Springs has numerous photo

locations – all within minutes of each

other.

"Our photos are sensational," says

Anna. "And, after it's all over, that's

what we have to remember the day."

Was it hard to organise a wedding

away from the city you live in?

"Not at all," says Anna. "It's close

enough to take things with you and

there are plenty of suppliers in and

around the village. In fact, I think it

worked out cheaper overall."

Her favourite part of the day?

"There was this moment, just after

the ceremony, when Paul and I were

walking back down the aisle holding

hands. We just looked at each other and

both had the biggest, most stupid grins

on our faces... after months of planning

we were married and it was time to

relax and have fun!"

...everyone

was relaxed

and in no rush

at all.

RELAX & INDULGE

At Every Stage

You'd be hard pressed to find a Canterbury

couple that hasn't experienced Hanmer

Springs Thermal Pools and Spa. The awardwinning

complex, which consistently

tops 'must-do lists', is a popular wedding

destination and not just for the big day.

"I couldn't fathom a guess at how many

proposals have been made in Hanmer

Springs. It's also a great place for prewedding

parties and honeymoons," says

Debbs Moody, a wedding celebrant and

Amazing Days event coordinator based in

the village. "You'll often see groups away on

hens' and stags' weekends unwinding in the

pools.

"It's a great place to get married or have a

'day after' function. The thermal waters and

landscaped setting look fabulous in photos

and you can arrange exclusive use of the

pools outside normal operating hours."

And, of course, with everything from

massage to manicures on its menu, The Spa

is also popular with brides wanting to look

and feel their best.
---
Helping you create your perfect wedding.

Pre-wedding girls weekends

Bridal party pampering

Honeymoon relaxation

0800 873 529 hanmersprings.co.nz/spa
---
Pamper. Perfection.

Passion.

The intimate wedding destination

Whether you're after some pampering for your big day, a fun getaway for pre-wedding parties or a unique

venue for your ceremony and reception, Hanmer Springs Thermal Pools and Spa is ideal.

With boutique shopping, restaurants and spa treatments on tap – we're a honeymooners paradise too.

HC HST2218

0800 4 HANMER hanmersprings.co.nz Open seven days