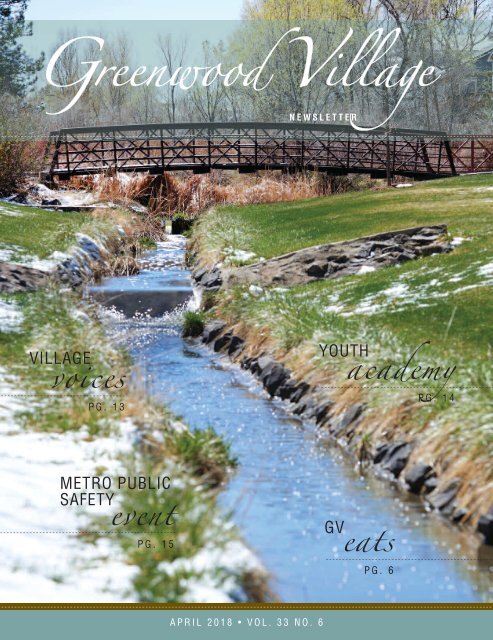 Create successful ePaper yourself
Turn your PDF publications into a flip-book with our unique Google optimized e-Paper software.
Greenwood Village

N EEW S LLE ET TTE ER

HEADLINE GOES

here P G . X

HEADLINE

HERE P G . X

VILLAGE

voices

P G . 1 3

YOUTH

academy

HEADLINE

HERE

P G . 1 4

P G . X

METRO PUBLIC

SAFETY

event

P G . 1 5

HEADLINE

here P G . X

GV

eats

P G . 6

A P RM I LO N2 T0 H1 8 Y E• AV RO L I S. S3 U3 E N#

O . 6
---
GOVERNMENT

MAYOR RON reports

VILLAGE HOSTS

CONTRACTORS SUMMIT

One of the greatest attributes of Greenwood

Village is our incomparable staff who strive to

provide the highest level of customer service to

residents, businesses, and visitors. Their focus

includes ongoing evaluation of programs and

services to ensure the needs of our customers are

met while maintaining the values of our

community.

In March, Community Development hosted a

Contractor Summit. The purpose of the summit

was to gain feedback from licensed contractors

Ron Rakowsky who work in the Village about our building and

rrakowsky@

greenwoodvillage.com inspection program. We solicited contractors on

303-486-5741 ways we could improve to enable commercial,

retail and residential construction projects to be

completed in a timely and quality manner. Village staff

received some great feedback, including lots of positive

comments about the friendliness, efficiency, and

responsiveness of our Community Development

Department. To learn more or if you are a contractor and did

not get to participate, we want your feedback. Please call

Community Development at 303-486-5783.

POLICE OFFICERS

GO FULL PRESS

Some of our Police Officers realized they don't have to leave

their day job to pursue their recreational itch. Even if it

means a slam dunk loss against the Cherry Creek High

School (CCHS) Unified Basketball team — 52 to 12.

Our police officers tested their abilities on the court by

playing the CCHS Unified Basketball team, which includes

Contractor Summit hosted by Community Development.

students with special needs. While the students played in

shorts and jerseys, our officers decided to play in their

uniforms, including bullet-proof vests and utility belts with

all the equipment they carry every day. The game was for a

great purpose as it was part of the school's week-long "Spread

the word to end the word" campaign, an effort to end the

hurtful and dehumanizing use of the word "retarded."

The Police Department said they were hoping they had the

edge over their opponents because they are trained to run

and maneuver quickly in real life. It was a challenge indeed.

Some comments I heard were that fans never fall asleep at the

game because they were afraid they might get hit by a pass by

one of our officers. Another person said the officers were

shooting 100 percent — 60 percent from the field and 40

percent from the free-throw line. Lastly, some say that it was

too bad the Police Department had eight great players, four

of them who were cheering like crazy!

All kidding aside, I think all would agree that our Police

Officers should save their skills and talents for catching

criminals, and not catching the ball on the court.

Congratulations to Cherry Creek's Unified Basketball Team!

PG. 2 GV NEWSLETTER | APRIL 2018
---
GOVERNMENT

CITY council

NOT SURE WHO YOUR

ELECTED OFFICIALS ARE?

Obtain a list of your state and national government

representatives at www.arapahoevotes.com

DISTRICT 1 DISTRICT 2 DISTRICT 3 DISTRICT 4

Dave Bullock

dbullock@

greenwoodvillage.com

303-804-4137

Anne Ingebretsen

aingebretsen@

greenwoodvillage.com

303-804-4135

Steve Moran

smoran@

greenwoodvillage.com

303-804-4133

Judith Hilton

jhilton@

greenwoodvillage.com

303-804-4131

Jerry Presley

jpresley@

greenwoodvillage.com

303-804-4138

Dave Kerber

dkerber@

greenwoodvillage.com

303-804-4136

George Lantz

glantz@

greenwoodvillage.com

303-804-4134

Thomas Dougherty

tdougherty@

greenwoodvillage.com

303-804-4132

MAYORAL VISIT WITH

TAIPEI REPRESENTATIVES

As Mayor, I have the opportunity to meet, visit and make

connections with many different people in the Denver

region. In celebration of Lunar New Year on February 16

(which was the first day of the Year of the Dog), I was invited

to the home of Mr. Jerry Chang, Director General of the

Taipei Economic and Cultural Office in Denver.

Left to right: Mayor

Laura Christman of

Cherry Hills Village,

Mayor Ron Rakowsky

of Greenwood

Village, Director

General Jerry Chang

of TECO in Denver,

and Stewart Devine,

Diplomat in

Residence of the U.S.

State Department.

Approximately, 50 people, including Mayor Laura Christman

of Cherry Hills Village, attended the event and enjoyed dim

sum lunch, wishing everyone a prosperous new year.

SPRING CLEANING UNDERWAY

Since the first day of

Spring, many of you

are already hard at

work during your

spare time cleaning

out the garage,

sorting through old

boxes, or tidying up

your landscaping

from the winter

months. Now that

you are done

cleaning, what do

you do with all those items you would like to discard?

continued on page 4

APRIL 2018 | GV NEWSLETTER PG. 3
---
GOVERNMENT

Mayor Ron reports

continued from page 3

Call Public Works at 303-708-6100 and request a large item

pickup.

Greenwood Village offers at no cost a Large Item Pickup

program during the year and not just during the Spring

months to ensure the appearance of our neighborhoods is

maintained. The most popular items for large item pickup

are branches or brush (cut into sections 10 foot in length or

less), unwanted furniture, mattresses and box springs, hot

water heaters and rugs.

Please remember that all large items designated for pickup

must be scheduled with the Public Works Department at

303-708-6100 before placing out at the curb. Items cannot

be picked up if it is on your private property (grass, driveway

or sidewalk), so please place at the street close to the curb so

as not to be an obstruction to traffic or pedestrians.

Contractor waste does not qualify for pickup.

AN EXCEPTIONAL

CUSTOMER EXPERIENCE

When someone wants to tell you a story about a recent

customer experience, it usually tends to be more "Tales from

the Crypt" rather than "Happily Ever After." But that's not to

say good service isn't out there because it is in Greenwood

Village. In the future, as part of my report, I want to

highlight a business and one of their employees who

contribute to an exceptional customer service experience.

After all, people are your most important asset!

This month, I would like to recognize Frank Scolaro,

Window Clerk, of the Post Office in Greenwood Village.

Frank has been with

the U.S. Post Office for

40 years, 30 at the GV

Post Office. Many of

you may recognize him

as he has become a very

familiar face at the Post

Office.

What I admire about

Frank when I visit the

U.S. Post Office is his

friendliness,

professionalism, and

positive attitude.

There are numerous

people working in

Greenwood Village that

are dedicated like Frank

to serve their customers. If you know of a business/employee

in our community that should be recognized, please email

mgallegos@greenwoodvillage.com.

CELEBRATING NATIONAL

SERVICE IN APRIL

Tuesday, April 3 was National Service Recognition Day. I

joined thousands of other elected officials across the country

in a nationwide bipartisan initiative to highlight the value of

national service, to thank those who serve, and to encourage

more citizens to give back to their communities. This day is

sponsored by the Corporation for National and Community

Service (CNCS), the National League of Cities, the National

Association of Counties, and Cities of Service.

Through AmeriCorps and Senior Corp volunteers, they make

our cities and counties a better place to live. I am grateful for

the dedication and sacrifice of these exceptional citizens, who

are helping make our communities stronger, safer, and

healthier. National service participants address the most

pressing challenges facing our communities. From helping

communities recover from natural disasters, fighting the

opioid epidemic, restoring parks, strengthening public safety,

to tutoring and mentoring disadvantaged students, national

service members get things done.

For more information, please visit

NationalService.gov/RecognitionDay. GV

RAMBLE WITH RON

Due to the snowy season, Ramble with Ron has been

suspended until the spring, and will resume in May.

If you have some ideas or suggestions about living or

working in Greenwood Village that you would like to

share with Mayor Ron Rakowsky, send him an email at

rakowsky@greenwoodvillage.com or call the Mayor's Office

at 303-486-5745.

PG. 4 GV NEWSLETTER | APRIL 2018
---
VILLAGE CALENDAR

Visit

WWW.GREENWOODVILLAGE.COM

for more information

Information is subject to change

may 2018

SUNDAY MONDAY TUESDAY WEDNESDAY THURSDAY FRIDAY SATURDAY

29 30

1

2 3

4 5

P&Z Commission

7 p.m.

City Hall

6 7

8

9 10 11 12

City Council

Study Session

6 p.m.

Meeting

7 p.m.

City Hall

PTR Commission

7 p.m.

City Hall

★ SINGLE FAMILY HOUSEHOLD RECYCLING ★

13 14 15

16

17

18 19

P&Z Commission

7 p.m.

City Hall

GVAHC Meeting

6:30 p.m.

Curtis Center

20 21

22

23 24

25 26

City Council

Study Session

6 p.m.

City Hall

PTR Commission

7 p.m.

City Hall

BOAA

Meeting

6:30 p.m.

City Hall

27

★ SINGLE FAMILY HOUSEHOLD RECYCLING ★

28

Memorial Day

29 30

31

1 2

Village

Facilities

Closed

NO TRASH SERVICE

APRIL 2018 | GV NEWSLETTER PG. 5
---
GOVERNMENT

Greenwood Village

Don't have Comcast cable?

You can watch GVTV 8 programs on the

Village Website at greenwoodvillage.com

or on The City of Greenwood

Village Channel on YouTube.

NEW ON GVTV 8 —

COMING IN APRIL

PG. 6 GV NEWSLETTER | APRIL 2018

AVAILABLE ON COMCAST

CABLE IN GREENWOOD

VILLAGE, GVTV CHANNEL 8 IS

AVAILABLE 24 HOURS A DAY,

SEVEN DAYS A WEEK

PROVIDING PROGRAMMING

REGARDING IMPORTANT

LOCAL, STATE AND

NATIONAL TOPICS.

GVTV 8 PROGRAMS

Village Showcase

Join Mayor Ron Rakowsky as he showcases

all the latest happenings and greatest events

taking place in Greenwood Village.

Beyond The Green

A program highlighting the parks, trails and

open space system in the Village.

Over 50 And Loving It!

A program focused on issues and events

affecting people 50+ years of age.

Safety Matters In Greenwood Village

Learn about safety issues in Greenwood

Village and techniques to help keep you and

your family safe.

GV Business Connections

Get an inside look at the business

community of Greenwood Village and learn

about some important business topics.

GV Kids, Ink! ® News

Hosted by youth news reporters, this

program features youth activities and events

in the community.

The Village Insider

Get a glimpse of the people and projects

behind the doors at City Hall.

Colorado Connected

Produced by the Colorado Communications

and Utility Alliance (CCUA), the program

features programs on regional issues.

NASA 360

Produced by the National Institute of

Aerospace for NASA, this program examines

how technologies developed by and for

NASA are used in everything from space

exploration to everyday consumer products.

Graceful Aging

Enjoy this program to learn about elder care

needs. You'll laugh, think and be inspired to

improve your life.

Denver Press Club

Hosted by the Denver Press Club, this

program features discussions with members

of the press and community.

Jazz Cardio Strength Stretch

A powerfully fun and effective workout that

will lift your spirits, strengthen your heart,

muscles, and core. You'll get a healthy dose

of cardio, strength and stretch moves and

finish up feeling energized for the start and

end of your day.
---
GOVERNMENT

MAKING A difference

PHOTO RED LIGHT SYSTEMS

IN THE VILLAGE UPDATE

BELLEVIEW AND DAYTON STREET

In February, installation of a new photo red light system

began at the intersection of Belleview Avenue and Dayton

Street as part of the Village's efforts to create safer roadways

and save lives. The photo red light system, which was

scheduled to go live on March 1, did not occur on that date.

The installation process is being reevaluated by City Council

for final determination of system placement. Village staff will

continue to work diligently to get this photo red light system

installed prior to the start of the next school year.

ARAPAHOE AND YOSEMITE STREET

As a result of the Arapahoe Road and I-25 Interchange

project, the photo red light system at Arapahoe Road and

Yosemite Street was deactivated during construction. With

the completion of the project in December 2017, this photo

red light system will be activated before June 2018. At that

time, the system will be in full operation and begin to issue

tickets for red light violations.

For more information, please call Sergeant Scott Jones, at

303-486-8245 or email sjones@greenwoodvillage.com. For

questions regarding a Photo Red Light violation, please

contact the Village Municipal Court at 303-773-6033. GV

APRIL 2018 | GV NEWSLETTER PG. 7
---
GOVERNMENT

GREENWOOD VILLAGE CITY HALL DROP-OFF LOCATION

PG. 8 GV NEWSLETTER | APRIL 2018
---
GOVERNMENT

TAKEnote

FRUSTRATED OVER

AIRPORT NOISE?

GET INVOLVED!

The Centennial Airport Community

Noise Roundtable (CACNR), which is

comprised of elected officials, airport

staff and community members, is

working to reduce noise impacts to

surrounding communities by

providing easy-to-use tools to help

residents report any noise issues openly

and effectively.

These tools include a recentlylaunched

website, an online reporting

system and a Noise Hotline.

VISIT WEBSITE -

WWW.CENTENNIAL

AIRPORTNOISE.COM

Find information on noise abatement

outreach to pilots, noise monitors that

measure and report decibel levels of

overhead aircraft, tutorials, and

frequently asked questions. You can

also complete the noise complaint

form accessible on the Website —

click on "Noise Abatement" and then

click on "Track and Report Noise."

TRACK FLIGHTS –

WWW.WEBTRAK.

BKSV.COM/APA

To track overhead aircraft activity

and/or report noise incidents, residents

can use WebTrak which allows

residents to access information about

flights taking off and landing in the

Denver region. WebTrak keeps a 60-

day history of air tracks, including

flight identification, aircraft type,

origin, destination, height and speed.

NOISE HOTLINE —

303-790-4709

To file a noise complaint within seven

days of occurrence, call the Centennial

Airport Noise Hotline.

About CACNR: The CACNR was

created in May 2009 with the intent

to reduce and mitigate noise impacts

from users of Centennial Airport.

Membership of the Roundtable

consists of local elected officials,

airport staff, community

representatives, the Federal Aviation

Administration (FAA), and airport

users. This forum provides a

mechanism that attempts to ensure

cooperation between the Airport and

local communities in achieving noise

reductions wherever possible.

In addition, District 4 City

Councilmember Tom Dougherty is the

Greenwood Village liaison to

Centennial Airport. Residents are

welcome to contact Tom at

303-804-4132 or email

tdougherty@greenwoodvillage.com.

For more information, contact

info@centennialairportnoise.com. GV

APRIL 2018 | GV NEWSLETTER PG. 9
---
GOVERNMENT

OUR NATURAL

environment

AN INTRODUCTION

TO STORMWATER

POLLUTION

Although it is true that "April showers

bring May flowers," landscape

maintenance activity in the spring

season can increase the potential of

stormwater runoff and pollution.

Stormwater runoff occurs when snow

melts and rain falls onto impervious

surfaces such as rooftops, parking lots,

sidewalks and streets, creating a body

of water that picks up debris and other

pollutants before flowing into a storm

drain and leading to the nearest creek,

pond or lake untreated.

Since 1998, the Village has helped

spearhead efforts to improve

stormwater quality in Village

waterways including streams, ponds,

and in Cherry Creek Reservoir. One of

the most abundant pollutants that

affects the Village's waterways is excess

nutrients, including phosphorous and

nitrogen. This is especially true of the

reservoir and ponds in the Village,

which suffer from periodic algae

blooms during the summer months.

These blooms impair the ability of the

water body to support aquatic habitat

and diminish the recreational

enjoyment of the visiting

public. . While nutrients

including phosphrous and

nitrogen are necessary for

plant life to survive and grow,

nutrient pollution is a

widespread and challenging

environmental concern.

LANDSCAPE WASTE

As we look to landscape

maintenance to provide an

aesthetically pleasing

environment, activities such

as chemical application

(fertilizers, herbicides, and

pesticides), mowing, gardening, lawn

care and grounds maintenance can

negatively impact water quality and

cause pollution.

Did you know that landscape waste

including grass clippings, leaves, and

other debris, can block the natural

flow of water in the storm drainage

system and decompose? Municipal

street sweepers are not equipped to

pick up large piles of leaves or debris

and can spread these materials around

the street. Although landscape debris is

"natural," these materials provide

excess nutrients, which over fertilize

water and encourage harmful aquatic

plants and algae to thrive. When these

plants and algae decompose, it

removes oxygen in water, harming fish

and other aquatic organisms. Debris

and trash can also choke, suffocate or

disable aquatic life. Excess nutrients

and trash leave a lasting negative

impact on water quality, local ecology,

and recreational use of our waterways.

BEST MANAGEMENT

PRACTICES FOR

LANDSCAPE

MAINTENANCE

As a homeowner, Homeowners'

Association or Commercial Business,

you can follow best management

practices for landscape maintenance.

Your yard can have a positive effect on

water quality by slowing down and

filtering runoff water or it can

contribute to water quality problems.

It all depends on how you manage

water, chemicals, and landscape

maintenance activity.

• Maintain a healthy lawn and mow

your lawn so no more than onethird

of the length of grass is

removed. Use a mulching mower

and leave grass blades on the lawn

or compost. After mowing and

trimming, ensure grass clippings are

swept back into the grass and not

blown into the street and curb and

gutters. Grass clippings contain

fertilizers, which can contribute to

excessive nutrients in waterways.

• Did you know that most

established Colorado lawns will

have adequate phosphorus (P) and

potassium (K) in the soil without

the need for additional P and K

fertilizer? If you apply a typical

blended fertilizer based on N needs,

you will usually apply more P and

K than most lawns require.

• Use phosphorous free fertilizer and

PG. 10 GV NEWSLETTER | APRIL 2018
---
GOVERNMENT

perform a soil test to optimize

application. Follow label directions

and do not over fertilize, more is

not better. When watering

landscape areas after fertilizer

application, take care to not

overwater allowing water to runoff

into streets or other conduits to the

waterways. Do not fertilize if the

forecast calls for a storm in the next

day or two.

• If a soil test is not feasible, refer to

the following fact sheets for

guidance on fertilizer application

and integrated pest management

(IPM) and plant health care from

the Colorado State University

Extension Master Gardener

Program:

• Homeowner's Guide to

Fertilizing Your Lawn and

Garden at

https://extension.colostate.edu/

docs/pubs/garden/xcm222.pdf.

• Colorado Master Gardener

Garden Notes #101 IPM and

Plant Health Care

http://www.ext.colostate.edu/

mg/Gardennotes/101.pdf.

• For additional lawn care and

IPM guidance, contact the

Colorado Master Gardener

Program in Arapahoe County at

303-730-1920, or

MasterGardener@Arapahoe

gov.com.

• When using chemicals, follow label

directions when handling, applying,

and disposing of chemicals.

Properly calibrate application

equipment to ensure proper

amount of chemicals are applied.

More is not better. Mechanically

or hand pull weeds when possible

in lieu of chemical weed killer.

• Direct downspouts to a depressed

area or a garden bed so stormwater

runoff soaks into your yard instead

of rushing out to the street.

Consider installing a rain garden

and swales and berms to your

landscape so runoff is contained

and does not leave your yard.

• Have spill materials available and

ready in case of a spill of fertilizer,

herbicide, or pesticide. Clean up

spills promptly, with dry methods if

possible. Do not power wash

materials into the curb and gutter

or street.

• Pick up and dispose of litter.

Empty trash cans frequently so they

do not overfill. Report illegal

dumping and littering Greenwood

Village at 303-708-6100 or

www.greenwoodvillage.com. GV

WE NEED YOUR HELP TO PROTECT

WATER QUALITY IN OUR WATERWAYS

Historically, in the Front Range, waterways including streams, ponds, and lakes have seen

water quality impacts with excessive algae growth. Although some algae can be beneficial,

excessive algae growth can be unsightly, decrease dissolved oxygen levels, and emit odor.

This can negatively impact aquatic life, and interfere with swimming, fishing, and other

recreational activities.

Such upsets can be contributed to weather, stormwater runoff laden with nutrients including

nitrogen, phosphorous, pet waste, algae accumulation, and in some cases, non-natural

contributions from illicit activity. Although there are means to treat these symptoms, it is

better to treat it at the source. Preventing these natural upsets from occurring in the first

place is preferable and less costly than controlling once they become a problem.

The key to long-term control is limiting and reducing the input of pollutants to waterways.

Pollutants include nutrients, pet waste, leaves and grass clippings, fertilizers (which contain

phosphorous and nitrogen), pesticides, soaps, and detergents.

• Pick up after our pets.

• Properly apply fertilizer and pesticides.

• Ensure that grass clippings remain on the grass and are not swept into the gutters and

waterways.

• Ensure carpet cleaning services properly dispose of waste water.

• Participate in Household Hazardous Waste Pickup by calling 800-449-7587 for

information and to schedule a pickup time.

For disposal of paint care products, participate in the Colorado Paint Stewardship program at www.paintcare.org or call 855-724-6809

to find your nearest drop off site.

For more information on water quality, please call Greenwood Village Public Works at 303-708-6100 or www.greenwoodvillage.com.

APRIL 2018 | GV NEWSLETTER PG. 11
---
GOVERNMENT

OUR NATURAL

environment

PG. 12 GV NEWSLETTER | APRIL 2018
---
GOVERNMENT

COLORADO

MASTER

GARDENERS SM

OFFER

LANDSCAPING

ADVICE TO

RESIDENTS

The CSU Extension — Arapahoe

County Colorado Master Gardeners

(CMGs) who plant and tend the

Silo Park vegetable garden will be

available to provide expert advice

and assistance to residents on

Saturday, May 5 from 12-3 p.m. in

the City Hall parking lot. The

CMGs will provide answers to

questions related to horticulture

topics such as insects, plant

identification, landscape planting,

growing vegetables and any other

yard and garden questions you may

have. This event corresponds with

the Garden in a Box pickup at the

same location.

CMG Volunteers in Arapahoe

County are a group of about 80

volunteers who foster community

development through gardening. If

you are unable to attend this event,

CMG Volunteers are on hand to

answer questions on Tuesdays from

10-11 a.m. at Silo Park during the

summer. Master Gardeners are also

available to answer questions,

Monday-Friday, at 303-730-1920.

For questions about this event,

please call Julie Liggett,

Administrative Supervisor, at

303-486-5750 or email

jliggett@greenwoodvillage.com. GV

APRIL 2018 | GV NEWSLETTER PG. 13
---
GOVERNMENT

ENSURING A SAFE

community

PG. 14 GV NEWSLETTER | APRIL 2018
---
GOVERNMENT

APRIL 2018 | GV NEWSLETTER PG. 15
---
BUSINESS

RESIDENTIAL PROPERTY TAXES

WHERE DOES YOUR MONEY GO?

Property tax is a tax that a homeowner pays on the value of

your residential home and land. Property taxes are governed

by State Law, but assessed and collected by the Arapahoe

County Assessor on behalf of various entities to provide

services and fund infrastructure improvements in the

community that directly benefit you and your family.

THE APPRAISAL PROCESS

The Assessor's Value Of Your Property

Values are most often determined by comparing your

property with properties that are similar in location, design,

size, age and amenities within your neighborhood. The value

placed on your property for the year 2017 was based on sales

between January 1, 2015 and June 30, 2016, utilizing the

Sales Comparison Approach. The Sales Comparison

Approach includes the assessor's evaluation of similar

properties to arrive at a value for your property. The sales

must have occurred during the 18-month period prior to and

including the appraisal date of June 30. If a sufficient

number of sales are not available during the 18-month

period, the assessor may go back in six-month intervals up to

a maximum of five years to collect the required number of

sales needed to set values.

BREAKING DOWN THE TAX

Actual Vs. Assessed Value

The actual value of property is not the taxable value. The

taxable value is a percentage of the actual value. The

percentage is called an assessment rate and the resulting value

is called the assessed value. Property taxes are calculated by

multiplying the actual value of the property by the

assessment rate and then by the total mill levy. The

residential assessment rate is currently 7.20 percent. The

assessment rate for all other property, including vacant land is

29 percent.

Actual Value x Residential Assessment Rate x Mill Levy = Taxes

$500,000 x 7.20% x 0.083872 = $3,019.39

What's In A Mill?

A mill levy is the "tax rate" that is applied to the assessed

value of a property. One mill is one dollar per $1,000 dollars

of assessed value. Mill levies are determined by each

individual taxing authority such as the school, county, city,

fire, water, sanitation, and recreation districts. A property

owner's total mill levy will depend upon the districts in

which their property is located. County taxes are levied by

the Board of County Commissioners and City taxes are

levied by the City Council. Special district taxes are levied by

their board of directors, and school taxes are levied by school

boards. In addition to each city like Greenwood Village

establishing its own mill levy, there are additional mill levies

for given districts outlined on your property tax bill.

A Sample Property Tax Statement

$500,000 Home Value

Taxing Entity Tax Levy Amount

Arapahoe County 13.856 $498.82

Arapahoe Library District 5.916 $212.98

Cherry Creek School District 49.703 $1,789.31

City of Greenwood Village 2.932 $105.55

Developmental Disability 1.000 $36.00

Regional Transportation District 0 $0.00

South Metro Fire Rescue 9.344 $336.38

Southgate Sanitation District 0.510 $18.36

Urban Drainage and Flood

Control District 0.553 $19.91

Urban Drainage and Flood

Control District (S. Platte) 0.058 $2.09

Total 83.872 $3,019.39

GREENWOOD VILLAGE PORTION

OF YOUR PROPERTY TAX

The Village's mill levy of 2.932 accounts for less than 4% of

the average resident's property tax rate. Therefore, on a home

valued at $500,000, the Village receives roughly

$106 of the resident's total annual property tax payment.

TAXES ARE DUE

When To Pay Property Taxes To Arapahoe County

Property tax bills reflect the taxes due for the preceding year

and are mailed after January 1. Tax amounts greater than $25

may be paid in one payment by April 30 or in two equal

continued on page 18

PG. 16 GV NEWSLETTER | APRIL 2018
---
BUSINESS

BUSINESSspotlight

THE HOUSE COLORADO

7400 East Orchard Road, Suite 1000

www.TheHouseColorado.com • 303-770-5295

Are you feeling lost and alone on your journey to success

with your health or the health of a family member? If so,

you may benefit from the services provided by The House

Colorado. This functional medicine and holistic therapy

center opened their doors in Greenwood Village in October

2017. The success behind the center can be attributed to the

collaborative efforts of this dynamic group of uniquely gifted

health care professionals.

The House is set up to calm and soothe clients by creating

an environment that has the feel of a safe and welcoming

"home." Their prime focus is on the person; the body, mind,

and spirit working together as a team. Each session is made

to suit the client's individual needs and provide the time,

attention, and dedication needed to encourage life-long

success.

Jenny Kim, NTP is a Neurofeedback

Practitioner and the Managing Director of

The House Colorado. Functional medicines,

such as Neurofeedback look for the cause of

neurological issues such as stroke, concussion,

ADHD, sleeping issues or PTSD. One of the tools utilized

by Jenny is the SAVE Chair Program developed by Dr. Mary

Ann Block. SAVE stands for Sensory-motor Auditory Visual

Education and has been used to help those with autism,

ADHD, and Alzheimer's.

Jennifer S. Lee, MD is a plastic surgeon who

values the power of an integrated medical

approach. Dr. Lee's background in both

cosmetic and reconstructive surgery combined

with her desire to provide compassionate care

enable her to build meaningful relationships with her

patients. As Dr. Lee explained, "There is a great feeling when

a patient heads home feeling attractive, and as a result lives a

more fulfilling life. Both personally and professionally."

Yana Etemadi, NC is a Nutritional Consultant.

Yana believes the healing process begins by

building a base from nutrition to encourage the

optimal functioning of the body. Yana can help

customize a nutrition plan tailored to meet an

individual's lifestyle. This nutritional approach can help with

not only gastrointestinal issues, autoimmune conditions, or

allergies, but also to enhance wellness.

Sarah Carrasco, BA is an Educational Advocate

and Disability Consultant. Sarah can help

navigate the complexities of obtaining the services

necessary for a child with special needs or

disabilities. In some instances, this can involve

obtaining an Individualized Education Program (IEP),

understanding insurance, planning for a child's well-being as

they grow into adulthood.

Melody Abel, is the Administrative Assistant of The House

Colorado. Melody is crucial to the coordination of the care

necessary among all the practitioners. Melody provides The

House Colorado with a strong and sturdy foundation. This

ensures that the entire team can devote themselves to the care

of their patients.

To learn more about The House Colorado visit their website

at www.TheHouseColorado.com or they can be reached at

continued on page 18

APRIL 2018 | GV NEWSLETTER PG. 17
---
BUSINESS

NEW GV businesses

ADMINISTRATIVE SERVICES

Gallagher Bessett Services, Incorporated

7720 East Belleview Avenue, Suite B-250

303-708-1234

DOUGHNUT SHOP

Fractured Prune Doughnuts

9696 East Arapahoe Road

303-759-0635

EMPLOYMENT AGENCY

GavinHeath, LLC

5690 DTC Boulevard, Suite 220-E

303-228-1690

FITNESS

Balm Fitness

5915 South University Boulevard

303-249-0241

HEALTH CARE SERVICES

Denver Tech Dermatology Associates

7447 East Berry Avenue, Suite 200

303-222-9559

Knight Spine and Sports, PC

7800 East Orchard Road, Suite 350

720-726-1048

Pathway Solutions, LLC

6363 South Fiddlers Green Circle

303-495-1455

LEGAL SERVICES

Campbell, Latiolais & Averbach, LLC

5251 DTC Parkway, Suite 350

303-831-5990

SALT WATER DISPOSAL

Buckhorn Waste Services, LLC

5690 DTC Boulevard,

Suite 530-W

720-242-9853

SYSTEMS INTEGRATOR

TSI Global Companies, LLC

6399 South Fiddlers Green Circle

636-949-8889

BUSINESSES UNDER

NEW MANAGEMENT

DELIVERY SERVICES

UPS Store

5910 South University Boulevard, Suite C-18

303-798-1979

residential property taxes

continued from page 16

payments. The first half payment is

due by the last day of February. The

second half payment is due by June

15. Notice of valuations are sent to

each property owner by May 1 of each

year regardless if property taxes are

paid through your mortgage payment.

The value shown on the notice affects

the amount of taxes you pay in

January.

PROTEST AND APPEAL

If you disagree with the value assigned

by the County Assessor, you have the

right to filing appeals based on an

established process to preserve your

taxpayer rights.

PROPERTY TAX

QUESTIONS AND

ASSISTANCE

For more information about your

residential property tax statement,

please call the Arapahoe County

Assessor's Office at 303-795-4600 or

visit arapahoegov.com. If you have any

questions regarding the Greenwood

Village portion of your property tax

bill, please call the Village Tax Help

Line at 303-486-8299. GV

business spotlight

continued from page 17

303-770-5295. They are located at

7400 East Orchard Road, Suite 1000.

Synergy, in relation to an organization

states that a cohesive group is more

than a sum of its parts. The team

members of The House Colorado

certainly exemplify that this group of

compassionate, health care

professionals can outperform what any

one person can do alone. GV

Call or stop by

Greenwood Village

City Hall to pick up a

copy of the Residential

Property Tax Brochure.

PG. 18 GV NEWSLETTER | APRIL 2018
---
ARTS AND RECREATION

ART & REC

programs

Register online at

www.greenwoodvillage.com/art

For more information call the Curtis Center for the Arts at 303-797-1779.

PETER RABBIT'S

ADVENTUROUS

EGG HUNT

Thursday March 29, 2018, was

an adventure for the 300

residents at Westlands Park who

braved the cold and snowy

weather to participate in the

annual egg hunt. This year the

hunt was divided into two

different age groups ranging

from 0-8 years old. The kids

had a blast dodging snowflakes

in order to find their candyfilled

eggs. Those who were

lucky enough to find a special

ticket in their egg could redeem

it for a prize. Prizes were

scooters, games, toys, and more.

Participants also enjoyed

making mosaic butterflies and

creating their custom bunny

bags in the art area. Peter

Rabbit was available for high

fives and pictures in front of

our colorful backdrop.

APRIL 2018 | GV NEWSLETTER PG. 19
---
ARTS AND RECREATION

RECREATION programs

CURTIS CENTER FOR THE ARTS

CELEBRATES EARTH DAY

Join the Curtis Center for the Arts as we celebrate Earth Day

on Saturday, April 21, from 10 a.m.-2 p.m.

The event will kick off with a tree planting with the Mayor at

10 a.m. From 10 a.m.-12 p.m. join us for breakfast with the

artists featured in the newest exhibit "Our Planet." The exhibit

features local artists exploring issues regarding our changing

planet with the objective of connecting art to the environment.

From 12-2 p.m. Curtis Park will be filled with Earth-friendly

activities for the kids, live music and food trucks. Join us as

we connect with communities around the world to celebrate

environmental awareness.

Register online at

www.greenwoodvillage.com/rec

For more information call the Arts and Recreation Division at 303-486-5773.

BOYS &

GIRLS

PEE WEE

T-BALL

Have fun running

fast paced drills,

agility training,

and enjoy learning

the game. Four

weeks of practices and games!

Day and Dates: Mondays, June 4, 11, 18, and 25

Time: 10-10:45 a.m.

Ages: 4 to 5 years old

Fee: $40

Limit: 20 participants

Location: Silo Park, 9300 East Orchard Road

PG. 20 GV NEWSLETTER | APRIL 2018
---
ARTS AND RECREATION

SENIOR PROGRAM SCHEDULE

FOCUS 50+

Start your day with stretching, good

conversation, variety of food and

interesting speakers.

Program is free and open to all seniors.

9-9:20 a.m. — Focus On Fitness

(Meets every Monday)

Simple stretch and tone to music.

9:30-10:30 a.m.

Monday, April 2

OUTFOXING THE PREDATORS

Preventing fraud, identity theft

and Elder Exploitation.

Monday, April 9

CATCH YOUR BREATH

Presentation about lung health.

Monday, April 16

SPELLBINDERS

Learn the art of storytelling and recreating

stories to local schools.

Monday, April 23

BALLROOM DANCING

Enjoy Margaret Krushenski teaching

ballroom dancing techniques.

Monday, April 30

LOVE YOUT HEART

Simple steps to strengthen your heart

begins at "50" guidelines.

Monday, May 7

CINCO de MAYO PARTY

Come taste the treats of Mexico and enjoy

the traditions.

DANCE

Every Monday from 10:30-11:15 a.m.

Enjoy a variety of dance moves with

Rebecca Reiter.

HARMONICA LESSONS

Every Monday from

11:30 a.m.-12:15 p.m. with Gilda Shapiro.

These programs are all drop-in and

everyone is welcome weekly!

If you have any questions feel free to

contact Cathy Delap at 303-486-5766.

APRIL 2018 | GV NEWSLETTER PG. 21
---
ARTS AND RECREATION

ART

programs

Register online at

www.greenwoodvillage.com/art

For more information call the the Curtis Center for the Arts at 303-797-1779.

ADULT ART CLASSES

Location: Curtis Center for the Arts, 2349 East Orchard Road, Greenwood Village, CO 80121

Both traditional and non-traditional art classes are offered for adults 16 years and older at the Curtis Center for the Arts. If

you are new to art or wanting to improve your artistic skills, we have a class for you!

INDIAN FOLK ART — WARLI ART

In this workshop, students will understand the art of visual

narration and the amusing way of

animating the bodies of human beings

and animals, along with scenes from

daily life that are created in a loose

rhythmic pattern.

Saturday, April 28

10 a.m. to 4 p.m.

$100

Instructed by Mitra Verma

CASUAL WATERCOLOR —

WATERCOLOR SKETCHBOOK

As the weather is warming

up, you'll learn how to

simplify supplies and

subject matter to sketch

with pencil and a limited

palette of watercolors

outdoors (weather

permitting and optional)

so you can prepare for

Summer travel.

Mondays, April 30 through May 21

1 to 3:30 p.m.

$80

Instructed by Renee Reese

EXPLORING MIXED MEDIA

Explore the amazing world of mixed media!

Experience texture, foils, charcoal and

mediums. Students will be guided through

chalk talk demos and be given lots of

individual attention. Aspects of abstract

composition and what makes a work of art

will be shared.

Thursdays, May 3 through May 24

1 to 4 p.m.

$80

Instructed by Candace French

BEGINNING WATERCOLOR ADVENTURES

This four-week class will introduce you to watercolor

painting and the fun of blending pigment and water and

watching what happens! You'll learn about papers and paints,

how to make beautiful brushstrokes, loose flowers and lovely

leaves. There will be plenty of

demos and take-home handouts

so you can play and get

comfortable with painting.

Thursdays,

May 3 through May 24

6:30 to 8:30 p.m.

$80

Instructed by Renee Reese

INTRODUCTION TO ENCAUSTIC

In this one-day workshop we will be

working on multiple pieces to

experiment with a variety of

encaustic techniques including

building up, carving, layering, collage

and ghosting. Students will create a

sampler of multiple experiments to

become a whole piece.

Saturdays, May 12 or 19

9 a.m. to 4 p.m.

$100 for each workshop

Instructed by Maggie Stewart

DYEING FABRICS

Have you ever wanted to create

your own textile to use on a

garment or quilt? In this class

we will experiment with dyeing

and painting fabric to create

one of a kind textile.

Tuesdays,

May 22 through June 19

1 to 4 p.m.

$100

Instructed by Maggie Stewart

PG. 22 GV NEWSLETTER | APRIL 2018
---
ARTS AND RECREATION

ART

programs

Register online at

www.greenwoodvillage.com/art

For more information call the the Curtis Center for the Arts at 303-797-1779.

YOUTH ART CLASSES

Location: Curtis Center for the Arts, 2349 East Orchard Road, Greenwood Village, CO 80121

The Curtis Center for the Arts is a family-friendly environment that is great for kids to be introduced to the arts as well as

to continue to explore and improve their artistic skills. Classes are offered after school for preschoolers, elementary age kids

and teenagers and art camps are available during school breaks. Come and have fun creating unique works of art!

PEE WEE ART

Pee Wee Art is a fun hands-on art

program that introduces preschoolers

to the arts and allows for parents to

assist with their child's creative process.

Mondays, 4 to 5 p.m.

April 16 — Citrus Prints

April 30 — Button Collage

May 7 — Art for Mom

$10 per program

Ages 3 to 5 with adult

Instructed by Lauren Brant

COLORS OF SPRING

Spring is finally here! The flowers are

blooming and the birds are singing,

making it the perfect time for

painting. For this painting program,

participants will create spring themed

paintings using acrylic on canvas.

Tuesdays,

May 1 through May 22

4:30 to 6 p.m.

$50

Ages 6 to 12

Instructed by Lauren Brant

TEEN BATIK

Teens will learn the art of Batik using

wax and pigment to create a banner

full of their own prayer flags. All

pieces will be stretched and steamed by

the students. We will work with pencil

and oil pastel sketches, watercolor and

teens will learn the application of wax

and dye. Teens will mix colors and

layers to create a final unique set of

prayer flags with each having a

different meaning and design.

Wednesdays, May 9 through May 30

4:30 to 6 p.m.

$50

Ages 11 to 16

Instructed by Maggie Stewart

APRIL 2018 | GV NEWSLETTER PG. 23
---
6060 South Quebec Street

Greenwood Village, Colorado 80111-4591

PRSRT STD

US POSTAGE

PAID

ENGLEWOOD, CO

PERMIT #799

ARTS AND RECREATION

ART events

GALLERY HOURS

Monday-Friday 8:30 a.m.-4:30 p.m.

Saturday 10 a.m.-4 p.m.

CURTIS CENTER FOR THE ARTS • 2349 EAST ORCHARD ROAD, GREENWOOD VILLAGE, CO 80121 • 303-797-1779

ON TREND —

BLOCK PRINTING

MARKET TOTE BAGS

Learn

how to

create

your

own

modern

stamps

and use

them to

print on

a variety

of

surfaces.

Bold

shapes

can be

carved

into

rubber,

inked,

and stamped onto everything from wrapping

paper to tea towels to totes. Like the block

printing methods that have been around for a

long time, carving your own stamps is on trend

today as a modern method of creating hand

printed designs.

Saturday, May 5

10 a.m. to 2 p.m.

$50

Instructed by Renee Reese

PG. 24 GV NEWSLETTER | APRIL 2018