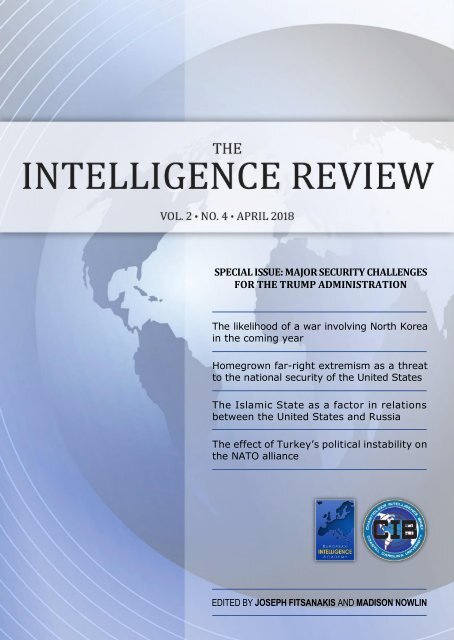 The Intelligence Review | volume 2 | issue 4 |
This volume is the product of a collaboration between the European Intelligence Academy (EIA) and the Chanticleer Intelligence Brief (CIB), a student-run initiative supported by the Department of Politics at Coastal Carolina University in Conway, South Carolina, United States. Four CIB analysts tackle some of the most pressing and timely questions confronting intelligence observers today. Topics in this volume include the possibility of a war with North Korea, and the rise of far-right militancy in the United States. The volume also includes an assessment of the impact of the Islamic State in the relations between Russia and the United States, and a discussion of Turkish politics and its effect on NATO's cohesion.
This volume is the product of a collaboration between the European Intelligence Academy (EIA) and the Chanticleer Intelligence Brief (CIB), a student-run initiative supported by the Department of Politics at Coastal Carolina University in Conway, South Carolina, United States. Four CIB analysts tackle some of the most pressing and timely questions confronting intelligence observers today. Topics in this volume include the possibility of a war with North Korea, and the rise of far-right militancy in the United States. The volume also includes an assessment of the impact of the Islamic State in the relations between Russia and the United States, and a discussion of Turkish politics and its effect on NATO's cohesion.
SHOW MORE
SHOW LESS
Create successful ePaper yourself
Turn your PDF publications into a flip-book with our unique Google optimized e-Paper software.
SPECIAL ISSUE: MAJOR SECURITY CHALLENGES

FOR THE TRUMP ADMINISTRATION

The likelihood of a war involving North Korea

in the coming year

Homegrown far-right extremism as a threat

to the national security of the United States

The Islamic State as a factor in relations

between the United States and Russia

The effect of Turkey's political instability on

the NATO alliance

0

EDITED BY JOSEPH FITSANAKIS AND MADISON NOWLIN
---
SPECIAL ISSUE: MAJOR SECURITY CHALLENGES

FOR THE TRUMP ADMINISTRATION

The likelihood of a war involving North Korea

in the coming year

Homegrown far-right extremism as a threat

to the national security of the United States

The Islamic State as a factor in relations

between the United States and Russia

The effect of Turkey's political instability on

the NATO alliance

PUBLISHED BY THE

EUROPEAN INTELLIGENCE ACADEMY

IN ASSOCIATION WITH THE

CHANTICLEER INTELLIGENCE BRIEF

EDITED BY

JOSEPH FITSANAKIS AND MADISON NOWLIN

COASTAL CAROLINA UNIVERSITY
---
European Intelligence Academy www.euintelligenceacademy.eu

The European Intelligence Academy (EIA) was established in 2013 as an international

network of intelligence studies scholars, specialists and students, who are dedicated to

promoting research and scholarship across the European Union (EU), as well as between

the EU and other parts of the world. One of the primary aims of the EIA network is to

highlight the work of emerging graduate and undergraduate scholars in the intelligence

studies field, while encouraging cooperation in research and scholarship between

students of intelligence. The EIA is an initiative of the Research Institute for European

and American Studies (RIEAS).

Chanticleer Intelligence Brief www.cibrief.org

The Chanticleer Intelligence Brief (CIB) was established in 2015 as a student-run initiative

supported by the Department of Politics at Coastal Carolina University (CCU) in

Conway, South Carolina, United States. It operates as an ancillary practicum for students

in the National Security and Intelligence Studies program who wish to cultivate and refine

their ability to gather, present, and analyze information in accordance with techniques used

in the analytical profession. The goal of the CIB is to train aspiring intelligence professionals

in the art of producing well-researched, impartial and factual analytical products.

The European Intelligence Academy

11 Kalavryton Street,

Alimos, 17456, Athens, Greece

Tel/Fax: +30-210-991-1214 (Europe)

++1-423-742-1627 (United States)

Email: rieasinfo@gmail.com

ISBN-13: 978-1987629361

ISBN-10: 1987629361

Copyright © 2018 The European Intelligence Academy (EIA)

All rights reserved, Published in North Charleston, SC, United States, in April 2018.

Cover Design: Prawny, CC0 Public Domain. Free for commercial use. No attribution required. Pixabay,

https://pixabay.com/en/world-globe-worldwide-www-planet-1302935/

No parts of this publication may be reproduced, stored in a retrieval system or transmitted, in any form or by any

means, without the prior permission in writing of the European Intelligence Academy (EIA), or expressly permitted by

law, by license, or under terms agreed with the appropriate reproduction rights organization. You are not permitted

to circulate this work in any other form and you must impose this same condition on any acquirer of this volume.

2
---
4
---
Table of Contents

Foreword page 07

Madison Nowlin

Introduction: Major Security Challenges for the Trump Administration page 11

Dr. Joseph Fitsanakis

How Likely is a War Involving North Korea? page 17

Matt Pologe

Is Far-Right Extremism a Threat to the National Security of the United States? page 27

Maeve Stewart

The Islamic State of Iraq and Syria as a Factor in US-Russian Relations page 37

Madison Nowlin

The Effect of Turkey's Political Instability on the NATO Alliance page 45

Katelyn Montrief

Biographical notes on contributors page 53

5
---
6
---
Foreword

There is something to be said about the synergy one feels as they step into room

300 at Coastal Carolina University's Science Center at 6 o'clock on a Wednesday

night. It crackles in the air, lights up the room, and gives everyone a sense of

purpose. At that time every week, students of Coastal's Intelligence and National

Security Studies program gather and discuss world events. They dig deep into a

topic of their choice, literally bringing the most relevant news developments of

the week to the table and explaining their significance. These students do not

receive class credit for this, and yet they continue to come back each week.

Despite the deadlines, the pressure to perform well, and the additional stressors

of life, students of the Chanticleer Intelligence Brief (CIB) refuse to let schooling

interfere with their education.

The most dedicated of the CIB's students decide to sacrifice their social lives for

an entire semester and register for the CIB class. You have in your hands the

product of that sacrifice. This journal comprises the analytical works of some of

those CIB students who took the plunge. They agreed to be subject to countless

late nights, weekly stage fright, and open criticism in front of their peers. Some

even do it a second and third time. By reading this issue of The Intelligence Review,

you will see firsthand that it is greater than the sum of its parts. The possibility of

a war involving North Korea, right-wing extremism in the United States,

American-Russian relations, and Turkey's instability within the North Atlantic

Treaty Organization, represent some of the most significant crises of our time.

2017 turned out to be one of the most tumultuous years in America's recent

history. The election of President Donald Trump has changed the game in many

ways when it comes to international politics. As part of their intelligence product,

the analysts featured in this issue were tasked with evaluating the effects that the

7
---
new Trump Administration has had on their topics. As you read this issue, you

may begin to perceive the world in a different light. Whether you begin to develop

a more or less pessimistic worldview, know that these analysts are only presenting

the facts as they know them. I encourage you to continue building your knowledge

of these evolving topics and acquire a better understanding of their complexities.

The Intelligence Review can be a useful ally in this process.

Madison Nowlin

Chief Financial Officer and Head of Russia Desk, Chanticleer Intelligence Brief

8
---
9
---
10
---
Introduction: Major Security Challenges for

the Trump Administration

Dr. Joseph Fitsanakis

Associate Professor, Intelligence and National Security Studies, Coastal Carolina University

Deputy Director, European Intelligence Academy

Political scientists in Europe and the United States began employing the term

superpower in the final months of World War II. During that time, there was a

widespread feeling among experts that the global nature of the war against Nazism

had prompted the leading allied nations of the day —the United States, the Soviet

Union and the United Kingdom— to project worldwide dominance on an

unprecedented scale. The use of the term became commonplace during the Cold

War, as the United States and the Soviet Union exceeded the historical confines

of the term great power. For nearly half a century, Washington and Moscow

competed in efforts to spread their economic, military, political and cultural

influence to the remotest regions of the Earth, and even into space. The

conclusion of that tumultuous period left the United States as the planet's sole

superpower.

America's victory in the Cold War was unquestionable and resounding. However,

Washington has seen its global dominance challenged on numerous levels in the

post-Cold War era —not least on September 11, 2001, when an attack on American

soil by al-Qaeda killed nearly 3,000 people. That tragic event demonstrated the

unpredictable nature of the post-Cold War period and triggered what became

11
---
known as America's "global war on terrorism". Inevitably, the political rise of

Donald J. Trump, America's 45 th president, was shaped by the domestic and

foreign-policy pressures that American society has been experiencing since the

events of 9/11. During his presidential election campaign, candidate Trump

struck a markedly assertive —belligerent, according to his critics— tone on

matters of national security. He also proposed to narrow considerably the scope

of America's actions in defense of its national security, focusing solely on what

he saw as essential priorities. Overall, however, the lack of clarity on national

security policy that characterized Trump's election campaign has persisted during

his presidential tenure. The recent appointment of John Bolton to the post of

National Security Advisor —the third during Trump's 14 months in office— is

perhaps indicative of his administration's ambiguity in this crucial area of policy.

Ambassador Bolton, a leading neo-conservative ideologue, is known for his

military-interventionist views and his belief in so-called "democracy promotion".

That was a policy staple of the administration of US President George W. Bush,

to which President Trump is —in theory— bitterly opposed.

Thus, in the words of Marlon Brando in the 1963 film adaptation of The Ugly

American, "the only thing that's clear so far is that there's no clarity at all". That is

concerning, given that clarity on national security is required by the pressing

nature of ongoing national and global developments on many fronts. The present

volume, a special edition of The Intelligence Review, with articles that are longer than

usual, is an attempt to asses some of the most important national-security

challenges facing the Trump administration. Given the immense breadth of

national-security concerns for any American administration, our choice of topics

in this compendium is inevitably selective. The selection of topics came from a

hierarchical evaluation of current challenges faced by the United States, combined

with the personal interests of the Chanticleer Intelligence Brief's analysts during

the concluding months of 2017, when the reports in this volume were authored.

Our North Korea analyst, Matt Pologe, writes about one of the thorniest foreignpolicy

issues of the Trump administration, namely the United States' stance on

North Korea's nuclear program. The rhetoric on all sides has always been heated

in the decades-old conflict between North Korea and its rivals. But Pologe notes

that, despite its heightened rhetoric, the Trump administration "remains broadly

unwilling to engage in a war in the Korean Peninsula". The same applies to China,

Pyongyang's political ally and largest trading partner. More importantly, says

Pologe, the two Koreas are aware that they have nothing to gain and everything

to lose from a destructive regional war. That does not mean that a war will not

happen, he argues, but that it is highly unlikely. Ultimately, North Korea wants to

be viewed by the outside world as a sovereign state with the "right to exercise as

many freedoms as any other world power, including the United States", says

Pologe. That is something on which Pyongyang will not compromise, and will

protect even at the expense of its nuclear program. Washington, therefore, must

12
---
use that to achieve, not the complete elimination of North Korea's nuclear

program, which is highly unlikely, but rather "a cap in the production of nuclear

materials" by North Korea, advises Pologe. "There are no other realistic options",

he argues.

Because of the global nature of its strength, the United States has become

accustomed to viewing national-security challenges as coming from abroad. But

that is not so, argues CIB analyst Maeve Stewart, who studies the contemporary

rise of American far-right groups. Ideas that could today be classified as far-right

have been parts of the American political landscape since the late 1700s. Indeed,

students of American national security will recall that the largest domestic terrorist

attack on American soil before 9/11 was carried out in 1995 by Timothy McVeigh,

a white nationalist who blew up the Alfred P. Murrah Federal Building in

Oklahoma City, Oklahoma, killing 168 people and injuring several hundred more.

Other far-right believers have been behind high-profile terrorist incidents, such

as Eric Rudolph, a Christian Identity believer and anti-gay propagandist who planted

a bomb at the Centennial Olympic Park in Atlanta, Georgia, during the 1996

Summer Olympic Games. These kinds of incidents could happen again, argues

Stewart, if the United States government does not take comprehensive action

against far-right groups. Counter-terrorist attention should focus on far-right

groups that are motivated by race, because they "have shown more discipline and

organization than the rest, indicating that they are moving faster towards

becoming a US national security threat", according to Stewart. She notes that a

plethora of far-right groups are working in closer cooperation, having been

emboldened by the election of President Trump, whom they perceive as a tacit

supporter. The president, therefore, should go out of his way to explicitly and

repeatedly denounce his supporters from the far-right. That act alone would help

significantly to deflate the national-security threat from the extreme right, says Stewart.

America's relations with the Soviet Union and Russia have been a central pillar of

Washington's national-security policy for decades. The current juncture is no

exception. But bilateral relations between the two rival states have been furthercomplicated

by the ongoing military standoff in Syria, argues Maddison Nowlin,

a longtime CIB analyst and executive officer. A major aspect of the Syrian Civil

War is the rise of militant Sunni Islam, which has prompted the growth of numerous

armed groups, including the Islamic State of Iraq and Syria (ISIS). Nowlin points

out that, while further complicating American-Russian relations, the rise of ISIS

—a group that has attacked both Russian and American targets— has helped

facilitate a limited dialogue about security between Washington and Moscow. The

United States became militarily involved in Syria as part of its longstanding

support for the so-called "Arab Spring", a combination of peaceful and violent

protest movements that have pressed for political changes in the Arab World

since 2010. Russia, on the other hand, entered the Syrian Civil War in an effort to

prevent a repetition of the political chaos that engulfed Libya following the removal

13
---
from power of Colonel Muammar al-Gadhafi. The simultaneous presence of

Russian and American military and intelligence personnel in Syria is worrisome

for many observers. Nowlin agrees, but points out that the two countries have

repeatedly demonstrated that they are "capable of striking partial agreements over

Syria, to the benefit of both the region and the world". Ultimately, she points out,

both Moscow and Washington are aware that, as ISIS loses power in the region,

"the need for a political resolution in Syria becomes more prevalent". Russia has

repeatedly indicated that Syria's embattled President, Bashar al-Assad, should play

a prominent role in a future political solution. It is also clear, says Nowlin, that

"while the United States has articulated its intent to remove Assad from power,

that is no longer [its] primary goal [...] in Syria". This could form the basis of a

mutually agreed path toward stability in the country, argues Nowlin. Alternatively,

tensions between the United States and Russia could continue to rise toward Cold

War levels, something that could "turn Syria into one of history's longest proxy

wars between the two powers", she concludes.

The North Atlantic Treaty Organization (NATO) has been a central parameter

of America's national security strategy in the postwar era. However, recent years

have witnessed a severe deterioration in relations between NATO's two largest

military powers, the United States and Turkey. In September of 2017, following

a meeting with his Turkish counterpart, Recep Tayyip Erdogan, President Trump

said that the relationship between the two nations was better than it had ever

been. However, as CIB analyst and executive officer Katelyn Montrief argues, the

American president's statement appears to contradict the facts. There has never

been complete agreement on policy between Washington and Ankara, even

—especially, some would say— during the Cold War. However, Montrief notes

that recent years have seen an unprecedented deterioration in relations between

Turkey and the United States, which has inevitably spread confusion and ambiguity

within NATO circles. There are several factors that contribute to the worsening

of bilateral relations between Washington and Ankara, says Montrief. One is

America's stance toward the Kurds, which constitute a sizeable minority within

Turkey, Iraq, and other nations in the Middle East. Turkey sees the Kurds'

secessionist aspirations as direct threats to its territorial integrity. But the United

States has worked closely with the Kurds for years, most recently in Syria against

ISIS. That close relationship continues to incense Ankara and contributes

significantly to its thorny relations with Washington. Relations between Turkey

and the United States took a rapid turn for the worse in July 2016, when a group

of Turkish military officers carried out a failed coup against President Erdogan.

He has since accused Washington of involvement in the coup, and has asked for

the extradition of Fethullah Gülen, an American-based former Islamic preacher and

politician, who leads the so-called Gülen movement. Washington rejects Ankara's

assertions and continues to provide political protection for Gülen. In late 2017,

former national security advisor Michael Flynn was charged with making false

14
---
statements to the Federal Bureau of Investigation about a series of conversations

he had with Russia's ambassador. He was also accused of having been offered $15

million to help Turkish officials forcibly —and presumably illegally— remove

Gülen from the US. This latest claim shows that "extraditing Gülen to Turkey

remains one of Ankara's major objectives, and that the Erdogan administration

has taken extreme measures —including attempts to bribe US officials— in

attempts to do so", says Montrief. Because of all these reasons, the decline in

Turkish-American relations will continue, she adds. Much will depend on whether

Turkey's domestic political instability will be prolonged. The latter "will continue

to have a negative effect on NATO, which is in turn likely to lead to future

diplomatic disagreements between Turkey and its NATO allies", Montrief warns.

This compendium focuses on an admittedly small sample of potential nationalsecurity

challenges for the Trump administration. It also showcases an equally

small sample of the CIB's extensive output. It is presented in the hope that readers

will benefit from the precision, astuteness and analytical clarity of these very timely

reports, which have been produced by a very talented team of young analysts.

15
---
16
---
How Likely is a War Involving North Korea?

Matt Pologe

The question of whether the Democratic People's Republic of Korea (DPRK)

could become involved in a war could be partly answered by assessing the

DPRK's national history. The very roots of this hermit kingdom were forged

through war, and the citizens of the DPRK have been acclimated to that

background (Armstrong 2017). Since the fighting concluded in 1953, the DPRK

and the United States (US) have been at a standstill with regards to the DPRK's

status and armaments program. The current US position is that the DPRK must

not expand its ballistic missile program. Washington also wants to prevent the

DPRK from establishing a nuclear program, and to compel Pyongyang to join the

Nonproliferation Treaty (NPT) of the International Atomic Energy Association

(IAEA) (Davenport 2018; Shepherd 2017). However, the DPRK insists that it is

within its right to exercise as many freedoms as any other world power, including

the US, and has withdrawn its membership to the NPT (Davenport 2018;

Manchester 2017). If the current pattern of military expansion continues to

increase, then the DPRK may become so powerful that it might nullify the

capability of United Nations (UN) to impose effective sanctions. If the threat of

war becomes too great, then the US and the UN may have to enter into

negotiations, or the situation could feasibly end in conflict. Notably, after decades

of growth and evasion from sanctions, the DPRK could have a level of military

strength that would allow it to force the US to alter its policy on the hermit

country's nuclear program at the bargaining table (Davenport 2017; When 2003).

17
---
The Emergence of North Korea

Since 1950, the DPRK and the Republic of Korea, known commonly as RoK or

South Korea, have remained in a constant state of war. More powerful countries,

like the US and China, have encouraged regional conflict in the past (Armstrong

2017). Japan, a valuable US ally in the region, is another major component in this

topic, as it has been targeted by the DPRK through acts of provocation ever since

the conclusion of World War II (Armstrong 2017). The Japanese Empire reigned

over the Korean peninsula from 1910 until the end of World War II. The record

of the occupation was devastating for the Korean people (Armstrong 2017). What

had begun as an ostentatious display of imperialism, eventually wavered under the

weight of Korean armed defiance in 1931 (Blomquist and Wertz 2015).

The Korean resistance formed the Provisional Government of the Republic of

Korea, which declared war on Japan in 1941 (Armstrong 2017). Japan became

increasingly preoccupied with the World War II in the Pacific Ocean, and that

lack of focus allowed the Korean resistance movement to form an independent

identity. Meanwhile, many Koreans were still fighting in the Japanese military or

working as civilian laborers, which made them supporters of the colonial regime

in the eyes of some. That tension brought about a new era of conflict and war

after 1945 (Blomquist and Wertz 2015). After the Japanese Empire surrendered

to the allied forces in 1945, a power vacuum emerged in the Korean Peninsula.

The region became a proxy arena for an ideological battle between the US-led

UN against communist states like China and the Soviet Union.

At that time, members of the National Revolutionary Army (NRA) and the

People's Liberation Army (PLA) began to split and form opposing factions, each

of them attempting to establish an organized government (Blomquist, Wertz

2015). Supported by the US, the majority of the NRA formed modern South

Korea, while factions of the NRA and the Soviet-backed PLA pledged loyalty to

Kim Il-sung, future founder of the DPRK (Blomquist and Wertz 2015). In 1950,

the DPRK, supported by the Soviet Union and China, invaded South Korea, and

the United States rushed to its defense. In 1951, the US and South Korea signed

a defense treaty and the American General Douglas MacArthur led a

multinational UN force in pushing Kim Il-sung's troops almost to the Chinese

border. Much to MacArthur's surprise, however, Chinese forces successfully

assisted the DPRK in countering the UN assault, in an effort to prevent US

domination of the region (Whalen 2003). For China, the presence of a USsupported

military power so close to its territory was —and has remained—

unacceptable. It was the reason that prompted China to intervene in the ensuing

Korean War and assist the DPRK militarily and economically.

18
---
The Korean War ended in armistice in 1953, after the DPRK accepted an offer

to control a number of islands off the coast of the Demilitarized Zone (DMZ).

That led to a ceasefire, but did not technically end the war (Armstrong 2017). The

DPRK and China signed the so-called Sino-Korean Treaty in 1961, with the

Chinese vowing to defend the DPRK in the event of a war (Armstrong 2017).

Following the conclusion of the Korean War, Kim Il-sung managed to gain an

almost divine status among his people, by spearheading the creation of a quasireligion

called Juche, which hails him as a god. According to the DPRK's state

ideology, Kim will be forever known as the Eternal President of North Korea,

and the country's citizens are fervent supporters of that notion. The people of the

DPRK are asked to display their love to Kim with an annual celebration and

military display (Armstrong 2017).

North Korea's Nuclear Era

Kim Il-sung managed to establish the state and significantly expand his nation's

weapons program. But his son and successor, Kim Jong-il, had even more success

at expanding the DPRK's military capability, despite the presence of economic

sanctions imposed by the UN and the US. After the collapse of the Soviet Union

in 1991, the DPRK faced a potentially catastrophic loss of support from what was

its strongest ally and defense-trading partner. That was Kim Jong-il's first real test.

He had to find a way to maintain the country's weapons program, but was no

longer able to do it as drastically as his father (Davenport 2017). In 1992, the

DPRK signed the NPT and submitted relevant information to the IAEA

(Davenport 2017). Kim Jong-il was then able to circumvent the rules of the treaty

by pretending to be cooperative, while at the same time growing the nuclear

program and avoiding major conflict. The UN imposed new sanctions against the

regime after North Korea's 2006 nuclear test, but was not prepared to send troops

to the peninsula as it did in 1950 (Davenport 2017). However, over time US

military presence in the region has significantly increased. Yet Washington

remains broadly unwilling to engage in a new war in the Korean Peninsula, despite

proclamations to the contrary.

After North Korea's first nuclear test in 2006, China had to publicly support

sanctions against the DPRK to maintain positive relations with the UN. But

Beijing has not been completely upfront about honoring all of the stipulations of

these sanctions (Davenport 2017; Armstrong 2017; Shim 2017). China is North

Korea's largest trading partner, neighbor and military ally. It is therefore difficult

for either side to behave aggressively against the other (Armstrong 2017). Today,

the DPRK's Supreme Leader, Kim Jong-un continues the trend of public defiance

and verbal hostility. The Kim dynasty has always ruled through a mixture of fear

and respect that North Koreans often compare to the sun: if you get too close to

it, you burn; if you get too far away, you freeze. That is how the ruling family has

successfully maintained communal loyalty to the regime. The people do not only

19
---
feel reliant on their leader, but also revere him. So they heavily support having an

advanced military program, and applaud public rhetoric against the US. For the

most part, the citizens of the DPRK view having a national nuclear arms program

as crucial for their defense against Western power.

In terms of national security, the DPRK has everything to gain by finding ways

around sanctions and expanding its nuclear and missile programs. But it truly has

everything to lose by engaging in full-scale conflict. Any conflict that would bring

the UN against the DPRK would almost certainly involve the US, South Korea,

Japan, Russia, and China, which could have long-term global implications. These

parties understand the notion that any war involving the DPRK could have

potentially devastating consequences, as nuclear or chemical weapons could be

utilized. In order to properly handle the DPRK threat, the US must find a way to

agree on a cap in the production of nuclear materials, because there are no other

realistic options. Rhetoric and propaganda from both the US and North Korean

sides have always been heated, but the key to solving the differences between the two

countries will be through patience and diplomacy, which comes with communication.

The DPRK and the Trump Presidency

The most realistic hope for a resolution resides in the will of US President Donald

Trump and his foreign policy advisors. But the Trump team must remain

conscious of what the DPRK desires. When President Trump was campaigning

for the 2016 election, Kim Jong-un displayed hints of admiration for the realestate

mogul. But that feeling soon faded after the DPRK conducted a nuclear

test in early September 2016 (Thiessien 2016; UNSC 2016). As President Trump

began melding his foreign policy, he made clear that he intended to deal with the

DPRK diplomatically. By early January, 2017, Kim Jong-un and President-Elect

Trump had exchanged public insults, leading many to believe that a DPRK

provocation would be imminent (Manchester 2017). The day before Trump's

inauguration, the US Intelligence Community acknowledged activity in a missile

factory outside of Pyongyang, which renewed concerns that Kim Jong-un

intended to launch a missile during the inauguration. While such an event never

materialized, the DPRK did launch a missile on February 11, as President Trump

was meeting with Japanese President Shinzo Abe at his golf club in Mar-a-Lago,

Florida (McKirdy 2017).

Three days after that meeting in Florida, Kim Jong-un's exiled half-brother, Kim

Jong-nam, was assassinated with the use of VX nerve agent, a chemical banned

by the UN, while waiting to board a flight at the Kuala Lumpur International

Airport, Malaysia (Manchester 2017). Immediately after his murder, South

Korean and Malaysian authorities accused the DPRK of orchestrating the

assassination and began searching for the North Koreans responsible. Kim Jongnam

had been outspoken against the regime, and was exiled by his father in 2001.

20
---
Two women, carrying Vietnamese and Indonesian passports, were arrested based

on CCTV footage of the attack on Kim Jong-nam. Both have insisted that they

are not North Korean agents (Anonymous 2017). Following Kim's dramatic

assassination, China announced that it would suspend all oil imports from the

DPRK, effectively halting purchases of one of the DPRK's largest export. After an

extensive investigation, the US concluded that the DPRK did order the assassination

of Kim Jong-nam and has stated its intent to impose even more sanctions

(Anonymous 2018).

On March 6, 2017, North Korea fired four ballistic missiles into the Sea of Japan,

with a fifth missile failing to launch. These launchings occurred just before the

military drill held jointly by the United States and South Korea, in which Japan had

also been invited to join. Eight days later, North Korea tested an improved rocket

engine, which demonstrated its intent to improve its ballistic missile program and

showed that it was succeeding in that effort (McKirdy 2017). On April 6, the

DPRK launched another ballistic missile before another high-level meeting, this

time between President Trump and his Chinese counterpart, President Xi Jinping

(McKirdy 2017). During the meeting, President Trump ordered a missile strike

on Syria in a possible show of force towards the DPRK. Shortly after, President

Trump ordered the Mother of All Bombs (MOAB) to be dropped on ISIS in

Afghanistan. In late April, the US carrier Carl Vinson arrived in the Sea of Japan,

which raised alarms about a possible military engagement in Korea. However,

President Trump maintained that he would meet with Kim Jong-un under the

right circumstances (Manchester 2017).

Rockets and Olympic Diplomacy

In early May, South Korea elected liberal Moon Jae-in as its new president. Moon

won on a promise that he would try to reunify the two Koreas. But the DPRK

seemed intent on testing his patience. Just a few days after his inauguration, North

Korea launched another missile and the UN responded with more sanctions

(McKirdy 2017). On July 4, the DPRK claimed to have tested its first successful

ICBM followed by another successful test on July 28. The UN responded with

more sanctions, but did not address the DPRK's increased rocket propulsion

capabilities, as demonstrated in the missile tests. It appeared that the new missiles,

with increased rocket size and operation, were capable of striking the US

mainland. The DPRK could successfully affix a miniaturized nuclear warhead on

a missile and thus carry out a nuclear strike on the United States. Towards the end

of November, the DPRK launched an even more advanced ICBM, this time

stating that it had the capability of reaching US lawmakers in Washington, DC.

Following the conclusion of the 2018 winter Olympics in South Korea, the DPRK

delegation invited South Korea's President Moon to Pyongyang for a summit.

Now President Moon and Supreme Leader Kim are set to meet in April, along

21
---
with President Trump. The status of the meeting could change at any moment. If

it does take place, then it will be the first meeting between a South Korean

President and leader from the DPRK in over a decade. Astonishingly, this would

also be the first official meeting with Kim Jong-un for both President Moon Jaein

and President Trump. The two Koreas have even agreed to establish a

communication hotline. This should be seen as a critical step in diplomacy

between the two sides. Interestingly enough, the invitation came just days before

President Trump declared new tough sanctions against the DPRK, in what

appeared to be yet another attempt to limit the importation of oil and exportation

of coal by the regime (Landler 2018). It is important to note that these sanctions

have previously been ineffective at thwarting acts of provocation by the DPRK,

as numerous nations, including China, have refused to comply with established

regulations, and the DPRK has managed to evade them. It is also important to

keep in mind that these sanctions negatively impact the Chinese economy as it

receives most of its coal supply from the DPRK, and it does so for the most

advantageous price on the market. It is therefore difficult for some UN member

states to honor all sanctions resolutions, which is something that the DPRK has

managed to exploit, despite growing penalties.

Conclusion

The US and the DPRK have remained at gridlock because the US is solemnly

opposed to the DPRK having a nuclear capability. But the DPRK desires as many

freedoms as any other state. Marshal Kim Jong-un finds it imperative to construct

a capable defense against the potential threat that the US military poses by its

significant presence in South Korea. So the fact remains that the North Koreans

have the most to gain from gridlock, as it can continue to advance its defense

program, while the UN continues to sanction and watch. The US, South Korea,

China and Japan all do not want the DPRK to possess nuclear capabilities.

However, anything less than that is a non-starter with the DPRK when it comes

to diplomatic negotiations. Nevertheless, the DPRK has expressed its willingness

to suspend its nuclear program for the duration of the talks. Yet, as President

Moon has stated, optimism at this early stage would be premature. It is worth

remembering that Kim Jong-il established similar hopes with the UN during the

1990s and his father did so at earlier times. Historically, however, such openings

did not lead to lasting change. If anything, the DPRK may use this as an

opportunity to quietly hone its nuclear and ballistic missile programs, while

avoiding mounting UN sanctions. Moreover, the feeling of optimism is very

unlikely to be tenuous, as these talks will be held during the looming joint military

drills that are jointly held every year between the US and South Korea. There is

an absence of signs that would suggest that Washington or Seoul are willing to

postpone these drills.

22
---
For decades, the two sides have dismissed each other's demands and no major

issue of disagreement has been resolved. So, a major cause for concern moving

forward is that the overall strategy of the UN has remained unchanged despite

the ineffectiveness its past efforts. That is especially critical to remember in the

wake of a potentially historic meeting between the various sides. Undoubtedly, all

countries involved face the very real risk of losing a plethora of resources by going

to war. This applies primarily to South Korea and the DPRK, as both nations risk

virtual annihilation. To prevent this, the White House should envision reality from

Pyongyang's perspective, and the world must hope that the DPRK would return

the gesture by abiding by international law. Every participating country in this

dispute essentially faces economic stress, heavy military casualties, political suicide

and possible collapse in a nuclear conflict. The audacious public rhetoric by the

DPRK seems to be purely propaganda, as it is way more advantageous for the

pariah state to maintain the current status of gridlock. Additionally, none of the

nations involved, including the DPRK, appear to be truly seeking war. I can

therefore state with high confidence that it is highly unlikely that there will be a

war involving North Korea in the foreseeable future.

23
---
References Cited

Anonymous (2017) "Kim Jong Nam Assassination: CCTV Shows Accused's Alleged

'Practice Run' Before Mysterious Killing", SBS, 11 October accessed on 29 November 2017.

Anonymous (2018) "State Dept Sanctions DPRK for Using Agent VX to Kill Kim Jong-un's

Half Brother", Sputnik, 07 March

accessed on 07 March 2018.

Armstrong, C. (2017) "Korean History and Political Geography", Asia Society, 03 December

accessed on 03

December 2017.

Blomquist, R., and Wertz, D. (2015) "An Overview of North Korea- Japan Relations",

NCNK, 1 October

accessed on 03 December 2017.

Davenport, K. (2017) "Chronology of US-North Korea Nuclear and Missile

Diplomacy", Arms Control Association, 1 November accessed on 3 December 2017.

Landler, M. (2018) "Trump Announces Harsh New Sanctions Against North Korea",

The New York Times, 23 February

accessed on 2 March 2018.

Manchester, J. (2017) "Trump and North Korea: A Timeline on Escalating Tensions",

The Hill, 3 September

accessed on 30 November 2017.

McKirdy, E. (2017)"North Korea Timeline : From Trump's Inauguration to Now",

CNN, 31 July accessed on 29 November 2017.

United Nations Security Council (2016)" UNSC Strengthens Sanctions on the DPRK,

Unanimously Adopting Resolution 2321" United Nations Security Council, New York,

NY, United States, 27 November

accessed on 29 November 2017.

Shepherd, C. (2017)" US Can Talk to North Korea if it Stops Missile Tests: Tillerson"

Reuters, 06 August accessed on 03

December 2017.

Whalen, K. (2017) "A Short History United States-North Korea Timeline", PBS Frontline,

10 January

accessed on 3 December 2017.

24
---
25
---
26
---
Is Homegrown Far-Right Extremism in the

United States a National Security Threat?

Maeve Stewart

Evidence of the presence of ideologies in the United States that could today be

classified as far-right dates as far back as the late 1700s. However, this report

focuses on far-right threats to US national security in the period after the attacks

of September 11, 2001. There are several definitions of national security, but for

the purposes of this report, national security refers to wholescale efforts to

preserve and sustain the nation-state from foreign and domestic threats through

political negotiation, force or threat of force. In this case, the threat is homegrown

and the groups that represent that threat consist of US citizens who carry out

attacks on US soil. The term far-right can be defined as a broad collection of

political views held by conservatives who maintain extreme nationalist or nativist

ideologies, as well as authoritarian tendencies. Today there are several types of

groups that can be classified as far-right, such as anti-government militias, anti-

Muslim groups, anti-LGBTQ, anti-immigrant groups, and groups that are motivated

by race and nationality, including the Ku Klux Klan (KKK) and various neo-Nazi

factions. Overall, the far-right in America is becoming an increasingly prominent

political force. However, the groups that are motivated by race have shown more

discipline and organization than the rest, indicating that they are moving faster

towards becoming a US national security threat.

27
---
Ideology and Main Actors

Throughout history, the various ideologies of far-right groups have shifted; old

groups have disappeared and have been replaced by new formations led by

younger members. It can be easy to overlook ideological differences between

these factions, but these are important in order to form an accurate picture of the

far-right ecosystem. White supremacists believe that white people are superior,

therefore white people should be dominant over all other races. White nationalists

seek to develop and maintain a separate white national identity, but are not

necessarily racial supremacists. Neo-Nazis are the post-World War II groups that

aim to construct contemporary interpretations of German national socialism,

modeled after the German far-right that emerged in the 1920s and persisted until

the 1940s. Neo-confederates promote a revisionist history of the southern

Confederate States of America and view the south's stance in the American Civil

War in a positive light. Christian identity groups believe that only the European

peoples and people of kindred blood are the descendants of the Biblical figures,

Abraham, Isaac and Jacob, hence the descendants of the ancient Israelites, and

only they can reach paradise. Finally, racist skinheads are the youth-oriented,

violent element of the white supremacist movement.

The contemporary far-right movement is influenced by several important actors,

including individuals, organizations and groups. David Duke "is [today] the most

recognizable figure of the American radical right, a neo-Nazi, longtime Klan

leader and now international spokesman for Holocaust denial" (SPLC n.d.). An

emerging far-right figure is Richard Spencer, a white supremacist and president

of the National Policy Institute, which operates as a lobbying group for white

supremacists. He is an avid organizer with many followers, who has called for a

"peaceful ethnic cleansing" and sees himself as a spokesman for the "dispossessed

white race" (SPLC n.d.). In 2008, Spencer coined the term "alt-right", meaning

those whose ideologies are centered on "white identity" and feel they are under

attack by "political correctness" and "social justice" (SPLC n.d.). The term altright

loosely defines groups with far-right ideologies that reject mainstream

conservatism and favor a white-nationalist ideology.

The main organization that has shaped this movement is Stormfront, a website

for white supremacists with over 300,000 registered users. It is used for all types

of communication and it has users that are said to be linked to over 100 violent

criminal acts, committed with far-right motives, all over the world (SPLC n.d.).

The Southern Poverty Law Center refers to Stormfront as the "murder capital of

the internet". Another individual that has just recently stepped into the spotlight

is Jared Taylor, a white nationalist who is the founder and editor of the white

supremacist magazine American Renaissance. Taylor recently authored an article

containing several, templates of racially motivated posters. These posters have

been popping up on college campuses all over the US. Groups and leaders such

as the National Socialist Movement (NSM), led by Jeff Schoep, Identity Evropa,

28
---
led by Patrick Casey, the KKK, neo-Nazis, and Michael Hill, founder of the League

of the South, can be considered the most active within the racially motivated farright

in America.

Recent Historical Development

During the 1980s, 75 far-right extremists were prosecuted in the US for acts of

terrorism (Smith 1994:33). In 1983, Gordon Kahl, a member of the Posse

Comitatus, an anti-government and anti-Semitic group, killed two federal

marshals. Later that year, a white nationalist group known as The Order robbed

banks, stores and armored cars, bombed a theater and a synagogue and murdered

Alan Berg, a liberal radio talk-show host. The most notable far-right attacks

before 9/11, in terms of their scale and the attention they received, were the

bombings of the Oklahoma federal building in 1995 and the Centennial Olympic

Park in 1996. The Federal Bureau of Investigation (FBI) disseminated detailed

reports regarding these attacks. In April of 1995, Timothy McVeigh, a former

soldier, blew up the Alfred P. Murrah Federal Building in Oklahoma City,

Oklahoma, killing 168 people and injuring several hundred more. McVeigh

claimed that his action was a retaliation for the Ruby Ridge and Waco sieges (FBI

n.d.), which are prominent in far-right activist circles and have come to symbolize

the perceived intent of the state to disarm citizens. In July of 1996, during the

summer Olympic Games, Eric Rudolph, a Christian Identity believer and anti-gay

propagandist, bombed the Centennial Olympic Park in Atlanta, Georgia, killing

two and injuring over 100 others. Rudolph then went on to bomb two more

locations in Georgia and Alabama (FBI n.d.). After 9/11, there have been over

30 attacks committed on American soi by people motivated by far-right

ideologies. One of the most infamous is the shooting at the Emanuel African

Methodist Episcopal Church in Charleston, South Carolina, perpetrated by a

white supremacist, Dylann Roof, on June 17, 2015. Roof killed nine people in hopes

of starting a race war (FBI n.d.).

Present Status of the American Far Right

Despite its long history, domestic non-Islamic extremism is often overlooked as

a threat to US national security. Recent developments indicate that the American

far-right is becoming a national security threat, possibly even greater than Islamist

extremists.

Since the November 2016 election of President Donald Trump, American farright

groups have, seemingly, become emboldened through public protests and

rallies, and through aggressive recruitment tactics. It is too early in Trump's

presidency to determine with certainty where he stands, regarding his level of

support, on the issues involving the far-right. Earlier this year, a report on CNN

disclosed President Trump's alleged racial comments to lawmakers. The president

reportedly said, "Why are we having all these people from shithole countries come

29
---
here?", referring to developing countries such as Haiti and countries in Africa.

President Trump then reportedly went on to say, "Why do we need more Haitians?

Take them out" (Phillip and Watkins 2018). It is comments such as these that

arguably give the American far-right the perception that the President of the

United States supports elements of their ideologies.

In the past year, there have been three attacks in the US, perpetrated by supporters

of the far-right, resulting in casualties. The first was the death of Timothy Coughman,

who was stabbed with a sword by James Jackson in March 2017. Police later

confirmed that Jackson traveled from Maryland to New York with the intent of

killing black men in order to stop interracial relationships between white women

and black men (Southall 2017). The second attack occurred in May 2017. Jeremy

Christian stabbed and killed two people and injured two more, when he was

confronted for uttering racial slurs aimed at two teenage girls (Becker and Parker

2017). The third violent incident occurred in August 2017. James Fields allegedly

drove his car into a group of counter-protestors at the Unite the Right rally in

Charlottesville, Virginia, which was organized by far-right groups, killing one and

injuring nineteen others (Heim 2017).

In addition to these violent events, there have been several non-violent events. In

early October 2017, Spencer led another march in Charlottesville that only lasted

about 20 minutes due to a large counter-protest that was held in the same area

(Chaitin 2017). The White Lives Matter rally occurred later that month in

Tennessee, but was also cut short. One violent incident was reported after the

event, at a pub, where several White Lives Matter protestors harassed a white

woman for sitting with a black man that ended in a physical altercation between

a protestor and the woman (Liebelson 2017). According to Ian Allen, editor at

IntelNews, far-right activist Taylor Wilson attempted to derail a passenger train in

Nebraska on October 22, 2017. The FBI reported that Wilson entered the engine

room and activated the emergency brakes, bringing the train to a complete halt.

No one was reported injured or killed. Allen also refers to an FBI indictment that

states: "Wilson traveled to Charlottesville, Virginia, in August of last year to attend

the 'Unite the Right' rally, which was organized by various white supremacist,

white nationalist, neo-Nazi and militia groups." There have also been reports of

Wilson being a member of the NSM (Allen 2018).

Information was recently uncovered by the investigative website ProPublica

regarding today's far-right groups and their organizational capabilities. According

to the website, far-right groups are sharing information and documents via online

chatrooms about manufacturing and using bombs, grenades, mines and other

explosive devices. These documents contain information ranging from instructions

on how to detonate dynamite, to US military-issue manuals for making

improvised explosives and booby traps (Thompson and Winston 2017).

30
---
More recently, far-right posters have appeared on college campuses in what

appears to be a new recruitment technique. More specifically, Clemson University,

in Clemson, South Carolina, has seen alt-right-themed posters attempting to

appeal to white people who feel they are being oppressed (Silvarole 2017).

Emerson College, in Boston, Massachusetts, has seen fliers sponsored by

Vanguard America, proclaiming: "Take Your Country Back!" (Anon. 2016). The

Patriot Front website is displayed on the flyers at the University of Utah in Salt

Lake City, Utah, bearing the words: "Stop the rapes. Stop the crime. Stop the

murder. Stop the blacks", along with crime statistics (Anderson 2017). Coastal

Carolina University, in Conway, South Carolina, has also seen white supremacy

flyers on its campus. Early flyers displayed the message "It's okay to be white"

(Boschult and Broyles 2017). However, later versions, created by Jared Taylor,

state: "Men of the West, don't give in to hate. Love your people. Love your culture.

Love your heritage. Embrace white identity today!". One recent flyer found on

Coastal's Campus, which has reportedly been seen on several other campuses, states,

"Make America White Again"; this is clearly an alteration of one of President

Trump's campaign slogans, "Make America Great Again".

These are only a few examples of flyers that are popping up on college campuses

across the country. Since March of 2016, the SPLC has tracked over 300 racist

fliers on over 200 different college campuses in the US (Hatewatch). There are

also reports of college campus computer systems getting hacked —specifically

libraries— in order for far-right activists to print their fliers remotely without

getting caught (Markovich 2016). Hackers are finding a way into university

computer systems and connecting to their printing software in order to print their

racist propaganda from the comfort of their own homes. The goal behind these

actions appears to be to instill the perception of a large presence of the far-right

on campuses. Fear comes into play when students and faculty try to silently figure

out who the anonymous supporters of these groups may be.

Analytical Projections

Members of the American far-right consistently interpret the views of the Trump

administration as tacit support for their beliefs, which in turn fuels their actions.

The leaders of these groups can no longer be dismissed as "racist rednecks". They

are well educated and understand how to encourage —and sometimes

manipulate— their followers into carrying out violent acts in the name of their

ideologies. Additionally, it was not until the first Unite the Right rally in

Charlottesville that the US saw large-scale collaboration between far-right groups

post 9/11. After seeing the second Tennessee rally canceled due to the small

turnout and overwhelming amount of counter-protesters, far-right leaders made

recruitment adjustments by targeting college students via racist propaganda. Now

that there are open lines of communication and cooperation between the various

groups, the far-right aims to build upon that by recruiting new members in hopes

that there will be more joint events in the future.

31
---
The far-right have come to the realization that the future of the US is in the hands

of the younger generations. By spreading their ideologies, they are hoping to

recruit more young members. Targeting college campuses is, therefore, seen as an

ideal recruitment tactic, whether it is activists posting the flyers themselves,

getting a student or faculty member to do it, or by hacking into school computer

systems to print them out. This development is extremely important because

students now have a platform to launch their own rallies from. The use of the

Internet makes spreading propaganda that much easier; it can be seen and shared

by people not only all over the United States, but all over the world as well. This,

plus the decentralization of the movement, should be considered dangerous. In

the past, government security agencies were able to pinpoint a certain area where

these groups operated. For instance, the KKK was known to mainly operate in

rural areas of the South and Midwest. However, these small group-like cells are

appearing all over the country, and sometimes all it takes is the click of a button

to make their presence known. The majority of these groups will not be publicly

visible until they organize a high-profile event such as the Charlottesville rally.

It is entirely possible that these newly established far-right college groups will

collaborate with groups on other campuses across the US to organize an event

with some form of meaningful structure. This event could show up as a series of

rallies taking place in succession, one on a new campus every day, or several

distinct rallies held on different campuses on the same day. It is also possible that

a large rally could be organized in the US, such as the recent one in Poland, which,

according to a Washington Post article, was attended by an estimated 60,000 farright

supporters from dozens of countries, including Italy and Britain (Selk 2017).

Ideally, for the American far-right, supporters will come to attend such an event

from all over the world, which will, by definition, elevate the threat to US national

security. Concerns over the collaboration between homegrown far-right groups

in the United States and similar groups abroad are not alarmist. One can argue

that it is currently happening, as there were reports from the Charlottesville rally

that far-right supporters from Canada were in attendance (Marquis 2017).

Ultimately, the more public support the far-right gains, even if it is perceived

support via hacked computers to create visual propaganda, the more violence will

occur. It can be stated with high confidence that the American far-right is a

national security threat. This is primarily due to two things: first, the fact that farright

groups have recently acquired the information necessary to build and

detonate large-scale IEDs; second, the fact that they are sharing that information

with other far-right actors online. Broadly speaking, there is substantial and

deepening collaboration and support among these groups. Additionally, the farright

feel more emboldened. It can be stated with moderate confidence that there

will be a large-scale attack on US soil, perpetrated by the far-right, within 2018.

32
---
Implications for the Trump Administration

President Trump, along with senior members of his administration, have a

perceived controversy surrounding them when it comes to the far-right. The

president has been accused by the Southern Poverty Law Center and The New

York Times of being a sympathizer and supporter of the far-right, and even of

being a white supremacist himself (SPLC n.d. and Blow 2017). During his

presidency, there have been several attacks on US soil by far-right actors.

According to his critics, his comments regarding those attacks have not clarified

his position on the matter. Since his 2016 campaign launch, President Trump has

used the slogan "Make America Great Again". However, some far-right

supporters have interpreted that slogan to mean "Make America White Again",

and have been chanting this at far-right rallies throughout the past year. Far-right

groups are becoming more emboldened through their actions, because they feel

that they have the support of the president; they believe that he is a tacit

sympathizer and supporter of their ideologies because he has not given them clear

reasons to think otherwise. Given the current state of affairs regarding the

homegrown far-right in America, the Trump administration should take the steps

necessary to make clear its position on the far-right and denounce President

Trump's right-wing supporters. It is logical to assume that if President Trump

denounces his far-right supporters, the national security threat from the far-right

will deflate.

33
---
References Cited

Allen, I. (2018) "Man Who Attended Charlottesville Far-Right Rally Tried to Derail

Passenger Train", IntelNews, 01 January .

Anderson, E. (2017) "Racist Posters Found on U Campus", The Daily Utah Chronicle, 12

August .

Anon. (2014) "White Homicide Worldwide", Southern Poverty Law Center, 3 December

.

Anon. (2016) "Posters For White Supremacist Group Found On Emerson College

Campus", CBS Boston, 07 December .

Anon. (2018) "The Year in Hate: Trump Buoyed White Supremacists in 2017, Sparking

Backlash Among Black Nationalist Groups", Southern Poverty Law Center, 21 February

.

Anon. (n.d.) "Alt-Right", Southern Poverty Law Center, .

Anon. (n.d.) "David Duke", Southern Poverty Law Center, .

Anon. (n.d.) "National Security Law and Legal Definition", US Legal, .

Anon. (n.d.) "Richard Bertrand Spencer", Southern Poverty Law Center, .

Becker, S. and Park, M. (2017) "Portland Train Suspect: 'I Hope Everyone I Stabbed

Died'", CNN, 3 December .

Blow, C. (2017) "Is Trump a White Supremacist?", The New York Times, 18 September

.

Boschult, C., and Broyles, M. (2017) "'IT'S OKAY TO BE WHITE' Flyers at CCU

Spark Investigation", Myrtle Beach Online, 09 November .

Chaitin, D. (2017) "White Nationalists Return to Charlottesville for Brief Torch-Lit

Rally", The Washington Examiner, 07 October .

Federal Bureau of Investigation (2015) "Active Shooter Incidents in the United States

in 2014 and 2015", United States Federal Bureau of Investigation, Washington, DC,

United States .

Federal Bureau of Investigation (n.d.) "Oklahoma City Bombing", United States

Federal Bureau of Investigation, Washington, D.C., United States .

Federal Bureau of Investigation "Erid Rudolph", United States Federal Bureau of

Investigation, Washington, D.C., United States .

Hatewatch Staff (2017) "White Nationalist Fliering on American College Campuses",

Southern Poverty Law Center, 17 October .

34
---
Heim, J. (2017) "Recruiting a Day of Rage, Hate, Violence and Death", The Washington

Post, 14 August .

Liebelson, D. (2017) "A Black Man and a White Woman Sat Down at a Pub. Then the

White Supremacists Showed Up.", HuffPost, 31 October .

Markovich, A. (2016) "Hacker Says He Printed Anti-Semitic and Racist Fliers at Colleges

Across US", The New York Times, 29 March .

Marquis, M. "At Least Two Quebecers Who Attended White Supremacist Rally in

Charlottesville Identified", The Globe and Mail, 17 August .

Phillip, A., and Watkins, E. (2018) "Trump Decries Immigrants from 'Shithole

Countries' Coming to the US", CNN, 11 January .

Selk, A. (2017) "Poland Defends Massive Far-Right Protest that Called for a 'White

Europe'", The Washington Post, 12 November .

Silvarole, G. (2017) "Clemson Officials Respond to Alt-Right Flyers in Internal Email",

The Independent Mail, 03 November .

Smith, B.L. (1994) Terrorism in America: Pipe Bombs and Pipe Dreams, State University of

New York Press, Albany, NY.

Southall, A. (2017) "White Suspect in Black Man's Killing is Indicted on Terror

Charges", The New York Times, 27 March .

Thompson A.C., and Winston, A. (2017) "White Supremacists Share Bomb-Making

Materials in Online Chats", ProPublica, 02 November .

35
---
36
---
The Islamic State of Iraq and Syria as a

Factor in US-Russian Relations

Madison Nowlin

Relations between the United States and Russia have been tense for decades.

However, the rise of Sunni armed extremist groups in the Middle East in our

century, such as the Islamic State of Iraq and Syria (ISIS), has further complicated

the relationship between the two countries. The ongoing instability in Syria has

attracted the attention and intervention of both Moscow and Washington. They

share common goals in Syria, such as defeating ISIS and increasing regional

stability, but they often disagree on the methods to do so. Notably, Russia

militarily and financially supports the government of Syrian President Bashar al-

Assad, while the US supports Syrian rebel groups opposed to Assad's rule, like

the Free Syrian Army. Russia considers Assad to be a source of stability for Syria

and sees the US as a source of instability. This stark difference in policy has caused

a rise in tensions between the US and Russia. At the same time, the US and Russia

have been forced to cooperate in areas where a combined effort has been

necessary to achieve commonly desired goals. An example of this was seen in the

joint US-Russian condemnation of Assad's use of chemical weapons in Syria.

Achieving the US and Russia's goals in Syria could lead to increased regional

stability and a decrease in the ISIS's global presence. Therefore, based on recent

evidence, it can be stated with high confidence that ISIS has further complicated

US Russian relations while simultaneously forcing dialogue and cooperation.

37
---
Key Actors

Several state and non-state actors have the capability to influence events in Syria.

When Russian President Vladimir Putin complied with President Assad's request

for assistance in 2015, he helped protect the Assad regime from the many factions

attempting to remove it. In turn, Russia was placed in a prime position to

influence the rebuilding of Syria after the Civil War. As extensions of Russia and

the US, Foreign Minister Sergei Lavrov and —until his removal in March 2018—

Secretary of Defense Rex Tillerson also have had substantial power in influencing

how the two countries have interacted in Syria. For example, after the Asia-Pacific

Cooperation Summit in 2017, Tillerson and Lavrov produced a joint statement

on Syria on behalf of Presidents Trump and Putin. Neither president had a hand

in drafting the statement (Erickson and Vitkovskaya 2017). This displays the

considerable power both ministers have in engaging in public rhetoric. In

addition, the estimated 1,000 Syrian rebel groups fighting against the Syrian

government —many of them US or Saudi-backed— can sway efforts to maintain

the Assad regime (Anon. 2013). Groups such as the Free Syrian Army, the Islamic

Front, and the Syrian Democratic Forces —a coalition of mostly Kurdish, along

with some Christian and Sunni Arab fighters— all fight to remove President

Assad from power (Finnegan 2017). Lastly, Sunni armed extremist groups, such

as ISIS and, to some degree, Tahrir al-Sham (an offshoot of al-Qaeda), can —and

have— drastically reshaped the political landscape of the Middle East. Each actor

mentioned above has a degree of influence over US-Russian relations in Syria.

Discussion of Recent Developments

The dissolution of the Union of Soviet Socialist Republics (USSR) in 1991,

brought not only the end of the Cold War, but the beginning of a new relationship

between the US and the Russian Federation. Progress in this relationship was

made rapidly, with the first joint space shuttle mission in 1994 and the ratification

of the START II treaty in 1996 (US Department of State 2017). Since the mid-

1990s, however, periods of optimism and progress have been followed by mutual

criticism, tension, and pessimism. A total of four relationship 'resets' have been

attempted by different US presidents (not mentioning attempts by Russian

leaders), each failing to stop the overall trend toward deterioration. For example,

Bill Clinton began his presidency as "the US government's principal Russia hand"

(US Department of State 2017), a statement implying he had an advantage in

negotiating with Russia. By the end of 1995, the US disapproval of the conflict in

Chechnya and the Russian disapproval of US involvement in Bosnia had reversed

any forward progress. In addition, in early 2002 the US announced that it would

be withdrawing from the Anti-Ballistic Missile Treaty in order to help protect

NATO allies from Iranian missile attack (Rohde and Mohammed 2014). President

Putin denounced the move as undermining nonproliferation efforts. Again, in

Libya, Russia disapproved of the US removing Muammar al-Gaddafi from power.

38
---
Furthermore, when Russia annexed the Ukrainian peninsula of Crimea in March of

2014, the US placed the first of many harsh sanctions on Russia in an attempt for a

peaceful resolution. By the end of that year, US-Russian relations had deteriorated

to levels last seen during the presidency of Mikhail Gorbachev (Stent 2014).

In October of 1980, Syria and the USSR signed the 20-year Treaty of Friendship and

Cooperation. The treaty automatically renews every five years, unless terminated

by either party, and stipulates coordinating responses in the event of a crisis

(Vicente-Caro 2017). The treaty also guarantees Russia's use of the Port of Tartus

—the only Russian military outpost left in the Mediterranean. When Syrian

president Hafez al-Assad died in 2000, his son Bashar al-Assad took power and

maintained his country's close relationship with the Russian Federation. Between

2009 and 2013, Russia invested close to $20 million in Syria through weapons,

military training, and other supplies that eventually aided the government in the

Syrian Civil War (Dugulin 2015). On September 16, 2015, President Assad issued

a formal request for military assistance in fighting ISIS, and Russian President

Vladimir Putin complied. On September 30, 2015, Russia began airstrikes on

targets throughout Syria and officially became involved in the Syrian conflict

(Dugulin 2015).

In August 2011, US president Barack Obama froze Syrian assets in the US

government and called for President Assad to resign. He also warned Assad that

the use of chemical weapons would force the US to intervene on behalf of the

Syrian people. In August 2013, a sarin gas attack befell civilians in the rebel-held

areas of Syria's capital while they were sleeping. Two months later, Syria signed

the Chemical Weapons Convention amid international pressure from the UN

Security Council. That year, ISIS was believed to be responsible for multiple mustard

gas attacks. Yet, it was not until September 2014 that the US began airstrikes in

Syria on ISIS targets. According to the UN, the Syrian government was responsible

for three known chemical attacks on civilians between 2013 and 2016. After taking

office, US president Donald Trump, blamed the Obama administration for Assad's

"heinous" acts, citing former President Obama's "weakness and irresolution"

(Anonymous 2018).

Recent confrontations between the Trump administration and Russia began early

in 2017. On April 7, 2017, the US launched 58 Tomahawk cruise missiles at the

Shayrat Airbase in Syria. The base had been identified as the source of a chemical

weapons attack that had occurred earlier in the week and killed over 80 people.

Both Russian and Syrian forces were stationed at the base; however Russian

authorities were notified of the strike in advance. Despite the Pentagon stating

that the targets were strictly logistical, six Syrians were killed and several others

were injured. In addition, six Syrian airplanes that were being repaired at the

targeted airbase were destroyed, in contrast with the runways, which were left

undamaged. After the strike, Russia vowed to boost Syrian air defenses in order

39
---
to deter any future attacks (Graham-Harrison 2017). The strike had many analysts

concerned about the future of US-Russian relations in Syria, hoping that the

attack would not set a dangerous precedent for the region.

The first face-to-face meeting between President Trump and President Putin took

place on July 7, 2017, during the G-20 Summit in Hamburg, Germany. The topics

discussed included Russia's alleged interference in the 2016 election, as well as

Ukraine, and Syria. It was reported that President Trump accepted Russia's strong

denials of accusations that it meddled in the US elections, and President Putin

called for an end to sanctions imposed in response to the Ukraine Crisis. On the

topic of Syria, the two leaders agreed on a ceasefire in the southwest regions of

Deraa, Quneitra, and Suweida (Anon. 2017a). Ramzy Ramzy, the United Nations

deputy special envoy to Syria, called that move a "positive development", and said

he hoped it would extend to other parts of Syria (Anon. 2017c). The meeting

between the two presidents showed that the US and Russia were capable of striking

partial agreements over Syria, to the benefit of both the region and the world.

The two men did not meet again the Asia-Pacific Economic Corporation Summit,

which was held in Vietnam on November 10 and 11. During that summit, a

formal meeting between Presidents Trump and Putin was attempted, but failed

due to "scheduling conflicts on both sides" (Merica 2017). Despite this, the two

leaders were able to speak briefly during a photo-op on Friday and before a

plenary session on Saturday. After the summit, Russian Foreign Minister Sergei

Lavrov and US Secretary of State Rex Tillerson prepared a joint statement calling

for a political solution in Syria and insuring further cooperation on fighting ISIS.

The two leaders also acknowledged that the only solution to the conflict in Syria

was through the Geneva process, and affirmed their commitment to Syria's

sovereignty (US Department of State 2017). The joint statement was very specific

about how to move forward in Syria: "The two Presidents affirmed that these

steps must include [...] constitutional reform and free and fair elections under UN

supervision, held to the highest international standards of transparency, with all

Syrians, including members of the diaspora, eligible to participate" (US Department

of State 2017). This statement seems to contradict Russia's wholehearted support

for President Assad's regime in Syria. Furthermore, it should be noted that, while

the US has articulated its intent to remove Assad from power, that is no longer

the primary goal of the US in Syria (Nichols 2017).

Taking a step back from the Middle East, it must be acknowledged that some of

the most recent developments pertaining to US-Russian relations have revolved

around Russia's alleged meddling in the 2016 US Presidential Election. Not long

after the interference was uncovered, former US President Barack Obama closed

two diplomatic facilities in the US, in addition to ordering new sanctions on

Russian intelligence agencies. In response, President Putin expelled 755 employees

—most of them Russian citizens— working at American diplomatic facilities in

40
---
Russia. On August 21, 2017, the US embassy in Moscow stopped issuing travel visas

to Russians (Erickson and Vitkovskaya 2017). The two countries also engaged in

tit-for-tat diplomatic expulsions in March of 2018, following the alleged poisoning

of Sergei Skripal, a Russian former spy living in Britain, allegedly on orders of the

Kremlin. Although the Skripal incident and the controversy surrounding the 2016

election are important to US-Russian relations, they are unlikely to have a major

impact on how the two countries interact in Syria.

Currently, the public facade of the relationship between Presidents Trump and

Putin is one of friendliness and agreeance; however this relationship has yet to be

reflected in policy. Sanctions tied to the Russian annexation of Crimea in 2014

have not been lifted, and despite the promise of free elections in Syria, Russia has

repeatedly demonstrated its support for the Assad regime to remain in place.

Russia announced on November 30, 2017, that it had begun preparations to

downsize its military presence in Syria due to significant progress in defeating ISIS

(Anon. 2017b).

Future Trajectories

There are multiple possible scenarios that could conclude the conflict in Syria

after the defeat of ISIS; however, two of these are the most likely. The first

scenario is that a free election is held "with all Syrians eligible to participate", as

outlined in the joint US-Russian statement discussed earlier (US Department of

State 2017). This scenario would follow the Geneva process pursuant to UNSCR

2254, which calls for constitutional reform in addition to elections under UN

supervision. If free elections are indeed held, rebel opposition groups currently

fighting in Syria would be eligible to run for office. It can be assumed that President

Assad, Syria's current leader, would also run in the election. Based on the current

political landscape in Syria —and assuming the absence of US or Russian

influence— it can be stated with a moderate degree of confidence that the result

of the election would keep Assad in power. Syrian rebel groups are numerous and

hold considerable territory, but refuse to consolidate due to differences in ideology.

Instead of stockpiling their votes behind one opposition candidate, they would

spread their votes among multiple candidates, thus preventing any of them from

gaining a majority victory.

This analysis was based on the assumption that the US and Russia would not

interfere with the election at all. This assumption is naive in the sense that both

powers have made it perfectly clear who they want to have a strong say in Syria.

It is likely that if free elections are held, the US and Russia would attempt to sway

the vote, with the US supporting the opposition and Russia supporting the Assad

regime. The results of such an election could affect US-Russian relations for

decades, depending on which faction "wins".

41
---
The second scenario is that free elections are not held and the Assad regime

remains in power with the help of Russia. In this scenario, it is likely that the US

would continue to "secretly" support opposition groups, providing financial and

possibly even military aid. Essentially, this scenario cannot be classified as a

"resolution", because it would constitute a continuation of the Civil War minus

ISIS. This scenario would increase tensions between the US and Russia to Cold

War levels and turn Syria into one of history's longest proxy wars between the

two powers. Based on the level of UN involvement in Syria, there is a low level

of confidence that this scenario will occur.

The Trump Administration, or more accurately, former US Secretary of State Rex

Tillerson, has publicly articulated his intent to remove Assad from power.

Evidence of this could be seen when WikiLeaks documents revealed that the US

State Department had financially supported Syrian opposition groups (Whitlock

2011). Tillerson's successor, Mike Pompeo, is in agreement with that line of

policy. Based on the recent history of US foreign policy, a continuation of this

stance makes sense for the Trump administration. Additionally, an opposition

leader in the Syrian government would be sympathetic towards the US, thus

gaining Washington another ally in the region. With ISIS becoming less powerful

every week, the need for a political resolution in Syria becomes more prevalent.

The US should begin to adamantly talk about free elections in Syria, in an effort

to create the atmosphere needed for them to occur. Ideally, multilateral resolution

talks between the UN, the US, Russia, and Syria should have already begun to

increase the chances of a peaceful and favorable solution to the Syrian Civil War.

Conclusion

Despite the façade of cooperation and agreeance, the relationship between the

US and Russia has not improved in recent weeks. With the US supporting the

opposition and Russia supporting the Assad regime in Syria, the common enemy

found in ISIS is not enough to maintain good relations. As the Cruise missile

strike on the Syrian airbase proved, this disagreement can be highly detrimental

to US-Russian interactions in Syria. However, the G-20 summit in Germany and

the Vietnam Summit have shown that ISIS has also forced dialogue and

cooperation between Washington and Moscow. A political resolution to the

Syrian Conflict is necessary, and the Trump Administration should begin pushing

for free elections. Therefore, based on evidence in this analysis, it can be stated

with high confidence that Sunni armed extremism has complicated US-Russian

relations, while simultaneously forcing dialogue.

42
---
References Cited

Anonymous (2013) "Guide to the Syrian Rebels" BBC, 13 December.

Anonymous (2017a) "G-20: Trump and Putin Hold First Face-to-Face Talks", BBC, 7

July.

Anonymous (2017b) "Russia Preparing to Withdraw Military Contingent from Syriasecurity

chief", Russia Today, 30 November.

Anonymous (2017c) "US and Russia Agree New Ceasefire Deal", Al Jazeera, 8 July.

Anonymous (2018) "Syria: Timeline of the Civil War and US Response" ABC Australia,

22 February.

Dugulin, R. (2016) "The Emerging Islamic State Threat in the North Caucasus".

International Policy Digest, 04 April.

Erickson, A. and Vitkovskaya, J. (2017) "How the Diplomatic Fight Between Russia

and US Unfolded", The Washington Post, 5 September.

Finnegan, C. (2017) "A Look at the Factions Battling in Syria's Civil War", ABC News,

11 April.

Graham-Harrison, E. (2017) "A Visual Guide to the US Missile Strikes on a Syrian

Airbase", The Guardian, 7 April.

Merica, D. (2017) "Trump, Putin Shake Hands, Chat Multiple Times at Asia-Pacific

Summit", CNN, 11 November.

Nichols, M. (2017) "US Priority on Syria no Longer Focused on 'Getting Assad Out':

Haley", Reuters, 30 March.

Stent, A. (2014) The Limits of Partnership: US-Russian Relations in the Twenty-First Century,

Princeton University Press, Princeton, New Jersey.

Rohde, D. and Mohammed, A. (2014) "Special Report: How the US made its Putin

problem worse", Reuters, 18 April.

US Department of State (2017) "Joint Statement by the President of the United States

and the President of the Russian Federation", Washington, DC, United States.

Vincent-Caro, C. J. (2017) "Moscow's Historical Relationship with Damascus: Why it

Matters Now", The Huffington Post (no date provided).

Whitlock, C. (2011) "US Secretly Backed Syrian Opposition Groups, Cables Released

by WikiLeaks Show", The Washington Post, 17 April.

43
---
44
---
The Effect of Turkey's Political Instability

on the NATO Alliance

Katelyn Montrief

The United States and Turkey are the two largest military powers in the North

Atlantic Treaty Organization (NATO), a US-led military alliance formed in 1949

by 12 Western countries to provide security in Europe against the Soviet Union

and to prevent the spread of communism. Turkey joined NATO in 1952, a

development that strengthened relations between the predominantly Muslim

country and other NATO members. Turkey is often seen as bridging the gap

between the Western-oriented NATO and the Muslim World as a whole. This is

crucial for NATO, which wants to project an image of itself as more than just an

alliance of predominately Christian nations. Turkey's entry into NATO also

shaped drastically the relationship between the US and Turkey. The two countries

remained allies through the decades, even though they did not always agree on a

host of regional and even global issues. For example, Washington and Ankara

differed on their approach to the 1962 Cuban Missile Crisis. Today, the US and

Turkey share an overall goal of defeating terrorism and promoting stability and

security. However, Turkey's deepening political uncertainty is leading to potential

conflicts between it and its NATO allies. The current tensions between Turkey

and the US, as well as between Turkey and other countries in NATO, can be

traced back to the time of the Cold War. They continue to exist today for a variety

of reasons.

45
---
Key Figures and Groups

Several individuals and groups play key roles in the current state of tension

between Turkey and its NATO allies. Primary among them is Recep Tayyip

Erdogan, who served as Turkey's prime minister from 2003 to 2014, when he was

elected president, a post that he continues to occupy to this day. Under Erdogan's

leadership, Turkey has witnessed substantial economic growth. However, his

heavy-handed approach to political dissent shaped his reputation as a leader

known for harshly punishing those who oppose him. In answering his critics,

Erdogan recently stated that "an all-powerful presidency is a guarantee that the

political instability used to plague Turkey will not return" (BBC 2017). President

Erdogan is also the leader of Turkey's Justice and Development Party (AKP),

which is based on the ideology of religious conservatism. The former leader of

the AKP is Binali Yildirim, who is now the current Prime Minister of Turkey.

Another individual who plays an important role in Turkey-NATO relations is Jens

Stoltenberg, who has been the Security General of NATO since 2014. Stoltenberg,

a career politician, served as Norway's prime minister for 13 years before leading

NATO. Another key individual that directly affects this topic is Fethullah Gülen,

a former Islamic preacher and politician who leads the so-called Gülen movement.

His movement promotes his beliefs in secular education, religious tolerance, and

advancement in social networking (Gülen 2017). Gülen has been residing in the US

since 1999 and currently lives in Pennsylvania. Alongside the Gülen movement, a

group that has a major impact on this topic is the Kurds. The Kurds make up the

fourth largest ethnic group in the Middle East, but do not have a permanent state.

Organized groups of Kurdish fighters have been in a state of war with Turkish

authorities for generations and oppose the authority of the Turkish government.

The clashes —both rhetorical and armed— between these two sides continue to

increase tensions in Turkey's far-eastern Anatolia region, where Islamist groups

are also active. According to Al Jazeera, more than 500 have been killed since

2015 in attacks carried out by Islamist and Kurdish forces against Turkish

government targets.

Finally, in January of 2017, Donald J. Trump was sworn in as the 45 th president

of the US. This event affected Turkey politically because its government has had

to negotiate over a variety of issues with a new administration that holds radically

different views on foreign policy and from the administration of former President

Barrack Obama. However, whether the Trump administration's different views

will translate into radically different actions remains to be seen.

The 2016 Military Coup

An important recent event that has affected the relations between the US and

Turkey was the failed coup attempt that took place in Turkey on July 15, 2016.

The attempted coup was carried out by Turkish military officers in an effort to

46
---
emove President Erdogan from power. At least 249 people died during the coup

and over 2,000 more were injured (BBC 2017). Turkish authorities later described

the coup as a complete intelligence failure for the government (BBC 2017), which

indicates the lack of information that Turkish security agencies had about the

impending action of the military officers. President Erdogan released a statement

after the failed coup attempt, stating that he had only found out about the coup

attempt a couple hours prior from his brother-in-law (BBC 2017), not from

intelligence officials.

Soon afterwards, however, Turkish government officials identified Gülen as the

individual they believe was behind the attempted coup. The Turkish government

issued an arrest warrant for Gülen on July 19, 2016, just days after the failed coup

attempt. The Turkish government was not able to take Gülen into custody

because he lives in Pennsylvania, reportedly under US protection. The Turkish

government's efforts to extradite Gülen to Turkey have so far been unsuccessful.

The Turks want to take him into custody in order to have him stand trial for the

failed coup attempt. However, the US claims that there is no strong enough

evidence to extradite Gülen to Turkey. Over 50,000 individuals who, according

to the Turkish government, were involved in the coup, have been arrested and

are awaiting trial. Additionally, another 150,000 have been fired or suspended

from their government or private-sector positions in Turkey (Al Jazeera 2017).

Rising Tensions

Before the failed coup attempt, relations between the US and Turkey were already

tense due to disagreements regarding the Syrian Civil War. The two countries have

never seen eye to eye on how to proceed in the Syrian Civil War. Turkey's

government argues that the Syrian Kurdish Forces (YPG) and the Democratic

Unity Party (PYD), which are the dominant armed forces the in Syrian Kurdish

region, are affiliates of the Kurdish Workers Party (PKK). The PKK is a paramilitary

group based in Iraq and Turkey that seeks to create a separate homeland for the

Kurds through political agitation and armed struggle. It is designated as a terrorist

group by Turkey, the US and others. The Turkish government sees the YPG and

the PYD as essentially branches of the PKK (BBC News 2017). The US does not

support the PYD or the PKK, which it sees as terrorist organizations. However,

it has consistently offered support to the YPG in the Syrian Civil War, prompting

Turkey to accuse Washington that it is backing terrorists in the Syrian Civil War.

In addition to causing friction in Turkey-US relations, this disagreement has also

caused rising tensions between Turkey and other NATO nations.

In April of 2017, a Turkish referendum gave President Erdogan a 51.4% victory

that allowed him to run for two more election cycles, and to possibly remain the

head of state until 2029 (Shaheen 2017). President Erdogan can also return to the

leadership of the AKP, which holds the majority of members in the Turkish

47
---
parliament (BBC 2017). The referendum also passed 18 new amendments that

were added to the Turkish constitution. These amendments primarily deal with

the powers of the executive and legislative branches in the Turkish government.

For example, one amendment that was added through the referendum was the

abolition of the post of prime minister. Now President Erdogan can appoint the

cabinet himself and oversees a number of vice presidents that are under his

command. Additionally, the Turkish parliament no longer oversees the ministers,

as its power to initiate a motion of no confidence against them has been be removed

(Shaheen 2017).

On October 9, 2017, the US embassy in Ankara, Turkey, suspended all nonimmigrant

visa services, reportedly in order to reassess Turkey's commitment to

the security of the embassy's staff (BBC 2017). The US government decided to

minimize the number of visitors to its embassy and consulates in Turkey, until

the personnel working there stopped facing what the embassy said were security

threats. Only individuals who were permanently moving to the US were able to

apply for visas. In response, Turkey suspended all visa services for US citizens at

their diplomatic and consular missions (BBC 2017). President Erdogan and

President Trump had met in September, shortly before the visa suspension

occurred. During that meeting, President Trump stated that the relationship

between the two nations was better than it had ever been (The White House

2017). However, as will be shown here, this statement appears to contradict the

facts, as the latter do not support it.

On November 7 2017, Turkish Prime Minister Binali Yildirim met at the White

House with US Vice President Mike Pence, to discuss the ongoing diplomatic

dispute between Washington and Ankara. Following the closed-door meeting,

"Prime Minister Yildirim stated that [it] was a positive step for both nations" (The

White House 2017). The Turkish official also took a large legal team with him on

his visit, in what appeared to be an unofficial attempt to strengthen the case to

extradite Gülen to Turkey —something that did not ultimately materialize.

Interestingly, President Trump was on a tour of Asia when Prime Minister

Yildirim came to the US to meet with Vice President Pence to discuss diplomatic

disagreements between Washington and Ankara.

Another recent event that negatively affected Turkey's relations with NATO was

a dispute over a NATO military exercise in Norway in November of 2017. During

this routine exercise, President Erdogan was reportedly depicted as NATO's

enemy during a simulation (Fraser 2017). NATO Secretary-General Jens

Stoltenberg immediately issued an apology for the offense, stating that the

incident was the result of an external contractor that was hired for the exercise,

and that it did not reflect the views of NATO. Stoltenberg added that "Turkey is

a valued NATO ally, which makes important contributions to allied security" (The

Guardian 2017). A report by Politico said that the contractor involved was a

48
---
Norwegian of Turkish origin, who was predictably accused by Turkey of being a

supporter of Gülen.

On December 1 2017, Turkey's chief prosecutor issued an arrest warrant for former

Central Intelligence Agency officer Graham Fuller, former vice-chairman of the

US National Intelligence Council. The warrant alleges that Mr. Fuller has links to

Gülen and the failed 2016 coup attempt. But Fuller and the United States government

have dismissed these allegations (Stockholm Center for Freedom 2017).

On December 1, 2017, former national security advisor Michael Flynn turned

himself in to the Federal Bureau of Investigation, which charged him with lying

about having had unauthorized discussions with Russian officials in December of

2016. In addition to his links with Russian officials, Flynn was also accused of

having been offered $15 million to help Turkish officials forcibly remove Gülen

from the US and extradite him to Turkey (BBC 2017). The Turkish government

did not discuss these allegations. If the accusations about Flynn are accurate, they

show that extraditing Gülen to Turkey remains one of Ankara's major objectives,

and that the Erdogan administration has taken extreme measures —including

attempts to bribe US officials— in attempts to do so.

Conclusion

Rising tensions between the US and Turkey are extremely significant within the

context of NATO. In the past few months, major events have occurred between

the two countries, which have affected American and Turkish embassies and

consulates, NATO training exercises, as well as regular travel between Turkey and

the US. They have prompted numerous statements issued by senior US, Turkish

and NATO officials, as well as lengthy reports from multiple news sources. Visa

services between the US and Turkey have yet to be normalized, though they have

been modified on several occasions. It is likely, therefore, that visa services will

resume in the near future. It is less probably, but not impossible, that the visa

services issue will become an ongoing dispute and will not be completely restored

until the US and Turkey come to an agreement on how to resolve the case of Gülen.

President Trump's administration has been engaged in negotiations with Turkish

government officials on multiple issues that affect diplomatic relations between

the two nations, including the failed 2016 coup attempt and the more recent visa

service suspension. The Trump administration's current position is that the US

government has been making multiple attempts to normalize relations between

the two nations. President Trump and Vice President Pence, along with other US

officials, have personally met with Turkish officials for that reason. If the current

trend continues, bilateral relations are likely to grow stronger in the future.

However, the major diplomatic issue between the US and Turkey continues to be

the extradition of Gülen. The US has stated on multiple occasions that it has not

49
---
een shown enough incriminating evidence to extradite Gülen. Turkey has also

made it clear that it does not plan on giving up its goal of arresting Gülen. There

is no evidence that the US will change its position on this matter either.

Given the current state of US-Turkish relations, it can be stated with high confidence

that Turkey's political instability will continue to have a negative effect on NATO,

which is in turn likely to lead to future diplomatic disagreements between Turkey

and its NATO allies.

50
---
References Cited

Al Jazeera (2017) "Turkey's Failed Coup Attempt: All You Need to Know", Al Jazeera,

15 July accessed on December 1, 2017.

BBC (2015) "Syria Crisis: Where Key Countries Stand", BBC, 30 October, accessed on October 21, 2017.

BBC (2017) "Ex-Trump Aide Mike Flynn 'Offered $15m by Turkey for Gülen'", BBC,

11 November Accessed on November

27, 2017.

BBC (2017) "Recep Tayyip Erdogan: Turkey's Pugnacious President", BBC, 17 April

accessed on October 17, 2017.

BBC (2017) "Turkey and US Scale Back Visa Services Amid Diplomatic Row", BBC, 09

October accessed on October 19,

2017.

BBC (2017) "Turkey Seeks Arrest of ex-CIA Officer Fuller Over Coup Plot", BBC, 01

December accessed on December

01, 2017.

Fraser, S. (2017) "NATO Apologizes After Turkey's President Shown as Enemy During

Drill", Defense News, 17 November accessed on

February 27 2018.

Guardian (2017) "NATO Apologizes to Turkey after Erdogan and Ataturk Appear on

'Enemy Chart'", The Guardian, 18 November accessed on March 17,

2018.

Gulen, F. (n.d.) "Love and Obedience", Fethullah Gülen's Official Web Site accessed March 17, 2018.

Politico (2017) "Turkish Tensions Undermine its Role in NATO", Politico, 30 June,

accessed on

October 19, 2017.

Shaheen, K. (2017) "Turkish Referendum: All You Need to Know", The Guardian, April 10

,

accessed on March 17, 2018.

Stockholm Center for Freedom (2017) "Graham Fuller Rejects Turkey's Claims of

Involvement in Coup Plot", Stockholm Center for Freedom, 04 December
---
52
---
Biographical Notes on Contributors

KATELYN MONTRIEF, from Fredericksburg, Virginia, is a junior majoring in Intelligence

and National Security Studies with a minor in Political Science and a certificate in

Sustainability at Coastal Carolina University. In May 2017, Katelyn was elected to

serve as the Recruitment Officer for the Chanticleer Intelligence Brief, where she has

also headed the Middle East and Americas Desks. She was later elected to serve as

the organization's Chief Operations Officer. Katelyn's research interests are focused

primarily on Turkish politics and Turkey's relations with the United States. She is also

an intern for the United Nations Youth Corps in Georgetown, South Carolina.

MADISON NOWLIN, from Concord, North Carolina, is a senior Intelligence and National

Security Studies major and Global Studies minor at Coastal Carolina University. In 2018

she will be attending Magdalene College's International Security and Intelligence

summer program at Cambridge University in the United Kingdom, in addition to

studying Russian language at Narxoz University in Almaty, Kazakhstan. As president

of the National Security Club, Madison helped organize and host the 1 st Annual

Intelligence and National Security Conference at Coastal Carolina University in 2017.

She is also a founding member of Women in Intelligence and National Security. Madison

has previously won the Best Intelligence Essay Award and the Intelligence Analysis

Award for the Chanticleer Intelligence Brief, and was named Undergraduate Student

of the Year for Coastal Carolina University's Edwards College of Humanities and Fine

Arts for the 2017-2018 academic year. In April 2018, Madison received the Intelligence

Student of the Year award from the Intelligence and National Security Studies program

at Coastal Carolina University.

MATT POLOGE, from Glen Rock, New Jersey, is a senior majoring in Intelligence and

National Security Studies with a minor in Sociology at Coastal Carolina University.

Matt began studying North Korea during his freshman year of high school, after

interviewing his grandfather for a school research project. During his time at Coastal,

he joined the Chanticleer Intelligence Brief to hone his analytical capabilities, and was

awarded the CIB's Intelligence Advancement Award for the spring 2017 semester.

After continuing to pursue his work on the Korean Peninsula and Asian relations

more broadly, Matt became the recipient of the CIB's Best Intelligence Essay Award

for the fall of 2017.

MAEVE STEWART, from Stockton, New Jersey, is a senior at Coastal Carolina University

majoring in Intelligence and National Security Studies. In the summer of 2016, she

completed an internship at the Regional Operations Intelligence Center of the New

Jersey State Police, where she worked under a senior analyst in one of their criminal

divisions. Since the fall of 2017, Maeve has focused her analytical research on

domestic far-right extremist threats to US national security. In the spring of 2018, she

53
---
presented her findings at the 2 nd Annual Intelligence and National Security Conference

at Coastal Carolina University, which she also helped host as a member of the student

led initiative, Women in Intelligence and National Security. Maeve has also been a

member and analyst of the Chanticleer Intelligence Brief for two years.

JOSEPH FITSANAKIS, PhD, is Associate Professor of Politics in the Intelligence and

National Security Studies program at Coastal Carolina University, where he teaches

courses on intelligence operations, intelligence communications, national security,

intelligence analysis, and intelligence in the Cold War, among other subjects. Before

joining Coastal, Dr. Fitsanakis founded the Security and Intelligence Studies program

at King University, where he also directed the King Institute for Security and Intelligence

Studies. He has written extensively on subjects such as international espionage, intelligence

tradecraft, counterintelligence, wiretapping, cyber-espionage, transnational crime and

intelligence reform. He is a frequent media commentator, syndicated columnist, and

senior editor at intelNews.org, an ACI-indexed scholarly blog that is cataloged through

the United States Library of Congress.

54
---
55
---
58