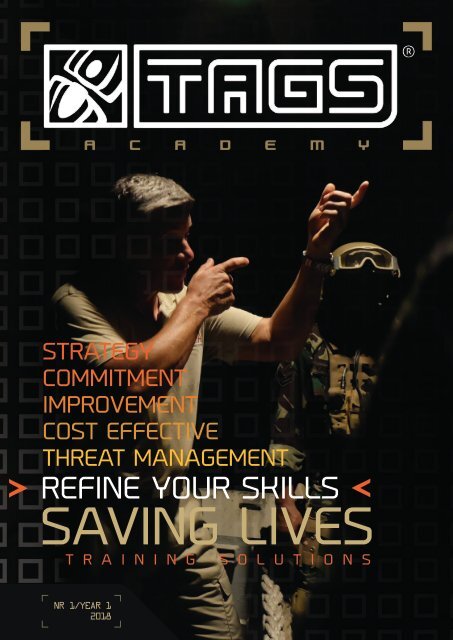 You also want an ePaper? Increase the reach of your titles
YUMPU automatically turns print PDFs into web optimized ePapers that Google loves.
NR 1/year 1

2018
---
TAGS ® ACADEMY BROCHURE

INTRODUCTION

Eight years ago we started our first development

project. It resulted in a bombproof

ship boarding solution that truely

revolutionized the way tactical and rescue

operations are executed.

Nowadays our products and services are

valued by many teams around the world.

Some of them help us to develop future

solutions. Our logo and badge became a

trusted sign of quality.

With pride I present our new Academy

brochure, showing our "one stop" extensive

training portfolio. Share your challenges

with us... we will provide the best

possible solution for your team!

JEROEN OFFERMANS

CEO

CONTENT

4

6

8

10

12

14

16

20

22

24

26

30

32

34

36

ABOUT TAGS

CERTIFICATION

QUALITY

TRACK RECORD

'18

TRAINING PHILOSOPHY

TRAINING METHODOLOGY

TRAINING VENUES

RESTRICTED TRAINING PROGRAMS

MILITARY

LAW ENFORCEMENT

COUNTER TERROR

SPECIALIST

NON-RESTRICTED TRAINING PROGRAMS

SECURITY

RESCUE

MEDICAL

SAFETY AWARENESS
---
2
---
3
---
4

TAGS ® was established by Safe Tactics BV and have been providing bespoke

training and consultancy for Military, Law enforcement, Rescue and other governmental

special operations units since 2001. All over the globe.

In Spring 2013 we formalized this concept and continued under the brand name

"Safe Tactics Academy"; with focus on high angle tactical and rescue operations.

Early 2018 we acquired TACTS BV; a well known tactical training and consultancy

provider with an impressive portfolio and track record. We also merged the

specialized high angle rescue and trauma care portfolio of another company within

the group; Ascent Safety BV. Whereas Safe Tactics and TACTS where focussing

on tactical end users; Ascent Safety focussed on governmental rescue organizations,

NGO's and private sector companies.

Joining forces we decided to continue as TAGS ® Academy; a true 'one stop

training provider' for high risk operations. We noticed that 'lessons learned' in a

specific field could be applied to under different circumstances. Resulting in highly

effective, super safe; field proven solutions, that help save lives.

At TAGS ® Academy we take great pride in the services we offer. We will ensure

you are dealing with a highly qualified and trained project team who will provide the

proverbial "exceed client's expectations and demands".
---
5
---
6

Keeping your team certified and advancing their skill set is essential in today's

world. TAGS ®

have developed a series of international certification courses

that teach research proven methodologies in multiple areas of expertise. Our

profile arrangement ensures that TAGS ®

clients can make use of training

courses and programs from several International Accreditation Authorities

and Bodies;

• EDEXCEL, United Kingdom awarding body, offering academic and vocational

qualifications

• KNPV, Royal Dutch Police Dog Association

• IRATA, Industrial Rope Access Trade Association

• SPRAT, Society of Professional Rope Access Technicians (USA)

• NRA, National Rifle Association, (USA)
---
7
---
At TAGS ® we value our end users. As former operators we know that quality

equals safety and a highly efficient success rate. In line with our Mission,

Vision and "Strategic Commitments"; quality is paramount. We strive

to provide our customers with products and services which meet and even

exceed their expectations and demands. We are committed to continuous

improvement and have established a Quality Management System (audited

to ISO 9001:2015 standard) which provides a framework for measuring and

improving our performance.

Our system is based on thorough analyses of risks and opportunities,

strengths and weaknesses and the demands of relevant stakeholders.

8144

8144
---
9
---
10

Our past performance record reflects our extensive accomplishments in the

successful execution of highly specialized and sensitive training. Our instructors

have been involved in tactical and rescue training since 2001 for numerous

government agencies, NGO's, SME and private sector companies and has

provided different training programs from individual to unit, from basic to far

advanced training and assisted different countries in their establishment of

Special Operations Units (both tactical and rescue).

TAGS ® Academy is comprised of members who are recruited from all levels of

the Law Enforcement, Rescue and the Military communities.

Our recruitment methodologies ensure that only the best personnel become

part of our service providing teams.
---
11
---
12

Our training philosophy at TAGS ® Academy is to prepare our clients for the worstcase

scenario by providing them with PROV; Progressive, Realistic, On-going, and

Verifiable training.

Utilizing this approach, we have developed programs in which we use realistic training

in order to replicate real world scenarios without compromising the safety of

our clients and staff.
---
13
---
14

TAGS ® Academy is committed to excellence in organizational leadership, management,

continuous innovation, organizational ethics and diversity, and to an unyielding

focus on the client. Our Training and Consulting Division provides formal group

training programs, lectures, and seminars to Law enforcement, Military, Rescue,

government, and private sector organizations. All of our formal training programs

include, but are not limited to, the following:

• A Course Syllabus based on the System Approach of Teaching (SAT) methodology

with description and learning objectives;

• Tactical Training Procedures are based on the latest European Law Enforcement

and NATO procedures;

• Certified Instructors;

• Leadership and team building skills;

• Extensive practical application exercises.
---
15
---
16

Our mobile training team travels to the client's location, however training can also

be presented in The Netherlands.

TAGS ® Academy has the availability of several training locations: process installations,

close quarter battle structures, purpose built urban/industrial climbing centre,

ships, classrooms, swimming pool, etc. This makes it possible to approach reality as

closely as possible. Various realistic scenarios can be imitated on all of those facilities

including large scale incidents. One of the center's location is on open water.

This offers the opportunity to provide maritime security related training.
---
17
---
18
---
19
---
20

Law Enforcement employees carry out their work at the heart of society, a

society that is rapidly developing, and is becoming unpredictable, increasingly

more diverse, complexed and violent.

TAGS ® Academy understands that today's Law Enforcement employees rely on

real-world training to succeed in their duties while maintaining their own and

others safety.

Our training courses are focused on saving lives, refining skills and effectively

manage critical risk threats.

TAGS ® Academy training staff has extensive operational experience and training

in the course curriculum that they present.

The students will benefit from their training expertise, recent operational experience,

and fresh insight from the field.

TRAINING

SWAT OPERATOR

FIRST RESPONDER

NEGOGIATOR

RIOT CONTROL

DETECT & ARREST TECHNIQUES

FAST INTERVENTION TEAM

SKY MARSHALL

URBAN/RURAL SURVEILLANCE

BASIC INVESTIGATION COURSE

COAST GUARD OPERATOR

CLOSE PROTECTION

DeSCRIPTION

Skills and knowlegde for police high risk operations

Intermediate training for first responder at the incident

scene

Methods and practices to safely end police crisis situations

Deployment capacity to control and disperse crowds

Techniques to control compliant and non-compliant suspect

Procedures to isolate the suspect and control the situation

Prevent casualties or neutralize an imminent threat in an

airplane

Information and evidence gathering in an urban and rural

area

Investigation, interview and surveillance techniques

Boarding procedures and search and seizure skills

Advanced knowledge, skills processes for the Close Protection

Specialist

DURATION

12 WEEKS

3 WEEKS

2 weeks

3 WEEKS

3 weeks

4 weeks

5 WEEKS

2 WEEKS

4 WEEKS

8 WEEKS

8 WEEKS

*

*

Guideline only. Actual duration will be tailored to background, prior experience,

knowledge and skill level and to the required competence level.
---
21
---
22

The Military battle field is constantly different. It differs from combat conducted

in urban areas such as towns and cities to mountainous areas or in a maritime

environment.

TAGS ® Academy Military training programs are aimed to establish and improve

the capabilities of Military personnel in their respective roles, from recruitment

and basic training to specific Military roles and operational environment.

TAGS ® Academy is comprised of members who are recruited from all levels the

Military communities. Our training staff are current and former members of elite

Military special operations units and special response teams.

TRAINING DeSCRIPTION DURATION

ESCAPE & EVASION

MOUNTAIN WARFARE

URBAN WARFARE

SPECIAL FORCES OPERATOR

Skills and ability to evade through enemy controlled

territory

Basic skills and tactical procedures in a mountainous

environment

Knowledge and skills to operate in an urban environment

Advanced military knowledge, skills and mindset to

operate in an SF team

4 WEEKS

5 weeks

4 weeks

14 weeks

*

Guideline only. Actual duration will be tailored to background, prior experience,

* knowledge and skill level and to the required competence level.
---
23
---
24

The safety of a country is strongly depending on the safety in the entire

world. Besides threats from states, countries have to deal with other

immense threats; terrorism and the availability to heavy weapons to anti

democratic groups, increase in the use of violence by criminals and the violent

actions in the name of religions. All threats to a nation and his allies.

TAGS ® Academy offers a wide range of tactical training and a highly dedicated

and professional training staff to assist governments to react on and

prepare local forces for realistic threats.

TRAINING DeSCRIPTION DURATION

COUNTER TERROR OPERATOR

TUBULAR ASSAULT

MARITIME COUNTER TERROR

Basic Counter Terror Training

Prepare CT teams to operate in the mobile environment

CT ops in a maritime environment, such as vessels and

production platforms

4 WEEKS

5 weeks

10 weeks

*

Guideline only. Actual duration will be tailored to background, prior experience,

* knowledge and skill level and to the required competence level.
---
25
---
26

Specialists are highly trained employees, mostly hand-picked for the chosen

field due to excellent performance, who have to perform in specific

duties which are often high-risk assignments.

TAGS ® Academy aim is to select the best trainable students and provide

them with the advanced knowledge, skills processes and mindset to create

an effective team member, who can operate in a team or individual under

extreme conditions.

TRAINING DeSCRIPTION DURATION

SF MEDIC

HIGH ROPE SUSPENSION

SNIPER

METHOD OF ENTRY SPECIALIST

TACTICAL BOAT DRIVER

SELF DEFENSE

LARGE SCALE OPERATIONS

COMMANDER COURSE

TEAM LEADER COURSE

CROWD MANAGEMENT

METHOD OF INSTRUCTION

URBAN CLIMBING

BOARDING OPERATIONS

COMBAT DIVER

Procedures & skills needed for sustainment of life under fire

Rappel, fast rope, Special Patrol Insertion/Extraction techniques

Advanced knowledge and skills to work effectively as a

sharp shooter/sniper

Mechanical, ballistic, explosive breaching, lock picking an

entry techniques

Skills & practical expertise to conduct tactical boat handling

Self defence techniques with operational tactics and live

shooting drills

Strategic commanding officers training for LSO

Crisis management in high-risk environments for Senior

officers

Leadership & tactical decision making process for future

team leaders

Tools & knowledge related to crowd management

To develop efficient teaching skills

To gain access on infrastructure from top down, with the

use of specialist equipment from bottom up

Ships seizure & searching techniques in compliant and non

compliant situations

Training in waterborne operations surface and subsurface

with open and closed circuit.

Guideline only. Actual duration will be tailored to background, prior experience,

* knowledge and skill level and to the required competence level.

4 WEEKS

3 weeks

6 WEEKS

8 weeks

4 weeks

3 WEEKS

2 WEEKS

2 WEEKS

2 WEEKS

2 WEEKS

4 WEEKS

2 WEEKS

3 WEEKS

4 WEEKS

*
---
27
---
28
---
29
---
30

Security is the knowledge and attitude employees of an organization need

regarding the protection of persons, information and assets of that organization.

TAGS ® Academy overall objective is to prepare participants to recognize,

respond and react to safety and security incidents to reduce the number of

injuries and deaths, property damage, legal liability and personal claims.

TRAINING DeSCRIPTION DURATION

ADVANCED DRIVING

K9

MARITIME SECURITY GUARD

Defensive and evasive driving, armoured cars, breakdown

techniques

Train and refine dog handling techniques

Security skills and procedures in a maritime environment

4 WEEKS

6 weeks

6 weeks

*

Guideline only. Actual duration will be tailored to background, prior experience,

* knowledge and skill level and to the required competence level.
---
31
---
32

Comprehensive extensive training in the use of both generic climbing

equipment as well as specialized systems in industrial, remote and urban

environment. Focus on both individual technical skills and the capacity and

knowledge of the operator to use mountain rescue, rope access and rope

rescue skills in operational rescue setting with a team of rescuers on site.

TRAINING DeSCRIPTION DURATION

MOUNTAIN RESCUE

HAROPS

RESCUE TRAINER

RESCUE TEAM LEADER

HIGH ANGLE K9

HELICOPTER OPERATIONS

Mountain rescue operations in all terrain and conditions.

Summer and/or winter courses available. High and mid

alpine.

High angle rescue operations (HAROPS) urban and

industrial area's and remote locations. Use of modern

equipment.

HAROPS Train The Trainer Course.

Train team leaders how to manage a rescue team safe

and effectively in a high risk environment under high

pressure.

Use of K9 in high angle operations. May be combined

with HAROPS Training.

Winching and Long Line Operation. Module can be added

to Mountain Rescue or HAROPS Training.

8-12

WEEKS

2 WEEKS

2 weeks

1 weeks

2 WEEKS

1 WEEK

*

Guideline only. Actual duration will be tailored to background, prior experience,

* knowledge and skill level and to the required competence level.
---
33
---
34

Lessons learned on recent battlefields have proven to be very successful

in other high-risk areas. One of the clearest examples is modern tactical

medicine. When providing first aid in remote areas or hostile environments

(AMOK situations, terrorist attacks, shootings) the same principles can be

applied in order to facilitate better care for the patient; resulting in better

chance of survival and less residual damage.

Course levels vary from short and practical first aid courses for industry,

aid workers, expats, outdoor enthousiasts and expedition members to comprehensive

Combat Trauma Casualty Care (TCCC) for Military, Law Enforcement

and medical personnel. Our courses are practical, provide lots of hand

on practice and focus on modern insights and the use of modern equipment

that are proven in battle and terrorist attacks around the world.

TRAINING DeSCRIPTION DURATION

TCCC / ETC-Tactical

K9 TCCC

BTC-Tactical

BTC-Rescue

FIRST AID - UNDER THREAT

BASIC LIFE SUPPORT - REMOTE

BASIC LIFE SUPPORT/AED

Tactical Combat Casualty Care/Enhanced Trauma Course

Canine (K9) Trauma Care in tactical environment

Basic Trauma Course (tactical environment)

Basic Trauma Course (rescue remote area's)

Providing first aid under dangerous circumstances

Basic Life Support in remote area's

Basic Life Support with AED

4 WEEKS

4 weeks

1 WEEK

1 week

2 DAYS

2 DAYS

2 DAYS

*

Guideline only. Actual duration will be tailored to background, prior experience,

* knowledge and skill level and to the required competence level.
---
35
---
36

Kidnappings. Bombings. Violent crime. Terrorist attacks, not only on the

front line but this can occur at any moment, in any location.

TAGS ® Academy offers tailor made training packages to aid workers, media

groups and personnel of private sector companies that might face many

types of danger abroad or in their home country. The training is aimed to

increase the situational awareness, protect themselves and the people they

serve and it will help to navigate through difficult circumstances.

TRAINING DeSCRIPTION DURATION

HEAT: HOSTILE ENVIRONMENT

AWARENESS TRAINING

IED RESPONDER

Increase security awareness in high risk area´s to

prevent life endanger situations.

Increase awareness and understand the threat of

Improvised Explosive Devices (IED's)

1 WEEK

2 weeks

*

Guideline only. Actual duration will be tailored to background, prior experience,

* knowledge and skill level and to the required competence level.
---
37
---
38
---
facebook.com/safetactics

TAGS ACADEMY BV

info@tags.academy

www.tags.academy

T +31 (0)337200997

TAGS DEVELOPMENT CENTRE (NL)

Siliciumweg 26-28

NL - 3812 SX Amersfoort

The Netherlands

TAGS OPERATIONS CENTRE (UK)

Unit D5 Segensworth Bus. Centre

Segensworth, Fareham

PO15 5RQ

United Kingdom

TAGS FORWARD OPERATING BASE ASIA-PACIFIC

No. 29-G Jalan Seri Rejang 5

Rampai Business Park South

53300 Kuala Lupur

Malaysia