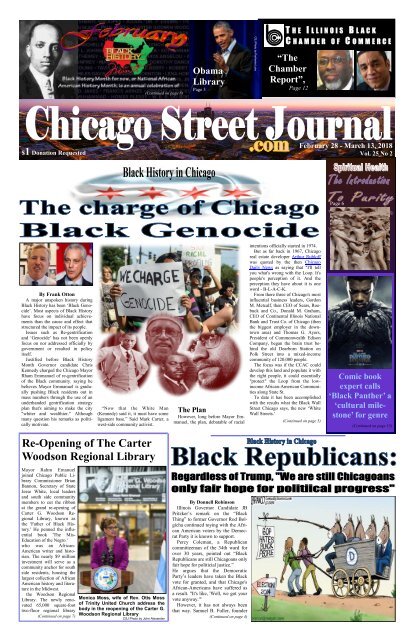 Black Genocide in Chicago - February 28, 2018 Edition of Chicago Street Journal.
Did you read this edition of Chicago Street Journal (CSJ)? It hit the streets in February and with the headline story "The Charge of Chicago Black Genocide" and it is still circulating throughout this city's communities. Call 773-595-5229 to be in the NEXT edition.
Did you read this edition of Chicago Street Journal (CSJ)? It hit the streets in February and with the headline story "The Charge of Chicago Black Genocide" and it is still circulating throughout this city's communities. Call 773-595-5229 to be in the NEXT edition.
SHOW MORE
SHOW LESS
Create successful ePaper yourself
Turn your PDF publications into a flip-book with our unique Google optimized e-Paper software.
CSJ Photo by Parthenia Luke

T HE I L L I N O I S B L A C K

C H A M B E R OF C O M M E R C E

(Continued on page 8)

Obama

Library

Page 3

"The

Chamber

Report",

Page 12

$1 Donation Requested

February 28 - March 13, 2018

Vol. 25 No 2

Page 6

By Frank Otton

A major unspoken history during

Black History has been 'Black Genocide'.

Most aspects of Black History

have focus on individual achievements

than the cause and effect that

structured the impact of its people.

Issues such as Re-gentrification

and 'Genocide' has not been openly

focus on nor addressed officially by

government or resulted in policy

itself.

Justified before Black History

Month Governor candidate Chris

Kennedy charged the Chicago Mayor

Rham Emmanuel of re-gentrification

of the Black community. saying he

believes Mayor Emmanuel is gradually

pushing Black residents out in

mass numbers through the use of an

underhanded gentrification strategy

plan that's aiming to make the city

"whiter and wealthier." Although

many question his remarks as politically

motivate.

"Now that the White Man

(Kennedy) said it, it must have some

ligament base." Said Mark Carter, a

west-side community activist.

The Plan

However, long before Mayor Emmanuel,

the plan, debatable of racial

intentions officially started in 1974.

But as far back in 1967, Chicago

real estate developer Arthur Rubloff

was quoted by the then Chicago

Daily News as saying that "I'll tell

you what's wrong with the Loop. It's

people's perception of it. And the

perception they have about it is one

word - B-L-A-C-K.

From there three of Chicago's most

influential business leaders, Gordon

M. Metcalf, then CEO of Sears, Roebuck

and Co., Donald M. Graham,

CEO of Continental Illinois National

Bank and Trust Co. of Chicago (then

the biggest employer in the downtown

area) and Thomas G. Ayers,

President of Commonwealth Edison

Company, began the brain trust behind

the old Dearborn Station on

Polk Street into a mixed-income

community of 120,000 people.

The focus was if the CCAC could

develop this land and populate it with

the right people, it could essentially

"protect" the Loop from the lowincome

African-American Communities

along State St.

To date it has been accomplished

with the results what the Black Wall

Street Chicago says, the new 'White

Wall Streets.'

(Continued on page 5)

Comic book

expert calls

'Black Panther' a

'cultural milestone'

for genre

(Continued on page 15)

Re-Opening of The Carter

Woodson Regional Library

Mayor Rahm Emanuel

joined Chicago Public Library

Commissioner Brian

Bannon, Secretary of State

Jesse White, local leaders

and south side community

members to cut the ribbon

at the grand re-opening of

Carter G. Woodson Regional

Library, known as

the 'Father of Black History.'

He penned the influential

book 'The Mis-

Education of the Negro.'

who was an African-

American writer and historian.

The nearly $9 million

investment will serve as a

community anchor for south

side residents, housing the

largest collection of African

American history and literature

in the Midwest.

the Woodson Regional

Library. The newly renovated

65,000 square-foot

two-floor regional library

(Continued on page 7)

Monica Moss, wife of Rev. Otis Moss

of Trinity United Church address the

body in the reopening of the Carter G.

Woodson Regional Library

CSJ Photo by John Alexander

By Donnell Robinson

Illinois Governor Candidate JB

Pritzker's remark on the "Black

Thing" to former Governor Rod Bolgicha

continued toying with the African

American voters by the Democrat

Party it is known to support.

Percy Coleman, a Republican

committeeman of the 34th ward for

over 30 years, pointed out "Black

Republicans are still Chicagoans only

fair hope for politicial justice."

He argues that the Democratic

Party's leaders have taken the Black

vote for granted, and that Chicago's

African-Americans have suffered as

a result. "It's like, 'Well, we got your

vote anyway.'"

However, it has not always been

that way. Samuel B. Fuller, founder

(Continued on page 4)
---
2 February 28 - March 13, 2018

Chicago Street Journal

What do actress Danai Gurira and film producer Sidra Smith have in common?

Besides the fact that they're both beautiful Black women, these trailblazers

also traded in long locks for a bald head. Gurira's big chop was for

the upcoming Black Panther movie while Sidra's signature look happened

after a years-long obsession with hair extensions. So are Beauty Salons

about to have Bald Head blues?

Chicago Police Superintendent Eddie Johnson testified in Springfield in favor of new gun legislation,

part of which is written and named in honor of slain 18th District Commander Paul Bauer. Many expressed

who Chicagoans are heavy in mourn with the loss Commander Paul Bauer. Commander Bauer

stood for the highest ideals of the police department and the city. Mayor Rham Emmanuel said his death

is a tragic reminder of the dangerous duty the men and women of our police department accept to ensure

the safety of us all. I ask every Chicagoan to keep Commander Bauer, his family, his friends and the

entire Chicago Police Department in their thoughts and prayers during this difficult time".

Rep. Ford Urging

Governor to Reopen

Vehicle Emission Sites Illinois

State Representative La Shawn K. Ford is questioning

if the Illinois emission program is still useful.

On November 1, 2016, several vehicle emissions

facilities closed in Chicago to reduce costs and streamline

operations. Currently, this leaves Chicago residents

driving to suburban cities defeating the purpose of cutting

emissions.

"This is absolutely a step backward in reducing the

city's air pollution problem," said Ford. "Many concerned

citizens, including myself, wonder if the goal to

reduce costs turned into a costlier toll on our environment.

Emission testing is designed

to protect the environment and not

contribute to the problem."

The Federal Clean Air Act Amendments

of 1990 requires emissions

testing programs in large, metropolitan

areas which do not meet

specific federal air quality standards.

In Illinois significant progress

has been made, levels of air

pollution in Chicago and Metro-

East St. Louis areas still exceed

these standards.

"The closures of all sites in Chicago

defeats the purpose of reducing

emission, "said Ford. "Illinois'

emission program seems to contribute to the carbon

emissions that we are trying to prevent by having Chicago

residents drive farther to get tests done."

According to the Vehicle Emissions Inspection Law

of 1995, The agency shall establish a program to begin

February 1, 2007, to reduce the emission of pollutants by

motor vehicles. The Illinois EPA's study concluded that

for residents of Chicago, many would drive on average

an additional four miles. This is a significant change that

will add to vehicle emissions, in direct contrast to the

purpose of the Agency's directive.

Ald. Sophia King hosted a

town hall to discuss the

Michael Reese Development of Amazon

Corporation. The town hall will featured a presentation

with the latest updates on the development.

The Alderman's Advisory Council and presented what

they have to say about the project moving forward and

Community input.

The benefit is the 50,000 jobs that Amazon has

said it will bring to any city and employment and

contracting opportunities directly with Amazon,

and its the ripple effect to the Bronzeville community.

Now accepting

applications

The Facebook Community

Leadership Program: Applications

are now open for our residency

and fellowship. Facebook is looking for community

leaders across the Facebook family of apps

and services with a proven track record of leading

communities that have positive impact, build common

ground and foster in-person connections.

The Facebook Community Leadership Program

exists to empower and support leaders from around

the world who have built meaningful communities

through the Facebook family of apps and services.

Both the residency and the fellowship come with

training, support and funding. Up to five community

leaders with the boldest, highest impact ideas will be

selected from around the world as community leaders

in residence with a grant of up to $1,000,000 USD

each to fund their proposal. Up to 100 people will be

selected as community leadership fellows and will

receive a grant of up to $50,000 USD each to be used

for a specific community initiative.

Drug testing or

screening for public

assistance applicants

At least 15 states have passed legislation regarding

drug testing or screening for public assistance applicants

or recipients (Alabama, Arkansas, Arizona,

Florida, Georgia, Kansas, Michigan, Mississippi,

Missouri, North Carolina, Oklahoma, Tennessee,

Utah, West Virginia and Wisconsin.) at

least 20 states have proposed legislation.

Some apply to all applicants; others include specific

language that there is a reason to believe the

(Continued on page 10)

Continuing on hair: Jesse Jackson Jr. congratulations

to Oprah Winfrey on her accomplishments

and receiving the Cecile B DeMille award at the

Golden Globes. Winfrey Midas touch, she want to

keep. And not Gray touch up being President after

four years. Could be the reason why she will not

run.

A journalist who theorized that many people in

the United States are

now in a state of

"outrage fatigue." The

scandalous behavior of

the White House, the

destructive policies and

the torrent of tweets by

Donald Trump are

numbing many people.

After all, the deluge of

dishonor, hypocrisy

and pernicious public

policies can feel overwhelming.

Emil Jones Jr. sadi J.B. Pritzker has shown "what he

really thinks about black folks" Saying "He called me

"crass," and referred to Secretary of

State Jesse White as the "least offensive"

candidate to replace

Barack Obama. You see, he still

thinks that Jesse White is offensive,

but if he is forced to choose an

African-American, Jesse White is

least offensive to him. JB showed his true colors again

four years later, when he called President Obama

"mediocre". Voters want an alternative to candidates

who talk about African-American leaders as if we were pawns in their political

insider enterprise.

The

P&E of CSJ is an artist,

his work can be seen at

the BOP Business Center

on 79th Street. and

the Center of 69tha

and Emerald

Real Deep, Hood Hip or Brother Hood

was hooping around the business of Willie

Wilson, that he is doing the right in the

community and/or is he getting ready to run

for Mayor of Chicago again. However, the

is talk to drive a Westside 2019 Ford drive

east on Madison Street to LaSalle Street.

Syron Smith of the non-profit University

Block Club organizations in in Atlanta, looks

like they are in the money now-a– days. However,

word is their block members from

around the county has been giving $1 a month

for its operations. In that last year they gave a

young man of New Orleans a major Christmas

donation.

Vincent Gilbert Regional vice president of the Illinois

Black Chamber of Commerce has started communications

with Black Wall Street Chicago in some operations

for Black businesses. has been It is really true CSJ publisher

and editor is really an artist as well. Oh was.

Publisher and Editor: Ron Carter Associate

Publisher Digital

Sonja Cassandra Perdue

General Manger John Alexander,

Writers: Donnell Robinson, Frank Ottman,

Sonja Cassandra Perdue

Circulation: Clifton Edgeson, and Roosevelt

Martin

Photographers: Parthenia Luke,

John Alexander

Chicago Street Journal

815 West 63rd Street Chicago, IL 60637.

E-mail: ChicagoStJournal@aol.com

773.595.5229

http://www.ChicagoStreetJournal.org

Follow us on Facebook and Twitter at

ChicagoStreetJournal

Columbia University South Street Journal archive:

http://southside.ccnmtl.columbia.edu/

Archived by Columbia University's Urban Research

Workshop (URW) , back issues from 1993 to 2006 of

Chicago Street Journal's predecessor, the South Street

Journal, were donated to provide material for URW

students to collaboratively research themes such as

gentrification, racism, political affairs, and youth

development.
---
CSJ Photo Parthenia Luke

Wednesday, February 28,

Citibank's Global Consumer

Group George S. Wright Director

of Community Relations for .

Topic: The Economic Siege of

Black America, 12:00 noon, The

Black Star Project,

3509 South King

Drive. Luncheon

Includes: A presentation

by Mr.

Wright, Lunch provided

by a Blackowned

restaurant

or caterer firm,

Free admission to two college

students. Members - $35.00,

General Public - $45.00. RSVP

to 773.285.9600 by 2/25/2018.

March 3, Cool: On Gwendolyn

Brooks, A Fundraiser Hosted

by Willalyn Fox and Stanley B.

Stallworth 3:00-6:00 p.m. 3352

S. Calumet, Award Winning

Bronzeville filmmaker, Shahari

Moore, is raising funds to make

her short film, "Brooks People"

into a feature

length documentary

on

G w e n d o l y n

Brooks, titled,

"Cool". Patrons

will be treated

to a private

screening, food,

drinks and a

conversation with the director.

Suggested Donation: $100.00

ARE TAX DEDUCTIBLE! RSVP

to Willalyn@yahoo.com by

Monday, February 26, 2018. To

D o n a t e O n l i n e h t t p s : / /

www.ifpchicago.org/cool IFP

Chicago, 2558 W 16th Street,

STAGE 18, Chicago,

Saturday, March 3. The Woodlawn

Community Summit and

South East Chicago Commission

(SECC) host the 9 Annual Woodlawn

Community Summit, with a

community-driven theme A New

Urban Mosaic, on from 8 a.m. -

12:30 p.m., at

the University

of Chicago

School of Social

Service

Ad mi n i st r a -

tion, 969 East

60th Street.

This year's keynote

speaker is Melody

Spann Cooper, chair

of Midway Broadcasting

Corporation

a n d W V O N

1690 AM. Oth er

speakers include representatives

from the Jewel-Osco, Cook County

Land Bank, World Business Chicago,

local stakeholders, and business

owners. Mattie Butler, Executive

Director of WECAN

(Woodlawn East Community and

Neighbors), will receive the Annual

Community Service Award for her

dedication to the community.

Saturday, March 10; Black

Women in Business & Super

Ujamaa Market· Hosted by Ujamaa

Market and The Black Mall Holy

Angels Catholic School, 750 E

40th St, Chicago at 11 AM - 3 PM

March 10, CTC: Continuing the

Conversation of Racial Healing in

Northern Illinois. Racial Taboo:

Film and Discussion 6 PM ·

McHenry County College · Crystal

Lake

March 10, Robotic & Veterans

Resource Job Fair, Choice

Career College 2250 E. Devon

Ave. Suite 100 (lower level) Des

Plaines, IL. 60018. This event is

open to the public, but caters to

Vets. For more information

(including time) contact: Albert

Alexander 773-407-8011.

Saturday, March 10, Congresswoman

Kelly To Host 5 th

Annual Housing Expo Cong.

Robin Kelly Housing Expo on

from 9 a.m. to 12 noon, at Prairie

State College, 202 S. Halsted St.,

Chicago Heights. Participants will

learn about the Hardest Hit Program,

the process of obtaining a

loan, and improving your credit.

First-time homebuyers will receive

guidance and learn more about

property taxes and tax cuts associated

with homebuying. Agencies

on hand to assist homeowners include

Neighborhood Housing Services

(NHS), the South Suburban

Housing Center, the Illinois Housing

Development Authority

(IHDA), BMO Harris and more.

R e g i s t e r h t t p : / /

reprobinkelly.eventbrite.com.

For info, Alan Banks at (708)

6 7 9 - 0 0 7 8 o r a t

Alan.Banks@mail.house.gov.

March 14, Salsa at The Promontory

Hosted by El Caobo Internacional

The Promontory Chicago,

5311 S. Lake Park Avenue,t Mar 14

at 7 PM to Mar 15 at 12 AM,

FREE EVENT! NO COVER!

Chicago Street Journal February 28 - March 13, 2018 2

Obama Center's/Construction Team

Hyde Park Herald:

Formal president Barack Obama

surprised many at the public meeting

to discuss the plans and zoning application

for the Obama Center at the

McCormick Center

In the pack room of many, outside

of the meeting others still address the

need for a Community Beneifit

Agreement, that wanted assurance for

no residents displancement and more

than 51% of the contracts to build the

center.

Obama discussed the plans for the

$300 million museum and center

that will be built in Jackson Park,

with private donations.

Obama admitted still community

inclusion is in the works with zoning

application for the future Obama

Presidential Center that will be

housed in Jackson Park.

Design elements for the Obama

Center as well as the foundation's

initiatives and programs was also

discussed at the meeting. The gathering

also served as an opportunity for

the foundation to gather feedback

from the public.

The public meeting included an

overview of current plans for the

Obama Center with breakout discussions

around topics including:

Designing the Obama Presidential

Campus: Buildings & Landscape.

Inside the Obama Presidential

Center: the Visitor Experience and

P r o g r a m m i n g

* E c o n o m i c I m p a c t

* Chicago Park District's Plans for

New Track and Turf Field

* Chicago Department of Transportation

Proposed Transportation

Changes and improvements for Pedestrians,

Bicyclists, and Drivers".

The Obama Foundations announced

the team of diverse, local

firms that will be partnering to help

build the Obama Presidential Center.

With this decision, their top priority

was making sure to creating opportunities

for local businesses and

building pathways toward meaningful

jobs for minorities and other underrepresented

populations in the Chicago

area.

The Construction Manager for the

Center will be Lakeside Alliance --

comprised of Turner Construction,

and the Presidential Partners consortium

of Powers & Sons Construction,

UJAMAA Construction, Brown &

Momen, and Safeway Construction.

Powers & Sons, UJAMAA, Brown &

Momen, and Safeway are some of the

most established and well-respected

African-American owned construction

firms in Chicago.

Jimmy Akintonde, President and

Founder of UJAMAA Construction:

"We've been around for 16

years in the South Side. We've been a

growing business all the way

t h r o u g h . "

John W. Bonds, Jr., CEO of

Safeway Construction Company:

Ernest Brown,

President of Brown

& Momen

Pamyla Brown,

Director of Community

and Citizenship

of Turner

Construction

"We are right at the very front of the

decision-making side of the process,

of how the decisions are going to be

made. That's not always normal.

That's not something we're used to

seeing, especially when you have

grown up a medium-sized business.

These are the opportunities you need

to take your business to the next

level."

Pamyla Brown, Director of Community

and Citizenship of Turner

Construction: "To have this kind of

project happen in such a great city, it

magnifies the pride that people in this

Jimmy Akintonde, President and

Founder of UJAMAA Construction

city already have."

"Having this particular project

come to this community will show

the rest of the city: We do exist. This

is who we are. This is who we have

always been. We just wanted a

chance... This project will bring some

much needed positive attention to this

p a r t o f t h e c i t y . "

"This is our opportunity to see what

hope really looks like. This is hope

personified."

John W. Bonds, Jr., CEO of

Safeway Construction Company:

(Continued on page 7)
---
4 February 28 - March 13, 2018

Chicago Street Journal

(Continued from page 1)

and president of the Fuller Products

Company, publisher of the

New York Age and Pittsburgh

Courier, head of the South Side

Chicago NAACP and president of

the National Negro Business

League, was a prominent black

Republican.

Fuller was a leading Black Republican

although he always had an

independent streak. During the

1950s, Fuller was probably the richest

African American man in the

United States.

In addition, the 'Godfather' of

Black politics, the late Lu Palmer

who led the charge to elect Harold

Washington, switched to campaign

for former Republican Governor

George Ryan. And a host of Black

leaders supported present Governor

Bruce Rauner.

However, Democrats have enjoyed

the Black voting base since

President Lyndon B. Johnson. Mack

Glover activist and historian said,

'The Dixiecrats passed the Civil

Rights Act of 1964 Bill which he

also called "The Black Thing Bill",

just to give our people hope that

they were going to do the right

thing. But what our people never

realized is that these people weren't

created to do the right thing. They

never have and they never will enforce

it."

The Civil Rights Act, did indeed,

made blacks more beholden to the

Democratic Party, and GOP standard-bearer

Barry Goldwater's opposition

to the Civil Rights Act opened

the exits. In addition, Johnson/s

We Are A 501c3

Non Profit

Mentoring

Organization

Dedicated to

Transforming

the Lives of

Children!

Workshop Series Locations:

Matteson:

4747 Lincoln Mall Drive

Bolingbrook:

260 S. Schmidt Road

appointment of Thurgood Marshall

to the Supreme Court helped foster

allegiance to the Democratic Party.

Former President Richard Nixon's

play for Southern white voters, pandering

to their racial hostility and

fears (the "Southern strategy"), told

blacks voters that the Republican

base would wear a white face.

Glover said, "This locked us in as

Loyal Democrats. Johnson statement

was made and I quote,: 'This

will have these Black people voting

Democrat for the next 200 years.'

Blacks go into the voting booth

hitting democratic down the line, of

the most racist people in office not

even aware of it."

CSJ interview of the Chicago

Tribune in the 2000 presidential

election endorsing George Bush,

lead to its Editor saying, 'African

Americans used to be Republican.

We are as republicans has been

consistent Blacks have not. It is our

turn.'

Pritzker pitched the idea of picking

Illinois Secretary of State Jesse

White, in part, because "Tt covers

you on the African-American

thing," with former Governor

Blovegecgic wiretaps on selecting

Black replacements of former President

Barrack Obama's Senate seat.

Pritzker apologized on his statement

which still secured his Democratic

strong hold of two-thirds of

Black aldermen in Chicago and

nearly half of African-American

State lawmakers, with a host of

black ministers.

Historically, for Chicago in 1990,

former Mayor Richard Daley lead

the change in Chicago elections to

become non-partisan when voting.

One-on-One

& Group,

Mentoring

877-54-(2-4276)

CHARM

Girls Ages 9-18

Includes Group Activities &

Community Service Projects.

Matching Available for One on

One Mentorship

Register On Line Today!

www.mycharm.org

First African American Senator and Representatives were all republicans:

Sen. Hiram Revels (R-MS), Rep. Benjamin S. Turner (R-AL),

Robert DeLarge (R-SC), Josiah Walls (R-FL), Jefferson Long (R-GA),

Joseph Rainey and Robert B. Elliott (R-SC), 1872

Percy Coleman, 34th

ward Republican Committeeman

Joshua "J.C." Griffin, Republican organizer

There is no political party for the

municipal elections. However, still

for Chicago elections, the voters are

reminded by candidates they are

Democratic when there is no primary

of political parties.

Coleman said, "Nobody needs to

tell African-Americans in this country

that the Old New Deal from the

Democratic Party isn't working for

them. In election after election, Democratic

Party leaders take African-

American voters for granted and

year after year the condition of

Black America gets worse. The

conditions in our inner cities today

are unacceptable. Too many African

-Americans have been left behind.

Coleman says he'd always considered

himself a Republican and an

independent voter, although he has

voted Democratic.

A Wall Street Journal-NBC News

poll conducted in 1996 found that

15 percent of African-Americans

sided with the GOP.

The poll, this past July found just

7 percent of Blacks called themselves

Republicans, marking a more

than 50 percent plunge in Black

support in two decades. Trump won

less of 8% of the Black vote, according

to exit polls.

Chicago Republicans represent

about 10% of the voters. African-

Americans made up 28 percent of

the Democratic vote in Illinois.

Nat Thompson, writer and historian

said, "Whether you are a Democrat,

Republican, Libertarian,

Green, or some other political

"Independent" of any extraction;

even if you have no interest in politics,

every Illinois resident knows

that the lion's share of negative

issues impacting the Black community

have occurred under the direction

of Democrats."

He continued to say "One path

out of that abyss may very well be a

Progressive Republican agenda. A

'Progressive Republican" is a

"RepubliCrat;' part 'Conservative

Democrat,' part 'Liberal Republican.'

Democratic Alderman Howard

Brookins (21) said he has no issue

with Blacks being republicans. "We

need Black folks on both sides of

the aisle — Democrat and Republican.

However, being a Republican

in the age of Trump is a whole other

level of Republican-ism."

On one hand, there is the clearly

defined, anti-Black section of the

party. The slogan "Make America

Mack A. Glover,

Independent political

organizer

Great Again" comes off as a battle

call for the anti-black crowd.

The roots of the Trump election

goes as far back to slavery in the

United States, right after the Civil

war. Most of the Democratics were

slave owners. Trump did not win

the popular vote. Not even close,

he lost by 2.5 million votes. He

won the Electoral College – a voting

system set up in 1887 to protect

slave owners to maintain their

representation and profit shares

in slavery, given the population of

the U.S. was controlled by the

Union (Republicans) and the

Southern states needed fair representation.

Trump has incited fear and distress

to all who are "different" –

nationalities, religions, or gender,

and non European people including

viciously attacking and demeaning

Mexicans and Muslims, and degraded

women, openly, yet he won

the election.

When the cities and states accelerated

their plans to remove Confederate

monuments from public property,

the President's remarks regarding

race he tweeted that statues of

Confederate leaders should be left

standing across the South. not challenging

history and remaining Old

South imagery.

Coleman maintains, "Progressive

Black Republicans are still Chicagoans

only fair hope for political

justice. But at this point it's about re

-defining the Republican Party. It's

about time that racist, disconnected

Republicans learn that the Party

does not belong to them; they've

just enjoyed not having anyone from

the other side of town show up.

Those days are coming to a close.

Chicago's next Black mayor, or

Illinois' first Black governor might

be a Progressive Republican.

Joshua "J.C." Griffin was about to

be a sign of that. In the spring of

2017, J.C. began touring the state of

Illinois in an effort to advance interest

in his candidacy for the office of

the Illinois Secretary of State

(against incumbent Jessie White of

40 years in the seat). As a Republican

Griffin cited the need for fresh

ideas, renewed leadership and a new

approach toward how Illinois executes

its responsibilities in governing.

Griffin did not get his candidacy

on the ballot in December of 2017.

Republican candidates face a

practical problem in the Black

wards. In many precincts, even the

Republican election judges are often

Democrats who are just doing the

job for the pay.

"The judges automatically give

you a Democratic ballot," Griffin

said. "You have to ask for a Republican

ballot." He thinks some potential

Republican voters are too embarrassed

to make the public declaration.

The issue with Black Americans

identifying with Republicans is

two-fold:

In the city's African-American

wards, a Republican vote is even

more extraordinary. In 2010, for

example, 5,700 Democratic ballots

were cast in the 28th Ward on the

west side—and just 50 Republican

ballots. In the south-side 17th Ward,

7,193 voted Democratic and 58

voted Republican.

Consequently, the face of Black

Republicans has been defined

largely, in the public mind. In 2013

Bruce Rauner opened his campaign

office in the Chatham community.

The established Black Republican

base there was never consulted.

Bruce Carter, who created Black

Men For Bernie, decided Hillary

Clinton and the Democratic party is

not the future of the Black

community. He feels responsible for

alerting as many voters as possible

that it was time to make a switch.

"Truth hurts!" Said Carter, Democrats

have always kept Blacks "in

line"! Look at Planned Parenthood;

its racist founder and where, strategically,

these are located! You don't

think it is coincidence that the majority

of these facilities are located

in the poorer Black communities, do

you?"

Carter went on to say "Barack

Obama/Clinton have failed all

minorities. By marshaling the votes

of all Americans – White, black,

Hispanic citizens – we can reclaim

our country and preserve its

economic and safe future."

Glover said, "We're just caught in

the middle. And as quiet as it's kept

and for those that don't know,

U.S.A. really stands for 'Under

Satan's Authority.' But that's my

opinion.

Political activist Linda Hudson

commenting on Pritzker remarks

and the accountability of Black Democratics,

"The Black politicians

who stand by him as he tries to court

votes in their communities, are

problematic, too. His supporters

insist the man who spoke on that

November 2008 wiretap doesn't

speak for the man courting the

Black vote today. That kind of blind

party loyalty is further proof of the

political disconnect between the Old

Guard and today's Black Millennial.

If the third of Democratic voters

in Illinois who are Black want to

really see a Democratic Party that

works for them, and especially

young folk, they need to oust power

brokers who look the other way at

transgressions from White allies.

We need more of those African-

American leaders who make people

like Pritzker and Blago uncomfortable.
---
Chicago Street Journal February 28 - March 13, 2018 5

(Continued from page 1)

From 1970 to 1973, the CCAC

convinced numerous investors to

support their plan and together,

they created the Chicago 21

Corporation and drafted the

Chicago 21 Plan, a 125-page

document made public in 1973,

"A Plan for the Central Area

Communities"

Professor and politician historic

Bob Starks and other, has

been making the charge of genocide

and re-gentrification that

contributed to the demolition of

public housing and displacement

of Blacks in Chicago and even to

the closing of over 60 schools,

incarnation and crime injustice

in Black communities today.

Presently a similar plan is led

by The Chicago Metropolitan

Area Plan (CMAP) creator of the

Chicago 2020 Plan, the Chicago

2040 plan and now updated to Chicago 2050

Plan.

In 2009 Black Wall Street Chicago charged

the CMAP of business genocide for not including

a plan for black commercial and business

development. Citing it would not give

Black businesses a chance to prosper in their

own communities. Black Wall Street programs

called it outright racism or institutional racism.

Since then CMAP has had a more outreach

to the Black community.

A past warning sign by noble leaders such

as Marcus Gravey and addressed often by

Malcolm X, "develop your own businesses

before it is too late.' Malcolm X talked about

"black genocide" in the early 1960s, citing

long term injustice and cruelty by whites

against blacks.

"We have not founded away to this date to

act on it. And make the mayor stand up for

what the city has done and is doing to Black

People. Said Community activist Pereston

Shanks

Charges of GENOCIDE

The charge of black genocide is not new.

Before Kennedy made his remarks, Cook

County Commissioner Richard Boykin, who

flew to New York to discuss what he described

as a "quiet genocide" in Chicago's

black community with the U.N.'s assistant

secretary-general for peace building support,

Oscar Fernandez-Taranco.

Many attempts have been done to address

Genocide. In Dec. 17, 1951, "We Charge

Genocide: The Crime of Government Against

the Negro People.", led by Paul Robeson and

William L. Patterson, two giants of the struggle

for African-American equality, delivered

to the United Nations a petition presented to a

UN official in New York.

The petition listed 10,000 unjust deaths of

African Americans in the nine decades since

the American Civil War. It described lynching,

mistreatment, murder and oppression by

whites against blacks to conclude that the US

government was conducting genocide of African

Americans, by refusing to address "the

persistent, widespread, institutionalized commission

of the crime of genocide".

Genocide was charge by Marcus Gravey in

1930's where he declared the only address is

form 'Our Own' and returned back to Africa.

Malcolm X made the charge where he issue

to bring the charge to the United Nations right

before his death.

Dr. Conrad Worrill traveled to Geneva,

Switzerland, in 1997 with a delegation to formally

charge the U.S. Government with genocide

and human right violations before the

Commission on Human Rights. The delegation

presented the commission with a

"Declaration of Genocide by the United States

Government against the Black Population in

the United States" with 157,000 signatures.

The Case of Political Genocide

However, to proven it has been difficult to

do. Black genocide has been referred to the

both in the past and in the present.

Kennedy said, according to a Chicago Tribune

news report several areas in which the

predominantly Black communities of the city

are struggling with funding, education, and

healthcare and law enforcement. He suggested

Emmanuel and his administration are intentionally

neglecting these communities, leaving

the Black residents choice but to leave.

"This is involuntary. That we're cutting off

funding for schools, cutting off funding for

police, allowing people to be forced to live in

food deserts, closing hospitals, closing access

to mental health facilities," he added. "What

William L. Patterson,

delivered to the

United Nations a petition

presented to a

UN official in New

York in 1951 addressing

Genocide of African

Americans

choice do people have but to move, to leave?

And I think that's part of a strategic gentrification

plan being implemented by the city of

Chicago to push people of color out of the

city. The city is becoming smaller, and as it

becomes smaller, it's become whiter."

Kennedy accusing Emanuel of leading a

"strategic gentrification plan" to rid Chicago

of blacks to make the city whiter and wealthier

— something the mayor sharply criticized and

denied, and opinion writers derided.

Kennedy's also criticized the Democratic

establishment by contending homes in poorer

neighborhoods are over-assessed while

wealthy commercial properties get property

tax breaks, spurred by "The Tax Divide" series

by the Chicago Tribune and ProPublica

Illinois.

"This re-segregation, it's not accidental."

Kennedy said at the Bronzeville church event

in December. "It's occurring because of governmental

decisions. We're resegregating our

schools. We're segregating our communities,

not just on race but economically as well."

Emmanuel's office, as well as Chicago PD

Superintendent Eddie Johnson responded to

Kennedy's accusations, as nothing more than

an attempt to get ahead at the polls. Emmanuel's

spokesperson Matt McGrath also

called Kennedy's accusations "divisive" and

said he was "ignoring work being done in

neighborhoods across the city."

In Chicago where government has not address

genocide, yet the Chicago city Council

has voted in symbolic terms of Reparations for

Black once to businesses ownership of slaves

i.e. Morgan/Chase Bank, and under former

Mayor Richard Daley apologized for slavery.

But have no official position to the city wrong

doing related to genenfication or genocide."

Emanuel has previously face criticism for

his questionable decision during his time in

office and poor handling of several high profile

matters, most notably the Chicago PD

cover up of the LaQuan McDonald not wanting

to lose his Black votes.

The South and West side is under the biggest

land grab since the end of the civil war,

largely driven by what many would say due to

the University of Chicago.

This land grab, which will establish depopulation

then re-population, is gentrification

on steroids and will affect every orifice of the

Southside. Federal census reports show Chicago

saw a significant decline in

Black residents from 2000 to 2010,

with over 175,000 Black residents

lost before Emmanuel took office in

2011. The percentage of African-

American residents was roughly.2

percent in 2010 and was reported at

29.2 percent last year, representing a

decrease of

roughly 100,000

Black residents.

Boykin said

there is a direct

correlation between

poverty

and

cri me,

which must be

addressed. He said the Austin community

is 43 percent below the poverty

line and that for the City of Chicago

that's 80 percent of people making

less than $20,000.

Political Genocide

Starting in the 1950s, Chicago politicians

steadfastly believed that the key

to the city's economic survival was in revitalizing

the central areas surrounding the Loop

by luring white, middle- and upper-class professionals

into renovated lofts and re-built

neighborhoods. A case in the graph above

shows the decrease of Blacks and the increase

in Whites in area once known as Black communities.

Harold L. Lucas Population loss drives the

remap process and voting power.

And the Gerrymaning of the Black majority

wards of the city, such as the 2nd ward once

98% Black is now 65% White. The Black

community has lost two aldermanic seats the

2nd ward and 15th ward.

After the passing of Harold Washington, the

Black political base in Chicago has been organized

to be disorganized since that time.

Local community organizations have fought

these plans since their inception. As developers

and planners vow they have the city's best

interest at heart, those residents in the central

areas charge that they are being driven out of

their neighborhoods by new construction and

rising property taxes.

The developers continue to work with City

Hall in planning for the future of Chicago's

downtown area. Meanwhile, Black residents

and many other neighborhoods fight to keep

the dwindling number of housing units available

to those that need them, and local business

displacement.

Shanks said, "It's all designed chaos. Englewood

is dead. Once Rahm closes those high

schools for a year it is a wrap. The new school

will ONLY be accepting freshmen."

"How leaders are portrayed in history

books, film, the news and media the charge of

genocide has been on death ear during Black

History Month."

WITHOUT THE HIGH, COST OF CABLE AND SATELLITE.

Call NOW and

you are Ready

to view!

708 785-0580
---
6 February 28 - March 13, 2018

Chicago Street Journal

Let's Talk Purity

By: The Pure Prophet

(Prophetess Stefaniq'ue Tillis)

B

lack history dictates that slaves stood in

droves peering at the horrendous beatings

of other slaves considered to have

misbehaved. Slaves didn't necessarily care to

observe what was happening, but were commanded

to look at what has now become a

damning chapter in American's treatment of

humans!

Though those considered sub-servants had

numerous opportunities to flee the plantation,

they could have by reason of their numbers,

forcibly intervened to halt the historical lynching's

and beating! However, fear would grip

their hearts and no stop-gap measures ever happened!

Some slaves

thought of fleeing the

disasters they knew

would eventually come,

but opt-out for fear of

direr consequences.

Even with the Slavery

Abolition Act of

1833, some in white

America continues to

repeat horfying events of

America's past failures.

According to Walter

Hawkins, slaves constantly

talked about the

possibility of escape:

"There arose in some an

irrepressible desire for

freedom which no danger

or power could restrain,

no hardship deterred, and

no bloodhound could

alarm. This desire

haunted them night and

day; they talked about it to each other in confidence;

they knew that the system which bound

them was as unjust as it was cruel, and that they

ought to strive, as a duty to themselves and their

children, to escape from it".

Slave-overseers, often would quote the scripture:

"Have confidence in your leaders and submit

to their authority, because they keep watch

over you as those who must give an account. Do

this so that their work will be a joy, not a burden,

for that would be of no benefit to you." Hebrews

13:17.

Some political hypocrisy, yesterday and today

are truly non-believers, bible toting individuals,

who with long prayer and quoting portions

of scripture tongue-in-cheek, is only to benefit

their own hidden purpose! These mimic 'blacked

-face' politicians represent 21-Century Slaves

with an agenda that they themselves are not fully

aware! Foolishly, they are recklessly obstructing

and doing the bidding of those 'masters' who for

the love of filthy money seek only to accomplish

the demise of the underprivileged.

ts important to note that the 13th Amendment

stated: "Neither slavery nor involuntary

servitude, except as a punishment for crime

whereof the party shall have been duly convicted,

shall exist within the United States, or

any place subject to their jurisdiction." However,

to date even the law of the land has not prevented

evil hearts to discriminate in the United

States of America.

Many of the despicable events of days we

would like to honestly forget, we are reminded

of those critical sounds coming from the various

Chicago communities … voices of the hopeless

crying because of the needless hunger along with

various matters that are unheard by the powersthat-be.

Enslaved Chicagoans are suffering at the

hands of those field-auctioneers that sit in seats

of authority on the Chicago's 5th floor.

Education: Its terrible to utter the closing of

50 public schools in the city of Chicago, where

crime is rampant. This proves without any doubt

that education is not a priority

in a city where youth

have to now cross gang-turf

to get an education! Why?

Let me tell you why: Education

brings about an awareness.

Awareness brings on

the ability to think. When

youth can think...they then

can prayerfully make rational

decisions. Who wants

youth to an ability to think,

especially when its more

lucrative for them to remain

stupid! Who will be the

benefactor of the lack of

knowledge: Jails and Prisons

are a multi-billion dollar

industry! The proven fact is:

It cost less to educate than to

incarcerate.

If Chicago would educate

well, it wouldn't have to

incarcerate.

Black History ought to have taught the

massive of blacks to the point of understanding…

we can't get stuck on stupid! We can't go

back to the original theory of which the plantation

was created! Ah, but many are trying to do

just that! Revisit the stats concerning the justice

system and therewith to find that it is: The

Criminal Just Us System.

What could happen if the black tax payer

decided to flee from the oppressors?

Without question, people of voting age are

capable of shifting a misguided political administration

from its wrong ways to mastering rightfully!

I beg of the youth that were educated under

the sound of my voice… don't be as slaves in

the historical yesterdays who stood idly by allowing

other humans to be slaughtered… they

could have escaped… and so can you! Escape

the perils and detriments that lie in wait for all

deprived humans. Denounce the theory that I've

got mine—you get yours, which is an attitude

carried from century to century by the have and

the have-nots. And I think we know who had the

upper hand! VOTE!

by Rev. Harold E. Bailey, President of Probation

Challenge

WWW.ProbationChallenge.org—The Truth

Network

Prophetess Stefaniq'ue Tillis is the founder of Purity Reigns International Ministries

which operates in Houston, TX. She is a 25 year old virgin

that is waiting to meet Her ordained mate that she can serve GOD with.

O

ften times in the Christian

faith when the word Purity is

spoken we think sexual Purity,

however during my walk

of Purity I always say we must be Pure in

mind, body, and spirit. And I assure you

that statement will reign True daily.

I began my journey of Purity before I

truly understood

what

sexual Purity

was. That journey

began with

a discovery

that birth a

depth of hunger

and desire

to live according

to the word

of GOD. At a

very youthful

age (age 5) I

discovered

many different

living circumstances

concerning

parents

and children. I

realized there

were homes

with single

parents

(mostly mothers),

step parents

(where the

step parent(s)

helped care for

children that

were parented

by both parents

and any children that were parented

previously by either parent), there were

also children that were parented outside of

the home. After discussing this with my

siblings, I told my Mom that I was having

all of my children by one man. I also began

declaring that that man would first be

my husband.

Today this is still my daily declaration.

A declaration is a statement or proclamation

that you make; normally in accordance

with the word of GOD in the Christian

faith. I encourage you to begin making

declarations over your life, your family,

your health, your finances and etc.;

even now whether you are single, married,

a parent, an expectant parent, working, in

between jobs, or in the job or career field

that you like.

I also continuously make declarations

over my mind and

my spirit to stay

guarded. Though I

still live a fun and

balanced life, I'm

careful of what

events, conversations

and relationships

I partake in.

Being careful of my

words, surroundings,

and friends helps to

shape an atmosphere

that is conducive to

GOD's favor and

blessings.

Keeping my body

pure has come with

a Grace from GOD

that I value and respect.

As an African

American female

I believe it's

important to your

confidence to like

what you wear,

however you

should look graceful

and polished

throughout.

I encourage you to

begin reading the word of GOD and find

scriptures that will help your current situation

and begin declaring that over you to

begin your steps of Purity. Though we

may all have a ways to go in our journeys

we must remember every journey begins

with a step.

Contact her via e-mail

prreigns@outlook.com

if you have any questions.

No Matter What

The Test May Be

God Will Take

Care of You

Join

Bishop Lucius

Hall, Pastor

First Church

Of Love and Faith

Schedule of Services:

Sunday Morning Worship -

11:00 a.m. Sunday Evening

Live Taping and Broadcast on

WGCI -AM 1390 - 5:00 p.m.

Tuesday Worship Service -

7:30 p.m.

Saturday Channel 25

(Comcast) 7:00 p.m.

"God can do anything, but

Fall".

Leon Daniels,

Pastor

821 West 69th Street

Bible Study Tuesday 7 pm

Wed 6 pm

Fri. Service 7 pm

Sunday School 9:30

am

Sunday Service 11

am

773-487-9062

unityatcogic@gmail.com

Liberation

Christian

Center

7400 S Michigan Ave

Chicago, IL 60619

773-783-1885

Bishop J.

Edward

Dukes

Pastor
---
CSJ Photo by Parthenia Luke

CSJ Photo by Parthenia Luke

Chicago Street Journal February 28 - March 13, 2018 7

Re-Opening of The Woodson Library

(Continued from page 3)

Obama Library

Mayor Rham Emmanuel join others in cutting the ribbion of theCarter G. Woodson Regional

Library on 95th and Halsted, during African American History Month.

(Continued from page 1)

will serve as a cultural and information

center for Washington

Heights and all Chicago residents.

"The renovation of the historic

Woodson Regional Library in

Washington Heights is a major step

towards its future and a brighter

future for the city of Chicago," said

Mayor Emanuel. "With passionate

community engagement, this

neighborhood anchor will maintain

its history and legacy while offering

patrons 21st century learning

opportunities, services and technology

that will benefit Chicagoans for

generations to come."

The Woodson Regional Library

will now offer programs and services

that meet the needs of the

residents they serve. Interior renovations

included the construction of

two study rooms to conduct small

meetings and engage in workforce

development or for community

collaboration, and the reading areas

were reconfigured in areas with

natural light. Children and families

will have access a built-out Early

Learning Play Space, the Teacher

in the Library program and the

YOUmedia program, which provides

teens with access to technology,

resources, and classes that

inspire exploration, creativity and

learning. Traditional library programs,

such as book clubs for seniors,

intergenerational educational

and cultural programming and story

times and other programming for

kids and tweens will also be available.

"These renovations, thanks to the

support of our city and Secretary of

State Jesse White, ensure this community

has a dynamic, 21st century

library," said Commissioner Brian

Bannon. "I'd also like to thank

Woodson Director Lynda Schoop

and the entire Woodson and Harsh

staff for their dedication to the

branch and community."

Extensive renovations were

made to the interior and exterior

façade of the Woodson Regional

Library. Building improvements

include a renovated 180-seat auditorium

with new upholstery; new

energy-efficient and insulated roof,

exterior walls and windows; updated

guardrails and handrails on

the monumental stairway; additional

parking for people with disabilities;

and upgrades to flooring,

CSJ Photo by John Alexander

lighting and paint in lobby and the

Harsh Collection Reading Room.

"I have long envisioned what

Woodson Regional Library could

be for the community, and I am

proud that this vision has become a

reality," said Illinois Secretary of

State Jesse White. "This was built

out of a resilient partnership between

the City of Chicago, the

Chicago Public Library and the

state, and will be well-served by the

community for many years."

The branch was closed to the

public in November 2016, and was

renovated with capital grant funding

through Secretary of State Jesse

White and through city funds. The

Architect of Record is EXP and the

contractor for the façade replacement

is Ujaama.

The revitalization of a critical

neighborhood anchors like

Woodson is paramount for residents

on the south side of Chicago,"

said Alderman Howard B.

Brookins Jr., 21st Ward. "This is a

proud example of how city officials

come together with residents and

partners to work together toward a

(Continued on page 16)

Lakeside Alliance team. John

W. Bonds, Jr. "I was born in Chicago,

in Englewood... I've been in

business for 31 years, but it's good

to see opportunity in the community

of this magnitude."

"What inspires me about the

South Side] is the change... What's

being built is going to impact the

community, and property values,

and those kind of things."

Ernest Brown, President of

Brown & Momen:"I live about

five blocks from the project site.

Within ¾ of a mile."

"Very rarely do you have an

owner that has the kind of goals

and focus that the Foundation has

for this project, so it makes it easy

for us to do our job."

"I'm exceptionally excited.

We've worked on large projects

before...but this is a whole different

approach... Being part of 44's legacy,

and building on his legacy is

unbelievable."

Although the Obama Foundation

has signed a private

agreement with its contractors

that guarantees minority hiring,

local activists say it doesn't

provide enough public oversight

of the project or address the

issue of gentrification. It's an

ongoing battle that activists

have taken all the way to Mayor

Rahm Emanuel's office, and

that may have implications for

next year's aldermanic elections.

The Obama Foundation

will donate up to $3.5 million to

the Chicago Park District to

cover the construction of the

field, the park district said in a

statement, adding that the park

district will be responsible for

design, construction, and maintenance.

The project is expected to be

completed by Fall 2018.

OPEN

NOW

Today:

8:00 am - 8:00

pm

334 E 95th St,

Chicago, IL 60619

(773) 995-

9859

Phil V.

Smith,

Owner/

Master

Stylist

www.perf

ecttouchs

alon.us
---
8 February 28 - March 13, 2018

(Continued from page 1)

The City of Chicago held month-long celebration of Black

History Month with a myriad of events in

neighborhoods across the city for residents to

gather, learn and reflect on the accomplishments,

history, culture and contributions of

black Americans in Chicago and throughout our

nation's history.

"From our city's founding by Jean Baptiste

Point du Sable to today, black history has been

inseparable from Chicago's history. The lasting

contributions of Chicago's African American

community have defined its past and continue to

shape Chicago's future," said Mayor Rahm

Emanuel.

Carter G. Woodson (1875-1950), the great

Carter G.

Woodson:

Who was the

'Father of Black

History' and how

did he change attitudes

to race in

America?

Chicago Street Journal

African American scholar commonly regarded

as "the Father of Black History". grew up in

rural New Canton, Virginia, in the aftermath of

the American Civil War, the son of freed slaves

James and Eliza Riddle Woodson.

James Woodson, a Union veteran, relocated

his young family to Huntington, West Virginia,

so that his son could attend a new high school

for black students then under construction,

hoping to give Carter the best possible

chance of achieving the education he and his

wife had been denied.

The financial realities of their situation however

meant that Carter frequently had to miss

school to help out on the family farm. Undeterred,

the young student taught himself the

fundamentals of English, maths and science and

became accomplished in those subjects by the

age of 17. He was forced to begin work in the

coal mines of Fayette County at this point, temporarily

frustrating what had been astonishing

academic progress.

In 1895, aged 20, he was able to resume his

studies at Douglass High School in Huntington

and received his diploma in under two years. After three

years of teaching, he returned to Douglass as principal before

relocating to the Philippines between 1903 and 1907 to serve as

a school supervisor.

Woodson's ongoing quest for self-improvement through

study saw him earn a Bachelor of Literature degree from Berea

College, Kentucky, receive honours from the University of

Chicago and complete a history PhD at Harvard in 1912, indicating

a truly voracious appetite for learning. He was only the

second African American to win a doctorate, following in the

formidable footsteps of W.E.B. DuBois.

It was while serving as Dean of Arts and Sciences at Howard

University in Washington, DC, in 1915 that Woodson and his

colleague Alexander L. Jackson published The Education of the

Negro Prior to 1861, a pivotal work addressing African American

history, a subject he felt had been badly neglected and

crudely misrepresented by white academia.

Woodson would write over a dozen more books on

black subjects over the course of his

career as he began to turn his thoughts

away from simply researching US history

himself to raising awareness and

making it accessible to others.

His next venture was founding the Association

for the Study of African American

Life and History, inspired by his time

in Chicago, a collective whose goal was

to formalise the education of adults and

young children on their nation's past. The

association duly produced a periodical to

support their work, The Journal of Negro

History. Woodson hoped such public

outreach projects - as opposed to studies

undertaken within the insular, cloistered

world of universities - held the key to

bringing about more enlightened relations

between black and white citizens.

Woodson believed that racism could be

overcome and was "merely the logical

result of tradition, the inevitable outcome

of thorough instruction to the effect

that the Negro has never contributed

anything to the progress of mankind."

In 1926, he was involved in promoting

Negro History Week in Washington,

DC, the forerunner to Black History

Month. Intended to coincide with the

birthdays of abolitionist Frederick

Douglass and President Abraham Lincoln,

the celebration promoted the organised

study of African America,

which Woodson felt had been

"overlooked, ignored and even suppressed

by writers of history textbooks

and the teachers who use them".

Students at Kent State University, Ohio,

would pick up his baton when they

founded the first Black History Month

on 1 February 1970, with President Gerald

Ford recognizing their project nationwide

six years later.

Woodson continued to promote black

American scholarship throughout his

career as an educator, writing a widelyread

regular column for Negro World, a

weekly publication founded by Jamaican

activist Marcus Garvey.

Carter G. Woodson died of a heart attack

in Washington in 1950, aged 74.

His proud example set the stage for the

heroes of the Civil Rights Movement

and he is rightly remembered to this day

as a remarkable man and a true pioneer.

His insights into racial prejudice and the

political machinery of oppression, incidentally,

are as timely today as they ever

were:

"If you can control a man's thinking,

you don't have to worry about his actions.

Letters to the Editor

Dear Editor;

1. No Tenure / No Pension. A Congressman /

woman collects a salary while in office and

receives no pay when they're out of office.

2. Congress (past, present, & future) participates

in Social Security.

All funds in the Congressional retirement

fund move to the Social Security system

immediately. All future funds flow into the

Social Security system, and Congress participates

with the American people. It may not

be used for any other purpose.

3. Congress can purchase their own retirement

plan, just as all Americans do.

4. Congress will no longer vote themselves a

pay raise. Congressional pay will rise by the

lower of CPI or 3%.

5. Congress loses their current health care

system and participates in the same health

care system as the American people.

6. Congress must equally abide by all laws

they impose on the American people.

7. All contracts with past and present Congressmen/women

are void effective 3/1/17.

The American people did not make this contract

with Congressmen/women.

Congress made all these contracts for themselves.

Serving in Congress is an honor, not a

career. The Founding Fathers envisioned

citizen legislators, so ours should serve their

term(s), then go home and go back to work.

If each person contacts a minimum of twenty

people, then it will only take three days for

most people in the U.S. to receive the message.

It's time!

THIS IS HOW YOU FIX CONGRESS!

Term limits:

Changing the culture back to public service, not personal

gain, forcing the lifetime politicians to find new

jobs

Dear Editor

Over the past two years, the people of Illinois,

Democrats and Republicans alike, have demanded

reform. In 2014 the entrenched politicians

holding power in Springfield ignored those

demands. They used the Illinois court system to

stop proposals for term limits and fair maps that

could have led to the reforms the people want.

Term limits and fair maps would give the

people of Illinois more control over our broken

political system.

But the politicians holding power said no.

Last week they said no again. A lower court

threw out this year's Fair Maps proposal that has

the support of nearly 600,000 Illinois citizens,

support from both Democrats and Republicans.

We cannot let this stand. The only way to

overcome entrenched political power is for the

people of Illinois to never give up, to keep pushing

forward for reform. That's why we're here

today.

Term limits is an issue I believe in deeply.

And so do the people of Illinois. Term limits is

supported by

80% of the people I talk to, and it seems like

80% of the politicians are opposed. Our people

want term limits now more than ever, and that's

why I'm so committed to continue the fight to

make it happen.

You know, I've been Governor of Illinois for a

year and a half now. We've gotten some important

things done. But I'm as frustrated as everyone

else that we haven't been able to tackle the

biggest challenges facing our state. These past

18 months have been a humbling experience -

I've learned just how entrenched the politicians

holding power are. They don't want to change.

They are focused on their own power, rather than

empowering people. But I have also learned that

you want me to keep working to fix our broken

political system. That is just what I plan to do.

But I need your help to get it done.

As I've travelled the state, I've learned the

most from talking to people, not politicians. I've

talked to people in factory break rooms, in coffee

(Continued on page 9)
---
Chicago Street Journal February 28 - March 13, 2018 9

Commentary:

By: Lionel B. Nixon

"I Don't Hate The

Player.

I Hate the

Game!"

A political analysis of politics

in Chicago in 2017 Barack Obama

of whom most of us for the most

part all have liked has been backing

and endorsing Rahm Emmanuel

of whom is just the water carrier for some

much bigger players. In this scenario former Daley

operatives like David Axelrod and others of whom I

won't name here are to be found all over the place in

this political equation I'm just describing here.

Many voters don't like what the mayor is doing but

don't want to go against Obama's endorsement and

therefore simply take themselves out of the game

totally by not voting which reduces the voter turnout.

The overwhelming majority of voters in the mayoral,

and in a recent state representative and Aldermanic

election with Obama selectively making endorsements

allows a very small number of mustered up by

the well-oiled and financed New Democratic Machine

to outnumber a very smaller number who vote

in opposition. In the old days you didn't have such a

powerfully charismatic figure like Barack to come in

at the calling of the New Democratic Machine and

endorse their candidate. Back in the day we just went

toe-to-toe and head to head in the streets during the

course of a political campaign and on Election Day.

What is interesting about all of this is that there is a

completely new city that has been built in the South

Loop with thousands of resident newcomers many of

foreign origin and Whites from the southwest side

like 12th Ward and others who were able to sell their

houses to Latinos instead of having them demolished

for code violations with accelerated demolition which

has happened to many black homeowners.

Is gigantic development around McCormick Place

and the old Mercy Hospital site along with the proposed

Barack Obama Presidential Library and the

Tiger Woods Golf Course all taking place in close

proximity to the south lakefront.

According to the preliminary 2015 United States

Census Bureau data there are only 871,000 Black

people left in Chicago and probably as of now 2018

there is less. Now some people are looking at me like

I'm crazy; a person who gave his heart and soul every

single day during both Obama's election campaign to

become President who now is saying ""I don't like his

support of Rahm Emmanuel." But I don't think that

he even had a choice in the matter. For the record I

am far from crazy just very informed. I do the research

and a Chicago Native Son on behalf of the

city that I was born and raised in and its people, I'd

rather lose on the right side of History than win on

the wrong side.

Now don't get it twisted. Barack Obama is a

man I have a great deal of respect for many of the

good things that he was able get done while he was

President.

I don't hate the player.

I hate the game!

In the upcoming issue of Chicago Street

Journal candidates seeking our endorsement

should answer the following questions.

Supporters are welcome to comment

for them as well for publication. However,

no endorsement without candidate

response.

2018 Candidates Questioner

Chicago is a diverse city with a rich

history we thrive to represent the city as a

whole. Although African American interest

is still at the core of what we cover,

1. What Is One Capacity of You Makes You the

Most Qualified Candidate for This Elected Office?

CANDIDATE

QUESTIONNAIRE

2. Do you agree with Governor Candidate Chris Kennedy that there has

been Strategic moving of African Americans in the City of Chicago to

any extend? If so example, if not can you explain the disenfranchisement

of African Americans in Chicago?

3. Would you support legislation of the Black Wall Street platform as in

HB bill 27 [October 14, 2009] SENATE RESOLUTION NO. 432?

4. A How Would You Describe Your Own Working Style with the Political

Party you represent and with the opposite Party?

4. B What is the difference between a Conservative and Liberal?

5. If Any What one item does you agree with President Donald Trump

agenda and what one do you disagree on?

6. If (Re) Elected, What Is the First Thing You Would NOT Tackle in

This Office?

7. What is the logic of a candidate use of the theme 'representing the middle'

class oppose to the lower or upper income persons/family?

8. Are you in favor of Parity based on geographical racial area in contract

procurement and how would you address parity?

9. Are you in favor of Term Limits or not for which office?

Letters to the Editor

10. Do you believe that the Obama Foundation

should present a signed Community Benefit Agreement?

Thank you for taking the time to respond.

Ron Carter, Publisher and Editor and

the Endorsement Committee of

Chicago Street Journal

(Continued from page 8)

shops, in milking barns, in office buildings and

at kitchen tables. After you spend enough time

in Springfield, it's inspiring to talk with people

facing real challenges every day and seeing

how hard they work to get ahead. It makes me

want to work that much harder for all the people

of Illinois.

Our people want action on the challenges we

face. People want us to fix the broken system

that has put our state deep in the hole. But in

Springfield, too many career politicians holding

power have been happy to kick the can down

the road and do nothing about our biggest problems.

That is how we ended up with a $100 billion

unfunded pension liability. Even with our massive

tax bills, our government spends a dollarthirty

for every dollar it takes in. It simply defies

common sense. The people I talk to every

day balance their budgets, and they expect us to

balance the State's. To do that, we need new

people with their new ideas in Springfield.

People in business are successful by making

things happen. In politics, career politicians

don't have to make anything happen to get reelected.

If they play their cards right, they've

got a lifetime job. We've got politicians in

Springfield who've been there for twenty,

thirty, forty years! And look what's happened to

our state in that time.

It's time for change. Two years ago, 600,000

thousand people in Illinois signed

petitions calling for term limits on

elected officials. The politicians

long in power ignored the petitions.

They won't even debate the issue.

That's crazy!

We desperately need new faces

and new ideas in Illinois politics.

We need to make serving in government

more about public service, and

less about power and a government

pension. That should be obvious!

We need it in the Republican

Party, in the Democratic Party, and

throughout the political spectrum.

New faces need to believe they have

an even chance of winning in a truly

democratic election.

Look at the numbers:

This year over 88% of candidates

for our legislature faced no opposition

in their primary.

Even more amazing, two-thirds have no opposition

in the general election. That's not democracy.

That's a rigged system.

The system has given so many advantages to

incumbents in the legislature that it's very hard

to vote them out -- even if they're not doing a

good job.

That's just wrong.

But we can change that. And we must change

that.

That's why I'm calling on

the General Assembly to

vote on a term limits

constitutional amendment

when members

return for the fall veto

session.

It's certainly true that

getting term limits won't

fix every problem we

face. We've still got to

wipe out corruption,

conflicts of interest, and

repair our broken pension

system. We've got to

balance our budget without

balancing it on the

backs of the most needy.

We've got to get our

property taxes moving

down, not up. All of this

will help create the environment

we need to attract good jobs back to

Illinois.

We can overcome our challenges. We can do

it together. First, we've got to fix Illinois' broken

political system. And when we fix the system,

we can take on any challenge Illinois

faces.

Term limits will go a long way toward fixing

the system by changing the culture back to

public service, not personal gain, by forcing the

lifetime politicians to find new jobs, and by

bringing new faces and new ideas to Springfield.

All of the changes we need won't happen

right away. This will take time. But now we'll

be moving in the right direction.

Instead of gridlock and inaction, we'll be

moving forward.

And every day we'll get closer to the future

we, our kids and our grandkids deserve. Illinois

can be the economic engine of the Midwest

again. We can be a magnet for the best companies

from all over the world and the best jobs,

just as it used to be. From our rich farmland to

busy factory floors to tech start-ups, Illinois

will be going and growing again.

Now, cynics will say this is an impossible

dream to get term limits voted on by this legislature.

But that dream can become a reality if

the people of Illinois demand it.

And we are not stopping with term limits.

We'll keep pressing every day to lower our

property taxes, to protect all our taxpayers, to

protect and grow our jobs, and to ensure every

child has a chance at a great education. We can

do this – if we work together for the reforms

our state needs.

We're facing tough challenges, but we can

meet those challenges if we work together for

reform. One step at a time. Starting right now.

It starts with term limits.

Thank you. Governor Bruce Rauner
---
10 February 28 - March 13, 2018

Chicago Street Journal

Joins the Ancestors

Lerone Bennett, Jr.

1928 to 2018

Writer and social historian Lerone

Bennett, Jr. served as the executive

editor of Ebony for almost forty

years. His written work deftly explores

the history of race relations in

the United States as well as the current

environment in which African

Americans strive for equality. Bennett

was born on October 17, 1928,

in Clarksdale, Mississippi, to Lerone

and Alma (Reed) Bennett. When

Bennett was young, his family

moved to Jackson, Mississippi, and it

was here, while attending Jackson's

public schools, that Bennett's interest

in journalism was initiated.

Bennett attended Morehouse College, earning

a B.A. in 1949. He has always considered Morehouse

as the center of his academic development.

After graduating, Bennett formally entered

the world of journalism as a reporter for the now

defunct Atlanta Daily World. He became the

city editor for the magazine and worked there

until 1953, when he began his work as an associate

editor at Jet magazine in Chicago, Illinois. In

1954, Bennett became an associate editor

at Ebony and he was promoted to senior editor

of the magazine in 1958. Since then, his comprehensive

articles have become one of the magazine's

literary hallmarks.

A series of articles originally published

in Ebony resulted in Bennett's first book, a seminal

piece of work, Before the Mayflower: A

History of Black America, 1619-1962. The

book, with its comprehensive examination of the

history of African Americans in the United

States, gave Bennett the reputation of a firstclass

popular historian. In his eight subsequent

books, Bennett has continued to document the

historical forces shaping the Black experience in

the United States. His other works include: What

Manner of Man?, Pioneers In Protest and The

Shaping of Black America.

Bennett has received numerous awards such

as the Literature Award of the Academy of Arts

and Letters, Book of the Year Award from Capital

Press Club and the Patron Saints Award from

the Society of Midland Authors. He has served

as advisor and consultant to several national

organizations and commissions, including the

National Advisory Commission on Civil Disorders.

Bennett's articles, short stories and poems

have been translated into five languages.

Culver's opens up at Lake Meadows shopping Center on 35th and King Drive, the

ever-expanding franchise now number nearly 650 in 24 states. It signature items

include their ButterBurger. The restaurant owner is Guy Hollis, center of photo

waving.

(Continued from page 2)

person is engaging in illegal drug activity

or has a substance use disorder; others require

a specific screening process. The

states include: Illinois have proposals to

drug test those applicants who have been

convicted of drug-related offenses.

The federal rules permit drug testing as

part of the Temporary Assistance for

Needy Families block grant. In recent

years, nearly all states have proposed some

form of drug testing or screening for applicants.

TBTNEWS UPDATE

Harper Opposes

School Closing in

Englewood

State Representative Sonya Harper (D-

6th) released the following statement after

CPS announced the proposal to close all of

the public high schools in West Englewood

and Englewood this school year, in June of

2018.

"This is more than an attack on the education

for our most vulnerable children in

the city, it is a direct attack

on the livelihood of our

black communities across

the city of Chicago. Four

high school closing at one

time will only add to the

instability of a community

that is already struggling

with the highest rates of

unemployment, crime, food

insecurity and a lack of

housing for families.

"In Englewood and West Englewood we

have already experienced six elementary

school closings at once which took a devastating

toll on residents and now those buildings

are just sitting empty.

Harper District includes all or portions of

Armour Square, Bridgeport, Chicago Lawn,

Englewood, Gage Park, Back of the Yards,

Canaryville, New City, West Englewood,

and Marquette Park.

Momentum Across the

South to End Money Bail

for Black Woman

Last year, Southerners on New Ground

(SONG) -- the region's largest queer liberation

group -- initiated their Black Mama's Bail Out

campaign to raise money to free poor Black

women from jail while awaiting trial and to

draw attention to what it calls "the immoral

system" of cash bail that affects people of color

disproportionately. Centered around Mother's

Day, the campaign sought to honor the contributions

that Black women make to the community

and recognize the harm inflicted when

they're separated from their loved ones.
---
Christine

Houston

is a native Chicagoan, who went on to become

a staff writer on the Punky Brewster

TV series and, in 1985, her play, Two

Twenty-Seven was adapted to television

and became NBC's hit television series

227. She won several awards for her playwriting,

which lead her to Los Angeles

where she wrote a teleplay for the TV series

The Jeffersons.

CSJ loves interviewing folks

from Chicago. We're sure that

your Parker High School classmates

are still excited about your

success. Did any of this take your

by surprise? Did you even imagine

the success of Two Twenty-

Seven, as your worked on the

play, while still a student at Kennedy-King

College?

Christine: I wrote the play Two

Twenty-Seven on a challenge by my

fellow classmates. They were going

to attend a spring conference, representing

Kennedy-King College

(KKC), that was being held at a

university in Texas. Having won

awards in every theater category

except playwriting, they were desperate to win

that award.

CSJ: What was your major?

Christine: When asked what my major was,

I lied and told them Journalism. After all, I was

a 42-year-old wife and

mother of three teenage

boys and couldn't bring

myself to the point of

telling them I was there

because of my secret

ambition to acquire the

lead role in a theater production.

At that time,

KKC had a reputation for

having the best theater

program in Illinois.

CSJ: So how did Play

writing come in?

Christine: After several

days of being pressured,

I decided to accept

the challenge, thinking

the play wouldn't win

anyway since I had no

idea how to write a play,

despite all the English

and writing classes I had

taken. To my surprise, the play took first place

in the contest. I titled the play, Two Twenty-

Seven, my address growing up in Chicago. Several

months later, the play was entered (by the

college) into the Norman Lear and the Lorraine

Hansberry playwriting contests, where it won

first place in the Norman Lear and second place

in the Lorraine Hansberry. The committee

agreed that Two Twenty-Seven really should get

first place in the

Chicago Street Journal February 28 - March 13, 2018 11

The Writer from Chicago

Lorraine Hansberry, too, but decided that since

the contests were sponsored by the American

College Festival, another student should be

encouraged. That same year, I graduated, receiving

an AA in Theater Technology and was

off to Hollywood.

CSJ: As you well know, opportunities to

work in the entertainment

industry is growing

phenomenally in

Chi-Town, so your latest

book is indeed very

timely. Tell us a little bit

about The Screenwriter's

Guidebook:

Inspiring Lessons for

Film and Television

Writers.

Christine: After several

years of writing on

various television shows

produced by Norman

Lear and finally seeing

my play become NBC's

hit series titled 227, I

returned to Chicago to

care for my ailing

mother. I soon realized it would be a while

before I could return to LA and continue

launching a career writing for television.

After eight years, my mother made her transition

and I prepared to return to Hollywood, only

to learn that my husband of 35 years had dementia.

While caring for him, I returned to

school, enrolling at Chicago State University

and in 2006, at the age of 70, I received

a BA in Communications. Two years

later, I was asked to teach Writing For

Television and collaborated with Dr.

Christine List to pen The Screenwriter's

Guidebook: Inspiring Lessons for Film

and Television Writers.

CSJ: Being a successful writer, would you

share with us, what we should say to our

young people regarding the importance of

reading and how it affects their success in

TV and movies?

Christine: Despite its popularity and the fact

that many people think math is the most important

subject, I can't recall engaging in any other

field of learning without the ability to read and

write. It has been proven; when the ability to

communicate through speech is almost impossible,

writing serves as a viable alternative.

CSJ: Can you give us a little inside scoop on

what it is like to be a staff writer for a TV

series?

Christine: The job of a staff writer is viewed

as OBJ (on the job training) that can lead to the

top position, executive producer or showrunner.

The showrunner is responsible for hiring and

overseeing every aspect of producing a weekly

television series. The staff writer assists in the

revisions of every page of every script written

by the collective writers of the show. Although

rare during the first season of tenure, the staff

writer may also pitch an idea and after acceptance,

write and receive credit for that episode.

CSJ: You're working on a screenplay based

on your first novel, Laughing Through The

Tears. Would you tell us a little bit about the

book?

Christine: After graduating from Chicago

State, I documented my experiences caring for

my husband who had been diagnosed with dementia.

Laughing Through The Tears is a culmination

of my personal experiences. It was

published in 2013. AARP sponsored a book

signing and purchased 350 books and gave

them away to all who attended the signing. I am

now working on a television pilot based on the

book.

CSJ: "It isn't over 'til it's over."

Those are your words. Share the

meaning with our readers.

Christine: It is a well-known cliché

that I believe in. Your purpose here on

this planet has not been fulfilled until

you take your last breath, hence, "It

isn't over 'til it's over."

Interviewer

Ms. Sonja Cassandra Perdue

AGRICULTURE

MEN'S CLOTHING

532 E 43rd St, Chicago, IL

60653

733) 538-5500
---
12 February 28 - March 13, 2018

W

e're digging into the

first quarter of 2018

& the Illinois Black Chamber

of Commerce is in full swing &

maximizing our relevancy! The

landscape of pro-Black business

advocacy in Illinois has

growing &we welcome all of

the potential agents of change

to the playing field. We trust

that discerning professionals

recognize the genuine article &

will continue to trust us to

strengthen the Black business community &

move their agenda's in realtime.

We're proud to be regarded as the archetype

for state structured chambers & here's

how we're going beyond the rhetoric to move

the pro-Black business agenda:

Leadership from our Banking & Financing

Industry Group recently hosted a summit

with Executive Directors & leadership from

major banking institutions as well as microlenders,

the Federal Reserve & the FDIC to

lay the groundwork for a more enhanced

pathway for Black businesses to access capital.

In that session, we shared & received

some critical data that clearly points to "lack

of capacity" as the true bane of the Black

business community & Black communities in

general. The vast majority of the 145k Black

business in Illinois don't have the capacity to

employ more than 1 or 2 employees! Put that

into perspective as pundits celebrate the

"record low unemployment rate" for Blacks

& may turn into a farewell toast. Unfortunately

& as usual, the numbers are alarming

but it's critical that we understand what this

really means for the future of Black communities.

Advocacy is job #1 for the ILBCC & this

is a big year for Illinois politics, as the gubernatorial

race heats up culminates this November.

It's critical that we understand

where that candidates & our align or intersect.

This year's annual Lobby Day in April

promises to be a prime day for affirming our

agenda with all of our legislative counterparts.

We typically bring a couple hundred

supporters, but this year we plan to bring 300

or more strong, sharp Black businesses &

entrepreneurs along with us to the Capitol in

Springfield. Afterwards, we'll share in great

food & even greater networking at our reception

gala.

Our Banking & Financing team is making

realtime impact & so are the rest of the Industry

Groups. The newly formed Sports &

Entertainment group, chaired by acclaimed

film, television, and stage actor Harry Lennix

(The Blacklist, The Five Heartbeats, 24), is

Mr. Larry D. Ivory

Founder, President/CEO

"The Chamber Report",

quickly positioning to become

a major force in their space.

Our Healthcare Group is busy

laying out the rich tapestry of

opportunities in that space &

all of our industry groups are

fine tuning their cross pollination

platforms to heighten continuity

& deliver unparalleled

service to our base & constituency.

We continue to strengthen our

affiliate chambers throughout

the state with "top down"

agenda & grassroots initiative energy. We're

consistently engaging, informing & educating

our base on all of the relevant aspects of

the pro Black business agenda. Academic

initiatives such as the "Move to the Center"

campaign, the "Crystallizing Our Agenda"

lecture series & our community accountability

programming help to further adjust the

frame of reference and our "Business Afterhours"

offer powerful networking with premier

firms & individuals with every session

so we look forward getting you & your business

connected to those opportunities. We

don't stop there though.

The Chamber's partnership with the Illinois

Tollway is stronger than ever with the

newly established Technical Assistance

Program (TAP) kicking off in Rockford last

fall & we continue to impact Chicago &

Waukegan. The purpose of the program is to

assist minority owned road building companies

and vertical construction contractors in

becoming Tollway Bid ready. We help them

begin to bid and win Tollway work and successfully

navigate Tollway projects from bid

to completion. If you're in either of those

locations, don't hesitate to utilize our service

& take advantage of the opportunities. We

also have great corporate partners, like

Ameren-Cilco, Illinois American Water &

many others who are serious about diversity

& deliberate about inclusion so it's our pleasure

to get you connected.

That's only the tip of the iceberg cutting

through the surface. As we dive deeper, we

can see that civic leaders are beginning to

pitch state economic development officials

on designating tracts of their communities as

Opportunity Zones. A little-noticed section

in the $1.5 trillion tax cut that President

Trump signed into law late last month is

drawing attention from venture capitalists,

state government officials and mayors across

America. The provision, on Page 130 of the

tax overhaul, is an attempt to grapple with a

gaping hole in the recovery from the Great

Recession and the fact that, in huge swaths of

the country, the economic recovery has yet to

Chicago Street Journal

T HE I L L I N O I S B L A C K C H A M B E R OF C O M M E R C E

arrive.

The law creates "Opportunity Zones,"

which will use tax incentives to draw longterm

investment to parts of America that

continue to struggle with high poverty and

sluggish job and business growth. The provision

is the first new substantial federal attempt

to aid those communities in more than

a decade. If the zones succeed, they could

help revitalize neighborhoods and towns that

are starved for investment.

In regard to net neutrality, it's widely accepted

that the internet must be free and

open, that all data and traffic must be treated

equally, and that internet companies shouldn't

be able to censor or unfairly restrict what

we do online. While the FCC's order changes

how these principles will be enforced, it's

becoming clear that the internet will remain

free and open and not become the dystopian

Wild West some advocates have claimed.

The ILBCC recognizes that a free and

open internet is vital for small businesses,

and is not threatened by the FCC plan to

modernize broadband regulation. At its core,

the FCC action simply restores the same proinvestment,

pro-innovation policies that governed

the internet in its early years, when

revolutionary services like eBay, Facebook,

and Google first got off the ground. Critics

Actor Harry Lennix Chairs

IlBCC Sports and

Entertainment committee

On October 4 , 2017, the Illinois Black Chamber of

Commerce publicly announced the formation of a

newly developed Sports and Entertainment Committee.

The Committee was formulated to create an avenue

by which celebrities and those close to the entertainment

and sports industry could help promote the

message of the chamber, while simultaneously utilizing

the chamber's network to grow their own personal

projects and promote their brands.

The board currently consist of Chair Harry Lennix,

actor NBC's blacklist, co-chair, Chama St. Louis,

public relations specialist, J. Alexander Martin, cofounder

of FUBU and creator of AFashionMind, the

Voice Competitor, Tony-Boyd Cannon and singer,

Acot Bryce Wilson have both been invited to be apart of this committee.

Continue on page 13

From the Streets

to the Suites

The

Federation of

Black

Organizations

A Federation that has over 50

members, including; but not

limited to; Allied American

Workers Laborers International

Union.

Founding members ( Pictured l

to r), President Tom Harris;

Illinois Black Chamber of

Commerce, President, Larry

Ivory; Regional Vice President,

Illinois Black Chamber

of Commerce, Vincent Gilbert.

This Team defeated,

AFL- CIO Legislation that

would have harmed Black

Construction Workers, and

Black Construction Contractors

.

I L B C C 4 1 1 H a m i l t o n B l v d . S u i t e 1 4 0 4 P e o r i a , I L 6 1 6 0 2 P h o n e : 3 0 9 - 7 4 0 - 4 4 3 0
---
Chicago Street Journal February 28 - March 13, 2018 13

Chicago has seen several bank closing in

the last decade. Three Black owned banking

institutions have closed since 2007, including

Seaway Bank (2017); Highland Community

Bank (2015); and Covenant Bank (2013).

Twenty years ago the Chicago had ten

black owned banks. There's a saying that

goes, 'you won't miss the well 'til the water

runs dry.' That saying still rings true with the

closing of Seaway Bank and Trust. For five

decades, it was one of Chicago's two remaining

African-American-owned banks.

Other local black-owned banks—Covenant

Bank on the West Side and Highland Community

Bank on the South Side, for example—

have failed to plug capital holes and failed.

With $101 million in assets, Illinois Service

Federal Savings & Loan founded in Chicago

in 1934 to serve communities that have historically

been underserved by traditional financial

institutions. It has struggled to stay

afloat, and was fortunate to find a rescuer.

The failure of Illinois Service would have left

the African American community with no

black owned financial institution due to the

closing of Seaway Bank.

Longtime CEO Norman Williams, who first

was introduced to the elder Nduom in 2013 as

he was searching for new bank investors, has

retired from Illinois Service. The CEO now is

Robert Klamp, a veteran Chicago-area community

banker who's run lenders focusing on

minority neighborhoods like International

Bank of Chicago and Pan American Bank.

As Illinois Service, tracing its Bronzeville

roots to the Great Migration, Earlier this year

the financial institution completed a sale to a

Ghanaian-American family. It has been saved

from failure with a $9 million equity infusion

that will keep it under black ownership.

ISF has made mortgages and small-business

loans for decades founded in 1934 by 13

Bronzeville business leaders who saw the

need for a bank to provide credit to African-

American migrants from the South.

The new owners are members of the

Nduom family whose patriarch, Paa Kwesi

Nduom, 63, was one of the first African-

American partners of Deloitte & Touche,

working in Milwaukee, before relocating to

Ghana in West Africa in the 1990s. There he

invested in hotels and other enterprises, eventually

turning the family's disparate holdings

into Groupe Nduom.

Groupe Nduom employs more than 3,000 in

Africa, Europe and North America and has

investments in industries including financial

services, media and entertainment, sports and

real estate.

His sons, P.W. Chiefy Nduom, managing

the family's investment in Illinois Service.

Their father is the bank's chairman.

"We think (keeping ISF black-owned) is a

"The Chamber

Report",

BOP members, Dr. Murphy, with Greg Brown president of

Southside Community Federal Credit Union, Ro Davis and

Revin Fellows have committed to being a major strategic

partner to strengthen SSCFCU

critical point," said Chiefy Nduom, 34, who

serves as vice president and general counsel of

Groupe Nduom. "We all know race matters in

America. It's not a colorblind society. Everyone

is impacted by race in one way or another."

"A concerted effort must be undertaken to

improve the environment for all banks, but

specific steps must be taken to help African-

American Banks. We must look at successful

banks to find what works.

The Nduom brothers say no big changes are

expected for 12 to 18 months as they look to

cure the lending ills cited by the regulatory

order.

Illinois Service Federal

Savings & Loan, outgoing

CEO Norman Williams,

left, with new

chairman Paa Kwesi

Nduom.

Treasurer Summers announced

a $20 million

deposit into ISF.

Contribution to Black History since 1933

The brothers hope soon to upgrade the

bank's technology to allow for more mobile

banking and make the institution more attractive

to younger customers.

Seaway was a financial oasis, a proud historical

banking institution that the south side

community supported. Recently, its operations

permanently shut down.

Seaway was initially taken over by the Illinois

Department of Financial and Professional

Regulation Division of Banking and the

FDIC, the bank's 10 branches were officially

owned by the State Bank of Texas.

The Federal Deposit of Insurer Corporation

(FDIC), noted that in September 2016, Seaway

Bank had more than $301 million in total

deposits and more than $341 million in total

assets. Seaway opened in 1965 and it was the

largest Black-owned bank in the U.S. According

to an ABC news report, it was the last

Black-owned bank in Chicago.

President of State Bank of Texas, Sushil

Patel, confirmed ownership of Seaway Bank.

He said, "This is our third acquisition, so our

team is experienced in working closely with

customers through their transition. Plus, one

of our earlier acquisitions was in the Chicago

market, so we already have a presence here.

As a minority and family-owned bank, we

have similar roots as Seaway. We look forward

to a prosperous future."

City Treasurer Kirk Summers announced

a $20 million deposit into ISF, Treasurer

Summers made this announcement at ISF's

main office King Drive and 47th Street, just

blocks from where Treasurer Summers was

raised. He was joined by community leaders,

small business owners, and elected officials,

i n c l u d i n g C o n g r e s s m a n B o b b y

Rush, Alderman Roderick Sawyer, and Alderman

Pat Dowell.

In his remarks, Treasurer Summers underscored

the importance of keeping local dollars

in local communities, driving a positive cycle

of economic development that leads to more

jobs, more amenities, improved services, and

better lives for ourselves and for our children.

However, ISF is not the only Black operated

financial institution in Chicago. On 54th

and Wentworth far north of the corner of

Washington Plaza sit Southside Community

Federal Credit Union (SSCFCU).

SSCFCU) is a not-for-profit, Federally

chartered, low-income designated, community

development credit union CDCU).

SSCFCU serves a membership base of

2,000 with $3.5 million in assets after opening

its doors in November, 2003.

SSCFCU was created to economically empower

the community by providing an alternative

to currency exchanges, payday/predatory

lenders and banks that charge high fees. Greg

Brown president of SSCFCU said, "When you

join the credit union, you become am ember

owner, not just a customer. Your account is an

investment in the community."

Ro Davis of BOP indicated his organization

BOP Project 5000 goal is to strengthen and

build SSCFCU "Our vision must be bigger

than our frustrations! We've already lost Seaway

Bank...we can't afford to lose this one.

BopProject5000 is committed to being a major

strategic partner to this institution. Gregg

Brown we appreciate your commitment to our

community."

Safiyyah Muhammad major contributor

to the story

(Continued from page 12)

who hide the ball and refuse to debate the

real downsides of overregulation and government

micro-management should be

scrutinized. Our Information Technology

Industry Group keeps our organization &

constituency dialed into the relevant issues

& poised to take advantage of the prime

opportunities in that space.

We encourage you to learn more about

all 10 of our Industry groups & how they

can positively impact you and your business!

The Illinois Black Chamber of Commerce

has been invested in the future of

Black Enterprises and Black communities

for over 20 years & we're still going

strong. Grow with us!

Mark your calendars now for the

ILBCC2018Convention in August & the

21st Annual Central Illinois Black Expo in

September!

Remember, If you're not at the table,

then you're on the menu.

Join us at the table!

Visit ILBCC.org for more information.
---
14 February 28 - March 13, 2018

Black Owned

Ride-Sharing

App

With the immense success

of companies like Uber and Lyft,

r i d e - s h a r i n g t e c h n o l -

ogy has boomed into a multibillion

dollar industry

within the past decade.

Now a new platform

is looking to stake

its claim in the marketplace.

Moovn is a ridehailing

mobile application

founded by

Godwin Gabriel. The

app currently operates

in 7 U.S. cities

(Washington, DC, Chicago,

IL, Boston, MA,

Portland, OR, Seattle,

WA, San Francisco,

CA, New York, NY)

and 1 city in Africa

(Dar-Es-Salaam, TZ), with plans

to rapidly expand in both Western

and emerging markets.

In a recent interview with UrbanGeekz,

Gabriel explains how

he taught himself how to code, in

Derrick A. Riley, CEO

order to launch the beta version of

his app. Saying his beta launch

was "amateurish at best," he goes

on to explain how the platform

transformed into what it is today:

"It wasn't until we received

investor backing that I was able to

hire and collaborate with a team

of seasoned developers to transform

the platform into what we

have today."

When asked what his biggest

challenges are, he says,

"The market, for the

most part, is currently

being dominated by

Uber and Lyft with

these companies enjoying

the benefits of

having first mover

advantage with the

transportation technology

space. However,

we're confident that

the global market remains

sizable enough

for all of us to fit in

and play."

Considering the rise of

smartphone usage

across the continent of Africa,

operating there seems to be a good

business strategy. It's also a market

that hasn't been explored by

the big brands in the industry.

Chicago Street Journal

The City will be partnering with

the Center for Economic Progress,

Ladder Up and City Treasurer's

Office again this year to provide

the free service for eligible residents.

Tax Prep Chicago with the

City of Chicago are marking

Earned Income Tax Credit Awareness

Day and the official start of

tax season by reminding residents

to take advantage of the City of

Chicago's free tax assistance program.

The Earned Income Tax Credit

(EITC) is a benefit for working

families with low to moderate

income. Last year, Tax Prep Chicago

helped over 20,000 families

and individuals receive nearly $30

million in tax refunds and credits.

"The EITC program has a

proven record of uplifting people

communities across the country

and across our City. I am proud to

partner with these organizations

that are strengthening the outreach

of these free resources to make

them more accessible across the

City of Chicago for its residents to

access them," said City Treasurer

Kurt Summers. "We need to be

investing more in EITC resources

because it helps working families

here in Chicago with additional

money to support their local

n e i g h b o r h o o d e c o n o m y. "

EITC day is a nationwide effort to

alert millions of low and moderate

-income workers who may be

missing out on this significant tax

credit. In 2017, 963,000 Illinoisan

workers received more than $2.4

billion in EITC refunds.

Volunteer tax preparers, certified

through an Internal Revenue

Service (IRS), will assist residents

with federal and state income tax

returns for the 2017 tax year and

in many cases, can help with prior

-year returns and amendments.

Volunteers will also help taxpayers

filing for or renewing an Individual

Taxpayer Identification

Number (ITIN).

Taxpayers, who qualify for the

EITC and/or the Additional Child

Tax Credit, will receive refunds

after February 15, so residents are

encouraged to file early. Residents

are also urged to be cautious of

predatory lenders and stick with

people you trust.

Cook County homeowners may

also take advantage of several

valuable property-tax-saving exemptions.

There are currently four

exemptions that must be applied

for or renewed annually: The

Homeowner Exemption, Senior

Citizen Homestead Exemption,

Senior Citizen Assessment Freeze

Exemption, and the Home Improvement

Exemption. For more

information, contact the Cook

County Treasurer's Office at

www.cookcountytreasurer.com/

exemptions.aspx.

The deadline for filing taxes is

A p r i l 1 7 , 2 0 1 8 .

Tax Prep Chicago is an initiative

of the City of Chicago that enables

qualified Chicagoans to access

free income tax return services at

sites located throughout the city.

Two nonprofit partners, the Center

for Economic Progress and Ladder

Up, train hundreds of volunteers

each year to provide free preparation

and e-filing of Federal and

Illinois returns for eligible families

and individuals.

For more information about

how to access free tax assistance

or for a complete list of EITC

locations:

Visit the City's tax assistance

w e b s i t e a t

www.TaxPrepChicago.org

Call the City's 311 helpline

Visit the Center for Economic

P r o g r e s s a t

www.economicprogress.org or

call (312) 252-0280

V i s i t L a d d e r U p a t

www.goladderup.org or call (312)

409-4719

Visit the IRS at www.irs.gov

Chicago Street Journal

Advertising Sales Rep

This is an outstanding opportunity,

selling advertising (print, online):

• Initiate sales and marketing calls to prospective or current clients and documents sales efforts • Develop

advertising leads for ad sales by using a variety of lead sources, Qualifications: Our ideal candidate

must be a self-motivated overachiever with a strong desire to succeed.

• Prior sales experience, developing both new accounts and servicing existing accounts is preferred.

• Highly disciplined, independent, entrepreneurial, confident,

well organized self-starter

• Compensation, Base Salary Negotiable.

773 595 5229
---
Chicago Street Journal February 28 - March 13, 2018 15

(Continued from page 1)

DePaul University's Blair

Davis discusses

Marvel's latest movie

CHICAGO — Part of the reason

Marvel's "Black Panther"

has seen so much success is

because it came along at the

right time both culturally and

politically, said Blair Davis, an

associate professor of media

and cinema studies in DePaul

University's College of Communication.

His latest book,

"Comic Book Movies," will be

available April 19 through

Rutgers University Press.

Davis has spent his career researching

comic books, classic

Hollywood cinema, B-movies

and African-American cinema

and has written three other

books on film topics. In this Q&A, he

explains what makes "Black Panther" a

cultural phenomenon, how it's different

from other comic book movies and the

promising future of the genre.

Q: What makes "Black Panther" such

a highly anticipated comic book movie?

A Davis: Audiences are treating "Black

Panther" like an "event" movie for several

reasons.

Marvel used the character's first appearance

in "Captain America: Civil War" as a

way of launching a spin-off film in a way

that its previous films haven't. Marvel

characters usually get their own films first,

and then appear in the Avengers films.

Marvel handled "Black Panther" much

differently, using him as a central focus of

"Civil War," which was itself an event

Blair Davis, an

associate professor

of media

and cinema

studies in

DePaul University's

College of

Communication

Director, Ryan Kyle Coogler and

Aaron Covington screenwriter

film. This raised the bar for audiences

much more for a "Black Panther" solo film

than if they hadn't already come to know

and love the character.

This is also an "event" film because of its

significance as a blockbuster superhero

film with a predominantly black cast and a

black director. In our current cultural and

political moment in which questions about

diversity are at the forefront of discussions

about race and the media, a big-budget

film aimed at mainstream audiences in

which black characters play a central role

rather than just a supporting one is noteworthy.

Add the fact that celebrities like Octavia

Spencer bought up blocks of tickets to give

away for free so that black children can see

a hero on screen who looks more like them

than a Norse god or blond super soldier

does and you have a film that resonates

much more strongly on a cultural level

than the typical blockbuster. For example,

on the night the film opened I did a panel

as part of Black History Month about the

history of black comics characters for the

Chicago Bar Association, so "Black Panther"

is being seen as a cultural milestone

for a wide range of institutions.

Q: How might this movie be different

from other comic book movies that are

set for 2018 or have come out in recent

years?

A Davis: Beyond the important cultural

differences in how audiences are approaching

this film, one big difference is in the

way that director Ryan Coogler was allowed

to make the film. Marvel's films

have had a fairly standard look and tone to

them, on the whole. The producers call the

shots and expect their directors to adhere

to the Marvel "house style." Coogler is a

talented director who fought to make

"Black Panther" his own film, rather than

just the producers' film. Early word from

audiences is that the film has much more

depth and heart than other Marvel films,

thanks to Coogler.

Q: Do you think there is or could be a

saturation point with comic book movies?

A Davis: I actually do not think we're

approaching a saturation point for comic

book movies yet. If anything, things will

keep building further. It's like the western

in the 1950s, it's full steam ahead right

now. And with "Logan" earning an Oscar

nomination for best adapted screenplay,

there's a shift in the critical status of these

films going on as well.

Chicago's Home of

Chicken & Waffles

3947 S. King Drive,

Chicago IL 60653

Tel: 773 - 536 - 3300

Chicago's Home of

Chicken and Waffles II

543 Madison St.,

Oak Park, IL 60302

Tel: 708 - 524 - 3300

Specializing In

Intimate Gourmet Dinners—Business

Luncheons Birthday Parties—School

Events—Weddings—Banquets—

Meetings—And More
---
16 February 28 - March 13, 2018 Chicago Street Journal

The Woodson Library

(Continued from page 7)

common goal and bring positive

changes to our city."

The branch was named for Dr.

Carter G. Woodson, considered the

father of African American historiography

and founder of what has grown

into what is now widely celebrated as

African American History Month.

Woodson is home to the Vivian G.

Harsh Research Collection, the largest

African American history and literature

collection in the Midwest. The

Harsh Collection is a resource for

researchers from around the country

and the world. In tribute to Woodson

and Harsh, the first Black librarian in

the Chicago Public Library system,

film with digital images of Carter G.

Woodson and Vivian Harsh were

applied to glass on south and southeast

elevations of the building.

"Libraries afford resourceful anchors

in strong neighborhoods, providing

places for life-long learners to

discover and explore," said Alderman

Carrie M. Austin, 34th Ward.

"Through the committed partnership

between the city, CPL and our community,

we have an opportunity to

read, learn and develop at every level

of life."

"Woodson Library provides our

patrons with safe learning and gathering

spaces for the children and families

of the entire south side community,"

said Anthony A. Beale, 9th

Ward. "Libraries serve as community

anchors, and today we celebrate the

new opportunities that will come from

this vital investment."

The Harsh Collection contains a

wealth of documentation of the Black

experience, focused on Illinois. Its

holdings include 70,000 books, many

of them rare; 500 periodical titles,

current and retrospective; more than

100 microfilm research collections,

bringing together the most significant

primary source materials from other

Black Studies research collections

across the country. Among the most

significant and unique materials at the

Harsh Research Collection are its

manuscript holdings including The

Illinois Writers Project / "Negro in

Illinois" Papers; original manuscripts

by Richard Wright, Langston Hughes

and Arna Bontemps; and the Abbott-

Sengstacke Family Papers, 1890-

1997.

New collections include Milton O.

Davis Papers, AMF Midway Postal

Retirement Organization Archives,

Coalition to Save the South Shore

Country Club Archives, People for

Community Recovery Archives, and

the Philip Sang Papers. During the

closure, the Philip Sang Papers, manuscript

materials and memorabilia on

slavery and abolitionism, were completely

digitized.

"The reopening of the Carter G.

Woodson library is testament to the

power of faith based and civic organizing

designed to empower the local

community," said Monica Moss the

wife of Rev. Dr. Otis Moss III, Pastor,

Trinity United Church of Christ.

"Trinity United Church of Christ and

the Endeleo Institute for community

development strategized with Washington

Heights residents to place the

renovation of the Woodson library as

a civic priority for the city of Chicago.

This is community organizing, democracy

and faith based commitment at

work in the city of big shoulders

called Chicago."

Woodson, in partnership with The

Endeleo Institute of Trinity United

Church of Christ, is also focused on

creating a culture of health in the

Washington Heights community.

Woodson will become the city's first

Dementia-friendly library, providing

culturally relevant programming and

education around Alzheimer's disease

and memory loss. Through grant funding

received from the Center for Community

Health at Northwestern University,

Endeleo expanded its brain

health focus to lead a newly formed

library health advisory board comprised

of academics, researchers,

health professionals, clergy, and caregivers

aimed to create awareness

about Alzheimer's disease, which

adversely affects African-Americans

2:1. This unique partnership meshes

community development and health to

foster a culture of health in Washington

Heights and surrounding communities.

Woodson is one of three Comcastfunded

Experience Labs in the CPL

system. In October 2017, Mayor

Emanuel and Comcast Senior Executive

Vice President and Chief Diversity

Officer David L. Cohen announced

that Comcast's $250,000

Internet Essentials investment with the

Chicago Public Library Foundation,

bringing together three CPL programs

into unique Experience Labs powered

by Internet Essentials. Current programming

includes YOUmedia for

teens, CyberNavigator digital skills

tutoring for adults, and Maker Lab

workshops. Woodson will be the first

CPL location outside of Harold Washington

to offer patrons Maker Lab

technology like 3D printing and advanced

manufacturing tools and programs.

The additional Experience Lab

locations will be Whitney M. Young

Jr and Altgeld branches.
---
17 February 28 - March 13, 2018

Chicago Street Journal

EXTRA LARGE

6 pc Dark Brown Sectional

2 pc Brown Sofa 2 pc Grey Sofa

RECLINER

on sale also

Includes: 1 Reclining Sofa,

1 Loveseat with Console and Cup Holders

Includes: 1 Reclining Sofa, 1 Loveseat

with Console and Cup Holders

For only

Dresser, Mirror, Chest,

For only

Dresser, Mirror, Chest,

For only

Dresser, Mirror, Chest,

For only

For only

Dresser, Mirror, Chest,

Queen or full Headboard

Financing Available

Easy Credit Terms

Free Layaway

Dresser, Mirror, Chest,

Queen or full Headboard

And many others!