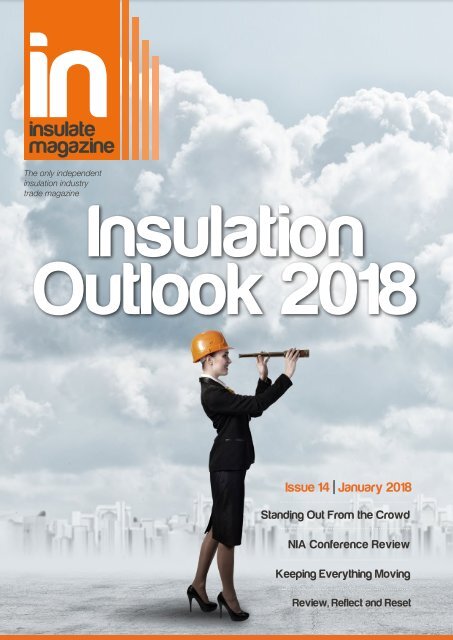 Insulate Magazine Issue 14 - January 2018
Featuring exclusive articles, standing out from the crowd, NIA conference review, keeping everything moving and Review, Reflect and Reset the new year edition of insulation provides a kick start to 2018...
Featuring exclusive articles, standing out from the crowd, NIA conference review, keeping everything moving and Review, Reflect and Reset the new year edition of insulation provides a kick start to 2018...
SHOW MORE
SHOW LESS
Create successful ePaper yourself
Turn your PDF publications into a flip-book with our unique Google optimized e-Paper software.
The only independent

insulation industry

trade magazine

Insulation

Outlook 2018

Issue 14 | January 2018

Standing Out From the Crowd

NIA Conference Review

Keeping Everything Moving

Review, Reflect and Reset
---
NOW AVAILABLE

WWW.INSULATENETWORK.COM | SALES@INSULATENETWORK.COM | 01948 759 351
---
Published on a monthly basis by Versanta ltd

Corser House, 17 Geen End, Whitchurch, Shropshire, SY13 1AD

Call 01948 759 351

Outside of the UK +44 1948 759351

Monday - Friday 9am - 5.30pm

Website: www.insulatenetwork.com

Email: sales@insulatenetwork.com

Insulation Outlook 2018

www.insulatenetwork.com

Contents

6-8

SUBSCRIPTION INFORMATION

Anyone can subscribe for free online at https://insulatenetwork.

com/insulate-magazine-free-subscription

Subscriptions are available around the world free in digital format.

Print subscriptions are available around the world, please call us for

a quote or email us on sales@insulatenetwork.com

Our subscriber list is occasionally made available to very carefully

selected companies whose products or services may be of interest

to you. Your privacy is of paramount importance to us and should

you prefer not to be part of these lists then please email your details

and a short message to sales@insulatenetwork.com

CLASSIFIED ADVERTISING

Rate: No photo classified £25 for 20 words, each additional word

costs £1. All classified advertising must be paid in advance. We

must receive your classified advert at least two weeks prior to the

publication date.

NIA Conference Review 2017 10-13

BBA Leads the Way

14-15

Standing Out from the Crowd 16-19

A Call to Action 20

WE DO NOT ACCEPT PHONE IN CLASSIFIED ADVERTISING

In the first instance, email your advert to sales@insulatenetwork.

com and await your invoice, once payment is received our design

team will clarify the advert insertion with you directly. CLASSIFIED

ADVERTISING APPEARS IN PRINT AND ONLINE. WE ARE NOT

RESPONSIBLE FOR ERRORS AFTER PROOFING AND INSER-

TION.

DISPLAY ADVERTISING.

Contact one of our sales staff to discuss your requirements on

01948 759 351. Publisher reserves the right to reject any

advertising that in its opinion is misleading, unfair or incompatible

with the character of the magazine.

We adhere to the IPSO code of practice for editors. Further information

can be found at www.ipso.org.uk

BACK ISSUES OR REPRINTS

Digital back issues can be foud online at www.insulatenetworkazine.com

For printed editions please email contact@insulatenetwork.com

, there will be a postage charge and handling fee of

£5+VAT for each copy requested.

CIRCULATION

The magazine is sent to 17,000 digitial subscribers per month

Improve and Respond to the Challenges 21

Hearing Protection : Communication 22-23

Review Reflect and Reset

24-25

Keeping Everything Moving 26-29

ASFP Endorses Independent Review

31

Decarbonisation and Building Regulations 32

©VERSANTA LTD

No part can be reproduced without the express

permission of the publisher

www.instagram.com/insulatenetwork

www.twitter.com/insulatenetwork

www.youtube.com/channel/insulatenetwork

The UK's only dedicated

trade journal for the insulation industry

3
---
Happy New Year! As we begin 2018, having reflected on what

has been a turbulent 12 months for the Insulation Industry, the

focus here at Insulate Network has become one of unity and

communication.

Interviews with key industry leaders have revealed a common theme of

continued focus on customer needs and assurances through testing and

products being "fit for purpose" along with continued Brexit uncertainty.

Colin Heath

Managing Editor

colin@insulatenetwork.com

@colinversanta

Also in this issue, our newly appointed Technical Editor, Paul Forrester looks

at the specification and design of insulation systems and the industry supply

chain in his feature "keeping Everything moving"

As always, pages are full to the brim with information – perfect for keeping

up to date with the latest news from across the industry, contributions from

MIMA and a full round up of last months National Insulation Association conference

where a fresh approach to collaboration was a key theme.

I hope you enjoy this issue.

Colin

Jamie Street

Head of Creative

jamie@insulatenetwork.com

@jamieversanta

4

www.insulatenetwork.com
---
ecobuild

The future of the built environment is here

06-08 March 2018 / ExCeL, London

Timber

Concrete

Infrastructure

Green & Blue

Infrastructure

Offsite

Energy & HVAC

Building

Performance

District Energy

Presenting the futurebuild districts

The 'must go' event

in the construction

industry calendar

for forward thinking

professionals and

influencers.

ecobuild 2018 will

present the latest

technology, the freshest

thinking and materials

to keep you at the

forefront of the industry.

The centrepiece will

be the comprehensive

conference programme

curated by top industry

fi gures. Surrounding

this will be a series of

futurebuild districts, each

exploring a di erent

aspect of the built

environment.

Be part of

something

special

+44 (0)20 3011 2540

info@ecobuild.co.uk

www.ecobuild.co.uk

#ecobuild

#ecobuild

/ecobuildnow

/ecobuildnow

/ecobuild_now

ecobuild-uk

SUPPORTED BY
---
Cover Feature Exclusive

Insulation

Outlook 2018

As we enter 2018, what better time to sit down

and speak to some of the insulation industry

leading voices to get their view on the events

of 2017 and to take a look at what challenges and

opportunities they expect from the year ahead?

Colin Heath, Managing Editor at Insulate Magazine

exclusively spoke to Ann Fisher, Brand Director at SIG,

David Travill, Managing Director at Saint-Gobain Isover and

Trevor Horsely, the Chief Executive Office of Western

Thermal Ltd. Keep Reading...

6
---
The only independent insulation industry trade magazine

An Inside Look

at Insulation in 2018

In a few words, how do you see the outlook for the insulation industry in 2018?

The insulation market will be resilient in 2018 as a sector influenced by current building

regulations yet to be fully implemented by housebuilders, demand for acoustic solutions

remaining high in the commercial interiors market, and increased RMI work on facades

and cladding projects. However there will be challenges as manufacturing capacity,

continental European market demands and upstream supply pressures will continue to

impact in 2018 as we have experienced over the last few months.

Do you see any

changes occurring in

the next 12 months, if

so, what might they

be?

There will be increased demands

from customers for specified tested products and

evidence on compliance of supply and traceability, as an

industry we need to ensure we can support customers

with that assurance.

And what excites you?

Taking the market information, supplier and

customer feedback and bringing that together to deliver

an SIG Distribution Brand and Sales strategy to ensure

the Insulation range of products, suppliers and solutions

we offer is what the customers and market requires

therefore enabling SIG Distribution to continue to lead the

market.

What areas will you be focussing on as a

business in 2018?

SIG will be focussing on listening to the customers and

suppliers to ensure we get the best offer of systems, products

and service into the market.

What was your company's high point for 2017

The SIG Distribution Diamond Ball was one of the year's highlights

with 200 customers and suppliers attending the 60th

Anniversary event in London, as part of the event one lucky

customer won a fabulous pair of Diamond earrings his wife

was delighted!!!

What worries you about the year ahead?

There is uncertainty over the impact of Brexit, skills shortages

and some softness in the market forecasts over construction

in the commercial sectors.

Ann Fisher – Brand Director

Insulation & Drylining SIG Distribution

Responsible for the Insulation Sales strategy for

SIG Distribution, experienced in both Insulation

Manufacturing and Distribution, Ann has worked

in the UK and Europe building extensive knowledge

of the requirements of being a valued route

to market for suppliers and customers.

www.insulatenetwork.com

7
---
The only independent insulation industry trade magazine

In a few words, how do

you see the outlook for

the insulation industry

in 2018?

The outlook is positive in

the H&V sector. Engineering

sector will struggle until

some of the big nuclear

contracts get under way.

Do you see any changes

occurring in the next

12 months, if so, what

might they be?

Changes may occur within the infrastructure sector. I believe

new builds will slow down, and the refurb sector will

gather momentum.

What areas will you be focussing on

as a business in 2018?

Globally on the H&V sector and

following the recent acquisition of Henderson Site Services

we will be expanding further into the

pharmaceutical and food sectors.

What was your company's high point for 2017

The IGL acquisition and HSS acquisition.

What worries you about the year ahead?

No worries for 2018. Western Thermal have a strong forward

order book. The sector will look for some changes

in 2019 which could be affected by Brexit.

And what excites you?

I get excitement from securing orders, satisfaction, by

supply chain agreements with the clients and the suppliers

and the ongoing development of the company

branches and staff development.

Trevor Horsley founded Western Thermal in 1985

and has guided the company to its current, well

established and profitable position. Has extensive

experience knowledge of the sector and wide contact

base within it. Former President of the Thermal Insulators

Contractors Association (TICA).

In a few words, how do

you see the outlook for

the insulation industry

in 2018?

The underlying drivers remain

strong, especially in

new housing. Hopefully

consumer confidence will

hold up whilst we negotiate

Brexit

Do you see any changes

occurring in the next

12 months, if so, what

might they be?

There will inevitably be a major revision to the building

regulations post Grenfell, and I believe the need to address

the performance gap between theoretic

performance and actual on-site performance may, at

last, gain some momentum.

What areas will you be focussing on as a business

in 2018?

Continue to drive customer engagement and we will

enter some new application/product segments

What was your company's high point for 2017

Further market share gains, building on progress

delivered in 2015-16.

What worries you about the year ahead?

Losing good people in what is becoming a very competitive

jobs market, input cost inflation, meeting an increased

demand without any compromise in service levels

And what excites you?

Continued focus on customer engagement, further

progress in building a team that has a can-do attitude,

launching some exciting new products, meeting increased

demand without any compromise in service levels

David Travill joined Isover as managing director in

June 2013. With a professional background in the

sales and commercial areas, he has worked in

the construction/building materials sector for almost 30

years. Before joining Isover he held the position of Sales

Director at British Gypsum for 5 years.

8 www.insulatenetwork.com
---
We're here to help...

Kiwa UK

BDA

Agrément ®

service

...for roofing, insulation,

waterproofing & façade

construction materials,

products and systems for

the building sector.

BDA Agrément ® is recognised by NHBC and LABC.

The BDA Agrément ® process is designed to underpin

the 'fitness for purpose' of products and systems

destined for the UK construction market.

For information please call 01242 677877 or

email bdaenquiries@kiwa.co.uk

Kiwa Ltd.

Unit 5 Prime Park Way,

Prime Enterprise Park,

Derby, DEI 3QB

UK

www.kiwa.co.uk/bda
---
Insulate Exclusive Feature

NIA Annual Conference 2017

Held at the Jurys Inn, Hinckley Island Hotel the Annual Conference of the National

Insulation Association (NIA) convened on 7th December 2017. The key themes of the

conference focussed on collaboration and future planning and Insulate Network, Media

Partners for 2017 were there to take part.

10
---
11
---
The only independent insulation industry trade magazine

Insulate Exclusive

Industry Collaboration and

Future Planning Lead Discussions

Derek Horrocks, Chairman of Sustainable Energy UK

and Permarock Products who was recently appointed

Chair of the NIA opened the conference with a fantastic

address to members, giving a review of 2017, the work

carried out by the Association to support its members

and key achievements and his and the Boards vision for

the future.

The tone for the day was set through commitments

to industry wide collaboration to gain best outcomes,

greater engagement of members, supporting members

and Government by growing the market, tackling climate

change and fuel poverty through insulation. Priority work

streams for the Association included collaborating on

key policy developments, helping its members' access

business opportunities, improving quality & standards

and confidence in the industry.

potential and win critical bids. The presentation focused

on three key points – the attributes of consistently successful

bids, how your team can recover from a lost bid

and golden rules to deliver repeatable bid success. The

presentation was well received by members.

Malcolm Hanna of the National Energy Foundation gave

a presentation on Internal Wall Insulation opportunities

and a new installation process known as WHISCERS

(Whole House In-Situ Carbon and Energy Reduction

Following on from a members Q&A with the NIA strategic

board the mornings speakers took to the podium,

Denise O'Leary of Purpol Marketing delivered an informative

presentation on bid writing – 'the winning bid' she

shared knowledge on how businesses can realise their

Solution) stating that it's an ideal way of retrofitting internal

wall insulation in hard-to-treat housing.

After lunch NIA Chief Executive, Neil Marshall paid fitting

tribute to outgoing chair, Tony Hardiman MBE, speaking

of Tony's stewardship of the role, Neil commented

"Tony has committed 16 years to the NIA and was

instrumental in the forming of the organisation and key

achievements; we cannot express enough thanks for his

contribution".

12

www.insulatenetwork.com
---
The only independent insulation industry trade magazine

Richard Mellish of the Department for Business, Energy

and Industrial Strategy then delivered a presentation on

future Government policies for energy efficiency and fuel

poverty and said that he looked forward to further input

from the NIA to help shape future policies and programmes.

Colin Timmins of trade association BEAMA delivered a

Summing up Derek Horrocks explained that the aims of

the day were to provide delegates with details of future

opportunities and key information on items that would

impact the industry in 2018. He also urged NIA members

to engage with the NIA team to bring about future

changes that would benefit householders, Government

and the industry. He also thanked the exhibitors and the

sponsors; British Board of Agrement, Kiwa, Energy Store

and AlivaUK for their support in helping fund a successful

event.

presentation on the new industry guidelines for ventilating

a property when insulation is installed which have

been developed jointly by BEAMA and NIA.

The day's events were concluded with an informative

presentation by Andy Chesterman \Co-Founder and

Data & Compliance Director at DAMM Solutions on the

new General Data Protection Regulations being introduced

in May 2018.

For more information contact Duncan Murray at

the NIA press office on 01604588111 or

email Duncan@provencepr.co.uk

13

13
---
www.insulatenetwork.com

BBA

Leads

the Way

The UK's leading certification body provides

comprehensive Audit & Inspection services to

leading companies in the construction industry.

14

www.insulatenetwork.com
---
The only independent insulation industry trade magazine

As a recognised mark synonymous with quality products & installations, working with an institution

like the BBA offers considerable benefits to manufacturers. Opportunities to improve business

profiles are particularly sought after in an increasingly competitive market place, where new products

and systems are cropping up all the time.And it's not just about Increasing sales opportunities. It's

also about greater efficiency, with a reduction in costs that can lead to more rewards for hard-working staff

and Improved staff motivation. Moreover, working with a USP partner that is a recognised brand is a sign

that manufacturers are committed to raising and maintaining standards for their customers, resulting in an

improved profile among both existing and potential clients.

UKAS accredited and fully independent, BBA Audit &

Inspection has over 50 years' experience providing first

class inspection & auditing services to organisations

who are committed to maintaining the quality of

products and installations to meet industry

standards. The BBA business unit works in two main

areas: construction products (factory and installation)

carries out over 6000 inspections per year within the

UK, while quality management systems carryies out over

2000 visits per year in over 50 countries worldwide. On

the construction side, inspections cover the BBA's own

Competent Installer Scheme to supporting client

initiatives and regulation schemes such as PAS

2030:2017. Products covered range from energy

technical monitoring and insulation to high friction

services. On the management systems side, the

BBA offers the main three standards: ISO9001:2015,

14001:2015, 18001:2017 with EN1090 being high in

number.

Given the constant changes in regulations, BBA Audit &

Inspection clearly plays a significant part in raising and

maintaining standards across a variety of industries, to

the benefit of clients, the industries they work in and ultimately

the consumer.

Moreover, at a time when a number of issues are coming

to light as a result of badly performed or ill-advised insulation

retrofits, these services are even more welcomed,

not only by home dwellers and property owners, but in\

particular social housing organisations whose responsibilities

are to look after housing stock, usually with limited

budget constraints.

It has perhaps never been more appropriate for organisations

like the BBA to continue to dedicate time and

resource to drive up standards, ensuring the quality

and safety of products and workmanship in the construction

industry, for the ultimate benefit of all our built

surroundings, at work and at home, and all who inhabit

them.

www.insulatenetwork.com

15
---
Exclusive Insulate Column

16
---
Standing Out From the Crowd

the design and specification of insulation systems

The construction industry is often bemoaned for being set in its ways, but product manufacturers can't

afford to stand still. How does the development of new ideas straddle competing schools of thought

and appeal to specifiers and contractors alike? by Paul Forrester

17
---
The only independent insulation industry trade magazine

Exclusive Insulate Column

Standing Out From the Crowd

the design and specification of insulation systems

Undertaking building projects efficiently

typically relies on using familiar details and

materials that can be repeated from project

to project. At a domestic level the refrain of, "We've

always done it this way" is far from uncommon - and

is perfectly acceptable, as long as 'this way' doesn't

involve a lack of familiarity with good practice.

For domestic projects on a larger scale, volume house

builders are widely recognised for their resistance to

anything that might deviate them from their highly optimised,

highly profitable, existing house-type designs.

Invention and Innovation

If necessity is the mother of invention then it's hard to

see where demand from the end user requires

innovation from manufacturers of insulation - or any

other construction product, for that matter.

Designing new insulation products and systems is,

inevitably, a costly process as well - costs that many

users and installers are unwilling to accept when a

familiar solution at a familiar price still exists. More often

than not, necessity is regulation-driven - but changes in

regulations might only occur every three to five years and

be incremental in nature.

Given such a level of inertia, it's perhaps surprising how

many insulation manufacturers employ the word 'innovative'

in their branding. Does 'innovative' mean anything,

or is it one of those buzzwords that companies have to

be seen using?

In any category of insulation material, take the products

of different manufacturers and compare them side-byside.

Based on the declared performance specification

alone, it's often difficult to discern significant differences.

The development of manufacturing technology; the

safeguards placed on raw material selection and usage;

and the levelling of the playing field brought about by

harmonised standards and product certification - all have

made it harder for individual products to truly stand out

from the crowd. It's either extremely difficult or extremely

expensive to make big leaps in product performance.

For the manufacturer, the most exciting innovation might

be unseen by the end user, such as refining their factory

processes to deliver the same standard of product

while reducing waste and improving the efficiency of raw

material use. That's not as easy to shout about as an

interesting new product, however.

With limited advancements to be made in the performance

and physical dimensions of insulation products,

it makes sense to look at how products can benefit the

installer. After all, for as many people who ask how to

install a product before they start work, nearly as many

wait until the project is half built before they think to

check.

People might be impressed by a radical new product

design, but that almost always relegates it to a niche

where uptake is slow. And if people do take a chance on

it, there's a risk they'll try to use like the products they're

familiar with. For installers, innovation isn't necessarily

the big leap - it's addressing a shortcoming of an

existing product or installation technique.

Making a Differennce

18

www.insulatenetwork.com
---
www.insulatenetwork.com

Specifying Systems and Products

3

Checking

You may be surprised to read this, but there is an insulation

product out there that is the answer to everybody's

needs.

From time to time, it surfaces in written specifications. It

disguises itself by sharing the name of an existing product

that was probably on the mind of the person writing

the specification. The product has market-leading thermal

performance, the best Green Guide rating available, a superior

compressive strength … and no manufacturer can

actually develop it.

Okay, so this tongue in cheek observation is risking veering

into outright sarcasm, but it is an observation based in

truth. Too many specifications feature a clause that starts

describing one type of insulation, only to then require

performance characteristics found in others.

All of which begs the question as to whether the original

insulation material was actually intended or not. In the

book Architectural Technology, author Stephen Emmitt

lists six rules of specification writing. All are important;

three have particular pertinence to this discussion:

1. 1 Accuracy

In particular the precise use of words and symbols. For

example, the ease with which a thermal conductivity of

0.022 W/mK can be confused with a U-value of 0.22 W/

m2K is as alarming as it is frequent.

"Check and double check for compliance with … manufacturer's

recommendations … and compatibility with

the overall design philosophy." When a manufacturer

receives a specification clause describing a product that

can't exist, it's difficult to trust that a design philosophy is

in place.

Education, education, education

Is that lack of trust fair? Producing full NBS documents

for a contract is a daunting undertaking, and time and

cost pressures rarely afford the freedom to research to a

desirable extent. Sometimes the references and standards

quoted for a single clause are so unfamiliar that it's

impossible to know what question to ask to start making

sense of it!

Designing and developing insulation products, then, is

balancing the desire to appeal to specifiers by setting the

product apart from closely matched competitors, with

retaining familiarity for contractors so as to make sure

the product is installed correctly.

Perhaps the real innovation needs to come in developing

educational tools to accompany new products and

systems, written to make sure all parties feel suitably

informed about which insulation materials are best-suited

for what applications. That way, we might all be able

to enjoy the benefits of realising their full performance

potential in finished buildings.

2

Redundancy

Most commonly, when using a previous specification

as the basis for the current project and not pruning it

accordingly.

19
---
The only independent insulation industry trade magazine

Insulation News

A Call to Action

By Adrian Pargeter Head of Technical and Product Development, Kingspan Insulation Limited

For quite some time industry professionals have

been calling for a Building Regulations

review, believing that the current regulations

are inadequate and confusing. Unfortunately, it took

the Grenfell tragedy to drive home their

shortcomings to the government, and they have

now commissioned an urgent assessment. Dame

Judith Hackitt is heading this 'Independent Review

of Building Regulations and Fire Safety' to look at

the issues around efficacy, compliance, and

enforcement. The initial findings were published in

December with a complete report due this spring.

The Hackitt Review has included a consultation with various

industry bodies, government departments, and the

public to look at recommended changes for the future including

a more robust regulatory system, not just facades

but for all areas of construction. The interim report states

clearly that the current regulatory system in England is

"unfit for purpose". As a result, the construction industry

is preparing itself for immediate action following the

full report being published. It is crucial that we insist on

stricter requirements with clearer guidance, to do all we

can to protect building occupants in addition to helping

to rebuild public confidence on matters of fire safety and

building regulation. With this in mind, and focussing on

facades, there are five key changes that will bring better

regulation of this crucial aspect of construction:

1

2

Large-scale system testing of all of cladding

systems regardless of insulation material

Standardisation and regulation of Desktop

Studies

Façade fire safety is a complicated issue, with many

different factors coming into play, such as cavity barriers,

fixings used and cavity width, which all have an impact on

how the building will react in a real-life fire situation.

A major concern is that, under the current Building Regulations,

'non-combustible' façade insulation products are

not required to undergo large-scale testing as part of a

system for use over 18 m. If there is one thing we should

understand by now, it is that full system testing is essential

to better understand the building materials we use,

how they are affected by products installed alongside

them and, as a result, help to improve the data we have

on how all these products behave when installed as part

of a specified system.

BS 8414 is the large-scale test that is undertaken to see

whether a façade system meets the requirements of BR

135 – it is one of the routes to regulatory compliance.

BRE Global now has a register of BR 135 classified external

systems that have been tested in accordance with BS

8414 part 1 or 2 on its website: www.bre.co.uk/regulatory-testing.

Note that more recent tests will not yet appear

on this register.

There are compliant solutions available that are not limited

to non-combustible insulation materials, and that provide

significant benefits in other aspects of the performance

that we need from our buildings. A responsible

manufacturer will commit to an ongoing programme of

severe testing for its products, to innovation, and to the

promotion of best practice to ensure that buildings offer

fire safety, energy efficiency and longevity in equal

measure.

3

4

5

Mandatory training for installers

Enforcement of fire safety throughout design

and construction

More research into smoke from buildings and

contents

A copy of Kingspan's plan for positive change is available

to download from:

www.kingspaninsulation.co.uk/risinghigh

Tel: +44 (0) 1544 387 384

e.mail: info@kingspaninsulation.co.uk

website: www.kingspaninsulation.co.uk

20

www.insulatenetwork.com
---
The only independent insulation industry trade magazine

Insulate Columnist

Improve and Respond

to the Challenges

Simon Storer, Chief Executive of Insulation Manufacturers Association (IMA)

The end of any year is always a time both of reflection and renewal; a time for remembering what has

been and what we hope or expect is to come over the coming 12 months. By tradition, New Year's

resolutions are usually about aiming to do things differently, changing behaviour, learning from the

past and improving for the future.

After the tragedy of 2017, there will

be few of us, if any, who don't recognise

the need for change and

improvement across the construction

sector. The launch just before

Christmas of the interim report from

the Hackett Review into Building

Regulations, is a hugely important

step in addressing the failings of

construction and examining the responsibilities

and methodology in the

way in which we build and it should

therefore be welcomed by everyone

who wishes to see better and safer

buildings. A series of New Year's

resolutions for an industry that are

way overdue.

We will of course need to wait for the

full report and its recommendations,

which are due in the spring, to fully

understand what is being proposed.

But importantly this interim report

already gives us an indication of the

direction of travel and identifies key

weaknesses and failings that will be

of little surprise to those employed or

connected to this sector.

Not least is the impressiveness of

the reach and depth of the report, its

thorough grasp of the task in hand

and its willingness and determination

to identify and call out those broad

subject areas that need root and

branch improvement. And all of this

turned around in what was a very

short timescale of just a couple of

months.

With more than 200 submissions

from an array of interested parties

and groups, one can assume there

were quite a few consistent themes

and messages, but I suspect there

were plenty of conflicting views as

well.

The report identifies categorically that

there is no quick fix or easy solution

and this must be true, despite

plenty of commentators giving the

impression over the past few months

that they have the answers and

know what needs to be done. The

construction industry is immensely

complex and diverse, but it has been

allowed, for many reasons, to drift

away from a culture of competence

and compliance. For everyone's sake

we need to reverse this trend and as

the interim review states re-introduce

a level of professionalism and quality

assurance to deliver the performance

we know we can and must achieve,

across a range of criteria. Greater

clarity of responsibility, less confusion,

less ambiguity and increased

coherence, which is output driven.

The political desire over the past

years to move away from regulation

to a much more laissez-faire

approach, needs to be seriously

challenged. Good regulation,

properly implemented is essential for

good business and as manufacturers

in the construction sector we want

and need the regulation to help keep

standards up and reduce product

substitution, which so often leads

to the wrong outcomes. There is a

need to reignite confidence in the

industry; the Hackett report has the

opportunity of doing this.

As I come to the end of my first year

in this role of Chief Executive for

Insulation Manufacturers Association

there is a great deal I can reflect

upon, both good and bad and we

will continue to face the challenges

of the coming year. 2018 will be different,

there is no doubt about that,

but the construction industry must

improve and respond positively to

the challenges in front of it. I intend

that Insulation Manufacturers Association

and our members will play a full

and crucial role in doing just that.

For more information about

Insulation Manufacturers Association please visit:

www.insulationmanufacturers.org.uk

www.insulatenetwork.com

21
---
Being unable to communicate effectively

on a building site because you are protecting

yourself from detrimental noise

hazards is not just a problem for workers, it

also costs businesses significant amounts

of money through inefficiency. Individually,

small issues such as mishearing an instruction

might seem like a petty annoyance, but

collectively these minor errors can waste

countless hours, sending productivity

plummeting.

The importance of

Hearing Protection Equipment (HPE)

While working in a noisy environment - such as

in the midst of a busy construction project or on

a workshop floor - workers may have to wear

ear protection at all times. The Control of Noise

at Work Regulations (2005) require employers to

prevent or reduce risks to health and safety from

exposure to noise at work[i].

Such protection can however limit communication

which can often lead to another major problem

– reduced Personal Protective Equipment (PPE)

compliance. For example, using a walkie-talkie

while wearing standard ear defenders is impossible,

so workers are often forced to remove them.

In environments where workers are in close proximity,

they may be tempted to remove their ear

protection if it prevents them from

communicating with one another. This can expose

them to dangerously loud noises, which can

cause complications such as tinnitus or Noise

Induced Hearing Loss (NIHL).

NIHL is one of the most common health problems

in loud working environments because the damage

from this sort of exposure is usually gradual;

a worker might not notice it, or might ignore the

signs of irreversible hearing loss until they become

more pronounced.

22
---
The only independent insulation industry trade magazine

Insulate Columnist

Hearing Protection

and the Need for Communication

Insulate Magazine columnist George Elliott, a technical specialist at science-based technology company 3M, explains the importance of

choosing equipment that allows effective communication, while protecting hearing - and your bottom line

Prolonged or repeated exposure to noise that is constant,

but still above safe levels, can seriously impact

workers' hearing safety. Research shows that the level

of effective protection offered by hearing conservation

equipment is exponentially – as opposed to linearly -

proportional to the total time for which the equipment is

worn (see graph), highlighting the crucial importance of

100% compliance.

A study by the Health and Safety Executive (HSE),

considering the effectiveness of hearing protectors in an

everyday work situation, found that reduced audibility

was a common reason given by users for not wearing

hearing protection[ii].

Being unable to hear instruction and communicate

properly presents other dangers too. Consider a worker

whose equipment blocks out the sound of a forklift truck

approaching from behind, or that of colleagues shouting

at him or her to get out of the way of danger, particularly

when working at height on an insulation project, for

example.

How to maximise efficiency while protecting your

workers' hearing

The solution to maximising productivity, maintaining

excellent situational awareness for the user and an

increased level of compliance lies in choosing the right

equipment for your workplace.

The first step is to select the correct level of protection –

a product that protects the wearer from workplace noise

but does not leave them isolated or exposed to unnecessary

and avoidable hazards.

Employers can also consider investing in hearing protection

that allows for easy and safe communication, using

built-in electronic systems. To be of any significant use,

hearing protection needs to be suitable to wear at all

times whilst exposed to unsafe levels of noise.

For example, ear defenders with a level-dependent function

can allow the wearer to hear ambient sounds, such

as conversations and warning signals, without compromising

protection.

Noise-cancelling microphones attached to a headset

can reduce disturbance when speaking in noisy environments.

Some tasks require the use of flags and hand

signals, which have limitations, while products with radio

connectivity also enable workers to communicate over

long distances.

Other options to consider include ear defenders that

incorporate Bluetooth technology, linking the headset to

the user's mobile phone or communication radio. Many

variations exist. The key is to pick what is right for the

situation at hand.

A Swedish study, by Lund University, highlighted the

benefits of using such solutions. Researchers monitored

two teams as they went about their daily duties, including

earth excavation, laying pipes and tube-welding. One

team used normal work practices and equipment, while

the other wore PELTOR Brand WS LiteCom Headsets

from 3M, incorporating some of the features discussed.

The team using the 3M solution reduced their critical

downtime by half, saving them 17 minutes in an eighthour

day[iii].

By improving employee communication and collaboration,

you can have a direct effect on productivity, which

will help to improve your bottom line.

It is also important to consider the secondary benefits;

motivating staff and reducing feelings of isolation.

Motivated and connected workers are happy workers

- and happy workers are generally more productive and

compliant.

For more information about 3M and available HPE,

please visit www.3M.co.uk/safety

www.insulatenetwork.com 23
---
The only independent insulation industry trade magazine

Insulate insulate Columnist columnist

Review, Reflect and Reset

2018 is about Quality and Safety

Sarah Kostense-Winterton Executive Director, MIMA

As we say goodbye to 2017 and welcome in 2018 it is sobering and timely to review and reflect on the

events of 2017 and firmly focus our attention on positive constructive change moving forward.

As government acknowledges in its Clean Growth Strategy "higher quality, more energy efficient

buildings are healthier places to live and work." Healthy, comfortable and safe homes are just as important

as energy performance and critical to our general happiness, health, wellbeing and education. We must

grasp this positive message in 2018 and deliver on the opportunity for the development of a robust and

detailed Buildings Energy Infrastructure Programme (BEIP), to improve the energy performance of the UK's

buildings going forward with quality and consumer safety at its heart.

Buildings Energy Infrastructure Programme

MIMA, with the EEIG, will be working hard with Government

in 2018 on the overall programme plan for meeting

the 2035 EPC C Band C target. Raising the Energy Performance,

quality and safety of the UK's building stock is

no small challenge, but it is achievable when viewed as

a long-term programme of infrastructure investment as

set out in the EEIG-commissioned, Frontier Economics

"Affordable Warmth, Clean Growth" report (https://www.

theeeig.co.uk/news).

This report highlights that cost-effective investments to

raise the energy performance of UK housing to EPC Band

C by 2035 could save around a further 25% of the energy

currently used, an average saving of £270 per household

per year at current energy prices. Using Treasury guidance

for policy appraisal, this investment has an estimated

net present value of £7.5 billion. Surely attractive to a

Government keen to deliver on its Clean Growth Strategy

commitments – aspirational or not!

Greater assurance of fire safety performance

2018 provides an opportunity to ensure that world-leading

safety standards, including fire safety standards, are

adopted and applied at the heart of the new BEIP. Fire

safety must be a paramount consideration in the design

of new and the retrofit of existing buildings.

A building is neither resilient overall, nor provides an adequate

level of safety for its occupants if it is not fire resilient.

A clear way to help improve fire resilience is to increase

the use of building materials that are non-combustible.

Specifying non-combustible products only, offers certainty

to developers and future occupants that the building

façade will offer the maximum protection against fire.

Overall, building regulations must offer greater assurance

of fire safe performance for occupants of both residential

and non-residential buildings over 18 metres. The current

regulations and guidance need to be made clearer, more

stringent to avoid interpretations that can compromise

public safety. Closer integration of the separate parts

of the Building Regulations will also help build consumer

confidence.

Tackling cold homes

Fuel poverty remains a serious problem. Improving the

energy efficiency of buildings is one of the most effective

ways to tackle fuel poverty, as the measures installed create

a lasting impact.

Only a very small percentage of the country's 8 million

solid walls have been insulated, and around 5 million party

walls are, as yet, un-insulated. Overall, solid wall properties

make up less than a third of the housing stock yet

half of all fuel poor households live in an un-insulated solid

walled home. This situation needs to change.

24

www.insulatenetwork.com
---
www.insulatenetwork.com

In addition, from MIMA's research the total estimated fuel

bill cost to consumers from heat loss through party walls

alone is around £465 million a year. Although a greater

amount of progress has been made on insulating cavity

walls and lofts, there are still millions which have not

been treated or could benefit from being topped up.

Government should be trialing Ireland's "insulation on

prescription" pilot to improve the living conditions of

people living with chronic respiratory conditions, reduce

the need for people to attend hospital and improve the

overall living environment and ensure homeowners experience

additional comfort levels in their homes.

Raising standards in the private rented

and social housing sector

The Government aims to have as many private rented

homes as possible being upgraded to EPC Band C by

2030, where "practical, cost-effective and affordable",

publishing the supporting consultation just before Christmas.

This is a no brainer and raising existing mandatory minimum

energy performance standards in the private rented

sector from EPC Band E to Band D from 2025, with a

view to reaching the EPC C target by 2035 is achievable

by providing some financial support and/or tax relief to

support landlords in making the necessary improvements.

Driving real performance

Measures installed to make buildings more energy efficient

and comfortable, should work as intended. By doing so

consumers see the energy performance they expect, and

the UK saves the energy and carbon it needs to meet carbon

budgets.

We must minimise the "as-built" versus "as-designed" performance

gap by driving higher standards of on-site installation

through the introduction of a mandatory quality assurance

standard covering design, on-site monitoring and

installation. This must be combined with effective surveillance,

policing and enforcement by the regulatory authorities

with penalties for non-compliance.

Technology advances should mean it should now be perfectly

possible for products to be tracked from manufacture

right through to installation, improving transparency for consumers

and better enable the verification of performance.

Lets start off 2018 with a strong start

There is a challenging job ahead, but if you only commit

to one New Year resolution then make that to work with

the EEIG - "the key to the industry approach and success"

according to a government official.

We must ensure that progress secured in 2017 continues

with momentum in 2018 - to drive and deliver positive

change through a Buildings Energy Infrastructure

Programme – alongside a greater focus on the quality and

safety across the industry.

Happy New Year all!

Sarah Kostense-Winterton is Executive Director of MIMA,

the Mineral Wool Insulation Manufacturers Association and provides

the secretariat to the Energy Efficiency Infrastructure Group

(EEIG). For further details of the EEIG or if you would like to

join, please contact Sarah at sarah@mima.info

From 2020 the sector should be able to demonstrate that

90% of new homes meet or perform better than the designed

energy/carbon performance. A commercially viable,

and simple way to demonstrate a building's as-built performance

is urgently required, but we also believe there are

companies working to develop such tests and methods.

Having such tests could eventually allow Government to

introduce post-completion thermal testing in a proportion

of UK buildings.

Overall, building regulations must offer

greater assurance of fire safe performance

for occupants of both residential and

non-residential buildings over 18 metres.

www.insulatenetwork.com

25
---
Exclusive Insulate Column

26
---
Keeping Everything Moving

Supply and Demand

The last few years have seen the construction

industry supply chain adapting to the avail

bility - or lack of it - of certain materials. Now

similar upheaval has hit insulation, are manufacturers,

suppliers and installers stepping up to the

plate? Is there a good enough understanding about

product substitutions? by Paul Forrester.

The construction industry is a restless beast, unable to

remain still and which responds badly to restraint. After

all, building projects are living, breathing things; perpetually

animated, gears grinding, cogs whirring, keeping the

wheels of productivity turning.

Except for when they stop.

And building projects do stop. However much people

don't want them to, and however much people dislike it

when they do, the restless beast ends up caged. Time,

money, weather, accidents, site issues, supply issues,

force majeure … you name it, it can bring things to a halt

and cause delays.

No Quick Fixes

When it comes to shortages of building materials, sites

have had to get used to long lead times on bricks and roof

tiles in the last couple of years. Both are fundamental to the

appearance of the building for which they're intended; any

combination of local vernacular, planning conditions and

design intent mean swapping them is not necessarily the

work of a moment.

Even if a change can be made, the lead times on an alternative

may be no better, and project planning has had to

adapt accordingly.

Aerated/lightweight blocks have suffered shortages too

but, since they're not a facing material, changing to another

block type is not an aesthetic issue. The difference

in thermal performance between a lightweight block and a

dense block, however, is a whole other hurdle.

No Room for the Future

Specifications, for cavity wall constructions in particular,

have been carefully engineered around the contribution

a thermally efficient block on the inner leaf makes. That

leaves only a narrow window for an alternative product to

www.insulatenetwork.com

27
---
The only independent insulation industry trade magazine

Keeping Everything Moving

Supply and Demand

No Room for the Future

Specifications, for cavity wall constructions in particular,

have been carefully engineered around the contribution

a thermally efficient block on the inner leaf makes. That

leaves only a narrow window for an alternative product to

help achieve the same, which simply isn't realistic given

the shortages experienced.

The implications of bringing a site to a halt are potentially

severe: extra costs, setbacks to the schedule, and the

possibility of losing a workforce if they move to another

site. The restless beast, therefore, demands an answer -

and it is usually demanded sooner rather than later.

Unfortunately, the specifications are so carefully

engineered that there is no contingency in the design

for product substitution. There's often a limited

understanding of the likely implications of using something

different, and what on paper looks like a small change is

magnified and exaggerated when it comes to making it

work in reality.

For example, changing a lightweight block to a medium

density block might only worsen the U-value of the whole

wall by 0.01 W/m2K - let's say, from 0.21 W/m2K to 0.22

W/m2K. Not the end of the world, it might seem - but

increasing the cavity insulation thickness by 5mm to claw

back that difference is easier said than done. Does the

insulation manufacturer make their product 5mm thicker

as a stock item?

Is there tolerance in the design to accommodate it if they

do? If there isn't and they don't then there certainly won't

be the tolerance for a product 10mm or 25mm thicker.

How likely or practical is it that the design can be altered

to include a wider cavity, a wider inner leaf block, or a

layer of internal insulation?

Insulation Upheaval

Over the last twelve months it hasn't just been the supply

of lightweight blocks that has exerted pressure - supply

issues in the insulation industry have caused their own

challenges.

The limited availability of rigid polyisocyanurate (PIR) foam

boards due to a shortage of one of the chemicals usedin

production has left contractors and installers looking for

alternatives. Which is fine … up until the point that products

are offered for the wrong reasons or applications.

And cavity walls remain one of the biggest areas of concern.

Approved Document C of the building regulations in

England and Wales advises that rigid insulating materials

for cavity walls should possess current certification, and

the products be installed in accordance with the contents

of that certificate.

(With the levels of exposure experienced in Scotland,

Section 3 of the Technical Handbooks contains its own

guidance on cavity insulation. Consultation with Local Authority

Building Standards is advised when considering

appropriate solutions.)

The shortages in PIR have resulted in many and varied

questions about alternative solutions. Where those solutions

are based on other insulation types of proven performance,

and the design can be adapted accordingly to

utilise them, then all should be fine.

But seeking alternative rigid products from within the

same range and thinking they are 'basically the same

thing', even though they don't benefit from certification

for cavity applications, is a recipe for quality issues - and

possible non-compliance with regulations.

28

www.insulatenetwork.com
---
Unfortunately, the specifications are so

carefully engineered that there is no

contingency in the design for product

substitution.

Nipping it in the bud

Blindly accepting unsuitable solutions means questions

are likely to only come later, when there is even less

willingness to address the problems.

The Building Control system in England and Wales

came under a lot of scrutiny in 2017; for myriad reasons,

and often justifiably so.

On this occasion, however, answers need to be found

in the supply chain before products even get to site.

The distribution partners of insulation manufacturers

have a role to play, asking questions, or encouraging

their customers to ask questions, as early as possible.

Looking for a quick sale and getting products on site

by guessing what an appropriate alternative solution

might be, and only then asking questions, is NOT how

business should be done.

Manufacturers of the different insulation types - whether

faced with taking advantage of openings in the market

or minimising the disruption caused by raw material

shortages - have a part to play in that process

by keeping their distributors as informed as possible.

It only emphasises, rather than diminishes, the

importance and collective responsibility needed if our

buildings are going to be the best they can be.

Pacifying the restless beast is not enough; keeping it in

good health is to the benefit of everybody.

29
---
Spray Foam's

Biggest Event is Back

… with Keynote Speaker, Jeff Havens!

2018 CONVENTION & EXPO

January 29 – February 1

Mobile, Alabama

Uncrapify Your Life!

With all the entertainment of a comedy show, Jeff Havens will

lead us in the most hilarious communication and teambuilding

keynote. Prepare to learn and laugh in equal measure!

Join the Who's Who in Spray Foam for:

• Four Days of Educational Sessions

• The Industry Excellence Awards

• Annual Golf Tournament

• Professional Certification Programs and Testing

• A 50,000 Square Foot Exhibit Hall

• VIP Events

• And More!

Network with the Best in the Business.

Don't miss it!

thesprayfoamshow.com • sprayfoam.org/expo
---
The only independent insulation industry trade magazine

Insulation News

ASFP Endorses Independent Review

of Building Regulations and Fire Safety Findings

The Association for Specialist Fire Protection

(ASFP) endorses the interim findings of the

Independent Review of Building Regulations

and Fire Safety, led by Dame Judith Hackitt, which

recommend a change in culture within the UK construction

industry and significant reform of the UK

fire safety regulatory system.

The Interim report identifies a lack of clarity in the roles

and responsibilities throughout a building's lifecycle; from

design and construction to maintenance during occupation.

It notes widespread deviation from what is originally

designed to what is actually built and highlights inadequate

means of assessing and ensuring adequate levels

of competency throughout the process. In addition, the

report recognises the vital role of installers, noting that

"the integrity and efficacy of products and systems is

highly dependent on correct installation by competent

and knowledgeable persons'.

The ASFP has long been campaigning for formal competency

requirements for fire professionals, mandatory

third party certification of products and installers and a

system that more clearly sets out the requirements and

responsibilities at each stage of construction.

ASFP COO Niall Rowan states:

"The ASFP welcomes the findings of the review which

highlight many of the inconsistencies within the design

and build process and we support the general direction

of travel outlined in the report.

"I am pleased to see that Dame Judith has recognised

the poor practices surrounding 'value engineering', the

lack of proper procedures for handover of fire safety

information on completion, and the need to tighten up

controls on 'desktop studies'. She also highlights a need

for fire risk assessors to be qualified, and the confusion

surrounding the testing, assessment and certification of

fire protection products. All issues of great concern for

the ASFP."

"To address the competency issue, the ASFP is working

with the Institution of Fire Engineers to provide training

and competency evaluation for all stakeholders involved

in the design, specification, installation and maintenance

of passive fire protection. The programme in development

will enable trainees to obtain an IFE qualification in

passive fire protection.

"Furthermore, working together with the Royal Institute of

British Architects (RIBA), the ASFP has been developing

a Plan of Works for Fire. This aims to ensure that there

is a detailed specification for fire protection at the design

stage and a schedule for fire throughout the construction

process. The process being developed will include

mandatory sign offs as construction progresses, with all

information reaching the end-user to support adequate

fire risk management."

"We hope these initiatives will form useful input to phase

two of the review and look forward to working with

Dame Judith and all industry stakeholders to a develop a

regulatory system that more clearly sets out the requirements,

responsibilities and competencies required at

each stage throughout the building lifecycle, including

changes and refurbishments later in the building's life."

For further information on the ASFP and advice on

passive fire protection, visit www.asfp.org.uk

31
---
The only independent insulation industry trade magazine

Insulate Columnist

Decarbonisation and

Building Regulations Compliance

By Anthony Dale, Energy Assessor, Darren Evans Assessments

This year saw Britain have its first ever day without coal power since the industrial revolution; a significant

milestone in our march towards ambitious climate change targets and reducing greenhouse

gas emissions. As we decommission coal-fired power stations and remove coal from our energy

mix - in favour of renewables - the emissions associated with electricity generation are decreasing. This

has a knock-on effect when assessing compliance with building regulations as fixed values are used for

electrical emissions. The growing disparity between the real world and this fixed value will lead to a greater

disparity between effective design for real world conditions and design for building regulation compliance.

The higher proportion of renewables on the grid and a

lower proportion of carbon intensive coal generation will

bring down the amount of CO2 produced per kWh of

electricity generation (emission factor). This will have an

effect on the emissions associated with our built environment.

All new buildings in the UK have to comply with

Part L of Building Regulations and the estimated emissions

of these buildings are a key aspect of compliance.

If a building uses grid electricity then its' emissions will,

in part, depend on the energy mix of the UK's national

grid. Any benefits from offsetting electricity use (eg. Solar

photovoltaics) will also be determined against this grid

electricity emission factor.

The current compliance tools for both residential and

commercial buildings use the same emission factor of

0.519 kgCO2/kWh, taken from SAP 2012, to determine

the CO2 produced from grid electricity. This is a fixed value

used to determine compliance with Part L. As the grid

moves towards a higher proportion of renewable energy

the actual emission factor will move away from this value

used in compliance tools to a lower figure. A building that

uses, for instance, an Air Source Heat Pump, which utilises

grid electricity, will therefore have lower emissions in

reality than the compliance tool will suggest. A combined

Heat and Power unit will have the reverse affect as it generates

its own electricity, normally from gas, instead of

importing grid electricity. The emissions from gas will be

constant, but as the grid becomes 'greener' there will be

less-and-less benefit, in terms of emissions, from on-site

generation as the emission factors of both forms of generation

move closer to each other. This would increase

the emissions of buildings using CHP in the future relative

to those built today. There is also the topic of regional

emission factors. An area such as North West Scotland,

with large amounts of renewables on the grid, but

a relatively low demand, will have a very different regional

emission factor than some of the large urban centres of

southern England where demand is high and renewables

comparatively low. This difference between emissions estimated

in compliance tools and emissions in reality pose

difficulties for stakeholders, specifiers, energy assessors

and end clients.

The current emission factor used in compliance software

is due to be updated for the newest version of the methodology

next year. However, compliance tools need to

use a fixed value to ensure comparable assessments, but

the energy mix is changing so fast and the uptake of renewables

is becoming so rapid that the emission factor

for grid electricity is going to continuously fall year-on-year

for the foreseeable future. A greater emphasis therefore

needs to be placed within, and outside, the industry to

highlight the difference between an effective assessment

for compliance with building regulations and the sustainable

design for the lifecycle of a building.

32

www.insulatenetwork.com
---
@INSULATENETWORK

WWW.INSULATENETWORK.COM

insulate network puts

you in touch via every device

www.insulatenetwork.com

insulatenetwork
---
Our competitive

edge comes from

delivering on time,

every time. SIG has

been helping us do

this for 38 years.

DAVE MCGOFF

MCGOFF AND BYRNE

AN SIG CUSTOMER

BUILD YOUR NAME ON US

No one knows

Insulation like SIG

SIG Insulation started out 60 years ago. Since then we've grown to become the UK's

leading specialist distributor of insulation, dry lining and related products to the

construction sector.

It's not just our vast product range and major brands that sets us apart from the

competition. The unrivalled technical expertise and impartial advice of our staff – who

each have on average 10 years experience within SIG – help you source the products

you need, and guide you through what the legislation means to your project.

And when getting the job done relies on having the right products at the right time, you

need a fast, reliable supplier with UK-wide branches, a huge delivery network and stock

always available.

Contact your local branch via www.siginsulation.co.uk