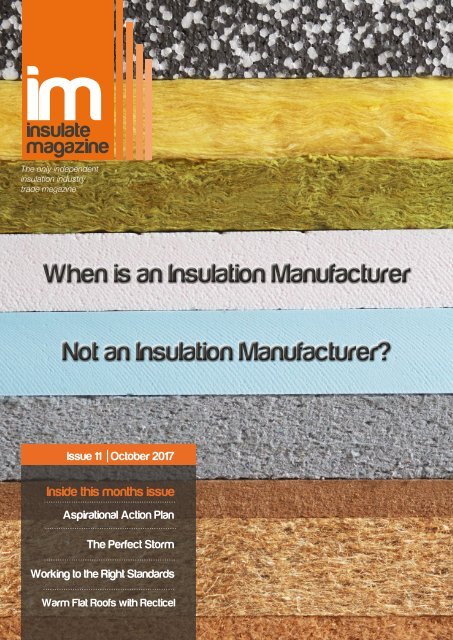 Insulate Magazine Issue 11 - October 2017
When is an Insulation Manufacturer not and Insulation Manufacturer headlines the October issue of Insulate Magazine. Possibly the best front cover for an Insulation publication EVER.
When is an Insulation Manufacturer not and Insulation Manufacturer headlines the October issue of Insulate Magazine. Possibly the best front cover for an Insulation publication EVER.
SHOW MORE
SHOW LESS
You also want an ePaper? Increase the reach of your titles
YUMPU automatically turns print PDFs into web optimized ePapers that Google loves.
The only independent

insulation industry

trade magazine

When is an Insulation Manufacturer

Not an Insulation Manufacturer?

Issue 11 | October 2017

Inside this months issue

Aspirational Action Plan

The Perfect Storm

Working to the Right Standards

Warm Flat Roofs with Recticel
---
www.insulatenetwork.com

Published on a monthly basis by Versanta ltd

Corser House, 17 Geen End, Whitchurch, Shropshire, SY13 1AD

Call 01948 759 351

Outside of the UK +44 1948 759351

Monday - Friday 9am - 5.30pm

Website: www.insulatenetwork.com

Email: sales@insulatenetwork.com

SUBSCRIPTION INFORMATION

Anyone can subscribe for free online at www.powerboatracingworld.com/subscribe

or by phone on 01948 759 351.

Subscriptions are available around the world free in digital format.

Print subscriptions are available around the world, please call us for

a quote or email us on sales@insulatenetwork.com

Our subscriber list is occasionally made available to very carefully

selected companies whose products or services may be of interest

to you. Your privacy is of paramount importance to us and should

you prefer not to be part of these lists then please email your details

and a short message to sales@insulatenetwork.com

CLASSIFIED ADVERTISING

Rate: No photo classified £25 for 20 words, each additional word

costs £1. All classified advertising must be paid in advance. We

must receive your classified advert at least two weeks prior to the

publication date.

WE DO NOT ACCEPT PHONE IN CLASSIFIED ADVERTISING

In the first instance, email your advert to sales@insulatenetwork.

com and await your invoice, once payment is received our design

team will clarify the advert insertion with you directly. CLASSIFIED

ADVERTISING APPEARS IN PRINT AND ONLINE. WE ARE NOT

RESPONSIBLE FOR ERRORS AFTER PROOFING AND INSER-

TION.

DISPLAY ADVERTISING.

Contact one of our sales staff to discuss your requirements on

01948 759 351. Publisher reserves the right to reject any

advertising that in its opinion is misleading, unfair or incompatible

with the character of the magazine.

We adhere to the IPSO code of practice for editors. Further information

can be found at www.ipso.org.uk

BACK ISSUES OR REPRINTS

Digital back issues can be foud online at www.insulatenetworkazine.com

For printed editions please email contact@insulatenetwork.com

, there will be a postage charge and handling fee of

£5+VAT for each copy requested.

CIRCULATION

The magazine is sent to 17,000 digitial subscribers per month

Contents

When is an Insulation Manufacturer...

Aspirational Action Plan 10-12

The Key to All-in-One Certification

6-8

14-15

The Perfect Storm 16-17

Simple Guide to Coverall Selection 18-20

Working to the Right Standards 23-25

Warm Flat Roofs with Recticel 26-29

Insulation News 30

Make Big Energy Savings 32-33

Energy & Sustainability Statements 34-36

©VERSANTA LTD

No part can be reproduced without the express

permission of the publisher

www.facebook.com/insulatenetwork

www.twitter.com/insulatenetwork

www.youtube.com/channel/insulatenetwork

Innovation Trail at UKCW 38-39

The UK's only dedicated

trade journal for the insulation industry

3
---
Due to an overwhelming response to Insulate

Magazine over the past eleven issues, Jamie and

I took the decision that we should go to print.

We did not take this decision lightly, our commitment to

delivering media to our readers in the most direct way

though the best mediums still remains, the request was

consistent – subscribers wanted copies for their

reception areas, canteens and boardrooms – why would

we not!

Colin Heath

Managing Director

Team

Jamie Street

Creative

So here is Issue 11, another great edition packed with the latest

industry news and comment. The BBA discuss the whole home

approach to insulation, another great column from MIMA and a

great article from the insulate team on "What insulation

manufacturers are not" If you are reading this in print, head over

to our website insulatenetwork.com and subscribe if your reading

this digitally.

Thanks for subscribing, we're glad you're here!

4

www.insulatenetwork.com
---
The only independent insulation industry trade magazine

Cover Story

When is an

Insulation Manufacturer...

Not an insulation manufacturer? No, it's not the set-up for a bad joke! All construction

projects, even the smallest domestic extensions, feature many different voices either

asking for information or offering advice. For any project to be a success, good

communication between those voices is vital. By Insulate Magazine.

Alas, 'communication' doesn't necessarily

translate into 'collaboration', meaning the shared

goal of creating a quality, comfortable and

efficient end product can get lost. With varying

levels of knowledge and confidence, it can be

difficult for people - particularly those with

limited experience of construction - to know

which voices to listen to.

The imperative for insulation manufacturers to

demonstrate the performance of their products

to meet thermal regulations sees them thrust to

the forefront of the process. A side effect is that

their advice is sought on all aspects of the

constructions where their products are

used - even when that guidance should be

sought from other professionals.

SAP Assessors

It's the question that comes up time and again:

"What U-value do I need to achieve?"

For refurbishment and extension projects, it's a

relatively easy question to answer. Work to existing

buildings takes an elemental approach with

each part of the building looked at in isolation.

Each country's Building Regulations set out

defined targets for individual construction

elements and, in the majority of cases, nothing

else needs to be addressed.

New buildings require a more holistic approach.

The performance of the whole 'package' -

U-values, air tightness, heating, renewables,

solar gains etc. - is assessed in combination.

Specifications can be tweaked to optimise the

design and, where U-values are concerned,

improved performance in one element can offset

a shortfall in another.

The energy efficiency of new buildings has

been assessed this way for a decade or more

throughout the UK, but there are times when the

concept remains an alien one. For people not

used to working with regulations day in, day out,

manufacturers are more likely to be the first port

of call.

We don't know how the buildings

we produce are performing

6

www.insulatenetwork.com
---
www.insulatenetwork.com

Insulation companies might employ people

experienced in carrying out SAP and SBEM

calculations; they may even partner with

companies who provide energy assessment

services. But, unless the customer is copying the

'notional dwelling' specification, a manufacturer

is unlikely to be able to definitively state what

U-values should be met.

Those notional specifications provided in the

Building Regulations for England, Wales and

Scotland provide a starting point. Experienced

assessment professionals can refine those

specifications based on experience and common

construction practice, but for new build projects

SAP or SBEM calculations must

define the performance of individual elements.

Any U-value target suggested by an

insulation manufacturer is therefore precisely that:

a suggestion.

Chartered surveyors /

building inspectors

The potential scenarios that result in

insulation manufacturers being asked to give

their blessing to work are too numerous to be

explored individually in this word count, but can

involve some or all of the following:

- A lack of knowledge, experience or confidence when installing or inspecting insulation.

- Not enough appreciation of what low energy construction requires or looks like.

- An attitude of 'I've always done it this way'.

- Shortcuts taken or product substitutions made due to time or cost pressures.

- Poor communication between parties involved on the project.

www.insulatenetwork.com

7
---
The only independent insulation industry trade magazine

This feature was conceived as a lighthearted

examination of the times when too much is asked

of insulation manufacturers. When it comes to

the quality of our built environment, however, it's

difficult to avoid being entirely serious.

It's no exaggeration to state that the performance

gap - the disparity between a building's intended

thermal comfort and efficiency at design stage,

and how it behaves once constructed - is endemic

within much of UK construction. Speed of

construction is prioritised over quality; questions

are asked after the event, rather than checking

correct installation procedures before starting.

It speaks to issues of knowledge, skills and training

in the whole construction industry - issues we

are all aware of, but for which solutions always

seem to remain tantalisingly out of reach. For the

majority of projects, post occupancy evaluation

still lacks feasibility. We don't know how the buildings

we produce are performing.

Checking as-built performance simply isn't on the

agenda, but unless issues like those listed above

are picked up during the design and construction

phases, the end user will be saddled with an uncomfortable

building and high energy bills. And,

as events in 2017 have shown us, these sorts of

compromises do not just risk compliance with

energy efficiency requirements…

Too often, poor insulation installation is

only picked up once it is too late. When

a problem is raised, when the original intent

has not been met, the aim becomes

to find the 'best' compromise solution.

when the original intent has not been met, the aim

becomes to find the 'best' compromise solution.

You can't blame people for being reluctant to take

down work that has already been done, but you

can question why every step wasn't taken to ensure

the work was done correctly from the outset.

Photographs are emailed from site; restricted

views of small areas of the build. "The building inspector

is happy if you say this is okay," comes the

accompanying request. Insulation manufacturers

understand how their products should be used as

well as, if not better than, anybody. But they can

only comment on whether an installation meets,

or appears to meet, their recommendations.

That isn't to pick on Local Authority Building

Control or Approved Inspectors. It is to demonstrate

the importance of all professionals working

together and enjoying proper collaboration, rather

than hoping manufacturers have magic wands

capable of curing on site conflicts.

Too often, poor insulation installation is only picked

up once it is too late. When a problem is raised,

Next month, part two of this feature

will look at how far insulation

manufacturers can go in helping

with architectural and structural

design.

8
---
The UK's Only Exhibition

Dedicated to the Insulation Industry

Showcasing the latest insulation innovations, perspectives & expertise

18th & 19th June 2018 | EMCC Nottingham

Register for your free visitor ticket

Book your exhibitor space

www.insulationexpo.co.uk

@insulationexpo
---
The only independent insulation industry trade magazine

Insulate Columnist

Aspirational Action Plan

for our Goverment to make

our Buildings Great Again

Sarah Kostense-Winterton Executive Director, MIMA

With the Clean Growth Plan on the

cusp of publication and with onethird

of UK carbon emissions still

coming from buildings, a major industry alliance¹,

the Energy

Efficiency Infrastructure group (EEIG) has

called for an ambitious new buildings infrastructure

programme to help to decarbonise

the UK's buildings, deliver major energy

savings to consumers whilst also providing a

much-needed boost to the UK economy.

Buildings Energy Infrastructure Programme

Commissioned by the EEIG, the Frontier Economics

report, "Affordable Warmth, Clean Growth",

recommends a comprehensive Buildings Energy

Infrastructure Programme and dedicated delivery

agency to achieve major energy savings and

de-carbonise the UK heating supply. The report

clearly sets out an action plan for the Government

to make all homes energy efficient within 20 years.

Achieving this goal will require the adoption of

world-leading quality standards for retrofitting and

constructing homes, area-based schemes led by

local authorities, additional funding sources that

won't raise energy bills and financial incentives to

encourage households to take up energy-saving

measures.

19 Million Homes

There are still 19 million homes in the UK with

needlessly poor levels of energy performance -

below an EPC C rating – and up to a quarter of

the energy consumed in homes could be saved

cost-effectively, with the technical potential for energy

use in homes to be cut in half.

Cuts and Crashes

Despite this, the level of funding for energy

efficiency measures has been cut by a huge 50%

since 2012 and the number of major insulation

and efficient heating measures being installed has

crashed by 80%. The EEIG alliance is calling on

the Government to reverse that fall and to make

buildings' energy performance a capital infrastructure

investment priority.

10

insulatenetwork
---
www.insulatenetwork.com

Aspirational Action Plan

To achieve this much-needed reverse the

report makes key recommendations which include:

- A target for all homes to be brought up to an energy performance rating of C (on the A

to G scale) by 2035, with all low-income households achieving a C rating by 2030.

- A requirement for new homes to be constructed to a zero-carbon standard by 2020.

Subsidies for all low-income home-owners to make energy efficiency renovations to their

properties.

- A demonstrator programme to test the most attractive schemes to unlock able-to-pay

households' investment in energy saving renovations, including zero interest loans, low

interest equity loans you don't have to pay back until a home is sold and salary sacrifice

schemes like those for childcare vouchers.

- Changes to Stamp Duty to encourage renovations when people move home.

- Tax allowances for private landlords and 50% subsidies for social landlords to undertake

energy efficiency renovations.

- Strengthening regulation in the private rented sector from 2025 to prevent landlords

from renting out homes which have below average energy performance.

- Applying sensible minimum standards when homes are sold to help address health

risks and deaths caused by excessive cold.

The regulations and minimum standards, properly

enforced, can significantly bring down the cost

of the programme to the public purse.

The Rt. Hon. Lord Deben, author of the

report's Foreword and supporter said:

"This is market failure at its most pernicious and

the Government needs to intervene to make the

free market work.

This is a properly constructed infrastructure

programme that provides a cost-effective way

of meeting our climate change objectives while

significantly reducing the cost of living for a huge

proportion of the population".

www.insulatenetwork.com 11
---
www.insulatenetwork.com

Claire Thornhill, of Frontier Economics

commented:

"Buildings are an integral part of our energy

infrastructure system. If we are to de-carbonise in

a cost-effective way and keep energy bills as low

as possible we need an integrated and ambitious

infrastructure programme to de-carbonise our

buildings.

The Plan would require public investment in

household energy efficiency to be increased by

£1.1 billion per year – from £0.6 billion today to

£1.7 billion. A previous Frontier Economics report

that analysed Government data found that an

energy efficiency programme achieves comparable

economic returns to other infrastructure

programmes."

Buildings Energy Performance Missing

The Government plans to spend £170 billion on

housing, economic infrastructure and R&D

programmes up until 2021/22. However, buildings

energy performance does not yet feature in

the Government's infrastructure plans despite the

fact that it would help households to save on

average £270 every year off their energy bills,

boost the economy and reduce the need for new

energy supply infrastructure investment

elsewhere. The Building Energy Infrastructure

Programme is designed to leverage in £3.9 billion

of private investment per year.

This compelling report will be launched on 27th

September, followed by a Parliamentary launch

on 16th October – an event sponsored by one

of our supporters, Conservative MP Antoinette

Sandbach along with a tri-All Party Parliamentary

Grouping of PRASEG, Intelligent Energy and Fuel

Poverty and further supported by Lord Deben.

Parliamentarians will be introduced with a complete,

long-term and high quality energy efficiency

plan as well as opportunities to publically show

their support at the event.

Message to the Govenment

Our message to the Government is to support

this achievable commitment to keeping energy

costs in British homes and buildings down and

deliver a high quality, sustainable programme.

A programme that can restore business and

consumer confidence and unleash private investment

in the industry - ensuring long-term

improvements in buildings energy performance.

Now let's see Government work with us to make

this happen and ensure that the benefits of raising

the building energy performance of our buildings

are grasped – from the lasting reductions

in fuel bills and fuel poverty to meeting carbon

reduction targets and economic growth. This

Programme will surely make our buildings great

again and make us proud, resulting in an industry

prepared and future-fit and with a solid basis of

consumer confidence going forward.

Sarah Kostense-Winterton is

Executive Director of MIMA, the Mineral Wool

Insulation Manufacturers Association and provides

the secretariat to the Energy Efficiency Infrastructure

Group (EEIG).

For further details of the EEIG or if you would

like to join, please contact Sarah at

sarah@mima.info

12 www.insulatenetwork.com
---
SIG360 work with us

on site, to ensure we

not only meet our

client's needs but

exceed them.

NEIL HARRISON

HARRISON PROJECTS

AN SIG CUSTOMER

BUILD YOUR NAME ON US

Providing impartial

product advice

The SIG360 Technical Centre is a service offering from SIG, that focuses on helping customers

deliver energy efficient buildings.

Through an intimate knowledge of building regulations and product performance, brought

about through more than 50 years specialising in the energy efficiency of the fabric of a

building, the SIG360 Technical Centre is able to make cost effective and impartial product

selection to ensure the best energy performance can be achieved.

The service provided includes energy statements, U value calculations , condensation risk

analysis, thermal modelling and SAP assessments leading to EPC certification.

If you are seeking impartial advice on the fabric energy efficiency of your building contact

SIG360 Technical Centre.

For guidance you can trust call 0844 443 0059

email 360enquiries@sigplc.com or visit www.sig360.co.uk

Talk to the SIG360 Technical

Centre at the start of your project

for a 360 o view of cost effective

and energy efficient home building
---
www.insulatenetwork.com

Read All About It!

Insulate Magazine Issue 11 - October 2017

The Key to Easy, All-in-One Certfication

The British Board of Agrément makes life easier for manufacturers

of doors and windows products by providing the right industry

assurances, all under one roof.

You could say that for the majority of

people windows and doors are arguably

the most regularly encountered features of

everyday life. Yet usually we hardly notice

them. But if something goes wrong, we're

soon keen to put it right. The safety of

fenestration products should never be

taken for granted. In fact, every component

of any building needs to be thoroughly

checked for quality and safety.

So for manufacturers of new products,

it's vital to get the specifications on

windows & doors right from the start.

Establishing any product's fitness for use

can take some time and you often need a

number of separate certificates, as most

Certification Bodies only certify to individual

national Standards.

Not so with the BBA. With a BBA Certificate,

all relevant Building Regulations

are considered along with other requirements

like Codes of Practice and NHBC

requirements, so manufacturers can satisfy

themselves that all levels of fitness for use

have been met without the need for multiple

Certificates. That means choosing the

BBA saves time, money and hassle.

Above & Beyond

Additionally, BBA Assessments go

above and beyond what is required from a

national standard, in

particular with reference to Regulation

7 in England and Wales - Materials and

workmanship or Regulation 8 in Scotland

– Durability, workmanship and fitness of

materials.

The BBA carries out durability tests such

as resistance to UV, heat, water and

impact. BBA Certificates also involve

bi-annual factory audit visits to ensure

factory production control is continuing

to manufacture a quality product to the

right specifications.

14 www.insulatenetwork.com
---
The only independent insulation industry trade magazine

Read more from the BBA:

BBA to Tackle Failed Cavity Wall Insulation

(Insulate Magazine, Issue 10)

The BBA also has its own UKAS accredited

testing facilities, so technicians can see firsthand

how a window and door performs and

how suitable it would be for the market.

With a BBA Certificate, manufacturers have

confidence that the product satisfies all relevant

Building Regulations, making life easier

for specifiers when choosing the right fenestration

products.

50 years' experience in Windows and Doors

and the associated Building Regulations

involved within them means the BBA is well

versed in understanding what the requirements

are for the domestic and commercial markets.

In fact, every component of any

building needs to be thoroughly

checked for quality and safety.

www.insulatenetwork.com

15
---
The only independent insulation industry trade magazine

Insulate Columnist

How We Must Respond

to the Perfect Storm

Insulate Magazine columnist Simon Storer,

Chief Executive of the British Rigid Urethane Foam Manufacturers Association (BRUFMA)

The hiatus caused by the tragic events of Grenfell, is beginning to settle into a more

considered and empirical approach with regards to the many other high-rise buildings

across the country that have similar external cladding systems to Grenfell.

Find a Solution Together

Whilst the pain, disruption and un-certainty

remains very real for residents, victims and the

wider community in and around the blackened

tower block, most of whom, it appears, have yet

to be re-housed, the construction industry and

other relevant parties, working closely with DCLG

need to identify and implement work that must

be carried out to make these building safe and

secure and re-assure residents and owners.

This is not to pre-empt or pre-judge any of the

investigations or inquiries that are underway

regarding the events at Grenfell, or indeed the

(welcome) review of Building Regulations that is

now underway. But more to ensure that all other

buildings meet the current rules and regulations

and we correct the shortcomings and

questionable decision making that seems to be

prolific across the country.

a combination of mistakes from many quarters

coming together to create a perfect storm

Orderly and Considered Approach

With so many domestic high-rise buildings listed

as being 'unsafe' – and who knows how many

non-domestic buildings will be added to this list

– there needs to be an orderly and considered

approach to prioritise these buildings and the

work needed; those that are high-risk through

to low risk, based on a range of criteria for each

building.

These criteria will include inter alia, if a building

has a separate fire escape and its number of

exits; fire suppression such as sprinkler systems;

fire doors; alarm systems; extinguishers; cleared

stairwells; the type of residents – for instance if

they are elderly or disabled; and instructions from

building management in the case of an

emergency.

Considered Approach

Once this information is established, the

necessary work can be carried out applicable to

16

www.insulatenetwork.com
---
The Perfect Storm

each building, based on its own individual merits.

This should eradicate condemning buildings unnecessarily,

because of knee-jerk reactions and

poorly informed opinions.

No Complacency

We must not be complacent, but fortunately

Grenfell is a very rare event and is likely to have

been a combination of mistakes from many

quarters coming together to create a perfect

storm. Although we must of course wait for the

Inquiry to establish what those mistakes and

errors of judgement were for Grenfell, we will

continue to build new buildings and refurbish

existing buildings, including those earmarked

because of Grenfell. Construction has got to

meet the needs of society together with hitting

targets for energy efficiency and energy performance

of buildings that the country must

achieve. The construction industry still has work

to do and it will continue to do it.

Full-Scale Fire Tests

As we know a series of full-scale fire tests on

cladding systems were commissioned by DCLG

because of Grenfell. Although these were not

generic tests and the information ascertained is

only relevant to each specific combination of material

tested, useful information was still gained.

Therefore, anyone responsible in specifying

and installing external cladding systems can be

confident that, when used with an approved

mixture of materials, PIR insulation can remain

as the first choice of insulation material on our

buildings. PIR passed a full BS8414 fire test, but

it also provides several other beneficial characteristics,

including high thermal efficiency to help

buildings meet energy efficiency levels that enhance

people's living conditions and reduce their

energy consumption.

Media in Overdrive

It is not surprising that the media went into overdrive

following Grenfell, that is their job, even

though a great deal of what was written was pure

speculation, inaccurate and wayward. What is

far more distasteful, is the mercenary activities of

those who saw this tragedy as a means of

commercial advantage and were quick to use

selective and questionable data to pedal

half-truths and erroneous claims.

Avoiding False Assumptions

The lessons from Grenfell will be crucially

important, but so is the need to ensure we make

the changes and improvements where they are

needed and that these are not based on false

assumptions or supposition. Only then will our

buildings be fit for purpose and meet all the

necessary criteria for future generations

For more information visit:

www.brufma.co.uk

KNOWLEDGE IN INSULATION

insulatenetwork

17
---
The only independent insulation industry trade magazine

Insulate Columnist

A Simple Guide

to Coverall Selection

Insulate Magazine columnist George Elliott, a technical specialist at science-based technology 3M,

discussses protective coverall selection considerations for your workforce

Within the insulation industry, many professionals work in close proximity to

potentially hazardous chemicals and fibres, whether at the installation site or in the

factory. When these substances come into contact with the skin, they can cause

burns, rashes and related conditions, including dermatitis. Symptoms can include redness,

scaling/flaking, blistering, weeping, cracking and swelling of the skin. For this reason, employers

have a duty to reduce the level of exposure to such contaminants that their employees face.

As with other potential hazards that cannot be

eliminated, the first step should be to act to

limit the hazard itself, either by substituting it for

something less harmful or by introducing engineering

controls. However, in some cases a hazard

will remain even after such measures have

been implemented.

In these instances, full body protective coveralls

may be required. Some people may assume that

all coveralls are alike but there are actually many

points to consider when selecting protective

coveralls, just as there are with other types of

personal protective equipment (PPE).

And as with other types of PPE, the main thing

to remember is that protective coveralls must be

both adequate to protect against the hazards

Adequate

In order to identify those coveralls that are

adequate, the first thing you need to know is the

physical state of the contaminant that you are

dealing with. It could be a liquid, a particulate, or

a mixture of both.

Next, you should consider the form of the contaminant.

This should involve, for example,

checking the percentage concentration of a liquid

chemical.

Additionally, assessment of the type of exposure

workers possibly face should be undertaken.

How much liquid could they potentially come into

contact with? Could it be splash, spray or even

jet exposure?

18

www.insulatenetwork.com
---
www.insulatenetwork.com

Similarly, you need to know for how long workers

will be exposed to the potential chemical

hazards. Some may only come into contact with

these chemicals occasionally, while others may

work with them throughout their entire shift.

When dealing with liquid chemical hazards, you

should also consider the coverall's permeation,

penetration and repellence levels. Manufacturers

should be able to provide this information and

other data regarding their product's performance

when protecting against specific substances.

Once you have gathered all this information, you

can use it to identify what level of protection you

require.

When these substances

come into contact with

the skin, they can cause

burns, rashes and

related conditions,

including dermatitis.

The level of protection provided by a protective

coverall is denoted by the 'Type' test they have

undergone. The Type tests are: gas protection

(Type 1), non-gas protection (Type 2), liquid jet

protection (Type 3), liquid spray protection (Type

4), particulate protection (Type 5) and limited

liquid splash (Type 6).

Suitable

Once you have narrowed down your selection of

coveralls to those that are adequate, you must

identify those that are also suitable for the

individual and their working activity.

When it comes to protective coveralls and

suitability, one of the main things to consider is

the thermal comfort of the user. Protective coveralls

that are more breathable will be cooler and

therefore more comfortable. This is important

because employees who find their coveralls comfortable

are more likely to wear them correctly.

Those who don't are less likely to comply with

PPE requirements by, for example, removing the

19
---
www.insulatenetwork.com

hood, rolling up sleeves, or partially unzipping the

front. This can leave them exposed to potential

hazards.A protective coverall's breathability will

depend largely on the material it is made from.

Usually, protective coveralls are made from either

SMS (spunbond-meltblown-spunbond) fabrics or

laminate materials.

SMS fabrics combine layers of polypropylene that

can filter out certain chemicals and dry

particulates, but still offer some porosity for

breathability and comfort.

Laminate materials usually consist of a

polyethylene film laminated onto a non-woven

polypropylene base. These afford greater

chemical and liquid protection, but less

breathability, than their SMS counterparts.

So, it can be seen that a coverall's breathability

can be unfortunately inversely proportional to the

level of protection it can provide.

To strike a balance between protection and comfort,

3M offers protective coveralls made predominately

from laminate fabric, but with a breathable

SMS back panel. 3M is happy to provide

companies with product samples so that their

employees can trial them in their normal working

conditions.

Other features that can improve comfort include

knitted cuffs, which are softer than elasticated

ones, and elasticated waistbands, which enable

improved protection whilst moving.

Features that can improve functionality include

three-panel hoods, which stay on better when

the wearer turns their head than the two-panel alternatives,

and different coloured coveralls, which

can help to differentiate those workers who are

exposed to particularly dangerous hazards from

others.

With so many things to consider, the selection

process may at first seem daunting, but it needn't

be. If in doubt, seek advice. 3M's experts are

always happy to help you to decide which coveralls

will be best for your workplace.

For more information, visit

www.3M.co.uk/safety or call

3M's helpline on 0870 60 800 60

20

www.insulatenetwork.com
---
insulatenetwork 21

www.insulatenetwork.com

Insulation

Our latest arrivals have landed...

...offering you 4 new lower lambda

products to choose from

Kingspan Kooltherm ® K103 Floorboard, K110 and K110 PLUS Soffit Board,

and K118 Insulated Plasterboard feature an advanced, fibre-free insulation

core, enabling them to achieve an outstanding thermal conductivity of

0.018 W/m . K. As a result, the products can enable buildings to be built to

the upper levels of fabric performance with minimal thickness.

Further information on the Kingspan

range is available on:

+44 (0) 1544 387 384

literature@kingspaninsulation.co.uk

www.kingspaninsulation.co.uk

Pembridge, Leominster, Herefordshire HR6 9LA, UK

www.kingspaninsulation.co.uk/lowerlambda

®

Kingspan, Kooltherm and the Lion Device are Registered Trademarks of

the Kingspan Group plc in the UK and other countries. All rights reserved.
---
CREATE THE SOUND GOOD FACTOR

WITH ACOUSTIC SOLUTIONS FROM ISOVER

The sound good factor is here and you can

build it into every property with Isover

acoustic insulation.

This means you can create homes that sound

as good as they look, while not just passing

acoustic regulations but surpassing them.

For your customers, this means enjoying

every room to the full without the worry

of noise disturbing anyone else. Use Isover

in your next build and see for yourself how

the sound good factor can enhance build

quality and increase sales.

22

Find out about turning sound into

sales at soundgoodfactor.co.uk
---
The only independent insulation industry trade magazine

Insulate Magazine

Working to the

Right Standard(s)

U-values are an integral part of everyday life for the construction industry. Sometimes the

success of a project can hinge entirely on hitting the thermal targets for the building's

envelope. By extension, that magnifies the importance of proving a specification's ability

to meet its target - and being able to trust in the answer provided. By Insulate Magazine.

Which is where U-value calculations come in: all-important pieces of paper providing the required proof.

There are many and various standards relating to calculations, so for the purposes of providing an overview

we've used those listed by the British Board of Agrément (BBA) as applicable to their 'Scheme for

U-value Calculation Competency' as a framework.

ISO 6946

For all that this international standard might be

seen as defining how the majority of U-value

calculations are done, it is actually surprisingly

narrow in its scope. The document's own text

limits itself to walls and roofs!

Nevertheless, it forms the basis for many of

the calculations that insulation manufacturers

and energy assessment professionals produce,

supplemented by a variety of other guidance

that we'll come to shortly. Known as the 'combined

method', ISO 6946 describes a simplified

tool capable of establishing the performance of

constructions for the purposes of comparison,

or helping determine compliance with thermal

regulation targets.

A detailed calculation method is also referred to,

defined in ISO 10211. Numerical modelling carried

out to that standard uses specialist software

and tends not to be a widely-offered service, so

we're not going to cover it in detail here. However,

when the majority of calculations are done

the 'simplified' way, it is easy to forget there are

alternative, more complex methods which provide

additional data such as minimum surface

temperatures. Obtaining a calculation done using

the combined method is relatively straightforward

- but that isn't to say it is always the most

appropriate method.

23

www.insulatenetwork.com 23
---
Ignoring complexities in a proposed construction

for the sake of convenience, and trying

to represent them without using numerical

modelling, risks making the calculation result

unrepresentative of what will be achieved in

practice.

So what does ISO 6946 allow for?

It is best suited to building elements with layers

of consistent thickness and uniform thermal

properties ("homogenous layers"), but also

provides ways of dealing with inhomogenous

layers. It can include for the thermal properties

of air layers up to 300mm in thickness,

but can't allow for metal components bridging

insulation layers.

There is a correction factor available for metal

fixings, however, as well as one for air gaps

in insulation layers; if these corrections total

more than 3% of the calculated U-value then

the result is amended to reflect the impact on

performance. Finally for the purposes of this

overview, there is an annex describing how

tapered insulation layers can be calculated,

providing a means of establishing the thermal

transmittance of cut-to-falls roofing schemes.

While ISO 6946 describes how to carry out

combined method calculations, it doesn't offer

much guidance on what to include in them...

BRE Report BR 443

… which is where this free-to-download

document comes in, providing essential information

appropriate conventions to use when

calculating U-values. It should be familiar to

anybody who provides a calculation service.

24
---
www.insulatenetwork.com

The report is being revised to reflect new and

updated practice, but at the time of writing the

2006 edition remains current.

BR 443 is also listed as a 'source of data' by the

BBA, along with a couple of other standards,

current BBA certificates, and recognised declarations

by manufacturers.

If specific material data is missing from a particular

specification, these data sources can provide

appropriate assumptions to maintain a level of

accuracy in the calculation.

ISO 13370

Here is the standard that complements ISO 6946

and provides the means of calculating heat loss

through ground floors, or what is described in

the standard as the "three-dimensional nature"

of heat flow in the ground. It applies to slab-onground

constructions and ventilated suspended

floors.

Heat transfer into the ground is affected by the

thermal properties of the ground itself, the area

of the floor, and the perimeter of the floor including

thermal bridging at its edge. If you request

a ground floor calculation you will be asked for

measurements of the floor's area and length of

exposed perimeter for this reason.

BRE Digest 465

This Digest, developed jointly by the BRE and the

Steel Construction Institute, provides a methodology

for calculating the thermal transmittance for

warm, cold and hybrid steel frame constructions

that otherwise fall outside the scope of ISO 6946.

Validated by detailed calculations to ISO 10211,

it allows a simplified method to be incorporated

into common software tools and provides a

means of assessing steel frame constructions

more widely.

SCI Information Sheet P312

This information paper also adapts the procedure

in ISO 6946; in this case, to provide a relatively

simple means for calculating built-up metal roof

and wall cladding constructions featuring rail and

bracket spacers. The differences in calculation

method account for a compressed insulation

layer, as well as the impact of linear and point

thermal bridging due to metal components and

fixings, all validated by calculation to ISO 10211.

BRE Information Paper IP 10/02

Another document dealing with the effect of

metal components on insulation layers, this paper

offers a method for determining the thermal

performance of insulated double skin metal roof

and wall systems that incorporate 'z' spacers.

It accounts for the thermal bridging of the metal

connectors between the inner liner and outer

sheet.

In Conclusion

For all the talk of 'simplified methods', calculating

U-values remains a largely specialist activity. If a

calculation says a certain result will be achieved

then the majority of readers will assume it to be

correct. The quality of a calculation depends as

much on the information provided at the outset,

and the ability of the person doing the calculation,

as it does on the standard used to perform

the calculation. Which is why, next month, we will

look at some typical calculations to illustrate how

they display their data.

25
---
The only independent insulation industry trade magazine

Insulate Debate

Warm Flat Roofs

are Simply the Solution when it

Comes to Quality and Performance

warm flat roof, correctly designed, specified and built, is one of the simplest construction

A elements of the building envelope, writes Paul Forrester, Technical Services Manager at

PIR insulation manufacturer, Recticel. However, its performance remains reliant upon a basic,

but essential value: high-quality workmanship.

Structural deck, vapour control layer, insulation

and waterproofing combine to create a warm flat

roof; the perfect example of a fabric-first

approach in action. It's a tried-and-tested

solution, not least because it keeps the roof

structure at or around the same temperature as

the building interior. This eliminates the

possibility of condensation occurring - which

could otherwise cause deterioration of the

structure - and ensures the roof performs for the

building's intended lifespan. And yet questions

such as, "Does a roof need a vapour barrier?"

continue to be asked, highlighting that

misapprehensions remain about the

ramifications of flat roof design. Too often, poor

roofing performance results from a lack of

awareness good-practice principles.

A warm flat roof, correctly

designed, specified and built,

is one of the simplest

construction elements of the

building envelope. However, its

performance remains reliant

upon a basic, but essential

value: high-quality

workmanship.

26

insulatenetwork
---
www.insulatenetwork.com

Space Consideration

Compromises can also be

caused by on-site constraints,

a good example being that of

hybrid roofs. Imagine a flat roof

constructed on timber deck

and joists: it's not surprising

that people sometimes look at

the space between joists and

wonder if it can be filled with

additional insulation. If there is

a restriction on the thickness

of insulation that can be

accommodated above the

structure, then the temptation

to utilise the extra space is

even greater.

However, problems can

occur if a standard warm roof

is designed and constructed,

but with additional insulation

incorporated below the deck.

Not only is a vapour barrier or

vapour control layer (VCL), a

vital component of the roof, it

must be correctly positioned -

on the warm (internal) side of

all the insulation. There are

numerous reasons why

incorrect placement of

insulation relative to the VCL

should be avoided, perhaps

best summarised in the

foreword of BS 5250:2011 +

A1:2016 Code of practice for

the control of condensation in

buildings, which states:

'Bearing in mind that

occupants often fail to use

buildings

There are numerous reasons

why incorrect placement of

insulation relative to the

Vapour Control Layer (VCL)

should be avoided

in the manner intended, be it by choice, lack of

understanding or force of circumstance,

designers are advised to err on the side of

caution and adopt robust, fail-safe solutions.'

Label with care

To that end, section H.2 of the standard lists

three acceptable scenarios for the placement of

insulation in a flat roof: cold roof, warm roof and

inverted roof. Nowhere does it support the

design and construction of hybrid flat roofs.

Some insulation manufacturers, however, are

happy to advocate hybrid constructions, usually

when the balance of the two insulation

thicknesses is considered to be "correct", i.e. the

layer of insulation between the joists does not

have higher thermal resistance than the layer of

insulation installed over the deck.

A condensation risk carried out in accordance

with the method detailed in BS EN ISO 13788

insulatenetwork

27
---
www.insulatenetwork.com

- Hygrothermal performance of building components

and building elements - may appear to

show no risk. However, the fact that BS 5250

does not support the construction type means

that we believe insulation manufacturers should

label any condensation risk analysis for a hybrid

flat roof as 'not recommended'.

Consider as well another reason to doubt the

appropriateness of this analysis of a hybrid flat

roof solution. Section 4.2 of BS 5250 states: 'BS

EN ISO 13788 considers only the risks

arising from the diffusion of water vapour through

the building fabric; it does not take account of

the much greater risk of condensation occurring

as a result of air leakage, which

transports water vapour through gaps, joints and

cracks in the building fabric.'

By its very nature, a hybrid roof that features

insulation fitted between timber joists

introduces the potential for air gaps. Section

A.3 is clear that, 'the rate at which moisture is

transported by air movement, where it occurs,

is much greater than that of transportation by

diffusion.' A condensation risk analysis cannot

adequately allow for the standard of

workmanship, and a high level of workmanship

in itself would not mitigate potential issues.

If anybody is to make a judgement on the

levels of workmanship, and whether it makes the

construction method any more acceptable for a

particular project, it should be the

designer, building inspector or end user. The

insulation manufacturer can advise on the

interpretation of a condensation risk analysis

for a hybrid roof, but first and foremost should

promote the fundamental principles of good roof

design outlined in BS 5250.

the correct VCL position, some might ask if a

hybrid roof is acceptable if the VCL is moved to

ceiling level behind the internal plasterboard

finish. While technically that might satisfy the

basic requirements, we would urge practical

thinking: are light fittings or other services going

to be installed in the ceiling? Can the continuity

of the VCL – vital to its performance – be

guaranteed?

It only takes the building's next owner to want to

change something and that VCL could be

compromised as part of any works to the ceiling.

Will anybody make sure it is restored to its

original condition? If a VCL cannot be relied upon

to mitigate the risk of condensation then the roof

design cannot be considered appropriate, and

there are precious few alternative

solutions.

Despite the best efforts of many to promote the

advantages of service voids – airspaces between

ceiling and VCL, where services can be installed

and the ceiling altered without risking the

integrity of the VCL – few seem willing to employ

them. There are several reasons why: extra time

and materials to construct, restrictions on

headroom etc; all of which serve to highlight why

it is best to keep things simple.

One of the positive aspects of a warm roof is that

the VCL can be installed with the

confidence that it will perform for as long as the

roof performs – hopefully for the lifetime of the

building. That's why we referred to it as a good

example of fabric first construction, and it's why

we believe it should always be preferred over a

hybrid alternative.

Considering one of those principles is to ensure

28

www.insulatenetwork.com
---
2017

10–12 NEC BIRMINGHAM

10-12 OCTOBER | NEC | BIRMINGHAM

THE UK'S LARGEST

CONSTRUCTION TRADE SHOW

9 SHOWS UNDER 1 ROOF

650+ EXHIBITING COMPANIES

10,000+ INNOVATIVE

PRODUCTS AND SERVICES

OVER 30,000 VISITORS

DEDICATED OFFSITE ZONE

100+ CPD SESSIONS

AND SEMINARS

FOR FREE REGISTRATION AND EXHIBITING ENQUIRIES PLEASE VISIT

Includes access to these events:

UKCONSTRUCTIONWEEK.COM

2017
---
The only independent insulation industry trade magazine

Insulation News

Product Development in Focus with

New Knauf Insulation Appointment

Insulation manufacturer, Knauf Insulation,

has appointed a new product manager to

lead the development of its Glass Mineral

Wool range.

Lisa Richardson brings 17 years' experience in

product marketing to her role with the St Helensbased

manufacturer. She joins from Werner Co.

where she was responsible for product managing

its Werner, Youngman and Abru ladder ranges.

Prior to that she, she worked with a number of

product categories, including hand tools, personal

protective equipment, security and plumbing

fittings.

In her new role, Lisa will be responsible for working

with customers to grow Knauf Insulation's glass

product range, which includes Supafil, its blowing

Glass Mineral Wool, OmniFit, its multi-application

product, and its DriTherm cavity slabs.

develop its offering even further."

Steve Smith, Marketing Manager at

Knauf Insulation, said:

"Customers are now seeking opportunities to find

alternatives to PIR insulation as the shortage of the

material continues. Lisa's appointment will allow us

to continue to work alongside customers to deliver

new systems and solutions."

In March this year, the company announced it was

partnering with Veolia to develop a £10 million

recycled glass processing facility in St Helens. This

end to end process supports the strategies of both

companies in regards to sustainability, recycling

and preserving scare raw materials.

Lisa said:

"Knauf Insulation is well known for its heritage of

innovation in both the Glass and Rock Mineral

Wool markets. Its proprietary ECOSE binder technology

is just one example of the way the business

leads the market.

"It's an exciting time to be joining the UK's largest

Glass Mineral Wool manufacturer and working to

30 www.insulatenetwork.com
---
2017's Unmissable

Insulation Event

NIA Annual Conference

7 th December 2017

JURYS INN HINCKLEY ISLAND HOTEL, HINCKLEY

BOOK YOUR PLACE TODAY

Contact the team today to book your place at the 2017 National

Insulation Association (NIA) Annual Conference and Black Tie Gala Dinner,

receive more information on exhibition sponsorship opportunities or

reserve a table at the Gala Dinner. We look forward to you joining us!

maeva.robson@nia-uk.org | 01525 383 313 | www.nia-uk.org
---
The only independent insulation industry trade magazine

Insulate Columnist

How Smart Meters can Help

Your Small Installation Business

to Make Big Energy Savings

Insulate Magazine columnist Claire Maugham,

Director of Policy and Communications at Smart Energy GB

Britain is getting smarter. Our country

is working together to build a greener

and more energy efficient future.

There has never been a better time for small

businesses in the installation industry to get

involved.

Smart meters are available to every household in

Britain, but did you know that many small

businesses can also upgrade to the new system?

According to the Department for Business,

Energy and Industrial Strategy, the average SME

could reduce its energy bill by 18-25 per cent by

installing energy efficiency measures. It is reported

that this would result in an average return on

investment in less than 18 months.

Smart meters automatically send accurate meter

readings, and show you exactly how much energy

you're using, in near-real time and in pounds

and pence. Helping you to budget, manage, and

keep track of your energy costs.

With the construction industry as a whole making

up around 18 per cent of all small to medium

enterprises in the UK, smart meters, if adopted

by all, could save the sector £10million a year on

current usage.

In addition to monitoring energy use with a smart

meter, there are also other measures you can

take to prevent energy waste. Smart Energy GB

have worked with the Carbon Trust on a full list of

energy saving tips specifically for small businesses

in the construction industry, detailed right.

32 32
---
www.insulatenetwork.com

If your business has fewer than 10 employees,

you may be eligible to upgrade to a smart meter

at no additional cost; others may need to pay

a small charge for the installation or access to

data.

Your supplier will tell you about any charges up

front. Contact your energy supplier today about

arranging your installation.

Dr. Paul Swift from the Carbon Trust

gives his tips on how construction firms can get smart about energy.

Make smart plans: Be ready to advise clients on how to reduce their future energy bills, through options

such as LED lighting or choice of building materials. Get smart meters installed in new builds.

Look after your tools: Use tools according to guidelines and only run them when needed. Badly

maintained equipment uses more energy and is more likely to fail, so get them regularly PAT-tested and

clean filters and air intakes.

Energy management: Install controls that allow you to turn off site areas not in use. Ensure any damaged

cables or unused connections are removed. If you need a generator, size correctly to prevent wasting money

on fuel.

Understand your energy consumption: Getting a smart meter installed on your business premises helps

track energy costs and budget spend. Use your smart meter to identify patterns, find unexpected spikes

and encourage energy saving both on and off site.

Scheduling: Plan to use equipment in one run, rather than a series of bursts. Get a temporary

connection to the electricity grid as soon as possible!

insulatenetwork 33
---
The only independent insulation industry trade magazine

Insulate Columnist

A Strategic Approach to Energy

and Sustainability Statements

Balancing environmentally sound

proposals with commercial viability

can present a number of challenges

and is further complicated by planning requirements.

With many local planning authorities

now requiring an energy and / or

sustainability statement to be submitted as

part of a planning application, Darren Evans

of Darren Evans Assessments explains why

a well prepared, professional statement will

play a critical role in ensuring planning

consent for a site.

The purpose of the planning system is to contribute

to sustainable development, which has

economic, social and environmental dimensions.

The main aim of an energy and or sustainability

statement is to promote high standards of design

and to reduce the environmental impacts of new

developments. The requirements of these statements

are set regionally and will differ from council

to council across the UK.

An energy statement will involve demonstrating

a specified reduction in energy demand or CO2

emissions beyond building regulations. This is

usually through the use of onsite renewable or

low/zero carbon technologies with examples

including solar PV, solar thermal, air / ground

source heat pumps and biomass boilers.

A sustainability statement will incorporate these

reductions but include additional requirements

such as flood risk assessments, water consumption

targets, transport and cycle storage, on site

recycling, district heating connections and in

depth feasibility studies for additional renewable

and low/zero carbon technologies.

A Local Plan

With regional differences in requirements for energy

statements the point could be argued that

these planning policies do not go far enough in

terms of sustainability. For example, Bristol City

Council require a 20% reduction in CO2 through

on site renewable technologies whist the bordering

council South Gloucestershire has no requirements

for an energy or sustainability statement.

A good example of where planning policies are

going further in terms of sustainability is London

where all new housing must follow the guidelines

of the London plan, regardless of which borough

the development lies.

The London plan requires that a sustainability

statement must be undertaken which amongst

other requirements demands a 35% reduction in

emissions over building regulations. Interestingly,

this does not have to be through renewables or

low/zero carbon technologies, although it is very

difficult to achieve solely through a fabric first

34 www.insulatenetwork.com
---
www.insulatenetwork.com

Design for Energy Efficiency

approach. The planning departments which fall under

the London plan can then dictate if they choose to,

reductions through the use of renewable technologies

or other polices such as communal heating systems

or the ability to connect to future district heating

schemes.

"Most projects that come to us for sustainability or

energy statements will not initially meet the requirements

outlined in the local planning policies and we

will propose different options on how to comply that

work with the development both practically and financially,"

commented Darren Evans.

Some contractors will want to avoid these policies for

varying reasons, some genuine and some not. In this

case, the approach taken is to try and demonstrate

the reduction through a fabric first approach which is

achievable in some areas but as previously mentioned

in London can be very difficult. It also varies from region

to region as to whether a development meeting

the targets through the building fabric and no renewables

will be approved through planning. However,

more often than not the requirements will be strictly

enforced.

Meeting Energy Targets

With many councils requiring schemes to provide

minimum performance against BREEAM, contractors

are not always up-to-speed on what is required for

this standard and at what stages things need to be

completed. This applies to non-domestic buildings

over 1,000 m2 and the condition is either Very Good

or Excellent and that is what needs to be met.

35
---
The only independent insulation industry trade magazine

Darren Evans Assessments

The project teams are not always forthcoming

with BREEAM evidence, and often when they

do send evidence in it is incorrect or

incomplete. With the other pressures of the

build, the BREEAM requirements seem to be a

low priority and it is left until the 'last minute' to

get information back to the assessor therefore

making it harder to gather the evidence and

incurring a higher risk of losing credits, which

results in not meeting the necessary BREEAM

rating. This causes great stress to the design

team and even the end client.

In an ideal situation from a sustainability

point of view there should be a requirement

that a given percentage of a dwellings

total energy demand needs to be provided

through on site renewables.

To tackle this, the client could appoint a BREEAM

Accredited Professional /Sustainability

Champion at the early design stages and

throughout the project to ensure the whole

project team are aware of what is needed and

guarantee the design team incorporate the

necessary details into the design drawings and

specifications. This person should also

proactively gather the required information from

the various design team members. This will make

it easier for the Design Stage assessments to be

completed and allow contractors to focus on the

Post Construction Assessment. They can

highlight particular credits where evidence needs

to be collated throughout the project.

member who is dedicated to BREEAM evidence

collation to ensure BREEAM credits are not lost,

so any day-to-day issues or changes can be

assessed. Having regular BREEAM team

meetings, either by phone or in person, to check

the process is moving forward will ensure it

remains a high priority throughout the project.

A Future Policy

To improve the planning situation in relation to

energy and sustainability in the built environment,

it would be beneficial to see a nationwide

policy rolled out which set out the requirements

for these planning conditions. This way it would

not come as a surprise to developers that they

need to include renewable and low/zero carbon

technologies with every development. In an ideal

situation from a sustainability point of view there

should be a requirement that a given percentage

of a dwellings total energy demand needs to be

provided through on site renewables.

For any support on your projects regarding

energy and sustainability, please get in

touch with us at www.darren-evans.co.uk

Contractors could appoint a project team

36 www.insulatenetwork.com
---
THE SHOW FOR PEOPLE WHO BUILD

100+

EXCLUSIVE

PRODUCT

LAUNCHES

FREE TO

ATTEND

10 - 12 OCT 2017 • NEC BIRMINGHAM

Discover 10,000+ innovative products and services from 650+ exhibitors

Join 30,000+ Contractors, Developers, Housebuilders and Local Authorities

GET YOUR FREE TICKET

buildshow.co.uk

IN ASSOCIATION WITH:

PART OF UK CONSTRUCTION WEEK 2017
---
The UK's Only Exhibition Dedicated to the Insulation Industy

Industry Events

Discover the Unique Innovation Trail

at UK Construction Week

UK Construction Week, the largest gathering of the UK's built environment community, is

set to return to Birmingham NEC from 10 – 12 October. The show promises to be the

largest and most impressive yet, with an anticipated 35,000 visitors and more than 650

market-leading exhibitors aiming to showcase the most pioneering products, services and

working practices.

The construction industry is one of the most

innovative industries, with new ways of working,

sustainable products, collaboration and continually

evolving technologies. UK Construction Week

is set to prove this once more with the Innovation

Trail - a trail that will bring together the very latest

products and services that are changing and will

change the way we build.

The Innovation Trail will include the latest in

Mobile Mapping from Central Alliance. Central

Alliance is the first surveying company to offer the

ground-breaking ROBIN LiDAR mapping system

that provides three alternative mounting options

rolled into one solution, allowing the user to map

a variety of areas via walking, driving or flying.

Graphene will showcase its

3D printed graphene shoe with

pressure sensor. This is an example

of how adding graphene

to pre-existing materials can

increase its functionality. At the

least, this demo needs a lap to

count the step on the pressure

sensor.

Texo Drone will introduce

advanced UAV services for

construction surveying – the

world's first UAV integrated survey-grade

LiDAR system.

Solisco will showcase its innovative

Solar EV-Port Systems

that offer a balanced solution to

power cars with renewable energy

whilst helping to balance

the grid.

On display at UK Construction

Week is the

Clevertouch Pro 4k interactive

touchscreen, which is

tantamount to having a large

tablet on the wall encompassing

a digital whiteboard, annotation

app, browser, access to

files and documents, as well

as a save and email function.

It produces a stunning image

incorporating 955% more pixels

than a data projector. It's a

display you won't be able to

miss.

38 www.insulatenetwork.com
---
www.insulatenetwork.com

Designer and manufacturer of heating and hot water

systems, Ecovolt will be showcasing its JouleTherm

CeP product, in which technology turns

a standard plasterboard wall into a very efficient

radiant heater using a special conductive paint.

The company will also be exclusively launching its

JouleTherm H20 Hybrid Hot Water System that

can turn waste heat into stored hot water through

mechanical ventilation. If that's not enough, Ecovolt

will also display its JouleTherm JTR Electric

Ceramic Heating System with multizonal central

control technology.

Potterton Commercial, division of Baxi Group

Ltd, will showcase its new 'Assure'

range of boilers for social

housing. Visitors can learn

about how the product was

developed in partnership with

landlords and contractors,

which resulted in the boilers

incorporating useful safety and

energy-saving features, while

remaining quick and

easy to install.

Introducing the new living comfort control system

LUXORliving is the new flexible comfort control

from Theben, offering all-round home comfort

without the complexity of many

smart home systems.

Switching and dimming

lights, regulating the

heating and controlling

shutters, blinds or curtains

are just a few features.

walls, internal walls, cladding and flooring.

And last but by no means least, 3THERMO will

showcase the world's first hybrid concealed heating

system at HVAC 2017.

Other companies confirmed to participate in

the Innovation Trail include Kirona, Durisol,

PowerCem Technologies, Safety Point and

Sound Impact.

Consisting of Build Show, sponsored by EasyTrim,

Timber Expo, Civils Expo, Plant & Machinery Live,

Energy 2017, Smart Buildings 2017, Surface &

Materials Show (featuring Kitchens & Bathrooms

Live), HVAC 2017 and Grand Designs Live, UK

Construction Week caters for the entire spectrum

of the industry from builders, architects, innovators

and consultants, each show provides exhibitors

with the opportunity to network alongside

decision makers and purchasers while showcasing

their services and products to thousands of

visitors.

For more information and free registration

visit www.ukconstructionweek.com.

ZIP panelling, a technical revolution in construction.

The product is a lightweight composite

panel board designed for use in building

construction for external walls, party

insulatenetwork 39
---
WWW.INSULATENETWORK.COM | @INSULATENETWORK