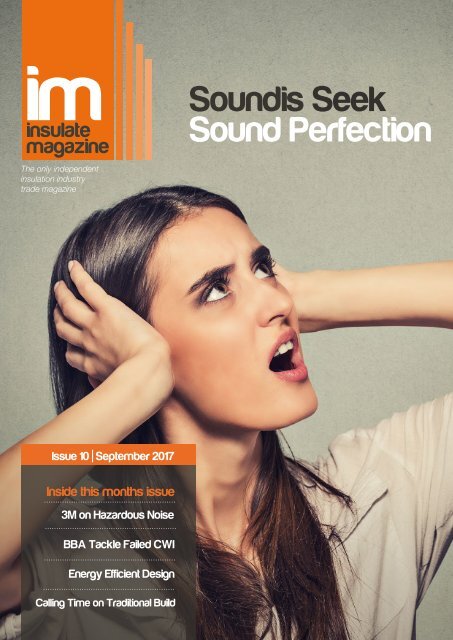 Insulate Magazine Issue 10 - September 2017
Sound and acoustic insulation experts Soundis Sales Director Richard Hillman discusses the company history, product developments and more in an exclusive interview.
Sound and acoustic insulation experts Soundis Sales Director Richard Hillman discusses the company history, product developments and more in an exclusive interview.
SHOW MORE
SHOW LESS
Create successful ePaper yourself
Turn your PDF publications into a flip-book with our unique Google optimized e-Paper software.
Soundis Seek

Sound Perfection

The only independent

insulation industry

trade magazine

Issue 10 | September 2017

Inside this months issue

3M on Hazardous Noise

BBA Tackle Failed CWI

Energy Efficient Design

Calling Time on Traditional Build
---
www.insulatenetwork.com

Published on a monthly basis by Versanta ltd

Corser House, 17 Geen End, Whitchurch, Shropshire, SY13 1AD

Call 01948 759 351

Outside of the UK +44 1948 759351

Monday - Friday 9am - 5.30pm

Website: www.insulatenetwork.com

Email: sales@insulatenetwork.com

SUBSCRIPTION INFORMATION

Anyone can subscribe for free online at www.powerboatracingworld.com/subscribe

or by phone on 01948 759 351.

Subscriptions are available around the world free in digital format.

Print subscriptions are available around the world, please call us for

a quote or email us on sales@insulatenetwork.com

Our subscriber list is occasionally made available to very carefully

selected companies whose products or services may be of interest

to you. Your privacy is of paramount importance to us and should

you prefer not to be part of these lists then please email your details

and a short message to sales@insulatenetwork.com

CLASSIFIED ADVERTISING

Rate: No photo classified £25 for 20 words, each additional word

costs £1. All classified advertising must be paid in advance. We

must receive your classified advert at least two weeks prior to the

publication date.

WE DO NOT ACCEPT PHONE IN CLASSIFIED ADVERTISING

In the first instance, email your advert to sales@insulatenetwork.

com and await your invoice, once payment is received our design

team will clarify the advert insertion with you directly. CLASSIFIED

ADVERTISING APPEARS IN PRINT AND ONLINE. WE ARE NOT

RESPONSIBLE FOR ERRORS AFTER PROOFING AND INSER-

TION.

DISPLAY ADVERTISING.

Contact one of our sales staff to discuss your requirements on

01948 759 351. Publisher reserves the right to reject any

advertising that in its opinion is misleading, unfair or incompatible

with the character of the magazine.

We adhere to the IPSO code of practice for editors. Further information

can be found at www.ipso.org.uk

BACK ISSUES OR REPRINTS

Digital back issues can be foud online at www.insulatenetworkazine.com

For printed editions please email contact@insulatenetwork.com

, there will be a postage charge and handling fee of

£5+VAT for each copy requested.

CIRCULATION

The magazine is sent to 17,000 digitial subscribers per month

Contents

SOUNDIS Seek Sound Perfection

Calling Time on Traditional Build 10-12

BBA Tackle Failed CWI

6-8

14-15

Engage Your Workforce with 3M 16-17

Home Performance with BRUFMA 16-19

Paroc Celebrates Anniversary 24

Load-Bearing All-In-One Jablite 25

Energy Efficient Design 26-27

Keep Aspirations Running High 29-30

CE Marking and BDA Agrement 32-33

©VERSANTA LTD

No part can be reproduced without the express

permission of the publisher

www.facebook.com/insulatenetwork

www.twitter.com/insulatenetwork

www.youtube.com/channel/insulatenetwork

Domestic Enerrgy Asessors 34-35

Unmissable Diary Date 36-39

NIA Annual Conference 40

The UK's only dedicated

trade journal for the insulation industry

3
---
To keep things fresh here at Insulate Magazine, Jamie Street the

Lead Creative for the publication will provide a brief introduction

to the September issue of Insulate Magazine.

Here's what he had to say...

Here we are, double figures. Issue 10. It's incredible how

quickly the time has gone and we find ourselves

reaching quite a significant milestone.

Jamie Street

Creative

Team

Colin Heath

Managing Editor

It's the 6th issue of the magazine I have personally worked on

and it has been great to see the magazine grow in terms of

design and content, but also the enthusiasm for insulate

amongst the industry. It's that positive energy that has helped

us push the publication from strength to strength in terms of

content and the innovative ways we are promoting ourselves.

Long may it continue for the many months and years ahead.

To continue the momentum we are delighted to deliver another

action packed issue. We have a great interview with Soundis, a

highly creative inclusion from BBA as well as discussions points

from our regular columnists 3M, MIMA, BRUFMA, Darren Evans

and more.

We hope you enjoy this issue.

4

www.insulatenetwork.com
---
The only independent insulation industry trade magazine

Cover Story

Soundis

Seek Sound Perfection

Creative Director of Insulate Magazine Jamie Street Speaks to SOUNDIS Technical Director Richard Hillman

On a day to day basis? what is most challenging

about your position

There's not enough time in the day! There are new

opportunities in the market everyday and finding

the time to take advantage of them all is extremely

challenging, but exciting nonetheless.

Trying to juggle opportunities, with unexpected

obstacles is always frustrating but makes achieving

the end goal even more fulfilling.

What do you consider to be the company's

biggest challenge?

Following on from a day of judging for

the 2017 Insulation Awards in

Nottingham, SOUNDIS Sales &

Technical Manager Richard Hillman agreed

to sit down with our Creative Director Jamie

Street to discuss his new role and his views

on the industry.

Richard, the SOUNDIS name may be unfamiliar

to some, can you briefly explain who they are

and what they do?

As our name suggests, SOUNDIS are UK based

acoustic insulation manufacturer. We specialise

in soundproofing systems for walls, floors and

ceilings, whilst also manufacturing a comprehensive

range of acoustic products.

We are really proud of the team we have built

here at SOUNDIS, with all members of the technical

team boasting between 15 and 30 years

experience in the acoustic industry.

We are going through a significant period of growth

at the moment, which is exciting to be a part of.

You have a long standing history in acoustics

and soundproofing, what appealed to you

about the opportunity at SOUNDIS?

For me it is was the opportunity to be a part of a

really exciting project that allowed me to

implement my experience on a range of different

systems and solutions. I was also attracted by

the enthusiasm of the team in place and their

similar aspirations for success. I felt it was an

opportunity that was too good to turn down.

What first attracted you or lead to you being

involved in the industry?

The honest answer would be, if you told me

I would be doing what I am now when I was

sixteen I would probably have laughed at you!

About 15 years ago the opportunity arose to

work for an established acoustic manufacturer.

It was a role that offered a significant challenge

and fast forward 15 years and the new challenges

in the same industry continue to excite me.

We face the same challenges that most UK

manufacturers face given the current economic circumstances

and those on the horizon. However, we

believe that we have put the correct mechanisms in

place with our manufacturing and supply chain processes

to safeguard us against future obstacles.

As we speak, a challenge for us is building

awareness in the market, there are so many

channels of interaction and we are making significiant

strides to be everywhere our customers expect

us to be.

What makes you different from other suppliers of

soundproofing and acoustic products?

We pride ourselves on the fact that all of our systems

are designed and manufactured in-house and being

independently run we have the freedom to adapt to

specific client and customer requirements.

If you told me I would be doing what

I am now when I was sixteen I would

probably have laughed at you!

6

www.insulatenetwork.com

www.insulatenetwork.com

7
---
The only independent insulation industry trade magazine

What makes you different from other suppliers

of soundproofing and acoustic products?

sulphate obtained as a waste product from coal

fired power stations.

We pride ourselves on the fact that all of our

systems are designed and manufactured in-house

and being independently run we have the freedom

to adapt to specific client and customer requirements.

What factors of a project do you find most

challenging, when it comes to specifying

acoustic products?

Well specifying the products is normally the most

straight-forward part, it's actually the build program

and site conditions that cause the most

problems. Circumstances can change as the build

process progresses which requires the ability to

adapt quickly to ensure our involvement allows

the build process to remain as smooth as possible

When it comes to convincing decision makers

to choose your products, what approach do

you find most effective?

An approach that I have adopted throughout my

15 years in the industry is to retain an honest

and transparent approach when presenting clients

options and solutions for their requirements.

I believe there is greater benefit in the long

term from providing all benefits and pitfalls for

specific systems and its an approach that is

adopted across the company.

What efforts are SOUNDIS making to supply

sustainable products?

Wherever possible we aim to supply products

that are manufactured from recycled or recyclable

materials. For example our SOUNDIS Dry Screed

Panel floor system is made from recycled calcium

8

How if it all do you see BREXIT

affecting your business?

www.insulatenetwork.com

As with many manufacturers, we believe it could

lead to potential shortage in labour on-site and in

factories, which is why we are proactively looking

to invest in fully automated production lines

as a means to mitigate the potential shortfall in labour.

The fallout post BREXIT and the implications

associated with things such as product testing

standards may represent a significant challenge. It

isn't 100% certain at this time whether standards

will remain the same.

What are your ambitions for

SOUNDIS going forward?

As a company we aim to continue to develop

innovative systems and solutions and become

a market leader within our specialist market areas.

We believe we are well positioned to adapt

to changing conditions and challenges, and I'm

excited to have significant involvement in meeting

these ambitions.

To find out more about SOUNDIS speak

to their technical team on 0330 056

3195 or visit their website at

www.sound-is.com

From October (issue 11) Richard Hillman

will be supplying an exclusive monthly

column on topical factors related to

acoustics & soundproofing

as part of the new

db magazine supplement

The UK's Only Exhibition

Dedicated to the Insulation Industry

Showcasing the latest insulation innovations, perspectives & expertise

18th & 19th June 2018 | EMCC Nottingham

Register for your free visitor ticket

Book your exhibitor space

www.insulationexpo.co.uk

@insulationexpo
---
Insulate Debate

The only independent insulation industry trade magazine

It combines the benefits of traditional roofs and

off-site roofs while minimising the downsides of

both, constructed off-site to tighter tolerances

and higher standards.

Modular Systems Calling Time

On Traditional Building Techniques

Off-site construction fits the current requirement for houses being built with speed,

cost-efficiency, the environment - and most importantly - quality, in mind. With the

UK's housing crisis requiring urgent address, building processes such as this could be

key to property supply keeping pace with demand. Indeed, a study by the Modular Building

Institute found modular construction techniques mean a building can be completed ready for

occupation 50% faster than using traditional on-site methods.

Each panel combines breather membrane, counter

battens and roof timber which are prefabricated

offsite in one insulation product. The panel

edges are rebated to form a shiplap joint, therefore

once installed and fixed, the potential air gaps

and cold bridges found in a traditional roof are all

but eliminated.

All this performance within a single system makes

life simpler for specifiers and architects. The versatile

design allows for a much faster installation

with the potential for a standard-style roof to be

watertight within just four hours of the product

arriving on site. Available in five different lengths

up to 6.5m, L-Ments panels can be lengthened

beyond this by joining on an intermediate purlin.

Off-Site More than Speed

The growing popularity in prefabricated

solutions isn't solely based on speed,

however. Off-site manufacture makes for safer

on-site working conditions as it requires

fewer staff and less machinery to install. Modular

solutions can also reduce the potential impact

of bad weather on build times, whilst faster

weatherproofing of structures will reduce delays

for internal trades.

The off-site option offers greater flexibility,

providing buildings that can be reconfigured more

easily to suit changing requirements. Another major

benefit is reduced waste, as according to a UK

Waste & Resources Action Programme (WRAP)

report, off-site construction generates up to 90%

less discarded material, emphasising its cost-effectiveness.

Innovative Solution

The insulation industry is constantly looking for

innovative solutions to ensure buildings comply

with regulations. A recent addition to support the

off-site approach is Recticel's innovative L-Ments;

the pioneering room-in-a-roof system which can

be installed making the building watertight in a

matter of hours rather than days or weeks.

The unique system applies the ethos of 'Modern

Methods of Construction' to traditional insulation

solutions. Rather than cutting insulation boards

to fit between the timbers or trusses of a pitched

roof which can lead to thermal bridging and

lower performance, a panel is manufactured on a

PIR production line incorporating structural

timbers within the panel.

Once produced, they are transported to site as a

ready-to-install element with breather membrane

and counter battens already installed. Its PIR insulation

core offers a thermal conductivity of only

0.023 W/mK, making it among the most efficient

insulation products available.

10

www.insulatenetwork.com

11
---
The only independent insulation industry trade magazine

The first project in the UK to use L-Ments was

based in Burley in the heart of Hampshire's New

Forest, where it was applied in the construction

of a self-designed and built new home to

near-zero carbon standards.

Despite the persistence of some inclement

weather and the contractor having no experience

of the system, 25 panels (195m2) were installed

in under seven hours. Also, the asymmetric roof

design incorporating two different pitches was

easily accommodated during installation.

Fast Flexibile Option

Whether a project is new-build or refurbishment,

as long as there is a supporting gable end and

purlins to fix the panels to, L-Ments is the option.

The panels are delivered to site in a similar fashion

to trussed rafters that most contractors are

familiar with, which can then be lifted or craned

into position.

Once installed, the remainder of the housebuilder

trades can then be swiftly commenced speeding

up the process to a finished build. As the

L-Ments panels include the breather membrane

and counter batten, fewer materials need purchasing

and stored on site. In line with traditional

construction, L-Ments can accommodate both

dormer windows, solar panels and a faster, easier

fit solution for rooflights. As a system, it provides

a thoroughly modern roof without the need

to learn difficult new techniques.

Kevin Bohea, Recticel's Commercial

Director commented:

"L-Ments, with its speed of installation and

outstanding thermal conductivity provides

room-in-a-roof living space cost-effectively;

making it increasingly difficult to argue against

prefabricated practices becoming more prevalent

in future building projects. Offsite progression

could be crucial to creating modern

energy-efficient homes at the speed the country

so urgently needs.''

SIG360 work with us

on site, to ensure we

not only meet our

client's needs but

exceed them.

NEIL HARRISON

HARRISON PROJECTS

AN SIG CUSTOMER

BUILD YOUR NAME ON US

Providing impartial

product advice

The SIG360 Technical Centre is a service offering from SIG, that focuses on helping customers

deliver energy efficient buildings.

Through an intimate knowledge of building regulations and product performance, brought

about through more than 50 years specialising in the energy efficiency of the fabric of a

building, the SIG360 Technical Centre is able to make cost effective and impartial product

selection to ensure the best energy performance can be achieved.

The service provided includes energy statements, U value calculations , condensation risk

analysis, thermal modelling and SAP assessments leading to EPC certification.

12

www.insulatenetwork.com

If you are seeking impartial advice on the fabric energy efficiency of your building contact

SIG360 Technical Centre.

For guidance you can trust call 0844 443 0059

email 360enquiries@sigplc.com or visit www.sig360.co.uk

Talk to the SIG360 Technical

Centre at the start of your project

for a 360 o view of cost effective

and energy efficient home building
---
www.insulatenetwork.com

The only independent insulation industry trade magazine

Read All About It!

Read More from the BBA:

The Top 5 Reasons Products Fail

(Insulate Magazine, Issue 9)

Insulate Magazine Issue 10 - September 2017

Hot news - The BBA is set to tackle failed

cavity wall insulation problems once and for all.

Recent times have seen an increase in news items featuring problems

experienced by some UK home dwellers caused by cavity Wall Insulation.

It's a subject much in debate at present, with questions being asked in parliament

as well as on radio programme discussions and in topical trade magazines.

First invented in the 19th century and

introduced in its current form into general

housing during the 1970s, cavity wall insulation

is arguably one of the best heat and

energy saving developments in history.

However, during the last 30 years the

number of products and installation

methods have increased significantly, and

there is growing confusion as to best

practice and what's actually

right for householders.

Some time ago It became clear to the

British Board of Agrément (BBA) that,

in some cases of cavity wall insulation

retrofit, consumer confidence is being

undermined by the fact that insulation is

being installed into properties which are

unsuitable.

To address the problem and bring peace

of mind to consumers, the BBA has developed

the Cavity Assessment Surveillance

Scheme (CASS®), which monitors

the competency of Property Assessors

responsible for overseeing

these interventions.

CASS team leader at the

BBA, Alice Buckeridge,

explains how it works:

"CASS® will check the suitability of properties

submitted by Property Assessors for

cavity wall insulation at the beginning

of the process, and provide independent

third party validation of suitability.

This results in procedures that ensure all

BBA approved installers obtain the

necessary guarantees that determine the

best possible outcome for insulation

retrofits, considerably reducing the problems

associated with inadequate evaluations at the outset."

Technical experts at the BBA are highly experienced in

the certification of products and services in the building

and construction industry.

The CASS® scheme has been put in place to harmonise

with the BBA's traditional practice of raising and maintaining

industry standards, while helping to address

inconsistencies that have become increasingly worrying

for those operating in the property and housing sector,

Local Authorities and Housing Associations, the

industry as a whole and of course to house dwellers

everywhere who are making difficult decisions about

improving their homes.

...consumer confidence is being undermined

by the fact that insulation is being installed

into properties which are unsuitable.

14 www.insulatenetwork.com

www.insulatenetwork.com

15
---
The only independent insulation industry trade magazine

Health & Safety

Engaging your workforce

for a safe environment

Insulate Magazine columnist George Elliott, a technical specialist at science-based technology 3M,

offers advice for protecting workers against hazardous noise

Excessive workplace noise can pose a major health risk to workers within the insulation

industry who are exposed to it for long periods. In the UK, some 20,000 people suffer

from deafness, tinnitus or similar ear conditions as a result of loud noise at work,

according to the Health and Safety Executive (HSE). These conditions, which are irreversible

yet entirely preventable, can also trigger further health issues, such as insomnia.

For these reasons, the Control of Noise at Work Regulations 2005 require employers to eliminate

or reduce risks to health and safety from noise at work. Whether installing insulation

on site or manufacturing it in the factory, employees in this sector are often working in close

proximity to potentially hazardous noise. 3M has devised a four-step approach to combating

noise hazards and helping to protect employees against work-related hearing loss.

Detection

Noise levels should be assessed regularly. If exposure

reaches 80 decibels (dB), employers are

legally bound to start taking action.

The first step towards eradicating noise concerns

is to carry out a workplace assessment to determine

any problems with hazardous noise.

Usually, if employees need to raise their voices

when speaking to one another, or if the noise is

otherwise intrusive, it is likely that sound levels are

too high and causing harm.

Accurate noise measurements can help determine

which noise control methods to use as a result.

Protection

If it is not reasonably practicable to reduce noise

to safe levels through other means, hearing protection

should be made available.

When selecting HPE, it is vital to ensure that it

provides adequate protection for the noise

hazard and is also suitable for the wearer, the

task and the workplace environment.

Overall suitability is about comfort, user preference,

compatibility, hygiene considerations, product

maintenance requirements and many other

factors. If HPE is not suitable, workers are more

likely to remove it or wear it incorrectly.

In order to aid compliance, workers should also

be offered a range of HPE and be involved in

the selection process.

It is also crucial that employees still maintain

situational awareness and can hear essential

communication while wearing HPE.

Choosing hearing protection with the greatest

noise attenuation (protection) is not necessarily

the best solution.

Employers should also consider whether or

not HPE is compatible with any other personal

protective equipment (PPE) being worn. For instance,

large bulky temple arms on spectacles

can decrease the effective protection offered

by ear muffs by compromising the seal created

between the HPE and the wearer's head.

Training

Training is an essential part of the protection

process, ensuring that workers understand the

hazards around them, when HPE is required and

how it should be used.

They should be shown how to wear the

equipment and be informed of any maintenance

and storage requirements.

In addition, it is vital that adequate training records

are kept in case they are ever called upon

as evidence. This is a critical step that can lead to

costly complications during legal action against

employers.

Validation

The level of protection provided by any given

piece of HPE will differ between users, largely

depending on physical characteristics and

how it is worn.

Fit testing can account for all these factors,

providing quantitative data that demonstrates the

level of protection achieved by each user.

The E-A-Rfit Dual-Ear Validation System from 3M

can test the effectiveness of ear plugs or muffs,

giving accurate results in seconds.

This can greatly help with the product selection

process, reassuring employers that their chosen

equipment is adequately protecting employees.

It is also a great benefit to the training process

and provides an automated record of the fit testing

session's results.

For more information,

call the 3M helpline on 0870 608 0060.

16

www.insulatenetwork.com

17
---
The only independent insulation industry trade magazine

Insulate Columnist

KNOWLEDGE IN INSULATION

Are Homeowners Getting

the Performance they should expect?

Insulate Magazine columnist Simon Storer,

Chief Executive of the British Rigid Urethane Foam Manufacturers Association (BRUFMA)

With large tracts of UK land being held for future development, there is a concern that

when the properties are eventually built they will only comply with building

regulations that were the standard 10 years ago. It begs the question: if homes being

built now already require upgrading to comply with current Part L requirements is the

construction industry creating a greater retrofit challenge for itself than it already faces?

Buying a house which conforms to out-of-date

building regulations is akin to buying a 2016

car with a 10-year-old engine – in both cases

the owner isn't getting what's promised and in

all likelihood will end up disappointed with the

performance. With an estimated 600,000 plots

of land mothballed for future development - the

number of future properties falling short of the

latest standards is likely to increase.

Legislative Loophole

How does this happen? With foundations and

drainage in place, even if it takes a further 10

years for a housing development to be complete,

the finished properties need only comply to

building regulations applicable when initial work

started. The transitional arrangements for

Building Regulations in England allow developers

to build to previous standards, which whilst not

wrong, just makes use of a legislative 'loophole'

that has enabled this to become a common and

accepted practice.

Occupants Lose out

However, it's the building occupants who stand

to lose out when their new property's energy efficiency

falls below current targets. With the size

of the average British family home having shrunk

by 2m2 over the past decade, having to go back

to properties and apply insulation to the interior

However, it's the building occupants who stand to lose out when their new

property's energy efficiency falls below current targets.

wall of an already small room runs the risk of

making a cramped living area even smaller. With

space an absolute premium on many modern,

tightly-knit housing developments, access between

properties can already be tight, making

exterior wall insulation equally as problematic.

Performs as well as it looks

So what options are there for UK house buyers

who want a home which performs as well as

it looks? Smaller development businesses are unable

to buy large tracts of land and its therefore

more likely that they are compelled to comply

with current Part L building regulations.

It's these independent and smaller regional

housebuilders which are striving for solutions

to build homes to the latest quality and energy

standards, so it's not beyond the realms of possibility

such companies will consistently deliver

properties that live up to all expectations.

Comfort of the Tenant

Social housing is another sector where properties

are built to meet, and in many cases, exceed current

standards. From the landlord's point of view,

tenant retention is paramount, hence the need to

maximise a home's performance, and ultimately

the comfort of the tenant.

Although the current UK housing crisis has in

some ways denied the consumer the luxury of

choice, it's important that home buyers are

aware that new and relatively affordable

properties on large-scale housing developments

may come at an additional cost - if your dream

home does not perform as it should, turning-up

the central heating may be the only option, adding

to the environmental impact as well as energy

bills.

Concern for the Goverment

If the average house-buyer is indifferent to a

potential property's performance, it remains a

major concern for the government, which under

the UK Climate Change Act, is committed to

achieve at least an 80% reduction in greenhouse

gas emissions by 2050, relative to 1990 levels.

Developers creating buildings with good-quality,

low-maintenance fabric, rather than focusing on

aesthetics, could help reach that far-off target.

BRUFMA is dedicated to raising the standard of

PIR insulation for walls, floors and roofs. Its

members continue to invest in product

innovation, new technologies and manufacturing

processes, resulting in an efficient range of insulation

products suitable for all applications in both

new build and refurbishment projects.

The government is committed to building 1 million

new UK homes by 2020. Let's hope that all

parties involved – developers, architects, contractors

and local authorities, are as focused on

quality and that the review of all Building Regulations

currently being undertaken takes into

account the outdated transitional arrangements

currently in place.

For more information visit:

www.brufma.co.uk

18

www.insulatenetwork.com

insulatenetwork

19
---
The only independent insulation industry trade magazine

Insulation Awards

BREEAM Sponsor

Inaugural Insulation Awards

The National Insulation Industry Awards

have announced they have won the

ultimate title sponsor in BREEAM, the

world's foremost environmental assessment

method and rating system for buildings.

Top-Line Support from BREEAM

BREEAM's top-line support of the event is

recognition of the fact that these awards have

been a long time coming. But the entries deadline

is close, Friday 25th August, and the organisers

are encouraging last-minute applications for

the 19 categories.

Event founder Colin Heath said:

"To say we are over the moon to get BREEAM

on board to this level is an understatement. It's

a huge endorsement that these awards are long

overdue and much needed by the insulation

industry."

Other supporters to date of the inaugural event

are the NHIC, Graco, the Committee on Climate

Change, Recticel Insulation, BRUFMA, the BBA,

and the National Energy Foundation.

TV celebrity Nick Knowles will host the blacktie

gala dinner on November 30th at the East

Midlands Conference Centre and Orchard Hotel

in Nottingham which is appropriately rated

BREEAM "Excellent".

Judge Kevin Bohea,

president of BRUFMA, said:

"At last, an awards event recognising the very

important contribution that insulation makes to

building performance. I am really pleased to be

supporting an event that will recognise the

importance of insulation in high performance

buildings."

Fellow judge Mike Easdon, Managing

Director of InBuild Solutions, said:

"It is a great privilege to be part of this inaugural

awards ceremony which celebrates and showcases

the work of the insulation industry. For the

first time, companies representing every market

sector from distributors, domestic installers to

commercial contractors, manufacturers and

designers will all come together to demonstrate

technical excellence and the highest standards of

quality and workmanship."

The Rt Hon Lord Deben said:

"I'm so pleased to be judging and taking part in

the National Insulation Industry Awards. The insulation

industry plays a vital part in energy efficiency

and the battle against climate change."

For more information visit

www.insulationawards.co.uk.

20

insulatenetwork 21
---
The only independent insulation industry trade magazine

www.insulatenetwork.com

Insulation News

ROXUL Inc. to Rebrand

to ROCKWOOL in North America

The North American Division of the ROCK-

WOOL Group ROXUL Inc. the largest

producer of stonewool insulation has announced

it will commence a full rebrand to ROCK-

WOOL for all its Insulation business.

80 Years of International Recognition

Marketed internationally for 80 years, the ROCK-

WOOL branding in North America* will take effect

on January 1, 2018. The rebrand will apply to all

segments of ROXUL's North America insulation

business – residential, commercial, roofing, OEM

(core solutions) and technical insulation (industrial,

marine & offshore) – as well as all product lines.

"ROXUL is soon to be ROCKWOOL in North

America," says Trent Ogilvie,

President, ROXUL Inc.

"The rebrand creates a unified identity for our

company, its solutions and benefits on a global

scale. It reinforces ROCKWOOL's position as a

world leader in a diverse range of stone wool

solutions, while unlocking significant potential for

our business."

"This North American transition marks the next

step in our efforts to create a strong global brand,"

says Jens Birgersson,

ROCKWOOL Group CEO.

"The North American market continues to grow in

importance, and the rebranding will strengthen our

ability to meet customer requirements while at the

same time addressing global concerns around

energy consumption, water shortages and the

need for safer, more resilient cities."

NIA Annual Conference

7th December 2017

The BBA gives firm advice on why the testing of building products

can never be a case of hit or miss.

The Insulation Event not to be missed

at the Jurys Inn Hinckley Island Hotel!

To book your place at the event or get more information on the

Exhibition, Sponsorship opportunities or reserving a table at the

Gala Dinner, please contact Maeva.robson@nia-uk.org or call

01525 383313.

Jurys Inn Hinckley Island Hotel, Watling St, Burbage, Hinckley

22 www.insulatenetwork.com
---
The only independent insulation industry trade magazine

www.insulatenetwork.com

Insulation News

Paroc Celebrates

its 80 Year Anniversary

This year marks 80 years since the first

stone wool insulation was introduced

in Sweden. Paroc celebrates its long

history, versatile know-how and expertize in

innovative insulation solutions throughout

2017. This anniversary year is a perfect

moment to reflect on our achievements.

Paroc shares the anniversary year with Finland's

100th anniversary. Lahti2017 FIS Nordic World Ski

Championships is the biggest event during

Finland's centenary celebrations and Paroc will be

an international sponsor of the event.

"We're pleased to have a role in such a significant

international sports event in the year that Finland

celebrates 100 years of independence. The sponsorship

offers a great platform for us to celebrate

Paroc's 80th anniversary as well," says Olga van

Iterson, Paroc Group's Marketing and

Communications Director.

Shared commitment to sustainability through for

example energy and material efficiency boost the

sponsorship cooperation. Lahti2017 aims to be a

pioneer in sustainable event organizing. Similarly

Paroc throughout its history has also worked to

promote sustainable development with continuous

innovation and strive towards a better built environment.

Throughout the anniversary year, Paroc will be

sharing stories and memories from our company's

history via their website.

Load Bearing All-In-One Thermal

Floor System Launched by Jablite

Established Insulation Manufacturers Jablite

have launched a new version of its patented

All-in-One Thermal Floor System. The new

version is BBA-certified for use as a load-bearing

beam and block floor. The new system was developed

by Jablite in response to NHBC Guidance

on the use of reinforcement to concrete toppings

above beam and block floors.

Jablite developed the new Non-Structural Topping

(NST) version of its All-in-One system in preparation

for 1 October 2017. This is the date when the

NHBC is set to order a ban on the use of concrete

toppings with micro-fibres being used on thermal

floor systems. (I.e. a beam and infill floor using EPS

(expanded polystyrene) blocks instead of concrete

blocks.)

Innovative All-in-One System

"This innovative R2 version of Jablite All-in-One

Thermal Floor System gives house builders the

completely-new option of a thermal floor system

that can be used with a 50mm plain concrete topping

and with a range of other concrete toppings

– micro-fibres, macro-fibres, steel fibres or mesh,"

says Wayne Brown, Technical and New

Product Development Director.

"We developed this R2 product in response to the

NHBC Guidance on concrete toppings to give the

market a flexible option that gives them the choice

of which concrete topping they specify"

adds Wayne.

Managing Director Richard Lee said:

"I fully expect the Non Structural Topping version

that we are launching today to be as successful.

It fulfils everything I ask of a Jablite innovation; it

demonstrates our commitment to technical excellence,

new product development and world class

customer service,"

24 24

www.insulatenetwork.com

insulatenetwork 25
---
The only independent insulation industry trade magazine

www.insulatenetwork.com

Insulate Columnist

Energy Efficient

Architectural Design

Insulate Magazine columnist Darren Evans,

Managing Director, Darren Evans Assessments

When you consider the global population

is set to increase by another 2

billion by 2050 and with 70% of the

world's population living in cities, there will

an unprecedented demand for energy across

the planet. The opportunity for architects and

stakeholders to create buildings which reduce

energy use has never been more apparent.

But can energy efficiency be achieved whilst

still maintaining architectural intent?

One of the key challenges for architects is working

in any way that is inclusive to others so that energy

performance can be achieved. Once this challenge

is overcome, it's possible to look at what needs to

be achieved in terms of design and energy performance,

and then endeavour to make it happen.

Environmental Integrity

The environmental integrity of any building, both in

terms of design and operation, must be a key consideration

in the design of new buildings and the

renovation of existing ones. More and more architects

and designers are realising that if you design

to be energy efficient it improves quality of life and

minimises the harmful impacts on our health. At the

same time, clients are reaping the benefits of more

environmentally responsible buildings through

future-proofing, reduced operating costs, and comfort

and health benefits.

Design for Energy Efficiency

Sustainability and environmental objectives can be

made a priority in every building design and as such,

the thermal performance of the building envelope can make a significant

contribution to reducing the overall building energy usage. The use of

renewable energy sources such as wind, geothermal and solar along with

the orientation of a building to take full advantage of seasonal changes in

the sun's position are all important steps that can be taken to design for

energy efficiency.

Indoor environmental quality and how occupants feel in a space is also

intrinsic to how an architect strikes a balance between design and

sustainability. A healthy indoor environment can be achieved through

adequate ventilation, temperature control and the use of low VOC

materials.

So what is holding back some architects and building owners? Some

remain sceptical about climate change while others are not familiar with

the new tools and processes that have emerged in recent years to support

energy-efficient design. Others might say it costs too much. Yet evidence

increasingly shows that higher performance need not mean higher costs.

It's possible to integrate environmentally- conscious features and also make

fundamental decisions regarding sustainability early in the design process

which saves time and money in the long term.

Collaboration is Key

Some of the biggest successes in history have come about because of

a problem and someone saying let's work with someone else to try and

resolve this problem. From the industrial revolution to the lightbulb to the

moon landing, all have come about because of a problem and how we

overcame it. No one person has done it on their own; it's been a collaboration.

When we collaborate, we achieve things that are far better than when

we don't collaborate.

For help and support with your projects do get in touch

enquiries@darren-evans.co.uk.

26

www.insulatenetwork.com

27
---
www.insulatenetwork.com

The only independent insulation industry trade magazine

Insulate Columnist

We must keep

Aspirations Running High

Sarah Kostense-Winterton Executive Director, MIMA

After the political tumult of recent months, we are

encouraged by the enthusiasm of Claire Perry, the new

Energy Efficiency Minister. Her own team acknowledge

her commitment to the new brief, further evidenced by her

presence in the BEIS offices over the summer whilst others

ministers have been away.

High Hopes and Focus

There are high hopes for this new BEIS team – that also includes

Richard Harrington as Minister for Energy and industry – responsible

for crucial areas such as the Industrial Strategy, the Clean Growth Plan

and the Energy Price Review. We also await the

imminent National Infrastructure Commission's Vision and Priorities

document, a precursor to the first National Infrastructure

Assessment in 2018. Our principal focus though, is on BEIS's Clean

Growth Plan, due for publication in mid-September.

Critical Six Months

We are acutely aware that the next 6 months are crucial. MIMA, as the

secretariat of the EEIG campaign team, has been working hard over

the summer months to keep energy efficiency on the political agenda,

emphasising to both officials and Parliamentarians the importance of

upgrading the UK's building stock and why doing so should be a

government infrastructure investment priority.

insulatenetwork 28

insulatenetwork 29
---
www.insulatenetwork.com

THE SHOW FOR PEOPLE WHO BUILD

We start September with the publication of a

UKERC briefing paper on "Unlocking Britain's

First Fuel: The potential for energy savings

in UK housing" which reveals that potential

energy savings to 2035 is approximately

equivalent to the output of six nuclear power stations

the size of Hinkley Point C. Not an

insignificant saving or one that should be ignored.

The message is strong.

Clean Growth Plan

buildings down, by delivering a buildings energy

infrastructure programme to bring all UK homes

up to EPC Band C by 2035. By doing so we can

start to help deliver a high quality, sustainable

programme, that can repair and restore business

confidence and unleash investment in the industry

- ensuring a long-term for improving building

energy performance. Ultimately, we will be

best positioned to inspire consumer confidence

with an industry fit for the future and fit for the

UK.

100+

EXCLUSIVE

PRODUCT

LAUNCHES

The Clean Growth Plan in September sits very

neatly with the launch of Frontier Economics'

report "Affordable Warmth, Clean Growth" which

will present government with a practical blueprint

for delivering a stable, high quality energy

efficiency programme. The report will draw on

the high standards of workmanship and delivery

supported by stringent regulations and use of

best practice. The report provides the solutions

and the complementary detail which the Clean

Growth Plan may be light on.

Frontier Economics Report

We look towards the Parliamentary launch of the

Frontier Economics report in mid-October – an

event sponsored by one of our supporters, Conservative

MP Antoinette Sandbach along with a

tri-All Party Parliamentary Grouping of PRASEG,

Intelligent Energy and Fuel Poverty and further

supported by Lord Deben. The first time Parliamentarians

will be introduced with a complete,

long-term and high quality energy efficiency plan.

Inspire Consumer Confidence

Our message to newbie minister, Claire Perry

is to support our aspirations and commitment

to keeping energy costs in British homes and

30 www.insulatenetwork.com

In the meantime, if you are reading this article

come and join us at the EEIG – we welcome new

members – we are a broad but focused church -

and it has never been more important that businesses,

organisations and individuals to come

together with one voice to turn our plan into a

reality.

Sarah Kostense-Winterton is

Executive Director of MIMA, the Mineral

Wool Insulation Manufacturers Association

and provides the secretariat to the Energy

Efficiency Infrastructure Group (EEIG).

The EEIG is a collaboration of over 25

organisations including leading industry and

trade bodies and consumer groups, think

tanks, environmental NGOs and major

engineering, energy, construction and

insulation businesses.

For further details of the EEIG or if you

would like to join, please contact Sarah at

sarah@mima.info

10 - 12 OCT 2017 • NEC BIRMINGHAM

Discover 10,000+ innovative products and services from 650+ exhibitors

Join 30,000+ Contractors, Developers, Housebuilders and Local Authorities

GET YOUR FREE TICKET

buildshow.co.uk

PART OF UK CONSTRUCTION WEEK 2017

FREE TO

ATTEND

IN ASSOCIATION WITH:
---
The only independent insulation industry trade magazine

www.insulatenetwork.com

Case Study

CE Marking and BDA Agrément®

CE marking was introduced to the construction industry across Europe as part of the

preparation for the Single European Market in 1992 — set out in the Construction

Products Directive — and was given closer attention here in the Construction Products

Regulation 2011.

Of course, post-Brexit we cannot be sure what will happen to the CPR, but there are CE marked products

on the market here and there is confusion on the relation between national approvals — such as

BDA Agrément® — and CE marking and, more to the point, the differences.

CE Marking

The key difference is that CE marking rarely means

that the products covered is fit for all possible

purposes. The harmonised European Standards,

which underpin most CE marks, are focused on

the performance factors related to the six Essential

Requirements for works, I.e. buildings, originally

set out in the CPD — plus one on sustainability.

These are now called Basic Works Requirements

in the CPR and are:

bit more to it: remember, CE marking does not

mean that the relevant product is fit for all possible

purposes.

Satisfaction

The architect or main contractor has to satisfy

themselves that the product is suitable for the

intended use, normally by reference to a document

or label called a Declaration of Performance, which

will give additional information about the product.

will be acceptable under Building Regulations.

BDA Agrément®

A BDA Agrément® addresses the different

Building Regulations applicable to each part of

the United Kingdom and NHBC criteria are also

considered – in a single document.

Durability is another key factor not addressed by

CE marking but every BDA Agrément® contains

a durability statement — vitally important information

for architects, developers and building owners,

letting them know how long the product is

likely to last. Installation information is also absent

from CE marking but there are installation details

in all BDA Agréments.

initial type testing and a management

systems certification by a body notified for that

purpose to the European Commission. Only

products with key health and safety

considerations need the involvement of a

product certification body before CE marking

can be applied.

Kiwa BDA

With all products approved by Kiwa BDA, testing

is undertaken and the resulting data assessed

by our experts, and if the approval is awarded

the manufacturer is subject to continuing surveillance

by our inspectors throughout the validity of

the approval. This means specifiers, users and

building owners can have total confidence that all

products with a BDA Agrément® will be — and

perform — exactly as set out in the document.

A BDA Agrément® addresses the

different Building Regulations applicable

to each part of the United

Kingdom and NHBC criteria are also

considered – in a single document.

• Mechanical resistance and stability.

• Safety in case of fire.

• Hygiene health and environment.

• Safety and accessibility in use.

• Protection against noise.

• Energy economy including heat retention.

• Sustainable use of natural resources.

The idea is that CE marked products

incorporated in buildings will allow the buildings

to meet the above Requirements. But there is a

CE marking on its own does not necessarily mean

that the product allows Building Regulations to be

met and important statutory or non-statutory national

considerations, such as NHBC acceptance,

are not included.

However, CE marking accompanied by a Declaration

of Performance showing to the satisfaction of

the architect, contractor or building control body

that the product meets the requirements for the

building under consideration,

Surveillance and inspection vary in CE marking

depending on the nature of the product and its

role in the building; the more health and safety

critical, the more onerous the regime. At the

lower end of the scale the manufacturer or importer

can simply declare that the relevant product

complies with the Standard and apply the CE

mark, with no continuing surveillance.

Most products will be CE marked on the basis of

32 www.insulatenetwork.com

insulatenetwork

33
---
The only independent insulation industry trade magazine

Insulate Debate

Domestic Energy Assessors

and Energy Performance Certificates

Opportunity or a Declining Breed?

Neil Marshall, Chief Executive of the National Insulation Association (NIA)

Explains the current situation and future opportunities

Several years ago the Government encouraged companies to invest in training and accreditation

to become Domestic Energy Assessors (DEAs) in order to support its new flagship

energy efficiency programme the Green Deal and the Energy Company Obligation.

Unfortunately the Green Deal failed to take off

and in April 2017 Government made the

decision to replace Energy Performance

Certificates (EPCs) with a new deemed

scores methodology in the Energy Company

Obligation Transition in order to reduce the costs

of administration and compliance. Unfortunately

the new deemed scores approach has actually

increased the complexity and costs of ECO but

that is a separate matter.

Neil Marshall

www.nia-uk.org

"Similarly, there are several million SME businesses

that have similar characteristics to domestic

households such as shops, pubs, clubs and hotels

that require insulation - again a DEA and an EPC

could open the door.

Finally in April 2018, Government is introducing

new regulations that will require Private Landlords

to improve the energy efficiency rating of their

properties through the installation of energy

efficiency measures - another significant opportunity

for DEAs and EPCs.

Effective Engagement

So we see DEAs as having a crucial role in maximising

the opportunity to support the uptake of insulation

measures but the question is how to most

effectively engage with potential

customers?

At the NIA, having identified the opportunities we

are now inviting qualified, accredited DEAs to become

NIA members and work in partnership with

our installer members to deliver a 'one stop shop'

from them to potential customers.

30th November 2017

Given the above, DEAs who have invested

heavily in training and accreditation are now left

wondering where the work is going to come from

to provide a return on this investment.

Important Role

At the NIA we firmly believe that there is an

extremely important role for DEAs and EPCs in

stimulating the uptake of energy

efficiency measures. The Energy Company

Obligation is focussed on providing

free energy efficiency measures to fuel poor

households and there is very limited support

for the 'able to pay' consumers. Yet there are

millions of 'able to pay' homes that could benefit

from insulation and householders who are

prepared to pay for it but need encouragement

to do so - a visit from a DEA to carry out an

EPC provides an excellent opportunity to engage

with them.

So far we have received an excellent response

from DEAs and once we have the new network

fully established we will be heavily promoting EPCs

along with NIA's DEA's and Installer members in all

relevant market sectors with a strong marketing

campaign.

34

insulatenetwork

www.insulatenetwork.com

WWW.INSULATIONAWARDS.CO.UK
---
The UK's Only Exhibition Dedicated to the Insulation Industy

www.insulatenetwork.com

Industry Events

An Unmissable Date

For Your Diary This Year

No matter what construction project you're working on in October, there's only one roof

you'll want to be beneath on 10th October. The Birmingham NEC is once again hosting UK

Construction Week, the largest and most anticipated event in the construction calendar.

Attending this October might just be more important

than ever before. The industry is under great

scrutiny; the UK housing shortage and simultaneous

skills shortage are conflicting challenges in

need of solutions; the ramifications of the Brexit

vote are unfolding yet unclear; and let's not forget

government mandates for 3D BIM on public

sector projects. Plus, UK Construction Week's

Building Performance Challenge Survey has revealed

that 67% of respondents were completely

unaware of the forthcoming Minimum Energy Performance

Standards (MEPS), which will come into

force in April 2018. Yet 72% of our respondents

cited building performance as one of the most

important features in a commercial building, with

sustainability polling 56%.

At UK Construction Week, visitors will find experts

sharing their insights on all these key issues

and more, CPD-certified workshops to enhance

skills, and a chance to network with an estimated

35,000 fellow professionals. All for free.

Nine Niche Shows

Nine shows will take place across the three days

from Tuesday 10th to Thursday 12th October:

The Build Show sponsored by Easy-Trim, Timber

Expo, Smart Buildings 2017, Grand Designs Live,

Surface Materials (featuring Kitchens & Bathrooms

Live), Energy 2017, Plant & Machinery Live, HVAC

2017 and Civils Expo.

A new layout and floor plan makes it easy to see

more than 650 leading exhibitors, including construction's

biggest names, such as Easy-Trim,

Rockwool, ICF Insulation, Permaroof, Knauf Insulation,

STEICO UK, SPSenvirowall, and Styrene

Packaging & Insulation. This year there are extra

zones and theatres, including Health and Safety,

Windows & Doors, Roofing & Insulation, and

Tools, plus the Builders Merchants Federation Pavilion,

Offsite Theatre in association with the Modular

and Portable Building Association, Timber

Focus Theatre in collaboration with TRADA, the

Surface & Materials Hub with Material Lab, and

the BIM Prospects Theatre delivered by BRE.

UK Construction Week is a unique opportunity

to attend an array of debates, seminars and specialist

building safety workshops hosted on the

main stage and at six hubs positioned around the

venue. The workshops, all of which are free and

CPD-certified, run on all three exhibition days, but

are expected to book up quickly, so visitors are

advised to register as soon as possible.

Three thoroughly thought-provoking themes

Offsite construction is a recurring theme; it's the

future of the way we build, and visitors will find

more exhibitors focusing on offsite and modular

construction than any other area. This part of the

event is supported by the Modular and Portable

Building Association (MPBA) and Structural Timber

Association (STA). There's a dedicated offsite

theatre features key speakers focusing on

volumetric construction including Urban Splash

chairman Tom Bloxham, Rory Bergin – a partner

at Sustainable Futures – plus insights from the industry-leading

Knauf Insulation.

The present and future of BIM. The Building

Research Establishment (BRE) is hosting the BIM

Prospects Theatre. Visitors will hear expert insights

on the skills gap and delivering BIM level

2, and be brought up to date on the government

mandate requiring collaborative 3D BIM.

Building safety, quality and fire prevention are

an absolute priority at this year's event. Visitors

can benefit from free CPD advice covering changes

to legislation on safety, guidance on product

safety, fire prevention strategies, and their role in

the construction process, among other insights.

We recommend registering and booking places as

soon as possible.

There will also be a dramatic demonstration from

Exova which includes a 'full-scale' simulated

cross-corridor set-up to demonstrate best-practice

installation of passive fire protection measures.

The objective is to give insight into the complexity

of installation and the need to appoint suitably

qualified and competent contractors.

A Worldwide First

Imagine a building that turns up and installs itself.

No imagination required for visitors to UK Construction

Week: premiering at UKCW is Ten Fold's

extraordinary TF-64 building – a live demo of a fully

relocatable, self-deploying building.

And Two Firsts For Britain

UK Construction Week is proud to present – for

the first time in the UK - the ÖÖDHOUSE: an incredible

rapid-construction pod building made

from timber and privacy glass which reflects its

exterior surrounding.

George Clarke will be launching MOBI – the Ministry

of Building and Innovation. It includes the first

36

insulatenetwork 37
---
The only independent www.insulatenetwork.com

insulation industry trade magazine

2017

10–12 NEC BIRMINGHAM

10-12 OCTOBER | NEC | BIRMINGHAM

THE UK'S LARGEST

CONSTRUCTION TRADE SHOW

Further and Higher Education courses in home

construction; a regional roll-out of inspiring, innovative

and creative construction hubs.

What Else is Happening

The Innovation Trail will return. A showcase for

the newest and most exciting construction-related

products on the market, plus various free-toenter

competitions. Companies confirmed for The

Innovation Trail include Central Alliance, which will

showcase the latest in 'Mobile Mapping' with its

new, ground-breaking ROBIN LiDAR mapping

system that provides three alternative mounting

options rolled into one solution, allowing the user

to map a variety of areas via walking, driving or

flying; Texo Drone will introduce advanced UAV

services for construction surveying – the world's

first UAV integrated survey-grade LiDAR system;

and Solisco will showcase its innovative Solar

EV-Port Systems that offer a balanced solution to

power cars with renewable energy whilst helping

to balance the grid.

A number of new, specialist awards will also feature

at this year's event. These include: LOWCVP

Low Carbon Champions Awards, BIM Awards

and the WAN Transport, Concrete in Architecture

and Adaptive Reuse Awards. The UK's best companies

in the industry will also be recognised at

the Construction Enquirer Awards on the opening

night of the show.

Other new areas include the Development and

Regeneration Hub, a 'How to Theatre' sponsored

by Trimaco featuring product demonstrations and

advice, and an Education Hub offering CPDs in

partnership with BSI.

Social Networking

FOR FREE REGISTRATION AND EXHIBITING ENQUIRIES PLEASE VISIT

Includes access to these events:

9 SHOWS UNDER 1 ROOF

650+ EXHIBITING COMPANIES

10,000+ INNOVATIVE

PRODUCTS AND SERVICES

OVER 30,000 VISITORS

DEDICATED OFFSITE ZONE

100+ CPD SESSIONS

AND SEMINARS

UKCONSTRUCTIONWEEK.COM

Collaboration and knowledge-sharing make the

industry stronger. UK Construction Week will

encourage exhibitors and visitors to have some

downtime at the beer and ale festival, open each

day and both middle nights, plus a dodgeball

tournament, and casino nights on the 10th and

11th with Genting International Casino.

2017

insulatenetwork 39
---
The only independent insulation industry trade magazine

Industry Events

Book your Place at this

Years NIA Annual Conference

NIA Annual Conference

7th December 2017

The National Insulation Association's (NIA) Annual Conference, Exhibition and Black Tie

Gala Dinner is taking place on Thursday 7th December 2017 at the Jurys Inn Hinckley

Island Hotel, Leicestershire. "The event is now firmly regarded as a key insulation industry event and

with over 200 delegates expected to attend this year, it will certainly be a great way for companies to

find out the latest news and network with our members and external guests."

Says Neil Marshall Chief Executive of the NIA

- Non NIA member companies

can attend the event by booking

external delegate places at just

£199* (If companies join the NIA

between now and the event they

will automatically be entitled to

one free delegate place.)

- A limited number of exhibition

stands are still available for booking.

These provide companies

with the perfect opportunity to

showcase their products and

services to insulation

manufacturers, system suppliers,

installers, energy companies,

local authorities and housing

associations. The cost of an

exhibition stand is £1,500* which

includes a shell stand, lighting,

tables and chairs plus 1 free

delegate place at the Conference

and Black Tie Gala Dinner.

The exhibition takes place in the

room where refreshments and

lunch are served during the day

and therefore exhibitors have a

captive audience.

- A range of sponsorship packages

starting from just £2,500*,

these give companies the

opportunity to achieve great

brand awareness and speaker

opportunities at the event – the

packages include:

- Refreshments and Lunch

- Champagne Drinks Reception

- Gala Dinner – which includes

a free table for 10 at the dinner.

- Headline Sponsor – which

includes full branding, a tailored

PR support package, ten minute

speaker slot at the Conference

and a free table for 10 at the

black tie gala dinner.

The Insulation Event not to be missed

at the Jurys Inn Hinckley Island Hotel!

To book your place at the event or get more information on the

Exhibition, Sponsorship opportunities or reserving a table at the

Gala Dinner, please contact Maeva.robson@nia-uk.org or call

01525 383313.

Marshall Added:

"We are looking forward to providing our members

and external guests with an informative and

enjoyable event at which they will be able to find

out about opportunities across a range of markets

and socialise in informal surroundings. We

would therefore urge any companies interested in

attending or in any of the opportunities available to

contact us without delay."

Jurys Inn Hinckley Island Hotel, Watling St, Burbage, Hinckley

40

insulatenetwork
---
Insulation

Our latest arrivals have landed...

...offering you 4 new lower lambda

products to choose from

Kingspan Kooltherm ® K103 Floorboard, K110 and K110 PLUS Soffit Board,

and K118 Insulated Plasterboard feature an advanced, fibre-free insulation

core, enabling them to achieve an outstanding thermal conductivity of

0.018 W/m . K. As a result, the products can enable buildings to be built to

the upper levels of fabric performance with minimal thickness.

Further information on the Kingspan

range is available on:

+44 (0) 1544 387 384

literature@kingspaninsulation.co.uk

www.kingspaninsulation.co.uk

Pembridge, Leominster, Herefordshire HR6 9LA, UK

www.kingspaninsulation.co.uk/lowerlambda

®

Kingspan, Kooltherm and the Lion Device are Registered Trademarks of

the Kingspan Group plc in the UK and other countries. All rights reserved.