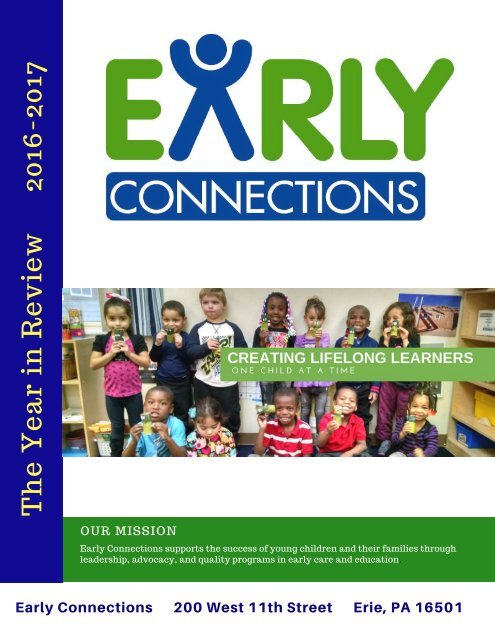 Early Connections Annual Report 2016-2017
You also want an ePaper? Increase the reach of your titles
YUMPU automatically turns print PDFs into web optimized ePapers that Google loves.
The Year in Review 2016-2017

OUR MISSION

Early Connections supports the success of young children and their families through

leadership, advocacy, and quality programs in early care and education.

Early Connections 200 West 11th Street Erie, PA 16501
---
DEAR READER,

Early Connections is pleased to present the information in this annual report to the community. We remain committed

to our mission, providing leadership, advocacy, and quality programs in early care and education. We believe this

represents the best means to assist young children and their families, giving young learners the enthusiasm and tools

to succeed in their future education.

We work closely with our community partners to continually increase children's access to quality early learning, and to

provide an increasingly-diverse community of learners with multiple opportunities and means to explore new

information, skills, and ideas.

In this report, we highlight Early Connections' work during the 2016-2017 year within our organization and with our

many community partners and supporters. We continue to work for Erie County's future by inspiring children's love of

learning and by connecting with families to ensure their children's success.

Laura Schaaf

President of the Board of Directors

Darlene E. Kovacs

Executive Director

BOARD OF DIRECTORS

2016-2017

Board President

Laura Schaaf

Director of Giving

Barber National Institute

Board Vice President

Michael Plazony

Senior Vice President

Erie Insurance Life Division

Board Secretary

Sarah Howard

Wellspring of Life LLC

Board Treasurer

Lori M. Hetrick

Vice President of Finance

Village at Luther Square

Katie Jones

Community Office Manager

ERIEBANK Harborcreek

Michael Thomas, Esq.

Associate

MacDonald, Illig, Jones & Britton LLP

ADMINISTRATIVE STAFF

Darlene E. Kovacs

Executive Director

Michelle Harkins

Associate Executive Director

Family Support Program Supervisor

Matthew Turek

Vice President of Finance

Tracy Robison Chandler

Vice President of Professional Development

Kimberly Beers

Vice President of Outreach/Success By 6

Scholarship Director

Holly Platte

Human Resources Coordinator

Abby Perry

Family Support Case Manager

Jayne Deutsch

Administrative Assistant

EARLY CARE AND EDUCATION

DIRECTORS

Nancy Dahlquist

Maggie Heslop

Early Connections, City Center

Kate Beer

Early Connections, Housing Authority

of the City of Erie

Stephanie McIntosh

Early Connections, North East

Stephanie King

Early Connections, West Side

Carlie Eck

Early Connections, Union City

Jacqui Catrabone

Director, Nonprofit and Community Services

Strategy Solutions

Dr. Janet Wojtalik

Former Special Education Teacher

and School Administrator, Author

Early Connections is a 501(c)3

nonprofit organization-contributions

to which are tax deductible to the

fullest extent permitted by law.
---
Early Connections

Organizational Overview

Early Connections has operated in Erie County for over 100 years, providing outreach and programming to young

children and families. Currently, Early Connections provides quality STAR 4-level programming at six sites, four in

the City of Erie, one in North East, and one in Union City. STARS is a quality rating system used by Pennsylvania to

determine the quality of Early Care and Education sites based on specific standards, with one STAR being entry

level in the system and four STARS being the highest quality. STARS sets requirements for early childhood

programs to promote the best learning environment and safest setting possible.

At Early Connections' centers, in the care of competent, qualified staff, children experience developmentallyappropriate

learning activities which fulfill the PA Early Learning Standards and provide a variety of opportunities for

a diverse community of learners. We serve approximately 300 children daily in our centers, from infant through

school age. All locations include PreK Counts; two provide inclusive classrooms where children with identified

special needs attend programming with "typically-developing" children while receiving needed supports. All centers

participate in our contract with Erie County to provide full-time programming for children in our Family Support

program.

Young children in Erie County are considered "high risk" for early school failure (OCDEL Reach and Risk Report,

2017). Research has shown that if children receive a high quality early childhood education, they are more likely to

succeed in school, graduate, and enter the skilled workforce. Quality early childhood education provides a positive

long-lasting effect on a child's educational and economic future, in turn helping improve their community's economy

and future workforce (http://www.readynation.org).

Early Connections accepts CCIS (subsidy) child care funding for qualified families, and will direct families to the

local resource for subsidy. Currently, EC also provides up to 30 funded preschool slots for children whose families

meet the qualifications through United Way of Erie County funding. United Way has also provided Early

Connections with Bridge Funding, so that children whose families are on childcare subsidy wait lists are not forced

to wait for programming. In addition to early learning and child care, Early Connections administers:

• Erie's Future Fund, a scholarship program supporting economically-challenged families in enrolling their

children in high-quality early learning throughout Erie County.

• Success By 6, United Way's initiative to ensure

that children enter kindergarten ready to learn

and succeed in school.

• Supported Play Groups, funded through CIZ

Race To The Top, to assist families in helping

their children develop school and social skills.

• Erie Free Taxes (Rural Outreach Component),

to increase families' awareness of and access

to no-cost, professional-quality tax preparation.

• Contracts with the Northwest Regional Key, to

provide technical assistance to child care

centers in Erie County and neighboring counties;

professional development for child care

practitioners; and Child Development

Associate programs for CDA credentialing.

We welcome questions regarding our work, and invite you to read our Annual Report in the pages that follow. Early

Connections is truly dedicated to creating lifelong learners through exciting and engaging programs!
---
Program Highlights 2016-2017

While we have several community initiatives that are vital to the well-being of early care and education

not only at Early Connections but in Erie County and NW PA in particular, our direct service to

children and their families is our highest priority. We honor the trust families have placed in us by

providing the best programs and support services we can deliver.

Early Connections child care centers:

are licensed by the Pennsylvania Department of Human Services and functions under the regulations

mandated by the State of Pennsylvania.

serve approximately 300 children daily in our 6 child care centers

offer Pre-K Counts programming at 5 locations; our North East center will offer PKC in the Fall of 2017

participate in the KEYSTONE STARS program which measures quality in childcare programs. Learn more about

KEYSTONE STARS at www.pakeys.org

participates in the regulated Child and Adult Care Food Program (CACFP). We offer free meals which consist

of breakfast, lunch and snack.

provide warm, nurturing and educational environments for children ages six weeks through twelve years.

focus on developmentally appropriate and enriching curriculum, with an emphasis on achieving the state's

learning standards for each child.

curriculum is center-based with a hands-on approach to learning, where child, parent, teacher, and

community are actively involved.

serve 25 families a month, 80 adults and children through our in-house food pantry. Although most of our

families qualify for food pantry service, due to multiple issues and often lack of transportation, they are not able to

access them. We would like to know that our Early Connections children, and their families, are not constantly

battling hunger.

"My son has attended the North East location of Early

Connections since 2015. I can not say enough about the

wonderful staff there! The last nine months in particular

have been the best so far. I am very particular about my

childcare, and there is no one I trust more than

Stephanie, Ashley, Alexis, and Christine. I feel that they

truly care, not just about my son, but about all of the

children. I also love how the center has grown this year

from a Star 2 facility to a Star 4, and that they moved into

the elementary center, so that they kids can become

familiar with the 'big school'. That is phenomenal! I am

confident that my son is receiving the best pre-k program

in town!"

~Claire Mellors
---
Pre-K Counts

Pennsylvania Pre-K Counts, established by the Pennsylvania Department of Education, increases accessibility to high quality

pre-kindergarten programs for young children, especially those considered to be high-risk. This opportunity is designed for

children who:

• are between age 3 and younger than the entry age for kindergarten;

• live in a family earning up to 300% of poverty; and

• may also have language barriers, a disability or developmental delay, or other issues that make them at risk for failing in

school.

Pre-K Counts outcomes continue to show that children enrolled in the initiative are:

• Making outstanding progress throughout their participation in the program;

• Entering kindergarten with appropriate academic and social skills and ready

to learn;

• Continuing to achieve in school and through second grade.

The most recent data provided by the 2015-2016 Pennsylvania Reach and Risk

Report shows:

• As of 2016 there were 17,115 preschoolers throughout the state enrolled in

Pre- K Counts, or 6% of eligible children.

• Erie County exceeded that percentage – 886 children, or 13.6% of eligible

preschoolers participated in Pre-K Counts during the 2015-16 school year.

During 2016-17, Early Connections

• Provided PKC programming for 167 eligible preschoolers at 5 locations

• Successfully applied for and received over 50 new Pre-K Counts

expansion slots

• Our North East location will begin offering Pre-K Counts programming

in Fall 2017 in their new location at Earle C. Davis Primary School.

"I love the activities you all do with the kids and the learning techniques during the Pre-K Counts Program. I also appreciate the

occasional day the parents are able to come and spend the day and do learning activities with their child. Lastly, the in depth progress

reports shows me how attentive the teacher is to my child and that makes me feel good. Feels like she is already in Kindergarten. Oh,

and the daily board showing what the child has done in school that day is helpful for me as a parents. Thank you all!"

~ Noe'Khea Williams

4 N.I.N.E.

Early Connections would like to extend a special

acknowledgement to 4 N.I.N.E., a North East-based non-profit

which assists the local community through a variety of outreach

programs and opportunities, including a Thrift Store, Child Care

scholarships, GED classes, Food Pantry, Community Center,

and many other beneficial initiatives. 4 N.I.N.E. has been a

much-appreciated supporter and community partner of Early

Connections' growth in the North East Community in many

essential ways. We particularly acknowledge their financial

support which allowed Early Connections to begin a program

with four children which has now grown to over thirty enrolled!

We encourage you to visit

https://www.facebook.com/4NeighborsInNorthEast/ to learn

more about this remarkable organization.
---
United Way Success By 6

Success By 6, United Way of Erie County's Early Care and Education initiative, promotes collaborative community

partnerships in order to facilitate Kindergarten Readiness for Erie County children. Professionals from a wide range of

organizations come together through several SB6 committees to focus on the needs of young children and their

families: Maternal Child Health Task Force, Erie County Early Learning Professionals, and Pre-K Counts, as well as in

partnership with the Erie County Local Inter-agency Coordinating Council (LICC). Here are some of the highlights of the

previous year:

• 11th Annual Success By 6 Early Learning Expo: 87 families including 115 children

(91 aged 5 and under), 26 local agency exhibits, hands-on activities, live entertainment,

and educational materials. Each child received a book courtesy of Hooked on Books.

• 8th Annual Pre-K Counts Awareness Day: 700 preschoolers and their teachers from

Pre-K Counts programs throughout Erie County attended, taking part in a variety of

educational activities and games at the Tom Ridge Environmental Center.

• Children's Behavioral Health Services Guide, produced in partnership with the Local

Inter-agency Coordinating Council (LICC): 100 copies were distributed to parents and

childcare directors working with children experiencing challenges in the home or classroom.

• Children Do Come With Directions booklets: 4400 booklets containing information on

child development, health and safety, and basic information on community resources

available to help support the needs of families with children were distributed to families

throughout Erie County.

• Kindergarten Readiness Outreach: promoted the Erie Together Kindergarten Readiness

Toolkits and Kindergarten Registration Flyers with P-3 Governors Institute/Kindergarten

Readiness Teams, and Kindergarten Registration Events across Erie County.

Keystone STARS Technical ssistance

Through an annual contract with the Northwest Regional Key, Early Connections continues to provide Keystone STARS

Technical Assistance (TA) consulting to early learning and school-age programs in the region. Technical Assistance is

provided to facilities who wish to progress through Keystone STARS tiered quality system to achieve a specific level of

quality. Consultation is provided through multi-faceted one-on-one coaching and mentoring with early educators and

caregivers.

• Consultation occurs around the Keystone STARS content areas of Staff Qualifications and Professional

Development, Leadership and Management, Early Learning and School- Age Programs, Partnerships with

Family and Community.

• During 2016-17, Early Connections' Technical Assistance consultation provided 637 hours of direct service to 68

facilities.

• The Professional Development (PD)/Technical Assistance (TA) Blended Model created for the Office of Child

Development and Early Learning (OCDEL) in Fiscal Year 15-16 combined prescriptive Professional Development

with the one-on-one support and implementation through traditional STARS Technical Assistance coaching and

mentoring. Early Connections is still offering the practitioners the opportunity to participate in the Blended Model

Technical Assistance project.

Professional Development

• Early Connections strives to support and educate the child care workforce through

professional development opportunities for teachers and staff in 20 counties of

Northwestern Pennsylvania.

• During 2016-17, 36 individuals completed a Child Development Associate (CDA)

credential course offered by Early Connections. Upon completion of 120 hours of

coursework and CDA certification from the National Council for Professional

Recognition, Gannon University will articulate Early Connections CDA coursework

into college credits for participants who desire to continue in the Early Childhood

Associate Degree program. The CDA program continues to be an excellent

opportunity for Early Childhood professionals.

WHAT IS KEYSTONE STARS ?

Keystone STARS is a continuous quality

improvement program. It has four STAR

levels. Each STAR designation has its

own research-based performance

standards. These standards measure four

areas that make a difference in the quality

of care your child receives:

1. The educated and welltrained

staff

2. The environment your child is

in everyday

3. Leadership and Management

4. Family and Community

Partnerships

As a program moves from STAR 1 to

STAR 4, the requirements in these areas

increase.
---
Erie's Future Fund

Erie's Future Fund, administered by Early Connections, is a scholarship program supporting economically-challenged

families in enrolling their children in high quality early learning throughout Erie County. Erie's Future Fund (EFF) was

created in 2011, an outgrowth of the Erie Community Foundation's Early Childhood Advisory Panel in partnership with

United Way of Erie County, Success By 6, members of the Early Learning Investment Commission (ELIC), and Erie

Together. Community leaders from corporate, nonprofit and civic sectors sought to address growing concerns about the

lack of school readiness among many children from low-income families entering kindergarten, and the significant impact

this was having now and in the future, on Erie County's economy and quality of life.

• The 2016-2017 school year began Erie's Future Fund's fifth scholarship year.

• Scholarships are funded from within Erie County through individual

donations, Pre-K Earned Income Tax Credits, and cause-related marketing.

• EFF Provided 150 scholarship opportunities for qualified children from

low- income families to attend a high-quality early childhood education

program

• Over 40 high-quality early care and education program locations in Erie

County accept the EFF scholarship.

• Qualified families receive educational resources and support during the

application process.

• The summer of 2017 marked the 2nd year that Erie's Future Fund was

able to offer summer scholarships.

• 50 children were provided the opportunity to attend high-quality early

childhood education programming for three half-days a week for up to 11

weeks during the summertime.

• In order to meet the diverse needs of scholar families, Erie's Future Fund now allows two scholarship options of either

three or five-half days a week during the school year. An open enrollment deadline allows for families relocating to Erie

County, those experiencing job loss, or life change to access the program beyond the start of the school year.

• Data gathered from the 2016-2017 scholarship year revealed that by the end of the school year, an average of 99% of our

3 year-old scholars were in process or proficient in the Key Learning Areas, and an average of 98% of our 4 year-old

scholars were in process or proficient in the five Key Learning Areas.

Learn more about Erie's Future

Fund at www.eriesfuturefund.org

United Way Erie Free Taxes

United Way Erie FREE Taxes is a program established to assist eligible low to moderate income wage earners claim the

federal Earned Income Tax Credit (EITC), a cash refund, by providing them with free tax preparation and filing services at

volunteer tax sites. The EITC is a special federal tax benefit for working people who earn low to moderate incomes. It is a

refundable credit that reduces or eliminates income taxes they owe and is the most effective poverty reduction program in

the country.

The Volunteers Income Tax Assistance program (VITA)

works to ensure that eligible tax filers receive all their tax

credits and deductions, including the Child Tax Credit,

Education Tax Credit and Child Care tax deductions.

FREE tax prep services are provided by IRS-certified

volunteers at numerous tax site locations in the

community.

Visit https://www.unitedwayerie.org/ErieFreeTaxes to

learn more about Erie Free Taxes.

Erie FREE Taxes VITA patron statistics for the

2016 tax filing season indicated that:

Federal VITA Returns: 6,030

EITC Claims (incl in above total): 2,136

1,160 of the VITA patrons live in rural communities

227 patrons had a disability

Total Tax dollars returned: $10,130,000

Tax Filer Savings (est.): $1.63M
---
Early Connections and EUMA

A family's stress associated with the need for food and permanent shelter often leaves children lacking access to consistent,

quality early childhood education, and can hinder the child's success in kindergarten and school. To help address this

need Early Connections began collaborating with the Erie United Methodist Alliance (EUMA) to help homeless or transient

families provide their children with access to quality early care and education in early 2016. EUMA has existed within our

community for 130 years, providing services and shelters to help end homelessness to veterans, youth, children and

families, as well as addressing the root causes of poverty.

Early Connections streamlined the application and enrollment process for infants and children from EUMA families that are

faced with homelessness in our community. Early Connections staff look at appropriate financial tuition supports to help

assist the family enroll their children at any of our six locations. While attending, the children are provided with nutritious

snacks and meals, along with quality early care and education. Our staff will also help with kindergarten enrollment, if

needed, providing an easier transition into kindergarten. Early Connections is thankful for all of the work that EUMA

provides to our community, and hopes to continue collaborating to help children from homeless and transient families.

Community Innovation Zone

Early Connections administers the Community Innovation Zone (CIZ) grant with United Way of Erie County as the lead

agency. The CIZ grant is federally funded through our state by the Race To The Top Early Learning Challenge Program.

Funding provides Supported Play Groups (SPGs) in one urban and one rural location. Working with a facilitator, families

and caregivers are provided with resources and referrals, have the opportunity to network, and learn to be their child's first

teacher using developmentally appropriate activities. This promotes readiness for success in school, and provides families

with a better understanding of school procedures and expectations. Many participating families may have economic or

cultural challenges, and the support of the facilitator and other families are of benefit to everyone involved.

• Partners include the Iroquois School District, the

International Institute, YMCA of Greater Erie, and the

Union City Family Support Center.

• During 2016-17, 78 parents and children have

participated in Supported Play Groups (SPGs). SPGs

reached low-income and refugee families, providing

educational resources and referrals to all, and a safe

environment for refugee families to bond and become

acclimated to their community.

• In the summer of 2017, the Union City Family Support

Center provided a family trip to the Children's Museum in

Pittsburgh for 66 parents and children, encouraging

participation by those families that would most benefit from

ongoing participation in our CIZ Supported Play Groups, in

hopes of significantly expanding our CIZ group reach both in

the rural and urban program.

Family Support

Through a contract with Erie County Department of Human Services (DHS),

Early Connections has been provided with funding to enroll up to twenty

children, infant through school-age, on a full-time basis. These children might

otherwise not have an opportunity to participate in quality early learning, or

experience the engaging activities provided in before and after school care.

The program

Has a strong focus on engaging families in their children's learning

Provides activities for the entire family

30 children were enrolled over the course of the 2016-17 fiscal year.

Early Connections hopes to obtain funding to enroll additional children in the coming year,

providing a safe environment to help them prepare for success in school and life.
---
Contributors

Early Connections is thankful for the generosity of our partners…...

The following partners contributed to Early Connections:

4 N.I.N.E.

Atty and Mrs. Michael Thomas

Bruce & Bonnie Kern

Cascade Park Club

Darlene Kovacs

Dr. Janet Rose Wojtalik

East Erie Moose Lodge #593

Erie Community Foundation

Erie Community Foundation – Erie Gives

Fulton Athletic Club

George and Kristy Klapsinos

Idaeluca Chiropractic Center

J.J.H.T. Inc.

Jacqui Catrabone

Jay and Ruth Alberstadt

Jennifer Kubiak

JoAnn DeSantis-Barnes

John W. Alberstadt

Katie Jones

Kimberly Arvickson

Kirk Kneidinger/Hagan Business Machines

Kiwanis Club of Erie

Knights of St. John

La Nova Aurora Club

Laura R. Schaaf

Lori Hetrick

Loyal Order of the Moose

Maternal, Infant & Early Childhood Home

Visiting Program - Erie County

Michael and Michele Plazony

Michelle M. Harkins

Ronald McDonald House Charities of Erie

Ruth Ann Scanzillo

Slovak National Club

Society of Holy Trinity Group #240

St. John Building Association

Sunflower Club

Vicary Insurance Agency

Wesleyville Home Association

The following partners generously contributed to Vinyl Palooza 3.0. Proceeds from the event benefited Early Connections.

Dr. Paul and Darlene Kovacs

Erie Insurance - Erie Family Life Division

ERIEBANK

J.J.H.T. Inc.

James Rodenbaugh

Joseph and Brenda Comstock

Katie Jones

Kelle Heidt

Laura Schaaf

Lori Hetrick

Lorianne Feltz

Louis Colizzo

The Plazony Family

Retirement Services of Erie LLC

Ron and Sharon Bayhurst

Sean and Kim Beers

Society of Holy Trinity Group #240

State Representative Flo and Vicki Fabrizio

State Representative Pat and Michelle Harkins

Sunflower Club

Waterford Pizza & More

Early Connections Staff

Stan Zlotkowski lll

Early Connections would like to thank all of those who provided in-kind donations in support of Early Connections

and Vinyl Palooza 3.0 throughout the year.

4 N.I.N.E.

AJ Milanak

All That Glitters

Allburn Florist

AseraCare Hospice

Bella Salon and Day Spa

Brown Fitness Center

Campbell Pottery Store

Dick's Sporting Goods

Early Connections Staff

Erie Beer Company

Erie Brewing Company

Erie Experience Vinyl

Fitness U

Glenwood Beer Distributors, Inc

Heritage Wine Cellars

Holly Platte

Hooked on Books

House of 1000 Beers

Illustrated Time Photography

Jessen Media

Kiwanis Club of Erie

Lavery Brewery Company

Lucky Louie's Beer and Weiners

McCoy's Barrelhouse & Grille

Michael and Michele Plazony

MnM Treasures

Penn Beer Company

Pepperidge Farms

Potratz Floral Shop

Quincy Cellars

Richard Gawlinski

Snap Fitness

Stan Zlotkowski lll

The Brewerie at Union Station

Tracy Robison Chandler

Voodoo Brewery

Z3 Concepts

The following partners contributed to Erie's Future Fund through Pre-K EITC and Individual Donations

American Tinning & Galvanizing

Barber National Institute

Betsy and Dennis Bort

Erie Community Foundation – Erie Gives

Erie Insurance

JAM PHD Inc

Jennifer Kubiak

Julie Slomski

Keystone Research Corp.

Klein Plating Works

Lilly Broadcasting of PA LLC

Math-U-See dba Demme Learning

Michelle M. Harkins

Northwest Savings Bank

Scott's Development Company

Scott's M 6A Joint Venture, Inc.

South Hills Child Development Center

UPMC Health Plan

We have made every effort to list all grants, contributions and gifts received during the period July 1, 2016 through June

30, 2017. We apologize for any errors or omissions and ask you to contact Early Connections Administrative Offices at

814-874-0144 with corrections.
---
Fiscal Report 2016-2017

Early Connections is a 501(c)3 nonprofit organization

-contributions to which are tax deductible to the

fullest extent permitted by law. The official

registration and financial information of Early

Connections may be obtained from the Pennsylvania

Department of State by calling toll-free, within

Pennsylvania, 1-800-732-0999. Registration does not

imply endorsement.

Accredited Under the Pennsylvania Association of Nonprofit Organizations' Standards for Excellence®

Early Connections is proud to be able to display this Seal of Excellence awarded by the

Pennsylvania Association of Nonprofit Organizations. Early Connections is the first nonprofit

organization in this region to be awarded accreditation under the Standards for Excellence®

program, which is bestowed only to the most well-managed and responsibly governed nonprofit

organizations that have demonstrated continued compliance with 56 specific Standards for

Excellence® based on honesty, integrity, fairness, respect, trust, responsibility, and accountability.

Early Connections has met, complied with, and integrated the Standards for Excellence® into all its

activities to successfully complete this voluntary accreditation program.
---
City Center

704 State Street

Erie, PA 16501

(814) 456-4576

Harbor Homes

1841 East 18th Street

Erie, PA 16510

(814) 899-3310

North East

50 E Division Street

North East, PA 16428

(814) 315-2915

West Side

420 West 6th Street

Erie, PA 16507

(814) 456-5346

.

John E Horan

Garden Apartments

730 Tacoma Road

Erie, PA 16511

(814) 454-9713

www.earlyconnectionserie.org

www.facebook.com/earlyconnectionsinc

Union City

16380 Route 8

Union City, PA 16438

(814) 438-7016

.