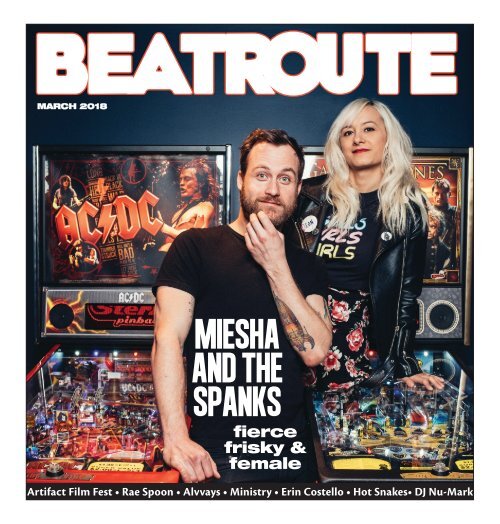 BeatRoute Magazine [AB] print e-edition - [March 2018]
BeatRoute Magazine is a monthly arts and entertainment paper with a predominant focus on music – local, independent or otherwise. The paper started in June 2004 and continues to provide a healthy dose of perversity while exercising rock 'n' roll ethics.
BeatRoute Magazine is a monthly arts and entertainment paper with a predominant focus on music – local, independent or otherwise. The paper started in June 2004 and continues to provide a healthy dose of perversity while exercising rock 'n' roll ethics.
SHOW MORE
SHOW LESS
You also want an ePaper? Increase the reach of your titles
YUMPU automatically turns print PDFs into web optimized ePapers that Google loves.
BEATROUTE

MARCH 2018

MIESHA

and the

SPANKS

fierce

frisky &

female

Artifact Film Fest • Rae Spoon • Alvvays • Ministry • Erin Costello • Hot Snakes• DJ Nu-Mark
---
MARCH 2018 I EVENT LISTINGS

Friday March 2nd

Heirlooms

The Ashley Hundred

The Wells

Saturday March 3rd

Melted Mirror

Dri Hiev

Blackrat

Locutus

Thursday March 8th

free! upstairs!

Beatroute Issue Release Party

Sleepkit

Postnamers

Speedstrips

Friday March 9th

Phillips Brewing & Malting co.

proudly presents

Joey Cape

Brian Wahlstrom

Seth Anderson

Ben Sir

Saturday March 10th

WAKE Album Release for 'Misery Rites'

with guests Fall City Fall, Spurn and

Murk (members of Kataplexis, Triton)

2 | MARCH 2018 • BEATROUTE

Tuesday March 13th

free! upstairs!

Shawn James (of the Shapeshifters solo set)

Jon Whitehead (Double Fuzz)

KV Raucous

Friday March 16th

Rhythm of Cruelty

Sunglaciers (Tape Release)

Paradise (Tape Release)

Local Singles

Saturday March 17th

Ten Minute Detour

The Varmoors

Flood Plain

Wednesday March 21st

Pabst Blue Ribbon presents another FREE

show at The Palomino Smokehouse with

Caveboy (Toronto) and guests

Friday March 23rd

Sellout

The Corey Hotline

Mademoiselle

Friday March 23rd

Feel Alright

Jon Comyn

free! upstairs!

Saturday March 24th

Iron Tusk

Mothercraft

Electric Revival

Sparrow Blue

Buffalo Bud Buster

Monday March 26th

Ought

Flasher

Slut Prophet

Thursday March 29th

Windigo

Common Deer (Toronto)

I am the Mountain

Jesse & The Dandelions

Friday March 30th

Royal Thunder

Pinkish Black

Electric Owl

The Otters

Saturday March 31st

Long Time No Time

Focus People

Meadow Drive

Friday April 6th

Yamantaka // Sonic Titan

Ghostkeeper and DRI HIEV

Saturday April 7th

Escape-Ism (Ian Svenonius)

Physical Copies

Janitor Scum

and guests

Friday April 20th

The Prowlers (Montreal)

The Borderguards

Bats Out (Regina)

The Enforcers

Steelhead

109 7TH AVE SW 403 532 1911 THEPALOMINO.CA

COMING SOON

Friday April 27th

Burger Records' Pink Mexico and guests

Friday May 4th

Preoccupations with Freak Heat Waves

Saturday May 5th

Preoccupations with Melted Mirror

Tuesday May 15th

Supersuckers with guests A-BOMB and

The Foul English
---
TABLE OF CONTENTS

COVER 26-27

MIESHA AND THE SPANKS

ARTS 8-12

Roswell Reinvented, Jake and Admire,

Five & Art Merch, YYC Scene

FILM 14-17

Artifact Film Fest, Lizard in a Woman's Skin,

5 Films, Expressokino, Vidiot

MUSIC

rockpile 19-25

Ten Minute Detour, SXSW, Alvvays, Rae Spoon,

St. Paddy's Song & Dance

edmonton extra 28-33

Feed Dogs, Erin Kay, Grizzly Trail, Dead Friends,

Vision of Comics, Eye On Edmonton

The Casting Couch with BEAU

Stay tuned!

photo: Lee Reed

jucy 35-37

DJ Nu-Mark, Adralan, Cartel Madras, Matt & Gill,

Metalfloor, Let's Get Jucy

roots 38-40

Erin Costello, Matthew Barber, White Buffalow,

Sean Burns

shrapnel 43-45

Ministry, Iron Tusk, Wake, King Woman,

Month in Metal

REVIEWS

music 47-49

Hot Snakes, Essaie Pas, Nap Eyes, Young Fathers

live 53

BEATROUTE

Publisher/Editor-in-Chief

Brad Simm

Marketing Manager

Glenn Alderson

General Manager

Colin Gallant

Production Coordinator

Hayley Muir

Web Producer

Masha Scheele

Social Media Coordinator

Amber McLinden

Section Editors

City :: Brad Simm

Film :: Morgan Cairns

Rockpile :: Christine Leonard

Edmonton Extra :: Brittany Rudyck

Jucy :: Paul Rodgers

Roots :: Liam Prost

Shrapnel :: Sarah Kitteringham

Reviews :: Jamie McNamara

Contributing Writers

Christine Leonard • Arielle Lessard • Sarah

Mac • Amber McLinden • Kennedy Enns •

Jennie Orton • Michael Grondin • Mathew

Silver • Kevin Bailey • Jackie Klapak • Hayley

Pukanski • Nicholas Laugher • Arnaud Sparks •

Brittney Rousten • Jodi Brak •Breanna Whipple

• Alex Meyer • Jay King • Alec Warkentin • Paul

McAleer • Mike Dunn • Shane Sellar • Kaje

Annihilatrix • Dan Savage • Miguel Morales •

Sarah Allen

Cover Art

Sebastian Buzzalino

Advertising

Ron Goldberger

Tel: (403) 607-4948 • e-mail: ron@beatroute.ca

Distribution

We distribute our publication in

Calgary, Edmonton,

Banff, Canmore, and Lethbridge.

SARGE Distribution in Edmonton

Shane Bennett

(780) 953-8423

photo: Paul Chirka

e-mail: editor@beatroute.ca

website: www.beatroute.ca

E-Edition

Yumpu.com/BeatRoute

Connect with BeatRoute.ca

Facebook.com/BeatRouteAB

Twitter.com/BeatRouteAB

Instagram.com/BeatRouteAB

Copyright © BEATROUTE Magazine 2017

All rights reserved. Reproduction of the contents

is prohibited without permission.

BEATROUTE • MARCH 2018 | 3
---
FF18SpringBRouteAd.qxp_Layout 1 2018-02-22 5:32 PM Page 1

4 | MARCH 2018 • BEATROUTE
---
KING OF KENSINGTON

holds court at the Oak Tree Tavern

&Lounge

GREAT BEER

& WHISKEY

COCKTAILS

PINBALL

DARTS & GAMES

GOOD TIMES

SAT. MARCH 17

Saint

Patrick's

Day!

2 FLOORS

OF FUN!

And just happens to be an Irishman,

Stuart Connor, who knows how to

serve a great whiskey. A lot of them

actually...

DOORS - 11 AM

NO COVER

LIVE IRISH MUSIC

0

0

WEDNESDAYS 8PM

JUPITER COMEDY

SUNDAYS 4PM

124 10 STREET NW • CALGARY ALBERTA

www.oaktreetavern.ca 403.270.3347

@OakTreeTavern @Oak_treeYYC

BEATROUTE • MARCH 2018 | 5
---
6 | MARCH 2018 • BEATROUTE
---
TAKING IT TO HEART

Volume 2 Album Release & Benefit Show

NITE OWL SATURDAY, MARCH 10th – doors 9 pm, show 10 pm

$15 cover – all proceeds donated to the Heart and Stroke Foundation

THE WET SECRETS :: Swampy basslines, primal drumming, dancing ladies with brassy

hornstacks, keys, congas & vocal harmonies galore.

MARLAENA MOORE

Is weird. She's weird in the way that all interesting

and ground-breaking things are weird.

ALL HANDS ON JANE

Get ready to shred an avalanche of whiskey

on a bobsled made of rock and roll.

BEATROUTE • MARCH 2018 | 7
---
ARTS

SHE WALKS AMONGST US

Roswell revisited, reinvented

BY B. SIMM

When Calgary art critic, renown writer and curator, Nancy Tousley, asked John

Will if he had some new art to exhibit, he compiled a series of photos that

he found unusual taken two decades ago in Roswell, New Mexico.

In 1997, Will, a professor in the art department at the University of Calgary, was

visiting friends in Albuquerque when he saw Time Magazine had an image of an

alien splashed across the front cover promoting the 50th anniversary of the UFO

crash near Roswell. Intrigued, like most North Americans, he decided to make the

pilgrimage to the crash site that was only a few hours away. At Roswell, Will unearthed

a peculiar but enticing story that captures the obsession so many people

have with the secretive landing of 1947.

"I saw the Time cover, and it sounded like something interesting to go see,"

recalls Will over a mid-day coffee. "So I went down, and it turned out to be kind

of a family affair with a lot of tourists. There were some symposiums with experts

and so on, but it was kind of boring."

Nonetheless, Will made the rounds coming across an old department store

that had closed its door, but for the occasion was converted into a souvenir shop

full of "t-shirts, baseball caps, commemorative bottled water, educational texts,

and other extraterrestrial flotsam and jetsam."

Inside the big shop of alien artifacts and keepsakes, Will encountered and

exhibition called The Gateway Chamber. "I can only describe it as a strange sort of

sensory-deprivation room, painted completely yellow, with soft elevator piped in."

The music playing was a variation of the '50s hit "Rockin' Robin" but the

lyrics had been altered… "She started going steady, and bless my soul/She walks

amongst us like an oriole/Rocket robin/Rock, rock/ Rocket robin." Upon exiting

the chamber and its cheap sensations, the ticket-taker for the exhibit caught Will's

eye, came up and quietly said, "They were females you know."

Amused with the circus-like scenario, Will started to invest in the Roswell's

50th anniversary phenomena full of curiosity-seekers and freaks — first

generation alien cosplayers. A professor and an experimental artist who ventured

from painting and printmaking to photography and video, Will started

clicking his camera documenting this weird slice of consumer culture he was

surrounded by.

After taking a rickety bus out to the crash site 30 minutes from Roswell, there

was only sun-scorched landscape with a rusted out "'47 Ford pick up," claimed

their tour guide, who then urged everyone to take in the UFO Museum and

Research Centre on the trip back. There, Will got a lot closer to the action.

"In a glass display container was this body about three feet long, a disproportionately

large head and over-sized eyes. It was sexless, with my mind thinking

back to the Gateway ticket-taker whispering, 'They were females you know.'" Will

laughs, "It was like the whole town was in on the joke how to make this cash-grabbing

tourist attraction a bit more odd, a bit more amusing."

Things would get a bit odder. At a local bar he meet Yves Arseneault, a fellow

Canuck from Grande Prairie that greeted him wearing an alien mask. Arseneault

was with his wife and young family who were also donning alien costumes on

what was obviously a fun-filled wacked-out holiday excursion. Disney in the

desert, of sorts.

"Yves and I stayed in touch after that crazy carnival. I learned that his daughter,

who was with him at Roswell, had grown up, graduated from art school and was

getting married. Would I like to attend? The ceremony was small, intimate at a

French restaurant. When I got there, it was clearly a theme marriage. His daughter,

now named Robin, strolled into the room, her eyes caked with an excessive

amount of grey mascara, transformed herself into a Grey while David Bowie's

'Born In A UFO' played softly in the background."

Will shakes his head, "Surreal. Rosewellian. And so it goes."

The Roswell prints are the second in a series of John Will's One New Work exhibitions

showing at the Glenbow until May 31.

TOP: John Will with his travel trailer on route from Albuquerque to Roswell, New Mexico 1997.

BOTTOM: John Will, She Walks Amongst Us: Family Reunion.

8 | MARCH 2018 • BEATROUTE

ARTS
---
Live Music

in the Rockies!

Join us at Banff Centre this summer for exciting

outdoor shows in the Shaw Amphitheatre.

Featuring:

Xavier Rudd

Blue Rodeo

The Sheepdogs

A Tribe Called Red

… and many more

Tickets on sale March 7!

banffcentre.ca

ARTS BEATROUTE • MARCH 2018 | 9
---
IF I WERE YOU

podcasts veterans Jake And Amir keep flying high

Jake and Amir travel the world with their podcast advice, while providing lively feedback.

What started as a move to make it easier for them to book theatre shows has taken podcasters Jake

Hurwitz and Amir Blumenfeld across the globe to more than a million listeners each month. The

depth of their fan base isn't surprising, given that their previous project, an eponymous web series for

CollegeHumor, was the website's longest running show with more than a billion views in total. When

Hurwitz and Blumenfeld left CollegeHumor they began If I Were You, a podcast that looked to answer

listener questions in humorous ways.

The decision to start a podcast started with one fairly practical intention in mind: touring. As they

put it, "We just thought it would be a cool idea to start podcasting. We heard it was an easier way to

book touring dates so we thought if we had a show that we could do live that we would get to travel a

bit more." This plan would end up being quite successful, giving them the chance to tour the world, as

Hurwitz puts it. "Since we started the podcast we've got to go to Australia, London, Dublin, even Boise,

Idaho. The big four," Blumenfeld adds. "Holler at your Boise!"

BY GRAEME WIGGINS

One might think a long-running advice show would struggle to overcome the problem of

repetition. To some extent this is true and they do see some similar questions, but they use their

ample skills at finding the funny to keep things different. As they explain, "We do our best to

answer unique questions. It's hard to avoid. Most of the questions are in the same vein. There's

a ton of relationship questions because that's what our young fans have the most trouble with.

But if you think of all of the things that have gone wrong in the relationships you've had, they

are always pretty unique. So there's enough room for each question to be unique. We've also

been growing and evolving so our advice has also been doing that over the last few years." This

coupled with the fact that all of the humour comes from making the person asking the question

a source of jokes helps too. "A lot of the time we just make fun of the person writing the questions

and everyone has a different writing voice so we always make fun of the person. Even if the

advice is the same, we can make fun of the person uniquely."

Since they started the podcast with the intention of touring with it, the live show takes the

show to another level. Blumenfeld notes, "It's the same format. But we're feeding off the crowd's

energy so it's much more performative. We ask the audience for help with certain things, we

include them, we involve them. It's a fun lively party atmosphere." Some shows might consider

taking questions from the audience rather than traditional submissions, but there's a good

reason they don't. "We still answer questions that are submitted because we do our best to find

the funniest ones and sometime audience questions are going to be the funniest or dumbest

questions. We do take informal polls about which advice to give people."

It's definitely worth checking out live for that energy, but be sure to check out a few episodes

of the podcast first. As Hurwitz suggests, "I think you probably have to already like the show to

enjoy the live show, so start with a few episodes, then check the recorded live show. Then come

see a live show. If you like the podcast you'll love the live show."

Check Out Jake and Amir: If I Were You Live Podcast March 7 at MacEwan hall and download the

podcast wherever you get your podcasts.

10 | MARCH 2018 • BEATROUTE

ARTS
---
FIVE ART & MERCHANDISE

open minded gallery space puts art in everyone's hands

Julia Kansas, left, and her sister Caleigh, right.

Photo: M. Grondin

Five Art & Merchandise, a local studio, shop and gallery

located in Calgary's East Village, is using unconventional

and fun ways to bring new art to everyone.

Owned by Julia Kansas and organized with the help of

her sister Caleigh, Five Art & Merchandise (or Five AM,

as it's also known) ditches the formality of many other

art driven spaces, and has put a spotlight on 12 different

exhibitions since it opened in 2016; with each exhibit

rotating monthly and showcasing a wide variety of

contemporary styles.

"We wanted to create a space that emerging artists

could experiment and showcase their work," explains

Julia. "We wanted to be much more approachable to

people that kind of exist outside of the art world, which

can be a little stuffy sometimes. We want to welcome

people into a space where they can really engage with

art and new projects."

Each showcase gets its own opening party, which has

filled the stylish, minimal and tiny shop into intimate

shoulder-to-shoulder celebrations. And, each showcasing

artist gets their own limited edition merchandise to

accompany their work.

"It's a hub of creativity. A place where anyone is free

BY MICHAEL GRONDIN

to participate, or pitch ideas, or just come and hang

out," says Caleigh. "The art we've had in the shop has

been quite diverse, which is refreshing. We've had

skateboarders who do drawings, we've had people who

are still in art school show their work, tons of photographers,

painters, filmmakers, sculptors…" she explains.

Julia adds, "We did one group show that was a 36

person portrait show, where a bunch of artists did

portraits of each other.

They hope to continue to branch out to newer

things, both explaining that Five Art is, in some ways,

filling the gaps left by the more serious side of art shows.

"I think it's important to have spaces like this because

Calgary needs more open and more inviting spaces that

promotes different projects and different ideas," says

Julia. "It doesn't always have to be art for art's sake, when

instead it can be for art for everyone and that's the

biggest thing we're trying to do."

Five Art & Merchandise is located at 609 Confluence

Way SE. For more information on the shop and their

art parties, check out @fiveartandmerchandise on

Instagram.

CANADA'S LARGEST INDEPENDENT CONCERT PROMOTER

MOTIONLESS IN WHITE

THE GRAVEYARD SHIFT TOUR

WITH EVERY TIME I DIE, LIKE

MOTHS TO A FLAME, AND ICE

NINE KILLS

Monday, March 19th, 2018

Union Hall, Edmonton AB

Doors: 6pm

All Ages Welcome

Tuesday, March 20th, 2018

The Palace Theatre, Calgary AB

Doors: 6pm

All Ages Welcome

PROTEST THE HERO

10 YEAR ANNIVERSARY TOUR

WITH GUESTS

Friday, March 30th, 2018

The Palace Theatre

Calgary, Alberta

Doors: 8pm

18+

WANNABE

THE SPICE GIRLS TRIBUTE BAND

WITH GUESTS

THE BRONX

WITH NO PARENTS

AND GUESTS

Friday, March 30th, 2018

Marquee Beer Market +

Stage, Calgary AB

Doors 7pm

18+

Wednesay, April 4th, 2018

The Starlite Room, Edmonton AB

Doors: 8pm

18+

Thursday, April 5th, 2018

Dickins Pub, Calgary AB

Doors: 9pm

18+

TICKETS ARE AVAILABLE AT MRGCONCERTS.COM

ARTS BEATROUTE • MARCH 2018 | 11
---
CERTIFIED

Join the irreverent fun of this hilarious and

heart-aching romp, as comedian and certified

insane person Jan Derbyshire turns the audience

into a mental health review board to help

determine her current state of sanity. Come

grapple with hefty questions like: What's crazy?

What isn't crazy? Who decides? In this comic

case, you do.

Joyce Doolittle Theatre (in the Pumphouse

Theatres), March 15, 16 & 17

A CHITENGE STORY

A Canadian college student journeys deep

into the sounds, smells, and spirits of Zambia.

Surrounded by family, she is steeped in a single

secret: that she has returned to her ancestral

home with a singular mission to find the identity

of a man who abused her as a child and take

justice into her own hands. A Chitenge Story

is a young woman's autobiographical account

of releasing trauma, embracing heritage, and

uncovering her ultimate healing.

Joyce Doolittle Theatre (in the Pumphouse

Theatres), March 20-24

THE LONELY DINER - Vertigo Theatre

WHAT SHAKES

YYSCENE's quick scan go-to-guide for March

Classic Albums Live: Fleetwood Mac's

Rumors. March 22 at Jack Singer

March — supposed to come in

like a lion and go out like a

lamb, but looking at all of the everything

that is going on in Calgary

this month, it's more like March is

a stealthy cougar ... keeping you on

your toes at all times. I'm a wordsmith,

everyone...

You've got until May, but why

not head down to the Glenbow to

take in the Frida Kahlo: Her Photos

exhibition? On March 3 you can

(and should) head to the Bella

Concert Hall for Ellen Doty's Come

Fall Album Release concert. Speaking

of both album releases and March 3, over at Nite Owl you can take in the

Too Attached Album Release with Cartel Madras & HYMN that night as well.

For some fun film ... fun ... you can check out A Red Carpet Affair: Celebrating

Hollywood's Best Oscar Party on March 4 at The Palace Theatre (dress fancy!).

And opening on March 6 is Theatre Calgary's The Humans, running until March

31. For some comedy, Just For Laughs presents Jake and Amir on March 7 at

MacEwan Hall. For your literary and International Women's Day fix, on May

8 Wordfest presents Erin Wunker, author of Notes from a Feminist Killjoy at

Memorial Park Library. Literary activism? Active literature? Scoot over to the

Marquee afterwards to take in Matthew Barber's show. It'll be good.

Atmosphere's We Come to Canada Tour with guests Evidence will be at Mac

Hall on March 9, and Taking It To Heart, Volume Two featuring The Wet Secrets

(YASSS!), Marlaena Moore & All Hands on Jane will be at Nite Owl on March

10, with proceeds going to the Heart & Stroke Foundation. On March 11 head

to the Red & White Club at McMahon Stadium for the Red & White Calgary

Comic & Toy Expo. Pick up some cool shiz.

Over at The Gateway on March 13 you can catch The Dears, and on March

15 Studio Bell hosts Rae Spoon with F&M for their Alberta Spotlight, which is

sponsored by BeatRoute and theYYSCENE. On March 16 Pennywise and guests

will be at MacEwan Hall, and on March 20 there'll be Motionless in White with

Every Time I Die, Chelsea Grin & Ice Nine Kills at The Palace.

March 21? Well, that would be the Woodhawk — Magnetic North Tour

taking place at The Ship, and then on March 22 you know as well as I do that

the only place to be is at the Jack Singer for Classic Albums Live: Fleetwood

Mac's Rumors. On March 23 *swoon* it's Robyn *swoon* Hitchcock *swoon* at

Festival Hall (he's OK, I guess) and then rounding out the month is ALVVAYS on

March 31 at The Palace. Yep. There's a lot, I don't lie.

In a quiet little rural Canadian diner, Lucy

yearns for the glitz, glamour and excitement

of America's roaring cities. Prohibition has

just been lifted in Ontario, but across the

border mob bosses battle for the illicit trade

of alcohol. Lucy's husband, Ron, and her

daughter, Sylvia, seem content to live their

12 | MARCH 2018 • BEATROUTE

quiet life, but an infamous gangster - and his

stolen whiskey - is about to bring Lucy's far-off

dreams into sharp, dangerous focus at THE

LONELY DINER!

Performance times are 7:30pm Tuesdays-Saturdays,

2:30pm Sundays, with

additional matinees 2:30pm Saturdays. March

Kari Watson is a writer and former Listings Editor of FFWD Weekly, and has

continued to bring event listings to Calgary through theYYSCENE and her event

listings page, The Culture Cycle. Contact her at kari@theyyscene.ca.

ARTS
---
JOHN FLUEVOG SHOES AD:

TRIM SIZE: 10.25"W x 11.5" H, RIGHT HAND PAGE

" SLOW"

FASHION

OUR TRADITIONALLY HANDCRAFTED UNIQUE SOLES ARE

PRODUCED IN SMALL RUNS AND ARE MADE TO LAST.

NEW SPRING COLLECTION IN STORES AND ONLINE NOW.

JOHN FLUEVOG CALGARY 207 8TH AVE SW 403·265·1970 FLUEVOG.COM

BEATROUTE • MARCH 2018 | 13
---
FILM

ARTIFACT FILM FEST

small format fantastic!

The Artifact Small Form Film Festival is anything but small, with

a big difference for it's 26th year: a name change. Festival Director

Raeesa Farooqi describes the natural shift:

"The decision to change the name to Artifact was made so as

to better reflect the festival's role as an international celebration of

storytelling on celluloid. The rebrand is by no means a change in

the festival's goals or culture but, rather, a refocusing of it."

The new name comes with a rich history of filmmaking and appreciation

within the Calgary community. Created by the Calgary

Society of Independent Filmmakers (CSIF), and formerly known as

the $100 Film Festival, the event was originally focused on making

low budget Super 8 films. The budget was dropped over time to

allow for new creative projects and partnerships, and has since

evolved to this year include 33 short films from around the world.

The three-day event includes daily themes: Beyond the Cosmos,

Impressions & Expressions, and Home & Away.

Despite it's growth, the Artifact Festival continues to highlight

diverse Calgary talent. Opening each night is Film/Music Explosion!,

an event that showcases a live song by a local band (this year

by HYMN, Sinzere & the Late Nights, and Deicha & the VuDudes),

that is accompanied by a film created based on the song by a

local filmmaker. Each evening also has a pop-up exhibition with

AM Goods and SEITIES, local film-related magazines. Further,

two films in the lineup (Krasno Dreams and I am sitting in a white

room) were created by Calgary filmmakers at CSIF's 48 Hour Film

Frenzy competition.

This year also features John Porter as Visiting Artist, who has

been active in the Canadian small-format film scene for over 40

years. Eight films are being presented from the Super 8 veteran.

"John Porter brings a burning passion for the Super 8 film medium

to Artifact. We're extremely excited to bring him to Calgary as

it will be the first time he'll be screening any of his films here. John

has personally chosen a small selection of his "Camera Dance"

works to screen from his archive of over 300 films. The "Camera

Dances" are unique and charming films, as they show Porter

"dancing" with the camera in various capacities." Farooqi explains.

Also a photographer, performer, and writer, Porter brings his

expertise to the Festival in a free talk at the University of Calgary. A

History of Radical Super 8 Film Art in Canada presents the politics

and philosophy of the film niche. Porter is also hosting a Drop-In,

Small-Format Equipment Clinic for $20 at the CSIF headquarters.

Amateur filmmakers and aspiring creators alike are welcome to

bring equipment to this unique workshop.

As Calgary's longest-running Film Festival, the Artifact Small

Form Film Festival is starting its next chapter by presenting this

new and exciting lineup of films and artists from March 8 – 10.

Tickets are available via the Theatre Junction GRAND box-office

online, over-the-phone, or in person at the door.

John Porter –200 flim, 1984.

BYMADYSON HUCK

NMC Presents

ALBERTA

SPOTLIGHT

SERIES

MARCH 15

Rae Spoon

and F&M

Called "one of the most important musicians working in

Canada today" by NOW Magazine, see award-winning

musician Rae Spoon as they return to their prairie home

for a special performance.

DETAILS AT STUDIOBELL.CA/WHATS-ON

14 | MARCH 2018 • BEATROUTE
---
5 FILMS TO SEE ...

February's must-see movies

Blow-Up... fashionable forever.

Spend all of March watching your favourite

genre of film! These five picks range from

the world of film noir, true stories exposing

government corruption, to Japanese animation.

The Big Heat (1953)

The Big Heat begins without a word being

said, but the opening sequence speaks

volumes on its own. In this classic film noir

Fritz Lang introduces Detective Dave Bannion

(Glenn Ford) to the world of degenerate police.

A place that doesn't appear to have any

type of law or order. Bannion questions the

recently widowed wife, Bertha Duncan (Jeanette

Nolan) of her cop husband's questionable

suicide. In turn Bannion endures chaos in

the glitzy world of gin joints, dirty money, and

cold-blooded murder.

The Big Heat screens March 6 at 7PM as part

of the Globe Film Noir Series

All the President's Men (1976)

In this fact-based American political thriller,

two amateur reporters were instrumental in

the resignation of President Richard Nixon. All

the President's Men (1976) revolves around

Carl Bernstein (Dustin Hoffman) and Bob

Woodward (Robert Redford) who fought to

expose the amoral side of the American government.

This film shows the compromise of

a country accepting the bleak reality of their

government taking more joy in controlling

the nation opposed to caring for it. The act of

compromising is how Bernstein and Woodward

forced themselves under the surface to

discover this truth, both persuasively shown

by Hoffman and Redford throughout the film.

Calgary Cinematheque presents All The President's

Men at The Plaza Theatre on March 8

at 6:45PM

BY CHLOE LAWSON

protagonist Georgy, who can be naïve but

remains true to herself. In the fast-paced world

of nineteen-sixties London she finds herself

caught in a love triangle. It balances uneasily

between forty-nine-year-old James Leamington

(James Mason) and the boyfriend who got her

roommate pregnant, Jos Jones (Alan Bates).

EspressoKino presents Georgy Girl at The

Roasterie on March 15 at 8PM

Blow-Up (1966)

Italian Director Michelangelo Antonioni

brings his first English film to screen that

centres on an abrasive fashion photographer

Thomas (David Hemmings). Thomas is

aimlessly wandering through a park when he

photographs a woman being intimate with

a man.The woman, Jane (Vanessa Redgrave),

chases Thomas down and frantically demands

his film, but he refuses to hand it over. Later,

Thomas blows up the photos and discovers

he may have photographed a murder scene.

Antonioni constructs his psychological thriller

to show the extent individuals will go to find

the truth without the promise of receiving it.

EspressoKino presents Blow-Up at The Roasterie

on March 22 at 8PM

Whispers of the Heart (2002)

Studio Ghibli (My Neighbor Totoro) released

this heartfelt animated Japanese film on the

importance of aspirations. Shizuku dreams

of writing for a living. Her long summer days

are spent reading books from the library and

translating music. She notices a pattern of the

name Seiji on the books she has checked out.

Through charming and magical events (that

Studio Ghibli never fails to provide) the two

meet and Seiji confides in wanting to become

a violin maker in Italy. Whispers of the Heart

beautifully demonstrates how being inspired

by others is just as crucial as inspiring yourself

to become who you want to be.

Whispers of the Heart screens at The Globe

Theatre on March 31 at 7PM as part of the

ESPRESSOKINO

experimental filmmaker's showcase

FIFTEENTH

CALGARY UNDERGROUND

FILM FESTIVAL

APRIL 16-22, 2018

Georgy Girl (1966)

Georgy Girl is the lighthearted yet honest

FULL LINEUP ANNOUNCED MARCH 21

portrayal of a young woman finding her spot

TICKETS AND MORE INFORMATION AT CALGARYUNDERGROUNDFILM.COM

in the world. Lynn Redgrave is the tender Studio Ghibli Showcase Series

FILM BEATROUTE • MARCH 2018 | 15

A

call for local experimental films has been

put out by Roasterie Coffee House's

weekly film presenters, EspressoKino, for the

Fourth Annual Local Experimental Filmmaker's

Showcase on March 29. Occuring every

Thursday, EspressoKino hosts film screenings

Kensington's infamous 400-square-foot coffee

roaster and showcases independent and

experimental films.

"We started in April 2015 for two reasons,"

explains programmer Shaun Donohue. "The

culture of cinema showing non-mainstream

films has been dying. We wanted to show primarily

the pre-1980 films that got us to where

we are. The secondary reason was, we are all

regulars at the Roasterie." Donohue adds, "It'll

essentially be a month of related programming,

either with a theme, or a director and

we haven't missed a Thursday since the last

Thursday in 2015."

Submissions for the Experimental Filmmaker's

Showcase are open right up until the

films are screened, and anyone is encouraged

to submit their own atypical and avant-garde

take on filmmaking; noting that films should

be no longer than 20 minutes.

"We will collect the films from all of the

weirdos who aren't part of any organization

BY MICHAEL GRONDIN

and get no money and we're gonna give them

a night to show all of their crazy films," he says

with a laugh. "We'll literally accept submissions

until 20 minutes before the show.

"We show the things that just don't get

shown in public anymore," concludes Donahue.

"There's a big hole in arthouse theatre, or

repertory cinema."

The Local Filmmakers Showcase presented by

EspressoKino will take place at The Roasterie on

Thursday March 29, 2018 at 8pm.
---
A LIZARD IN A WOMAN'S SKIN

godfather of gore's erotic nightmare

With arthritic fingers adorned by gaudy

cocktail rings and cherry red acrylic

nails digging deep into glistening skin in the

thralls of ecstasy, we are familiar with the

lovers tango of the early '70s. Sexual liberation

– a theme exploited time and time again

throughout the past four decades and beyond

has become a well-admired trope in the world

of cinema. Psychedelic overtones carved and

jaded by a glaring blade, blood spewing forth

in a primal, orgasmic geyser... An interesting

juxtaposition is displayed. Pain and pleasure,

heaven and hell... Pummelling expectations

and pushing boundaries, A Lizard in a

Woman's Skin is a surrealistic psychodrama

progressing in a twisted, malformed dreamdeath

state.

Perfectly exemplifying the giallo genre, a

term used to describe Italian thrillers which

predated and influenced the later slasher

film genre, A Lizard in a Woman's Skin is an

enticing murder mystery largely exploring the

confines of the mind. Due to this, not much

can be said without spoiling a truly underrated

masterpiece in Lucio Fulci's, famed Italian

'Godfather of Gore', grotesque filmography.

Without giving too much away, the plot

centers around Carol (Florinda Bolkan), a

young insomniac woman plagued by haunting

dreams, and with her darling neighbour found

slaughtered with details she can recall with

startling clarity, her dreams have seemingly

been brought to fruition.

Etched partly in the imaginative world of

dreams, the effervescent use of psychedelic

colours and patterns contrasting with the

otherwise monochromatic nature of the film

employs a visually stunning ride throughout

the 95 minute run-time. Tapping slightly into

the atmosphere of gothic traditionalism,

the film serves as a window peering into

the stylistic take on early '70s romanticism.

The unrelenting projection of taboo themes

including sexual liberation, lesbianism, and

use of hallucinogens allow connections to not

only underground classics such as The Velvet

Vampire (1971), but even critically acclaimed

titles such as A Clockwork Orange (1971).

Much like the controversy Stanley Kubrick ignited

in the latter film, Fulci was not safe from

such fates with this erotic nightmare.

Though predating Fulci's rather abhorrent,

gore-ridden endeavours he would later

become known for, the blood and guts are

used sparingly in this case. Worth noting,

however, is the uncomfortable realism used in

a particularly shocking scene in the third act

in which our leading lady happens upon a trio

of disemboweled dogs. The fictitious gore was

so believable that special effects artist, Carlo

Rambaldi, had to testify in court that his work

was fake. Predating the ill-famed, controversial

works of films such as Cannibal Holocaust

(1980), this marked the first occasion in

which an artist had to attend court to prove

themselves free of engaging in any homicidal

behaviour.

BY BREANNA WHIPPLE

If all the sex, drugs, and violence aforementioned

has somehow not sold you, then

both alternative cinema admirers and Fulci

fans, please hear me out – Though largely

praised for his use of extravagant gore, A

Lizard in A Woman's Skin proves there is

more that meets the eye gouge when it

comes to Lucio Fulci.

Catch A Lizard in a Woman's Skin on Friday,

March 23 at the Globe Cinema.

16 | MARCH 2018 • BEATROUTE

FILM
---
THE VIDIOT

rewind to the future

BY SHANE SELLAR

The Cloverfield Paradox

Coco

Three Billboard Outside Ebbing, Missouri

The Cloverfield Paradox

The worst thing about life on an international

space station is that Russian and American

astronauts always collude to rig movie night

voting. Sadly, the crew in this thriller won't live

long enough to complain about this week's

selection.

While in the throes of an energy crisis, Earth

launches representatives from around the world

(David Oyelowo, Daniel Brühl, Chris O'Dowd,

Gugu Mbatha-Raw), along with a particle

accelerator that will tap into alternative energy

sources, into space. But when the accelerator

opens a portal to an alternate reality, a bevy of

behemoths are unleashed on Earth.

The third installment in the cryptic Cloverfield

franchise, this Netflix distributed sequel

sheds some light on the origins of the monsters

plaguing our planet, but its slapdash and

incongruous script simply feels shoehorned

into the larger narrative.

And while giant monsters don't necessarily

ease our energy crisis, their carcasses will help

with global food shortages.

Coco

When returning for the Day of the Dead, the

biggest obstacle Mexican ghosts face is scaling

Trump's metaphysical wall. Fortunately, the

deceased in this animated-musical has no one

on the other side to visit.

More concerned with being a musician, like

his grandfather (Benjamin Bratt), then joining

the family business, Miguel (Anthony Gonzalez)

steals his dead abuelo's guitar. But when he

strums the instrument Miguel is spirited to the

land of the dead, where he must work with a

disgraced skeleton (Gael García Bernal) to get

back home before he joins the dead.

A vibrant and colourful adventure that

utilizes elements from the Mexican holiday to

weave a touching tale about family, tradition

and life after death that is accompanied by

a handful of toe-tapping tunes and spirit

animals, Coco offers terrific insight into this

misunderstood holiday.

However, instead of visiting with family

most ghosts return to Mexico for the donkey

show.

movement, Britain's Labour Party moves to

oust him as Prime Minister and replace him

with a Lord from the Royal Navy, Winston

Churchill (Gary Oldman). Faced with the

daunting decision of either capitulating or

combating the encroaching threat, Churchill

not only seeks advice from his wife (Kristin

Scott Thomas) and secretary (Lily James), but

also the commoners.

While it can get bogged down in political

minutia at times, Oldman's turn as the

portly Prime Minister, along with the spirited

dialogue and rousing speeches, keep this

reasonably accurate historical biography from

becoming boring.

Incidentally, the darkest hour is the best

time to break and enter.

Only the Brave

The key to preventing forest fires from ever

occurring is killing every cigarette smoker.

Luckily, cancer will take care of them, while

the firefighters in this drama extinguish their

handiwork.

Aggravated that he and his first responders

(Miles Teller, Taylor Kitsch, James Badge Dale)

are relegated to the rear whenever out-of-State

Hotshot fire crews show up and start delegating

during a blaze, superintendent Eric Marsh

(Josh Brolin) petitions the mayor to let him

train his own elite team of frontline firefighters.

But when the upstart squadron faces off

against an uncontrollable wildfire on Yarnell

Hill, their mettle is truly tested.

Based on the GQ magazine article of the

tragic 2013 fire that claimed 19 lives, this retelling

brings personality to those who fell. And

while the dialogue is a tad melodramatic, the

visuals and the emotions are palpable.

Nevertheless, a spontaneous wildfire is still

a good excuse to burn your garbage.

Roman J. Israel, Esq.

With its high rate of slip and falls accidents,

lawyers are the only people who love winter.

However, the eccentric attorney in this drama

isn't interested personal injury suits right now.

When his law firm partner suffers a heart

attack, Roman J. Israel (Denzel Washington)

must unwilling step out from behind-thescenes

to represent the cases in court he has

only researched. His lack of social skills sinks

the firm and Roman soon finds work with a

shark (Colin Farrell). But when his boss wants

him to put profit before ethics, Roman's mental

state deteriorates.

While Washington plays the unconventional

counsel with aplomb, the one note storyline

unfortunately is constructed around his social

awkwardness, and not much else. With very

little driving this legal drama besides a feeble

murder case, it just becomes a meditation on

an exasperating character.

Moreover, it's not a good sign when your

lawyer can plead insanity.

Three Billboards Outside Ebbing, Missouri

Without roadside billboards out of control

vehicles would just careen into an empty

farmer's pasture. Luckily, the small-town in

this drama has an excess of advertisement

opportunity.

Fuming over the fact that the local sheriff

(Woody Harrelson) still hasn't arrested any

suspects in the rape/murder of her teenage

daughter 7-months ago, Mildred (Frances

McDormand) purchases ad space on three billboards

and uses them to taunt the sheriff and

his inept and racist deputy (Sam Rockwell).

Messing with the authorities, however, only

brings the hammer down harder on Mildred,

her family and her friends. Fortunately, everyone

else in Ebbing is as fed up with the law

enforcement as her.

In spite of its many strong performances

and complex script that blends comedy with

its tragedy, this fictitious narrative comes off as

unrealistic, malicious and laughable at the end.

Besides, to really distract drivers from the

road you need 3 digital billboards.

Wonder

Usually when a student wears a mask to

school everyone heads for the nearest exit and

calls 9-1-1. However, if it's the concealed kid in

this drama, you welcome them.

Born with a defect that finds him hiding behind

a mask in public, Auggie (Jacob Tremblay)

has been homeschooled by his parents (Julia

Roberts, Owen Wilson) his whole life - until

now. Exposed, Auggie faces his peers for the

first time. While some are kind, most are not.

Meanwhile, his older sister (Izabela Vidovic)

competes against her former BFF for the lead

in the school play.

From facial deformities to middle school

bullies to a dead dog to an amateur production

of Our Town, this family melodrama pulls

every tear-jerking trick it can to endear itself

to the viewer. Unfortunately, its manipulative

schmaltz is boilerplate, sitcom-y even.

Besides, once you get to high school every

teenager has a facial deformity.

Darkest Hour

The only employers who have a workforce

over the age of 70 are Wal-Mart and Parliament.

So it's no surprise that the political party

in this drama would elect a senior as its new

head.

Displeased with Neville Chamberlain's

He's Shakespeare in the Parka. He's the…

Wonder

kowtowing to Hitler and his swelling Nazis

Vidiot

FILM BEATROUTE • MARCH 2018 | 17
---
18 | MARCH 2018 • BEATROUTE
---
ROCKPILE

TEN MINUTE DETOUR

when you come to the fork in the road...take it!

Ten Minute Detour explores seven deadly songs on Common Pleasure.

Time flies when you're 93, or at least that's were really starting to take shape for the busy

what the youngsters behind Calgary's Ten group who released their full-length debut,

Minute Detour discovered along the way to Lay It Down, with the distinctive single "Four

delivering their rockin' new album, Common Papers" preceding its 2015 launch. For Shier

Pleasure. According to the band's lead singer, and his companions, that tangible accomplishment

signified that they were headed in

Andrew Shier, it was the irrepressible gumption

of his grandmother who moved him to the right direction.

pen the song "Betty" in honour of her love of "I think we've definitely locked in the

music and dance.

sound with the band we have. We don't really

"I wrote that song as more of a flamenco like to follow a formula," says Shier, who also

number on my guitar. It's named after my plays rhythm guitar.

grandmother Betty. The last time I saw her "It's weird; we've never really sat down and

and I put on an 8-track cassette of music written an album. It's more a case of finding

by her father who was a musician and band that we had 10 to 15 songs ready to go and

leader in the '40s in Barrie, Ontario. She just having to handpick which ones were going to

started dancing, she was crying and acting like wind up on the album."

a child again, and it was super emotional for That's where a good second opinion is

both of us. So, that inspired me to write that worth its weight in gold. Fortunately, Ten

rock and roll flashback."

Minute Detour was wise enough to take the

Betty's affection for music that makes you fork in the road that took them directly to

want to get up and shake it has definitely Nashville where they opted to lay down the

rubbed off on Shier, who originally formed tunes for their forthcoming LP, Common Pleasure,

with the oversight of professional music

Ten Minute Detour back in 2013. Supported

in his artistic aspirations by bassist Mike producer Lincoln Parish.

Stokes, guitarist Jordan MacNeil and drummer "Lincoln definitely helped us a lot and

Ross Watson, the intrepid singer-songwriter pointed us towards the stronger songs. He

pushed the project into motion quickly generating

their first three-song EP. By 2014, things he started producing other artists. We

was the guitarist for Cage the Elephant before

took

BY CHRISTINE LEONARD

his feedback and went down to Nashville to

work on those songs. We planned on recording

six tracks, but found ourselves with two

days extra, just cuz we were flying through

our sessions. So, we decided to do one more

song and hashed it out right there the same

day. And, honestly it's our favourite song on

the album, "Poli Shore." It's a super energetic,

thrashy, punky, rock song and after it was all

said and done it had this awesome throbbing

energy."

Translating that same sense of fun and

intensity from studio to stage is definitely Ten

Minute Detour's strong suit. Moreover, the

dancefloor-packing action is further improved

when multi-instrumentalist Rhys Lintern is

able to join the line-up to add his versatile

talents to their pop-punk-meets-Grand-Ole-

Opry melting pot.

"While the rest of us have all been there

since beginning, our keyboardist and percussionist,

Rhys, is actually an Australian that I

met while I was at work. His visa has expired,

but he's flying back for the tour, which is really

nice for us," Shier reports of the band's shifting

line-up and the flexibility it brings.

Poised to introduce Common Pleasure to

fans of all ages later this month, a nostalgic

Ten Minute Detour can't help but to pause

and reflect on the path that led them to this

point in their burgeoning musical careers, and

wonder what surprises the future might hold.

"Looking back, our first album was fouron-the

floor garage rock, but for this one we

wanted a broader spectrum of sound. Something

fuller and a little more produced than

what we had before," he explains. "Every one

of the songs on the new album is experiential

and yet very relatable. For some they may

be pleasures and for some not so much. It's

seven different themes under one rock and

roll umbrella. There's a little indie pop, some

R&B and hip-hop, there's a Southern jam; it's

a blend. Live performance is always our main

focus and that's probably why all seven songs

are energetic songs that really engage people.

Having said that, I would like to do some

slower more emotional songs on our next

album. But, at this point it's all about rocking

out: there's nothing slow about it. Common

Pleasure? It's just something you'll wanna put

on if you're ready to go!"

Ten Minute Detour release their new album

Common Pleasure with The Varmoors and Flood

Plain on March 17 at The Palomino Smokehouse

and Social Club [Calgary].

Upcoming

Events

E-GAMING

ROCKPILE BEATROUTE • MARCH 2018 | 19

FRI

03.02

WED

03.06

WED

03.07

THU

03.08

FRI

03.09

TUE

03.13

WED

03.14

FRI

03.16

WED

03.21

WED

03.28

THU

04.12

SAT

04.21

SAT

04.28

WED

05.02

SAT

05.12

ATTICA RIOTS

SECRETS &

PICTURESQUE

BUSTY & THE BASS

THE DEARS

TRIVIA: SPORTS

ST. PADDY'S

DAY EVE

OPEN MIC NIGHT

KARAOKE

ELECTRIC SIX

FEVER FEEL

DONOVAN WOODS

BORN RUFFIANS

TESSERAC T
---
SXSW

BeatRoute's guide to make it home alive

BY COLIN GALLANT

live music

March 03

jay bowcott

march 10

MITCH BELOT

march 17

the west

march 24

sadlier-brown du0

march 31

michela sheedy

saturday nights

Emotional yet feverish art pop debut their full-length 'ing'

photo: Merrick Ales

While top picks for this annual Austin-based

festival include your next

faves Ed Schrader's Music Beat, Essaie

Pas and Look Vibrant (read about 'em in our

Reviews), massive debuts by Max Richter and

Wes Anderson, West-Can treasures Blessed,

The Dead South and Faith Healer, Eastern

Canadian acts like Cadence Weapon, FRIGS

and Tasha The Amazon, critical darlings

Porches, Shamir and White Reaper, boss-tier

showcasers Burger Records, LEVITATION and

ShowTime, plus uber-headliners TBA, what we

really want to tell you is how to survive nine

days of high-humidity, heat and hustle.

One: Stay out of the bustle

Unless Daddy is paying for it, there's no reason

to splurge on a hotel. Team BR is paying $145

CAD each, per person, for a week of accommodations.

It's South of the river, but you can

find similar prices in (far) East Austin, and

will pay about $20 USD amongst your squad

for rideshares (Lyft, Uber, RideAustin, Fasten)

to and from the lit district per day. There are

bike rentals available, too. Oh, and there will

be other great stuff near you - remember that

Austin is still an excellent city when it's not SX.

20 | MARCH 2018 • BEATROUTE

Two: Rest like a pro

Austin has a wealth of swimming holes and

relaxed places to recoup, many of which offer

fine food and great times without live music.

We suggest, alternatives to breaking into hotel

pools for swimming such as Barton Springs

and Easy Tiger for excellent sandwiches, baked

goods and beers. Then head over to Prohibition

Creamery for a dose of boozy ice cream.

Remember to set aside your pride and accept

that you will get tired.

Three: Unofficial, RSVPs & wristbands

You can't really go wrong with non-official

approaches to SXSW. There are so many

corporate showcases that are free to the

public with RSVP, you almost won't be jealous

of your friends with badges. There are

also backyard parties. Look at EventBrite,

Oh My Rockness, Unofficial SXSW Guide,

Do512, look up SXSW Guest Pass or just

talk to pals who are going to the fest to

find your way into open bars and awesome

showcases. Be nice to everyone you talk to;

they might be a CEO or someone who likes

inviting people to parties.

If you're like us and go to SX mainly to

see music, a $200 USD music wristband

can be purchased in person on site. While

a music badge will cost you $1350, a

wristband gets you similar access to most

small-medium shows. Artist wristbands

receive last priority entry, so if you're

attending as a performer, RSVPs are especially

important.

Four: Find your peoples

Go to showcases and events you could do

at home but don't. BreakOut West, Halifax

Pop Explosion and POP Montreal are just

the beginning. Put in a little legwork on the

official schedule and register for SXSW Social

if you're able -- you don't have to break a

sweat networking if you know where to find

your peers.

If you feel like finding us BR folks during

SXSW, just use the tips above or hit us up at

info@beatroute.ca. Happy SXing, and we are

not liable for any of this.

South by Southwest takes place March 9 to

March 18 at various venues around Austin, Texas.

For details visit https://www.sxsw.com/

weekly specials

late night movies

$5 pints, $1 oysters

$1/2 off wine

$2.50 tacos

$7 beer flights

$5 draft pints

$3 Wild Turkey

midtownkitchen.ca

ROCKPILE
---
BEATROUTE • MARCH 2018 | 21
---
RAE SPOON

armed with a hydrophone, watch out!

Spoon's new songs in the making — no holds barred.

JOEY CAPE

peeling back the veneer

With winter winding down, there's comfort in spending intimate evenings indoors, especially if it

involves being treated to acoustic melodies from our favourite coffee-loving punk, Joey Cape.

Although Cape is most recognized for fronting the Californian punk band, Lagwagon, his solo

musical career is gaining momentum. The first of Cape's four solo albums, Bridge, debuted in 2008

and more recently the simply named Covers, featuring unplugged Lagwagon and Bad Astronaut

renditions, appeared on his own One Week Record label.

"I'm always working on new material and I'm always writing," says Cape.

"I'm just one of those people. I can't stay idle. I'm recording a new album right now. It's got a way

to go, but I'm really happy about it. I've been writing it for a couple years and I think it's one of the

best things I've done solo. But you never know, it could suck! So, we'll see."

Cape's solitary writing efforts usually result in songs of the somber variety, so it's only fitting that

his new material is sincere, emotional and dark. Pulling heartfelt selections from his considerable

back-catalogue, he also diversifies his solo shows with a slowed down, bare bones take on some

original punk classics.

"I'll be honest, I love sad songs, I like songs that are melancholy. It's almost like that's art to me,

when I hear somebody's heartbreak and struggle. But, that's what I want out of a painting and that's

what I want out of a novel. It's the same with music."

True to his word, Cape has steadily refined his style and sound by introducing the unadorned

discipline of the acoustic guitar to his naturally restless lyrics. The latter of which is something that

the stalwart singer has been perfecting since his early skate-punk days.

"A lot of Lagwagon songs just sound really nice when I play them on acoustic, because they're very

emotional. "I Must Be Hateful" is the best example of that. It never became a song that anyone ever

asked to hear, until I played it on acoustic. I think it's because we [Lagwagon] missed the mark on the

vibe; it's too rushed and doesn't have the right flow.

While in the midst of working on writing a new record, Rae

Spoon likes to downscale to playing acoustic guitar in the

process of carving out fresh songs. For the upcoming performance

at NMC, Spoon promises to play some old tunes as well and few

ones still in development.

"It's been awhile since I've been to Calgary and I'm excited to

play the National Music Centre, the King Eddy actually, which was

a cool place to go when I was a teenager to watch blues bands."

Spoon, who has lived in Victoria for the past couple years (and

jokes about being there way ahead of the retirement curve), is

incorporating different aspects of that newish environment to be

on the upcoming record.

"The record is kind of based on an ocean presence. I live

right on James Bay in Victoria just two blocks from the ocean.

I'm gathering a lot of sounds, working on some electronics and

field recordings which I'm trying to integrate as a landscape

into the album."

One aspect of incorporating natural elements into the new

songs is using a hydrophone, a device to record sound underwater.

"I have a hydrophone I'm playing with, although it's giving me

some trouble. I'm planning on dropping it in some parts around

Victoria, but I'll probably have to be on a boat. Or I might," laughs

Spoon, "be singing backup vocals in my bathtub!"

"I kind of like experimenting with that, and bringing in the idea

of bodies and that the ocean as the original super connector. I

guess now it's the internet! But bringing in body stuff, and, in general,

living as a non-binary person. I have a song that was supposed

to be full of the F-word, but I played it at folk festivals and changed

BY B. SIMM

it to 'Do Whatever The Heck You Want.' It's about letting anyone

do what they want, as longs as they're not hurting anyone." Spoon

adds triumphantly, "And children have fallen in love with it!"

Then further explains how writing about the physical environment

leads directly into a political context.

"The places I've lived have always affected my work. I've written

a lot about the prairies, this time I'm trying to focused on the

ocean, its surroundings but also there's a lot of political things

going right now with pipelines and oil tankers, spills and…"

Wine embargos!

"Yes!" laughs Spoon. "The NDP is throwing it down. And I'm

bringing in stuff like that too."

Breaking it down into specifics, Spoon outlines a new song

called "You Don't Do Anything".

"It's about politicians who say they're onside and actually care,

but don't do anything. I don't know if any federal leader might

come to mind," chuckles Spoon.

"I've been working a lot with Indigenous communities

and people with different background than me, and it's been

hitting pretty hard lately how messed up all the policies are

towards the land and Indigenous folk. Right now the federal

political climate is definitely informing my writing about not

doing anything to equalize things like the child welfare system.

The federal government is saying whatever think is right, then

doing whatever they want."

Rae Spoons performs at the NMC on Thursday, March 15 as part of

the Alberta Spotlight Series.

BY SARAH MAC

Don't miss Joey Cape on his One Week Records Tour of Alberta. He performs March 9 at The

Palomino Smokehouse and Social Club [Calgary], March 10 at the Starlite Room [Edmonton] and

March 11 at Wild Bill's [Banff].

Lagwagon frontman Joey Cape's solo act trades Woodie for wooden.

22 22 | MARCH | MARCH 2018 2018 • • BEATROUTE

ROCKPILE
---
ALVVAYS

sea to see

East Coast pop stars Alvvays shine on second album, Antisocialites.

The monotony of a Canadian winter can be exhausting. Waking up to residual nightfall spilling over

into what should be daylight, the world is moving nowhere fast, and it doesn't exactly inspire productivity:

when layering up sufficiently to brave the outdoors takes 20 minutes, why bother? Dreariness

lingers seeming-perpetually, interrupted only by brief months of sunlit respite. So, what is there to do?

For Molly Rankin, Kerri MacLellan, Alec O'Hanley, Sheridan Riley and Brian Murphy, the answer is simple:

make music. The five, many of whom have known each other at least peripherally since childhood,

go by Alvvays and are currently touring in the wake of their second album, Antisocialites.

BY JORDAN YEAGER

"Kerri is a childhood friend," says Rankin. "I met Alec in Halifax, when he was playing a show

with one of his previous bands, and he went to high school with Brian, who plays bass. Sheridan,

who plays drums for us, we saw her play at the Mod Club in Toronto with a different band and

asked her if she wanted to play with us. That was like a year ago."

Growing up in Nova Scotia surrounded by the ocean, trees, and rolling hills provided inspiration

for lyrics that enable listeners to see the scenes set by your words. While not everyone has

visited the Canadian east coast, they can certainly envision tree-covered mountains turning red

and yellow on a golden September dusk or the vast blue sea sprawling out endlessly, marked by

lighthouses along the shore.

"I can be a little bit observational with my lyrics," says Rankin. "I'm inspired by space and

weather and distance and being alone. I like to paint imagery, and it's easier to be descriptive

when you're talking about, you know, the sunset or the trees or the ocean."

Alvvays is decidedly pop-centric, with heavy synths and catchy melodies laced throughout

dreamy vocals. If you listen carefully, you might hear "a little bit of fiddle personality" within

Rankin's guitar style, hinting back to her formative years in the industry, but for the most part,

Antisocialites doesn't stray far from the precedent set by their debut album. If anything, it's

heavier-hitting.

"With the first record, some of the way that things were recorded, we ended up having to

take a lot of treble out of the record," she explains. "I think the first one may be a little bit softer

sounding. When we play live, I think we sound a little bit more – I don't want to use the word

lively, but there's definitely frequencies that we didn't have on the record when we play live, and

I think people notice that. But this record has a little bit more of a full spectrum. It might be a

little bit more lively, but we didn't really want to alienate our first record, either. I didn't really

have any hopes and dreams of leaving that to the dust. I still feel good about it."

Alvvays perform on March 31 at The Palace Theatre [Calgary].

UPCOMING EVENTS

MAR 2

SAVED BY THE BEATS

Dirty Pop Edition

MAR 8

MAR 14

MAR 18

MAR 20

MAR 31

FEMME FATALE

Presented by YYC Girl Gang

MARIO KART CLASSIC

w/ Video Game Trader

LIVE BAND KARAOKE

SPRING FLING

w/ Peter and the Wolves

THE PATH LESS TRAVELED

Tickets and full listings

TheRecRoom.com

The Rec Room is owned by Cineplex Entertainment L. P.

ROCKPILE BEATROUTE • MARCH 2018 | 23
---
IRISH WATERSHED

Running parallel and sometimes intersecting the showbands, there was a revival of traditional Irish folk

in the '60s led by The Chieftains, The Clancy Brothers and The Dubliners, to name a few. Keeping the

dance halls filled and drinking flowing, there were a few novelty showboaters as well – Paddywagon

wore black and white prison stripes as their stage outfits. By the early-70s another, much broader form

of the folk revival would take shape with Planxty and Clannad, bands that dove deep into the roots of

Irish music employing a multitude of musicians and instruments. At the same time, Celtic rock began to

emerge largely following Thin Lizzy's "Whiskey In The Jar" in which The Horslips are rightly cited as the

"founding fathers" of the genre while pushing it into prog-folk.

The Irish had its special take on being punk. Certainly The Pogues put punk into folk like no band

before, aside from Dylan going electric with The Band. And while Stiff Little Fingers' assault tactics are on

par with The Clash, The Undertones were absolute gems, a brilliant debut in 1978 with "Teenage Kicks"

oozing with what it meant to be young, unprivileged, perplexed but glad to be fucking alive! Boomtown

Rats were a lot more scrappy, but wore their soul on their sleeve just as well. They kicked out their

teenage lust in "Mary Of The Fourth Form" and stole Springsteen's thunder with "Rat Trap" showing Mr.

Boss Man how to punk-it-up.

Then the elephant in the room – the paradox of U2. Given Bono is such a mouthpiece, his lyrical

contributions vague and often vacuous. Yes, the guy has a magnificent voice, clearly a cut above when

he rose to belting out "Pride (In The Name Of Love). But without meaningful language, too often it's just

sonic veneer –paging through the beauty and glamour of Vogue Magazine, a delight to look at but not

something that really penetrates too deep. And what would the band be without Bono wailing away?

There's no with or without you, it's with Bono or no U2. Hey, millions (yes, millions) of fans around the

globe are with them as well!

Despite the thin pop minimalism but great rock 'n' roll accomplishment (paradox), U2, like Van

Morrison, was a game changer. They did swing open the door for a whole new wealth of Irish talent in

the form of That Petro Emotion, The Cranberries, The Coors and, of course, Sinead O'Connor.

While praised for her cover of Prince's "Nothing Compares 2 U", O'Connor scales many walls and is as

proactive as it gets in life and in song, where one reflects the other. Her 2014 recording "8 Good Reasons"

is a harrowing descent into near suicide, if not literal, certainly a metaphorical and compelling account

on saving the soul by penetrating the soul. And that's really the beauty of good Irish music, soul diving,

which is why so many artists drift towards the Emerald Isle.

Irish diaspora refers to ex-pats or those who claim they're descendants of Ireland reaching back to

either claim or expose their ancestral roots. Paul McCartney had a hit single in 1972 with his protest

ditty "Give Ireland Back To The Irish" proclaiming his heritage in response to the violence that pro-

ST. PADDY'S SONG AND DANCE

more than a few tunes to drink to

BY B. SIMM

St. Paddy's is a good day for drinkin'. In fact, most days are! But it's often discouraging to bear the

onslaught of a non-stop playlist of Irish drinking songs where many only made the list not necessarily

because they're good songs, but because they're "drinkin' songs". It can spoil a good day of celebrating.

You deserve better, the Irish deserve better.

And those Irish are a tuneful lot. Their Celtic souls immersed in music ranging from traditional to

modern, from minimal to multi-layered that occupies a sprawling spectrum of sound and cultural complexity

that far surpasses those simple tunes to toast to. By no means can you begin to encapsulate the

depth and breath of the Irish in a few paragraphs, but when constructing that St. Patrick's playlist here's a

few hall-of-famers that should be noted, if for nothing else, a starting place to explore your inner Irish.

In the States during the early-60s, especially in the wake of Beatlemania, an all new All-American sport

cropped up where legions of young, white males formed garage bands bashing out gnarly, three-chord

R&B numbers trying their best to imitate not John and Paul so much as their black superheroes – Chuck

Berry, Little Richard and James Brown.

To lesser degree, the garage band phenomenon also took hold in Europe, Asia, Japan, Latin American

and down under in Australia as the shock waves of the British Evasion rippled across the planet. In

Ireland, a similar, but unique variant of garage rock was already in the works pre-Beatlemania.

The profound effect Glenn Miller, Sinatra, Bill Hayley and Elvis had on the English-speaking world

perhaps moved the Irish more than other nations outside America. In response to Ol' Blue Eyes and the

King of Rock 'n' Roll, "showbands" sprouted up all over the country performing and playing hit singles

many Irish didn't have access to because radio stations rarely embraced pop music and record stores

were far and few between. By the 1960s showbands swelled into the hundreds and easily criss-crossed

the notorious border, which divided the Irish on the political and religious front, but couldn't constrain a

van packed full of musicians and gear.

Many of the showbands were led by versatile singers, some became national sensations, seguing

between Elvis, crooners like Sinatra and Gene Autry while dabbling in Irish tradition. The game changer

would be Van Morrison.

THEM and VAN

Morrison sang, played sax and harp in a showband called the Monarchs who toured Ireland as well

as US Army bases in Britain and Germany. Caught up in the R&B explosion that spawned the Rolling

Stones, he formed Them in Belfast who had the same gritty blues delivery as the Stones and the Animals.

After touring the States on the strength of "Baby Please Don't Go", "Here Comes The Night" and

what became thee garage anthem, "Gloria", Morrison on his return to Ireland was disenchanted with

typical band bullshit and left. Soon after he recorded the single "Brown-Eyed Girl" which eventually led

to a record deal with Warner Bros.. Drawing on a mass of influences, Morrison crafted a magical fusion

of folk, pop, R&B, soul, jazz and rock 'n' roll found on the albums Astral Weeks, Moondance and St. Domenic's

Review. An Irish alchemist who bridged the vast expanse of Celtic consciousness with everything

under the American sun, he cracked open a seminal universe filled with poetry and music.

RORY GALLAGER

Still not a household name alongside the Hendrix, Page, Clapton, Blackmore, Beck list of who's who

of guitarists, but was well-known and well-respected by all of the first generation guitar greats. Raised

in Cork, Gallagher also joined a showband where he honed his skills on what is reputed to be the first

Fender Stratocaster to be shipped to Ireland which he bought in 1963. By 1966 he led the blues-rock trio

Taste and then formed a band under his own name in 1970. A fiery guitarist-blues purist, Gallagher also

had an incredible, irresistible voice and could pen passionate, flowing, bursting-at-the-seams rock 'n' roll

numbers, yet he and his songs were Irish to the core.

THIN LIZZY

It's impossible to mention Thin Lizzy without thinking of Phil Lynott, the band's charismatic black frontman,

a hybrid of Jimi Hendrix and every great American soul singer. Like Gallagher, in the mid-60s Lynott

led a semi-successful blues-rock band, Skid Row, before moving on to Thin Lizzy in 1969. The first two albums

were not impressive, but after recording a galloping, soulful version of the trad ballad, "Whiskey In

The Jar," things started looking up. While Thin Lizzy is renown for their swagger and searing, dual-guitar

leads and gate-crashing force of "Jailbreak" and "The Boys Are Back In Town", there's another side to the

band that rests in Lynott's tender moments and recollections of his Irish youth. "Girl In Bloom" off 1973's

Vagabonds Of The Western World is one of the most heartfelt mini-dramas ever written about teenage

pregnancy. While "Dancing In The Moonlight", their post-Jailbreak single, a clear indication Lynott was

deemed to take the airwaves and top the charts if he had kicked the habit.

24 | MARCH 2018 • BEATROUTE

Van the Man

Boston 1968
---
voked Bloody Sunday where British soldiers killed 13

unarmed civilian protesters.

The Waterboys, a Scottish group led by Mike Scott

declared his Irish roots, relocated to Dublin in the

mid-80s gathered some 25 musicians who played

on 120 tracks recorded over two years which was

condensed and released as Fisherman's Blues in 1998,

a landmark in Celtic folk-rock with its bang-the-drum,

wanderlust and tangled up in love songs. Then

there's American punk, most notable LA's Flogging

Molly and Boston's Dropkick Murphys, who carved

out their brand based on a Celtic kind of mood since

the late 1990s and early 2000s.

Fast-forward to now, and it's the Gingerbread Boy, er

Man, Ed Sheeran, born in England but referred to as an

honorary Irishman because of his family background

and that Ireland is ridiculously loopy over his music

where he's a chart-topping monster occupying the top

16 slots on March 17, 2017. Janey Mack!

Janey Mack indeed. Now Google away, go deep into

your inner Irish.

BEATROUTE • MARCH 2018 | 25
---
MIESHA & the Spanks

26 | MARCH 2018 • BEATROUTE

ROCKPILE
---
Girls Girls Girls

BY B. SIMM

What a vision! It could be a boatload of bikini-clad woman.

There was a movie made about that starring Elvis. Girls were wild

about him, and he was wild about them and sang lots of girl-crazy

songs. Motley Crue were wild about girls too. They wrote a song and

made a racy video with motorbikes and exotic dancers to celebrate

their obsession. The Crue and Elvis had similar interests, but different

styles, a different vision, a different statement.

Miesha Louie is wild about girls too. And has something different

to say. Her thing for girls is being female, having a female

frame of mind, a female voice, having female fun and being part

of a "girl-pack". The photo on the front of her new album, Girls

Girls Girls, is littered with familiar faces of women who make up

a large part of Calgary's music community.

"I got a bunch of my favourite girls from Calgary. We got together

in front of the cymbal wall (behind the stage) at Vern's, and kind

of made and afternoon of it. We just got silly and ran with the title,

Girls, Girls, Girls. It's sort of a snapshot of the music scene."

Bold, brash, bursting with bravado, oozing with emotion, Louie

and Sean Hamilton, who are the 2-piece nucleus of Miesha and

the Spanks, switch on the high-octane that flows throughout the

record. In "Motorin'" they add a little kick-start my heart Motley

charm with Louie tossing down a definitive 'If you want it, then

bring it on' proposal.

You waitin' on this heart?

You think you wanna part?

Think you can make it start!

Well try to and turn it on, turn it on, turn it on, turn it on

Come on!

The song is a rip-roaring piece of pure joy. When he first heard

the chords, Hamilton said, "Holy shit, this is my bread and butter! I

can't wait to play this." Louie is also anxious to produce a video for

"Motorin'" where she envisions her niece and a friend's daughter

"riding in go-carts, at an arcade with pinball lights flashing. I've had

that concept for a while, and would like to do it for that."

A lot of Girls, Girls Girls is talking 'bout love. Sticking to her heartfelt

instincts, Louie pushes to break down the barriers in "Come

Undone" asking her beau to cast off the fear and let the romance

unfold... "So if you want to please me/Just come undone, just come

undone, we'll come undone!"

Strong, powerful with dynamics mixing an intense, rock 'n' roll urgency

with melodic, sexy, girl-group sensibility, her voice is front and

center all across Girls Girls Girls making it the Spanks' most focused

recording to date. Hamilton explains that was largely the approach

going into the studio with British producer Danny Farrant, a skilled

multi-instrumentalist who also drums for The Buzzcocks.

"Everything was created around Miesha to sing. That's one

of things Danny picked up on right away. He said., 'I want to do

pop with you, but I want to do this kind of pop, this garage and

this rock.' It was a conscious choice of singing styles. That was

definitely his idea. And 'If we're going to do it clean, we're going to

do it clean and cool!'"

Louie meet Farrant when The Buzzcocks played Sled Island in

2011. Farrant busted her for drinking his band's beer backstage, but

thought she probably knew where the best festival parties were. Indeed.

Louie became the tour guide, they kept in touch, developed a

working relationship where she was paid 100 English pounds to sing

on each track that Farrant and his recording partner, Paul Rawson,

produced promo material for. Some of the TV series they've provided

promos for includes Sons of Anarchy and The Vampire Diaries.

Louie then began a long-distant collaboration with Farrant and

Rawson on new songs for the Spanks' Stranger EP, released late 2016,

where they mixed "Motorin'" and "Stranger" which also appear on

Girls, Girls, Girls. Those tracks revealed a definite maturity to the

Spanks' sound giving it a solid pop-punk-feelgood foundation that

has all the benefits of high-fidelity but retains the rough and ready

romantics that Louie and Hamilton lock down so well.

Following the Stranger release, the two scrapped together

every bit of cash they had and could get support for to record at

Farrant's studio located in Brighton. The 10 day excursion became

an intense whirlwind rotation between recording all day, heading

to The Goose – a local pub – to unwind, then hit their Airbnb for

a few hours before Louie was up at the crack of dawn "recalculating"

lyrics and preparing arrangements for another long stretch of

laying down tracks.

You keep me here in the atmosphere

Ooooooh, Oooooooh

We been up all night!

You keep me up all night!

I'm sure I'm not the only one

Who thinks she's having too much fun

We gotta keep it down low

Nobody gets to know

What we do when we're alone

Ain't no one's business but our own

– Atmosphere

"We eat and drank at The Goose every night, except for maybe

one," says Hamilton. "I now know what it is about the UK and their

pubs. It's not just a place to get drunk. It's your place for dinner, it's

people knowing each other, your community centre, an environment

you work things out, where you generate ideas."

Laughing, Hamilton adds, "I think we utilized The Goose to its

fullest extent. But it really was a big part of our lives there. Like

our anchor, with just Miesha and I. We'd be talking, drinking,

debriefing about things done and what to do in this strange, new

place of our own."

They also took full advantage of the opportunity in the studio

with Farrant and Rawson at the helm. With her the vocals riding

out front, Louie's catchy chords and hooks jump right in behind

giving the songs much more texture, depth and swing. Coupled

with Hamilton's tight and tailored in-sync drumming, the Spank's

tsunami of sound comes alive – a fierce and frisky 2-piece, with a

voice of its own.

"I write pretty simple guitar parts. But Paul (Rawson), who's more

the guitar player of the two, would say, 'Play it this way,' helping me

expand those parts and make more out of the same thing. They

knew what I was going for, and how to pull it out of me."

Hamilton was thoroughly impressed with Louie's learning curve.

"I've never seen a guitar player level up like that while in the studio.

They were like, 'Here's an idea, can you do this?', and Miesha came

up with riffs she sang over, in time with the drum beat that's built

specifically for that riff… crazy, difficult stuff."

Straight-forward punk weaned on The Ramones' rule of 1-2-3-4

Let's Go!, often relies on melodic patterns that are fun but unfortunately

all too predictable. The Spanks avoided that pitfall, making

the album fresh, moving from one adventure to another, but still

exploding with The Donnas' kind of pleasure.

"That was a huge focus," confirms Hamilton, with Louie in full

agreement. "Not to do exactly not what you think would happen.

We weren't going to write, 'Oh, it should be like this.' Instead, 'What

else can we do?"

Louie, however, did place some limitations on how far Farrant

and Rawson could tinker and colour up with her songs and sound.

The extent of experimentation sometimes felt a bit overwhelming.

"The crazy ideas would always be sonic," recalls Hamilton while

joking about what their producers would suggest. "Wouldn't it

be cool if we had six guitars doing solos here, here and here, and a

shaker coming down from above?"

Obviously an exaggeration, although Louie notes they added

various layers of instrumentation including horns on one song, all of

which she initially entertained.

"They kept adding all this stuff. I said I'd try it, but when I got the

first mix back it was so full of all this shit. I thought about it for a

while, looking from the outside, not as a musician. Eventually I lost

it, and told them, 'Take everything out you added. Take it all out!'

Then I was happy with it."

While Louie stood to ensure the recording reflects who she is,

who the Spanks are, she is also quick to point out that Farrant and

Rawson "gave way more to that album than stuff I had to say no to."

Although there's lots of fun-filled moments associated with the

record, Louie's songs aren't just about good times and running with

a gang of girls. The track "Lost Boy" opens with hard-pounding

drums, a repeating, haunting singular guitar note that echoes across

a darker landscape – there's no party going on, only the lonely roam

here. "Lost Boy" is a foray into alienation, an unkind space.

"I tried to write that song so it was relatable on different levels,

everyone has been lost at some time. But specifically I was looking

at my Aboriginal family history, and the way people get left behind.

You get these handouts and resources, but if you aren't able to catch

up, join in and enjoy the level white people are at, then you get left

behind, seated at the kid's table. It's like, 'You still fit here, but you're

not going to move forward with the rest of us.' And that leaves a

'Where in the world do I fit in?' feeling. Then having a 'fighting for

nothing, living for nothing,' complacent existence."

Louie reveals she doesn't often write material that probes into

areas that are "too political," but hopes the song will come across

having different meaning for different people. Hamilton is quick to

agree and feels the lyrics can easily apply to many other situations.

"For me, the most relatable line in the song is, 'You are a lost boy/

You aren't the only one.'"

As for girls... they want to have fun. And sometimes keep it close

and hush-hush, just let it float somewhere in the atmosphere.

ROCKPILE BEATROUTE • MARCH 2018 | 27
---
EDM ONTON EXTR A

FEED DOGS

slow and steady gets the debut EP done

BY BRITTANY RUDYCK

Turning trauma into post pop-punk gold.

Feed Dogs guitarist and vocalist Corby Burnett is fabulous

at delightful at holistic conversations that include

gardening tips alongside inspiring tidbits for newly minted

bands. Her refreshingly relaxed attitude toward her almost

four-year-old post punk band born of Not Enough Fest

may not have always been so relaxed. A former organizer

of NEF, she spoke highly of the experience, but also the toll

it took on those who worked feverishly to maintain it for

two thriving years.

"The first year was hard. It was incredibly intensive,"

Burnett openly admits. "I started the second year and I

realized I couldn't commit the time or the energy at all. A

few other organizers dropped out as well. We burned the

fuck out. I had heard about burn out before and never

experienced it. It's real."

In spite of exhaustion, Feed Dogs played their first show

at the second NEF in 2014 and are now releasing their

first EP Bless This Mess, a darker look into the inner world

of Burnett and her sister Stacy, who also plays guitar and

sings in the group.

The EP focuses on themes of trauma and abuse through

a distorted, gritty lens, something the Bwwwurnett sisters

created together.

"We share the writing of the vocals as well as the vocal

parts," explains Corby. "The lyrics come from personal

trauma in our shared childhood experience and a particular

kind of feminine pain. But, there is also resilience. That

28 | MARCH 2018 • BEATROUTE

photo: Levi Manchak

comes forward in the title of the EP I think. We can talk

about these things together and accept what it is."

While there is still a slight tinge of pop punk in the

noisier leaning EP, the band has grown considerably since

forming. Their songs are dense and driving, with plenty of

high guitar leads and shout-along segments. The layers of

distortion and imperfect garage-rock instrumentals not

only show a level of comfort with each other as artists, but

patience and emotional vulnerability.

The Burnett's vocals are strained in moments and serve

as raw, potent ammunition to express the pain of the feminine

in all its glory, wrapped in some mischief for good

measure. It's a delicate balance to approach themes like

trauma and relationship violence, but Feed Dogs manage

to craft a sound that is both heavy in its emotional

content while maintaining a sense of lightness through the

instrumentals.

"It's not a polished thing," Burnett says with a grin.

"We don't hold each other to this like it's our job. I

hesitate to even call myself a musician. We know we're not

pros and like to embrace the messiness. So it's slow going,

but it's fun that way."

For all Feed Dogs do for inclusivity in Edmonton's scene,

they certainly deserve a little fun along the way.

Bless This Mess is out now at feeddogs.bandcamp.com/.

Watch for a small run of tapes sometime this spring.

ROCKPILE
---
finger on the pulse of Dirt City

As we get a murky glimpse of spring via

puddles of melted snow and gravel this

month, jump into your rubber boots and

get thine butt out to one of these upcoming

events.

Kick off your month will a little Ukrainian

Theatre from the fine folks at Pyretic Productions.

Blood of Our Soil by Lianna Makuch

runs at the Westbury Theatre from March 1 to

March 9. The play depicts the struggles of the

Ukrainian people against Stalin and Hitler by

using live Ukrainian folk music and dramatic

storytelling. Tickets available on the Fringe

Theatre website.

If running social media accounts as an artist

isn't your thing, join Night Vision Academy for

an afternoon workshop on March 4 exploring

the fundamentals. Keith Armstrong will guide

the discussion, providing tools and techniques

to build your fanbase. $40 will claim your

spot.

The Sewing Machine Factory is home to

some out there jazz on March 6 with Heavy

Beak's tape release show. In fact, the entire

show is essentially a wall of noise with artists

like Bitter Fictions (Calgary), Soft Ions and

Blipvert. Get your avant-garde freak on for $10

at the door.

For aspiring poets and those curious about

writing from a place of honesty, the Nook

Cafe is hosting a workshop series on March 7,

March 14, March 21 and March 28 with local

poet Nisha Patel. Writing prompts, simple

poetry techniques and more will be explored.

There is no age restriction for this creative

event.

Continuous momentum and support for

the #metoo movement takes the form of a rally

at the Alberta Legislature on March 10. This

event seeks to provide solidarity and support

for survivors and work to move beyond the

hashtag, but also to address the current need

for support for overwhelmed sexual assault

centres. The rally runs from 1 p.m. until 3 p.m.

and all are welcome to participate.

If you haven't heard the news the Mercury

Room is closing… sorry to break it to you. Do

your best to make it out to one of the last

shows until the end of March. The St. Patrick's

Day party put on by Clean Up Your Act Productions

is a great opportunity to do just that.

Chips Ov Oi, Citizen Rage (Calgary), Suicide

Helpline and Ripperhead AB and Riefer Madness

are on the bill March 17. A raucous punk

show for the ages!

The Rec Room is doing a Wes Anderson

film series every second Wednesday at the

South Edmonton Common location. March

21 will feature The Life Aquatic with Steve

Zissou (2004). At intermission, dream pop

angels Prince Bunny will perform. This is a free

screening.

Metro Cinema's All-You-Can-Eat Cereal

Cartoon Party is back on March 31. This

all-ages sugary cereal buffet features a variety

of vintage cartoons spanning the '40s to the

'80s including old school commercials and

PSAs. The event usually sells out in advance

and is well worth getting up a little early on a

Saturday to check out. Unless you don't think

10 a.m. on a Saturday is early… whatever.

• Brittany Rudyck

ROCKPILE BEATROUTE • MARCH 2018 | 29
---
VISIONS OF COMICS

Artistic interpretations of comic themes

30 | MARCH 2018 • BEATROUTE

BY CAROLINE REYNOLDS

Honouring late art critic with comically inclined interpretations.

Stationed on cozy reading couches in the to the long lasting nature of comics."

sunny Happy Harbor Comics, BeatRoute sat Using modernization as an example he clarifies,

down with storeowner Jay Bardyla and general

"it goes from Peter Parker looking in little

manager Corinne Simpson to chat about their tiny microscopes, to Peter Parker using high

upcoming Visions of Comics art show kicking tech computers to analyze things in a lab."

off March 2. The art show is in its seventh rendition

Just one archetype shift to keep up with new

since the launch in 2009 and is in memorial audiences.

to Gilbert Bouchard, a friend and inspirational As Bardyla and Simpson reminisce about

CBC arts critic. After many contributions to installations from previous shows (which can be

Edmonton's art community, he passed away in viewed on the shop's web page) it seems obvious

2008. Along with the art installations, the opening

that challenging comic based artists to step

night will feature guest speaker Emily Chu, outside the walls of graphic novel illustration

an instructor at Edmonton Digital Arts College. can lead to engaging concepts.

Tactful yet welcoming, Bardyla dove right into "There are people who do the very straight

his passion and inspiration for putting on the forward conventional approach, but then there

show.

are people that like to look for other ways that

"The point of it is not to just do a standard tool can be utilized," Bardyla says. "We see a

art show but to challenge artists who love comics

range in mediums; some might do sculptures or

to think about the various aspect of comics," interactive pieces or even immersive pieces as

he explains. "We want them to interpret things we are going to do this year."

in different ways and then translate that into an Immersive referring to the live, made on the

art piece."

spot piece Simpson will be part of at the opening

Each year the show is themed around

night event. The piece will be "the live birth

comic book tropes. This year's theme transpired of a hero." As Simpson moonlights as a makeup

through integrating the motif from their 2016 artist, she'll be doing a full body paint on a live

edition, dubbed In Conclusion. The organizers model. It's family friendly, of course.

agreed it was a natural to follow it up with a "It will be like watching a live action origin

good origin story and have focused the 2018 story unfold before you," Simpson explains,

rendition on the topic.

beaming.

"This years theme revolves around origin Visions of Comics takes place at Happy

stories, which is a very strong conventional tool Harbor on March 2 at 7 p.m. (Edmonton). The

in comics," says Bardyla. "Not only do comics event installation runs until March 15 and is free

constantly use an origin story, it is constantly to attend. Donations will be accepted to benefit

being updated and shifted, which is a testament the Bruce Peel Special Collections Library.

GRIZZLY TRAIL

blinded by friendship; punks carry on

Apparently farts are still funny. That may

be the main take-away from an interview

with northern Alberta based punks Grizzly

Trail. It's been at least two and half years since

we last spoke with the four piece that have

experienced literal trial by fire in the years

following the release of their debut EP Dead

Standing Sessions.

Their hometown of Fort McMurray went

up in flames in May 2016, scorching nearly

6000 square kilometers of land and displacing

over 80,000 in the costliest disaster in

Canadian history. Drummer Stephen Payne's

apartment then caught on fire in Edmonton.

Eventually, they had to find a new guitar

player and it took a few tries to put their new

album Chesterfield together. Despite the

obvious tribulations, going on tour last year

was the straw that nearly broke the proverbial

camel's back.

"We were almost done as a band," says

guitarist Dave Millar, with a hint of exasperation

in his voice.

"The stress of tour, guitar player problems,

this label we were supposedly part of… Everything

came to a head. We called an emergency

meeting and talked stuff out that hadn't

been talked about. Payne quit the band a few

times that day, but we all calmed down and

he stayed."

The emergency band meeting seems to

have worked. Tour went forward as planned

and they even managed to weird out their

touring bands by cracking jokes about

farts. While line-up changes are not entirely

exciting to discuss within any band ever,

Grizzly Trail ditched what may have been a

potentially toxic member for someone who

most of them have loved for years, guitarist

Andy Alfred. Alfred formerly played in A

New Rhetoric as well as hardcore bands with

New album brings punk dudes closer together.

BY BRITTANY RUDYCK

bassist Robbie Egan.

"He was actually going to sell merch for us

on that tour," Millar says, laughing.

"My favourite part of Andy being in the

band is that he told us he would be in our

band a long time ago. Years ago when we first

started he came up and told us, 'I'm gunna

be in your band.' We just laughed at him. But

look at him now. He's even wearing a Grizzly

Trail t-shirt."

Laughter goes hand-in-hand with Grizzly

Trail, which is why it was a tad surprising

to hear a subdued maturity on the new

tracks. They didn't go full Blink-182 on their

self-titled album serious, but the sentiment

is there. Songs like "Marble Mouth," a tribute

to fallen friend Joey-D, is justifiably somber

and gloomy, but for the remainder of the

tracks, Grizzly Trail does not lose their fast

paced pop-punk sound. It's likely due to the

situation surrounding the recording: the

pre-production was conducted in Alfred's

sweaty apartment last summer mainly without

shirts because (and we'll paraphrase) it's

hot in August and drinking inspires people to

get naked.

"We did all the real production sober," says

Egan with a laugh.

"The new album has more of a hardcore

feel I would say," says Millar.

"It's really all over the map."

As Millar finished his thought he noticed a

renegade eyelash on Alfred's face and gently

brushed it away.

The world needs more punk bands that

care about each other.

Join Grizzly Trail for their album release party

at the Starlite Room on March 24 [Edmonton].

They will perform alongside Belvedere, Downway

and the Nielsens.

photo: Kali Jahelka

ROCKPILE
---
ERIN KAY

Sophomore album empowers women's voices

Singer-songwriter Erin Kay has gone through a lot to release her

sophomore album Silver and Gold. The release happens to land

on International Women's Day which was a happy accident. Kay

admits the scheduling wasn't intentional, though it supports the

meaning and intention of the album in every way. Kay describes

Silver and Gold as the hard-won result of cultivating a fulfilling and

powerful life after leaving behind a toxic relationship and moving to

Alberta with her daughter. Her previous album Into the Light, "was

this process, when I was moving…and I was just wanting to move

into the light. I was wanting to be there but I was still heavy, and

afraid. Not even afraid because I didn't know my power yet. I didn't

know yet what existed within me."

The title track of her new album describes the process of refining

your experiences and memories to become who you truly are.

"It's never perfect, you know. It's rare that you have something

pure, one hundred percent. Its the process of getting to that state

through the refining."

In her website bio, Kay states that you don't have to wait until

silver and gold is given to you.

"I think that all the parts are already within us, they're already

there. It's just a matter of recognizing them within yourself. Until

you're recognizing them within yourself, you're probably not going

to find them, or have them. But they're there the whole time. You

just have to be willing to take a look. Look past the hurt and be like,

'oh, I am this already' and not be afraid of it."

In Silver and Gold, the listener experiences Kay's journey of

empowerment through her heartfelt vocals – reminiscent of Joni

Mitchell – and the steady fearlessness of the expansive melodies.

Producer Miles Wilkinson has worked with some of folk-country's

greats, including Emmylou Harris and this translates through to

Erin's album.

"I really wanted it to be just a stripped-down record. Really basic,

you know? We just started going and it just developed into this

bigger project. We just kept going with it, we kept building it and it

turned into something really cool."

The two-year project was more elaborate than what Kay had

planned. Ultimately, this direction proved wise. The album could

be the musical equivalent of embroidered lace: delicate and strong;

containing complex layers, while communicating a lovely simplicity.

The openers for the album release will be Celeigh Cardinal, soulfolk

songstress, and the all-women's pow-wow and hand-drummer's

group Chubby Cree. In booking these opening acts, Kay's

message is clear.

"I want this sacred space to be opened. I don't just want to release

a record. I want it to mean something to me, be true to myself

and to who I am. I really want to support women and I want them

to know, I never thought it was possible that I could do a music

career and be a single parent."

This is also the aim of her initiative I Am Enough which gives

femme identified artists a chance on stage to share their wisdom as

well as support United Way's Women United initiative.

Erin Kay's Silver and Gold release party with Celeigh Cardinal and

Chubby Cree is at The Aviary on March 8th (Edmonton).

BY ELIZABETH EATON

Through hardship and doubt a powerful voice emerged.

JOSHUA HYSLOP

NEW ALBUM

F E AT U R I N G

THE SINGLES

"FA LL" & "HOME"

JOSHUAHYSLOP.COM

ROCKPILE BEATROUTE • MARCH 2018 | 31
---
THE MOTHERCRAFT

fresh EP and guitarist for groovy metal group

Stoner metal flies high.

About two years ago, a Google search for

"Edmonton Stoner Metal" would have

led to Grizz Penner's ad on the networking

site for musicians, BandMix. This is how

guitarist and vocalist Jordan LeMoine and

Penner originally connected to form The

Mothercraft. After jamming killer riffs in

the basement, they asked Geoff Keller to

join on drums.

Now a regular staple of the Edmonton

metal scene, The Mothercraft released their

debut five track EP Pillars on January 5 via

Bandcamp and will celebrate the release with

two gigs in March. Self-described as a vehicle

designed for travel in space, delivering righteous

riffs to the reaches of the universe, the

opening track "Cosmic Nod" does just that.

Early Black Sabbath inspired vocals and sharp

riffs wind around a heavy hitting, steady beat.

The EP is just under 25 minutes of atomic

face melting riffs, keeping true to the tradition

of bands such as the Sword.

Pillars is a package that can hold its own

among the best the stoner genre has to offer,

using the success of several singles to formulate

their ultimate sound for the EP.

"Recording was a relatively new experience

for all of us. We learned a lot about what we

wanted to sound like," explains Penner.

It took two studios and several noise

complaints to get it done; the band is now

bringing that raucous vigor to the stage.

32 | MARCH 2018 • BEATROUTE

BY JOHNNY JAGAJIVAN

photo: Aaron Kurmey

"Our shows are pretty high energy," says

LeMoine excitedly.

"We try to get everyone involved in the fun

we have on stage and off!"

With no intentions of slowing down, the

Mothercraft have tours, festivals and a fulllength

album in the works.

"We are constantly writing and jamming

new riffs," says Keller.

Recently the Mothercraft brought in

second guitarist Riley Quinlan to complete

their line-up, adding harmonies, blends of

tones and a general thickening of their sound.

The band describes their new and upcoming

songs as being even heavier than the EP.

Whether this will change the direction to

their approach to the stoner metal genre that

remains to be seen.

With so much on the go, the Mothercraft

embodies what it means to be a hardworking

band, truly driven by the energy given

to them by their local brigade of metal fans.

Pillars demonstrates where hard work and

dedication will get you.

Join the Mothercraft at their EP release show

at the Starlite Room on March 23 [Edmonton].

They will be joined by Chron Goblin, Sparrow

Blue and Fear the Mammoth. They also perform

at the Palomino Smokehouse and Social Club

on March 24 [Calgary] with Iron Tusk, Electric

Revival, Sparrow Blue and Buffalo Bud Buster.

CRUCIFEROUS

hardcore action and reaction

Cruciferous are a vegan hardcore band set

to release their five track EP Samsara.

Rooted in Hare Krishna spirituality (a Hindu

sect following a strict vegetarian lifestyle

with a belief in karmic laws of reincarnation),

this band exists to make more than

heavy music.

"Do you know what a Cruciferous is?" vocalist

and guitarist Johnny Jagajivan inquires.

"It sounds bad ass as hell. It's a vegetable

family that kale and broccoli belong to."

Appropriately, the cover of the impending

EP features a Saṃsāra wheel composed of

broccoli barring teeth. Musically, the band

stays true to the traditions of early hardcore,

their music features throaty, intense vocals

and lo-fi, severe instrumentals that crash and

urgently compete.

When asked to pick between militant vegan

hardcore band Earth Crisis or metaphysical

punks Shelter, Jagajivan chooses New York

Hardcore band "Cro-Mags. Everything that

band does is based in Krishna consciousness,

but they're making music that people love.

Shelter was this really niche band, and that's

cool, but we are making music for people to

hear it."

And while Edmonton loves heavy music,

the message Cruciferous represent through

lyrics and action may be considered somewhat

of a rarity.

"If people choose to read the lyrics, there's

definitely that message. I'm not trying to be

preachy, but this is stuff that's close to my

heart," explains Jagajivan.

"We recorded everything ourselves. The

lyrics really mean a lot to me because it

represents a lot of growth in my personal self.

I've been exploring my spiritual side while

staying positive and keeping it real."

Krishna hardcore is deeply embedded in

Vegan punks serving the community.

BY DREW MCINTOSH

the '90s punk world, but Jagajivan is content

doing his own thing within the broad framework

of a fading movement.

"I'm just doing what I feel is right for me,"

he says.

"I have been playing in bands since I

was 15; I'm almost 34 now. A lot of times I

didn't really have a creative input [in former

projects]. This time around everything

music-wise has been directed by me, with

the assistance of the rest of the band. I'm not

really thinking about anything else, because

I'm just playing music with my friends. I'm

not thinking about what came before us or

what will come after us."

"There's a lot going on in the scene in

Edmonton these days," Jagajivan adds.

"We're bringing something different, but

there are a lot of messages out there and

that's really important. I want to hear what

other people are saying."

Delivering not just words, but action,

Cruciferous is involved with Food for Life,

which brings members of the hardcore scene

together to serve the community.

"We're raising money and helping feed

people down at Boyle Street," he says. The

project serves up to 175 vegan meals per

month via volunteer contributions.

"We're trying to bring in that positive energy.

It would be great if everyone was spiritual,

but that's not the world we live in. What is

important is that people are conscious, that

they are helping each other. We're trying to

use our time as a band to show that we're all

connected."

Cruciferous release their five-song cassette

Samsara on April 6 at the Sewing Machine Factory

[Edmonton]. They will perform with Drown

in Ashes (Vancouver), Old Crows and Ghost Cell.

photo: Matt Bandrychuk

ROCKPILE
---
DEAD FRIENDS

Evil, sunny garage psych debut

BY KENNEDY PAWLUK I

Rebellious youth anything but dead.

Edmonton's hazy garage four piece Dead Friends is largely

an act of rebellion.

"I had a kindergarten class with Carter Mackie (bassist),

we were just walking around and decided to knock over

this huge pile of blocks," says guitarist Jesse Ladd in a

reminiscent tone.

"It made a ton of noise, made a huge mess and we got in

a bunch of trouble and we've been hanging ever since."

It's relatively minor acts of unruly fun like these that

are evoked sonically by the band's self titled debut, Dead

Friends.

With a quip of daunting psych inspired organ to kick

off the proceedings, Dead Friends is quick to push forward

into the catchy as all hell garage punk track "Can't Sleep."

"'Can't Sleep' is about my dog who sleeps all day," claims

Ladd. "Due to my insomnia, I can't sleep at all at night."

Lyrically the track conveys the general experience of

anxiety and absolute restlessness; a feeling that you can

never really just chill out.

Marking the mid point on the record, "Friends are

Dead" bears memories of being stoned, blinded by the

sun, and melting on a hot summer's day. The blend of keyboardist

Callum Harvey's signature organ tones with the

guitar workings of Ladd formulates a lush magnificence.

Enhanced by Ladd's deep, haunting vocals and drummer

Ellen Reade's high harmonies, "Friends are Dead" sets a

high point on the record.

photo: Logan Ladouceur

Despite the macabre namesake of the project, the

members are very close and their music is the result of

complete collaboration and growth in unison.

"We're all best friends," says Ladd.

"Of course, we get into little fights and things just over

bullshit always. At the end of the day we all still love each

other."

"In Dead Friends I've learned I really just love working

with a band and doing as much as possible with a band.

Getting along and seeing how far you can go, working

away at goals," adds Harvey.

"Musically I've learned little things like paying attention

to other people more, almost like not listening to yourself

but more so everyone else. This band is a very collaborative

effort. So I've learned a lot about arrangements

and how things work collaborating. I've also learned a lot

about opening yourself up and just going for it really. I just

love oiling the gears of rock 'n' roll. Just keep the machine

going, keep working on it, moving forward."

For those who would think to claim the idea that garage

rock is "passé," Dead Friends' debut is an ultimate rebuttal.

Dead Friends release their self-titled debut at the Sewing

Machine Factory on March 16th [Edmonton]. They will

be performing with Jock Tears, True Branch and the Slight

Brains.

ROCKPILE BEATROUTE • MARCH 2018 | 33
---
march EVENTS AT

skratch bastid

WITH teddy celebration & FRIENDS

wed

WAT PRESENTS

03/07

thur

03/08

10@10

A HIP-HOP SHOWCASE

OF BEATS AND RHYMES

fri

03/09

TOOTH BLACKNER

PRESENT:

Kim Churchill

WITH GUESTS

*EARLY SHOW*

thur

03/15

JIM BEAM

MAKE HISTORY TALENT SEARCH

WED

03/21

COMMONWEALTH PRESENTS:

FAUX REST I LION PRIDE I LASHES AND CHEER

what a time wednesdays world famous fridays modern vintage saturdays

403-247-4663 731 10 TH AVE SW COMMONWEALTHBAR.CA COMMONWEALTHYYC COMMONWEALTHBAR

34 | MARCH 2018 • BEATROUTE
---
JUCY

DJ NU-MARK

witness to decades of DJ evolution feels free with vinyl

Mark Potsic's foray into DJing began when

he was just 13-years-old in Los Angeles.

Now known to the world as DJ Nu-Mark (and

best known as a founding member of seminal

hip-hop outfit Jurassic 5), he has continually

found new ways to keep DJing fresh and

exciting.

Nu-Mark has become recognized for his

now infamous Kids Toy Sets, where he integrates

children's toys like a cymbal-clapping

monkey into a unique live performance. He

released a DVD compilation of these performances

entitled Nu-Conduit in 2012.

He's also an accomplished producer and

remixer; his career highlights include the anthemic

"What's Golden" for J5, his 2012 studio

album Broken Sunlight, or his collaborative album

with Slimkid3 of The Pharcyde. Recently,

he's started a series on Facebook called Zodiac

Tracks where he mixes artists together who

share Zodiac signs with the corresponding

month.

The Monster Energy 7 Inches of Pleasure

Tour, that rolls through Calgary in March,

gives Potsic, along with Mat The Alien, DJ

Pump and Illo, the chance to take a reprieve

from the many technological advancements

ARDALAN

makes music for himself

Although tech house is a staple and trademark of the monumental

label Dirtybird Records, signee Ardalan experiments

with all genres and decades.

The Tehran Native and San Francisco based DJ, whose full

name is Ardalan Noghre-Kar, has created a new of epic proportions

with All Night Long. His musical prowess is on display

from beginning to end.

The first track is a remix of American R&B/soul group Mary

Jane Girls, protégées of singer Rick James. "All Night Long," will

thrust you back to Studio 54, kicking your adrenaline into high

gear with banging percussion and nostalgic synths, it finishes

with lush vocals.

According to Noghre-Kar, it was while playing the video

game Grand Theft Auto that he became enamored with

discotheque. Incidentally, Mary Jane Girls are featured on the

soundtrack to the 2002 version Vice City. This interest would

later open the door to creative opportunities.

"I think it's really important to bring back the past, not

repeat the past, but be inspired by it. At the same time I want

to move forward and push boundaries. I like [fusing] the past

and the future together," he says.

""All Night Long" was a spur of the moment, a happy little

accident. I decided to mess with it right before a Dirtybird

show and I made it in like an hour. I played it that same night

and it went off," says Noghre-Kar.

The second track, "Act Like You Know" came effortlessly

they've borne witness to throughout their

careers, and get back to the basics spinning

only vinyl 45s.

"I enjoy playing 7-inch records because

there's a high level of risk involved," Potsic

says.

"Either your copy of the vinyl is clean or

not. Finding some of these joints on vinyl can

be tricky and cutting and scratching is also

much more difficult. I suppose I enjoy the

challenge!"

Potsic explains that his Zodiac series has

made preparing for this tour easier as he's

become re-familiarized with his extensive

record collection.

"In the '90s I dug deep into rare music," he

says.

"Today, I find myself looking for classics

that myself and my crowd enjoy."

He says that the ability to bounce back and

forth between Serato (digital DJ) sets, his toys

sets and vinyl-only shows keeps him vibrant

and enthusiastic about being a musician,

preventing boredom from ever creeping in. He

adds that he can't wait to re-visit Calgary and

hear Mat The Alien and the rest of the crew

get down again.

Ardalan's new EP All Night Long is out now.

"Personally, it makes me feel free," he says of

the vinyl-only tour.

"Sometimes when I'm on stage with the

computer and toys, there's always this nagging

feeling I have that something needs to be

charged or it might not be stable etc. With

vinyl, it's very straight forward, if you treat

your vinyl right it plays tight."

He is regardless excited about the new

Phase technology, that he, Jazzy Jeff and

Skratch Bastid got to geek out on at 3 Style in

Poland recently.

while playing around with production. Noghre-Kar transforms

Fat Larry's Band "Act Like You Know" (also featured on the

Vice City soundtrack) by sampling and pairing it with Aaliyah's

sultry track "Are You That Somebody," featuring Timbaland.

The EP concludes with "All Day Since Everyday," a track

written seven years ago.

Noghre-Kar says it was supposed to be released on a label,

but got pushed to the back burner and was waiting for the

right time and project.

"I have a lot of stuff that I haven't released before. I kind of

think I'm cursed or something, I keep everything for myself.

When I make music I make it for myself first because I just love

the process of making music.

DJ Nu-Mark at home in the new school and old school of DJing.

Moving forward, he plans to get proper

release events for his Zodiac Tracks series

worldwide, he's releasing an EP called TRDM-

RK with Slimkid3 and Austin Antoinne and

is on a new TV series called Drop the Mic, in

which Method Man hosts and he DJs. It was

just picked up for a second season on TBS

produced by James Corden.

Check out Nu-Mark at the HiFi on March 24

[Calgary] or at Lodge of 10 Peaks on March 17

[Lake Louise].

BY CATALINA BRICENO

"I'm trying to release more music and [share it with the

world]. At some point, I will release all the stuff that I haven't,"

says Noghre-Kar, laughing.

The EP is reflective of Noghre-Kar's musical identity, a blend

of different genres, sounds, and decades. The unique composition

is also showcased in his sets.

"I don't like to confine myself to one area, people think I just

make tech house, but I don't really label it as a specific type of

music."

"I just love making every type of music and love playing

everything from like electro, to breaks, minimal, sometimes

drum and bass…. I've been kind of getting weirder and just

been playing jazz loops and just doing some fun stuff like that.

I feel more comfortable doing that," says Noghre-Kar.

The year may have just started, but Noghre-Kar has big goals

for 2018.

First up: The Ardy Pardy. The event will bring world -renowned

DJs and will give opportunities to budding artists to

break into the scene. The official launch is set for the summer,

but its preliminary exhibition takes place on February 23 in

Washington, Columbia and features sets by Ardalan himself, as

well as Sepehr, Navbox, Alex Eljaiek, and Edo. Finally, Ardalan

also has an EP coming out soon with fellow Dirtybirds Walker

and Royce.

Catch Ardalan at the HiFi on March 17 [Calgary].

BY PAUL RODGERS

photo: Soul Kichen Music

JUCY BEATROUTE • MARCH 2018 | 35
---
METAFLOOR

realizing the power of his sounds

Metafloor's latest release Fish Fruit is his strongest yet.

It's been two years since we last spoke with

Metafloor, a.k.a. Blaine Kingcott, a producer,

DJ, and promoter behind local crew Sub

Chakra. It also has been exactly two years ago

since we reviewed his then-new EP Stronger.

Metafloor has now returned with stand-out

EP, Fish Fruit, fresh out on Aufect Platinum,

the brand-new sister label to Vancouver's

decade-strong Aufect Recordings.

"Stronger featured some tunes that I had

been sitting on for a while and just wanted to

get out," says Kingcott. "This release is similar;

some new, some old but it's more focused

and in line with the sound I've been trying to

hone in on the last couple years."

Describing his music as "minimal, bass driven,

steppy halftime, footwork-jungle sounds,"

Fish Fruit demonstrates a progression from

his previous work. While he still excels in the

140 b.p.m. range heard on previous release

Stronger, Kingcott now exhibits a talent and

comfort with the increasingly popular genre

of half-step drum and bass. Herein, deep,

smooth, rolling basslines are often punctuated

by reggae and jungle vocal samples, and

driven forward by skittering percussion.

The track "Mo Power," which appeared

alongside several other Metafloor originals in

Doctor Jeep's Bass Coast promo mix, appears

on this EP. As do remixes from prolific French

producer Moresounds and London's Fixate.

"The remixes are what really bring that

release together," says Kingcott.

"Which is amazing because sometimes the

remixes on any release are what stands out. I

36 | MARCH 2018 • BEATROUTE

BY PAUL RODGERS

photo: Michael Benz

think it really works in this case because Moresounds

and Fixate are some of my absolute

tip-top favourite producers — very lucky to

have their support."

Gaining support from artists that helped

inspire his own artistic progression is just one

of Kingcott's accomplishments. He cites Bass

Coast (where he feels at home and hopes to

soon return) and the thriving of Sub Chakra

as his crowning achievements, as well as touring

to places like Vancouver and Portland.

Currently, Kingcott has a remix for Vancouver

d'n'b duo Levridge set to be released in

March and simply plans to keep experimenting

to see what will happen next.

"I want to do more of that and see if I can

come up something profound, something

that makes people feel versus get hype. I

like the idea of making music that can make

people cry because it's so beautiful, it really

puts emphasis on how powerful music is," he

explains.

"I feel like this is how I would be able to

write something that is 'timeless,' which I

believe is a great way to measure whether a

piece of music is quality work. Music is subjective,

but if you can push play on what was

made 10 years ago and it's still great to listen

to, that's something to truly be proud of."

Metafloor performs alongside Dubconscious

and Bag-O-Beetz at Sub Chakra's Dubfounded

residency at Habitat on March 8 [Calgary]

and opens for D Double E at HiFi on March

31[Calgary].

CARTEL MADRAS

uprooting a narrative while bringing sexy back

Formed in 2017, sisters Priya and Bhagya

Ramesh make up Calgary's newest hiphop

group, Cartel Madras. Taking turns writing,

singing, and rapping, this Indo-Canadian

duo have a mission to shake things up.

"We're always trying to uproot the current

narrative, in Canada, where coloured women,

we're not that visible," begins Priya.

"Then in hip-hop, there aren't many women,

so we're trying to uproot that narrative;

and then in India, we're from South India,

that's not really present either in the Indian

narrative, it's always North India. So it always

feels like we've been disrupting whatever

space we're in."

They started releasing music as Cartel Madras

in the last year, but Priya notes that the

familial rap-project has always been bubbling

beneath the surface.

"Growing up we were always performers.

We were dancers, we were singers," she says.

"The heart and soul of [Cartel Madras]

was born way before us, with women in our

family, generations ago, who were feminists in

the 20th century, asking all these questions."

Carrying their feminists roots into their

music, Cartel Madras emphasizes the female

perspective in their songs.

"Anyone can listen to our music, but when

you're a girl and you hear our music, you

know. You know exactly what we're talking

about," comments Priya.

"It is incredibly male dominated, and we

do really try in our lyrics to point that out.

We do write very explicitly from the perspective

of a woman."

"Using hip-hop as a tool to give those

Creating party rap with perspective.

BY MORGAN CAIRNS

people a voice and agency is something we've

always seen as a good idea. A really cool way

to allow people to exist, to feel better, and to

help make change," adds Bhagya.

Party rap with perspective, these slick

beats are punctuated with lightning-fast raps

and smooth-as-silk vocals. Riffing off real

life experiences, the duos lyrics veer towards

the anecdotal, such as the summertime jam,

"17th Ave." With shoutouts to The Ship and

Anchor and Ricardo's Hideaway, this retelling

of a rowdy night out turned one-night stand.

"We want people who aren't in Calgary

to listen to us and talk about Calgary and be

like, "'Shit, I want to go to there,'" says Bhagya.

"We want to make Calgary sexy."

And if you can say one thing about Cartel

Madras, is that it's damn sexy.

"If you listen to hip-hop by men, I think the

grand narrative of hip-hop is being badass,

getting chicks, and winning," notes Priya.

"As women, we can also say all those

things. We can objectify men, and we should.

We constantly should, and that's something

we're really trying to do in our music."

With a spot opening for Toronto pop-duo

Too Attached in March, and a mixtape with a

soon-to-be-announced release date, you can

bet Cartel Madras won't be slowing down

anytime soon. "Hip-hop has kinda felt like

final frontier," muses Priya. "Like, if we can

make it in hip-hop as coloured, ethnic, women

from Calgary, that would be incredible."

Cartel Madras will play at Nite Owl on March

8 [Calgary] with Too Attached, presented by

Femme Wave.

JUCY
---
MATT & GILL

a DJ journey full of unsung heroes

Meet Matt and Gill. They host a new DJ-band

night every Thursday at Broken City. A night

that showcases their exquisite record collection

as they segue playing before, in between and after

bands take the stage.

Matt Robinson is originally from San Francisco

and Gill Crosley from Calgary, one of Broken City's

friendly and familiar bartenders. They first met

each in 2012 at the Austin Pysch Fest, drinking

beers backstage at a Brian Jonestown Massacre

show. A romance quickly blossomed with back

and forth visits between Calgary and San Fran.

Matt then moved a year later to Calgary exactly

when the flood hit Sled Island.

A guitarist and singer as well as DJ well-versed

on the decks, he brought 300 pieces of vinyl, a mix

of LPs and 45s, that were stuffed into various bags

of luggage leaving little to no room for clothes.

"He didn't even bring toiletries!" recalls Gill.

"But!" chirps in Matt. "I brought a little of every

genre. Down tempo, chill electronica, psych, atmospheric

house."

In San Fran, Matt says, "My initial focus on DJing

was down tempo – DJ Krush, DJ Shadow, atmospheric

stuff with dark breaks. As I became more

connected with other like-minded DJs, I moved

into other areas of atmospheric house that had

BY B. SIMM

Latin beats and '70s psych. I became much more

eccentric and intereted in more of the unsung

heroes of every genre instead of just playing the

typical hits."

Sharing DJ duties, Matt explains, "Gill's

enterprise in the set is more psychedelic, and

when it moves uptempo we agree I'll play more

atmospheric deep house, but no clubby stuff. And

the hip-hip is sophisticated, smart, spiritual. Tribe

called Quest, Buck 65, along those lines."

Their sets will also compliment whatever style

the artists booked on that particular night have. "If

it's an electronic artist, then more electronica. If it's

a rock band, then maybe more pysch or different

types of rock," says Matt. "We're not just playing

left-field stuff. It's not about playing what we want.

It's about the curating the night with the archive

we have. And our archive is pretty good!"

Gill adds, "But it will still be all over the place.

You can walk in and we could be playing psych

rock. You can go out for a smoke, come back and

we'll be playing hip-hip, and then we'll switch over

to Latin jazz. It's a little journey that morphs from

one style to another.'

Matt & Gill DJ the night away every Thursday at

Broken City.

LET'S GET JUCY!

Skratch Bastid will grace the wheels of steel at Commonwealth on March 7 [Calgary].

Here we are with another edition of Let's

Get Jucy. Apologies for my lack of a

column last month, my section was filled to

capacity with a great array of local stories and

I relished the opportunity to lighten my own

workload. Anyways, there's lots going on in

March, so I'll quit justifying my negligence and

get into it.

Dubfounded, the residency committed

to servicing all of Calgary's reggae and dub

music needs, returns on March 8 at Habitat

[Calgary], with this edition featuring Nelson's

Dubconscious and Spain-born, Kelowna based

Bag-O-Beetz. The former is extremely active

in Canadian scene, performing at Shambhala

almost yearly and working with their nightclub

Bloom in Nelson, while the latter grew up in in

Venezuela surrounded by reggae, calypso, salsa,

soca and more. This duo plus locals Syntax and

Metafloor, will be sure to deliver a well-rounded

night of music.

Turntablist extraordinaire, and the man

behind festival Bastid's BBQ Skratch Bastid will

be at Commonwealth on March 7 [Calgary].

Truly a "DJ's DJ" he has been rocking versatile

sets for many years, and his skills are a serious

sight to behold.

One of Canada's premier hip-hop artists

Atmosphere returns alongside Evidence, of

Dilated Peoples fame. The gig is on March 9 at

MacEwan Hall [Calgary].

On March 10 Flava D will tear things up at

The HiFi [Calgary] with support from all-star

locals Slim Pickins, BB Mars and Franky Dubs.

This London DJ, producer circumnavigates numerous

regions of house music, playing garage,

bassline and jackin' and definitely knows how

to devastate dance floors.

Stanton Warriors will come out and play at

Nite Owl on March 16 [Calgary]. Since emerging

into the limelight with their award-winning

Stanton Sessions way back in 2001, the

Warriors have remained a consistent fixture in

rave culture, continually amping up their sound

while staying true to their breakbeat origins.

This next one was a huge announcement

from the True Rhythm crew: DJ Yella of NWA

and Lil Easy E, eldest son of the late Easy E

and CEO of NWA entertainment, will perform

at Dickens Pub on March 27 [Calgary]. Tickets

for this are already flying at time of writing,

and True Rhythm is also offering VIP meet and

greet packages giving fans the opportunity to

connect with two of hip-hop's prolific artists.

Closing out the month of March on the 31

is a warm-up party for Vibrant Music Festival,

which takes place in June in the Columbia

Valley in British Columbia. Never to early to

gear up for festival season, so head on down

to The Nite Owl [Calgary] and catch Molly

Fi, Funkin Right, Ninjette and Robbie C. Attendees

will get the chance to buy discounted

tickets for the festival and two passes will

be given away to the person with the most

colourful outfit.

Despite taking last month off, I resolve to

continue consistently with my monthly musings

and assure you I will be back again next

month with my picks of some noteworthy

Calgary happenings. As always please hit me

up if you have some listings in mind. paul@

beatroute.ca

• Paul Rodgers

JUCY BEATROUTE • MARCH 2018 | 37
---
ROOTS

ERIN COSTELO

league of her own

BY ALIX BRUCH

Sometimes the best plan is not having "Even if I tried to make an album of

a plan. From a young age, Erin Costelo a specific genre, I don't think it could

never felt the need to think about what come out that way. Just because of my

she was going to do with her life, opting make up as an artist, the things that I've

instead to simply "live life now." Having been influenced by and the stuff that I've

surrendered to the winds, the Halifax-based

listened to and absorbed, it's always going

artist has landed among many to come out through that filter. That has

talented Canadian musicians, settling in made it really freeing to just write songs."

as part of a passionate and collaborative By refusing to acquiesce to the constraints

community. Settling, however, is not in

and expectations of the larger

Costelo's vocabulary. Being an accomplished

music superstructure, Costelo is making

singer, songwriter, producer, and music on her own terms. Fresh off being

composer, one might describe Costelo as signed to U.S. Label Compass Records,

a jack-of-all-trades. This versatility is no Costelo got to work on her fifth studio

doubt impressive, but winner of Nova album, set to be released in Canada this

Scotia's producer-of-the-year humbly fall. As a deliberate personal challenge,

attributes her multifarious qualities to the album was recorded over the course

her own idiosyncrasies.

of just ten days in a rustic house in rural

"I think I'm just a total Gemini and Nova Scotia. Costelo was accompanied

I get really bored," confesses Costelo. by a group of incredible musicians,

"I have to be distracted by a bunch of including Juno award-winning artist and

different things. So I don't think it's as long-time friend, Amelia Curran.

impressive as it sounds. It's my own

"To hold myself accountable, I decided

neurosis, really."

I wanted to document it [the recording

Following her passion for creating process] as a film because I figured if

evocative music, Costelo has carved herself

I didn't then I would change my mind

a unique place in the music industry. and take longer. I have a difficult time

The soulful vocalist is living in a space of deciding something and sticking to it.

freedom that many yearn for, but few are So Amelia has started making films, and

willing to navigate. It is difficult to pair we were just hanging out in the summer

her sound with any specific genre, and for when she offered to direct it. And it was

some musicians, that can be an intimidating

the perfect match! She has such great

position to be in, but for Costelo, experience in the studio, so I knew she

it makes her feel right at home.

would have an eye for what to be looking

38 | MARCH 2018 • BEATROUTE

at and looking for. it was one of the most

amazing experiences I have ever had and I

can't wait to share it with people."

Costelo's previous record, Down Below,

The Status Quo, took multiple years to

take shape and be released – a stark

contrast to her newest venture. Costelo

welcomes new challenges as opportunities

for growth and acknowledges that

this album is more personal and the lyrics

are the strongest she has ever written.

"I wrote through the process of being

there which was the first time I had ever

done that. I don't think that I'll ever do

it again because I think that it has taken

years off my life, but it was a super amazing

hyper-creative way to make a record,"

Costelo explains. "I wouldn't say that it's

different, but it has more space and is

lyrically more direct because I didn't have

time not to be. I think Down Below, The

Status Quo made me more accountable in

my lyric writing. I want to write stuff that

feels like I am putting something out into

the world that is representative of who I

am and what I think about things. Reflecting

on things that make us human. And

when you have someone like Amelia Curran

watching over you, you're like, 'Damn I

want to write some good lyrics here!'"

Erin Costelo performs April 6 at the Calgary

Folk Club and, April 7 at the Blue Chair

(Edmonton).

ROOTS
---
MATTHEW BARBER

reaching for a fresh frontier

THE WHITE BUFFALO

from no breaks to big breaks

Canadian folk-singer Matthew Barber is

getting a tad bit older, having turned 40

last year. As a staple of the Canadian singer-songwriter

genre since 1999, he believes his

music is maturing along with him. Known for

his traditional, melancholic style and critically-praised

albums, including The Family Album

(2016) in which he teamed-up with his sister

Jill, who is also an accomplished singer, Barber

branches out on his most recent album, Phase

of the Moon.

"While this album isn't radically different I

feel like it is just a natural evolution in my song

writing, but it still certainly has vintage singer

songwriter influences. I try to make it sound

relevant and contemporary, but my main

influences are still older records. It is not a

melancholy record I suppose, but it is also not

a party record, it is a contemplative record."

The recording also reflects Barber's diverse

musical ability: "I did something kind of new

this time. I played all the parts myself, aside

from a couple string arrangements. I played

the guitar, bass, drums, vocals, all that kind of

thing."

Over the years, Barber has invested heavily

trying to perfect the art of recording, if possible.

"I'm always sort of looking for new ways to

make records. It's sort of chasing this mysterious

thing of what it is to make a perfect record.

It's hard to make a great record and I feel like I

have been chasing this my entire career."

Moving into middle age, Barber is also

chasing history noting his music has weathered

alongside with him. "I feel like when I was in

my early 20s my life had more of spontaneity

and excitement and everything is kind of happening

for the first time. And now it is more

about looking back, I have more responsibility

and I have more pressure to feel like an adult."

On the cusp of his ninth full-length and not

content to rely on formula, he believes an artist

needs to strive and reach for something beyond.

"It is more than just having good songs

and good players, you have to have this sort of

intangible element that emerges. I mean there

is a reason that not every record attains that

even though all the pieces might be there."

Matthew Barber performs March 5 at The

Imperial (Vancouver), March 6 at Geomatic Attic

(Red Deer), March 8 at Marquee beer market

and stage, and March 9 at The Starlite Room

(Edmonton).

BY ANDREW BARDSLEY

BY JORDAN STRICKER

It has been 16 years since Jake Smith released music supervisor out to lunch and it ended up

his first album under the moniker The White happening," recalls Smith. "It was a great run, and it

Buffalo. He's learned many lessons on the road, really helped my career."

and there may be many more to come. With a Smith's music is typified by his hefty voice, laid

hefty baritone voice carrying notes that can be atop of a bed of similarly powerful acoustic guitar.

heard for miles, he has constructed a roughand-tumble

musical mode all his own. He to go with the toughest gauge of string you can

He strums his strings so hard he has no choice but

strums an acoustic guitar to transport his experiences

of love, pain and everything in between. "I like the juxtaposition of having something

buy.

Raised in Southern California, Smith started his that is really dark but feels good."

musical journey at 19 drawn to both twang and Sporting long flowing locks and a grizzly beard,

raging power chords. "I grew up on country music. Smith's towering presence is felt the second he

When I got into high school, I got into the punk touches the stage. His songs are just as dramatic

scene in California which really had an impact. romping from heartfelt to heartbreak to mayhem

Those two elements really influenced me."

and murder, painting pictures that vividly play-out

No stranger to getting things done and setting like short films.

the bar high, when he could only grind out a couple

of chords on the guitar he would call venues genre. I can write a murder song, I can write a

"I like the fact that I don't have to stay in one

and play his music over the phone with hopes of love song, I can write a heartbreak song. There are

landing local gigs. "It's crazy to think that at one no limitations to what can be written. I'm lucky

juncture I didn't even consider myself a musician, enough to have a voice that can one moment be

to now having a catalogue and playing all over the tender, and in another be aggressive and a little

world it is amazing."

scary," says Smith Continuing with that progression,

White Buffalo's newest effort is called Darkest

Helping White Buffalo's popularity soar

followed when they were included on the

Darks, Lightest Lights.

soundtrack to the outlaw motorcycle TV series,

Sons of Anarchy.

The White Buffalo performs March 8 at Marquee

"I had no label or management. I only had a few Beer Market & Stage (Calgary) and March 9 at the

projects under my belt but my lawyer asked the Starlite Room (Edmonton).

ROOTS BEATROUTE • MARCH 2018 | 39
---
SEAN BURNS

who you know is how it grows

think I thought it was gonna be easier

"I back then," says Winnipeg-based Sean

Burns of the hard touring he's done since

launching his career as a singer-songwriter

back in 2010. "It was like, 'Hey, we're pretty

good at this, we'll go out, get the lay of

the land.' Then got my spirits crushed and

shattered and then rebuilt over time, then it

took a few years of being here in Winnipeg

for things to come together and really start

working."

And come together they are. Burns's latest

full-length, Music For Taverns, Bars, and

Honky Tonks finds Burns getting together

with some of the cream of Winnipeg's roots

scene, including producer/guitarist Grant

Siemens of The Hurtin' Albertans, drummer

Joanna Miller, and bassist Bernie Thiessen, and

knocking out a classic-sounding set of tunes

in exactly the vibe the title describes. Burns

met Siemens here in Calgary during the first

Wide Cut Weekend, and they quickly discovered

a shared affinity for country music in the

classic roadhouse style.

"With Corb Lund doing most of 2017 solo,

Grant was around and just said, 'Hey man,

you play that real country music, if you ever

need a guitar player'. And when you get a

guy like that on your side, it really gave me a

confidence I'd never had before, you know?

He's into these songs, he's really into playing

this kind of music."

BY MIKE DUNN

Burns started out 17 years ago in Ontario,

backing up his father in a bands around his

hometown of Barrie. "My dad had a gig and they

were out a bass player, so I filled in and kept it

up through the end of high school. Then this

other guy that my dad did a duo with started

getting some gigs, and I was backing him up. My

dad started getting better gigs, and this guy had

just these rough gigs." Burns adds with a laugh,

"My dad just said, 'Hey if Sean really wants to be

a musician then he should be out there doing

some of these terrible gigs.'"

During and throughout the hard touring,

Burns has definitely found a home in

Winnipeg, where he plays often locally, and

recently took over a hosting spot spinning

country music on CKUW, the University of

Winnipeg radio station. "There's a thriving

community here, and I remember seeing

some people playing when I'd come through

town and thinking, "I'd love to play with that

person,' and now they've all played gigs with

me. When I think about it, that's maybe the

big success of my career, is making friends and

playing music with really excellent musicians

who are just the best people."

Sean Burns tours through Alberta and BC in

March and April, at The Ironwood Stage & Grill

on March 10th, and The Aviary in Edmonton on

March 13th, with stops in Lethbridge, Red Deer,

Nanton, Twin Butte, Black Diamond as well.

40 | MARCH 2018 • BEATROUTE

Sean Burns – real country matters.

photo: Gabriel Thaine

ROOTS
---
ROOTS BEATROUTE • MARCH 2018 | 41
---
42 | MARCH 2018 • BEATROUTE
---
SHRAPNEL

MINISTRY

on the weaponization of society and the need for systematic change

AmeriKKKant drops March 9 via Nuclear Blast Records.

he easiest way to rule somebody is to divide and

"T conquer the populous by fear. Turn society one against

the other. That's part of the old fascist playbook, it's the very

first thing you do. You sign onto the free press, you divide and

conquer. Now it's being weaponized by the internet."

AmeriKKKant is the 14th studio record to be released

by industrial-metal outfit Ministry. This album is an audio

articulation of aggression felt by many working-class people

around the world. Its distorted sound frequencies, pounding

bass and in-your-face, guttural vocals scream an atmosphere of

internalized dread and frustration. It's a social comment on the

world we live in and the greed, idiocy, and fascism displayed by

many of its political leaders. The album's opening track "I Know

Words" features warped sound bites of the current President

of the United States, who many would consider the official

mascot of today's planetary political fuckery.

"It's become one of those moments like: 'Where were you

when Kennedy got shot? Where were you when man landed

on the moon? Where were you when Trump got elected?"

explains frontman Al Jourgensen, who served as songwriter

and producer of his band's new album.

"I went to bed at around six o'clock that night [when Trump

was elected] because I knew that he was going to win. I could

see the way things were going. It's not just Trump, it's society

as a whole. If you look at Hungary, Poland, the Netherlands,

the Philippines, I could see how the world is trending. His

inauguration is when I thought, 'You know what? I'm gonna

make a fuckin' album about this. Man, this is some fucked up

shit going on around here.'"

AmeriKKKant's artwork features the iconic Statue of Liberty,

a symbol meant to represent American freedom, using her hand

to cover her face in embarrassment as fighter jets fly over a

smouldering New York City. Although AmeriKKKant's text is in

white, the three K's, signifying the Ku Klux Klan white supremacy

group, is highlighted in red, the colour sported by the Republican

political party Trump leads. The Statue's tabula ansata,

which in reality has the date of the U.S. Declaration of Independence

inscribed in it, emits smoke from a fresh bullet-hole.

"Trump was my muse, but this album is not about him,"

Jourgensen claims.

"Trump is just an indicator of what's going on, he's sounding

the alarm. We have much bigger problems than Trump, but

he's symbolic of the systematic problem that we have." He continues:

"This album is more about getting towards systematic

change; it goes a little bit deeper than just a bunch of Trump

sound bites, but he's the perfect person to represent how

society is going right now."

Titles of tracks on the album confirm Jourgensen's musings.

Songs like "Victims of a Clown," "Wargasm," "We're Tired of It,"

and "Twilight Zone" indicate that Jourgensen feels he's living in

an episode of that very mind-bending 1960s anthology series.

The record's first single, "Antifa," inspired by the extremist

anti-fascism movement, has stirred a slew of controversy.

"The Antifa movement needs to be explained to North

BY JOHNNY PAPAN

Americans because we've never had an overtly fascist ruler like

we have now," he says. "Antifa is short for anti-fascist. In 1930s

Europe, it became really prevalent against the [Francisco] Franco

regime in Spain. Against Mussolini in Italy. Against Hitler."

Controversy draws from Antifa's motto, which is to oppose

fascism through direct action. The conglomeration has embarked

on militant protest tactics which often include property

damage and physical violence. Though Jourgensen supports

the group's ideologies in standing up for themselves, he thinks

their fight fire with fire approach is the wrong way to go about

getting their message across.

"The problem [with Antifa] is a lot of the tactics that they

use are the same things they're rallying against: 'If you see a

skinhead on the street, beat him up,'" says Jourgensen. "Don't

beat him up, talk to him. I'm not for or against the group, but

I am very against fascism and I am for people standing up for

their own individual rights."

The touchiness behind the song and music video has resulted

in some online backlash.

"Of course there's going to be a lot of negative pushback," he

says. "A lot of that comes from robot trolls. They just want to

stir the pot and keep people mad at each other, and it's ridiculous.

The Internet started out as a phenomenal concept. What

was once called 'the Age of Information' has now become the

age of disinformation. What started out as a knowledge building

facility has been destroyed. People are more concerned

about how many likes they got on sharing a YouTube video

of cats playing piano than they are of the system taking away

their pension, their health care, or putting a nuclear waste

dump on where they live. [The internet] has been weaponized

and used by governments for their own agendas to keep people

in their place while they make profits."

At this time, the dynamic of American politics remains unclear.

With Trump's win, some celebrities including Kanye West

and Dwayne "The Rock" Johnson have stated their interest in

running for president, bringing up the question of whether or

not government is on the verge of becoming nothing but a

popularity contest for the rich and famous.

"All of these celebrities are really uneducated on the grey

issues of world politics and the subtleties of ruling," Jourgensen

says. "Nothing is black and white, and to have these people

running, it trivializes everything. What is politics now? Oprah,

Kanye, Trump: it's all the same. I'm sure they all have different

opinions and everything, but they're not suited for doing

anything about this. I don't think celebrities should run for

office, but I do think they should have a voice, just like an auto

worker in Flint, Michigan should have a voice. I think politics

have been trivialized to where we don't even believe in it. We

have nothing that we believe in anymore."

"We need to make systematic change," Jourgensen concludes.

"I think a lot of that starts in individual self and cosmic

awareness. I don't mean to get all hippy on you but they can

change all the institutions they want. People need to start

really thinking deeper; in other words, the human race has to

start playing chess instead of checkers."

Ministry performs at Union Hall on March 31 [Edmonton] and at

the Palace Theatre on April 1 (Calgary).

SHRAPNEL BEATROUTE • MARCH 2018 | 43
---
WAKE

grind over matter

44 | MARCH 2018 • BEATROUTE

BY FERDY BELLAND

photo: Mike Wells

WAKE's fourth studio album Misery Rites is out now!

Grindcore stalwarts WAKE have been shattering

foundations and cracking the skies

for nearly a decade. The Calgary act has clocked

tens of thousands of seemingly endless road

miles, delivering earsplitting messages of internal

agony around the world. Highly respected in

the international grindcore scene, the members

of WAKE are as unassuming and affable offstage

as they are fiery and ferocious onstage.

"We're more than happy with the new

record," begins guitarist Rob LaChance. He's

referring to the band's fourth full-length Misery

Rites. Released on February 23 via Translation

Loss Records, it marks their first offering for the

celebrated American label and has been critically

acclaimed by a plethora of reputable publications.

"It's better than we ever could have

wished. Working with [producer] Dave Otero

was awesome. We spent a week down in

Denver with him, hung out, drank lots of good

beer, and had a great time. He pushed us super-hard

and we came out with the best album

that I, personally, have ever made."

The band tapped into that shared pool of

contacts when it came to recording. Alongside

the scorching barks of vocalist Kyle Ball, you'll

hear a guest appearance from Ethan McCarthy

of the aforementioned Vermin Womb and

Primitive Man (whom WAKE has toured with

previously). McCarthy lends his wretched growls

to both "Rot" and "Rumination." The result is a

nine-track album that continues WAKE's lineage

of blistering grindcore in the Discordance Axis

tradition. Over quickly, it spans only 27 minutes.

The aftermath of this blast is immediate: the

band will embark on a four-week tour across

Canada and the U.S.A. alongside blackened

death metallers Withered. The tour will be

followed by a potential EP recording session and

summertime festival appearances before WAKE

hits the road once again come September.

Emerging in the mid '80s with the stylistic

fusion of hardcore punk, thrash metal, industrial

music, and downright noise, the genre

of grindcore (first popularized by early artists

like Napalm Death) provides a breathtakingly

cacophonous framework for highly-charged

political lyrics of anti-racism, anti-capitalism,

anti-militarism, feminism, veganism, and

more. Despite the sonic violence of it all, the

aficionados of the music aren't really violent,

per se.

"Most people who attend our shows are total

fucking maniacs, for sure," says LaChance.

"But they're NICE maniacs. Die-hard guys.

Most people who are into grindcore are INTO

GRINDCORE! There's not a thousand grindcore

bands touring all the time, so grindcore fans

usually come out and support. They're happy to

support. I find the North American grindcore

scene is so tight-knit. People are really down

to help each other out. Buying people's merch,

putting bands up in their house when they're

touring, or just hanging out as friends. The Canadian

grindcore scene is especially close. It feels

like a real family."

In the giving spirit of the community he

thrives in, LaChance has this to say to aspiring

grindcorists.

"Just get out there and tour. Meet people

and make friends. If there are touring bands

hitting your city, put them up. Buy their merch.

Support. If you want to see a band come to

your city, write them, contact them. Ask them

to come play. Tell them there's a scene in your

city, be it small or big. Offer to help them book

shows. Do whatever you can to help them out.

Things go back and forth. You get back what you

put into it."

WAKE perform at their album release party and

tour kickoff show at the Palomino Smokehouse and

Social Club on March 10 [Calgary], with guests Fall

City Fall, Spurn, and Murk. The band will perform

at the Starlite Room on March 16 [Edmonton] and

at Amigos Cantina on March 17 [Saskatoon].

IRON TUSK

band to the bone

T

he intrepid hardcore trio known as Iron

Tusk traces its roots back to Calgary's

punk outfit No More Moments. It was with

that raucous upstart band that guitarist/

vocalist Ty Maguire, bassist/vocalist Buddy

Wolfleg and drummer Carlin Black Rabbit

originally came together to vent their gusto

and create noisy pieces of urban artwork.

Wolfleg and Maguire eventually left that

group in 2013, but it wasn't terribly long

before fate and fretwork came calling at Black

Rabbit's door.

"We all grew up together; Ty and were

neighbors throughout our childhood. Buddy

was the cool guy in high school we always

dreamed of being friends with. Ty and Buddy

were the first people I wrote music with, we

learned covers together, and are all self taught

musicians, " Black Rabbit recalls.

"We went a couple years without really

talking and doing our thing, then in January

of 2016 Buddy contacted me with some songs

he had written. So, we got a guitar player and

signed up for Rockin 4 Dollar$ at Broken City."

The synergy the old friends felt on the stage

that night lit the spark that fuelled them to

sign up to perform at a music festival at the

Siksika First Nation in southern Alberta the

following summer. Choosing the name Iron

Tusk based on a shared affection for fellow

metallic doomsters Mastodon, Black Rabbit

and his company of cassette-dropping droogs

found themselves in high demand as they

booked shows into that fall.

"Shows were flowing, and we hit the studio

to record our EP, Flooded Times (Transistor

66), which debuted in October of 2016," says

Black Rabbit.

"Ty joined as a guitar player in December

of that year and eventually took over as the

Spirits in the material world.

BY CHRISTINE LEONARD

lead. Since then, the three of us (Ty, Buddy

and me) have gone on to record our new EP,

Dark Spirit (Transistor 66). We recorded it

in one day at Ghost Iron Studio in Calgary.

The EP tells the story of a dark spiritual figure

that has been spotted by many people,

roaming our Reserve. The stories people

have describing how this figure looks and so

that's what we told our graphic designer, 'The

Poster Guy' Eric Dietrich, who brought it to

life on the album cover. Our song "Sandhills"

is also about a haunted location on the

Reserve that has a long history of crazy ghost

encounters."

A stunning snapshot, Dark Spirit evidences

much more than the clear-sighted band's

ephemeral energy, it's the realization of a

shared vision achieved through perseverance

and passion.

"Growing up on the Reserve we weren't

aware of the issues and realities that are

relevant today. Truth and reconciliation wasn't

a thing at the time. Generational trauma and

the residential school discussions were something

that wasn't talked about. We were aware

of the addictions and death that affected our

Reserve and we used music as an escape. We

would lock ourselves in Ty's grandparents

garage and play music day and night. Even

racking up Ty's grandparents' electrical bill to

$1,500 once! When we were younger we only

dreamed of being able to release music and

play shows with bands like Red Fang and CKY.

Persistence and faith in ourselves and our

music is what has kept us going."

Iron Tusk celebrates the release of their EP Dark

Spirit with Mothercraft, Electric Revival, Sparrow

Blue and Buffalo Bud Buster on March 24 at The

Palomino Smokehouse and Social Club [Calgary].

SHRAPNEL
---
KING WOMAN

queen of the harpies

BY CHRISTINE LEONARD

This Month

In METAL

There's not enough space in these pages

to cover even a third of the great

heavy music acts coming through

Western Canada.

American power metallers Iced Earth

will perform at the Starlite Room on March

2 [Edmonton] and at the Marquee Beer

Market & Stage on March 3[Calgary].

Industrial crossover act Soulfly will perform

as Nailbomb, delivering the entirety of

their groundbreaking album Point Blank at

Dickens on March 5 [Calgary].

John Garcia of legendary space rockers

Kyuss will perform at Distortion on March

10 [Calgary].

Accept vocalist Udo Dirkschneider

will perform at the Marquee Beer Market

& Stage on March 15 [Calgary] and at the

Starlite Room on March 16 [Edmonton].

Despite our best efforts, we were not able

to get him on the horn.

Hazzerd, Blackest Sin, Meggido, Pervcore,

and more will play at Distortion on

March 16 [Calgary].

Manitoba Metalfest 2018 goes down

on March 16 – March 17 at the Park

Theatre [Winnipeg]. Bands performing

include legendary death thrashers

Demolition Hammer, as well as sets

by Skeletal Remains, Cancer Bats, and

Damascus, who are doing a "one time

only reunion show."

Local stoner rockers Woodhawk perform

at the Ship & Anchor on March 21

[Calgary]. The following evening they'll be

performing alongside Wolfrik and Highbernation

at the Starlite Room [Edmonton].

Seattle death metal act Fetid will

perform with Vern's on March 23 [Calgary]

alongside Messiahlator, Pathetic, Cultist

and Full/Choke. The following evening,

head to the Sewing Machine Factory [Edmonton]

for Fetid with Begrime Exemious,

Pathetic, and Lutheran.

The second rendition of Covenant Montreal

will begin at La Sala Rossa on March

29 and runs until March 31 [Montreal]. The

fantastic black and death metal oriented

line-up includes Dead Congregation, Ruins

of Beverast, Thantifaxath, Auroch, Adversarial,

and more.

• Sarah Kitteringham

King Woman creates order out of chaos.

photo: Rob Williamson

It has been almost a decade since vocalist detailed numbers that have become their

Kristina Esfandiari founded the groundbreaking

calling card.

doom and drone crossover act

King Woman's brooding debut full-

King Woman. During that time, what began length Created in the Image of Suffering,

as a bold solo project has blossomed into recorded at Jack Shirley's Atomic Garden,

an even grander quartet featuring guitarist appeared in 2017 via Relapse Records and

Colin Gallagher, bassist Peter Arensdorf and earned much critical acclaim. Still, Esfandiari,

drummer Joey Raygoza. Known for questioning

who has collaborated with shoegazers

convention and pushing their melancholic Whirr in addition to sustaining her own

melodies into traditionally vascular heavy alter ego solo-project Miserable, felt that

metal territory, King Woman has gained comparisons

King Woman had yet to find the right

to SubRosa and Ides of Gemini while management. Enter Sargent House (home

crafting a lush and evocative dark wave sound to Russian Circles, Earth, Mutoid Man,

that is entirely their own.

Chelsea Wolfe, etc), who according to the

King Woman's debut EP, Doubt (2014), vocalist "has been really amazing and kind

set off a volley of water-testing singles and of the perfect fit for us."

EPs from the band and most recently a

As they embark on the next stage of

self-released cover of the Stone Roses track "I their journey, Esfandiari credits her steady

Wanna be Adored." Unfortunately, Canadian bandmates for allowing their art to evolve at a

fans were denied the opportunity adore King gradual pace. In her mind the most gratifying

Woman when the group had to cancel their aspect of King Woman's refusal to shy away

slot at Calgary's 2017 installment of the Sled from discussing difficult subjects, such as

Island Music & Arts Festival due to a medical religious abuse and mental health, is how

emergency.

that honesty has proven to be a source of

"Our guitarist had cancer, so he had to go inner strength and inspiration for artist and

in for surgery and we had to cancel all our audience alike.

tour dates. It was very sudden. He's still with "We're currently working on new material

the band and he's fine now, but it was a very and have already written about four songs for

emotional time for us," explains Esfandiari. our new record," she divulges.

"It just brought us together. We're really, "It's still being formed and coming into

really close and good at communicating as view. There's some really deeply personal stuff

a band. And we were like, 'His health is our from my childhood that I've never talked

priority right now and we're not going to do about before that I'm incorporating into the

anything to stress him out.' Last year was a bit songs. My favourite thing is being able to

hard, but now things are great. I would just emote and connect with the audience. It's just

describe it as a sweet and sour low with lots of exciting to reveal the concepts behind new

different highs and lows and uncertainties, but albums and expose a new part of myself."

we've regrouped and we're in a good place."

Recovered and ready to move forward King Woman performs with Russian Circles on

with their hypnotic storytelling, King Woman Wednesday, April 4 at Dickens [Calgary] and

has continued to produce the dramatic and Thursday, April 5 at Starlite Room [Edmonton].

SHRAPNEL BEATROUTE • MARCH 2018 | 45
---
46 | MARCH 2018 • BEATROUTE
---
musicreviews

Hot Snakes

Jericho Sirens

Sub Pop

When you've been kicking around the indie

rock scene as long as influential punk rock

singer/guitarist/visual artist Rick Froberg (Obits,

Pitchfork, et al.) there aren't too many 'firsts' left

to conquer. But, here's where things get interesting.

After 14 years apart Froberg's gettin' the old

band back together. He's on a mission from Sub

Pop and he's not taking 'No!' for an answer. Reamalgamating

the acclaimed group he formed

back in 2000 with fellow former Drive Like Jehu

bandmate John Reiss (also of Rocket From The

Crypt), Froberg has emerged with the 'first' new

Hot Snakes album from another era on a new

record label to boot!

A long-awaited return from the garage

punk legends, Jericho Sirens (Sub Pop) was

recorded over the course of 2017 between the

Hot Snakes' home range in San Diego and a

stint in Philadelphia. A self-produced effort

that reunites Froberg and Reis with bassist

Gar Wood and drummers Jason Kourkounis

and Mario Rubalcaba, Jericho Sirens fulfills the

promises made on the band's first three albums;

Automatic Midnight (2000), Suicide Invoice

(2002) and Audit in Process (2004). It's worth

noting that all three of these earlier LPs, which

were originally under the Swami Records label,

have been reissued on coloured vinyl this past

January thanks to Sub Pop.

Let it be known, Hot Snakes has shed its dry

winter skin and has emerged shinier and more

watertight than ever. A year spent shaking off

the rust by touring live has left the veteran

punk-rockers limber and supple enough to execute

some pretty gnarly manoeuvers. Dropping

into surf-fresh material with the frenetic opener

"I Need a Doctor," they echo The Ramones pharmaceutical

plea with a nerve and string jangly

jitteriness that sets the whole album off on a

tear. The tremulous tantrum continues with

"Candid Camera" planting sonic sinkholes along

the path to a perilous "Death Camp Fantasy"

shore. Foam-flecked epithets are hurled like

stones and some of them really smart when

they strike home.

Picking up the already maddening pace,

Hot Snakes crash through bramble patches of

extreme rawness, as on "Why Don't It Sink,"

then pull a complete switch-foot and drop into

a barrel of the smoothest most sophisticated

punk 'n' roll with "Six Wave Hold Down" and

the album's hypermobile title track. A half-dozen

breakers under the influence of Hot Snakes'

hot-and-cold swell should be enough to drown

the worst of your sorrows. Or, so Froberg and

Reiss would lead you believe. Their conviction

cannot be doubted as they throw themselves

headlong into heavy hitters like "Have Another"

with its angular guitar angst and angry

insistence. "You're screwed!" Froberg repeatedly

howls as his bandmates relentlessly pursue him

with surging strings and militarized percussion.

Doubling down on the ecstatic dirge "Death

Doula," the entire group scribbles their love

mark on the park bench behind your favourite

pizza joint. Maybe your adolescence wasn't

all that remarkable, but listening to the taut

threads that run through the brattish "Psychoactive"

and delinquent gestures of "Death

of a Sportsman," you can certainly repeal that

shortcoming with a serious dose of Hot Snakes'

vicarious cool.

Final word, you don't have to see the cover

photo of bassist/surfdawg Gar Wood tube-riding

to pick up on Jericho Sirens' wild and free

Wet Coast vibe, but you do have to wonder

how Hot Snakes manage to get the salt stains

out of their leather jackets.

• Christine Leonard

illustration: My-An Nguyen

BEATROUTE • MARCH 2018 | 47
---
Essaie Pas

New Path

DFA

Cinematic is certainly an overused adjective when it comes to

music, but it's near-impossible to avoid when describing Essaie

Pas. The taut marathon of severe synth bludgeoning that made

their previous release, Demain est une autre nuit ("tomorrow

is another night," 2016), so delightful was that it was partly

indebted to musical innovations made in film scores like Blade

Runner and giallo flicks.

The Montreal duo's return to DFA with New Path retains

tradition while being aptly named: the dystopian coldwave of

the release still sounds hand-hewn and ruthless, but adopts

a slicker varnish that helps make the menacing medicine go

down. Every sound on the record feels richer, from the fuller

bass to the higher-fidelity synths.

Lead single "Complet brouillé" recalls co-founder Marie Davidson's

"Naive to the Bone" in its cheekiness, yet has a robust

tonality more suitable for a mega-rave than a sketchy DIY club.

Once that track completes the deliberately-sequenced A-side,

the distinct back half opens with perhaps the duo's best track

to date, "Les agents des stups." Its seven-minute tension flex

doubles the power of Demain's most chaotic muscles, adding

nuance with multi-tracking and dynamism in its passages.

The tactile feel of this record sells the listening experience

on its own, but keener listeners may want to head to Genius or

Google Translate to explore the sometimes French-language,

sometimes just plain inscrutable lyrics. According to promotional

materials, the subject matter is (fittingly) inspired by

Philip K. Dick's A Scanner Darkly, and there are field recording

passages that may take some careful listening to contextualize

properly. But don't be afraid of a little extra work: sometimes

the best thing a record can do is hook you with its veneer

and implore you to find your own way into the underlying

complexities.

• Colin Gallant

48 | MARCH 2018 • BEATROUTE

Nap Eyes

I'm Bad Now

Paradise Of Bachelors/You've Changed Records

Haligonian quartet Nap Eyes are what you would get if you

put Blue Rodeo, the Velvet Underground and a handful of

university professors in a studio together to write songs. Led by

Nigel Chapman, the Nova Scotian band has made a name for

themselves by releasing two stellar albums of Maritime slacker

rock chock full of twangy Canadiana. I'm Bad Now, their third

full-length (and final album in an informal trilogy), expands on

their previous releases while sounding more clear-headed and

full of purpose.

Like on much of the album, early highlight "I'm Bad" is a

Wilco-esque, alt-country dirge that finds Chapman seemingly

singing in second-person, examining inward while floating

above. The song features guitarist Brad Lougheed's most feedback-laden

solo as a hard-earned climax.

Elsewhere, "Follow Me Down" sounds like a Rankin Family

waltz with a whole lot more weed smoke overtop. It also

features some of Chapman's finest lyrics as he sing-speaks, "I

went out walking with my headphones on/Classical Indian

raga twenty minutes long/Then I listened to old American folk

song/A little bit shorter, still a lot going on."

Here, and for just about all the album, Chapman writes

whip smart lyrics that are impenetrable to a fault. Still, with a

little investigation, these songs reveal themselves in time. It's a

testament to the band that even if they didn't, Chapman's still

managed to churn out hooks like, "I can't tell what's worse, the

meaninglessness or the negative meaning/I figured out a way

to get on with my life and to keep on dreaming" as he does on

the lead single "Everytime The Feeling."

• Jamie McNamara

Young Fathers

Cocoa Sugar

Ninja Tune

Young Fathers defy typical genre placement. The Edinburgh

trio is most frequently described as an experimental hip-hop

group, but most vocals are sung, not rapped. The buzzing bassheavy

808s lean heavily on early trip-hop. Prominent organs

along with member Alloysious Massaquoi's hymn-like crooning

lend their brightest moments a gospel shine. African music,

R&B and soul also lend ingredients to the stew that make up

Massaquoi's, "G" Hastings' and Kayus Bankole's music.

Cocoa Sugar is the band's third album. It is very much a continued

evolution of their previous work, with songs that can

shift from grimy lo-fi hip-hop verses into soaring harmonized

vocals backed by shimmering instrumentation while exploring

religious, moral and philosophical qualms.

The greatest addition to Young Fathers' sound is the embrace

of vocal effects to broaden the group's already extremely

expansive range. On "Toy" all three member's voices warble in

unison in the bridge before the chorus kicks back in for a final

time with desperate howls dominating the background. "Wire"

pitches up Massaquoi's voice, contrasting greatly with the ringing

bassline that chugs along, dominating the rest of the track.

These tracks embrace Young Fathers grimier side, while "In

My View," "Lord" and closer "Picking You" lean into their soul

tendencies that often prove to be the band's most affecting.

"You'll never find your way to heaven/but you can follow

me" the group chants on that final track. Where they're going

is never defined, but Cocoa Sugar provides ample proof that

we should follow.

• Cole Parker
---
Sean Burns & Lost Country

Music For Taverns, Bars, And Honky Tonks

Independent

George FitzGerald

All That Must Be

Double Six Records

Look Vibrant

Winnipeg singer-songwriter Sean Burns has

always played that classic feel of roadhouse

BBQ joint honky tonk with the best

independent artists Western Canada has

to offer. On his latest full-length, Music

For Taverns, Bars, And Honky Tonks, the

energy he's been bringing to one-nighters

across the prairies for the past seven years

is fully realized.

Straight to the point, just like the AM radio

country classics, cuts like "Big Freightliner"

and "Harold's Super Service" are fast-paced

rug-cutters that never waste a second and are

gone as quick as they came. The latter featuring

some knockout banjo roll chicken pickin' from

producer/guitarist Grant Siemens and flashing

steel guitar riffs from Nashville-based Chris

Scruggs. "Lonesome Again" is another wicked

two-stepper that bucks right out of the gate – a

mid-tempo shuffle with some baritone guitar

added for greasy effect. Burns's voice a brassy

instrument itself, easily inhabiting the beer joint

characters he's writing about, and giving off a

good-natured vibe that makes the record feel

like a party.

• Mike Dunn

By most musical metrics, the electronic music

zeitgeist has passed London producer/DJ George

FitzGerald by. The records that FitzGerald

started his career with on labels like Aus and

Hotflush in the late-aughts were the kind of UK

Garage and house strains that Disclosure rode

to superstardom, but by 2015 he had already

left them behind when he released his debut

full-length Fading Love. That album was full

of moody atmospheres and the kind of dance

music theatrics that wouldn't feel out of place

on a Moderat or Royksopp album.

Now, with three years in the rear view,

FitzGerald returns with All That Must Be, a

sophomore album that trades in the dancefloor

ready heaters of FitzGerald's early-career for

slow-burning electronic works more suited for

home-listening.

Unlike Fading Love, the best songs here are

the ones where FitzGerald goes it alone, leaving

his various guest vocalists behind. On "Siren

Calls," the producer uses his trademark ascending

arpeggios and drone swells that crescendo to

a massive chorus anchored by a razor-sharp acid

house riff.

Still, even for all its sheen, it's hard not to

notice that on these 10 tracks, FitzGerald's work

follows a familiar template: arpeggios wind up,

synth pads swell and drums drive towards a

climax that usually pays off, but rarely feels new.

After two albums of it, you need a little more of

a hit to really feel anything, and on All That Must

Be, FitzGerald doesn't seem up to the task.

• Jamie McNamara

Look Vibrant

The Up Here Place

Independent

Like Brian Wilson on a manic day crossed

with Tame Impala in the midst of dissociating,

Look Vibrant's The Up Here Place is a mix of

off-kilter synth, funhouse guitar and heavenly

harmony that tastes like cotton candy but

feels like ketamine.

Singles "My Nerves" and "Numb Your Spirit"

do the best job at infusing these elements, serving

as anchoring bangers while much of the rest

of the record is set free to wander in psychedelic

euphoria.

For all the album's tosses and turns — whether

it be the heaving and encroaching unpredictability

of the first stretch, the meditative respite

at the halfway mark, or the late-game cosmology

BEATROUTE • MARCH 2018 | 49
---
of its final act — The Up Here Place's greatest virtue

is that it never demands your comfort, only

ever your attention.

The bold entrance of "Sweater In The Lake"

and the understated finish of "Easier," only make

sense once the parachute straps have been

removed at the end of the skydive. Sure, you had

doubts, but it was never an option to exit along

the way.

• Colin Gallant

Lucy Dacus

Historian

Matador Records

Since being signed to Matador Records,

Lucy Dacus has honed her craft as a talented

storyteller. Moving away from her more folksy

roots that were heard on No Burden, Historian

is a beautiful sophomore album. The opening

track "Night Shift" takes the listener on a

heartbreaking journey through a particularly

heinous break up, that ends with her praying

that she'll never see her ex again if she can

help it. You can sense her growth on this

album and while not fully polished yet, this

album is the start of a promising future.

• Kennedy Enns

Miesha and the Spanks

Girls Girls Girls

Independent

Calgary duo Miesha & The Spanks deliver

the party in their newest record Girls Girls

Girls, a pop-rock feast for the ears that

never slows down once you hit the play

button. The first thing that comes to mind

when you listen to this album is the sheer

production value it has, probably thanks to

The Buzzcocks' Danny Farrants producing.

The usual issue with bands that are duos is

that recordings can feel empty with a lot of

over-blown guitar to fill out the mid-range,

but thankfully this whole album is dynamic

enough to feel full, even when there are just

vocals and drums.

The song writing is very hook-heavy, which

plays to the bands strength to get your feet

moving. However, this does make it a little

bit difficult to tell the songs apart. While the

high-energy rock n' roll never becomes tedious,

the album does tread familiar water throughout.

Nevertheless, Girls Girls Girls is a party-anthem

dinger that will get feet moving and keep

the drinks flowing.

• Will Cowan

Scenic Route to Alaska

Tough Luck

popTrip Records

Since dropping their successful third album,

2016's Long Walk Home, Scenic Route to

Alaska has grown in popularity and accolades

in their hometown of Edmonton and across

50 | MARCH 2018 • BEATROUTE

Lucy Dacus

the world. The trio set up shop in Vancouver

to work with the notable Howard Redekopp

(Tegan & Sara, The New Pornographers) on

their fourth record, Tough Luck, just as they

did with Long Walk Home.

Although their indie-folk rock sound

didn't evolve much between Tough Luck and

their prior LPs, listeners remain unbothered

because, well, why change something that

doesn't need to be fixed? What did shift,

however, were the lyrics.

Long Walk Home touches on the difficult

parts of love and how life can get complicated,

through catchy vocals and indelible melodies.

Tough Luck on the other hand, has a lot more

depth to it. "Lonely Nights" and lead single "Slow

Down" tackles life on the road and the self-inflicted

loneliness and short-lived relationships

that come along with jumping from city to city.

Despite the fact that the topics can seem bleak

or desolate, there is a sense of hope and prosperity

in Trevor Mann's (lead singer) voice in every

single song. Tough Luck goes from ballads to resonant

anthems leaving something for everyone

to cling to, reeling you in again and again.

ª Mackenzie Mason

Ed Schrader's Music Beat

Riddles

Carpark Records

Ed Schrader has always walked a fine between

surrealism and punk. His vocal and percussive

savagery always threaten to overwhelm, but a

contingent of demure minimalism has always

kept the levee intact.

That bait-and-switch approach is replaced

by a mutated melding of Schrader extremes on

Riddles. The best example may be "Seagulls,"

where his brooding baritone is underlaid by

finger-snaps before devolving into an electronic

collage, then corroding into a blitz of yelps and

distortion. Schrader's journey with co-hort

Devlin Rice has been patient, making this new

chapter a logical evolution, but it would be a

mistake not to note that fellow Baltimorean Dan

Deacon co-wrote and produced this new batch

of tracks. Deacon's under-recognized versatility

can be heard throughout, but especially on

singles "Dunce" (an almost QOTSA dose of

seared swagger) and "Riddles" (where Schrader

humours anthemic vocals atop a meteor shower

of piano).

The best thing about Riddles is that Schrader

and Rice have reassembled the best parts of

themselves while taking on a new dimension.

New fan or old, now is the right time to pay

close attention to the Music Beat.

• Colin Gallant

Yo La Tengo

There's a Riot Going On

Matador Records

It's a bold call on the part of Yo La Tengo to

name their latest album after Sly and the

Family Stone's seminal 1971 masterwork,

but not entirely unfounded. Much like the

era in which its predecessor was recorded,

There's a Riot Going On exists in a time rife

with hyper-political criticism. But rather than

release a collection of soul-infused jams, Yo La

Tengo have opted for a much more plaintive

approach.

Musically, There's a Riot Going On is an

extension of the sound that the Hoboken

three-piece have curated over their almost 35

years in the business. Singer-guitarist Ira Kaplan

and drummer Georgia Hubley leapfrog vocal

duties, with the former taking the helm on

"She May, She Might" and "For You Too," and

Hubley on the melancholic "Shades of Blue" and

"Ashes." But perhaps the biggest change with

Riot is their foray into mostly ambient tracks

("You Are Here," "Short Wave") which finds the

band at their most patient, comfortably letting

themselves drift into almost six-minute pieces of

drone and diegesis.

It's safe to say that with this album Yo La Tengo

transcend genre in a very distinct way, ebbing

closer into the ethos of feeling rather than form.

Much like the American societal dissonance

that's threatening to tear a country apart,

There's A Riot Going On has a power running

underneath its surface; a decades-old build-up

mirrored now in a band with fifteen albums

under their belt. They feel something big is

happening. Don't you?

• Alec Warkentin

Soccer Mommy

Clean

Fat Possum

As the brainchild of rising indie act Soccer

Mommy, 20-year-old Sophie Allison writes

about youthful relationships like a fire marshal

examining the aftermath of a five-alarm blaze.

Clean, first full album of new material since

2017's Collection, finds the Nashville band

moving from the bedroom to the studio

without leaving any rawness behind.

Clean retains Allison's ability to write

introspective lyrics that are couched inside of

full-blown anthems like she does on lead single

"Your Dog." The song features some of Allison's

best lyricism as she asserts "I don't wanna be

your fucking dog, that you drag around/A collar

round my neck, leave me in the freezing cold."

It's just one of many times Allison asserts her

autonomy on Clean and like much of the album,

it feels like a willful backlash against male indie

rock tropes.

• Jamie McNamara

Superorganism

Superorganism

Domino Records

When Orono Noguchi (lead singer of Superorganism)

discovered "The Eversons" via her

Youtube recommendations, neither her nor

the Kiwi group could have imagined that 2

years later they would form a band and grow

to be labelled as "2017's buzziest new band."

Superorganism introduces their debut album

Superorganism on March 2nd, featuring

viral singles such as "Everybody Wants To Be

Famous" and "Something For Your M.I.N.D."

This psychedelic supergroup consisting of

eight band members from Japan, Australia,

New Zealand, London and South Korea take

anything they can get their hands on and

transform it into music. Things as simple as

eating an apple, snoring or the fizz from a

soda can can be heard in the trippy featured

tracks "Relax" and "It's All Good" creating a

unique and bizarre sound unlike anything

else you've ever heard. The record explores

contrasting volumes and sounds integrating

multiple genres into one style, ensuring there

will be something for everyone. Guitar, drums

and lots of synth mixed with sounds from

your everyday life is what makes up Superorganism

and is what makes it so enticing.

• Mackenzie Maso
---
DON'T MISS

A MOMENT

SUBSCRIBE TO

YOUR

FAVOURITE

SHOW

"CALGARY

I LOVE YOU

AGAIN AND

AGAIN"

STEFAN, KNOTTED ROOTS

CJSW.COM

BEATROUTE • MARCH 2018 | 51
---
Treeline

Recordings

&

BeatRoute

Magazine

present

Taking It To Heart, Volume Two LP

available on Bandcamp or in

Calgary record stores

Benefit concert with 100% of the net

proceeds from tickets/doors donated

to the Heart & Stroke Foundation

52 | MARCH 2018 • BEATROUTE
---
livereviews

Lucette –mixing torch soul and Southern gothic Americana.

photo: Lee Reed

Conan (UK) with The Weir and Monolith

The Palomino Smokehouse

February 9

It was a night for defrosting frozen appendages with an infernal

blast of heavy metal as the rituals kicked off in style thanks

to demon-toned up-and-comers Monolith AB. Trudging up

Mussorgskian mountains the trio's thunderous riffs and throaty

roars of triumph primed the room for fellow Calgarian's The

Weir's much anticipated return to the stage. Rolling out their

weighty new EP release on Hearing Aids Record, Detached, with

purposeful vigour, the typically stoic purveyors of Alberta's other

black gold rained down their signature torrent of sound with

a restrained yet palpable fury that had the crowd teetering on

the balls of their feet. Measuring out Promethean tidal shifts

and stretches of choreographed annihilation, The Weir exposed

freshly irradiated material betwixt cornerstones from their wallof-noise

back catalogue. Last up, and likely the reason for the

unseasonal sell-out, a rare New World appearance by Liverpudlian

doom metal legends, Conan. Merciless in their musical

one-upmanship, the lumbering trio visited their beyond-heavy

riffs and brow lowering beats upon a by now fully limber crowd.

The somnambulant string benders, guitarist Jon Davis and bassist

Chris Fielding, got down to business churning up knee-buckling

loads of earthy fuzz. A fitting end to an ear-numbing

evening, the humbly-great threesome's dense primordial ooze

flattened the landscape as a rapt audience was swallowed by the

pyroclastic flow of Conan's miry Merseyside mud.

• Christine Leonard

Block Heater

NMC, King Eddy

Feburary 17

While folk music has long been the realm of the unaccompanied

singer-songwriter, and rightfully so, there can be a limit to how

much of that style can be listened to before an audience tunes out.

With modern recording techniques and the ability to record from

home, more and more artists are able to craft soundscapes on their

records that surround their songs in aural cloaks that envelope the

listener and make their records more memorable.

At Block Heater this weekend, there were a number of artists

who kept to the traditional format, attempting to showcase the

songwriting that is the core of folk and roots music. Dan Bern has

long made records that featured him solo, so to see him live, the

expectation is that he'll play his music as recorded, and the intimacy

of that is predictable. Likewise Justin Townes Earle, whose records

have always featured excellent Americana production values, while

his live style has always been closer to that of his namesake, Townes

Van Zandt; again, solo and intimate.

It's a little different when developing artists make excellent,

lush records that gain them a following, but choose to tour, or are

booked to play at a festival and for whatever reason, come without a

band to present the records they've made to audiences who've paid

to see them. Whether those choices are financial (which is absolutely

valid for independent artists), or stylistic, unless an artist is an

absolutely compelling live performer, it can be hard to command or

maintain the audience's attention in a busy festival setting without

the drive, harmony, and atmosphere that a full lineup can provide.

The Wilderness of Manitoba set stands out from Saturday

night's Block Heater lineup in that singer-songwriter Will Whitwham's

latest release, Across The Dark, is exactly the kind of lovely,

expansive-sounding album that could have further captivated

the Canada Music Square crowd with the help of a couple of side

players filling out the sound. Whitwham and accompanist Jenny

Berkel performed beautifully, but the addition of some instrumental

atmosphere could have raised the level of their performance, lifting

the cuts from Across The Dark to the upper reaches of the National

Music Centre. Of course, for indie artists, the logistics and cost of

travelling with a group for one show can be daunting, but for some

listeners, it can make the difference between buying up a bunch of

the band's merch, and becoming ardent supporters of that artist's

career, or walking away and finding something else to listen to.

Over at The King Eddy, singer-songwriter Lucette's set was illustrative

of this point. With her band of hip young Edmonton players,

her blend of Southern gothic Americana and classic torch soul was

given extra heft by the thump of the rhythm section, tight vocal

harmonies, and slinky guitar reminiscent of Stax and Motown, while

the addition of a second keys and synth player to pair with frontwoman

Lauren Gillis's Carole King-like piano gave the band a bit of

the Hudson/Manuel dynamic that made The Band such a killer live

group. They came in hot, and even though the audience spent a

lot of time talking through the band's set, they at least provided an

atmosphere for the tavern crowd to socialize to.

No festival is without its challenges, especially when a number

of shows are being played simultaneously across multiple venues,

and the best festivals are able to make adjustments on the fly and

accommodate their audiences. With its sold out shows, packed

rooms, and innovative use of the Studio Bell spaces, Calgary Folk

Fest once again made Block Heater the best midwinter concert and

social experience for the Alberta roots music crowd.

• Mike Dunn

Conan –British metal doom.

photo: C. Leonard

BEATROUTE • MARCH 2018 | 53
---
SAVAGE LOVE

we all have different porn preferences, and that's okay

I'm an 18-year-old cis hetero girl from Australia and I've been listening

to your podcast and reading your column since I was 13. Thanks to

you I'm pretty open minded about my sexuality and body. Having

said that, I do have a few questions. I started watching porn from a

youngish age with no real shame attached but I have some concerns.

1. I get off really quickly to lesbian porn but it never feels like a

"good" orgasm. My guess is that subconsciously I think it's inauthentic

and therefore degrading.

2. I really enjoy and have the best orgasms to vintage gay male

porn and trans FTM porn, which seems odd to me because I'm so far

removed from the sexual acts that these kind of porn movies portray

but I always feel satisfied after getting off to them.

3. I get off to tit slapping videos but it screws with me morally. I

understand why I like these kinds of videos. I have quite large breasts

and I feel resentment towards them. It seems both morally wrong

towards the progress I've made towards accepting my body and also

to the message being sent about violence towards women.

Care to weigh in?

–Concerned About Porn Preferences

1. There are gay men who watch straight porn, lesbians who watch

gay porn, and 18-year-old hetero girls in Australia who watch lesbian

porn and vintage gay porn and trans FTM porn. So many people

get off watching porn that isn't supposed to be for them—so many

people fantasize about, watch, and sometimes do things that aren't

supposed to be for them—that we have to view these quote/unquote

transgressions as a feature of human sexuality, not a bug.

2. Lesbian porn gets you off, vintage gay porn and trans FTM gets

you off, but you feel conflicted after watching lesbian porn because

it seems inauthentic. That's understandable—a lot of so-called

lesbian porn is inauthentic, in that it's made by and for straight men

and features non-lesbian women going through the lesbian motions

(often with long and triggering-for-actual-lesbian fingernails). Some

gay porn features gay-for-pay straight male actors, of course, but

most gay porn features gay actors doing what they love; the same

goes for most trans FTM porn, which is a small and mostly indie

niche. I suspect your orgasms are just as good when you watch lesbian

porn, CAPP, but the sense—suppressed when you were turned

on, surfacing once you're not—that the performers weren't really

enjoying themselves taints your lesbian-porn-enhanced orgasms

in retrospect. The solution? Seek out lesbian porn featuring actual

lesbians—authentic lesbian porn is out there. (I found a bunch with

a quick Google search.)

3. Sometimes we overcome the negative messaging our culture

sends us about our identities or bodies only after our erotic imaginations

have seized on the fears or self-loathing induced by those

messages and turned them into kinks. Take small-penis humiliation

(SPH). Before a guy can ask a partner to indulge him in SPH, CAPP,

he has to accept (and kind of dig) his small cock. So the acceptance

is there, but the kink—a turn-on rooted in a resolved conflict—remains.

It can be freeing to regard a kink like SPH or your thing for

tit slapping as a reward—as the only good thing to come out of the

shitty zap the culture put on the head of a guy with a small cock

or, in your case, a young woman with large breasts. So long as we

seek out other consenting adults who respect us and our bodies,

we can have our kinks—even those that took root in the manure

of negative cultural messaging—and our self-acceptance and

self-esteem, too.

I have a deepthroating fetish. All the porn I watch is nothing but rough,

sloppy blowjobs. I would love nothing more than to watch this kind

of porn with my boyfriend, so we can add it the bedroom excitement,

but I'm embarrassed to share this as a straight female. How do I go

about sharing a fetish I have? Do I tell him over a candlelit dinner? Do

I just turn some deepthroating porn on and see what happens? Help!

–Deepthroat Queen

There's never really a bad time to tell someone they won the lottery,

DQ. Over a candlelit dinner, pop in some porn, send him a singing

telegram—however you decide to tell him, DQ, the odds that he'll

react negatively are pretty low. Of course, watching someone deep

throat and doing it yourself are two different things, DQ. You won't be

able to go from disclosing your kink to realizing it during that candlelit

dinner. Take it slow, maybe watch a few how-to videos in addition

to the porn, find the positions and angles that work for you, etc., and

work your way up to taking him all the way down.

I'm a 32-year-old male. I recently met a hot older woman, age 46,

who has told me she finds me equally hot. I've always preferred older

women. I just love their confidence and their comfort in their own

skin. They're just so much sexier than my age cohorts. The problem is

that I take a serious interest in feminism. I think I do pretty well with

the overt stuff: I don't mansplain, I call out peers who ignore sexism,

and I don't objectify women, even when I do find them attractive.

(Small steps, but steps nonetheless.) But when I see this woman and

we flirt like mad, my brain just shuts off and all I can think about is

BY DAN SAVAGE

her hot bod and the many hours I want to spend with it. However,

I worry that she's spent her whole life relying on her looks to gain

validation from men, and that my brain-dead, loins-alive attraction

is only perpetuating her objectification. Is that so? Or am I just

overthinking things?

–Man, I Love Feminism

At the risk of dansplaining…There's nothing feminist about slagging

off younger women to justify your attraction to older women. You

like what you like and you can own that without implying that

younger women lack confidence and aren't comfortable in their

own skins. The same culture that put the zap on CAPP's head for

having large breasts—her breasts attracted unwanted attention and

she resented her breasts and now gets off on erotic images of breasts

being punished (even though she now knows her breasts weren't

the problem)—put the zap on your head. Men, young and old, are

supposed to be attracted to younger women. You're not attracted

to younger women, you're attracted to older women; instead of accepting

that, you feel compelled to justify it by comparing younger

women to older women and declaring—again, by implication—

that there's something wrong with younger women. You sound like

one of those gay men who can't tell you why he's attracted to dudes

without also (or only) telling you what he dislikes about women.

As for objectification, MILF, the problem with objectification is

when the person doing the objectifying isn't capable of simultaneously

seeing the object of their affections as a three-dimensional

human being with desires, fears, and agency of their own. Technically,

MILF, we are all objects—"a material thing that can be seen

and touched"—but unlike, say, Fleshlights or vibrators, we feel joy

and pain and have wants and needs. You can't help being drawn to

this woman's externals; there's a huge visual component to human

attraction and, as your thing for older women demonstrates, there

isn't one universal standard of beauty. So long as you're can objectify

someone while at the same time appreciating their full humanity—

so long as you can walk that walk and chew that gum—you don't

have to feel like a bad feminist for objectifying someone. (Particularly

when that someone is clearly objectifying you!)

On the Lovecast—Finally!

Porn that makes consent SEXY: savagelovecast.com.

mail@savagelove.net

@fakedansavage on Twitter

ITMFA.org

54 | MARCH 2018 • BEATROUTE
---
UPCOMING

EVENTS

2018

G ERC
---
56 | MARCH 2018 • BEATROUTE