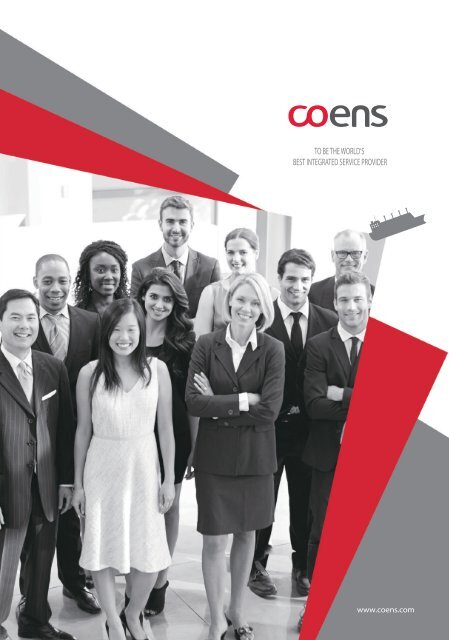 Create successful ePaper yourself
Turn your PDF publications into a flip-book with our unique Google optimized e-Paper software.
TO TO BE BE THE THE WORLD'S

BEST INTEGRATED BEST SERVICE SERVICE PROVIDER PROVIDER

IN THE OIL & GAS INDUSTRY

www.coens.com
---
COENS is a support services and solutions provider predominantly to the oil and gas

industry with operation spread in countries across Asia, Americas and Europe.

We are the largest provider of a comprehensive range of integrated solutions to the

world's top three shipyards located in Korea. We also have the working experience at

fabrication yards and engineering offices in more than 26 global locations.

Our industry experience, international standards of management, and our honest

and ethical attitude enables us to be a strategic partner in understanding the specific

needs of different projects, and execute a customized and cost-effective solution to

our clients.

Whatever the portfolio of services your project requires, COENS is able to help.

2
---
ABOUT US

COENS is a leading company in the business of

providing services and solutions, to the oil and

gas industry.

About Us

3
---
OUR VALUED CLIENTS

4
---
QHSE

COENS' processes and services are accredited to international

standards (ISO9001, ISO14001 and OHSAS18001).

Our QHSE team develops and maintains our in-house QHSE Management

System. Through this system, we continually improve our work processes,

policies and systems to ensure that they are always aligned with international

standards of Quality, Health, Safety and Environment.

In doing so, we believe our services remain effective and efficient in meeting

our clients' requirements.

Key

Performance

Indicator

Management

Review

Customer

Complaint

Management

Internal/

External Audit

Result

Incident

Investigation

Report

Process of

QHSE system

Customer

Satisfaction

Measurement

Corrective /

Preventive

Action Report

5
---
GLOBAL RECRUITMENT

COENS is a trusted recruitment partner for clients and mega

projects for nearly 15 years.

We constantly expand and improve the talent-pool available to us through our

in-house recruitment database, and engage with the oil and gas workforce on

our website and social media.

We work closely with clients to understand the specific recruitment

requirements of their projects. We then compile a price competitive solution

tailored to the client's needs.

Our recruitment consultants are internationally-trained, discipline-specific

experts who utilize our vast recruitment experience, to help clients in hiring

the best-qualified personnel quickly and efficiently.

Whether you require skilled manpower from the local market

or highly specialized consultant from across the world, COENS is

confident with the quality of candidates and competitive costs it can

offer.

6
---
7
---
8
---
G

LOBAL MOBILITY

COENS ensures compliance and peace of mind when mobilising

your workforce.

We offer an array of services on all matters concerning Global Mobility

to make this transition as effortless as possible for our clients and their

personnel.

Our trained consultants provide an unmatched level of support during the

mobilization and demobilization process, ensuring compliance at all times.

Our in-country services assure a stress-free stay in Korea and our Emergency

Hotline offers 24/7 support to provide swift assistance to personnel in an

emergency situation.

Our network of trusted partners means we can ensure support in other

locations too.

9
---
ACCOMMODATION

COENS has more than a decade of

Residential management experience and extends

total support to clients in their endeavor to manage housing

for their workforce at competitive costs.

We offer the largest selection of privately owned, fully furnished apartments and houses. Our

highly skilled staff are happy to provide viewings of all available properties. You can also view

the properties online, on our website*

The accommodations are secure, ideally suited for the location of the yards, and adept to meet

the occupants' needs. We act proactively to make life easier for the occupants by addressing

every little detail.

* http://www.coens.com/en/Service/Accommodation/OilandGas

10
---
T

ECHNICAL SERVICE

COENS Technical Service has in-depth technical knowledge and field

experience through participating in offshore and shipbuilding projects.

We are committed to providing the highest quality of various technical service and highly skilled

manpower to overseas clients and shipyards in line with recognized project standards and

requirements during the construction stage.

We offer a variety of engineering/technical service as a total solution to our clients and shipyards:

Inspection

Service

Maintenance

Fabrication

Service

Rental

Service

Repair

Service

Completion

Service

Punch

Closing

11
---
P ROCUREMENT

COENS has more than

15 years of experience in providing

procurement solutions to major projects in Korea.

We offer procurement solutions for all stages from engineering through to commissioning.

By using our procurement service, clients benefit from our knowledgeable, dedicated procurement team,

and competent Procurement Management System. Our purchasing capacity, diversified supply chain

and logistical expertise means we can help clients to curb unnecessary procurement-costs.

We also operate an Order & Tracking system to ensure information about order status is

dispensed to clients transparently and in real-time.

By using COENS' procurement services, you are assured that your products are

of top quality and in good hands.

COENS helps procure the following:

12
---
We handle storage for our customers at our centralized bonded warehouses in Ulsan, Busan and Geoje.

Our highly flexible storage and delivery capability can be tailored to meet each customer's requirements.

By using our Logistics service, clients benefit with our operational efficiency, improved cash flow from tightly

scheduled deliveries, shorter lead times, reduced storage space and costs, and better quality.

Great communication, reliability, quick response, and reasonable pricing by COENS have helped us create a

trusting relationship with clients. Many of our clients seek our advice on ways to improve their own logistics

management.

Being a licensed shipping agency in South Korea COENS can also provide assistance to projects during

the construction phase, as well as handling of documentation and vessel's crew during sail away and

subsequent delivery to site.

COENS offers value-added solutions through the provision of the following services:

L

OGISTICS

Freight transportation, warehousing, and distribution,

supply chain solutions - we cover it all.

Shipment

Service

Project

Management

Warehouse

Service

Shipping

Service

13
---
HSE TRAINING

COENS runs a state-of-art Training center in Busan that

offers most OPITO approved training courses.

We offer training solutions to clients seeking to train their

personnel.

Our training courses are delivered in English and Korean

by our in-house multilingual training staff who are

certified to various international standards. Many of our

training courses can be flexibly tailored to suit our client's

needs.

Scaffold

Inspection

Course

Fire Fighting

Training

BOSIET / HUET

/ FOET NEBOSH

HSE

Program

Working at

Height

Confined

Space Entry

Emergency

First Aid

Defensive

Driving

Course

14
---
AXATION

COENS has established a non-profit Tax Association entity which is

authorized by the Korean National Tax Service.

Through this entity, COENS can offer clients an integrated and cost effective means to report

tax, as well as assistance with withholding tax quotations, tax reporting and annual tax returns

in Korea. COENS takes responsibility for the calculation and payment of national income tax for

every individual who avails this service.

COENS employs trained specialists to deal with this service and ensure that clients are always in full

compliance with local regulations.

By becoming a member of CSTA, taxpayers can receive the following benefits:

T

• 10% Taxpayers Association Credit

(not applicable for individuals utilizing the flat rate method of declaration)

• Receipt of a Certificate of Tax Payment (Required for visa purposes)

• Consultation regarding tax rules in Korea.

• Korean Tax Manual (translated in English)

• Reduce Costs and save Time.

15
---
CONTACT US

Office - South Korea

| Busan Headquarters |

901, Intellium Centum, 21, Centum 6-ro, Haeundae-gu,

Busan, South Korea (48059)

enquiries@coens.com

+82 (0)51 740 5091

| Geoje Office |

4185, Geoje-daero, Yeoncho-myeon, Geoje-si,

Gyeongnam, South Korea (53212)

enquiries@coens.com

+82 (0)55 688 6041

| HSE Safety Training Center |

256 HyoYeol-ro, Gumkok-dong, Buk-gu,

Busan, South Korea (46510)

enquiries@coens.com

+82 (0)51 361 0992~3

| Ulsan Office |

4F, Ocean Village VI, 496, Bangeojin Sunhwando-ro,

Dong-gu, Ulsan, South Korea (44096)

enquiries@coens.com

+82 (0)52 230 3300

| Seoul Office |

#305 Jinmi Paragon Tower, 800 Gukhoidae-ro, Yoido-dong,

Yeongdengpo-gu, Seoul, South Korea (07238)

enquiries@coens.com

+82 (0)2 761 7000

Office - China Office - Hong Kong Office - Russia

| Shanghai Office |

3A09, Dibao Plaza, 3998, Hongxin Road,

Shanghai, China 201103

enquiries@coens.com

+86 (0)21 5433 3170

| Yantai Office |

No.1505, 1st Avenue , No28 Xisheng Street,

Zifu District, Yantai City, China 264000

enquiries@coens.com

| Dalian Office |

No.24 Guangfeng Street,

Zhongshan District, Dalian City,

Liaoning Province. China 116000

enquiries@coens.com

| Hong-Kong office |

Room 3205, 32nd Floor, Tower Two, Lippo Centre,

89 Queensway, Admiralty, Hong Kong

enquiries@coens.com

Office - Myanmar

| Myanmar Office |

No.56, Kabar Aye Pagoda Road, #204,

Maha Land Center, Yankin Township,

Yangon, Myanmar

enquiries@coens.com

+95 (0) 1 537 713

Office - Singapore

| Singapore Office |

9 Temasek Boulevard #09-01 S

untec Tower 2 Singapore 038989

enquiries@coens.com

| Sakhalin office |

35A-2, Purkaeva Street, Yuzhno-Sakhalinksk,

Russia (693-000)

enquiries@coens.com

+7 4242 460 841

Office - USA

| Houston office |

16225 Park Ten Place Suite 575 Houston USA TX 77084

enquiries@coens.com

+1 713 338 3432

Office - UK

| UK office |

Prince Albert House, 20 King Street, Maidenhead,

Berkshire, UK, SL6 1DT

enquiries@coens.com

Office - Kazakhstan

| Kazakhstan office |

14 Floors, 5b Nurly-Tau Business Center, AI-Farabi 17-1,

Almaty city, Kazakhstan

enquiries@coens.com

+7(727) 390 7301/7401