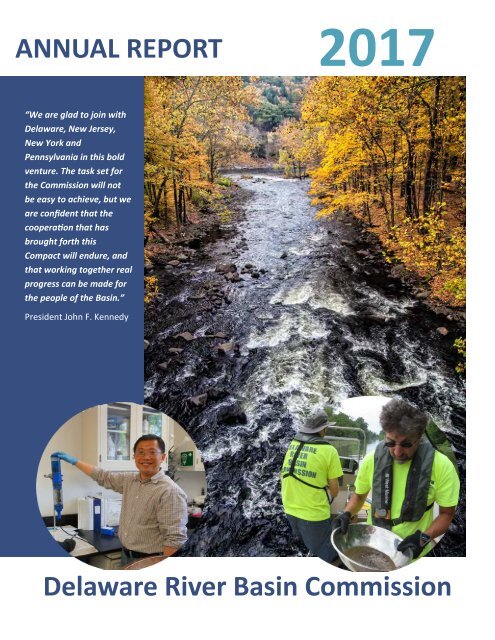 2017 Annual Report of the Delaware River Basin Commission
You also want an ePaper? Increase the reach of your titles
YUMPU automatically turns print PDFs into web optimized ePapers that Google loves.
ANNUAL REPORT

2017

"We are glad to join with

Delaware, New Jersey,

New York and

Pennsylvania in this bold

venture. The task set for

the Commission will not

be easy to achieve, but we

are confident that the

cooperation that has

brought forth this

Compact will endure, and

that working together real

progress can be made for

the people of the Basin."

President John F. Kennedy

Delaware River Basin Commission
---
2017 Annual Report

The Delaware River Basin Commission is a

federal/interstate government agency

formed by a compact in 1961 by the

federal government, Delaware, New

Jersey, New York and Pennsylvania. It is

responsible for managing the water

resources within the Delaware River Basin

without regard to political boundaries. The

five commission members are the

governors of the four basin states and the

commander of the U.S. Army Corps of

Engineers' North Atlantic Division, who

represents the federal government.

President John F. Kennedy signing the

Delaware River Basin Compact on

Nov. 2, 1961.

Delaware River, Milford, Pa.

By Michelle Setta
---
CONTENTS

Executive Director's Message

Signatory Members

Commissioners

Alternates/Advisors

The Basin

Financial Summary

Our Water Resources

Hydrologic Conditions

Water Audits/Loss Control

The "Salt Front"

Reservoir Storage

Flows in the Upper Delaware

Meeting Future Water Supply Needs

Exporting Water Out of the Basin

Designated Use

Reducing PCBs in the Estuary

Biomonitoring

Our Regulated Community

Proposed Regulations

New Fee Structure

Project Review

Our Publics & Stakeholders

Advisory Committees

Outreach

Caring for Our Communities

Our Employees

2

4

6

7

8

24

29

36

4

Inset: Water Resource Scientist Elaine Panuccio looks for macroinvertebrates

under the surface of the Delaware River. The presence and type of these little

creatures are good indicators of water quality and the river's health.

DELAWARE RIVER BASIN COMMISSION Annual Report 2017 1
---
EXECUTIVE DIRECTOR'S

The Delaware River Basin Commission (DRBC) plays a unique role as the interstate and federal government

agency charged since 1961 with managing the Basin's water resources. Through the DRBC, the states of

Delaware, New Jersey, New York, Pennsylvania, and the federal government have built an exceptional record

of results to improve water quality and to provide a sustainable water supply. This report highlights DRBC's

2017 contributions to the quality of life and prosperity of the approximately 15 million people regionally who

are affected by the use, conservation, management and control of the Basin's water resources.

In the area of water supply, the Commission staff worked intensively through 2017 to provide the basin

states and New York City with the technical support required to update and improve the "Flexible Flow Management

Program" (FFMP) that governs flow objectives, reservoir releases and major diversions outside of

the basin (see page 14.) The FFMP balances the diverse and sometimes competing demands on the basin's

waters for public water supply, aquatic life, recreation, waste assimilation, agriculture, and industrial and

commercial activities. And to ensure that these needs are balanced, the Commission provides the public with

opportunities for input on how basin operations affect them. As a result of meetings of the DRBC Regulated

Flow Advisory Committee (RFAC)(page 30), stakeholder recommendations and strategies were integrated into

the 2017 FFMP.

The Commission's work in the area of water quality this year merits a spotlight. Central to the "origin story"

of the DRBC is the recognition that coordinated action was required to address excessive pollution in the

shared, industrialized portions of the Delaware River Estuary near Philadelphia, Camden and Wilmington. At

the time DRBC was created, a 30-mile reach of the Estuary was so polluted that, for several months each

summer, fish could not pass through it due to the complete lack of dissolved oxygen in this heavily used

waterway.

Fast forward from 1961 to 2017... Transformative improvements in the water quality of the River, the Estuary

and Delaware Bay are attracting notice. The DRBC has consistently taken a leading role in this

transformation – combining water quality monitoring, scientific analysis, and modeling skills with the

convening power and rulemaking authority required to: establish wasteload allocations (or pollution

budgets) for discharges in three states, develop and establish interstate water quality standards in interstate

waters, restore impaired water quality in the Estuary and Bay, and protect exceptional water quality in the

non-tidal river.

In 2017, Delaware River fisheries surveys for American shad showed a healthy spawning run and a recordsetting

number of juveniles. Based upon these and other positive study results, the DRBC Commissioners in

September formally recognized the substantial water quality and fisheries restoration achieved in the Estuary

2 VALUE THROUGHOUT THE YEAR
---
MESSAGE

and Bay. The accomplishments of the past nearly six decades would not have been possible, they noted,

without innovative DRBC initiatives in allocating carbonaceous oxygen demand, establishing water quality

criteria for toxic contaminants, and requiring dischargers to develop and implement pollutant minimization

plans for PCB's, the persistent and highly toxic chemicals that accumulate in fish tissue. To continue this

record of leadership and achievement, the Commission also launched an ambitious effort to measure the

feasibility of reducing nitrogenous oxygen demand and to determine the extent to which further elevating

dissolved oxygen criteria would result in an even stronger recovery of Estuary fish populations. DRBC is

leading this groundbreaking effort through a collaborative process informed by expert scientists and

engineers, and in close consultation with its Water Quality Advisory Committee (page 31), a group representing

state and federal co-regulators, NGO's, academic institutions, municipal and industrial dischargers, and

water purveyors.

It is difficult to overstate the value of clean water to the economy of our region and the quality of life of its

residents. A 2011 study by the University of Delaware's Dr. Gerald J. Kauffman estimated the economic value

of the water resources of the Delaware River Basin at more than $20 billion. Visit "Basin Information" on the

DRBC website to read this study for yourself, or witness the resurgence of waterfront development activity in

Camden, Philadelphia, and Wilmington; experience the abundant fishing, paddling, hiking, strolling, birdwatching,

camping, dining and other river-focused recreational opportunities throughout the Basin; or watch

the thousands of mature shad migrating upstream to spawn in the spring or their young swimming downstream

in late summer.

Through the DRBC, the basin states and federal

government continue to collectively manage this

shared resource effectively together. Turn the

pages of this annual report for more examples of

the Delaware River Basin Commission's ongoing

activities, results and leadership in ensuring the

continued health and sustainability of our Basin's

water resources.

Steve Tambini, P.E.

DELAWARE RIVER BASIN COMMISSION Annual Report 2017 3
---
SIGNATORY MEMBERS

Commissioners

Pennsylvania Governor Tom Wolf

Brigadier General William Graham

Chair

July 1 to Dec. 31

Vice Chair

Jan. 1 to June 30

New Jersey Governor Chris Christie

Chair

Jan. 1 to June 30

Delaware Governor John Carney

Vice Chair

July 1 to Dec. 31

Second Vice Chair

Jan. 1 to June 30

New York Governor Andrew Cuomo

The ex officio members of the Delaware River Basin

Commission include the four basin state governors and

the commander of the U.S. Army Corps of Engineers,

North Atlantic Division, who serves as the federal

representative.

4

Second Vice Chair

July 1 to Dec. 31

VALUE THROUGHOUT THE YEAR

The five members appoint alternative Commissioners,

with the governors typically selecting high-ranking

officials from the state environmental agencies. Each

Commissioner has one vote of equal power with a

majority vote needed to decide most issues. The

Delaware River Basin Compact requires the annual

election of a chair and vice chairs, which historically

has been based upon rotation of the DRBC's five

members.
---
Alternates/Advisors—2017

From left: Executive Director Steve Tambini, Jennifer Orr (Pa.), Jeff Hoffman (N.J.), Kenneth Kosinski (N.Y.), Bryan Ashby

(Del.), LTC Kristen Dahle (Federal), and Henry Gruber (Federal).

FEDERAL GOVERNMENT

1st Alternate LTC Michael Bliss, Commander, USACE Philadelphia District (Jan. 1 to July 7, 2017)

LTC Kristen Dahle, Commander, USACE Philadelphia District (July 7 to Dec. 31, 2017)

2nd Alternate David Leach, USACE North Atlantic Division Programs Director

3rd Alternate Henry Gruber, USACE North Atlantic Division Deputy Chief of Planning & Policy Division

PENNSYLVANIA

1st Alternate Patrick McDonnell, DEP Secretary

Dana Aunkst, DEP Acting Deputy Secretary for Water Programs

2nd Alternate Kelly Jean Heffner, DEP Executive Deputy Secretary for Programs

Lisa Daniels, DEP Acting Deputy Secretary for Water Programs

3rd Alternate Jennifer Orr, Director, DEP Compacts and Commissions Office

NEW JERSEY

1st Alternate Bob Martin, DEP Commissioner

2nd Alternate Daniel Kennedy, DEP Assistant Commissioner for Water Resource Management

Ray Cantor, Chief Advisor to the DEP Commissioner

3rd Alternate Michele Putnam, DEP Acting Assistant Commissioner for Water Resource Management

4th Alternate Jeffrey Hoffman, State Geologist

NEW YORK

1st Alternate Basil Seggos, DEC Commissioner

2nd Alternate Mark Klotz, Director, DEC Division of Water

3rd Alternate Angus Eaton, Director, DEC Bureau of Water Resource Management

4th Alternate Kenneth Kosinski, Chief, DEC Watershed Implementation Section

Advisor

Vincent Sapienza, New York City DEP Commissioner

DELAWARE

1st Alternate David Small, DNREC Secretary (Jan. 1 to April 26, 2017)

Shawn Garvin , DNREC Secretary (April 26 to Dec. 31, 2017)

2nd Alternate Kara Coats, DNREC Deputy Secretary

3rd Alternative Virgil Holmes, Director, DNREC Division of Water: Management Section

4th Alternative Bryan Ashby, Manager, DNREC Division of Water: Surface Water Discharges Section

DELAWARE RIVER BASIN COMMISSION Annual Report 2017 5
---
THE BASIN

WHAT IS THE DELAWARE RIVER BASIN?

Lying in the densely populated corridor

of the northeastern U.S., the 13,539

square mile Delaware River Basin

stretches approximately 330 miles from

its headwaters in New York State to its

confluence with the Atlantic Ocean.

The Basin includes approximately 12,800

square miles of land area and nearly 800

square miles of the Delaware Bay.

The Delaware River is the longest

un-dammed river in the U.S. east of the

Mississippi River. If one stands on one

side of the river, there is a different

state on the other side. It is an interstate

river its entire length.

It contains more than 200 tributaries,

the largest of which are the Schuylkill

and Lehigh rivers in Pennsylvania.

Aquatic Biologist Jake Bransky prepares a

surface water sample for Perfluoroalkyl

Substances (PFAS) testing from Oldmans

Creek, N.J., a tidal Delaware River tributary.

6

VALUE THROUGHOUT THE YEAR
---
FINANCIAL SUMMARY

The DRBC operates and maintains two

funds for budgeting purposes: a General

Operating Fund (GOF) and a Water Supply

Storage Facilities Fund (WSSF).

The General Operating Fund

The General Operating Fund is the basic

and routine operating budget for the DRBC.

It includes all revenues and expenses

required for the year-to- year operations

and maintenance of the agency. Revenues

are provided through several key sources,

including signatory party contributions,

project review fees, compliance-related

actions, transfers from the WSSF and other

sources.

The Water Supply Storage Facilities Fund

The WSSF was created to fund certain

water supply storage facility projects in the

basin. The WSSF is used to repay the obligations

the DRBC assumed to purchase storage

capacity at the federal government's

Beltzville and Blue Marsh reservoirs. The

WSSF also supports DRBC's pro rata share

of the annual operations and maintenance

costs of the two reservoirs, the water

supply share of any future required

improvements at these two facilities, a

share of DRBC operating costs to support a

sustainable water supply within the Basin

(transfers to the GOF) and any future

required storage in the Basin. Revenues for

the WSSF are generated from charges for

applicable surface water withdrawals in the

Basin. The balance of the WSSF at the end

of FY 2017 was $19,250,411.

Independent Financial Audit

DRBC's financial records are audited annually

as required by the Delaware River

Basin Compact. The most recent annual

independent audits are available at

www.nj.gov/drbc/about/public/annualaudit.html

DRBC Fiscal Year 2017

General Fund

Revenues $5,1318,094

Revenues $5,318,094

Signatory

Contributions

36.4%

Project

Review Fees,

Investment Income

& Other

24.9%

Surface

Water Supply

Charges

38.6%

Expenses $5,692,959

Building Improvements & Equipment Acquisition

4.3%

Salaries

&

Benefits

74.8%

Other

Operating

Expenses

20.9%

Autumn Light

By Scott Woodland

DELAWARE RIVER BASIN COMMISSION Annual Report 2017 7
---
OUR WATER RESOURCES

Hydrologic Conditions

Precipitation

Annual precipitation totals were below normal to

normal for most of the Basin's counties during

2017. July was the wettest month with county

precipitation totals averaging two inches above

normal. November through December was the

driest stretch of the year, with many counties

experiencing combined precipitation deficits of

four or more inches. These graphics show 2017

precipitation amounts for select locations in the

Basin.

Streamflow

Inches

6

5

4

3

2

1

0

Average Precipitation

Above Montague, N.J.

Above Trenton, N.J.

Jan. Feb. Mar. Apr. May Jun. Jul. Aug. Sept. Oct. Nov. Dec.

Philadelphia, Pa.

Wilmington, Del.

Jan. Feb. Mar. Apr. May Jun. Jul. Aug. Sept. Oct. Nov. Dec.

In 2017, observed monthly mean streamflows along the main stem of the Delaware River and its twolargest

tributaries, the Lehigh and Schuylkill rivers, were generally normal to below normal during the

first quarter of the year. A combination of rainfall and melting snow increased flows in early April,

producing the highest daily mean flows of the year on the main stem Delaware River at Montague and

Trenton. On April 7, the daily mean flow at Montague was 40,900 cubic feet per second (cfs). Similarly,

at Trenton, the flow on April 8 was 65,400 cfs.

Inches

6

5

4

3

2

1

0

Flows in the Basin generally remained in the normal to above-normal range through September. Drier

conditions during late fall and early winter resulted in below-normal flows throughout the Basin. The

lowest average monthly flows of 2017 occurred in December, when many streams were less than 50%

of their normal flow.

8 VALUE THROUGHOUT THE YEAR
---
Groundwater

Groundwater levels in the Basin's observation wells were seasonally variable during 2017. Most

wells recharged during the spring after receiving snowmelt and normal to above-normal

precipitation and declined during the summer months when demand for water was high. Belownormal

precipitation during November and December impeded the typical recovery period

during the last quarter of the year. Many wells remained below the long-term median at the end

of December.

Where Does the Water Go?

Water Withdrawals

Understanding water withdrawals, water use and supply is integral to the management of the

Basin's water resources. In recent years, our understanding of the ways in which water is

withdrawn and used has improved greatly, as have the underlying systems in place to manage

the data, allowing for more timely and comprehensive assessments to be completed.

Total Withdrawals

Consumptive Use

Consumptive Use

Within the Basin

284 MGD

Consumptive Use

Out of the Basin

659 MGD

Non-Consumptive

Use 5,429 MGD

6,372 million gallons per day (MGD)

Thermoelectric

100 MGD

Northern NJ via

D&R Canal

91 MGD

Public Water Supply

85 MGD

Self Supplied Domestic

Irrigation, Mining, Fish

Hatcheries and Others

74 MGD

Industrial

26 MGD

New York City

568 MGD

DELAWARE RIVER BASIN COMMISSION Annual Report 2017

9
---
Water System Audit Program &

Water Loss Control

Water Loss Problem

Nationwide, an estimated six billion gallons

per day of water is taken from water

resources and never reaches the end

user. This is enough water to supply the

drinking water needs of the ten largest

cities in the United States. In the

Delaware River Basin, this number is

estimated at 150 million gallons per day

(MGD). Water suppliers are experiencing

real water losses due to physical infrastructure

failures and apparent losses

resulting from inaccurate meter readings

and erroneous billing practices. As

demand for water increases, it is

essential to ensure that water supplies

and the infrastructure delivering water

are dependable and efficiently move

water from source to customer.

An estimated 700 to more than 800 water main breaks occur every

day in the United States.

For several decades, the Commission has

employed a comprehensive water efficiency program, which has formed an integral component of its broader

strategy to manage water supplies throughout the Basin. In 2009, as part of DRBC's effort to ensure its regulations

reflect the latest thinking in the field of water efficiency, the Commission amended its Comprehensive

Plan and Water Code to implement an updated water audit approach to identify and manage water loss in

the Basin. The purpose of the water audit is to track how effectively water is moved from its source to customers'

taps and to ensure that public water supply systems quantify and address water losses.

DRBC anticipates that significant reductions in water losses can be realized through this program and that

focus on this issue will allow system operators, utility managers and regulators to more effectively target their

efforts to improve water supply efficiency, saving both water resources and money.

10 VALUE

THROUGHOUT THE YEAR
---
Aggregate Summary Graphic for 283 Systems Reporting Water Audit Data to DRBC for CY2016.

CY2016 Water Loss Summary

The figure above shows a high-level summary of the CY2016 water audit data for the DRB. This graphic

represents the aggregate of 283 individual system audits and shows that an average of 762 million gallons of

water was put into distribution systems in the Delaware River Basin every day. An estimated 156 MGD was

reported as physically lost from distribution systems in the DRB along with an estimated 27 MGD reported as

apparent losses. These water losses, in addition to 15 MGD of unbilled authorized consumption, comprise a

total of 198 MGD of non-revenue water. This non-revenue water has an estimated value of $132 million to

water utilities in the Basin and represents a significant opportunity to improve the efficiency of public water

supply.

11

DELAWARE RIVER BASIN COMMISSION Annual Report 2017
---
Pushing Back the "Salt Front"

The purpose of the Trenton flow objective is

to control the movement of the "salt line" or

"salt front" in the tidal Delaware River.

Adequate freshwater flowing downstream is

needed to repel the upstream advancement

of "salty" or "brackish" water from the Delaware

Bay to protect drinking water intakes

serving residents in Philadelphia and New

Jersey as well as industrial intakes along the

river from corrosion.

The salt front is defined as the 250 parts-permillion

chloride concentration. The salt front's

location fluctuates along the main stem

Delaware River as freshwater from upstream

rivers increases or decreases in response to

rainfall, snowmelt or managed releases from

reservoirs. Long-term median mid-month

locations range from river mile (RM) 67 in

April (two miles downstream of the Delaware

Memorial Bridge) to RM 76 in September (two

miles downstream of the Pennsylvania-

Delaware state line).

Philadelphia

1960s

"Drought of Record"

RM 102

Salem

Drinking Water

Intakes RM 110

Camden

Farthest upstream

2017 location

RM 79

Median Monthly

Salt Front

RM 67 to RM 76

The farthest upstream location of the salt

front during 2017 was RM 79 in late October.

This location is one mile upstream of the

Pennsylvania-Delaware state line and was

seven miles upstream of the normal location

for October. By comparison, the farthest

recorded upstream location of the salt front

measured during the 1960's drought of record

was RM 102.

Dover

12 VALUE

THROUGHOUT THE YEAR
---
Reservoir Storage

There are several reservoirs in the

Delaware River Basin, all located on

tributaries. They have many

purposes, including water supply,

hydro power generation, recreation

and flood control.

The U.S. Army Corps of

Engineers (USACE) owns and

operates several of these reservoirs.

These include: Francis E. Walter in

White Haven, Pa., Blue Marsh in

Leesport, Pa., Beltzville in Lehighton,

Pa., and Prompton and General

Edgar Jadwin Dam in Honesdale, Pa.

While DRBC does not own or

operate any physical reservoir, it does

own water supply storage in the Beltzville

and Blue Marsh reservoirs. DRBC pays

the USACE from its Water Supply Storage

Facilities Fund for reservoir storage that

the Commission directs for releases to augment stream flow during dry conditions.

The Francis E. Walter Dam was constructed by the U.S. Army Corps of Engineers

in 1961 and has prevented more than $212 million in flood damages. It also

supports recreation in the Lehigh Valley with planned fishing and whitewater

rafting water releases. Photo courtesy of U.S. Army Corps of Engineers,

Philadelphia District

DRBC's basinwide drought operating plan allows the Commission to access up to 69 billion gallons of water

for flow augmentation from Basin reservoirs in times of a DRBC-declared state of water supply

emergency. The plan's primary drought management objective is to provide for conservation of regional

reservoir storage for purposes of water supply and flow augmentation for the Delaware River, as well as

salinity control in the Delaware Estuary.

Beltzville Reservoir refilled during the first two months of the year after being depleted to drought warning

levels during the autumn 2016 drought. Other than this brief period of refill, Beltzville and Blue Marsh

maintained normal storage during 2017. Consequently, DRBC's lower basin drought operating plan was not

implemented. Additionally, sufficient natural flows were maintained in the Delaware River so that releases

from the Lower Basin reservoirs were not necessary to meet the minimum streamflow objective at Trenton,

N.J. (3,000 cubic feet per second).

13

DELAWARE RIVER BASIN COMMISSION Annual Report 2017
---
Flows in the Upper Delaware

Flow management programs for the Upper

Delaware River Basin, which use the three New York

City (N.Y.C.) reservoirs in the Basin, are created

upon unanimous agreement by the states of

Delaware, New Jersey, New York, Pennsylvania and

New York City.

Since 2011, the Flexible Flow Management Program

(FFMP) has been renewed every year, with some

minor modifications, to respond to changing flow

needs and different purposes for use of water in the

Basin. In May 2017, the parties were still negotiating

a new agreement when the former agreement

expired. An intermediate program, similar to the

FFMP, was implemented until the parties

unanimously approved a new agreement in

October.

The new 10-year, two-part FFMP became effective

on October 21, 2017, establishing water release

rates from N.Y.C's Neversink, Pepacton and

Cannonsville reservoirs, maintains the previous flow

objectives for the main stem Delaware River and

sets limitations on out-of-basin diversions by New

York City and New Jersey. The new FFMP agreement

attempts to balance the multiple uses for water in

the Basin, including the water supply needs of the

four basin states and N.Y.C. and support for the cold

-water fisheries below each of the three reservoirs.

It also provides for evaluating the evolving needs for

aquatic life protection, new recreation

opportunities, drought management and slowing

the upstream migration of the "salt front." (page

12) during periods of low river flow.

The Commission provides technical support to the

Decree Parties as the FFMP evolves. For the current

agreement, DRBC furnished the Decree Parties with

expert modeling and technical support, along with

14 VALUE

THROUGHOUT THE YEAR

Barryville, N.Y. by David B. Soete
---
the coordination services needed for informed

decision-making. The Decree Parties used DRBC's

Regulated Flow Advisory Committee (page 30) as a

vehicle for the public to provide input, which resulted

in many of the FFMP's modifications.

The "new" FFMP results in the continued release of

cold water based on forecasts that are used to

determine water that is not needed for water

supply purposes. This is an innovative approach to

water resource management that results in more

efficient use of the water for multiple purposes

including the cold-water trout fisheries, boating

and other tourism activities along the river.

Fisherman Andy Boyar

with a Rainbow trout

caught in the Upper

Delaware River at

Hankins, N.Y.

Photo by

Dr. Peter J. Kolesar.

In the Upper Delaware River,

around Callicoon, N.Y.,

the river changes from a

warm water to a cold

water fishery — prime

trout habitat. Twenty-five

miles further upstream

from Callicoon, the

Delaware splits into the

West and East branches

near Hancock, N.Y., both

branches being reservoir

fed. Throughout this area,

from Callicoon to Hancock

and up the branches,

Brown and Rainbow trout

thrive. The Upper

Delaware River is recognized

as being home to

some of the best wild trout

fishing in the country, as

well as the best dry fly fishing

on the East Coast.

DELAWARE RIVER BASIN COMMISSION Annual Report 2017 15
---
Meeting Future Water Supply Needs

2060 Planning

Due to the many water demands in the Basin

DRBC is looking to the future (Year 2060) to

develop a strategy to ensure a sustainable

future water supply for human and ecological

uses. The purpose of the strategy is to assess

potential changes to the basin system over the

next 40 years and develop management strategies

to increase resiliency and decrease risk to

water supply. The emphasis is on development

of a sustainable water supply based on assessment

of need (human and ecological), optimization

of existing supply systems and development

of new supplies. Drivers of change may

include population increases and redistribution,

energy generation, re-distribution and use of a

variety of fuels, natural gas development in the

headwaters, ecological flow protection, landscape

alteration, and climate change (e.g., sea

level rise, increasing temperature, and change

in precipitation patterns).

Impact of Climate Change

In 2017, DRBC began to evaluate the effects

that future rainfall and temperature climate

trends may have on flows in rivers and

streams and reservoir storage. Knowing the

potential for changes to flow in the river and

into reservoirs will allow DRBC to assess the

current drought operating plan and the goal

of conserving regional reservoir storage for

purposes of water supply, flow augmentation

and salinity control in the Delaware Estuary.

DRBC used a rainfall-runoff model to get

estimates of stream flow based on different

16 VALUE

THROUGHOUT THE YEAR

Beltzville Dam was designed and built by the U.S. Army Corps of

Engineers (USACE) and completed in 1970. The 13 billion gallon

reservoir provides flood damage reduction, water supply, water

quality and recreation. Photo Courtesy of USACE, Philadelphia

District.
---
predictions of future temperatures and rainfall in 2060. The

predictions are based on the emission scenarios developed by

the Intergovernmental Panel on Climate Change and global

circulation models (the same or similar to those used to predict

weather) from four research institutes.

Based upon preliminary analyses, streamflows in the winter are

expected to increase because warmer temperatures will result

in more rainfall draining to the rivers and streams instead of

being stored as snow in the upper portion of the Basin. Spring

and early summer flows will decrease because there is less

snowpack to contribute water to streams and rivers. Summer

flows will either increase or decrease depending on the balance

between the increases to rainfall and the increases in evapotranspiration

by plants, resulting from the temperature increase.

The region is expected to see more precipitation, but in

some areas the increase in evapotranspiration will be greater

than the increase in precipitation. Overall, the annual average

flows in rivers and streams are expected to be marginally larger

in 2060 than they are now.

Using the predicted trends in streamflow, simulations with

DRBC's reservoir operations model indicate that DRBC's

drought management programs should be adequate to protect

the Basin from future droughts; however, these preliminary

analyses do not account for sea level rise. Droughts may be

more difficult to manage considering future sea level rise increases

and the need for additional freshwater flows to repel

the salt front. To ensure sufficient freshwater flows into the

estuary, additional storage may be needed to make reservoir

releases to increase streamflows during periods of low flows.

DRBC continues to evaluate the effects of trends in rainfall and

temperature on streamflow and ultimately on the location of

the salt front. Although these analyses performed in 2017 provide

insight as to what may happen in the future, much more

work is needed to assess the full implications of predicted

changes in climate.

17

DELAWARE RIVER BASIN COMMISSION Annual Report 2017
---
Exporting Water Out of the Basin

North/Central

New Jersey

In the 1950s, New Jersey began diverting

water from the Delaware River Basin

through the Delaware and Raritan Canal.

The water travels from Bull's Island, north of

Stockton, N.J. for 22 miles along the river

until it turns inland near Trenton, N.J., then

crosses into the Raritan Basin near Princeton,

N.J. The water is managed by the New

Jersey Water Supply Authority for multiple

drinking water suppliers that serve the

residents of north and central New Jersey. In

2017, New Jersey diverted 31.2 billion

gallons from the Basin.

18 VALUE

THROUGHOUT THE YEAR

Just Like Monet, The Delaware & Raritan Canal

By Samuel Vovsi
---
The Basinwide Role

of New York City's

Reservoirs

The combined storage in the three New York

City reservoirs (Pepacton, Cannonsville and

Neversink) in the Basin is managed to ensure

in out-of-basin diversions, reservoir releases

River and salinity control in the Delaware River

Estuary when necessary. Combined storage

was even with or above the long-term median

at the start of 2017.

-term

median through the summer, storage began

dropping in early autumn.

Managing the N.Y.C. Reservoir Flows

Releases from the three New York City

reservoirs is managed under a ten-year, twopart

Flexible Flow Management Program

(FFMP). See details on Page 14.

The Pepacton Reservoir, Colchester

and Andes, N.Y. is one of three in the

Basin that provides drinking water to

New York City. Photo courtesy of

NYCDEP.

19

DELAWARE RIVER BASIN COMMISSION Annual Report 2017
---
Designated Use

The Next Chapter

In the Story of Clean Water

The DRBC approved a resolution in September 2017 recognizing

the significant water quality improvements in the Delaware River

Estuary and providing for a formal review of the designated

aquatic life uses and water quality criteria necessary to support

these uses.

The resolution outlines a deliberative, scientific process to further

study evidence on the reproduction of resident and migratory fish

in a 38-mile section of the tidal Delaware River stretching from

Wilmington, Del. to just above the Tacony-Palmyra Bridge

connecting Philadelphia and New Jersey. This study will allow the

Commission to determine the "designated use" of this reach of

the river and provide data and information to establish revised

water quality criteria to protect that use. It also affirms the

important goal of continued water quality improvement.

The DRBC-approved resolution provides for scientific and technical

studies to be performed over the next 3.5 years for the following

purposes:

• To conduct additional field studies of the occurrence, spatial

and temporal distribution of the life stages of important fish

species that utilize the estuary;

• To determine the dissolved oxygen (DO) requirements of

these fish species and the oxygen-depleting nutrient loadings

from point (end-of-pipe) and nonpoint (runoff) sources that

can be discharged into the tidal river while maintaining the DO

levels in the water;

• To conduct an analysis to determine the attainability of DO

requirements and water quality standards that would result in

an upgrade in the designated aquatic life use in this 38-mile

section of the river, including technical, social and economic

factors; and

• To identify and evaluate opportunities for early action to

reduce discharges of oxygen-depleting wastes to this stretch

of river in the short term.

20 VALUE

THROUGHOUT THE YEAR

The Delaware Estuary with the Walt

Whitman Bridge in the background.
---
The resolution directs the initiation of DRBC rulemaking to revise

the designated aquatic life uses consistent with the results of these

scientific and technical studies as well as the federal Clean Water

Act. The Commission seeks to issue a final rule and an

implementation strategy within six years, dependent on the availability

of resources to fund the effort.

When the DRBC was created in 1961, little or no DO was present in

the Delaware River from Wilmington to Philadelphia for periods of

up to six months each year. To combat this serious challenge, DRBC

in 1967 established designated aquatic life uses for the estuary and

associated numerical water quality criteria necessary to protect

those uses. The designated use in the 38-mile stretch of river between

Wilmington and Philadelphia was "maintenance" (survival)

of resident fish and movement of migratory fish through these waters

to and from spawning areas.

Significant improvements in DO levels have occurred throughout

this stretch of river since 1967. By the late 1980s, over one billion

dollars had been spent on improving wastewater treatment

facilities throughout the basin, which benefitted communities along

the river and strengthened fish populations.

The data in this graphic were generated from sampling during

July on the Delaware River at the Ben Franklin Bridge, which

connects Philadelphia, Pa. and Camden, N.J. It shows a steady

improvement in dissolved oxygen levels since the mid-1960s.

The scientific and technical

studies to be undertaken as

the result of the approved

resolution will help to better

inform decision makers on DO

requirements of resident and

migratory fish species since

the early life stages of

estuarine fish species are generally

more sensitive to DO

levels than are the adults living

in the river stretches or

just passing through these waters

to reach spawning areas.

DELAWARE RIVER BASIN COMMISSION Annual Report 2017 21
---
Reducing PCBs in the Estuary

The Development of

Stage 2 TMDLs

More than a decade ago, the U.S. Environmental

Protection Agency (EPA), on behalf of the states

of New Jersey, Pennsylvania and Delaware,

established acceptable loads (called Total

Maximum Daily Loads or TMDLs) for polychlorinated

biphenyls (PCBs) for the Delaware River Estuary.

These TMDLs were developed by the Commission

and are designed to protect human health

from the carcinogenic effects of eating contaminated

fish caught in these waters. These are

referred to as Stage 1 TMDLs.

Implementation of these TMDLs led by the

Commission has, to date, dramatically reduced

PCB loading from point sources. Between 2005

and 2016, a 76-percent reduction in total PCBs

was observed for the top ten dischargers.

Despite the progress made by point source

dischargers, PCB loading reductions from nonpoint

sources, including contaminated sites, are

needed to achieve the proposed Stage 2 TMDLs.

The establishment of these TMDLs sets forth a

framework and specific goals to continue the longterm

effort required to protect human health and

restore the health of the Delaware Estuary and

Bay. Due to the scope and complexity of the problem

that has been defined through development

of both the Stage 1 and 2 TMDLs, achieving the

estuary water quality standards for PCBs will

require continued efforts by the point source

dischargers and focused efforts on the various non

-point source categories, particularly contaminated

sites.

What Are PCBs?

The Commission continues to work with EPA's

Regions II and III to develop updated TMDLs.

These are referred to as Stage 2 TMDLs, which

will:

• Account for new water quality criteria for

PCBs adopted by the Commission in 2013;

• Use a more equitable allocation procedure for

wasteload allocations for point sources

selected through a stakeholder process led by

the Commission; and

• Enhance the implementation strategy to maintain

the PCB reductions achieved by point

sources, as well as continue the progress in

the reduction of PCBs for all sources.

Polychlorinated biphenyls (PCBs) are man-made

organic chemicals that were widely used in

electrical equipment including capacitors, transformers

and switches; paints, hydraulic fluids and

plasticizers.

• Hydrophobic and persistent, PCBs accumulate

in sediments and fish tissues.

• PCBs have been identified as a possible human

carcinogen.

22 VALUE

THROUGHOUT THE YEAR

• Manufacture of PCBs was banned in the U.S. in

1979. However, use continues in existing

applications.
---
Biomonitoring

DRBC assesses ecosystem health using

biological water quality criteria in the

non-tidal Delaware River during every odd

numbered year. Between July and

September 2017, DRBC staff sampled

aquatic insects, algae, substrate and water

chemistry at 25 sites ranging from Trenton,

N.J. to Hancock, N.Y. After collection, the

biological samples were sent to a lab, where

they were sorted, and will be used to

analyze water quality in the non-tidal river.

The composition of the aquatic insect and

algal communities provides insight into the

biological health of the river at each sampling

location. DRBC will post the 2017 biomonitoring

results to the website after the

data is analyzed.

Right: A hellgrammite

collected during biomonitoring.

Hellgrammites

are the larval

form of the dobsonfly

and are relatively intolerant

to pollution

making them good

indicators of water

quality.

Left: A mayfly larva collected

in a kick net sample during

biomonitoring. This specific

mayfly belongs to the

genus Attenella, a group that

is relatively intolerant to

pollution, making it a good

indicator of water quality.

Top: Water Resource Scientist Doug

Rowland (right) and Intern Andrew

Garcia collect representative samples

of benthic algae from the Delaware

River.

Bottom: Water Resource Scientist

Elaine Panuccio uses a dive mask and

snorkel to ensure an adequate sampling

effort and identify uncollected

organisms, such as clams or mussels.

23

DELAWARE RIVER BASIN COMMISSION Annual Report 2017
---
OUR REGULATED COMMUNITY

Proposed Regulations

High-Volume Hydraulic

Fracturing Activities

On Sept. 13, the Commissioners adopted a resolution

at the quarterly business meeting directing

Executive Director Steve Tambini to prepare and

publish a revised set of draft regulations for public

comment to address natural gas development

activities within the Delaware River Basin. The

deadline for publication was Nov. 30.

The resolution -- which was approved by a vote of

three Commissioners in favor (Delaware, New York

and Pennsylvania) one opposed (federal government),

and one abstaining (New Jersey) -- directed

that the revised draft rules include prohibitions related

to the production of natural gas utilizing horizontal

drilling and high volume hydraulic fracturing

within the Delaware River Basin. Further, the revised

draft regulations were also to include provisions

to ensure the safe and protective storage,

treatment, disposal or discharge of hydraulic fracturing-related

wastewater where permitted and

provide for the regulation of inter-basin transfers of

water and wastewater for purposes of natural gas

development where permitted.

On Nov. 30, the Commission posted to its website

the proposed draft amendments to its regulations

and comprehensive plan to better provide for the

planning, conservation, utilization, development,

management and control of the Basin's water

resources in connection with the hydraulic

A member of the public addresses the Commission during the

open public comment portion of the Sept. 13 quarterly business

meeting, which was held at the Bucks County Community

College in Newtown, Pa.

fracturing of shale and other hydrocarbon bearing

formations. In addition to the proposed regulations,

the Commission also announced a series of four

public hearings to take place in Jan. 2018.

The Commission also published instructions for

submitting written comments along with any

attachments through the Commission's online

comments webpage.

No action on the revised draft rules will be taken by

the Commission until the public comment process

is completed. The Commissioners will consider

changes to the revised draft regulations that may

be appropriate based on the comments received.

24 VALUE

THROUGHOUT THE YEAR
---
New Fee Structure Implemented

After a public rulemaking process that included a public information

session, public hearing and a written comment period, the DRBC

approved a new fee structure in December 2016. The new fees took

effect Jan. 1, 2017.

The new fee structure includes an annual monitoring and coordination

fee for all water withdrawal and discharge projects regulated by

the Commission or processed through the DRBC's One Process/One

Permit (OPOP) program. The annual monitoring and coordination fee

is determined by the monthly water allocation for withdrawals or the

design capacity for wastewater dischargers.

Project review fees were also changed. The DRBC project review fees

were eliminated for projects processed through the OPOP program.

The docket application fee with respect to water withdrawal projects

for which the DRBC continues to act as the lead agency is now based

upon the applicant's requested monthly allocation.

The project review fee for most wastewater discharges for which

DRBC issues a separate docket continues to be a flat fee depending

upon whether it is a private project or a publicly sponsored project.

Also, there was no change to fees for DRBC's review of projects that

are neither water withdrawals nor wastewater discharges; the fees

for these projects are based upon project costs.

However, the new fee structure does include an annual, indexed inflation

adjustment that applies to most fees and water supply

charges. The inflation adjustment is based on the Consumer Price

Index for Philadelphia and takes effect each July 1, beginning July 1,

2017. If the applicable inflation index is flat or negative, no changes

to the rates will occur.

Senior Environmental Toxicologist Ronald

MacGillivray, Ph.D. collecting surface

water samples in Narrowsburg, N.Y.

In March 2017, the first round of invoicing for the annual monitoring

and coordination fee commenced for water withdrawal projects in

the Basin.

Learn more at http://

www.nj.gov/drbc/about/

regulations/fee-structure.html.

DELAWARE RIVER BASIN COMMISSION Annual Report 2017 25
---
Project Review

Withdrawals

& Discharges

The Delaware River Basin Compact provides in

Section 3.8 that no project having a substantial

effect on the water resources of the Basin shall

be undertaken unless it shall have been first

submitted to and approved by the Commission.

These projects generally fall into one of two

categories: water withdrawals (ground and/or

surface water) or discharges (wastewater

treatment). Occasionally, a project may be a

combination of these, or a project falls under

another category, such as pipelines.

WITHDRAWAL

Groundwater

Ground & Surface

Water

Surface Water

COMBINED DOCKETS

IWTP and Groundwater

Withdrawal

DOCKET TYPES

DISCHARGE

Industrial

Wastewater Treatment

Plant (IWTP)

Wastewater

Treatment Plant

OTHER DOCKETS

Other

Pipeline

26 VALUE

THROUGHOUT THE YEAR

88

In 2017, DRBC approved

dockets.
---
Dockets Approved in 2017

Projects formally reviewed by the Commission

are referred to as "dockets." Following a public

hearing, dockets are voted on by the Commissioners

at their quarterly business meetings,

which are open to the public. In 2017, the Commission

approved 88 dockets.

DOCKETS APPROVED MARCH 15, 2017

1970-120-3 CAMBRIDGE-LEE INDUSTRIES, LLC

1973-209 CP-3 MIDDLE SMITHFIELD TWP

1974-176 CP-4 BOROUGH OF MYERSTOWN

1984-002-6 NESTLE PURINA PET CARE

1989-053-4 NGK METALS

1991-014 CP-4 PA AMERICAN WATER CO, BLUE MOUNTAIN LAKE

1991-020 CP-4 PLUM CREEK MUNICIPAL AUTHORITY

1993-062 CP-3 LAKE ADVENTURE COMMUNITY ASSOCIATION

2006-013-3 SKYTOP LODGE CORPORATION

2006-018-2 BLUE RIDGE COUNTRY CLUB

2006-026-CP-4 POCONO MANOR INVESTORS

2009-003 CP-2 NAVAL SURFACE WARFARE WATER WITHDRAWAL

2009-004 CP-2 NAVAL SURFACE WARFARE NON-CONTACT

COOLING WATER DISCHARGE

2016-006 CP-1 UPPER MAKEFIELD TWP DUCHESS FARMS

2016-007-1 EASTERN SHORE NATURAL GAS

2016-011- 1 AQUA PA WASTEWATER, INC THORNHURST 16

DOCKETS APPROVED JUNE 14, 2017

1964-028 CP-3 PALMERTON WWTP

1967-080 CP-4 BOROUGH OF PHOENIXVILLE WWTP

1967-123 CP-3 BOROUGH OF PHOENIXVILLE SURFACE WATER WITHDRAWAL

1971-150 CP-2 WALLENPAUPACK LAKE ESTATES

1983-023 CP-4 KUTZTOWN GWD

1989-082-3 PIKE COUNTY ENVIRONMENTAL

1995-019 CP-2 BETHLEHEM SWWD

1996-036 CP-3 PHILADELPHIA DIVISION OF AVIATION GWD

1998-051 CP-4 MILFORD SENIOR CARE WWTP

1999-020 CP-4 PENN ESTATES UTILITIES WWTP

2001-045 CP-4 RIVERCREST WWTP

2001-052 CP-3 BEACH LAKE MA WWTP

2006-020-3 SC STREAM PA

2006-022-2 TEVA PHARMACUETICALS GWD

2007-022 CP-3 APPLECROSS

(From right) DRBC Project Review Manager David Kovach and

Commission Secretary and Assistant General Counsel Pam Bush,

J.D review a proposed project plan with Western Berks Water

Authority Executive Director Chip Bilger.

2007-003-3 TO JO IWTP

2007-016 CP-2 BATH BOROUGH AUTHORITY

2007-018-4 WEDCO STERLING WWTP

2007-020-2 PAPERWORKS INDUSTRIES,INC SWWD

2007-028 CP-2 WOODBOURNE CORRECTIONAL FACILITY GWD

2007-039 CP-3 EAST STROUDSBURG WFP

2008-006 CP-3 MORRISVILLE WFP

2009-008 CP-2 FLEISCHMANNS VILLAGE GWD

2010-010-2 FREISLAND CAMPINA-DOMO GWD

2016-009-1 PHILMONT COUNTRY CLUB GWD&SWWD 25

DOCKETS APPROVED SEPTEMBER 13, 2017

1977-058-5 MOUNT AIRY #1 WWTP

1979-026-3 ARCELOR MITTAL PLATE WWTP

1983-015 CP-5 POCOPSON HOME AND PRISON WWTP

1983-034 CP-4 ROBESON TWP MUA

1985-055 CP-4 AQUA PA INC HAMILTON GWD

DELAWARE RIVER BASIN COMMISSION Annual Report 2017 27
---
1988-043-6 GIORGIO FOODS IWWTP

1988-051 CP-3 BATH BOROUGH WWTP

1990-028-3 PA AMERICAN WATER CO MARCEL LAKES

1991-001 CP-4 BRODHEAD CREEK REGIONAL AUTHORITY

1994-063 CP-3 FREELAND BOROUGH MUNCIPAL AUTHORITY

1995-058 CP-3 BOROUGH OF FLEETWOOD GWD

1997-001-CP-4 NORTH COVENTRY MUA WWTP

2001-054-3 AQUA PA LITTLE WASHINGTON WWTP

2006-016-2 SPRING FORD COUNTRY CLUB GWD SWD

2006-025 CP-2 PENNSYLVANIA AMERICAN WATER CO, MILFORD GWD

2007-010-2 VOGEL FARM AND BROAD MT SPRING WATER CO

2007-025 CP-3 UPPER MAKEFIELD WWTP

2008-002 CP-3 PA WATER CO LOWER MAKEFIELD

2008-007 CP-3 KEYSTONE MOBILE HOME PARK WWTP

2008-025 CP-3 AQUA PA RIDLEY CREEK

2008-033 CP-3 LONDON GROVE TWP MA

2012-001 CP-2 LOWER BUCKS COUNTY TULLYTOWN BOROUGH

2016-008-1 DTE MIDSTREAM APPALACHIA

2016-010-1 SUNOCO LOGISTICS 24

DOCKETS APPROVED DECEMBER 13, 2017

1969-055 CP-4 WBWA SWWD

1977-094 CP-2 AQUAPA – FLYING HILLS

1985-025-4 BLUE RIDGE BIG BOULDER WWTP

1990-068 CP-4 KIAMESHA

1993-076 CP-4 BCWSA UPPER DUBLIN

1996-016 CP-3 PAWC COATSVILLE

2006-038-3 RIVER ROAD UTILITIES WWTP

2007-024 CP-2 UPPER MAKEFIELD GWD

2007-044-2 POCONO MANOR INVESTORS GWD

2010-034-2 SQUIRES GOLF GW-SWWD

2010-038 CP-3 DEPT OF NAVY BRAC-GWTP

2015-017 CP-2 DCNR

2017-003-1 JOE JURGIELEWICZ & SON GWD

2017-004-1 LITTLE LEHIGH TREE AND TURF GWD

2017-009-1 DRP GIBBSTOWN LOGISTICS

D-1986-032 CP-3 CATASAQUA BOROUGH WWTP

D-1989-018 CP-7 DCSWA ROLLING HILLS WTS

D-1990-107 CP-3 NESQUEHONING BORO WWTP

D-1993-068 CP-3 LOWER BUCKS CO JMA WWTP

D-1996-039 CP-3 NORTHSIDE HEIGHTS MHE

D-2006-045 CP-3 ROYERSFORD BOROUGH WWTP

D-2011-019-2 WG AMERICA DISCHARGE

Southeastern Pennsylvania

Ground Water Protected Area

GWPA

The Southeastern Pennsylvania Ground Water

Protected Area (GWPA), where more stringent

regulations apply to ground water withdrawals than

they do in the rest of the Delaware River Basin, was

established by DRBC at the request of the

Commonwealth of Pennsylvania after it became

evident that development was negatively impacting

ground water levels in the Triassic lowland and

adjacent area of southeastern Pennsylvania.

Water withdrawals from this area in excess of 10,000

gallons a day require DRBC permitting (a tenth of

what is required in the rest of the basin).

The main goal of the GWPA is to prevent the

depletion of ground water. Lowered water tables in

the GWPA have reduced flows in some streams and

dried up others. This reduction in baseflows affects

downstream water uses, negatively impacts aquatic

life and can reduce the capacity of waterways in the

region to assimilate pollutants.

In 2017, DRBC issued five approvals for groundwater

withdrawals from the Southeastern Pennsylvania

Ground Water Protected Area.

28

VALUE THROUGHOUT THE YEAR
---
OUR PUBLICS &

STAKEHOLDERS

Advisory

Committees

One of DRBC's strategic goals is to

solicit diverse stakeholder

participation and input on Basin water

resource matters. DRBC's advisory

committees provide such a forum for

the exchange of information and viewpoints

on a variety of issues,

enhancing communication and

coordination. The Commission

recognizes the importance of

engaging qualified representatives

from federal/state/local government

Members of the public provide comments to the Regulated Flow Advisory

Committee and the Decree Party representatives.

agencies, industry, municipalities, academia, public health and environmental/watershed organizations to

inform its policy decisions. There are currently five standing committees, each with its own bylaws and

regular meeting schedule. In 2017, these included:

Flood Advisory Committee

Delaware Department of Natural

Resources and Environmental

Control

Michael Powell, CFM

New Jersey Department of

Environmental Protection

Vincent Mazzei, P.E.

John H. Moyle, P.E.

Joseph Ruggeri, P.E., CFM

John Scordato

New York Department of

Environmental Conservation

Mark Klotz, P.E

William Nechamen, CFM

Pennsylvania Department of

Environmental Protection

Hoss Liaghat, P.E.

New York City Department of

Environmental Protection

Tina Johnstone

Thomas Murphy Jr., P.E.

Dana Olivio

John H. Vickers, P.E.

Delaware Emergency

Management Agency

Arthur Paul

Edward Strouse

New Jersey Office of Emergency

Management

Sgt. Michael K. Gallagher

Christopher Testa (Committee Chair)

New York State Division of

Homeland Security and

Emergency Services

Richard Lord

Gary L. Tuthill

Pennsylvania Emergency

Management Agency

David Williams

Thomas S. Hughes, CEM

Federal Emergency Management

Agency

Dave Bollinger, CFM

Scott Duell

Patricia Griggs

J. Andrew Martin, CFM

Alan Springett

U.S. Department of Agriculture -

Natural Resources Conservation

Service

Hosea Latshaw

David Lamm

U.S. Geological Survey

William F. Coon

Heidi L. Hoppe

Robert G. Reiser

Mark Roland, P.E.

Thomas Suro, P.H., CFM

Kirk White

DELAWARE RIVER BASIN COMMISSION Annual Report 2017 29
---
National Weather Service

Peter Ahnert

Jim Brewster

Al Cope

Laurie Hogan

Raymond Kruzdlo (Committee Vice Chair)

Al Matte

George McKillop

Patrick O'Hara

Ted Rodgers

Ben Schott

U.S. Army Corps of Engineers

Jason F. Miller, P.E.

National Park Service

Kristina Heister

Vince Pareago

Delaware River Joint Toll Bridge

Commission

Sean M. Hill

Electric Generation Industry

(Hydropower and Off-Stream

Storage)

Meredith Strasser

County Water Resources

Agencies

Gerald Kauffman, P.E.

Emergency Management

Representatives

David K. Burd

Steve Hood

Monitoring Advisory and

Coordination Committee

Academia

Dr. Jonathan Sharp

Agriculture/Forest Service

Richard Birdsey

Delaware

David Wolanski (Committee Chair)

Delaware River Basin Fish and

Wildlife Cooperative

Sheila Eyler

Land Use Planning Community

Barry Seymour

30 VALUE

THROUGHOUT THE YEAR

National Oceanic and

Atmospheric Administration

Dr. Jawed Hameedi

National Park Service

Don Hamilton

Jessica Newbern

New Jersey

Leslie McGeorge

Bruce Friedman

New York

Sarah Rickard

Pennsylvania

Michael Lookenbill

Regulated Community

Vacant

U.S. Army Corps of Engineers

Jerry Pasquale

U.S. Environmental Protection

Agency

Deb Szaro

John S. Kushwara

U.S. Geological Survey

Tom Imbrigotta

Volunteer Monitoring

Maya K. van Rossum

Regulated Flow

Advisory Committee

Delaware Department of

Natural Resources and

Environmental Control

William Cocke, P.G.

Delaware Geological Survey

Stefanie Baxter, P.G.

New Jersey Department of

Environmental Protection

Joseph A. Miri, Ph.D.

Steve Domber

New York City Department of

Environmental Protection

Jen Garigliano

New York State Department of

Environmental Conservation

Brenan Tarrier (Chair)

Office of the Delaware

River Master

Robert R. Mason, Jr.

Pennsylvania Department of

Environmental Protection

Jennifer Orr

Philadelphia Water Department

Kelly Anderson

U.S. Army Corps of Engineers

Laura Bittner

Toxics Advisory Committee

Academic

David Velinsky, Ph.D.

Keith Cooper, Ph.D.

Randall Detra, Ph.D.

Agriculture

Brian F. Oram, P.G.

Paul W. Semmel

Delaware

Richard W. Greene, Ph.D.

Environmental/Watershed

Tracy Carluccio

Diana Oviedo-Vargas, Ph.D.

Environmental Protection Agency

Region II

Brent Gaylord

Environmental Protection Agency

Region III

Kuo-Liang Lai, P.E.

Federal Fish & Wildlife

Clay Stern

Industry

J. Bart Ruiter

Scott Northey

Municipal

Jason Cruz

Matthew Fritch
---
New Jersey

Biswarup (Roop) Guha

Sandra M. Goodrow, Ph.D., C.F.M.

Stephen Seeberger

New York

Scott J. Stoner

Jason R. Fagel

Pennsylvania

Vacant

Public Health

Eric Bind, M.P.P.

Water Management

Advisory Committee

Delaware

Steven Smailer, P.G.

New Jersey

Carolyn Olynyk

New York

Erik Schmitt, P.E.

Pennsylvania

Hoss Liaghat, P.E.

U.S. Army Corps of Engineers

Laura Bittner

U.S. Environmental Protection

Agency

Katie Lynch

U.S. Geological Survey

Daniel J. Goode, Ph.D.

City of New York

Dana Olivio

City of Philadelphia

Kelly Anderson

County Water Agency

Janet L. Bowers

Water Resources Association

Kathy Klein (Committee Vice-Chair)

The Water Quality Advisory Committee discussing studies in support of the Delaware

Estuary Eutrophication Model, which will be used to define a new aquatic life use

and dissolved oxygen criteria.

Industry

James Mershon (Committee Chair)

Water Utility

John Thaeder

Agriculture

Sandra Howland

League of Women Voters or

other Civic Organization

Vacant

Environmental Organization

Mary Ellen Noble

Watershed Organization

Pete Golod

Academia

Gerald J. Kauffman, Ph.D.

Recreation

Ann M. Pilcher

Fisheries

Sheila Eyler, Ph.D.

Water Quality

Advisory Committee

Academia/Science

John K. Jackson, Ph.D.

Delaware

David Wolanski (Committee Chair)

John Schneider

Environmental Professional

Maya K. van Rossum

Local Watershed Organization

Abigail M. Pattishall, Ph.D.

National Park Service Wild and

Scenic Rivers Program

Richard Evans

Peter Sharpe, Ph.D.

New Jersey

Frank Klapinski

Biswarup (Roop) Guha

New York

Sarah Rickard

Pennsylvania

Thomas Barron

Matthew D. Kundrat, Ph.D.

Regulated Community

- Industrial

J. Bart Ruiter

Christopher Conroy

Regulated Community

- Municipal

Jason Cruz

Bryan P. Lennon

U.S. Environmental Protection

Agency

Kuo-Liang Lai, P.E.

Brent Gaylord

DELAWARE RIVER BASIN COMMISSION Annual Report 2017 31
---
Outreach

DRBC considers outreach to support the

Commission's mission and the needs of

interested user groups to be a strategic goal.

To that end, DRBC took part in numerous

outreach events throughout the Basin in

2017. In addition to those featured here,

they also included:

• 17th Annual HydroMania—Allentown,

Pa.

• Delaware Coast Day—Lewes, Del.

• 23rd Annual Delaware River Sojourn

• Shad "Young of Year" Seining—

Phillipsburg, N.J.

• Biomonitoring demonstration with

WFMZ, TV69 News

• Pa. Sen. Judy Schwank's Home Water

Workshop—Reading, Pa.

Communications Specialist Kate Schmidt (right)

explains aspects of the Basin to a member of the

public at Pennsylvania Coast Day in Philadelphia.

32 VALUE

THROUGHOUT THE YEAR

Intern Taylor Krolik helps adults and children alike

identify some of the macroinvertebrates found in

the Delaware River at the 36th Annual Shad Festival

in Lambertville, N.J.
---
Using a watershed model, Executive Assistant

Donna Woolf teaches children about nonpoint

source water pollution at Temple University

Ambler's Earthfest.

Water Resource Scientist Elaine Panuccio demonstrates

the makeup of a water monitoring probe

to members of Congressman Brian Fitzpatrick's

staff on the Calhoun St. Bridge between Trenton,

N.J. and Morrisville, Pa.

DELAWARE RIVER BASIN COMMISSION Annual Report 2017 33
---
Caring for Our Communities

While the Commission's work is focused on the water resource

management throughout the Basin, DRBC staffers have

embraced the concept of being good neighbors and contributing

to their "work" community. In 2017, the DRBC team, which operates

out of West Trenton, N.J., participated in many worthy

causes. Whether it was preparing groceries for distribution at a

local food bank, teaching Boy Scouts about protecting watersheds,

or bringing in warm 'gently used' coats for those in need,

or donating holiday gifts for local children, DRBC staffers were

generous with their time.

DRBC staff including

Executive Assistant Donna

Woolf (left) and Water

Resource Management

Director Ken Najjar volunteered

time at Philadelphia

Park and Recreation's

Pennypack Park to water

and refurbish 75 of the

park's recently planted

trees.

Staff donated more than 50 winter coats through the national

One Warm Coat program that were delivered by (from second to

left) Executive Director Steve Tambini, Support Services Technician

Pat Rago and Communications Specialist Kate Schmidt to the

Rescue Mission of Trenton, N.J.

34 VALUE

THROUGHOUT THE YEAR
---
DRBC staff worked with the Mercer Street Friends Food Bank in

Ewing, N.J., sorting and preparing donations of fresh produce

for distribution to hunger relief programs in Mercer County,

N.J.

DRBC staff donated enough school supplies to fill up 25 backpacks

as part of the Salvation Army's Back-to-School Supply

Drive. From left: Accounting Assistant Carol Adamovic, Support

Services Technician Pat Rago, and Administrative Assistant

Denise McHugh consolidate school materials for filling the

backpacks.

35

DELAWARE RIVER BASIN COMMISSION Annual Report 2017
---
OUR EMPLOYEES

& WORKPLACE

DRBC Commissioner Alternates/Advisors pose with staff in the Dr. Ruth Patrick River Garden following a quarterly caucus meeting.

Despite the Delaware River Basin's area of 13,539 square miles over four states, the Commission's staff is a

small group of individuals with educational training in fields such as biology, geology, toxicology, engineering

and planning, many with advanced degrees and professional certifications. In 2017, the average DRBC staff

member had about 24 years of experience in their respective technical field and about 13 years of service

with the Commission.

Trusted Technical

Expertise

Commission staff are routinely asked to speak on

water resource management and technical issues.

In 2017, these included:

Commission Secretary and Assistant General Counsel

Pam Bush, J.D., M.R.P.

• DRBC's Special Protection Waters Program at 25

at the Water Resources Association of the Delaware

River Basin Fall Conference.

Manager of Project Review David Kovach, P.G.

• Groundwater Withdrawals in the Delaware River

Basin at Berks County Home Water Workshop.

Director, Science & Water Quality Management

Thomas J. Fikslin, Ph.D.

• Water Quality Standards for Aquatic Life in Delaware

River Estuary: Status of Revision Process at

N.J. Environment Association Annual Conference

and Exposition.

36 VALUE

THROUGHOUT THE YEAR

• Implementation of Antidegradation Policies and

Practicies in the Delaware River Special Protection

Waters at N.J. Environment Association Annual

Conference and Exposition.

• Research and Policy Decision: Aquatic Life Uses in

the Delaware Estuary at the Water Resources Association

of the Delaware River Basin Fall Conference.

• Modeling Eutrophication Processes in the Delaware

Estuary to Link Watershed Efforts to Control

Nutrient Impacts at the Delaware Watershed Research

Conference.

Senior Environmental Toxicologist Ronald

MacGillivray, Ph.D.

• A Decade of Monitoring Emerging Contaminants

in the Delaware River at EMERGED: Contaminants

of Emerging Concern in Delaware Waterways,

DTCC Conference Center.

• Biotic Ligand Model-Based Water Quality Assessment

of Copper at Hudson-Delaware Chapter of the Society

of Environmental Toxicology and Chemistry's

(HDC-SETAC) Spring Meeting, Seton Hall University.

• Monitoring Water Quality to Ensure Sustainability

at Stevens Institute of Technology, Hoboken, N.J.
---
Director of Water Resource Management Kenneth F.

Najjar, Ph.D., P.E.

• Delaware River Basin Drought Status at the Delaware

Water Supply Coordinating Council.

Water Resource Scientist Elaine Panuccio

• Lower Delaware River Special Protection Waters

Assessment of Measurable Changes to Existing

Water Quality , Round 1: Baseline EWQ (2000—

2004) vs Post-EWQ (2009 – 2011) at the Delaware

Watershed Research Conference and at the Susquehanna

River Symposium.

Information Specialist/GIS Karen Reavy

• Progress in Water Resource Mapping in the Delaware

Estuary at the Partnership for the Delaware

Estuary's Science Summit.

Manager of Communications Clarke Rupert

• Overview of the DRB and DRBC at the Rotary Club

of Trenton, N.J.

• The American Shad at Pleasantville United Church

of Christ.

Executive Director Steve Tambini, P.E.

• Analyzing Climate Change Impacts to Water Resources

in the Delaware River Basin at American

Water Works Association, New Jersey Section.

• Update of DRBC Activities at Water Resources

Association of the Delaware River Basin.

Manager of Water Quality Assessment

John Yagecic, P.E.

• Applications for Near Real-Time and Interactive

Data Assessment in the Delaware River Basin at

the Partnership for the Delaware Estuary Science

Summit.

• Enhanced Understanding of Hydraulic Processes

via Animated Graphing of Continuous Monitor

Data in the Delaware Estuary and Barnegat Bay

during Sandy at the Super Storm Sandy: Five

Years Later Conference.

• Water Resources Management and the Delaware

River Basin Commission at Rider University

• Water Quality and Monitoring Demonstration at

Boy Scouts of America, Troop 10 meeting in Yardley,

Pa.

Manager of Water Resource Operations Amy

Shallcross, P.E.

• Flow Management at the Partnership for the Delaware

Estuary's Science Summit.

• DRBC Use of NWS Products for Water Resource

Management at the NOAA PA Roundtable for Congressional

Legislators.

• Modeling Hydrology and Reservoir Operations for

Assessing the Big Picture Risks of Climate Trends at

the USGS Water Census Seminar.

• History and Practice of Flow Management in the

Delaware River Basin, Upstream at the Water

Resource Association of the Delaware River Basin's

Fall Conference.

• Water Resource Management at the Coalition for

the Delaware River Watershed's Watershed Forum.

Manager of Water Resource Modeling

Namsoo S. Suk, Ph.D.

• Updating TMDLs for PCBs for the Delaware Estuary

at the Partnership for the Delaware Estuary's

Science Summit.

Manager of Water Quality Assessment John Yagecic, P.E.,

explains his poster on applications for near real-time and

interactive data assessment to attendees at the Partnership

for the Delaware Estuary's Science Summit.

DELAWARE RIVER BASIN COMMISSION Annual Report 2017 37
---
Recognized Expertise

Knowledge Sharing

DRBC frequently holds "brown bag lunch"

knowledge sharing sessions. Sometimes they are

led by internal staff detailing a current program

they are working on. Occasionally, the Commission

recognizes outside students, who are invited

to present a school project to the staff.

Chair of DANJ N.J. Documents Interest Group Deborah

Mercer with Communications Specialist Kate Schmidt and

Communications Manager Clarke Rupert as they accept

the DANJ award for N.J. Website of the Year 2017.

The Documents Association of New Jersey (DANJ)

presented DRBC with its annual award for the New

Jersey Website of the Year, honoring websites

published by a N.J. state agency, department, or

commission. Communications Manager Clarke

Rupert and Communications Specialist Kate

Schmidt accepted the award on behalf of DRBC at

DANJ's Fall Conference, held on October 27, 2017.

13-year old Sonja Michaluk from Hopewell Valley Central

High School presents her work on stream monitoring, which

she has been doing since she was seven years old.

The award highlights government websites that

utilize best practices in public information

dissemination and that DANJ documents librarians

feel is highly informative, understandable, easy to

navigate and benefits N.J. citizens. According to

DANJ, the DRBC website received several

nominations and was chosen as the winner by a

final selection committee.

38 VALUE

THROUGHOUT THE YEAR

Students and faculty from Philadelphia's Mariana Bracetti

Academy Charter School's STEM Club presented on an underwater

drone, which the group built and used to observe

aquatic life.
---
Retired and Missed

Richard C. Gore

"Never had a bad day"

Richard C. Gore

retired on April 1,

2017 after three

decades of distinguished

service to

the Delaware River

Basin Commission,

spanning numerous

commissioners

and three

executive directors.

Robert Limbeck

"My first and last job"

He was appointed

the Commission's

Chief Administrative Officer in 1988, having previously

served 19 years with the County of Bucks

(Pennsylvania), the City of Philadelphia and the

Southeastern Pennsylvania Transportation

Authority.

In 2016, he was named the Commission's Director

of Finance and Administration adding information

technology management to his responsibilities.

Rich left a legacy at the Commission and a positive

impact on everyone who had the opportunity to

work with him.

Robert Limbeck recording data after collecting surface water

samples.

Robert Limbeck retired from DRBC on August 1,

2017 after 32 years of service. He started at the

Commission in 1986 as a database specialist. It was

his first job out of college. He stayed with the

Commission, finishing more than three decades

later as DRBC's Senior Aquatic Biologist.

DELAWARE RIVER BASIN COMMISSION Annual Report 2017 39
---
A Look Around the Basin

In the fall of 2017, the commission launched its

first seasonal photo contest. The Fall Photo

Contest garnered submissions from more than

twenty professional and amateur photographers,

who each captured some of the beauty

of the Basin's resources. A judging panel of

DRBC employees selected Rapids on the

Mongaup River in the Fall by Andy Smith— the

cover photo of this report— as the Fall winner.

A selection of the fall entries are featured here.

Speck of Blue by Christopher Todd Kratzer. Taken at

Horseshoe Bend Park in Kingwood, N.J.

River scene in Fall by Anna J. Blackman. Taken at Westfall

Township, Pa. boat landing.

Buckingham by David B. Soete. Taken at Buckingham

Access above Kilgour Spur, N.Y.

Morning on the Reservoir by Cheryl R. Decker. Taken at

Cannonsville Reservoir at Deposit, N.Y.

40 VALUE THROUGHOUT THE YEAR

View of the Delaware River by Linda Park. Taken at

Bowman Hill Tower, New Hope, Pa.
---
Historic Delaware River by Alice Orrichio. Taken at Riegelsville

Roebling Bridge, Riegelsville, Pa.

Fall Colors by Marion G. Waggoner. Taken at White Clay

Creek near Landenberg, Pa.

Brown Thrasher by Carla Kelly-Mackey. Taken in Delaware

Township, N.J.

Heavenly night by DRBC Administrative Assistant Denise

McHugh. Taken at Falls Township, Pa. Community Park.

(Winner, DRBC Staff Fall Photo Contest)

DELAWARE RIVER BASIN COMMISSION Annual Report 2017 41
---
Front Cover:

"Rapids on the Mongaup River in

the Fall" by Andy Smith, winner of

the Commission's Fall Photo

Contest.

Left:

DRBC Water Resource Modeler Li

Zheng, Ph.D. calibrates a probe

used in water quality monitoring.

Right:

DRBC Senior Environmental Toxicologist

Ron MacGillivray, Ph.D.

pilots the Commission's boat as

Senior Geologist Greg Cavallo, P.G.

examines a sediment sample he

recovered from the estuary bottom.

PO Box 7360, 25 Cosey Rd.

West Trenton, NJ 08628

www.drbc.net

Copyright © 2018, DRBC