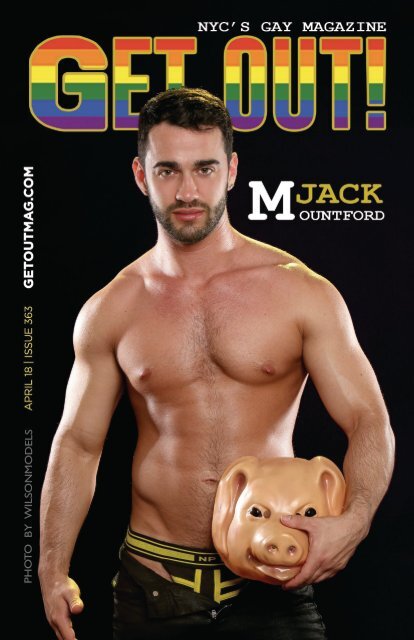 Get Out! GAY Magazine – Issue 363 – April 18, 2018
Featuring content from the hottest gay and gay-friendly spots in New York, each (free!) issue of Get Out! highlights the bars, nightclubs, restaurants, spas and other businesses throughout NYC's metropolitan area that the city's gay population is interested in.
Featuring content from the hottest gay and gay-friendly spots in New York, each (free!) issue of Get Out! highlights the bars, nightclubs, restaurants, spas and other businesses throughout NYC's metropolitan area that the city's gay population is interested in.
SHOW MORE
SHOW LESS
Create successful ePaper yourself
Turn your PDF publications into a flip-book with our unique Google optimized e-Paper software.
Cover: Jack Mountford

Photo Credit: Wilsonmodels

ISSUE 363 - APRIL 18 2018

PUBLISHER

MIKE TODD

MIKE@GETOUTMAG.COM

(646) 761-3325

DESIGN

AGOTA CORREA

AGOTA@GETOUTMAG.COM

NATIONAL ADVERTISNG REPRESENTATIVE

RIVENDELL MEDIA

(908) 232-2021

CONTRIBUTORS

CELEBRITY CORRESPONDENT

EILEEN SHAPIRO

IAN-MICHAEL BERGERON

ADVERTISE

WITH

___________________

ANUNCIA

EN

The right price, the right distribution, the right size,

the right quality, the right quantity, the right service

24/7 - everything is just right! Call us to get the best

prices in the tri-state area.

CALL TODAY & GET OUR

SPECIAL WELCOME OFFER!

MIKE TODD

(646) 761-3325

mike@getoutmag.com

The publications of MJT/GOOTH Magazine, getoutmag.com or any related

print or Web publications or social media accounts, their images, quotations or

articles, should not be construed to be an indication of the sexual orientation

of anyone portrayed therein.

All content © 2016 MJT/GOOTH Entertainment LLC.

MJT/GOOTH Entertainment LLC

47-16 67 St. Woodside, NY 11377

GETOUTMAG.COM

@getoutmag
---
a new play by S. ASHER GELMAN

The Hit of the Off-Broadway Season!

– THEATERMANIA

the climax is just the beginning

afterglowtheplay.com
---
New Hope Celebrates 15 Years of Community Pride • "The United Colors Of Love"

"Showbiz Spitfire"

Paige Turner

Stephanie Chin

Leonardo Martinez DJ Krk Josh Zuckerman Christine Martucci

Chris Weaver as

"Nedra Belle"

As seen on The Voice Finale

Stephanies Child

Sunday 6 th - Sunday 20 th

Kick-off of the BEST Cocktail Contest

town wide Get OUT and Vote -

Sponsored by Tito's & Templeton Rye

VOTE - bestcocktailcontest.com

Saturday 12 th

Pride 5k Run - Lambertville

to New Hope Register online

Rainbow Flag Event at Starbucks

on Bridge & Main Streets 11:30am

Special flag tribute music

and daytime fireworks show

Wednesday 16 th

FACT Bingo - At the Eagle Fire Hall 6-9pm

The Love Boat sails to Gilligan's Island

Bob Egan's Open Mic

Night on the Piano at The Raven

in the Oak Room

7:00 -10:00pm

Thursday 17 th

Service for Justice at St. Phillips

Special guest speakers, more details online

Pride Trivia Night Hosted by Danny E.

Triumph Brewing Co. Union Square

Friday 18 th

Ferry Market Special Event

Food, Spirits & Live Entertainment

8:00-10:00pm- Special tickets online

TGIF Party - The Raven and The Cub

Room additional details online.

Saturday May 19 th

Annual Pride Parade 11:00am Starts in

Lambertville crossing the bridge to New Hope

Pride Fair Noon-5:00pm on West Ferry St.

at the Logan Inn parking lot. Various Vendors,

Live Entertainment, Fun all day!

Saturday Night Fever NHC's Annual

Dance Party at The Raven 9:00pm-2:00am

Sunday May 20 th

Special events town wide, discover all we

have to offer right on your mobile device.

Sunday Funday Pool Party NHC presents the

Annual farewell party HOTTER than ever before.

"Showbiz Spitfire" Paige Turner, Food & Fun

at the Raven Pool! Gate opens at 3:00-10:00pm

Ladies 2000 Annual Pride Party

at Havana on Main St. - Doors open 3:00pm

Don't miss out on all the fun!

.com

newhopecelebrates.com

Follow us on Facebook...
---
BY EILEEN SHAPIRO

CELEBRITY CORRESPONDENT

Actor and dancer Jack

Mountford has been

breaking into the nightlife

scene since he was 19,

beginning in Orlando.

Having moved to New

York City five years ago,

he continues his acting

and dancing career, which

he has aspired to do all

of his life. We shared

questions and answers, and

I found him interesting,

entertaining and very funny.

JACK

MOUNTFORD

He has toured with Radio

City Christmas Spectacular

and was in the movie "Rock

of Ages" along with Tom

Cruise and Russell Brand.

Well on his way to a fullfledged

acting career,

Mountford is someone to

look out for!

What motivated you to get

involved with nightlife? And what

do you do?

I actually started working in nightlife

right around 19 back in Orlando,

Florida, which is where I'm originally

from. I worked at most of the spots

there, but Pulse was my home away

from home, and I worked there for a

little over two years. I moved up here

to NYC five years ago and actually

kind of stayed out of the scene until

recently dancing for Voss Events

Drag Brunch at the Highline Ballroom

every Sunday, which is clearly in the

daytime, but you get the drift. It's

such a fun show with an incredibly

talented group of queens!
---
Tell me a little bit about the career you

are trying to pursue.

I'm primarily a dancer and an actor (I know,

shocking in NYC). I've been engrossed in it

my whole life. I toured with the Radio City

Christmas Spectacular for a year. I played

Joey Z in the Rock of Ages movie starring

Tom Cruise and Russell Brand. I currently

have a couple of commercial spots running.

I just try to hustle my hardest and stay

engaged in anything artistic, especially when

it comes to dance (which you can see all

over my gram). It keeps me sane and more

than feeds my spirit, which is so necessary in

this city.

Where would you like to be in five years

professionally?

Eh, I try so hard to avoid these questions

because of the anxiety they produce

[laughs], but honestly I would just like to be

on the right path in the same trajectory. I

feel as long as I can do what I love and make

a sustainable living out of it, I'm in the right

space, so that's really all I can aspire for.

If you could pick two famous parents

to be your parents, who would you

pick and why?

I know it's super corny, but my

parents are actually really amazing,

so I don't even know who I would

swap them with! I think maybe

Will Smith and Jada Pinkett

Smith? Because they seem super

supportive of their kids' endeavors,

and the entire family is talented?

That or someone royal, because

why not, y'know?

Knowing what you know now,

what advice would you give your

younger self?

Oh, wow. Probably just to breathe.

That life has so many twists and turns,

and the only way to really figure them

out is to experience them for yourself. I

moved here at 23 and thought I had it all

figured out to learn that I absolutely did not,

but that was only through countless trials

and tribulations and many mistakes along

the way. NYC really is one of those places

that define and shape you into who you are

and who you're going to be, if you can make

it here (you know the rest). I'd tell myself to

own who you are and be comfortable and

confident with what you bring to the table

both professionally and personally. Life is a

ride—buckle up!

PHOTO BY JEFFREY EASON

PHOTO BY WILSONMODELS

Instagram: @jackm589
---
BY EILEEN SHAPIRO

CELEBRITY CORRESPONDENT

The 32nd annual Night of a Thousand Gowns featured a

masquerade carnival theme laced with the opulence expected

from New York's Imperial Court. One of the most extravagant

and decadent recurring charity events on the planet was packed

with royalty, excitement, entertainment and effervescence.

The event benefited God's Love We Deliver, which has already

raised $150,000 from the event.

The event saw the reign end for Emperor XXVl, Harrington, and

Regent Empress XXXl, Madison Mansfield, and welcomed the

new Empress XXXll, Gayle Banter, and Regent Emperor XXVll,

Rob Hunter de Woofs. President Mark Costanzo spoke, and there

were inspiring, strong performances from Beth Ann Sacks and

Dawn Tallman. Food and drink was abundant, as was fun and

gaiety.

Ultimately it was a night of celebration and glamour that the

Imperial Court of New York can be proud of.
---
week in pictures >> BY WILSONMODELS / wilsonmodels.blogspot.com

NIGHT OF 1000 GOWNS
---
week in pictures

NIGHT OF 1000 GOWNS

>> BY WILSONMODELS / wilsonmodels.blogspot.com
---
week in pictures >> BY WILSONMODELS / wilsonmodels.blogspot.com

NIGHT OF 1000 GOWNS
---
BY T. MARC NEWELL

INTERVIEW:

MARCUS SCOTT

- NEW YORK CITY -

PHOTO BY GASPAR MARQUEZ

Writer MARCUS SCOTT, who leads a new

generation of young writers, is set to unveil

his new short play "Blood Orange" as part of

the Downtown Urban Arts Festival. "Blood

Orange" explores the fetishization of black

male bodies, hookup culture, the nature

of interracial gay relationships and sexual

encounters, power play and upward mobility.

His daring and provocative work has already

garnered accolades across the country,

including the Playwrights Foundation Bay

Area Playwrights Festival and Drama League.
---
Tell us about your new play Blood

Orange.

"Blood Orange" follows Dorian, an

18-year-old African-American high

school senior, who confronts and tries to

make amends with Vladimir, a childhood

friend and former lover, before he

goes off to college. Only Vladimir,

still in love with Dorian, has plans of

his own to get him back, though his

method may be a lot more nefarious

than it appears. "Blood Orange" is a

power play that explores modern day

hookup culture, interracial relationships,

microaggressions and casual racism,

privilege and upward mobility.

What is your inspiration to write plays

like "Blood Orange"?

"Blood Orange" was originally written

as a prologue of sorts to a full-length

play I'm developing called "Sibling

Rivalries." It was initially written to

introduce the protagonist and to get

into his mindset, but I also wanted

to explore the fetishization of the

black male anatomy, a recurring

theme in the aforementioned fulllength

psychodrama. But what

inspires me want to write plays with

queer characters of color, especially

black characters, is the dearth of

diverse queer POC stories onstage

and off. Most LGBTQIA stories that

get produced are cast with mostly

ethnically non-diverse white actors

while the stories are often centered

on non-diverse white gay men. From

coming-of-age stories to bits of

historical accounts, white gay men are

the epicenter of most queer stories. If

people of color are featured, they have

to be these paragons of masculinity with

accidental six-pack abs, a contract with

Wilhelmina and acting prowess that

equals the biggest stars on Broadway or

Hollywood. Why can't we have a story

about a socially awkward black gay boy

experiencing a sexual awakening, or a

comedy about 20-something East Asian

man who has become the romantic

love interest of two men, or a Pakistani

teenager flirting with androgyny, or a

Latin boy falling in love in the favelas?

What are you working on now?

I am developing the script for

a reimagining of Beethoven's

"Fidelio" with Ethan Heard for

Heartbeat Opera, which will

premiere at Baruch Performing Arts

Center in May 2018. I also wrote

a short play about alt-right mass

shooters, which will be read in front

of a live audience at Symphony

Space for Athena Theatre's Falling

Forward: An Evening of Ten-Minute

Plays around the same time. When I

am preparing for those, I am writing

three full-length projects: "Sibling

Rivalries," a play about a black

fraternity on an Ivy League campus;

"Return to Cookie Mountain," a play

with music about two codependent

black hipsters who start a rock band;

and "Stranger Danger," a musical

about a little known real-life crime

that affected black America.

WEDNESDAY, APRIL 25

BLOOD ORANGE

BY MARCUS SCOTT

THEATRE 80 ST. MARKS

80 ST. MARKS PLACE,

EAST VILLAGE, NYC

DUAFNYC.COM
---
FRIDAY, APRIL 13

THE VAST MYSTERY OF WHO YOU ARE: PART ONE BY KIM YAGED

The Vast Mystery of Who You Are is an irreverent, hard-hitting exploration of love via sex

parties and philosophical sparring about the nature of relationships.

SATURDAY, APRIL 14

GAY.PORN.MAFIA BY JOE GULLA

Bronx, LA, SoHo to Ibiza! Porn Stars, Gay Priests, Mafia

Dons and Abstract Expressionists! Smart! Fun!

Funny! Fearless! "Gay.Porn.Mafia" has it all!

Grab your ticket! Leave the gun! Take the

cannoli! You'll feel like "family" and laugh

out loud (emphasis on "out"!) It's the

same-sex, Italian-style, x-rated

offer you can't refuse!

NEW YORK LIVE ARTS

THEATRE 80

ST. MARKS

WEDNESDAY, APRIL 25

BLOOD ORANGE

BY MARCUS SCOTT

Blood Orange explores the fetishization of

black male bodies, hook-up culture, the nature

of interracial gay relationships and sexual

encounters, power play and upward mobility.

MIRRORS

BY AZURE D. OSBORNE-LEE

Mirrors is the story of two women mourning the death

of a loved one while sifting through the secrets of a shared past.

MAJOR SUPPORTERS:

MEDIA PARTNERS:

DESIGN BY SOMOSARTE.COM
---
BY EILEEN SHAPIRO

CELEBRITY CORRESPONDENT

MEET

DJ IAN

FORD

One of the most prolific

and technically marvelous

DJs around, Ian Ford is in

demand! An immaculate

producer, a staple in the

LGBT community and a

venue owner as well, I

couldn't resist speaking

with Ford.

He is probably one of

the nicest guys around,

and I would fully

recommend him for any

kind of event you could

possibly be thinking of. I

haven't known him long, but I wish I had! We spoke about his DJ

experiences, and I was able to get his views on music, clubs and

life. He's just one of those people who I met and fell instantly in

love with.

What influenced you to

become a DJ?

Ever since I was kid I made

mixtapes for myself, family

and friends, especially

my mother. I was also

technically inclined, so

when I moved home from

college someone asked

me to help build a club.

They gave me a night, and

it all went from there. Even

when I worked daytime

corporate jobs, I've had

one or more steady gigs,

except for a two-month

period when I left Florida

and came to New York

City.

What is the craziest

party you've ever done?

Hands down, it had to be

the last night of The Bank,

before we moved our party

to another venue uptown.

The club was a legendary

goth/'80s/industrial club,

which was a mainstay

in NYC's underground

culture. The very last night

was packed from open to

close for the Albion party,

with incredible energy

bordering on a riot. One

wrong track may have

incited a free-for-all. Wow,

that was a night! In fact,

the entire eight-year run

of Albion holds a special

place the hearts of many.

One equally amazing

party was the last night of

Splash. I shared the night

with other residents, but

it was off the hook from

beginning to end!
---
It really felt like the "old

days" in almost a carnal

free-for-all. I was one of

the DJs at the AnimeNEXT

Convention and Rave for

two years in a row, and

you've never seen a more

colorful and excited crowd.

I miss that, but it was time

to let others have the fun.

Most DJs these days are

producers as well. What's

your view on that?

On one hand, producing

is almost always a

requirement for playing

in the big leagues, and it

opens many doors. The

other side of this is that

it defines you, meaning

people expect a certain

sound and style when you

play. If you get it right,

you're a superstar, but if

you miss that mark then it

can cause you problems.

There will always be haters,

so that has to be put in

perspective as well. And

then the higher you go, the

more delicate the balance.

As a producer, you really

have to be on top of your

game. I have the greatest

respect for those who are

succeeding.

What is it you enjoy most

about DJing, and what

sets you apart from other

DJs?

I'm able to read a crowd

and cross-connect genres

in a (I'd like to think)

unique and refreshing

way. This has to happen

in real time, and it can't

really be planned, because

live energy isn't always

predictable. I absolutely

love working with "energy"

and intuition, but the most

important aspects are

the human connections

this career affords you.

I'm generally shy, but in

the DJ booth I feel more

connected and outgoing

than I would normally in

just a room of people. I'm

the wallflower type, and as

a DJ, I prefer to be part of

the experience as opposed

to the focus. People come

out for various reasons—

to recover from a rough

week, to let loose, meet

someone, to be seen, to

feel fabulous—whatever

the reason, it's about them

and not me.

I've noticed that people

come to see the DJs now

as opposed to the actual

artists. What's your view

on that?

I think that's great! A

successful DJ has worked

all aspects of his or her

career to bring people

together! On the other

hand, it seems there

are people whose other

careers aren't doing well,

so they jump on the DJ

bandwagon using their

clout but don't really

understand what's needed

to deliver a good set. Being

a DJ isn't an easy career

choice past a certain level,

and I have the greatest

respect for those who've

legitimately earned their

way to stardom. A good DJ

puts a great deal of effort,

practice, thought and him/

herself into the art, and I

believe they work as hard

at it as any other act…

maybe more. For instance,

most (but not all) bands will

play their songs and sets,

but a DJ has to react in the

moment…every moment

really, and work with what's

happening right then and

there without losing sight

of the big picture.

Who are your most

scared influences?

Good question, because

there are so many! Hands

down, my favorite DJ is Hex

Hector. He has a unique

way of reading the crowd

and delivering a brand-new

set with each and every

performance. He takes you

on an emotional journey

that always fits the time and

place. DJ Paulo is similar,

and of course Frankie

Knuckles is king. David

Bowie, Depeche Mode,

The Cure, Jam & Spoon,

Prodigy, Rabbit in the

Moon, Kristine W and Blank

& Jones all rate up there,

but honestly there are too

many to list.

Let's talk about your

Brooklyn coffee house:

name, address and what

goes on there?

Welcome to The Caffeine

Underground! I miss the

'80s, '90s and early 2000s;

creative culture was king. I

opened my shop as a place

for people to come expand

their spirits through music,

art, esoteric studies, martial

arts and other creative

expression. This is a place

for people to expand

and enrich their spirits, a

sort of community center.

To that end, we have DJ

events, live music acts,

comedy shows, martial

arts classes, art gallery

showcases, neighborhood

meetings, open mic nights

and more. We sell such

goodies as kava kava

drinks, CBD coffee drinks,

awesome food, interesting

non-alcoholic cocktails

and smoothies and really

amazing coffee (of course!).

447 Central Ave

(corner of Putnam),

Brooklyn 11221

Instagram / Facebook @

caffeineunderground

caffeineunderground.com

ianfford.com
---
BY IAN-MICHAEL BERGERON

@ianmichaelinwonderland

PART THREE

THE FIRST DATE

Flash forward: one year later.

AJ and I break up; I go home

with a stranger; I have twosecond

sex with an old friend

I ran into at The Ritz. (What a

fucking recap.) And then, after

all of that, C reaches out to see

how I'm doing.

When he did, I honestly wasn't

sure. I was working on some

of the best writing I'd done

in years, but a lot of it was

coming from a place of loss

and regret.

I didn't tell him all of

that. Instead, I

told him that

I was doing

surprisingly

well

since the

breakup,

and that

I thought

I looked

five years

younger—and

that last

part is

absolutely

true.

"We

should

get a

drink

and catch up," he messaged

me.

"That sounds suspiciously like

a date," I teased.

"Are you saying I'm finally

getting date number two?"

I stared at my phone a

moment, deciding how to

respond. "No. Not date

number two: It's more a re-do.

Or, simply, a first date."

"Sounds good to me."

I met him at his apartment,

golden sequin jacket ready

for a reveal underneath a

wool coat. He came outside

and walked me to the Brooks

Atkinson Theater. "Wait—did

you get us tickets to Waitress?"

"The guy who runs the box

office is a regular at my

restaurant," he smiled. "I've

been after them for a while."

On our way in, the doorman

asked if we had any bags for

him to check. "No baggage,"

C said, smirking at me.

"That's what they all say on

first dates," I shot back. The

doorman didn't smile.

Once in our orchestra seats,

we overhead someone in

the row behind us

humming

"When Doves Cry" by Prince.

"I always had a crush on

Prince, growing up," he said.

"Then I am not your type," I

laughed.

"No, you're definitely my

type."

"I'm really more princeSS than

Prince." He chuckled and put

his hand on my knee.

We went back to his place

afterward. "I thought about

this for so long," he breathed,

taking off my clothes. And, if

I'm honest, I had been too.

After we came, I immediately

went to the bathroom to clean

up. I felt weird, uneasy, and

realized that the spark I felt

between us wasn't romantic—

it was sexual. With the act,

I put out the flame, and all I

wanted to do was go home to

be alone with my insecurities.

One particular song from

Waitress clung to me—"When

He Sees Me"—and I found

myself singing it in the

following days.

"What if when he sees me,

what if he doesn't like it,

what if he runs the other

way, and I can't hide from

it? What happens then? If

when he knows me, he's only

disappointed, what if I give

myself away to only get it

given back? I couldn't live with

that."

It made me think of AJ, and

the past two years, and all

the suffocated flames.

PHOTO BY STEVE BRENNAN
---
ATINO EYEWEAR OPTICAL

Gucci, YSL, RVS, Alexander McQueen Eyewear

Instagram: atinoeyewearoptical

110 East 7th Street, NYC

NOW OPEN
---
20% OFF

Nails & Waxing

● NAILS

● WAXING & TRIMMING

● MASSAGE

● BODY-SCRUB (TABLE SHOWER)

NEW YORK, NY 10011

(BTWN 6TH & 7TH AVE.)

HOURS:

MON - SAT 10:30AM - 11:30PM

SUN 11AM-11PM

THE REASON

TO CHOOSE

UTOPIA SPA:

•Relaxing atmosphere

•Professional skills

•Clean and hygienic

•Respectful and friendly

30mins $40 60mins $60

Free cold drinks

Free shower

Value packages are available!

Massage - Waxing - Trimming

Table shower - Body scrub

Like Nowhere,

You've Ever Been!

www.UtopiaSpaNYC.com

965 Lexington Ave

2FL @ 70th Street

Tel: 212 -879 -0402

Hours: 10:30AM-11:00PM

Trains: 6, F, Q