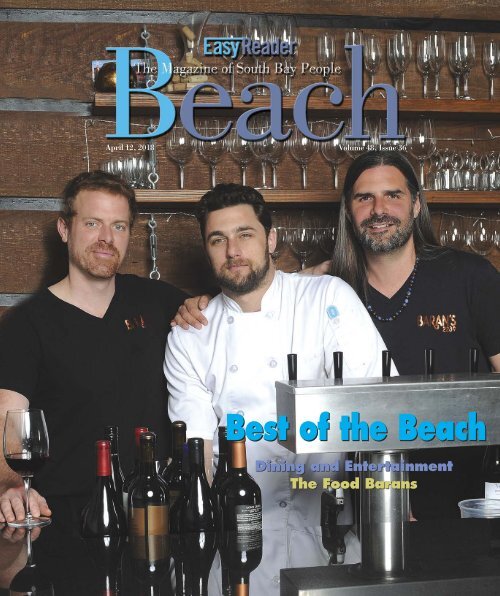 Create successful ePaper yourself
Turn your PDF publications into a flip-book with our unique Google optimized e-Paper software.
April 12, 2018

Volume 48, Issue 36

Best of the Beach

Dining and Entertainment

The Food Barans
---
Stocking Dealer

South Bay's oldest lumber yard

• Trim

• Doors

• Siding

• Decking

• Lumber

• Windows

• Hardware

• Referrals

Free parking in our 6th Street lot

635 Pacific Coast Highway - Hermosa Beach

310-374-3406

Call Our Dexperts
---
April 12, 2018

Volume 48, Issue 36

ON THE COVER

Baran's 2239 brothers Jason

and Jonathan Baran and chef

Tyler Gugliotta.

Photo by David Fairchild

12 Baran's landscape by Ryan McDonald

A look into the workings of the South Bay's most talked about new

restaurant. Forget what you've seen on "Hell's Kitchen."

18 2018 Best of the Beach Dining and Entertainment

Glimpses into our readers' picks for their favorite places to dine and be

entertained.

A VOTE OF THANKS

Best of awards are really gratitude ceremonies. They are

an expression of appreciation for those whose extra effort

makes life a little bit richer than it would be otherwise.

Just how much richer is evident in the stories and

photos of restaurants and clubs described on the following

pages.

Nearly 5,000 readers participated in this year's Best of the

Beach Dining and Entertainment balloting. It's notable that

almost all of the honorees are independent restaurants and

clubs.

- Kevin Cody, Publisher

BEACH LIFE

10 Beach calendar 40 Summer Camps

47 Home and Garden

STAFF

PUBLISHER Kevin Cody, ASSOCIATE PUBLISHER Richard Budman, EDITORS Mark McDermott, Randy Angel, David

Mendez, and Ryan McDonald, ARTS & ENTERTAINMENT Bondo Wyszpolski, DINING EDITOR Richard Foss,

STAFF PHOTOGRAPHERS Ray Vidal and Brad Jacobson, CALENDAR Judy Rae, DISPLAY SALES Tamar Gillotti,

and Amy Berg, CLASSIFIEDS Teri Marin, DIRECTOR OF DIGITAL MEDIA Hermosawave.net,

TYPESETTER Tim Teebken, DESIGN CONSULTANT Bob Staake, BobStaake.com, FRONT DESK Judy Rae

310.937.3902 700 S. Aviation Blvd.

Manhattan Beach

EASY READER (ISSN 0194-6412) is published weekly by EASY READER, 2200 Pacific Cst. Hwy., #101, P.O. Box 427, Hermosa

Beach, CA 90254-0427. Yearly domestic mail subscription $150.00; foreign, $200.00 payable in advance. POSTMASTER: Send

address changes to EASY READER, P.O. Box 427, Hermosa Beach, CA 90254. The entire contents of the EASY READER newspaper

is Copyright 2018 by EASY READER, Inc. www.easyreadernews.com. The Easy Reader/Redondo Beach Hometown News

is a legally adjudicated newspaper and the official newspaper for the cities of Hermosa Beach and Redondo Beach. Easy Reader

/ Redondo Beach Hometown News is also distributed to homes and on newsstands in Manhattan Beach, El Segundo, Torrance,

and Palos Verdes.

CONTACT

n Mailing Address P.O. Box 427, Hermosa Beach, CA 90254 Phone (310) 372-4611 Fax (424) 212-6780

n Website www.easyreadernews.com Email news@easyreadernews.com

n Classified Advertising see the Classified Ad Section. Phone 310.372.4611 x102. Email displayads@easyreadernews.com

n Fictitious Name Statements (DBA's) can be filed at the office during regular business hours. Phone 310.372.4611 x101.

6 Easy Reader / Beach magazine • April 12, 2018
---
April 12, 2018 • Easy Reader / Beach magazine 9
---
S O U T H B AY

CAL ENDAR

Saturday, April 14

Scottish Fiddlers

The Scottish Fiddlers of L.A.

37th annual Spring Concert

and CD release celebration. A

fiery program of marches,

strathspeys, reels and jigs in

the rousing Scottish tradition

performed by the 40-member

orchestra featuring fiddles, cellos,

drums, piano, bagpipe,

dancers, and Gaelic song.

Tickets $12 at the door. Kids

under 13 free. 7:30 p.m. Hermosa

Beach Community Theatre,

710 Pier Ave., Hermosa

Beach. For tickets and information

call (310) 266-8080 or

visit scottishfiddlers.org.

Sunday, April 15

Summer show

The Palos Verdes Art Center's

Malaga Cove Summer Art

Show features paintings, jewelry,

ceramics, photography,

wearable art and prints from

artists from the seven art

groups affiliated with the Art

Center. One weekend a

month, 10 a.m. - 5 p.m. on scenic

Palos Verdes Drive West

between Via Chico and Via

Corta. Plenty of free parking.

Next show May 19, 20. pvartcenter.org/malaga-cove.

Shorts for your eyes

The Torrance Cultural Arts

Foundation presents the annual

Pacific Coast International

Film Festival. Audience

members vote for the 'Best of

the Fest'. General admission

tickets $10. 7 p.m. For additional

information, film descriptions,

and ticket purchase,

call (310) 781-7171 or visit Torrancearts.org.

Tuesday, April 17

YEA! Investor panel

Panel of 8 investors from

local businesses will hear

pitches from talented local

high and middle school students

in a competition based

on "Shark Tank". YEA! (Young

Entrepreneurs Academy) is an

intensive training where students

develop business ideas,

write business plans, conduct

market research, pitch their

plan, and launch and run their

own real, legal, profitable fully

formed companies and social

movements. 5 - 8 p.m. Mira

Costa High School, 1401 Artesia

Blvd., Manhattan Beach.

Email Brandon Oates, MB

Chamber Director of Sponsorship

at brandon@manhattanbeachchamber.com

or call

(310) 545-5313 if you are interested.

Meet the grunions

The Cabrillo Aquarium will

open at 8 p.m. and a film on

grunion begins at 9 p.m. in the

John M. Olguin Auditorium.

Prior to the predicted run,

everyone will gather on the

beach to await the grunion.

The program cost is $5 for

adults and $1 for seniors, students,

and children. Warm

clothing is recommended.

3720 Stephen M. White Dr.,

San Pedro. For information call

(310) 548-7562 or visit cabrillomarineaquarium.org.

Wednesday, April 18

Coffee with a cop

Join your neighbors and police

officers for coffee and conversation.

8 - 10 a.m. The

Coffee Bean and Tea Leaf,

2521 Artesia Blvd., Redondo

Beach. Free. For questions

email mike.diehr@redondo.

org or call (310) 379-2477 ext.

2493.

Earth Day

Free event highlights community

environmental initiatives

and provides opportunities

to learn more about water

conservation, storm water pollution

prevention and energy

efficiency. Fun and educational

activities, giveaways and

free paper shredding available.

3 - 6 p.m. Promenade on the

Peninsula fountain area, 550

Deep Valley Dr, Rolling Hills

Estates. For more information

contact Alexa Davis at (310)

377-1577, ext. 111,

alexad@ci.rolling-hills-estates.ca.us.

Keep it clean

Attend the Keep the Esplanade

Beautiful Mixer and

get updated on the 2017 Keep

the Esplanade Beautiful accomplishments

and plans for

2018. Appetizers, a silent auction,

special raffle and a no

host bar. RSVP to

KEB4RB@gmail.com. 5:30 -

7:30 p.m. HT Grill, 1701 South

Catalina, Redondo Beach.

Get cookin'

Satisfy your inner gourmand

at the Manhattan Beach Library

to sample delicious Vietnamese

street food, prepared

by Chef Vivien Phung. 6:30 -

8:35 p.m. Manhattan Beach Library,

1320 Highland Ave.,

Manhattan Beach. For questions

call (310) 545-8595 or

visit colapublib.org.

10 Easy Reader / Beach magazine • April 12, 2018

Thursday, April 19

Leader sign ups

Those interested in signing

up for the Leadership Manhattan

Beach Class of 2019 should

attend the Leadership MB Information

Night. LMB offers a

comprehensive 9-month leadership

program to educate and

develop future community

leaders. Techniques learned

are put to immediate use to

connect with city officials lead

teams, and manage the final

class project. 6:30 - 8 p.m. City

Council Chambers, 1400 Highland

Ave., Manhattan Beach.

Refreshments, snacks provided.

For additional information,

visit leadershipmb.org.

Friday, April 20

Legends by the sea

The Circle, support group of

the Palos Verdes Art Center,

presents the annual Palos

Verdes Homes Tour. Three

homes reveal the amazingly

different lifestyles in Portuguese

Bend. 10 a.m. - 4 p.m.

today and Saturday, April 21.

Tour shuttles take attendees to

and from PVAC and tour

homes. Lunch is included in

the admission price. There will

also be a Plein Air painting exhibition,

a collectibles sale and

boutiques. Free event parking

at Peninsula Community

Church, 5640 Crestridge Road,

next to PVAC. Tickets $70 presale,

$65 for PVAC member,

$75 day of. 5504 Crestridge

Rd., Rancho Palos Verdes.

pvhomestour.org.

Earth Day

Celebrate Earth Day at the

library with a special family

storytime and a recycled art

activity, balloon powered race

cars. For children and families.

3:30 - 4:30 p.m. Hermosa

Beach Library, 550 Pier Ave.,

Hermosa Beach. For questions

contact Kelley Wantuch at

(310) 379-8475 or visit colapublib.org.

Saturday, April 21

Take your mark

The El Segundo Council of

Parent Teacher Associations

(PTA) 27th Annual Run for Education

5K/10K and Kids' Fun

Run. Categorized starting line

corrals, new this year, will provide

a safe start. Registered

participants receive race t-

shirts and finishers medals

plus 1st, 2nd, and 3rd place

finishers in all men's and

The grunion be a runnin'. But April and May are closed seasons, so you may not take

them! Cabrillo Marine Aquarium hosts a grunion program April 17 at 9 p.m. (Cabrillo-

MarineAquarium.org) or check out www.wildlife.ca.gov/fishing/ocean/grunion for a

pamphlet of expected 2018 runs.

women's age groups. Both

courses are USATF certified

featuring electronic chip timing.

Register at esrun4education.com.

8 a.m. El Segundo

High School, 640 Main St., El

Segundo. For questions email

info@esrun4education.com.

Volunteer and follow us on

Facebook @esrun4education.

Chalk art

The King Harbor Association

8th annual Earth Day

Chalk Art Challenge. All-ages

welcome. Free and open to the

public. Participants of all levels

are invited to create a chalk art

drawing to commemorate

Earth Day. The first 100 people

to sign-up on the day of the

event will receive free nontoxic

chalk and a reusable canvas

tote bag that they can

customize with paints supplied

by King Harbor Association.

The SEA Lab mobile touch

tank and Waterfront Education

will be on site for visitors to

learn about local sea life and

waterfront activities. 10 a.m. -

2 p.m. Redondo Beach Marina,

181 N. Harbor Drive, Redondo

Beach. For more information

visit VisitKingHarbor.com or

call (310) 374-3481.

3rd Rock Hip Hop

Join 3rd Rock Hip Hop as

they teach kids about environmental

awareness through hip

hop music. Free. Hands-on activities,

bouncy houses, games,

free giveaways and much

more. 11 a.m. - 4 p.m. Dockweiler

Youth Center, 12505

Vista del Mar, Playa del Rey.

For questions call (310) 726-

4128 or visit beaches.lacounty.gov.

Let 'em roll

The Redondo Beach Rotary

Club presents Rock & Roll

Casino Night. Casino-style

gambling, bites, beverages and

a silent and live auction.

Dance to local band, Feed the

Kitty. Dancing lessons will be

available. 6:30 - 11 p.m.

Crowne Plaza, 300 North Harbor

Dr., Redondo Beach. $95

per person and includes two

drink tickets and self parking.

For information and ticket purchase

visit facebook.com/

events/728724743984108/.

Sunday, April 22

Walk for Water

The Samburu Project Walk

For Water annual fundraising

event to grow awareness of the

worldwide water crisis and to

provide access to clean water

in Kenya. The Hermosa event

includes a 4-mile walk or run

on the Hermosa Beach Strand

between the Hermosa and

Manhattan piers. Celebratory

pancake breakfast at American

Junkie follows, with entertainment,

games, raffle and prizes

for top fundraisers. 8 a.m. 68

Pier Ave., Hermosa Beach. For

event info and registration go

to thesamburuproject.org or

call (310) 881-7265.

4th Sunday flea

Torrance Antique street faire

features 200+ sellers offering

antiques, collectibles, vintage

clothes, jewelry, LP's, toys,

tools, plants, home decor and

more. Rain or shine, free and

pet friendly. 8 a.m. - 3 p.m.

1317 Sartori Ave., Torrance.

(310) 328-6107 or visit torranceantiquefaire.com.

B
---
April 12, 2018 • Easy Reader / Beach magazine 11
---
each food

Everything

in its place

by Ryan McDonald

Blue corn-crusted barramundi at Baran's 2239 awaits a hungry diner. The restaurant epitomizes the "farm-to-table" trend transforming the South Bay dining

scene. Photos by David Fairchild

Baran's 2239 in Hermosa Beach has become one of the most desirable

reservations in the South Bay. How do they stay on top?

On a recent Tuesday evening at Baran's 2239 in Hermosa Beach, the

first table to pay their bill was not the first table to be seated, nor

the second, but the third. Judging by wisps of their conversation,

they were three friends, one of them in town on business. They were open

to their server's suggestions — their first choice of chardonnay was possibly

more "minerally" than what they had in mind, he told them — and they

proceeded steadily through wine and shared plates. Altogether, they were

in the restaurant for barely an hour.

The first guest to step through Baran's doors that night, a woman, sat by

herself at a table near the restaurant's northwest corner until her male companion

arrived. They grazed on barramundi and Brussels sprouts at a pace

closer to snacking than savoring, as though procuring the dishes involved

nothing more than walking from the sofa to the cupboard. They had arrived

with the sun still high enough to cut through the marine layer, and they left

in the dark of a night threatening rain, arms linked and laughing easily.

Since it opened two years ago, Baran's has become perhaps the most desirable

reservation in Hermosa, and has helped define the South Bay's culinary

renaissance. Heaps of positive reviews, including this publication's,

have praised its inventive menu and warm ambiance. It is now sustained

by both devoted regulars and a growing number of food pilgrims from other

parts of California and the nation. Last year, Frank Bruni, a political columnist

for The New York Times and the paper's former restaurant critic,

tweeted, "This place rocks. One of LA area's best." Social media fervor ensued.

The buzzy momentum has relieved the do-or-die-stress of a young

restaurant, only to replace it with the challenge of seating everyone who

wants to come.

Last month, I spent a night observing the cooking, serving, eating and

drinking that happens at Baran's in an effort to understand what makes a

restaurant successful in an industry notorious for thin profit margins and a

high rate of first-year failures.

Co-owners Jason and Jonathan Baran and executive chef Tyler Gugliotta,

also a partner, still exhibit the hunger of a startup, but they are not blind to

their success.

"It's awesome how many people still say they have never heard of us.

We're full, but it's exciting to know how many people still haven't been

here," Jonathan said.

12 Easy Reader / Beach magazine • April 12, 2018
---
On the one hand, running a restaurant involves the same sort of calculated

decisions about timing, inventory and branding as any other business,

and Baran's makes them exceptionally well. In an effort to differentiate

themselves when even vending machines are being touted as "farm-totable,"

the restaurant recently began a partnership with a Palos Verdes

Peninsula farm. On the night I was there, the red Russian kale from the

farm was probably the most frequently ordered dish.

But, unlike running a warehouse or a factory, much of the critical information

is a permanent mystery. Consider the non-linear order in which the

parties on that Tuesday night entered and exited. None of this was evident

when they set foot in Baran's. And particularly at a place like Baran's, asking

someone how long he or she plans to stay would pierce the veil of romance

that elevates dining above mere filling up. A meal passed with an

eye on the clock provides about as much charm as taking a number at a

deli.

Running a restaurant is a balance

between professionalism and

artfulness; it is part hedgehog,

part fox. George Orwell's first

book, "Down and Out in Paris and

London," recounts his time as a

plongeur in the dining room of a

haute Paris hotel. To this day it

provides some of the best journalistic

descriptions of restaurant

work:

"By its nature it comes in rushes

and cannot be economised. You

cannot, for instance, grill a steak

two hours before it is wanted; you

have to wait till the last moment,

by which time a mass of other

work has accumulated, and then

do it all together, in frantic haste.

The result is that at meal times

everyone is doing two men's

work, which is impossible without

noise and quarrelling. Indeed

the quarrels are a necessary part

of the process, for the pace would

never be kept up if everyone did

not accuse everyone else of idling.

It was for this reason that during

the rush hours the whole staff

raged and cursed like demons."

Orwell's book remains a revealing

look at how restaurants function

— many restaurants, that is,

but not Baran's.

The space to be

It's a requirement for restaurant

critics to comment on the oddity

of Baran's location, in a strip mall

on Pacific Coast Highway. A

writer for LA Weekly began his

highly favorable 2016 review by remarking

that, having failed to make

a reservation on his first attempt to eat there, he found himself admiring

dinner service from in front of the Purple Haze Smoke Shop to the north,

and had to settle for Lebanese rotisserie chicken at the joint to the south.

Jason, Jonathan and Gugliotta say they love the space, and that they did

not develop the concept for the restaurant until after they saw it was available.

Like just about everything else at the restaurant, Baran's appearance

is the work of its close-knit crew. They either did things themselves, like

the painting, or they found help through friends and family. Their plumber

was recommended by Pennywise guitarist Fletcher Dragge.

The restaurant is laid out east-to-west. A sturdy set of double glass doors

and large windows face the highway. A sliver of ocean peeks through in

the distance, over the crest of Fifth Street. A four-stool bar faces the dining

room and stores wine bottles and glasses. Two- and four-person tables line

the north and south walls, while a large communal table dominates the

middle.

Jason and Jonathan estimate that three-quarters of their business during

the week comes from reservations, and the figure rises above 90 percent

on weekends. Seating them all, along with leaving room for the walk-ins,

can be a dizzying challenge.

"If someone shows up 15 minutes late it really throws the whole thing

off," Jason said. There is the somewhat rare instance, Jason admitted, when

a no-show works in their favor, as when a table lingers unusually long. But

trying to predict when this will happen is as dicey as betting on who won't

show up at all. "And we're so small. If someone makes a reservation and

doesn't show, it costs a lot."

Long before the first table cloth is laid, every restaurant must decide how

much space to devote to the eating of food, and how much to its preparation.

In high-rent markets, it is not

unusual to cram the kitchen into

as little space as possible, in order

to allow for a greater number of

diners up front. Navigating the

kitchen of a busy South Bay

restaurant can feel like a spelunking

expedition: hot, narrow and

crowded with obstacles.

Baran's made a different calculation.

Gugliotta, who has cooked

in well-regarded kitchens

throughout Southern California,

said Baran's has a higher ratio of

kitchen-to-floor space than any

restaurant he has worked at so far.

Committing this much square

footage to the back of the house

reflects the emerging view of food

quality that Baran's embodies.

Where once fine dining meant

eating apart from the sweating

and grunting needed to make it,

"open kitchens" visible to patrons

are now common. At Baran's, the

kitchen is impossible to hide: the

sound of the dishwasher's sidespray

hose emerges, like a hissing

snake, during quiet moments in

the dining room.

The benefit of the large, open

kitchen is that it is easier to put

out the food. The downside is the

crew is reminded, everyday, of

how much more business they

could be doing.

"That kitchen, we could possibly

handle another 30 to 40 seats,"

Gugliotta said.

Brothers Jonathan and Jason Baran opened the restaurant with executive chef Mise en place

Tyler Gugliotta in 2016.

At the rear of Baran's dining

room, tucked between the server's

kitchen entrance and an oversized chalkboard with illustrations of the beer

offerings, is a bookcase with glass doors.

The authors are all chefs, among them Marco Pierre White and Anthony

Bourdain. White, an Englishman and the youngest chef ever to garner three

Michelin stars, was the original culinary "bad boy." He demanded impossible

hours from sous chefs, stormed into the dining room to rage at difficult

customers, and bullied to the point of tears a young Gordon Ramsay, now

host of "Hell's Kitchen" and a noted restaurant grouch himself. Bourdain

hosts "Parts Unknown," on CNN. Along with Orwell, he cites White as an

influence in his "Kitchen Confidential," a memoir that pulled open the

swinging door to the inner sanctum of a chef's life. Bourdain described a

world of questionable cleanliness and Dionysian excess, recalling at one

April 12, 2018 • Easy Reader / Beach magazine 13
---
point how, while cooking at a posh New York restaurant, he dispatched

Puerto Rican busboys to score heroin.

It is hard to imagine two personalities who would be more out of place

at Baran's. It was 9 p.m. before I saw Jason take a sip of wine, and sheepishly

at that, when it was offered by a customer who had brought a bottle

and decanted it at the table. The place is far from dull, but it hums along

with a quiet functionality.

Inside the kitchen, the three sous chefs and a dishwasher stand in a rectangle,

with executive sous chef Corey Cryer in the middle. Cryer eyed the

progress of each dish. Unlike many restaurants, in which the ticket rail is

suspended at eye level, Cryer has it at waist level, to the side of a cutting

board. (This improves sightlines and seemed to encourage eye contact.)

Each sous chef is constantly announcing what he is doing. Times are called

out with surprising precision, and most statements begin or end with the

word "chef." ("45 seconds on that kale, chef.") The repetitive, almost mundane

level of communication evoked the road crew scenes from "Cool

Hand Luke." ("Takin' 'em off here, boss.") But it works. I heard no raised

voices or groans about a finicky order. Good-natured ribbing is constant.

("I can see I'm never hanging out with you again, chef.") Not coincidentally,

to handle matters like music and temperature, the kitchen has embraced

Amazon's virtual assistant, which one activates by addressing as "Alexa."

Gugliotta attributed the lack of drama to the work that goes in before a

customer sets foot in the door.

"The crew is here prepping for about five hours before service starts. It's

all about mise en place, 'everything is in its place,' organized," he said.

Among the items Baran's make on-site are the sausage and focaccia

bread, two things I frequently saw heading out of the kitchen. This level

of readiness, though, does not come cheaply. Prep time to produce that

quality of food translates to some 20 hours of wages before the restaurant

even opens — money that must be paid regardless of whether a single customer

walks in the door. Along with the ever-present risk of spoilage, it's

part of the complex calculus of financing a restaurant.

This was especially apparent during the restaurant's first few months,

which were tough. Whole evenings passed with only a few tables, and

what visitors they had were often friends or family. But despite the considerable

pressure to reduce costs, they stayed firm, reflecting the confidence

they had in their work.

"We didn't change the quality. When things are slow, that's something

you'll see a lot of people do, cut back," Jason said.

"Actually, we did the opposite," Gugliotta interjected. "We got nicer stuff.

We tightened everything up."

Time at last

Both regular customers and employees referred to the "family" atmosphere

of Baran's. The word can border on meaningless in the restaurant

industry, but feels earned here. Along with Jason and Jonathan, their sister

Jenna works there full time, and their other brother, Jeff, occasionally

busses tables, as do Jason's wife and Jonathan's girlfriend. Gugliotta has

known Cryer for 20 years, and his other sous chefs for more than a decade.

The culinary connections stretch across generations. Gugliotta's father

worked as a chef, and a family link helps him secure the coveted produce

of Weiser Family Farms in Tehachapi. The number attached to the restaurant's

name, 2239, comes from the Colorado Boulevard address of Jonathan

and Jason's grandparents' Pasadena restaurant, The Brotherton's Farmhouse,

which ran for half a century before closing in the '80s.

Growing up in restaurant families has clearly influenced their approach.

In the little spare time Jonathan has, he teaches restaurant management at

Rolling Hills Country Day School. The goal of the course, he said, is "opening

students' eyes to everything it takes — to the fact that food doesn't just

come out." And although his pupils are middle-schoolers, he acknowledges

that the rest of the population has plenty to learn.

"The hospitality industry has such a cloud over it, that, 'You're a server

or a bartender or you're a cook, that's a part-time job, it's not a career.' And

I think that's a misconception. Front of the house, back of the house,

they're all careers," he said.

Jonathan said that the image of the industry is gradually shifting, something

he credits to the rise of the celebrity chef, and the bureaucratization

Barans cont. on page 17

14 Easy Reader / Beach magazine • April 12, 2018
---
MasterCard®

®

AMERICAN EXPRESS ®

SM

G e t R e a d y F o r S u m m e r !

Say Goodbye to Stubborn Fat....

• Skin Cancer & Mole Removal

• Mohs Micrographic Surgery

and Reconstruction

• Cysts, Acne, Warts & Rashes

• Leg Vein Sclerotherapy

• Acne & Accutane Treatments

• Pre-Cancer Treatments

• Propecia Available

Two Coolscuplting Devices to Treat Two Areas at Once!

• Age Spots

• Glycolic & Chemical Peels

• Sculptra, Radiesse, Perlane ® ,

Juvéderm & Restylane ®

• BOTOX ® & Dysport

• Pediatric Dermatology

• Ultraviolet B & PUVA

• Latisse for longer, darker lashes

Get Ready For The New Year

Discounts Offered Now!!

Call Our Office For Details!

• Laser Surgery

• GentleLASe-Hair Removal

• IPL-Rosacea/Sun Damage

• Smoothbeam-Acne/

Wrinkle Reduction

• Vbeam-Redness/Broken Capillaries

• Fraxel – Melasma/Wrinkle Reduction

• XTRAC laser for treatment of

Psoriasis and Vitiligo

Fariba Seraj,

NP/PA-C

Providing Full

Dermatological

Medical Treatment,

in addition, Provides

all Laser and

Cosmetic Services.

Intense Pulsed Light

Treats Sun Damage, Brown Spots,

Age Spots, Broken Capillaries, Sun

Induced Freckles, Rosacea

NO DOWNTIME!

Special Introductory Price

$200* (Complimentary Consulation)

*New Clients only. Must bring ad for discount.

Shelby Reed

Also providing services: Steven E. Gammer, M.D. and Geover Fernandez, M.D.

www.beachcitiesderm.com

BEACH CITIES DERMATOLOGY MEDICAL CENTER

CERTIFIED, AMERICAN BOARD OF DERMATOLOGY

Also Providing

Licensed Aesthetician

Services

• Glycolic and Salicylic

Chemical Resurfacing Peels

• Microdermabrasion

Erika La Ponza • Progressive Acne Treatments

Hamaguchi

Jennifer

FREE INITIAL CONSULTATION! PLUS...

State-of-the-Art Skin Care With a Personal Touch

Rolling Hills Estates – 827 Deep Valley Drive, Suite 101

Redondo Beach – 520 N Prospect Avenue, Suite 302

Culver City – 3831 Hughes Avenue, Suite 504 B

ALL PPOS ACCEPTED l EVENING & SAT. APPTS. AVAILABLE

310-798-1515

William J. Wickwire, M.D.

Get Two FULL

HOUR Microdermabrasion

Treatments

for $160.

A Savings of

$100.00

Neal Ammar, M.D.

16 Easy Reader / Beach magazine • April 12, 2018
---
Server Chris Shaw is part of a small but dedicated staff.

Barans cont. from page 14

of large restaurant groups. But it is also bound up in the increasing scrutiny

people — especially wealthy people — give to their food.

When he is on the floor, Jonathan points out features of a dish as he

drops it off at a table. At first this can seem odd: the food is already there,

and it is too late to influence the diner's decision. Seen again and again,

though, it becomes clear that he is guiding the customer on what to savor,

the way a museum docent points out little-noticed facets of a painting.

But even as we obsess more and more about what goes into our mouths,

fine dining is shedding the aristocratic frills of its haute and haughty past.

Thirty years ago, at a place with food of Baran's quality, cooks would don

toques blanches and the waiters would stalk the floor in white jackets.

Today, Jonathan and Jason scurry about in black T-shirts. Gugliotta and

Cryer wear ergonomic aprons they designed themselves. And, critically,

customers can order chicken wings.

Behind both of these trends is a breaking down of the physical, socioeconomic

and, in many restaurants, linguistic barriers that divide the front

of the house from the back.

"There's usually animosity between the two," said Jason, who has

worked in restaurants throughout the South Bay. Everything about the way

Baran's is set up depends on that not being the case.

"We all hang out outside of work. And if we need an extra pair of hands,

everyone is willing to come back and do whatever," Gugliotta added.

On a busy evening, this means communication and constant travel between

the two realms, a stack of small sharing plates always in hand.

Jonathan went back and forth to the kitchen to explain, in surprising and

sentimental detail, information he had gleaned from his talk with a table.

It was a process repeated over and over, but there was still a bit of guesswork

to be done.

"Is it a first date? What are they doing here? After the first few bites, I

get a sense of it," Jonathan said. "I know how long it takes to make each

dish. What I have to figure out is how long it's going to take to eat." B

April 12, 2018 • Easy Reader / Beach magazine 17
---
2018 Dining & Entertainment

Best

of the Beach

Independent

coffee shop

Java Man

If you have to meet up with someone in

Hermosa Beach, and the occasion does not

call for alcohol, odds are good you'll meet

at Java Man. Just blocks from the beach,

Javaman retains the feel of a bungalow, and

just about everyone manages to make themselves

at home. Step inside at 9 a.m. on a

random weekday, and you will hear people

talking about their latest venture, reconnecting

with old friends, and maybe even

a local journalist conducting an interview.

They hunker down with a coffee and a

freshly baked pastry or one of the cafe's

much-loved breakfast burritos. But the favorite

meet-up also does a booming graband-go

trade. It's not uncommon to see a

line snaking out the door as people make

their way to work, a fitness class, or take a

break from walking the dog. People often

make fast friends as they wait for their

drinks. The baristas crank out a head-spinning

variety of lattes and various Italianate

variations. It seems that everyone can agree

on the best place to get their caffeine fix.

Java Man

157 Pier Ave., Hermosa Beach

(310) 379-7209

Javamancoffeehouse.com

>> Runner-up: Hi-Fi Espresso

227 Pacific Coast Hwy.

Hermosa Beach

Hifiespresso.com

Coffee chain

Java Man's Manuel and Jesus. Photo by Ryan McDonald

Manhattan Beach Starbucks' Yvette Hernandez, Brandon Reynoso, Bryanna

Montoya and Autumn Chumley. Photo by Ryan McDonald

Third generation owner Mickey Mance and Jorge Najera. Photo by Ryan

McDonald

Starbucks

Starbucks has been around since the

early 1970s, but started to make it big in

the early 1990s when they brought the vibe

of European coffee houses to the masses.

That's around when the first one in the

South Bay opened, at the corner of Manhattan

Beach Boulevard and Highland Avenue.

It was an instant hit, and its appearance

became synonymous with the

increasingly sophisticated (and high-end)

Beach Cities. Dodger great Mike Piazza

was pictured at the Starbucks in a Los Angeles

Times story about athletes living in

Manhattan.

Many other Starbucks have popped up

locally. That first South Bay Starbucks is

still standing, a testament to the innovation

and customer service that allows the

world's largest coffee purveyor to push

through "third wave" coffee and retain a

dedicated following.

"Monday through Friday, most business

happens in the morning. But this is really

a huge weekend store," said Flavio Jauregui,

store manager for the Manhattan location.

People of all ages linger around a Starbucks.

Earlier this week, with students at

Mira Costa on Spring Break, the store was

getting more youth visitors at midday than

it was used to, Jauregui said. Good weather

also brings people out.

Jauregui lives in the area and has managed

eight different stores in the last two

years, and said he is happy to be where he

is. He's glad that he and his employees get

to see people come in with their families

in a good mood, instead of just grumpy

people muttering "Gimme coffee" on their

way to work. He speculates that it the proximity

of the ocean might have something to

do with it.

"I like that when you're feeling overwhelmed,

you can head down to the Pier

for a bit and just clear your head," Jauregui

said.

233 Manhattan Beach Blvd.

Manhattan Beach

(310) 545-2709

And various other locations

>> Runner-up:

Coffee Bean & Tea Leaf

Various locations

Deli &

Sandwiches

Mickey's Deli

This month, Mickey's Deli will mark 65

years in Hermosa Beach. They celebrated

with a nostalgic day of in-the-past prices,

including 65-cent slices of pizza. But for

many in the South Bay, Mickey's holds

such an unshakeable place in their memory

that they don't need a special day to

18 Easy Reader / Beach magazine • April 12, 2018
---
Best American

Contemporary

Zane's

The Bull Pen

Best Seafood

Fishbar

Quality Seafood

Captain Kidd's

Rock'N Fish

Best Hamburger

Hennessey's Tavern

Ercoles

Best Steak

over/under $30

Zane's

The Bull Pen

Best Italian

Old Venice

Stars of the Beach are some of the

most prominent businesses

in the South Bay.

In addition to our

Best of the Beach winners

The Stars are businesses that are

very popular with our readers and

have been awarded the

Stars of the Beach recognition

Best

Outdoor Dining

Hennessey's Tavern

Best

Neighborhood Bar

Ercoles

Hennessey's

Best Fish & Chips

Fishbar

HB Fish

Captain Kidd's

Best Happy Hour

Zane's

Sharkeez

Best Cocktails

Ercoles

Zane's

Shark's Cove

send them tripping down memory lane. Legions

of young surfers remember scrounging

together 25 cents for sauce sandwiches,

or pieces of fresh-baked bread for a nickel.

The South Hermosa establishment continues

to provide old school charm with its

made-to-order deli sandwiches and Italian

favorites like pizza and lasagne. It even got

a boost in recent years when it sold the

winning California Lottery ticket, netting

some lucky customer $27 million. That's a

lot of sauce sandwiches.

Mickey's Deli

101 Hermosa Ave.

Hermosa Beach (310) 376-2330

mickeysdeli.com

>> Runner-up Neighborhood deli:

Ashley's

828 Hermosa Ave.

Hermosa Beach

(310) 376-6729

ashleysdeli.com

>> Runner-up Sandwich shop:

Jersey Mike's

561 N. Pacific Coast Hwy.

Redondo Beach (310) 374-4900

jerseymikes.com

Caterer

Lisa's Bon Appetit

Lisa's Bon Appétit is a standout in event

production and unique cuisine for nearly

40 years. Lisa's offers pickup and delivery

catering and full-service event catering,

ranging gracefully along cocktail, buffet

and family styles. It's known for its themed

stations, "chef's table" service and plated

dinners. As a side project, Lisa's has organized

"Txokos," a "secret" gastronomical society

with limited ticket sales for each

event. Txokos meets at various venues

around greater LA, where executive chef

Oscar Gonzalez prepares unique eight-to-

12 course meals, paired with beverages

from local wineries and breweries.

Lisa's Bon Appétit Catering & Events

3535 Lomita Blvd., Suite C., Torrance

(310) 784-1070

lisasbonapetit.com

>> Runner-up: Critic's Choice Catering

& Event Production

2806 Phelan Ln., Redondo Beach

(310) 545-1144

criticschoicecatering.com

Best

Mexican Food

Riviera Mexican

Best Asian Fusion

W's China Bistro

Best Ice Cream

MB Creamery

Best New Restaurant

Tower 12

Best Sports Bar

Shark's Cove

Best Bar Food

Shark's Cove

Best Pizza

Valentino's

Best Dance Club

Strand Bar

Employees Carlos Sanchez and Gracie Morissette with a freshly baked Italian

meat lovers pie. Photo by Ryan McDonald

Pizza

Paisano's

Paisano's Pizza can provide a filling midday meal, or a rallying point at the end of a long

night. No matter what time or mood you enter, an authentically New York experience

awaits. Posters of the New York Dolls and Frank Sinatra's mugshot deck the walls. A gangster

movie is likely unfolding on the television screen. And a slice of New York-style pizza,

thin and eminently foldable, awaits.

Server Gracie Morissette has been working at Paisano's for seven years. She had just fin

20 Easy Reader / Beach magazine • April 12, 2018
---
ished a 25-day "cleanse" last week, and the

first thing she ate was a slice of Paisano's.

"That's my prize. I wouldn't be working

here if I didn't think the pizza was great."

Paisano's

1132 Hermosa Ave.

Hermosa Beach

(310) 376-9883

paisanospizzahb.com

>> Runner-up: Beach Pizza

3301 Highland Ave., Manhattan Beach

(310) 546-5401

eatbeachpizza.com

Dance Club

Chelsea Pub and Lounge

Chelsea Pub and Lounge turns itself into

the South Bay's best dance club on weekend

nights. The English-style pub is connected

to the Underground on Hermosa

Avenue, and boasts an ocean view, craft

cocktails, and DJ dancing that made one

online reviewer rave, "DJ was awesome.

Manager and staff are amazing… Drinks

are a great price, especially compared to

most South Bay bars." Others praised the

mix of EDM, hip hop, rock and old school

music. "This is the perfect bar for a beach

town. The vibe is very down-to-earth and

casual," one fan wrote.

Chelsea Pub and Lounge

1334 Hermosa Ave., Hermosa Beach

(310) 937-2598

chelseapubandlounge.com

>> Runner-up: The Strand House

117 Manhattan Beach Blvd.,

Manhattan Beach

(310) 545-7470

thestrandhousemb.com

Yogurt Shop

Yogurtland

Yogurtland's teams of "flavorologists," develop proprietary recipes for more than 80 highly

customized flavors, from traditional to exotic. Yogurtland also uses quality ingredients – beginning

with creamy, fresh, pure California milk, free from antibiotics or added hormones.

Yogurtland

1570 Rosecrans Ave., Manhattan Beach

(310) 536-9562

271 Avenida Del Norte, Redondo Beach

(310) 944-9572

yogurt-land.com

The legendary Jay Leno is a familiar

face at Comedy and Magic

Club.

>> Runner-up: Menchie's Frozen Yogurt

2515 Artesia Blvd., Redondo Beach

(310) 370-4888

menchies.com

Comedy

The Comedy & Magic Club

For nearly a half-century, owner Mike

Lacey has brought the hottest national

headliners to Hermosa Beach, including

such luminaries as Jay Leno (almost every

Sunday), Jerry Seinfeld, Garry Shandling,

Kevin Nealon and Robin Williams. Lacey's

formula is simple: know what funny is, and

respect the comedians,. Comedians have

long raved about the care and feeding they

get from Lacey, comparing him favorably

to LA club proprietors whose approach is

more, well, coldly businesslike. When the

club had an occupancy issue before the

Hermosa City Council, Garry Shandling

showed up at City Hall to address the council

and press Lacey's case.

The Comedy & Magic Club

1018 Hermosa Ave., Hermosa Beach

(310) 372-1193

comedyandmagicclub.com

>> Runner-up: Pancho's Restaurant

3615 Highland Ave., Manhattan Beach

(310) 545-6670

panchosrestaurant.com

April 12, 2018 • Easy Reader / Beach magazine 21
---
Bo Bridges' photograph of professional

volleyball player Angie Akers.

Art Gallery

Bo Bridges Gallery

Bo Bridges introduced a new aesthetic to beach photography when he opened a

gallery in downtown Hermosa Beach in 2008. Beach photography had long been

characterized by warmly lit, nostalgia inducing, and neatly framed images of piers,

volleyball players and surfers.

Bridges applied his background in shooting extreme sports to finding angles that

caused his volleyball players and piers to bleed off the page, often with dark ominous

lighting. Even when he does pretty there is a dreamlike quality that borders

on the dangerous. Since moving his gallery to downtown Manhattan Beach in 2013,

Bridges has continued expanding the boundaries of beach photography in the same

way new chefs have expanded the boundaries of local dining.

Bo Bridges Gallery

1108 Manhattan Ave., Manhattan Beach

(310) 937-3764

bobridgesgallery.com

>> Runner-up: Riley Arts Gallery

1007 Manhattan Ave.,

Manhattan Beach

(310) 372-3681

rileyartsgallery.com

that mix, Petroshanoff said.

"They make a great margarita, and I'm

picky," said Keirstin Selvage, a boutique

owner and stylist in Riviera Village who

was splitting a mid-afternoon drink with a

friend. "They don't make it too sweet, and

they keep it going."

And going, and going – Riviera is likely

to go through about 25 bottles of tequila a

week, thanks to the fandom their margaritas

have gathered.

"It's just perfect," Selvage said.

Riviera Mexican Grill

1615 S. Pacific Coast Hwy.,

Redondo Beach

(310) 540-2501

rivmex.com

>> Runner-up: Pancho's Restaurant

3615 Highland Ave., Manhattan Beach

(310) 545-6670

panchosrestaurant.com

Fast-food

burger

Margarita

Riviera Mexican Grill

Believe it or not, the key to a perfect

margarita isn't how special the tequila is.

"The secret is in the mix," said bartender

Ritchi Petroshanoff.

It's a simple mix, common to most margarita

mixes: sugar, lemon and lime juices,

and water, mixed just right. Just about any

tequila would make a good margarita with

MATTUCCI

Plumbing

Since 1990 • License # 770059, C-36 C-34 C-42

SPRING SPECIALS

$ 9 8 0

Residential Water Heater

40 gal. installed! ($1080 - 50 gal. also available)

Includes hot & cold water supply lines

Expires May 31, 2018

Neighborhood business owner Keirstin Selvage sips a Cadillac Margarita.

Photo by David Mendez

$ 7 5

Rooter Service - Main Line

Must have clean-out access. Some restrictions may apply.

Expires May 31, 2018

Thank You

For Your

Vote!

In-N-Out Burger

Beaches, palm trees, freeways, In-N-Out

Burger. Few things are as emblematic of

Southern California culture as its homegrown,

family-owned burger chain – save

for, perhaps, the drive-thru lines wrapping

around the building, reminiscent of drivetime

traffic.

The company's simple menu (which

only recently added hot cocoa) and relatively

low prices have helped ensure that

the In-N-Out empire will continue its slow

march across the Western United States,

In-N-Out Burger

3801 Inglewood Ave., Redondo Beach

20150 Hawthorne Blvd., Torrance

(800) 786-1000

locations.in-n-out.com

>> Runner-up: Fatburger

1698 S. Pacific Coast Hwy.,

Redondo Beach

(310) 316-9205

Ice Cream

Parlor

D E P E N D A B L E • P R O F E S S I O N A L • A F F O R D A B L E

w w w . m a t t u c c i p l u m b i n g . c o m

FULL SERVICE PLUMBING

SEWER VIDEO INSPECTION

ROOTER SERVICE

COPPER REPIPES

22 Easy Reader / Beach magazine • April 12, 2018

F R E E

E S T I M A T E S

M e n t i o n t h i s a d w h e n

s e t t i n g u p a p p o i n t m e n t .

3 1 0 . 5 4 3 . 2 0 0 1

2013

ON CALL

24 HOURS

7 DAYS

Handel's Homemade Ice

Cream

Bridget Gray isn't personally crazy

about ice cream, but she's happy to give

her kids the occasional sundae.

"If you're going to have a treat, you

might as well go all out," Gray said. "I

don't eat much sugar, but I guess it says a
---
Siblings Sena and Stirling Gray eat sundaes at Handel's. Photo by David

Mendez

lot if I'm not a sugar fan that I take my kids

here."

Handel's owner Paul Danylik appreciates

that testament to the quality of his

shop's ice cream.

"Overall, it comes down to the product…

we have very good ice cream, and we take

every step possible to make sure we have

very good ice cream," Danylik said.

That quality (and the year-round sunshine

in Redondo Beach) have combined to

make his Handel's the top performing store

in the country.

I can assure you we have the best quality

available," Danylik said. "It could be 60 degrees

out — we'll have people dressed like

it's 20 below, but they'll still be out here."

Handel's Homemade Ice Cream & Yogurt

1882 S. Pacific Coast Hwy.,

Redondo Beach

(424) 247-8861

>> Runner-up: Manhattan Beach

Creamery

1120 Manhattan Ave., Manhattan Beach

(310) 372-1155

mbcreamry.com

boutique wine shop in October 2001 –

"probably the worst time we could have

opened," Fred said – but the last 16 years

have led to a dedicated clientele that treats

the shop like a second home.

"I don't think it's just for the wine; it's

for Fred, and the people…this is the closest

Entertainment cont. on page 25

Spring Sale...Designer Wool Carpet and Flooring

• Carpet & Flooring

• Kitchen & Bathroom Remodeling

• Design & Construction

Wine Bar

Serving the South Bay

for 38 years!

Friends of the Vine

It's just after 5 p.m. on Tuesday – shortly

after Friends of the Vine opens – and already

one of the wine bar's regulars, Stella,

is in her usual seat at the corner of the bar.

"[She's] the reason we've been open this

long," owner Fred Eguchi joked.

Friends of the Vine owners Tracy and

Fred Eguchi opened the Riviera Village

Showroom 310-375-4545

Warehouse 310-523-3648

www.AmericanCarpetInc.com

Service is Our Best Product

23837 Hawthorne Blvd

Torrance

1617 Rosecrans Ave

Gardena

April 12, 2018 • Easy Reader / Beach magazine 23
---
Sports bar food

Bartender Kyle Soto prepares for a thirsty Happy Hour crowd. Photo by

Ryan McDonald

Tequila Bar & Martini Bar

Palmilla

During Happy Hour on a recent Friday

afternoon, a customer was sipping a cucumber-jalapeño

martini made with Hendrick's

gin. She imbibed slowly, both out of caution

for its potency, and out of reverence for its

taste.

"It's delicious," the woman pronounced.

"Delicious" takes on a whole new meaning

inside Palmilla, an upscale Mexican

restaurant that opened on Hermosa Beach's

Pier Plaza in fall 2011 and has been packed

ever since. First-timers rave about the refined

take on street food classics such as

tacos and enchiladas. Repeat customers

warn not to fill up on the warm tortillas and

honey butter (although you should have at

least one). Cutting through these pungent

flavors, and stimulating appetites and conversation,

are the restaurant's signature

cocktails.

There is a constantly updated list of margaritas.

And for those who prefer it straight,

bottles of tequila and mezcal in all shapes

and sizes line the bar's back wall. Some, like

Don Julio 1942, are meant to be savored, not

downed in a shot.

Owing to demand from South Bay clientele,

tequila is just a starting point. Vodka

and other liquors are liberally incorporated

by Palmilla's inventive bartenders.

The customer sipping the martini recalled

how, when she came in the restaurant's

early days, the restaurant was at the leading

edge of the cucumber-jalapeño margarita

trend. Overtime, the restaurant's bartenders

adapted it in a variety of ways, including the

gin-based martini she was then enjoying.

"I don't do well with tequila," the woman

said with a knowing smile.

"Ah, me too," laughed another customer

at the bar.

The two were surrounded by tequila, but

nonetheless, they seemed thoroughly at

home.

Palmilla

39 Pier Ave.

Hermosa Beach

(310) 374-4440

palmillarestaurant.com

>> Runner-up, tequila bar:

Coyote Cantina

531 N. Pacific Coast Hwy.

Redondo Beach

(310) 376-1066

coyotecantina.net

>> Runner-up, martini bar: Mangiamo

128 Manhattan Beach Blvd.

Manhattan Beach

(310) 318-3434

Mangiamorestaurant.com

Grunions'

"unofficial models"

Danielle and

Sharon stand in

front of the bar's

Friday menu

board. Photo by

Ryan McDonald

Female bartender

Kristina Cordova

Coyote Cantina

Kristina Cordova has been working at

Coyote Cantina for almost 16 years. That's

a long time in today's economy, and even

more uncommon in the restaurant industry.

What keeps her coming back, she said, is

the customers.

"Honestly, I don't feel like I'm going to

work. I feel like I'm going to hang out with

friends or family," Cordova said.

Coyote Cantina is "more of a Southwestern

restaurant," as opposed to a traditional

Mexican restaurant, Cordova said. Glancing

at the menu, one sees less anxiety about

mixing the novel and the traditional than

might be found at a more fastidious restaurant.

The result is that some of the restaurant's

favorite dishes are mash-ups, like the

Mexican lasagne and the brie-and-mango

quesadilla. For Cordova, what brings it all

together is the way what comes out of the

kitchen matches up with what's behind the

bar.

"The menu is unique, with a lot of eclectic

dishes. And tequila just pairs so well

with that type of food," she said.

Cordova would know. She has to keep

track of more 100 different types of tequilas

behind the bar. Her favorite thing to use

them for, and one of the customers' favorite

ways to consume them, is the famed "silver

lightning" margarita. It's a double shot of

100 percent agave tequila, the restaurant's

patented margarita mix — "the secret is that

it's not as sweet as at a lot of places," Cordova

revealed — and a floater of orange

liqueur. Think of it as a Cadillac margarita

with a Corvette engine under the hood.

Whether it's a night on the town or a

quick beer before dinner, a good bartender

makes a good time easier to have. Cordova

said she appreciates being selected, and

Grunions

It's no longer unusual for bars to have

great food, but Grunions has been doing it

since before the word "gastro pub" was on

everyone's lips. Take a gander at a copy of

the printed menu from 1974 that the restaurant

keeps around. Then as now, the

cheesesteak was the specialty. And, at

$10.25, it's still a bargain. (It definitely got

beat by the Consumer Price Index.) That's

not to say the cheesesteak hasn't gotten

some company in the intervening years.

Regulars will steer you toward the carnitas

tacos. They are the perfect finger food to accompany

the restaurant's highly competitive

trivia night. And an ever-changing menu of

daily specials provides enough variety to

keep things interesting for even the most

loyal of patrons.

1501 N. Sepulveda Blvd.,

Manhattan Beach

(310) 545-9910

grunionssportsbarandgrill.com

>> Runner-up, North End Bar & Grill

2626 Hermosa Ave., Hermosa Beach

(310) 379-5379

northendbar.com

plans to keep building relationships, one

drink at a time.

"We work really hard to make our customers

feel...they're not clients. They're like

our family, our friends," she said.

Coyote Cantina

531 N. Pacific Coast Hwy.,

Redondo Beach

(310) 376-1066

>> Runner-up:

Kathy Doel, Zane's Restaurant

1150 Hermosa Ave., Hermosa Beach

(310) 374-7488

zanesrestaurant.com

Kristina Cordova holds a Day of

the Dead-themed bottle of KAH

Tequila before she whips up another

of her famed margaritas.

Photo by Ryan McDonald

24 Easy Reader / Beach magazine • April 12, 2018
---
Neighborhood business owner Keirstin Selvage sips a Cadillac Margarita.

Photo by David Mendez

Entertainment cont. from page 23

thing to family and home," Stella said. "It's

that feeling of after work, you come home,

sit down and have a drink, but you get to do

that with all of your friends."

Friends of The Vine

Riviera Village Music

221 Avenida Del Norte, Redondo Beach

(310) 792-5940

friendsofhevine.net

>> Runner-up: Barsha Wines

and Spirits

917 N. Sepulveda Blvd.,

Manhattan Beach

(310) 318-9080

barshawines.com

Poke

DJ Black Sheep keeps the lights

down and energy up.

DJ

DJ Black Sheep

Diego "DJ Black Sheep" Rodriguez holds

down residencies at Sharkeez, Tower 12

and American Junkie, and is in talks to add

a summer gig in the LA area or Vegas. "I

try to incorporate every genre during my

sets to keep it fun and unexpected," he

said. His 12 years of experience, he said,

have given him "the ability to adapt to any

audience they put in front of me."

DJ Blacksheep

>> Runner-up: KC Campbell Vox DJ

Jus' Poke

There's a certain rightness to Jus' Poke

winning this category, since they have been

serving it since the days when most people

didn't know what it was and thought the

name rhymed with "joke." Folks know otherwise

now because it has become wildly

popular, but the first specialist keeps leading

the pack by a mile. They keep it simple,

serving six variations of marinated tuna

with different condiments and greens and

one tofu version. There are a few, small

side items and soft drinks, but that's it.

And that's all that needs to be there, because

their small dining area and patio are

filled just about any time they're open.

Jus' Poke

501 N. Pacific Coast Hwy., Redondo

Beach

(310) 379-1133

juspoke.com

>> Runner-up: Hermosa Beach Fish

Shop

Plaza Hermosa

719 Pier Ave., Hermosa Beach

(310) 372-3480

thefishshophermosabeach.com

If daily deals aren't meeting

your cosmetic goals, maybe it's

time to consider a relationship

with Celibre.

April 12, 2018 • Easy Reader / Beach magazine 25
---
Male

bartender

Joe Del Riego,

Shellback Tavern

There are a select number of professions

in the world that one might call almost

spiritual in nature but not in the least bit

priestly — the taxi or rideshare driver who

makes new friends nightly, the hairdresser

who takes your head in his or her hands

every few months and hears your tales of

woe, and of course, the bartender at your

favorite local spot who not only is a reliable

source of good cheer but can also concoct

a drink that soothes your very soul. Joe Del

Riego's ministry as a bartender has been a

source of soulful comfort locally for three

decades, including when he founded the

Side Door bar in downtown Manhattan

Beach, later when he further perfected the

fine art of his martini-making at Mangiamo,

and finally when he found his natural

home at the Shellback Tavern. He's

been awarded best bartender at every stop

along the way. Del Riego is a Manhattan

Beach native who in his youth traveled the

globe in the U.S. Navy and realized the

best place in the world was where he

began. He started bartending after leaving

the military as a means to get through

school before realizing it was his calling.

"I needed to make money while I went

to school full time," he said. "It kind of

seemed like it fit my personality, you

know? So it started out as a part time thing

to get through school and figured out what

I wanted to do. I've been doing it over 30

years now. At some point I said to myself,

'You know, this is what I am. I'm not looking

to do something else. I am a bartender.

I like meeting people, I like talking to people,

I like making drinks."

Del Riego hopes the Shellback is his last

stop. "I tell people, this could theoretically

be my last job," he said. "I'm 53. If [owner]

Bob Beverly and Rico, the manager — if

they keep me around another seven to 10

years, I could retire from this place."

In the meanwhile, not a shift goes by he

doesn't feel grateful to be bartending in the

old heart of his hometown. As far as he's

concerned, the Shellback has it all — he

has a cast of stalwart regulars he's known

for years, and an international cast of newcomers

who arrive nightly, allowing him to

travel the world from his perch above the

beach.

"People fly into LAX from all over the

world and they say, 'We want to go see the

beach.' Where do they go? Shellback on a

Friday night," Del Riego said. "We get IDs

from all over the world — Asia, lots of Australians,

Europe. It's a really good reminder

of how fortunate I am to still be here. This

is really a cool place."

Joe Del Riego (Shellback)

126 Manhattan Beach Blvd.,

Manhattan Beach

(310) 376-7857

shellbacktavern.com

>> Runner-up: Mike Benevidez (Ercoles)

1101 Manhattan Ave., Manhattan Beach

(310) 372-1997

Joe Del Riego behind the bar at Shellback Tavern.

Photo by Mark McDermott

Sports Bar &

Neighborhood Bar

Shellback Tavern owner Bob Beverly. Photo by Kevin Cody

Shellback Tavern

Almost everything changed in Downtown

Manhattan Beach over the last couple

decades as the formerly sleepy, little beach

town became an affluent and even fashionable

destination. The Shellback abides, as it

has for 53 years now. Despite occupying one

of the most valuable pieces of land in Southern

California, perched just above the pier,

the Shellback has transcended even its status

as a local institution; it has become bastion

of the resistance, a place one can still

find the ramshackle old soul of Manhattan

Beach.

"Something we hear all the time, people

say that coming in to the Shellback to get a

beer and to sit back and look at the pier —

it could be the '40s, the '50s, or the '60s, because

that view has not changed," said

owner Bob Beverly. "It's when you look the

other way, that's where the changes are. It's

like the Led Zeppelin song, 'Look to the

West'... We try to keep it pretty simple. I always

figured all businesses are kind of the

same — offer a decent product at a fair price

in a friendly environment, and you can't go

wrong."

Several times over the years big offers

have come in to buy the Shellback, but to

Beverly this is about more than money.

"I've lived in Manhattan Beach all my

life, and most of my employees are from

Manhattan Beach," he said. "We just try to

keep something alive in an ever-changing

downtown. I'm 65 now, and I've tried to

keep some of what I loved about old Manhattan

Beach here. We've seen the rent skyrocket

over the last ten years, but people

keep coming in masses, at new volumes, and we manage to pay the rent. There's not much

left over for the owner, but that's okay."

As for winning best sports bar, even the loquacious Beverly was left somewhat speechless.

But one look out that window to the west shows a little bit of what voters were thinking —

you don't have to look at a bank of television sets to see sports, just look to the beach. And

it's a place where you just might run into a professional athlete, as Dallas Mavericks owner

Mark Cuban famously did when he bumped into former Clipper star Blake Griffin at the

Shellback when he was in the process of trying to steal teammate DeAndre Jordan from

LA. Who needs a TV?

Shellback Tavern

126 Manhattan Beach Blvd., Manhattan Beach

(310) 376-7857

shellbacktavern.com

>> Runner-up: Grunions Sports Bar & Grill

1501 N. Sepulveda Blvd., Manhattan Beach

(310) 545-9910

grunionssportsbarandgrill.com

26 Easy Reader / Beach magazine • April 12, 2018
---
Kat Koontz serves

up two Naughty

Incredibles at

Pancho's. Photo by

Mark McDermott

Cocktails

Pancho's Restaurant

Pancho's victory in this category is a testament to the fact that a cocktail is more than

what a bartender pours into a glass. The iconic restaurant on the corner of Rosecrans and

Highland in Manhattan Beach has achieved institutional status locally for a number of reasons

— its beautiful food, of course, as well as its live music and comedy and a staff that is

unfailingly friendly and very, very good at what they do. And yes, Pancho's serves a variety

of cocktails and serves them well. But let's not kid ourselves: drinkwise, the margaritas are

what has put Pancho's on the map. "It's a Pancho's recipe that has not changed in 40 years,"

said bartender Kat Koontz, who is relatively new to the establishment but inherits a tradition

a number of legendary bartenders have upheld for decades.

There are variations, of course, including a delicious jalapeño margarita and the famous

Naughty Maggie, which contains a shot of Cuervo gold and a float of Grand Marnier. Then

there is the appropriately named Naughty Incredible, a 42 ounce margarita that will change

your world.

But again, these drinks are more than the sum of their parts. It's about the experience of

sitting in the restaurant's unique bar, where regulars are enshrined in the "Boys at the Bar"

plaque that honors "Big Dave," who passed away in 1988, and "Duffy," who passed away

in 2014.

"I've been coming here 35 years," said Big John, a fishing buddy of owner Ab Lawrence,

whose name is also on the plaque. "The food really stands out. The Wednesday night taco

deal is great. The live music is great. And it's a great place to have a drink."

Pancho's Restaurant

3615 Highland Ave., Manhattan Beach

(310) 545-6670

panchosrestaurant.com

>> Runner-up: North End Bar & Grill

2626 Hermosa Ave., Hermosa Beach

(310) 379-5379

northendbar.com

April 12, 2018 • Easy Reader / Beach magazine 27
---
Live music club

Citizen Cope playing Saint Rocke. Photo by Veronica Sardo

Saint Rocke

There's something almost mystical about certain rooms that invite the spirit of live music. Plenty of rooms have stages and great

sound systems and the other technical components meant to make amplified music transcendent; very few have that unnameable

quality that makes songs come to life. Saint Rocke has it, and locals know it; the Hermosa Beach club founded by Allen Sanford

has won this award for 10 years running.

"Creating a good room requires some essential ingredients like sound systems and stages, but a great room is made by vibe and

culture," Sanford said. "It's a room full of songs and

memories, and each person who comes and creates a

memory adds to the energy of a room. When I mention

Saint Rocke in conversation, there is always

someone with a story — 'Remember that show? Remember

this show?' Over time, that energy contributes

to the mysticism of a great room."

The venue has also been successful because of its

bookings; its local shows, ranging from reigning local

rock goddess Kira Lingman to the happily never-ending

Cubensis jam to the epic appearance of Pennywise,

are expertly curated. Just as significantly, Saint

Rocke is the only local club where nationally touring

bands perform. Bands that rarely play in such intimate

settings regularly appear at Saint Rocke — last

month, for example, the truly legendary Lee "Scratch"

Perry graced the stage.

"Saint Rocke literally saved live music in the South

Bay," Sanford said. "I went to Club Caprice in its waning

days when I turned 21, and I didn't see another

live ticketed show locally until I opened Saint Rocke.

I love live music, and I love Naja's and other places

that do live music, but there is something about seeing

bands you've heard on the radio or grew up listening

to in person. Saint Rocke has become the de

facto place for live shows in the South Bay, and I think

that's worked for our community… an alternative to

driving north to see live music."

Saint Rocke

142 Pacific Coast Hwy., Hermosa Beach

(310) 372-0035

saintrocke.com

>> Runner-up: Lighthouse Cafe

30 Pier Ave., Hermosa Beach

(310) 376-9833

thelighthousecafe.net

Wine shop

wine shop on the corner of Pier Avenue and Monterey Boulevard in Hermosa Beach, has

reached this status. The shop is a pervasive presence in the larger community, providing wine

for dozens of charity events each year. The storefront itself has become a community hub,

particularly with its weekly calendar of events, capped off by its almost legendary Friday

night gatherings — some featuring winemakers, others focusing on certain regions, and, the

most popular, wine pairings with Girl Scout Cookies. Uncorked has a wine club with a membership

of 700 people; tellingly, only five of those members have their wine shipped to them.

The rest come to the shop.

"That is how local our business is," said Kathy Knoll, who co-founded the shop along with

Jeff Bonafede and Gerry Vasquez.

Many of those customers don't need to drive to Uncorked. They can simply take a nice

stroll for a glass of wine.

"It's not cheap to live at the beach," Bonafede said. "When people come home, they don't

want to get back in the car to go somewhere. It's great to come hang out at Uncorked."

Uncorked is reminiscent of the little wine shops that so enliven life in Europe. There is not

a whiff of pretension in the air, just a genuine love for sharing good wine, and a small staff of

folks who make a point of learning their customers' tastes.

"We are really blessed to have a great staff," Knoll said. "They are very knowledgeable, and

they love sharing new discoveries with customers. Our manager, Anjilla, is amazing. People

come to see different staff members certain days and nights."

Customers Debbie Fogel and Melinda Jackman join Uncorked staff members

Janelle Sanchez, Nancie Hemminger, Jeff Bonafede, and Anjilla Piazza

in a toast featuring the shop's very own vintage, Pier Avenue.

Photo by Mark McDermott

Uncorked

The rarest and most rewarding thing that can happen for a business is when it becomes

both a vital part of a community and a community unto itself. Uncorked, the neighborhood

28 Easy Reader / Beach magazine • April 12, 2018

Uncorked The Wine Shop

302 Pier Ave., Hermosa Beach

(424) 247-7117

uncorkedhermosa.com

>> Runner-up: Bacchus

1000 Manhattan Ave., Manhattan Beach

(310) 372-2021

bacchuswinesla.com
---
Buying or Selling

"Since 1992"

Don Ruane

Serving the South Bay Beach Cities and beyond

Office: 310.546.3441

Cell: 310.643.6363

Email: Donruane@verizon.net

DRE#01036347

Slider stop sliders are almost too cute to eat. Photo by JP Cordero

Sliders

Slider Stop

People love Slider Stop because everything

about the experience is fun. Little

sandwiches are served with a dizzying variety

of flavors, and you can mix and match a

few and have a varied and interesting lunch.

When the sliders arrive they're not only

tasty, they're cute. Any time you stop in

you'll see people taking pictures to upload

to their social media.

American

BBQ

Slider Stop

2315 Artesia Blvd.,

Redondo Beach

(310) 214-5200

sliderstop.com

>> Runner-up: Baja Sharkeez

52 Pier Ave., Hermosa Beach

(310) 318-0004

3600 Highland Ave.,

Manhattan Beach

(310) 545-8811

Sharkeez.com

Lucille's

The hardest thing about dining at Lucille's

used to be finding a parking space,

but since they moved that is less of an

issue. Instead you have to grapple with

what to order, since they have a remarkable

variety of meats and flavors to choose from.

Their giant smoker holds hundreds of

pounds of beef and pork ribs, brisket, tritip,

sausage, and two types of chicken, one

marinated in cider. You could start at the

top of the menu and work your way down

on multiple visits, but the best thing to do

is get a bunch of friends and family members

together and order one of their multiitem

feasts. Bring a lot of people, get a lot

of food, and pay less than you'd expect –

it's Lucille's recipe for success.

Lucille's Smokehouse Bar-B-Que

21540 Hawthorne Blvd., #401B,

Torrance

(310) 370-7427

lucillesbbq.com

>> Runner-up: HopSaint Brewing

Company

5160 W. 190th St., Torrance

(310) 214-4677

hopsaint.com

April 12, 2018 • Easy Reader / Beach magazine 29
---
New & Eclectic

Tower 12

Wait, say some people who haven't been there. A place on the Pier Plaza has won best

eclectic restaurant and best new restaurant? Yes it has, and deservedly so. The second floor

restaurant is decorated like a hangout for an art-loving surfer, and the menu has burgers

and pizzas like the bars on the block. But there are also American favorites like chicken pot

pie and braised short ribs, and upscale items like scallop risotto a rich pasta carbonara,

and real smokehouse barbecue. It's enticing on the menu and even better in your mouth, a

measure of how far standards have risen in the area.

Tower 12

53 Pier Ave.,

Hermosa Beach

(310) 379-6400

tower12hb.com

>> Runner-up, eclectic: Baran's 2239

502 Pacific Cst. Hwy.., Hermosa Beach

(424) 247-8468

barans2239.com

>> Runner-up, new: Rabano

2516 Pacific Coast Hwy, Hermosa Beach

(310) 318-1998

rabano.com

HopSaint partner Christina Oliva. Photo by Brad Jacobson

(CivicCouch.com)

Tower 12 owners Ron and Greg Newman, feeling right at home. Photo by

Brad Jacobson

Ethnic BBQ & Korean

Gen server Kassandra Martin with beef brisket. Photo by Brad Jacobson

Gen

Gen is Korean for "The Beginning," and it's an appropriate name for reasons that the

founders may not have considered. It is a good place for newcomers to tabletop grilling or

to Korean food, because they offer a mild version of that cuisine served by fluent and helpful

servers. It's also the beginning of a culinary dialog that extends the style to other cultures.

You can sample meats marinated in Hawaiian teriyaki sauce, Cajun spiced, or just plain

enjoy natural flavors. Every culture has their variant on grilled meat, and here is where inquisitive

diners can sample global grilling to their hearts' content.

Gen Korean BBQ House

Crossroads Shopping Center

24301 Crenshaw Blvd., Torrance >> Runner-up, BBQ: Silvio's Brazilian BBQ

(424) 328-0388

20 Pier Ave., Hermosa Beach

genkoreanbbq.com

(310) 376-6855

Silviosbbq.com

>> Runner-up Korean: The Standing Room Restaurant

1320 Hermosa Ave., Hermosa Beach

(310) 318-1272

thestandingroomrestaurant.com

If the bagels at Manhattan Bread and Bagel are green is must be St.

Patrick's day. Photo by Kevin Cody

30 Easy Reader / Beach magazine • April 12, 2018
---
East of Sepulveda restaurant

HopSaint

190th Street starts at the top of a hill with a view of the ocean and ends at Figueroa in

downtown Los Angeles. There's only one noteworthy restaurant along its entire length, and

perhaps that contributes to what makes HopSaint special. All the creativity and culinary

passion along those many miles is channeled into one place that bursts with energy. Steve

Roberts and his team offer house-brewed beers alongside quirky but successful takes on

American roots cooking. There's a heavy influence of Southern cooking here, but also an

irreverent experimentalism, and the daily specials show that the innovation keeps coming.

There's a great reason to dine east of Sepulveda, and its name is HopSaint.

HopSaint Brewing Company

5160 W. 190th St., Torrance

(310) 214-4677

hopsaint.com

Bagel shop & Bakery

>> Runner-up: Barans 2239

502 Pacific Coast Hwy, Hermosa Beach

(424) 247-8468

barans2239.com

Manhattan Bread and Bagel

The cult of the bagel has moved around the world. New Yorkers associate them with

Eastern Europe, Californians associate them with New York, and South Bay residents associate

them with a strip mall in Manhattan Beach. That's where Manhattan Bread & Bagel

has been baking since 1992, and they've developed a loyal following in the ensuing quarter

century. They have all the popular flavors and doughs, plus handmade spreads so whether

you like sweet or savory, they have you covered. And if you don't feel like a bagel, they

offer artisan breads that include their superb pepper parmesan and a fine whole wheat

loaf. Whatever you're looking for that involves bread flour and yeast, look no farther.

>> Runner-up bakery: Panera

1511 Hawthorne Blvd, Redondo Beach

(310) 793-4129

panerabread.com

Dessert bakery

Becker's Bakery

If your grandfather went to a bakery in the South Bay, it was probably Becker's. They've

been serving baked goods since the 1940s, and their reputation is as solid as the old brick

building that houses their ovens. This isn't the place to go for wild or trendy items, but if

you appreciate classic baked goods and techniques it's a destination. South Bay residents

start salivating as soon as they see the pink bakery box.

Becker's Bakery & Deli

1025 Manhattan Ave., Manhattan Beach

(310) 372-3214

Beckersbakery and deli.com

Manhattan Bread & Bagel

Sepulveda Shopping Center

1812 N. Sepulveda Blvd., Manhattan Beach

(310) 545-7553

manhattanbread.com

>> Runner-up bagels: Noah's Bagels

330 Manhattan Beach Blvd. Manhattan Beach

(310) 937-2206

Noahs.com

>> Runner-up: Torrance Bakery

1341 El Prado Ave., Torrance

(310) 320-2722

torrancebakery.com

Michael Burstein is a probate and estate planning

attorney. A graduate of the University of California,

Hastings College of the Law in 1987, he is admitted

to the California, Kansas and Oklahoma Bars and

is a member of the Order of Distinguished Attorneys

of the Beverly Hills Bar Association.

As an estate and probate lawyer, Michael has prepared

approximately 3,000 living trusts and more

than 4,000 wills.

An Estate Planning,

Estate Administration,

and Probate Attorney

l Living Trusts

l Wills

l Powers of Attorney

l Asset Protection

l Veterans Benefits

l Pet Trusts

l Advance Health

Care Directives

l Insurance Trusts

l Probate

l Conservatorships

l And Much More!

Call us to schedule an appointment or for our

FREE Guide:

Selecting the Best Estate Planning Strategies

111 North Sepulveda Boulevard, Suite 250

Manhattan Beach, California 90266

310-545-7878

April 12, 2018 • Easy Reader / Beach magazine 31
---
Bar food

Restaurant hamburger

Ercoles

Our winner for bar food has what is almost

undoubtedly the smallest selection in

the South Bay. If you like burgers, tacos, or

hot dogs you'll be right at home, because

that's the whole list. The burgers and tacos

use meat fresh from Manhattan Meat Market

next door, and it's top quality. The portions

are generous and prices are almost

comically low, making this a great dinner

deal even if you don't have a drink. You

probably will, and perhaps another one to

follow it because they're modestly priced

and the classic cocktails are well made. It

will be more trouble deciding what to have

because the selection is so much larger, but

that's a problem you probably won't mind

having.

Ercoles

1101 Manhattan Ave., Manhattan Beach

(310) 372-1997

m.mainstreethub.com

>> Runner-up: Baja Sharkeez

52 Pier Ave., Hermosa Beach

(310) 318-0004

3600 Highland Ave., Manhattan Beach

(310) 545-8811

sharkeez.net

Breakfast omelet

"Ode to Ercoles," by Bob White.

Photo by Kevin Cody

A burger in name only.

Chili

Standing Room

Our definitions of what a burger is have

exploded during the last decade. It no longer

raises an eyebrow when a chef tosses something

outrageous on top of that beef patty.

Or maybe it's a turkey patty, or lamb,

chicken, veggie, ostrich, or whatever else

didn't get out of the way fast enough. You

can't stand out on novelty alone, but you can

on the dexterity with which you combine

flavors. Many burgers at Standing Room

have a distinct Asian fusion influence, with

sweet, spicy, and herbal notes that pair off

superbly. The standard burgers are formidable

too. They're huge, with the thick meat

patty cooked just as you like it. The Standing

Room serves much more than burgers,

but that's where they built their reputation.

The Standing Room Restaurant

1320 Hermosa Ave., Hermosa Beach

(310) 318-1272

thestandingroomrestaurant.com

>> Runner-up: Hennessey's Tavern

8 Pier Ave., Hermosa Beach

(310) 372-5759

313 Manhattan Beach Blvd.

Manhattan Beach

(310) 546-4813

1712 S. Catalina Ave., Redondo Beach

(310) 540-8443

hennesseystavern.com

At Martha's, it's all about presentation. Photo by Chelsea Schreiber

Martha's

Could it be that the omelets at Martha's

taste a little better because of the ocean

breeze, or perhaps their sunny patio or

homey interior? We don't know, but we suspect

that there's at least some effect. Perhaps

the cooks and servers are a bit more

inspired to do their best by their environment.

Either way the egg pancakes are unusually

light and fluffy, the fillings fresh and

flavorful, and the hash browns on the side

show up with the right balance of crisp and

soft. An omelet here is a full meal, and

32 Easy Reader / Beach magazine • April 12, 2018

based on the number of bicycles parked

here any time they're open, a lot of patrons

are working them off as soon as they depart.

Martha's 22nd St. Grill

25 22nd St., Hermosa Beach

(310) 376-7786

>> Runner-up: Eat at Joe's

400 N. Pacific Coast Hwy., Redondo

Beach

(310) 376-9570

originaleatatjoes.com

HopSaint

We hope you get hungry for chili only once a week, because that's how often

HopSaint serves it. Orders start coming out of the kitchen on Sunday at noon, and it lasts

until it's gone. On rare occasions they have some left over which they serve on Monday,

but don't count on it. This is so good, the long-simmered stew accented by smoky shreds

and chunks of the burnt ends of meat from their barbecue. It's served in a hot skillet topped

with chopped purple onion, a dollop of sour cream and decorative cilantro leaf. On the

side is the best, corniest cornbread you've ever had. It's worth putting a recurring reminder

in your phone's calendar that tells you to head to HopSaint on Sunday for the best chili this

side of Texas – any maybe there.

HopSaint Brewing Company

5160 W. 190th St., Torrance

(310) 214-4677

hopsaint.com

>> Runner-up: Good Stuff

1286 The Strand, Hermosa Beach

(310) 374-2334

1617 S. Pacific Coast Hwy. Ste. 102 Redondo Beach

(310) 316-0262

131 W. Grand Ave., C, El Segundo

(310) 647-9997

Promenade On The Peninsula,

550 Deep Valley Dr., #151, Rolling Hills Estates

(310) 544-8000

EatGoodStuff.com
---
Brewery

King Harbor Brewing Company's Tom Dunbabin, Phil McDaniel and Will

Daines at their Redondo Brewery. Photo by Brad Jacobson

(CivicCouch.com)

King Harbor Brewing Company

The South Bay is awash in really good beer. Beginning with the OG legends Strand Brewing

and El Segundo Brewing nearly a decade ago, the area became an epicenter for the craft

beer revolution that subsequently swept the country. King Harbor Brewing Company arrived

on the scene exactly four years ago. Their taprooms at the brewery in North Redondo and

on the International Boardwalk in King Harbor developed a vibrant social scene to go along

with their extraordinarily companionable beers, such as The Quest, Swirly, and Abel Brown.

"It's more about the experience than just the beer," said Tom Dunbabin, who co-founded

KHBC with Will Daines and master brewer Phil McDaniel. "We are all about the quality

of the beer. But we never wanted it to be about getting a beer and sitting by yourself. Drinking

that beer should be part of hanging out after surfing the Cove all day, or hitting the golf

course, and sitting down and talking about it with your friends…. Ultimately the most important

things are: is the beer delicious, and are you having a good time? If those two boxes

are checked off that's all that really matters."

KHBC found the right brewer to carry out this vision. McDaniel has an all-star resume.

He attended the Siebel Institute of Technology in Chicago and Munich, then worked as a

shift brewer at industry-leading Stone Brewing and then became the lead brewer at Bruery.

McDaniel has pushed the boundaries on just how fun a beer can be. Their Tiki Hut IPA

has become popular as a tap handle throughout the South Bay, and their take on a Mexican

lager, Cerveza Hermosa, is an historical revelation. "Growing up in Southern California,

Mexican beer was a staple — crack open a Negra Modelo and instantly it's like going on a

trip to Baja. That's what we wanted to do. Our take on it was really to investigate the style

— those Mexican beers were German, Austrian, and Czech lagers brought over more than

200 years ago. Mexican beers later became big corporate beers, and they cut some corners

for profit. We took it back to its roots and made a dark Mexican lager and named it after

our favorite beach town, Cerveza Hermosa."

KHBC just keeps becoming more companionable, last year launching a canning operation,

which means you can now take their beer to the beach, to the golf course, or for a sail out

of King Harbor. It's also about to be distributed in chains, including Whole Foods and Vons,

and in beloved local liquor stores such as Oceanview.

"Every business starts off with an idea, then sees what works and change what doesn't,"

Dunbabin said. "When we started, the main thing was doing something awesome in the

South Bay. That is the one thing we've really stuck to, and we've constantly been trying to

find ways to do it better. We are excited to be voted best local brewery again; it sort of reinforces

that we are doing the right things."

King Harbor Brewery Company

2907 182nd St., Redondo Beach

(310) 542-8657

kingharborbrewing.com

>> Runner-up: El Segundo Brewery Company

140 Main St., El Segundo

(310) 529-3882

elsegundobrewing.com

April 12, 2018 • Easy Reader / Beach magazine 33
---
Craft beer establishment

Steak under $30

The Bull Pen

For decades, The Bull Pen has been as renowned for its steaks, in a variety of cuts, as it

is for its "world-famous" burgers. "The quality of the meat is what he prided himself in,"

said Josh Miner of his grandfather Cliff, the Bull Pen's original owner. "It's why we don't

do too much, as far as seasoning… we want the steak to stand out by itself."

In 2018, the Bull Pen will celebrate its 70th year. "We're just an old-school steakhouse,

with three generations of clientele," Miner said.

Bull Pen

314 Ave., I, Redondo Beach

(310) 375-7797

bullpenredondo.com

HopSaint brewmaster Brian Brewer. Photo by Brad Jacobson

HopSaint Brewing Company

HopSaint co-founder Steve Roberts was

hip to craft beer long before it was even

called craft beer. When he started Cafe

Boogaloo in the mid-'90s, most small independent

breweries didn't distribute beyond

their own towns. So Roberts hopped in his

truck and drove to the breweries. His tap

handles in 1996 — which included the truly

legendary Pliny the Elder — would still look

like expert curation in 2018. But Roberts,

being who he is (visionary isn't too strong

of a word), didn't stop there. HopSaint took

things to another level entirely. Its food is,

of course, spectacular — smoked BBQ and

other Southern-tinged flavors with an authenticity

the South Bay has never seen before,

all of which of course pairs beautifully

with good beer. And this is where HopSaint

has truly set a new standard. Co-founder

Brian Brewer is flat out one of the best

brewers on the planet. In the coffee world,

it's called the Third Wave: first there was

Folgers, then Starbucks, and now a host of

small roasteries have taken the art to a level

akin to fine wines.

HopSaint represents the Third Wave of

brewing. Brewer's beers have a level of delicacy

and detail capable of involving a beer

palate entirely. Brewer said the trick is to

adhere to traditional, time-tested brewing

methods for different styles of beers while

still being innovative and at the same time

staying true to HopSaint's ethos — which

is all about finding the best ingredients.

Liquor Store

BevMo

It's not complicated to explain why one

of the biggest corporate beverage outfits won

Best of the Beach, even in a community that

embraces its mom and pops shops. BevMo

offers more than 3,000 types of wines, 1,500

"We see that as a challenge, doing something

new and still adhering to the flavor

profiles we like," Brewer said. "We want a

lot of flavor in our beer, and we want it distinct

and clean… We don't want any brash,

off flavors."

The HopSaint Pure Intention Pale is a

model of clean, sharp flavor, while newer

brews, such as the Kickstart My Tart is a

wheat beer in the style of Berliner Weiss,

but re-fermented with raspberry and two

types of cherries. Always on the cutting

edge, Brewer's Don't Cryo 'Bout It IPA uses

newly developed cryogenically processed

Simcoe and Amarillo hops, resulting in a

beer that is nothing short of elegant.

"He is so good at what he does," said

Roberts. "It's where the bar is set now, as

far as I'm concerned — I'm not trying to

brag about it, but I've been wanting to do

this a really long time, and to have a brewer

as good as Brian makes it all possible. He

pays attention to all the details, all the little

things, and that is why his beers are so

good."

HopSaint Brewing Company

5160 W. 190th St., Torrance

(310) 214-4677

hopsaint.com

>> Runner-up: Tower 12

53 Pier Ave., Hermosa Beach

(310) 379-6400

tower12hb.com

types of spirits, and 1,200 types of beers.

They were pioneers in the liquor megastore

business, and added the innovation of having

their own wine curator, Wilfred Wong,

a wine writer and industry analyst who

tastes 8,000 bottles a year (that's 40 a day).

He's become the corporate equivalent of

Mexican under $30

Coyote Cantina

Coyote Cantina's Mexican food is far from traditional fare. "The menu is very different…

it's more southwestern, with a southwestern Tex-Mex spin on all of our dishes," said manager

Kristina Cordova. There's the Mexican Lasagna: triple-layered pasta stuffed with ground

turkey, corn, black beans and ricotta cheese. Coyote Cantina also has a seafaring spin on

enchiladas, wrapping crab and Maine lobster in corn tortillas, topped with tomatillo salsa

and lime sour cream.

"We're very much a word of mouth kind of place," Cordova said. "Which is great – we

love the recommendations from people that come in and tell their friends to come, it's really

cool."

Coyote Cantina

531 N. Pacific Coast Hwy., Redondo Beach

(310) 376-1066

coyotecantina.net

Robert Parker, giving wines his own ratings

and identifying overlooked gems.

"He is not a shill," Robert Smiley, the director

of Wine Studies at UC Davis, told the

LA Times. "He knows what he's talking

about when it comes to wine."

>> Runner-up: Shellback Tavern

126 Manhattan Beach Blvd.,

Manhattan Beach

(310) 376-7857

shellbacktavern.com

Bullpen steak.

>> Runner-up: El Burrito Jr.

919 S. Pacific Coast Hwy., Redondo Beach

(310) 316-5058

21141 Hawthorne Blvd., Torrance

(310) 944-9200

BevMo Redondo

Beach sales associate

Jeff Pedersen,

manager

Justin Johnson and

assistant manager

Steve Sandoval.

Photo by

David Mendez

BevMo!

bevmo.com

>> Runner-up: Roberts Liquor

74 Pier Ave., Hermosa Beach

(310) 372-8200

34 Easy Reader / Beach magazine • April 12, 2018
---
Original Band

Andy and Renee and Hard Rain. Photo courtesy Andy and Renee

Andy and Renee

It's become axiomatic that one must put in 10,000 hours to master any craft. Andy Hill

and Renee Safier have probably doubled or tripled that number just as musicians and songwriters,

but they've also put their time in on stage. They've been playing together since

1986 and — along with their band, Hard Rain — have become one of the South Bay's musical

treasures. Their set list features 466 songs, including originals from their 16 albums

and well-picked songs from the Americana/folk/rock 'roll songbook. Combine that with a

33-year musical marriage, and you've got the ingredients for a walloping good show each

night Andy and Renee take the stage.

"There are two benefits [of their long collaboration], one musical and one completely

out of left field," Hill said. "The musical benefit is the sheer number of songs we know

how to play...Each gig uses 25 to 35 songs, so now we could do 10 nights in a row and not

repeat a single song if we had to. The benefit that is unexpected is when you stay together

a long time as a band, social groups form around you. You meet new people and those new

people meet new people and they come to your shows, and become friends with more people,

and then you've got a sizable number of folks who have gotten to know us and gotten

to know each other."

It's like a moveable musical feast, epitomized by the star-studded but almost family-like

annual gathering that Andy and Renee have assembled called Dylanfest. Its 28th iteration

is May 6.

"Everybody makes a special effort to come to Dylanfest, some from out of the state or

even out of the country," Hill said. "There's a real emotional and a little bit of a spiritual

quality in getting all these people together in the same room and realizing as we look out

over the audience that this is a gift music gave to us, without us asking or planning for it…

. All these like-minded, generous, fun loving, life-embracing, celebratory folks."

The show goes on weekly as well, of course, every Friday at Ports of Call in San Pedro,

and frequent Wednesdays at Chez Melange in Redondo Beach, where Andy and Renee can

also be found at Orlando's occasionally.

Andy & Renee-Hard Rain

(310) 346-9383

andyandrenee.com

>> Runner-up: Feed the Kitty

feedthekitty.com

Manhattan Meats, Inc

Gourmet Meat & Seafood

Our quality meats surpass any other for the best price around.

Always the freshest foods to enjoy!

1111 Manhattan Ave., Manhattan Beach, CA 90266 (310) 372-5406

April 12, 2018 • Easy Reader / Beach magazine 35
---
Breakfast Muffin

Servers

Good Stuff server Gaby Donato, with a Coconut Pineapple muffin

Good Stuff

There's no one muffin to single out at

Good Stuff. The muffin menu at each

restaurant seems to vary by the whims of

the management, but that's part of the

charm.

"It depends on the suggestions we get,"

Athena Marin, the manager of Good Stuff

Redondo Beach, said. "Some days, I'll ask

if we can do an Oreo Banana muffin, and

we'll have it the next morning. We always

switch it up."

The combinations can sound odd, but

work. Take, for instance, the coconut

pineapple muffin. The exterior is chewy,

with a slight crunch along the sharper

edges, while the interior is soft, moist and

gently sweet, with small chunks of pineapple

throughout. Served warm with a pat of

whipped butter on the side, it was reminiscent

of the best aspects of a vanilla wafer.

The holidays can see even stranger combinations,

such as St. Patrick's Day's cantaloupe-flavored

green muffin.

"It sounds different, but it was good, and

very sweet," Marin said.

Good Stuff

1286 The Strand, Hermosa Beach

(310) 374-2334

1617 S. Pacific Coast Hwy. Ste. 102

Redondo Beach

(310) 316-0262

131 W. Grand Ave., C, El Segundo

(310) 647-9997

Promenade On The Peninsula,

550 Deep Valley Dr., #151

Rolling Hills Estates

(310) 544-8000

EatGoodStuff.com

>> Runner-up: The Kettle

1138 Highland Ave., Manhattan Beach

(310) 545-8511

thekettle.net

Contemporary American

Good Stuff

Good Stuff's roots trace back to a burger stand in West LA, and have spread to the South

Bay, where its menu has evolved with the increasingly health conscious local residents. The

menu has a variety of Blue Zones-inspired options, as well as flavorful wraps, bowls, salads

and entrees that range well beyond what you'd expect for beach-side fare.

Burgers are still an option, but even those options have evolved. The traditional burger

hangs out alongside a Guacamole and Green Chile burger and a gluten-free veggie burger.

Good Stuff

EatGoodStuff.com

>> Runner-up: HopSaint Brewing Company

5160 W. 190th St., Torrance

(310) 214-4677

hopsaint.com

Good Stuff Palos Verdes servers Hannah Saint and Tadeo Gonzalez. Photos

courtesy of Good Stuff

Hannah Saint,

Tadeo Gonzalez

Good Stuff Palos Verdes

"They're customer oriented, they're very

accommodating, and they're comfortable in

what they do. They both have a great sense

of reading customers, knowing how much

they want to be engaged," Good Stuff owner

Cris Bennett said of servers Hannah Saint

and Tadeo Gonzalez. He said the two exemplify

the Good Stuff ideal, with friendly

smiles and "the ability to multitask," allowing

them to stay calm and comfortable even

Bowls

Paradise Bowls

With locations just off the beach in both

Manhattan and Hermosa, Paradise Bowls'

superfruit bowls and smoothies are a hit

among beach goers and particularly the fitness

minded. Acai, pitaya and bee pollen

are popular ingredients, alongside more

common berries and citrus fruits.

"We're a family-owned business, so we

see plenty of family, friends and regulars,"

said manager Rachel Quane. "But summer

is our busiest time… the line will go out

the door.

"People order, go to the beach for an

hour, come back and enjoy their bowl,"

Quane said.

Paradise Bowls

1246 Hermosa Ave., Hermosa Beach

(310) 374-5284

919 Manhattan Ave., Manhattan Beach

(310) 798-7100

Paradisebowls.com

>> Runner-up: Rabano

2516 Pacific Coast Hwy.

Hermosa Beach

(310) 318-1998

rabano.co

when the heat is on.

>> Runner-up: Stephanie Hawks

(Rock' N Fish)

120 Manhattan Beach Blvd.

Manhattan Beach

(310) 379-9900

Rocknfishmb.com

>> Runner-up: Phil Baranchik (The

Strand House)

117 Manhattan Beach Blvd.

Manhattan Beach

(310) 545-7470

thestrandhousemb.com

Crepes

Creme de la Crepe

While Creme de la Crepe has spread

across Southern California, opening outlets

as far south as San Diego, the Hermosa

Beach-born restaurant is still the crepe king

of the Beach Cities.

Creme de la Crepe offers 38 varieties of

fruit-filled breakfast crepes, decadent

dessert crepes and savory crepes from

morning to evening. The rest of the menu

is filled out with waffles and quiches, sandwiches

and salads, and house-special entrees.

Creme de la Crepes

424 Pier Ave., Hermosa Beach

(310) 937-2822

1708-½ S. Catalina Ave.

Redondo Beach

(310) 540-8811

Cremedelacrepe.com

>> Runner-up: Yellow Vase

1805 S. Catalina Ave., Redondo Beach

(310) 373-0013

31248 Palos Verdes Dr. West

Rancho Palos Verdes

(310) 377-8813

yellowvase.com

36 Easy Reader / Beach magazine • April 12, 2018
---
Chinese

Farm to table

French/

Continental

PF Chang's

We're more interested in bright, accessible

flavors than obsessive authenticity in

the South Bay, which is why the Chinese

restaurant co-founded by a steakhouse

owner gets the nod. Paul Fleming of Fleming's

Steakhouse liked Chinese food and

teamed with a famous restaurateur to help

create modern Chinese fusion, and they are

credited with creating some dishes and introducing

Americans to others like Dan

Dan Noodles. Their culinary creations

range widely, with some dishes showing

distinct Thai, Vietnamese, and Japanese influences.

Every dish has recognizable Chinese

heritage, and that's the way the world

eats Chinese food now.

Hook & Plow

The name says it, the menu promises it,

and the kitchen delivers. The cooking here

is all about subtly accenting the flavors of

top quality produce, and they blend raw

and cooked ingredients with skill and flair.

A few items are always on the menu because

things like furikake-dusted french

fries and beer-braised pulled pork aren't

seasonal. But there are frequent surprise

offerings that take advantage of seasonal

produce. The next time someone says there

aren't actual seasons in California you

might take them here, because they can

learn about the flavors of whatever is in the

market right now.

Hook & Plow

425 Pier Ave., Hermosa Beach

(310) 937-5909

thehookandplow.com

>> Runner-up: HopSaint Brewing

Company

5160 W. 190th St., Torrance

(310) 214-4677

hopsaint.com

Dominique's

Chef Dominique Theval is the South

Bay's French treasure, a renowned culinarian

who cooked in France and Asia before

settling in Redondo. Nobody would have

been surprised if someone with his resume

had turned out ultra-fancy and fussy dinners

with stratospheric price tags. Instead

he has championed country French ideas

with Californian and Italian accents, and

the prices are moderate. Most main courses

Entertainment cont. on page 39

PF Chang's China Bistro

2041 Rosecrans Ave., Ste#120

El Segundo

(310) 607-9062

3525 W. Carson St. R7 #166, Torrance

(310) 793-0590

Pfchangs.com

>> Runner-up: Bobo Chinese Deli

2114 Highland Ave., Manhattan Beach

(310) 546-3859

Restaurant

dessert

Old Venice

Everybody likes dessert, but there's a

special joy when you eat it as the Italians

do. Don't wait until after dinner, when

your taste buds have already had a workout.

The afternoon is a perfect time for

espresso and dolci, like crisp, freshly made

cannoli or a rich tiramisu that has the right

balance of chocolate, liqueur, and sweetness.

Old Venice will be happy to cater to

your cravings with both Italian desserts

and crisp Greek baklava or creamy rice

pudding. Those who are watching the calories

can enjoy gelato or other treats. They

serve all of those and more at dinner too,

but there's something so decadent about

eating this while the sun is high in the sky.

Old Venice

1001 Manhattan Ave., Manhattan Beach

(310) 376-0242

oldveniceonline.com

1001 Manhattan Ave. • Downtown Manhattan Beach

Reservations Recommended • (310) 376-0242

www.oldveniceonline.com

>> Runner-up: Cheesecake Factory

605 N. Harbor Drive, Redondo Beach

(310) 376-0466

thecheesecakefactory.com

April 12, 2018 • Easy Reader / Beach magazine 37
---
Southern / Cajun

Stephen Domingue announces Ragin Cajun's return to Hermosa during the

St. Patrick's Day Parade. Photo by Kevin Cody

Original Ragin Cajun

They're back in Hermosa, and back at

the top of our poll. Stephen Domingue has

been an ambassador for the authentic flavors

and hospitality of Western Louisiana

since 1992, and along with his sister Jeanine

they keep the place authentic. The Southern

roadhouse on Pier Avenue is where most of

us first tried this richly flavored cuisine. Try

their famous gumbolaya, étouffée, a thick

and juicy blackened ribeye… heck try

Happy Hour

Tower 12

Some places that offer a happy hour give

with one hand and take with the other –

the prices are lower on a few items, but the

portions are smaller. Tower 12 is different,

offering the same generous portions on

most of their starters and full pours at less

than full price. You can easily make a meal

on these, and it will be a delightful one. If

the low prices aren't enough to get you to

schedule a visit between 3 and 6 p.m. Monday

through Friday, consider this: there

will probably be no wait for a table, which

won't be the case later.

Tower 12

53 Pier Ave., Hermosa Beach

(310) 379-6400

tower12hb.com

>> Runner-up: Coyote Cantina

531 N. Pacific Coast Hwy.,

Redondo Beach

(310) 376-1066

coyotecantina.net

38 Easy Reader / Beach magazine • April 12, 2018

everything, because it's all good.

Original Ragin Cajun

337 Pier Ave., Hermosa Beach

(310) 376-7878

ragincajun.com

>> Runner-up: HopSaint Brewing

Company

5160 W. 190th St., Torrance

(310) 214-4677

hopsaint.com

Italian

Bottle Inn Hermosa

A change in ownership last year hasn't

done a thing to dim locals' enthusiasm for

the original Bottle Inn Hermosa. On the

contrary, there are rave reviews for the updated

look at the same time as there is relief

that the award-winning cuisine didn't

change much. There are a few new items,

but the bedrock of the menu is still the sophisticated

versions of pastas, risottos, and

other classic dishes. Both decor and food

were modernized just enough not to alienate

old fans while attracting a new audience

The Bottle Inn Hermosa

26 22nd St., Hermosa Beach

(310) 376-9595

thebottleinnhermosa.com

>> Runner-up: North Italia

840 S. Sepulveda Blvd., #110,

El Segundo

(310) 469-7695

northitaliarestaurant.com

Seafood (other than sushi) &

Specialty Salad & Seafood Soup

Hermosa Beach Fish Shop

Hermosa Beach Fish Shop can do no

wrong when it comes to all things seafood.

Our readers voted them tops when it comes

to fish restaurant in general, seafood soup in

particular, and also for specialty salad because

their grilled fish over a salad is a

hugely popular item. Fish Shop's strategy is

to put fish in just about everything but the

beer, and if somebody starts making a

salmon ale this is where we might expect to

see it first. They go beyond other local

places in variety, serving three different

soups alongside a velvety clam chowder.

Their seafood chowder with sausage is

smooth, rich, and satisfying, and the fish

shop stew – cioppino by another name -- is

about tomato broth goodness with seafood,

celery, scallion, and a pinch of red pepper.

At least a dozen kinds of fresh fish and shellfish

are available, and you can get them in

stews, soups, tacos, sandwiches, salads, raw,

fried, in ceviche, or grilled.

Hermosa Beach Fish Shop

719 Pier Ave., Hermosa Beach

(310) 372-3480

thefishshophermosabeach.com

The Hermosa Fish Shop crew.

Outdoor dining & Best View

Strand House

The Strand House has a fantastic view of

the ocean from almost every table, but a few

people each night enjoy it from a unique

perspective: the three or four tables perched

on the outside balcony. They get to enjoy the

ocean breeze, or for the few weeks of winter

we get, they bundle up against it. It has to

be worth it even if you have to wear gloves

and a scarf, the better to contrast untamed

nature and the ultimate civilized dining experience

in the area. To watch the sunset

from this vantage point makes you feel like

>> Runner-up Seafood: Bluewater Grill

Seafood Restaurant

665 N. Harbor Dr., Redondo Beach

(310) 318-3474

bluewatergrill.com

Thai / Southeast Asian

Phuket Thai

Even in the fast-moving South Bay restaurant

scene some things don't change. Phuket

Thai has won or been a close second in this

category for over a decade. It certainly isn't

their location, which is in a nondescript

multi-use building and lacks the gaudy architecture

of Southeast Asia. Their curries

have the characteristic Thai balance between

heat, tartness, herbal fragrance, and

richness, their salads burst with citrus,

basil, garlic, and freshness. Thai cooking has

changed the way Americans perceive flavor,

>> Runner-up salad: Good Stuff

and Phuket Thai leads the way in the South

Bay.

Phuket Thai Restaurant

901 N. Pacific Coast Hwy., 100 B

Redondo Beach

(310) 374-9598

phuketthairedondobeachca.com

>> Runner-up: Bamboo Thai Bistro

2208 Artesia Blvd., Redondo Beach

(310) 798-4618

bamboothaibistro.com

the luckiest person in the world, and in that

moment, it's just possible you are.

The Strand House

117 Manhattan Beach Blvd., Manhattan

Beach

(310) 545-7470

thestrandhousemb.com

>> Runner-up: Blue Water Grill

665 N. Harbor Dr., Redondo Beach

(310) 318-3474

bluewatergrill.com
---
Entertainment cont. from page 37

on his menu are less than twenty-five

bucks, which is amazingly moderate for

this level of cooking. Dominique's is the

place locals go when they decide they deserve

to treat themselves and those they

love, and our area is better for it.

Dominique's Kitchen

522 S. Pacific Coast Hwy.

Redondo Beach

(424) 247-9054

dominiqueskitchen.com

>> Runner-up: Creme de la Crepes

424 Pier Ave., Hermosa Beach

(310) 937-2822

1708-½ S. Catalina Ave., Redondo

Beach

(310) 540-8811

Cremedelacrepe.com

Indian

Addi's Tandoor

The cuisine of Goa, a former Portuguese

colony in India, has been coming into the

spotlight over the last few years, because

the Mediterranean-Indian fusion style is

unique. We in the South Bay can proudly

say we were first in the LA area to support

it, because we've been dining at Addi's

Tandoor for 15 years. The flavors of Goa

shine here, particularly the delicate seafood

curries enlivened with spices and cooled

with coconut milk. This is one of the few

parts of India where beef is eaten, and you

can get it with the famously spicy vindaloo

sauce that was invented in this region.

Even if you don't know much about Indian

food, you can sense that something different

and interesting is going on at Addi's.

Addi's Tandoor

800 Torrance Blvd., #101

Redondo Beach

(310) 540-1616

addistandoor.com

>> Runner-up: Bombay Tandoori

5713 4111,CA-1, Torrance

(310) 303-3185

bombaytandooriandbanquet.com

Mexican

(over $30) &

Sunday Brunch

Palmilla

The interior is startling, unlike any Mexican

restaurant you've seen before, and

that's appropriate. It sets your expectations

higher, and those expectations are met.

April 12, 2018 • Easy Reader / Beach magazine 39
---
summercamps

uCAMPS & SCHOOLS FOR SUMMER FUN

AdventureCamp

Begins April 9

w Annually voted the best "Kids Land Camp" in the South Bay, AdventureCamp at

AdventurePlex allows kids to do what they love: have fun! It offers a variety of

healthy, heart-pounding activities for kids to enjoy, like a five-level play structure,

ropes course, rock wall and sports court. What's more, campers are also treated

to fully chaperoned field trips to destinations like amusement parks and the beach.

Younger campers, ages 4-5, enjoy camp programming tailored to their interests

and needs, with activities ranging from instructor-led yoga and movement classes

to an inflatable obstacle course and trips to the park. All activities are led by CPR

and first aid-certified staff.

(310) 546-7708

Adventureplex.org

Palmilla's atmosphere immediately raises expectations.

Palmilla serves Mexican food with mellow

but flavorful sauces that enhance quality ingredients

like fresh seafood and prime beef.

It's almost counterintuitive that this works,

since our expectations are so different, but

once you try items like the ceviches, achiote

salmon, or slow-braised short ribs the wisdom

of the strategy is clear. They offer premium

tequilas and cocktails to wash it all

down, making this your place to go for Mexican

food with high style.

Mediterranean /Middle Eastern

& Rotisserie Chicken

Palmilla Cocina y Tequila

39 Pier Ave., Hermosa Beach

(310) 374-4440

palmillarestaurant.com

>> Runner-up: Ortega 120

1814 S. Pacific Coast Hwy., Redondo

Beach

(310) 792-4120

ortega120.com

Poulet de Jour

We would like to inform our readers that

people in the Middle East eat things other

than roast chicken. We feel that this is necessary

because the same two restaurants

won in both of those categories, which we

don't think has ever happened before. The

chicken at Poulet du Jour is of course worthy

of the win, juicy inside with a crisp

herb-rubbed skin that has just the right

amount of give when you bite into it. It's fall

off the bone tender, and fantastic with or

without their lethal creamy garlic sauce.

Share a whole bird or order a half, or even

a chicken sandwich, and enjoy the rice pilaf

and salad that come with it, but spare a

thought for the delicious falafel, regular or

spicy hummus, and the delicious fried cauliflower.

This is simple but perfect Mediterranean

cooking, the flavors of one sunny

land flourishing in another.

Poulet De Jour

233 N. Pacific Coast Hwy., Hermosa

Beach

(310) 376-6620

pouletdujour.com

>> Runner-up: Chicken Maison

2709 Manhattan Beach Blvd.

Redondo Beach

(310) 725-0035

3901 Pacific Coast Hwy., Torrance

(310) 465-1050

50-B Peninsula Center

Rolling Hills Estates

(310) 541-8080

chickenmaison.com

Aqua Surf

Begins June 11

w Beach fun, and surfing for kids and teens. Aqua Summer Camps instill ocean

safety and surfing skills while creating lifelong skills, incredible lasting memories,

and treasured friendships. Instructors tailor the experience based on the needs of

each individual, while maintaining a group/family-style atmosphere. Aqua Surf

accommodates complete beginners to kids and teens learning to surf at a prolevel

with a 3 to 1 ratio (students to teacher) to ensure the highest quality of safety

practices and personalized attention for each student. Students can either attend

by the day or by the week. Summer camps run Monday - Friday, for the entire

summer break. Half days run from 9 a.m. - noon. or noon - 3 p.m. and full days

are from 9 a.m. - 3 p.m.

(310) 902-7737

AQUASURF.com

info@aquasurf.com

Beach Cities Volleyball

Begins July 9

w Established in 2000, the mission statement of Beach Cities Volleyball is to "Teach

life skills and volleyball skills to young people." BCVC works very hard to help

create successful, well balanced adults through wonderful volleyball experiences.

BCVC teaches beginning, intermediate, and advanced players from different communities,

ethnicities, and income levels. Priorities are to have fun and build volleyball

skills. Players are placed in groups of similar age and experience, and then

progress from station to station, followed by spirited competition allowing the players

to practice the skills they just developed.

(310) 546-9150

BeachCitiesVBC.com

BeachSports

Begins June 11

w Make your summer awesome! Starting at age 4, BeachSports Summer Camps

are designed with parents and campers in mind. BeachSports collaborated with

lifeguards and local school teachers to create a program that is inclusive, fun, educational

and, most importantly, safe for all their campers. Camp activities include

surfing, boogie boarding, beach volleyball, ocean safety exercises, Jr. Lifeguard

skills, skateboarding, various age-appropriate games and more! The flexible day

pass system and extended hours make parents' lives easy and allow campers to

experience all the fun activities BeachSports has to offer.

(310) 372-2202

BeachSports.org

40 Easy Reader / Beach magazine • April 12, 2018
---
summercamps

uCAMPS & SCHOOLS FOR SUMMER FUN

Camp Surf

Begins June 4

w Camp surf is "Los Angeles' Premier Surf School", according the LA Business Journal.

It offers surf instruction in Manhattan Beach for all ages and abilities, with

both private and group lessons. Lessons include summer surf camps, after school

programs, birthday parties and corporate events. Instruction is available year round

with a 1:4 instructor to surfer ratio. Surfboards and wetsuits are provided. Camp

Surf also offers youth and adult volleyball classes and clinics through their Camp-

Volley programs.

(424) 237-2994

Campsurf.com

Destination Science

Begins June 25

w The fun science day camp for curious kids! Top notch, enthusiastic educators

and leaders make STEM learning an adventure! Topics include: Science Makers

& Inventors; Amusement Park Science; Transforming Robots; Rovers Rocketing to

Space plus special Minecraft 101: Mod Design for campers entering 5th, 6th,

7th grade only. Enroll now save $20/wk. Enroll for 3 weeks and save an additional

$10/week.

South Coast Botanic Garden - 26300 Crenshaw Blvd, Palos Verdes

Richmond St School - 615 Richmond Street, El Segundo

United Methodist Church - 540 Main Street, El Segundo

Trinity Lutheran Church - 1340 11th Street Manhattan Beach

Valor Christian Academy - 525 Earle Lane, Redondo Beach

(888) 909-2822

destinationscience.org

The Academy by Ed!

June 18 – July 20

w Get it done and have some fun! Registration for the 2018 Academy by Ed! is

open now! Browse the course catalogue to find enrichment classes for elementary,

middle, and high school students, as

well as high school advancement and

credit recovery courses. Two sessions

offered and both in-class and online

options. With options ranging from

college prep, writing workshops, cooking

classes, photography, science and

Spanish, your student is bound to find

something to keep them engaged this

summer.

(310) 615-2650 ext. 1705

ESEdF.org/academy

Our Lady of Guadalupe

School

Begins June 18

w Entering its 9th season in summer

programming, Our Lady of

Guadalupe offers 6 weeks of fun and

learning. The program is divided into

a 2-week Summer Adventures Camp

and 4 weeks of Summer

School/Camp for students entering

Beach Cities Volleyball

2018 SUMMER INDOOR VOLLEYBALL CAMPS

Beginning & Intermediate

Five Locations: Palos Verdes, San Pedro, Torrance, Manhattan Beach, and Brentwood

Dates: 7 week-Long Programs starting Monday July 9th through Monday August 20

Players (boys & girls) separated into groups of similar ages & skill levels. Priorities

are to have fun, develop volleyball skills, have fun!

Beginning Camps for young athletes (7 or older) starting up!

Intermediate Camps for players with some experience.

TO REGISTER ONLINE PLEASE VISIT

www.BeachCitiesVBC.com 310.546.9150

SUMMER AT OLG

PLAY • LEARN • GROW

Our Lady Guadalupe

Summer School Camp

We are offering 6 weeks of fun and learning:

• 2 week Summer Adventures Camp

• 4 weeks of Summer School/Camp

Academics, Enrichment,

Performing & Visual Arts, and Summer Camp

Join us this summer for learning, fun,

friends, and great memories!

Ages K-8

Summer Registration please visit:

summeratolg.com

340 Massey Street, Hermosa Beach, CA 90254 • 310-372-7486 • ourladyofguadalupeschool.org

April 12, 2018 • Easy Reader / Beach magazine 41
---
summercamps

uCAMPS & SCHOOLS FOR SUMMER FUN

grades K-8 and their families. Offerings include academics, enrichment, performing

and visual arts, and summer camp! Your summer at OLG will be filled with

learning, fun, friends, and great memories.

(310) 372-7486

340 Massey St., Hermosa Beach

summeratolg.com

• Private Parties

• Private Lessons

• Summer Surf Camps • Corporate Lessons

• Birthday Parties • Group Lessons

Our instructors are all CPR and First Aid Certified

Los Angeles' Premier Surf School

and

The Official Surf School for the City of Manhattan Beach

424-237-2994 info@campsurf.com

Create a chalk art

drawing to commemorate

Earth Day. On

Saturday, April 21, the

King Harbor Association

hosts its Earth Day

Chalk Art Challenge.

Free and open to all

ages. 10 a.m. - 2 p.m.

Redondo Beach Marina,

181 N. Harbor Drive,

Redondo Beach. For

more information visit

VisitKingHarbor.com or

call (310) 374-3481.

42 Easy Reader / Beach magazine • April 12, 2018
---
April 12, 2018 • Easy Reader / Beach magazine 43
---
summercamps

uCAMPS & SCHOOLS FOR SUMMER FUN

Palos Verdes Performing Arts Conservatory

w This summer, the acclaimed PV Performing Arts Conservatory will offer a series

of exciting theatre camps for all ages and experience levels, and the opportunity

to perform in a fully-staged, Broadway-style production of "Grease." Camp Curtain

Call, which introduces musical theatre to children ages 5-11, has three fun-filled

sessions of Disney favorites: "The Lion King Jr." (June 18-29); "Aladdin Jr." (July 9-

20) and "Mulan Jr." (July 23-Aug. 3). Summer Master Class sessions and Dance

Intensives provide professional training for students ages 10-18 who want to advance

to the next level to become true triple threats. "Grease" auditions (ages 12-

18) are May 10-11.

(310) 544-0403 ext. 303

27525 Norris Center Dr., Rolling Hills Estates

PalosVerdesPerformingArts.com/SummerPrograms

44 Easy Reader / Beach magazine • April 12, 2018
---
Beach Cities Volleyball

HIGH

PERFORMANCE

CAMPS

Five Locations: Palos Verdes, San Pedro, Torrance, Manhattan Beach, and Brentwood

Dates: 7 week-Long Programs starting Monday July 9th through Monday August 20

For experienced Players from 12 to 15 looking to their high school careers, and high

school players looking to potential college careers.

Beach Cities Volleyball graduates consistently receive college offers each year, and

are playing for their colleges across the country.

TO REGISTER ONLINE PLEASE VISIT

www.BeachCitiesVBC.com 310.546.9150

summercamps

uCAMPS & SCHOOLS FOR SUMMER FUN

PCH Skateboard Camps

Begins June 11

w Learn to skateboard or take your skating to the next level! Summer camps in

Manhattan and Redondo Beach provide beginner to advanced skateboarding

instruction for boys and girls age 5 and up. Safety is the number one priority. All

campers are required to wear a helmet, elbow pads, knee pads and closed toe

shoes. The first-aid and CPR certified coaches are very talented skateboarders with

a lot of knowledge to share with their campers. Don't have pads or a skateboard?

No worries! The camp offers boards and pads to loan! Campers also have access

to BeachSports programs as well with their flexible day pass system.

(310) 372-2202

PCHSkateCamps.com

Performing Arts Workshops

Begins June 18

w Winner of BEST Summer Camp "LA Parent Magazine!" It's the ultimate arts experience

for kids ages 5-14. PAW teachers are nurturing, skilled instructors who

have or are working towards their Bachelors or Masters degrees in their respective

disciplines. Their teaching experience and knowledge combined with the PAW

philosophy provides students with a level of training comparable to private studios

and conservatories. "Our kids don't need to be experts – just have a curiosity and

love for performing," says Cheryl Appleman, PAW President. "In each session

campers participate in a creative performance which is free and attended by family

and friends." Award-winning camps include Musical Theater, Guitar, Laugh

Out Loud, Rock The Mic, Filmmaking, Magic, Photography, Stage F/X Makeup

and Debate Camp. Camps located in Manhattan Beach, Redondo Beach, El Segundo,

West LA, and the Valley.

(310) 827-8827

PerformingArtsWorkshops.com

South Bay Art

Department

Ongoing

w South Bay Art Department aims to

nurture individuality and confidence

through personal, creative expression.

Art classes encourage students to work

from personal experience and interest,

to enjoy the process of making art.

There's no right or wrong. SBAD offers

inspiration and guidance to help students

develop their own unique artistic

voice. For younger students, classes

are dedicated to preserving and celebrating

a purity of artistic vision. More

advanced students seek to reawaken

this innocent spirit, allowing them to

see the "same old things" in creative

new ways.

1075 Aviation Blvd.,

Hermosa Beach

(310) 379-5879

sbartdept.com

u

46 Easy Reader / Beach magazine • April 12, 2018
---
q

HOME &

GARDEN GUIDE

r

Tour 3 distinct homes in the Portuguese Bend area on the PV Art Center's

Legends by the Sea homes tour April 20 and 21. Morning and afternoon

shuttles depart from PVAC. Tickets $70 presale, $65 for PVAC member,

$75 day of. Lunch included. pvhomestour.org.

Catalina Paints

Catalina Paints, formerly known as Supreme Paints, is a destination for top quality

house paints as well as wallpaper and window coverings. The Manhattan Beach

location recently started carrying Farrow and Ball paints, and both the Redondo

Beach and Manhattan locations carry Benjamin Moore, Cabot Stains, Hunter

Douglas and a whole lot more.

1002 S. Pacific Coast Hwy., Redondo Beach. (310) 540-4456

708 N. Sepulveda Blvd., Manhattan Beach. (310) 376-2444

Catalinapaintstores.com

Custom Design & Construction makes

remodeling fun and easy

Custom Design & Construction has taken the stressful process of home remodeling

and made it fun and easy. Begin with the Discovery phase, where an award-winning

team works with you to explore all options within your budget range. By

working with a single company that provides both design and construction under

one roof, you don't have to be the middleman and your exact final price is in

place before work begins. That means no surprises down the road. Ask about

easy in-house financing and if you aren't sure where to start, enjoy a free home

remodeling seminar or stop by the Design Center. Call Custom Design & Construction

today! Lic. #524561

2001 E. Mariposa Ave., El Segundo

(310) 815-4815

VisitCustomDesign.com

Destination: Art

Experience Destination: Art's first big art exhibition of 2018, "Spring Fling." Art

lovers, interior designers, and home and garden enthusiasts are invited to a Gala

Public Reception Saturday, April 28, 4 – 7 p.m. for this special show and sale,

celebrating the natural beauty of the South Bay and the work of local artists. This

event can help you explore your "personal art signature" as you begin, or enhance,

the use of art in your home. Visit this unique studio and gallery concept,

open Thursdays - Saturdays 11 a.m. - 5 p.m., and Sundays 12 - 4 p.m.

(310) 742-3192

1815 W. 213th St., #135, Torrance

destination-art.net

Best Paints and

Window Coverings

1002 S Pacific Coast Hwy, Redondo Beach | (310) 540-4456

708 N Sepulveda Blvd, Manhattan Beach | (310) 376-2444

Handyman Schatan: avocation a vocation

Matt Schatan helped several of his friends on their home-based projects, and he

April 12, 2018 • Easy Reader / Beach magazine 47
---
q

HOME &

GARDEN GUIDE

r

often listened to their suggestions that he start his own company. Schatan did just

that in July 1998. Handyman Schatan prospered from the start. It has meant a lot

of work, but also a lot of satisfaction."I am overwhelmed sometimes with the

amount of work I have," says Schatan, noting that he is often answering the telephone

at 10 p.m. Work has been "busier than expected" and the rewards have

been gratifying. He is on call from sunup to sundown. His goal to create a thriving

enterprise has been quickly realized.

(310) 540-4444

Mattucci Plumbing

At Mattucci Plumbing, the level of service you receive is a guarantee. For plumbing

repairs and installations in the South Bay and Greater Los Angeles, Mattucci's professional

technicians are all about making services and equipment work as great

as possible. Customer satisfaction is their #1 priority. Call today or book an appointment

online. Their professional team is available whenever you need them

and a live person will gladly assist you 24 hours a day.

(310) 543-2001

mattucciplumbing.com

Pete Fer Plumbing Heating & Air Conditioning

offers repairs, remodels

Pete Fer Plumbing is a complete mechanical contracting company, providing

plumbing, heating and air conditioning for new construction, remodeling, service

and repair to commercial and residential customers. They provide 24 hour service,

seven days a week through an automated emergency dispatch paging system.

Mention Beach magazine to one of their service technicians and receive $20 off

1815 W. 213th St, #135, Torrance

310-742-3192

HANDYMAN

SCHATAN

• Reasonable & Reliable

• All types of jobs

welcome

• No job too small

MATT

NOW

OPEN

310 540-4444

unlic.

48 Easy Reader / Beach magazine • April 12, 2018
---
q

HOME &

GARDEN GUIDE

your first service call.

r

(310) 831-0737

2020 S. Mesa St., San Pedro

Peveler's Custom Interiors

Peveler's Custom Interiors has been serving the South Bay and beyond for over

38 years. A full service design-build construction company, their scope of work includes

additions, second floors, complete house renovations, new construction,

kitchen and bath remodeling. They manufacture their own custom cabinetry. Fully

insured, licensed and bonded, as are all of their subcontractors. Peveler's is not

going to be the lowest price nor will it be the highest price in town. They will be

the company that provides high value for your investment. Please visit their showroom.

(310) 214-5049

4203 Spencer St., Torrance

pevelers.com

Shilpark Paint more than green

Shilpark Paint has excellent custom color matching skills, so you'll always get the

right color or find the perfect color to make your living space truly your own. Offering

personalized, professional service, Shilpark makes unequaled customer satisfaction

its highest priority. Being family owned and operated means their goal is

your satisfaction. Shilpark is a proud dealer of Benjamin Moore Paint to deliver

the finest products, with ease of use, longest durability, with the lowest V.O.C.'s,

that meet the all the green standards!

15617 Hawthorne Blvd., Lawndale. (310) 676-6760

23134 Normandie Ave., Torrance. (310) 784-1920

shilparkpaint.com

Classifieds

HANDYMAN

Handyman

Services…

Fix It Right

the

First Time

What we do…

Plumbing, Electrical,

Drywall, Painting

& more.

Valente Marin

310-748-8249

Unlic.

STONE

MORRIS

Cleaning & Restoration

• Marble polishing

• Travertine & Limestone

honing & polishing

• Tile & Grout

cleaning & sealing

Free Advice

& Estimates

Call George

310-545-8750

www.CleanRestoreProtect.com

Lic. #1005861

424.269.2830

PHOTOGRAPHY

Linda Oreb Photography, LLC

Phone (310) 528-6025

www.lindaorebphotography.com

PLUMBING

• Serving the South

Bay for over 35 years

• Full Service Contractor

• Complete Installation

• New Construction

• Remodeling

• Second Floors

• Additions

• Cabinets

4203 Spencer St., Torrance, CA 90503 (310)214-5049 • www.pevelers.com

Appointments Are Recommended

Showroom Hours: Tuesday, Wednesday, Thursday 10-5 • Friday 9-3 • Monday by Appointment

Closed Saturday and Sunday • License #381992

Visit Our

Kitchen &

Bath

Showroom

WINDOW

CLEANING

TOTAL SATISFACTION

GUARANTEED!!

KIRBY'S

WINDOW CLEANING

THE SCREEN DOCTOR

SINCE 1978

PRESSURE WASHING

SERVICES

• RELIABLE & PROFESSIONAL

TECHNICIANS

• EXCELLENT REFERENCES

FREE

WEATHER TOUCH UPS

FREE ESTIMATES

310-374-7895

CALL TODAY

KirbysWindowCleaning.com

your space in

Reserve this section

the next

Beach Magazine

Pub Date: May 10 • Deadline Date: April 27

424-269-2830

April 12, 2018 • Easy Reader / Beach magazine 49