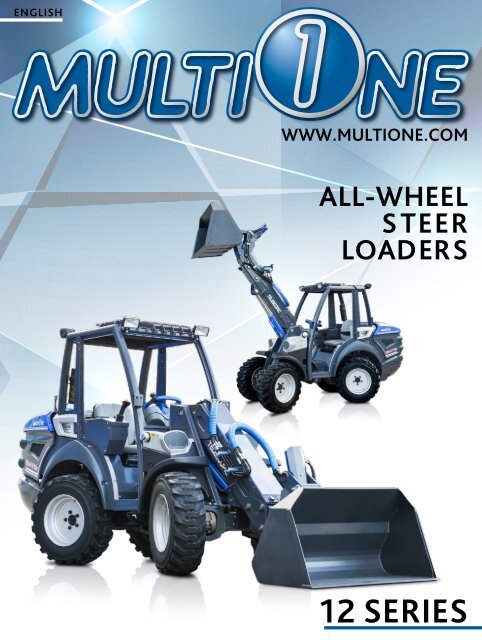 12 SERIES MULTIONE ALL-WHEEL STEER LOADERS
Multione 12 Series All-wheel steer loaders
Multione 12 Series All-wheel steer loaders
SHOW MORE
SHOW LESS
You also want an ePaper? Increase the reach of your titles
YUMPU automatically turns print PDFs into web optimized ePapers that Google loves.
ENGLISH

WWW.MULTIONE.COM

ALL-WHEEL

STEER

LOADERS

12 SERIES
---
12 SERIES

IDEAL FOR ANY KIND OF WORKSITE

With their particularly compact dimensions, the 12 series wheel loaders

from MultiOne open up a wide range of applications in all areas of the

construction industry.

These efficient machines impress with their dynamic all-wheel drive,

high payload, unbeatable manoeuvrability and low operating weight.

SUPERIOR DESIGN,

INSIDE AND OUTSIDE

State of art MultiOne design is the benchmark.

On the outside MultiOne is easily recognisable,

created to improve all round visibility and control

of attachments. The ergonomic driver's area makes

operating easy and stressless. All controls are where

you expect to find them, with a multifunction

joystick designed to put you in control and all

functions at your fingertips. MultiOne provides

comfort throughout long working shifts.

THE POWER YOU NEED,

WHERE YOU WANT

A tireless workhorse and a labour saving device,

MultiOne was created for high productivity.

40 hp diesel engine offer amazing hydraulic power,

all in a compact, manoeuvrable 4WD package.

HIGH STABILITY

Our extremely robust rigid chassis with fourwheel

steering is the basis for maximum stability

at maximum performance because the footprint

remains unchanged at all times.

This ensures high levels of stability - even when

working on uneven ground.

1
---
WWW.MULTIONE.COM

BOOM

The MultiOne has a sturdy self-levelling boom,

which gives extreme strength, superior lifting

capacity and excellent front visibility.

The MultiOne telescopic boom has a significant

extension in length, which provides greater

horizontal outreach and tipping heights.

OUTSTANDING MANOEUVRABILITY

MultiOne all-wheel steer loader offers the power and capacity for

larger jobs, but has a compact design to access hard to reach areas.

The all-wheel steering allow you a high degree of manoeuvrability.

This makes many manoeuvres superfluous and shortens traversing

and cycle times.

RELIABLE HYDRAULIC POWER

The MultiOne advanced hydraulic circuit delivers

power to the attachment, controls and transmission

simultaneously and with independent control.

Large flow hydraulic output translates engine

power to the attachments. The exclusive Multiconnector

let's you plug-in all hydraulic lines at

once and drip free. It's never been so easy!

2
---
12 SERIES

Our wheel loaders are

designed with an undivided

chassis that prevents shifts

in the centre of gravity,

even on full steering angle.

In other words, there is

no tipping load loss when

the loader is in a steered

position.

STABILITY, MANOEUVRABILITY AND

COSTANT PAYLOAD

The compact design and two steering modes (four-wheel and crab steering)

provides maximum maneuverability in any operating environment.

The undivided chassis prevents the clearance between the counterweight

and loading system from changing. The result: Constant leverage that makes

working safe in all load situations. In the process, the payload always stays the

same, regardless of the steering angle.

3

σσStability - Undivided chassis

σσSteering modes - Four-wheels
---
WWW.MULTIONE.COM

and Crab

4
---
12 SERIES

12.4 1500 kg (3300 lbs)

12.4 T 960 kg (2120 lbs)

12.4 2,4 m (94.5 in)

12.4 T 3,45 m(136 in)

5

σσMaximum tipping load

12.4 1800 kg (4000 lbs)

12.4 T 1200 kg (2650 lbs)

σσMaximum tipping height
---
WWW.MULTIONE.COM

Thanks to the selflevelling

kinematics,

you have optimal

control of all

transported materials,

because it ensures the

attachments are moved

parallel across the

entire lifting range.

POWERFUL SAFE PERFORMANCE

The rigid, sleek boom of the 12 series features high tear out forces.

Cables and hoses are protected and out of the driver's field of vision.

The self-levelling kinematics allows perfect parallel guidance of the

attachments. This translates to a high degree of safety, in particular when

loading pallets. Fast cycles and an unrivalled view on the attachments make

daily work even more efficient.

The telescopic extension adds length, to reach further whilst enhancing

maximum tipping height and outreach.

σσSelf levelling

6
---
12 SERIES

Every component is

considered by MultiOne,

to maximise comfort

and control.

The cab layout is

designed with attention

to ergonomic principles,

intuitive location

of instruments and

controls ensure the ease

of use.

360˚ ALL-ROUND VISION

The spacious cabin and the ergonomically laid out controls offer a convenient

workplace for long-term work. Large tinted windows ensure an excellent allround

visibility. The panorama roof allows for an exact overhead view, for

example for truck loading.

It is characterised by maximum comfort, optimal ergonomics and functionality

in every detail. The powerful heater ensures comfortable work conditions at all

times.

7

σσEverything under control

σσPanorama roof
---
WWW.MULTIONE.COM

σσEasy access

8
---
12 SERIES

9

σσAll controls at your fingertips

σσ4WD - Heavy Duty piston radi
---
WWW.MULTIONE.COM

The 11 function

electronic joystick

enables easy and precise

control of the loader

boom and attachments.

All controls are here, at

your fingertips.

DESIGNED BY ENGINEERS, DRIVEN BY

PROFESSIONALS

Heavy Duty piston radial wheel motors provide power with great control and

reliability. Connect and disconnect attachments within seconds, sensitive

control, quick work cycles and all of this with low noise levels in the cab.

The technology of the work hydraulics of our machines makes this possible.

MultiOne's innovative hydraulic multi-connector is standard fitment.

Connects all hydraulic lines simultaneously and in seconds, it's easy and

dripless.

al wheel motors

σσMulti-connector

10
---
12 SERIES

CHOOSE YOUR MODEL

POWER

12.4 12.4 2V 12.4 T 12.4 T 2V

40 HP

40 HP 40 HP 40 HP

SPEED

13 km/h

(8 mph)

10-20 km/h

(6.2-12.4 mph)

13 km/h

(8 mph)

10-20 km/h

(6.2-12.4 mph)

MAX LIFTING

HEIGHT

2,4 m

(94.5 in)

2,4 m

(94.5 in)

3,45 m

(135.8 in)

3,45 m

(135.8 in)

TIPPING

LOAD

kg

1800 kg

(4000 lbs)

1800 kg

(4000 lbs)

1200 kg

(2645 lbs)

1200 kg

(2645 lbs)

11
---
P

O

P

12 SERIES SPECIFICATIONS

σσ

4WD hydrostatic Direct Drive motors, proportional

servo control

σσ

Self-levelling boom

σσ

Dual steering system: all-wheel and crab

σσ

11-functions joystick

σσ

Multi-disk parking brake

σσ

Radial Piston high efficiency and heavy duty wheel

motors

σσ

Hydraulic multiconnector

WWW.MULTIONE.COM

MODEL 12.4 12.4 2V (2 Speed) 12.4 T 12.4 T 2V (2 Speed)

Engine

Power (ISO Gross)

Fuel

Transmission

Drive speed (max.)

13 km/h (8 mph)

10-20 km/h

(6.2-12.4 mph)

Yanmar 3TNV88

40 HP

Diesel

Hydrostatic

13 km/h (8 mph)

10-20 km/h

(6.2-12.4 mph)

Boom Standard Standard Telescopic Telescopic

Aux. hydraulics oil flow

52 l/min (13.7 GPM)

Max. lifting height 2,4 m (94.5 in) 3,45 m (135.8 in)

Tipping load, max 1800 kg (4000 lbs) with rear weights 1200 kg (2645 lbs)

Lifting capacity 1500 kg (3300 lbs) with rear weights 960 kg (2116 lbs)

Breakout force / 50 cm 1750 kg (3858 lbs) 1840 kg (4056 lbs)

Pushing force (c)

1900 kgf (1900 kp)

Specific ground pressure (w/std tires) 1121 kg/m 2 (230 lbs/sqft) 1186 kg/m 2 (243 lbs/sqft)

Turning radius: inside/outside

Standard tires

σσ

Hydraulic oil cooler

σσ

ROPS-FOPS Level I

σσ

2 speed (only 12.4 2V and 12.4 T 2V)

σσ

LCD graphic display with programmed service

(tachometer, hour meter, fuel gauge, maintenance

light, light indicator and other 14 indicators)

σσ

2 front and 2 rear working light

σσ

Ergonomic full adjustable suspension seat with

armrest and safety belt

1200 / 2437 mm (47.2 / 95.9 in)

27x8.50-15

Weight 2075 kg (4575 lbs) 2195 kg (4839 lbs)

DIMENSIONS (mm/in)

O

12.4 C

12.4 T

Tires N Q

27x8.50-15 1237 / 48.7 2000 / 78.7

27x10.50-15 1287 / 50.7 2000 / 78.7

10-16.5 1280 / 50.4 2070 / 81.5

400/50-15 1580 / 62.2 2055 / 80.9

C

Q

B

A

M

M

L

L

Q

J

A

D F G H

I

J

N

D F

G

H

E

I

12.4 12.4 T 12.4 12.4 T 12.4 12.4 T 12.4 12.4 T

A 2500 / 98.4 2800 / 110.2 E - 1200 / 47.2 J 65 / 2.6 M 22°

B - 3450 / 135.8 F 481 / 18.9 870 / 34.2 K 32° O 32°

C 185 / 7.3 244 / 9.6 G 1490 / 58.7 I 3071 / 120.9 3460 / 136.2 P 26°

D 577 / 22.7 450 / 17.7 H 1100 / 43.3 L 280 / 11

12
---
12 SERIES

OPTIONS

Here some options to help our wheel loaders

meets the needs of any application.

More available on dedicated datasheet.

Three-way heating with

adjustable air flows and

temperature.

This is the best insulation

system for the driver to

protect him from cold,

wind, rain, and snow.

Easy access thanks to the

large door.

Self cleaning and

hydrophobic glass

surfaces.

Fully Enclosed Cabin

It is an ideal device for

cold temperatures.

The system keeps the

engine at an optimal

temperature for easy

starting with very cold

climates.

Heating

Ideal for cold climates,

it significantly increases

the comfort of the

machine.

Engine Block Heater

MultiOne snow chains

improve traction on

snow or ice.

Heated Seat

It's a additional pump

that increases the outlets

oil flow.

Snow Chains

Road lights (front and

rear) to illuminate the

road.

Hi Flow

Rear tow hook with

double connection: with

tow ball (car type) or tow

pin (agricultural type).

Road Lights

Orange beacon light

mounted on the top of

the cab's roof.

13

Trailer Coupling

Beacon Light
---
WWW.MULTIONE.COM

ATTACHMENTS

40 YEARS EXPERIENCE,

TOP QUALITY

ATTACHMENTS

MultiOne has a decade-long

experience on design and

implementation of dedicated

attachments.

This know-how assures that only

the best attachments for mini

loader are branded MultiOne.

High reliability, efficient and

cost-effective.

The MultiOne bucket design enables

good visibility to the cutting edge,

making loading, grading, and

dumping more efficient.

Bolt-on theet available.

This multi-purpose bucket can be

used for demolition, landscaping,

and general construction work.

Width:

125 cm (49.2 in)

140 cm (55 in)

165 cm (65 in)

GENERAL BUCKET

This attachment quickly and

quietly sweeps and collects dirt

and debris, and easily dumps out

the refuse. Perfect for

cleaning parking lots,

sidewalks, loading

docks, warehouses,

and more.

Width:

155 cm (61 in)

SWEEPER

The snow blower is an efficient

method to remove large amounts

of snow from sidewalks, roads, or

other large areas.

The two-stage blower provides

a powerful and efficient snow

removal tool, even if the snow is

weat and heavy.

Width:

140 cm (55 in)

SNOW BLOWER

Width:

140 cm (55 in)

COMBO BUCKET

The multi-purposed silage fork,

makes moving loose or baled

silage safe and easy. The extra

strength framework allows

heavy loads, like round

bales, log piles and more, to

be effectively moved.

Width:

125 cm (49.2 in)

SILAGE FORK

The quick attach pallet fork

enables safe and quick handling

of multiple sized pallets.

Forks Lenght:

110 cm (43.3 in)

PALLET FORK

14
---
DEPL/MONO1802-R00-EN

WWW.MULTIONE.COM

MultiOne's huge network of world wide

distributors provides valuable support to

the customers during the choice of the

right machine and attachments to fulfill

their business needs.

After the sale, the same network has

deep technical training to assure the best

maintenance, parts support and to help

the customer discover new applications

and possibilities through his MultiOne.

Dealer:

MultiOne s.r.l.

Via Palù 6/8 - 36040 - Grumolo delle Abbadesse

VICENZA - Italy

Ph. +39 0444 264600 - Fax +39 0444 389260

info@multione-csf.com - www.multione.com

The information and images in this document are provided for illustrative purpose only.

MultiOne has a policy of continuing improvement, and retains the right to make modifications

at any time without prior warning.

© 2018 MultiOne srl. All rights reserved.