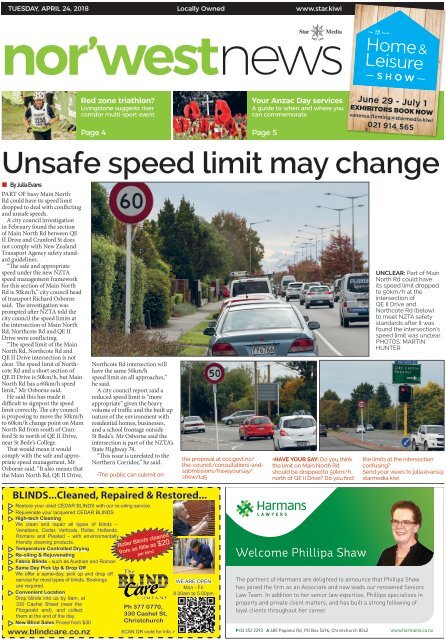 Nor'West News: April 24, 2018
You also want an ePaper? Increase the reach of your titles
YUMPU automatically turns print PDFs into web optimized ePapers that Google loves.
TUESDAY, APRIL 24, 2018

Locally Owned

www.star.kiwi

Red zone triathlon?

Livingstone suggests river

corridor multi-sport event

Page 4 Page 5

Your Anzac Day services

A guide to when and where you

can commemorate

June 29 - July 1

EXHIBITORS BOOK NOW

vanessa.fleming@starmedia.kiwi

021 914 565

Unsafe speed limit may change

• By Julia Evans

PART OF busy Main North

Rd could have its speed limit

dropped to deal with conflicting

and unsafe speeds.

A city council investigation

in February found the section

of Main North Rd between QE

II Drive and Cranford St does

not comply with New Zealand

Transport Agency safety standard

guidelines.

"The safe and appropriate

speed under the new NZTA

speed management framework

for this section of Main North

Rd is 50km/h," city council head

of transport Richard Osborne

said. The investigation was

prompted after NZTA told the

city council the speed limits at

the intersection of Main North

Rd, Northcote Rd and QE II

Drive were conflicting.

"The speed limit of the Main

North Rd, Northcote Rd and

QE II Drive intersection is not

clear. The speed limit of Northcote

Rd and a short section of

QE II Drive is 50km/h, but Main

North Rd has a 60km/h speed

limit," Mr Osborne said.

He said this has made it

difficult to signpost the speed

limit correctly. The city council

is proposing to move the 50km/h

to 60km/h change point on Main

North Rd from south of Cranford

St to north of QE II Drive,

near St Bede's College.

That would mean it would

comply with the safe and appropriate

speed management, Mr

Osborne said. "It also means that

the Main North Rd, QE II Drive,

Northcote Rd intersection will

have the same 50km/h

speed limit on all approaches,"

he said.

A city council report said a

reduced speed limit is "more

appropriate" given the heavy

volume of traffic and the built up

nature of the environment with

residential homes, businesses,

and a school frontage outside

St Bede's. Mr Osborne said the

intersection is part of the NZTA's

State Highway 74.

"This issue is unrelated to the

Northern Corridor," he said.

•The public can submit on

the proposal at ccc.govt.nz/

the-council/consultations-andsubmissions/haveyoursay/

show/145

•HAVE YOUR SAY: Do you think

the limit on Main North Rd

should be dropped to 50km/h

north of QE II Drive? Do you find

UNCLEAR: Part of Main

North Rd could have

its speed limit dropped

to 50km/h at the

intersection of

QE II Drive and

Northcote Rd (below)

to meet NZTA safety

standards after it was

found the intersection's

speed limit was unclear.

PHOTOS: MARTIN

HUNTER

the limits at the intersection

confusing?

Send your views to julia.evans@

starmedia.kiwi

BLINDS...Cleaned, Repaired & Restored...

Restore your oiled CEDAR BLINDS with our re-oiling service.

Rejuvenate your lacquered CEDAR BLINDS

High-tech Cleaning

We clean and repair all types of blinds –

Venetians, Cedar, Verticals, Roller, Hollands,

Romans and Pleated – with environmentally

friendly cleaning products.

Temperature Controlled Drying

Re-oiling & Rejuvenating

Fabric Blinds - such as Austrian and Roman

Same Day Pick Up & Drop Off

We offer a same-day, pick up and drop off

service for most types of blinds. Bookings

are required.

Convenient Location

Drop blinds into us by 9am, at

330 Cashel Street (near the

Fitzgerald end), and collect

them at the end of the day.

New Blind Sales Priced from $30

Roller Blinds cleaned

from as little as $20

per blind

Ph 377 0770,

330 Cashel St,

Christchurch

www.blindcare.co.nz SCAN QR code for Info >

WE ARE OPEN

Mon - Fri

8.00am to 5.00pm

Welcome Phillipa Shaw

The partners of Harmans are delighted to announce that Phillipa Shaw

has joined the firm as an Associate and now leads our renowned Seniors

Law Team. In addition to her senior law expertise, Phillipa specialises in

property and private client matters, and has built a strong following of

loyal clients throughout her career.

P 03 352 2293 A 485 Papanui Rd, PO Box 5496, Christchurch 8542

www.harmans.co.nz
---
2 Tuesday April 24 2018

Latest Christchurch news at www.star.kiwi

from the editor's desk

CONSULTATION IS about to start which

could see the 60km/h speed limit on part

of Main North Rd fall into line with New

Zealand Transport Agency safety standard

guidelines (see page 1).

That will mean 50km/h between QE II

Drive and Cranford St.

That's not a bad idea. There are schools in the area and the

stretch of Main North Rd from Cranford to Papanui Rd is

50km/h.

Accolades for two promising tennis players (see page 13).

Abby Mason, who plays for St Margaret's and Elmwood, and

Diego Quispe-Kim (Cobham and Irwell) had success at the

recent Tennis Canterbury awards.

Diego says he models his forehand and serve off Rafa Nadal.

Not a bad standard to aim for.

– Barry Clarke

get in touch

GENERAL ENQUIRIES Ph 379 7100

CLASSIFIED ADVERTISING Ph 379 1100

The Christchurch Star Company Ltd

PO box 1467, Christchurch

starmedia.kiwi

Students tackle global issues

Problem-solvers bound for United States

Rangi Ruru and former Cobham Intermediate students

prepare for Future Problem Solving world championships

in Wisconsin.

Page 9

Paddling for NZ

St Margaret's teen bound for Bulgaria

Pieta Luthi, 16, will be the youngest member of the New

Zealand team at a world championship canoeing event in

Europe.

Page 10

Always a Bridesmaid

Elmwood Players comedy

Catch Always a Bridesmaid being performed at the

Elmwood Auditorium tomorrow from 7.30-9.30pm.

NOR'WEST NEWS

NEWS

Julia Evans

Ph: 021 914 742

julia.evans@starmedia.kiwi

ADVERTISING

Monique Maynard

Ph: 364 7474

monique.maynard@

starmedia.kiwi

Geoff Moreton

Ph: 353 4595

geoff.moreton@

starmedia.kiwi

Page 15

The best-read local newspaper, delivered to

16,717 homes every Tuesday

Harewood, Burnside, Bishopdale, Bryndwr, Fendalton, Merivale, St

Albans, Mairehau, Papanui, Casebrook, Redwood, Regents Park,

Styx Mill, Northwood, Belfast, Strowan.

FOR 8 YEARS AND OLDER

402A Main North Road Redwood

- Christchurch

03 595 2641

Follow us on Facebook

'CEREC' & cosmetic dentistry

Wisdom tooth removal

Painless, high quality dentistry

Sedation dentistry

Experienced, conscientious team

Experienced hygienists

OPEN SATURDAYS

355 9380

144 Cranford Street

www.stalbansdentalcentre.co.nz

LIQuID LAuNDROMATs

345 sTANMORE ROAD, RICHMOND

261 BuRwOOD ROAD, BuRwOOD

7 DAYs: 5am-11pm

CELEBRATING

2 YEARS

of our Christchurch branch

FREE Quotation

FREE Installation

FREE Aluminium Track

for Christchurch customers

PROFESSIONAL CUSTOM MADE CURTAINS

25 Picton Avenue Riccarton, Christchurch

P 349 4888 E officinevoluptasnz@gmail.com

www.officinevoluptas.co.nz

SELF SERvIcE

Mortgage advice you can

understand. Kim will help you

control your lending, and save

you money as well!

Email or call Kim today!

www.mylend.co.nz email: kim@mylend.co.nz cell: 027-222-1044

wAsH & DRY ALL YOuR

LAuNDRY IN ABOuT 1 HOuR

$4.00 WASH

$4.00 DRY

wash 2 Mink Blankets, Duvets

or woolrests for only $8

DRY UP TO 3 LOADS IN

ONLY 25 MINUTES! $4

SAvE TIME & ELEcTRIcITY

• Fast Dryers

• Sports Gear

• Duvets

• Mink Blankets

• Bedding

• Washers

• Domestic Laundry

Other Locations: 289 Colombo Street, Sydenham • 47 Carmen Road, Hornby

17 Halswell Road, Hoon Hay • 713 Ferry Road, Woolston • 319 Pages Road, Aranui

www.liquidlaundromats.co.nz
---
NOR'WEST NEWS Latest Christchurch news at www.star.kiwi

Tuesday April 24 2018 3

News

More delays for Aurora Centre

• By Julia Evans

UNFORESEEN fire compliance

issues have again delayed

the Aurora Performing Arts

Centre's reopening.

Earthquake repairs,

refurbishment and upgrades

have been ongoing since

January and were expected to

be completed by February to

minimise impact on Burnside

High School students.

The reopening was delayed

until March,

but it has now

been revealed

the centre

won't open

until May.

"Due to the

complexity of

this work, plus

unforeseen

compliance Phil Holstein

issues with new

fire regulations, the Aurora

Centre will not be available for

school use until the beginning

of term two," principal Phil

Holstein said in a report.

He said work on the exterior

of the building would continue

until November.

The performing arts centre,

on the site of Burnside High

School, has been undergoing

weather tightness and

earthquake damage repairs.

UPGRADE: The reopening of the Aurora Performing Arts Centre at Burnside High School has

been delayed again.

PHOTO: MARTIN HUNTER

Mr Holstein told Nor'West

News while the repair work

was going on, the school was

also taking the opportunity to

spend time doing "necessary"

upgrades to the centre.

The school has spent $2

million on the upgrades, which

include a new air-conditioning

system and refreshing the paint

job on the building's exterior,

as well as some smaller internal

work.

"It was definitely time to

upgrade . . . I'd heard from a

few people the heating and

cooling definitely needed work

on it," Mr Holstein said. He said

with construction of this type,

you always anticipate delays.

Work on the 700-seat centre

is part of a $24 million repair

and redevelopment plan at the

school, which includes several

of the school's other buildings.

Once completed, Mr Holstein

said the board would be able

to begin "the master planning

stage" of the school's postquake

redevelopment.

Mr Holstein said the upgrade

work on the Aurora Centre

is not only important to the

school, but also to the wider

community, as the building

filled a key role following the

February 22, 2011, earthquake.

It was one of the only venues

to host events left in the city.

"It's a significant building for

Burnside but also for the city

post-quake ," Mr Holstein said.

Local

News

Now

In Brief

Fire rages, homes at risk

NORTHERN CORRIDOR PLAN

The plan to manage the downstream

traffic effects of the northern corridor

along Bealey Ave into the city will go

out for public consultation in May.

City council manager planning and

delivery transport Lynette Ellis said it

is expected the plan will be ready for

city council endorsement towards the

end of the year.

RICHMOND ROAD WORKS

City council staff are looking at

hosting a community meeting to

inform residents about the timeline

and progress of road works in

Richmond. Work has been heavy in

the area around Hills Rd, Shirley Rd,

North Avon Rd and North Parade.

The community meeting would

include information on the current

state of roads within that area and the

prioritisation of any street renewals

and repairs.

GROUPS THANK BOARD

Several groups have written to the

Fendalton-Waimairi-Harewood Community

Board to thank it for funding.

They included St Barnabas Church,

the Bishopdale Community Trust,

the Bryndwr Community Garden,

Burnside Community Transformation

Trust, Burnside Elim Church

Trust, Burnside Rugby Football

Club, Christchurch Chinese Church,

Fendalton Bowling Club, St Aiden's

Anglican Church, St Christopher's

Anglican Church, The Merevale Corner

and Te Ora Hou Otautahi.

WWW .VI S I O N C O LLE G E.CO. N Z

LEARN

MODERN OFFICE

COMPUTER SKILLS

FREE 20 week course.

NZ Certificate in Business (Admin & Computing).

This course will cover Windows 10 and Microsoft Office

(Word, Excel and Publisher). Taught within a business context,

this programme will prepare you for the modern office.

Hours are flexible and can include night classes.

Struggling to see

with your dim lights?

Get switchedon

Upgrade your old power hungry halogen downlights

• Switch to LED for sleek long lasting efficient lighting

• 70% saving on power for lighting

nova Series LEd

Fixed Recessed

downlights

Replace 4 downlights

$240 + GSt

✓ Security and landscape lighting

✓ Pre purchase/Insurance Electrical Inspections

✓ Replace tired/old existing switches sockets

✓ Switchboard Upgrades

✓ House Rewires

ContaCt US today!

ENROL

NOW

PHONE US NOW ON:

0800 834 834

txt OFFICE to 027 557 8839

COLLEGE

50 Hazeldean Rd,

Addington, Christchurch

A division of ATC New Zealand. (Est 1984). NZQA Accredited.

24 Frank Coxon Road, Belfast, Christchurch

03 373 8320 • info@switchedon.net.nz

www.switchedon.net.nz
---
4 Tuesday April 24 2018

Latest Christchurch news at www.star.kiwi

Your Local Views

Coastal-

Burwood

Ward city

councillor

Glenn

Livingstone

talks about

how the red

zone area

could be

used for different sporting

and recreational events

THE AVON Otakaro corridor,

described by Regenerate

Christchurch as a 'green

spine', presents various future

possibilities for the city.

As a spine, it will serve us in

the future by holding various

activities in its 150m width.

Its length also serves to hold

Christchurch together, as it winds

its way from the city to the sea.

While some of the permanent

developmental options are yet to

be decided and may take some

time to reach fruition, others may

be developed now. Community

gardens, heritage trails, walking

and cycling tracks (some of

which are already in place on

top of the temporary stopbanks)

and lovingly tended areas such

as those by Bryan and Colleen

Fairbairn may be enjoyed now,

or could be developed in the very

near future.

A triathlon linking the city and

New Brighton would also enable

enjoyment of the green spine.

Beginning with a kayak, paddlers

could take off downstream from

Victoria Park by the town hall

to Kerrs Reach, transition to

off-road cycles and go from there

across the Avondale Rd bridge

and back to Victoria Park on

the trail on top of the stopbanks

or alongside the river, before

running to the finish in New

Brighton.

Victoria Park, Kerrs Reach and

New Brighton have all been used

for multi-sport and triathlon

transition and finish line areas

before.

Participants could take part

as individuals or in teams. Such

an event would promote the

Avon Otakaro River corridor

and promote connectivity and

a sense of destination for New

Brighton, which the city council

is undertaking through both

Regenerate Christchurch and its

development arm, Development

Christchurch Ltd.

Last week the Government

re-instated the four well-beings

in the Local Government Act.

Regeneration of the residential

red zone could hardly be a greater

expression of social, economic,

environmental and cultural wellbeing.

Its development and use can

serve to unite west and east

through the river itself, which

threads its way from one side of

the city to the other and out to

the sea.

IN THE ZONE: Glen

Livingstone, seen her

competing in the Coast

to Coast, has suggested

a triathlon be held in the

residential red zone.

NOR'WEST NEWS

Local

News

Now

Councillor raises red zone triathlon plan

Fire rages, homes at risk

ridiculous. And too close to each

other.

could be better utilised for many

other much better options.

James Cranefield – I'd

prefer if they just opened one in

my kitchen.

Ashlii Archibald – Maybe

this one will remember my

sauce.

Chessa Crow – Our people,

our city and our planet do not

need another McDonald's built

to feed us horrible 'food'. I've

always been so glad that we don't

have one on the eastern half of

the city.

Readers respond to a story

about McDonald's having

it's sights set on opening

a restaurant on Marshland

Rd, near the Prestons Rd

intersection

Ryan Nield – How about

concentrating on making the

food taste better, rather than how

many McDonald's restaurant

you can fit into one city.

NEW: McDonald's is considering opening a restaurant on

Marshland Rd, at the site of the former Raeward Fresh.

Tiakiwai Kaporangi

Hirama – Don't we have

enough of these?

Kim Johanson – How

about not. There are so many in

Christchurch already.

Lee Jones – Why not put a

decent fast food place like Carl's

Jr . . . McDonald's food is awful.

Stefan Miller – Can't we

have a supermarket that is 24

hours again? Instead of all these

24-hour McDonald's.

Jacob Savage – Have too

many around the city now; it's

Shazz Sharron

Hanrahan – Yay, no more cold

burgers from Burger King.

Hannah Gould – Omg, so

not needed.

Sarah Jayne

Pritchard – Too many fast food

outlets

Maddy Hattan – We don't

need anymore McDonald's to be

honest.

Nicola Danielson – This site

Aaron RiwaiI – I'd rather

have a Carl's Jr thanks.

Nick Collett – Please no.

Jane Geary – Sad. More

healthy food options is what the

city and our people need.

Barbara Miln – I personally

think McDonald's should

seriously think about opening

a restaurant and McCafe in

New Brighton to bring young

families to the area with the new

playground etc.

now bigger than ever

The magazine for gardeners who

like to get their hands dirty

SubScribe from

$43. 50*

*6 issues/6 months

SUBSCRIPTIONS FREEPHONE

0800 77 77 10

www.gaRdeNER.kiwI

growing with you

SprIng Is here –

It'S Sow Time

how to get the best results from

seeds and seedlings

100% NatIve In

The capItal

Unravelling the secrets of

Otari-wilton Bush

The New Zealand

landscape awards

The people behind

the projects

$7.90 incl. GST

Save our roSeS

How a rose register is protecting our heritage

September 2016 | 100%

It's time

to grow!

New look and more

content than ever!

MeeT LeSTer Brice

A Garden coach

auckland Botanic GardenS

Why we love our public grounds

ISSN 2423-0219
---
NOR'WEST NEWS Latest Christchurch news at www.star.kiwi

Tuesday April 24 2018 5

News

Local

News

Now

Bookarama gets Bishopdale buzzing

Fire rages, homes at risk

• By Julia Evans

THE BENEFITS of having

Bookarama in Bishopdale

could see the event held there

permanently.

The annual event, organised

by the Rotary Club of Bishopdale

Burnside, was moved to the Bishopdale

YMCA Recreation Centre

as the Burnside High School hall,

where it is normally held, is undergoing

earthquake repairs.

Bishopdale Burnside Rotary

president Graeme Tapp said the

event went "really well" with

three days of sun helping bring a

crowd.

He said the organisation was

"assessing" whether or not to

have the event in Bishopdale

again next year.

"A lot of people like it, liked the

convenient parking. The ease of

being able to get a park was a big

thing we were getting feedback

on," he said.

Mr Tapp also said the YMCA

hall was more central to the Bishopdale

Burnside.

"The only downside was that we

lost the extra day. The event is normally

four days but we could only

have the hall for three," he said.

Fendalton-Waimairi-Harewood

Community Board deputy

chairman Aaron Campbell said

over the three days from Friday,

the event brought thousands of

people into the area.

He said it was "amazing" for

the regenerating suburb.

"It's just great to have that

in Bishopdale. . . the other shops

were doing a great trade," he

said.

Mr Campbell said there was

a lot convenient parking, as well

as it being an easy to get to location.

"There's no downside to having

it in Bishopdale . . . just a huge

benefit," he said.

Mr Campbell said along with

the National Cat Show, which

was held in Bishopdale last year,

it was events like Bookarama that

were encouraging people back to

the suburb.

The money collected from this

year's Bookarama had not been

tallied yet, but it would be a similar

number to the $92,000 raised

last year, Mr Tapp said.

"It'll go to a number of community

organisations in the Bishopdale

Burnside area," he said.

CROWD: The Rotary Club received a lot of positive feedback about Bookarama being held in the

Bishopdale YMCA.

PHOTO: AARON CAMPBELL

MacDonald to lead board

• By Sophie Cornish

SAM MACDONALD has been

voted in as the new chairman

of the Fendalton-Waimairi-

Harewood Community

Board.

Former chairman

David Cartwright

tabled his resignation

at a board meeting

on April 9, after planning

to step down 18

months into the role.

A vote for Mr

MacDonald's former

position as deputy

chairman resulted in a

tie between Mr Cartwright

and Aaron Campbell.

Mr MacDonald said it was

Sam

MacDonald

decided among board members

to give Mr Campbell the role.

Mr Cartwright will still

remain on the board and is

"committed to working for

Fendalton,"

said Mr

MacDonald.

"The most

important

thing at the

moment,

and the real

focus, is on

the Long

Term Plan

submission.

I will be presenting

our

submission to council on April

30," said Mr MacDonald.

David

Cartwright

"Within that, we will be

advocating for a low, if not

minimal, rate increase and

some of the key projects in

our ward, including the traffic

lights for Aaron Keown

and the community in

Harewood."

The leadership

changes took effect from

last Monday.

Mr Cartwright said

he was stepping aside to

let other board members

take on more responsibility.

"It's about building

expertise and giving

people a chance . . . there

are very capable people on the

board," he said.

Anzac Day services

around the area

Anzac Day services will be

held around the area

tomorrow. Here is a

guide to when and

where they will be

happening

•Fendalton's service

will be held at St

Barnabas Church,

starting at 10am.

•Kaiapoi's RSA service

will be held at Trousselot

Park, starting at 10am.

•Harewood's service will be

held at the Harewood School

Cenotaph, starting at 7am.

•Papanui's service

will be held at the RSA

clubrooms, starting at

10am.

•The Belfast

Community Network

will host a service

at the Sheldon Park

War Memorial from

8.30am. Tickets to

breakfast at bowling

club following the

service are available at

the BCN office for $15 adults and

children under-12 $10.
---
6 Tuesday April 24 2018

Latest Christchurch news at www.star.kiwi

NOR'WEST NEWS

$

29 99

BWT

Water Filter Jug

2.7L, assorted colours

279126, 279189, 279192,

279193, 279190

$

179

$

31 99

$

179

EXCLUSIVE

Goldair

Wifi Panel

Heater

3 year warranty.

297127

EXCLUSIVE

Number 8

Convector

Heater

297088

EXCLUSIVE

Nouveau

Electronic

Dehumidifier

317623

Hitachi

Petrol Line Trimmer

22.5cc

288720

$269

Hitachi

Petrol Blower

Vac

23.9cc

268554

$389

Atlas

$

14 99

Trade

Leaf Rake

129070

$

4

Tandem

Wheelbarrow

Ready to assemble

H-931167

$

30

$

4 78

McGregors

Garden Bag

153775

No Rats &

Mice

Work Table

300513

from

$

137 90

Resene

Zylone Sheen

Interior Paint

Buy any 4 litre Resene

Zylone Sheen Interior

Paint and get a bonus

2 litre Resene White

Ceiling Paint free.

Resene 2 litre White

Ceiling Paint

(355090) worth $50.90

RECEIVE A $ 50

STORE CARD WITH EVERY

$500

YOU SPEND

on Bradford Gold

insulation up to $5000*

ST230418

Available from Tuesday

24th April until Monday

30th April 2018, while

stocks last.

Mitre10 MEGA Hornby

Ph: 03 349 8497

*If you find a lower price on an identical stocked

product locally we will beat it by 15%

Mitre10 MEGA Papanui

Ph: 03 359 5443

*If you find the same product cheaper from another Mitre 10 store or Mitre 10 website

we'll match that price. Excludes trade and special quotes, stock liquidations and

commercial quantities. The in-store price may be lower than that advertised.
---
NOR'WEST NEWS Latest Christchurch news at www.star.kiwi

Tuesday April 24 2018 7

News

FINALISTS: St Bede's College students Nick O'Connor and Angus Grant were

thrilled to win the Tasman region TeenAg competition and advance through

to the national final.

PHOTO: NEW ZEALAND YOUNG FARMERS

St Bede's students

on track to fulfilling

farming dreams

• By David Hill

ANGUS GRANT is a city boy who

dreams of being a farmer.

The 15-year-old lives in Papanui but

has always wanted to be farmer.

"I chatted to a guy next door when I

was about nine or 10-years-old, so he's

been taking me down to his farm at Ohai,

in Southland, in the school holidays since

I was 10.''

His neighbour, Alan Findlay's family

farm has sheep, beef and deer, giving

Angus plenty of variety to learn from.

Angus put his skills to good use when

he teamed up with his St Bede's College

classmate Nick O'Connor, 15, to win the

New Zealand Young Farmers Tasman

region TeenAg competition at Innovation

Park in Templeton on April 7.

The pair will be joined by a second

St Bede's College team of Tomos Blunt,

17, and Finn Taylor, 17, in the national

GROCERIES & MANY MORE

Look for weekly and monthly

specials on our Facebook Page

Pies & Drinks range

Starts from $1

Wide range of

Lollies available

E-liquids

starts from $4.99

OPEN

7 DAYS

Warrington Discounter

68 Warrington St • 03 386 2222

(Easy Parking)

SIM Cards

and Top Ups

Cheap Milk

and Bread

Vaping Kit

starts from $19.99

TeenAg final in Invercargill in July.

Nick comes from a West Coast dairy

farming background and is the nephew of

Agriculture Minister Damien O'Connor.

Finn also comes from the West Coast,

while Tomos comes from a farming family

on the Kaikoura Inland Rd.

"I can't wait," said Angus. "Last year

I just missed out on going to the grandfinal,

so I'm stoked."

Forty-four teams competed in the

Tasman TeenAg competition.

Angus saved up his pocket money from

a young age and bought eight chickens,

gradually building up to 80 hens, which

he kept on an overgrown section next

door, selling the eggs.

When he saved enough money he

bought some ewes and now has 95 ewes,

which he grazes on various empty sections

that he leases near the airport on

Gardiners and Hussey Rds.

KINGS

of the

GYM

WRITTEN BY

DAVID ARMSTRONG

DIRECTED BY JOHN BOYCE

& DARREN SUNDBORN

When PE

is far

from PC! _______

26 APRIL – 5 MAY

THE DRAMA THEATRE, RANGI RURU SCHOOL, MERIVALE LANE

TICKETS: $25 WAGED / $22 UNWAGED. FOR SHOW TIMES

AND BOOKINGS PHONE 03 338 4699 OR VISIT

WWW.RICCARTONPLAYERS.CO.NZ

Heel pain

and athletic kids

Sever's disease is a common heel injury

that occurs in kids. It can be painful, however

is a temporary ailment with no long-term

effects. The Papanui Foot Clinic are experts

in assisting your child with resources for a

quick and long-term recovery.

Sever's disease, also called calcaneal

apophysitis, is a painful bone disorder that

results from inflammation (swelling) of

the growth plate in the heel. It is a common

cause of heel pain in growing kids, especially

those who are physically active.

Such stress commonly results from

physical activities and sports that involve

running and jumping, especially those

that take place on hard surfaces, such as

track, basketball, soccer, and gymnastics.

Frequently occurs when activity levels

change like going from summer sport to

winter sport.

Poor-fitting shoes can contribute to the

condition by not providing enough support

or padding for the feet or by rubbing against

the back of the heel.

It usually occurs during the growth spurt

of adolescence, any time between the ages of

8 and 13 for girls and 10 and 15 for boys.

Signs and Symptoms

The most obvious sign of Sever's disease

is pain or tenderness in one or both heels,

usually at the back. The pain also might

extend to the sides and bottom of the heel,

ending near the arch of the foot.

A child also may have these related

problems:

• Pain in the back of the heel

• difficulty walking – hobbling after a game

• discomfort or stiffness in the feet upon

awaking

• discomfort when the heel is squeezed on

both sides

• an unusual walk, such as walking with

a limp or on tiptoes to avoid putting

pressure on the heel

Symptoms are usually worse during or

after activity and get better with rest.

Treatment

The immediate goal of treatment is pain

relief:

• perform foot and leg exercises to stretch

we can

help!

and strengthen the leg muscles and

tendons

• elevate and apply ice (wrapped in a towel,

not applied directly to the skin) to the

injured heel for 20 minutes two or three

times per day, even on days when the pain

is not that bad, to help reduce swelling

• use an elastic wrap or compression

stocking that is designed to help decrease

pain and swelling

• supportive footwear

• foot orthotics to support the arch

Recovery and Recurrence

Although Sever's disease generally heals

quickly, it can recur if long-term measures

are not taken to protect the heel. It is vitally

important that kids wear proper shoes.

Good quality, well-fitting shoes with shockabsorbent

(padded) soles to help reduce

pressure on the heels. High heels should be

avoided. Other preventive measures include

continued stretching exercises and icing the

affected heel after any activity.

• heel pads that cushion the heel as it strikes

the ground

• heel lifts that reduce strain on the Achilles

tendon by raising the heel

• orthotic inserts are highly recommended

- they hold the heel in an ideal position

while walking, running or playing sport

The risk of recurrence goes away on its

own when foot growth is complete, and the

growth plate has fused to the rest of the heel

bone, usually around age 15.

If you or your child feels any foot pain.

Call the Papanui Foot Clinic and make an

appointment, Dr. Graham is an expert you

can trust. 03 352 6400

Sore Feet?

ADVERTORIAL

448 Papanui Road (opp BP Petrol station) Ph 03 352 6400

reception@papanuifootclinic.co.nz
---
8 Tuesday April 24 2018

Latest Christchurch news at www.star.kiwi

NOR'WEST NEWS

say hello to

new

BURNSIDE

flavours

TAYLOR'S

PORT

Includes

Tawny & Ruby

750ml

$29 99

2for

$

55!

or $29.99 each

ST RÉMY

BRANDY

700ml

HARDYS

REGIONAL

Range

1 Litre

BANROCK

FRUIT

FUSIONS

750ml

VILLA MARIA

Cellar Selection

750ml

ST HALLET

GAMEKEEPER'S

Range

750ml

HUNTAWAY

RESERVE

Range

750ml

CHURCH

ROAD

Range

750ml

SELAKS

The Taste

Collection

750ml

$

9 99 $ 9 99 $ 13 99 $ 14 99 $ 15 99 $ 15 99 $ 17 99

DRINK CRAFT

CREAM LIQUEUR

Range

Includes QF, Choctini,

Jam Donut, Salted

Caramel, Butterscotch

700ml

$

9 99

each

NEW

instore!

LARIOS

1 Litre

HOT DEAL!

$

34 99

KAHLÚA or

MALIBU

1 Litre

$

34 99

each

McKENNA

or CORUBA

Includes

Original & Gold

1 Litre

$

39 99

each

JOHNNIE

WALKER

RED

1 Litre

$

39 99

ABSOLUT

1 Litre

EL JIMADOR

Includes Silver

700ml

$

39 99

each

JÄGERMEISTER

or BOMBAY

SAPPHIRE

1 Litre

$

47 99

each

JAMESON 1 Litre

CHIVAS

REGAL 12YO,

SAILOR JERRY

or WOODFORD

RESERVE

700ml

$

49 99

each

PATRÓN XO

CAFE

750ml

$

52 99

MAKER'S MARK

1 Litre

GLENFIDDICH 12YO

or JOHNNIE WALKER

DOUBLE BLACK

700ml

$

59 99

each

JIM BEAM

1.75 Litre

$

64 99

LITTLE FAT LAMB

Range

1.25 Litre

$

8 99

each

GENTLEMAN

JACK & COLA

4 x 375ml Cans 6% or

4 x 330ml Bottles 6%

$

17 99

each

JIM BEAM

& COLA

8 x 330ml Cans, 7%

$

19 99

LONG WHITE

10 x 320ml

Bottles, 4.8%

MIST WOOD

10 x 320ml

Bottles, 5%

$

24 99

each

CORUBA &

COLA

10 x 330ml

Bottles, 5%

SMIRNOFF

ICE DOUBLE

BLACK

12 x 250ml

Cans, 7%

$

24 99

each

CODY'S &

COLA

12 x 250ml

Cans, 7%

WOODSTOCK

& COLA

18 x 330ml

Bottles, 5%

$

31 99

each

MONTEITH'S

CIDER Range

12 x 330ml Bottles

$

26 99

MAC'S Range

6 x 330ml Bottles

SPEIGHT'S SUMMIT

ULTRA LOW CARB

12 x 330ml Bottles

HEINEKEN

SLIMLINE CANS

12 x 250ml Cans

PERONI

12 x 330ml Bottles

$

19 99 $

24 99

CORONA

12 x 355ml Bottles

$

25 99

MONTEITH'S Range

12 x 330ml Bottles

$

26 99

WAIKATO,

$

12 99 $

19 99 $

19 99

SUMMIT,

SPEIGHT'S

or LION RED

24 x 330ml

Bottles

$

35 99

each

ORANJEBOOM

12 x 330ml Bottles

SPEIGHT'S

MID ALE

12 x 330ml Bottles

LION BROWN

18 x 330ml Cans

each

STEINLAGER CLASSIC

18 x 330ml Bottles

$

31 99

HEINEKEN

15 x 330ml Bottles

DB DRAUGHT,

EXPORT GOLD or TUI

24 x 330ml Bottles

$

29 99 $ 35 99

each

Super Liquor Burnside • 501 Wairakei Rd • Phone 359 0556

Offers valid Monday 23rd April to Sunday 6th May while stocks last. Limits may apply. Trade not supplied.

Roydvale Ave

SUPER Super LIQUOR

Location

BURNSIDE

now open!

Waiakei Rd

Abros Pl

• Open 7 days from

10am - 9pm

• Chiller trailer hire

• Glassware hire

• Local delivery
---
NOR'WEST NEWS Latest Christchurch news at www.star.kiwi

Tuesday April 24 2018 9

Students tackle global issues in US

SCHOOLS

• By Sophie Cornish

A TEAM of former Cobham

Intermediate students will

compete at an international

competition in the United States

in June aimed at solving future

global issues

Last year, the Cobham team

of Mac Craig, Benjamin Davey,

Eric Huang and Corin Simcock

won the junior category at the

Future Problem Solving New

Zealand national championships,

while a Rangi Ruru Girls'

School team of Abby Croot,

Lucy Anderson, Emily Davey

and Victoria Park won the senior

division.

Both teams advanced to the

FPS world championships where

they will compete against 2200

participants in Wisconsin to find

solution to topics in the criminal

justice system.

E Wen Wong, 15, from Burnside

High School has also been

selected to travel to the US as

an individual competitor after

winning the middle division

individual competition.

FPS is an internationallyrecognised

competition which

encourages creative, innovative

critical thinking under pressure

to solve emerging and current

PRACTICE: The team of former

Cobham Intermediate pupils

Mac Craig, Eric Huang, Corin

Simcock and Benjamin Davey

researching in preparation for

the Future Problem Solving

world championships in

Wisconsin in June. (Right) –

The team from Rangi Ruru of

Victoria Park, Lucy Anderson,

Emily Davey, Suzanna Davis

and Abby Croot (absent).

global issues. The compeititon

will cover questions on law enforcement,

criminal behaviour,

technology and what future

courtrooms may look like.

"The students will be considering

problems that are crucial to

humanity in the future, like 30

years ahead of now," said Sue

Williams, a specialist teacher

who will lead the teams to the

US. They will be given scenarios

which fall within the topic then

be required to find the problems

and solutions for them.

The group will compete

against US state champions and

national champions from about

other 19 countries.

"For some highly-able kids,

this is what they love doing

because it's real, but also in their

head, very difficult and (has)

that mix of exactness and creativity,"

said Ms Williams.

The teams have applied for

funding for the trip from the

Fendalton-Waimairi-Harewood

Community Board.

Burnside High

plans on

holding its

own 'Stage

Challenge'

BURNSIDE HIGH School

is planning to replace Stage

Challenge with its own in-house

competition.

'Compass Wars' will replace

the national competition which

organisers announced in January

would end in its current form due

to a lack of funding.

Last week, Minister of Education

Chris Hipkins said Rock-

Quest Promotions Ltd, which

runs the Smokefree Rockquest,

would run then Stage Challenge

this year, using a $800,000 grant

from the Ministry of Education.

The arrangement with Rockquest

is a one-off, with the ministry

working on a longer-term

funding model to keep the school

event alive. The new competition

organised by the school will allow

students the opportunity to be

involved in a "large performance

ensemble."

The school is split into four divisions,

and each will have leaders

running the group. Each cast will

have a maximum of 6min to perform

using dance, drama, music,

lighting and projection.

The performances are set to be

presented on May 14.

Try Out

Authentic

Vietnamese

Fresh, healthy food

packed with flavour

and prepared by our

Vietnamese chef

• Great value

• Dine in/takeaway

• Group bookings

welcome

• Off street parking

Try Out

Vietnamese

Restaurant

OPEN 7 DAYS

11.00am - 2.30pm &

5.00pm - 10.00pm

17 Main North Rd, Papanui. Ph: 352 8832.

We design your jewelery unique

to your style and personality.

We offer a resize and redesign service.

Merivale Mall | ChristChurCh

Phone 356 2377
---
10 Tuesday April 24 2018

Latest Christchurch news at www.star.kiwi

Named after the founder, who started

the business in 1963, HARALDS

has been the trusted name in fabrics for

Christchurch shoppers ever since.

In 1975, HARALDS original store in Papanui

was supplemented by a city store, called

HARALDS of Lichfield Street. This store

later moved to Birmingham Drive and

HARALDS Warehouse was born.

After the devastating earthquakes of

2010 and 2011, which saw HARALDS of

Papanui damaged beyond repair, HARALDS

Warehouse in Birmingham Drive was

enlarged to accommodate the vast range

of stock.

Initially focusing on dress fabrics such

as wool jersey, gabardine and crimplene,

HARALDS has moved with the times into

new and innovative fabrics such as Lycra,

superfine New Zealand merino, polar fleece

and Hydravent waterproof/breathable

nylon. The range now extends from apparel

types to furnishing weaves, from organza

and satin to oilskin and mattress protector.

"The range is enormous and varied with

new stock arriving almost daily," says

director and buyer, Tony, who is Harald's

son. Harald is still involved in the business,

though the day-to-day running has now

become Tony's responsibility, and he is

proudly continuing his father's legacy.

Advertorial

HARALDS

'The Trusted Name in Fabrics'.

Specialists in apparel and

furnishing fabrics for 55 years.

"Not only do we have a massive range,

but HARALDS Warehouse also offers

exceptional quality fabrics that are real

value for money," Tony says.

"It can truly be said that HARALDS of

Birmingham Drive has something for

everyone. The staff are experienced and

knowledgeable and willing to help with all

your fabrics needs."

HARALDS Warehouse is open to the

public from 10am until 4pm "Any day but

Sunday".

"Everybody is welcome," says Tony. "You

will find it fun and so worthwhile to visit

HARALDS Warehouse at 47 Birmingham

Drive."

St Margaret's student

to paddle in Bulgaria

• By Sophie Cornish

ST MARGARET'S College

student Pieta Luthi will

be the youngest member

of the New Zealand team

at a world championship

canoeing event in July.

The 16-year-old from

Parklands will compete at

the International Canoe

Federation canoe sprint

junior

and

under-23

world

championship

in

Bulgaria.

Pieta

is part

the New

Pieta Luthi

Zealand

under-18

team

which will travel to Europe

for the event.

In spite of only being

involved with canoe

racing for three seasons,

this will be Pieta's second

time representing New

Zealand,

In February, she

represented her country at

the canoe sprint Oceania

championships and Grand

Prix 2 in Sydney.

Her success continued

IN ACTION: Pieta Luthi will travel to Bulgaria in

July as the youngest athlete in the New Zealand

under-18 canoeing team.

later that month when she

competed at the NZCT

New Zealand canoe sprint

championships on Lake

Karapiro, Cambridge, and

took home 10 medals.

Pieta said it was her most

successful regatta to date,

winning medals for both

individual and crew events

in two separate age groups

– under-16 and under-18.

She raced under her club

NOR'WEST NEWS

SPORTS

colours for the Arawa

Canoe Club, which trains

at Kerrs Reach.

It will be Pieta's first

time travelling to Bulgaria

and she is excited to have

family travelling from

Switzerland to support her.

"I'm a little bit nervous,

I'm not really too sure what

to expect . . . it will be cool

to be on a bigger world

stage," she said.

ALL WELCOME! ENJOY SOME DUTCH HOSPITALITY!

"THE TRUSTED NAME IN FABRICS"

Quality fabrics that are

real value for money

HARALDS

ANNEX RD

Follow us on Facebook

BLENHEIM RD

BIRMINGHAM DRIVE

47

MATIPO ST

Saturday 28 April, 7pm at Zanzibar

(Behind Aikman's Restaurant and Bar) 152 Aikmans Rd, Merivale

WEAR SOMETHING ORANGE!

Presale tickets: $15 per person

Includes 2 FREE HOUSE DRINKS,

FREE ENTERTAINMENT and FREE NIBBLES

From Traiteur European Butchery or Email frank@jjsteel.co.nz or yokasaris@gmail.com

Door sales: $20 per person

Sponsored By:

PARTY

47 Birmingham Drive, Middleton | Phone 338-7700 | Open Mon-Sat 10-4
---
NOR'WEST NEWS Latest Christchurch news at www.star.kiwi

Tuesday April 24 2018 11

Olympic coach for Northwood gymnast

Nicholas set

to raise the

bar in Portugal

• By Sophie Cornish

A 12 year old gymnast from

Northwood will recieve

coaching from Scott Hann,

mentor to five-time Olympic

medallist, Max Whitlock, in

Portugal.

Nicholas Del Ray has been

selected to attend the Anadia

International Gymnastics

Academy for a week-long camp

in May.

The camp is an academy for

coaches and two from Nicholas'

club, Olympia Gymnastic

Sports, will attend.

The St Andrew's College pupil

is one of eight athletes selected

to go along and participate, as

part of the coaching activities.

The other boys, Theo Nankivell,

Patrick Smith, Brody Hall,

Kennedy Payne, Ali Haque,

Thomas Chao and Nico Lavin all

range from ages 12-18.

Nicholas' mother, Brenda

Watson-Del Ray said she is

proud of her son for gaining the

opportunity.

"It will be an amazing adventure

for all the boys to train

with some of the top european

coaches and gymnasts."

Olympia Gymnastic Sports

general manager Kathryn said

TALENT: Nicholas Del Ray, of Northwood, will attend a gymnastics academy in Portugal with

Olympic-level coaches.

PHOTO: GRANT HARRIS PHOTOGRAPHY

the athletes and coaches will

work on skill development and

progression.

Nicholas' main events involved

aparatus, including the

floor, vault, rings, parallel bar,

high bar and pommel horse.

She said the selection is

"hugely inspirational."

"This is a developmental

opportunity that athletes from

New Zealand very rarely get to

attend."

Nicholas started gymnastics

at the age of five and trains for

six days a week for a total of 20

hours.

He also travelled to the United

Kingdom in 2017, to train at the

South Essex Gymnastics Club

and was trained by some of the

UK's top coaches and gymnasts,

said Ms Watson-Del Ray.

Nicholas recently finished first

at a gymnastics meet in Kansas

City with 63 other competitors

and third overall at a meet in

Houston, out of 173 athletes.

"He was in awe watching competitors

from all over the world

including the USA Mens Olympic

Team at these meets," said

Ms Watson-Del Ray.

SPORTS

Rangi hockey

squad win big

in Belgium

SIXTEEN HOCKEY players

from Rangi Ruru Girls' School

are currently touring Europe,

playing top teams in the United

Kingdom, Netherlands and

Belgium.

The squad has won four games

and lost three. On Sunday, they

played the Royal Antwerp under-19

team in Belgium, winning

10-1.

Director of sport Jo Fogarty

said after a massive fundraising

effort and a lot of hard work, the

group is thoroughly enjoying the

competition.

"Experiences like this are

key to extending our players'

horizons beyond New Zealand,

so they experience first-hand the

rigours of international competition.

After the match, we all came

together for dinner and a few

games with a bit of dancing to

finish off the night. The Belgian

girls were awesome hosts and

we were able to trade some of

our tops with their playing strip

which was very special," said

Fogarty. The squad will be in

London on Anzac Day and will

take part in official commemorations.

•More sport, page 13

JOIN US NOW!

See website for details

GET

EVERY

DAY

ESPRIT

Buy 2 Get 20% Off, Buy 3 Get 30% Off

(ends Sunday 29th April).

OVERLAND

Take an Extra 40% Off All Sale Items Ends Sunday 29th April.

CONVERSE

50% Off Every 2nd Item T&Cs & Exclusions Apply.

K&K FASHIONS

Buy 1 Get 1 Half Price (Discount Off the Lowest Marked Price).

BENDON OUTLET

Up To 80% Off Sale.

CLOTHES MAY DIFFER TO IMAGE SHOWN

ITALIA SPORTSWEAR

Selected items 50% Off the Original Price.

LAZEEZA JEWELLERY

50% Off the Regular Price of Cufflinks & Selected Men's Jewellery.

CUTLER & CO

Polo's, were $99.95, Now $49.95 or 2 for $80.

KESS HAIR AND BEAUTY

Fudge 1L Colour Freeze Shampoo + Conditioner $55 (RRP $98).

Sign up to Smart Deals & be in the monthly draw for a $100 Dress-Smart gift card!

Be one of the first to hear about the latest deals, sent straight to your inbox each week!

CHRISTCHURCH 409 Main South Road, Hornby

www.dress-smart.co.nz

Open 10am-5pm, 7 Days 03 349 5750
---
12 Tuesday April 24 2018

Latest Christchurch news at www.star.kiwi

NOR'WEST NEWS
---
NOR'WEST NEWS Latest Christchurch news at www.star.kiwi

Tuesday April 24 2018 13

• By Jacob Page

TWO PROMISING young

players from St Margaret's

College and Cobham

Intermediate have won Tennis

Canterbury awards.

Abby Mason (right), 14, was

named junior female player of

the year after she excelled in her

age group and beyond.

Cobham's Diego Quispe-Kim,

12, took home male junior player

of the year. Diego trains with his

father Juan 20 hours a week and

models his forehand and serve off

world No 1, Spaniard Rafa Nadal.

Diego is fresh off his national

12s singles victory at Wilding

Park in January. He is eager to

add the 14s, 16s and 18s titles in

the coming years.

Abby was the youngest

member of the St Margaret's

senior A team which won the

South Island championships and

made the semi-final at nationals.

She was part of the Elmwood

Tennis Club premier team which

won the Canterbury metro

competition and was runner-up

at the 14s national tournament.

Abby said her highlight

over the past season was

SPORTS

St Margaret's, Cobham

players take out top

junior tennis awards

being selected for the New

Zealand team which played

in the Australian nationals at

Melbourne's famed Rod Laver

Arena. Winning the Tennis

Canterbury award made her

reflect on her season.

"I remember looking up to the

older girls who won this award

and to win it is recognition of

how things have gone," she said.

Her father Rhett Mason was a

former junior Davis Cup player

and the pair play mixed doubles

competitions alongside each

other. "Dad was the one who

introduced me to the sport by

throwing balls at me when I was

two or three, so it's great to be

able to share his passion."

Medals, records for St Andrew's

student at swimming champs

ST ANDREW'S College

student Taiko Torepe-Ormsby

was the standout Swimming

Canterbury West Coast athlete

at the national age group

championships in Auckland.

Taiko, swimming for the

Wharenui club, won five gold

medals and set a new national

age group record in the 14-years

50m backstroke. Taiko shaved

0.46sec off Ross Dunwoody's

1996 record, finishing in a time

of 27.11sec.

He also broke six SCWC

records and is now the 14-yearold

age group champion in the

50m freestyle, 50m backstroke,

100m backstroke, and 50m and

100m butterfly.

He also won silver in the 100m

freestyle, and bronze in the

200m backstroke.

QE II club member Zeke Pine

claimed all three 16-year-old

age group champion backstroke

titles, winning gold in the 50m,

100m and 200m backstroke,

He won silver in the 100m

breaststroke and broke the

SCWC record on his way to

a bronze medal in the 200m

individual medley.

Waitaha club's Zach Knowles

came out firing on debut,

claiming the age group title in

the 13-year-old 100m freestyle.

Zach also came away with

silver medals in the 50m

backstroke and freestyle and

FAST: Taiko Torepe-Ormsby broke a 22-year-old New Zealand

age group record in the 50m backstroke.

PHOTO: BW MEDIA

200m freestyle, and bronze in

the 50m butterfly.

Aquagym's Louis Clark

claimed his first age group

title in the 16-year-old 1500m

freestyle. He followed that

up with a silver in the 200m

individual medley and 400m

freestyle. Clubmate Hannah

Bates won silver in the 200m

individual medley and 400m

individual medley, and bronze

in the 100m butterfly and 100m

freestyle.

Jasi club's Quinton Hurley

broke the SCWC record on his

way to a silver medal in the

1500m freestyle.

Other results:

Kaylee Jackson (QE II) –

silver in the 50m and 100m

breaststroke; Thomas Mac-

Gibbon (Wharenui) – silver in

the 50m backstroke; Lochlan

McKenzie (Vikings) – silver

in the 200m breaststroke;

Natasha Johnson (Aquagym)

– bronze in the 50m freestyle

and 50m butterfly; Bryn

Rumble (QE II) – bronze in the

100m backstroke; Zac Baker

(Wharenui) – bronze in the

200m butterfly; Ella Thyne

(Vikings) – bronze in the 50m

breaststroke; Arowa Wilson

(Wharenui), broke the SCWC

12-year-old age group record

for the 50m freestyle.

Six wayS SaunaS

beat spa pools

Ease aches and pains away with a Scandinavian

designed and crafted barrel sauna, the hot

new option with some great advantages.

1. Saunas only use power when in use.

2. Saunas aren't noisy.

3. Easier to keep clean with no need for chemicals.

4. Enjoyable in any weather, cocooned from

the elements.

5. Safer – no slippery steps, level floor, and easy to get

in and out of.

6. Lower maintenance because there's only one

working part, the heater.

canterburysaunas.co.nz
---
14 Tuesday April 24 2018

Latest Christchurch news at www.star.kiwi

NOR'WEST NEWS

LEST WE FORGET

ANZAC DAY

APRIL 25, 2018

SERvIcE INFORmaTION FOR cHRISTcHURcH:

Dawn service:

6.30am – Cranmer Square (the

parade starts at 6.15am)

Organised by the Canterbury Branch

of the Malaya Veterans Association

in conjunction with the Christchurch

Branch of the Royal New Zealand

Returned and Services Association

(RSA) and Christchurch City Council.

Mayor Lianne Dalziel will lay a wreath on

behalf of the citizens of Christchurch.

Christchurch Citizens'

Service:

Transitional Cathedral, Latimer

Square – 10am

Organised by Christchurch City Council

in conjunction with ChristChurch

Cathedral and the RSA.

SOCKBURN ROUNDABOUT

www.avoncityford.co.nz

Other Services:

Akaroa RSA Service, War Memorial (Area School gymnasium

if wet) ....................................................................................................11.30am

19th Battalion and Armoured Regiment Service,

The Memorial, Victoria Park, Victoria Park Rd, Cashmere .8am

20th Battalion Assn, Jane Deans Close, Riccarton ...............9am

Aranui, St Ambrose Church ............................................................. 11am

Burwood Community ANZAC Service, Burwood Monument,

corner of Lake Terrace and New Brighton Road .................. 11am

Cheviot RSA Service, meet at the War Memorial Cenotaph .....

10.30am

Cust RSA Service, Community Centre ......................................10am

Darfield RSA Service, meet at Trinity Church ...................8.45am

Dunsandel, War Memorial ...........................................................8.30am

Ellesmere RSA Service, Leeston Rugby Football Stadium .........

Winter 10am Heat Pump SpecialsSpringfield, Tawera Memorial Hall ................................................. 11am

Fendalton, St Barnabas Church ....................................................10am Springston, meet at Springston School .............................10.20am

Halswell Domain, War Memorial .....................................................9am Sumner, meet at Stoke Street and Esplanade ............... 10.40am

Harewood, Harewood School Cenotaph .................................... 7am Tai Tapu, War Memorial ......................................................................9am

Heathcote, corner Martindales and Bridle Path Roads . 6.15am Templeton, RSA War Memorial ...................................................... 11am

Hei Hei, War Memorial ..........................................................................9am University of Canterbury, Matiriki Quad ....................................10am

New Zealand's best low temperature

Hororata, St John's Church ............................................................... 11am

performance heat pump, guaranteed!

BROUGHT TO YOU BY THE FOLLOWING:

While ordinary heat pumps produce less heat below 7°C,

Poto

only Mitsubishi

Williams

Electric HyperCore ® Technology guarantees

its fully

mP

rated

for christchurch

capacity

East

right down to -15°C so you get

all the heat you paid for.

Save

$250

Save

$400

Kaiapoi RSA Service, Trouselot Park ..........................................10am

Lincoln, Event Centre ...........................................................................2pm

Little River, Community Hall.......................................................9.30am

Lyttelton RSA Service, meet corner London and Oxford

Streets ...................................................................................................9.45am

New Brighton RSA Service, War Memorial Cenotaph ......10am

Papanui, RSA Clubrooms .................................................................10am

Prebbleton, War Memorial .................................................................9am

Rakaia, The Mead Memorial Gates .................................................9am

Rakaia, Memorial Community Centre .................................10.30am

Rangiora, RSA War Memorial Cenotaph ..............................11.15am

Riccarton, Upper Riccarton War Memorial Library ........6.30am

Rolleston, New Community Hall .................................................... 11am

Sheffield, War Memorial ......................................................................8am

Wigram, Air Force Museum ........................................................12noon

the winemaker's wife

®

®

Smooth-Air

HIGH WALL HEAT PUMP

FH25 3.2kW Heat Pump

$2549.80

Installed BB.

Conditions apply.

FLOOR CONSOLE

KJ60 6.8kW Heat Pump

$4449.50

Installed BB.

Conditions apply.

QEII Collision Repairs

www.getitfixd.co.nz

Quietly Superior Heat Pumps

www.airconnz.co.nz

Unit 8/33 Watts Road,

Sockburn, Christchurch

L

03 343 4441

ouse

of

Tower Junction, Hornby, Marshland
---
NOR'WEST NEWS Latest Christchurch news at www.star.kiwi

Tuesday April 24 2018 15

Email julia.evans@starmedia.kiwi

by 5pm each Wednesday

JP Clinic

Tuesday, 10am-1pm

A justice of the peace will

be available to members of

the community to witness

signatures and documents,

certify document copies, hear

oaths, declarations, affidavits

or affirmations, as well as sign

citizenship, sponsorship or rates

rebates applications.

There is no charge for this

service.

Fendalton, Shirley and Papanui

libraries

GenConnect

Tuesday, 12.10-12.40pm

Connecting generations by

sharing knowledge. Do you

have questions about your iPad,

smart phone or tablet? Or maybe

you want to know how to use

Skype, Facebook, or share your

photos with family or friends?

Ask an expert. Papanui High

School students will be available

every Tuesday during term time

from 12.10-12.40pm to help

you find answers to all your

questions.

Papanui Library, 35 Langdons

Rd

Reading to Dogs

Tuesday, 3.30-4.30pm

These sessions have been

designed to provide a relaxed and

non-threatening atmosphere to

encourage children to practice

their reading skills and develop a

love of reading. This programme

uses dogs who are the pets of the

city council animal management

team and have been trained

and tested for health, safety

and temperament. Sessions are

15min. Phone 941 7923 to book

a spot.

Shirley Library, 36 Marshland

Rd

Bishopdale Bridge Club

Wednesday, 11am-2.30pm

Go along and join in with this

social group which meets every

Wednesday for a game or two of

bridge. Table fees are $5. Phone

Janet for more information on

352 1440.

Ōrauwhata: Bishopdale Library

and Community Centre, 13

Bishopdale Court

Knit 'n' Yarn

Thursday 2-3pm

Go along and enjoy a chat with

other as you knit. For anyone

who loves to knit or wants to

learn.

Fendalton Library, 4 Jeffreys Rd

Christchurch Women's

Toastmasters

Friday, 12.30-1.30pm

Want to advance your

'Always a Bridesmaid' is a comedic romp featuring four friends who have sworn to keep

the promise they made on the night of their senior prom: To be in each other's weddings,

no matter what. The play will be presented by the Elmwood Players as part of its 70 th

anniversary season. Directed by Sonya Cameron, the play will be showing at the Elmwood

Auditorium on Wednesday at 7.30-9.30pm. Tickets range from $18-$20.

career? Have the confidence

to speak up for issues you care

about? This friendly group of

women meet weekly to help

women succeed through developing

speaking and leadership

skills. Visit www.cwctoastmasters.org.nz

for more information.

St Pauls, behind in Tennis

Pavilion, 1 Harewood Rd

Card Club

Friday, 1.30-3.30pm

This weekly card club is on

every Friday, just go along and

join in the fun.

Shirley Library, 36 Marshland

Rd

Super Saturday Storytimes

Saturday, 11-11.45am

Encourage learning through a

love for stories and craft. Storytimes

is an interactive, free programme

which includes stories,

songs, rhymes and play.

Shirley Library, 36 Marshland

Rd

ALLO ALLO!

The famous TV series is

coming to the stage soon!

AUDITIONS

will be held shortly

Register your interest NOW! www.casnova.co.nz
---
2

16 Tuesday [Edition datE] April 24 2018

Latest Christchurch news at www.star.kiwi

HEALTH & BEAUTY

NOR'WEST NEWS

Confidence

returns with a

Lovebite smile

Dawn, from Pukekohe in Auckland,

couldn't be more pleased with her new

Lovebite dentures, made by internationally

renowned clinical dental technician,

Richard Greenlees, which have restored

the look of her natural smile, and given

her considerable confidence.

"When we started the process, Richard

asked me to bring in some photographs

of my natural teeth, and put a lot of time

into recreating the exact look. My new

dentures are so much better than the old

sets I've had over the last 17 years. I'm

very happy."

Dawn, who is previously from

Christchurch, flew down from Auckland

weekly over five weeks for consultations

with Richard, and found him to be a 'good

guy' to deal with.

"He is very accommodating and easy

going. It was also great to deal directly

He made my teeth look

so natural, real, and a

little bit aged, not like the

sparkly white dentures

everyone else has.

with the person making my dentures.

This was a much better process than with

previous dentures, where I had to pretty

much go with what I was given whether

I liked them or not. Richard was very

patient and is fussy with his work. He

made my teeth look so natural, real, and

a little bit aged, not like the sparkly white

dentures everyone else has."

Dawn says the return of her confidence

is one of the biggest pluses of her new

Lovebite dentures.

"Losing your teeth is not a nice thing

to go through, and can make you feel

like you've lost your personality. My new

dentures have recreated my natural look

and brought my confidence right back

into line."

Lovebite is located at 402 Montreal

St. Phone (03) 379 1222. Hours 9am-

5.30pm Monday - Friday.

True

Who thought

DENTURES

and false!

could look this

natural?

• Full dentures • Metal partial dentures

• First-time immediate dentures • Implant supported dentures

STUNNING: A beautiful new denture for

a young female patient

These stunning lovebite full upper and

lower dentures have been expertly crafted by

internationally-recognised dental technician

Richard Greenlees at his Christchurch studio.

The combination of Richard's skill, experience

(including 15 years in London's prestigious

Harley Street) knowledge and revolutionary

techniques allow him to create beautiful

bespoke false teeth that truly resemble those

in nature and reflect each patient's individuality

and unique character.

AGING GRACEFULLY: Natural teeth for

a gentleman patient in his 80's

402 Montreal Street

Christchurch | P. 379 1222

By appointment only.

Consultation fee applies.

HOLLYWOOD: It's all white for this

female patient in her 60's

lovebite.com

Richard will personally guide you through the entire process to create

teeth with small nuances in the fabrication, colour and shape. Your beautiful new

lovebite dentures will boost your confidence and make you look and feel year's younger!
---
NOR'WEST NEWS Latest Christchurch news at www.star.kiwi

Tuesday April 24 2018 17

REAL ESTATE

Space to exceed expectations

9 Cromdale Place, Wigram

4 bedrooms | 2 bathrooms | 2 toilets | 2 living rooms | 1 dining room | 1 office/study | 2 car-garage | 4 off-street parks | Listing #PI52927

This comfortable modern home (built 2006)

offers the convenience of a handy Wigram

location combined with an unexpected sense

of space. Set on a private rear section of 889

sqm, you'll enjoy a lovely expanse of northfacing

lawn and gardens. Zoned for Oaklands

School and Wigram Primary (relocating to

brand-new premises on The Runway at the

beginning of 2019), it's just five minutes to

Wigram supermarket and cafés, or 10 minutes

to Halswell, Riccarton or Lincoln Road.

Inside, a large and light-filled open-plan

living space flows to sunny outdoor living. An

island breakfast bar connects the sleek modern

kitchen, which includes a gas cooktop and

double dish-drawer. An adjoining separate

lounge is also generously proportioned, with

a slider opening to the terrace. Also enjoying

access to the garden, the master bedroom is

an inviting sun-filled retreat with en suite,

while three more bedrooms plus study or 5th

bedroom option share a second bathroom. A

double internal-access garage and lots of offstreet

parking add further convenience.

Easy to live in, this superb low-maintenance

home will exceed your expectations with

space, sun and privacy. Don't miss the

opportunity to make it yours.

Open Homes Saturday and Sunday 3:30pm

- 4:00pm.

To find out more contact Cameron

Bailey on 352 6166 or mobile 0275 557

079 of Harcourts Gold Papanui (Licensed

Agent REAA 2008) today and register your

interest.

Visit www.star.kiwi

anytime, anywhere!

Breaking news,

delivered to

your pocket.

Fire rages, homes at risk

•news •CTV •sport •districts •schools •lifestyle •opinion •what's on

www.star.kiwi
---
18

Latest Christchurch news at www.star.kiwi

Tuesday April 24 2018

NOR'WEST NEWS

Classifieds Contact us today Phone our local team 03 379 1100

Situations Vacant

ADVERTISING

ACCOUNT MANAGER

If your serious about selling and like to

achieve outstanding results, then you are

the person we are looking for!

We are looking for someone who has:

• Experience in selling B2B

• Proven success record of winning new

business

• Maintain and grow existing client base

• Listen and relate well to our clients to

provide the best solutions

We will offer you an excellent base salary as

well as a commission system with no cap.

You will be part of a successful team

selling our free newspapers, magazines

and digital solutions to our clients, which

are all experiencing strong growth in our

marketplace.

I am keen to hear from you, if you can

take me through your proven sales process

and deliver an intelligent sales solution to

customers.

It's an exciting and fun time to join our

media team.

You will get support and structure provided,

to ensure your success in our team.

Please send your application and CV via

email to Steve McCaughan

steve@starmedia.kiwi

Community Events

ALCOHOLICS

ANONYMOUS, If you

want to have a drink thats

your business. If you want

to stop, we can help. Phone

0800 229-6757

AVONHEAD ROTARY

CLUB. Charity

Garage & Car Boot

Sale, Saturday May 5th,

Burnside Bowling Club.

To donate goods or book a

stall @ $30 contact Denis

0274 864 787 or John

027 221 7313. Donated

goods can be dropped off

at the Bowling Club, 330

Avonhead Road, on Friday

4th May

Computers

ALL

YOUR

COMPUTER

WORRIES SOLVED!

*$30.00 off your first

service with this coupon!*

No problem too big or

small from home PC's to

business networks. PC

slow? An end to Viruses,

Spyware, and Clogged

Systems. Safe secure

hassle-free computing.

Lost files recovered.

Microsoft Certified,

MCSE, MCP+l. 30 years

experience. Call Andrew

Buxton this week on 326-

6740 or 027 435-7596

for $30.00 off* Custom

Computers Christchurch

Curtains

www.curtainfabric-outlet.com

Fashion Designs & Colours

Discontinued Designs

End of Lines Bargain Prices

Call at Our Shop

CURTAIN FABRIC OUTLET

71 Hawdon St Sydenham

Ph 366-5026

Holiday

Accommodation

QUEENSLAND SUN-

SHINE COAST AUSTRA-

LIA Resort, Ocean Views,

Balconies, Self Contained,

1 or 2 B/R Ensuite,

Heated Pool, Spa, Sauna,

Free Internet, Shops,

Restaurants, Tennis, Surf

Club & Patrolled Beach,

Public Transport at door.

Ask for our SEASONAL

SPECIALS. Phone 61 7

544-35011 Email: reception@mandolin.com.au

www.mandolin.com.au

Trades & Services Trades & Services Trades & Services

DRIVEWAYS

Exposed Aggregate

Stamped Concrete Plain

Concrete Resurfacing

Things we offer...

Competitive/affordable pricing

Attention to detail

Professional service

free quotes/insurance scopes

Cell 0278 145 848

www.drivecrete.co.nz

junk

EXTERIOR PLASTERING

Quality

Workmanship

at Competitive Pricing

Free Quotes

Aynsley Frewer

M: 027 201 1296

E: aynsleyfrewer@xtra.co.nz

PO Box 20534 Bishopdale

Why go to the Dump? Junkman comes to you!

Items too big for the rubbish bin?

Or too heavy for you to move?

Junkman comes to FROM

you & takes it away $

65 *

• Commercial Carpet Cleaning

• Residential Carpet Cleaning

• Upholstery Cleaning

• Stain & Odor Removal

• Tile & Grout Cleaning

NEED HELP

WITH YOUR

CARPET CLEAN?

Simply give us a call

on 021 035 8989

We will get the job done

in a professional way.

& Property Maintenance

Paving

Patio - Pathways - Driveways

Lawns and Gardens

Planting - Raised Vege Gardens

Readylawn - Irrigation - Fencing

General Maintenance

Water Blasting - Gutter Cleaning

Rental Property Maintenance

Section Clearing - Weed Spraying

20 Years Experience

Locally owned and operated

Free Quotes - Competitive Pricing

Blair Gibson 027 699 5815

Gardening

& Supplies

A GARDEN OR

LANDSCAPING TIDY

UP? Shrub, hedge &

tree pruning, Lawns,

Gardening, consistently

reliable general property

upkeep, Dip. Hort. 10

yrs experience, One off

tidy ups or on-going

service. Nick's Property

Maintenance. Keeping

your garden beautiful.

Free Quote. Ph. 942-4440

*Prices vary depending on items and volume – minimum charge $65

0800 586 5626

www.junkman.co.nz office@junkman.co.nz

Lawns, Gardens

& Home Cleaning

Real Estate

TOWNHOUSE

WANTED

House or Townhouse

wanted in Girls High/Boys

High zone. 3 bedrooms

two toilets/bathrooms.

Looking for my Mum to

move closer to us. Cash

buyer, up to 550k. Please

phone 021 372 479

9185885AA

Free Quotes

Professional, personalised

service. Regular &

one-offs. Fixed price.

Ph: 377-5814

For all your property and

cleaning requirements

Trained, insured & security

screened owner/operators

Multi-award winning

systems & Franchises

Franchises Available

www.fviphomeservices.co.nz

HOUSE

CLEARING

Are you

moving house

or trying to

downsize?

Call All Clear

Canterbury. We work

with you to recycle,

sell and dispose of

unwanted items.

Ph: 03 260 0934

or 021 078 4553

raewynlcooke@gmail.com

www.allclearcanterbury.co.nz

ROOF

PAINTING

Rope & harness

a speciality,

no scaffolding

required,

30 years of

breathtaking

experience.

FREE QUOTES

Exterior staining,

exterior painting,

moss and mould

treatment and

waterblasting

Phone Kevin

027 561 4629

ELECTRiCiAN

Registered, electrical

installation and repairs,

Gorbie Electrical, ph 021

026 73375 or 03 322 4209

pAiNTER AVAiLABLE

All aspects in painting.

Very competitive in roofs

and fences. Please call

027 241-7471 or 335-0265

pAiNTER

Quality work, I stand by

Canterbury Ph Wayne 03

385-4348 or 027 274 3541

pAiNTiNG

& Decorating Wingfields

Contracting, all interior

& exterior painting & all

forms of interior plastering

& jib fixing, ph Mark

021 171-1586 or 355-5994

PAINTER

Michael Kelly Painters

Locally owned and

operated family

business.

25+ years Experience

• Painting • Wallpapering

• Interior • Exterior

Free Quotes

Phone

Michael 0212 649 492

michaelkellypainter@hotmail.co.nz

plumber

The go to guys for

plumbing services

✓ Plumbing and Gas

✓ No job too big or small

✓ All areas covered

P: 03 595 5610 W: gofox.nz

E: info.ccp@gofox.nz

DIRTY

TILES &

GROUT?

Our unique restoration processes will make your

tiled areas look BRAND NEW again!

We provide cost effective makeovers for showers,

bathrooms, kitchens or any other tiled areas.

Tiled Shower Makeovers

Professional Tile & Grout Cleaning

Re-Colouring of existing Grout

Tile/Grout Sealing

Tile/Grout Repairs

Silicone Replacement

Garage Carpet Installation

For your FREE no obligation quote contact

DARRYL

0800 882 772

darryl.p@groutpro.co.nz

AAA HANDYMAN

STONEMASON

licensed carpenter pLASTERER

BRICK

&

LBP, all property and Gib Stopping, Small

BLOCKLAYER,

building maintenance, job specialty. 30 + years

Earthquake Repairs, Grind

repairs, bathroom/shower experience. Ring 0800

Out & Repoint, River/

installations, with free 387-369

Oamaru stone, Schist,

quotes 03 383 1927 or 027

Volcanic Rock, Paving,

245 5226 ciey@xtra.co.nz pLUMBER

all Alterations new & old,

AUTUMN TiDY Up ALF THORPE

Quality Workmanship,

Special. Nth/West Tidy PLUMBING Certifying

visit www.featureworks.

Ups. Ph Graeme 027 341- Plumber for all types of

co.nz or ph 027 601-3145

8596 / 342-5151

plumbing, maintenance,

spouting, alterations

BUiLDER

TiLER/CARpENTER

etc. Phone 352-7402 or

For all building work

35 years exp, no job

0274-350-231

but specialist in bathroom

too small. Ph Ross

renovations, 30 yrs

027 4311440.

SHOE REpAiRS

experience, with service

Belfast engraving.Shoe

and integrity. Free Quotes.

T.V. SERViCE CENTRE

repairs,key cutting &

Ph Lachlan 383-1723 or

Repairs, tvs, microwaves,

engraving.(10 yrs exp)

0274 367-067.

stereos, DVD. Aerial

683 Main North Rd ph installations and kitsets,

**************** 027 3113423

480 Moorhouse Ave,

CARpET & ViNYL

ph 03 379 1400

Laying. Repairs, uplifting, SpOUTiNG CLEANiNG

relaying, restretching, Spouting Unblocked, UpHOLSTERER

Email jflattery@xtra.co.nz Cleaned Out and Flushed Dining Chairs, Lounge

ph 0800 003 181 or Out. Also Full Handyman suites, Caravan Squabs

027 2407416

Services Available. Call etc. recovered. Free

CHiMNEY SWEEp Trevor 332 8949 or 021 Quotes. Phone Graeme

Txt 027 669 4681. $50 043 2034

383-1448

VHS ViDEO TApES

& all camera tapes

converted to DVD, video

taping special occasions,

www.grahamsvideo.co.nz

ph 03 338-1655

WiNDOW CLEANiNG

Average 3 bdrm house

inside or out $40. Both

$70. Phone Trevor

344-2170

Public Notices

STEDFAST BRASS

Looking for enthuastic,

funloving Brass &

Saxophone players

for our band. Contact:

kimblackmore1@yahoo.

com or rosebrian@xtra.

co.nz

Wanted To Buy

TOOLS Garden,

garage, woodworking,

mechanical, engineering,

sawbenches, lathes, cash

buyer, ph 355-2045
---
NOR'WEST NEWS Latest Christchurch news at www.star.kiwi

Tuesday April 24 2018 19

What's On

Entertainment

NO SUR CHARGE

ANZAC DAY

CLOSED FOR LUNCH

OPEN FOR DINNER

Bookings Essential

PH 386 0088

fb.com/GardenHotelRestaurant

www.gardenhotel.co.nz

To advertise, contact

Jo Fuller 027 458 8590

jo.fuller@starmedia.kiwi

'Famous for their roasts!'

RESTAURANT & CAFÉ

Cooked Breakfasts

Check out our extensive breakfast

menu from Continental to Cooked

We are open from 6.30am

Seniors SPECIAL

Two courses $20

Soup/Roast or

Roast/Dessert

Special available lunch only

Monday - Saturday 12pm - 2.30pm

$19

TREAT THE

FAMILY!

Kid's 2 course

special

School

Holidays

We are family

friendly.

Great Kids menu

plus designated

play area.

$13

The

RACECOURSE HOTEL

& Motorlodge

118 Racecourse Rd, Sockburn,

Christchurch. Ph 03 342 7150

www.racecoursehotel.co.nz

SERVING

HAPPY HOUR

5PM - 7PM DAILY

NO SUR CHARGE ANZAC DAY

OUR CABINET ITEMS

ARE HOMEMADE

CREATED FRESH ON SITE DAILY

$12

LUNCH

SPECIALS

Live Music:

6PM.SAT 28-APR

COFFEE

HAPPY

H O U R

2PM-4PM

DAILY

$3.50

Offer available for a limited time

and includes tea, hot chocolate

MON: ROAST MEAL

TUE: FISH & CHIPS

WED: FISH BURGER

THU: ROAST MEAL

SAT: FISH & CHIPS

AVAILABLE

FROM

11.30AM-2PM

FOR A

LIMITED TIME

PHONE 385 8880 FIND US ON FACEBOOK fb.com/GBCCHCH

THE GARDEN HOTEL COMPLEX | 110 MARSHLAND RD

www.gardenhotel.co.nz | phone 385 3132

What's On

TUESDAYS & THURSDAYS

MEMBERS LUCKY

CARD DRAW

LIVE MUSIC

WEDNESDAY ANZAC DAY

3PM-7PM

UNFINISHED

BUSINESS

UPSTAIRS

Dine by the Beach

PIERVIEW

RESTAURANT

Open from 5.30pm Friday, Saturday

and Sunday, and for Sunday Brunch

from 10.30am to 2pm.

BUFFET LUNCH

MONTH-END

SUNDAY NIGHT

BUFFET $25pp

Sunday 29th APRIL,

from 5.30pm

BOOK NOW!

SUNDAY 13th MAY

from 11.30am

Bookings essential on 388 9416.

$25 PP

Due to Mother's Day, the restaurant will not be open for our

regular Sunday Brunch, and will be open for normal a la carte

dinner on Sunday night.

CLUBBISTRO

DOWNSTAIRS

Open Tuesday to Saturday

12pm - 2pm & from 5pm.

202 Marine Pde | Ph 388 9416 | www.newbrightonclub.co.nz | Members, guests & affiliates welcome

H ORNBY

WORKINGMEN'S

CLUB

FAMILY FRIENDLY DINING

Club CAFE

OPEN DAILY

LUNCH & DINNER

GF & V options available

Chalmers Restaurant

CARVERY DINNER $22.50

EVERY FRIDAY & SATURDAY FROM 5.30PM

Early Bird Special

5.30pm - 6.30PM

FREE

DESSERT

Family Friendly

SUNDAY NIGHT BUFFET $27

EVERY SUNDAY FROM 5PM-8PM

PERFECT FOR SPECIAL OCCASIONS & FAMILY EVENTS!

PLAYING

THIS WEEKEND

FRIDAY 8PM

MADSEN PROMOTIONS

NEIL DIAMOND +

SUPERSTAR SHOW

TICKETS $20

SATURDAY

4.30PM: IAN MAC

8PM: THE C-BAY BAND

SUNDAY

2PM: DOWNSTAIRS

CARTER FAMILY

SINGING FOR

SURGERY

FUNDRAISER

$10 entry

2PM: UPSTAIRS

NEVILLE WILKINS

& THE VISCOUNTS

$7 entry

The Hornby Club | ph 03 349 9026 | 17 Carmen Rd | Hornby

www.hornbywmc.co.nz | Members, guests & affiliates welcome

HORNBY WORKING MENS CLUB

CARMEN RD, PH 03 349 9026

SATURDAY 12th MAY 2018, 7:30PM

PRE-SALE TICKETS $20. DOOR SALES $25

Members, guests & afliate members welcome
---
20 Tuesday April 24 2018

Latest Christchurch news at www.star.kiwi

NOR'WEST NEWS

302 Travis Road,

North New Brighton,

Christchurch

Phone: 03 388 5187

QEII Collision Repairs

SPRAY PAINTER &

PANEL BEATER REQUIRED

Minimum of 5 years trade qualified and must not be out of

trade longer that 1 year. Any I-Car course certificates is a

bonus. You will need to be reliable, self motivated and have the

ability to produce consistent quality repairs in a timely manner.

Possessing a positive attitude and the desire to work well

within a team environment would be winning qualities.

As a spray painter you must have worked with

Waterborne Paint System with a minimum of 1 year.

Applicants for this position should have NZ residency or a

valid NZ work visa. In special circumstances we may consider

helping with the application process to obtain working visa.

T&C apply.

Please email your Curriculum Vitae and application with

3 contactable referees to: qe2collisionrepairs@outlook.com

HIRING NOW

Mechanic

Wanted

REWARD

OFFERED

• Full Mechanical Repairs

• Full Auto Electrical Repairs

• Tyres • W.O.F.

• Wheel Alignments

91 Beach Road, North Beach, Christchurch. Phone: 03 383 2870.

Email: accountsbeachroad@xtra.co.nz