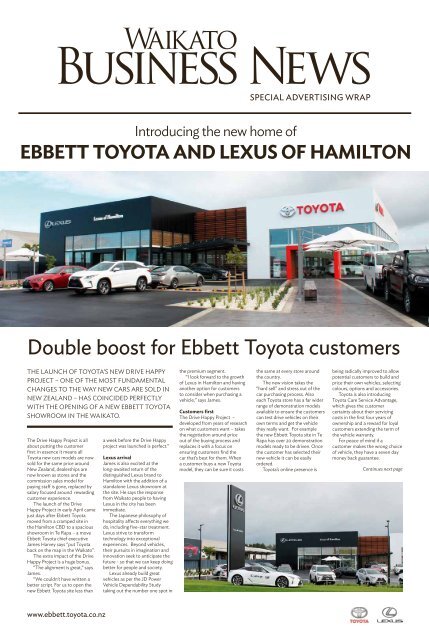 Waikato Business News April/May 2018
Waikato Business News has for a quarter of a century been the voice of the region's business community, a business community with a very real commitment to innovation and an ethos of co-operation.
Waikato Business News has for a quarter of a century been the voice of the region's business community, a business community with a very real commitment to innovation and an ethos of co-operation.
SHOW MORE
SHOW LESS
Create successful ePaper yourself
Turn your PDF publications into a flip-book with our unique Google optimized e-Paper software.
SPECIAL ADVERTISING WRAP

Introducing the new home of

EBBETT TOYOTA AND LEXUS OF HAMILTON

Double boost for Ebbett Toyota customers

THE LAUNCH OF TOYOTA'S NEW DRIVE HAPPY

PROJECT – ONE OF THE MOST FUNDAMENTAL

CHANGES TO THE WAY NEW CARS ARE SOLD IN

NEW ZEALAND – HAS COINCIDED PERFECTLY

WITH THE OPENING OF A NEW EBBETT TOYOTA

SHOWROOM IN THE WAIKATO.

The Drive Happy Project is all

about putting the customer

first: in essence it means all

Toyota new cars models are now

sold for the same price around

New Zealand, dealerships are

now known as stores and the

commission sales model for

paying staff is gone, replaced by

salary focused around rewarding

customer experience.

The launch of the Drive

Happy Project in early April came

just days after Ebbett Toyota

moved from a cramped site in

the Hamilton CBD to a spacious

showroom in Te Rapa – a move

Ebbett Toyota chief executive

James Harvey says "put Toyota

back on the map in the Waikato".

The extra impact of the Drive

Happy Project is a huge bonus.

"The alignment is great," says

James.

"We couldn't have written a

better script. For us to open the

new Ebbett Toyota site less than

a week before the Drive Happy

project was launched is perfect."

Lexus arrival

James is also excited at the

long-awaited return of the

distinguished Lexus brand to

Hamilton with the addition of a

standalone Lexus showroom at

the site. He says the response

from Waikato people to having

Lexus in the city has been

immediate.

The Japanese philosophy of

hospitality affects everything we

do, including five-star treatment.

Lexus strive to transform

technology into exceptional

experiences. Beyond vehicles,

their pursuits in imagination and

innovation seek to anticipate the

future - so that we can keep doing

better for people and society.

Lexus already build great

vehicles as per the JD Power

Vehicle Dependability Study

taking out the number one spot in

the premium segment.

"I look forward to the growth

of Lexus in Hamilton and having

another option for customers

to consider when purchasing a

vehicle," says James.

Customers first

The Drive Happy Project –

developed from years of research

on what customers want – takes

the negotiation around price

out of the buying process and

replaces it with a focus on

ensuring customers find the

car that's best for them. When

a customer buys a new Toyota

model, they can be sure it costs

the same at every store around

the country.

The new vision takes the

"hard sell" and stress out of the

car purchasing process. Also

each Toyota store has a far wider

range of demonstration models

available to ensure the customers

can test drive vehicles on their

own terms and get the vehicle

they really want. For example

the new Ebbett Toyota site in Te

Rapa has over 20 demonstration

models ready to be driven. Once

the customer has selected their

new vehicle it can be easily

ordered.

Toyota's online presence is

being radically improved to allow

potential customers to build and

price their own vehicles, selecting

colours, options and accessories.

Toyota is also introducing

Toyota Care Service Advantage,

which gives the customer

certainty about their servicing

costs in the first four years of

ownership and a reward for loyal

customers extending the term of

the vehicle warranty.

For peace of mind if a

customer makes the wrong choice

of vehicle, they have a seven day

money back guarantee.

Continues next page

www.ebbett.toyota.co.nz
---
SPECIAL ADVERTISING WRAP

From previous page

Successful move

The Drive Happy Project has been

welcomed around the country

but nowhere more so than in

Hamilton where the new vision is

being rolled out at the spacious

new eye catching store. Toyota's

move to the site at Kahu St, off

The Boulevard, in late March went

so well that staff were selling cars

throughout the shift.

"By the end of Friday which was

the move day, we had everything

that was customer facing set up on

the site so it looked as though we

were all organised even though out

the back it was still a bit of a mess.

And amongst all that we sold two

cars," says James.

"All of the team did an amazing

job getting here and setting up and

dealing with everything that was

chucked at them. Moving is always

a bit like that."

James says the terrific response

from customers was partly down

to Foster Construction who not

only completed the new store

ahead of schedule but also had

sealed the site and placed signage

up weeks before opening.

"From the outside the site

The team

looked like we were mostly open,"

says James.

"There are a lot of people

who come out this way anyway

and they all would have seen the

Ebbett Toyota signs."

Ebbett Toyota's new site within

view of The Base shopping centre

is nearly double the size of the

past site – 11,000 square metres

compared with 5700 square

metres – and also features a

streamlined customer experience,

an extended workshop, a fabulous

cafe and plenty of space for car

parking. There were 28 customer

car parks in the city site whereas

the new Ebbett Toyota site has

110.

James says architects Chow Hill

worked closely with him and put a

lot of time into the design and flow

of the building.

"We were trying to understand

what it is like for the customer

when they drive in," says James.

"Where do you park and how do

you find your way through the

building?"

"People in this day and age

are so busy so it's all about ease

of use and accessibility. The new

showroom provides a great flow

for customer experience."

When Toyota customers

drive in they look straight at the

main drop-off point. Every new

Toyota model sits on the front

yard available for customers

to test drive. The showroom

features three delivery bays and

the complex features an 18-bay

workshop including two "express

bays" which can throughput 25

vehicles a day each. The entire

complex including the workshop

is air conditioned and heated in

winter.

Customers will also notice a

different look and a warmer feel

to the Toyota showroom, moving

slightly away from the usual Toyota

Corporate Identity of white walls

and grey tiles. Chow Hill's design

has incorporated a touch of green

to the carpets and a warmer

looking colour of tiles.

James says Ebbett Toyota's

additions to the Corporate

Identity are now available to other

showrooms to introduce.

Drive Happy a great philosophy

James says he loves the philosophy

behind the Drive Happy Project.

"It's a really upfront, honest

and transparent approach. The

price is the price. No longer do

you have to worry about whether

your neighbour can buy a car for

a better price or is he a better

negotiator than me?

"If you have just bought a new

Hilux and you paid $54,000 for

it and you go to a barbecue and

your mate says he paid $52,000

at another dealer that annoys you

and you lose trust in that dealer.

Those days are gone."

James thinks not having to

haggle over the price suits both

the customer and the salesperson,

neither of whom enjoyed the

process.

"All the research says that

customers don't really enjoy the

negotiations. They don't like the

uncertainty.

"When you'd go through the

negotiation to a stage where the

customer was happy to buy the

car, that was often a horrible

experience for the customer but

also it wasn't a pleasant experience

for the salesperson or the

dealership. Now that experience

is gone and instead of worrying

about what the price is going to be,

Popular cafe

we can make sure we are helping

people into the right vehicle for

them."

"Now the customers can

make most of the decisions at

home. They already know what

the price is so there is no guess

work anymore. They are no longer

thinking 'the car is advertised for

$50,000, can I get it for $40,000

and make it fit my budget?'

"This process just takes price

out of the equation so we can both

go on a journey together to find

the right car."

James says the Drive Happy

Project is all about simplifying

life for customers, from being

able to view and test drive a wide

range, not having to haggle over

price, and enjoying certainty

about after sales service, and

evolving a sustainable business

for future customers, staff and the

community.

"We want our customers to be

able to come into our stores and

basically walk away knowing that

they've had a great choice and

there's been no hidden agenda."

JAMES HARVEY

Toyota, Lexus

CEO

PAUL FISHER

Used Vehicle Sales

Manager

NICO TOME

Workshop

Manager

ALISTAIR SILCOCK

Hamilton General

Manager

CINDY WARD

Finance and Insurance

Manager

COURTNEY

KEATING

Café Manager

ADAM JOHNSON

New Vehicle Sales

Manager

LOANA JENNER

Customer Life Cycle

Manager

LENNON SINGH

Lexus Brand

Manager

James is thrilled with the impact of

the café which employs two fulltime

barista's. The cafe is open to

the public and has already begun

to attract workers from businesses

in the area.

"Yesterday I was told that at

one stage there were only two

seats left in the café and we'd

thought 18 seats was going to

be easily enough. So that is very

promising."

James said it's also great to be

working with a customer and to

be able to offer them a real coffee.

The café uses organic beans from

Kokako Organic Coffee Roasters

and James says the alignment

with fair trade and a sustainable

business is a great fit for Toyota.

He wonders how Ebbett Toyota

managed before without a café.

"Often customers come in

with kids and who are unsettled

or hungry and if they are talking

about buying a car or how to

finance it, it's not much fun for

them if the kids are unsettled.

Now the kids can grab some food

and be entertained for a while. It

brings another dimension to the

store."

"Overall, the new store has

been great," says James.

"I've turned up to work with a

smile on my face every day."

James says he's enjoyed the

opportunity to refocus even

more of his attention on how the

customer should be treated.

"I've always been focused

on doing the best we can for a

customer and now with the new

store it's given me a chance to

actively be around, working with

the team and concentrating on

what it all looks like here for the

customer.

"This is all new for them, most

people are coming to the site for

the first time so I've been out

on the service lane welcoming

customers and guiding them into

car parks. It's also been really cool

to see members of our staff step

up into leadership roles."
---
APRIL/MAY 2018 VOLUME 26: ISSUE 4 WWW.WBN.CO.NZ FACEBOOK.COM/WAIKATOBUSINESSNEWS

There is still far from

universal acceptance

of the Victoria St site

from many Hamilton

residents who would

still prefer a rebuilt

or upgraded theatre

at the Founders

Theatre site.

Latest plans of how the new

Waikato Regional Theatre would

look from Victoria Street.

Theatre may bring

long awaited

footbridge

A long-awaited central city pedestrian

bridge could be a reality within just three

years alongside Hamilton's Waikato

Regional Theatre project.

By GEOFF TAYLOR

Momentum Waikato

which is leading the

$73 million theatre

project, has released new concept

designs for the theatre

complex following a round of

public submissions.

Momentum Waikato's new

chief executive Kelvyn Eglinton

has also suggested for the

first time that a walking and

cycling bridge could be built

"in tandem" with the theatre

which it plans to have constructed

by 2021.

Waikato Business News

understands there are some

Waikato organisations contemplating

raising funds for

the bridge, removing the need

for ratepayers to contribute.

However the bridge is still

a long way from being a certainty.

Some form of central city

pedestrian bridge has been

talked about for more than 20

years with former restaurateur

Brian Anderson proposing a

bridge similar to Florence's

Ponte Vecchio in 1993. In the

late 1990s to commemorate

the Year 2000, a group led by

former Hamilton Mayor Margaret

Evans proposed a bridge

as part of the Millennium

Esplanade in the Ferrybank

area.

A pedestrian bridge was

also proposed in 2014 as part

of Hamilton City Council's

Ferrybank plan.

The pedestrian bridge

wasn't highlighted as something

that would be part of

the original theatre project

construction, with the original

intent being that a bridge could

come later.

But that thinking appears to

have changed as other organisations

have shown interest in

getting involved.

Asked specifically about

the pedestrian bridge, Kelvyn

Eglinton said the success

An artist's impression of a possible pedestrian

and cycling bridge across to Memorial Park.

of the Perry Cycle Bridge at

Horotiu is evidence of how

central government is looking

for more pedestrian/cycleways.

"A number of different

groups – and I can't say who

they are – are looking at the

bridge's potential. That is

off the back of the theatre

plan where council and other

funders have come to the

table, some of the elements in

the Ferrybank Plan and Donny

Trust's generous $1 million

donation. It's a good example

of how three or four projects

time-lined in sequence can

bring a greater benefit."

He posed the bridge as a

part solution to public concerns

about a lack of parking at

the theatre's proposed location

at the old Hamilton Hotel.

Kelvyn says while parking

is a city-wide issue, there

are several hundred carparks

available within 400 metres

which are just a few minutes'

walk from the theatre. A count

of carparks shows a total of

2200 in buildings or streets

nearby. Disabled access will

obviously be accommodated,

he says.

The Ferrybank development

and potential for a walking

and cycle bridge from

Memorial Park, would also

increase access when leveraged

as projects in tandem

with the theatre, he says.

Continued on page 5

together with

Industrial Land available

for Design Build Lease &

Industrial Warehouses

for Lease

More information Pages 16 & 17

Theo de Leeuw 027 490 3248

Sean Stephens 027 478 1669

Aaron Donaldson 027 755 7522

naiharcourts.co.nz | P 07 850 5252 | Cnr Victoria & London Streets, Hamilton

Monarch Commercial Limited MREINZ

Licensed Agent REAA 2008
---
2 WAIKATO BUSINESS NEWS April/May 2018

EXECUTIVE

INNOVATION BOOTCAMP

The Waikato Innovation Park has partnered with the

University of Waikato to deliver a seven part programme

to drive growth and innovation in your organisation.

Join local innovators, like-minds from the region and thought leaders to re-inject an innovative mindset into your

organisation. You'll walk away with a practical roadmap to guide innovation efforts that can re-invigorate business growth.

Come along to our introductory bootcamp – at no charge – to find out your innovation score.

Session 1 – What is your 'Innovation Score'? With Callaghan Innovation

Thanks to Callaghan Innovation, workshop attendees will complete a comprehensive "Test of Innovation"

and start to explore current business and industry positions as a springboard for future innovation.

Date:

Venue:

Investment:

3 May 2018, 12.30 – 5pm

Waikato Innovation Park, Ruakura

FREE * , but you must register for this workshop at execed.ac.nz/innovation

*Investment for the full bootcamp programme is $4,990* incl GST

Make every day an adventure

Colorado Trailblazer

From only 6 months old and

$45,990

great buying see us today only

From only 6 months old and low kms this Trailblazer is the 7-seater

with everything you need for the great family adventures. Shift on

the Save

fly, 4wd or 2wd means you are always on

ready

Save thousands on Barina, for any conditions

Trax, Captiva like lane departure

and and

warning,

Trailblazer forward collision alert, rear

vehicles

cross traffic

and with satellite navigation you will always know where you are

going. You have 3 tons of pulling power and 500Nm of torque.

The comfort of leather seats with heated front seats, 8'' touch

screen with apple car play and remote start. Stacked with features

alert, Blind spot alert, rain sensing wipers. Great looking with 18''

Alloys side steps and front fog lamps.

204-208 204-208 Anglesea Anglesea Street Street Hamilton Hamilton | | P. | P. 07 P. 07 0800 07 282 282 0987 280 0987 888

www.ebbettholdenhamilton.co.nz

J5547P
---
WAIKATO BUSINESS NEWS April/May 2018

3

Momentum grows fund for wider role

Leading transformational projects such as

the Waikato Regional Theatre is just one

of Momentum Waikato's major objectives,

according to new chief executive Kelvyn

Eglinton.

By GEOFF TAYLOR

Kelvyn says Momentum

Waikato's even more

important role is to

grow its Endowment Fund to

$25 million by 2020 at which

point the Foundation will

begin a grants system giving

Parkhaven

takes shape

Hamilton first purpose-built multi-use

apartment building is taking shape

before thousands of curious eyes as

motorists drive past it daily on Tristram St.

The five-storey Parkhaven building will

house a cafe and retail on the ground floor,

and office space and 21 apartments above.

The building opposite Founders Theatre and

close to Seddon Park is due for completion in

December. The $14.5 million development

by BCD Group meshes with a Hamilton City

Council plan to make the area north of London

Street high density. Mixed-use development

is starting to gain traction in cities like

Auckland and Tauranga and Parkhaven now

brings the concept to Hamilton.

(Full story, page 28)

away between $1.5 million and

$2 million a year. That money

is likely to go to two or three

major causes a year rather than

many smaller grants as other

Waikato philanthropic trusts

do.

Kelvyn says Momentum's

aim is to create transformational

change through

large "one-off hits" to causes

it identifies will bring big

returns to the community. The

causes will be those that are

best placed to effect change

on Waikato's aspirations and

issues as identified through

the evidence based Vital Signs

report prepared in 2016.

Momentum Foundation's

endowment fund currently sits

at about $14 million.

Kelvyn says more Waikato

people are getting involved in

philanthropy through Momentum,

either through bequests

to a certain cause or a straight

donation into the Endowment

Fund.

"We are seeing a huge

increase in philanthropic

bequests. People are realising

that they've done well out

of living in Waikato and they

want to give back.

"We have fantastic generous

organisations and people in

Waikato who have made huge

contributions but there's just as

much opportunity for everyday

people to become involved in

philanthropy. If enough people

give $10 out of their pay every

month collectively we make a

big difference."

Meanwhile, Kelvyn says

Momentum's role in supporting

regional projects is based

around how one investment

from Momentum can leverage

investment from other partners

to do something greater.

"The regional theatre is

an example as it leveraged

off Hamilton City Council's

Ferrybank Plan and the

River Plan. The discussion at

Momentum was 'so how do

we leverage those plans and

the need to build a theatre

along with the determination

to transform the CBD?'

"If the council makes an

investment as it has with the

theatre, we can add to it but at

no more cost to the ratepayers

and the outcome for the city

is truly transformational - it

happens faster and at a greater

level than would otherwise

happen."

The new theatre at the former

Hamilton Hotel site on

Victoria St is now proposed to

be complemented with a boutique

hotel, a public art gallery,

retail space and a walking

and cycling bridge across to

Momentum Waikato chief executive Kelvyn Eglinton.

Memorial Park.

"That's the bit that people

miss when they focus on just

the theatre," says Kelvyn.

"From Momentum's perspective

the theatre is the catalyst

to do a whole lot of other

things, a series of projects

which when all linked up gives

a greater benefit."

When buying or selling a business in the Waikato

Talk to the people who get results.

Jono Kennedy

021 045 3871

Otago

Greg Dunn

027 293 0377

Tony Begbie

029 200 6515

Scott Laurence

027 473 5425

Graeme Finch

027 495 3413

Craig Paul

021 786 496

Being in business for yourself is one of the most

exciting and rewarding things that you can do. It can

be challenging, it can be tough, but the satisfaction of

running and building a successful business is immense.

So if you're wanting to sell a business you've

built up over time, or want to buy an independent

future for you and your family, we're the people to

talk to...and we are based right here in Hamilton.

ABC Business Sales Waikato | Your Trusted Advisors

AUCKLAND WAIKATO BAY OF PLENTY ROTORUA - TAUPO HAWKES BAY MANAWATU WELLINGTON CANTERBURY OTAGO

We'll Take You There.

www.businessesforsale.co.nz

Licensed REAA 2008
---
4 WAIKATO BUSINESS NEWS April/May 2018

Chamber

celebrates Operatic

Society's shows

Hot on the heels of the sell-out season of Les Miserables

and the magical Mary Poppins, Hamilton Operatic Society

is preparing to set the stage alight in 2018 with Sister Act

and My Fair Lady.

On April 10, Waikato Chamber of Commerce held a Ba5 at

the Clarence St Theatre to give guests a sneak preview of

the upcoming shows.

Low housing

stocks help sellers

Low stocks means Hamilton's residential

housing market is shifting in favour of

sellers, according to some of the city's real

estate firms.

By GEOFF TAYLOR

Lodge Real Estate's managing

director Jeremy

O'Rourke says Real

Estate Institute of NZ statistics

show March was a very

strong month for home sales

in Hamilton with 344 homes

sold in Hamilton, compared

with just 291 in February and

336 in March 2017.

"However, home listings

have not kept up with those

sales. On March 1, there were

792 homes available for sale

in Hamilton and on April 1

the number listed was still

the same at 793. This supply-demand

imbalance means

the power has shifted slightly

toward sellers in the Hamilton

market," says Jeremy.

Ray White agent Mark

Keesom agrees supply is low.

"We are seeing that sales

are exceeding the listings

coming in at the moment."

Mark says first home buyers

are definitely still out in

force and notes a lot of Auckland

buyers looking for houses

beneath $500,000.

"That $400 to $500 thousand

price band is running hot

at the moment."

Real Estate Institute of NZ

(REINZ) figures show Hamilton's

median home price

increased during March to

$535,000 which compares

with $522,000 in February

and $540,750 in March 2017.

Lugton Real Estate director

Simon Lugton says April was

in a bit of a "lull" but things

normally pick up in May.

"There are probably just

under 800 houses on the

market in Hamilton at the

moment and that's about 10

weeks' supply which is not a

huge amount to choose from.

Simon says a "constrained

market" is normally good for

sellers because with more

competition buyers have to act

decisively.

Harcourts managing director

Brian King says housing

stock is lower than at the same

time last year with lifestyle

listings noticeably down.

He says he is noticing

strong demand from buyers

both for first homes and at the

top of the market.

"Investors have definitely

left the market and that's

giving some comfort to first

home buyers who are getting

a chance to have a good look

around and then buy," he says.

Brian is confident the market

is still in good shape.

"I don't see any reason for

it to stop. There's a lot of confidence

still out there."

Lodge Real Estae managing

director Jeremy O'Rourke.

Ray White agent

Mark Keesom.

Harcourts managing

director Brian King.

Waikato Chamber of Commerce

Business Floor, Wintec House

Cnr Nisbet and Anglesea Street, HAMILTON

07 839 5895 | help@waikatochamber.co.nz

www.waikatochamber.co.nz

CBD cafe relaunches

as tapas bar

Hamilton foodies and

inner-city workers

have a new place

to wine and dine with the

relaunch of Prof's on Alexandra

recent;ly.

The Alexandra St eatery,

a short work from Garden

Place, is owned and run by

well-known Waikato foodies,

Kate and Allan Wilson, who

are also behind the successful

café, Prof's at Woodlands in

Gordonton.

Prof's on Alexandra has

recently been awarded an

on-licence and is changing its

focus to a café/restaurant serving

tapas, fine wine and funky

cocktails.

"It's in the heart of the

Hamilton's central business

district, and we want to be

part of revitalising the CBD,"

says Kate Wilson, co-owner

of Prof's on Alexandra. "We

will be serving small plates

of food, ideal for sharing, and

have many unique and delicious

items on both our food

and drinks menus."

Kate says she hopes "Alex

will become a place that businesspeople

will be proud to

take clients for coffee or a light

meal, for friends and co-workers

to meet-up after-work or

inner-city dwellers to grab a

bite before the movies".

Those on the run can still

take away coffee, muffins,

slices and salads.

The café/restaurant will

initially be open weekdays,

for daytime and early evening

dining and drinks, from 10am

until 7pm.

"We have something for

everyone," says Kate. "Allan

and I have spent a lot of time

creating a range of delicious

taste sensations and flavours

we hope people will enjoy."

Crowd pleasers include

chicken parmigiana nibbles

with sriracha mayo and ciabatta

bombs, which are particularly

moreish, says Kate.

"We've taste-tasted the lot,

and can't wait to share the

menu with Hamilton foodies

and business people."

Also on the menu is black

pudding served on rye with red

cabbage sauerkraut. "You have

to try it, the colour and flavour

combinations are fantastic,"

says Kate.

Alex's speciality cocktails

will include a range of infused

spirits created by the Wilsons,

including chilli vodka,

kaffir lime gin and a spiced

rum. They also have their own

range of Prof's branded products,

including dukkha, chilli

jam and preserved lemons,

some of which will also appear

on platters.

Kate's food legacy goes

back many years. In 2007 she

wrote and published a book

called Platter Chatter, on the

art of creating the plates of

food to share, and with a range

of delicious recipes she and

Allan developed in their home

kitchen in Hamilton.

Kate has served as a board

member of Waikato Food

Inc., a non-profit group which

works to develop and promote

the Waikato food and beverage

industry, and has appeared as

a contestant on TVNZ's MasterChef.

An on-site deli will also sell

some menu items, so people

can take home quality cheeses

(including vegan cheeses) and

condiments to make platters at

home.

The Wilsons hope that their

location near Garden Place will

appeal to tourists, inner-city

residents and businesspeople,

and bring another great eatery

to Hamilton's foodie scene.

A catering arm is part of

the business growth plan, says

Kate. "As the café takes off we

plan to offer platters for meetings,

functions and events in

the CBD."
---
WAIKATO BUSINESS NEWS April/May 2018

5

Latest plans of how the new

Waikato Regional Theatre would

look from Victoria Street.

Theatre may bring long awaited footbridge

From page 1

Draft council plans put up

before a recent briefing portray

a pedestrian bridge (pictured)

adjacent to the Waikato

Museum although an exact

location has yet to be decided.

Momentum Waikato's

new theatre design comes as

a result of a huge public submission

process on the initial

designs released last year by

theatre consultants Charcoalblue.

Hamilton City Council

and other Waikato councils

will consider funding for the

theatre project in their Long

Term Plan debates in June.

There is still far from universal

acceptance of the Victoria

St site from many Hamilton

residents who would prefer a

rebuilt or upgraded theatre at

the Founders Theatre site.

Kelvyn says the submission

process for the theatre revealed

a lot of support for the project,

but also flushed out worries

about the size of the theatre

auditorium.

"We were really pleased

with the feedback we received

from all around the Waikato

region and from user groups.

We have listened to that feedback

and we've increased the

seat numbers in the theatre

from 1100 to 1300 on the back

of this."

Many submitters were also

concerned about accessibility

at the river-facing theatre

which will have dual access

from Embassy Park (home of

the Riff-Raff statue) on one

side and Sapper Moore-Jones

Place (formerly Marlborough

Place) on the other. Equipment

vehicles will use the Sapper

Moore-Jones Place access.

"Charcoalblue has worked

with the National Symphony

Orchestra, taken their largest

truck and mapped out turning

circles and the parameters

they'll work within when they

use the new theatre."

The Waikato Regional Theatre

project has been costed

at $73 million, including a

20 percent contingency. He

says the required geotechnical

work has been done on the riverbank

site and shows the land

is appropriate and safe for the

theatre building foundations.

Funding of $30 million for

the theatre is planned to come

from local councils, Trust

Waikato has committed $15

million, $16 million will be

sought from central government,

sponsorship or Lotteries

funding, and the balance is

expected to come from generous

families and organisations

in the Waikato region.

In 2016, Hamilton City

Council agreed in principle

to spend up to $30 million

towards a theatre, and Momentum

Waikato commissioned

Charcoalblue to run the process.

Kelvyn says residents in the

Waikato region will get excellent

value for their councils'

contributions.

"For Hamilton City Council's

$25 million contribution,

the people of Hamilton will be

getting a world-class theatre

that puts us firmly on the culture

map. Momentum Waikato

is capping the cost to ratepayers

in the region at $30 million

and we are carrying any risk

on this project."

The design of the new theatre

has shared public spaces,

a public art gallery and retail

space, and also a lifestyle

hotel. The areas to be shared

between the theatre and the

privately developed lifestyle

art hotel will allow for cost

savings and provide shared

spaces for meetings, conferences

and events.

The cost of incorporating

the hotel, gallery and retail

spaces are not included in the

Momentum Waikato recommendation,

as these will be

developed privately, but the

sharing of these facilities is

expected to provide many synergies

and economies of scale.

Kelvyn says calculations

show it will not be cheaper

to build anywhere else. "The

shared costings with the proposed

hotel mean we have

been able to keep costs for the

theatre lower while still delivering

what will be an international-level

theatre."

The hotel would restore the

original façade and some internal

elements of the old Hamilton

Hotel, which is recognised

as a heritage building.

The next phase of the project

is the "preliminary design"

which gives greater visibility

of and confidence in technical

and budget requirements. This

is due in September, followed

by the "detailed design and

documentation" phase in February

2019 and calling for tenders

in March 2019. The new

Waikato Regional Theatre has

a planned opening date of June

2021.

(See Monthly Poll page 8)

Should the Waikato Regional

Theatre be based by the

Waikato River or at the Founders

Theatre site?

Note for readers: Geoff Taylor

is also a Hamilton city councillor.

Mayors say medical

school a 'no-brainer'

Two Waikato mayors say

a proposal for a Waikato

medical school will be

a "game-changer" for smaller

Waikato towns and the government

must support it.

The proposal to build

a Hamilton-based medical

school has come from the

University of Waikato and the

Waikato District Health Board

and would bolster the number

of GPs working in rural

and provincial centres. Many

Waikato towns are reliant on

short-term, overseas-trained

doctors or have GPs heading

towards retirement age with

no replacements in sight.

Otorohonga district mayor

Max Baxter said in terms of

regional economic development,

the medical school proposal

was a "total no-brainer".

He wants the government to

get behind it for the sake of

regional New Zealand.

"This government says

they're all about regional economic

development so let's

South Waikato mayor

Jenny Shattock.

Otorohanga mayor

Max Baxter.

see what they can do," he said.

"Anyone who lifts their

head out of the sand knows

how challenging it is for

smaller towns to get GPs and

what the knock-on effects of

that are, both socially and economically.

It means we can't

attract other health professionals

even though we have highhealth

needs."

"The way Otago and Auckland

train doctors has left

small rural communities like

mine in the lurch and this is a

chance to do something about

it."

South Waikato District

mayor Jenny Shattock agreed

saying South Waikato struggled

to attract long-term GPs.

She said local doctors were

already over-stretched and

their books were full.

"To have a medical school

in Waikato that has rural health

needs as its primary focus will

be of huge benefit to South

Waikato and rural communities.

Good, local health services

are one of the important

things people look for when

they are looking to relocate."

Both rural mayors are

backed by Hamilton mayor

Andrew King who said the

initiative would take the pressure

off Hamilton-based hospital

services which are buckling

under growing regional

demand. He said "without

exception" all community

leaders he spoke to supported

the medical school proposal.

"Yes, there would be benefits

to the city but I think the

greatest benefit will be in the

wider social and economic

health of our region."

In April last year, the

Waikato Mayoral Forum

which includes all the region's

mayors and regional council

chair, resolved to unanimously

support the proposal, asking

the government to approve it

"with urgency".
---
6 WAIKATO BUSINESS NEWS April/May 2018

From the editor

This month we focus on

an exciting, yet controversial

project – the

Waikato Regional Theatre

in Victoria St, Hamilton.

Momentum Waikato which

is running the project has

released its latest concept plans

for the theatre/boutique complex

which it hopes to open in

2021.

The possibility of a walking

and cycling bridge has been

brought forward in the calculations,

a development which

will excite many Hamiltonians

who have followed various

incarnations of a footbridge in

the central city over the last 20

years. At last it may be a possibility

– and without ratepayers

having to contribute.

The main thrust of the story

is how the role of an apolitical

community foundation like

Momentum Waikato can act

as a multiplier for a project by

leveraging funding from other

sources and in the process, add

on inter-related projects: Projects

such as a hotel, an art gallery,

retail space and a walking

and cycle bridge.

There is still no guarantee

for the theatre project.

Momentum Waikato's latest

plan addresses issues such as

parking and whether the size

of the complex is sufficient but

there are still many Hamiltonians

convinced that re-building

on the Founders Theatre site is

a better option. The Founders

has a special place in Hamilton

hearts and Momentum

Waikato still has work to do to

sell the riverside location.

Meanwhile, an exciting

project already underway and

attracting attention is construction

of Parkhaven in Tristram

Street, touted as the city's

first purpose-built mixed use

apartment building. We tell the

story of Hamilton engineering

and planning firm BCD Group

who in developing Parkhaven

is keen to do its bit for urban

design and embrace the vison

of revitalising the CBD.

On a sad note we acknowledge

the imminent departure

of Waikato Chamber of Commerce

chief executive William

During who after four

energetic, passionate years

in the job has announced his

resignation. He will leave the

organisation once a successor

is found. The chamber,

the business community and

wider community will miss

William's unique effervescent

style.

Geoff Taylor

Editor

MONTHLY POLL

Vote and win

Sponsored by the Helm

Bar and Kitchen

This month's poll

Momentum Waikato has released latest plans for its Waikato Regional

Theatre by the riverside in Hamilton. The proposed complex which is

attracting a significant amount of philanthropic funding along with $30 million

required from Waikato councils will also incorporate a privately-owned

and run boutique hotel, a small art gallery and retail space, while a pedestrian

and cycle bridge may be built nearby. Despite the new plan some Waikato

residents would rather see a new theatre built on the Founders Theatre site.

What do you think?

Vote on the WBN website (www.wbn.co.nz) and fill in the entry form to be

in to win a meal voucher for two at The Helm Bar & Kitchen. Voting closes

Monday April 28.

Last month's results

Should Hamilton City Council become

involved in helping a new hotel get started?

Hamilton badly needs two top hotels according to tourism experts but that

doesn't make it Hamilton City Council's business. That's according to last

month's poll which showed that 62 percent of readers don't want to see

the council get involved in trying to bring more hotels to Hamilton. Thirtytwo

percent supported some involvement but the result is a pretty clear

indication that ratepayers' money shouldn't be risked on such a venture.

38%

62%

42%

62%

Should the Waikato Regional

Theatre be based by the river or

at the Founders Theatre site?

A. The river site

B. The Founders Theatre site

Cast your vote at:

www.wbn.co.nz

WINNER OF THE HELM DINNER VOUCHER IS:

Nick McConnell

Yes

No

The importance of taking Action

Taking action. It's one of the simplest keys

to success in both business and life. When

we take action, we make the choice to try

and achieve our goals. Action takes an

idea, and turns it into a reality.

A

couple that decided to

take action and turn their

idea into a reality are

Dave and Louise Clay.

They had an idea to raise

Run for the kids

Lions Clubs supported the ride

in their local towns, friends

They and fellow say that riders the joined early him bird offers something for everyone, from

on gets the road the during worm, the and tour. in the the Half Marathon, shorter 10km

Takeaway: It takes a team

money for True Colours working case of towards the Direct a common Group and 5km options which you can run

Children's Health Trust

Uniforms Hamilton Half

goal to achieve success. Don't

or walk and do as an individual or

Run for the kids

through a cycle tour. Marathon, try and all do early it all birds on your that own. register

in before the 30th April will receive Commando Challenge. There are a This year the event will be True Colours as part of the event.

as part of a team, along with a Kids or choice of distance.

set up so entrants can fundraise for

Their actions resulted

over $22,000 raised for this Get buy-in They say that the early bird offers something for everyone, from

a discount entry to this year's event. range of training programs available

of the on Direct the Direct Group Group and 5km Uniforms Health Trust. True Colours is a amazing holiday for 2 to Australia's

supporting True Colours Children's

100 percent community funded

organisation and highlight-

There many is plenty local of businesses time to start that case

The ride was supported by gets the worm, and in the the Half Marathon, shorter 10km

options which you can run

ed some key elements training that helped for the in different event which ways. is held Uniforms Hamilton Hamilton Half Half Marathon or walk website and do to as an individual Waikato or charity that supports Sunshine Coast valued at $4000.

businesses or individuals can Craigs Investment Partners, Marathon, all early birds that register

before the 30th April will receive Commando Challenge. There are a This year the event will be

as part of a team, along with a Kids or choice of distance.

set up so entrants can fundraise for

at Flagstaff Park and takes place help participants prepare for the seriously ill children and their True Colours is 100% community

True Colours as part of the event.

apply to help them achieve and Cleland Hancox Limited

on Sunday 8th October. The event

families through

success.

sponsored bike shirts, Tordoff a discount entry to this year's event. range of training programs available

on the Direct Group based Uniforms therapies, Health education Trust. True Colours and is a $450,000 amazing a holiday year for to 2 run to Australia's its service.

supporting counselling, True Colours child-

Children's funded and needs to raise around

There is plenty of time to start

Auto Services sponsored

training for the event which is held Hamilton Half Marathon Sunshine Coast valued at $4000.

Set a Goal

pens for raising funds, Prolife

nursing. website to Waikato charity that supports

To register for the event visit

at Flagstaff Park and takes place help participants prepare for the seriously ill children and their True Colours is 100% community

Dave set a goal of raising Foods, Kaimai Cycles, and

True Colours

on Sunday 8th October. The event

families CEO through and counselling, Nurse childbased

therapies, Ward education is excited and $450,000 a year to run its service.

www.hamiltonhalfmarathon.org.nz.

funded and needs raise around

$5000. This gave them something

tangible to work towards. supported the cause.

nursing.

To register for the event visit

Morrinsville Lions Club all

Specialist Cynthia

As the fundraising progressed,

he realised that goal that they all bought into the

Hamilton event.

The common element was

to be aligned to such an iconic Colours at www.truecolours.org.nz

True Colours CEO and Nurse www.hamiltonhalfmarathon.org.nz.

Specialist

"It

Cynthia

is a great

Ward is excited

was too low, it then moved fundraiser and wanted to help.

family event, to and be aligned we are to such looking an iconic Colours at www.truecolours.org.nz

to $10,000, $15,000 and then Takeaway: Get people on

forward to being Hamilton involved event. "It in is a the great

$20,000. The ride ended up your side, tell them your story,

family event, and we are looking

raising over $22,000.

get them believing in what you

day. The kids we support face so

forward to being involved in the

Takeaway: Don't be afraid are trying to achieve.

many incredibly day. The hard kids challenges

we support face so

to set big goals, you don't

every day with many such incredibly bravery hard challenges

know what you can achieve Celebrate your success

every day with such bravery

and determination. This event

with positive action.

Dave's 10 day cycle tour

and determination. This event

ended with a shared lunch and

will also challenge will also challenge many and many and

Have a good team dinner out with family, friends

we would love we would entrants love entrants to set to set

around you

and sponsors. The whole team

themselves a challenge to RUN

themselves a challenge to RUN

While Dave did the hard yards celebrated the tour and felt part

FOR THE KIDS and help raise Proudly supported by

on the bike, he had a team of its success.

FOR THE KIDS funds and for True help Colours." raise Proudly Waikato supported Business Newsby

around him helping realise Takeaway: Don't be afraid to

funds for True A Colours."

Give A Little Page has been Waikato and INSPO-Fitness Business Journal News

the goal.

celebrate your success, to share

A Give A Little Page has been and INSPO-Fitness Journal

Wife Louise did the planning

and organising, local that helped you get

it with others. Thank the people

there.
---
WAIKATO BUSINESS NEWS April/May 2018

Collaboration with clients keeps company on track

Software specialist works with clients,

rather than for clients.

7

Company-X teams up

with clients to deliver

award winning software.

"We include clients so that

they are involved in decisions

as we go along," says professional

services manager

Michael Hamid.

"We break the work down

in to two-week chunks so that

it is easy to measure progress

and change focus or direction

relatively easy and quickly."

Before works begins on

the software solution, directors

David Hallett and Jeremy

Hughes discover the problem

by meeting with the client.

Then Michael and a project

manager assemble a team

including subject matter

experts, solution architects,

business analysts, developers

and testers.

The team dives deep into

the problem to ascertain how

much effort the solution will

require to develop.

Then it is time to begin

work.

The first two-week chunk

of work might involve graphical

designs of how the software

solution will work and

operate.

"We want to ensure that the

client is involved as much as

possible about the functionality,"

Michael says.

"We attempt to get to anything

that we think is risky

or unknown as soon as possible.

We embrace the fail fast

philosophy which looks to

identify and expose potential

problems early."

Jeremy remembers an

incomplete software development

project that Company-X

inherited. All the easy work

had been done by other software

developers first and there

was little to show the client.

"We said we would not

continue on that path and

wanted to work on the dashboard

screen that someone was

going to use," Jeremy says.

We resist the idea

of just getting the

job done. If you do it

properly the first time

you save yourself a

lot of extra work later

on. We have our eyes

on the big picture at

Company-X.

"We came in and turned

that around. Within a month

the client could see what they

were dealing with."

Most projects start with

Company-X designers mocking

up wireframes of how the

Company-X analyst developer Ryan O'Connor works on software after a team meeting with a client.

solution could look. "We don't

necessarily jump into hacking

code together," Jeremy says.

"We then have a blueprint

of how to go forward,"

Michael adds.

Company-X prefers to form

software development teams

that include members from the

client's organisation.

"We like projects where

the client is brought inside the

team," Jeremy says.

"We want somebody that

we can work with who really

knows what they want,"

Michael adds.

"We want someone who

can take five-minute phones

calls. It can sometimes take

15 to 20 minutes a day with a

longer discussion at the end of

every second week."

Jeremy says such discussions

are vital for the process.

"If you are laying a train

track and each track you lay

is three degrees out after 30

tracks have been laid you are

90 degrees off your original

target. It's a very expensive

process to re-lay a track which

is now pointing 90 degrees

off course. These conversations

make sure we are bang

on track."

The software development

team, with the client front and

centre, is focussed on delivering

a sustainable and maintainable

software solution.

"We resist the idea of

just getting the job done,"

Michael says. "If you do it

properly the first time you save

yourself a lot of extra work

later on. We have our eyes on

the big picture at Company-X."
---
8 WAIKATO BUSINESS NEWS April/May 2018

Conversations

with Mike Neale

Mike Neale -

Managing Director, NAI Harcourts Hamilton

Recently I was invited by the Waikato

Branch of the Property Council

of New Zealand to present at the

Market Outlook 2018 event held at Sky

City. My fears were not allayed after a

restless night's sleep prior, as it turned out

to be a well-attended event.

The key note speaker was BNZ chief

economist Tony Alexander who largely

confirmed our generally positive sentiment

for the year ahead. He did make the wonderful

comment that there was no bad news

on the horizon or imminent risks, until it

happens and then it will have been quite

obvious (in hindsight). This reinforced

what the commercial and industrial property

sector appears to be seeing in the greater

Hamilton area.

Hamilton city has seen a number of

relatively recent 'Game Changers", which

have come together on a broad scale to provide

growth, confidence and opportunity

to the residential, commercial and government

related sectors. These include:

• Industrial land - 5 years ago it was

purported that we had 20 years of industrial

land supply to be released, but

in actual fact demand in this sector has

been far beyond exceptions, with potentially

less than a 5 year supply remaining.

• Development south of the city -

Previously the majority of the residential

and industrial development

has been north of the city, but with the

proposed opening of Peacockes, take

up of land at Titanium Park and the development

of Tainui Group Holdings's

Inland Port in Ruakura, this is providing

much needed balance to the growth

of the city.

• City Living Precinct in the CBD - The

new Hamilton City Council Operative

District Plan has allowed for the

intensive development of residential

developments through the demolition

of poor performing commercial properties,

to be replaced by (in general)

quality purpose built residential complexes,

that have all of the CBD amenities

on their door step.

This is evidenced by developers such

as CBD Developments on Vialou Street,

Anglesea Street and one under construction

on the corner of Vialou and Rostrevor

Streets, Cornerstone Developments on

Tisdall Street and a proposed development

on Clarence Street, plus the new Parkhaven

apartment complex on Tristram Street

opposite the Founders Theatre. There are

a number of other smaller developments

that have also taken place.

• Continuing trend and demand for refurbishment

or demolition of older

buildings to better and higher uses -

Mike Neale - Managing Director,

NAI Harcourts Hamilton.

A very recent example is the former

Waikato Mowers & Cycles store at

900 Victoria Street, being repurposed

into high quality office and showroom

space, incorporating Sharp and Bruce

Sparrow Accounts as tenants.

• Major Roading / Transport Projects

- It's probably very fortunate with a

new government in place, that many of

these projects are already under way.

This includes the Hamilton Ring Road,

Huntly Bypass, proposed Fast Rail

Link to Auckland etc.

Where is Hamilton heading?

There has always been talk of the Golden

Triangle, but it would be fair to say that

Hamilton has traditionally been the poor

performing cousin in this relationship. The

tides are certainly turning and we are now

starting to experience our day in the sun.

In fact I would go so far as to say, that you

would not want to be anywhere else at the

moment.

Increased migration, both from overseas

and from within New Zealand, especially

Auckland, has seen over 4,000 people

a year now moving to Hamilton. The

attraction to Hamilton reflects a lifestyle

change, housing affordability, a place to

bring up young families and lack of road

rage causing traffic congestion.

It will only be in the years ahead that

we look back at the scale of the continued

capital investment we currently have, with

the development and redevelopment across

all areas of the economy - residential, commercial,

industrial, local government and

central government – and fully appreciate

what has happened. We are extremely fortunate

with what we have seen over the last

few years, to see a lot of good people and

businesses doing good things and many

more now wanting to be a part of where we

are going – so, full steam ahead.

WHERE SUCCESS DOES HAVE AN ADDRESS

NEXT AUCTION DATE : 31st May 2018

Thinking of selling or leasing your commercial or industrial property?

NAI Harcourts would welcome the opportunity on a no obligation basis to discuss

confidentially what you would like to achieve through the leasing or sale of your

commercial property.

INTRODUCING 3 NEW AGENTS

Due to the buoyant real estate market, NAI Harcourts have 3 new agents to assist

our existing team - catering for the growing client and customer needs:

Aaron Donaldson Te Rapa 027 755 7522

Brad Martin Frankton 027 889 3018

Lynn Lee Suburban 021 083 25007

NAI Harcourts Hamilton

Monarch Commercial Ltd MREINZ Licensed

Agent REAA 2008

Cnr Victoria & London Streets, HAMILTON

07 850 5252 | hamilton@naiharcourts.co.nz

www.naiharcourts.co.nz

Durning leaves

Chamber on a high

William Durning has

decided to move

on as the chief

executive of the

Chamber after four

years in the job.

William joined the

Chamber in October

2014 following

the board's decision to focus

on a path of revitalisation

and change. He will leave the

Chamber once a new chief

executive has been appointed.

Recruitment is underway and is

expected to be completed over

the coming months.

Waikato Chamber of Commerce

chairman Terry Wilson

said: "When we appointed

William we agreed on a two

to three-year tenure and we are

pleased that we have been able

to hold him for a little bit longer.

William leaves the Chamber

in great shape following a

strong period of refocusing and

connecting with our business

community. William's passion,

professionalism and dedication

continues as he works with us

in transitioning in a new chief

executive. "

William said it had been a

Outgoing Waikato Chamber of Commerce

chief executive William Durning.

privilege and a pleasure to lead

the Chamber's transformation

and it now has a strong platform

ready for the next significant

stage of growth.

"I particularly want to

acknowledge the efforts of my

dynamic team, the growth that

the Chamber has seen is a direct

result of their engagement and

focus on the people that make

up our business community."

He aha te mea nui o te ao?

He Tāngata, He Tāngata, He

Tāngata.

What is the most important

thing in the world? It is people,

it is people, it is people."

Hamilton East gets first

Special Housing Area

Hamilton's first Special

Housing Area has

received the green light

from the Government.

A Jebson Place development

by Housing New Zealand

and Waikato Tainui is planned

to bring 80 homes to the currently

vacant site in Hamilton

East.

Special Housing Areas are

a way to bring housing to the

market more quickly, through

an accelerated resource consenting

process once they are

gazetted. They are areas of

land in the city (including sites

not currently zoned for housing)

that can be put forward for

housing development by landowners

or developers for consideration

by the Council.

Hamilton Mayor Andrew

King is looking forward to seeing

the plans come to life.

"The Government's support

is critical for helping us

deliver more homes and this is

a great first step. This project

will bring more social housing

as part of the Housing NZ

scheme which is exactly what

we need," says Mayor King.

"Special Housing Areas are

an important tool for the city

to bring more housing to the

market."

The Jebson Pl development

will now be able to apply for

their resource consent under

the new fast-track system

available only to Special Housing

Areas.

The council meets on May

10 to consider a number of new

SHA proposals for presentation

to government.

Defining Special Housing

Areas (through the policy) is a

way for Council to deliver on

its commitments for increased

housing supply and affordability

outlined in the Housing

Accord.

Hamilton City Council

and the Government signed a

Housing Accord in December

2016 as a way to increase housing

supply and improve housing

affordability in Hamilton.

Troublesome intersection

becomes roundabout

The busy Queens Ave

and Killarney Rd intersection

will be replaced

with a roundabout, following

community feedback from

people seeking a simpler road

layout.

Work will start at the end

of April to replace the current

intersection layout with

a small roundabout which

is expected to reduce driver

confusion, while maintaining

safety benefits.

The current intersection

layout was installed in 2015

to address road safety issues

following a number of crashes

in which people were injured.

Under the existing layout

there have been no injury

crashes at the busy intersection

which is used by around

14,500 vehicles a day.

Hamilton City Council

City transportation network

operations manager Robyn

Denton says the council has

listened to feedback about

driver confusion with the

existing layout.

"We've received ongoing

community feedback both

negative and positive, but on

balance comments around

driver confusion, particularly

around who has 'right of

way', supports our decision to

upgrade the intersection to a

small roundabout.

"Single lane roundabouts

are generally low speed and

low conflict so we expect the

current road safety benefits to

continue. However because

the new roundabout is a small

single lane roundabout road

users can't expect to see any

improvement in traffic flow."

The new roundabout

is expected to cost around

$400,000 and construction

is expected to take four

weeks. Traffic will be managed

closely while the work

is done, and road users are

encouraged to use other routes

during construction, or expect

some delays.

Once complete, road users

are encouraged to continue

using Queens Ave when travelling

to and from the central

city, rather than Lake Domain

Dr which is unsuitable for

large volumes of traffic.
---
WAIKATO BUSINESS NEWS April/May 2018

9

Employers should prepare for law changes

As the Labour government moves towards

its proposed changes to the Employment

Relations Act, employers will need to adjust

their sails to keep on course.

Submissions closed on

March 30 and in April

numerous parties were

given the ability to speak in

front of the Education and

Workforce Select Committee

which is considering the Government's,

Employment Relations

Amendment Bill.

Depending on who you listen

to, the proposed changes

will restore power to workers

or disrupt business and damage

important industries such as

tourism.

Irrespective of the outcomes

that will eventually

become public during this year,

employers will need to make

changes to their business to be

compliant. What is the likely

change that might impact your

business?

1. Trial Periods – signals suggest

that there will be some

capping of who can use the

trial period in future – businesses

with less than 20 staff

or potentially even less than

50 staff. Whatever the number

in the end you may want

to take this opportunity to

review your hiring practices.

Rather than using the

trial period to make hasty

hiring decisions – consider

training all your recruiting

leaders on best practice

techniques. Yes, there is a

talent shortage but at the

end of the day it's better to

hire the right person every

single time – trial period or

not. Upskilling your decision-makers

on the best way

to attract and retain the right

people for your team will

always pay off in the end.

You don't need a full HR

department to hire the best

people, you just need great

skills in the team you have.

2. Union Memberships and

Relationships – love 'em

or loathe them, proposed

changes under the Act will

require a more collaborative

approach with Unions.

From a hiring perspective,

if you have a collective

employment agreement

in place, you will need to

roll-back your previous

administration processes to

bring new staff on board.

Among other things this

will mean offering the collective

agreement for the

first 30 days of employment

– whether they are a union

member or not. Our view

has always been to build a

mutual relationship of trust

with Unions – so rather than

immediately thinking combative,

perhaps this ERA

Amendment is an opportunity

to refresh your thinking?

3. Rest and Meal Breaks –

should the changes proceed,

the amendment will

look towards employers to

reinstate set rest and meals

breaks (with some limited

exceptions). Many of our

clients tell us they haven't

made many changes

to how they allow staff to

rest and recover in break

times so it's likely this

change may not require a

lot of energy. However, if

you are an employer who

requires complete flexibility

and planning rest and meals

breaks is difficult – start

thinking now how you can

work with your employees

to make appropriate

accommodations in the day.

Try not to think of rest and

meal break as an interruption

to productivity – but

opportunities for your staff

to breathe, rest and become

more productive. From a

wellbeing point of view, it's

very difficult for any human

being to work tirelessly

without good breaks during

the day.

Lastly, our advice through

any change in legislation that

impacts on your business is

the same. Legislation is the

minimum you are required

to abide by as an employer in

PEOPLE AND CULTURE

> BY SENGA ALLEN

Managing Director, Everest – All about people TM

www.everestpeople.co.nz

New Zealand. But here's the

trick – ask yourself "what is the

culture that I truly want to create

in my business?" What will

make employees want to come

and work for you? What sort of

business climate will engage

and retain a great team? High

Braemar Hospital

taking good care of you

performing teams and businesses

don't just happen by

chance and they certainly don't

happen by the enforcement of

legislation. It requires a deeper

connection with your employees

and a vision of what looks

great in your business.

Engineering conference

comes to Hamilton

Engineering is one of

Waikato's most robust

industries so it's apt that

the region's two largest education

providers have joined

forces to host the Australasian

Association for Engineering

Education's (AAEE) annual

conference in December this

year.

Wintec and the University

of Waikato will host AAEE's

29th annual conference from

December 9 to 12. This is the

first time the conference has

been held in Waikato.

Team manager for Wintec's

Centre for Engineering

and Industrial Design (CEID)

and AAEE executive committee

member, Dr Trudy Harris

is thrilled that the joint bid to

host the conference in Hamilton

was successful.

"It's really exciting to bring

this international conference

to New Zealand and Hamilton.

It is an important arena

to share teaching practice and

research in engineering education

within Australasia. The

changes we make today in our

teaching will ultimately produce

the engineering graduates

of the future."

The conference will be

attended by around 250 engineering

educators from universities,

institutes of technology,

Industry training organisations,

industry, engineering professional

bodies and secondary

schools from throughout New

Zealand and Australia.

The conference theme is

'Future Engineer: Accounting

for Diversity' and the association

is now welcoming conference

submissions from those

interested in presenting at the

conference.

The closing date for abstract

submissions is 5pm on Friday,

May 4.

Conference presentations

and workshops will focus on

teaching methods, theory,

philosophy and application;

student, academic and industry

needs; cultural perspectives;

and current issues such

as catering to diverse needs

and preparing students for the

workplace.

Wintec will begin the conference

with registration and

a traditional Māori welcome

at its Rotokauri campus on

December 9.

•

•

•

•

•

Ask for Braemar

J7018P

Waikato Branch – Upcoming events/courses

At the Institute of Directors

we're on the pulse of governance.

Connecting, equipping and

inspiring directors through thought

leadership and our extensive

network, professional governance

courses, events and resources.

8 May and 29 May 2018 CPD: 2 points

Emerging Director Award Dinner Series

5.00pm - 7.00pm, Gothenburg Restaurant

For more information, please contact Megan Beveridge

16 May 2018 CPD: 2 points

Governance in a private investment context

Speaker: Peter Tinholt, Oriens Capital

12.00pm - 2.00pm, FMG Stadium Waikato

To register, please contact:

Megan Beveridge,

Branch Manager

Waikato.branch@iod.org.nz,

021 358772 or www.iod.org.nz

Waikato branch is kindly sponsored by:
---
10 WAIKATO BUSINESS NEWS April/May 2018

Let's put the respect back into disagreement

Some of the best things in business – and

life – can come out of an ethos of curiosity,

questioning and disagreement. You can't

have progress, innovation or positive

change if you're not willing to challenge

conventional thinking and stir up the

occasional healthy debate.

What doesn't work is

when you couple

disagreement with

disrespect. And don't we see a

lot of that lately?

Trump is modelling this

communication style for all

the world to see. But you don't

have to turn on Fox News to

experience the phenomenon.

Go onto a community Facebook

page and it won't take

long to find an example.

I think we – as a society in

general – have lost the art of

disagreement. So many people

can't seem to agree to disagree,

have a respectful exchange

and walk away friends. And

it really goes pear-shaped

when debate goes online and

becomes impersonal.

I say, let's put respect back

into disagreement and dispose

of disrespect: #disthedis.

But – wait - why is a PR

consultant talking about the

art of disagreement? Because

it's at the heart of so much of

our work, particularly when it

comes to helping clients navigate

tricky issues.

And while my human nature

wants to shout a loud, "What

the?" when irrational, disrespectful

comments are hurled,

I'm mandated to do the oppo-

site. I've signed up to the PR

Institute of NZ's Code of Ethics

which states that I will "respect

the rights of others to have their

say." And my advice to clients

helps them to live this out.

So, where do we start? How

do you respectfully agree to

disagree, especially when you

are fervently opposed to someone's

views? Here are seven

communications courtesies to

remember:

- Use your ears more than

your lips. It's a 2:1 organ

ratio for a reason - use them

twice as much.

- Ask yourself if you'd kiss

your mum with that mouth.

If you wouldn't say it to her,

find better words.

- Can your partner or kids

hear your keyboard keys

from the other room (as

smoke drifts upward out of

your ears)? You might want

to walk away and cool down

before you hit the send button.

- Is your incongruous reply

targeting the person or the

viewpoint? Resist the temptation

to call someone an

idiot (or imply it). In the

words of Thumper, "If you

can't say something nice,

say nothing at all."

- Acknowledge before you

blurt. This is a great technique

that takes the sting

out of a retort: "That's a

different point of view, and

perhaps another angle to

consider might be..."

- Remember EQ is more

important than IQ. Just

because you know a lot

about a subject, doesn't

mean you've earned a pass

on politeness.

Celebrate difference. Thank

goodness there are people in

this world who have completely

different views from

you. It makes life interesting.

PR AND COMMUNICATIONS

> BY HEATHER CLAYCOMB

Heather Claycomb is director of HMC Communications, a

Hamilton-based, award-winning public relations agencys.

So, remember, #disthedis.

Welcome debate. Enjoy some

robust repartee. And all the

while, be mindful to communicate

in a way that keeps respect

at the forefront.

Another milestone for Snapshot

One of Hamilton CBD's most successful

ventures, Snapshot, celebrated 90 years in

business with a function on April 13.

The specialist camera

store has been supplying

amateur and professional

photographers in Waikato

since 1928 and has been in the

Boswell family since 1946.

Hamilton West MP Tim Macindoe

and former Mayor of

Hamilton, Margaret Evans

celebrated the milestone along

with Graham and Jill Boswell

and son Sam, family members,

current and former staff, customers

and supporters and cut a

ribbon to open the shop's new

Museum of Photography.

Snapshot supporters at the 90th birthday event.

Hamilton West MP Tim Macindoe and former Hamilton Mayor

Margaret Evans open the new Museum of Photography. Snapshot co-owner Graham Boswell. Hamilton West MP Tim Macindoe.
---
WAIKATO BUSINESS NEWS April/May 2018

11

Nobody clicks on banner ads

… or so I thought

THE DIGITAL WORLD

> BY JOSH MOORE

Josh Moore is the managing director at digital marketing agency,

Duoplus. josh@duoplus.nz www.duoplus.nz

The internet is full of advertising. If you're

reading the latest news online, there are

adverts. Reading a tech blog? Adverts.

Cooking dinner while following an online

recipe? More adverts.

Showing advertising is

how many free websites

and apps earn their revenue.

Banner ads - also known

as "image ads" or "display

ads" - come in all shapes and

sizes. But there was one thing I

used to believe about them that

was completely wrong: They

weren't effective.

"Nobody actually clicks on

banner ads," I thought.

If you'd asked me a couple

of years ago if display ads

were useful, I would have said

something like: "Display ads

are good for reminding people

of your brand, but you're

unlikely to get leads from

them." But data proved me

wrong.

Would you believe me if I

told you that display ads could

actually be the most efficient

source of leads you might be

overlooking?

Now, I'm a big fan of search

ads in AdWords. They are

incredibly targeted because

they enable us to text show ads

to people based on their exact

search phrase.

But display ads are different.

Display ads don't appear in

search engine results. Instead

they are the image-based ads

that show on millions of other

sites and mobile apps, including

news sites, blog sites,

forums, and thousands of apps.

This means that people seeing

the ads aren't in search mode -

instead they're in reading mode

or entertainment mode, and

your display advert sits alongside

that content.

This contributes to "banner

blindness" - a phrase that

refers to our mind automatically

ignoring banner ads.

The result is that display ads

have a far lower rate of being

clicked (Click Through Rate)

than search ads, and leads to

the impression that "Nobody

clicks on banner ads".

But a lower click through

rate doesn't mean these ads

can't be effective. Alongside a

lower click through rate, display

ads also have a very low

cost per click, meaning you

can get far more clicks to your

website for the same cost when

compared with search ads.

One electrician client we work

with has an average cost per

click of $3.25 on search ads,

but just $0.12 on display ads!

To help combat "banner

blindness", instead of showing

ads to random people

we implement remarketing.

Remarketing means ads are

shown specifically to people

who have previously been on

your website. And thanks to

something called the Baader-Meinhof

Phenomenon this

decreases banner blindness.

The Baader-Meinhof Phenomenon

is best explained like

this: Have you ever found that

after purchasing something

- maybe a new car - you start

seeing that model of car everywhere?

Those cars have always

been there, but you haven't

been aware of them before.

Your subconscious mind filtered

out that information.

However, because you have

recently been interested in that

model of car, your mind now

recognises that as a piece of

information to be consciously

aware of, so you start to see

those cars everywhere. That's

the Baader-Meinhof Phenomenon

and it's what makes remarketing

so powerful.

For people who have previously

been on your site, your

ad is going to trigger familiarity

and they're far more likely

to notice it on the page. As they

see you ads over time, this will

help them be more likely to

remember your business and

also more likely to click the ad.

But do these cheap ad clicks

actually turn into inquiries?

The short answer is "Yes",

however it's important to

understand the numbers. Just

like display ads have very low

click through rates, they also

have low conversion rates -

which is measured by people

either phoning or filling in an

inquiry form after clicking an

ad. With the electrician example

above, some of the highest

performing keywords had conversion

rates of 18 percent and

even 23 percent. Whereas the

display ads had a conversion

rate of just 0.81 percent. But

that's not actually the important

part. The most important

part is how much it costs per

conversion from the display

ads. With such cheap ad clicks

each inquiry from the display

ads only cost $14.66 on average,

which was very nearly the

same cost per conversion as

the best performing keyword

that had a 23 percent conversion

rate.

What's more, for this client,

nearly 30 percent of all

their leads come from the display

ad campaigns. So the data

proved me wrong. People may

not click on display ads very

often, but display ads can still

produce exceptionally good

results, bringing in real leads

at a low cost.
---
12 WAIKATO BUSINESS NEWS April/May 2018

Five conditions to include in your

Sale and Purchase Agreement

In the scheme of things, buying and selling

property is relatively easy in New Zealand.

Offers are made, negotiated and accepted.

Done deal!

Well…almost, there

are a few key things

to bear in mind when entering

into a sale and purchase agreement

for property.

Elsewhere in the world,

property chains can be found

where the sale of one house is

dependent on the sale and purchase

of another up the line.

All it takes is for one deal

to fall through and yours is in

jeopardy.

I estimate that 95 percent

of all Sale and Purchase

Agreements I receive have

been signed before myself

or another lawyer having the

opportunity to review them.

This means people are

signing a legal document, that

has significant legal clauses

and obligations for all parties

involved, before it has been

reviewed by a legal professional.

Top 5 special conditions

to include in your Sale and

Purchase Agreement

If you're in the market to buy

or sell a property – or both

– there are some important

things to note about your sale

and purchase agreement.

I've outlined them here.

But please take heed and,

before signing on any dotted

line, seek the advice and

review of a property lawyer.

Solicitor approval clause:

Within these agreements, there

is often a Solicitor Approval

clause, but a word of warning

about this. A solicitor's

approval clause cannot be

relied on to cancel an agreement

without proper (legal)

justification and, of course, is

highly dependent on how well

it is worded. A poorly drafted

solicitor approval clause may

leave little options to cancel

the agreement should my client(s)

wish to do so.

Conditional Sale and Purchase

Agreements: Before

signing on the dotted line, you

must ensure your Sale and

ASK A LAWYER

> BY KARIN THOMAS

Karin Thomas, runs her own practice, Karin Thomas Lawyer.

Contact Karin at karin@karinthomas.co.nz or 07 974 4808,

or visit www.karinthomas.co.nz

Purchase Agreement accurately

reflects both the vendor

and the purchaser's intentions

relating to the sale and/or purchase

of property. This means

all intentions have been adequately

captured in the drafting

of conditions being relied

upon in the Agreement for sale

and purchase of Real Estate.

What is crucial is the particular

wording of the particular

clause. It must be interpreted in

the context of the relevant sale

and purchase agreement. And

as we all know, not all wording

is equal.

Finance: Another trap for

young players is agreements

that are dependent on the purchaser

obtaining finance. This

obligation is not to be taken

lightly. Approaching one

lending institution and being

rejected is not considered to

be taking the reasonable necessary

steps to obtain finance.

Building report: It is also very

usual for Sale and Purchase

Agreements to be conditional

upon the purchaser obtaining a

suitable building report. This

should be done by a registered

builder. A brief inspection by

a builder mate with or without

any written report will not be

sufficient to cancel the agreement

should the purchaser not

like what their building mate

has conveyed to them.

Due diligence clauses: Due

diligence clauses are a minefield

for vendors. They tend

to give an unfettered right to

potential purchasers to cancel

or avoid a sale and purchase

agreement. This is usually

because the clause is written

in favour of the purchaser.

Phrases in a due diligence

clause, such as "entirely to its

satisfaction" usually refers to

the purchaser's satisfaction.

These can be very hard to rebut

should the purchaser subsequently

chose to cancel the

agreement.

Sandra Braithwaite

Partner

Harkness Henry is pleased to announce that Sandra Braithwaite

has been appointed as a partner of the firm.

Sandra has expertise in commercial contracts, business

transactions and structures, business financing, residential

property, commercial property, trusts, wills and estate planning.

Sandra holds a first class honours degree in law. She previously

practiced as a chartered accountant for eighteen years,

specialising in tax consultancy, before joining Harkness Henry in

2004.

She is a trustee and Treasurer of True Colours Children's Health

Trust, a trustee of the Clarence Street Theatre Trust and is the

honorary solicitor for the Hamilton Operatic Society.

New record for

Cambridge pedestrian

numbers

Cambridge came alive on

Autumn Festival Carnival

Sunday, cracking

the record for foot traffic in the

main street.

Held on April 15, the Festival

saw almost 5000 people

traversing town – wandering

in to see the street entertainers,

music and dance of local performers

and to visit the open

shops.

Autumn Festival Trustee

Alana MacKay said they were

delighted with the turnout.

"We are thrilled that so

many people from Cambridge,

and further afield, came to

enjoy the Carnival Day in our

beautiful and talented town,"

she said.

Autumn Festival Trustee

David McCathie said the carnival

now has support from

beyond the region.

"This year we welcomed

more from outside Cambridge,

predominantly from Hamilton,

Auckland, Tauranga

and Rotorua. The Cambridge

Autumn Festival was promoted

in the NZ Herald as an

event to attend and with large

coverage from our local papers

we are confident this assisted

such an influx."

With the pedestrian count

being recorded by a digital

counter in central Victoria

Street, the previous record

was held by Friday, December

22, 2017 – a big day of bustle

before Christmas, and also a

Love Cambridge day of promotion.

Cambridge Chamber of

Commerce CEO and Love

Cambridge director Tania

Witheford said after a relatively

steady six months in the

later part of 2017, 2018 has

started strong.

"So far this year we have

seen a steady rise in the number

of people walking the main

street," she said. "And this

is without the big influx of

Maadi, as it is not our year of

hosting.

"It has us wondering what

will topple this new record.

The Cycling Festival? Mother's

Day? Both are set to be

big."

And anticipation is already

building for beyond, with a

massive January and eventful

2019 on the calendar.

Love Cambridge is a group

of likeminded retail businesses

who are members of the Cambridge

Chamber of Commerce,

committed to the active promotion

of Cambridge's unique

shopping experience.
---
Exciting times for new

growth boss at HCC

WAIKATO BUSINESS NEWS April/May 2018

13

To say Hamilton City Council's new general

manager city growth has taken up the

job at an interesting time would be an

understatement.

By RICHARD WALKER

The city centre, which

has been achingly slow

to fill with life, is set to

gain more than 1100 workers

from commercial developments

already complete or on

the books, while 300 more residents

are predicted to be living

in the CBD over the next

five years.

Longer term, Hamilton's

population is picked to grow

by 1.4 percent annually, with

one forecast putting its population

at 225,000 by the year

2043.

Traffic flows in Hamilton

climbed 3.6 percent in 2016,

while commercial consents in

2017 were through the roof at

$144m, significantly higher

than any other recent year.

You get the idea?

Then there's the politics.

The expensive Peacocke

development is firmly at the

heart of the debate over housing

pressure, thanks to potential

upfront funding of $300

million from central government

in a mix of subsidies and

interest-free loan.

The 10 year plan is out for

consultation, including Garden

Place yet again being eyed for

an upgrade at a potential cost

to council of $3 million, and a

proposed rates rise of 9.5 percent

for each of the next two

years.

It's hardly a storm, but it

certainly makes for an intriguing

weather formation.

Welcome to the job, Jen

Baird.

Of course, challenges posed

by growth are more attractive

than the opposite. So you

could equally argue these are

exciting times. That appears

to be Jen's view, based on her

levels of positivity.

It can't hurt that she is back

in her home town after a couple

of decades away, nor that

she left Auckland's clogged

streets to do so.

"It's fantastic coming back

to Hamilton. I love this place.

Hamilton's got a hell of a lot

going for it, It's got great jobs

and educational opportunities,

it's got fantastic amenities,

there are trees everywhere,

it's got the river which is

amazing, it has great bars and

restaurants, really great retail

now. It's affordable, relatively

speaking."

And: "there's no congestion".

As she takes up the reins,

where does she see the pressure

points?

"I think it is the scale of the

need for more houses in Hamilton,

the fact that so many

people are choosing to move

here, and how we make sure

that we are delivering what

we need to, in an integrated,

cost-effective way."

With about half the development

in Hamilton being

infill, she says the growth and

infrastructure teams are working

closely together including

cross-functional teams to help

deal with future development.

She says central government's

imperatives around

housing affordability and special

housing areas have taken

up a lot of her early time in the

role and describes Peacocke as

an "enormous project" for the

city if the councillors choose to

go ahead.

Jen has actually been back

since July last year, when she

started as the council communications

and marketing

manager. Now she has a second

floor corner office with

glimpses of the city she grew

up in and returned to after

gaining a management degree

at Waikato University and then

building her career in the UK

and Auckland, most recently as

chief marketing officer for real

estate heavyweight Barfoot &

Thompson.

From here she manages a

staff of 180, who look after

Hamilton City Council's new general

manager city growth, Jen Baird.

everything from dog registration

to residents wanting to

subdivide or put in a swimming

pool, from city safety to

city planning.

That suggests her new role

will have variety in spades and

Jen couldn't be more enthusiastic

about it.

As she says, her team

touches an enormous number

of residents across the city,

along with developers, iwi and

elected members.

So, not yet two weeks into

the job at the time of the interview,

her meetings calendar is

chokka and she's doing a lot of

listening.

"I want to make sure that I

am really tapped in to what the

people of the town need from

my team," she says.

"There are many diverse

opinions out there about where

Hamilton should be going and

what we should be doing and

how we should be changing

and developing and growing as

a city, and I want to hear all of

those.

"My role really is about

strategy and leadership, and

making sure that we're all

joined up, that we've got all the

right people involved to enable

us to serve our councillors and

our city as best we can."

On that front, she pays

tribute to her "really high performing"

city growth team as

well as to her predecessors for

the way in which they worked

to enable residents and stakeholders.

It's about sitting down

with people and looking for

solutions. "It's not just slapping

down the rules and saying,

these are the rules, figure

out a way."

The customer focus she

brings from her commercial

background will help, as will

her understanding of the property

market.

Long-term, she sees a lot

of people like her arriving in

Hamilton from all over, bringing

more life, spending money

in the stores, and creating

demand for more events.

In that sense, growth is

good, though the flipside is the

pressure it puts on infrastructure.

"So there's a real balancing

act to be made. These people

are coming, and how do we

make sure that we can provide

them with the things they need,

like houses, but maintain the

character and specialness of

this place as well," she says.

"I think it's a really exciting

time for the city, it's come a

long way. If we look 20 or 30

years into the future it will be

vastly different again."

CKL celebrates 30 years in the Waikato

and adds top talent to the local team

CKL has proudly served the people of Hamilton and the

Waikato since 1988. Initially established as a surveying and land

development business, CKL has continued to grow and diversify

to support the region's population growth and urban expansion.

Bob Peacocke

Project Director

Now a fully integrated land

development consultancy, with

offices in Hamilton, Te Awamutu,

and Auckland, CKL is intricately involved

in shaping New Zealand's development.

CKL is considered one of New Zealand's

most innovative and forward thinking

planning, surveying and engineering

companies.

CKL is at the forefront of the land

development industry, incorporating

sustainable design and environmental

engineering strategies into development

projects.

The 100+ team of planners, surveyors,

and engineers provide expert advice, design

counsel, and innovative engineering and

stormwater solutions to help build new

communities and environments where

people love to live.

This approach delivers outstanding

results for developers and creates

sustainable communities for the future.

As part of a strategic growth strategy

to support current and future land

development projects across the Waikato,

CKL has welcomed three senior engineers

to the Hamilton team - Bob Peacocke, Andy

Johnson, and Martin Gould.

Bob, Andy, and Martin bring a wealth

of professional engineering experience

and project management expertise to

CKL. Combining local and international

experience across numerous engineering

disciplines, they are able to assess a project

from all perspectives to deliver a solution

that exceeds expectations. They also share a

passion for innovation and a commitment

to quality client relationships.

Bob, Andy and Martin are dedicated to

continued professional development and

will play a strong role in mentoring other

surveyors and engineers as CKL continues

to expand to meet local demand for

specialist engineers.

The appointment of these three wellrespected

senior leaders, and the continued

growth of the CKL Hamilton team, reflects

CKL's investment in their people and in the

Waikato region.

CKL is well positioned to provide expert

advice on Waikato land development

projects well into the future.

Andy Johnson

Senior Engineer

Martin Gould

Project Manager

hamilton@ckl.co.nz

Tel 07 849 9921

teawamutu@ckl.co.nz

Tel 07 871 6144

auckland@ckl.co.nz

Tel 09 524 7029

J8621P
---
14 WAIKATO BUSINESS NEWS April/May 2018

Proudly Sponsored By

Hamilton Operatic Society

hosted a Waikato Chamber

of Commerce BA5 with a

difference in April. Guests were

treated to a sneak preview

of the society's upcoming

productions of Sister Act and

My Fair Lady.

We used Montana for

a birthday party in

our home last year.

We had 80 guests

celebrating the event

and nearly everyone

commented on how

good the food was

– it was exactly what

we had wanted.

Satisfied Tamahere

residents.

1

3

2

4

1. Katie Houchen; Hannah

Mooney, The Meteor.

2. Heather Moore and Lorraine

Hooper, Volunteering

Waikato.

3. Cherie Meecham, Dan

Silverton, Hamilton City

Council.

4. K-M Adams and Ray Powell.

5. Andy Pryde; Graeme Nelson,

Elite Business Systems.

6. Angela O'Leary, Hamilton

City Council; Fiona Bradley,

Hamilton Operatic Society.

5 6

Take the stress out of your next private function and

treat your friends and guests to a truly outstanding

culinary experience.

As the most dynamic catering company in the

Waikato, Montana Catering has created and

delivered food that delights groups of any size –

especially, those you welcome into your home.

Montana Catering, Claudelands

Service Entry, Gate 6, Brooklyn Road, Hamilton

07 839 3459 | info@montanacatering.co.nz | montanacatering.co.nz
---
WAIKATO BUSINESS NEWS April/May 2018

15

Changing an employee's terms and conditions

Businesses are organic, and just like

animals, need to readily adapt to changes

in their environment or face extinction.

One need only look at

the way online shopping

has changed the

face of retail, to recognise

that no matter how tried and

true your business model may

be, it is unlikely to continue

unchanged, for long. In the

age we live in, technological

disruptors can just about be

added to death and taxes, as

one of life's certainties.

Uber, has been a major disruptor

to the taxi industry, and

launched in Hamilton earlier

this year. Their pick-up times

are quicker and more reliable

and the charges cheaper

(although we have been

charged a "wait time" when

there wasn't one on three out

of three bookings, so check

your online invoice). It will be

difficult to see how taxis plan

to out-perform Uber.

The pressure on the taxi

industry was at the heart of

an Employment Relations

Authority ('Authority') determination,

Anderson v Blue

Star Taxis (Christchurch)

Society, that came out earlier

this month.

Linda Anderson worked as

a call centre operator for Blue

Star Taxis, Monday to Friday,

7am to 3pm. On March 8,

2017 she was called to a meeting,

and once in there, was

informed that due to competitive

pressure the company was

facing, they now needed her to

work the 3pm to 11pm shift,

and that this change would

take effect on March 27, 2017.

This was not a small ask,

involving as it did, a significant

change in lifestyle. Blue

Star also referred to the recent

death of her father, saying she

no longer had care issues, and

could do the evening shift.

Ms Anderson's individual

employment agreement

(IEA), expressly stated her

hours were 7am to 3pm, and

given she had not been forewarned

about the purpose of

the meeting in advance, she

was confused as to what her

legal rights were and whether

she could simply refuse to

change.

Blue Star was adamant

that she agreed to the changes

during the March 8, 2017

meeting, and Ms Anderson

was equally adamant that she

had not.

Several days after this

meeting, Ms Anderson

attended work and correctly

EMPLOYMENT LAW

> BY ERIN BURKE

Employment lawyer and director at Practica Legal

Email: erin@practicalegal.co.nz phone: 027 459 3375

insisted that Blue Star had no

right to unilaterally change the

hours set out in her IEA without

her consent.

Blue Star stated that she

had consented, they would

not allow her to withdraw her

consent and that the changes

would go ahead.

On March 31, 2017, at the

end of her shift, Ms Anderson

was informed that the roster

changes would commence

from April 3, 2017. Ms Anderson

became very distressed,

and was signed off medically

unfit for work for two weeks.

When Ms Anderson

returned to her first day at

work, she found that the roster

now had her on the 3pm to

11pm shift, which she flatly

refused to do. She stopped

going to work and raised a personal

grievance for unjustified

disadvantage, and pursued

reinstatement to her previous

hours, along with a claim for

compensation and lost remuneration

for the period she had

remained away from work.

The Authority held that

Blue Star's process was significantly

flawed, appearing

as it did, to just inform Ms

Anderson what would be happening,

rather than getting her

agreement to the changes. The

Authority ordered she be reinstated

to her original hours,

that she receive $15,000 compensation

for hurt and humiliation,

but declined her claims

for lost remuneration.

The latter was on the basis

that Ms Anderson could have

worked the evening shift,

albeit under protest, while

pursuing her grievances, and

had therefore failed to mitigate

her losses.

The Authority must always

consider whether an employee

has attempted to mitigate their

loss (by, for example, showing

rejected applications for other

employment) when deciding

on lost remuneration as a remedy.

So how does a business go

about changing an employee's

terms and conditions,

when the business is under

pressure and changes need to

be made? Firstly, employers

need to understand the difference

between consultation and

agreement.

Consultation is used to

make changes outside an individual

employee's IEA, such

as when the business decides

to restructure or when introducing

a new policy, such as

random drug testing or personal

internet use.

The process involves proposing

a course of action

and obtaining feedback from

employees, before deciding

how to proceed. The feedback

must be considered with

an open mind and employers

need to be prepared to modify

a proposal, based on the

feedback, before deciding

how to proceed. Provided the

consultation process has been

genuine, an employer can still

continue with the proposed

plan of action, with or without

an employee's agreement.

Consultation does not imply

agreement.

Making changes to the

individual terms and conditions

in an employee's IEA,

however, is an entirely different

matter. The terms and

conditions that the parties

sign up to in an IEA, are set

out in writing and can only be

changed by mutual agreement,

usually evidenced in writing.

It is a rare IEA that does not

expressly state this. Whether

an employer is able to change

the terms in an IEA, largely

comes down to whether they

can secure an employee's

agreement, and if they can't,

then their options are limited.

Blue Star would have been

on safer ground to propose a

restructure, disestablishing

one of the day shifts and creating

an additional night shift.

If, after consultation, the

position had been disestablished

and Ms Anderson had

fairly been chosen as the person

being made redundant,

they could then have offered

her redeployment to the newly

created evening position,

which she would have been

free to accept or decline.

Even better, there would

have been built-in flexibility

in the IEA, particularly

around clauses such as hours,

location and duties, that could

be changed in future, following

consultation with the

employee.
---
16 WAIKATO BUSINESS NEWS April/May 2018

DESIGN

BUILD LEASE

The developer has brought these opportunities to

the market with affordability in mind

HAMILTON CITY

HCC PARK & RIDE

SOLD

DESIGN BUILD

DEVELOPMENT OPPORTUNITY

TOOL SHED

SOLD

FOSTERS

HYDES

DESIGN

BUILD

VIRIDIAN

Waikato Expressway

DESIGN

BUILD

O'BRIEN PLUMBING

SOLD

BIDFOOD

SOLD

JUMP FLEX

LELY

EBBETT WAIKATO

Te Rapa Gateway

Te Rapa Gateway's success is proving a sought after

address, by both national and international occupiers.

Stage 1 and 2 land development is completed and

sold out. With over 70% of land committed, occupiers

of 1,500sqm and larger are invited to enquire.

Opportunity

Prime land is now available for Design & Build lease

options tailored to meet your expanding requirements.

Advantages of this location

Industrial

growth

area

State

Highway

1

Inland

Port

The Base

Retail

Hamilton

CBD 8km

Two

Sea Ports

Work

Force

Interchange close by

north/south

5km

2km

Theo de Leeuw 027 490 3248

Sean Stephens 027 478 1669

Aaron Donaldson 027 755 7522

naiharcourts.co.nz | P 07 850 5252 | Cnr Victoria & London Streets, Hamilton

Monarch Commercial Limited MREINZ

Licensed Agent REAA 2008
---
WAIKATO BUSINESS NEWS April/May 2018

Industrial Warehouses

520 & 560 Arthur Porter Drive

FOR

LEASE

17

• 9 metre stud industrial

warehouse plus ancillary offices

and secure yard

• Generaous on-site car parks

• Landlord offers attractive incentives to

qualified occupiers

• Advantageous site layout for B-train

movements

No. 520 No. 560

Warehouse: 1,051sqm 1,094sqm

Office: 258sqm 261sqm

Canopy: 149sqm 149sqm

Total: 1,458sqm 1,504sqm

690, 700 & 740 Arthur Porter Drive

No. 690 No. 700 No. 740

Warehouse: 408sqm 409sqm 408sqm

Office/Facilities: 87sqm 87sqm 87sqm

Canopy: 38sqm 38sqm 38sqm

Total Area: 533sqm 534sqm 533sqm

• New industrial complex

• Floor areas 530sqm approximately

• On-site car parking, truck manoeuvring area

• Strategically located close to Waikato

Expressway

YOUR NEXT STEP...

is to contact Theo, Sean

or Aaron at NAI Harcourts

AVAILABILITY: READY NOW!

Theo de Leeuw 027 490 3248

Sean Stephens 027 478 1669

Aaron Donaldson 027 755 7522

naiharcourts.co.nz | P 07 850 5252 | Cnr Victoria & London Streets, Hamilton

Monarch Commercial Limited MREINZ

Licensed Agent REAA 2008
---
18 WAIKATO BUSINESS NEWS April/May 2018

EBBETT TOYOTA

Foster Construction

'professionalism'

acknowledged

Foster Construction played a starring role

in the creation of Ebbett Toyota's new

showroom in Te Rapa.

Waikato Toyota chief

executive James

Harvey acknowledges

Foster Construction's

professionalism in bringing the

project in ahead of the deadline.

Foster's staff worked around

difficult weather at times to

ensure the project never fell

behind schedule and James say

the communication was always

superb.

He says the terrific response

from customers to the new store

is partly down to Foster's who

not only completed the new

store ahead of schedule but also

had sealed the site and placed

signage up weeks before opening.

"From the outside the site

looked like we were mostly

open," says James.

Weeks before the new

Ebbett Toyota store opened in

Te Rapa, Hamilton, builders

noted that visitors were already

pulling into the massive site to

see if the latest Toyota or Lexus

was available. Construction at

the Kahu Crescent property was

obviously still underway but the

visibility of the Ebbett Toyota

branding was already generating

excitement.

"There are a lot of people

who come out this way anyway

and they all would have seen

the Ebbett Toyota signs."

"I often look at Foster's tag

line 'We begin with the end

in mind' and for me that rings

so true. I can't speak highly

enough of them. The whole

time they never wavered about

when it was going to be delivered.

And they delivered it

early."

Starts from $35,990 Toyota Driveaway Price

(on road costs and GST included)*

*Prices and specifications are subject to change without notice. Camry Hybrid ZR model shown.

Hamilton – Morrinsville – Te Awamutu

www.ebbett.toyota.co.nz | 0800 828 696

J2222P
---
EBBETT TOYOTA

WAIKATO BUSINESS NEWS April/May 2018 19

The team at Flow Consulting is proud to

be associated with Foster Construction

with the Toyota New Build.

Flow consulting Ltd provides Plumbing Design and Compliance service

to both the construction and facilities maintenance sector. We aim

to ensure a seamless "flow" for our clients projects from our initial

consulting through the design and solution process.

www.flowconsulting.co.nz

J8107P

0800 FLOW CON | 0800 3569 266

"Congratulations

to the team at

Ebbett Toyota

and Lexus of

Hamilton on

the successful

completion

of their new

development."

- BRIAN RASTRICK, DIRECTOR

CHOW:HILL ARCHITECTS

phone: +64 7 834 0348

email: hmlstudio@chowhill.co.nz

website: chowhill.co.nz
---
20 WAIKATO BUSINESS NEWS April/May 2018

EBBETT TOYOTA

The Team at Hartley Tiling are proud to be

associated with Ebbett Toyota on their recent build.

Contact

HARTLEY TILING LTD

www.tiles4u2.co.nz

abby@hartleytiling.co.nz

Richard@hartleytiling.co.nz

www.lashlandscaping.co.nz

LASH LANDSCAPING

Ltd

J3867P

Introducing

the Prius ZR

Prius' sleek exterior has been designed to

evoke an athletic shape that is inspired by

a runner in the starting blocks, the sporty

design conveys a feeling of forward motion.

J6672P

Lash Landscaping and team are proud to

be associated with the Toyota new build

design install residential commercial

021 727 142

info@lashlandscaping.co.nz

Cutting Edge Dash

The stylish wrap-around dashboard,

centrally housed instrumentation,

colour Head-Up

Display information system

and supportive seats all serve

to improve visibility, ease-ofuse

and driver and passenger

comfort.

The Prius features multiple

driving modes to suit the driving

environment. Power mode

increases accelerator responsiveness,

ECO mode helps to

maximise fuel economy, while

EV mode gives you clean

emissions-free motoring utilising

electric power only.

Technological Prowess

The 7" touchscreen at the

centre of the Prius' console is

your information and entertainment

hub and also displays

the reversing camera.

This system includes dynamic

guidelines to help you reverse

the Prius perfectly.

Driving in traffic is made

easier in Prius with Blind

Spot Monitor that alerts when

vehicles are approaching from

the rear. Rear Cross Traffic

Alert (RCTA) uses radar when

reversing to detect cross-traffic

that may intersect with

your vehicle's path. When

an approaching object (either

a vehicle or pedestrian) is

detected, RCTA sounds a

Proud to be Planning

Consultants for Toyota Lexus.

Another successful project

– congratulations.

Congratulations to Ebbett Toyota.

Lyndon and his team are proud to be associated

with Ebbett Toyota's new build.

RESOURCE CONSENTS PLANNING SUBDIVISION

The Mezzanine at Riverbank Lane, 286 Victoria Street, Hamilton

P 07 282 1042 • M 022 444 4082 • www.feathersplanning.co.nz

lou@louisefeathers.co.nz

172 Ellis St, Hamilton

P 07 847 9428 M 027 495 0284

E lyndon.jones@xtra.co.nz

www.lyndonjoneselectrical.co.nz

Qualified, reputable and local – Happy clients and proven success

resource consent specialists

A1282T

J9085P
---
EBBETT TOYOTA

WAIKATO BUSINESS NEWS April/May 2018 21

and start the vehicle using the

front doors or rear hatch

Under the Bonnet

With over 20 years in

advanced hybrid technology

development around

the world, Toyota's Hybrid

Synergy Drive continuous to

deliver fuel efficiency without

compromising performance.

Seamlessly combining petrol

and electric power, Prius

Hybrid technology delivers

fuel economy and a smooth

and pleasurable driving experience.

By ensuring high-level

fuel efficiency, Prius helps

minimise the output of CO2

and other harmful emissions.

It's rated at 3.4L/100km* for

combined fuel consumption

and 80kg/km for combined

CO2.

*Fuel Consumption figures

are tested under controlled

conditions and are

provided for comparison purposes,

actual results will vary

according to vehicle usage

and operating conditions.

J9272P

We are proud to be associated the successful

design, build and launch of Ebbett Toyota.

The civil and structural design team at Gray Consulting

Engineers Ltd congratulate you on the completion of this

project

P 07 839 5225 | F 07 839 5249

W www.gcel.co.nz

52 Church Road, Te Rapa,

Hamilton

Safety at Every Turn

warning and flashes the outer

rear view mirror indicator

lights.

Modern Interior Looks

Prius has been designed with

ultimate driver and passenger

comforts in mind. From steering

wheel switches, to audio

screens, front leather heated

seats, Prius Hatch ZR has you

covered.

Making sure the driver can

access all aspects of the vehicle's

comfort, convenience

and trip information while

maintaining concentration on

the road ahead is a complex

task, but the Prius can handle

it. Furthermore Prius features

a Smart Key System, meaning

you can keep the key conveniently

in your pocket or bag

as you approach, unlock, enter

The 5-star ANCAP rated Prius

gives you peace of mind while

you're out and about getting

on with your day.

There is a full complement

of seven airbags on-board

every Prius to protect in multiple

directions. Child seats can

be secured in the rear seat with

2 ISOFIX mounting points

and 3 tether anchors.

Also standard across the

Prius range is the comprehensive

Toyota Safety Sense system.

This suite of advanced

technologies is designed to

help support the driver's

awareness and decision-making

while out on the road.

J2832P

Proud to support Ebbett Toyota with the opening of their new site.

Congratulations from the team at The Roofing Specialists!

From residential re-roofs and new builds to large scale commercial

roofing projects we have the solution for you

The Roofing Specialists Ltd

Phone 07 849 4160 • Fax 07 849 7392

roofingspecialists@xtra.co.nz • www.roofingspecialists.co.nz

18A Sunshine Avenue, P.O Box 10117, Te Rapa, Hamilton
---
22 WAIKATO BUSINESS NEWS April/May 2018

EBBETT TOYOTA

Solutions for every surface

Solutions for every surface

Hilux 4WD Double Cab

SR5 Cruiser Ute

With 3.5-tonne towing, 18" alloy wheels

and a 2.8-litre diesel engine, brace

yourselves for the best Hilux yet.

This workhorse can tow

are proud We to are associated proud to be with associated the Jumpflex with new build

MERCIAL the / INDUSTRIAL Ebbett Toyota / new RESIDENTIAL Build PAINTING

SPECIALIST COATING • WATERPROOFING • MEMBRANE ROOFING

hamilton@cantecservices.co.nz

• TANKING • JOINTING • INJECTION GROUTING

118 Norton Rd • Hamilton

Tel 07 846 7166 Mob 027 220 8969

hamilton@cantecservices.co.nz

COMMERCIAL 118 Norton Rd / INDUSTRIAL • Hamilton /

Tel 07 RESIDENTIAL 846 7166 Mob PAINTING 027 220 8969

www.cantecservices.co.nz

LICENSED APPLICATOR FOR:

ALLNEX • VIKING SPECIALIST ROOFSPEC COATINGS • EQUUS • JAYDEX • WATERPROOFING • NURALITE • ALTEX • • ZONE • SIKA

MEMBRANE ROOFING • TANKING • JOINTING •

INJECTION GROUTING

Hilux 4WD Double Cab SR5

Cruiser ute can tow a maximum

of 3500kg (braked).

Hilux's diesel engine holds

the torque, which is why it

thrives when towing trailers,

boats or horse floats. Even

in town the Hilux's 450Nm

of torque means it's easier to

accelerate away from traffic

lights and sustain posted road

speeds while carrying heavy

loads in the tray.

Impressive gains to engine

performance

The 2.8-litre four-cylinder diesel

engine has been developed

from the ground up to provide

more power and torque,

unquestionable reliability,

robust operation and a smooth

drive, all while maintaining the

proven carrying and towing

capability. The diesel engine

adds remarkable fuel efficiency

and a host of dynamic

on and off-road technologies

to an already stand out vehicle.

Huge audio with Bluetooth

Every Hilux features a 7"

touchscreen, providing access

to all your audio, including

Bluetooth streamed files from

your smartphone or device.

You can also easily scroll to

the next song using the audio

controls on the steering wheel.

Once in reverse, the large

colour tablet-like screen

becomes your reversing

camera display, helping you

manoeuver safely.

Safety is top priority

Whether your Hilux is for

work, play or a little of both

– you'll want the extra peace

LICENSED APPLICATOR FOR

ALLNEX • VIKING ROOFSPEC • EQUUS • JAYDEX • SIKA•

NURALITE • ALTEX • FIRE ZONE • AKZO NOBEL

J7543P

Proud to be associated with

Foster Construction with the

new build of Ebbett Toyota

Proud to be

preferred supplier of

Aluminium joinery for

Ebbett Toyota

J6398P

Regal Joinery

102 Kent St Hamilton

Phone: 07-847 9882

regal.joinery@xtra.co.nz

J1170P

Colourform Joinery

Unit 1, 28 Kaimiro St, PO Box 10-121, Te Rapa, Hamilton 3200

Phone: 07-849 6655 Mob: 0-21-894 420 Fax: 07-849 6657
---
EBBETT TOYOTA

WAIKATO BUSINESS NEWS April/May 2018 23

of mind that comes with a

robust suite of safety measures

onboard.

The 5 Star ANCAP safety-rated

Hilux arrives with

driver and passenger front

and side airbags, front curtain

shield airbags and rear curtain

shield airbags.

Certified

Plumbers, Gas Fitters

& Drainlayers

FREE QUOTE • Waikato • Bay of Plenty

aquaholics.co.nz 0800 AQUA 007

"We pride ourselves on excellent customer

service and thorough knowledge of all

aspects of the trade."

Proud to be associated with

Fosters Construction

P9371Y

Camex Civil are pleased to have worked

alongside Foster Construction in completing

the outstanding Toyota Lexus new build.

Specialists In Interior Fit Outs

Suppliers and Installers of :

Suspended Ceilings • Internal Steel Stud Partitions

Wallboard linings • Aluminium Partitioning

Professional excavation, site works and drainage services.

The best earthworks and site development services

in the greater Waikato region.

Auckland · Waikato · BOP · Wellington · Christchurch

www.alphainteriors.co.nz

J9828P

CAMEX CIVIL

233A Hannon Road, Cambridge | Phone 07 823 4407

www.camexcivil.co.nz

J7894P
---
24 WAIKATO BUSINESS NEWS April/May 2018

Are you using the right bait?

Marketing without an appropriate brand

identity is like fishing with the wrong type

of bait.

You could try to catch a

marlin with an earthworm,

but you'd probably

have more luck with

something a marlin would find

more attractive.

In the same way, you

could try to market to millennials

with a brand identity

that screams 1990s, but you'd

probably have better luck

using a brand identity that

screams millennials.

Last May in this column I

touched on the importance of

consistency, quality, and repetition

and how these things,

when combined, can increase

the effectiveness of your mar-

keting. Now I'll expand on this

as we continue seeing SMBs

spending time and effort on

marketing, without developing

their brand identity.

Consumers are likely to

buy a brand they recognise or

relate to. This recognisability

is called brand identity, branding

or brand. They are often all

treated as the same concept.

But brand is a representation

of what the world thinks the

company is; branding is the

marketing that businesses do

to manipulate the way a brand

is perceived; and brand identity

is what is used to communicate

the message, attitude,

and values that they want their

brand to portray.

Developing your brand

identity is not difficult. It is

a thought exercise requiring

reflection. Ask yourself some

difficult questions and truly

understand your business.

Why are you doing what you

do? What drives you? What

kind of attitude does your

business have? Does it walk

with a strut or glide? Does it

talk posh, or like a street child?

Then, once you have these

answers, you can lay the foundation

for a brand identity

that truly represents you and

targets customers you really

want.

First step, find a great

designer because your design

assets – i.e. logo, business

cards, websites, uniforms,

etc. – represent your brand. A

designer will take information

MARKETING MATTERS

> BY MEHRDAD BEHROOZI

Mehrdad (Merv) Behroozi is general manager of Hamilton graphic

design and web development company E9. Phone: 07 838 1188

Email: merv@e9.nz

you provide and identify the

correct colours, typography,

form and shape for your brand.

By making use of extensive

research on colour psychology

a designer can select

the correct colour pallet for

your brand. Blue for stability,

red for passion, green for

nature, and yellow for happiness

are just some examples

of how colours impact

the way a brand is perceived.

Adding the appropriate font

type strengthens brand perception.

For example, a script

font could be used to send the

message of luxury or femininity,

a serif font to communicate

traditional, or a san-serif

font to communicate modern.

The colour and typography are

combined with shape and form

to further strengthen the brand.

Curves could be used to send a

message of friendliness, while

straight edges would portray

a more formal or trustworthy

image. These are the foundations

of brand identity.

Third bridge in Cambridge 'not needed yet'

An independent study

says Cambridge will

not need another traffic

bridge across the Waikato

River for another 20 or so

years.

The Beca study was commissioned

by Waipa District

Council to determine when a

third bridge might be needed.

A report discussed at the

council's Service Delivery

Committee meeting notes traffic

volumes crossing the river in

Cambridge have grown 17 percent

in the last 10 years. Most

growth has occurred in the last

three.

Based on a regional traffic

model and taking projected

town growth into account, the

Beca report found there was

"no short or medium term need

for an additional bridge in Cambridge".

A third bridge would

not be needed until around 2048

or so and would likely come

with a "rough order" price tag

of $60-$65 million, the report

said.

Council's road corridor manager

Bryan Hudson said around

27,000 vehicles a day use either

the high level Victoria St bridge

or the wider Shakespeare St

structure to cross the river.

While Shakespeare St had more

capacity than the Victoria St

bridge, it was used by 26 percent

fewer vehicles in 2016.

The Beca report noted that at

peak hours, Cambridge drivers

might encounter an average 1-2

minute delay in crossing the

river.

"The spare capacity on the

Shakespeare St bridge offers an

opportunity to encourage drivers

to use that route instead,"

Mr Hudson said.

"Minor improvements to the

road network and a change in

driver behaviour could move

that balance and see traffic

spread more evenly. We'd also

like to see a greater emphasis on

walking, cycling and ride-sharing

and that's something we'll

be discussing with the community."

Mr Hudson acknowledged

there was huge interest in a third

bridge for Cambridge but given

traffic volumes, growth projections

and costs the "numbers

just don't stack up for now".

"For council to get a substantial

government subsidy to

build the bridge, we'd need to

provide a strong business case

outlining how the project would

support the government's transport

goals," he said.

"Right now given measured

wait times, cost, projected

growth and anticipated benefits,

that business case simply

wouldn't stack up. Without a

subsidy, the total cost of a new

bridge would have to be wholly

funded by Waipa ratepayers.

That would be a huge burden

on the community."

As part of its report, Beca

did a high-level assessment

A designer uses the foundations

to create design assets

such as the logo, business

cards, product packaging, and

website. To ensure the identity

of the brand is accurately represented

everywhere, a brand

style guide is created which

sets out the rules for future

brand design work.

A well-designed brand

identity combined with consistency

improves recognisability,

which improves trust, and

the bottom line. Happy fishing.

of four potential locations for

a new bridge. They included

extending Vogel Street south

to the river; building a new

bridge west of the town belt;

extending Hanlin Road near the

Avantidrome and constructing a

bridge from the southern end of

Hall Street.

A fifth option was building

a new bridge beside the 110-

year old Victoria Street bridge.

The existing bridge could then

potentially be closed to traffic

and used only by walkers and

cyclists.

Beca has now been commissioned

by the Council to investigate

the resilience of the Victoria

St bridge and estimate its

long-term maintenance costs.

Recognise the achievements of your business.

Gain profile, tell your story and continue

your journey in becoming bigger
---
Braun Bond & Lomas

The newest law firm in town has familiar

faces and a new name: Braun Bond &

Lomas. Braun Bond & Lomas is a specialist

litigation and dispute resolution law firm

with clients throughout New Zealand and

off-shore, ranging from individuals to large

corporate entities.

Formerly Whitfield Braun;

the new law firm Braun

Bond & Lomas is headed

by directors Toby Braun, Kevin

Bond, and Kieran Lomas.

Despite the youthful visages,

the directors have a combined

35 plus years of experience in

civil litigation at all levels of

the New Zealand Court system

from the District Court through

to the Supreme Court, as well as

in other jurisdictions such as the

Employment Relations Authority

and Employment Court, and

the Family Court.

Braun Bond & Lomas has

an outstanding team of ten

lawyers with extensive local,

national, and overseas experience

and five hardworking

support staff to ensure that they

produce excellent work for all

their clients.

Practicing in all areas of

general civil litigation, the

solicitors at Braun Bond &

Lomas provide advice on a

wide on a range of areas including

contractual issues, company

issues including shareholder

disputes, property disputes,

unit title development matters

where they advise body

corporates, relationship property,

trust and estate matters,

employment issues (acting for

employers and employees),

landlord-tenant disputes, neighbour

issues, disputes with banking

organisations, and insolvency

matters.

Several solicitors have a particular

interest in construction

law which enables Braun Bond

& Lomas to provide timely and

dependable advice to clients

with construction law issues.

Having undertaken numerous

leaky home and building defect

cases for both home owners and

contractors, their solicitors have

an in-depth understanding of

the steps and processes required

to achieve successful outcomes

for their clients.

They respond quickly and

effectively to the high demand

from both public and private

organisations needing to outsource

legal work, including

acting for large national and

international corporates.

Hamilton and the surrounding

greater Waikato is rapidly

becoming a critical hub for

commercial activity in New

Zealand and Braun Bond &

Lomas are well-placed to offer

reliable advice with a proven

track record in litigation and

the delivery of the expert, high

quality services expected from

a modern, dynamic, and forward-looking

law firm.

WAIKATO BUSINESS NEWS April/May 2018

Waikato

AgriBusiness News

MAY ISSUE OUT FOR

NATIONAL AGRICULTURAL FIELDAYS

BOOK NOW

Call the team on 07 838 1333

25
---
26 WAIKATO BUSINESS NEWS April/May 2018

How to work with graphic

designers and live to tell the tale

Poor design in marketing and advertising

comes as much from poor briefing and

client decision-making as is it does shoddy

design work.

Graphic designers, as

clever as they may be,

are not psychic. Well,

there might be one somewhere,

but designers can't read your

mind. You need to give them

some clues.

Picture this. You're on a

date with your new beau (or

belle) and it's your birthday. He

asks what you'd like to drink.

"Surprise me," you say, some-

what cruelly. It's fine, you've

been out a few times, he knows

you're not a beer drinker, he

can tick that off the list. He's

seen you drink wine, but that's

a bit safe for a special occasion.

Better be generous on such a

big day, he stresses. Mojito?

Cosmopolitan?

He plumps for a margarita,

not knowing your embarrassing

history with tequila and

that your ultimate treat is a

shimmering glass of birthday

bubbles. Poor fella. But how

was he to know?

You may think that giving

a designer a relatively free rein

will result in a creative solution

that your target audience will

relish. But leaving too much to

assumption and guess work can

also lead you along the totally

wrong path.

If you're running your business

and you're not used to this

kind of process, get help. It can

be one of the most exciting

things you do in your business,

bringing your messages to life

in a way that will win you customers,

followers or supporters.

But, when you're too close

to the detail, you need some

objectivity.

In agencies, they often

refer to graphic designers as

'creatives', for very good reason.

They take a brief, use that

incredible creatively-wired

brain and turn it in to something

magical. My absolute

favourite part of the process is

when designers first share their

ideas with you and you see

how they've turned words on a

page - facts, goals, parameters,

themes - into something that

you just know that your audience

will relate to and love.

It can be a totally uplifting

moment. I've been known to

skip around a meeting room or

even wipe away a tear.

Another agency term for

design folk is 'fruits'. Not

just because they're often the

vibrant and colourful people,

but because they're frequently

sensitive, tender souls. But

that's a good thing. It's what

gives them those amazing

human insights that we mere

mortals can sometimes be lacking.

It's because they have that

extra inch of understanding and

empathy that they can more

easily transport themselves in

to the hearts and minds of the

person your design needs to

TELLING YOUR STORY

> BY VICKI JONES

Vicki Jones is director of Dugmore Jones, Hamilton-based brand

management consultancy. Email vicki@dugmorejones.co.nz

resonate with.

Let them make the most of

these skills and let them challenge

you. Allow yourself to be

wowed. Equally, make it clear

to them when the brief sits in

a place that, for indisputable

reasons, the solution needs to

be achieved a certain way and

when they have to play it safe.

There's nothing worse for a

designer than getting fired up

about a project that feels like

a Ferrari, only to be told it is a

Honda Civic. There's nothing

wrong with a Civic, so long as

that's what will appeal to your

customers, and your designer

should respect the difference.

If they've been working with

you a long time, it's only natural

that your designers start to

think a little bit like you, or the

decision-makers in your organisation.

Sometimes this is a real

advantage - you don't have to

go through hoops to explain

everything from scratch every

time. But it can also risk complacency.

If a designer tries to

push exciting new approaches

but they are constantly pushed

back, you'll get the same old

same old. And that responsibility,

I'm afraid, sits with you.

Keep them enthused.

Sometimes I look at an

advert or marketing piece and

can tell where the client has had

too strong a hand in the process.

"Let's just add this piece

of extra info here", or "use this

photo because it reflects an

important project for us even

if it doesn't really fit the original

brief". Or, the ultimate sin,

something like "how about a

splash of my favourite green".

Designers should debate these

decisions but, let's face it,

when push comes to shove,

you pay the bills. But the client

isn't always right. Sometimes

you're too close to it and need

to look at life through their

lens.

So, to sum up, make it

clear what your design needs

to achieve and the parameters

within which it needs to work.

But allow yourself to be challenged.

Creative approaches

that resonate with your clients

will ultimately have you cracking

open the champagne, and

not just on your birthday.

BOOK NOW

for Waikato's newest event

for women in business

WOMEN OF WAIKATO will celebrate inspirational

Waikato women whose stories will encourage and

motivate others. Opportunities to connect with other

women in business.

Six fabulous speakers!

• Raglan Coconut Yoghurt co-founder

Latesha Randall

• Rockstar plain language writing trainer

Shelly Davies

• Long-time comedian Jan-Maree Franicevic

• REALiving coach and mentor Tracey Hancock

• Yogi, photographer & leather artisan Kay Buchanan

• Techweek '18 Waikato coordinator Jannat Maqbool

Tickets are $225 (incl GST).

Discount available for multiple ticket purchases.

Each ticket includes tea, coffee, orange juice, morning tea, lunch,

afternoon tea and an alcoholic/non-alcoholic beverage and nibbles

during the drinks-and-networking session at the end of the day.

Spot prizes galore!

Thursday, May 17, 2018 at

Woodlands Estate, Whitikahu

Registration from 8.15am

Seminar from 9am followed by networking

event on site from 4.30-6pm

Please note: there are no ticket sales on the day.

To pre-purchase tickets email Candice at

Dynamic Media candice@dynamicmedia.co.nz

or phone 021 0867 4460

To keep up to date search 'Dynamic Media'

or 'Women of Waikato' on Facebook

A3608T
---
Ring-fencing rental losses

Labour's pre-election manifesto proposed

a commitment to increase the fairness

of the tax system and improve housing

affordability.

In the six months since

the Labour-led coalition

entered Parliament, we

have started to see changes

filtering through. For example,

the bright-line test which

taxes profit derived on the sale

of residential property has

already been extended from

two to five years, and the Tax

Working Group has begun to

seek views on a wide variety

of tax issues.

Inland Revenue has now

released an Issues Paper proposing

to ring fence rental

losses, which is currently open

for consultation until May 11.

Draft legislation is likely to

follow once Inland Revenue

has considered the responses it

receives from the public.

Taxpayers commonly

derive income from multiple

sources, such as salary/

wages, business income,

interest, dividends and rental

income, to name a few. It has

been a fundamental part of the

New Zealand tax system that

the total amount from each

source, whether a profit or

loss, is combined and a person

is taxed on the net result.

This aggregation allows

losses incurred from rental

properties to be offset against

other income, reducing the

total taxable income and the

corresponding tax liability.

Government's concern is

that this mechanism allows

property investors to take on

high levels of debt to finance

their property investments,

which gives rise to tax losses,

effectively subsidising the

rental portfolio through a

reduced tax liability. The

high-gearing offers an advantage

over owner-occupiers

because their equivalent interest

cost is not tax deductible.

The proposed ring-fencing

rules contained within the

Issues Paper seek to eliminate

this advantage by preventing

rental losses from being offset

against other income. Instead,

the rental losses will be

'ring-fenced' for use against

future rental profits or any tax

incurred on the future sale of

the property. Excess losses

remaining after a property is

sold remain ring-fenced until

rental income is derived in the

future.

Labour originally indicated

that ring-fencing may

be introduced on an individual

property basis. Thankfully, the

proposed 'portfolio approach'

is more logical, enabling

investors to pool their profits

and losses from all residential

properties, including overseas

properties, with ring-fencing

applicable to any overall loss

from the portfolio. If enacted,

the rules will apply to all rental

properties irrespective of how

they are held, e.g. the rules

will apply to individuals, companies

and trusts.

There is complexity in the

new rules because they can

also impact people that don't

actually hold the rental properties.

For example, if a person

has borrowed to purchase

shares in a company and that

company uses the funds to

purchase a rental property, the

shareholder will normally be

entitled to deduct the interest.

In this situation, if 50 percent

or more of the entity's asset

value is derived from residential

properties the company

will be classified as 'residential

property land-rich'.

Amounts paid to the shareholder

(eg dividends) will be

classified as "rental property

income" and their interest

expense will be classified as

"rental property loan interest".

The rental interest can only be

deducted against rental property

income derived from the

company, or the individual's

other rental properties. Any

excess loss will be ring-fenced

to the person.

The proposed 50 percent

asset test is an arbitrary threshold.

The paper does not specifically

address whether the

asset values will be based on

the original cost of property,

or market value. While we

welcome the inclusion of a

minimum threshold to ensure

entities with minor residential

property interests are not hit

with excessive compliance

costs, the way in which assets

are valued will need to be further

considered throughout the

course of the consultation.

The proposed rules rely

on the existing definition of

'residential land', used for the

purpose of the bright-line test.

Thus, the rules will not apply

to commercial property or

property subject to the mixeduse

asset rules.

The paper recognises there

is a concern that taxpayers

may seek to reorganise their

funding arrangements to get

around the loss ring-fencing

rules, for example re-arranging

debts against their other

business interests instead of

TAXATION AND THE LAW

> BY HAYDEN D FARROW

Hayden D Farrow is a PwC partner based in the Waikato

office. Email: hayden.d.farrow@nz.pwc.com

rental properties. While there

is discussion of introducing

a specific interest allocation

rule to combat this, the paper

notes that the legislation is

unlikely to include a provision

of this nature, as it would

lead to increased complexity

and compliance costs that

would be particularly harsh on

smaller taxpayers.

If enacted, the proposed

rules are likely to apply from

the start of the 2019 – 2020

income year and in a rare

move, may be phased in over

a two to three-year period,

something not normally seen

with tax law changes. For

example, only 50 percent of

a person's loss might ringfenced

in the first year. This

will allow investors time to

adjust to the new rules and

have the opportunity to rearrange

their affairs before they

are adopted in full.

The comments in this article

of a general nature and

should not be relied on for specific

cases. Taxpayers should

seek specific advice.
---
28 WAIKATO BUSINESS NEWS April/May 2018

BCD GROUP - PARKHAVEN

Landmark apartment building

taking shape in central city

An ambitious plan to develop what may be

central Hamilton's first purpose-built multiuse

apartment building is taking shape on

Tristram Street.

By RICHARD WALKER

The five-storey Parkhaven

building will house a

cafe and retail on the

ground floor, and office space

and 21 apartments above.

The building opposite

Founders Theatre and close to

Seddon Park is due for com-

pletion in December, with

the developers keen to play

their part in enhancing urban

design in Hamilton.

"We are really passionate

about density and revitalising

the city," says BCD Group

commercial manager and

CFO Mitch Mace.

"We were keen to do something

pretty cool, something

different for Hamilton and use

the skills at our disposal by

going up."

The development came

about because BCD, a Hamilton-based

engineering and

planning firm, was outgrowing

its current office, a few

metres from where the new

building is going up. The

Department of Corrections,

which had been based on the

site, moved out, and BCD

could see the potential.

The $14.5 million development

meshes with a council

plan to make the area north of

London Street high density,

and gives BCD the chance to

become the anchor tenant in

an office space of their own

design. Mixed use development

has long been successful

in the likes of Toronto, New

York & Melbourne by providing

facility to "live, work,

and play". It is starting to gain

traction in cities like Auckland

and Tauranga and the

development team were of the

view that now is the time for

Hamilton to embrace the concept

also.

The process for Parkhaven

started in 2016. They were

able to build on the experience

particularly of their founding

director Blair Currie who has

worked with the likes of Stark

Construction, CBD Developments

and Foster Develop on

buildings around the city. The

developers' approach was to

get the building fully documented

and the design team

around the table before getting

it priced up.

Hamilton architect Brian

White says that approach

made the project "fantastic"

to work on.

"Part of it for us is working

with BCD. It was a bit of

a model project in terms of

process.

"They had everyone

around the table really early,

there was good communication.

All the consultant team

were on board right at the

outset, so we had quite good

information from everyone to

coordinate with our [design]

package. It sounds pretty

basic but it often doesn't happen

that way."

Mitch mentions that there

are a lot of talented consultants

in Hamilton and it was

important to the development

team that all the consultants

were locally based so the

result could be a showcase for

what talent in the region could

achieve.

"The efficient design that

resulted was achieved by

the Edwards White team and

engineers working closely

together early in the process,

which allowed sensible structural

design while not compromising

the overall architectural

vision."

"Often in developments

compromises are made along

the way. From our concept we

pretty much made none, only

minor tweaks."

Brian White says it was
---
BCD GROUP - PARKHAVEN

WAIKATO BUSINESS NEWS April/May 2018 29

clear they wanted to build

something of value. "Blair

gave us all a bit of a pep talk

at the start and he was really

clear about his aspirations for

the project, that he wanted to

do something good, something

that was perhaps a little

bit more than what else was

being offered."

That means, for instance,

air conditioning is individually

ducted from the

roof, rather than units being

placed on balconies, and also

involves taking care with the

acoustics to minimise noise

from neighbours. On the top

floor apartments, high windows

allow light to come in

from above

The architects worked with

modules to help build the

plan. "The bathrooms worked

to a typical module, the kitchens

have a bit of a module as

well, and I guess from our

perspective we can put a little

bit more effort and energy into

really refining those elements,

rather than spreading yourself

thin over 20 different varieties

of kitchen," Brian says.

"We were interested in

creating something that interacted

with the street so it's got

a reasonably generous entry

that sets the stage for what's

to come.

"There are no units that

face directly south. They

extend right to the west and

right to the east - it means

everyone has good access to

the sun."

Apartments are one, two

or three bedrooms, and Brian

hopes that mix will lead to a

diversity of residents.

Twelve apartments are

under contract with nine

remaining, more than half a

year out from completion.

That came after a slow

beginning. "We were not con-

Continued on page 30
---
30 WAIKATO BUSINESS NEWS April/May 2018

BCD GROUP - PARKHAVEN

J7988P

The team at Flow Consulting is

proud to be associated with BCD

Group and the ParkHaven build.

Flow consulting Ltd provides Plumbing Design and Compliance service

to both the construction and facilities maintenance sector. We aim

to ensure a seamless "flow" for our clients projects from our initial

consulting through the design and solution process.

www.flowconsulting.co.nz

0800 FLOW CON | 0800 3569 266

Landmark apartment

building taking shape

in central city

From page 29

cerned at the start, but things

were slow," Mitch says. "But

ever since the construction

started the inquiries just been

outstanding. As soon as they

had a visual and could see

it, we started to get pen on

paper."

Real estate agent James

Walsh says most of the interest

is from Hamiltonians,

with one buyer from Australia.

The top floor is tending to

draw people looking to downsize

and the lower levels are

drawing interest from a mix

of young professionals and

semi-retired people.

He says other mixed-use

buildings tend to be conversions,

while typical central

city new building has involved

townhouses, apart from the

Thackeray St apartments.

"This should have happened

a long time ago, this

type of apartment building

for Hamilton, because as the

city's sprawled out we're

going to need to bring people

back into the city.

"I really feel like this is

going to be a flagship for central

city living in Hamilton."

Brian White says he likes

the mixed-use concept.

"To us it's a really sensible

way of doing things.

Ground level's not necessarily

where you want to be placing

stand-alone apartments. At

the higher levels you've got

access to better light, you've

got much better views. And

then the lower levels when

you're interacting with the

street you've got hospitality,

which enriches the street from

our perspective.

"When you think about the

planning of our cities a lot of

it stems back to the industrial

era when you didn't want to

have the blacksmith next door

to where you live, whereas

offices are a pretty benign

activity and they actually

make quite good neighbours.

Typically no one's there when

you're at home and vice versa,

so that works quite well."

Blair Currie pays tribute to

Hamilton City Council for its

enabling role in the process,

given the five-storey mixeduse

building didn't fit neatly

in the planning box.

"We are keen on urban

design being high quality.

Going up like this enabled a

whole lot of urban benefits,

and it required a pragmatic

council to work with us, to see

those benefits," he says.

"Our experience with the

council through this whole

process was a very positive

one. They could see the endgame

of what we were trying

to achieve and they wanted to

see what they could do to help

us achieve it because they

could see it was going to be

very good for the city.

"They're good to deal with

and there's a lot of transparency

there."

That supportiveness, which

Blair says makes Hamilton far

better to deal with than a lot

of other territorial authorities,

saw pragmatic solutions

offered and efficiently worked

through the resource consent

application.

Blair thinks there is a generational

change happening,

with a move away from the

traditional house on its own

section.

Pre-family, younger people

are more likely to be keen on

a "lock and leave" apartment

without the section and gardening

hassles, he says - as

are some older people whose

children have left home.

"In Hamilton you get traditional-style

houses, but all

on top of each other, and away

from the amenities. From our

point of view the CBD has got

all these amenities around it

already.

"Bringing people back in

will help encourage a different

way to live," Blair says.

Peter

Dave

Fire Engineering is our business

"Protecting your people

and your property

against fire

is our purpose"

Over 16,5000 commercial projects:

Hospitality

Vicki

Lance

Steven

Alan

Meet

our

team!

Apartments

Manufacturing

Education Facilities

Warehouse/Storage

Aged Care Facilities

Retail Developments

Residential Developments

Sports and Tourism Centres

Commercial Developments

Tyler

Mirae

Delia

Tina

Ph: 07 855 00 32

www.firedesigns.co.nz

Fire Engineering Solutions Acceptable Solutions Building Inspections Accessibility
---
BCD GROUP - PARKHAVEN

WAIKATO BUSINESS NEWS April/May 2018 31

Certified

Plumbers, Gas Fitters

& Drainlayers

FREE QUOTE • Waikato • Bay of Plenty

aquaholics.co.nz 0800 AQUA 007

Proud to support

The Team at the BCD Group

with the Parkhaven Apartments

"We pride ourselves on excellent customer

service and thorough knowledge of all

aspects of the trade."

www.feisst.co.nz

J3725P

Proud to be associated with

Form Building and Developments

P9371Y

Proud to be associated

with the BCD Group

ParkHaven new build

designers of Parkhaven

• Driveway and

carpark construction

• Cartage

• Repairs

• Siteworks

• Drainage

• Bulk excavation,

demolition and

siteworks

• Tarsealing

• All kerbing

requirements

J9505P
---
32 WAIKATO BUSINESS NEWS April/May 2018

Great crowd for Waipa

Networks Business

Awards launch

The 2018 Waipa Networks Business

Awards launched on April 5 at Mystery

Creek Events Centre headquarters and

saw record attendance from the Waipa and

Raglan business communities.

The event, hosted by

the Cambridge, Te

Awamutu and Raglan

Chambers of Commerce

marked the opening of entries

for the 2018 Awards of which

Waikato Business News is one

of the sponsors.

Just shy of 100 people

attended the event, with a

record number of 26 local

businesses committing to

National Agricultual Fieldays Society commercial manager

Nick Dromgool speaks to the audience at Mystery Creek.

enter this year's awards on the

night, with more subsequently

expressing interest.

Attendees at the launch

heard from sponsors, the head

judge and a number of previous

winners. The message

was clear – there is much to be

gained by entering the Awards

and businesses are guaranteed

to come out of it with tangible

benefits whether they finish as

winners or not.

Waipa District Council was

in attendance as a sponsor of

two awards categories and

Steve Tritt, business development

manager commented,

"The Waipa Network Busi-

Attendees enjoy launch of the Waipa Networks

Business Awards at Mystery Creek headquarters.

ness Awards are a launching

pad not only for finalists and

winners, but for any business

that makes the effort to enter.

Cambridge Chamber of

Commerce chief executive

Tania Witheford said the

Awards encourage businesses

to review, reflect and

acknowledge achievements

and milestones and gives an

opportunity to celebrate the

journey.

"Everyone who has entered

the Awards, been a finalist

or a winner, speaks of the

incredible learnings they have

taken from the experience

and can articulate how this

added value to their business,

not to mention the fun and

enjoyment on the night of the

Awards".

There are categories to suit

all businesses and for-purpose

organisations, as well

as opportunities to nominate

individuals for their contribution

to a business and/or the

local business community.

"It's an opportunity to sit

on the verandah for a moment

and take stock of your business

and reflect," said Howard

Davey, head judge, University

of Waikato Management

School.

Head judge Howard Davey

speaks to Cambridge

Chamber of Commerce

president, Phil MacKay.
---
WAIKATO BUSINESS NEWS April/May 2018

33

Waikato fastest growing tech region

Waikato is the fastest growing technology

region in New Zealand.

Revenue earned by the

technology sector in

Hamilton alone grew

by $109 million in 2017, or

21.7 percent, the 2017 Technology

Investment Network

(TIN) report said.

At Company-X in Hamilton

we weren't surprised by

the numbers one little bit. The

TIN report confirms what we

have been saying for many

years. The Waikato is the Silicon

Valley of New Zealand. If

anything, if our experience is

anything to go by, the figures

are on the conservative side.

Company-X is constantly

growing. We add to our capa-

bilities every month with new

project managers, business

analysts, system architects,

designers, developers and testers.

We grew 138 percent in

the three years ending 2017,

earning a ranking on the

Deloitte Technology Fast 500

index for Asia Pacific.

Company-X is far from

alone in growth. I could

name a long list of technology

related businesses that

are doing extremely well in

Hamilton. For example, Ultrafast

Fibre in Te Rapa achieved

227 percent growth in the last

three financial years. They

appeared on the Deloitte Technology

Fast 500 index with us.

The phenomenal growth

of the Waikato's technology

sector will be celebrated next

month in a week-long technology

symposium. It will be

organised by NZTech with

the support of the Ministry

of Business, Innovation and

Employment (MBIE). I'll be

getting involved on Thursday,

May 24, when I will be a

panellist in the charity Techie

Brekkie event staged at the

symposium.

The event is designed

to connect technologists

and encourage collaboration,

capability building and

innovation in the region's

technology sector. One of

the highlights of the packed

programme is the Internet of

Things Tour curated by the

good folk at Waikato Innovation

Park. The internet of

things is the interconnection

through the internet of computing

devices embedded in

everyday objects, enabling

them to send and receive data.

The Internet of Things

Tour will showcase transformational

technology used

across the region in areas of

TECH TALK

> BY DAVID HALLETT

David Hallett is a director of Hamilton software specialist Company-X,

design house E9 and chief nerd at Waikato Need a Nerd.

the environment, health and

wellbeing, primary industries,

smart cities and tourism. The

tour takes in Hamilton, Raglan,

Paeroa and Waitomo.

Speakers include University

of Waikato Department

of Computing and Mathematical

Sciences Associate

Professor Dr Annika Hinze.

Her research interests in information

systems, event notification/alerting,

database systems

and women in Computer

Science.

It's great to see the region

recognised further for its

capabilities. Events like this

remind the business community

just what we are capable

of in Waikato, and only helps

as we build capacity in our

own businesses and across the

region.

Shaking up your office space

So you have plans afoot to

refresh the office work

environment – but do

you have the buy-in from your

team?

Knock down walls, open

up the floor plan, add in some

hot desks, maybe throw in

some stand-up work stations,

push for collaborative spaces

or do away with managerial

offices – whatever you have in

mind, there are ways to manage

staff expectations and the

inevitable resistance that will

come from some quarters.

It's human nature for most

of us to dwell in our comfort

zones – particularly at work

where we like to know what to

expect on the daily and where

work-day habits determine the

rhythm of how space is used,

how people interact and where

these interactions take place.

Change up the environment

and the perceived "ownership"

of space – and the

whole workplace dynamic

changes, too.

Leading global facility

service company ISS Group,

which was founded in Copenhagen

in 1901 and now operates

in major markets around

the world, has released a

workplace management report

on how to lower resistance to

workplace change.

It begins with the premise

that workspaces should never

be stable, saying the strategic

organisational use of workspaces

constantly requires

degrees of spatial change

due to shifts in technology,

customers' preferences, new

ways of working and changes

in the number of employees,

for example.

The report's five top

strategies for office

business owners

transitioning to new working

environments are:

1: Senior management needs

to be clear on success criteria

and outcome demands

– how will success be measured,

why is better performance

expected from a

change in workplace layout?

2: Based on outcome

demands, it is necessary

to clearly define future

needs and look at what

resources are actually

available – what areas of

the workplace hold real

value to employees and

what does management

perceive is missing? You

need to be able to look at

human behaviours and

demonstrate how and why

changes to the space are

necessary

3: Define where and how new

work behaviours will fit

into the workplace – how

are these directly linked to

the physical space

4: Engage middle management

to convey why the

changes will happen as

well as what opportunities

and outcomes the change

will bring – everyone

needs to be onboard

5: Involve the employees as

the process unfolds – they

need to appreciate how and

why workplace behaviours

are expected to change as

a result of changes to the

physical environment.

Having an engaged, settled

and productive work team

is the goal of every officebased

business so ensuring

that employees take pride and

"ownership" of their work

environment is a step in the

right direction.

Change to physical office

space can be confronting but

with smart management, great

things can happen.

www.bayleys.co.nz/workplace/articles/insights

Commercial

Property

Management

At Bayleys, we believe relationships are

what businesses are built on and how

they succeed.

We understand that to maximise the

return on your property you need:

Professional property management

A business partner that understands

your views and goals

Speak to your Bayleys team today

SUCCESS REALTY LTD, BAYLEYS,

LICENSED UNDER THE REA ACT 2008

Jan Cooney

Senior Commercial Property Manager

P 07 579 0609 M 027 408 9339

jan.cooney@bayleys.co.nz

Brodie Thomas

Commercial Property Manager

P 07 579 0608 M 027 746 9218

brodie.thomas@bayleys.co.nz
---
34 WAIKATO BUSINESS NEWS April/May 2018

THE 2018

JEEP GRAND CHEROKEE

LEASE SPECIAL

NEW SAFETY & SECURITY FEATURES | STANDARD ON ALL MODELS

Grand Cherokee Limited 3.6 litre V6 Petrol $1,199.00 per month*

• Blind Spot Monitoring System

Grand Cherokee Limited 3.0 litre V6 Diesel $1,245.00 per month*

• Adaptive Cruise Control with Stop (Safe Distance)

• LaneSense® Lane Departure Warning with Lane Keep Assist

*Terms and conditions apply. This offer is based on 48 months/80,000km non maintained operating lease. On road costs and initial 12 month registration are included along with

1,000 RUC, plus a tank of fuel. Lease offer is only available to GST registered customers. Normal lending criteria and conditions apply. Other terms and kms are available on request.

• Forward

Offer is valid until

Collision

30 June 2018. Winger

Warning

Hamilton Limited

with

reserves the

Active

right to vary, withdraw

Braking

or extended this offer at anytime.

• Apple Carplay® & Android Auto support

1 The Boulevard, Te Rapa, Hamilton

WWW.WINGER.CO.NZ

(07) 838 1249

• Parallel and Perpendicular Park Assist

• 5 Star ANCAP safety rating
---
SOUTHWELL SCHOOL

WAIKATO BUSINESS NEWS April/May 2018

35

Bright new learning environment

for Southwell students

A bright and airy new Southwell building,

featuring six classrooms and a large central

shared space, is providing junior students

with cutting-edge, personalised learning

spaces.

The Murray and Ann Day

building has been in use

since late March, with

a formal opening on April 4

attended by Southwell old boy

Te Arikinui Kingi Tūheitia

among others from Hamilton's

business, arts and sporting

communities.

Designed to blend in with

the surrounding buildings, it

has six classrooms for years 2

to 4, and a central hall space

for the children to use for art,

music and other activities.

"Southwell prides itself in

offering an educational experience

designed to inspire individual

achievement, strong

personal values and confidence

for life," headmaster

Jason Speedy says.

"This is a multimillion

dollar build that is probably

the best learning space in the

country."

The new teaching block is

a state of the art replacement

for the 1968 Lowers Block. It

covers more than 900 square

metres, and is designed with

the flexibility to be used by

children of any age.

Each of the six classrooms

has breakaway and multipurpose

areas.

"These epitomise Southwell's

commitment to small

class sizes and a personalised

education which caters for

Continued on page 36

Creating learning spaces inside & out

Enrolments open, call for your personalised tour, years 0-8, day & boarding

200 Peachgrove Road, Claudelands,

Hamilton 3214 | Ph 07 855 2089

www.southwell.school.nz
---
36 WAIKATO BUSINESS NEWS April/May 2018

SOUTHWELL SCHOOL

Celebrating the new building with students are

Murray and Anne Day with Te Arikinui Kingi Tuheitia.

Bright new learning

environment for

Southwell students

From page 35

individual and small group

learning," Jason says.

"It creates learning spaces

that are cutting edge in terms

of creating learning moments

and relationships."

Each year 2 class will have

a maximum of around 22 students,

and year 4 a maximum

of around 25. Those numbers

often go lower, as the children

join smaller groups for different

subjects.

The natural light comes

courtesy of large windows

in each classroom and also

the airy design of the central

atrium, which the classrooms

open on to. The atrium has

another feature: embedded in

its wall are five bricks taken

from the original building

before it was demolished - a

reminder of the past for those

in the present.

The central space itself

opens out onto hockey fields

and is already proving its

worth, being well used for the

likes of drama, music and kapa

haka.

It also gives the children

and teachers in the nearby

classrooms an easily accessible

space for art lessons and

other activities.

It's fair to say the teachers

in the new block love the

changes.

Year 4 teacher Keryn Cameron,

who also taught in the

old building, relishes the light

and feeling of space. She is

pleased about her breakout

room, which is used for independent

working or children

who need to be in a quiet

space, and for group work.

She says they had to work

hard in the old building to create

display spaces.

Teachers had input into the

building design, and one of

the things Keryn wanted was

a communal wet area "so we

could use messy stuff". The

space immediately across the

atrium from her classroom

delivers just that.

"There's room for the children

to be creative. I can send

them off to make a play, and

I can work over here and see

them."

She's not alone in her

enthusiasm. Along the atrium,

in the year 2 area, Bridget is

similarly positive a few days

after moving into the new

classroom with her 18 students.

"I'm on cloud nine. This is

amazing."

Like Keryn she relishes

the space and light, as well

as the improved acoustics,

which come partly courtesy of

the textured walls. "It's quiet.

Spreading out in groups, it's

really quiet," she says.

"It's just a really good flow,

a really good layout, it works

incredibly well. All the rooms

have their own cloak bay

which is part of this space. So

the transition isn't a big deal.

You need that, especially for

6-year-olds."

Some things take a child's

eye to notice. A couple of days

in to using the new classroom,

she was talking with her students

about the things they

were feeling grateful for, and

what they were noticing about

the space. "One of them looked

up at the ceiling and said, 'I'm

so grateful that the lights are in

the shape of books'. I thought,

oh my goodness, yes they are."

Just outside her classroom,

through the cloak bay,

is a playground which, on a

Wednesday afternoon, has

youngsters playing on its

equipment.

Watts & Hughes congratulates Southwell

School on their magnificent new

classrooms and we hope the students

enjoy them.

We were pleased to be selected as the

main contractor for these classrooms for

Year 2-4 students.

Rototuna retail development

Thank you to all the sub-contractors and

suppliers who worked alongside us on

another great local project.

For a professional, no obligation

discussion please contact Mark Gutry

Cancer Society

07 849 0097

markg@wattsgroup.co.nz

1B Maui Street, Hamilton

www.whconstruction.co.nz

Trevellyn Care Aged facilities

under construction
---
SOUTHWELL SCHOOL

WAIKATO BUSINESS NEWS April/May 2018 37

Proud to support

Southwell School and

Watts and Hughes

www.selectalarms.co.nz

J1040P

Rebecca Stark is there to

pick up her son, who attends

the school. She taught in the

former building, which she

says was freezing in winter.

Fortunately, the helpful caretakers

would come and turn on

her heater at about 7am.

Needless to say, she is

impressed by the new block.

"I'm so jealous, it's amazing."

She comes in to help out in

the mornings with reading and

writing in the year 2 literacy

programme. "I've been using

that little breakout room and

it's perfect."

Rebecca's connection with

the school is strong. Her father

and uncles attended, and her

father was a pupil in the very

room that she later taught in.

"All my cousins and my

husband came here and then I

started teaching here in 2008."

As Jason remarks: "People

like Rebecca are the glue

in the community because

they've got a passion and a

relationship with the school."

That sense of relationships

extends to the building being

designed by architects de Lisle

Jenkins, who also designed the

school's Centre of Performing

Arts. And the new building

is named after a couple with

decades of association with

the school.

Murray Day attended the

school himself from 1939-44,

and went on to become a well

known accountant and member

of the Waikato business

community.

"He's a huge contributor to

Waikato business and society.

Continued on page 38

Congratulations Southwell School on your new building.

Supporting building excellence in the Bay of Plenty and Waikato.

Specialists in:

Structural, strengthening and general steel work

Stainless Steel

Aluminium

All fabrication and welding

Heavy engineering and earthmoving equipment

Phone: 07 308 5596 Email: admin@bwengineering.co.nz

38 Valley Rd, Whakatane

J8128P

Certified

Plumbers, Gas Fitters

& Drainlayers

The team at Waikato & BOP Suspended ceiling

are proud to be associated with the Southwell

School and the new Lowers Build.

Waikato & BOP Suspended Ceiling Services Ltd

86 The Boulevard, Hamilton

unit 3, 90 Whakakake St, Tauranga

www.wscs.co.nz

FREE QUOTE • Waikato • Bay of Plenty

aquaholics.co.nz 0800 AQUA 007

"We pride ourselves on excellent customer

service and thorough knowledge of all

aspects of the trade."

Proud to be associated with

Watts and Hughes Construction

P9371Y
---
38 WAIKATO BUSINESS NEWS April/May 2018

SOUTHWELL SCHOOL

Bright new learning

environment for

Southwell students

WEDDINGS AT

From page 37

He's very well networked and

a great relationship builder,"

Jason says.

He has been chairman of

the Hamilton Golf Club, a

member of the MacKenzie

Trust and is a Rotarian. He is

a life member of the World

Squash Association.

He was chair of the Southwell

Trust Board through the

90s.

His wife Ann has similarly

been involved with the school

over many years, and the couple

sent their two sons there.

Both Murray and Ann are

fellows of the school.

During the construction,

existing buildings were used

to accommodate the pupils,

including a historic homestead

on the grounds, which was

modified to create learning

spaces.

A timelapse on the Southwell

website shows the construction

of the new building,

from July last year to the

beginning of March this year.

"We have a world-leading

campus, and the new building

enhances that," says Jason.

Southwell is a Waikato independent

co-educational Anglican

boarding and day school,

for children aged 5-13 years,

set in 13 hectares of park-like

grounds. It opened in 1911 and

is New Zealand's only co-educational

primary and boarding

school.

We are proud to be the exclusive distributor of

Proud to be associated with Watts and Hughes

Construction on the new Lowers building

· MOE approved contractor specialising in schools

· Special low maintenance rates for schools

· LED lighting Staged conversion's

· Loyalty rewards program

· Exit and emergency lighting designs and installations

· Commercial installations and maintenance

· Client based minor electrical works projects

· Thermal imaging checks (Check for hot spots in switchboards)

· SineTamer ® Agent NZ (surge and transient protection)

Mickor Electrical Contractors | 21 Bristol Place, Te Rapa

Mike 021 125 0551 | Ryan 021 232 6203 | miker@mickor.co.nz

www.mickor.co.nz

J3602P

The Team at Asphalt Shingle

are proud to be associated with

Watts & Hughes Construction

and Southwell School with the

Lowers Building.

CONTACT US

ASPHALT SHINGLE ROOFING

Freephone: 0800 261 116

Phone: (09) 636 7051

28-30 Miami Parade, Onehunga, Auckland

J6170P
---
WAIKATO BUSINESS NEWS April/May 2018

Developing soft skills for a successful future

Four essential skills for doing well in today's fast-paced, highly

social, ultra-competitive and globally connected world are creativity,

critical thinking, communication and collaboration, as identified by

the 'Assessment and Teaching of 21st Century Skills' (ATC21S) –

an organisation at the University of Melbourne that includes more

than 250 researchers from sixty different institutions worldwide.

THOUGHTS FROM AN EDUCATOR

> BY GRANT LANDER

Grant Lander is the Headmaster at St Paul's Collegiate School

in Hamilton. Email: stpauls@stpauls.school.nz

39

Dr George Vaillant completed

a famous study

of adult development

that followed 268 male Harvard

undergraduates throughout

the course of their lives.

Adaptability was determined

as the key determinant of success.

Dr Vaillant described the

mature adaptive style in the

men studied as being able to

"make a lemon into lemonade",

meaning to adapt creatively

and positively to any

situation. He also states that

a sense of altruism – the willingness

to give of yourself for

others – and a sense of humour

in handling conflict and stress

were key features of this adaptive

style.

The St Paul's senior students

who were awarded tertiary

scholarships for 2018

didn't just have high Grade

Point Averages; they had

shown collaboration skills

in their leadership of teams

and groups and through their

involvement in the school's

'Over the Fence Ministry' service

initiative; were able to

effectively communicate and

get along with others; illustrated

initiative and flexibility

in their thinking; were often

described as 'being their own

man/woman' and were able to

be independent and stand apart

when needed.

So if we know what we need

to be striving for in our young

people, how do we make those

first correct steps in that direction?

An address by Dr Shimi

Kang at an International Boys'

Schools Coalition (IBSC) conference

identified the potentially

toxic culture often surrounding

young people and

stressed the importance of the

following things: basic sleep,

nutrition and exercise to enable

the brain to function; mindfulness

– the ability to pay close

attention to the world around

us; creating a community for

children to grow up in – based

on the quality of relationships,

not the quantity of people;

teaching and modelling the values

we want our teenagers to

develop; encouraging a sense

of gratitude and appreciation

about what we should be thankful

for; letting our children try

first before stepping in to provide

feedback and advice.

Creativity, critical thinking,

communication and collaboration

are often referred to as

'soft skills'. The 21st century

workplace is increasingly complex,

diverse, interdependent

and connected. People with

Booming tourism sector drives

growth in hospitality

Monthly consumer

spending across the

restaurant, cafe, bar

and nightclub sector grew by

15 percent in the past two years,

according to ANZ transactional

data.

But with the number of food

and beverage providers in New

Zealand continuing to grow it

will mean businesses need to be

creative about managing costs,

including wage pressures, to

stay profitable, says a new ANZ

Bank New Zealand report.

ANZ commercial and agri

general manager Penny Ford

said the report showed the

tourism market, coupled with

a strong domestic dining out

scene, had helped contribute to

the sector's growth.

"Businesses are really

responding to the demand

for a different dining experience,

whether that is through

a sustainably grown paddockto-plate

story, catering to the

increasing number of people

moving out of major cities into

the regions, or growth in centres

like Christchurch and Auckland."

Key findings of the report are:

• international spending

peaks at around 24 percent

of total credit card expenditure

in the summer months,

dropping to around 9 percent

in winter;

• domestic spending averaged

around 75 percent – 85

percent of total spending in

the sector over the two year

period;

• the number of food and

beverage providers grew by

7.4 percent; and

• New Zealand's main destinations

recorded growth

in food and beverage providers,

with Christchurch

leading the way with 11.6

percent growth, likely due

to progress of the earthquake

rebuild, followed by

Auckland with 10 percent,

Waikato 8.6 percent, Otago

4.6 percent and Wellington

3.3 percent.

"All this points to the hospitality

sector being in good

shape, but despite this strong

backdrop we know businesses

are facing some challenges,"

Ford said.

ANZ benchmarking of 43

businesses shows revenue

growth is only marginally up

and the median results for

wages and salaries as a proportion

of revenue was around 35

percent.

With the Government indicating

the minimum wage

will increase to $20 per hour

by April 2021, a 27 percent

increase from $15.75 per hour

in March this year, she said

businesses would need to be

proactive around managing

costs.

"While forecasting wage

growth is difficult, and a 27

percent increase would apply

only to employees on the minimum

rate, any increase would

have an impact on the bottom

line.

"Finding a point of difference,

structuring service offerings

and looking at different

ways to manage supply chains

are ways businesses can deal

with this cost increase.

"If businesses are relying

on one input being cheap – like

wages – the reality is that business

will be vulnerable."

'soft skills' typically have

strong social skills and are

often associated with leadership.

Strong successful lives

thrive with these characteristics;

trustworthiness in the job,

home and community; respect

for family, friends, colleagues

and neighbours; responsibility

for the task at hand; and fairness

towards others.

These are the things we

need to be fostering in our children.

As a society, we value

those who think of others first

and ideally we want our teens

to become adults who strive for

a win-win solution and are confident,

caring social beings.

Publisher

Alan Neben

Ph: (07) 838 1333

Mob: 021 733 536

Email: alan@nmmedia.co.nz

Sales director

Deidre Morris

Ph: (07) 838 1333

Mob: 027 228 8442

Email: deidre@nmmedia.co.nz

Editor

Geoff Taylor

Ph: (07) 838 1333

Mob: 027 808 5170

Email: geoff@nmmedia.co.nz

Production manager

Tania Hogg

Ph: (07) 838 1333

Email: production@nmmedia.co.nz

Graphic designer

Kelly Milne

Ph: (07) 838 1333

Email: kelly@nmmedia.co.nz

ADVERTISING INQUIRIES

Please contact:

Advertising account managers

Joanne Poole

Ph: (07) 838 1333

Mob: (021) 507 991

Email: joanne@nmmedia.co.nz

Anne Terry

Ph: (07) 838 1333

Mob: (027) 493 9494

Email: anne@nmmedia.co.nz

ELECTRONIC FORWARDING

Editorial:

News releases/Photos/Letters:

geoff@nmmedia.co.nz

Production:

Copy/Proofs:

production@nmmedia.co.nz

Subscriptions:

accounts@nmmedia.co.nz

12 Mill Street, Hamilton PO Box 1425,

Hamilton, 3240. Ph: (07) 838 1333

Fax: (07) 838 2807 | www.nmmedia.co.nz

LIQUIDATE IT

Corporate undertakers

Company liquidations and restructures

Kelera Nayacakalou

BMS, LLM (Honours)

021 0577198 www.liquidateit.co.nz

Contemporary NZ art works for hire

in workplaces & private homes.

FrEE consultation & installation

Consultancy services available.

"We don't just

"We

manage

don't

your

just

manage

property,

your

we protect

property,

your investment."

we protect

your - David Kneebone, investment."

General Manager,

Lodge City Rentals

- David Kneebone, General Manager,

Lodge City Rentals

Portfolio Art Hire

Janet Knighton

P 021 059 0028 E art.hire@xtra.co.nz
---
Ang

An

40 WAIKATO BUSINESS NEWS April/May 2018

CHILD FOCUS

New Waikato childcare

centres offer more

Morning commuters

on Bankwood Road

will have seen rapid

progress at the new Fairfield

on Bankwood Early Education

Centre as the new site takes

shape.

Scheduled to open in a few

short months, the new centre

offers a bright and airy environment

for Waikato youngsters in

a purpose-built facility.

The available space has

been maximised to provide the

best mix of indoor and outdoor

activities and offers a real homeaway-from-home

in a warm and

welcoming environment.

The new building has already

attracted significant interest

from parents keen to be first

through the doors when it opens

in June.

Across the river, and in

behind The Base, development

is also underway on the new

Rotokauri centre in Arthur Porter

Drive, scheduled to open in

Spring this year.

This will be an ideal childcare

environment for working

parents whose commute takes

them on the Waikato Expressway,

or those who work in the

ever-expanding retail developments

in and around The Base.

The new Rotokauri centre will

have five large rooms to offer

learning at each level including

a dedicated room for transition

to school.

The Association is the only

Early Childhood Education provider

in the Waikato to be an

Enviroschools partner, a unique

initiative to educate our littlest

Kiwis about sustainability, reuse

and recycling.

Parents looking to enrol their

children are encouraged to get

in touch soon to confirm their

place. Enrolments can be made

and more information available

for Fairfield and Rotokauri by

phoning 0800 CHILDREN

(0800 244 537) or via the website

www.kindergarten.org.nz.

Limelight Dance Academy, Hamilton's premier

dance school offering specialist training in RAD

Ballet, NZAMD Jazz, Contemporary, Hip Hop,

Tap and Lyrical.

Offering classes from Pre-School to Adults.

At Limelight Dance Academy we hope to

create and nurture a love of dance and help

to develop healthy, happy, well rounded

individuals.

Does your child want to be a part of a fantastic

end of year production?

Enrolments now being taken for Term 3.

New Term 3 Classes starting in Pre-school

Ballet, Beginner Ballet, Beginner Jazz and

Introductory Contemporary.

For more information

please contact Kerry Mills

phone 855 3021 | mobile 021 2343930

email admin@limelightdanceacademy.co.nz

www.limelightdanceacademy.co.nz

A7651T

Jazz Unlimited

Dance Studio

American Jazz, American Tap, Classical Ballet,

Hip Hop, Contemporary, Theatre Arts. Ages: 3 years to adult.

Two locally owned centres,

Hillcrest and Hamilton

CENTRAL CITY LOCATION Central

OPENING 2017

OPENING EARLY 2017

Jazz Unlimited has the biggest range of top-quality syllabi,

four new upmarket studios, with the latest safety features and

a joyful, caring, inclusive culture with outstanding teachers.

Class sizes are limited to ensure effective learning.

There are also Saturday classes.

Dance exams are held in Term 3, with a fabulous recital

each December in a professional theatre. We now have a

high-perfomance academy in the studio for ages 9 and up.

Entry is via successful audition.

We're at 188 Kent Street, Frankton. Visitors are welcome.

Enrol now for Term 2 to ensure a place.

For more information - term dates, timetable, etc.

visit www.jazzunlimited.co.nz, phone 07 838 0096

or email jazzunlimited@xtra.co.nz

Founders

Theatre

Founders

Theatre

Transport

Centre

Centre Place

Locally owned New Save and operated

Seddon Park

Register your Locally interest owned and online operated

Asian Fresh

Licensed for 80 children in three rooms

at www.curiouscubs.co.nz Licensed Supermarket for 80 children or in

High-quality with The phone three rooms

Warehouse or

High-quality ratios with qualifi ed teachers

teachers

visit our Hillcrest High-quality centre ratios with 07 qualifi 856 ed 4424 teachers

Nutritious meals provided

109 Cambridge

Nutritious

meals Road,

meals

Kmart

Hillcrest

provided

Register your interest Register online your interest online

at curiouscubs.co.nz

Curious Founders Cubs City Founders Early Learning City Centre: 150 at 07 curiouscubs.co.nz

Tristram 839 4130 Street, Hamilton Central, Hamilton

Theatre

Theatre facebook.com/curiouscubscity

Located up the driveway email jenni@curiouscubs.co.nz

behind facebook.com/curiouscubscity

150 Tristram Street, New Hamilton Save Asian Central Fresh Supermarket.

Register your email jenni@curiouscubs.co.nz

interest online

or phone 07 839 or 4130 phone 07 839 4130

Seddon Road

Norton Road

CENTRAL

Locally owned and operated

OPENING Licensed for 80 children

OPENI

EARLY in three rooms 2017

High-quality ratios with qualifi ed teachers

Nutritious meals provided

Register your interest online

CENTRAL CENTRAL CITY CITY LOCATION LOCATION

OPENING EARLY 2017

Tristram Street

London Street

at curiouscubs.co.nz

facebook.com/curiouscubscity

email jenni@curiouscubs.co.nz

or phone 07 839 4130

Bryce Street

Barton Street

OUR NEW LOCATION

Locally Nutritious owned meals and provided. operated

London Street

Anglesea Street

Licensed for 80 children in three rooms

Norton Road

Both Centre's feature:

Stimulating environments inside and out that

encourage children's curiosity and hunger to learn.

Qualified enthusiastic teachers with good teacher to child ratios.

London Street

Barton Street

at curiouscubs.co.nz

OUR NEW LOCATION OUR NEW LOCATION

facebook.com/curiouscubscity

Norton Road

London Street

Barton Street

Ward Street

Barton Street

Victoria Street

Victoria Street

Victoria Street

B5525H
---
CHILD FOCUS

WAIKATO BUSINESS NEWS April/May 2018 41

Creators - nurturing

each child's talents

Here at Creators, we are passionate about seeing every child's

unique talents being recognised and nurtured. We believe that

a child, being nurtured in an environment filled with a positive

presence, surrounded by passionate adults, will be filled with the

sense of wonder and joy that will help them flourish through life!

We believe that children

feel loved, have

a sense of belonging

and feel valued when their

identity is securely fixed in

love and encouragement. From

this foundation, children feel

confident to explore, learn

and discover. Every child is

a genius in their particular

gifting and talent. Our role as

Kaiako is to discover and nurture

this in order for the child

to reach their full potential.

We create a culture of innovative

learning in our centres

through pedagogical research

and implementation of the Reggio

Emilia inspired approach

to early childhood education.

The Reggio Emilia preschools

have been recognised as some

of the greatest preschools in

the world, and we are excited

to support this approach in our

centres, setting a new standard

in the industry.

Our three centres- Creators

Forest Lake, Creators Grandview

and Creators Waipa lay

in the heart of their communities,

with Forest Lake being

situated at the top of a hill

overlooking the city. All of

our centres use natural materials

to complement our classroom

environment and create

authentic experiences for the

tāmariki in our spaces.

Our team are inspired by

our tāmariki and their whānau

which helps them to develop

genuine love for anyone who

comes through our doors. We

thrive to provide environments

that are rich in learning opportunities

through exploring

nature. We have a passion for

the outdoors and for helping

to raise a generation of children

who are empathetic to the

needs of the earth.

Our Kaiako strive to partner

with each child and their

whānau and embark on learning

journeys that support their

individual passions and aspirations.

With strong links into

our community, we believe it

takes a village to raise a child

and consider it an honour to be

part of the village.

Need Childcare?

Discover a place where your

child's security is firmly

secured in love and encouragement.

Discover a place where

your child's unique talents are

recognised & fostered.

Discover a place where you

child is nurtured in an environment

filled with a sense of pure

wonder, curiosity & joy.

Discover Creators today.

WWW.CREATORS.ORG.NZ

0800 CREATORS

because

best

CHILDREN

DESERVE OUR

WWW.CREATORS.ORG.NZ | 0800 CREATORS

FOREST LAKE

85 FOREST LAKE ROAD,

HAMILTON

GRANDVIEW

162 GRANDVIEW ROAD,

HAMILTON

WAIPA

91 CHAPEL DRIVE,

TE AWAMUTU
---
42 WAIKATO BUSINESS NEWS April/May 2018

Tourism continues billion-dollar

super-charge of regional economy

The Hamilton and Waikato region reached

another significant milestone recently when

it smashed its record for annual visitor

expenditure.

Leisure and business tourism

is now contributing

$1.5 billion into the

regional economy annually,

and Hamilton and Waikato

continue to be the fifth largest

visitor expenditure in New

Zealand, behind Auckland,

Wellington, Christchurch and

Queenstown.

Domestic visitors are our

number one asset as they contribute

$1.143 billion into the

regional economy, with international

visitors bringing in

$357 million. These are significant

figures and it's not just

tourism which benefits from

the growth in visitor expenditure.

The latest monthly regional

tourism estimates for the year

ending February 2018, show

that visitors love to shop (retail

spend $783 million), experience

our fine Waikato hospitality

(food and beverage spend

$239 million), get around our

region (transport $101 million)

and stay in quality commercial

accommodation ($80 million).

Other beneficiaries include

the arts and recreation sector

where visitors spend on average

$198 million. And it's not

just leisure travellers spending

up large either.

Our business travellers who

visit Hamilton and Waikato for

meetings and conferences are

also contributing to our stellar

figures. The latest Convention

Delegate Survey results show

that international business

delegates spend on average

$299 per night when visiting

Waikato, spending around

seven nights in New Zealand.

Domestic business event delegates

spend more with an

average of $461 per night and

stay around three nights in the

region.

Our business event and

convention market are key to

the continued success of our

region. Not only do conference

delegates spend more

than the leisure traveller, they

also have a favourable experience

and return for a holiday

with family and friends.

Increased visitor numbers

and tourism expenditure into

our region contribute to a sustainable

regional economy. We

are seeing an increase in student

numbers on tourism-related

training programmes,

hospitality providers moving

into larger premises and retailers

extending opening hours

to meet demand. We are also

seeing suppliers to the tourism

industry flourishing as well.

Employment numbers are

growing in the sector with

increased opportunities for

graduates and those more

experienced. Lifting the pay

of workers within the sector

is also a key focus to ensure

everyone benefits from the

growth. Initiatives such as

SKYCITY Hamilton adopting

a '$20ph minimum wage by

2020' for its staff should be

commended.

We recently hosted our

bi-annual Industry Symposium

which attracted more than

100 tourism operators. The

vibe has changed in the sector

with more products and new

operators being showcased

across a range of markets –

from Maaori tourism products

and speciality guided food

and craft beer tours, through

to luxury and agri-tourism

accommodation offerings. One

of our experienced operators

said it felt like "Waikato has

woken up to tourism" and felt

inspired by all the new people

and employment opportunities

in the region.

This is the time for our

region to shine and I want

to thank each one of you for

contributing to our success as

a visitor destination. Whether

you helped someone who was

lost with directions, recommended

a place to stay or visit

in our region, or provided a

TELLING WAIKATO'S STORY

> BY JASON DAWSON

Chief Executive,

Hamilton & Waikato Tourism

service or product to our sector,

we couldn't have achieved this

growth without your support.

Hamilton & Waikato Tourism

is the regional tourism organisation

charged with increasing

international and domestic

visitor numbers, expenditure

and stay. The organisation is

funded through a public/private

partnership and covers

the heartland Waikato areas

of Hamilton City, Matamata-Piako,

Otorohanga, South

Waikato, Waipa, South Waikato

and Waitomo Districts. Find

out more: www.hamiltonwaikato.com

NEW CLOTHING RANGE

COMING SOON

Have a happy Holden Mother's Day

51-57 Alexandra Street. Hamilton, New Zealand

email: parts@ebbett.co.nz

Ph 07 839 4832

www.ebbett.co.nz

J4052P
---
MOTHERS DAY

WAIKATO BUSINESS NEWS April/May 2018 43

DAY

Treat Mum this Mother's Day

1226A Victoria Street, Hamilton

Ph 07 838 2202

www.watersdayspa.co.nz

facebook.com/WatersDaySpa

Treat

your Mum

A divine progression of treatments designed to gently transport

mum into a state of total relaxation is exquisitely presented in each

Waters Day Spa Mother's Day Package.

Now In Two Locations

:: 441 Victoria Street, Hamilton :: P (07) 838 3418

:: Ground Floor, Chartwell Shopping Centre :: P (07) 852 5341

:: www.goldsmithsgallery.co.nz ::

B7299H

Instantly evoking a sense of wellness and pure indulgence, Waters

special Mother's Day offers utilise the best in skin care to craft

inspired body and beauty rituals.

Aromatouch technique is perfect for

post sport events of any kind.

Absolute bliss

Ultimate luxury

This massage treatment has been designed by Dr

D.Hill of Doterra.com. Come in and try this treatment

for yourself with tension reduction benefits.

60 minutes - $99pp

The experience commences

with a gentle Detox fiz bomb

foot bath, warm oil hair treatment

massage, followed by

an Environ facial.

1. Stress Reduction

2. Immune

Enhancement

After the treatment, we invite your

mum to visit The Lost Boys at 45

Waterloo Street Frankton, Hamilton

for a free Espresso.

105 minutes - $209pp

Your mum will delight in

a therapeutic head, neck

and upper back massage

before enjoying a Circadia

Advanced Facial.

3. Inflammation

Response Reduction

4. Homeostasis

All Aromatouch treatments start with an Infrared Sauna to

detoxify and helps to relieve muscle tension.

Allow for 70 minutes - Aromatouch $90

Gift voucher

is valid until

October 2018.

B9979H

K4588R

Mother's Day Special

G&M

Indulgence

Facial $45

(45 minutes)

Treatments:

• Facials

• Spray Tanning

• Manicures & Pedicures

• Dermablading

• Eye Enhancements - Eye Lash

Perm & Tint, Brow Shape & Tint

• Eye Lash Extensions

• Massages

B5536H

NV Beauty

147 Ohaupo Road, Urlich Shopping Centre

Glenview, Hamilton

07 843 6363 | www.nvbeauty.co.nz
---
44 WAIKATO BUSINESS NEWS April/May 2018

WORKPLACE HEALTH AND SAFETY

Corporate eye care programme pays off

The responsibility for employee safety

and care has long been a priority for

many Waikato employers, even before the

changes in health and safety regulations.

Independent local optometrist

group, Paterson Burn,

has been inside workplaces

around the region for many

years, offering vision screening,

discounts and safety frame

packages to corporate and

industrial employers.

The ability to offer eye

examinations and onsite

screening to staff has a clear

advantage for many employers

in terms of ensuring staff safety

as well as productivity.

Paterson Burn's marketing

manager Martine Wong,

observes that the motivation

for many of their customers

in the Corporate Eyecare programme

is to achieve the highest

level of care for their teams

which means higher productivity

for the company, and a safe

and comfortable environment

for working.

"We hear stories of staff

who have not realised they

required any vision correction

until they were offered this

free onsite screening, and that

their working life has changed

no end now they have the correct

lenses."

Paterson Burn staff visit

locations, particularly in

Hamilton, where there are

teams spending all day looking

at screens, with digital eye

strain or dry eye becoming

increasingly common conditions.

The Paterson Burn group

is part of a select list of optometrists

who can now offer

Eyezen lenses that are specifically

designed to improve

vision and reduce the impact

of eye strain and harmful blue

light. This is a breakthrough

for many office-based workers.

With practices in Te

Awamutu, Cambridge,

Tokoroa and Thames, the team

also visits many industrial and

agri-sector businesses with a

diverse range of requirements

for protecting and correcting

vision issues in their teams.

"Prescription safety glasses

are definitely something we

are seeing a lot of interest

in", says Martine. "Not only

is it cumbersome to put safety

glasses on over the top of

prescription glasses, it can also

distort the vision. We've had

lots of great stories from staff

in industrial environments who

have raved about how much

easier life is now with just

the one pair of glasses. And

believe me, they're far from

ugly and clunky too."

As well as safety glasses,

the corporate eye care programme

includes free workplace

screens, discounts on

frames, lenses, contact lenses

and follow-up comprehensive

eye exams.

Contact details:

Trish Tate

corporate@patersonburn.co.nz

07 959 0085

patersonburn.co.nz/corporate

WORK

FOCUSED?

Ensure your employees are

focused on the job with free

onsite vision screening from

Paterson Burn.

The Corporate Eyecare Programme includes:

• Free onsite workplace screenings

• Discounted comprehensive eye exams

• Discounted frames, lenses and contact lenses

Safety frames packages are also available

corporate@patersonburn.co.nz

07 959 0085

patersonburn.co.nz/corporate

HAMILTON | CAMBRIDGE | TE AWAMUTU | THAMES | TOKOROA | AUCKLAND
---
BAY NEWS

Tourists up amid calls

for more funding

WAIKATO BUSINESS NEWS April/May 2018 45

The good news for the Coastal Bay of

Plenty is that tourists spent a record $1

billion last year. The less good news - at

least for some business ratepayers - is that

Tourism Bay of Plenty is seeking increased

annual council funding of around $620,000

to help support a new and better targeted

approach.

By DAVID PORTER

Tourism BOP says

the increase would

make its funding more

aligned with other similar-sized

Regional Tourism

Organisations (RTOs).

And it would underpin its

efforts to drill down and gain a

better understanding of exactly

who comes to the region and

why, and to transition from

largely promotional activities

to what the industry describes

as destination management.

"It would be reckless to

allow this level of growth

without a considered management

plan. We are aiming to

grow the visitor economy on

our terms, with the right visitors

at the right time, for the

benefit of the region," said

Tourism BOP chief executive

Kristin Dunne.

"Destination management

Ovation of the Seas: At Tauranga.

Photo/Katie Cox, Tourism BOP

Kristin Dunne:

Photo/Tourism BOP

is the coordinated management

of all the elements that make

up a region. It is the key to

controlling tourism's environmental

impacts and preserving

the region's unique identity."

Dunne told Bay of Plenty

Business News the move was

part of a long-term strategy

that was attempting to balance

growth with a solid management

plan. As part of this

process, the tourism body has

put together a 10-year Visitor

Economy Strategy. This has

forecast that the visitor economy

will grow by more than 50

percent by 2028, positioning

tourism as one of the larger

economic contributors to the

region.

"The additional funding

will allow us to do a lot more

research so that we can better

understand the visitors and we

could be making insight-led

decisions. That's really at the

heart of destination management

- it's making sure we

understand who the visitors

are, where they're coming

from, and what they need."

The reality was that currently

the research data was

very poor, Dunne said. The

BOP is a region with many

entry and exit points, making

measurement of visitors

difficult.

But she emphasized that

this wasn't just a BOP problem,

but a national one.

Regional Tourism New

Zealand says current ways of

thinking about tourism development

are "not fit for purpose"

and tourism needs to be

on the agenda of every council

around the country.

Executive officer Charles

Ives says increased growth in

tourism will place pressure on

the regions, which has to be

Gloworm kayak tours: Photo/Waimarino

anticipated before it has a negative

effect on communities.

"Tourism – perhaps more

than any other industry – touches

the whole community and

while most New Zealanders

overall are still comfortable

with the industry, we are

already seeing early indicators

of pressure such as overcrowding

and negative reactions to

Freedom Campers," he says.

"These are warnings of the

impact tourism can have on

us, if we don't have a planned,

developed and managed

approach."

A core facet of destination

management is solid visitor

insights to best understand a

visitor economy and its visitors,

said Dunne.

If the additional funding

it has applied for through

Tauranga City Council's Long

Term Plan is approved, significant

insights work into visitor

numbers and visitors themselves

would be undertaken,

enabling it to best utilise its

marketing dollar in targeting

the right visitors to visit at the

right time.

"All we really know with

confidence is how much visitors

are spending - we don't

know where they're coming

from or who they are, with any

confidence," said Dunne.

"We are working with

all the stakeholders who are

involved in tourism, of which

there are many, and we're

looking out the next 10 years

to say, of what visitors have

told us they want, what is it we

need to deliver in the next decade

to give them a good visitor

experience."

Dunne said the industry was

currently very demand-oriented.

"We just get people here

in as many numbers as we

can. The other side is the supply

side - what experiences do

we deliver, what products are

there, what products should

there be?"

Some observers are critical

of the limited range of

activities available to visitors

to Tauranga - beyond visiting

the beaches and Mount

Maunganui - especially in

contrast to Rotorua's range of

well-developed activities and

events programme.

Rotorua Economic

Development chief executive

Michelle Templer says

Rotorua has continued to add

new products to ensure they

keep pace with the changing

wants and needs of visitors.

(see pages 21 and 22)

Max Mason, chair of the

TCC's economic development

committee, says the council is

well aware the tourism body

wants to change its role from

not only promoting, but managing

the region. There are

a number of negative aspects

to tourism, including increased

freedom camping and traffic

issues.

"They want to base their

future development on

insights, so a lot of visitor

research needs to occur," said

Mason.

"At the moment, most of

their insights about where

people come from and their

impact is done in those overseas

markets. One of the really

important bits of information

that we don't have, for exam-

ple, is how many people visit

Tauranga to see friends and

relatives. We know it's a massive

amount, but we don't really

know how much."

Tauranga Chamber of

Commerce Chief executive

Stan Gregec said he was in

principle supportive of something

that at least reflected

a more targeted approach to

council funding.

"We are a membership-based

organisation that is

a proxy for the business community,"

he said.

"Tourism BOP is 100-per

cent funded by councils and

we have been asked to support

them getting another $620,000

a year. Clearly it's the general

business community that is

going to have to pay for this

eventually through rates. But

at least it would be an example

of a targeted rate so we would

know in theory where those

funds were going to be spent."

He was speaking in the context

of the current opposition

by many in the business community

to the proposed shift to

businesses paying higher rates.

"We do understand there

is a national formula for tourist

organisations and Tourism

BOP has a bit of catchup to do.

I support the destination management

approach. But their

focus till now has been on

promoting, and they've done

very little to coordinate what

happens at this end. I would

have thought, given the money

they have been getting for

external promotion for years,

that it would have been a good

idea to have done some of that

analysis already."

Zespri gets tick from growers for share changes

By RICHARD RENNIE

Major changes to

Zespri's share structure

have been welcomed

by the sector's grower

body as the export marketer

moves to more closely align its

ownership with those responsible

for producing the fruit.

The changes resolve the

longstanding problem of

so-called "dry" shareholders

- those who have shares

in Zespri, but are no longer

actively growing kiwifruit. The

changes are Zespri's attempt to

deal with what chairman Peter

McBride described as a concerning

mis-alignment of ownership

between growers and

non-growers.

Almost 30 percent of shareholders

are currently below

the 1 share:1 tray ratio, while

eight percent of growers are

over the 4:1 share cap Zespri

proposed in the constitutional

NZKGI's Nikki Johnson:

Growers supportive of

changes to address

dry shareholding issue.

Photo/Supplied.

changes. Meanwhile, 15 percent

of Zespri's 120 million

shares are held by people who

are no longer connected with

the industry.

A special general meeting

held in mid-March drew

the required 75 percent-plus

grower support for the changes.

After almost five years and a

major industry strategy review,

kiwifruit growers have agreed

to the proposed changes to

Zespri's constitution.

There are now caps on the

ability of non-producing shareholders

to continue owning

shares, as well as a focus on

getting new growers to own

shares representing the volume

of crop they contribute.

Growers who are overshared,

with more than four

shares per tray of production,

will face a cap on their ability

to buy more shares.

And those over-shared at

the time of the new rules will

have seven years to sell the surplus

shares, and three years for

those who become overshared

after the rules are introduced.

In an effort to better align

the 18 million shares attached

to non-growing owners, Zespri

has set a dividend cap on

non-producing shareholders,

who now face a fade out period

of seven years on their dividend

payment.

"We are at a critical junction

with a unique opportunity

to formalise what the majority

of owners have asked for," said

McBride.

The changes have been

welcomed by Nikki Johnson,

chief executive of grower body

New Zealand Kiwifruit Growers

Incorporated (NZKGI).

"On behalf of NZ's kiwifruit

growers, NZKGI is

pleased with the outcome of

Zespri's Special Meeting," she

said.

"The passing of the resolutions

at the Special Meeting

was the final step in achieving

what growers indicated they

wanted in the Kiwifruit Industry

Strategy Project.

"In 2015, around 90 percent

of growers voted in the KISP

referendum to support proposals

to change Zespri's constitution

to allow for alignment

between growers and shareholders."

McBride gave a brief history

lesson on Zespri's creation

back in 2000, when growers

had sought government

approval to make the marketer

a full co-operative.

"Treasury would not allow

it – but that is where we are

wanting to head back to today."

McBride said dealing with

the share allocation was also

a significant succession issue

that needed to be addressed,

just as in any farm or orchard

operation's ownership.

"The outcome will be

important for the next generation

of kiwifruit growers."

To facilitate the entry of

newer growers as shareholding

operators, the changes have

included an allowance for new

entrants to have the entitlement

to buy shares up to one share

per tray. This is if they own or

lease a site on which there is

no history of production in the

past three years. Those shares

cannot be voted with until the

orchard begins production.

A share buy-back programme

will also target those

growers who are over-shared

and non- producing share holders,

purchasing their shares at

fair market value, and targeting

a share issue to unshared and

under-shared growers.

"This support for change

reflects the cohesiveness of our

industry and a common interest

among growers and former

growers in seeing it prosper,"

said McBride.

"The measures require a

huge amount of goodwill,

but ultimately they will support

Zespri's ability to deliver

strong, sustainable value to

kiwifruit growers and shareholders

over the long term. It's

a fantastic legacy for the next

generation of people in our

industry."
---
46 WAIKATO BUSINESS NEWS April/May 2018

Digital game developed to help

with sign language learning

Hamilton woman Adele Hauwai is the

innovator behind SeeCom (Reo-a-Karu),

a social enterprise which provides sign

language classes and products, and is

developing an interactive, digital sign

language game to help people communicate.

"Sign language is one of

the easiest languages to

learn and it can be fun for

children, parents and whanau,"

says Adele. "There are so many

benefits to learning sign language.

It's not just for deaf people.

We educate parents how to

communicate with all children

using reo rotarota (sign language),

even parents of children

with autism or with slow

Waikato Innovation Park business advisor Kahurangi Taylor.

speech development or learning

challenges."

Adele established SeeCom

in November 2016 and she has

grown her company into one

that employs 12.

Initially set up to teach basic

sign language to parents and

caregivers of babies, the company

has become much more

than that.

In the past year SeeCom has

been recognised with multiple

awards for its products and

services, which also includes

sign language posters and flash

cards in te reo Māori.

Adele says one of the challenges

of her business is the

misconception that sign language

is only for deaf people.

She says sign language "is for

everyone" and can be used as a

"support language" for everyone

from babies, toddlers and

children to those with communication

barriers.

"Sign language is empowering,"

she says. "I struggled with

learning, and sign language

helped me. I've been communicating

in sign language for

more than 25 years. For a toddler

or child who struggles to

communicate it reduces frustration

and tantrums, helps with

bonding and relationships and

boosts confidence."

She says the value of sign

language in an education setting

is immense, and there is a

lot of interest from ECE teachers

and educators in learning it.

SeeCom offers professional

development sign language

classes for schools and organisations.

They are particularly

focused on training people who

are fluent in te reo Māori to be

sign language tutors, and have

been inundated with interest

from Māori organisations and

schools, including kura kaupapa

and kōhanga reo.

Of Waikato-Tainui, Ngāti

Kahungunu and Tūhoe descent,

Adele juggles family life and a

six-year-old son with entrepreneurship.

She is keen to share her

passion for sign language.

"There are more than 200 sign

languages around the world,

so there is huge potential to

develop sign language products,

services and apps."

The SeeCom team are in the

process of developing an interactive

digital game that uses

sign language. Their innovative

sign language game traces

the gamer's body movements

and signs to make the character

do something in the game. "If

you sign JUMP, the character

jumps, sign SWIM, the character

swims," says Adele.

The game has past the prototype

stage, and SeeCom is

currently doing research to produce

the full game version. "We

are testing it in different markets

to see how different users

interact with the game, and we

are looking for investors and

funding to get it to market," she

says.

Kahurangi Taylor, a

Waikato Innovation Park business

growth advisor, said that

SeeCom's new product is innovative

with a lot of potential.

"It's a really cool game and

something that everyone will

enjoy."

Kahurangi has been working

with Adele since last year.

The Waikato Innovation Park

business growth team, funded

by the Regional Business Partner

Network (RBPN) which

is supported by New Zealand

Trade & Enterprise (NZTE)

and Callaghan Innovation, has

helped with advice and funding

to grow.

Adele was encouraged to

apply for a Callaghan Innovation

Getting Started grant,

which covers 40 percent

towards the total cost for game

developers to work on developing

a prototype for the game

last year. Waikato Innovation

Park Business Growth Advisors

mentored Adele through

the application process.

The Waikato Innovation

Park team also helped her

access mentoring and networking

events with other entrepreneurs.

"I've attended a lot of

the Māori business hui and it's

been powerful hearing other

people's success stories and

experiences," she says.

Adele is currently a participant

on the Kōkiri Māori business

accelerator programme,

run by Te Wānanga o Aotearoa,

Ministry of Business, Innovation

and Employment and Callaghan

Innovation.

In the past year SeeCom

has won four awards. These

included Launching Leaders

(LDS-BPA) 2016, the Dig My

Idea - Māori Innovation Awards

(Open Category) in 2017, Innovate

NZ Competition Finalist

2017 and the Kōkiri awards

2018. Ms Hauwai also received

a Māori entrepreneur bursary

to attend the Social World

Enterprise Forum in September

2017.

Adele hopes that her business

will have a positive effect

on people lives.

"With educating more

communities about how sign

language can benefit them as

a support language, we have

done away with the myth that

sign language is just for deaf

people," she says. "What we

are doing is trying to develop

hands-on learning that is fun,

educational and will help people

to communicate through

sign language."

Are you doing

enough to keep your

workers safe?

Our consultants can provide services

specifically to your business needs.

Whether it is a systems gap analysis,

machine guarding review, hazardous

substances or audit advice.

- our consultants are here to help.

Call us to discuss your

needs today

safety@ema.co.nz

Health and Safety

Training - Book Now

and Save!

Find out why 4,000+ other business just like yours are already EMA members.

Book and attend any course in May or June and take advantage of exclusive

member discounts on training even if you are a non-member!*

Upcoming courses near you:

Accident Investigation

Master the evidential investigation and

reporting of workplace accidents

Contractor Management

Know and manage all your health and safety

obligations to contractors

Implementing An Effective H&S Management System

Get the tools and knowledge you need to create an

effective Health and Safety system

Health and Safety From a Management Perspective

Gain the knowledge and tools to fulfil

your obligations under the law

Health and Safety Representative - Stage1

Essential training to become an effective workplace

Health & Safety Representative

Health and Safety Representative - Stage 2

Take your skills as a Health & Safety Representative

to the next level

Health and Safety Committee Training

Ensure that all members of the health and safety

committee have the required knowledge and skills

ICAM Investigation

Become a proficient investigator of events and

near misses using ICAM methodology

Machinery Risk Competency

Know the range and scale of risks associated with

machinery, and how to control them

Health and Wellbeing In the Workplace

This workshop takes you beyond the perception of

Health & Safety as solely about injury prevention.

08/05 01/06 27/06

30/05 14/06 19/06

09/05

15/05 22/05 26/06

07/05 10/05 07/06 18/06

14/05 14/06 28/06

17/05 25/05 29/05 15/06 22/06

17/05

23/05 13/06

25/06

Rotorua Whakatane Hamilton Tauranga

CAR OF THE YE

2016

CLASS WINNE

$45K-60

Fair

© T

safety@ema.co.nz

*Terms and conditions apply.
---
PLEASE APPROVE THIS AD AS SOON AS POSSIBLE. NOTE THAT ANY ALTERATIONS

MUST BE FINALISED BY OUR MATERIAL DEADLINE.

WAIKATO BUSINESS NEWS April/May 2018

47

Part of the family for over 50 years

Part of the family for over 45 years

GET IT FOR YOUR FAMILY

DRIVE IT FOR YOURSELF

LARGE

AR

R

K

CAR OF CAR THE OF YEAR THE YEAR

2016

CLASS WINNER

$45K-60K SAFETY

CAR OF THE YEAR

2016

CAR OF THE YEAR

CLASS WINNER 2016

CLASS WINNER

SAFETY

CAR OF THE YEAR

2016

OF THE YEAR 2016

Mazda CX-9

Since 1967 Fairview Motors has been supporting families, businesses and community organisations

throughout the Waikato and we're continuing this tradition in 2016 as a proud sponsor of

THE 'Balloons Over AWARD Waikato'. WINNING MAZDA CX-9

www.fairviewmotors.co.nz

The Brand-New Mazda CX-9 is the perfect blend of sophisticated luxury and family SUV. Featuring a breakthrough

FAIRVIEW MOTORS MAZDA, 2011, 2012, 2013 & 2014 MAZDA DEALER OF THE YEAR

new SKYACTIV-G 2.5T turbocharged engine offering remarkable performance and fuel economy. A stunning new

design inside and out is complemented with a full suite of i-ACTIVSENSE safety features. MZD Connect keeps you

in touch with the outside world and the maximum 5-Star ANCAP Safety Rating keeps you safe. Plus, with a 5 year

Genuine Factory Warranty and Mazda On Call Roadside Assistance, as well as 3 years of mazdacare Scheduled

132 Kihikihi Rd. TE AWAMUTU P 07 870 2535 fairviewmotors.co.nz

Servicing † at no extra cost. Get it for your family, drive it for yourself.

PROOF

fax Media makes every effort to create advertisements to meet your specific needs. Please note in some instances we may be unable to supply additional proofs due to complexity of the request or deadline constraints.

his advertisement has been created as a service of Fairfax Media. It cannot be reproduced without permission. If you wish to use this material elsewhere, please contact your advertising consultant. Charges will apply.

7141465AA

Limited model shown. † Conditions apply. Go to mazda.co.nz/mazdacare for more information.

FAIRVIEW MOTORS MAZDA, 2011, 2012, 2013, 2014 & 2017 MAZDA DEALER OF THE YEAR

Dealer details Dealer details Dealer details Dealer details Dealer details Dealer details Dealer details

473 Dealer Te Rapa details Rd | HAMILTON Dealer | P 07 details 849 9838 Dealer / 64 Firth details St | MATAMATA| Dealer | P 07 details 888 7127 Dealer details Dealer details Dealer details

Dealer details Dealer details Dealer details Dealer details Dealer details Dealer details Dealer details

95 Victoria St | CAMBRIDGE | P 07 827 7005 / 132 Kihikihi Rd. | TE AWAMUTU | P 07 871 3079 fairviewmotors.co.nz
---
48 WAIKATO BUSINESS NEWS April/May 2018

FROM THE GROUND UP

A1homes Cambridge

show home a stunner

A1homes Waikato has recently opened

their brand new show home in the Landon

Park subdivision on Norfolk Drive in

Cambridge. Owner, Dan Jensen took the

opportunity to showcase flexibility with

this architecturally designed, bespoke

home which will set a new standard of

comparison for A1homes Waikato, making

a bold statement that it is a credible player

in the design and build market.

Proudly building Kiwi homes

for Kiwis for 15 years

A1 Homes Waikato builds throughout the Waikato region. Whether you

are looking to build your first home, a beach bach, or a large spacious

family home, we're here to help. We can also offer you a 'Kit home' if

you would like to manage the build yourself.

As Registered Master Builders, all our 'Built Homes' come with a

10 Year Master Build guarantee giving you that extra peace of mind.

From the initial concept and design stage, right the way through to

council consents, and encompassing the build itself, A1 Homes Waikato

is here to help you from start to finish.

Call into our Showhome 53 Norfolk Drive, Cambridge or call us today to

discuss getting your building project underway.

A1homes Waikato's

branch manager, Gary

Labao says the home

is by the far the biggest show

home the company has built

and without doubt, the most

highly specified, brimming

with many exciting features

and innovations. The home

makes good use of technological

advances including a

fully automated heating and

cooling ducting system, a gas

fire that can be remotely activated

by an app of your phone,

and of course the very latest

in kitchen appliances and

equipment. "The kitchen itself

is outstanding," says Gary.

"We've used a lot of natural

materials - timber, stainless

steel, stone bench tops, custom

made splash backs - and we've

included a wet bar too."

The building work is done

and the time has come to open

the doors to our brand new

show home! Whether you've

built with us, you're thinking

about building or you're generally

interested in the latest

home building trends, come

along to our brand new show

home at 53 Norfolk Drive,

Cambridge, between 10am and

3pm.

Showhome:

53 Norfolk Drive, Cambridge

Contact: Gary Labao

m: 027 559 1821

e: gary.labao@a1homes.co.nz

p: 0800 A1homes

www.A1homes.co.nz

SPECIALISTS IN ALUMINIUM

WINDOWS & DOORS

Proud to be aluminium

window and door suppliers

for the stunning A1 Homes

showhome in Cambridge.

Visit our showroom located at 12 Northpark Drive, Te Rapa, Hamilton

Phone 07 849 3817 | Fax 07 849 3813 | info@originwindows.co.nz

SOLUTIONS FOR

ALL PRODUCTS www.originwindows.co.nz

A1056T
---
FROM THE GROUND UP

WAIKATO BUSINESS NEWS April/May 2018 49
---
50 WAIKATO BUSINESS NEWS April/May 2018

FROM THE GROUND UP

Service and quality the key

at Reinforcing Steel Supplies

Importing steel is a far cheaper option than

buying New Zealand made steel but, as

several major infrastructure projects have

recently learned, you get what you pay for.

And what you get

when you deal with

Hamilton-based company

Reinforcing Steel

Supplies is quality New

Zealand-made steel which

has been rigorously tested and

is fit for whatever purpose

required.

The company, which has

been operating since 1999, is

one of New Zealand's leading

suppliers of reinforcing

steel and company head Sam

Sherborne says they pride

themselves on stocking only

Kiwi-made steel.

While this makes it hard

to compete with imported

products on price alone, the

company succeeds by looking

after its customers, she says.

"It's our service and our

quick turnaround time that

makes us different.

"You've got to be fast in

this game. Because of this

we've become the supplier

of choice for many clients in

the industrial, residential and

commercial areas."

Sam says Reinforcing

Steel Supplies' customers

appreciate the honest and

transparent service the company

provides and with more

than 20 years in the industry,

staff have the knowledge and

experience to provide effective

solutions for projects of

any size.

"We get people come in

off the street looking to do a

driveway or something like

that, all sorts of people buy

our products. We understand

the challenges of choosing the

right reinforcing steel products

for your projects, which

is why we want to save you

the hassle."

She says staff are always

available to discuss project

needs with customers and

provide practical advice.

"We're a friendly bunch

and happy to go over your

needs to ensure you get the

correct product for the job."

All the steel supplied by

Reinforcing Steel Supplies is

made in New Zealand from

recycled steel and undergoes

a rigorous testing regime

before being allowed into the

market, Sam says.

That involves stretching

the steel to its breaking point

and in recent times imported

steel being used on major

projects throughout New

Zealand has proved to be far

weaker than initially claimed.

This has led to concerns

about the ongoing safety of

the projects, which include

important bridges and tunnels.

Those concerns don't

apply to projects using our

products, Sam says.

With consumers placing

an increasing focus on the

environment and recycling,

Reinforcing Steel Supplies'

products are well placed to

take advantage of any moves

towards locally made and

recycled steel products.

While based in Hamilton,

Reinforcing Steel Supplies

delivers its products throughout

the central North Island,

although as Sam says: "If

someone wants steel in

Napier, we'll take it to them.

"You can count on us to

deliver to your location at a

time that is best for you."

The company offers a wide

range of multipurpose metal

products and services, including

steel rods, mesh, wire and

accessories, and can provide

either ready-made or madeto-order

products to suit any

project specifications.

Reinforcing Steel Supplies

is at 28b Foreman Rd, Te

Rapa, Hamilton, 3200. Call

07-849-8196, email reosupplies@xtra.co.nz

or visit

www.reinforcingsteel.co.nz

Limited

We specialise in reinforcing

steel and mesh with all

recycled NZ supplied steel.

Family owned and operated.

Contact us for free,

no obligation quotes.

ReinfoRcing

Steel SupplieS

28B Foreman Road

07 849 8196

reosupplies@xtra.co.nz
---
FROM THE GROUND UP

WAIKATO BUSINESS NEWS April/May 2018 51

Crestline - the latest

in office design

Crestline is a family owned commercial

furniture company who've been in business

for more than thirty years. Their products

encompass the latest developments in

workplace thinking at price points within

reach of every progressive New Zealand

business.

"The office, and the way

people work has changed

dramatically over the

30 years we've been in business.

These days, more and

more companies understand

the benefits of well-designed

workplaces - from increased

productivity, to attracting and

retaining talent, to impressing

customers" says Richard

Renton, Crestline's managing

director.

And because of that understanding,

furniture for the

modern workplace has moved

beyond desks and chairs.

Today you'll find comfy

armchairs and sofas, booths,

benches, stools, leaners and

more. People don't just sit at

their desk to work anymore,

they work in the way that suits

them best.

That's what drives the team

at Crestline. Staying ahead of

the major trends in workplace

thinking and providing the

furniture to fit. That, and making

the office transformation

an enjoyable and hassle-free

experience for their clients.

Working with architects

and designers, or directly with

end customers, the team at

Crestline is passionate about

supporting people at work.

With showrooms in Hamilton

and Auckland, they supply

furniture for office fit-outs

throughout NZ. This is a company

that is dedicated to doing

the best for their customers.

Their mantra - all projects

'delivered in full, on time, to

spec, every time'.

According to Jon Renton,

Crestline's national sales

manager, businesses all want

one thing - to get the best out

of their staff. And a well-designed

office space can help

with that.

"It's awesome to go back

into a fit-out we've furnished

and see it in action. To hear

directly from staff what a difference

the environment has

made to their work. That's the

reward."

Jon is full of praise for the

architects and designers they

work with. He humbly says

"We supply the furniture to

the designer's brief. So it's

the skill of the designer that

dictates how good a space will

be."

But, Jon says, it's the skill

of Crestline's in-house design

team to stay ahead of the curve

and have the right products for

the office designers to specify.

"We're always thinking,

what's next?"

For the team at Crestline,

it's all about delivering vibrant

and effective workspaces

where people love to work.

VISIT choicesflooring.co.nz

FOR GREAT SAVINGS THIS AUTUMN

MAKE YOUR HOME A SANCTUARY THIS

AUTUMN WITH CHOICES FLOORING'S

FLOORS FOR LIVING CATALOGUE SALE!

Choices Flooring

by Charteris

7 Devon Road, Hamilton

07 847 6430

choicesflooring.co.nz

Valid from 15 April - 26 May 2018,

prices as marked in-store

only available at

If you want well

designed, well

made, affordably

priced furniture

and a hassle-free

installation, that's

what we do.

Brilliantly.

SKYCITY - Victoria Street, Hamilton

Toi Ohomai - Windermere Drive, Tauranga

Contact us for a free, no obligation

proposal for your next project.

0508 993 993 www.crestline.co.nz

Genesis Energy - Bryce Street, Hamilton

Trust Waikato - Little London Lane, Hamilton

Duncan & Ebbett - Cnr Maahanga Drive &

Te Kowhai Road, Hamilton
---
52 WAIKATO BUSINESS NEWS April/May 2018

EDUCATION = OPPORTUNITY

Waikato MBA team wins most innovative

business award

Four University of Waikato MBA students

have secured second place in New

Zealand's biggest startup competition,

walking away with the 2018 Most Innovative

Business Idea Award for a recreational

fishing share-economy platform.

Winning team Casually

Yes consisted of

advanced dryer operator

Benji Henwood, freelance

interpreter and designer Hiyam

O'Donnell, learning and development

consultant Paul Commins,

and innovation project

manager Natalia Moyano.

Despite the team's name,

there was nothing casual about

the foursome entering the Soda

Inc. Innes48 Business Startup

competition in March. Developing

a viable business start-up

within 48 hours is not for the

faint-hearted, but it's possible

when you're at the business-end

of the Waikato MBA

programme.

The theme for this year's

competition was 'Better

Team Casually Yes – (L to R) Paul Commins, Natalia

Moyano, Hiyam O'Donnell and Benji Henwood

Together' and challenged

teams to respond through taking

a collaborative, community

approach with their startup

business.

"Meeting through the

Waikato Master of Business

Administration programme

in Hamilton and travelling

together last year during the

international study tour to London

strengthened the bonds we

had made during class," says

team captain Benji Henwood.

The business idea was born

when Mr Commins received

a phone call from a friend to

spend a day fishing on his boat.

Hooking a once-in-a-lifetime

gamefish spurred him on to

consider how he could recreate

this experience for anglers

chasing their next big catch.

Hook Me Up aims to bring

the New Zealand fishing community

together through a webbased

platform to hook anglers

up with boat owners and create

a more valuable fishing experience.

"The competition gave us

the opportunity to show off

the skills and knowledge we

have learnt at the University of

Waikato's Management School

in the last few years," Ms

O'Donnell says.

"I definitely could not have

done it two years ago," says Mr

John Wilkinson, commercial manager at ASB Bank, Team Casually Yes, judges for this years

competition (Roanne Parker, founder and managing director Calibrate Digital Marketing,

Robert Stone, founder New Zealand The Innovation Nation, Chip Dawson, executive board

Member NZ US Council and Campbell Gower, chief cook and bottle washer Phil & Teds) and

Erin Wansbrough CEO at Soda Inc.

Commins. "The Waikato MBA

has provided us with a comprehensive

range of tools that

proved invaluable for the task

at hand."

Academic Director of Executive

Education Dr Heather

Connolly is proud of the team's

achievement in the competition.

"Our Global Business paper

provides a practical platform

for generating innovative business

solutions and pitching the

ideas to potential investors,"

she says. As part of the international

study tour, participants

are tasked with developing an

Industry events are the new

classroom for Media Arts students

Wintec's Media Arts

students are storytellers,

communicators,

thinkers and problem solvers.

But first and foremost, they are

creatives – and creatives need

inspired ways of learning.

When students enrol in

Wintec's School of Media Arts

suite of creative degrees, they

know that one thing is certain:

they will walk across the stage

after three years and into their

field of choice, backed by the

networks they have forged for

themselves during their time

there.

These networks are created

through opportunities to

not only showcase their talent

but learn directly from on-site

industry professionals through

a series of events, seminars and

workshops held throughout the

year.

"Ensuring our students are

work ready is about involving

them in an ongoing relationship

with industry, not just the

internship in their final year,"

says Sam Cunnane, Head of the

School of Media Arts.

"To this end we make sure

that they have multiple points

of engagement, from workplace

visits, guest lectures and

learning about business models

relevant to their domain,

through to whole-class projects

working directly for community

and industry sponsors."

Spark International Festival

of Music, Media, Arts

and Design is one such point

of engagement that generates

industry learning for students.

An annual celebration of the

creative industries, Spark Festival

brings together creative

trailblazers from New York,

Australia, New Zealand and

around the globe, colliding

industry leaders and award

winners with students in a week

of face-to-face exploration and

guidance.

Spark Festival is driven by

the belief that sharing critical

conversations with a line-up of

experienced voices in industry

helps students to grow, learn

and discover, and drives creative

new ways of thinking and

working.

"The whole purpose of

Spark is to provide an opportunity

for our students and members

of the public to learn from

some creative professionals.

Events like the Design Industry

Breakfast provide a forum for

students and members of industry

to hear from outstanding

practitioners, while at the same

time building their connections

and understanding of who's

doing what in the local scene,"

says Sam.

At Spark Festival, speakers

share their wisdom on

everything from being a social

influencer to working as a freelancer,

sustainable practices in

design and building collaborative

and inclusive communities

in a connected world.

Students are encouraged to

listen to a variety of industry

speakers chosen for their work

in multidisciplinary areas, ask

questions and put learning into

practice with a series of practical

and hands-on workshops.

This model is a step up from

the traditional classroom environment,

and a move towards

hosting Spark Festival workshops

and events throughout

the year shows the benefit these

events have on students and

innovative concept for a new

business. "We inspire participants

to ideate and generate

novel but viable solutions to

unsolved problems, combining

our School's strategic areas of

expertise – sustainable management

and leading through innovation,"

says Dr Connolly.

Ms Moyano credits the

team's success to the dedication

of the Waikato MBA teaching

staff. "It's due to the amazing

team of lecturers and professionals

we had the privilege to

learn from in the last few years

that we were able to do it,"

their learning.

Spark International Festival

of Music, Media Arts

and Design is moving into its

she says.

The team is back to their

professional roles, alongside

completing assignments and

finalising their major research

projects. They intend to keep

developing the Hook Me Up

business concept and seek

investment for the start-up venture

later in the year.

Learn more about the

Waikato MBA programme –

waikato.ac.nz/go/mba

To find out more about Hook

Me Up and how to get involved

please contact Benji Henwood

on benjihenwood@gmail.com.

20th year and will be held 6-9

August at Wintec's City Campus.

For more information visit

spark.net.nz

MORE INFORMATION

2018 LEADERSHIP TOMORROW PROGRAMME!

Leadership Tomorrow Programme is a comprehensive business leadership and management

programme that provides leading-edge business skills, coaching and leadership training to

update your skills and stay abreast of current trends in business.

The Leadership Tomorrow Programme offers a concise and dynamic approach which covers

an extensive range of topics including; critical thinking, judgment and sensemaking, to personal

leadership, future thinking, strategy development, foresighting, scenario planning, management,

sustainability, digital marketing, public relations and business acumen. The programme

is designed to expand your business knowledge skills and confidence as you learn how to

approach key management and leadership challenges of the near future.

The programme will be led by four experienced presenters, plus a guest speaker.

GO ONLINE: www.rutherfordbusiness.nz

EMAIL: wendy@rutherfordbusiness.nz

PHONE: 021 389 937

DATES:

Three full days

8 June 2018, 13 July 2018

and 17 August 2018

www.rutherfordbusiness.nz/leadership-tomorrow-programme

A5224T
---
WAIKATO BUSINESS NEWS April/May 2018 53

Study Communications, Design,

Music and Art at Wintec with

our suite of creative degrees.

Our degrees, designed with industry professionals,

will teach you the practical and soft skills you'll need

to hit the ground running in your ideal creative career.

All you need to do is trust your talent. New Zealand's

most forward-thinking degrees are here.

We're always looking to explore new areas.

Keep updated with what we're offering at

wintec.ac.nz/creative!

wintec.ac.nz/creative
---
54 WAIKATO BUSINESS NEWS April/May 2018

EDUCATION = OPPORTUNITY

Wintec disrupts the norms to help

industry respond to the pace of change

In rapidly changing markets with increasing compliance

obligations, industries are constantly re-shaping their workforce

and striving to develop new competencies. But traditional tertiary

education hasn't been flexible or convenient enough to respond.

Since launching in 2017,

Wintec Professional Programmes

is making it easy

for employers to find solutions

that meet the changing needs of

businesses, organisations and

individuals.

Wintec's Director of Products

and Planning, Warwick

Pitts says "we've drawn on

our expertise as a tertiary educator

and our strong industry

connections to respond with

flexible short courses and tailored

in-house training. Our

programmes are facilitated

by industry experts with realworld

experience and valuable

professional networks."

Tailored courses and

bespoke solutions suit teams

with specific needs, and bring

fresh thinking and ideas into

the workplace through Wintec's

network of industry experts.

Wintec's consultants specialise

in industries and work

with organisations to analyse

their specific business problems

and opportunities. They create

tailor-made solutions which

could involve a mix of training,

mentoring, research and use of

Wintec's facilities and equipment.

"This creates real opportunities

for agile organisations and

individuals who want to stay

competitive in a rapidly changing

world," says Mr Pitts

Developing an innovative,

responsive workforce will

future-proof New Zealand

businesses and Industries, and

ensure the Waikato region stays

globally competitive. Wintec's

industry consultants provide

FREE consults for all Waikato

businesses to scope their specific

needs and connect them to

the relevant industry specialist.

Visit www.wintec.ac.nz/

industry to book your free consult.

DEVELOPING

YOUR

INDUSTRY

Disrupt the norms and future-proof your business

through critical thinking and innovative solutions.

Free

Coffee Consult

BOOK NOW!

Wintec Professional Programmes offer you and your team, tailored development specific

to your business goals. Creating adaptable, responsive businesses of the future.

Are you ready to stand out from the crowd and develop your business's innovation?

See www.wintec.ac.nz/industry to book a consult with your Wintec industry specialist.
---
WAIKATO BUSINESS NEWS April/May 2018

55

Entrée

Organic chicken liver parfait,

buttermilk crumpets, candied

mandarins, chioggia beetroot

Trevally ceviche, shallots,

coriander, lime, creme fraiche,

pickled daikon

Cured beef tartare, capers,

croutons, watercress

$12

Mains

Grilled courgette, romesco, goats

cheese, rocket, almonds

Spiced organic chicken breast,

anushka potatoes, corn, bitter

greens

Braised lamb shank, soft polenta,

porcini sausage, rocket

$18

Dessert

Salted caramel ice cream

affogato with frangelico liqueur

Doughnuts, chocolate sauce,

vanilla ice cream

Mahoe very old edam,

handmade crackers, quince paste

$12

two courses $25

*note express lunch menu

changes daily

Book your next lunch

at the award winning

restaurant

Now offering

two course lunches

for $25

The perfect venue for:

Small gatherings

Business meetings

Corporate events tailored

for your business

Opening hours

Lunch: Tuesday to Friday

11:30 am to 2pm

Closed: Sunday & Monday

07 834 2921

20 Alma Street Hamilton

www.palaterestaurant.co.nz

SPECIAL EDITION

CAPTIVA

EQUIPE

$41,990\NOW

ONLY $29,990

PERFECT FOR THE

WHOLE FAMILY.

The new Captiva Equipe boasts 7 leather

appointed seats, an electric sunroof, roof

rails, front fog lamps and special edition

18-inch alloy wheels, on top of already great

standard features like phone projection

technology with Apple CarPlay. ® It's perfectly

equipped for the whole family and an

outstanding value seven seater.

And with 3 years or 100,000 km free

scheduled servicing included as part of the

deal, you could say the Captiva Equipe

comes with all the trimmings.

*Excludes on road costs

Save Save thousands on on Barina, Trax, Captiva and and Trailblazer vehicles

vehicles

Sunroof Leather appointed seats 8 way power driver seats 18" Alloy wheels Roof rails

Phone projection

technology

Front fog lamps

204-208 Anglesea Street Hamilton | P. | 0800 07 P. 282 07 280 282 0987

888 0987

www.ebbettholdenhamilton.co.nz

J3943P

J5237P
---
SPECIAL ADVERTISING WRAP

Camry redefined

A NEW EMOTIONALLY-CHARGED DESIGN AND

PERFORMANCE EXPERIENCE WITH AGGRESSIVE

EXTERIOR CHARACTER LINES DEFINES THE 2018

TOYOTA CAMRY.

Power in every respect

Thanks to no less than three

powertrain options, the

reimagined 8th generation Camry

incorporates plenty of on-road

character, and is designed to

appeal to the weekend explorer

as much as the workday

entrepreneur.

For a start, the surefootedness

of Toyota's 2.5-litre

four-cylinder petrol engine with

Dual Variable Valve Timingintelligent

(VVT-i) remains a firm

part of the Camry line-up.

Sharp-suited

Camry has evolved into a model

that effortlessly incorporates the

best characteristics of both the

elegant tourer and the sporty

performance car. Suffice to say,

across its broad specification

base, there is a Camry that will

appeal to everyone.

Whether your preference is

for GL, GX, SX, V6 or rangetopping

ZR, the Camry has a look

to suit. Completely redesigned

front-end styling across the

entire range gives the GL and GX

an elegant, business-like look,

while the SX, V6 and ZR inhabit

a sportier, more aggressive

aesthetic, incorporating mesh

grilles and large intakes. This is

carried through the remainder

of the body, with suitably sporty

side skirts and a rear lip boot

spoiler differentiating the V6 and

ZR from the remainder of the

family.

Also, the latest Camry sees

the trusted efficiency of Toyota's

world-leading Hybrid System

technology receive a significant

boost in the new model. The

new Camry Hybrid is the first to

adopt the Toyota's New Global

Architecture design, which is

responsible for up to a 19%

reduction in fuel consumption

compared with the previous

Camry Hybrid.

Meanwhile, the sporty and

powerful nature of the Camry

V6 - featuring an engine which

receives both more power and

torque for this iteration - is

paired with a new 8-speed direct

shift automatic transmission,

for the ultimate in driver

involvement.

THE NX SERIES

MAKE EVERY DRIVE AN ADVENTURE

SHARP-EDGED EXTERIOR AND FUN-TO-DRIVE

EXPERIENCE. THE ALL-NEW NX SERIES STRIKES THE

RIGHT BALANCE BETWEEN THE ROAD AND YOU.

Bolder, sharper, better. The new

NX pushes the limits of compact

SUVs to redefine city driving.

NX 300h LIMITED AWD

The iconic L-shaped Daytime

Running Lights complement

the headlights, so your vehicle

is immediately recognizable as a

Lexus.

A vibrant 10.3-inch multiinformation

screen offers

convenient access to numerous

vehicle features such as the audio,

climate and navigation systems.

Quickly check your vehicle's

performance details at a glance,

thanks to a full-color HUD that

projects critical information onto

your windshield.

Lexus Hybrid Drive draws

power from both electric and

petrol motors, resulting in instant

torque and surprising acceleration.

Fuel consumption is greatly

reduced to 5.7 L/100km*, and

all this without compromising

performance.

The All-speed Dynamic Radar

Cruise Control helps your Lexus

maintain a safe distance from the

vehicle in front of you.

When you drift into another

lane without a turn signal, the LDA

system alerts you via a steering

wheel vibration and an indicator

on the multi-information display.
---
SPECIAL ADVERTISING WRAP