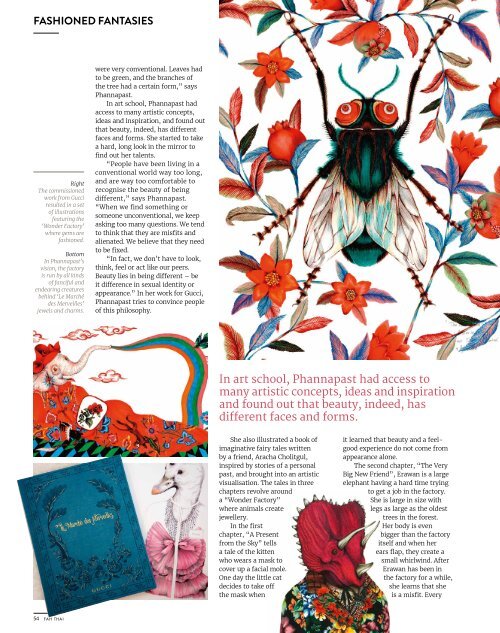 Fah Thai Magazine May June 2018
Read FAH THAI MAGAZINE Online! Fah Thai is the inflight magazine of Bangkok Airways. We also come in a digital format. You can read us at Fahthaimag.com
Read FAH THAI MAGAZINE Online! Fah Thai is the inflight magazine of Bangkok Airways. We also come in a digital format. You can read us at Fahthaimag.com
SHOW MORE
SHOW LESS
You also want an ePaper? Increase the reach of your titles
YUMPU automatically turns print PDFs into web optimized ePapers that Google loves.
FASHIONED FANTASIES

Right

The commissioned

work from Gucci

resulted in a set

of illustrations

featuring the

'Wonder Factory'

where gems are

fashioned.

Bottom

In Phannapast's

vision, the factory

is run by all kinds

of fanciful and

endearing creatures

behind 'Le Marché

des Merveilles'

jewels and charms.

were very conventional. Leaves had

to be green, and the branches of

the tree had a certain form," says

Phannapast.

In art school, Phannapast had

access to many artistic concepts,

ideas and inspiration, and found out

that beauty, indeed, has different

faces and forms. She started to take

a hard, long look in the mirror to

find out her talents.

"People have been living in a

conventional world way too long,

and are way too comfortable to

recognise the beauty of being

different," says Phannapast.

"When we find something or

someone unconventional, we keep

asking too many questions. We tend

to think that they are misfits and

alienated. We believe that they need

to be fixed.

"In fact, we don't have to look,

think, feel or act like our peers.

Beauty lies in being different – be

it difference in sexual identity or

appearance." In her work for Gucci,

Phannapast tries to convince people

of this philosophy.

In art school, Phannapast had access to

many artistic concepts, ideas and inspiration

and found out that beauty, indeed, has

different faces and forms.

She also illustrated a book of

imaginative fairy tales written

by a friend, Aracha Cholitgul,

inspired by stories of a personal

past, and brought into an artistic

visualisation. The tales in three

chapters revolve around

a "Wonder Factory"

where animals create

jewellery.

In the first

chapter, "A Present

from the Sky" tells

a tale of the kitten

who wears a mask to

cover up a facial mole.

One day the little cat

decides to take off

the mask when

it learned that beauty and a feelgood

experience do not come from

appearance alone.

The second chapter, "The Very

Big New Friend", Erawan is a large

elephant having a hard time trying

to get a job in the factory.

She is large in size with

legs as large as the oldest

trees in the forest.

Her body is even

bigger than the factory

itself and when her

ears flap, they create a

small whirlwind. After

Erawan has been in

the factory for a while,

she learns that she

is a misfit. Every

54