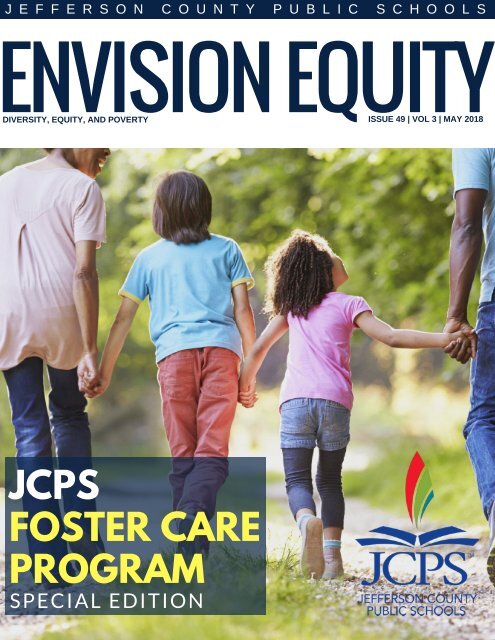 Envision Equity Foster Care Special Edition
Do you know the secret to free website traffic?
Use this trick to increase the number of new potential customers.
J E F F E R S O N C O U N T Y P U B L I C S C H O O L S

NVISION EQUITY

DIVERSITY, EQUITY, AND POVERTY ISSUE 49 | VOL 3 | MAY 2018

JCPS

FOSTER CARE

PROGRAM

S P E C I A L E D I T I O N

1

Photo, Getty Images
---
JCPS Foster

Care Program

An Introduction

By Lindsay Bale—

JCPS Foster Care

Coordinator

Greetings!

May is National Foster Care Month, and we

at JCPS wanted to take the time to honor this

special group of students.

Did you know that nationally, there are over

400,000 children in foster care? In the state of

Kentucky, we have 9,034 foster youth and in

Jefferson County alone we have 1,033 children in

foster care according to the Jefferson Foster Care

Fact Sheet (April, 2018). That's enough children to

fill an entire high school!

Students in foster care face numerous challenges

that can affect their educational attainment and

experiences. While 2017-2018 will be the first

school year in which we have collected data at

JCPS specific to foster youth, we have access to

national data that paints a picture of the

2

Continue on next page
---
ENVISION EQUITY FOSTER CARE SPECIAL EDITION

achievement gaps that we are working

diligently to close. Some of the data indicates

that students in foster care have increased

rates of suspensions, absences, and special

education services. In addition,

students in foster care

experience school

instability at much

higher rates than

their peers. They

have decreased

reading levels,

achievement

scores, and

graduation

rates. In the

following

pages, you will

get a clearer

picture of the

national data and the local data we

have begun to collect, and obtain a greater

understanding of the urgent need to provide

additional supports and services for this

vulnerable group of students.

In this edition of Envision Equity, you will

learn some facts about foster care and

education, strategies that are effective in

working with foster youth, how to care for

yourself as you engage in this difficult but

rewarding work, and resources that are

available to help foster youth garner

success.

We know the number one way

to change the trajectory for

a child who has

experienced trauma is a

positive adult

relationship. Please

consider becoming a

mentor, foster parent,

advocate, traumainformed

educator, CASA

volunteer, life coach, or

serving in any role that will help

our foster youth reach their full

potential and become all they are destined to

be!

Lindsay Bale, MSSW, CSW

JCPS Foster Care Coordinator

You can reach me at 485-6358 or by email at

Lindsay.bale@jefferson.kyschools.us

Cabinet for Health and Family Services (2018). Jefferson County Foster Care FACTS. Retrieved at http://chfs.ky.gov/NR/

rdonlyres/01F69D78-4728-49D2-B75D-04FB8D1339A3/0/JeffersonFosterCareFactsSheetsApril2018.pdf 3
---
ENVISION EQUITY FOSTER CARE SPECIAL EDITION

JCPS

FOSTER CARE

DATA

*JCPS Data Management, Planning and Program Evaluation Department.

4
---
ENVISION EQUITY FOSTER CARE SPECIAL EDITION

JCPS

FOSTER CARE

DATA

*JCPS Data Management, Planning and Program Evaluation Department.

5
---
ENVISION EQUITY FOSTER CARE SPECIAL EDITION

JCPS

FOSTER CARE

DATA

*JCPS Data Management, Planning and Program Evaluation Department.

6
---
ENVISION EQUITY FOSTER CARE SPECIAL EDITION

7
---
Legislation to Support Students in

Foster Care

By Lindsay Bale—JCPS Foster Care Coordinator

As legislators continue to recognize the unique needs of children in foster care, State and Federal agencies have

passed several pieces of legislation to support the educational achievement and experiences of youth in foster care.

Some of these federal laws include the Fostering Connections Act, Uninterrupted Scholars Act (USA), and the Every

Student Succeeds Act (ESSA). In the state of Kentucky, House Bill 33 (KRS 620.146) and House Bill 527 are bills that

were passed to support the educational needs of students in foster care. Below is an overview of the laws that

promote educational stability and data sharing for students in foster care:

2008 Fostering

Connections

2013

Uninterrupted

Scholars Act

2015 Every

Student

Succeeds Act

2017 KY House

Bill 33 (KRS

620.146)

2018 KY House

Bill 527

Fostering Connections: This federal

law was passed in 2008. This law

requires child welfare agencies to

ensure that a student in foster care

remains in the same school they were

enrolled in at the time of placement into

foster care.

Uninterrupted Scholars Act: This law

was passed in 2013 and amended FERPA

to allow child welfare workers access to

educational records of youth in their

care without parental consent.

Every Student Succeeds Act: This law was passed in 2015 and requires the collaboration of child welfare agencies

and educational agencies to ensure educational stability for youth. This law allows students in foster care to remain in

their school of origin when it is in their best interest, with transportation provided. In addition, it allows for students to

be immediately enrolled in a new school, even when records that are normally required to enroll in school are not

available. Lastly, it requires that educational agencies report annually on student achievement and graduation rates

for foster youth.

8

Continue on next page
---
House Bill 33 (KRS 620.146): This law was passed in 2017 and requires CHFS social workers to notify school

personnel of people who are authorized to contact the student at school or remove the student from school

grounds. This is required when an order for emergency, temporary, or permanent custody has been received by

CHFS.

House Bill

527: This

bill was

passed

and signed

by the

governor

in the most

recent

legislative

session in

2018. This

bill

codifies

ESSA into

Kentucky

state law.

This bill

requires

that CHFS

place

foster

youth in

their same school district when practicable. It also requires social workers to make a determination as to whether it

is in a child's best interest to remain in his/her school of origin. It maintains that the cost of transportation cannot be

a factor in determining the best interest for a child's school placement, and that reasonable transportation must be

offered for a child to remain in the school of origin. If it is determined to be in a student's best interest to change

schools, school districts must establish procedures for immediately enrolling a student in the new school.

9
---
House

Bill 527

Encouraging Students Who Need It Most

By Karena Cash

L

ast year, I had the opportunity to tutor a young girl in foster care, Jaden. Whenever I first met

her, I was blown away at how much she struggled at basic division problems. She was in fifth

grade, so she must know thirty divided by six, right? I simply thought that she didn't pay attention in

school. As the months trickled on, however, I learned that she was in foster care and had moved

homes three

times over a twoyear

period. Each

new placement

caused her to

move to a new

school, each of

which were at a

different place in

the curriculum.

In addition to

this, it took

weeks in order

for her to be

enrolled in a new

school and

records

transferred. The

reason she didn't know how to divide is that she had never been taught. Not only that, but she had

fallen so behind that she felt like there was no reason to even try. Further, she never bothered to make

friends at any of these schools. In her mind, it was impossible to catch up or form lasting relationships,

and even if she did manage to, she'd just move schools again in a few months anyways, so what was

the point? This cycle repeated. Three months into me tutoring her she moved schools again.

Like many, I started my junior year with the idea that you just need to pull up your bootstraps and get

to work. In reality, though, this is often never the case. I quickly learned that the lack of stability in

Above, a JCPS student is welcomed by

Flash Dads at Wheatley Elementary

10

Continue on next page
---
Jaden's life meant that she didn't have bootstraps to begin with. She had no stable home, no stable

relationships, and no stable education. She faced deep trauma from the abuse and neglect she

suffered at the hands of her parents. Her family home created a situation in which she not only acted

out as a response to trauma, but also found no skills on how to cope with her environment. Jaden is

not an anomaly in the foster care system. She is not someone from whom we can write off as a lost

cause, because she never was one. She is one of many foster children in Kentucky who share the

same experiences of neglect on behalf of failed foster care polices.

Stability is the key for kids to fully develop emotionally, physically, and academically. For foster

children, this stability can often only be found in the school setting. In recognition of this, the

Kentucky Legislative recently passed HB527. HB527 bill does three major things to help kids like

Jaden. First, it spells out the process for determining if a child placed in foster care should remain in

the same school. It does this by looking at what the best interest of the child is, taking into

consideration things like transportation time and a child's relationships with others. When it is in the

best interest of a child to remain in their same school, it clarifies how transportation to the current

school will be handled. This ensures that children can continue to attend the school that they are

familiar with, have a continuous curriculum, and maintain the relationships they already have.

However, if it is in the best interest of the child to move schools, the bill requires that children in

foster care be immediately enrolled in a new school and that their most essential records be

transferred within three working days. This deadline allows them to adjust to their new environment

as soon as possible. That way foster children can begin to catch up on school work and build

relationships with other students and teachers. Overall, these measures help give foster children

school stability in the long run.

As educators, we cannot continue to allow this instability to be the norm. We must halt the

progression of failing foster care children. We cannot continue to have an average of three different

placements by the norm. We cannot continue to allow foster care graduation rates hovering around

50% be the norm. While some instability will always be inevitable for foster care children, we must

work to prevent as much of it as possible. By prioritizing school stability, we give them a stable

environment, stable relationships, and stable access to education. All of these policies have the

potential to counteract years of abuse and neglect that often stem from foster care. As educators, it

is crucial that we understand foster youth's need for stability and our role in ensuring their success.

11
---
ENVISION EQUITY FOSTER CARE SPECIAL EDITION

12
---
Barries to

Academic

Success

For Kentucky's Foster Youth

By Tiffany Thompson, MSW, CSW—Foster Care Case Manager

C

urrently, the United States Department of Education reports that virtually 400,000 children

are in foster care and roughly 20,000 of these will age out of care annually (U.S.

Department of Education, 2016). In the state of Kentucky, it was documented by the Cabinet for

Health and Family Services that 9,034 children and youth had active foster care placements

(http://chfs.ky.gov, 2018). As a foster care case manager, one of my responsibilities is to ensure

that the educational needs of my clients are met. The exigent demands of achieving academic

success for each foster youth are distributed by treatment team members such as therapeutic

support specialists, therapists, psychiatrists, treatment directors, and state workers. These

interdisciplinarians work in tandem with teachers, family resource coordinators, foster care

coordinators, guidance counselors, and special education coordinators to provide educational

supports.

However, there are barriers to educational attainment for foster care youth such as psychiatric

diagnoses, medication side effects, problem behaviors, lower academic performance, Individual

Education Plan (IEPs) guidelines, and elevated school and home placement ratios. A recent study

at George Fox University in Portland, Oregon revealed that these barriers originate from problems

with maltreatment, powerlessness, and resentment (Morton, 2015). Coupled with the imperative

of safety and placement maintenance, positive educational outcomes for foster youth cannot be

forgotten.

Within the first 30 days of care, foster youth undergo an initial psychiatric assessment. Some

clients have a history of psychiatric diagnoses and prescription medications. This information is

used by the psychiatrist to determine the current diagnosis. Other foster youth who are new to

care, may require a series of assessments. Many clients find the assessment process retraumatizing.

Due to their past experiences, they may have issues trusting people—especially

adults. Some clients are hesitant to answer probing questions about their history, their parents or

caregivers, or their emotional state. Many clients are opposed to taking medication because they

don't think they need it. Others don't like the way medication makes them feel or they don't want

their peers to know that they take medication.

13

Continue on next page
---
According to the National Conference of State Legislators, roughly 80% of foster children have mental

health diagnoses, compared to virtually 20% of the general public. Furthermore, foster youth are

prescribed psychotropic medications at a much higher rate than their non-foster peers (National

Conference of State Legislators, 2016). Medication side-effects can make it difficult for foster youth to

concentrate on or complete their work. Therefore, the possible re-traumatization of psychological

assessment, the stigma attached to diagnosis, and the side-effects of their medications present a

barrier to their academic success. For this reason, mindful re-evaluation of client treatment and

supervision plans along with medication management are essential. For further insight on medication

side-effects visit the WebMD.com web page at: https://www.webmd.com/drugs/2/drug-19857/

concerta-oral/details

Another barrier to academic success for foster care youth is problem behaviors. As Morton (2015)

pointed out in her University study, many of these actions stem from the trauma and emotional

turmoil that these youth are facing. It is important for teachers and other school staff to be aware of

these issues and approach the students from a trauma-informed perspective.

Some clients believe that they are receiving unfair treatment due to the shame associated with being

in care. When some foster youth feel threatened, they often push back by presenting with one or more

problem behaviors. These behaviors can disrupt class instructional time and lead to in-school

suspensions, expulsions, or involvement with law enforcement. They can also initiate Individualized

Education Plans (IEPs) for behavioral/emotional challenges, increased home and school placement

rates, and complications evolving from care to emancipation (Morton, 2015). To address these

concerns, cooperation should occur between the treatment team, foster parents, and school staff to

brainstorm strategies for behavior management and academic supports.

Subsequently, lower academic performance and IEP guidelines can be barriers to academic success

for foster care youth. A child maltreatment study by Sullivan and Knutson (2000) (as cited in Morton,

2015) discloses that 37.4% of the participants experienced behavior disorders, 25.3% were

academically challenged, 16.4% had learning disabilities, and 11.2% had physical disabilities. These

experts go on to convey that participants with special education needs have a greater probability of

poor scholastic outcomes. Furthermore, they contend that participants with special education needs

typically had more placements than those without. The uncertainty that foster care youth face

regarding placements, schools, academic performance history, and attendance poses difficulties for

foster parents and school staff who are unacquainted with the client's history (Zetlin, Weinburg, &

Shea, 2006 as cited in Morton 2015).

When foster youth have multiple home and school placements, their records do not always travel with

them. In many cases, records are requested multiple times before they are sent to the new school.

Additionally, if termination of parental rights (TPR) has not occurred, it is difficult to contact biological

parents in order to obtain their consent for IEP requests. Thus, the client's academic supports may be

put on hold until attempts to reach the biological family are documented. Since foster parents and

state workers cannot automatically be deemed education surrogates, this can delay the IEP process.

14

Continue on next page
---
For this reason a solid rapport with the school staff involved in the client's case can ensure the best

possible supports are put in place.

The following are strategies that educators can use to improve academic outcomes for foster care

youth:

• Research the student's scholastic background

Touch base with the student's previous teachers to find out the student's education level,

records, courses completed, and Individual Education Plans (IEPs)

• During class time

Evaluate the student's emotional, social, and education level. Then create ways to assist

the student via supports such as tutoring and mentoring.

• Building Rapport with the student's caregiver(s)

Adoptive parents, foster parents, and kinship caregivers can be vital allies in the student's

academic success. Invite them to participate in the student's educational journey.

• Provide Postsecondary Education Resources

Offer assessment preparation for the ACT/SAT, career counseling, scholarship information,

and options for community/technical and college programs (fosteringsuccessmichigan.com,

2008).

Along with securing their safety, foster care agencies are committed to meeting the academic needs

of all children in care. As foster care advocates, we should remain steadfast in our partnership with

treatment team members, foster parents, and school staff to ensure that foster care youths'

educational needs are met. However, the barriers that foster care youth encounter such as mental

health diagnoses, medication side effects, problem behaviors, lower academic performance,

navigating IEP guidelines, and placement inconsistency must be eliminated to improve academic

outcomes. By applying best practices in the school setting, we will see more foster care youth thrive

in primary and secondary education.

References

Cabinet for Health and Family Services. (2018). Jefferson Foster Care FACTS. Retrieved from http://chfs.ky.gov/NR/rdonlyres/01F69D78-4728-49D2-

B75D-04FB8D1339A3/0/JeffersonFosterCareFactsSheetsApril2018.pdf

fosteringsuccessmichigan.com. (2008). What Teachers and Educators Can Do to Help Youth In Foster Care. Retrieved from http://fosteringsuccessmichigan.com/

uploads/misc/EducatorsFC.pdf

Morton, B. (2015). Barriers to Academic Achievement for Foster Youth: The Story Behind the Statistics. Retrieved from http://digitalcommons.georgefox.edu/cgi/

viewcontent.cgi?article=1145&context=soe_faculty

National Conference of State Legislators. (2016). Mental Health and Foster Care. Retrieved from http://www.ncsl.org/research/human-services/mental-health-andfoster-care.aspx

Sullivan and Knutson. (2000). (as cited in Morton, 2015). Barriers to Academic Achievement for Foster Youth: The Story Behind the Statistics. Retrieved from

http://digitalcommons.georgefox.edu/cgi/viewcontent.cgi?article=1145&context=soe_faculty

United States Department of Education. (2016). Students in Foster Care. Retrieved from https://www2.ed.gov/about/inits/ed/foster-care/index.html

WebMD.com. (2018). Drugs & Medications: Concerta. Retrieved from https://www.webmd.com/drugs/2/drug-19857/concerta-oral/details

Zetlin, Weinburg, & Shea. (2006). (as cited in Morton, B., 2015). Barriers to Academic Achievement for Foster Youth: The Story Behind the Statistics. Retrieved

from http://digitalcommons.georgefox.edu/cgi/viewcontent.cgi?article=1145&context=soe_faculty

15
---
ENVISION EQUITY FOSTER CARE SPECIAL EDITION

Fostering a Supportive

School Environment for

Students in Foster Care

By Lindsay Bale—JCPS Foster Care Coordinator

Students in foster care have unique

challenges they bring to school with

them as a result of abuse, neglect, and/

or dependency. These challenges can include

not knowing where they will be living from

week to week, difficulty building relationships

and trusting others, not having a "typical"

family, and learning problems. Students in

foster care often exhibit trauma responses such

as difficulty concentrating, acting out

behaviors, nightmares, etc. which can be

misdiagnosed as anxiety, behavior disorders,

and attention disorders. There are nearly 800

children in foster care who attend JCPS

schools. As educators, we are often the lifeline

for students in foster care. We have the

opportunity to create school cultures that will

help students in foster care build resilience and

feel supported and safe.

One important thing school personnel can do

to help students in foster care is to maintain

confidentiality. It is important that only those

who need to know are made aware of the

student's foster care status. Ensure that you do

not discuss the student's private matters in

public places. Also, notify students of school

visitors related to their foster care status in a

private manner.

Educators should also be aware of the

challenges faced by students in foster care

16

Continue on next page
---
ENVISION EQUITY FOSTER CARE SPECIAL EDITION

when they are given an assignment or activity

that is related to family. Assuming that

students live with their birth families, or know

their family history (i.e. family trees, making

Mother's Day or Father's Day cards) can

present challenges for students in foster care.

Help students by providing alternative

activities for all students, which will avoid

calling attention to the students in foster care.

If a student in foster care is frequently absent,

the absences could be related to their foster

care status. For example, they may have

parent visits, sibling visits, therapy

appointments, court dates, etc. Ensure that

these absences are excused and work with

students to make up any work missed due to

these absences.

Another way for school personnel to build a

safe and supportive environment for students

in foster care is to invest in building a trusting

relationship. This will take time, as students in

foster care can have a difficult time trusting

adults, but your investment will be worth it. Go

out of your way to engage students. Celebrate

accomplishments and successes, recognize

birthdays, encourage students to build on their

strengths, and spotlight their positive

attributes to students and their caregivers.

Positive, caring adult relationships are

instrumental to the success of children in

foster care.

Students in foster care often feel out of control

due to the circumstances in which they were

placed in foster care without a choice in the

matter. It is imperative that students in foster

care are given the opportunity to express their

opinions and have a voice in the decisions

made about

their

education. For

example, when

best interest

determinations

are made

regarding a

student's

school

placement, a

student's

opinion on

whether they

want to stay in

their school

should be

taken into

consideration.

Ensure that students in foster care know what

supports are available to them at school.

Identify a trusted adult in the building that the

student can speak to when he/she is having a

rough day, having worries about parents or

17

Continue on next page
---
ENVISION EQUITY FOSTER CARE SPECIAL EDITION

siblings, having difficulties

in the foster home, etc. Be

certain that students know

about counseling services,

FRYSC services, CAP closet,

or other supports available

to them. Students may

need basic supplies, such

as uniforms, back packs,

clothing, hygiene supplies,

etc., especially when they

first enter foster care. When

possible, help students

access these things.

Implementing traumainformed

practices in the

classroom is imperative to

the success of students in

foster care. It is important

for school personnel to

understand the impact that

trauma can have on

students, especially related to learning, behaviors, cognitive development, responses to adults,

and interaction with peers. Being informed about trauma informed practices will help

educators and those working with children who have been traumatized to respond to children

in a way that is sensitive to their unique needs. For a free copy of the Trauma Toolkit for

Educators produced by the National Child Traumatic Stress Network, follow this link: https://

rems.ed.gov/docs/NCTSN_ChildTraumaToolkitForEducators.pdf.

Educators and schools are in the unique position to counteract the trauma children in foster

care have experienced and to help them build resilience. By following these suggestions we can

ensure that children feel safe and supported, resulting in greater overall well-being and

academic achievement.

18
---
ENVISION EQUITY FOSTER CARE SPECIAL EDITION

With a total population of 26,790, Hispanics are the fastest growing demographic in Louisville/

Jefferson County. From 2000 to 2010, the Hispanic population grew by 163.1% in Louisville/Jefferson

County. Between 2012 and 2015, the Hispanic student population grew by 5.4% in JCPS.

Latinos may be the largest ethnic minority group in the United States, but stereotypes

and misconceptions about Hispanic Americans abound. A considerable number

of Americans believe that Latinos are all recent immigrants to the U.S. and that unauthorized

migrants to the country exclusively come from Mexico. Others believe that Hispanics all speak

Spanish and have the same ethnic traits.

During a recent PD titled Latino Student Voices, JCPS Educators were able to hear firsthand about

19
---
ENVISION EQUITY FOSTER CARE SPECIAL EDITION

Trauma Informed

Practices for

Caregivers

By Patrick Wagner, LCSW, Mental Health Counselor—Roosevelt Perry Elementary

A

s we continue to gain more

knowledge on the subject of

trauma we are able to grow and

change the way we view fostering

our most vulnerable children. We

are no longer asking what's wrong

with this child and asking what

happened to this child? We now

know thanks to groundbreaking

research of Dr. Felitti through the

ACE study (Adverse Childhood

Experiences), that children that

experience traumatic and or

painful events early in life, are far

more susceptible to substance

misuse, maladaptive behaviors

and even medical illnesses. Those

impacted by trauma struggle to

connect with their caregivers and

rely on their maladaptive behaviors to help them feel safe. As the foster children push back, poorly

equipped families are left wondering how to keep going and inevitably seek out alternative

solutions. Thus, leading to yet another rupture in the child's attachment helping them to only

solidify their belief that adults will let them down.

Thankfully, the landscape of our caregivers continues to redefine itself. In a recent five year study

of the foster care system in Kansas, families were trained in trauma systems therapy to

supplement their interventions and trauma knowledge. The study yielded statistically significant

positive results for the 1,500 children that were assessed during the study (KVC Health Systems,

2017). New families were taught how to shift their mindset about trauma so as to effectively

20

Continue on next page
---
ENVISION EQUITY FOSTER CARE SPECIAL EDITION

support the children in their homes. Families learned that no matter the child's age, nurturing

and attachment were an ongoing, never ending process. This is a vital piece of the puzzle for a

lot of children as we cannot allow ourselves to believe that they have been nurtured enough.

Families were taught that trauma causes fear and afraid children don't always act the same as

children who feel safe. They must provide reassurance rather than shaming their children for

being afraid – no matter what the child's age.

For many

children their

needs and

developmental

stages may

have been

arrested, which

is why it's so

important to

recognize that

they may

require more

than what is

deemed

normal. Too

many times, parents will say, he's too old for a teddy bear; or why does she still need the light

on? Being sensitive to the needs of each individual child is paramount to the strength of the

relationship. And lastly, one of the most important skills taught was that the caregivers don't

take the pain of their children personally. They see pain for what it is and they respond

accordingly. One of the most successful maladaptive behaviors for a traumatized child is

pushing others away. As healthy adults attempt to make connections with children, if they don't

feel safe they will use their words to keep them at bay. For those that do not have the awareness

this can feel extremely painful and confusing. Caregivers are taught to see the challenging

behaviors and ask themselves, what is driving the child's behavior and what can I do to improve

my relationship with them? Armed with this insight, caregivers can remove themselves from the

combative behaviors and focus more on how to cultivate a healthy relationship. The most

important take away from the training and study was that with the right interventions applied at

the right time, children with significant challenges can and do get better.

21

Continue on next page
---
ENVISION EQUITY FOSTER CARE SPECIAL EDITION

With all that focus on how the caregivers can be more successful, it's still a hard job. On average

95% of all foster care children experiencing at least one disruption while in the system. So what

can be done to reduce the chances of families disrupting on children for their difficult

behaviors? For starters, self-care. If you are learning about trauma then you are learning that

taking care of yourself to combat the vicarious affects of being around an impacted child is a

real thing. Without intervention, a traumatized child can effect your stress response, emotional

regulation, hope and even raise your risk of illnesses. In Dr. Nadine Burk Harris' new book, The

Deepest Well, Harris highlights the necessity for caring for yourself. Within her medical practice

she was able to quantify this truth; one such example was seeing the reduction in a child's stress

response once their caregiver began doing yoga regularly. The child made no changes to their

life, but as their caregiver began to feel better through the self care yoga practice, the effects

permeated to those around them. Caregivers are strongly encouraged to exercise, eat well and

or engage in a hobby to help aid them when faced with stressful events.

Dr. Harris also explains that on top of self-care, fostering a child should not be done alone. The

most successful examples of caring for a child with trauma, came when they had a team of

healthy adults willing to support them. Whether that be a teacher, coach, pastor, aunt, the

more healthy adults you can add to a child's life the higher probability of success. When a

caregiver can utilize the team approach, providing them with outlets for respite, venting

frustrations, resource building, or consistency with discipline they are able to feel supported. As

children continue to risk connection with a healthy adult and are reinforced with a positive

relationship, they are then able to break the cycle that was previously formed. They are able to

learn that they can establish trust with adults, create a new truth for building future

relationships and brighten their hope for tomorrow.

Citations:

Fisher, P., Stoolmiller, M., Mannering, A., Takahashi, A., & Chamberlain, P. (2012). Foster

Placement Disruptions Associated With Problem Behavior: Mitigating a Threshold Effect.

Retrieved from https://www.ncbi.nlm.nih.gov/pmc/articles/PMC3334279/

KVC Health Systems (2017). First Ever Study of Trauma-Informed Foster Care Shows Stunning

Results. Retrieved from https://www.kvc.org/blog/first-ever-study-trauma-informed-foster-careshows-stunning-results/

22
---
ENVISION EQUITY FOSTER CARE SPECIAL EDITION

SELF-CARE

IS ESSENTIAL FOR

EDUCATORS

By Dr. Jay Miller-Owens & Dr. Erlene Grise-Owens

I

ndubitably, being an educator

can be challenging.

Collectively, evidence suggests that

educators often face expectations

difficult to meet, inadequate

resources and supports, and

students with complex issues,

among other challenges. Further,

educators (like all helping

professionals) are often

disproportionately impacted by

uncertain or divisive political

contexts and cumbersome bureaucratic processes.

These inimical employment circumstances can have real consequences. Professional

burnout, stress, workforce attrition, and high turnover have become commonplace in many

educational settings. Indeed, these consequences can negatively impact educators, and

students, alike.

In this context, self-care is not optional for educators; it is imperative! Research has shown

that self-care can allay professional burnout, increase professional practice efficacy, and

increase levels of professional compassion satisfaction, among other positive affects.

Yet, despite the need for and promise of self-care, mistakes and misconceptions about selfcare

persist. For several years, we have been intensively studying self-care, doing professional

presentations/trainings, and developing resources. We could (and have) written reams about

self-care, including an A-to-Z book.*

23

Continue on next page
---
ENVISION EQUITY FOSTER CARE SPECIAL EDITION

But, we know you are busy educating our children and protecting your pensions! So, below, we

distill the core, inter-connected essentials on this important topic in a brief framework, Self-

Care IS. [Think: Self-Care CliffsNotes!]

Individualized. The very term "self"-care encapsulates the notion that self-care is

individualized. What works for others, may not work for you. One of the biggest barriers

to self-care is the myth of a "perfect," magical, one-fits-all self-care strategy. But, the

"perfect" plan is the plan that works for YOU. To be successful in achieving your self-care

goals, you need to devise a plan that takes into account your values, personality, and

circumstances. If you're not a gym person – that's fine, do something else to be active.

Not a social person, that's fine, read a book. Take a nap. Call a friend. Plant a garden.

Play in the sand. No matter the approach, just do YOU.

Integrated. You've heard of the notion "work-life balance." We propose an important

simplification: "life" balance. One of the myths about self-care is that it is something to

do after work—usually to deal with work stress. Successful self-care is not only about

doing things after work, but how you work. It's about taking care of yourself throughout

the day—rather than just recovering from the day. Successful self-care is a lifestyle and

way of being. Integrated self-care means anything from seeking support from

colleagues, to practicing mindfulness, to incorporating movement, to going to a yoga

class, and any other strategy that mitigates stress at work, home, and LIFE!

Intentional. As much as we would like it to be so: Self-care does not just happen. Rather,

you must be intentional about engaging in self-care. Intentionality requires being

purposeful in thought and action. A pragmatic strategy for this intentionality is to plan

your day in such a way that you can consistently integrate attention to self-care. For

example, you may need to put that professional development course, or your Zumba

class, or just taking a time out to breathe on your calendar—along with all those other

obligations and commitments.

Structured. Engaging in individualized, integrated, and intentional self-care requires

structure. We recommend developing an individualized Self-Care Plan. This plan ought

to include attention to physical, emotional, social, professional, and spiritual aspects.

We emphasize that your self-care must include professional care—such as supervision,

stress management strategies, professional development, setting boundaries, practicing

mindfulness, and so forth. And, because this plan is individualized, you can add any

other element you wish. This plan will provide you with the structure necessary to make

self-care a reality, rather than just a vague wish.

Continue on next page

24
---
ENVISION EQUITY FOSTER CARE SPECIAL EDITION

SMART. For conceptualizing your structured self-care approach, we recommend

developing SMART goals. That is, are your goals: Specific (i.e., targeted in a specific area

for improvement); Measurable (i.e., quantifiable so as to monitor progress), Attainable

(i.e., achievable), Relevant (i.e., worth doing), and Time-limited (i.e., deadlines, specific

time frames). Attention to these areas will assist you in strategically accomplishing your

self-care goals and identifying strategies that hold promise, and others that you should

exclude. We recommend developing a preliminary SMART self-care plan, testing it out for

a week or so, then re-assessing. Most of the time, if you don't "succeed" in your plan, it is

because you need to redefine success—make it SMARTer! Typically, after this initial

testing, your goals will need to be tweaked! And, over time, you will need to revise your

goals, as your circumstances change. Keep getting SMARTer!

Sustained. Just like any professional practice skill, such as developing lesson plans or

classroom management, self-care is a skill that requires ongoing, sustainable

development. Several "A" strategies can help in developing self-care practices that are

sustainable. For instance, Accountability is key. What people, strategies, and tools can

you use to keep you accountable in your self-care commitments? Also, sustainable selfcare

requires ongoing Awareness. For instance, one of the studies we conducted found

that practicing self-compassion contributes to better self-care; learning how to be more

self-compassionate increases ability to practice self-care. Finally, self-care requires

ongoing Attention. Just like any skill, self-care requires ongoing development. Seek out

opportunities to develop this important skill and commit to it.

Self-Care IS individualized, integrated, intentional, structured, SMART, and sustained. These

inter-related elements comprise the foundational fundamentals for self-care. We hope you will

use these fundamentals to take steps on a successful and meaningful journey of self-care. As

educators, your role is too important to neglect essential self-care!

Dr. Jay Miller is an Assistant Professor in the College of Social Work at the University of Kentucky.

Dr. Miller currently oversees national and international research related to self-care in the helping

professions, including education. Dr. Erlene Grise-Owens is a Founding Partner at The Wellness

Group, ETC. Questions, comments, concerns, and/or celebrations about this article can be directed

to Jay at Justin.Miller1@uky.edu.

Citations

Grise-Owens, E., Miller, J., Eaves, M. (2016). The A-to-Z Handbook for social workers and

other helping professionals. Harrisburg, PA: The New Social Worker Press.

25
---
Catching Kids While

Jumping Through Hoops

By Sarah Stalker—Foster Parent & Educational Advocate

I

t was Valentine's Day 2017 when I picked her up from the L&N building on Broadway in

downtown Louisville. She was 14-years-old and coming into foster care for the first time,

despite the fact that Child Protective Services had an open case for the last six years. As I stepped

inside the office and stated why I was there, I was pointed to a closed door. I softly knocked as I

slowly opened the door, not knowing who was on the other side. She was small in size for her age

with long, thick, brown hair that came to

her waist and she wore an oversized

hoodie. She had difficult time making eye

contact with anything but the floor and

what little she did say I strained to hear

due to her quiet voice. I signed a few

papers and we left the building. There

were no suitcases or even trash bags with

any belongings; she only had the clothes

on her back.

When my husband and I opened our

home to become foster parents in 2015, a

critical focus of ours was ensuring quality

education. When we have a new

child(ren) come to our home, the first

question I always ask a kiddo is what

school they attend and all the questions

Photo by Megan Hile

that go with it to assess how they feel

about that school. In most cases, kids

want to stay at their school. It's familiar and they are tired of bouncing around. In this case, she

didn't want to stay at her school. The idea of starting over fresh where no one knew her was very

appealing to her, so we transferred her to our home reside school. Fast forward eight months and

we started the process of applying for high school. It was clear to us early on that this kiddo had an

amazing artistic talent, so one of the schools we began to talk about was the Youth Performing

26

Continue on next page
---
ENVISION EQUITY FOSTER CARE SPECIAL EDITION

Arts School (YPAS) at Manual. She had never even heard of the school and as she learned more

about it and as others continued to mentioned it to her, the more intimidating it became to her.

For every ounce of talent she had, it was countered by a pound of low self-esteem mixed with

lack of confidence weighing her down. Still we persisted, asking her to trust us and consistently

telling her she was good enough, smart enough, and talented enough.

As we went through the time intensive and rigorous process of applying to a top public school, I

became increasingly angry. All the "hoops" that I jumped through were barriers for others. The

short of it is this, if a kid doesn't have an adult in this process who can and will do all the things

that are required, there is no way that kid is ever going to be able to apply to the school much

less attend it. So how can we as a community catch kids while we improve the equity challenges

in our public school systems across the country? I would say we have to do a better job of

bringing awareness and education to our communities at large on the issues; you can't fix what

you don't know. Hopefully once you know it bothers you enough to take action.

We are challenged by a lack of

understanding in our

community on how many

kids are in foster care. With

that, an even greater

inability to understand

how many times kids

in care change

schools every

time they are

moved from

one home or

institution to

another. I've

seen kids move

schools as

many as five

times in one

school year. I think we can all agree that allowing this to happen is not any child's best interest.

Everyone reading this article can remember something difficult about their school years. Now,

compound that issue with the many challenges that come with moving schools frequently. You

might show up to a school that is ahead of your last school in the math curriculum. On top of

dealing with the pressures of finding your way around a new school, adjusting to the way things

operate at that school, and having zero friends, you now are struggling with math and the

27

Continue on next page
---
ENVISION EQUITY FOSTER CARE SPECIAL EDITION

teacher most likely has no clue that you are in foster care and how many times you have

changed schools. These are just the struggles that come with the new school and don't take

into account that the child has just moved to a new home with strangers, new room, noises,

food, schedule, neighborhood (in some cases an entirely new county) and often a new social

worker and therapists. Imagine going through this routine over and over.

We have amazing teachers throughout our district and state who go well beyond teaching the

subjects they are passionate about. Our teachers are the experts in most cases, and if we can

make sure they have the information they need about students in their classrooms, this will

ensure not only students getting connected to resources they are entitled to, but also helps our

teachers to put a child's behavior into some general context. Just like we all remembered a

difficult time about our school years, we also all can remember a teacher or staff member at

our school that we connected with, trusted and made a difference in our life.

Children need consistency and structure rooted in a loving and safe environment. When a child

grows up without the basic needs that all humans require in order to function, you can expect

to see failure at varying levels at school. Maslow's Hierarchy of Needs gives us a clear and

simple guide to understanding why children can fail. If you are unfamiliar with them, imagine a

triangle cut into five levels. At the bottom you have physical needs, moving up is physical

safety, then social belonging. Next is esteem, and at the top of the triangle is self-actualization.

The four deficiency needs must be fully met before the child is in any condition to benefit from

their school experience. I've had children in my home who have not had heat in their house in

the middle of winter and they slept under piles of clothes to stay warm, children with no food

in the house, children who have had the water and lights cut off in their home for weeks or

months on end, who have been beaten, and others who have cleaned up needles around their

house from a parent's drug use so the younger siblings wouldn't get a hold of one. How can

you achieve the self-esteem needed for learning when you are struggling though so much

trauma? You may think they are safe once they are removed from that home, but being

removed from a horrible situation is traumatizing itself and the trauma continues with every

move.

One of the many mistakes we make as a community is to expect children to "check their

baggage" at the door. I am here to say that is impossible. We can and have to do better. We

need to ask kids when they act out, "What happened to you?" instead of "Why did you do

that?" or worse, "What is wrong with you?" We need to teach social and emotional learning

classes like we do science and math. We need all adults in all schools to be trauma informed.

Offering a one hour class that is optional to attend for professional development credit isn't

going to cut it. Trauma has a large continuum; the more we can identify the varying types, talk

about them, and learn what tools can be used to support youth who are trauma exposed, the

28

Continue on next page
---
etter odds we have of helping children process trauma and move through it. We also need to

look at our school policies and adult behavior with an eye to reduce the likelihood we

traumatize children while in school. We've known for years our approach to education is

antiquated in our country, and this isn't a problem just in the public schools. Additionally, our

public schools are being held hostage by standardized test scores and despite the strong belief

of many that test scores are the wrong metric by which to measure educational success; none of

this is going to improve until we as a community come to grips with the social service issues and

root causes that are plaguing our community and not only boldly address these issues, but use

our school system as a vehicle to do so. Because if not the school system, what other institution

will and can?

You may be wondering if the girl I introduced in the first paragraph got into the YPAS program at

Manual. The letter she received filled with small star shaped confetti is the answer. My husband

and I had the pleasure of watching not only her but also our biological son open a letter that

required a broom and dust pan. People have been shocked to hear that we got two kids into one

of most sought after public high schools in our area. We are too, truth be told. I'm not implying

every child or parent wants to attend this school. There are other great high schools that offer

unique programs, and I am a firm believer in finding the right school and fit for your child. But if

a child doesn't have an adult advocate to raise their hand and claim a child in need, they will

shuffle from school to school, many falling through the cracks. We were lucky enough to catch

one kid for a long enough time to completely change her trajectory for so many reasons. If I can

charge you with one thing, it is to consider being a foster parent. You have the unique ability and

power to literally change a child's life. We have over 9,000 children in foster care in Kentucky

and 1,033 of them are right here in Jefferson County. If you can't be a foster parent, find a way

to raise your hand for a child and change their life by being an educational advocate for them, it

just takes one person to change a child's life.

29
---
OCA Life Coaching Program

By Beth Pace—OCA Life Coaching Director

The OCA Life Coaching program is designed to provide support and care to youth in foster care and

young adults who have a foster care experience. For many of the young people we serve, their life

coach is the only safe, caring adult in their life that isn't being paid to be there. Our hope is to come

alongside these kids and young adults and walk with them as they prepare for adulthood. Below is a

glimpse into the experience for 2 of the young people we serve.

F

rom the moment you see Lorri and 16-year-old Krystal together you know their relationship is

special. There is obvious affection between the 2 of them. You would never guess they've only

known each other for about 16

months.

Lorri became a life coach with

OCA in August of 2016. She

says she expected the role to

be more difficult. But she and

Krystal hit it off from the very

beginning. Some of her

favorite times with Krystal

have been simple…riding

around in the car singing,

being silly and having fun.

They have also had more

intentional time together.

Krystal loves animals. So

Lorri signed them up to

volunteer at the Humane

Society. They play with the

animals, take them out, clean up after them and sometimes even help customers. It's been a good

learning experience for Krystal. She's learned first hand that all jobs come with some things that are

enjoyable and some that are not. "Poop Patrol", as they call it, is one of the not so fun aspects of

their volunteer job. They giggled for a solid 2 minutes arguing about who likes poop patrol more.

30

Continue on next page
---
Lorri also made it possible for Krystal to participate in a 5-week therapeutic horseback-riding

program. Each session began with a lesson and Bible verse followed with time taking care of and

riding the horses. Krystal quoted one of the verses for me. "For God has not given us a spirit of fear,

but of power, love and a sound mind."

Looking back on their time together neither can point to one specific area of growth or any

dramatic moment they've shared. But in the normal activities of life they have created a strong

bond that will last a lifetime. Lorri has seen Krystal grow and mature in the months they've known

each other. And Lorri has grown in her ability too. And as they begin to look at the future together

they have a strong foundation from which to work. In the coming months they plan to talk more

about goals Krystal has for herself and how Lorri can help her achieve them.

On the surface there isn't anything spectacular about this relationship. But the fact that it even

exists is spectacular. Krystal has spent the majority of her life in residential treatment facilities. In

fact she still lives in a group home with several other teenage girls. This life coach relationship

allows Krystal to build trust

and healthy attachment

with a safe adult without

the pressures and

expectations that a family

would bring. She has grown

to love and trust Lorri and

knows that she will be

there for her. As many of

her peers approach their

transition to adulthood

alone, Krystal will have

Lorri to walk alongside her

and continue to support

and encourage her.

Malik is 20 years old. He plans to be a graphic designer and own his own business one day. He is a

talented artist, musician and athlete. He is kind, smart, hardworking and fun to be around. And

when Dan first met Malik a few months ago, he was also homeless.

Dan decided to become a life coach with OCA and attended training in January. He was matched

with Malik just a few weeks later. OCA life coaches are taught about the basics of the foster care

system, how childhood trauma affects the brain, and invited to be a support to a young person

with a foster care experience. They can be matched with a mentee any where from about 12-21

years of age. The training helped equip Dan to walk alongside Malik without judgment. It also

31

Continue on next page
---
ENVISION EQUITY FOSTER CARE SPECIAL EDITION

prepared him to not be surprised if

things didn't go exactly as planned

and to persevere when things got

difficult.

"It exposes you to some things that I

hadn't really thought about before.

Like the psychological and emotional

challenges that these kids face that I

hadn't been exposed to before."

Today Malik has furnished his own

apartment and is holding down a job.

He's working hard to establish himself

as an adult. But now he also has Dan

in his life to offer encouragement in the face of struggle and even failure. He has an older man

to hold him accountable to do what is right and keep working toward the goals he has for

himself.

Malik gets support from Dan in many areas of life. Dan has helped him with decision-making,

setting short and long-term goals, and what it takes to be a man. He says he doesn't have

anyone else like Dan in his life.

Dan is committed to keep pushing him forward toward good things.

Their relationship hasn't just helped Malik. Knowing Malik has changed Dan's life as well.

"You may be coming into this thinking that you've got something to give somebody else, but

what's really going to happen is…if you're serious about this and your fully committed to it…

it's going to change your life for the better. It really is. It's not easy. It's a big commitment. But

in the end, it's going to change you."

***some names have been changed to protect privacy

To refer a foster youth to participate or to become a mentor, contact Jonathan Butler at

Jonathan.butler@orphancarealliance.org.

32
---
ENVISION EQUITY FOSTER CARE SPECIAL EDITION

TRUE UP

By True Up – Nikki Thornton, Director of Program Operations

True Up is a groundbreaking

initiative to empower young

people in foster care to

gain the critical life skills they

need to make a successful

transition from a structured

environment to self-sufficiency.

The mission is to focus and

connect people to ensure that

foster youth believe in themselves

and excel in life. This movement is

driven by foster care youth and

alumni who are committed to

providing a support network and

helping one another in their

journeys. In addition to this, True Up youth are advocating for positive change in the foster care

system because True Up's foster care alumni have faced the challenges of getting jobs, continuing

their education, building families and starting lives after foster care.

In partnership with other foster care agencies, True Up is committed to helping youth transition

from agency care to productive lives. True Up and its partners provide experience-based learning

to help foster youth gain the skills they need to succeed on their own. The focus is on arming foster

youth with the information and experience they need as they become independent and focus on

building their lives. Hands-on learning includes everything from navigating bus routes and

preparing to get a driver's license to comparing apartment options and opening a bank account.

True Up holds monthly youth meetings and monthly meetings of its Youth Advisory Council (YAC).

The True Up Peer Network initiative is a group of former foster care youth who have come together

to support one another and advocate for current foster youth. They have diverse backgrounds and

are working together to improve their lives and the lives of other youth in foster care.

True Up works with KYA (KY Youth Advocates) and the First Lady's Youth Leadership Council to

help give youth voice on public policy and advocacy issues. Senate Bill 213, which gives youth in

state-sponsored foster care an additional six months to seek to continue receiving benefits,

involved True Up youth. True Up is also supporting the ending youth homelessness initiative and

partners with multiple youth serving agencies in the community to provide resources.

To become involved with True Up, contact Nikki Thornton at 502-536-3734 or by email at

nthornton@trueuplouisville.com

33
---
FOSTER CARE

ENVISION EQUITY FOSTER CARE SPECIAL EDITION

What is foster care?

Foster care is a temporary living situation for children who cannot live with their parents due to abuse,

neglect, or dependency. The family has come to the attention of child welfare workers and courts who

have made the determination that children need care outside of their homes.

Why do children enter foster care?

Children enter foster care due to abuse, neglect, and dependency. Abuse can include physical, sexual,

and emotional abuse. Neglect is when a child's needs are unmet. This can include basic needs,

educational needs, medical needs, and more. Dependency is when a parent cannot care for his/her child

due to no fault of his/her own.

How long do children stay in foster care?

The amount of time a child remains in foster care can vary from months to years. In Kentucky, children

can remain in foster care until age 21 if they meet certain requirements. The goal is always to reunify

children with their birth families when possible. When it is not possible, the goal is to find a forever family

for each child in foster care.

Where do children in foster care live?

Children in foster care can live with relatives, with fictive kin, in foster family homes, residential treatment

facilities, and independent living programs.

Can a student in foster care remain in their school of origin when they enter foster care or change placements,

even if it is outside of the reside area?

Yes, under the Every Student Succeeds Act (ESSA), students in foster care have a right to remain in their

school of origin when it is in their best interest. A best interest determination should be made by a team of

individuals who are involved with the student, including the social worker, school staff, educational

decision maker, caretakers, and the student themselves. The CHFS social worker is the ultimate decision

maker when a team cannot come to an agreement on best interest. Reasonable transportation must be

provided for student to remain in the school of origin.
---
ENVISION EQUITY FOSTER CARE SPECIAL EDITION

What is a school of origin?

The school of origin is the school the student was attending at the time of entry into foster care. If it is

determined to be in a child's best interest to change schools, the new school then becomes the school of

origin.

Can a student in foster care enroll in school without normally required documentation?

Yes. Under the Every Student Succeeds Act (ESSA), students in foster care are to be immediately enrolled

in school even when they do not have normally required documentation. Records should then be requested

after the student is enrolled.

Can youth in foster care participate in after-school activities?

Yes! Under Kentucky's normalcy law, children in foster care have the right to participate in extra-curricular

activities

Can youth in foster care file a FAFSA as an independent student?

Yes, students who were in foster care at any time after the age of 13 can file an independent status on their

FAFSA

Are resources available to help fund post-secondary education for foster youth?

Yes! There are multiple resources available to help students who are in foster care, students who age out

of foster care, or students who are adopted from foster care to access post-secondary education. For a list

of resources available through the state of Kentucky, visit this website: http://www.chfs.ky.gov/dcbs/dpp/

IndLivingEducationAssistance.htm
---
ENVISION EQUITY FOSTER CARE SPECIAL EDITION

Famous People

In Foster Care

• Tiffany Haddish – American comedian and actress.

• Lorenzo Mauldin – Former University of Louisville football player and

current NFL linebacker for the New York Jets.

• Simone Biles – American world champion gymnast.

• Michael Oher - NFL player; the movie The Blindside was based on his

life.

• Steve Jobs – Co-founder of Apple.

• Malcom X – Civil Rights Activist and former leader in the Nation of

Islam.

• Willie Nelson – Country music singer and guitarist.

• Marilyn Monroe – American movie star.

• John Lennon – Musician and founder of the Beatles.

• Ice T – Musician, actor, and author. Currently on Law and Order, SVU.

• Eddie Murphy – Comedian, actor, and producer.

• Cher – Singer and actress.

• Jamie Foxx- Actor, singer, and comedian.

• Alonzo Mourning – 7 time NBA all-star.

• Nelson Mandela- Former South African President, anti-apartheid

revolutionary.

36
---
Clothing:

• JCPS Clothing Assistance Program (CAP) Closet – Provides new and gently used uniforms, clothing,

and athletic shoes to children and families. Schedule an appointment through your FRYSC

Coordinator or JCPS Foster Care Department 502-485-6358 or Lindsay.bale@jefferson.kyschools.us

• Hope's Closet- Providing childrens' clothing and items free of charge to foster and adoptive families

in Kentuckiana https://www.hopesclosetky.com/

• OCA Kids Care Closet- Provides Kids Care Closet packages for children when they enter foster care.

They also have clothing and supplies for younger children. Contact 502-498-4765

• Prom Project Northeast Christian Church - provides formal attire to girls wishing to attend their

prom, but lacking the financial resources. Students may be referred by their Counselors, FRYSC

Coordinators, or through the JCPS Foster Care Department 502-485-6358

• Westport Rd. Baptist Church Foster Closet- Provides clothing for foster youth of all ages. Contact

502-425-2350

Education:

• JCPS free tutoring- Tuesdays and Thursdays 3:00 p.m. to 5:30 p.m. at the JCPS Satellite Office inside

the California Community Center 1600 W. St. Catherine St. 502-485-8746

• JCPS Foster Care Department: Provides support to students in foster care who attend JCPS schools.

Assistance includes arranging transportation to school of origin, transferring and obtaining records,

referrals for supplies and clothing, counseling, mentoring, extended learning opportunities, and

other services. Contact Foster Care liaison Lindsay Bale 502-485-6358 or

Lindsay.bale@jefferson.kyschools.us

• Family Scholar House- Provides support to 18-24 year olds who have had a foster care experience,

and have obtained a GED or high school diploma. The program aims to empower families and youth

to succeed in education. This assistance comes in the form of educational support, family support,

peer support, and supportive housing. Contact Thomas Evans at 502-584-8090 or

tevans@familyscholarhouse.org-

• KHEAA- Provides resources to improve access to higher education 1-800-928-8926 or kheaa.com

37

Continue on next page
---
• Jefferson County Independent Living Coordinators: Coordinators assist youth by teaching the

skills they need to be self-sufficient when they leave care. These services are provided to all

eligible youth regardless of permanency goals. They can assist with completing FAFSA, tuition

waiver, ETV, and tuition assistance forms, access to independent living classes, and Chaffee

services. Contact Kenny Ingram Kenneth.ingram@ky.gov or Jeff Culver Jeff Culver

jeff.culver@ky.gov

• Summerbridge- Summerbridge Louisville (SBL) is a free, 6-week (June 11-July 21) summer

academic program for underserved middle school students in JCPS Contact 502-767-6663 https://

www.summerbridgelouisville.org/

• University of Kentucky EMBRACE Program: EMBRACE is designed to connect students with campus

support programs that provide an array of financial, academic, social and emotional support

throughout the journey to graduation from UK. The program is available to students who are or

have been displaced from their family of origin, former foster youth, orphans, previous wards of

the state, adopted, homeless or an independent student. Submit a referral here: https://

uky.az1.qualtrics.com/jfe/form/SV_3BM0uivB3lhzrOR

Employment

• Fostering Success- Fostering Success is a 10-week workforce development initiative sponsored by

the Department for Community Based Services that provides current and former foster youth the

opportunity to participate in a paid internship, while receiving personal development and career

planning support. Students with a high school diploma or GED may participate. Contact Jefferson

County Independent Living Coordinators at jeff.culver@ky.gov or Kenneth.ingram@ky.gov or

contact the program administrator at chafee.ilp@ky.gov

Housing:

• Family Scholar House: Provides support to 18-24 year olds who have had a foster care experience,

and have obtained a GED or high school diploma. The program aims to empower families and

youth to succeed in education. This assistance comes in the form of educational support, family

support, peer support, and supportive housing. Contact Thomas Evans at 502-584-8090 or

tevans@familyscholarhouse.org

• Pretty in Pearls- Provides assistance to young women who are transitioning out of foster care.

Assistance includes life skills classes, mental health counseling, and transitional housing. Contact

502-356-3160

• Project Life – Provides rental assistance and case management for students 18-21 who have had a

foster care experience 502-634-6050

• VOA Homeless Prevention Program- provides case management, housing, employment,

budgeting, and education for youth released from foster care 502-636-0816

38

Continue on next page
---
Independent Living Skills

• Jefferson County Independent Living Coordinators: Coordinators assist youth by teaching the

skills they need to be self-sufficient when they leave care. These services are provided to all

eligible youth regardless of permanency goals. They can assist with completing FAFSA, tuition

waiver, ETV, and tuition assistance forms, access to independent living classes, and Chaffee

services. Contact Kenny Ingram Kenneth.ingram@ky.gov or Jeff Culver Jeff Culver

jeff.culver@ky.gov

• True Up – Education and experienced based learning for foster youth ages 16 and older to gain

critical life skills. Contact Nikki Thornton 502-536-3734 or nthornton@trueuplouisville.com

• YMCA Youth Development Center- Access to food, laundry, clothing, showers, and life-skills classes

for youth 18 and over. Students who are 16 and over can participate in life skills classes if

accompanied by an adult. Contact Corbin Hannah 502-635-4402 or hcorbin@ymcalouisville.org

Mentoring

• Big Brothers Big Sisters – Provides children facing adversity with strong and enduring,

professionally supported 1-to-1 mentoring relationships 502-587-0494

• OCA Life Coaching- Provides support and care to youth in foster care and young adults who have a

foster care experience. Contact Johnathan Butler Jonathan.butler@orphancarealliance.org

• YMCA Web Weavers- Aims to connect young adults ages 18-24 to strong, reliable support networks

in order to ensure their well-being. Youth 16-18 may participate if an adult attends with them.

Contact: Corbin Hannah 502-635-4402 or hcorbin@ymcalouisville.org

• YNOW Mentoring Program- YNOW is a mentoring program for youth ages 11-15 who have or have

had an incarcerated parent Contact Jamari White 502.855.6107 jwhite@ymcalouisville.org or

Brittany Bryant 502.635.4393 bbryant@ymcalouisville.org

Other Resources

• Louieconnect.com – A mobile-optimized website that showcases community resources for a

variety of people, with a specific category for foster youth. All resources are free.

•

39
---
ENVISION EQUITY FOSTER CARE SPECIAL EDITION

OTHER

RESOURCES

Child Trauma Toolkit for Educators

https://rems.ed.gov/docs/NCTSN_ChildTraumaToolkitForEducators.pdf

Child Welfare Information Gateway

https://www.childwelfare.gov/

Child Welfare Toolkit for Early Childhood Professionals

https://www.collaborative.org/sites/default/files/documents/SCSC-Toolkit_EC.pdf

KY Reporting Child Abuse and Neglect Handbook

http://chfs.ky.gov/NR/rdonlyres/0984FD14-A494-4055-9C10-98CDD433F8C9/0/ChildAbuseandNeglectBooklet.pdf

Legal Center for Foster Care and Education

http://www.fostercareandeducation.org/

US Department of Education Foster Care Transition Toolkit

https://www2.ed.gov/about/inits/ed/foster-care/youth-transition-toolkit.pdf

TO REPORT SUSPECTED CHILD ABUSE OR NEGLECT IN JEFFERSON COUNTY

CALL 502-595-4550 OR MAKE A REPORT ONLINE AT https://

prdweb.chfs.ky.gov/ReportAbuse/

40
---
ENVISION EQUITY FOSTER CARE SPECIAL EDITION

A Child Called It

by Dave Pelzer

2014. High School

Reading Suggestions

Trauma Sensitive Schools

by Susan Craig

2015. High School/Adult.

This book chronicles the unforgettable account of one of the

most severe child abuse cases in California history. It is the story

of Dave Pelzer, who was brutally beaten and starved by his

emotionally unstable, alcoholic mother: a mother who played

tortuous, unpredictable games--games that left him nearly dead.

He had to learn how to play his mother's games in order to

survive because she no longer considered him a son, but a slave;

and no longer a boy, but an "it."

The Deepest Well

by Nadine Burke Harris, M.D.

High School/Adult

Integrating research on children's neurodevelopment and

educational best practices, this important book will build the

capacity of teachers and school administrators to successfully

manage the behavior of children with symptoms of complex

developmental trauma.

Dr. Susan E. Craig is a sought-after public speaker and

professional developer, offering in-person training anywhere in

the United States. Invite Dr. Craig to your facility to train your

staff. Visit her blog: www.meltdownstomastery.wordpress.com

Through storytelling that delivers both scientific insight

and moving stories of personal impact, Burke Harris

illuminates her journey of discovery, from research labs

nationwide to her own pediatric practice in San

Francisco's Bayview-Hunters Point. For anyone who has

faced a difficult childhood, or who cares about the

millions of children who do, the innovative and

acclaimed health interventions outlined in The Deepest

Well will represent vitally important hope for change.

Images obtained from Google Images.

41
---
ENVISION EQUITY FOSTER CARE SPECIAL EDITION

Editor—Catherine Collesano

Editor, Photo Contributor—Abdul Sharif

Credits

Special thanks to all of our community partners and educators who helped make this special edition of

Envision Equity possible.

Envision Equity is a publication of the JCPS Department of Diversity, Equity, and Poverty Programs. All

submissions should be sent to Catherine Collesano at catherine.collesano@jefferson.kyschools.us or Abdul

Sharif at abdul.sharif2@jefferson.kyschools.us. If you are interested in becoming a subscriber or a

contributor to Envision Equity, please contact one of the editors at the above email address.

www.jefferson.kyschools.us

Equal Opportunity/Affirmative Action Employer Offering Equal Educational Opportunities

42