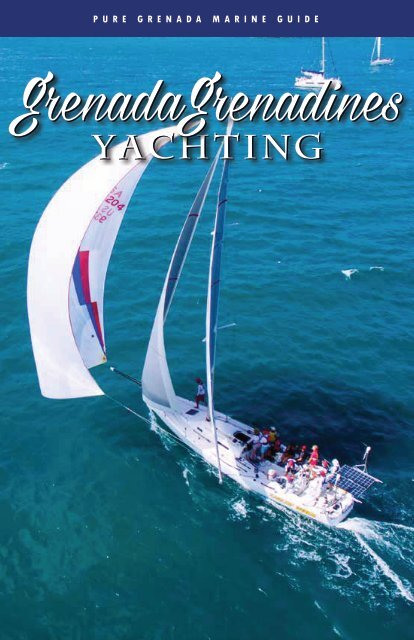 ~MAYAG 2018 Book COMPLETE LOW RES
Create successful ePaper yourself
Turn your PDF publications into a flip-book with our unique Google optimized e-Paper software.
PURE GRENADA MARINE GUIDE

grenadagrenadines

YACHTING

I
---
Why Grenada?

PHOTOGRAPHY : Courtesy Arthur Daniel

YEAR AFTER YEAR, people from all over the

world delight in our culture, our food, our

scenic beauty, our beaches, our rainforest

and our uniquely warm welcome. We

are thrilled to be an authentic Caribbean

yachting destination – Pure Grenada!

Grenada is part of the Windward Island

chain and includes the southern-most

islands of the "Grenadines". Our beautiful

islands have sheltered anchorages, high

quality marinas and boatyards, a good

range of yachting and marine service

facilities, and international air links. All

the ingredients needed for a perfect Caribbean

sailing experience.

Grenada,

Carriacou and

Petite Martinique

provide

perfect sailing

conditions for

all sailors. We

offer the enviable

opportunity

of year-round sailing and invite you

to join us for sailing events and regattas,

each with their own unique flavour - come

prepared to enjoy yourself on the water

and on land.

Our passion for all things nautical

transfers itself to the full range of services

that we provide for yachts. So come here

for a vacation – enjoy our top class marinas,

beautiful anchorages and countryside

– and then take advantage of our boatyards

and excellent marine services. All

the while experiencing our people's national

pride and capacity for fun. Enjoy firsthand

our island's reputation for genuine

warmth and

friendliness,

whilst being

assured that

at all times

your safety is

of paramount

importance

to us.

II 1
---
On the inside

Cover Photo by:

ARTHUR DANIEL

06 Chartering:

Grenada and the Grenadines

10 Grenada Regattas

12 The Grenada Scene

14 Spindrift's Sam Goodchild

16 Grenada Marinas

24 Horizon Yachts Grenada

28 Island Dreams

32 Savvy Sailing Charters

36 Saffron Cafe

40 LTD Sailing

44 Carriacou: The Next Generation

48 Explore Grenada

52 Diver's Wonderland

57 Hauling your Boat

62 Grenada Events

67 Clearance Procedures

70 Essential Grenada

72 Directory

2 GRENADA GRENADINES YACHTING 3
---
Dear Friends and Visitors,

Welcome to Pure Grenada, the Spice of the Caribbean

where the warmth and happiness of our people embrace

you as treasured guests on three of the most beautiful

islands – Grenada, Carriacou & Petite Martinique.

We invite you to enjoy our many treasures. We offer

a mix of traditional and new experiences for the global

traveler. Visit our four chocolate factories to feast on

delicious, dark, spice-infused chocolate. Indulge your

taste-buds on a exotic culinary tour that guarantees

gastronomical delights for every palate.

Learn about producing rums and liqueurs at our three

rum distilleries. Dive into pristine blue waters and relax

on beautiful white, sandy beaches or hike into our exotic

rain-forests. The adventurous will delight in a challenging

obstacle and zip line course, exciting river-tubing or

a thrilling buggy ride through our beautiful countryside.

Grenadians take great pride in our iconic history and

the sea-faring traditions of boat building, fishing and

sailing. We are committed to the sustainable development

of our yachting industry. Ten marinas and five

boatyards operate on Grenada and Carriacou providing

world class yacht maintenance, provisioning and

technical services for all our clients and visitors.

Thank you for visiting us. We look forward to sharing

unique and memorable experiences with you and your

loved ones in Pure Grenada, the Spice of the Caribbean.

Dr. Clarice Modeste-Curwen, M.P.

Minister for Tourism, Civil Aviation & Culture

The Marine and Yachting Association of Grenada

(MAYAG) invites and welcomes you, our valued clients,

to Grenada. Established in 1999, we are a volunteer led

organization that represents and lobbies in support of

this industry, strategically important to Grenada. Thanks

to you, we have been growing and developing over the

past decade. We now employ over 1,000 people in the

marine industry and have been recognised as one of

Grenada's top export sectors.

The people and businesses who work with yachts in

Grenada are all focused on ensuring that your yachting

experience here is memorable for all the right reasons.

MAYAG is part of our commitment to work together for

continued improvements in the range and quality of

services our industry offers.

With the renewed emphasis on "The Blue Economy",

and recognition that countries such as Grenada can contribute

to the better stewardship of the planet's oceans,

MAYAG's members are determined to support Grenada's

sustainable development path.

We would like to thank the Ministry of Tourism and the

Grenada Tourism Authority for their ongoing support of

the yachting industry in Grenada, Carriacou and Petite

Martinique.

We hope you find this edition of our Marine Guide

informative and helpful, and we are always happy to

receive feedback on any aspect of yachting in Grenada.

Please email mayagadmin2@gmail.com.

One-piece steel cradles

Tiedown Anchors throughout

Storage areas by boat type

Laura's Restaurant & Bar

Island Water World

Diesel Fuel

Free WiFi

Fiberglass & Exotic Composite

AwlGrip/ AwlCraft Painting

Electrical/ Electronic/ HVAC

Mechanical

Rigging & Canvas/ Sail Loft

Woodwork & Carpentry

Metalwork & Fabrication

Antifouling Application/ Hull Polishing

EDITORIAL TEAM PUBLISHER

CONTRIBUTORS PHOTOGRAPHERS

Brightwork

Robin Swaisland PulseCreative

Lesley Hayes

Arthur Daniel

James Pascall

Grenada

Karen Stiell

Andy Johnson

Danny Donelan DESIGN DIRECTOR Sarah Baker

Alexis Andrews

Rolf Hosteliak

Laura MacNeil Justin Sihera

Tim Wright

Nicholas George

Phil Saye

Sarah Ryan

Vanessa Haynes

4 GRENADA GRENADINES YACHTING 5

PHOTOGRAPH: Courtesy Arthur Daniel
---
RENADA&theGRENADINES

a yacht charter guide

Imagine

exploring a chain of idyllic,

unspoilt islands, where each island has

its own character, its own vibe. Where all

retain the traditional, rustic charm; the

"real" Caribbean. Sounds good? Grenada

and the Grenadines is just that. Grenada

has something for every visitor, you could

return year after year and discover new

wonders, but it is also the perfect base

to explore the Grenadines, a chain of 32

idyllic small islands between Grenada

and St Vincent. You could visit some of

the islands by plane or ferry, however,

wouldn't you prefer to spend less time at

the airport or ferry terminal, checking in

and out, carting baggage? Yes? Well we've

got the perfect solution for you.

Chartering.

No longer an elitist sport; there are

charter options to suit almost any budget.

Chartering combines transportation with

accommodation for an unforgettable

adventure.

If you are a novice you could opt for

a learn to sail vacation and get qualified

while enjoying an active holiday. If that

sounds too much like hard work you can

hire a professional skipper, maybe add a

chef. And if money is no object, you could

hire a fully crewed superyacht and live the

rock star life for a few days.

For experienced sailors looking for a

bareboat sailing holiday, charter companies

have a variety of yachts in all sizes

and budgets.

Now it]s time to plan your sailing

itinerary. You can sail from Grenada and

return to Grenada, or you can pick a oneway

charter to get the most out of cruising

the Grenadines. A typical itinerary might

include Carriacou, Petite St Vincent,

Union Island, Mayreau, Canouan, Tobago

Cays, Mustique and Bequia. Now, I could

wax lyrically about each of these island

destinations, but time and space is short, so

instead I have put together my top 10 list of

the things you must see and do while cruising

Grenada and the Grenadines… >

6

GRENADA GRENADINES YACHTING

7
---
Top10

Things to

SEE and DO

Carriacou Boat

Building

Carriacou has

a long history

of boat building

which

continues to

this day. Take

a bus or taxi

to Windward

where they

continue to

construct

wooden boats

in the time

honoured

tradition.

For additional

insight, check

out our story

Carriacou, The

Next Generation

on page

44.

Underwater

Sculpture Park

Don't miss the

opportunity to

snorkel or scuba

dive in the

world's very

first underwater

sculpture

park. Located

in the Molliniere

Marine

Protected Area

on Grenada's

west coast, take

a mooring ball

and explore

this fascinating

art installation.

Daily cost for a

mooring ball;

US $10 plus $1

snorkeling and

$2 SCUBA, a

small fee to

pay for the

conservation of

a marine area.

Dinghy Concert

The inspiration

of La Phare

Bleu's Dieter

Burkhalter.

His dream was

to combine a

love of music

and a passion

for sailing, and

the dinghy

concert was

born. A unique

gig; live music

is performed

on an tug boat

surrounded by

an audience in

their dinghys,

but don't worry

there's also

a shuttle to a

barge if you're

without dinghy.

Usually six

concerts each

year. Enjoy!

Belmont Estate

An authentic

17th century

plantation,

ranked the

top Caribbean

agri-tourim

experience.

Visitors can

participate in

the workings

of a fully functional

cocoa

plantation and

experience

traditional

rural life in

picture perfect

surroundings

– and so much

more. The 250

seat restaurant

highlights

Grenadian

cuisine, farmto-table

style.

River's Rum

Distillery

River Antoine

Estate, the

oldest continuously

operating

Caribbean

Rum Distillery

was founded in

1785. At River's

they still use

18th century

techniques.

Daily tours

demonstrate

how sugar cane

is crushed by a

water powered

mill and all

are invited to

sample their

overproof Rum,

a local favourite.

Definitely

not your runof-the-mill

Rum Distillery

– a must visit.

8 GRENADA GRENADINES YACHTING 9

PHOTOGRAPHS : Grenada Tourism Authority, Horizon Yacht Charters PHOTO, FAR LEFT: Alexis Andrews

Roger's

Barefoot Bar

Hog Island's

intimate, laidback,

no shoes

bamboo bar

is a favourite

island oasis.

Roger's attracts

an interesting

combination of

locals, tourists

and yachters.

Situated about

30 metres off

the south coast

and reached

only by boat.

Enjoy great

drinks, local

food and live

music every

Sunday. Come

sink your toes

in the sand at

Roger's bar –

the island vibe

at it's best.

Happy Island

Heading north

from Grenada

you will check

in at Union

Island, as

you enter The

Grenadines.

Take advantage

of this stop by

enjoying a rum

punch or local

beer at Happy

Island. This

unique bar is

built on a bed

of conch shells,

only accessible

by water. Feeling

energetic?

Try kitesurfing,

take a lesson to

learn the basics

or rent your

own equipment.

Swimming

with Turtles

A visit to The

Grenadines

would not be

complete without

spending

time in Tobago

Cays. An archipelago

of five

uninhabited

small islands

and extensive

reefs, home

to a protected

marine park

abundant with

wildlife both

in the sea and

ashore. An

absolute mustdo

is swimming

with the turtles.

Amazing!

Mustique

This island is

synonymous

with glitz and

glamour. Mick

Jagger, David

Bowie and

Princess Margaret

all owned

homes on this

private island

and many musicians,

artists,

actors and royalty

continue

to visit. Take a

mooring ball,

go ashore,

visit Basil's

Bar. Pretend

you're a movie

star! You may

even bump

into someone

famous.

Sundowners

in the Cockpit

There is so

much to see

and do in Grenada

and The

Grenadines.

Although you

will be spoilt

for choice

of activities

ashore, sometimes

nothing

beats sitting

in the cockpit

at the end of

a great day's

sailing, yacht

gently bobbing,

cocktail in

hand, watching

the sun go

down. Bliss!
---
Racing

the Blue

Grenada Sailing Week

grenadasailingweek.com

Grenada Sailing Festival

grenadasailingfestival.com

Petite Martinique Whitsuntide Regatta

facebook.com/petitemartinique.whitsuntideregatta

Carriacou Regatta

facebook.com/carriacou.regatta

PCYC Round Island Race

pcycgrenada.com/

Grenada and its sister islands of Carriacou

and Petit Martinique have long been a

favourite destination for regattas. The

combination of idyllic sailing conditions,

scenic coastlines and warm, welcoming

people make these regattas the friendliest in

the Caribbean. Nothing beats the thrill of

competitive racing in turquoise waters with

a cool trade wind blowing. From high performance

yachts racing at Grenada Sailing

Week to the traditional fishing boats of the

Carriacou regatta made with skills passed

down through generations, the regattas

bring toget her Grenada's warm hospitality

and the island's love of sailing. Attracting

local sailors from communities with strong

sailing and boat building ties, to regional

and international competitive racers and

their yachts - there really is something for

everyone. Grenada regattas are exciting

events, open to all and everyone is welcome

to join in the parties and entertainment that

are an integral part of these exciting events.

PHOTOGRAPH : Tim Wright / PHOTOGRAPHS RIGHT: Arthur Daniel

GRENADA GRENADINES YACHTING 11
---
These two racers are

built right here in

Grenada. Watch out

for them at Grenada

Sailing Week.

Left; Nickatime,

Caribbean 33,

Jason Fletcher

Grenada Marine

Right; La Diablesse

RF33, Rene Froehlich,

Grenada Team

MADEinGRENADA Sailing

the

grenada

SCENE

Sailors of the Future

The summer months of 'young guns' - competitive

upcoming sailors.

here in Grenada are

abuzz with programmes These heartening results

offered to Grenadian have sown the seed for

youth at little or no cost: future generations of

Grenada Yacht Club

sailors. As well, Grenada's

Summer School, Gouyave cruiser community

Sailing School, Grenada generously share their

Marine Sailing Club, and knowledge, increasing

Woburn Wind Warriors youth skill levels.

are all 'Go-To' places for Passion runs deep with

aspiring young sailors. participants and planners,

but all these ini-

The members and

friends of MAYAG clearly tiatives need financing.

see the need to support Business can help these

youth sailing here in programmes too, by

Grenada, Carriacou & getting involved, ensuring

that instructors are

Petite Martinique. It as

an important part of the motivated, equipment is

future of our industry. up to par and the kids are

Collaborations with well fed and watered. It

the Grenada Sailing

is truly a pleasure to be a

Association (www.grenadasailingassociation.org),

the Grenada Yacht Club

(www.grenadayachtclub.

com) & the Trinidad &

Tobago Sailing Academy

(www.ttsailing.org)

have produced regionally

acclaimed instructors

and an emerging group

12

part of this scene.

An on-going challenge

in Grenada is providing

an effective progression

for long term training of

our young sailors beyond

Optimists. Fortunately

local marine businesses

have invested in the build

of a next generation

racing craft that will

attract the eyes of our

developing sailors. An excellent

example; Catfish

Inc. in Gouyave. However

there is still more to do.

Our main objective is to

ensure ongoing enthusiasm

for the sport to hold

onto our young talent.

So get out there and

get involved.

International Favourite

GRENADA'S maritime heritage provides a pool of

skilled marina and support staff who understand

yachts, their owners and the value of the sector to the

Grenadian economy. The RORC Transatlantic, Oyster

Regatta and the World ARC events continue to bring international

yachting recognition, and our marinas have

proved they can handle prestigious events smoothly.

We caught up with Kenzo to ask him

a few questions about the racing life

When and how did the thrill of racing capture you?

I've always had a thrill for competition. My father and

older brother had me out sailing from the time I knew

how to swim, or maybe even before. As the younger

brother I had to step up my game, but I also I was able

to learn from a more experienced sailor.

I don't quite remember how old I was when I won my

first optimist regatta, but from then on I didn't want to

be in any other position than first. That's when the fire

ignited and to this day keeps burning.

What was your sailing highlight for 2017?

Because of a serious collision on the penultimate day

of racing at Grenada Sailing Week, I would say my

highlight for the year would have to go to winning the

prestigious 'Les Voiles de Saint Barths' regatta onboard

Fortunata in CSA1. As the navigator I worked closely

with legendary tactician Tomasso Chieffi, it was a huge

learning curve, winning was the cherry on the cake.

What are you happily anticipating for 2018?

Currently I'm working full time on Superyachts, unfortunately

this means my free time for racing is greatly

reduced. It's a great experience but I'd like to find a

balance, to be able to race as much as before. For now

I can't really plan ahead but rather take it as it comes. I

know I can make it work. Wherever I travel I do my best

to promote Grenada as a world class sailing destination.

'We - and our owners - really had a fantastic time in

Grenada and we will definitely be back. It was great to

have so much support from everyone who helped make

the event the success it was.' said Oyster's Marketing

Director Liz Whitman. Eddie Warden Owen, CEO of

RORC confirmed that "RORC thoroughly enjoy bringing

the annual Transatlantic Race to Grenada. The warm

welcome received each year, coupled with exceptional

marine facilities, make Grenada an obvious destination

Kenzo

for such an internationally recognised event". The

World ARC is another event that regularly stops in

Grenada. Victor Taburiaux, one of the World Cruising

Club organizers has remarked that Grenada has such a

lot to offer. "Port Louis Marina is by far the best Marina

that World ARC visit after marinas in Australia", and

"from personal experience and previous participants

the diversity of services offered by Grenada's marine

industry make Grenada one of the best places".

GRENADA GRENADINES YACHTING 13
---
as

am

Goodchild

has

SAILING

in his blood

as

And it's no wonder.

Although born in the UK, he spent his

childhood aboard his parents' sailboat

cruising the Caribbean. Eventually, the

family settled ashore in Grenada; now his

adopted home. During his teenage years

offshore racing became Sam's passion and

since that time he has notched up over 20

ocean crossings of the Atlantic, Pacific

and Indian Oceans and a double-handed

race around Britain, adding up to a whopping

80,000 offshore miles.

"With my heavy training schedule I

only manage to visit Grenada once every

two years, which is very disappointing",

Sam says.

He's currently with the Spindrift Racing

team, based in France (www.spindrift-racing.com/en)

and finished 3rd in the 2017

World Match Championships. Our team

is also aiming for the Trophee Jules Verne,

which he says, "is really exciting, the outright

around the world sailing record!"

We all wish him the best of luck.

14

GRENADA GRENADINES YACHTING

15
---
marinas

16

PHOTOGRAPHY : Courtesy Arthur Daniel

The yachting industry in Grenada

dates back to the 1960's with the arrivals of the first

charter boats, and the development of cruising on

yachts as a lifestyle. Progress over the following 30

years was chequered, largely due to political upheaval

as well as fluctuations in the economic fortunes of the

home countries of our yachting visitors. But the Yachting

Act of 2000 stimulated private sector development

in the industry and this has resulted in considerable

growth. Grenada now boasts nine marinas with a broad

range of capacities and facilities, styles and locations.

This expansion has boosted Grenada's profile as a

yachting destination, and the nation is once again an

internationally recognized yachting centre.

Grenada likes to give its yachting visitors choices.

As you will see (following pages), our marinas are all

different in various ways. You can choose bustling and

active, or quiet and tranquil; full service or simple. Or

you can choose to drop anchor or pick up a mooring in

many of our coastline's beautiful bays.

GRENADA GRENADINES YACHTING 17
---
marinas

Our highlight of the fine

marine facilities of which

Grenada is so justly proud

Camper & Nicholsons Port Louis Marina is Grenada's

largest and most modern marina, and has many

dedicated berthing facilities for all vessels including

superyachts. It is located on the old 'Grenada Yacht

Services' site in The Lagoon,

St George's, so has

inherited a rich history

in a perfectly sheltered

natural harbour.

A number of technical

and support yacht

service businesses are

located in the picturesque

Marina Village

and there is a swimming

pool, bar, restaurants

and craft boutique

on site. Purpose built

superyacht docks cater

for yachts up to 90m

(300 ft) with 110v, 220v

single and 3 phase

power. The marina can

also deliver 110v power

at 60hz. Alongside and stern or bow to slips are

available for rent – short term or long term –

and purchase. As you would expect, water, high

speed broadband and cable TV are available at

all slips, and staff are exceptionally attentive

and helpful. All docks also have sewage pumpout

connections. Shore facilities include laundry

and bathrooms.

Clarke's Court Boatyard and Marina has been

completely redeveloped in the past three years. The marina

now has 17 slips. Boats up to 60 ft can be berthed.

The Marina is located on the west side of Clarkes

Court Bay, next to Mt Hartman Grenada Dove Sanctuary.

It is part of the large haul out facility with a travel

lift with 240 ton lift capacity. There are a number of

technical service companies located here, as well as a

chandlery, restaurant and bar

and some accommodation.

Grenada Marine is best

known as a full-service

boatyard in St David's on

Grenada's south coast, with

the capacity to store 260 yachts. But it has recently

been expanded and enhanced by the installation of a

100m marina dock, and the renovation of its bar and

restaurant. The yard is a true one stop shop where all

needs can be met in one place under one management

principle, all in a beautiful relaxing setting. All work is

done in-house by a very capable full-time staff, with

advanced skill sets maintained by

continuous training. Services include

metalwork and fabrication, including

a new machine shop with advanced

technology machines; surface

treatments and painting; woodwork,

carpentry, fiberglass and exotic

composites; electrical, mechanical

and systems; and boat building.

Grenada Yacht Club dates back

to 1953 and is an institution within

the island's yachting community. A

46-slip marina, the club was formed

to encourage boating, yachting and

yacht building in Grenada, as well as

participation in international yachting events.

The Yacht Club hosts Grenada's very successful

Annual Billfish Tournament and other events. It is

'home' for many Grenada-based sport fishing boats,

pleasure boats and yachts. Berths are available for

visitors, and its convenient location, fuel dock (open

7 days a week) and self-service laundry make this a

popular marina with the cruising fraternity.

The bar and restaurant were remodeled recently, and

18 GRENADA GRENADINES YACHTING 19
---
is now an even more popular local watering hole. A sundowner

on the terrace bar overlooking Port Louis Marina

in the Lagoon, is the perfect way to end the day.

Le Phare Bleu Marina and Boutique Hotel has

undoubtedly enhanced Grenada's yachting landscape

with its unique boutique approach. Owners Dieter

Burkhalter and Jana Caniga bring a combination of

skills from varied backgrounds - Dieter, a keen sailor

and musician and Jana with a high profile background

in journalism in Switzerland have brought to

life the dream that started Le Phare Bleu. Le Phare

Bleu offers 60 alongside and stern or bow to berths

for yachts up to 100ft length

and 15ft draft.

On-site facilities include

accommodation, swimming

pool, a bar and restaurant

and the feature for which

the marina is named – a

lighthouse ship over 100

years old that serves as an

entertainment venue. Le

Phare Bleu are rightly proud

of their environmental

credentials – they have a

pump-out facility, generate

half of their power from solar panels, and all waste

water is recycled to water their lush gardens.

Prickly Bay Marina boasts of being the oldest marina

on the island. This Marina currently has 14 berths for

vessels up to 180' in length with a draft of 17'and an 80

ft dingy dock. Located in popular Prickly Bay, with fuel,

a minimarket, laundry and Customs and Immigration

on site, and hosting regular music and entertainment,

Prickly Bay Marina is a social hub for Grenada's mix of

yachting visitors.

Secret Harbour Marina in Mount Hartman Bay was

built in the early 90's as an extension to the stunning

resort of the same name. The 54 berth marina is

located in one of the most protected and beautiful

locations in the Caribbean and has berths for yachts

up to 200ft and 14ft draft. The marina is accessed

through the reefs which serve to shelter the bay from

swells. In 2002 the marina and resort was purchased by

the investor and developer of Calivigny Island, a major

multi-million-dollar luxury island development. The

marina has recently undergone a substantial refurbishment

to update the docks and facilities available,

including a new restaurant and bar area.

True Blue Bay Marina has the advantage of being

part of a very successful family run resort – True Blue

Bay Resort. It is a small marina with 15 stern or bow to

berths and is home to a fleet of charter boats owned

by Horizon Yacht Charters. The resort's 'Dodgy Dock'

bar and restaurant, busy on-site dive shop, spa and

swimming pools complement this as a great spot to be

'on vacation on board'. It is the nearest marina to the

Maurice Bishop International Airport, and 10 minutes

away from Spice Island Marine boatyard.

Whisper Cove Marina is a small friendly

docking facility and a unique combination

of marina, butcher, deli shop and restaurant

and bar. The facility offers 12 berths

up to 60 ft in length and 1 berth up to

80 ft. Marie-France runs the dock, bar

and restaurant, while her husband Gilles

presides over the kitchen to produce an

amazing range of meat products including

home-made sausages, ready-to-cook

sauces and succulent cuts of local organic meat,

dry aged in house and hand cut.

There are now two facilities on the island

of Carriacou.

Carriacou Marine, which used to be called

"Tyrell Bay Haul Out". It is still primarily a boatyard

but can also berth 8-10 yachts depending

on size, with a maximum boat lengthof 47 ft.

Tyrell Bay Marina is our newest facility, and is

still under construction. The haul out facility is

operational and some vessels are already being

stored. As we go to press, extensive marina

docks are being installed, and the plans are

to be able to accommodate 120 yachts, with a

maximum boat length of 100 ft.

20

GRENADA GRENADINES YACHTING 21
---
Marina & Boatyard Facilities

Fuel Internet Accommodation On site Facilities

MARINA Dockage Dry Storage Electricity

ALL 50HZ EXCEPT NOTED

Customs & Immigration

Restaurants & Bar, Laundry,

Guardianage, Boatyard office

Convenience store, Provisioner

Yacht charter, Craft shop,

Dive shop. Yacht sales

/brokerage, Tour Operators

Duty Free Store, Spa, Boutique

Wifi

and broadband

All Supplies catered

for, including

Megayachts

(Contact the Marina

office for details)

110V 60Hz available

159 slips

390 on completion

max length 300ft

Depth 18ft

Camper & Nicholson's

Port Louis Marina

110V, 220V diesel and gas Wifi Cottage on site Customs & Immigration, Mini

market, Restaurant & bar,Laundry,

chandlery, special orders

25 spaces

max beam 18'

Tonnage up to 50

Carriacou Marine 5 slips, max length 55ft

Depth 6ft

Restaurant & Bar, Chandlery,

yacht management, brokerage

services, Shipwright, engineering

and mechanical services,

liferaft service and safety

center

220V Wifi at restaurant 4 apartments on site

Nearby guest houses

and rooms available

300 spaces

max beam 37'

Tonnage up to 230

17 slips

max length 60ft

Depth 10ft

Clarkes Court Boat Yard

& Marina

Customs & Immigration

Restaurant & Bar, Laundry

Chandlery, full service yard

Diesel Wifi Adjacent hotel, nearby

rental apartments

110V, 220V,

3 phase

250 spaces, incl cradles

max beam 31.5'

Tonnage up to 70

Grenada Marine 15 slips, length 100m

Depth 17ft

Diesel and gas Wifi Restaurant & Bar

Laundry

110V, 220V,

3 phase

The Grenada Yacht Club 34 slips, max length 80ft

Depth 14ft

Customs & Immigration

Restaurants & Bars

Gardianage , Minimarket, Pool,

Serviced Laundry, Car Rental

Chiropractic Clinic

Onsite self-contained

accommodation.

Marina guests receive

a 20% discount when

staying in hote

Marina & Boatyard Facilities

22

Complimentary

Wifi

Diesel and

Gasoline plus

outboard oil

onsite

110V, 220V, 400V

50hz

60 Slips

max length 100ft

Depth 10ft

Le Phare Bleu Marina &

Boutique Hotel

Restaurant & Bar

Mini Market, Laundry service

Hotels and rental

accommodation nearby

Wifi and

computers

Diesel and gas

onsite

110V, 220V,

3 phase

Prickly Bay Marina 10 slips, max length 200ft

Depth 17ft

Wifi Onsite cottages to rent Restaurant & Bar, Serviced

Laundry, Pool, Tennis Courts

Diesel and gas

onsite

110V, 220V,

3 phase

Secret Harbour 55 slips, max length 300ft

Depth 19ft

Restaurant & Bar, Laundry,

Budget Marine, Chandlery,

Welders, Sailmakers & Riggers

Onsite rental

accommodation

110V, 220V Free Wifi and

computers

200 spaces incl

52 cradles

max beam 25.5'

Tonnage up to 70

Spice Island Marine 2 alongside slips

max length 70ft

Depth 10ft

Restaurant & Bar

Swimming pools, Boutique,

Guardianage, Car rental

Diesel onsite Wifi Onsite resort

accommodation

110V 30/50A,

220V 16/32A

True Blue Bay Resort 18 slips, max length 60ft

Depth 12ft

Moorings available

on site facilities planned

220V Planned Wifi Nearby guest houses

and rooms available

150 spaces

max beam 32'

Tonnage up to 150

Tyrell Bay Marina 120 slips

max length 100ft

110V, 220V Wifi Nearby rental cottages Restaurant & Bar

Laundry service

Mini Market and butcher

Whisper Cove 13 slips

max length 60ft

8 hurricane moorings

P: +1 (473) 444 - 4449 / +1 (473) 435 - 4439 E: ENQUIRIES@SECRETHARBOURGRENADA.COM

VHF# 16

LANCES AUX EPINES, MT. HARTMAN BAY, GRENADA W.I

23
---
HorizonYachts

GRENADA

Horizon's Gary Haynes and his family

sailed the globe, over 50,000 ocean miles,

before arriving in Grenada

and calling it home.

'Isn't life crazy?' says Gary Haynes, of

Horizon Yachts Grenada. 'I never would

have imagined this – my early career was

in Technical Engineering with British

Telecom. I windsurfed weekends, played

sax, and had all I needed. I was happy.' He

laughs. 'Then I met my wife.'

'Such are her powers of persuasion that

before I could blink I was working my way

up the corporate ladder in Australia and

had a mortgage and two kids. I took up

ocean racing to escape,' he adds, tongue in

cheek, 'then so did she and got her Yacht

Masters when she was pregnant. So when

Venessa said, 'Honey lets sail around the

world with the kids', I agreed immediately.

It would have been crazy not to.'

Over 50,000 ocean miles and a decade

later, the Haynes family call Grenada

home. 'Home is anywhere that we're

together,' smiles Gary, 'that's what a cruising

life is about. We've learned to work

together and problem solve life's issues

along the way while appreciating our

successes. Yes, I am a highly qualified engineer

and a corporate sales manager and

an ocean sailor, but the greatest contribution

to my success here is my family.'

Gary insists that the staff at Horizon

Yachts Grenada are all part of his extended

family. From the patriarch, James

Pascall and his business partner Jacqui,

to chief engineer Calvin, guardianage

specialist Fedon, and the latest additions

to the team, Ashiel, Naquan and project

manager Ricky, this shared philosophy is

what makes Horizon Yacht Services special.

Everyone is hands on with managing

24

GRENADA GRENADINES YACHTING 25
---
the business and each area works closely

with others. 'Our business is about solving

and preventing problems for our clients,'

says Gary. 'I can't do that on my own. We

all rely on each other.'

Horizon owners James and Jacqui

Pascall came to Grenada over 20 years

ago. James worked in yacht charter

management and together they set up the

very successful Horizon Yacht Charters

business in Grenada and St Vincent.

James says, 'We own and manage the business

and it's down to us to make sure the

highest standards are maintained.' This

philosophy saw Horizon invest in the best

engineers on the island to maintain their

cruising fleet. Their expertise soon had

the private sector running to their door

for help. A further branch of the company

''

We only want to sell yachts in good condition...and we will look

after yours as though you are planning to sell, even if you're not.

specialising in private yacht management

developed quickly. Last year, Horizon

Yachts Grenada opened their doors to

their third Grenadian base in Clarke's

Court Bay Boatyard and Marina, with a

1,200 sq ft workshop and office dedicated

to private yacht management.

Gary Haynes says, 'Our yacht service

business has grown by over 400% in the

past year. One of the reasons for that is

our investment in training. Our engineers

hold qualifications in engineering both

locally and offshore, including American

Boat and Yacht Council certifications. We

take every opportunity to help all of our

staff achieve their highest potential.'

Horizon Yachts Grenada specialise in

engineering and project management.

Their range of services extend from

guardianage and antifoul to complete refit

projects as well as being service agents for

Suzuki outboards.

'The biggest part of our business is Project

Management,' says Gary. 'Inevitably,

clients require other services beside engineering.

People know and trust us and so

we follow through. Our own customised

app generates data on work requirements

for our engineers and so nothing ever gets

missed. We can look after your carpentry,

refrigeration, electronics, anything. We

have the right contacts in every area and

I personally oversee every project.'

Whilst guardianage, servicing and sales

are separate entities in most companies,

Horizon Yachts Grenada see them as one

and the same. 'We only want to sell yachts

in good condition. We will look after

''

yours as though you are planning to sell,

even if you're not. That way, you'll always

have the highest quality service.'

This attitude has seen a sharp increase

in yacht sales (over 300%) for Horizon over

the past year. After sailing the globe with

his family for a decade, Gary has worldwide

contacts in the industry. 'When the

time comes, it makes sense to let us handle

your sale. We know your boat intimately,

we care about it, and we want the new

owners to continue to do business with us

in the Caribbean,' says Gary. 'Furthermore,

it's a small world. We want your word of

mouth recommendation everywhere.'

So is there anything more Gary would

like to add to Horizon's services?

'Yep,' he laughs. 'More time to service

my own boat. Isn't life crazy?'

2017

"The food at Savvy's is delicious and beautifully served."

60 slips for yachts up to 100ft,

bouyed entrance channel. 5

minutes drive from major

supermarket.

1 473 444 2400

Hotel@lephare bleu.com

www.lepharebleu.com

Full Service Marina

On Site Customs &

Immigration Office

Restaurant & Bar

Live Entertainment

Venue

Complimentry Wifi

Laundry Services

Shuttle Services

WINNER

+1 473 439 9900

"Mount Cinnamon Resort & Beach Club is a 2017 Travelers Choice Award Winner"

www.mountcinnamongrenada.com

GRENADA GRENADINES YACHTING 27
---
Taking Care of

Your Dream...

Island Dreams

provides yacht owners and crew

with the peace of mind that their boat

will be in good hands when they are away.

From guardianage checks to maintenance and

installations, Island Dreams combines nearly 20

years experience of yacht services in Grenada with

an innovative use of technology and communications.

28

GRENADA GRENADINES YACHTING

29
---
With Island Dreams' guardianage service

your boat will be checked while you

are away according to an agreed schedule.

Whilst a standard checklist forms the basis

of most boat checks, Island Dreams has

developed a phone-based app to smoothly

facilitate boat-specific instructions. As a

boat is checked, information is entered

on board using the app with photos and

additional information as required. A

check report is generated and emailed to

the owner or crew so any follow up action

can be promptly initiated.

As Mark points out 'there was inevitably

a delay in collecting and forwarding

information with a paper-based system

– together with the frustration of not

always having boat-specific information

and notes to hand. Developing our

own boat-check app was a significant

investment, but we now offer a more

comprehensive and proactive guardianage

service as a result, with owners commenting

on the information and photos

they receive after each check.'

Mark is proud of the way the company

has developed over the last 20 years in line

with the growth of the yachting industry

in Grenada. 'We have staff who have

been with us for several years and we can

undertake many yacht maintenance and

repair jobs ourselves. We have excellent

working relationships with the technical

contractors here – mechanical engineers,

shipwrights, fabricators, marine electricians

and riggers - and we know who to

call when specialist experience and skills

are required.'

After a childhood in Weymouth, UK

- much of which was spent sailing in Portland

Harbour - Mark studied at Lowestoft

International Boatbuilding Training College

and worked as a shipwright in Italy

and Maine, then for the Jubilee Sailing

Trust in the UK as a shipwright on their

STS Tenacious build. He is an RYA Yacht

Master and has sailed extensively on the

UK Coast and in Spain. In the distant past

Anita studied in Portsmouth, UK then

worked for a marketing agency before

meeting Mark in the Canary Islands on a

working holiday on the STS Lord Nelson

before setting sail together across the

Atlantic aboard their own boat in 1998.

After cruising Europe and the Caribbean,

then running a charter yacht, Mark

and Anita chose Grenada as their new

home and moved ashore in May 2001.

'We took on Island Dreams in 2003. It was

already established as a well-respected

company and with Grenada's developing

off-season storage services, we could see

the need for a yacht guardianage and

maintenance company who understood

the importance of client communication'

explains Mark.

They are now very much 'rooted' in

Grenada with their two boys aged 15

and 16. Anita says: 'We loved all the

islands – hiking in Dominica, eating in

Martinique, people and boat-watching

at Antigua Classics – but there was never

any question about where we wanted to

make our home and as so many people

say, there is a special welcome in Grenada

that is unique'.

Many Island Dreams clients have been

with the Company for a number of years

and the long-term nature of client relationships

is especially rewarding for Mark,

Anita and their staff. These relationships

bear testament to Island Dreams' professionalism

and dedication, and the natural

appeal of Grenada as a safe haven for you

and your boat.

Contact Island Dreams today.

A: PO Box 1482, Grand Anse,

St. George's, Grenada

T: +473 443 3603 / +473 415 end_of_the_

skype_highlighting2139

E: info@islandreamsgrenada.com

W: www.islandreamsgrenada.com

Bob Goodchild

Accredited Marine Surveyor

T. +1 473.407.4388

E. surveyor@flyingfishventures.com

Pre Survey Inspection

Pre Purchase Survey

Insurance Survey

Damage Survey

Valuation Survey

MCA Coding

MLC Maritime Labour Convention

Tonnage Measurement and Compliance Inspection

NDT Ultrasound Inspection

NDT Fiberglass hulls, Osmosis, Delamination faults

flyingfishventures.com

30

GRENADA GRENADINES YACHTING 31
---
z

nce upon a time

in Carriacou and Petite Martinique – Grenada's smaller sister islands – boat

building was king and these islands were world famous for the schooners and

sloops built on their sandy shores.

Back in the early 1800's plantation owners needed to find a way to transport their

crops between the islands so they migrated boat-builders from Scotland. The new

Scottish immigrants began the boat-building tradition, marrying Grenadian

women and passing their skills along to their sons, grandsons and great

grandsons for over 200 years to present. These sailing ships plied goods throughout

the Caribbean, North and South America, enabling Grenada to trade far and wide.

53 years ago the boat-building industry was in serious decline. An industrious

Jamaican, Linton Riggs, who had made Carriacou his home, started the Carriacou

Regatta with the intention to help bring the industry back. One of the first regattas in

the Caribbean, the Carriacou Regatta allowed only Carriacou sloops to compete and

for the first seven years of the event Rigg's sloop, The Mermaid of Carriacou, was the

winner. It became an obsession among boat-builders to build a sloop to beat Rigg's

Mermaid. This spirit of competition is on display every year as new boats are

continually built to be faster than the year before. >

Authentic

THE

Caribbean

32

GRENADA GRENADINES YACHTING

33
---
The regatta and the industry flourished for many decades. But about 20 years

ago the mallets were no longer being heard on the shores of Carriacou and

Petite Martinique. Seamen started buying iron cargo vessels instead of building

the traditional wooden boats.

But very recently a second resurgence began, initiated by photographer

Alexis Andrews' two-volume book chronicling Carriacou sloops and the build

of his own traditional vessel, Genesis. From there emerged the idea for the

award-winning documentary film Vanishing Sail. This remarkable film captures

the significance of boat-building to our sister islands. Highlighting master

shipwright Alwyn Enoe's determination to pass along this way of life his son,

his lifeblood; the culture where men still build, sail and race these hand-built

sloops. A heartfelt chronicle to one of the last remaining vestiges of a truly

authentic Caribbean island tradition unique to just a few islands, namely Carriacou,

Petite Martinique and Bequia.

Savvy Grenada Sailing Charters has four classic Carriacou sloops in Grenada.

We provide our guests a gateway into Grenada's authentic boatbuilding culture

and way of life. From our professional team of captains – all local boatbuilders

– to the island fresh ingredients we

use in our food and drink, to the

beautiful wooden boat, one can feel

transformed to a generation past,

when sailing these beautiful shores

of Grenada was a way of life.

For those adventurous souls seeking

an authentic connection to the

heritage of this historic island chain,

the Savvy crew will ensure you have

a truly fun and memorable experience.

Our small intimate groups

& private sailing charters enhance

the romance of being aboard this

unique vessel.

This year the Savvy sloops will

be racing at the Grenada Sail Week at the end of January, the Bequia Easter

Regatta, The Antigua Classic Regatta in April, The West Indies Regatta in May

and the Carriacou Regatta in August.

Every Saturday Savvy runs match racing from midday to sundown at Savvy's

Cool Vibes beach bar on Grand Anse Beach next to the Vendors Market. Come

down, bring your friends and family for some fun and exciting match racing on

these beautiful and surprisingly fast traditional sloops.

Each vessel can comfortably accommodate up to 10 guests. EC$100 per adult.

EC$50 per child (12 and under).

Meet you at Savvy's Cool Vibes beach bar to enjoy the after race banter and

some of Savvy's famous freshly squeezed juices, a sunset rum punch or cold beer.

Come sail away with Savvy, every Saturday or join us at one of our Caribbean

regattas or just a day sail and live the ole time traditions.

You can get more details at our website sailingsavvy.com or follow us on

instagram at savvysailing or check out our tripadvisor reviews on Savvy Sailing

Adventure.

34
---
Restaurant & Café

36

THE

CAFÉ

THAT

LISA

BUILT

We asked Saffron owner

Lisa Herrara to talk to us

about her unique Café

1 What made you decide to open

Saffron Café at this location?

Art and food are my two passions,

and the location – perfect – being

in the most popular Mall on the

island and very near the hotel belt

and famous Grand Anse Beach was

a no-brainer. I felt there was a need

for this type of venture in the area,

where the combo of good art and

tasty, healthy food could be found

in the same place. Having a knack

for interior design set the stage for

a restaurant & café that satisfies all

the senses. Coffee is a relatively new
---
"

Where the combo

of good art, and

tasty, healthy food

can be found in the

same place...

concept to Grenadians as well as a menu

using delicious grains, beans, greens, fresh

and wholesome ingredients including fish

and meats. It was a bold move but it has

already proved to be the right one.

2 How did your previous experience

set you up for success as owner of

Saffron Café?

I started working in restaurants in my

teens and in my travels worked in cafes

and bars wherever I could. I learned a lot,

never once thinking that I would eventually

open my own! But I gained a lot of

valuable experience and lessons, especially

38

''

'making a customer feel at home'. I must

say that my parents were a big part of

instilling this quality in me as they were

always entertaining at home. I grew up

eating really good food and meeting many

wonderful people, so I guess I am carrying

on the tradition.

3 What do you feel sets you apart

from others who have come and gone

in the café business?

Well, I would say 'hats off to anyone else

who has attempted to run a successful

restaurant or bar in Grenada'. This

business is not easy but if you can make it

work it can be very satisfying. I suppose

I am the only person here who is trying

to create art and food simultaneously. :)

But seriously, at the moment I can say that

Saffron is pioneeringly unique in that I am

whole heartedly attempting to introduce

something new to Grenada. At the

moment it's an area that satisfies a small

percentage of the market; ex-pats, tourists

and some local Grenadians, and reports

are that they are loving it.

4 If you were a customer in your

own café what would you order from

the menu?

I am my own best customer. :) Being a

foodie, I created the menu from a huge file

of my favorite recipes. All of the food is

endorsed by me and my wonderful cooks

put passion into what they create but

I think my most favorite thing is our

Cherry Cheesecake (my Aunty Joan's

recipe) It is the bomb! Our coffee menu,

dessert menu, salads and paninis are

freshly made in-house too.

5 What advice would you give to

someone who is dreaming of opening

their own small business?

Make sure that it will appeal to your

market and it's a business that you are

passionate about. Then hard work and

having fun always pays off.

REAL ESTATE IN GRENADA

Specialising in high-end residences

and development land

Yacht Harbour, Westerhall Point.

A substantial parcel of water-fronted land is offered in the premier residential gated community

on the island. It is eminently suited to a luxury marina in a quiet lake-like setting within easy

reach of near-by high-end residential and yachting developments in Fort Jeudy, Egmont

Harbour, Clarke's Court Bay, etc. It could also serve as a base for a high-end water-fronted

residence adjacent to the gated community with stunning views of the bay and Fort Jeudy

St. David's Point

A stunning eastern facing peninsula consisting of around 3.7 acres of land, ideally suited to a

spectacular high-end residence located within a short beach walk of a proposed 18 hole golf

course development (see page 73) in the much sought after area of St. David's coast and within

easy driving distance of the high-end residential communities of Westerhall Point, Fort Jeudy,

Mount Egmont and of attractive resorts and yachting venues. The parcel can also be subdivided

into individual water-fronted lots and it is priced at US$ 2m.

A drone overview of the property can be seen on bit.ly/stdavidpoint or youtu.be/jgnWBw-MA6M

The Way Ahead

For a view of the markets likely to determine Grenada's next major developments in real estate, read our

item "The Game Changers" in the current edition of businessgrenada.com

C A R I B B E A N E N T E R P R I S E S

"Bird Sanctuary Views".

Spectacular 4.3 acre water-front parcel in

Westerhall village. Enclosed beach; overlooking

a small bird sanctuary island. Within easy driving

distance of residential communities, restaurants

and other amenities. Price set at US$ 1.7m

Contact:

John E Albanie, Managing Director

Caribbean Enterprises P.O.Box 38,

St George's, Grenada West Indies

Tel/Fax: 473 440 8844

email: fortress@spiceisle.com
---
dream!

LIVING THE

"A dream is

a wish your

heart makes."

WALT DISNEY

40

Ever dream of just quitting your job and moving to the

Caribbean? You know: the warm trade winds blowing

through your hair, sunshine kissing your shoulder, palm

trees rustling in the background – that dream? Chris & Chrystal

of LTD Sailing school and The Multihull Company Yacht brokerage

did just that in 2013. Well, maybe not "just like that!" It

takes a lot of hard work, perseverance and determination to

start a business on a Caribbean island.

After successfully managing a sailing school in St. Vincent,

Chris made a decision to become his own boss. Early 2013 LTD

Sailing – "Living the Dream!" went live in the Southern Caribbean,

offering American Sailing Association (ASA) certification

as the designated sailing school for Sunsail. It wasn't long before

word got out and while attending the Annapolis Boat Show

later the same year, Phil Berman, the owner of The Multihull

Company (TMC) approached Chris & Chrystal with an offer to

represent TMC in Grenada. It was a natural fit, since many of

their sailing students eventually want to buy a boat.

The decision to partner with TMC was primarily based on

their world-wide presence. LTD Sailing students come from all

over the world and the TMC network is far reaching. It doesn't

matter where you want to sail, TMC has a professional broker

there to represent you. With excellent marketing strategies and

experts who really know boats, choosing TMC was easy.

Best of all, TMC brokers are sailors.

The motto of TMC is "By Sailors, for Sailors". Chris and

Chrystal are true sailors – not used boat salesmen. Their love of

sailing brought them to the Caribbean and that is why they ded-

"The future

belongs to those

who believe in

the beauty of

their dreams".

ELEANOR

ROOSEVELT

GRENADA GRENADINES YACHTING 41
---
"Believe me,

my young friend,

there is nothing

– absolutely

nothing – half so

much worth doing

as simply messing

about in boats."

KENNETH GRAHAME

icate their time to promote sailing. The

focus of LTD Sailing School is to offer premier

live-aboard sailing vacations. Why

learn how to sail in frigid waters when you

can enjoy the 80 degree waters of Grenada

and the Grenadines? If you don't have a

week but want to get out on the water you

can enjoy their Discover Sailing day sail.

Give it a try and decide if this watery life

is the life for you. Or attend their two-day

ASA 101 Basic Keelboat course on a small

keelboat like the sporty J105 "Dogsmile!".

Gain confidence with the best instructors

in the Caribbean – patient, knowledgeable

and fun! Why wouldn't you? If you would

like a private sail, we can arrange that too.

Located in beautiful Mt. Hartman Bay

just one dock over from Secret Harbor

Marina, their office is easy to get to by

dingy from most anchorages on the

Southern coast. So, if your dream is to

sail off into the Caribbean sunset, contact

Chris & Chrystal in Grenada. They are

truly Living the Dream! And so can you!

Top SEVEN reasons to choose The Multihull Company

1. The number one selling used catamaran brokerage in the world

2. Brokers on island in Grenada as well as representatives worldwide

3. Massive on-line presence as well as print publications

4. We take care of the negotiations as well as attend the survey & sea trial

5. Offering co-brokerage on all our listings which allows for a larger audience

6. Licensed, bonded and professional

7. Representing yachts at major boat shows

Marine

& Yachting

Association

of Grenada

42
---
carriacou

the next generation

BY JUSTIN SIHERA

Grandad was a man of many talents – vesselman,

tailor, boatbuilder and father. Strong in faith,

stern, and quick of temper; very common characteristics

in the Grenadines. Stoic, resilient – an

attitude of sheer determination. Willing to risk

lives to go out to sea and bring back whatever one

could. That generation lived, worked and died by

the swells of the ocean, riding the currents of opportunity

between the islands. >

44

GRENADA GRENADINES YACHTING

45
---
Captain of the Carriacou sloop, Ruby C,

he traded goods between Trinidad & the

islands of the Grenadines. By wind alone

he moved cargo as far north as St. Barths

– it was these unique vessels that carried

the hope of their future.

Today, there are less than a handful

of young men who continue the boat

building tradition in Carriacou: the

Enoe brothers – Cal and Terry; and

Verrol Compton. These are virtuoso, raw,

talented craftsman; rough diamonds that

wield chainsaws like butter knives. They

are held in high esteem by their peers and

many younger boys of the village come

to watch, pass tools, and hold a line or

tape measure. The crowning glory of their

work materialises when they launch a new

Carriacou sloop.

The most recent, Free in St.Barth [42'

2015] saw a changing of the guard. Alwyn

Enoe, aged 74 and the master boat-builder

of Windward, Carriacou, crafted the model

and oversaw its construction, but it was

the younger generation – Cal, Terry, and

Verrol, together with young apprentices

– who constructed the vessel. Her home

is St.Barths, where the old sea captains of

Windward were well known; hardened

men trading produce for contraband:

alcohol & cigarettes bringing small pleasure

in tough times. This next generation

of sloops find a new cargo – tourists

and avid travellers seeking an authentic

Caribbean experience as well as swift

vessels for regatta racing.

With the resurgence of interest in Carriacou

sloops and their elevation to iconic

artisanal status, it is hoped that the next

commission will soon arrive and another

proud owner will sail the Caribbean with

the weight of history as ballast and the

Caribbean breeze, driven by the spirits of

seafaring legends filling their sails!

I wonder what Grandad would think

of all this?

keeping traditions alive

Passing along the traditions of wooden boat building to another generation

Currently there are no traditional sailing vessels being built in Windward and the

young men of Carriacou seek limited work in house construction and the local tuna

fishing industry.

As the Vanishing Sail Project continues to resonate with audiences worldwide,

we hope to inspire community boatbuilding projects that can train young people in

the traditions of their forefathers, while developing skills exchange programs with

international boatbuilding academies.

We are also expanding our outreach screenings to further inspire coastal community

and maritime heritage projects, not only in the Caribbean but around the world.

There are unique, traditional Carriacou sloops and island schooners available for

sailing charters in Grenada, Carriacou, Bequia, St. Lucia, Antigua, St. Barths & Anguilla.

All take part in the annual St. Barth West Indies Regatta - celebrating it's 10th

year in 2018, April 28th to May 1st.

If you would like to offer your support or are interested in further information please

visit westindiesregatta.com and vanishingsail.com.

Justin Sihera is the producer of the award-winning documentary film Vanishing Sail,

a tribute to the independent spirit of the small island community of Carriacou.

46

GRENADA GRENADINES YACHTING

47
---
gRENADA truly is a stunning Caribbean island just waiting

to be explored, whether it's deserted palm fringed

beaches, cocoa and nutmeg plantations, or the magic of

the mountain rain forests. Despite Grenada's dramat-

EXPLORE

ic topography there is a huge amount to discover from an

extensive network of tracks and trails across the island. Don't

forget Carriacou also, being close to a microcosm of a typical

Caribbean island and a fascinating place to explore.

PHOTOGRAPH | ABOVE : Sara Ryan

PHOTOGRAPHS : Courtesy GTA Facebook

PHOTOGRAPH | RIGHT: Arthur Daniels

48
---
get active IN GRENADA

ISLAND TOURS

Either hire a car, a taxi or

book with one of the local

tour operators to find your

way into the depths of this

beautiful island. If you

drive yourself the available

maps are pretty basic but

many attractions are now

signposted, and there's

always someone to ask the

way. Driving round the

island is a great way to see

the sights, but to get close

up you must get out and

explore.

HIKING Grenada is

literally crisscrossed with

hundreds of miles of trails

from old plantation roads

to barely discernable hunters

trails in the rain forest.

Although a few more

popular trails are reasonably

well marked, such as

up at Grand Etang, it can

otherwise be very challenging

finding your way

around and not getting

completely lost. The safest

way to avoid this is to

book an organised hike or

take a local guide. It's also

possible to follow trails on

a GPS, but bear in mind a

GPS may not be able to fix

a position when you most

need it in the middle of the

rain forest.

Here are some hiking

options and recommended

trails from easy to more

challenging:

Morne Gazo Nature Trail

An easy exploration (although

steep in places) of

an isolated section of rain

forest close to St George's

with a nature center on

site. No guide required.

Annandale Hike

Starting and finishing at

the Annandale Waterfall

this trail follows an old

plantation circuit. No

guide required.

Grand Etang

to Mt Qua Qua Hike

Starting at the visitor's

center at Grand Etang this

trail ascends the ridge on

the west side of the lake for

about an hour to reach Mt

Qua Qua with stunning

views. The trail can be very

PHOTOGRAPH | RIGHT : Arthur Daniels

muddy, steep and drop off

on either or both sides. No

guide, but care required.

Grand Etang to Concord

Waterfall Hike

Using the same Mt Qua

Qua trail the Concord trail

branches off just before the

top and descends through

the rain forest to Concord

on the west coast. A challenging,

muddy trail with

a steep descent right at

the end. A guide definitely

recommended.

Mt St Katherine's

Grenada's highest point

and a great hike, particularly

if done from east

coast to west coast. The

hike is steep, muddy and

exposed in places. In clear

weather the views from

the top are exceptional. A

guide is essential for this.

Trail Tour Operators

www.puregrenada.com/

explore/soft-adventure/

and

www.wikiloc.com/trails/

hiking/grenada

GRENADA HASH

HOUSE HARRIERS

A great way to explore

different parts of Grenada

you would never otherwise

discover, the Hash group

(normally 200 or more)

meets every Saturday afternoon

to follow a trail set by

that week's hare. It's a great

way to meet people and

most often the hash ends at

a local rum shop.

www.facebook.com/

groups/grenadahash/

PORT LOUIS MARINA OFFICE:

473.435-6342

1

2

3

4

5

6

Full Provisioning Service

Immigration / Customs Clearance

Piloting

Flowers (local & imported)

Airport Transfers

Parts Procurement; deck orders

7 Fishing & diving excursions

8 Boat, plane & helicopter charters

9 Airline reservations

10 Hotel, villa, restaurant reservations

11 Duty free fuel & oil

12 Laundry

13 Crew placement

14 Spa treatment

15 Car, Scooter rentals, Limousine hire

Main Office

True Blue, P.O. Box 267

St. George's GRENADA

Telephone

473.534.3688 or 473.534.6342

473.435.6342 or 473.439.4369

www.spronksmegayacht.com

office@spronksmegayacht.com

50

GRENADA GRENADINES YACHTING 51
---
52

S cuba diving in the

sister isles of Grenada &

Carriacou is one of those

experiences that will take

your breath away and compel

you to come back. With more

than 60 dive sites, the islands

enjoy exquisite corals, sponges

and marine life along

with a great range of reef,

wreck and drift diving. Due

to their tropical location,

the islands are a year round

diving destination. It doesn't

matter when you arrive, the

warm waters will be ready to

welcome you.

Grenada is serviced by six

dive shops while the sister

island Carriacou has three.

All work to a very high

standard to give you plenty

of choice, whether you're a

certified diver looking to

dive the beautiful reefs and

wrecks or someone looking

to train to become a PADI

qualified diver. Snorkel trips

are also available at all the

dive centres.

The majority of Grenada

and Carriacou's dive sites

are ideally located close to

shore, most just short boat

ride. This will allow you

div ers wonderland

…amazing shipwrecks,

colorful reefs, exciting drifts

BY PHIL SAYE

GRENADA GRENADINES YACHTING

53
---
maximum amount of diving

time during your stay or

alternatively, plenty of time

to explore Grenada's historic

or natural attraction's on

land. This works expecially

well if you have a non-diving

partner.

The reefs around Grenada

and Carriacou are in superb

condition and offer an outstanding

diversity of corals,

sponges and marine life. The

feedback received by visitors

speaks highly of the healthy

condition of the reefs and

the quantity of fish and the

frequent sighting of turtles.

In addition to the vibrant

reefs, there is a great collection

of shipwrecks from easily

reached shallow wrecks

right through the spectrum

to our signature wreck; a

cruise liner called the 'Bianca

C' known locally as the

'Titanic of the Caribbean'.

Grenada is also home

to the world's first unique

'Underwater Sculpture Park'.

Recognised by National

Geographic as one of the

world's most awesome places

to visit. It is located in one of

Grenada's marine protected

areas and can be seen by a

snorkel or dive trip.

Grenada and Carriacou,

a scuba diver's wonderland,

really does have it all.

54

55

GRENADA GRENADINES YACHTING 55
---
Aquarium Restaurant located on Magazine Beach facing

the Caribbean Sea with a stunning view of St. George's. Dine in

our spacious open air restaurant or have lunch and drinks at

our beach bar. Our Sunday BBQ starts at 11am with live music

from a talented local band starting from 3pm. Come and join

us for great food, extensive selection of wines, cocktails and

good company. Open Tuesday to Sunday from 10am.

www.aquarium-grenada.com Tel: 444-1410

Maca Bana Luxury Resort. This intimate eco friendly

boutique hotel is set above Magazine Beach with breathtaking

views of the Caribbean Sea, the capital St. George's and

mountainous backdrop. Rejuvenate your spirit and soul whilst

staying in one of our private luxury villas. Take a walk on the

white sand beach and visit our Aquarium Restaurant to enjoy

great food, extensive selection of wines and cocktails.

www.macabana.com Tel: 439-5355

Located in the heart of the elegant Camper & Nicholsons

Marina. Victory Bar & Restaurant is open for breakfast,

lunch, snacks and dinner 7 days a week. Fresh Þsh, certiÞed Angus

steak and probably the best thin crust pizza on the island, Slow

Smoked Texas BBQ and DJ music every Friday night. Live music

on Saturday nights. Daily Happy Hour too.

www.victorybargrenada.com Tel: 435-7263

Haul

Out

your

Boat

Located next door to Victory Bar is our YOLO Sushi &

Wine Bar offering an elegant air conditioned restaurant and

outside deck area. Open Monday to Saturday from 6pm. Our

Experienced Sushi Chefs will delight you with their culinary

skills and delicious dishes.

www.victorybargrenada.com Tel: 435-7263

Adrift Restaurant & Bar located at the all new Clarkes Court

Boatyard & Marina in Woburn overlooking the Bay. Enjoy the

cool breeze and relaxed atmosphere at this brand new

Restaurant & Bar. Adrift is open 6 days a week Monday to

Saturday and offers breakfast, lunch, dinner and daily specials.

www.adriftgrenada.com Tel: 231-4567

Your comprehensive guide to

hauling and servicing your yacht

Whether you've just completed your

first long haul across the Atlantic

or skipped down the Caribbean island

chain, Grenada offers the best choice for

hurricane season hauling and repairs.

From long established yards to the

sophisticated new high-tech facilities,

Grenada caters to every need.

GRENADA GRENADINES YACHTING 57
---
Geographically, Grenada is situated

south of the Caribbean hurricane zone.

It's also chock full of excellent south coast

hidey holes, unlike islands further south

or west. The cruising sailor has the luxury

of sailing the breathtaking Grenadines all

year-round.

For those migrating songbirds, Grenada

is the perfect location to leave your yacht

safely in the hands of the professionals.

Project management is a key part of the

increasing draw to haul your boat here.

With every major service available, along

with a variety of excellent technical

specialists in all fields from engineering to

carpentry, yacht maintenance in Grenada

has never been better.

Many yards are owner operated and

take great pride in returning business.

Naturally, with so much choice yards are

competitive in price and service, yet the

beauty of this small community means

yard operators work together in a symbiotic

relationship that benefits the cruiser.

If one yard can't do it, they will happily

recommend another who can. If you are

on 'island time' and prefer to do your own

work over the season, some yards will

allow you to take all the time you need.

With many on site services now available

in the newer yards, the DIY sailor can

pick and choose.

On the other hand, a professional project

management team will usually save

you time, stress and money. They have

quick access to services at competitive

rates and really do know the industry at

sea level. They can source parts, knowledge

and the right specialist that may take

the layman years to find. Yacht service

teams are not on island time and endeavor

to get you back on the water enjoying your

time in Grenada as quickly as possible.

To make the best choice of yard for your

servicing needs, it pays to ask a few questions:

What are the travel lift and trailer

weight limits? How many services are

available on site? Are outside contractors

allowed in by arrangement? Can you live

aboard and for how long? Does the yard

have a restaurant and onsite hotel accommodation?

Do they have a marina facility?

Is the yard serviced by transport and what

is the distance from a major town?

Grenada is home to a vibrant cruiser

scene. With dinghy drifts, full moon

parties and the famous Tuesday Cruiser

Music Jam you'll be tempted to stay

long after your boat is back in the water.

Perhaps, like many yachties here, you may

end up in Grenada for the long haul.

Clarkes Court Bay Boatyard

and Marina

Clarkes Court Boatyard and Marina is

Grenada's newest and most comprehensive

boatyard. Boasting sophisticated

high-tech facilities, the famous 242-ton

travel lift, 'The Hulk,' and a huge range of

service options. CCB even has a designated

area away from stored yachts for

sandblasting and

steel. They offer an

extensive range of

services, ranging

from anti-fouling

to boatbuilding.

CCB is the only

yard in Grenada to

allow boat owners

to choose from

their extensive on

site contractors or

external approved

contractors without

extra fees. Tucked

into protected Woburn

bay, CCB boasts welcoming full-service

marina docks, a bar and restaurant,

laundry, showers and luxury hotel rooms.

The complimentary welcome rum punch

on the evening of your haul sets the tone

for 'the boatyard with a difference.' Clarkes

Court is your hauling 'home away from

home.' Book early.

Spice Island Marine

Ideally located at Grenada's foremost

anchorage Prickly Bay, within 5 minutes'

drive of world class beaches, the airport,

hotels, restaurants, and with a consistent

reputation for in house services, SIMS

aims to please. As pioneers of the "full

service boatyard" in the Southern Caribbean

with over 30 years in the industry,

SIMS were first to operate a mobile hoist

and are considered the most experienced

yard and management team. They are

currently planning six new apartments,

expansion and redesign of the restaurant,

sail loft and chandlery, new dinghy docks,

security lighting with 20 HD monitored

cameras, along with a high-pressure washer

recycle water recovery system. SIMS

aims to continually expand in tandem

with the growth of the yachting industry

with an emphasis on larger craft and

attention to environmental consideration. ​

SIMS are truly in it for the long haul.

58
---
Service

CLARKES COURT

BOATYARD

SPICE ISLE

MARINE

GRENADA

MARINE

CARRIACOU

MARINE

Yard capacity 230 boats 230 boats 250 boats 50 boats

Travel lift

tonnage

Submersible

trailer

On site

accommodation

On site

Restaurant

and bar

242 T

37ft beam

13ft draft

32 T

25ft beam

7ft draft

4 luxury rooms

Incl. tv, high

speed WIFI and

a/c

Adrift Restaurant

and Bar

70 T mobile hoist,

25 ft. beam

70 T

32 ft. beam

45 T 2 stackers

60 and 25ft

6 rooms with

WIFI, tv, and a/c

Bianca Blue Pizza

None on site.

5 mins by car at

La Sagesse.

Free transport

Laura's at

Grenada Marine

40 T

54ft length

8ft HW draft

1 cottage,

sleeps 6,

others nearby

Iguana Café

and Bar

On site Laundry Token/service Token/service Yes available

On-site

Contractors

and Service

External

contractors

allowed

Work by owner

(limits)

Horizon

Engineering,

Turbulence,

Palm Tree Marine,

Driftwood,

Fortress, CBS,

Island Dreams,

Waterfall Marine

Yes. Authorized

contractors, no

fees

In-house Services

Turbulence and

Teknic

Yes. Authorized

contractors pay

20%

All services

available

in-house

No, but are

flexible on

request

Yes Yes No painting or

grinding

Live aboard Yes 10-day limit Yes Yes

Distance

from town

Transport

Fuel, water &

power

15 - 20 mins

to St George

Shopping buses,

taxis, free courtesy

bus to public

transport

Water

Power 220

110 transformer

provided

15 mins

to St George

Public buses at

yard entrance,

taxis

Water,

Power 220 - 110

45 mins

to St George

Morning and

afternoon shuttle,

free to local

accommodations

Water,

Power 50 cycle

only, 220 - 110

Diesel on site

WIFI Yes Yes Yes Yes

Security 24 hr 24 hr 24 hr 24 hr

Customs and

Immigration

Prickly Bay Prickly Bay On site On site

In-house

Services

anti-foul, gelcoat

repairs, paint

and polish,

mechanical,

electrical

Yes. Authorized,

US $15-20 day

Yes, one-time fee

US$75

20 mins

to Hillsborough

Local buses, taxis

Water,

Power 220 - 110

Fuel on site

Guardianage Yes Yes Yes available

Phone + 1 473 439 3939 473 444 4257 473 443 1667 473 443 292

.

.

Grenada Marine

Grenada Marine is your one stop shop

where all your needs are met in one place

under one management. All work is done

in-house by a capable full-time staff and

project management team. The in-house

team offers storage, repairs, maintenance,

hot vac for osmosis treatment (17 years

experience), CAD, CAM, and CNC work.

Located on a beautiful, relaxed bay with

a lovely beach and the newly renovated

Laura's Restaurant and bar, GM has built

a sustainable Grenadian enterprise that

provides full service at the highest international

standards. Their newest facilities

include a 100 metre service dock, new

machine shop with lathe and CNC milling

machine, boat building component, dustless

blasting system and a double sized

renovated sail loft. With a new yard manager

in place, Grenada Marine's vision is

focused on boat building and refit projects

along with building accommodation for

their customers.

Carriacou Marine

The best little boutique marina in the

southern Grenadines, with a fantastic ambience

and picture postcard views, Carriacou

Marine is the perfect place to work

on or store your yacht. The maximum

capacity is 50 boats and their crew and

extension services are knowledgeable and

extremely friendly. Recent major renovations

to the chandlery, provisioning shop,

café and the shower facilities will make

your stay more comfortable and there

are future plans to renovate the cottage

accommodation too. Water pressure at the

dock will be also be improved for taking

on water at a greater speed. Carriacou

Marine aims to have a one stop facility, to

provide affordable, high quality services

in a safe, clean and beautiful environment

for the many cruising yachts of the southern

Caribbean.

GRENADA GRENADINES YACHTING 61
---
enada

PHOTOS BOTTOM : Courtesy GTA

Events

Heritage rum, organic chocolate, emerald rainforests, golden beaches, festivals galore and so much more...

PHOTOS | ABOVE: Arthur Daniels

62 GRENADA GRENADINES YACHTING 63
---
JANUARY

SPICE ISLAND BILL FISH

TOURNAMENT

The leading Billfish

Tournament in the region

is held during the last

week of January, with

4 days of game fishing

action! The tournament

follows IGFA tag and

release rules. www.

sibt.gd

GRENADA SAILING WEEK

A week filled with some

of the most exciting

sailing in the Southern

Caribbean with various

courses available and

great parties too. Held at

Port Louis Marina.

www.grenadasailing

week.com

FEBRUARY

GRENADA SAILING

FESTIVAL WORK BOAT

REGATTA

The best local sailors race

beautifully coloured,

traditional workboats

– built for racing. The Regatta

takes place at the

spectacular Grand Anse

beach. Fun for everyone.

www.facebook.com/

WorkboatRegatta/

INDEPENDENCE DAY

February 7th marks

Grenada's independence.

Watch the parade, see

Grenadians proudly

dressed in their national

colours of red, green

and gold. Join in the

celebrations, and dance

to the soca and calypso

booming out of every

rum shop and bar.

CARRIACOU CARNIVAL

Where else could you

experience Shakespeare

mass, where brightly

dressed Pierrots pit their

wits using only lines

from the Bard's works,

alongside calypso competitions

and costumed

masqueraders.

www.facebook.com/

carriacoucarnival

MARCH

ST. PATRICK'S DAY

FESTIVAL

Grenada has a longstanding

association with

Ireland and of course,

the northern parish of

St Patrick is going to

celebrate their saint's

day! It does so with a

week-long festival of

food fairs, cultural events

and religious services.

APRIL

GRENADA INVITATIONAL

2018 marked the second

edition of the Grenada

Invitational Track and

Field Meet. Held at the

Kirani James Athletic Stadium,

this event features

local and international

athletes. www.grenada

invitational.com

CARRIACOU MAROON

& STRING BAND MUSIC

FESTIVAL

Maroon is a festival of

African culture, about

giving thanks and

prayers. Sample African

drumming and singing

from performers all

across the Caribbean,

and taste the traditional

smoked food. www.

carriacoumaroon.com

PURE GRENADA MUSIC

FESTIVAL

Hear local bands playing

side by side with top

international artists,

this three-day event

has something for every

musical taste and has the

whole island buzzing.

www.grenadamusic

festival.com

MAY

GRENADA CHOCOLATE

FESTIVAL

Grenada's humble cocoa

bean is celebrated in an

8-day extravaganza with

a variety of chocolate

themed activities.

What's not to like?

www.grenadachoco

latefest.com

PETITE MARTINIQUE

WHITSUNTIDE REGATTA

Round the Island race,

great onshore activities

and more.

www.facebook.com/

petitemartinique.

whitsuntidereggatta

JUNE

FISHERMAN'S BIRTHDAY

St Peter's day on 29th

June, is celebrated in

style in the fishing town

of Gouyave with activities

for all including work

boat races, tug-of-war

competitions, and plenty

of eating and drinking.

Of course, as St Peter is

the patron saint of fisherman,

fish is definitely

on the menu.

www.gogouyave.com/

content/fishermans

birthday

PHOTOGRAPH , TOP RIGHT: Arthur Daniels | OTHER PHOTOGRAPHS: Courtesy GTA FACEBOOK Facebook

JULY

TRI DE SPICE GRENADA

TRIATHLON

Competitors from all

over the world, of all ages

and abilities, will meet

in Grenada for this allinclusive

triathlon! Good

fun for the whole family.

www.despiceevents.com

AUGUST

EMANCIPATION DAY

Started in August 1838

to mark the day that

heralded freedom for

Grenada's African ancestors,

this was also the

first recognized carnival

celebration throughout

the islands.

RAINBOW CITY FESTIVAL

This annual festival in

the Parish of St Andrews

showcases the community

through music, food

and local crafts.

www.grenadagrena

dines.com

CARRIACOU REGATTA

FESTIVAL

Great fun and racing

at the biggest summer

sailing festival in the

Grenadines.

www.carriacouregatta.

com

SPICEMAS, GRENADA

CARNIVAL

Grenada explodes in

colour and music at the

ebulllient Grenada Spicemas.

Grenadians vie for

the carnival crown and

soca and calypso singers

compete for the title

of 'monarch'. Dabbed

with black oil or brightly

coloured bodypaint, participants

dance through

the streets to the beat

of the local 'jab-jab' on

'Jouvert'morning; the

annual favourite.

St. George's jumps to the

sound of steel pan and

soca as everyone enjoys

a 'Last Lap' during the

Parade of the Bands on

the final day. Get ready

to party!

www.spicemasgrenada.

com

PCYC ROUND GRENADA

REGATTA

Starting and finishing

at Le Phare Bleu Marina.

A longer course with

an overnight layover in

Tyrell Bay Carriacou, for

crews to enjoy a good

party. An ideal off-season

event for everyone.

www.southgrenada

regatta.com

WINDWARD CUP MINI

REGATTA

This mini regatta in

Carriacou includes a

round the island race and

more. Each year proceeds

from the regatta go

toward assisting one

child entering secondary

school.

www.carriacou.eu/

whats-on

OCTOBER

GRENADA DIVE FEST

Showcasing Grenada and

Carriacou's renowned

diving. The new festival

includes a beginner dive

experience, wreck diving,

reef cleanups, outreach

programs and lionfish

hunt and tasting. www.

facebook.com/grenada

diving

NOVEMBER

GUY FAWKES DAY

When a law was passed

in 1885 banning Grenadians

from burning effigies

of Guy Fawkes they

didn't take too kindly

and rioted! Today, the

anniversary of the failed

gunpowder plot is a long

night of loud music,

parading pan drum and

of, course a burning Guy

on the bonfire.

DECEMBER

CARRIACOU PARANG

FESTIVAL

Parang is a popular

folk music; satirical,

humorous and lively!

This festival is held each

year on the weekend

before Christmas, keeping

alive the tradition

of "house-to-house"

serenading of string

bands and hosanna

carol singing. Not to be

missed.

www.carriacouparang

festival.com

64

GRENADA GRENADINES YACHTING 65
---
66

grenadagrenadines

YACHTING

Brought to you by the

MARINE & YACHTING ASSOCIATION OF GRENADA

A drink on the rocks, is better than

boat on the rocks

www.iclgrenada.com

We're on your team

Photo by Tony Rive

440-3343

UX DESIGN

User Experience

Print | Website | App

magazines, such as this one

Your project developed

using award-winning

design solutions

473.536.1020

pulsecreativegrenada.com

pulsecreative@hotmail

CLEARANCE

procedures

ENTRY REQUIREMENTS

A valid passport and

return or onward

ticket is required for all

visitors. However, proof

of citizenship bearing a

photograph is acceptable

from British, Canadian,

and US citizens. A visa is

not required from citizens

of the US, Canada,

UK, British Commonwealth,

most Caribbean

countries, most European

countries, South Korea,

and Japan.

ENTRY PROCEDURES

Vessels and crew

wishing to clear into

Grenada, Carriacou and

Petite Martinique should

proceed directly to an

official port of entry and

anchor with the Q flag

clearly visible until the

clearance formalities

have been completed.

Captains or the representative

of the yacht

must present themselves

to the clearance office

within two hours of the

yacht's arrival, subject to

opening hours.

Grenada is a member of

the electronic clearance

system www.sailclear.

com. All yachts entering

Grenada are encouraged

to register and submit an

electronic arrival notification

at least 24 hours

before arrival. Alternatively

the notification can

be done electronically at

the clearance office itself.

Hand written, paper

entries are still being

accepted but may be

phased out in time.

ON ENTRY EACH YACHT

SHOULD PREPARE THE

FOLLOWING:

• If using Sailclear

simply present the entry

notification number

to the immigration or

customs officer. They will

then look up, check and

print the form for you

to sign. Otherwise enter

electronically at the

clearance office or spend

a lot longer filling out the

paper forms.

• An Immigration

Entry Fees

A monthly Cruising Permit fee is payable on entry

according to the overall length of the yacht:

LENGTH OF YACHT

COST (EC$)

Not exceeding 40 feet $ 50.00

Exceeding 40 feet but 60 feet or less 75.00

Exceeding 60 feet but 80 feet or less 100.00

Exceeding 80 feet 150.00

Cruise Levy per passenger 8.10

All fees must be paid in cash and a receipt will

be issued.

Ports Of Entry

Port

Contact Information

Le Phare Bleu, Petite Calivigny 473 444 2400

Grenada Marine, St. David's Bay 473 443 1065

Port Louis Marina, St. George's 473 440 3270

Prickly Bay Marina, St. George's 473 444 4509

Carriacou Marine, Tyrrel Bay, 473 443 8399

Carriacou (PHOTO ABOVE)

E/D form will need to

be completed for any

crew and passengers

departing Grenada by air

(i.e. not remaining on the

boat). These can also be

completed at the port of

entry office.

• A port clearance from

the last port of call

outside Grenada

• ID for crew and

passengers – passport/

driving licence (certain

Caribbean countries).

Any document must have

a minimum of six months

to run.

PORTS OF ENTRY OFFICE

OPENING HOURS

Offices are generally

open Monday to Friday

from 0800 to 1200 and

1300 to 1600. For the

convenience of both

officer and client, we

suggest attending the

office by 1500 in order

to complete formalities

before the end of the

working day. If you know

you will need to clear

in or out outside office

hours, we recommend

contacting the relevant

office by phone or in

person in advance as arrangements

can usually

be made if necessary.

Offices are generally

open at weekends and

public holidays but with

more limited hours.

Please check with the

appropriate office before

hand. An overtime fee is

payable (approx EC$40)

at these times.

LENGTH OF STAY

There is no time limit for

keeping a yacht in Grenada.

The monthly cruising

permit fee must be paid,

but this waived for boats

that are hauled and

stored (on presentation

of invoices from the yard

proving this is the case).

For captains and crew to

remain longer than the

period stamped in their

passport a request for

an extension must be

made to the Immigration

Department located at

the Ministerial Complex

in the Botanical Gardens

in St George's (a short

walk from Island Water

World in the Lagoon).

An EC$25 per person per

month charge is levied.

GRENADA GRENADINES YACHTING 67
---
PROCEDURES

FOR EXIT

The captain or yacht's

representative must

visit a port of entry

office to complete

departure formalities.

Not necessarily the same

office where the yacht

cleared in. The captain

needs to present the

copy of the clearance in

document and passports

for crew and passengers.

On completion the

captain will be given a

departure document to

be presented at the next

port of call.

EXIT FEES

There are no exit fees

for yachts; however

visitors arriving by plane

and leaving by boat are

required to pay an e

mbarkation tax of

EC$1.00 per person to

the Immigration office

at the time of departure.

Once a yacht is cleared

for departure it must

leave within 24 hours.

For visitors leaving by air

the departure tax fee is

now included in the cost

of the ticket.

Other Regulations

PETS

The importation procedure

for pets is as follows:

"a veterinary officer

or an officer of the Pest

Management Unit of the

Ministry of Agriculture

must inspect the animals

prior to entry. Any person

intending to import or

take these animals from

their vessels, whether

permanent or temporary,

must make an

application sufficiently

in advance to any of the

above agencies." Such

an application must be

accompanied by a copy

of a certificate from the

last place of residence

certifying that the animal

has been vaccinated

against diseases and is

free from illnesses and

infections.

IMPORTATION OF YACHT

PARTS AND EQUIPMENT

Grenadian law allows for

the duty free importation

of yacht parts and stores,

and the only fee payable

to Customs is a service

charge of 2.5% of invoice

value and shipping cost.

To obtain this a stamped

"C14" form must be

obtained by taking your

clearance and registration

documents to the

nearest port of entry o

ffice. You will also need

to provide a proper

invoice indicating the full

value of the items being

brought in. For items

supplied or repaired under

warranty the invoice

should clearly state this,

and still give a nominal

figure for the value of

the item. It is possible

to purchase items duty

free from chandleries in

Grenada (provided the

items are to be used on

the vessel purchased

PHOTOGRAPH: Andy Johnson | www.500px.com/andygjohnson

for) and each chandlery

will also require copies

of the yacht's entry and

registration documents.

If bringing in parts when

flying back to Grenada by

air, you will either need

to pay full duty on arrival

at the airport or leave

the goods there while

you obtain a C14 form

and a customs broker to

complete the entry and

obtain the 2.5% service

charge fee.

FIREARMS

Firearms carried on board

vessels must be reported

on entry to Grenada.

Both firearms and

ammunition will be held

at Police Head Quarters

until the vessel departs

the country.

FISHING

Trailing a fishing line

or fishing with a rod is

allowed in Grenadian

waters, but a licence is

required to spear fish,

or catch conch (locally

known as lambi) or

lobster.

MARINE PROTECTED

AREAS

Currently two Marine

Protected Areas

have been created in

Grenada – one located

in Carriacou (The

Sandy Island/ Oyster Bed

Marine Protected Area or

SIOBMPA) and the other

on the west coast of

Grenada (the Moliniere/

Beausejour Marine Protected

area or MBMPA).

A third has recently been

approved (The Grand

Anse MPA) but details

have not been published

yet. In order to protect

the reefs and marine life

the following rules have

been established:

• Anchoring is prohibited.

Yachts must use the

moorings provided in

either of the protected

areas, at the MBMPA the

mooring balls are white

in colour: the red balls

are allocated for use by

commercial dive and

tour operators. A small

fee (EC$27 in 2017) is

payable for the moorings

in order to provide

for their upkeep and

maintenance.

• No fishing of any kind

• Scuba diving is only

allowed with a licenced

dive master or operator

• No removal of any

marine life

• No dumping of waste

or garbage of any kind

• Use of holding tanks is

encouraged

WORK PERMITS

A work permit is required

for any foreign national

to work in Grenada. For

more information contact

the Ministry of Labour on

473 440 2532

68

GRENADA GRENADINES YACHTING 69
---
ESSENTIALS

grenada

• CURRENCY

Eastern Caribbean Dollar

(EC$) is the currency. It is

fixed to (US$) at EC $2.67

- US $1.00. US is often

accepted, but exchange

rates vary. Credit cards

are widely accepted.

• TAX & TIPPING

VAT tax is 15%. Hotels

and restaurants usually

add a 10% service

charge. Gratuities are at

your own discretion.

• BANKS

Various banks to choose

from, hours are 0800 to

1400 Monday to Thursday

and 0800 to 1600 on

Fridays, closed weekends

and public holidays. Most

provide 24 hour ATMs.

• ELECTRICITY

Grenada uses the 220

volt / 50 Hz system,

similar to Europe. Most

hotels provide both 220v

and 110v. If not, a step

down transformer will

be necessary to convert

220 to 110 volts.

• TIME ZONE

Grenada sits in the Atlantic

Standard Time Zone

and does not observe

daylight saving time.

• BUSINESS HOURS

Weekday opening hours

are 0800 to 1600, usually

0800 to 1200 on Saturdays.

A few businesses

close for lunch. Most are

closed Sundays, except

a few supermarkets that

offer extended hours.

• TELEPHONE

473 is the country code.

411 directory assistance.

To call North America and

the Caribbean dial 1 +

country code + number.

Other international calls

dial 011 + country code

+ number (omitting the

leading area code zero).

Inexpensive local SIM

cards are available from

two service providers:

Digicel: digicelgroup.com

Flow: discoverflow.com

• INTERNET

WIFI is available at

marinas and "hotspots"

islandwide. Cruisers wifi

subscription service is

available in all anchorages.

Digicel and Flow offer a

variety of data packages

for local SIM cards.

• POST OFFICES

Burn's Point is the main

post office (as you enter

the Carenage) near the

St George's port. Most

towns have sub post

offices open Monday to

Friday, however hours

vary. Main office hours

weekdays 8am - 3pm.

grenadapostal.com

• COURIER / FREIGHT

SERVICES

General Mail, FedEx, DHL,

UPS, Amerijet and Liat

QuikPak have offices in

Grenada. Some also service

Carriacou and Petite

Martinique. Your marine

facility can provide

advice on customs and

clearance charges.

• MARINE VHF

Channels 16 & 68 are

used as calling channels.

Please, then switch to a

working, free channel

and use low power where

possible. Standard VHF

radio etiquette applies.

• CRUISERS RADIO NET

Operates Monday -

Saturday at 0730 on VHF

Channel 66 covering

daily weather updates,

arrivals/departures and

social events. www.face

book.com/groups/

1428165970745389/

• FUEL AND GAS

Please refer to Marina and

Boatyard page 16.

• BUOYAGE

We use the American

PHOTOGRAPHS : www.facebook.com/pg/tourismgrenada/photos/

System (IALA-B) for

buoyage, remember 'Red

Right Returning'

• GETTING HERE

Many international

airlines service Grenada

through the Maurice Bishop

International Airport

mbiagrenada.com. Inter

island air service is available

to most Caribbean

destinations via liat.com,

tia2000.com and

caribbean-airlines.com.

• GETTING AROUND

It is worth spending

some time exploring

Grenada. Pristine rainforests,

interesting towns,

local rum distilleries and

chocolate factories.

Grenadians are welcoming

and will go out of

their way to help you,

stop and chat, you will

be pleased you did! Start

the conversation with a

"good morning" or "good

afternoon". When out

and about, dress appropriately;

In other words,

swim suits are for the

boat and beach only!

Taxis are readily available

at the airport, marinas,

boatyards, supermarkets

and hotels. Agree on the

rate before you set out on

your journey. Some taxi

drivers offer day tours,

a great way to see the

island like a local.

Buses are inexpensive

and frequent. These

mini-vans are often noisy

and crowded, but that's

part of the adventure.

Designated bus stops on

all the major roads, but

not always easy to spot. If

you need to go off-route,

ask your driver, for an

additional small fee they

will often take you where

you need to go. Buses do

not operate Sundays and

public holidays, but the

fee is a little higher.

On Carriacou, the difference

between buses and

taxis is less distinct and

the cost varies as well,

ask the locals.

Hire car/rentals

You will need a Grenadian

visitors drivers license,

your rental company can

EMERGENCY CONTACTS

Emergency Yacht Line 405 7490

Fire - 911 440 2112

Coastguard VHF 16 /399 444 1931/2

GRENADA

Ambulance 434

General Hospital, St. George's 440 2051

St. Augustine's Medical Centre 440 6173/4

Police Headquarters - 911 440 3999

Port Authority Grenada 440 7678

CARRIACOU

Ambulance 774

Princess Royal Hospital 443 7400

Port Authority Carriacou 443 7678

Police Headquarters - 911

xxx xxxx

help organize this for

you. Driving is on the left

hand side of the road.

• Driving etiquette

Driving is a social

activity. Stopping to buy

mangoes in the road or

have a quick chat is quite

common. Expect the

unexpected and don't

get impatient. • Horn

honking is frequent;

to indicate a vehicle's

presence and oftentimes

simply to say hello.

• Priority at junctions is

not always clear, do not

assume you have the

right away. Remember to

slow down near schools.

• Asking for directions is

fun and a great way to

meet people.

Scooters are available for

rent on the island.

Walking is great, but

use your sunscreen as

the sun is HOT. Also take

the usual precautions

with large sums of cash

and expensive cameras/

phones/jewellry. Ask the

locals for advice about

walking alone at night.

• Inter island Transport

Services

The Osprey ferry operates

daily between Grenada,

Carriacou and Petite

Martinique, the office is

on the Carenage.

ospreylines.com

Lovely Ferries operates

once a week on Wednesdays

from Grenada to

Trinidad and Fridays from

Trinidad to Grenada.

travellovely1.com

SVG Air offers daily fights

to and from Grenada's

Maurice Bishop Airport

and Carriacou's Lauriston

Airport, svgair.com.

GRENADA GRENADINES YACHTING 71
---
ADVERTISER'S

directory

Accommodation

Carriacou Grand View Hotel

473-443-6348

www.carriacougrandview.com

ccougrandview@spiceisle.com

LaSagesse Boutique Hotel

473 444 6458

www.lasagesse.com

lasasgesse@spiceisle.com

Le Phare Bleu Marina and

Boutique Hotel

473-443-2400

www.lepharebleu.com

hotel@lepharebleu.com

Maca Bana

473-439-5355

www.macabana.com

macabana@spiceisle.com

Mount Cinnamon

473-439-4400

www.mountcinnamongrena

dahotel.com

reservations@eliteislandre

sorts.com

Rumboat Retreat

473-534-1170

www.rumboatretreat.com

lisette@rumboatretreat.com

Seabreeze Hotel

473-493-0809

www.seabreezegrenada.com

seabreezegnd@gmail.com

Boatyard

Grenada Marine

473-443-1667

www.grenadamarine.com

info@grenadamarine.com

Spice Island Marine

473-444-4257

www.spiceislandmarine.com

simsco@spiceislandmarine.

com

CHANDLERY

Budget Marine

473-439-1983

www.budgetmarine.com

grenada@budgetmarine.com

Island Water World

St. Geroge's 473-435-2150

Grenada Marine 473-435-1028

www.isalndwaterworld.com

iwwgnd@spiceisle.com

Design - UX , Web & Print

PulseCreative

473-536-1020

www.pulsecreativegrenada.

com

pulsecreative@hotmail.com

Diving

Arawak Divers

473-443-6906

info@arawakdivers.com

Dive Grenada

473-444-1092

www.divegrenada.com

info@divegrenada.com

Eco Dive

473-444-7777

www.ecodiveandtrek.com

dive@ecodiveandtrek.com

Insurance

Insurance Consultants Ltd.

475-440-3343

www.iclgrenada.com

insure@iclgrenada.com

Marina

Camper & Nicholson's

Port Louis Marina

475-435-7432

www.cnmarinas.com

reservations@cnportlouis

marina.com

Clarkes Court Bay Marina

473-439-2593

www.clarkescourtbayma

rina.com

office@ccbmarina.com

Le Phare Bleu Marina

and Boutique Hotel

473-443-2400

www.pharebleu.com

hotel@lepharebleu.com

Secret Harbour Marina

473-444-4449

www.secretharbourgrenada.

com

secretharbour@spiceisle.com

Marine

Mechanical/Electrical

Grenada Marine

473-443-1667

www.grenadamarine.com

info@grenadamarine.com

Horizon Grenada

473-439-1002

www.horzongrenada.com

info@horizongrenada.com

Palm Tree Marine

473-443-7256

www.palmtreemarine.com

mike@palmtreemarine.com

Medical

St. Augustine's Medicial

Services Inc. (SAMS)

473-440-6173/74/75

www.samsgrenada.com

Outboard Repair & Spares

Anro Agencies

473-444-2220

www.facebook.com/Anro

Agencies

info@anroagencies.com

McIntyre Bros. Ltd.

473-444-3944

www.caribbeanhorizons.com

macford@spiceisle.com

Real Estate

John Albany

Caribbean Enterprises

473-440-8844

fortress@spiceisle.com

Restaurant

BB's Crabback Restaurant

473-435-7058

www.bbscrabbackrestaurant.

com

bbscrabback@hotmail.com

Gallery Café Carriacou

473-443-7069

www.facebook.com/carriacougallerycafe/

gallerycafecarriacou@gmail.

com

Saffron Restaurant & Café

473-420-1086

www.facebook.com/pg/

Saffron-Cafe-Grenada

The Aquarium

473-444-1410

www.aquarium-grenada.com

aquarium@spiceisle.com

The Victory Bar

473-435-7263

Rigging, Sails and canvas

Turbulence Grenada

473-439-4495

www.turbulencelimited.com

turbsail@spiceisle.com

Sail Training

LTD Sailing

206.792.9787

www.ltdsailing.com

info@ltdsailing.com

Superyacht Services

Spronk's Megayacht Services

473-439-4369

www.spronksprovisioning.com

claire@spronksprovisioning.

com

Surveyor

Flyingfish Ventures

473-443-5784

www.flyingfishventures.com

surveyor@flyingfishventures.

com

Mango Projects Ltd.

473-536-2319

www.mangoprojects.gd

neil@mangoprojects.gd

Tourism

Grenada Tourism Authority

473-440-2279

grenadagrenadines.com

info@puregrenada.com

Sun Hunters Adventures

ph 473 423-4868

www.sunhuntersgrenada.com

sunhuntersatv@gmail.com

Yacht Broker

Horizon Grenada

473-439-1002

www.horzongrenada.com

info@horizongrenada.com

Boatshed Grenada

473-443-3603

www.islandreamsgrenada.com

info@islandreamsgrenada.

com

Yacht Charter

Horizon Yacht Charters

473-439-1000

www.horizonyachtcharters.

com/grenada

info@horizongrenada.com

Yacht Management

Horizon Yachts

473-439-1002

www.horzongrenada.com

info@horizongrenada.com

Island Dreams

473-443-3603

www.islandreamsgrenada.com

info@islandreamsgrenada.

com

72

73

GRENADA GRENADINES YACHTING 73
---
Get what

you want!

www.budgetmarine.com

• Technical Knowledge

• Wide Product Range

• After Sales Service

The Caribbean's

Leading Chandlery

BUDGET MARINE GRENADA

True Blue, St. Georges, Grenada

T: +1-473-439-1983

Monday-Friday: 8:00 AM-5:00 PM

Saturday: 9:00 AM-2:00 PM