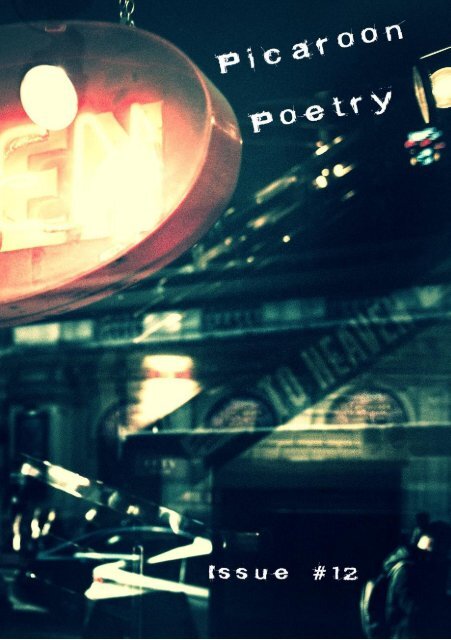 Picaroon Poetry - Issue #12 - May 2018
The return of Picaroon Poetry! After nearly six months away while Kate had a baby, we are back. Features 32 brand new poems by Rachel Burns, Marissa Glover, Charley Barnes, Maggie Sawkins, Kitty Coles, Lennart Lundh, Heidi Slettedahl, Simon Perchik, Adrian Slonaker, Ceinwen E. Cariad Haydon, Bob MacKenzie, Jack Little, Neil Fulwood, Carl Boon, Sophie Petrie, Tobi Alfier, Bethany W Pope, Brett Stout, Thomas Tyrrell, Jonathan Humble, Scott Redmond, Abigail Elizabeth Ottley, Irene Cunningham, Jenny McRobert, J.S. Watts, Sunita Thind, Michelle Diaz, Bethany Rivers, Stephen Seabridge, Martin Zarrop, Ian Grosz, and Michael McGill.
The return of Picaroon Poetry! After nearly six months away while Kate had a baby, we are back.

Features 32 brand new poems by Rachel Burns, Marissa Glover, Charley Barnes, Maggie Sawkins, Kitty Coles, Lennart Lundh, Heidi Slettedahl, Simon Perchik, Adrian Slonaker, Ceinwen E. Cariad Haydon, Bob MacKenzie, Jack Little, Neil Fulwood, Carl Boon, Sophie Petrie, Tobi Alfier, Bethany W Pope, Brett Stout, Thomas Tyrrell, Jonathan Humble, Scott Redmond, Abigail Elizabeth Ottley, Irene Cunningham, Jenny McRobert, J.S. Watts, Sunita Thind, Michelle Diaz, Bethany Rivers, Stephen Seabridge, Martin Zarrop, Ian Grosz, and Michael McGill.
SHOW MORE
SHOW LESS
Do you know the secret to free website traffic?
Use this trick to increase the number of new potential customers.
Issue #12

May 2018

Edited by Kate Garrett

All poems copyright © 2018 individual authors

Selection/issue copyright © 2018 Kate Garrett / Picaroon Poetry
---
Hello to you, our much-missed rebellious rapscallions.

Yes, I had a lovely maternity leave, thank you for asking.

However, in true rogue fashion, baby Bonnie gave us all a scare within her first

24 hours of life, but she wasn't about to give up without a fight – in case you

haven't heard, she has a congenital heart defect, and spent the first week of

her life in hospital. But long story short, the doctors and nurses gave her the

best care possible, and she's doing very well now!

After all the recent excitement of the mum-of-five life, it's good to be back even

part-time to the (comparatively) soothing editor life. Thanks to the writers who

didn't hesitate to send their poems by the hundreds when I returned to the

inbox – here are 32 of those pieces for your reading pleasure.

Oh also: just a quick reminder we have cut back on issues for 2018, so the

next one (lucky #13) will be in September. After that it's January 2019, and

back to our regular bi-monthly schedule.

Anyway. On with the poetry.

With lots of literary pirate love,

Kate
---
This Month's Rogue Poems ● May 2018

Nocturne // Rachel Burns 7

The Problem with Us // Marissa Glover 8

Making a Mermaid // Charley Barnes 9

In Good Time // Maggie Sawkins 10

Witch Bottle // Kitty Coles 11

Yellow Girl // Lennart Lundh 12

My Children // Heidi Slettedahl 13

'By the handful, in tenderness…' // Simon Perchik 14

Pickle Candy // Adrian Slonaker 15

The Railway Bank // Ceinwen E. Cariad Haydon 16

garden party // Bob MacKenzie 17

Rainy Day // Jack Little 18

City // Neil Fulwood 19

Love in Lacroix // Carl Boon 21

A Gap In The Curtains // Sophie Petrie 22

Bourbon and Barbecue, or Coal // Tobi Alfier 23

Florida Man // Bethany W Pope 24

Sometimes a Saint, Mostly a Sinner // Brett Stout 26

The Pirate's Apology // Thomas Tyrrell 29

Aberration // Jonathan Humble 30
---
Citrus Advertising Board // Scott Redmond 31

For Zsa Zsa with Love // Abigail Elizabeth Ottley 33

Dancing with Narcissists // Irene Cunningham 34

Touched // Jenny McRobert 35

A Float of Ravens // J.S. Watts 37

Coconut Girl // Sunita Thind 38

Do Not Go to Kilburn // Michelle Diaz 40

No flight plan // Bethany Rivers 41

What Gets Me // Stephen Seabridge 42

Monsal Head Viaduct // Martin Zarrop 43

Different Directions going the same way // Ian Grosz 44

Commuting // Michael McGill 45
---
Rachel Burns

Nocturne

Paper burns, flames curl the edges, blackened crisp.

This is where we live, in-between the pages

of the night, space and time

life and death.

7
---
Marissa Glover

The Problem with Us

You slink your way to me like a cat

proud of its catch, dead mouse

dangling from its bloodied jaws.

You drop the poem on my desk (so pleased

you could purr) folding sharp paws

across your chest, waiting

for me to read what you've written

and reward you with a good petting.

The geography stretched before me

summons eras and armadas—a new Age

of Discovery—soft slopes but more

with every vista. The greed of the Explorer surges,

fueling the next wave of settlement, the need

to see what lies over each new horizon,

everywhere to plant kisses like flags

of conquistadores, to say,

This, too, is mine.

History knows

the conquistador is defeated

in the end. Explorers are expedient.

Their land will be taken, flags trampled

by boots carrying other colors.

Don't believe the movies,

the happy ending with love that lasts.

In this story, as in every story, kisses

are replaced by blood.

Everyone loses, everything

dies.

8
---
Charley Barnes

Making a Mermaid

I warned them they'd misplaced the words together:

Girl, Virgin, Challenge.

But they told me that was the fairy tale,

so I wrote my own.

I pressed my thighs together tight until I became

a mythical being, luring men to their torment.

Sea-bound, I splashed sour brine over them

and their synthetic I love yous.

Their sentiments weren't wearable. Pebbles

of emotion weighed, I had to discard them.

I wanted something of worth; life had long

taught me that feelings were not.

They'll tell their friends, the newspapers,

anyone who will listen, of their intimate mishap

with a cold-hearted creature.

But when they look for me,

send search parties with my scent attached,

they will run their fingers through empty waters,

wander along abandoned shores.

I won't be there; women like me never are.

9
---
Maggie Sawkins

In Good Time

You will pack your suitcase with the few things that haven't been

buried or burnt. You'll put on your overcoat and lock the door. You've spent so

many days rehearsing, you think at times you may already have gone. Yet you

know you must still be here for each morning you see a face in the fisheye

mirror which looks remarkably like your own. Your funeral outfit still hangs

unworn in the wardrobe, and the suede boots, that didn't have holes in the

soles this time last year, are riddled. Just yesterday you noticed fresh coffee

rings on the nest of tables, next to a suit of Tarot, a plate of crumbs.

Gather up your collection of wishbones saving the starling's for the

benighted one who left before you in a storm. You'll be in good time.

10
---
Kitty Coles

Witch Bottle

You've left something, I think, behind you here.

I sometimes hear you padding through the house

and feel your breath warming my sleeping face,

your fingers in my hair, raking my skull.

You weaken me. I'm thin again, grey-fleshed.

I keep myself awake in case you come

and, when I fail, I dream the earth cracks open

and buried bones reach out and make me stumble.

I seek a cure. I gather rosemary

on moonless nights and scrutinise the carpets

for rinds of nail, coarse threads of your dark hair,

and marinate my findings in red wine

and add bright needles, shining pins, which were

once words you spoke, which pierced me through and changed,

due to your hexes, into steely objects,

which then fell from my lips if I let them part.

I heat the mixture slowly in a pan,

simmer and simmer till it's blackberry-dark,

the same shade as the blood dried at my throat

after you broke the flesh with broken glass.

I bottle what I've stewed. I bury it.

I say the words that come to me aloud.

They mean the opposite of my intention.

I speak the words you whisper through my mouth.

11
---
Lennart Lundh

Yellow Girl

Just when I learn to count

to seven, there are

only six puppies left.

When our daughters grew up,

moved out, it was

just down the street,

across town, over to the

next county: so close

I can still count them

against my fingers' tips.

On what part do you

count the dead? Ah,

I know: The heart line.

Thank God, there's room enough.

12
---
Heidi Slettedahl

My Children

I never got to teach my children anything.

A mass of cells that multiplied

And then did not

No long division

No make believe

Except those two weeks, waiting.

Each time was harder

And every time I knew.

13
---
Simon Perchik

*

By the handful, in tenderness

yet your shadow erupts

and by nightfall holds on

one shoulder then the other

spun as if this dirt would find

the wind it came here for

circle up and cover this place

with your finger touching

the grave skies grow into

and never let go –a parting gesture

collecting darkness with another

helps you leave the way the dead

fill their arms with the Earth

carried around as morning and higher

in stones they know by heart.

14
---
Adrian Slonaker

Pickle Candy

On the downtown stretch of St. Joseph's Road

four blocks away from the grain elevators

and two from the commuter rail station,

Ballard's Candies filled a gap between

the pet shop with the monkey that tore a hole

in my maroon winter cap

and the comic book store where my brother

salivated over issues of GI Joe.

Ballard's is where I would sip

Green River floats and had my first scoop

of bubble gum ice cream before

purchasing candy cigarettes to feel grown-up.

One day when I was about ten

I spied one box of Pickle Candy between the

root beer drops and the Life Savers by the

antique cash register.

I despised dill and walked away,

but I noticed again,

a month later when Mom took me for a treat after

a loathsome school physical that

the root beer drops and the Life Savers were gone,

but the Pickle Candy hadn't persuaded anyone to buy it.

Silently sympathizing with the green and white case

with the retro font,

I knew that I too had been last picked

for dodgeball, kickball, volleyball,

baseball, and football.

Three months later, on my birthday, I went to Ballard's for

a chocolate malted and spotted the Pickle Candy

still in its spot, pathetically gathering dust.

Crushed by a crest of compassion

I'd never felt before,

I sacrificed my allowance,

rescued the Pickle Candy

and, once on the pavement lined with crackly maple leaves,

I realized that my charitable cause

had expired two years before.

15
---
Ceinwen E. Cariad Haydon

The Railway Bank

Climb between the houses,

up don't go there bank,

into no-man's land.

So many dangers,

nettles being the least,

strangers in raincoats the worst,

hurtling trains, in between.

A dreamy child,

I saw butterflies and beetles

in my don't go there garden,

sun-spun diamond cobwebs –

and cuckoo spit and dewdrops

glitter-poised to fall

and drench my ankle socks.

Each summer morning, I emerged

out of the shadows to be warmed through,

free of the lonely chill of home.

16
---
Bob MacKenzie

garden party

1.

at first there were no strawberries

only man and woman naked and God

wrapped in regal strawberry robes

the man on the grass watching

God touch her wrist seductively

2.

strawberries are important here

held and hugged and lain upon

surrogates for love's embrace

sex toys and hats and statues

metaphor among the naked mass

3.

everywhere in the park the naked

abandon decorum with lust for sex

games played without love or joy

while in the pool the naked women

gasp as men and beasts circle round

4.

where the city burns in darkness

no strawberries or naked passion

suffer souls to pain without end

where on every corner danger lurks

and the garden party is no delight

[after the triptych painting "The Garden of Earthly Delights" by Hieronymus Bosch]

17
---
Jack Little

Rainy Day

Tourists equate rainy days with 'lost days',

sun worshippers who pray in shorts

who've saved for months to be here.

I bathe in paperwork, strut home sweaty

full of judgement. In rainfall my knees creak

under the old aches of from here/ born elsewhere.

Drizzle on the hot pavement smells of stale dog piss.

Each lost breath of beerless path-beating

is a an unhappy pilgrimage, dreaming of being

from there, but here – inside, and sheltered.

18
---
Neil Fulwood

City

1.

The walk-in clinic at seven in the morning,

its postage-stamp car park half full already

and an acre of wasteland unused behind it

spiked with nettles and weeds and syringes.

A gym and a cob shop one side of the street,

a chain hotel out of place on the other -

close to the station but shag all use

in terms of parking or the city centre.

A mini-cab office nestling for space

alongside a pub unchanged for decades

and a chip shop without a food hygiene rating.

A symmetry of sorts if it's ten to midnight.

Symmetry, too, in these tower blocks

squared off against multi-storey car parks,

scraps of grass in the spaces between them

and a precinct of shops with boarded up fronts.

2.

The city is the bus depot, the sharp tang of fuel.

The city is the smashed glass of the bus stop.

The city is the bin lorry blocking rush hour streets.

The city is the council van on double-yellows.

The city is a residents-only zone.

The city is an out-of-order parking meter.

The city is a traffic warden in high-vis tabard.

The city is a youth giving him the wanker sign.

"... a poet unknown by the city he sings to ..."

- Fina Garcia-Marruz (trans. Katherine M. Hedeen)

The city is the taxi rank an hour before closing time.

19
---
The city is the ambulance an hour after.

The city is a gunshot or a car backfiring,

the police helicopter steadily circling.

3.

You leave the last few cubic millilitres

and walk a slow route from pub to taxi rank

trying to broker a deal

with your own digestive system:

you've learned your lesson, you left

your drink unfinished so, please, there's no need

for any unpleasantness. You stumble,

fold at the gut and the gutter is there to receive.

4.

The city is all of your hangovers compounded,

all of your fights in a single one-inch punch,

every sickie you've thrown, every lie

you were caught in. It doesn't know your name.

20
---
Carl Boon

Love in Lacroix

For a month she mispronounced her name,

lied about flowers and her dislike

of lavender soap. Her skin one Friday

shivered on the bus at Stevens Point,

trembled and touched the bones of her.

When they met at the Blue Coin Cafe,

each wept. She said here the snow deletes

the sky. She said your eyes are darker

than I'd guessed. After an hour they began

to laugh and clutch, exchanging secrets

while the men spoke of bowling

and the Packers, Tupperware parties,

the haul to Oshkosh. In the Red Spire Motel

the air was turbulent, changing. The clothes

fell, the usual hesitation, the bedspread

not theirs and the one that would be,

later. The first kiss mercy, the second

a rage against the dying corn, the land,

the unbelievable of even being there.

She said I'm happy now. She said I'm not

leaving until the ground opens harshly.

Then a purple sprawl, a green becoming,

a breakfast neither felt the need to touch.

This is better, she said. This is right,

she said, as the black men below

made the snow go away. It appeared to be

a thousand plows, but it was only one.

21
---
Sophie Petrie

A Gap in the Curtains

Smear me with well planted kisses,

fall back onto the mounds of sheets,

our borrowed limbs flung out at rest

across the pillow.

The nightly stains, dream slug trails,

slither from our uncurled lips

while we breathe in the must and

sweat-filled hollows.

The internal clinking of our

rhythms match and bleed and blend,

while I turn and wriggle down into

the empty indent.

That weighted groove you left for me,

unwashed marks and bare shadows,

a soft cast I do not fit.

I sleep with my mouth closed tight,

my hands clawed under the pillow,

ignoring the call of whistling birds,

the lances of dust

dancing between the curtains,

a split throat of morning.

I clutch the sheets, our warm bed divided

with a thin line of light.

22
---
Tobi Alfier

Bourbon and Barbecue, or Coal

Three girls light Marlboro reds

and shoot vodka at the bar,

six fake breasts and nine fake ID's

between them. Danny sits at his table

messy with peanut shells

and ashtray trash, wonders

when he wakes tomorrow, what the weather

will be, which woman will be buried under his covers,

ass to stomach, the light snore of the pickup-loved

and hungover, while he waits for what's for breakfast

and can I borrow your toothbrush.

When it's cold, outside is a black and white

photograph, frigid breath, ancient scent of coal,

fractured smoke off the river winding lazily

toward collars not thick enough, and unprepared.

When it's hot, the air is a bee-sting of fury,

the sound of trains, smell of bourbon and barbecue.

Everyone's kids are your kids—they ride their bikes

like maniacs, you keep one hand on their arms,

one on the arm of your new-found woman,

try to remember her name, pray you can introduce

her to the church ladies and she won't say somethin'

heinous, turn around and yell at her

to get off Roscoe's skateboard!

Jeez, almost ain't worth it. You swear to pick another bar,

find yourself a good woman, not a walking wine stain,

go see if Katie Lee's cornbread is done,

see if her husband is still done gone…that's what the heat

brings out, he'll take a tank top and sunburn over icy cold

almost every time.

23
---
Bethany W Pope

Florida Man

My Uncle has a bitter laugh: a harsh,

barking cough, punctuated by his finger

flicking a long trail of ash from the tip

of his ever-burning cigarette.

The Rowe men all die with a full scalp.

The Rowe men are all bone and lean muscle;

they're deceptively strong. Rowe men have a knack

for mechanical things; engines, handguns.

They read novels with a literary bent,

watch Fox News, South Park, and they'll all vote

Republican to the very last.

They never sing out when the pain is on them.

My Uncle's younger brother got grease

into a gash a piston gouged into

the meat of his leg and contracted a fleshhungry

MRSA infection.

He didn't tell his wife about it

until it spread enough to almost

warrant amputation. My uncle is good

at keeping secrets. He never tattled

on his grandfather. He never said

what they did in the dark. My Uncle

doesn't eat, much. He drinks whiskey for breakfast.

Sometimes, he'll whip a raw egg into it.

My Uncle's father died when my Uncle

was fifteen. He did it on purpose.

My Uncle never talks about it.

My grandfather never talked about

his father — what they did in the dark.

My Uncle tried meth, for a while. It helped

drown the dark into quiet, but it was

expensive. My Uncle broke into his

little brother's house, one night, shattering

the picture window above my cousin's

bed (she was sleeping in it) and stole

the guns his father 'liberated'

from that beach in Japan. My Uncle

reappears at intervals. My aunt

24
---
epeatedly checks him into rehab,

the cheap kind, where they don't talk much,

and he leaves, promising to do better.

Sometimes, I see him at Christmas. He's thinner

each year, and his hair is finer, increasingly

white. When my grandma died, he came home

for the funeral. The suit he wore

was made for a boy. It fit him around

his shoulders and waist, but it only

covered half his legs and half his arms.

His limbs stuck out, hairy, like a spider's.

I gave him a hug and felt the bones

in his back as he leaked hard tears onto

my chest. Then his long hand, briefly, cupped

my right breast. My Uncle is a funny

man, even now that he is dying.

Remembering the last job he had,

working the night shift at a gas station,

he says, 'At least I don't have to sleep

in the freezer any more.' He never

slept there. He had a cot, out in storage.

They paid him in Jim Beam and let him out

for church on alternate Sundays.

Every couple of hours, my uncle grows

restless. He sneaks out of the ward and smokes

with the janitors. They like him

because he's willing to share. Somehow,

his cigarettes are always good. His skin's gone

all yellow and cracked, and his gunslinger

eyes are clouded and sunken. He's fifty;

looks eighty, and he's on his way out.

25
---
Brett Stout

Sometimes a Saint, Mostly a Sinner

Zero year

1979

wasteland kamikaze

and the eventual

death from above,

now crawl inside

your

cardboard Jesus box

and

watch it fucking

crumble,

under pressure from

David Bowie and acid rain

lint rollers

and

Post-It Notes

gather dust and debris

the derelict hands of

winos and Bigfoot

staple

Miles Davis

on a rented lonely

hotel room wall

fascist cockroaches

infest

decaying suburban neighborhoods

26
---
and foreclosed strip malls

just one

in Atlanta

with a dream and a utopian ideal

then thousands

spreading and infiltrating the NSA

and the PTA

just like them

moths under seditious

illuminated lamps

pools of concrete toxins

transmission fluid and Mexican

children at play

the dryer is broken

the landlord is fixed

sink the dull razor

blade

into society

pull up a plush

semi-leather office chair

sell me another lie and

used condominiums

Band-Aids and bloody gauze pads

wrap

your veins and high definition

television

now relax

and stare at a distance

nothing will be

alright

just like everyone else

you are all

alone

27
---
ut

it will all

be over soon,

now crawl inside

your

cardboard Jesus box

and

watch it goddamn crumble.

28
---
Thomas Tyrrell

The Pirate's Apology

"They were poor Rogues, they said, and so hang'd, while others, no less guilty

in another Way, escaped." —The General History of the Pirates, Daniel Defoe.

You gentlemen who form my jury,

These final words let no man gag.

I fought and drank with Captain Roberts

And sailed beneath the pirate flag.

My bread was spoil, my meat was plunder;

I rue it, but it comes no shock

To find myself a felon sentenced

To swing at Execution Dock.

I laughed to scorn the laws of nations

And though I fought fair and lived free

I did things that I quake to think on,

Waded in blood above the knee,

And now, a man condemned, I stand here

A flaming beacon on a rock

Warning the mariners to windward,

Steer clear of Execution Dock.

For it's the same the whole world over,

The poor rogues hang, the rich rogues thrive.

While three tides toss my chained cadaver

Think of the monsters left alive.

The slavers, gorged with human cargo,

The managers of South-Sea stock,

How comes it they will never join me

To swing at Execution Dock?

Jurors, I go to death as blithely

As good King Charles went to the block.

Let no-one jeer me on my journey

To swing at Execution Dock.

29
---
Jonathan Humble

Aberration

First thing in the morning, watch the mirror yawning,

just another Monday when it hits you without warning.

Lost your medication, feel the irritation,

quickly followed by a burst of weird exaltation.

Quite enjoy a chinwag, talking to a spongebag,

interrupted by the coffee pushing back the jetlag.

Called the boss a fishface, must have been a nutcase,

lose your mind in increments while running in the rat race.

Drowning in the bearpit, looking like a nitwit,

watch out for the killer viral fungus in the armpit.

Have a right good chortle, walking through the portal,

be a mixed up manic panic borderline immortal.

Listen for a raindrop, waiting by the bin slop,

wondering just who you are and why you're at a bus stop.

Feeling cold and left out, swimming in your own doubt,

glaring round and looking for a fight with any young lout.

Fed up with the mucus, wade around in fucus,

staring at the night sky looking hard for Ophiuchus.

Used to be a boy scout, give the moon a good shout,

wave goodbye to sanity while searching for the way out ...

30
---
Scott Redmond

Citrus Advertising Board

As the newest member,

Of the British Citrus Advertising Board

I would like to pitch a few new ideas.

Number One.

Interior.

A child is biting into a piece of chocolate,

When they make a face like *screws up face*

It is then revealed to be a piece of lemon

Painted to look like chocolate.

Tagline;

"THAT'S CITRUS!!!"

Number Two.

Interior.

A man has a large open wound on his leg.

His friend offers to get him some antiseptic cream,

He puts on the cream,

And makes a face like *screws up face*

It is then revealed to be lemon juice.

Tagline;

"THAT'S CITRUS!!!"

Number Three.

Interior.

A man is attempting to use eyedrops,

But instead of eyedrops, out comes

Just this whole lemon

He makes a face like *screws up face*

It is then revealed to be a lemon.

Tagline;

"THAT'S CITRUS!!!"

Number Four.

Exterior.

A woman is biting into a lemon,

31
---
She makes a face like *confused face*.

It is revealed to instead be a small Mediterranean island.

Tagline;

"THAT'S CYPRUS!!!"

32
---
Abigail Elizabeth Ottley

For Zsa Zsa with Love

A good time girl, my grandma said.

All diamond rings and fizzy gin.

My nan would call a spade a spade

and wasn't taken in.

No better than she ought, she said.

No knickers underneath that fur.

But on our screen in black and white

you sashayed, swished and purred.

Aged ten I saw you fill a stage

and caught my breath to watch you glow.

I dreamed one day I'd file my nails

and pout my painted lips just so.

And smouldering I'd lift my chin

and make my cocktail clink.

Young men would laugh at all my jokes

while Daddy held my mink.

So Zsa Zsa here's a toast to you.

Sleep well and thanks a bunch.

Although I never got that mink

my sashay packs a mighty punch.

33
---
Irene Cunningham

Dancing with Narcissists

These men would sweep, be precise;

their considered mechanics performing

building waves of oohs and aahs

attracting envy, spooling dreams.

Eyes to charm, spellbind witnesses,

always busy with machinations

spinning webs with artful casts

managing a way through the world.

My narcissist is delving inwards,

down rabbit holes because he knows

best, and I'm the whipping girl

who remains his mother...in the dock.

Our dance is jittery: not jitter-bug

or quick-step – more Punk-like leaping

reducing to Zombie-walking off

and Death-march out of time.

34
---
Jenny McRobert

Touched

Crunch-cold,

the unravelling path frays

a spindling yarn

swirling violet and green,

in rain pools like dreams

that tinge a restless night.

Mud sucks at slow boots,

sliding down,

pushing up brambles

hollow faced,

hostile homes

like burnt-out city slums.

Travel sick with the inward journey,

I look up,

and they are there,

where they have always been,

shocks of thick green hair

in the brown baldness of winter;

Yew trees

huddled in on each other as if for warmth.

Soft-veined old arms of time,

beckon me to their counsel.

I touch the ancient,

the slow seeping memory of pagan

the warp and weft

of tangled roots;

that sing of the time when earth

once lost its battle with sky.

Time stutters and stalls,

35
---
as I pad-out thoughts

in small steps,

author of my own mystery play

where the broken mind is

born again.

36
---
J.S. Watts

A Float of Ravens

(in response to having read half-way through Anne Carson's Float)

It is like eating ravens

the egg and the binding

except I would never.

Rather a repetition

of ravens cloudy

over the wide-open skies

of Kneesworth.

Words floating like ravens

in a fierce wind

battling meaning

and disinterest

in the same drawn out wing-beat.

It could be just

as Proust says, except

I can't remember what's lost

or where

or those words

that paint

the feeling of floating

boundless and unwrapped

through the wide-open skies

drifting above Kneesworth.

Where I once read ravens

fighting like words

in a fierce wind

I can no longer remember

though time repeats like Proust

or writers in search

of the lost remembrance

of Proust and maybe

misplaced words floating

wrapless and unbounded

in a wide-open sky

white and yellow

like a pale fried egg

like ravens who would-be

eating.

37
---
Sunita Thind

Coconut Girl

Brown on the outside.

White on the inside.

Sarsee Akal!

Said the Coconut Girl.

Jewelled doll in a salwar kameez

Gemstone bindiya targeted on the forehead.

Kiddha!

Said the Coconut Girl.

All cinnamon legs in a profusion of glittered mini skirts.

Gin chaser, Whiskey Sour, chippy butty.

Fondled by the 'Gaura' boyfriend.

Meera Tika.

Said the Coconut Girl.

Spangled head scarf gagging her.

'You are so dark, lah,' 'You must loose weight lah,'

'Tusee Karli' 'Tu see Muthi'

'Did you see her niece? She got into Medicine.'

Chirps from the harpies, the banshees...the aunti jee, the mummy jee…

The Dadima, the Nanima…

'Meera Naam…'

Said the Coconut Girl.

Bejewelled Lengai, crystallized, hot pink and burnt gold.

Frenzied diamonds adorn her hair.

The perfect bride.

'Nahin! Nahin!'

Said the Coconut Girl.

Mac cosmetic façade, mangled rhinestone embellished hot pants,

Holographic, stiletto boots…

Whiskey breath.

Her dad saw her with that white guy.

38
---
Mute was the Coconut Girl.

Manacled to her Chura.

Her bedazzled bangles.

Terraformed to her Tika.

Feasting on a banquet of curries.

A Panjabi paradox was our sad little Coconut Girl.

*Sarsee Akal! ('Hello' Punjabi)

salwar kameez (Indian Suit)

Kiddha! ('How are you?' Panjabi)

Gaura- White

Meera Tika. ('I am good,' in Panjabi)

Meera Naam ('My name is...' is Panjabi)

'Nahin! Nahin!,' ('No, No,' in Panjabi')

Tika (Jewelled head piece-Indian)

39
---
Michelle Diaz

Do Not Go to Kilburn

Mother,

this is the day you gave birth to me.

Let's write a new version.

Let the caesarean scalpel slip,

let me be miscarried all over the bathroom floor,

shoo the jiggly white racers

back.

Reverse.

Do not drink in that Irish bar,

do not meet vacuous

only-in-name

sperm donor father.

Do not.

Instead,

have the life that would have saved you,

find the letters from Geoff Broomhead

Grandma hid from you.

Let me stay on my cloud.

40
---
Bethany Rivers

No flight plan

It should've been a sunny Sunday in summer

but the clouds hung in her deeply

She was 29, the rug of marriage

swept up from under her feet

Her adrenaline levels had woken her

too early again, that feeling that a

bomb may explode at some point during

the day, in the most innocuous

of places, but the day dawned

insultingly ordinary and the empty

hours paved in front of her like

an endless motorway of no-cars

She's a bird who's never known flight,

still sitting in its cage with the door open

41
---
Stephen Seabridge

What Gets Me

Is that half the world away

there are those who have

never seen the rain fall like this,

here, on this hill, down the leaves

of these trees. That here, before

us, some scaly, tailless creature

stomped its way through growth

that became this woodland. That

it died, and its bones crushed to

oil, to coal, and men found it,

held its black mass in their hands

as if it was gold. That those

men dug further, deeper, into

this mud and felt the cascade

of falling soil. That those men lay,

in the sluice of this mine, drowning.

42
---
Martin Zarrop

Monsal Head Viaduct

A grey-haired critic contemplates the view.

It's just a bridge, she states, and pulls that face,

that mummy mask that always knows it all.

Her son releases breath into the wind.

'Sometime', he says, 'my ashes will drift down,

speck by speck into the River Wye'.

Don't talk like that, she scolds,

it's just a bridge.

43
---
Ian Grosz

Different directions going the same way

We watch the night sky

looking out for shooting stars.

'To the north', I say.

'That's where they will be.' But

her gaze is over to the east.

I take a sip of my wine;

sharp and syrup sweet, I shudder

as it slides down my throat.

'Is that the North Star?'

she asks, still looking east.

The ghost of the moon lurks

behind the clouds, and

I can just see the outline of her face,

her profile, as that first time,

that first long look

in the car as she took me home,

turning twice the wrong way.

44
---
Michael McGill

Commuting

Anna

I think

of you often

but the trains now

are colder and less

forgiving

alone.

so I travel

45
---
For writer biographies / web links, please see the

'Contributors' page on our website.

Thank you for reading!