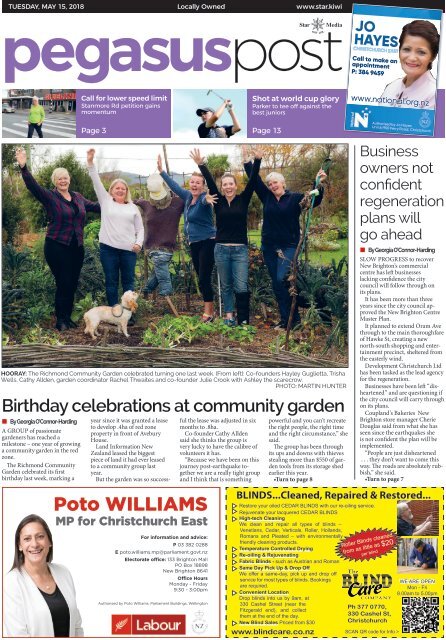 Pegasus Post: May 15, 2018
You also want an ePaper? Increase the reach of your titles
YUMPU automatically turns print PDFs into web optimized ePapers that Google loves.
TUESDAY, MAY 15, 2018

Locally Owned

www.star.kiwi

jo

hayes

christchurch east

Call to make an

appointment

P: 384 9459

Call for lower speed limit

Stanmore Rd petition gains

momentum

Shot at world cup glory

Parker to tee off against the

best juniors

www.national.org.nz

• By Georgia O'Connor-Harding

A GROUP of passionate

gardeners has reached a

milestone – one year of growing

a community garden in the red

zone.

The Richmond Community

Garden celebrated its first

birthday last week, marking a

Page 3 Page 13

HOORAY: The Richmond Community Garden celebrated turning one last week. (From left): Co-founders Hayley Guglietta, Trisha

Wells, Cathy Allden, garden coordinator Rachel Thwaites and co-founder Julie Crook with Ashley the scarecrow.

PHOTO: MARTIN HUNTER

Birthday celebrations at community garden

Poto WILLIAMS

MP for Christchurch East

For information and advice:

P 03 382 0288

E poto.williams.mp@parliament.govt.nz

Electorate office: 133 Brighton Mall

PO Box 18898

New Brighton 8641

Office Hours

Monday - Friday

9:30 - 3:00pm

Authorised by Poto Williams, Parliament Buildings, Wellington

year since it was granted a lease

to develop .4ha of red zone

property in front of Avebury

House.

Land Information New

Zealand leased the biggest

piece of land it had ever leased

to a community group last

year.

But the garden was so successful

the lease was adjusted in six

months to .8ha.

Co-founder Cathy Allden

said she thinks the group is

very lucky to have the calibre of

volunteers it has.

"Because we have been on this

journey post-earthquake together

we are a really tight group

and I think that is something

powerful and you can't recreate

the right people, the right time

and the right circumstance," she

said.

The group has been through

its ups and downs with thieves

stealing more than $550 of garden

tools from its storage shed

earlier this year.

•Turn to page 8

Authorised by Jo Hayes

Unit 6/950 Ferry Road, Christchurch

Business

owners not

confident

regeneration

plans will

go ahead

• By Georgia O'Connor-Harding

SLOW PROGRESS to recover

New Brighton's commercial

centre has left businesses

lacking confidence the city

council will follow through on

its plans.

It has been more than three

years since the city council approved

the New Brighton Centre

Master Plan.

It planned to extend Oram Ave

through to the main thoroughfare

of Hawke St, creating a new

north-south shopping and entertainment

precinct, sheltered from

the easterly wind.

Development Christchurch Ltd

has been tasked as the lead agency

for the regeneration.

Businesses have been left "disheartened"

and are questioning if

the city council will carry through

on its plans.

Coupland's Bakeries New

Brighton store manager Cherie

Douglas said from what she has

seen since the earthquakes she

is not confident the plan will be

implemented.

"People are just disheartened

. . . they don't want to come this

way. The roads are absolutely rubbish,"

she said.

•Turn to page 7

BLINDS...Cleaned, Repaired & Restored...

Restore your oiled CEDAR BLINDS with our re-oiling service.

Rejuvenate your lacquered CEDAR BLINDS

High-tech Cleaning

We clean and repair all types of blinds –

Venetians, Cedar, Verticals, Roller, Hollands,

Romans and Pleated – with environmentally

friendly cleaning products.

Temperature Controlled Drying

Re-oiling & Rejuvenating

Fabric Blinds - such as Austrian and Roman

Same Day Pick Up & Drop Off

We offer a same-day, pick up and drop off

service for most types of blinds. Bookings

are required.

Convenient Location

Drop blinds into us by 9am, at

330 Cashel Street (near the

Fitzgerald end), and collect

them at the end of the day.

New Blind Sales Priced from $30

Roller Blinds cleaned

from as little as $20

per blind

Ph 377 0770,

330 Cashel St,

Christchurch

www.blindcare.co.nz SCAN QR code for Info >

WE ARE OPEN

Mon - Fri

8.00am to 5.00pm
---
2 Tuesday May 15 2018

Latest Christchurch news at www.star.kiwi

from the reporter's desk

THE BLEAK outlook businesses have over New Brighton's

future means action to revive the area needs to be taken now

more than ever.

The fact is some businesses, such as Crema Cafe, are only staying

in the area in the hope that the city council and Development

Christchurch Ltd will do something to improve it.

The New Brighton Centre Master Plan, approved in 2015, gave

businesses vision and hope.

But now, three years down the line, businesses are in need of

more assurance the city council's plans will get under way soon

so they can continue to invest in the area.

New Brighton has great potential and the city council's plans

have the power to transform it into a thriving hub.

Let's hope something happens sooner rather than later.

– Georgia O'Connor-Harding

get in touch

GENERAL ENQUIRIES Ph 379 7100

CLASSIFIED ADVERTISING Ph 379 1100

The Christchurch Star Company Ltd

PO box 1467, Christchurch

starmedia.kiwi

News

Peni's life changing experience in bush

Find out how a Haeata Community Campus student has

walked away with a new perspective on life after taking part

in a popular outdoor adventure programme.

Page 10

Sports

SBHS lose another close contest

All the match details from Shirley Boys' High School's

second half rally which wasn't quite enough to beat Lincoln

Combined on Saturday.

Page 15

Community events

PEGASUS POST

New Brighton book discussion

Go along to the New Brighton Library Book Discussion

Group if you love reading and want to share in a discussion

with others.

NEWS

Georgia O'Connor-Harding

Ph: 364 7438

georgia.oconnor@starmedia.kiwi

ADVERTISING

Elaine Moon

Ph: 364 7436

elaine.moon@starmedia.kiwi

Page 18

The best-read local newspaper, delivered to

15,657 homes every Tuesday

Linwood, Avonside, Richmond, Shirley, Burwood, Dallington,

Wainoni, Bromley, Aranui, Avondale, Bexley, New Brighton,

Northshore, Queenspark, Parklands, South Brighton.

public

meeting

Tuesday, 22 May 2018

at 7.30pm

(Refreshments from 7.15pm)

charlesworth Wetland Reserve

monitoring Results

Ecologist Denise Ford will present her

finding after 2 years of monitoring this

restored wetland. You will be amazed to hear

the number of creatures she has found now

that the wetland has been restored.

AND

Sustainability of Shellfish take

in the estuary

Canterbury University Student

Stephanie Hampson will present her survey

results to help us understand what shellfish

is being gathered and for what purpose.

WWW .VI S I O N C O LLE G E.CO. N Z

LEARN

MODERN OFFICE

COMPUTER SKILLS

Mt Pleasant Community Centre

3 McCormacks Bay Road, Mt Pleasant

Entry gold coin donation towards Godwit artwork

to be placed at Bridge Street

FREE 20 week course.

NZ Certificate in Business (Admin & Computing).

This course will cover Windows 10 and Microsoft Office

(Word, Excel and Publisher). Taught within a business context,

this programme will prepare you for the modern office.

Hours are flexible and can include night classes.

ENROL

NOW

PHONE US NOW ON:

0800 834 834

txt OFFICE to 027 557 8839

COLLEGE

50 Hazeldean Rd,

Addington, Christchurch

A division of ATC New Zealand. (Est 1984). NZQA Accredited.
---
PEGASUS POST Latest Christchurch news at www.star.kiwi

Tuesday May 15 2018 3

News

Stanmore Rd petition gains momentum

Resident calls

for 30km/h

speed limit

• By Sophie Cornish and Georgia

O'Connor-Harding

A PETITION to address safety

concerns at a "dangerous"

pedestrian crossing on Stanmore

Rd is gaining traction.

More than 500 signatures have

been gathered by Richmond

resident Gillian

Sheard in a bid

to slow traffic

down and make

the crossing more

visible to drivers.

She is calling

Deon

Swiggs

for the speed on

Stanmore Rd to

be reduced from

50km/h to 30km/h.

Ms Sheard is also pushing

for the pedestrian crossing to

either be raised or have traffic

lights placed at the Stanmore Rd/

Avalon St corner.

"I am scared like anything

there is going to be a near death

of major accident," she said.

Ms Sheard said there are a lot

of elderly and disabled people in

the area and she wants everyone

ADVOCATE: Richmond resident Gillian Sheard has started a

petition to address safety concerns at a pedestrian crossing

on Stanmore Rd.

PHOTO: MARTIN HUNTER

to be safe. The pedestrian

crossing has been a concern for

more than two years and

Ms Sheard first raised her

concerns to the city council in

2016.

She believes the problem is

drivers are too concerned about

getting through the intersection

of North Avon Rd and Stanmore

Rd and are not looking for pedestrians.

About 15,000 vehicles

use the road daily.

City council transport operations

manager Steffan Thomas

said staff had considered options

to reduce the safety risk and

the recommendation is to not

upgrade the crossing.

This was due to its relatively

low-use, no pedestrian-related

crashes, and to ensure safety

improvement funds are allocated

wisely.

He said there is no justification

to reduce Stanmore Rd to

30km/h or plans to upgrade the

crossing in the future.

The owner of Stanmore Rd's

The Sideline Sports Bar, Nikki

Bradley, said she has been there

for five years and has seen a lot of

people nearly hit on the crossing.

"It is a very dangerous crossing

. . . if you walked out onto it

expecting them to stop you are

playing with your life as far as I

am concerned," she said.

Miss Bradley said she would

like to see a similar design to the

pedestrian crossing on Williams

St in Kaiapoi, where the footpath

is built out onto the road to make

pedestrians more visible.

She is "shocked" nothing has

been done about it.

Blue Tiki Hair owner Juanita

Scandrett said the crossing is just

the "tip of the iceberg" and the

whole area is "downtrodden".

City councillor Deon Swiggs

said some simple things can

be done to make it more noticeable.

•HAVE YOUR SAY: Do you

think the Stanmore Rd crossing

near North Avon Rd is

dangerous? Email your views

to georgia.oconnor@starmedia.kiwi

Local

News

Now

In Brief

Fire rages, homes at risk

COMMUNITY MEETING

A community engagement

meeting allowing Richmond

residents to drop in and discuss

issues with city councillors will

be held tonight. Residents will

have the opportunity to speak

to city councillors, including

Pauline Cotter, Deon Swiggs

and Papanui -Innes Community

Board chairwoman Ali Jones.

It will be held from 6-8pm

at Avebury House, Eveleyn

Couzins Ave.

DUDLEY CREEK WORK

The city council has confirmed

work on Dudley Creek will be

finished by the end of August,

bringing a reduced flood risk to

more than 585 properties. With

the work completed to date, and

the city council's food intervention

policy, the city council has

reduced the risk to all houses in

the Flockton area that were previously

at risk of frequent flooding.

For more information, go to

www.ccc.govt.nz/dudleycreek

PRESTONS SPEED LIMIT

The public can have a say on the

proposed 40km/h speed limit

in the Prestons subdivision.

To give your feedback, go to

www.ccc.govt.nz/the-council/

consultations-and-submissions/

haveyoursay/show/148

Still Pedalling!

Full Workshop Services:

• WOF's • Service Checks

• Wheel Alignment • Brakes

• Clutches • Tyres etc

All makes & models

Trevor Crowe's been

involved with cars for a

while. You can benefit

from his experience at...

Subaru Specialists

518 Moorhouse Ave (East end) | P: 379 7615

W: crowesport.co.nz | E: service@crowesport.co.nz

HUNTER JUNIOR

(Leather)

Great new colours from size 7.

FROM $105 EACH

47c Garlands Road, Woolston

Phone 389 3431

www.thefootwearfactory.co.nz

19→27

MAY

2018

Innovation that's good for the world

Join us at over 50 Christchurch events,

more info → techweek.co.nz

#twn18 | #goodfortheworld | #ChChTWNZ18

Presenteds by

Principal sponsor

Regional partner

We've been trusted to look after hundreds

of properties all over Christchurch.

You can trust us to look after yours too.

Property Manager of

the Year NZ 2015/16

Ray

Hastie

Manager

027 448 8225

Paula

Hastie

Inspections

Administrator

027 588 8822

Chloe

McGill

Property Manager

021 914 332 Rebekah

Whalley

Accounts

Administrator

03 331 6755

Tom

Brittenden

Property Manager

021 054 5003

Local Experts – Citywide Knowledge

Phone (03) 331 6755

rwferrymead.co.nz

Nominated for Ray White New

Zealand Property Management

Office of the Year, 2016/17

Prier Manson Real Estate Ltd Licensed (REAA 2008)
---
4 Tuesday May 15 2018

Latest Christchurch news at www.star.kiwi

our Local Views

Community space wanted

Dallington

Residents'

Association

chairwoman

Bebe Frayle

writes about

the suburb's

need to

for a new

community hub

The people of Dallington have

been deeply affected by the earthquakes.

Two-thirds of the area has been

depopulated in the development of

residential red zone, and traditional

community meeting places that

were important for community

connectedness were lost.

This has created fragmentation

and social isolation in our community

– we do not have a place to

meet, to gather, to talk about our

issues.

We have watched with interest as

other areas have had beautiful new

community spaces built.

We do not begrudge them, but

many Dallington residents feel that

they have been left out of the postearthquake

community regeneration.

Looking at the Long Term Plan,

it does not seem that this trend is

going to change.

There is no capital expenditure allocated

to the Burwood Ward in the

LTP for community initiatives.

We felt that we have waited

patiently for our turn, but that our

turn may never come.

The Coastal-Burwood

Community Board has been

provided funding for a feasibility

study to consider locations and uses

of a community facility, but there

is little point in completing this if

there is no funding available for us

to built our hub.

We recognise that it is not possible

for every suburb in the east to get

new community facilities.

So, we have been working collaboratively

with the residents associations

in Burwood and Avondale to

think of ways to get a community

hub for our residents.

Our community is prepared to

think creatively to get the community

space we need, but this will only

get us so far.

We don't have the resources to

raise our own community centre -

we need the city council's help with

this.

We are ready to move on, and we

are looking forward – soon there

will be a green spine winding its way

through our community, and great

opportunities will come with this.

We said:

The New Brighton community

fridge is feeding

80-100 families a day

You said:

Claire Arthurs – All food

banks have the problem of

those who don't really need it

taking it. I spoke to one charity

nearly 20 years ago about

this, said they were aiming to

have a cross-charity database

to prevent people doing their

"weekly shop" at food banks.

Last I heard, this was not

established. However, most

users are genuine.

Heidi Meinzer – Sad that

it also has people who don't

even need it come and take

the food. It's a great idea but

really needs to be controlled

more.

Sandie Stewart – I think

PEGASUS POST

HORNCASTLE ARENA

June 29 - July 1 10AM - 5PM

TICKETS ONLINE: starhomeshow.kiwi

FOUNDER:

Trudy Burrows

formed the

New Brighton

community

fridge concept

last year which

now feeds

about 80-

100 families

daily. PHOTO:

MARTIN

HUNTER

it's a wonderful idea,well

done, sad that some people

take advantage, there are so

many needy.

Nicole Quilter – This is

wonderful! Do you accept

fresh baking?

Ailsa Lee – Wonderful

work. Bless you for it.

Lauren Johnston – Such

a great idea.

Candyce Kamo-Collie –

Beautiful.

Arona Fiaalii – Good local

bollos.

CHARLESWORTH

WETLAND RESERVE

PLANTING DAY

Sunday, 20 May 10.00am - 12.00 noon

• Curtains/Voile • Roller Blinds • Venetian Blinds

• Roman Blinds • Vertical Blinds • Vision Blinds

• Tracks/Rods • Curtain Accessories

FrEE pair of tassel tiebacks with any drapes purchased

in store (when you mention this ad, limited time only. Conditions apply)

Expandatrack Ltd

31 Stanmore Road (Between Cashel & Tuam Sts)

Phone (03) 354 5525

Open Monday to Friday 9am-4pm & Saturday 10am-4pm

COMMUNITY PLANTING

CHARLESWORTH

WETLAND RESERVE

Charlesworth Street, off Ferry Road

(next to Trees for Canterbury Native Tree Nursery)

Sunday, 20 May 10.00am - 12.00 noon

What to Bring?

Gloves, Suitable Footwear, Water Bottle, Hat, Jacket

Free

Spot prizes for children

Supported by

CCC Park Rangers / Trees for Canterbury

Environment Canterbury and the Rata Foundation Trust

www.estuary.org.nz
---
PEGASUS POST Latest Christchurch news at www.star.kiwi

Tuesday May 15 2018 5

News

Old Aranui Primary may rise again

• By Sophie Cornish and Georgia

O'Connor-Harding

A CHURCH has expressed

an interest in using the former

Aranui Primary School site.

St George's/Iona Presbyterian

Church on Breezes Rd is looking

at purchasing the school site

when it becomes available.

Reverend Sheena Dickson has

described it as a "brave and bold

move" for the small parish of 25.

"What we are thinking of is

a place for the community to

worship . . . the possibilities are

exciting," she said.

The church's former site

was severely damaged in the

February 22, 2011, earthquake

and it currently doesn't have a

permanent place to worship.

The city council currently allows

the church a permit to use

a house on Pages Rd, but it will

run out soon.

It also shares its spaces with

parishes, including the New

Brighton Union Church and

Linwood Avenue Union Church.

The school site, located on 257

Breezes Rd, is currently being

passed on from the Ministry of

Education to Land Information

New Zealand to start the disposal

process.

The MoE is determining if

the site is required for another

POTENTIAL: St George's/Iona Presbyterian Church has

expressed an interest in purchasing the former Aranui Primary

School site when it becomes available.

public work. The primary school

closed in 2016 when it merged

with Aranui High, Avondale

Primary and Wainoni School

to form Haeata Community

Campus.

Rev Dickson said the church

would like to keep the existing

tenants on the school site as

it wants to be "engaged in the

community as much as possible."

The site is currently used

by under-five parenting programme,

The Incredible Years,

and alternative education programme,

Te Kupenga o Aranui.

"It is very tentative at the moment

for us . . . we would have

to have huge support from the

wider church," Rev Dickson

said.

Coastal-Burwood Community

Board member Tim Baker believes

the idea "will be brilliant"

and a "massive

benefit to the

community."

Mr Baker

said retirement

villages are lacking

in the area

and people are

being forced to

move out of their

communities to

receive this care.

"They are trying to stay in

their houses for as long as

Tim Baker

they can because they don't want

to move out of their communities."

He believes it would be a waste

of money to pull the school

buildings and hall down.

"If (the church) bought the

site, they could use the buildings

and hall for church purposes,

and rooms could also be rented

to tenants, some of which are

already there."

A timeline of when the property

will be purchased could not

be confirmed.

Local

News

Now

Organisation

receives

boost from

engineering firm

Fire rages, homes at risk

THE CANTERBURY Down

Syndrome Association has

received a boost of $12,420 from

structural engineering firm

Constructure.

To celebrate its 10th anniversary,

Constructure launched a

Givealittle page in April, inviting

its customers to donate to a good

cause as an 'unorthodox birthday

present.'

The firm donated $10,000 and its

clients donated $2420.

Constructure founder Cory Bedford

said he was excited that his

clients got into the spirit.

"I really want to thank all our

customers for their generosity that

will make a big difference for a

small local charity like the CDSA."

The CDSA provides support,

education, and advocacy to its

members, their families and wider

community.

Said CDCA chairwoman Diane

Mulholland: "We are just overwhelmed

and grateful that this

amazing gift got even bigger."

The $10,000 gift was not chosen

randomly but symbolises the

target of 10,000 projects the Constructure

team wanted to complete

by the anniversary date.

WIN

A SHOPPING SPREE

FOR YOU AND

THREE FRIENDS! *

Corner Marshland

& New Brighton

Road, Shirley

thepalms.co.nz

*Receipts can be collated.

Excludes Countdown.

Collated spend must be on

the same day. Terms and

Conditions apply.

Spend $150 between 14 th – 27 th May

and you will go in the draw to WIN

a fabulously fashionable shopping

spree worth $5,000 including:

Personal limo to The Palms

Makeover and manicure

$1,000 worth of clothing each

Dinner, drinks and ride home

TPS32056
---
6 Tuesday May 15 2018

Latest Christchurch news at www.star.kiwi

PEGASUS POST

NEW LOCATION!

OUTLET

STORE

Barbadoes St

99 FERRY RD, CHRISTCHURCH CENTRAL

St Asaph St

Ferry Rd

OUTLET

STORE

Fitzgerald Ave

EX DISPLAY ITEMS

B & C GRADE WHITEWARE

OVERSTOCKED LINES

SCRATCH & DENT ITEMS

EX SHOWROOM SELLOUT

FRIDGE FREEZERS

WASHING MACHINES

DRYERS • COOKING

SMALL APPLIANCES

HEATING • LOUNGE SUITES

DINING SUITES • BEDS

BEDROOM SUITES

AND HEAPS MORE!

LIMITED OFFER!

WHILE STOCKS LAST

400 LITRE

TOP MOUNT

FRIDGE

FREEZER

(RDNE400K30ZW)

10 ONLY

AT THIS PRICE

$

798

BARTER, HAGGLE & SHAKE HANDS ON A DEAL FOR YOU!

Valid Tuesday 15th - Monday 21st May. Outlet Store items are over stocked, end of line, scratch & dent, ex display, ex repair items and more.
---
PEGASUS POST Latest Christchurch news at www.star.kiwi

Tuesday May 15 2018 7

News

'All Blacks of singing'

win 11th national

Sweet Adelines title

WINNING IS now second

nature for the Christchurch

City Chorus, which took home

the national Sweet Adelines

competition title for the 11th

time.

The group has finished first

in every national barbershop

competition it has entered since

forming in 1987, and has been

referred to as the "All Blacks of

singing."

Singing under the direction

of musical director Virginia

Humphrey-Taylor, the team is

made up of 130 women, mainly

from Christchurch.

In the competition held earlier

this month, contestants were

assessed by four international

judges from the United States

and Sweden.

Said Ms Humphrey-Taylor:

"The judges were excited to see

a performance of such a high

international level. The beautiful

singing and the high energy field

that was delivered was thoroughly

enjoyed."

As the national champion,

the group will represent New

Zealand at the Sweet Adelines

international competition in

New Orleans next year.

•Would you love to sing in

a four-part harmony? Join

the Christchurch City Chorus

at its free open night on May

23 at 8pm at the Harmony

Church, 220 Antigua St.

UNBEATABLE:

The

Christchurch

City Chorus

has won the

national Sweet

Adelines

competition

for the

11th time.

PHOTO: NEIL

MACKENZIE

•From page 1

But the city council's head of

urban regeneration, urban design

and heritage Carolyn Ingles said

the plan has not been deferred.

"The draft LTP allocates more

than $4.5 million in funding to

upgrade Marine Pde and Brighton

Mall . . . and for tree pits and

rain gardens in the commercial

centre," she said.

The plan also includes additional

funding for New Brighton

projects over the next three years

including $9.7 million for phase

one of the hot water salt pools,

the South New Brighton Park

Development and the Pages Rd

Bridge replacement.

Ms Ingles said the master plan

always anticipated projects would

be delivered over a short, medium

and long-term time-frame.

It comes after Eastern Vision

raised concerns over the master

plan's progress to the city council's

Long Term Plan 2018-2028.

In a submission it said, if the

plan is not moved forward, "irreparable

damage will be done to

the communities and businesses

served by this hub".

Eastern Vision spokesman

Evan Smith told Pegasus Post

the master plan has never been

delivered on, a part from on the

foreshore.

He said when he talks to

business, landowners and community

organisations they are

very "disillusioned" and have no

confidence in the city council or

DCL.

Mr Smith said there was a

"large outcry" from New Brighton

in the last LTP.

"This time they are so disillusioned,

so disengaged with the

process they thought why even

bother to say anything anymore.

They have given up," he said.

So far, as part of the plans the

New Brighton Beachside Playground

has been completed and

work is yet to begin on the New

Brighton hot pools.

Mrs Douglas said while

the playground is "lovely" for

residents, it is not going to bring

HORNCASTLE ARENA

June 29 - July 1 10AM - 5PM

TICKETS ONLINE: starhomeshow.kiwi

Businesses 'disillusioned' with council

LITTLE HOPE: New Brighton businesses are not expecting

the city council and Development Christchurch Ltd to follow

through on the New Brighton Centre Master Plan.

people into the area.

Crema Cafe owner Raj Kaur

said the only reason she is keeping

the business is the hope the

city council will improve the

area.

"I hope they do something. It is

really heartbreaking," she said.

But city councillor Glenn Livingstone

said he thinks progress

is going well with the playground

already in place and progress on

the hot pools under way.

•HAVE YOUR SAY: Do you

have confidence the city

council will carry through

on the New Brighton Centre

Master Plan? Email your

views to georgia.oconnor@

starmedia.kiwi
---
8 Tuesday May 15 2018

Latest Christchurch news at www.star.kiwi

News

Local

News

Now

PEGASUS POST

Fire rages, homes at risk

Surf lifesavers up for awards

PEGASUS CLUBS are wellrepresented

with finalists

in the 2018 Surf Life Saving

Canterbury-Tasman awards of

excellence.

New Brighton (four), North

Beach, (seven), Waimairi (eight),

Spencer Park (five) and South

Brighton surf lifesaving clubs are

all up for awards on Saturday.

Every year, regional awards of

excellence ceremonies are held

around the country to officially

recognise SLSNZ members for

their work and dedication.

The Canterbury-Tasman

awards will be held at Sixty6 in

the Christchurch Casino and

include lifeguards from the

South Brighton, New Brighton,

North Beach, Waimairi, Taylors

Mistake, Sumner, Spencer Park,

Waikuku, Rarangi, Nelson,

Buller, Nelson and Kotuku clubs.

The evening will begin with

the presentation of service

awards, followed by the top junior

and senior age group awards.

Then all the champions' trophies

will be presented from the

Canterbury championships held

during the past season, followed

by the presentation of major

sporting and lifesaving awards,

such as the lifeguard of the year

and volunteer of the year.

The evening will conclude with

the announcement of club of the

year.

The winners of each category

from the awards are then automatically

selected as finalists in

the national SLSNZ awards of

excellence in September, where

national award winners are announced.

AWARDS NOMINEES: Surf lifesavers from clubs in the Pegasus area look set to scoop plenty of

awards at the regional awards night later this month.

PHOTO: SLNZ

Awards finalists:

•Coach of the year

Ben Grant – Waimairi

Dave Smith – Taylors Mistake

Mark Robberds – Sumner

James Gaskell – New Brighton

Peter Stevenson – Waikuku

•Te Onepoto – junior surf

coaching

Kirsty Cullen – New Brighton

Adam Leatherland – South

Brighton

Craig and Tisha Jamieson –

Taylors Mistake

David Jones – Sumner

Dean Le Warne – North Beach

Mike Walker – Waimairi

•Rookie lifeguard of the year

Brieanna Cox – Taylors Mistake

Callum Sullivan-Roberts –

New Brighton

Cheyne Milligan – North

Beach

Tim Currey – Spencer Park

Charlie Cadillac – Sumner

•Instructor/examiner of the

year

Linda Poulsen – Spencer Park

Kate Jamieson – Taylors Mistake

Caitlin Ruddle – Waimairi

Jake Koekemoer - Sumner

•Lifeguard of the year

Justice Shaw-Cross – Spencer

Park

Patrice de Beer – Taylors

Mistake

Fraser Smith – Waimairi

Harry Taylor – Sumner

Mikeely Milligan – North

Beach

•Sports person of the year

Louis Clark – Taylors Mistake

Xyron Burns – North Beach

•Sports team of the year

Sumner – under-16 board relay

team

Taylors Mistake – open men's

taplin team

North Beach – Under-19

women's surf boat team

Waimairi – open women's

canoe team

New Brighton – open women's

surf boat

Nelson – under-20 women's

IRB team

•Surf official of the year

Lance Cleeve – Waimairi

Tania Bailey – Waikuku

•Innovation of the year

Dean Le Warne – Board Fins –

North Beach

Aaron Harris – Development

Weekends – Waikuku

Tom Denman, Kate Suter,

Blair Quane – Advance Life

Guard team – Sumner

•Regional guard of the year

Fraser Smith – Waimairi

Jake Simpson – Sumner

Callum Jeffery – Waimairi

Tom Webb – Waikuku

Sam Blackmore – Spencer Park

•Volunteer of the year

Dean Le Warne – North Beach

Sam Baker – Spencer Park

Craig Jamieson – Taylors

Mistake

Huntley Quinn – Sumner

Community garden group celebrates

•From page 1

The group has various projects

under way including running a

shop on Wednesdays and Saturdays

selling feijoas, walnuts, bees

wax and food wraps, kale powder

and lavender cream.

"People come in and buy. It

is just a huge compliment

people are supporting what

we are doing," Miss Allden

said.

The group has started a native

gardening section, planted heritage

and apple trees and weaved

garden beds.

Last week co-founder Hayley

Guglietta made a submission to

the city council's Long Term Plan

2018-2028 to discuss options for

the garden becoming an extension

of Avebury Park.

It is hoping the city council

will take over the land to give

certainty the garden is permanent.

Miss Alden said the ultimate

goal is to have a clubhouse in

2021 so it can do more workshops,

sell produce and potentially

run a bike hire, picnic areas

and have a outdoor pizza oven.

"We are applying for funding

but the idea is we will be selfsustaining,"

she said.

SIT OPEN NIGHT

CHRISTCHURCH CAMPUS

60 Waterloo Road, Hornby, Christchurch

TUESDAY, 12 JUNE 2018

5PM - 7PM

CHECK OUT MID YEAR STUDY OPTIONS

Come and discuss your study options with our staff

For more info email sit@sit.ac.nz

0800 TO STUDY

www.sit.ac.nz
---
PEGASUS POST Latest Christchurch news at www.star.kiwi

Tuesday May 15 2018 9

FREE

11mm

high

density

luxury

FREEunderlay

ON SELECTED PRODUCTS *

nylOn

newport

• Commercial Heavy

Duty

• Solution Dyed Nylon

• Loop Pile

• 5 Colours

FREE

UNDERLAY

$109 90

POlyester

sanctuary

• 55oz

• Polyester

• Extra heavy duty

FREE

UNDERLAY

$119 90

nylOn

Brescia twist

• 50oz

• Solution dyed nylon

• Extra heavy duty

FREE

UNDERLAY

$139 90

nylOn

Windsor twist

• Extra heavy duty

• 36oz solution dyed

nylon

• Cut pile

• 11 Colours

FREE

UNDERLAY

$119 90

LIMITED

OFFER

garage Carpet

• 6mtr x 6mtr garage fully installed for $900

some conditions apply.

$900

Manufacturers

Clearance

• Thousands of metres

• Slightly Imperfect

CLEARANCE

FrOM

$39 90

2 Metre Wide

Vinyl

• Selected patterns

HALF

PRICE

nOW

$25 00

Per Mtr

WOOl

Pure Wool

Cut pile

• Extra Heavy Duty

• 80/20 Wool

• Cut Pile

• 4 Great Colour

FREE

UNDERLAY

$119 90

312 Wilsons road north, Waltham Phone 366 0070

www.carpetkingdom.co.nz | Mon - Fri 8am - 5pm | sat 10am -1pm

Q Card Finance now available

Free no obligation measure & quote (conditions apply.)
---
10 Tuesday May 15 2018

Latest Christchurch news at www.star.kiwi

News

Retirement

village residents

win battle over

bus access

DIANA ISAAC Retirement

Village residents have won

the battle of the buses after

Environment Canterbury bent

over backwards to include them

on a new route.

About 80 pensioners living in

the retirement village on Philpotts

Rd, Mairehau, presented a petition

to ECan, pleading for it to

reconsider route changes to the

Orbiter bus which would see their

closest bus stop move 900m away

from the village.

ECan originally proposed cutting

their bus route outside the

village and moving it 1km away

to Innes Rd. But, during a packed

meeting in the village on Friday,

ECan staff presented a new route.

ECan chairman Steve Lowndes

said he hoped residents liked what

had been planned.

"I told you (at the protest) we

would bend over backwards to

find a solution to suit you."

The new proposal will see the

No 44 Shirley bus connect close to

the village, and a new stop will be

provided 150m from the entrance.

The bus will run every half

hour, with extended hours for

Diana Isaac Retirement Village

staff working until 9pm.

Peni gets 'new perspective' in bush

A HAEATA Community

Campus student has walked

away with a new perspective on

life after taking part in a popular

outdoor adventure programme.

Year 13 student Peni Junior

Iva, aka PJ, has returned from

three weeks at Outward Bound.

He went with 13 other

"watchmates", all from different

parts of the country, and all

with their own individual

backgrounds.

"Everyone was different, they

all had inspiring stories," said PJ.

He was awarded a scholarship

to attend the 21-day course at

the Outward Bound centre in

Anakiwa, Queen Charlotte

Sound.

Its 'school leadership' course

is designed to help young people

become fitter and stronger and

further develop their social

skills and confidence.

The outdoor experience was

a highlight for PJ. "We did a

lot of activities, like kayaking,

tramping, rock climbing, high

ropes and sailing, all of them

were new for me."

Rock climbing while

blindfolded gave PJ the

opportunity to trust himself and

trust others.

"I was shaking and my arms

were giving up, but once you get

to the top and see the amazing

IN THE WILD: Peni Junior Iva (inset) stayed in a camp like this as part of his Outward Bound

experience.

view, you are proud of yourself."

Learning mental toughness

and how to handle frustration

and anger were some key skills

that PJ learnt through the

various challenges.

The staff taught him about

"living in the moment" and

"not stressing about things you

cannot change".

The solo experience, which

involves spending two nights

and two days alone in the bush,

gave PJ a chance to reflect on

life.

Describing the experience,

PJ said "they drop you off at

night, so I just focused on what

I needed to do to get set up and

then getting to sleep as soon as

possible."

While on his own, he thought

about all the good things in his

life that weren't with him there,

PEGASUS POST

HORNCASTLE ARENA

June 29 - July 1 10AM - 5PM

TICKETS ONLINE: starhomeshow.kiwi

particularly his family.

"I missed my nephew a lot,"

he said.

It was hard to say goodbye to

his 'watchmates' but good to

be home. And his family has

noticed a change – they say he's

more patient.

What would he say to others

interested in Outward Bound?

"Just do it, live in the

moment," PJ said.

Crispy Crunchy Batter

BLUFF OYSTERS AVAILABLE

* Specialty fish cooked to order … Blue Cod, Gurnard, Sole, Hoki, and more!

Gluten free products available

*subject to availability

• Souvlaki • Great Burger Selection

Gluten Free products can be purchased uncooked to take home

GOURMET SEAFOODS QEII

Ph: 388 2531, QEII Shopping Centre, 251 Travis Rd

Mon - Wed 11.30am - 8.30pm (Tues from 4.30pm), Thurs - Sat 11.30am - 9.00pm

Sun 12noon - 8.30pm, Daily break 3.15 - 4.30pm

Best

Motorbuys

TM

ANYTHING WITH A MOTOR!

The South Island's leading motoring publication

FREE every Friday at hundreds of locations

around the South Island, and it's available online!

www.bestmotorbuys.co.nz

For advertising enquiries, ph Lea Godfrey 021 277 3086

Taking Care of family

Wills, Powers of Attorney, Family Trusts, Rest Home Subsidy,

and Separation and Relationship Property Agreements,

we'll take care of you and your family.

3 locations: New Brighton, Styx Mill & Kaiapoi

www.pierlaw.co.nz
---
PEGASUS POST Latest Christchurch news at www.star.kiwi

Tuesday May 15 2018 11

Suite

sale

now on

Discounts

12

months

Storewide interest

free

SIERRA

CORNER SUITE

$3,825 $4,500

The Sierra is a soft luxurious

corner suite with built in

motorised recliner action.

The Sierra can be made

to suit your decor as it is

available in a range of fabric

and leather options. Also

available as a 3 Seater, 2

Seater or Chair options.

SEVILLE 3 SEATER

Available in a range of fabrics with complementing metal legs, the Seville Suite

is sleek and stylish, suitable for any style of home. Constructed of a plywood/

solid wood base with elastic webbing and no-sag springs.

AMSTERDAM CORNER SUITE

With adjustable headrests, this contemporary lounge suite is smart and

functional. Pictured as a Chaise, the Amsterdam is available in a 2 Seater, 2.5

Seater, 3 Seater and a left or right facing Chaise. Available in a range of fabrics.

$1,825 $2,150 $3,395 $3,995 $1,650 $1,950

TOULON 3 SEATER

The Toulon is an elegantly designed lounge suite with beautifully detailed

cushions and timber feet. With a wide range of fabric options, this suite can be

made to complement your existing decor.

Free Fabric

on all nEw ZEalanD maDE SuitES. Choose your design and pay only the frame price

then select the fabric of your choice from the Warwick Orange, Yellow or Green price

range for FREE! Or the equivalent priced fabrics from James Dunlop or Charles Parsons.

MORGAN LOUNGE SUITE BY KOVACS

The modular layout of the Morgan with its high back and thicker seat cushions

allows this suite to be tailored to your needs. You can then continue to create a

unique design for your home with a choice of fabrics to suit your decor.

JED LOUNGE SUITE BY KOVACS

Classic, clean and contemporary, the Jed sits upon a charcoal steel base which

makes it suited to any environment. With edges softened by gentle curves and

the careful balance of aesthetic appeal and physical comfort, the Jed provides

simplicity and style.

MARLOW LOUNGE SUITE BY KOVACS

The stunning Marlow 3 Seater looks great from any angle with its angled

arms and complementary slanted legs. The buttoned detail adds another

layer of luxury in this contemporary setting. Available in a range of fabrics to

suit your decor.

ASPEN LOUNGE SUITE BY JADE

The Aspen Corner Suite not only looks good, but can be tailor made to suit

your living area. The Aspen is available to be made as a 4 Seater, 3.5 Seater, 3

Seater, 2.5 Seater or as a chair. Made to order in the colour of your choice.

JIGSAW LOUNGE SUITE BY KOVACS

A compact settee with a stylish, contemporary feel. Its proportions are low and

sleek with slim arms allowing maximum seating comfort. The back cushions are

shaped to be easily raised giving extra seat depth and back height to support

shoulders.

ZOE CHAIR BY KOVACS

The Zoe design has instant appeal

for those who want the best blend

of quality and comfort. Quality with

lasting comfort.

LOUIS CHAIR BY KOVACS

Instant appeal for those who want

the best of quality, comfort and

contemporary design.

CITY: 100 Moorhouse Avenue | HOMEBASE: 199 Marshlands Road

Open Monday-Friday 9am-5.30pm, Saturday-Sunday 10am-5pm

FREE in-home consultation

Struggling to find that special piece or don't know where to start?

Why not take advantage of our FREE in-home consultation in

which one of our experienced consultants will come to your home

to discuss form, function and flow, all at no cost and obligation free.

To book a consult, phone 0800 749 999 or

email consult@global-living.co.nz

0800 749 999 | global-living.co.nz | Locally owned and operated
---
12 Tuesday May 15 2018

Latest Christchurch news at www.star.kiwi

PEGASUS POST

RICHMOND DISCOUNT

Furniture and Bedding - The Best Little Furniture Shop in Town

BEDROOM FURNITURE

BEDS, TALLBOYS, MIRRORS, CABINETS, CHESTS & MORE!

Queen Frame

& Mattress

Ther-a-pedic Mattress & Base

Reversible pillowtop innersprung

Lowboy

6 Drawer

1130x410x820

Duchess with

Mirror

1090x410x820

NZ MADE

Solid Timber

Free

Standing

Mirror

ONLY

$599

SINGLE $499

KING SINGLE/DBLE/ 3/4 $599

QUEEN $699

ONLY

$449

ONLY

$549

WAS $169

ONLY

$129

Midi 7 Drawer

Scotch Chest

975x760x410

With metal runners.

Also available in Black.

Bedside Cabinet

540x460

With metal runners.

Also available

in Black.

7 Drawer

Scotch Chest

1140x800x410

Also available in black.

Jumbo 4

Drawer Chest

1140x800x400

NZ MADE. Metal runners.

Also available in black.

Tallboy 4 Drawer

600x400x900

Towerboy 6

Drawer

1260x460x410

With metal

runners.

Also

available

in Black.

Bombay

Chest

ONLY

$349

ONLY

$269

FROM

$130

ONLY

$299

ONLY

$269

ONLY

$199

ONLY

$220

Bombay

Bedside

ONLY

$129 EACH

FURNITURE

STORAGE SHELVES, BOOKCASES, BUFFET UNITS, DINING TABLES, HALL TABLES, SIDE CABINETS & MORE!

White Bookcase/

Storage Shelf

800x1600x300

Foundry Display

Cabinet

900x1800x420

Timber Bookcase

600x320x1200

Buffet Unit

1500x800x420

Buffet

Unit

1175x

430x840

Nest of Tables

Entertainment

Unit

1530x520x660

Solid Timber.

Buffet Unit

with Wine Rack

1300x840x430

ONLY

$199

ONLY

$599

ONLY

$199

ONLY

$549

ONLY

$399

EACH

ONLY

$149

ONLY

$499

Entertainment Unit

1900x600x450

2 Draw Entertainment Unit

1200x600x450

Entertainment Unit

1100x400x480

Entertainment Unit

980x600x460

Solid Timber.

Hall Tables

2 Drawers

ONLY

$279

ONLY

$499

ONLY

$399

ONLY

$299

ONLY

$299

3 Piece

Dining Suite

600x600

2 Draw Hall Table

1200x810x420

ONLY

$379

Side Cabinet

600x600x450

ONLY

$199

Hall Table

1500x800x420

ONLY

$449

Coffee Tables

Solid Timber.

ONLY

$169

1200x600

ONLY

$329

Coffee Table

1200x400x600

ONLY

$399

ONLY

$399

Hall Tables

3 Drawers

ONLY

$349

7 Drawer TV/DVD Chest

760x1140

x410

(Gap 150)

Corner TV Unit

1000x750x550

Entertainment Unit

Solid

Timber

Buffet

Units

Buffet

700x

320x

1070

ONLY

$299

ONLY

$299

ONLY

$649

ONLY

$299

ONLY

$299

233 STANMORE ROAD • PHONE 03 389 0536

WE ACCEPT EFTPOS, VISA AND MASTERCARD... PARKING AT REAR
---
PEGASUS POST Latest Christchurch news at www.star.kiwi

Tuesday May 15 2018 13

Parker to tee off against world's best

SPORTS

• By Gordon Findlater

CHRISTCHURCH club golfer

Tom Parker will tee off with

the New Zealand team at the

junior golf World Cup in Japan

next month.

Parker will join Juliana

Hung and Hiroki Miya,

of the Russley club, in the

seven-strong team, alongside

Aucklanders Carmen Lim and

Rose Zheng, Kevin Koong

from North Harbour and

Shaun Campbell from Bay of

Plenty.

The selection comes on

the back of what has been

a remarkably successful

12 months for the three

Canterbury golfers.

It will be Parker's second

time competing in the

tournament. Last year he

finished 24th overall and

helped the New Zealand boys

team to finish sixth.

"It's my favourite event I've

ever played in," said Parker.

"The course layout is

awesome. It's perfectly

manicured, narrow with either

tree trouble or out-of-bounds

either side so you've got to hit it

straight."

After finishing his final year

SWING: Tom Parker (above) will join Hiroki Miya and Juliana Hung in the New Zealand team

to tee off at the junior golf World Cup in Japan next month.

at Christchurch Boys' High

School in 2017, Parker has

been able to concentrate on his

game before beginning college

at the University of Oregon in

the United States.

With a strong support unit

around him, he's confident of a

good result in Japan.

"I feel like going back

there this time I have extra

confidence. . . . I've been there

before and will be doing a few

things differently this time

around," said Parker.

He will be joined in the four

strong boys team by Miya, who

is having a year to remember

after the biggest win of his

young golfing career at the

Faldo Series Asia grand-final

in Vietnam in March.

"I'm really excited. I think

we have a really strong team

and have an opportunity to do

really well," said Miya.

Hung will look to continue

a strong run of results in

New Zealand and abroad when

she represents the girls team.

The New Zealand stroke

play champion represented

her country last week at

the Queen Sirikit Cup –

Asia-Pacific amateur ladies

golf team championship in

Thailand.

The junior golf World Cup

will feature 15 men's and nine

women's teams.

The tournament runs from

June 10-15 at the Chukyo Golf

Club Ishino course.

Having three Christchurch

golfers named in the team is

a rare accomplishment and a

strong sign of a talented young

crop of golfers emerging in the

region.

"We are very proud of the

achievement to have Juliana,

Tom and Hiroki selected

to represent New Zealand

at the junior World Cup

event, it's quite a remarkable

achievement," said Canterbury

Golf development manager

Rachel Thow.

"These players have

worked hard to earn their

selection in this team and will

gain valuable international

experience amongst some of

the best junior players in the

world."

•More sport, page 15

Welcome Phillipa Shaw

The partners of Harmans are delighted to announce that Phillipa Shaw

has joined the firm as an Associate and now leads our renowned Seniors

Law Team. In addition to her senior law expertise, Phillipa specialises in

property and private client matters, and has built a strong following of

loyal clients throughout her career.

P 03 352 2293 A 485 Papanui Rd, PO Box 5496, Christchurch 8542

www.harmans.co.nz

Cnr Keyes & Bowhill Rd

North New Brighton

Ph: 382 0867

Email: info@framencopy.co.nz

www.framencopy.co.nz

Design & Print

Business Cards

Flyers

Photocopying

Typing

Binding

Scanning

Laminating

up to A0 Plan Printing

T-Shirt Printing

Signage

Picture Framing

and so much more…….

FOR ALL YOUR PRINTING REQUIREMENTS
---
14 Tuesday May 15 2018

Latest Christchurch news at www.star.kiwi

PEGASUS POST
---
PEGASUS POST Latest Christchurch news at www.star.kiwi

Tuesday May 15 2018 15

SPORTS

FOCUSED: Shirley's Heneli Moala sets his sights on a loose ball.

SBHS go down to Lincoln

in another close contest

SHIRLEY BOYS' High School's

second half rally wasn't enough

as a late penalty saw them lose

18-20 to Lincoln Combined on

Saturday.

SBHS had trailed 12-6 at halftime

in their UC Championship

round two fixture at Lincoln

High School before they came

to life.

Two tries to open the second

half saw them turn their six

point deficit into a six point lead

midway through the final stanza.

While Lincoln replied with an

unconverted try of their own,

SBHS cling to a one point advantage

until the final minutes.

SBHS had the chance to

extend their advantage with

several long-range penalty goal

attempts, but each failed to split

the uprights. Lincoln calmly slotted

the match-winner 5min from

full-time.

SBHS will look for their first

PHOTOS: KAREN CASEY

win of the campaign when they

face Marlborough Boys' College

in their annual sports exchange

at home next Tuesday.

•Round two results: Lincoln

20, SBHS 18; Nelson

College 83, Roncalli Aoraki

7; Marlborough Boys 30,

St Andrew's College 17;

Waimea Combined 18,

Mid-Canterbury Combined

15; Christ's College 67, St

Thomas of Canterbury College

3; Rangiora High School

20, St Bede's College 17.

•Standings: Nelson College

10pts, 1; Christ's College

10pts, 2; Marlborough Boys

10pts, 3; Rangiora 8pts, 4;

CBHS 5pts, 5; St Bede's

5pts, 6; Lincoln 5pts, 7; St

Thomas 5pts, 8; Waimea

4pts, 9; SBHS 2pts, 10; Mid-

Canterbury 2pts, 11; TBHS

1pts, 12; St Andrew's 0pts, 13;

Roncalli 0pts, 14.

GET OFF:

(Above) –

Tom Jack

puts a

determined

fend on

Lincoln's

Sean Lemon

(Left) –

Tasipale

Valavala

attempts

to get past

a Lincoln

tackler.

IN SPACE: Waitangi Tuisuga

makes a break in midfield.

style

noun

elegance and sophistication.

synonyms: flair, grace, poise, polish, suaveness,

urbanity, chic, finesse, taste, class, comfort,

luxury, affluence, wealth, opulence, lavishness.

MAGAZINE

STYLE.KIWI
---
16

Tuesday May 15 2018

Latest Christchurch news at www.star.kiwi

PEGASUS POST
---
PEGASUS POST Latest Christchurch news at www.star.kiwi

Tuesday May 15 2018 17
---
18 Tuesday May 15 2018

Latest Christchurch news at www.star.kiwi

KIDSTUFF

Kids love CASPA!

PEGASUS POST

Email julia.evans@starmedia.kiwi

by 5pm each Friday

CASPA (Creative After School

Programmed Activities) incorporating

PAPA JACKS offers children the opportunity

to be creative, make new friends and try

new experiences all within a safe, nurturing

environment. CASPA offers working parents

an affordable after school and school holiday

programme that their kids just love!

CASPA attributes its success to the variety

of activities on offer as well as the convenience

and affordability for parents. CASPA kids

enjoy an exciting range of activities including

sports, music, games, drama, arts and craft

as well as fun trips. Previous themes and

activities have included a Karaoke Dance

Party, CASPA Fear Factor, Healthy Art, Out

of Africa and hundreds of other amazing

themes/activities!

CASPA parents enjoy peace of mind,

knowing their kids are safe and enjoying the

benefits of a quality after school programme.

Some parents and caregivers also enjoy

government subsidies for CASPA. CASPA

is Child Youth and Family approved for the

OSCAR Subsidy and in some circumstances,

the full CASPA fee will be covered by the

subsidy.

For more information or to enrol, call

Caroline, Rachel or Tania on 349 9260 or

visit www.caspa.org.nz

New owner, familiar faces

home away

from home

UNDER NEW MANAGEMENT!

FREE hAlF DAy 20 hoURs ECE

OPEN 7.30-5.30pm ALL YEAR

The Enchanted Garden

255 Greers Rd, Burnside

Phone: 03 359 7944

www.theenchantedgarden.co.nz

call us

noW

SpaceS

available

0-6 years

facebook.com/

CASPA

After School

& Holiday Programme

Burnside-based preschool and nursery,

The Enchanted Garden, was handed over

to new owner-operator Debbie Taylor in

October. She has been in early childhood

management for over seven years and has

three children of her own. Along with the

familiar faces of long-time staff, Debbie's

vision is to continue the high quality care

and reputation that The Enchanted Garden

has maintained since 1995.

The centre offers children a home away

from home, with a philosophy based on

holistic, individualised care. They engage

higher teacher-to-child ratios to allow better

care and attention. The centre is staffed with a

team of professional educators and nurturers

who are highly trained and passionate about

creating happy experiences.

The setting is warm and home-like in

nature while the playground and indoor

environment have been designed to allow

children to safely explore and learn with

confidence. This is supported by a strong

curriculum designed for active and exciting

play.

With 10 spaces in their nursery, and 23

spaces in their preschool, the centre provides

the complete early childhood service. The

fluidity of care allows children to form close

bonds while families enjoy peace of mind.

Phone (03) 359 7944 or visit their

website www.theenchantedgarden.co.nz

Your friendly childcare solution

Creative

After

School

Programmed

Activities

P: 349 9260 or 027 352 1638

E: info@caspa.org.nz

W: www.caspa.org.nz

• We provide a safe, creative

environment for 5-13 year olds

• Our staff are trained

• A range of fun activities

• 7.15-8.30am and 3-6pm Mon-Fri

• 8am-6pm Holidays

• Kids just LOVE it!

Incorporating

Subsidies

Apply

Go along to the New Brighton Library Book Discussion Group. The club

is for those who love reading and want to share in discussion with other

friendly book-lovers. The club subscribes to the Book Discussion Scheme

so there is a cost involved. Places are limited so please phone or email to

inquire about availability on 941 7923.

Storytimes/Wā Kōrerō

Tuesday, 10.30-11am

Encourage learning

through a love for stories.

Storytimes is an interactive

programme including

stories, songs, rhymes and

play. This is a free session.

Shirley Library, 36

Marshland Rd

Babytimes/Wā Pēpi

Tuesday, 11.15-11.45am

Encourage learning

through language.

Babytimes is an interactive

programme including

rhymes, songs, stories and

play. This is a free session.

Aranui Library, 109

Aldershot St

Scrabble Club

Tuesday, 1.30-2.30pm

Enjoy Scrabble? Go

along to the library for a

friendly game or two with

other like-minded folk.

Parklands Library, 46

Queenspark Drive

Knit 'n' Yarn

Wednesday, 10.30-1pm

Go along to Linwood

Library for its friendly

Craft Corner sessions.

Take your knitting, crochet

or other portable craft

project and enjoy time

with other crafters. Have

a look at a range of books

to get ideas for your next

project. Free, beginners

welcome.

Linwood Library,

Eastgate Shopping Centre,

Buckleys Rd

Rocket Club

Wednesday, 3.30-4.30pm

Rocket Club is a weekly

after-school programme

which runs during term

time. All whanau are

welcome to join the club

and become involved in

different activities based

on local and current

events in a fun learning

environment. Homework

help is available during

this time. Free to attend

and no bookings required.

Aranui Library, 109

Aldershot St

CV drop-in

Thursday, 10-11.30am

A librarian will be onhand

to assist customers

who are needing help

with their resume. You

will receive guidance on

creating, updating, and

editing your CV.

New Brighton Library,

213 Marine Parade

Game Zone @ Linwood

Library

Thursday, 3.30-4.30pm

Go join the Linwood

Library for an hour of

fun. Play great favourites

like Minecraft, Charades,

Connect Four, Pictionary

and more. Learn and

develop strategies in new

games such as Dutch Blitz,

Heads Up, Hand and Foot,

and group games. Take

your friends or meet some

new ones; all children

aged eight to 13 welcome.

No booking or payment

required.

Linwood Library,

Eastgate Shopping Centre,

Buckleys Rd

Barrier-free Computing

Saturday, 10am-noon

Barrier Free Computing,

provided by the Computer

for Special Needs Trust,

is an organisation that

offers assistance with using

computers for people

experiencing a disability in

a friendly and supportive

setting. Their tutors will be

on-hand to help beginners

as well as provide

assistance with email,

accessing the internet,

playing games, researching

a homework assignment,

and literacy or numeracy

development. There is

also the opportunity for

socialising with others

with similar interests.

Standard library printing

and copying costs apply.

Free.

New Brighton Library,

213 Marine Parade

Seaside Market

Saturday, 10am-2pm

Held in the Brighton

Mall every Saturday.

Bakery, clothing,

vegetables, crafts of all

kinds, food stalls, facepainting,

entertainment,

all just across the road

from the beach and the

new children's playground.

The event is free.

New Brighton Pedestrian

Mall, Corner Of Marine

Parade and Beresford St,

New Brighton

Super Saturday

Storytimes

Saturday, 11-11.45am

Encourage learning

through a love for stories.

Storytimes is an interactive

programme including

stories, songs, rhymes and

play. This is a free session.

Shirley Library, 36

Marshland Rd

The Monday Makers

Club

Monday, 3.30-4.30pm

Go along to weekly after

school-making sessions for

kids. A range of activities

varying in theme, week by

week. Free of charge, no

bookings required.

New Brighton Library,

213 Marine Parade
---
PEGASUS POST Latest Christchurch news at www.star.kiwi

Tuesday May 15 2018 19

386 Moorhouse Avenue, Christchurch.

Sales, Service, Parts & Finance: 03 379 0588

For the first time striking design,

seamless connectivity, intuitive driving

and exceptional safety have come

together perfectly in a bold new SUV

To explore the many features and

experience it for yourself at

Christchurch Mitsubishi on

03 379 0588 to book a test drive.

*Price listed is for Eclipse Cross 2WD XLS. Eclipse Cross 2WD VRX pictured. Brilliant Red colour pictured available for an additional $500.

Price excludes On Road Costs - which includes WoF, Registration and a full tank of fuel. See www.mmnz.co.nz for Diamond Advantage terms and conditions.

ADD STORIES.

THE MINI

COUNTRYMAN.

FROM $45,750. *

Equipped with a ruggedly handsome design and available

with four-wheel drive, the MINI Countryman is the ultimate

all-rounder, ready to take you places other vehicles dare not

drive. Go from city to country and back again.

Book a test drive now at Christchurch MINI Garage.

CHRISTCHURCH MINI GARAGE.

30 Manchester Street, Christchurch. Ph: 03 363 7240.

CHCHMINI.CO.NZ

MIN0231

*Recommended Retail Price based on a standard MINI Countryman Cooper,

including GST, excluding on-road and delivery costs. New MINI's come with MINI's

3 Year Scheduled Servicing Warranty Plan and Roadside Assistance. Model shown

with optional extras. Offer ends 31 July 2018 or while stocks last. For full car

specifications see www.MINI.co.nz.
---
20 Tuesday May 15 2018

Latest Christchurch news at www.star.kiwi

SCHOLARSHIPS & SCHOOL OPEN DAYS

PEGASUS POST

Providing

personalised

learning

experiences

Selwyn House School offers a world-class education

with a talented teaching staff and small class sizes

which are set within a future-focused, nurturing environment.

An extensive range of educational, sporting and

cultural opportunities are offered for girls in Years 1 - 8.

A supportive all-girl learning environment

encourages girls to take risks without

fear of failure and develops their love of

learning. They become confident, compassionate,

articulate and determined young

women who have the values, skills, and

attributes needed to not only achieve their

goals but to make a difference in their

communities. Our teachers ensure girls

are inspired and committed to learning as

they develop their unique way of learning

and achieving. The focus across Years 1 -

8 is on the growth of the developing girl

encompassing intellectual, social, physical,

emotional, and cultural needs.

Selwyn House is committed to providing

a continuum of international education.

The combination of the International

Baccalaureate Primary Years Programme

(PYP) and our future-focused STEAM and

Mechatronics curriculum ensures girls are

equipped to face a continually changing

world with confidence and enthusiasm.

We focus on instilling strong foundations

which can be successfully built upon.

Core learning in reading, writing and

mathematics is a priority. Specialist programmes

in Art, Creative Writing, Leadership,

Mechatronics, Music, Performing

Arts, Physical Education, Science, Spanish

and Swimming play key roles to further

enhancing learning.

Selwyn House provides each girl with a

personalised learning experience. Each

classroom and specialist teacher has the

time to a foster meaningful relationships

with each student. Due to our comprehensive

learning environment, our girls are

highly skilled, stand out among their peers

and are prepared for a successful transition

to secondary school.

Selwyn House's nurturing environment is

apparent in all aspects of the school. In our

modern and safe, family-oriented Boarding

House, girls are supported by dedicated

staff and tutors. Girls from across

New Zealand and internationally fondly

call the Boarding House, their 'home away

from home' and easily form a sisterhood

with others.

We believe in the strength of tradition,

the promise of the future and the power

of education. For more information on

the benefits of Selwyn House School or

to schedule your personal tour, please

contact Charlotte Johnson 03 355 7299

or 022 5221863.

ScholarShipS 2019

We are offering an exciting range of

scholarships for Year 8 students intending to

enrol at Riccarton High School in 2019.

• Peerswick Academic

• Peerswick Sport

• Peerswick Cultural

Each scholarship is worth $1,000.

Te Kura Tuarua o P taringamotu

Applications close Monday 18 June at 4:00pm.

For application forms and more information

check out the school's website:

www.riccarton.school.nz/peerswick-scholarships/

or contact the office.
---
New Zealand Schools: Public Private Partnership (PPP3)

SHIRLEY BOYS' HIGH SCHOOL

AVONSIDE GIRLS' HIGH SCHOOL

Drawing Title:

EXTERNAL PERSPECTIVE - ENTRY VIEW

NOTE: PLANS TAKE PRECEDENCE OVER OTHER DRAWINGS

NOTE: COLOURS ARE INDICATIVE

Project No.:

Scale:

Date:

15814

NTS

2016-11-09 SBAG 1403

PEGASUS POST Latest Christchurch news at www.star.kiwi

Tuesday May 15 2018 21

SCHOLARSHIPS & SCHOOL OPEN DAYS

Ultimate campus taking shape

at QEII Park

Construction of the new state-of-the-art campus for

Avonside Girls' and Shirley Boys' High Schools is progressing

rapidly with opening on track for next year.

Sue and John.

The new campus will feature a Performing Arts Centre

with a 750-seat theatre and a 200-seat theatre, a hockey

turf, four sports fields, three indoor gymnasiums, a café,

and a large library and learning centre.

Both Avonside Girls' Principal Sue Hume and Shirley

Boys' High School Headmaster John Laurenson are

excited by the progress.

"There are now more than 100 workers on site – that

will peak to more than 300 in coming months. The steel

framing is up and the concrete slabs are down and we

can see now just how big this campus will be – it's simply

wonderful," says John Laurenson.

"You can finally see all that we have been talking about

and dreaming about taking shape. We will be onsite with

our students, staff and community making the most of all

of the fantastic new facilities before we know it."

The campus is due to open in Term Two of 2019. It will

be the first time in New Zealand's history that two single

sex schools will be co-located.

John Laurenson says the co-location will enable the

schools to offer students more.

"Because we're building together, we've been able to

build bigger and better facilities."

Sue Hume says the co-location will also enable better

educational opportunities.

"We'll collaborate on teaching some senior subjects,

so we can offer students wider choice and there's also

the opportunity to work together on co-curricular

opportunities – such as productions, sports competitions

and the like."

Both principals are keen to point out that the colocation

is not a merger.

"We'll still be Shirley and they'll still be Avonside. We'll

work together, but both schools will retain their own

culture, identity, staff and uniform. This is not a co-ed

school," says John Laurenson.

"Research shows that single sex education benefits

both boys and girls," says Sue Hume. "Boys perform

better academically and girls participate more. This new

campus, has been designed so that students will still

spend most of their time in a single sex environment."

Both Sue and John say the campus will be an asset the

east of Christchurch will be proud of.

"We'll be right alongside the new QE2 Sport and

Recreation Centre, the School of Gymnastics and have a

satellite unit for Ferndale School onsite. It's going to be a

great place to learn."

AVONSIDE GIRLS'

HIGH SCHOOL

OPEN EVENING

Thursday 24 May 2018 from 5.00pm – 7.00pm

The evening begins in the gymnasium at 5.00pm, with an

address from the Principal Mrs Sue Hume, and student

representatives. A tour of the school follows, with the

opportunity to talk to teachers and students.

We look forward to welcoming all prospective students and

families for 2019.

www.avonside.school.nz PH: 03 389 7199
---
22 Tuesday May 15 2018

Latest Christchurch news at www.star.kiwi

HEALTH & AWARENESS

PEGASUS POST

Headache & Migraine

can be treated

Scm

The crosses are the area of the

muscle spasms (triggerpoints).

The red areas is where the

pain is felt.

Temporalis

muscle

Neck muscle that causes headaches, earaches and facial pain.

Most headaches and migraines are

caused by an accumulation of

factors. Factors like the condition

of your spine, neck, jaw and face muscles,

but also posture, breathing pattern and

your ability to manage stress. Once the

threshold is reached, you will suffer a

headache. Research shows in most cases,

the neck plays a significant role (Dwyer

et al. 1990). Migraine sufferers who react

well to migraine medication have excellent

results when treated for neck dysfunction

(Pavese et al. 1994).

Our physiotherapists have extensive

experience in treating headaches and

can quickly determine what treatment is

needed. This often leads to a significant

decrease in both the intensity and

frequency of your headaches.

As physiotherapist Ietje van Stolk

explains, when our muscles tighten this

can refer pain to many of the areas around

the face and head. Dehydration can be the

catalyst for tightening the neck muscle

(SCM), which causes pain in the ear,

forehead and around the eye and jaw-joint

areas. Tightening of the temporalis muscle

can refer pain to the teeth, which can be

confusing when you visit the dentist to

have it checked and the dentist can't find a

reason for the recurring pain.

Teeth grinding at night and teeth

clenching during the day are also a major

cause of muscle tightening.

Physiotherapy treatment for these

problems is based on deactivating the

'trigger points' through hands-on massage

therapy to relax the muscles, which is the

least invasive and a very effective form

of treatment. Dry needling is another

technique used for muscle relaxation, and

can be used with the client's consent, Ietje

says.

Immediate relief is achieved by releasing

your tight muscles. At the same time we

work on the cause of the problem. For

example, a "feedback" headband can be

provided to be worn at night to help you

The muscle that causes headaches and toothaches.

learn not to clench your teeth while asleep.

Sometimes we need to work on the neck

part of your spine, where overuse or stress

can cause muscles to tighten, creating pain:'

Teaching self-management of stress can

also be an important aspect of the total

treatment, as well as teaching breathing

techniques, which go hand in hand with

managing stress.

Our qualified physiotherapists specialise

in dealing with chronic pain, such as

headaches, earache, toothache, and facial

and jaw pain. ………………...We can help

so call us now 377 2577.

Physical Sense Gym and Physio is located at 300 Colombo Street, Sydenham. The Blue Line Bus stops in front of the door and there is ample

parking. To enquire about specialised exercise classes or physiotherapy treatment, phone 377-2577 or visit www.triggerpoints.co.nz

JOIN US NOW!

See website for details

30%

OFF STOREWIDE

2017

WARRIORS

NINES JERSEY

NOW $55.50!

CHINOS AND DENIM

BUY ONE

GET ONE

50% OFF

BRAS UNDER

$25, BRIEFS

UNDER $15

SELECTED STYLES

AS MARKED

Sign up to Smart Deals & be in the monthly draw for a $100 Dress-Smart gift card!

Be one of the first to hear about the latest deals, sent straight to your inbox each week!

CHRISTCHURCH 409 Main South Road, Hornby

www.dress-smart.co.nz

Open 10am-5pm, 7 Days 03 349 5750
---
PEGASUS POST Latest Christchurch news at www.star.kiwi

Tuesday May 15 2018 23

FOCUS ON HEALTH

Supporting Your

Bowel & Digestive

Function Helps

Prevent Disease

It is most important to keep the whole

digestive & elimination systems of the

body working efficiently. Otherwise toxins

that have not been eliminated set the stage

for disease. Many diseases have been linked

with micro-organisms (virus) or a bacterial

component. Generally these microorganisms

or bacteria can only survive

due to the fact that the environment they

are in is suitable for their survival. Non

eliminated toxins are probably one of the

main causative factors for their survival.

We know that when the digestive system

& bowel function are poor we have many

more health problems. These include

arthritis, digestive problems like reflux &

stomach pain, bladder infections, chronic

skin conditions such as eczema, psoriasis &

rashes, poor eyesight, pain & inflammation,

tumors & a weakened immune system just

to name a few.

Nature's Sunshine LBS II contains a

highly effective blend of natural herbs to

support the whole digestive system & it is

especially effective at cleansing the lower

bowel & intestinal tract. It is commonly

used for arthritis, constipation, diarrhea,

digestive problems, dry stool, fever, colds &

influenza, flatulence, gallstones, gout, skin

conditions like eczema & psoriasis, urinary

infections, liver dysfunction, Candida,

weakened immune function & for people

who want to keep their health as good as

possible.

The herbs in LBS II help stimulate the

production of digestive fluids & bile for

efficient digestion. This alone may help

prevent many diseases as a properly working

digestive system will itself neutralise many

disease causing organisms before they

have a chance to cause any problems. LBS

II also stimulates peristaltic action of the

colon effectively cleansing the colon of any

accumulated build-ups of waste material. It

also relaxes abdominal cramping & spasms,

enhances liver function, purifies the blood,

neutralizes acidic conditions, helps destroy

intestinal parasites & worms, & fights

infection.

Keeping your digestive system & bowels

functioning efficiently is definitely &

important step in obtaining & maintaining

good long term health.

LBS II & further information is available

from the Natural Health Advisers at

Marshall's Health & Natural Therapy,

110 Seaview Road, New Brighton, Phone:

388-5757. We are always happy to help!

ACC and WAR Pension Approved

275 Riccarton Road Between Clyde & Ilam Rds

Spacious parking • Orbiter & Metro bus stops outside

For all appointments

Phone 348-8716

Fax 341-5873

Professional Ear Care

Rest home and private

home visits available

by arrangement

1 in 2 people

deficient in B12

Emerging research has shown as many as 50% of older adults

& as many as 25% of younger adults are deficient in vitamin B12.

Scientists at Rush University Medical Center found those most

deficient in vitamin B12 to have the smallest brain mass & the lowest

scores on tests measuring short-term memory, concentration &

brain performance. Another study showed that older people with

higher levels of B12 in their blood have bigger, healthier brains &

score higher on cognitive tests than those with lower levels. Yet

another recent landmark study showed that B12 supplementation

slows the accelerated rate of brain shrinkage & declining cognitive

function. B12 is essential for energy production, cell health,

regulation of mood & sleep cycles, nerve health & repair, &

prevention of homocysteine a serious cardiovascular risk factor

that is known to cause damage & plaque in the blood vessels. It can

also increase the chances of a stroke. Harvard researchers found a

34% decrease risk of vision loss in a study of participants aged 40+

who supplemented with B12. Another study linked a higher risk

of hearing loss in subjects in their 60's who were low in B12.

The reason so many people lack B12 appears to be our body's

ability to absorb it declining with age as the digestive system

becomes less efficient. Anti-reflux medication & other drugs

further reduce B12 absorption. The good news is B12 in

the form of Methylcobalamin

sublingual tablets that are

dissolved in the

mouth & thru

bypassing the

digestive tract have

been shown to

effectively raise B12

levels in the body.

Further detailed information is available

from the Natural Health Advisers at Marshall's Health &

Natural Therapy, 110 Seaview Road, New Brighton, Phone:

388-5757. We are always happy to help!

Help prevent Disease By supporting

HealtHy Bowel & Digestive Function

A poorly functioning bowel & digestive system can lead to a toxic environment

in the body that sets the stage for disease. Nature's Sunshine LBS II contains

& all natural herbal blend that has been proven highly effective at supporting

the elimination & digestion system function.

NATURE'S SUNSHINE LBS II SUPPORTS:

- Healthy bowel function (No Constipation) - Cleansing the urinary tract

- Bowel & colon cleansing

of infection

- Digestion & assimilation of nutrients - Neutralizing acidic conditions

- Enhanced liver function

- Destroying intestinal parasites

- Purification of the blood

& worms

- Eczema & psoriasis relief

- Fighting infection

- Enhanced immune function

- Keeping the body healthy

Bringing You the Best in Natural Health!

Super Price

100 capsules only

$29.90

save $4.70

200 capsules only

$54.90

save $14.30

MAIL ORDER

AVAILABLE

MARSHALLS HEALTH & NATURAL THERAPY

CONSULTING - PRESCRIBING - DISPENSING - MANUFACTURING - MEDICAL HERBALISTS

110 SEAVIEW RD, NEW BRIGHTON • PH 03 388 5757 • Email: enquiry@marshallshealthshop.co.nz

- WE ARE ALWAYS HAPPY TO HELP! -

IS YOUR BRAIN SHRINKING?

BRAIN FOG, FORGETFUL, FEELING OLD, LOW ENERGY, MOOD SWINGS,

DIFFICULTY SLEEPING, PINS & NEEDLES, NUMBNESS IN LEGS

Up to 1 in 2 people may have a shrinking brain due to a lack of vitamin B12.

Supplementation of methylcobalamin B12 has been shown to reduce the rate of brain

shrinkage & support memory & brain function. B12 is also known to protect against

homocysteine a serious cardiovascular risk factor that can also damage the hearing,

eyesight & affect the mood. B12 is essential for energy, cell health & nerve function.

B12 SupportS:

• Memory & Brain Performance

• Helps protect brain from shrinking

• Energy & Recovery

• Nerve Function

• Helps protect blood vessels from damage

• Sleep

• Cellular Health & Repair

• Vegetarian's Diet

• Good Health

• Cardiovascular Health

SEE A DIFFERENCE

IN AS LITTLE AS 48

HOURS!

SUPER PRICE OFFER

Superior Methylcobalamin B12

(High Absorption Sublingual Lozenges)

100 Lozenges

Only $ 32 .90

200 Lozenges

Only $ 59 .80

MAIL ORDER AVAILABLE

Bringing You the Best in Natural Health

MARSHALLS HEALTH & NATURAL THERAPY

CONSULTING - PRESCRIBING - DISPENSING - MANUFACTURING - MEDICAL HERBALISTS

110 SEAVIEW RD, NEW BRIGHTON • PH 03 388 5757 • Email: enquiry@marshallshealthshop.co.nz

- WE ARE ALWAYS HAPPY TO HELP! -

Plenty to do at McKenzie

Lifestyle Village

The final stage of

villa development

is progressing

well at McKenzie

Lifestyle Village

in Geraldine with

target completion

in spring. Just a

hand full of sites

available to secure

off plan, so don't

be the one to

miss out. Moving into a brand new architecturally designed villa

priced from $335,000 with the monthly outgoing fees being fixed

for life. Future plans see an offering of Assisted Care Apartments

that compliment the independent lifestyle living.

Our beautiful Leisure Centre is very popular with the residents

who make full use of the swimming and spa pools, gymnasium,

craft room, library and lounge area. Outside, the Bowling Green

is also popular along with Petanque, Mini-golf and Table Bowls.

This coming summer will see Croquet being played on our Village

Green.

The residents' monthly activities calendar boasts the following;

bowls events, concert going (Operatunity), shopping trips, lunch

outings, yoga, housie, Qigong (Tai Chi), happy hour, knitting, quiz

nights, cards and games, book club, Bible discussion, craft sessions,

and there are regular visits by the hairdresser, massage therapist and

the podiatrist.

Geraldine is a great little town that many come to for a holiday but

you have the opportunity to live the holiday lifestyle all year round.

There is plenty to do in and around the town with art galleries,

theatre and cinema, interesting shops and boutiques, two museums

and a wide range of good places to eat. For the more adventurous

there are river and forest walks nearby, opportunities for biking and

a choice of two local golf clubs.

For more information and to secure your future lifestyle call

Hayley Grant on 0800 845524.

IT'S LIKE HOLIDAYS

ALL YEAR ROUND

Lots of people spend their holidays

here in Geraldine. But why just have a

holiday when you can move here instead?

Make the move to Geraldine's McKenzie

Lifestyle Village. We take care of everyday

maintenance so you can enjoy

a holiday lifestyle all year round.

Talk to Hayley Grant today

on 03 693 8340.

M E M B E R O F R V A
---
24 [Edition Tuesday datE] May 15 2018

Latest Christchurch news at www.star.kiwi

2

HOME & HEATING

Choosing the right heat

pump for your home

Whether it be a new build, or a retrofit,

most homes include at least one heat pump,

if not a whole heating solution. They can

provide cheap, clean heat and are much more

convenient than a log burner as you just need

to press a button. But how do you decide what

is best? Choosing the right sized heat pump is

key to ensuring optimum comfort levels. Every

situation varies and it is therefore important

to get professional advice from heat pump

experts.

The range varies from wall mounted high

walls, floor mounted systems, multi systems,

ceiling cassettes, right through to ducted

central heating systems allowing you to have a

very discreet way of heating your whole home

to a constant temperature throughout.

Firstly, you must select a heat pump that

is suitable for the size of the space you wish

to heat. Usually a site visit is the best way to

ascertain this. Not only is the size of the area

taken into consideration but also, insulation,

building orientation, windows and ceiling

space. There are a wide range of heat pumps

available with different heating outputs so it

is important to select the correct size for your

requirements that will handle the job but not

be unnecessarily overpowered.

Secondly, the location of your heat pump

is also extremely important. The cheapest

installation is a back to back where the outdoor

unit is positioned directly behind the indoor

unit however this is not necessarily always the

best option. It is vital that the indoor unit is

positioned in a place that will not be constantly

blowing on you. Also important, is the location

of the outdoor unit. Most people do not want

their outdoor unit sitting directly in their

outdoor entertaining area or right outside their

bedroom window.

Choose a brand you can trust. Many brands

have come and gone over the years but there

are a number of manufacturers who provide

reputable and reliable products. All brands vary

in their energy efficiency, quietness of systems

and price, so it depends on your application as

to which will be most suitable. Major brands

such as Panasonic, Fujitsu, Mitsubishi, Daikin,

Toshiba and Hitachi are all reliable brands

backed up by good technical after sales service.

Ensure your heat pump is installed by an

accredited installer. This will not only ensure

correct installation of your heat pump, but also

validate the manufacturers warranty.

Other things to consider when choosing a

heat pump are time clocks, ease of use of the

remote controllers, air filtration and also wifi

capabilities.

Heating is a major investment in your home

and it is vital to get the right advice.

Enviro Master Ltd specialise in the supply,

installation and servicing of all major brands

of heat pumps. Our salesmen are engineers

ensuring you get quality, unbiased advice as

to which system will suit your application

the best. Enviro Master Ltd offer a free, no

obligation quote and will come to your home

to see what is required.

Visit our website at www.enviromaster.

co.nz.

Get rid of

dampness

in your house

Now with the colder and wetter weather on

its way, home owners are focusing on ways

to make their homes comfortable, warm and

healthy for their families throughout winter.

Rising damp is an issue that affects many of

our older properties which suffer from poor, or

no, insulation. In Canterbury especially, postquake,

many people have relocated to homes

that suffer from rising damp which can be

associated with health problems. Independent

tests have shown that up to 40 litres of water can

rise from the ground and enter a house every

day, leading to mildew, mould, condensation

and musty smells. Moulds can produce

various allergic reactions and the

frail, elderly and very young are

especially vulnerable.

Canterbury Foam Concrete Ltd

is a locally owned and operated

firm. The team understands the

problems caused by rising damp

and are there to help. They will

come to your damp home and

pump a lightweight, flowable

foam concrete under your

timber floored home. Specially

PEGASUS POST

adapted for our New Zealand conditions and

applications it provides a layer of protection

against rising moisture. An unexpected

benefit that the team at Canterbury Foam

Concrete have noticed recently, is that many

owners of properties which had underfloor

foam concrete installed, reported that it also

provided protection against liquefaction after

the earthquakes.

Contact Canterbury Foam Concrete Ltd

now for your free, no obligation quote and

complimentary appraisal of your underfloor

ventilation needs. Phone 03 376 4608 or

0508 362626 for more information.

Fujitsu Heat Pumps at a low low price

Pump warmth into your home NOW

- before the winter rush!

ASTG14LUCB 5.4kw Hi-Wall . . . $2180

ASTG18LVCC 6kw Hi-Wall . . . . $2400

Heat pumps are the most cost-effective, convenient and practical home heating solution

for Christchurch – and Fujitsu Heat Pumps from Stack Electrical are the best way to

winter-proof your home! Heat when you need it . . . that'll save you dollars on your power

bill! Once the cold spells start, you could wait weeks to get a heat pump installed. Be

smart and beat the winter rush now!!

Back to back installation. Conditions apply.

HEAT PUMPS

Which one is right for you?

• Single-split, Multi-split, Ducted?

• Wall, Floor console, Ceiling cassette, Concealed?

• Mitsubishi, Panasonic, Fujitsu, Daikin, Toshiba...?

Find out with a FREE HOME APPRAISAL

from the Independent Heat Pump Experts.

BOOK NOW

Ph. Maz 021 226 7672

Email. maz@heatpumpguys.co.nz

0800 47 48 97 heatpumpguys.co.nz

CALL STACK ELECTRICAL TODAY!

Phone 379 4062

info@stackelectrical.co.nz

$10,000

Workmanship Guarantee

THE INDEPENDENT SPECIALISTS

HEAT PUMP

SALE NOW ON!

Amazin' Autumn Specials!!

• We will offer you the best quality brands and

option of heat pump for your home/business

• Providing Heat Pump solutions for over 15 years to Cantabrians

• We personally guarantee all our products & installs for 5 years

(providing annual maintenance has been completed)

Phone us today for your free consultation & quote

41A SHAKESPEARE RD, WALTHAM

PHONE 03 366 0525

www.enviromaster.co.nz

"A local team for local people"
---
PEGASUS POST Tuesday

[Edition

May 15

datE]

Latest Christchurch news at www.star.kiwi

2018 253

HOME & HEATING

Fresh air

in your home

All houses require air exchange in order

to stay fresh and dry. No one likes to live

in a stuffy, smelly, damp home. Indoor air

quality is important for the health of the

occupants. Houses can have many sources of

contaminants, such as bathrooms, kitchens,

pets, smokers, and even furnishings. Opening

the windows can refresh the air, but is not

always an option for security reasons and can

also lead to heat energy being lost to outside.

Although older houses have small gaps

around windows and doors, you want to be

able to control the flow of air. You don't want

air coming in to the bathroom or kitchen and

pushing the soiled air around the house. It

is better to expel the air out of kitchens and

bathrooms to outside. This will draw air in

from the rest of the house to replace the air that

has been removed.

Modern houses are very airtight and

theoretically require a source of incoming air

to allow kitchen and bathroom extraction to

work optimally. Ventilation systems should be

low air velocity and low air pressure so as not

to cause draughts.

There are two main types of ventilation

system: Positive pressure and Balanced

pressure. Positive pressure systems, such as the

Dry-Matic, bring filtered, warmed attic air into

the house, which then percolates through the

rooms, pushing the damper stale air out.

Balanced pressure systems bring in a

similar amount of air to the amount they

exhaust. Balanced pressure systems with

Heat Exchange, such as the HEX390, use the

heat of the outgoing air to warm the incoming

air from outside. These are the most energy

efficient systems available, as they recover up

to 80% of the energy in the air, rather than

losing it to outside. Heat exchangers work just

as well cooling incoming air when the house is

cooled in summer.

The NZ building code has recommended

air exchange rates for houses. To ascertain

the required airflow for your home, please

contact Smooth-Air on 0800 SMOOTH

(0800 766 684), who will also be able to

recommend a solution if your ventilation

doesn't yet meet the New Zealand standard.

Get the best from your

heat pump from Air Con

Christchurch

Our top performing

serviceman always does

that bit extra to provide a

good result.

Air Con Christchurch offer the Mitsubishi

Hypercore Top Performing Mitsubishi Heat

Pump – the only one of its kind in the market

guaranteed to heat your home this winter.

See also the Air Con Christchurch service

and clean check list and compare our 16

point check list carried out by "Ole Jack", our

experienced serviceman. Our top performing

serviceman always does that bit extra to

provide a good result, from using a drop cloth

through to vacuuming when finished. Ask for

Jack and get a $30 discount off our standard

clean service price plus get free new batteries

for your remote (this special price is only

$85.00 nett!)

Special valid for May only. Go in to win a

goodie bag with goodies valued at $200.

Goodie bag contains: Insulated fold up bag,

his and hers watch set, travel slippers pack,

2 x LED replacement lamps, 1 x power save

plug set with remote, costume jewellery set

including earrings and necklace.

Visit www.airconchristchurch.co.nz or call

us on 03 343 3886.

performance hea

While ordinary heat pump

only Mitsubishi Electric Hy

its fully rated capacity r

all the he

Save

$250

HIGH WALL HEAT PUM

FH25 3.2kW Heat Pump

$2549.80

Installed BB.

Conditions apply.

www.airconnz.co.nz

phone 0800 161 163

Winter Warmer Deals!

Centrifugal

inline fans

Ventilation Equipment Suppliers

Domestic

to

Commercial

Industrial

trade

&

Axial fans Axial fans Bathroom fans

retail

Window fans

FH35 - 4.0kW Heating

$2,899 *

Fully rated heating right down to -15°C … guaranteed!

Classic G Series

New Zealand's best selling heat pump ever!

GE50 - 5.8kW Heating

$2,699 *

Axial inline fans

* Price includes standard back to back installation.

Be in to win a $5,000 Gold Coast Holiday!

0800 SMOOTH

(0800 766 684)

sales@smooth-air.co.nz

the

right

351c Blenheim Rd

Riccarton

Christchurch

03 343 6184

for the

product

job

Monday - Friday

7.30am - 5pm

www.smooth-air.co.nz

Call us for your free quote!

03 343 3886

www.airconnz.co.nz

admin@airconnz.co.nz
---
26 Tuesday May 15 2018

Latest Christchurch news at www.star.kiwi

PEGASUS POST

#GetBetterResults

The Press audited circulation

46,252 *

VS

audited circulation

149,948 *

Mass Circulation | Mass Readers | Massive results

Advertise with Star Media and let us help you grow your customers, sales and profits.

We home deliver into over 100,000 more homes than The Press. In fact we reach more people with

just one ad than any other Christchurch media channel. Get the Star Media advantage working for

your business today. For a professional, no obligation free consultancy for your business, call us now.

Contact Shane today: 03 379 7100 shane@starmedia.kiwi

www.starmedia.kiwi

*ABC circulation report The Star, Bay Harbour News,

Selwyn Times and North Canterbury News vs Press. ANP
---
PEGASUS POST Latest Christchurch news at www.star.kiwi

Tuesday May 15 2018 27

AUTOMOTIVE PROFESSIONALS

New premises

for car light

specialists

NEW

LOCATION

95

gasson st

Long-established car light specialists,

Braxton Car Lights, are now shining their

lights from a sparkling new address – just

around the corner from their familiar

Brougham Street site.

Just prior to Christmas, the business

moved from 325 Brougham Street to 95

Gasson St, where they offer a brighter

showroom, easier access for their customers

and plenty of off-street parking.

"We're all set up in our new premises,"

sales manager Richard Vernimmen says,

"and continuing to provide our customers

with an extensive range of replacement

lights for most Japanese, European and

New Zealand-made vehicles. We can cover

most vehicles on the road, and all our lights

are fully checked and in perfect working

order."

If they don't have it in stock, they can

source it from one of the other branches in

the nationwide BE Group, Richard says. BE

is one of New Zealand's largest importers of

car, truck and commercial parts.

Braxton Car Lights also offers a repair

service for headlights, with their skilled

staff of three having 80 years' experience

in the automotive trade between them.

They also specialise in light adjuster and

light conversion of American

car lights and their repair

service includes plastic

welding, drying out, and

re-silvering, re-sealing

and lens refurbishment.

Their services can also

be arranged through

your own local garage or

workshop.

So, next time you need

replacement car lights, call

into Braxton Car Lights' bright new

showroom, 95 Gasson St, phone 0800 225

483, email carlights@carlights.co.nz.

European

Car Owners

NEW DIAGNOSTIC EQUIPMENT!

We can identify ANY electrical

fault & reduce repair work

with our NEW European Car

Specific Diagnostic Equipment

ROSES

AUTO ELECTRICAL

Enquiries welcome

CH 352 5090

YOUR CENTRAL

CITY WORKSHOP

®

A vonhead

utomotive

free

6 months roadside assist

with any vehicle servicing

• automatic transmission

flushing service

• Wof • tune-ups • suspension

• batteries • neW tyres • oil &

lube service • courtesy cars

• full mechanical repairs

oPen 6 days (sat until 1pm)

126 racecourse road

Ph 342 7123 or 027 495 6600

NeW LoCATIoN 95 Gasson St

The Automotive

Lamp Specialists

New and Used Lamps for Cars, Trucks,

Vans, 4WD and Motorhomes

95 Gasson Street, CHRISTCHURCH

PH 0800 225 483

s

m

a

r

t

mall

edium

• Panel beating

• Spray painting

Fast

turnaround

utomotive

epair

echniques

Smart repairS (NZ) Limited

automotive refinishers

272 Lichfield St (Fitzgerald Ave end)

Ph 377-0409

• new & quality

secondhand tyres

• alloy wheels

• replacement rims

• puncture repairs

WITH A MASSIVE RANGE OF TYRES IN STORE,

WHY NOT POP IN AND SEE US TODAY!

8c Birmingham Drive,

(Cnr Hands & Birmingham Drive)

Ph: 03 343 0099 Cell: 027 226 3805

Website: www.jcmdirect.co.nz

PARKER

AUTOMOTIVE

■ All Automotive Repairs and

Servicing including 4WD

■ Suspension Brakes & Cambelts

■ WOF, Tyres, Batteries

■ Courtesy Car

55 Lincoln Rd, behind Caltex

(Cnr Lincoln & Torrens Rd)

Ph 03 982 4268

Mob 027 331 0382

Email: parkerauto@clear.net.nz

• W.O.F • Servicing

• Repairs • Batteries

• Auto Electrical • Tyres

• Clutch • Cambelt

• Diagnostic Equipment

YOUR LOCAL

AUTOMOTIVE SHOP

287 Hoon Hay Road

Christchurch

Open Mon-Fri

Ph. 982 0405
---
28

Tuesday May 15 2018

Latest Christchurch news at www.star.kiwi

PEGASUS POST

Get your tickets

online and be

in to win a

$500 Resene

gift voucher

Earlybird

tickets available

online now

$6 or 2 for $10

Children under

12 FREE

JUNE 29 – JULY 1 2018

Horncastle Arena

BOOK NOW: www.starhomeshow.kiwi

Friday, Saturday, Sunday, 10am-5pm
---
PEGASUS POST Latest Christchurch news at www.star.kiwi

Tuesday May 15 2018 29

REAL ESTATE

Is your retirement spot sorted?

2/43 Main Road, Redcliffs

Price: $449,000

2 bedrooms | 1 bathroom | 1 living room | 1 dining room | 1 car-garage | Listing #FM5408

Planning to retire or downsize to a smaller

home? Then you'll love this contemporary

over 60's unit which is walking distance to

Redcliffs shops. Comfortable and easy care,

low maintenance brick and linea board,

double glazed joinery, quality fixtures and

fittings, security lighting and many extra

features throughout.

The kitchen is open plan with the living

and has a granite bench top and a convenient

pull out pantry. Over height ceilings gives

a spacious light feel while a heat pump

provides warmth in the cooler months. Doors

open outside onto a manageable secure

patio garden with pergola which is totally

private and very sheltered from the easterly

winds. There are two bedrooms both with

wardrobes and a smart tiled bathroom with

underfloor heating, vanity, cupboard and a

shower. A substantial laundry with a granite

benchtop, heater, washing machine and drier

are combined with the internal access garage

which is carpeted to provide an extra room

if you do not have a car. EQC repairs were

minor and have been completed. There is a

body corporate making insurance easy to

obtain and outside maintenance hassle free.

You will find this a handy location where

you catch a bus outside or walk down to the

Redcliffs shops and supermarket. A short

stroll around the corner takes you to the

waterfront and coastal walkway. Don't let this

one get away!

Open Home Saturdays 12 - 12:30pm.

See you at one of the Open Days, or for

a private viewing or for more information

contact Alison Carter of Harcourts

Grenadier Ferrymead (Licensed Agent

REAA 2008) on 384 7950 or mobile

0274 318 960.

Classifieds Contact us today Phone our local team 03 379 1100

Trades & Services

Trades & Services

Trades & Services

Trades & Services

PAINTERS

PLANT GROWERS

plumber

ROOF REPAIRS

Painters and Decorators Ltd

Canterbury Owned and Operated

A husband and wife team

Specializing in:

• Roof Painting

• Interior/exterior

residential

• Small commercial

painting

Noel 027-411-3596

kemp.painters@gmail.com

kemp painters and decorators

We offer

free quotes

Quality not

Quantity

YOU WOULDN'T SEE

BETTA STRAWBERRY

PLANTS ANYWHERE!

Strawberry albIon begInS croppIng early

and contInueS In fluSheS untIl autumn. the

heavy cropS of mouth waterIng, Sweet, dark

red berrIeS have an outStandIng flavour that

remaInS conSIStent throughout the SeaSon.

hourS may 16th to 26th - 10am to 3pm

Bettaplants

1934-2018

84 YEARS IN BUSINESS

27 Ottawa Road. Phone: 389-7855

Hours: 8.00am-5.30pm Mon to Fri, 8.00am-5.00pm Sat

The go to guys for

plumbing services

✓ Plumbing and Gas

✓ No job too big or small

✓ All areas covered

P: 03 595 5610 W: gofox.nz

E: info.ccp@gofox.nz

Locally owned & operated with

over 30 years experience.

• Extensions & repair • Roof coating

• Concrete & clay tiles • Butynol

• Malthoid • Asbestos Certified

• Coloursteel • Old iron • Guttering

Phone Dave 981 0278

or 021 223 4200

E: dave@beaumontroofing.co.nz

BEAUMONT ROOFING LTD

Visit www.star.kiwi

anytime, anywhere!

Breaking news,

delivered to your pocket.

•news •CTV •sport •districts •schools •lifestyle •opinion •what's on

Fire rages, homes at risk

www.star.kiwi
---
30

Latest Christchurch news at www.star.kiwi

Tuesday May 15 2018

PEGASUS POST

Classifieds Contact us today Phone our local team 03 379 1100

Trades & Services

FOR ALL YOUR

★Garden Clean-ups

★Pruning

★Lawn Mowing

★Garden Maintenance

Call us today for a FREE quote

PH 0800 4 546 546

(0800 4 JIMJIM)

AAA HANDYMAN

licensed carpenter

LBP, all property and

building maintenance,

repairs, bathroom/shower

installations, with free

quotes 03 383 1927 or 027

245 5226 ciey@xtra.co.nz

*****************

CARPET & ViNYl

Laying. Repairs, uplifting,

relaying, restretching.

Email jflattery@xtra.co.nz

ph 0800 003 181 or 027

2407416

PAiNTiNG

& Decorating Wingfields

Contracting, all interior

& exterior painting & all

forms of interior plastering

& jib fixing, ph Mark 021

171-1586 or 355-5994

PAiNTER

Quality work, I stand by

Canterbury Ph Wayne 03

385-4348 or 027 274 3541

PAiNTER AVAilAblE

All aspects in painting.

Very competitive in roofs

and fences. Please call 027

241-7471 or 335-0265

PlUMbER

ALF THORPE

PLUMBING Certifying

Plumber for all types of

plumbing, maintenance,

spouting, alterations etc.

Phone 352-7402 or 0274-

350-231

ROOFiNG REPAiRS

Fully qualified, over 40

yrs experience. Ph John

027 432-3822 or 351-

9147 email johnchmill@

outlook.com

SPOUTiNG ClEANiNG

Spouting Unblocked,

Cleaned Out and Flushed

Out. Also Full Handyman

Services Available. Call

Trevor 332 8949 or 021

043 2034

STONEMASON

BRICK

&

BLOCKLAYER,

Earthquake Repairs, Grind

Out & Repoint, River/

Oamaru stone, Schist,

Volcanic Rock, Paving,

all Alterations new & old,

Quality Workmanship,

visit www.featureworks.

co.nz or ph 027 601-3145

Situations Vacant

ADVERTISING

ACCOUNT MANAGER

If your serious about selling and like to

achieve outstanding results, then you are

the person we are looking for!

We are looking for someone who has:

• Experience in selling B2B

• Proven success record of winning new

business

• Maintain and grow existing client base

• Listen and relate well to our clients to

provide the best solutions

We will offer you an excellent base salary as

well as a commission system with no cap.

You will be part of a successful team

selling our free newspapers, magazines

and digital solutions to our clients, which

are all experiencing strong growth in our

marketplace.

I am keen to hear from you, if you can

take me through your proven sales process

and deliver an intelligent sales solution to

customers.

It's an exciting and fun time to join our

media team.

You will get support and structure provided,

to ensure your success in our team.

Please send your application and CV via

email to Steve McCaughan

steve@starmedia.kiwi

Trades & Services

TilER/CARPENTER

35 years exp, no job

too small. Ph Ross 027

4311440.

TilER/CARPENTER

35 years exp, no job

too small. Ph Ross 027

4311440.

T.V. SERViCE CENTRE

Repairs, tvs, microwaves,

stereos, DVD. Aerial

installations and kitsets,

480 Moorhouse Ave, ph 03

379 1400

T.V. SERViCE CENTRE

Repairs, tvs, microwaves,

stereos, DVD. Aerial

installations and kitsets,

480 Moorhouse Ave, ph 03

379 1400

Trades & Services

VHS ViDEO TAPES

& all camera tapes

converted to DVD, video

taping special occasions,

www.grahamsvideo.co.nz

ph 03 338-1655

VHS ViDEO TAPES

& all camera tapes

converted to DVD, video

taping special occasions,

www.grahamsvideo.co.nz

ph 03 338-1655

WiNDOW ClEANiNG

Average 3 bdrm house

inside or out $40. Both

$70. Phone Trevor 344-

2170

Digital Marketing Account Executive

- Design, implement and present digital marketing solutions to

business clients

- Specifically selling Web design and development, SEO and

SEM services

- Proactively prospect for new business and identify new

opportunities

- Deliver exceptional customer service and account management

Utilise your strong "hunting" and business development skills

to maximise sales revenue by developing and selling digital

marketing solutions to a range of business clients.

Star Media is one of New Zealand's largest independent media

companies and prides itself on delivering successful multiplatform

marketing solutions. An exceptional opportunity has

arisen for a talented digital marketing consultant to join the Star

Media team and contribute to achieving their long term strategic

goals.

About the role

- Maximise value within existing portfolio

- Proactively prospect for new business opportunities

- Build and maintain strong, long term relationships with clients

- Design, implement and present tailor-made digital solutions for

new and existing clients

- Complement the sale of digital solutions with the full range of

Star Media products and services (including print media and

video production)

- Regularly review campaigns and suggest improvements to

increase ROI for clients

- Deliver high quality customer service and account management

- Sales reporting

Skills and Experience

- Minimum two years New Zealand or Australian based B2B sales

experience

- Strong understanding of digital marketing principles and

developing campaigns

- A natural networker with an established network of local

business contacts

- Passion for hunting new business

- Outstanding presentation and negotiation skills

- Positive, personable and creative thinker

- Tenacity to overcome setbacks

- Strong computer skills across MS Office

- Excellent communication skills, both verbal and written

- Polished presentation

Culture and Benefits

- Generous base salary plus achievable commission structure

- Health Insurance included in package

- Join a passionate, high performing team with a great reputation

in the market

How to Apply

Contact Sally Fitzsimmons at Core People on 03 928 2290 for a

confidential discussion.

ADD SOME

COLOUR

ADVERTISE YOUR

BUSINESS HERE

Phone for further details

(03) 379 1100

TO YOUR ADVERT!

Situations Vacant

Trades & Services

FOOTCARE

OASIS

Senior Citizens Foot Care

25 Conway Street, Spreydon

Treating hard thick nails, calluses

and corns finishing with a foot massage

Price $30 Allow 45 mins

Home Visits available by appointment

Therapist – Amanda

(30 years experience)

Ph. 942-6036 for an appointment

HOURS ARE FLEXIBLE

Health & Beauty

KATANG

Fitness

Held at St Faiths Church Hall,

46 Hawke Street, New Brighton

For more info contact Katrina 3811704 or 0274966845

Caravans, Motorhomes

& Traliers

CARAVAN Wanted to

buy. Up to $5000 cash

today 027 488-5284.

Curtains

www.curtainfabric-outlet.com

Fashion Designs & Colours

Discontinued Designs

End of Lines Bargain Prices

Call at Our Shop

CURTAIN FABRIC OUTLET

71 Hawdon St Sydenham

Ph 366-5026

Entertainment

Weka Pass Railway

Waipara, North Canterbury

We are RUNNING

SUNDAY 20th MAY

Running 1st & 3rd

Sunday of every month

Phone 0800wekapass

Depart Glenmark Station

11.30am & 2.00pm

www.wekapassrailway.co.nz

Situations Vacant

Sit & Be Fit

Monday 1 – 2pm

$4 per class

Movement to Music

Thursday

9.30 – 10.30am

$5 per class

Community Events

ALCOHOLICS

ANONYMOUS, If you

want to have a drink that's

your business. If you want

to stop, we can help. Phone

0800 229-6757

Computers

ALL

YOUR

COMPUTER

WORRIES SOLVED!

Gardening

& Supplies

*$30.00 off your first A GARDEN OR

service with this coupon!* LANDSCAPING TIDY

No problem too big or UP? Shrub, hedge &

small from home PC's to tree pruning, Lawns,

business networks. PC Gardening, consistently

slow? An end to Viruses, reliable general property

Spyware, and Clogged upkeep, Dip. Hort. 10

Systems. Safe secure yrs experience, One off

hassle-free computing. tidy ups or on-going

Lost files recovered. service. Nick's Property

Microsoft Certified, Maintenance. Keeping

MCSE, MCP+l. 30 years your garden beautiful.

experience. Call Andrew Free Quote. Ph. 942-4440

Buxton this week on 326-

6740 or 027 435-7596

for $30.00 off* Custom

Computers Christchurch

Holiday

Accommodation

Australia QLD

SUNSHINE

COAST

RESORT

ALEXANDRA HEADLAND

All Units Have Ocean Views.

Heated Pools, Spa & Sauna,

Free Wifi, Tennis

& Mini Golf.

CHECK OUR GREAT

WINTER SPECIALS

www.mandolin.com.au

0061 7 5443 5011

JUNE to AUG temps 20C

Wanted To Buy

A+ Household effects,

fridges, freezers, washing

machines, ovens. Good

cash paid. Ph Paul 022

0891 671

TOOLS Garden,

garage, woodworking,

mechanical, engineering,

sawbenches, lathes, cash

buyer, ph 355-2045

CARETAKER

NEEDED

We are seeking a part time

School Caretaker.

15 hours per week

The person we seek will have good caretaking skills

and be a person who respects and valves diversity.

For further information please contact:

Jocelyn on (03)355 7595

Please send your CV with a Covering letter to:

Ferndale School, PO Box 36024, Christchurch 8146

Closing date 25th May 2018
---
PEGASUS POST Latest Christchurch news at www.star.kiwi

Tuesday May 15 2018 31

What's On

Entertainment

To advertise, contact

Jo Fuller 027 458 8590

jo.fuller@starmedia.kiwi

Celebrating 56 years

on the local music scene

NEVILLE Wilkins & the Viscounts celebrate

56 years on the music scene this weekend

making them one of New Zealand's longest

established dance bands.

Straits, Tom Jones, Cliff Richard, Englebert

Humperdink, and Elvis Presley," said Neville.

"So we play a good mixture of 50's, 60's, 70's

ballads, rock and roll, country and even Irish."

Today the Viscounts - Neville Wilkins

(trumpet); Christine Williams (vocals); Dave

Petrie (keyboards); Ray Harris (guitar);

Graeme Wallis (bass); John Wilson (drums) -

still perform at private functions and the

occasional public show.

'Famous for their roasts!'

RESTAURANT & CAFÉ

Cooked Breakfasts

Check out our extensive breakfast

menu from Continental to Cooked

We are open from 6.30am

Seniors SPECIAL

Two courses $20

Soup/Roast or

Roast/Dessert

Special available lunch only

Monday - Saturday 12pm - 2.30pm

$19

TREAT THE

FAMILY!

Kid's 2 course

special

We are family

friendly.

Great Kids menu

plus designated

play area.

$13

The

RACECOURSE HOTEL

& Motorlodge

118 Racecourse Rd, Sockburn,

Christchurch. Ph 03 342 7150

www.racecoursehotel.co.nz

Christchurch trumpeter, Neville Wilkins

formed the band in 1962 and during its career

The Viscounts has had around 60 members,

with some staying as long as 20 years.

Their first residencies included

Christchurch's 500 Club in Chancery Lane and

The Town & About in Peterborough St,

followed later by the Bush Inn Courts and

Twiggers.

With a career spanning well over five

decades, the group has adapted its repertoire

with time and today play a wide selection of

material.

"I always aimed for the band to play the

most popular artists, such as Ricky Nelson,

Billy Vaughan, Beatles, Rolling Stones, Gene

Pitney, Eddie Calvert, Neil Diamond, Dire

Neville Wilkins & the Viscounts appear at

the Woolston Club, Hargood St, this Saturday

(3rd September). Don't miss your opportunity

to 'cut a rug' with this highly respected and

experienced show band. Entry $7. Band starts

at 7.30pm.

What's On

TUESDAYS &

THURSDAYS

MEMBERS LUCKY

CARD DRAW

CLUB

BISTRO

DOWNSTAIRS

Open Tuesday to Saturday

12pm - 2pm & from 5pm.

Dine by the Beach

PIERVIEW

RESTAURANT

UPSTAIRS

Open from 5.30pm Fri, Sat,

Sun, and Sunday Brunch

from 10.30am to 2pm.

MONTH-END

SUNDAY NIGHT

BUFFET $25pp

Sunday 27th MAY,

from 5.30pm

BOOK NOW!

202 Marine Pde | Ph 388 9416 | www.newbrightonclub.co.nz | Members, guests & affiliates welcome

SERVING

HAPPY HOUR

5PM - 7PM DAILY

Lunch & Dinner

All you can eat, 7 days

Bookings Essential PH 386 0088

fb.com/GardenHotelRestaurant www.gardenhotel.co.nz

OUR CABINET ITEMS

ARE HOMEMADE

CREATED FRESH ON SITE DAILY

$12

LUNCH

SPECIALS

Live Music:

6PM.SAT 19-MAY

COFFEE

HAPPY

H O U R

2PM-4PM

DAILY

$3.50

Offer available for a limited time

and includes tea, hot chocolate

MON: ROAST MEAL

TUE: FISH & CHIPS

WED: FISH BURGER

THU: ROAST MEAL

SAT: FISH & CHIPS

AVAILABLE

FROM

11.30AM-2PM

FOR A

LIMITED TIME

PHONE 385 8880 FIND US ON FACEBOOK fb.com/GBCCHCH

THE GARDEN HOTEL COMPLEX | 110 MARSHLAND RD

www.gardenhotel.co.nz | phone 385 3132

H ORNBY

WORKINGMEN'S

CLUB

FAMILY FRIENDLY DINING

Club CAFE

OPEN DAILY

LUNCH & DINNER

GF & V options available

Chalmers Restaurant

CARVERY DINNER $22.50

EVERY FRIDAY & SATURDAY FROM 5.30PM

Early Bird Special

5.30pm - 6.30PM

FREE

DESSERT

Family Friendly

SUNDAY NIGHT BUFFET $27

EVERY SUNDAY FROM 5PM-8PM

PERFECT FOR SPECIAL OCCASIONS & FAMILY EVENTS!

LIVE MUSIC

SATURDAY

4.30PM:

REMINISCE WITH ANTHONY

8PM:

LITTLE CITY DUO

7.30PM: UPSTAIRS

NEVILLE WILKINS &

THE VISCOUNTS. $7 ENTRY.

COMING UP

SUNDAY 27 MAY

BRENDAN DUGAN

50TH ANNIVERSARY SHOW

feat. FAMILY & FRIENDS

2PM. TICKETS $20

SATURDAY 9 JUNE

A TRICK OF THE LIGHT

THE PINK FLOYD PROJECT

SATURDAY 23 JUNE

STARS IN THEIR EYES

feat TONY WELLINGTON

AS ROY ORBISON and

EDDIE SIMON AS LEO SAYER

The Hornby Club | ph 03 349 9026 | 17 Carmen Rd | Hornby

www.hornbywmc.co.nz | Members, guests & affiliates welcome
---
32 Tuesday May 15 2018

Latest Christchurch news at www.star.kiwi

PEGASUS POST

HP All in One ex leASe

FAntAStic BArgAinS

Compaq 6300 AIO

• i5 CPU • 8GB RAM

• 500GB Hard drive

• DVD Writer

• Keyboard and Mouse (corded)

• Windows 10

• 21.5" Screen

• 6 months warranty

• Ex lease

WINDOWS 10 OPTIONS ON ALL EX LEASE COMPUTERS

HP 800 Elite 1

$599

incl gSt

• i5 CPU • 8GB RAM

• 500GB Hard drive

• DVD writer

• Keyboard and mouse (corded)

• Windows 10

• 23.6" Screen

• 6 months warranty

• Ex Lease

$699

incl gSt

UPgrAdeS

• 8GB Ram extra add $ 100 inc GST

• 256GB Solid State Hard drive $ 169 inc GST

Shop online at: www.computercentre.co.nz

serving christchurch for over 28 years

Unit 1/100 Fitzgerald Ave (Next to Cartridge World)

Phone: 379 3428

www.computercentre.co.nz

Open Monday-Friday, 9am-5pm

Q Card lending criteria, terms

and conditions, and fees apply

*All work carried out in our

workshop. Home pcs only.

Pay with Q Card or Farmers Card.