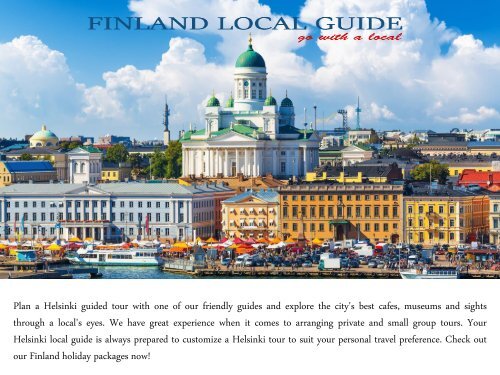 Helsinki Guided Tours
Plan a Helsinki guided tour with one of our friendly guides and explore the city's best cafes, museums and sights through a local's eyes. We have great experience when it comes to arranging private and small group tours. Your Helsinki local guide is always prepared to customize a Helsinki tour to suit your personal travel preference. Check out our Finland holiday packages now! http://www.finlandlocalguide.com/
Plan a Helsinki guided tour with one of our friendly guides and explore the city's best cafes, museums and sights

through a local's eyes. We have great experience when it comes to arranging private and small group tours. Your

Helsinki local guide is always prepared to customize a Helsinki tour to suit your personal travel preference. Check out

our Finland holiday packages now!
---
Looking for the best way to experience beautiful parks, monuments and market halls of Helsinki? Feel free to check out

our Helsinki Segway tour led by a professional local guide. Your tour guide will make your trip even more enjoyably by

offering useful insights of the city. Helsinki and its attractions can be best explored on this tour.
---
Address - Sinikalliontie 11

City- Espoo

Zip- 2630

Country- Finalnd

358402144155

nick@finlandlocalguide.com

http://www.finlandlocalguide.com/
More magazines by this user