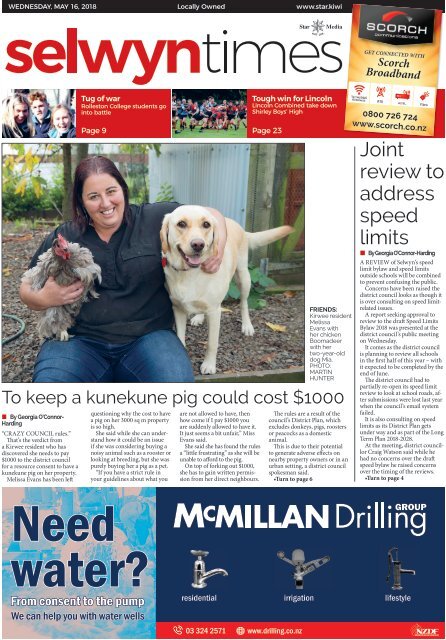 Selwyn Times: May 16, 2018
You also want an ePaper? Increase the reach of your titles
YUMPU automatically turns print PDFs into web optimized ePapers that Google loves.
WEDNESDAY, MAY 16, 2018

Locally Owned

www.star.kiwi

GET CONNECTED WITH

Scorch

Broadband

Tug of war

Rolleston College students go

into battle

Page 9 Page 23

Tough win for Lincoln

Lincoln Combined take down

Shirley Boys' High

FRIENDS:

Kirwee resident

Melissa

Evans with

her chicken

Boomadeer

with her

two-year-old

dog Mia.

PHOTO:

MARTIN

HUNTER

To keep a kunekune pig could cost $1000

• By Georgia O'Connor-

Harding

"CRAZY COUNCIL rules."

That's the verdict from

a Kirwee resident who has

discovered she needs to pay

$1000 to the district council

for a resource consent to have a

kunekune pig on her property.

Melissa Evans has been left

questioning why the cost to have

a pig on her 3000 sq m property

is so high.

She said while she can understand

how it could be an issue

if she was considering buying a

noisy animal such as a rooster or

looking at breeding, but she was

purely buying her a pig as a pet.

"If you have a strict rule in

your guidelines about what you

are not allowed to have, then

how come if I pay $1000 you

are suddenly allowed to have it.

It just seems a bit unfair," Miss

Evans said.

She said she has found the rules

a "little frustrating" as she will be

unable to afford to the pig.

On top of forking out $1000,

she has to gain written permission

from her direct neighbours.

The rules are a result of the

council's District Plan, which

excludes donkeys, pigs, roosters

or peacocks as a domestic

animal.

This is due to their potential

to generate adverse effects on

nearby property owners or in an

urban setting, a district council

spokesman said.

•Turn to page 6

0800 726 724

www.scorch.co.nz

Joint

review to

address

speed

limits

• By Georgia O'Connor-Harding

A REVIEW of Selwyn's speed

limit bylaw and speed limits

outside schools will be combined

to prevent confusing the public.

Concerns have been raised the

district council looks as though it

is over consulting on speed limitrelated

issues.

A report seeking approval to

review to the draft Speed Limits

Bylaw 2018 was presented at the

district council's public meeting

on Wednesday.

It comes as the district council

is planning to review all schools

in the first half of this year – with

it expected to be completed by the

end of June.

The district council had to

partially re-open its speed limit

review to look at school roads, after

submissions were lost last year

when the council's email system

failed.

It is also consulting on speed

limits as its District Plan gets

under way and as part of the Long

Term Plan 2018-2028.

At the meeting, district councillor

Craig Watson said while he

had no concerns over the draft

speed bylaw he raised concerns

over the timing of the reviews.

•Turn to page 4

Need

water?

From consent to the pump

We can help you with water wells

residential irrigation lifestyle

03 324 2571 www.drilling.co.nz
---
2 Wednesday May 16 2018

Latest Christchurch news at www.star.kiwi

from the reporter's desk

Combining two different speed bylaws to prevent confusing the

public does seem logical (see page 1).

This is what the district council has decided to do after

receiving a report seeking approval to review to the draft Speed

Limits Bylaw 2018 at its meeting on Wednesday.

As you'll read on page 3, the district council is putting the

Draft Gambling Venue Policy out for public consultation this

month.

District councillor Craig Watson was concerned the proposed

gaming machine cap of 120 was arbitrary.

However, he agrees with the 74 per cent of people surveyed

who thought the cap shouldn't be based off population growth.

It will be interesting to see the results of public consultation.

– Emily O'Connell

Internet woes

Fibre dead spot frustrates residents

Patches of a Prebbleton subdivision miss out on high speed

broadband.

Page 4

Scholarships for brothers

Talented swimmers get boost

Celyn and Ieuan Edwards will both receive up to $5000

to help them reach their full potential in the pool.

SELWYN TIMES

get in touch

GENERAL ENQUIRIES Ph 379 7100

CLASSIFIED ADVERTISING Ph 379 1100

The Christchurch Star Company Ltd

PO Box 1467, Christchurch

starmedia.kiwi

NEWS

Emily O'Connell

Ph: 364 7497

emily.oconnell@

starmedia.kiwi

Georgia

O'Connor-Harding

Ph: 364 7438

georgia.oconnor@

starmedia.kiwi

ADVERTISING

Lynette Evans

Ph: 364 7434

lynette.evans@starmedia.kiwi

Page 20

Community event

Get crafting

Go along to the Darfield Library for craft-making, a chat

and to learn new skills on Tuesday, 2pm-3pm.

Page 28

The best-read local newspaper, delivered to

20,015 homes, RDs and farms every Wednesday

Ladbrooks, Tai Tapu, Leeston, Lincoln, Southbridge, Prebbleton,

Halswell, Rolleston, Templeton, Burnham, West Melton, Darfield,

Kirwee, Arthur's Pass.

Canterbury Polythene

Pipe and Irrigation

All you need for water supply and irrigation

Supplying Retail, Wholesale Customers,

Installers, Landscapers and DIY

ALL AT FACTORY PRICES

CANTERBURY POLYTHENE PIPE

LTD

Unit 15/35 Illinois Drive, Izone, Rolleston

Phone 03 260 0795 • 027 222 6680

www.cantpolypipe.co.nz | cantpolypipe@gmail.com

USE

YOUR

LOCAL

ROLLESTON LAW

Rolleston Office: 78A Rolleston Drive, Rolleston

Darfield Office: Darfield Business Hub, 68 South Terrace

Bowranda

PATIO ROOF

W: www.meareswilliams.co.nz

T: (03) 374 2547 M: 021 148 6221

Richard Gray

E: rcg@meareswilliams.co.nz

Anita Molloy-Roberts

E: am@meareswilliams.co.nz

Kate Warren

E: kcw@meareswilliams.co.nz

For a free Measure & Quote PH 0800 26 26 20

⚫ Achieve your outdoor vision

⚫ A permanent, sheltered outdoor space

⚫ Eliminates 99% of harmful UV light – maintains

ambient light

⚫ Options to customise and enclose with outdoor

blinds

⚫ Immediately increase the value of your home

⚫ Frame constructed of powder-coated aluminium

& stainless steel

⚫ Square profile exhibits aesthetic conformity

with NZ residential architecture

⚫ Manufactured to clients custom specifications

& dimensions

www.bowranda.co.nz
---
SELWYN TIMES Latest Christchurch news at www.star.kiwi

Wednesday May 16 2018 3

News

Gaming machine increase likely

• By Emily O'Connell

A PROPOSED draft policy

could see an increase in gaming

machines across the district.

At its meeting last week, the

district council received the

Draft Gambling Venue Policy

and decided to put it out for

public consultation later in the

month.

The draft

policy included

an increase

in the current

machine cap

of 107 to 120.

"The existing

policy

Craig Watson

with a cap of

107 machines

was put in

place when the population of

the district was approximately

49,500 in March 2015," it read.

However, the report said the

cap has been breached with the

approved number of machines

currently sitting at 114.

A survey of residents, undertaken

in November, indicated 58

per cent of the 236 people surveyed

say that gambling harms

the community or is a serious

problem.

In 2014, it was 41 per cent.

The survey also showed 74 per

cent of respondents disagreed

or strongly disagreed that the

number of gambling machines

in the district should increase

proportionally with population

growth.

District councillor Craig

Watson thought the cap of 120

poker machines was "arbitrary"

but agreed basing the cap off

population growth made it "too

high."

He's urging residents to make

submissions so the district

council can understand what the

community think is the "right

balance" between potential

harm and good.

"I think it'll be an interesting

one, and I hope there will be

lots of submissions because it's

a really important piece of our

social framework, how we deal

with pokies," Cr Watson said.

The proposed draft policy

includes a limit of five machines

for new venues and a maximum

of five machines for venues

which are operating less than

five machines.

The report says information

from Department of Internal

Affairs and the Problem

Gambling Foundation

shows that in general Selwyn

communities lose about $3.5

million each year on poker

machine gambling.

Written submissions on the

draft policy can be made from

May 28 to June 29.

A hearing panel, consisting

of district councillors Bob

Mugford and Debra Hasson and

Deputy Mayor Malcolm Lyall,

will review the submissions and

make a recommendation to the

district council.

HORNCASTLE ARENA

June 29 - July 1 10AM - 5PM

TICKETS ONLINE: starhomeshow.kiwi

REVIEW:

The Selwyn

District

Council

wants public

feedback on

its proposal

to increase

the district's

gaming

machine cap

from 107 to

120.

In Brief

TWO PEOPLE FOUND

A hunter in his 40s was found

on Saturday afternoon after

rolling his ankle and activating

a personal locator beacon. The

man, who was overdue from

a morning hunting trip near

Benmore Hut, was picked up by

the Westpac Rescue Helicopter.

A woman, 40, was also found

after setting off for a training run

from Porters Pass. The woman's

husband informed police on

Saturday evening that she hadn't

returned. Oxford Land Search

and Rescue volunteers were put

into the area and were able to

find a light source. The woman

was picked up by the Westpac

Rescue Helicopter at 1.30am on

Sunday as volunteers could not

reach her.

FARM BUILDING FIRE

Firefighters were called to

contain a fire in Motukarara

at 5.30pm on Wednesday.

Lincoln chief fire officer

Jeremy Greenwood said it's

still unknown how an old farm

building caught fire but it's "not

deemed to be suspicous." He said

units from Lincoln, Rolleston

and Governors Bay attended

the "well involved fire." It took

firefighters two and a half hours

to contain the blaze. No-one was

injured.

Trusted brand

+ Experienced hands

= Results

you can count on!

Free appraisals

Proven selling methods

Living and selling local

Residential specialist

Mary Westwood

021 557 731

03 347 4711

mary.westwood@harcourts.co.nz

fourseasons.harcourts.co.nz

Free Quotation

Free Installation

Free Aluminium Track

for Christchurch customers

CURTAINS | BLINDS | SHUTTERS | SHADES

Four Seasons Realty 2017 Ltd | Licensed Agent REAA 2008

ProFessional Custom made Curtains

25 Picton Avenue Riccarton, Christchurch

P 349 4888 E officinevoluptasnz@gmail.com

www.officinevoluptas.co.nz

SEE YOUR LOCAL

AUDIOLOGIST – BRENNA

for a more personalized hearing aid experience!

There's no excuse to wait…

• Open 5 days a week in Rolleston

• Late night clinic for those who are working (these fill up fast, so be quick!!!)

• Match or beat any competitor's price

• FREE appointments if you have ACC funded hearing aids

• Hearing aids in all price brackets – including fully funded ACC options!

If you have hearing aids or need hearing aids and want a high level of

personal service at a competitive price, get in touch. It's easy to switch

to our clinic even if you already have hearing aids from elsewhere!

36 Tennyson Street, Rolleston

Call 03 390 2332 | www.sincockhearing.nz

Clinics in Lincoln | Leeston | Darfield

Shop 5, New World, Shopping Centre, Rolleston | Ph 03 260 0950
---
4 Wednesday May 16 2018

Latest Christchurch news at www.star.kiwi

News

Joint review

to address

speed limits

•From page 1

At the meeting, district councillor

Craig Watson said while he

had no concerns over the draft

speed bylaw he raised concerns

over the timing of the reviews.

"We have just come off a speed

review which didn't go awesome

. . . I just think this is confusing

for the public," he said.

His views were supported by

district councillors Nicole Reid

and Murray Lemon who said

it was at "risk of muddying the

waters."

As a result it was decided both

reviews would go out to public

consultation together in August.

But confusion broke out around

the council table when the district

council's assets manager Murray

Washington raised the issue of the

current Speed Limit Bylaw 2006

lapsing.

The bylaw lapsed in 2016 but

had two years until it officially

expires.

It was questioned if the bylaw

lapsed would there be no law in

place and people could do whatever

they want on the roads.

But it was confirmed by chief

executive David Ward if the bylaw

lapses it holds and changes cannot

be made to the speed limits when

it expired until it is renewed.

• By Eddy Bramley

RESIDENTS OF a Prebbleton

subdivision have been left

frustrated after finding

themselves in a fibre broadband

dead spot.

A section of Lindsay Drive

was not included in broadband

company Enable's original fibre

coverage plan that rolled out last

year.

Fibre cable was included in a

recent extension of the road for

a new subdivision which has

left a small zone of 20 houses in

the middle of the street unconnected.

Greg Cook, a resident of Lindsay

Drive whose house is inside

the dead spot said the situation

was frustrating.

"It's really annoying because

virtually all of Prebbleton has

fibre except for our little zone.

No one seems to be taking responsibility

for the problem."

Enable initially told Mr Cook

that his household would be

part of another upcoming fibre

roll out, however, the company

recently confirmed that it is

not contracted to install fibre

in his area and advised him to

speak to the secondary network

provider Chorus.

When Mr Cook spoke to Chorus

they said they were unable

to help.

FRUSTRATED: Prebbleton resident Greg Cook has been waiting

three years to have the high-speed fibre optic cable installed to

his home on Lindsay Drive.

PHOTO: EDDY BRAMLEY ​

Local

News

Now

Fibre dead spot frustrates residents

Don't let ashes

start a fire!

SELWYN TIMES

Fire rages, homes at risk

Mr Cook works from home

and relies on high speed

internet for conference calls to

Auckland and Bangkok. He said

no connection to high speed

internet has made life extremely

difficult.

Enable is owned by Christchurch

City Holdings, the commercial

arm of the city council.

It began a roll-out across

Christchurch in 2011, however,

it didn't reach Prebbleton until

early 2017.

Internet New Zealand

outreach and engagement director

Andrew Cushen said the

situation was difficult as fibre

networks were supposed to give

everyone in the candidate area

access to connectivity but new

developments were not necessarily

part of the deal.

"The onus is on the fibre network

to be clear with residents

on whether their homes are in

the connected area. The original

roll-out map is clear but you

have to assume that new developments

will be built and they

will need access as well."

Ninety-five per cent of the Enable

cable is now installed across

Christchurch giving 180,000

homes and businesses access.

70,000 homes are connected so

far.

When asked why the section

on Lindsay Drive wasn't

originally included in the plan,

Enable head of communications

Daniel Herd admitted that they

could have been clearer about

how residents could get connected.

"We admit that good information

hasn't been given throughout

their inquiry with us. We're

now going through the process

of seeing whether it's commercially

viable to provide network

access in that area and that is

what we should have done from

the start."

Here are some handy tips on how to dispose of ash safely:

Put ash in a metal bucket with a lid, then

douse with water and leave to cool for at

least five days

Bag cold ash and place it in the red lid

rubbish bin

No ash in the organics bins

Hot ash can cause fires in

bins and trucks. Fires in bins

can spread to houses.

www.selwyn.govt.nz
---
SELWYN TIMES Latest Christchurch news at www.star.kiwi

Wednesday May 16 2018 5

HORNCASTLE ARENA

June 29 - July 1 10AM - 5PM

TICKETS ONLINE: starhomeshow.kiwi

River working group formed

• By Emily O'Connell

A WORKING group has been

set up to address ongoing

issues with the Selwyn River/

Waikirikiri.

Selwyn Waihora Zone Committee

member Paul Hodgson,

who joined the committee earlier

this year in attempt to make

a difference to the district's

water quality issues, is behind

the plan.

He made a presentation to the

committee in April on why a

group needed to be formed and

the need to develop a plan to

restore the river.

The working group, which

was established at a recent committee

meeting, includes Mr

Hodgson, committee members

Les Wanhalla, Ron Pellow, Iaean

Cranwell and district councillor

Murray Lemon.

Other members include Canterbury

University Waterways

Centre for Freshwater Management's

Katie Nimmo, Fish and

Game's Scott Pearson, Forest

and Bird, Selwyn Waihora

Water Improvement Mission,

farmers, Runanga, Department

of Conservation and community

members.

The terms of reference, which

outlines the two stages of the

proposed work programme, has

been presented to the committee.

Stage one will have a technical

focus, describing the state of the

river including historical records,

determining available data, what

a healthy Selwyn River would

look like and how this compares

with its current state.

Stage two will see the working

group in deliberations to identify

the factors which influence

the state of the river, a state of

the river which is acceptable and

a road map and time frame for

PLANS: A

working group

has been

be set up

to establish

a plan for

improving the

Selwyn River/

Waikirikiri. ​

getting to this state.

The first stage is expected to be

completed next year and stage

two will be started in 2020.

Zone committee chairman

Allen Lim said other people are

likely to join the working group

and then the Terms of Reference

will be finalised.

"Basically it got approved

within the first couple of

minutes so it was a well written

Terms of Reference and no further

changes needed to be made

on it," he said.

The plan aims to combat community

concerns not resolved

at a Environment Canterbury

water seminar series last year.

ECan ran a series of seminars

to reduce tensions between residents

over how water issues in

the Selwyn-Waihora catchment

are managed.

•Mr Hodgson hopes to

engage the community in

the project and is wanting

anyone with historic photos

or information on the river

to get in touch. Email

hodgie538@gmail.com or

phone 021 196 5676.

In Brief

ROAD NAMED

The district council has approved

Bruce McLaren Way as the name

for a road in the CI Services

subdivision in Rolleston. The

alternative name suggestion

was Monarch Pl. Both names

have the approval of Land

Information New Zealand.

MOTORSPORT EVENT

Zig Zag Rd, from the intersection

with Rakaia Gorge Rd to

the intersection with Coleridge

Rd, will be closed between

9am–5.30pm on Sunday for the

Rakaia Zig Zag Sprint, motorsport

event. Detours will be in

place.

CD VOLUNTEERS NEEDED

The district council is looking

for volunteers to become part

of the Civil Defence welfare

team. Volunteers will be trained

to open and run a welfare

centre and provide welfare

support to the community

during emergency events. Roles

may include registering and

identifying needs of people

coming into the welfare centre.

The council is hosting a public

open night on Tuesday from

7pm at the council chambers.

For more information, phone

the council's emergency

management team on 347 2800.

COME ON IN

TO FIND YOUR

REASON TO STAY

At the heart of Lincoln

OPEN 7 DAYS • 03 325 2408

famousgrousehotel.co.nz

"We always felt valued and that

our interests and enquiries were

paramount"

Brett & Helen

Phone: 03 348 1994

www.peterrayhomes.co.nz

"We were very impressed with your

flexibility, allowing us to put in our

own design touches"

Kate & Guy
---
6 Wednesday May 16 2018

Latest Christchurch news at www.star.kiwi

News

SELWYN TIMES

Commissioned by

BIG EXPENSE: Anyone wishing to keep a rooster, pig, donkey or peacock in a living or business zone in Selwyn needs to

pay $1000 for resource consent.

Keeping non-domestic animals can be costly

•From page 1

The keeping of domestic pets

in a living or business zone is

a permitted activity under the

District Plan.

A district council spokesman

said it has never received an

application to keep what it

classifies as non-domestic

animals in a business or living

zone.

Kirwee resident Erin Todd

A SERIES of wood carving

workshops is helping children

and adults to salvage some of

Lincoln University's historic

timber.

Christchurch-based social

enterprise, Rekindle, has set

up shop at the Brandenburg

said she was looking to take

in several homeless pigs, but

because of the $1000 resource

consent she could not afford it.

"We didn't go ahead with it

and I think the pigs were killed

because they had no where to

go. We could have given them

a home," she said.

Miss Evans said the rules

are a result of housing

development in Kirwee

Coppice on campus to teach

members of the public how to

carve spoons and three-legged

stools from the mature timber

of 80 to 120-year-old oak trees.

The trees were recently

cleared to make way for the

planned Lincoln University

and she is zoned as rural

residential.

The township is expected to

grow to 1484 by 2025.

Ms Todd said she has lived

in Kirwee for six years and

the zoning of her property has

changed from rural to rural

urban.

Kirwee Community

Committee chairman Graeme

Roberts said the rules are

understandable on small

sections.

But it was the first he had

heard about issues with

kunekune pigs.

•HAVE YOUR SAY: Do

you think it should cost

$1000 to own a nondomestic

pet? Email your

views to georgia.oconnor@

starmedia.kiwi

Carving out a new niche for campus wood

and AgResearch joint facility, a

new shared education and research

centre that will replace

the campus' earthquake-damaged

buildings.

Rekindle focuses on teaching

creative skills that can reduce

waste and increase resourcefulness.

"Being able to make what

we need from what we have

is something we all need to

feel confident in," Rekindle

founder Juliet Arnott said.

•To attend classes,

visit www.rekindle.org.nz.

The Selwyn District Council would like to thank all of

our Gold sponsors for their generous support.

Arts, Culture & Heritage –

Warren and Mahoney

Community Service – ANZ

Environmental – Stantec

Innovation – Monadelphous

Large Business – Buddle Findlay

People's Choice – iPort

Small Business – Storage King

Sport – HEB Construction

Tourism – Sicon Ltd

Young Achiever – Rolleston New World

RECOGNISING SUCCESS IN OUR COMMUNITY

GALA

DINNER

Environmental Award

Gold Sponsor: Stantec

Communities are fundamental. Whether around the corner or across the globe, they provide a foundation, a sense of

belonging. That's why at Stantec, they always design with community in mind.

Stantec cares about the communities they serve–because they're their communities too. They are designers, engineers,

scientists, and project managers, innovating together at the intersection of community, creativity, and client relationships.

Balancing these priorities results in projects that advance the quality of life in communities across the globe.

Stantec are proud to support the 2018 Selwyn Awards and celebrating success in the Selwyn community.

Innovation Excellence Award (new award for 2018)

Gold Sponsor: Monadelphous

Monadelphous is an established water infrastructure business in New Zealand, focused on the delivery of innovative

irrigation, water and waste water infrastructure solutions. Diverse experience across the public and private sector allows

them to offer unique perspectives across all phases of a project.

Their projects often play a role in the community, and that's why as part of their projects they prioritise continuous

community consultation to build strong partnerships which support the successful delivery of projects that meet

environmental, community and business needs.

First time sponsor of the Selwyn Awards, Monadelphous are proud to sponsor the new Innovation Excellence award.

Nominations are open!

Don't miss this opportunity to nominate a worthy Selwyn

individual or business. Nomination forms available online.

www.selwynawards.co.nz

SATURDAY 4 AUGUST

LINCOLN EVENT CENTRE

SPONSORED BY
---
SELWYN TIMES Latest Christchurch news at www.star.kiwi

Wednesday May 16 2018 7

Commuter congestion to ease

Broughton has

concerns with

Brougham St

• By Julia Evans

ONE OF the city's busiest

roads is set to have its

congestion issues addressed.

Brougham St "corridor

improvements" have been

included in the draft transport

agency investment proposal

2018-27 released by the New

Zealand

Transport

Agency.

About

44,000

vehicles,

including 5000

freight, use the

thoroughfare

Jim Harland

from the

Selwyn

district to

Lyttelton Port each day.

"The Brougham St, State

Highway 76 project is

identified as a proposed

activity, which means it will

continue to be developed,

subject to its new alignment

with the Government policy

statement on land transport

priorities," NZTA direction

regional relationships Jim

Harland said.

The proposal includes a

budget of between $10

million-$100 million for the

upgrades to increase flow along

the street.

The work would be completed

before 2021, while a

detailed business case and

design would begin when the

plan was approved by Environment

Canterbury's regional

transport committee before

August 31.

The plan said NZTA will

work with partners, including

the city council and Selwyn

District Council, to "investigate

appropriate solutions" to

congestion along Brougham

St to the Rolleston Corridor,

which connects Selwyn to the

Lyttelton Port.

"Doing so will improve customer

access between the south

of the city to Lyttelton Port

and help reduce congestion in

Christchurch's south-western

suburbs," the plan said.

It comes as Selwyn Mayor

Sam Broughton raised concerns

about congestion on

the motorway during the city

council's Long Term Plan

hearings.

Mr Broughton said he anticipates

congestion will get worse

the longer the corridor is left

as it is.

CONGESTION:

Brougham

St has been

identified

as in need

of corridor

improvements

by NZTA.

PHOTO:

MARTIN

HUNTER

"The southern end of the

motorway connecting to

Brougham St is a major cause

of transport delays to the

wider travelling public, which

is expected to get worse as

time goes on," Mr Broughton

said.

This was inevitable with the

expected population increases

in both Selwyn and Christchurch,

he said.

City council manager planning

and delivery transport

Lynette Ellis said it would work

with NZTA to "effectively and

efficiently" keep the transport

network running, including

Brougham St.

Something

special just

for you!

Visit Smith and Boston!

SMITH & BOSTON

Prebbleton Village | Christchurch

Ph: 03 349 5646

www.smithandboston.co.nz

Cut out voucher to redeem

Rolleston | 740 Jones Road

Opening Special

FREE MUFFIN

when you purchase a barista made coffee

Conditions apply.

One blueberry muffin per

voucher. Expires 30/06/18.

SWT102

20K

EITHER

WAY

SCHOOL

WHEN

PASSING A

STATIONARY

SCHOOL BUS

740 Jones Road, Rolleston | 03 347 2686 | www.npd.co.nz

Proudly brought to you by the Road Safety Team

www.selwyn.govt.nz
---
8 Wednesday May 16 2018

Latest Christchurch news at www.star.kiwi

SELWYN TIMES

You bring the dream,

we'll bring the

How To.

ADVERTORIAL

New pupils

•If your child has started

school recently, send

their picture to emily.

oconnell@starmedia.kiwi

With Canterbury experiencing

a hot summer after the wettest

winter on record, our weather

has certainly been extreme.

However, brave Cantabrians,

with verandas and adjustable

louvres from Stratco on our

side, we can take back control

of our unpredictable elements.

Steve Cain, Outdoor Product

Specialist at Stratco, is passionate

about their verandas and electronic

louvre systems "they add great

value to a home, families get

so much more use from their

outdoors, and the real estate

market recognises that value as

well".

Steve says adding an adjustable

louvre system allows you to

control exactly how much sunlight

and breeze in, and protect from

rain as well.

Custom made to suit your

requirements and powder coated

to any colour, the louvre comes

standard with an electronic remote

control as well as a rain sensor

which gives you huge flexibility on

how to use the system.

The verandas are Stratco's own

unique leading edge design and

componentry. Steve is pleased to

be able to offer a bespoke veranda

at the same price as a standard

product, because Stratco has

the design tools that enable the

veranda to be custom-designed to

your size, layout, and attachment

requirements.

The process is simple: Steve

will talk through the possibilities

with you and then measure and

quote, which is free with no

obligation. Stratco then designs,

manufactures, and installs the

verandas and louvres themselves.

It's a one-stop-shop, with all the

project management and heavy

lifting taken care of, leaving you

hands free to thumb your nose at

our climate chaos.

For a quote phone Steve Cain

on 021 374 420.

SCHOOLS

Freya has recently started at Darfield

Primary School in the new entrants

room and joins her brother Leon at the

school.

Victoria and Elizabeth

have recently moved to

Selwyn and started at

Darfield Primary School

this term. ​

EJ and KT have moved

to the district from the

Philippines and started at

Darfield Primary School.

GOLD

CARD

LUNCHES

MON - FRI

Woodfired Pizzas / Full Menu •

$20 Pizzas Mon / Tues •

$7 Beers 4-6pm Every day •

Gaming Room •

Tues Quiz Nights •

$15 Burgers Wed •

Chill Out Guitar Session Thurs 7-9pm •

$15 Curry Thurs / Fri •

Takeaways Available •

Open 7 days Coffee/Lunch/Dinner

Open 11.30am Mon-Sat | Ph 03 421 6481

Sunday Breakfast from 9am

West Melton Village, Weedons Ross Road

www.twofatpossums.co.nz

Courtesy Van available
---
SELWYN TIMES Latest Christchurch news at www.star.kiwi

Wednesday May 16 2018 9

Whanau battle at Rolleston College

Will you be our

Rolleston College students competed in tug of war as part of the school's

whanau competition. Each whanau battles against one another in sporting,

cultural, citizenship and arts-based activities to gain whanau points. The

whanau names – Raumati, Hotoke, Ngahuru and Koanga – represent the four

seasons. The year 10 tug of war competition was won by Raumati and the

year 9 competition by Ngahuru.

Sweet spell

of success

for Darfield

pupils

Darfield Primary

School's Charli,

Liam, teacher Mrs

Cooper, Skye and

Charles won the

Malvern Spelling

Bee last Thursday.

SEE INSTORE FOR DETAILS

Wattie's Baked Beans

or Spaghetti 420g

(excludes Meat and Flavours)$

1 69 ea

Nescafe Coffee

90-110g

$

5 99 ea

BUY SELECTED

PRODUCTS TO

ENTER THIS WEEKS

PRIZE DRAW!

Wattie's Very

Special Soup 535g

$

3 29 ea

Nescafe CafE Menu

10 Pack

$

7 99 pk

Verkerks Salami

75-100g

$

3 49 ea

ETA Ripple

Cut Chips 150g

ANY

2 FOR

$

3 49

Pams Finest

Cookies 300g

$

3 69 ea

Uncle Ben's

Express Rice 250g

$

2 49 ea

www.foursquare.co.nz

facebook.com/FourSquareNZ

Specials available South Island only from Monday 14th May until Sunday 20th May

2018 or while stocks last. Wine and beer available at stores with an off licence. Wine

and beer purchases restricted to persons aged 18 years old and over.
---
10 Wednesday May 16 2018

Latest Christchurch news at www.star.kiwi

Your Local Views

SELWYN TIMES

Adams stands up for quarry neighbours

Selwyn MP Amy Adams

writes about the need

for better rules around

quarrying in the district

HERE IN the Selwyn electorate

we have major ongoing concerns

around the location and

operation of quarries.

While I understand and agree

that we need a secure supply

of aggregate for local roading

projects and the Christchurch

rebuild, we are fortunate to

have significant amounts of the

resource around us and it is my

view that land near residential

areas and sensitive businesses

is not the right location for

quarries.

I have been advocating on

behalf of Yaldhurst residents

who appear to have been badly

affected by silica dust from

quarrying activities in their

neighbourhood, so I can fully

appreciate why Templeton

residents are very concerned

about the proposal for a quarry

to be located on Dawsons Rd.

While the consent conditions

for this sort of activity normally

contain requirements around

dust mitigation, it seems to me

that in practice very little, if any,

effective monitoring has in the

past occurred to ensure consent

conditions are being met and it

has taken significant work to get

appropriate monitoring of dust

levels under way.

It is important to understand

that in all cases, the decision

whether to grant consent for any

quarry is one made by the local

authority (the council) and not

by the Government. Given that,

as the local MP, I don't control or

have a say in these decisions.

However, I firmly believe that

such consents should always be

notified so that residents can

have their say, and I am pleased

that Fulton Hogan has indicated

this will be the case for the

proposed Dawsons Rd quarry.

I am also concerned that there

are not proper minimum setback

requirements for quarries in

council plans (which set land use

rules for the district).

Amy Adams

Selwyn MP

ADVOCATE: Amy Adams

has been speaking up on

behalf of Yaldhurst residents

who appear to have been

badly affected by silica

dust from quarrying in their

neighbourhood.

I understand that health and

environmental organisations

have determined that a setback

of up to 500m should be

maintained from any quarryingrelated

activity to any residential

property to minimise related

impacts on residents. I agree

with this and would like to see

quarrying of greywacke where

silica dust is present made a

prohibited activity within 500m

of residential properties.

I have met with the mayors

of both the Selwyn district and

Christchurch city, and also with

Environment Canterbury, and

have raised my concerns with

them about the appropriateness

of allowing quarries near

people's homes.

In addition to the impact

on residents from the dust

and heavy truck movements

associated with the quarrying,

this kind of activity could render

land that could be appropriate

for future housing developments

or commercial purposes

unusable for these purposes in

the future. And so I encourage

councils to consider the optimal

long-term land use for any site

when considering any quarrying

application.

While decisions will always

remain in the control of local

councils, rather than me as

your MP, I can assure you I will

continue to make my position

clear on behalf of affected local

residents and support them in

having their concerns on this

matter heard.

•More Local Views, page 14

HEAT PUMP

SALE NOW ON!

Amazin' Autumn Specials!!

• We will offer you the best quality brands and

option of heat pump for your home/business

• Providing Heat Pump solutions for over 15 years to Cantabrians

• We personally guarantee all our products & installs for 5 years

(providing annual maintenance has been completed)

Phone us today for your free consultation & quote

41A SHAKESPEARE RD, WALTHAM

PHONE 03 366 0525

www.enviromaster.co.nz

"A local team for local people"

Free confident driving

course for mature drivers

Selwyn District Council and Age Concern offer free

refresher driving courses throughout the Selwyn district.

Upcoming courses: Monday 11 June, Lincoln.

For more information and to book for

the next course in your area, contact

Age Concern on (03) 366 0903.

Proudly supported by the Road Safety Team

www.selwyn.govt.nz
---
SELWYN TIMES Latest Christchurch news at www.star.kiwi

Wednesday May 16 2018 11

ROLLESTON

If you think Bridgestone Rolleston does

just tyres, you might be in for a surprise.

While, of course, it is well-placed to solve

any tyre-related problem, it is so much

more.

One hundred percent New Zealand

owned and operated, and part of a

large network of South Island tyre and

mechanical repair specialists, Bridgestone

Rolleston provides all manner of services

for private car owners, fleet vehicles, farm

and heavy equipment.

Manager Tim Smith and his wife

Coralyn head a team of nine full time

tyre fitters, fleet servicemen, wheel

alignment specialists and mechanics.

Tim's background is in the tyre industry

as, among other things, a fleet serviceman

and wheel alignment technician, and has

been managing Bridgestone Rolleston for

the last three years.

Located on Jones Road, directly across

the train tracks from the BP, Bridgestone

Rolleston is part of one of New Zealand's

most trusted tyre brands. In addition

to providing new tyres and servicing

anything with a tyre on it, it provides many

other services including WOF, oil changes

and servicing. If you book a full service,

the WOF is free. Some conditions apply, so

talk to the team about that offer.

As the colder months approach,

Bridgestone Rolleston recommend

several checks on your car, including

tyre treads, batteries – they supply new

batteries – and tyre pressure checks,

which are free. While you are getting that

done, you may want to discuss the benefits

of nitrogen tyre inflation, which can give

you better fuel economy, improved road

grip, and longer lasting tyres.

Other services include full grooming, a

24/7 call out service to change and fix flat

tyres, car and truck wheel alignments, and

they retread truck tyres. Retreads are cost

effective and environmentally friendly.

All tyres disposed of, however, are done

so in an ethical manner.

Farmlands members, Bridgestone

Rolleston provide services to rural

customers Selwyn-wide, including a no

charge call out during business hours for

farmers, and a 24/7 tyre service where

some charges may apply.

It honours AA Smartfuel cards and there

are finance options available on all services

and products, and the latest equipment

and technology is used including full

mechanical diagnostic scanning.

At 847 Jones Road, bring in your car,

have a complementary coffee and sit in

the massage chair while you wait.

Check out www.tasmantyres.co.nz or

call Tim and the team on 0800 838 973.

WINTER SPECIALS

265 x 65R17 Bridgestone Dueler 693 .........$170ea

215 x 60R16 Supercat ..........................................$110ea

205 x 55R16 Supercat .........................................$100ea

195 x 65R15 Supercat .............................................$95ea

205 x 65R15 Supercat .........................................$100ea

175 x 65R14 Supercat .............................................$85ea

175 x 70R13 Supercat .............................................$80ea

Price includes Fitting, Balance and GST. While stocks last.

Book a WOF

Free with

any vehicle

engine

service.

Call 03 347 4702 or 0800 838 973

Mon - Fri 7.30am-5.00pm, Sat 9am - 12pm

847 Jones Rd, Rolleston | www.tasmantyres.co.nz

Opposite Rolleston (across the railway tracks)
---
12 Wednesday May 16 2018

Latest Christchurch news at www.star.kiwi

SELWYN TIMES

$500 on the line at

pumpkin weigh-in

Weedons gets sports facility

upgrade

The old existing Weedons Cricket and Tennis Clubrooms are set

to be demolished this week to make way for the new Weedons

Community Pavilion, an inclusive facility for the tennis and cricket

clubs, as well as the wider community.

Demolition should be completed within a week. Building of the new

pavilion will then start onsite, with completion targeted for October

this year.

The area will be fenced off during demolition and construction,

however access to the tennis courts and golf course should not be

affected during this time.

Artist's impression of the new Weedons Community Pavilion

Last month Mayor Sam Broughton hosted the People's Pumpkin Party at Foster Park.

Local schools, mayors and councillors have been growing pumpkins over the summer and these

were all brought along for the big weigh-in.

There were around 15 pumpkins up for judging, among them some huge entries from

Christchurch Mayor Lianne Dalziel and local schools. Rolleston School's mega pumpkin took out

the top prize of $500, weighing in at a whopping 31.8kg. The next heaviest was Lincoln School's

pumpkin weighing in at 28.1kg.

Rolleston School students and teachers said the winnings would likely go towards the school's

new playground.

Mayor Sam also ran a competition for students to create an A3 poster about water and nutrient

management for growing the pumpkin. A small group of students from Sheffield School won and

the prize of $500 will go towards their school.

The idea for the competition came from Selwyn-Waihora Zone Committee chair Allen Lim, to help

generate discussion about how things grow in Canterbury and the water and nutrients required to

make things grow.

The pumpkins will now be harvested for their seeds, which will be used for the seedlings offered

in next year's competition, which organisers hoped would be bigger and better.

Drop-off days collect tonnes of recyclables

Two Community Recycling Drop-off Days in Malvern and Ellesmere have collected over 25 tonnes

of garden waste for composting, along with over 6.5 tonnes of scrap metal and around 160 tyres

for recycling.

The two drop-off days were held near Leeston and Darfield providing residents with an alternative

drop-off point for their garden waste and some types of recyclables.

Over the two days, 190 vehicles dropped off their garden waste, scrap metal and other recyclables for

a small charge. The events were managed by Council's Contractor, Sicon Ltd. Volunteer assistance

was provided by members of the Ellesmere Heritage Park, and in Malvern, the Malvern Lions Club and

Hororata Golf Club helped out.

Donations have been made to those organisations in recognition of their volunteer assistance on the

respective drop-off days.

Garden waste can normally be disposed of either through optional Council kerbside green organics bins in

townships or at the Pines Resource Recovery Park near Rolleston. Garden waste can also be composted

in your back yard. Information about home composting is available online at www.selwyn.govt.nz/rubbish

under the 'organic collection' link.

You can also recycle your scrap metal and a range of other recyclables at the Pines Resource Recovery

Park free of charge.

Council Solid Waste Manager Andrew Boyd says it was encouraging to see so many residents turn up

and dispose of these materials in a way that will benefit the environment, while supporting local groups

through donations.

Ellesmere Community Drop-off Day

Learn with Britannica online

Get answers you can trust from Encyclopedia Britannica — the

latest eResource at Selwyn Libraries.

Britannica Library is an award-winning online encyclopedia, with the

tools to complete homework assignments, conduct research, or work

on special projects at reading levels for children, teens and adults. All

branches of knowledge are covered in this interactive resource.

This online service is available for free to all our Library members.

Go to selwynlibraries.co.nz or ask library staff for more information.

Get box fit at Rolleston

Community Centre

Join the high intensity boxing class at Rolleston Community Centre.

This workout includes skipping, agility work, core work and boxing.

Partner up to get a boxer's workout to increase your overall fitness

levels while having fun.

Classes run on Wednesdays at 6–6.45pm, and cost $64 for eight

weeks. There are only five spots left so get in quick! Come into the

centre or phone 347 2882 to enrol.

An exciting cultural opportunity

A month long exchange, from 1–30 September, to Lanzhou, the

capital of Gansu is on offer to Selwyn residents and those working

in Selwyn.

Gansu Province is situated in northwest China. Selwyn District

Council has a Sister City relationship with Shandan in Gansu. Rewi

Alley, who was born in Springfield, established schools in Gansu,

which is part of the ancient Silk Road and the 21st century Maritime

Silk Road.

Fellows from Gansu's Sister Cities use the month to learn about

Chinese history, political systems and culture, Gansu tourism,

technology, education, health and economic development.

The Gansu Foreign Affairs Office pays for international travel,

accommodation and local transport. Delegates pay for their own

food, medical care, travel insurance and a health check including a

chest x-ray.

For more details and to apply contact Bernadette Ryan on

Bernadette.Ryan@selwyn.govt.nz or phone 03 347 2800. Applicants

must be between 22 and 50 years of age and in good health.

Applications close on Tuesday 5 June at 4pm.

Council Call

Selwyn District Council

Norman Kirk Drive, Rolleston

Ph 347 2800 or 318 8338

Rolleston Library

Rolleston Drive, Rolleston

Ph 347 2880

Darfield Library & Service Centre

1 South Terrace, Darfield

Ph 318 8338 or 347 2780

CC150518
---
SELWYN TIMES Latest Christchurch news at www.star.kiwi

Wednesday May 16 2018 13

Notices

MOBILE LIBRARY TIMETABLE

Wednesday 16 May

Rakaia Huts 9.10–9.30am

Southbridge Playcentre

10–10.30am

Southbridge School

10.45am–12pm

Thursday 17 May

St John of God, Rolleston

1–1.30pm

Ladbrooks School 2–2.30pm

Prebbleton Township/Tavern

3.30–5.30pm

Monday 21 May

Upper Selwyn Huts 10–10.45am

Lincoln ChildCare and Preschool

11–11.30am

Prebbleton Child Care

1.15–1.45pm

Rolleston Christian School

2–3.30pm

Tuesday 22 May

Burnham Kindy 9.40–10.10am

Burnham Preschool

10.15–10.45am

Dunsandel School

11.20am–12.10pm

Dunsandel Childcare

12.20–12.40pm

Meetings

Public Forums: Council,

Community Board and local

committee meetings are open

to the public. Time is available at

the start of meetings for people

to speak on matters of concern.

Please notify Bernadette Ryan

or your local committee at least

three days before the meeting.

Township, Hall and Reserve

Committees: To list or make

changes to meeting details, email

meeting.changes@selwyn.govt.

nz or phone 347 2800 or 318

8338 by 9am Wednesday the

week before publication.

COUNCIL & COMMUNITY

BOARD

Unless stated meetings held at

Rolleston Council Building.

Council Meeting

Wed 9 May 1pm

Citizenship Ceremony

Wed 9 May 6.30pm

Council Water Race

Subcommittee

Mon 14 May 1.30pm

Long Term Plan Hearings

Wed 23 & Thur 24 May

Malvern Community Board

Mon 28 May 4.30pm, Darfield

Library and Service Centre

LOCAL COMMITTEES &

ASSOCIATIONS

Coalgate Township Committee

Tue 22 May 7.30pm

ON THE

ROADS

Intersection upgrades

Paradise for Little Angels

1.30–2pm

TEMPORARY ROAD

CLOSURE

Zig Zag Road (from the

intersection with Rakaia Gorge

Road (SH77) to the intersection

with Coleridge Road) will be

closed between 9am–5.30pm on

Sunday 20 May for the 'Rakaia

Zig-Zag Sprint', motorsport

event. Traffic will be requested

to detour along the nearest

alternative route. Any queries

can be directed to Joanne

Harkerss 347 2887.

SPORT NEW ZEALAND

RURAL TRAVEL FUND

Sport New Zealand Rural Travel

Funding is available for Selwyn

sport teams who need to travel

to local competition games.

For further information and

application forms go to www.

selwyn.govt.nz/services/funding/

sport-nz-rural-travel-fund or

contact Stuart Westoby, 03 347

2708, stuart.westoby@selwyn.

govt.nz. Applications for this

Coalgate Fire Station

Dunsandel Community

Committee

Mon 21 May 7.30pm

Dunsandel Hall

Ellesmere Historical Society

– AGM

Mon 21 May 7-30 pm

Leeston Community Room

Guest speaker Roger Gilbert.

"Our Ancestors' opportunities in

Ellesmere" Ancestors came from

Cornwell, The Lakes District,

Scotland, Northern Ireland and

Germany. Further details from

Roger Gilbert phone 324 3648.

All welcome.

Glenroy Community Hall

Committee

Tue 15 May 7.30pm

Glenroy Community Hall

Glentunnel Community

Centre Committee

Tue 15 May 7.30pm

Glentunnel Community Centre

A casual vacancy has arisen

on the Glentunnel Community

Centre Committee.

Please forward expressions of

interest to the Chairperson Pam

Reynolds 03 318 2377.

Glentunnel Township Committee

Mon 28 May 7.30pm

Glentunnel Community Centre

Hororata Citizens Committee

Tue 22 May 7.30pm

Hororata Hall

On the roads this week

funding round close Friday 25

May 2018.

APPLY FOR EVENTS

FUNDING

Applications to round one of

Selwyn District Events Fund are

open during May to fund events

happening between 1 July and

31 December 2018. Applications

for funding close 5pm, Thursday

31 May 2018. To find out more

and make an application visit

www.selwyn.govt.nz/eventsfund

or phone 347 2719 or 318 8338.

ALCOHOL NOTICES

An application for an on license

has been received from Country

Lane Group Limited. Objections

are open until Tuesday 29 May.

An application for a variation of

the conditions of an on licence

and application for the renewal

of an off licence has been

received from Prebbleton Hotel

Limited. Objections are open

until Thursday 31 May. For more

information visit www. selwyn.

govt.nz/alcoholnotices.

Kimberley Reserve & Hall

Committee

Thur 24 May 8pm, Kimberley Hall

Kirwee Township Committee

Mon 21 May 7.30pm, Kirwee Hall

Leeston Park Committee

Mon 28 May 7.30pm

Leeston Park Pavilion

Lincoln Farmers' and Craft

Market AGM

Wed 30 May 7pm

Lincoln Event Centre

All Welcome. Refreshments

provided.

Prebbleton Reserve

Management Committee

Mon 21 May 7.30pm, Community

Cottage, Blakes Road

Rolleston Reserve

Management Committee

Mon 21 May 7.30pm, Rolleston

Community Centre Lounge

Rolleston Residents Association

Mon 27 May 7pm

Rolleston Community Centre

Springston Community

Committee

Mon 21 May 7.30pm

Springston Community Hall

Springston Hall Committee

Thur 31 May 7.30pm

Springston Hall (week earlier)

West Melton Reserve

Board Committee

Mon 21 May 7.30pm

West Melton Rugby Club

Digout repairs will be occurring on Waimakariri Gorge Road. A reseal will occur on Lake

Road South. Please stop on request at these sites. Davis Road bridge will be under repair.

Footpath reconstruction will be carried out in Arthur's Pass and Rakaia Huts.

Masefield Drive/Rolleston Drive

Fulton Hogan worked nights last week, completing pouring the final kerb and channel in the north east

corner. They also sealed a portion of the new footpaths. This week they'll start the road pavement

construction, which is expected to take approximately three weeks (weather dependent). This work will

also be completed at night, to minimise disruption to traffic during the day.

Jones Road/Hoskyns Road

Last week Isaac Construction were working on the eastern side of Jones Road, preparing to pour the new

section of kerb and channel, as well as completing the final storm water works. This week the eastern

side of Jones Road will be closed, as planned, to complete the pavement construction. This closure is

expected to be in place for one week, before they move to the western side of the intersection.

Selwyn Events

WED–SUN

16–27

MAY

MON &TUE

21&29

MAY

WEDNESDAY

23

MAY

WED–SUN

30–10

MAY–JUN

UNTIL

31

MAY

SATURDAY

2JUNE

Children's Time – Lincoln

Kindergarten and Lincoln

Playcentre

Down By The Liffey Gallery,

Wed–Thur 11.30am–2.30pm,

Fri–Sun 10am–4pm

Come along and appreciate the

creativity of our community's young

artists in this special exhibition.

Our Changing Climate and

Potential Impacts on Te

Waihora/Lake Ellesmere

Monday 21 May, Greenpark

Community Centre, 7–8.30pm and

Tuesday 29 May, Sedgemere Hall,

Leeston Taumutu Road, 7–8.30pm

Presentation from Dr Brett Painter

(Environment Canterbury) on changing

climate and the potential impacts on

our environment and communities in

the future, including implications for

Te Waihora/Lake Ellesmere and the

surrounding areas. Hosted by Selwyn

District Council. Contact Tina,

Tina@developmentmatters.co.nz

National Simultaneous

Storytime 2018

Selwyn Libraries, 1pm

We will be doing a "Special

Storytime", featuring the children's

book Hickory, Dickory, Dash written

by Tony Wilson and illustrated by

Laura Wood, a couple of other

awesome reads, and an activity. This

is in celebration of the Australian

tradition where a book is read

simultaneously throughout the

country. Visit www.alia.org.au/nss for

more information.

Children's Time –

Ladbrooks School and

Broadfield School

Down By The Liffey Gallery,

Wed–Thur 11.30am–2.30pm,

Fri–Sun 10am–4pm

Come along and appreciate the

creativity of our community's young

artists in this special exhibition.

Oil and Water exhibition

Selwyn Gallery, 17 South Terrace,

Tue–Sun 10am–4pm

A love of the natural environment

and influence of spontaneity threads

our three artists together in our May

exhibition, 'Oil and Water'. While this

title suggests two paint media, it has

yet another meaning for this show,

since it includes two very different

kinds of art—painting and pottery.

A Right Royal Do – British

Themed Market

Beside the Lincoln Library,

10am–1pm

Lots of decorated stalls with gifts and

fresh produce. A display of iconic

British vehicles, traditional British

baking including pork pies/pasties,

Victoria sponges, Devonshire teas.

Great live themed music and Morris

Dancing display, Ellesmere Pipe Band,

lawn games, royal trivia activity. See

www.facebook.com/lincolnmarket

Leeston Library & Service Centre

19 Messines Street, Leeston

Ph 347 2871

Lincoln Library & Service Centre

Gerald Street, Lincoln

Ph 347 2876

(03) 347 2800

Darfield call free 318 8338

www.selwyn.govt.nz

SelwynDistrictCouncil
---
14

Latest Christchurch news at www.star.kiwi

Your Local Views

Weedons

Residents'

Association

secretary

Gary Doyle

talks about

roading

issues in the

area.

Wednesday May 16 2018

Roads can't cope with traffic increase

ROADING AND general traffic

issues have long been a bone

of contention in the Selwyn

district.

In the past, the district council

would receive funding from

central Government based on

certain criteria.

To obtain this funding, it was

necessary to achieve a 'benefit

cost radio' – known as BCR for

short – of four.

During my term on the

district council, we rapidly

achieved sealing all roads in the

district that reached this level.

Then, due to the foresight of

previous councils, we were able

to fully fund the sealing of even

more roads down to a BCR of

two.

Now, while this was seen by

many as a massive step forward,

it came with ongoing issues.

Sealed roads are easier to drive

on and will always be better

than shingle roads, but they

require maintenance, and this is

costly. It also meant that the vast

majority of the roads so treated

were only done to the bare legal

width.

As a result, this has raised

serious concerns as the traffic

STRUGGLING: Like many roads in the district, Maddisons Rd

is not coping with the increase in traffic.

patterns have changed. We now

see heavy traffic using roads on

a regular basis that were not designed

for them. By that I mean

the sub-strata had not been

compacted for it, nor is there the

width for heavy vehicles to pass

safely.

One road in question is

Maddisons Rd. Moves to have

a white line painted down the

centre were continually stalled

by council staff, with the argument

that the road was not wide

enough for there to be a legal

white centre line.

There is currently such a line,

but when it is realised that heavy

vehicle movements have greatly

increased, along with the increase

in cyclists, such cases are

accidents waiting to happen.

SELWYN TIMES

HORNCASTLE ARENA

June 29 - July 1 10AM - 5PM

TICKETS ONLINE: starhomeshow.kiwi

Readers react to the

potential for Selwyn

ratepayers to contribute

to Christchurch's planned

sports and events arena

Philip

Battersby

– No, Selwyn

ratepayers

should not

fund the

Christchurch

stadium.

Christchurch city council should

fund its own ventures. What do

they do for Selwyn district?

Gary Knight – As the

controversial topic of ratepayer

funding for sporting complexes

evolves as a platform of debate and

forum of opinion, rationale must

prevail. Projected at $496 million,

the cost of the sport and events

arena, even if subsidised between

the Crown and city council, would

still leave an obvious shortfall or

required funding. This stadium

will be patronised by many

in districts including Dunsandel,

Hurunui, Selwyn and Waimakiriri

and also in Christchurch. It is

therefore vital that a precise

consultation process be enacted in

order for ratepayers in these areas

to have the opportunity to appraise

the viability or their rates being

utilised as funding for this regional

sport facility. These sentiments are

reiterated by many.

magazine

designer clothing

New & exclusive Zephyr instore now!

Sizes

10 - 26

Windmill Centre, 188 Clarence Street

Riccarton, Christchurch

Phone 021 686 929

www.magazineclothing.co.nz

The magazine for

gardeners who

like To geT Their

hands dirTy

www.gardener.kiwi

100%

HON AMY ADAMS

MP FOR SELWYN

Working hard for our communities

If you would like to sign up for

my newsletter please visit:

www.amyadams.co.nz

CONTACT

P 03 344 0418

E selwynoffice@parliament.govt.nz

Funded by the Parliamentary

Service and authorised

by Amy Adams, 829 Main

South Road, Templeton,

Christchurch.
---
SELWYN TIMES Latest Christchurch news at www.star.kiwi

Wednesday May 16 2018 15

Effectively

removes

Chlorine from

your water

WH2-60

Whole of house water filter system

PUREMIX X7

Under sink water filter system

10 Year Warranty.

Call in to the Oakleys showroom for more information from our experienced staff.

Oakleys have been locally owned and operated for over 140 years

www.oakleysplumbing.co.nz
---
16 WEDNESDAY MAY 16 2018

Latest Christchurch news at www.star.kiwi

SELWYN TIMES
---
SELWYN TIMES

Latest Christchurch news at www.star.kiwi

WEDNESDAY MAY 16 2018 17
---
18 Wednesday May 16 2018

Latest Christchurch news at www.star.kiwi

News

SELWYN TIMES

HORNCASTLE ARENA

June 29 - July 1 10AM - 5PM

TICKETS ONLINE: starhomeshow.kiwi

Scholarships awarded Council to care for

TWO SELWYN woman were

among 27 people awarded with

a Freemasons scholarship at

Parliament last week.

Prebbleton's Kim Doncaster

was granted $6000 and Lincoln's

Melissa Derby, $10,000.

Mrs Doncaster is studying

towards a Master of Science at

Canterbury University, specialising

in child and family psychology.

Her Masters thesis is named

The implications of contact for

children in care with their birth

families.

Mrs Doncaster said the scholarship

came as a total surprise

and last week's presentation was

"really cool."

After graduating, Mrs Doncaster

hopes to work with mothers

and children suffering with depression

and anxiety, attachment

issues, addiction and trauma.

Miss Derby is studying towards

her Doctor of Philosophy

at Canterbury University.

Her thesis, Restoring Māori

literacy narratives to create

contemporary stories of success,

explores the unique experiences

of emerging bilingual Māori

children and the contextual factors

that support their bilingual

literacy development.

Miss Derby says she was

both surprised and humbled to

AWARDED: Prebbleton's Kim Doncaster (left) with fellow

Freemasons scholarship winners Gina Broom and Rebecca

Graves at Parliament last week. ​

receive the scholarship.

She hopes to research and

teach in the broad area of indigenous

self-determination, with

a particular focus on education,

ethnic studies and human rights.

For 40 years Freemasons from

throughout New Zealand have

awarded almost $5.2 million in

scholarships to 1162 of the country's

university students.

To be eligible for the

scholarship, students must

be completing a degree, be

achieving consistent A- or

higher grades and show

commitment to voluntary and

community service.

football trophies

SELWYN UNITED Football

Club has loaned its trophies to

the Selwyn District Council.

It was the joint winner of the

sports club of the year award at

the Canterbury Sports Awards in

March.

But with no current clubrooms

to house the awards, the club

thought it would offer them to

the council so they could put the

trophies on display.

Club president Darren Sudlow

presented the trophies to Selwyn

Mayor Sam Broughton last week.

"We are proud of getting

them," Mr Sudlow said.

"We are also grateful to the

council as our facilities at Foster

Park are second to none, and the

possible/probable sport complex

will only further enhance that."

Selwyn United shared the gong

with Old Boys Collegians Cricket

Club.

The club formed in 2013, an

amalgamation of smaller clubs in

the district, and currently boasts

1200 members.

"That is large in Canterbury

club aspect but we're only going

to grow [with the district].

"Our club is built on the

goodwill and commitment of

many volunteers without whom

PROUD: Selwyn United

Football Club president

Darren Sudlow (left) and

Selwyn Mayor Sam Broughton

with the Selwyn United

Football Club's trophies. ​

we would not function. These

people make sports clubs in this

country, often with little thanks

for what they do.

"It is nice that in this case,

that work has not gone unrecognised."

To showcase their efforts,

Mr Sudlow asked if the council

would display the trophy, and

the councillors accepted the offer

and congratulated the club for its

achievement.

ATTACK

AUTUMN!

12 months

interest free &

payment

holiday, conditons

apply, see in store.

STORE OPENING HOURS:

Fosters, Blenheim Road Store - Mon - Fri

8am til 5.30pm, Sat 9.30am til 3pm

Rangiora & Northwood Stores - 7 DAYS -

Mon - Fri 8am til 5.30pm, Sat 9.30am til 3pm,

Sun 10am til 3pm

Safety Pack

MS180 Chainsaw

BG50 Blower

SH56 Blower Vac

Chainsaw Safety

Pack includes:

- Chaps (S, M, L)

- Earmuffs

- Glasses

31.8cc 1.5kW 3.9kg

16" bar & chain

27.2cc 3.6kg

Airflow 700m3/h

27.2cc 5.3kg

Airflow 710m3/h

Easy start model

BUY NOW @

$172

Incl

GST

Save $70

BUY NOW @

$425 Incl

GST

BUY NOW @

$325

Incl

GST

Save $150

BUY NOW @

$395

Incl

GST

BGA56

Battery

Blower Kit

RE129 Waterblaster

MS291C Chainsaw

770 Turbo Vac

Voltage: 36V Weight: 3.3kg

Air Flow Rate: 600m3/h

Battery kit comes with

battery and charger!

230V

2.3kW

7lt/min

1958 PSI

Hose length: 9m

64.1cc 6.4kg 3.3kW 18" bar & chain

Easy to start

model

Engine: Honda 5.5HP OHC

Catch Bag: 222 Litres

Accessory hose available

Weight: 45kg

5 height settings

+ get an extra AK20

battery worth $135

BUY NOW @

$445 Incl

GST

Save

$200

BUY NOW @

$795 Incl

GST

Save $100

BUY NOW @

$1295 Incl

GST

Save $70

All pricing includes GST. Images may vary from in store product. Offers valid until 31st May 2018 or while stocks last. 12 months interest free and no payments avalable, see in store for details.

BUY NOW @

$2370

Incl

GST

STIHL SHOP Northwood - 554 Main North Road, Belfast, Christchurch - Ph: 03-974-2469

STIHL SHOP Rangiora - Corner Lineside and Station Road, Rangiora - Ph: 03-313-3398

STIHL SHOP Fosters - 559 Blenheim Road, Sockburn, Christchurch - Ph: 03-343-6339

www.stihlshopchristchurch.co.nz

LOVE YOUR LAND
---
MT

automotive

SELWYN TIMES Latest Christchurch news at www.star.kiwi

Wednesday May 16 2018 19

now open

ADvERToRiAL

All makes and models welcome

A new automotive servicing and repair business is now

open at Unit 2, 36 Birmingham Drive in Christchurch that

is able to offer a comprehensive approach to keeping your

vehicles in great shape and performing at its best.

Marcus Taylor, Service Manager at MT Automotive, has

been in the automotive trade for over 30 years and brings

with him his experience of managing the successful and

trusted Car Clinic Christchurch. We look at every vehicle

as if it was our own and know car owners are looking for a

honest, locally owned and operated business they can trust.

MT Automotive is staffed with fully qualified technicians

and equipped with advanced diagnostic testing equipment.

"Modern vehicles are becoming increasingly complex and

are equipped with highly sophisticated engine, transmission

and suspension management systems. At MT Automotive

we believe that thorough servicing and maintenance of

modern cars ensures you are provided with the best level of

performance, safety and efficiency.

The staff at MT Automotive have considerable experience

of a wide range of vehicles from European manufacturers

including Audi, BMW, Alfa Romeo, Landrover, Range Rover,

Peugeot, Mercedes Benz as well as all Japanese makes and

models, four wheel drives and light trade vehicles. They have

the experience to service them all.

MT Automotive is a fully equipped workshop and is able

to handle repairs and maintenance of diesel and petrol

engines, ABS anti-lock braking system, suspension system,

SRS airbag system and transmissions for customers.

We also have courtesy cars available for those jobs that

require your vehicle to be off the road for a small amount of

time. We can do puncture repairs and supply new tyres if

required.

MT Automotive's main aim is customer satisfaction and

providing a one stop shop for your motoring needs.

MT Automotive only employs fully qualified automotive

technicians.

"We understand people live very busy lives these days and

are looking for a simple solution to all their motoring needs

and that is what we want to provide for the motorists of

Christchurch."

we now service and

repair landrovers

and range rovers

We do servicing and repairs for Autosure, Vero, Lumley and Swan.

We service all makes and models including Japanese and European cars including

Landrover/Range Rover 4WD vehicles and light commercial vehicles.

our services...

✓ WoF ✓ Brakes ✓ Tune-ups ✓ Batteries

✓ Cambelt servicing ✓ Puncture repairs

✓ New tyres ✓ Wheel alignments ✓ Lubes

✓ Steering ✓ Suspension and much more!

All makes and models welcome

MT

automotive

2/36 Birmingham Drive,

Middleton, Christchurch

Phone: 03 338 8777

Mon to Fri 8am-6pm

curletts road

annex road

blenheim road

we are

here

birmingham

drive

addington

raceway &

horncastle

arena

chch southern motorway

whitleigh ave
---
20 Wednesday May 16 2018

Latest Christchurch news at www.star.kiwi

SELWYN TIMES

Swimming brothers earn scholarships

Grant to help

them reach

full potential

• By Jacob Page

SELWYN SWIM Club brothers

Celyn and Ieuan Edwards

are among the 13 New

Zealanders named Gold Hearts

scholars.

Both are talented swimmers

and the accolade from the

children's charity, Variety, means

they will both receive up to

$5000 of funding to help them

reach their full potential in the

pool.

The brothers are from

Halswell. Celyn, 17, competed at

the Commonwealth Games this

year, earning personal bests in

the individual medley.

"It was certainly a new experience

for me, usually I only have

400 people in the stands supporting

us so to have 10,000 was

something else," Celyn said.

He says his younger brother is

showing plenty of promise.

"He's beating me in a few races

now and seems to be heading on

the right track."

Celyn holds 23 New Zealand

records and one Oceania record.

He swam at the Berlin IDM meet

and the Australian Swimming

Para Grand Prix last year, and

SWIM BROS: Brothers Celyn and Leuan Edwards push each other to attain their goals in the pool.

at the 2018 Victoria Championships.

Celyn will be using his Gold

Heart Scholarship to assist with

his attendance at development

camps, provided by Paraswimming

New Zealand and the

Selwyn Swim Club. He will also

use the funds to assist in getting

him to upcoming meets, both in

New Zealand and overseas, and

on related equipment costs.

Ieuan, 15, has his sights set on

competing at the 2022 Commonwealth

Games, followed by the

2024 Paralympic Games.

He is also looking to compete

in the New Zealand short course

SPORTS

champs and the New Zealand

Open, as well as attend development

camps hosted by Paraswimming

New Zealand and

the Selwyn Swim Club – each

of which would not be possible

without the Gold Heart Scholarship.

Ieuan holds one New Zealand

record, has won medals at

previous New Zealand short

course championships and New

Zealand Open meets, and is the

joint holder of the 2015 Halberg

Junior Disability Games overall

best athlete,

"My older brother has shown

me that I can attain my goals

because he has done them,"

Ieuan says.

Ieuan wants to represent New

Zealand in the middle-distance

freestyle events.

The scholarship money will

help pay for both swimmers to

attend national training camps

and short course meets.

"He's a very relaxed older

brother and he gives me a lot of

good advice," Ieuan said.

He is currently striving to

close the gap between his swim

times and those of the current

New Zealand swim team who

are some five years older than

him.
---
SELWYN TIMES Latest Christchurch news at www.star.kiwi

Wednesday May 16 2018 21

Lincoln para-athlete gets

boost to achieve goals

• By Jacob Page

LINCOLN para-athlete

Montana Brown's desire to try

new things has her on the path

to representing New Zealand in

wheelchair racing.

The talented 15-year-old, who

has cerebral palsy and spastic

diplegia, has recently fallen in

love with the sport and now

dedicates a lot of her spare time

to training.

Already an avid target shooter

and boccia player, it is her wheelchair

racing which is starting to

turn heads.

Montana, who attends Cashmere

High School, has been

awarded a Gold Heart Scholarship

from children's charity,

Variety, worth up to the value of

$5000.

Having only taken up the sport

in October, Montana has already

competed at the Halberg Junior

Disability Games, where she

finished third in the 50m race

and second in both the 100m and

200m races.

Montana is currently using a

borrowed wheelchair from ParaFed

Canterbury, which is not

quite right for her size.

She will be using this funding

to assist in the purchase of a

purpose-built wheelchair of her

own.

"I really love the sport," she

FAST TRACK: Cashmere High School's Montana Brown has

taken to wheelchair racing quickly and has been awarded a

scholarship from Variety to continue her progression.

says. "When I race, it's a lot of

effort through my arms and I

often come back with big bruises

but that's okay because they look

really cool.

Montana credits both ParaFed

Canterbury and Cashmere High

School's conductive education

programme for allowing her to

have so many sporting opportunities.

Conductive education is

an educational system developed

in Hungary in the 1940s.

Its objective is to enable physically

disabled and multi-disabled

individuals to actively participate

in society by means of intensive

and systematic training and

practice.

Montana said she would like

to represent New Zealand in the

sprint distances of wheelchair

racing at both the Commonwealth

Games and Paralympics

one day soon.

"Having watched the racing

at the Commonwealth Games

(earlier this year), it's motivated

me to keep training hard and

keep improving.

Ellesmere side named

ELLESMERE RUGBY coach

Alex Robertson says an

even senior competition has

created plenty of depth for the

representative season.

The team will play Queensland

Country in a night fixture

at Dunsandel on June 25, then

head to Ashburton to play

Mid-Canterbury on July 3 in

preparation for their Southbridge

Shield clash with North

Canterbury in Prebbleton on

July 14.

"It's been a really tight competition

so far which has shown

there is depth within our clubs,"

Robertson said.

"I think eight of the 10 clubs

are represented in this squad,

which is a reflection of how

things have been so far (in 2018).

Roberston is in his second

year as coach and he believes

he learnt a lot from the 2017

campaign.

"This year, we don't have a

shorter time together as a group

so the need to get combinations

working quickly will be important."

Ellesmere won back the

Southbridge Shield with a 35-20

win last year which made for

their 10th triumph in 12 years.

Robertson congratulated the

Springston players who have

made the squad in the backs,

Cameron Powell and Michael

Sheenan.

Roberston was aware other

players from outside the squad

may still force their way in

before the games in June,

Ellesmere squad

Forwards: Patrick Clegg,

Hamish Pauling, Michael

Brankin, Tim Wright (Darfield),

Graham Greenslade, Sam

Cottam, Mark Stanbury

(Lincoln), William Holden,

Gareth Seymmour (BDI),

Jim Cummings, Joe Robbins

(Waihora), Steve Lees-

Godwin, Tom Brand, Eddie

Sunia (Prebbleton), Isi Fine,

Daryl Lamborn, Jali Masi

(Southbridge), Sam Hesselwood

(West Melton). Backs: Harry

Kirk, Matt Saunders, Mark

Maitland (Waihora), Harry

Pankhurst, Brent Dalley, Alex

Parker, Dave Bennett, Guy

Murgatroyd, Tim Murgatroyd,

Todd Henderson (Prebbleton),

Matt Hickey, Cameron Sheat,

Josh Davidson (Southbridge),

Ashton Berry (West Melton).

PICKED:

Lincoln's Sam

Cottam (with

ball) has made

Ellesmere rugby

squad. PHOTO:

KAREN CASEY

•More sport, p23
---
22 Wednesday May 16 2018

Latest Christchurch news at www.star.kiwi

SELWYN TIMES

Pickup a Weber Q-Series BBQ setup when you purchase and take

delivery of any new Ford Ranger or Transit before June 30, 2018. 1

GUARANTEED QUALITY CUSTOMER SERVICE FROM AN AWARD-WINNING DEALERSHIP

Avon City Ford

1. The Weber® Q Series BBQ pack offer is available on any new Ford Ranger or Transit purchased from a participating Ford dealer

and registered in New Zealand, prior to 30 June 2018. Offer available from 1 April 2018 until 30 June 2018 or while stocks last. Offer

not available for VIP Fleet Sales and cannot be redeemed for cash or exchanged for any other offer. The Weber® Q Series BBQ

pack includes

Cnr

the

Main

Weber®

South

Q2000

Rd and

BBQ,

Epsom

Patio Cart

Rd,

and

Sockburn

Cover, 2pc

| CHRISTCHURCH

Stainless Tool Set and

| 03

Grill

348

Brush.

4129

Ford

or

may

0800

amend

655

the

551

products

offered as Rangiora part of the Service Weber® Q Centre Series | 78 BBQ Ivory pack St at its | 03 discretion. 313 7059 | avoncityford.co.nz

Go Further
---
SELWYN TIMES Latest Christchurch news at www.star.kiwi

Wednesday May 16 2018 23

Lincoln fend off

Proud supporters of

Rugby & Netball in Selwyn

Shirley comeback to take victory

SLIDING IN: Jack Dawson scores for Lincoln, while Jordan Lill also powers his way over the line.

PHOTOS: KAREN CASEY

• By Jacob Page

LINCOLN COMBINED have

shown plenty of mettle to beat

Shirley Boys' High School 20-18

in their UC Championship rugby

game on Saturday.

Lincoln scored two tries to

none in the first half to lead 12-6

at the break at Lincoln High

School. However, they saw that

lead evaporate as they trailed

midway through the second

half. An unconverted try closed

the gap to a point with 15min to

play.

SBHS we're forced to rue

three missed long-range penalty

attempts before Lincoln captain

Wil Gaulter slotted a 30m

penalty with 5min to play to

secure the win.

Lincoln coach Mike Wilson

SPORTS

said it was a great confidencebuilder

for his team to win a

tight game after they had lost

13-12 to Rangiora last week.

He said in spite of leading at

halftime, he felt his team were

not patient with the ball.

"I felt like we were trying to

score too quickly and weren't

building our attack," he said.

"We just wanted to play with

more conviction and be accurate

in the second half. I felt we

showed plenty of heart to stick

at the task, even when we trailed

because a lot of teams are just

happy to keep it close."

Wilson praised the efforts of

loosehead prop Jordan Lill.

"I thought in his first start for

us he was really great, he worked

hard and got our first try,"

Wilson said.

No 7 Blair Royal also showed

the physicality the whole forward

pack had been trying to play

with in 2018, Wilson said.

"He was onto everything,

hitting the rucks hard

and carrying with good

physicality when he had the

ball in hand."

Utility back replacement,

Caleb McStay, also impressed

with his second half

contribution.

Lincoln will play Aoraki

Combined in another home

game on Saturday.

BIG MOMENT: Wil Gualter, who struck the winning penalty

conversion for Lincoln, looks to spread the ball.

Close finish expected in Luisetti Seeds competition

WITH JUST two rounds

remaining in the Luisetti Seeds

combined country division one

rugby competition, there is still

plenty to play for.

Waihora's 28-17 win over

Ashburton has moved them

just one point behind Saracens

in section A. Meanwhile,

Prebbleton continued their

remarkable season with a 26-17

win over Rakaia to move to

the top of section B. In section

A, five teams have a realistic

chance of claiming the final two

top four spots. Just five points

separate Ashburton in third and

Lincoln in seventh.

The top of section B looks

set to be decided in the final

round at the end of the

month.

Assuming Springston can

account for Hurunui on

Saturday, they will head to tabletoppers

Prebbleton to decide

the top seed heading into the

quarter-finals.

Results:

•Section A: Saracens 36,

Southbridge 31; Waihora

28, Ashburton 17; Glenmark

55, Hampstead 15; Ashley

20, Ohoka 20; BDI 50, West

Melton 17; Lincoln (bye).

•Section B: Southern

26, Darfield 21; Hornby

13, Hurunui 7; Springston

20, Oxford 17; Kaiapoi 26,

Prebbleton 26; Rakaia 17,

Methven 17; Rolleston (bye).

•Standings – Section A:

Saracens 35pts, 1; Waihora

34pts, 2; Ashburton 30pts,

3; Southbridge 26pts, 4;

Glenmark 25pts, 5; BDI 25pts,

6; Lincoln 25pts, 7; Ohoka

18pts, 8; West Melton 6pts, 9;

Ashley 5pts, 10; Hampstead

2pts, 11.

Section B: Prebbleton

36pts, 1; Darfield 34pts, 2;

Springston 32pts, 3; Rakaia

31pts, 4; Southern 27pts, 5;

Kaiapoi 25pts, 6; Oxford 22pts,

7; Methven 15pts, 8; Hurunui

9pts, 9; Hornby 4pts, 10;

Rolleston 0pts, 11.

SIT OPEN NIGHT

CHRISTCHURCH CAMPUS

60 Waterloo Road, Hornby, Christchurch

TUESDAY, 12 JUNE 2018

5PM - 7PM

CHECK OUT MID YEAR STUDY OPTIONS

Come and discuss your study options with our staff

For more info email sit@sit.ac.nz

0800 TO STUDY

www.sit.ac.nz
---
24 Wednesday May 16 2018

Latest Christchurch news at www.star.kiwi

SELWYN TIMES

386 Moorhouse Avenue, Christchurch.

Sales, Service, Parts & Finance: 03 379 0588

For the first time striking design,

seamless connectivity, intuitive driving

and exceptional safety have come

together perfectly in a bold new SUV

To explore the many features and

experience it for yourself at

Christchurch Mitsubishi on

03 379 0588 to book a test drive.

*Price listed is for Eclipse Cross 2WD XLS. Eclipse Cross 2WD VRX pictured. Brilliant Red colour pictured available for an additional $500.

Price excludes On Road Costs - which includes WoF, Registration and a full tank of fuel. See www.mmnz.co.nz for Diamond Advantage terms and conditions.
---
SELWYN TIMES Latest Christchurch news at www.star.kiwi

Wednesday May 16 2018 25

Backyard Critters

Don't let the raspberry

bud moth spoil your fruit

Mike

Bowie is an

ecologist who

specialises in

entomology

(insects

and other

invertebrates). Each week

he introduces a new species

found in his backyard at

Lincoln. His column aims to

raise public awareness of

biodiversity, the variety of

living things around us

LAST SUMMER I was excited

with the prospect of my

raspberry and boysenberry plants

producing many delicious meals

of fruity goodness.

However, my hopes soon

turned to real disappointment.

On close inspection, I noted

that many of the berries had diseased

sections in them and some

contained a small larva known as

the raspberry bud moth, Heterocrossa

rubophaga.

As the name suggests, the

larvae feed on the buds, but they

also feed on the fruit, spoiling its

appearance and taste.

DESTRUCTIVE: The raspberry bud moth Heterocrossa

rubophaga feed on berries, spoiling their appearance and taste. ​

Interestingly, the raspberry

bud moth was once considered

a potential biocontrol agent of

blackberry.

The moth is a New Zealand

endemic and is found throughout

the country.

Adults vary from light brown

to dark brown and have a wingspan

of 14-17mm.

The moth forewings have two

distinctive raised scale tufts,

while hind wings are larger with

trailing hairs.

Females can lay up to 200 yellow-green

eggs which a develop a

gold colour.

Larva 1mm emerge from eggs

and develop to 10mm long.

The larvae vary in colour from

clear to pale yellow-green.

They can damage up to 80 per

cent of raspberry buds affecting

productivity.

Canes need to be pruned early

autumn to reduce the incidence

of the pest.

Award for Maddie

Hell Pizza marketing manager Jason Buckley presents

Maddie Collins with her Satan's Biggest Little Helper

award. Maddie's initiative in making pillowslips for fellow

patients of Starship Children's Health and the children's

ward of Christchurch Hospital earned her the award. Over

an eight-year period, while battling a rare kidney disease,

Maddie made more than 1000 patterned pillowslips to

help brighten the lives of other children. Maddie's prize

included an all-expenses paid trip to Wellington with her

mother Sarah, including one night's stay at the QT Museum

Wellington and tickets to the final dress rehearsal of The Jim

Henson Retrospectacle. The award presentation took place

at the hotel, followed by a high tea. ​

Best

Motorbuys

TM

ANYTHING WITH A MOTOR!

The South Island's leading motoring publication

FREE every Friday at hundreds of locations

around the South Island, and it's available online!

www.bestmotorbuys.co.nz

For advertising enquiries, ph Lea Godfrey 021 277 3086

HEAT PUMPS

Which one is right for you?

• Single-split, Multi-split, Ducted?

• Wall, Floor console, Ceiling cassette, Concealed?

• Mitsubishi, Panasonic, Fujitsu, Daikin, Toshiba...?

Find out with a FREE HOME APPRAISAL

from the Independent Heat Pump Experts.

BOOK NOW

Ph. Maz 021 226 7672

Email. maz@heatpumpguys.co.nz

0800 47 48 97 heatpumpguys.co.nz

THE INDEPENDENT SPECIALISTS

Specialists @ Individuality

• Focus on sustainability

• Award winning family owned business

• Proven reputation of quality

• Full architectural design package

NATIONAL "HOY" WINNER plus GOLD RESERVE 2016

View our display home

Phone Jesse 021 701 265

or visit www.jdhomes.co.nz

Canterbury
---
2

[Edition Wednesday datE]

26 May 16 2018

Latest Christchurch news at www.star.kiwi

SELWYN RURAL LIFE

SELWYN TIMES

Dunsandel to host

DairyNZ workshop

GROW VEGETABLES ALL YEAR ROUND

Genuine

$200 off

normal

retail

price

Don't buy another vegetable!

20ft Greenhouse - 6.29m(L) x 2.6m(W) x 2.58m(H)

Aluminium powder coated (green) frame & base

6mm Polycarbonate walls & roof with 5yr UV guarantee

Wide opening double sliding door

Fully adjustable roof vent

Spread Now for Spring Growth

300 litre corrosion free plastic hopper

Spreading range - 10-30m

Tractor mounted - PTO driven

Recommended tractor HP-20-40

$1,695.00 GST incl. $795.00 GST incl.

Tuatara Machinery Ltd • www.tuataramachinery.co.nz

Tel. 03-347-4956 • Mob. 0274 770 070

Email. info@tuataramachinery.co.nz

Canterbury

C T H Timber & Hardware

We are here

Your Local Timber Merchant

1.8 x 155

Pointed

Laser

Rounds

ONLY

$

22 20

ea

Including

GST

NEW ENTRANCE: 167 Manion Road, Rolleston

Jason Pester P 03 3477465

F 03 3477032 E jason@cthl.co.nz

Mon-Fri: 7am-5pm Saturday: 8am-12pm

New to Lincoln

Youth Guarantee

Programme

Horticulture

Achieve NCEA L1 and NCEA

L2 along with the NZ

Certificate in Foundation Skills

(L1) and the NZ Certificate in

Primary Industry Skills (L2) in

the context of small farming

horticulture.

start anytime

travel assistance*

*Conditions apply

Visit us online for more info:

EducationandEmployment.org.nz

or call us on 0800 437 587

BHU, Organic College, Farm

Road, Lincoln University

PO Box 69113, Lincoln 7640

The DairyNZ Climate

Change Roadshow

will stop at Dunsandel

on Monday, 11 June, to

give dairy farmers in the

area an opportunity to gain

more insight and awareness.

"Tackling climate change presents

an opportunity for New Zealand to become global

leaders in climate conscious agribusiness," says

DairyNZ senior climate change advisor Milena

Scott. "We want our farmers and our broader

industry to be world leading in climate change

mitigation and adaptation."

The workshops are a commitment by

DairyNZ under the Dairy Action for

Climate Change, an 18-month long plan

to build awareness among the dairy sector

of the science behind climate change.

These include the reasons dairy farmers

need to take action to address the sector's

greenhouse gas emissions and the current

mitigations options available to them.

"The first step is education. Farmers need

to have a good understanding of climate

change in order to recognise why they need

to address their emissions alongside other

New Zealand businesses and households,"

says Mrs Scott.

"We want farmers to come out of these

workshops understanding how their farm

contributes to New Zealand's greenhouse

gas profile, and how specific environmental

initiatives can improve their farm's broader

environmental footprint.

"Farmers need to feel comfortable that

adopting new environmental initiatives

will help lead to farm businesses that are

both profitable and sustainable.

"Agricultural emissions are a challenge

that the global food sector is dealing with,

and we have an opportunity to show the

world that it is possible to produce milk

in a sustainable way and do our part to

transition New Zealand to a low emissions

and climate resilient nation."

Topics covered in the half day workshop

will include; the challenges of climate

change for the dairy sector, reasons why

there is a need to address biological

emissions on farms, actions farmers

can take to reduce on-farm emissions,

scientific research being carried out around

climate change and the current political

environment and development of the Zero

Carbon Bill.

The workshop will also include guest

speakers from the Ministry for the

Environment who will discuss the proposed

Zero Carbon Bill. The consultation period

for this legislation opens on 31 May and

engagement by farmers in this early stage

will ensure the best outcome for the dairy

sector within the final legislation.

To find out more and to register for the

Dunsandel workshop, visit www.dairynz.

co.nz
---
SELWYN TIMES Latest Christchurch news at www.star.kiwi

Wednesday [Edition May 16 datE] 2018 27 3

SELWYN RURAL LIFE

Arable farmers pull back

on autumn planting

Having come through a tough summer

for growing crops and with current

market signals muted, it appears arable

farmers are pulling back on planned

autumn plantings.

"The flat prices of the last few years

are now rebounding a bit but growers

remain hesitant to plant massive areas,"

says Federated Farmers arable executive

member Brian Leadley.

"With the buoyant demand from the

livestock sectors (dairy in particular), we

anticipate that milling wheat plantings

will reduce as farmers plant feed wheat/

barley instead."

"If farmers and other end users are

wanting domestically grown and qualityassured

New Zealand-grown grain they

should contact their supplier. If the

signals are strong enough and positive

enough, there is still plenty of time for

growers to change their intentions."

Leadley comments come after the

release of the Arable Industry Marketing

Initiative (AIMI) April 2018 Survey. It

shows average yields over the six surveyed

crops were down 12 per cent after a

shortened growing season and early

harvest marked by 'four seasons in one

day' type weather.

Periods of high rainfall June-

August,when some crops were flooded

out, was followed by the heat of October-

December and periods of heavy rain

hitting hit during key crop establishment

periods.

"With climate change, that's part of the

game I guess," says Leadley.

All the surveyed crops had been

harvested by 1 April. This is particularly

unusual for oats, which are generally not

harvested in Southland until well into

May.

"Southland had drought-type conditions

into mid-January, which promoted

quicker growth and earlier maturity. That

probably had a detrimental effect around

yield but it was able to be harvested earlier

and may well have improved quality a bit,"

Brian said. "It was the same with all those

late harvest crops."

The AIMI survey shows carry-over

stocks of feed wheat and feed barley are

lower than usual, with virtually all harvest

2017 stock sold to end-users. Available

stocks of 2018 harvested grain will also

find a home.

Despite the good conditions for

preparing and planting crops, very little

of autumn sown crops had been planted

by 1 April 2018. The survey indicates that

predicted autumn plantings will be back

by about 3,400 hectares (about a third),

with milling wheat and malting barley

back (reflecting poor price signals from

those sectors), and feed barley up.

"Grain prices over the last couple of

years, from a growers' perspective, have

been unsustainable for long-term returns

when investment in land, capital for

machinery and so on is added into that

gross income vs growing cost equation.

"So it's pleasing to see a bit of a revival in

those prices," says Leadley.

"By the look of the survey results, those

past poor seasons have pushed some

arable growers to look at other options.

The recent prices may have given room

for more optimism.

"The survey has given as a good mark

on farmers' planting intentions at this

stage. The next AIMI survey in July will

tell us whether those plans changed as a

result of market indicators."

GET CONNECTED WITH

Scorch Broadband

0800 726 724 www.scorch.co.nz

• All residential and light commercial drainage

• Septic Tank Systems • Alterations

• Excavations • Canterbury Wide • Free Quotes

M: 027 437 2468 | E: office@dynamicdrainage.co.nz | W: www.dynamicdrainage.co.nz

PO Box 86024, Rolleston West, Rolleston 7658

'Famous for their roasts!'

RESTAURANT & CAFÉ

Cooked Breakfasts

Check out our extensive breakfast

menu from Continental to Cooked

We are open from 6.30am

Seniors SPECIAL

Two courses $20

Soup/Roast or

Roast/Dessert

Special available lunch only

Monday - Saturday 12pm - 2.30pm

$19

Kid's 2 course

special

We are family

friendly.

Great Kids menu

plus designated

play area.

TREAT THE

FAMILY!

$13

The

RACECOURSE HOTEL

& Motorlodge

118 Racecourse Rd, Sockburn,

Christchurch. Ph 03 342 7150

www.racecoursehotel.co.nz

3 TRUCKS

3 CARS

3 LUBES

3 SERVICING

3 FLEET WORK

3 BOATS

3 DIESEL INJECTOR

3 & PUMP SERVICING

3 ENGINE TUNING

Mon-Fri 6.45am-6pm,

Sat 8am-12 noon (WOFs only)

3 BRAKES

3 MAXXIS TYRES

3 WHEEL ALIGNMENTS

3 BATTERIES

3 WOFs

3 CAMBELTS

AND MUCH

MORE!

839 Jones Road, Rolleston P.O. Box 16 Rolleston

Phone Simon on 347 7110 or Mobile 027 272 9213
---
28 Wednesday May 16 2018

Latest Christchurch news at www.star.kiwi

SELWYN TIMES

Oil and Water

Every day except Monday,

10am-4pm

A love of the natural environment

and influence of spontaneity

threads our three artists

together in this May exhibition.

While this title suggests two

paint media, it has yet another

meaning for this show, since

it includes two very different

kinds of art—painting and pottery.

Featuring works by Allan

Hooper, Debbie Lambert and

Bernadette Parsons, it's one not

to miss.

Selwyn Gallery, 17 South Tce,

Darfield

Children's Time – Lincoln

Kindergarten and Lincoln

Playcentre

Wednesday-Thursday,

11.30am-2.30pm and Friday-

Sunday, 10am-4pm and runs

until May 27

Go along and appreciate the

creativity of the community's

young artists in this special

exhibition.

Down by the Liffey Gallery, 1

James St, Halswell, Lincoln

Malvern Material Girls

Thursday, 9.30am-12.30pm

Meets the first and third

Thursday of every month. For

more information phone Sharon

Kellock on 03 318 1676.

Email gilbert.wealleans@starmedia.kiwi

by 5pm each Wednesday

Meeting Room 1B, Darfield

Library, 1 South Tce, Darfield

Music in Libraries

Saturday, 11.30am-1pm

Go along to Darfield Library

to hear Picking at the Remnants,

the Leeston Library will have

Hanna, Moonflower will play

at the Lincoln Library and Alex

Hardy and Patrick will be at the

Rolleston Library.

Selwyn Libraries

Patchwork Plus

Monday, 10am-3pm

Take along any craft you wish

and have a chat. To inquire,

phone Jill Percy on 324 2331.

Leeston Library and Service

Centre, 19 Messines St, Leeston

Mahjong Beginners Group

Tuesdays, 1-3pm

Interested in playing Mahjong?

Learn to play Mahjong at the

Lincoln Library.

Lincoln Library, 22 Gerald St,

Lincoln

Our Changing Climate

and Potential Impacts on Te

Waihora/Lake Ellesmere

Tuesday, 7-8.30pm

This free presentation from

Environment Canterbury's Dr

Brett Painter will be on the

changing climate and the potential

impacts on our environment

and communities in the future,

including implications for Te

Waihora/Lake Ellesmere and the

surrounding areas. The session

is hosted by the Selwyn District

Council. For more information

please email Tina on Tina@

developmentmatters.co.nz.

Greenpark Community Centre,

Greenpark Rd

Alpha

Tuesday, 7-9.15pm and runs

weekly until Tuesday, June 5

Do you have questions around

the meaning of life? Join the Lincoln

Union Church to explore

life and faith in a relaxed atmosphere

over coffee. Event is free.

For further information please

visit lincolnminister@gmail.com

or phone 027 352 7886 or 325

2257.

The Old Manse, 126 East Belt,

Lincoln

Markets:

West Melton Market:

Saturday, 9am-noon. St Paul's

Church.

Lincoln Farmers' and Craft

Market:

Saturday, 10am-1pm. Gerald

St, Lincoln.

Darfield Market:

Saturday, 9am-1pm, opposite

Challenge Darfield, South Tce.

Edendale Car Boot Sale:

Sunday, noon-3pm, Edendale

Cafe, 888 Sandy Knolls Rd, West

Melton

Running groups:

Go along on

Tuesday to

crafternoon,

craft and a chat

at the Darfield

Library. Share

and learn new

skills, swap tips,

improve your

techniques

and be inspired

while crafting

with others.

Take along your

own projects,

materials and

crafting kits.

All ages and

abilities are

welcome. The

free session

starts at 2pm

and continues

for an hour. ​

The running groups aim to

get like-minded members of the

community fit and engaged with

each other.

Lincoln Road Runners: Tuesday

registration from 5.30pm

starts at 6pm. 3km or 6km.

Starts at Lincoln University.

Gold coin donation.

Malvern Road Runners: Tuesday

registration begins at 5.45pm

and the first of the 6km runners

leave at 6pm. 3km or 6km. Starts

from Malvern Netball Centre.

Ellesmere Road Runners:

Wednesday registration from

5.45pm starts at 6pm. 3km or

6km walk or run. Starts from

Leeston physiotherapy.

Get your tickets

online and be

in to win a

$500 Resene

gift voucher

Earlybird

tickets available

online now

$6 or 2 for $10

Children under

12 FREE

H ORNBY

WORKINGMEN'S

CLUB

FAMILY FRIENDLY DINING

Club CAFE

OPEN DAILY

LUNCH & DINNER

GF & V options available

LIVE MUSIC

SATURDAY

4.30PM:

REMINISCE WITH ANTHONY

8PM:

LITTLE CITY DUO

7.30PM: UPSTAIRS

NEVILLE WILKINS &

THE VISCOUNTS. $7 ENTRY.

JUNE 29 – JULY 1 2018

Horncastle Arena

BOOK NOW: www.starhomeshow.kiwi

Friday, Saturday, Sunday, 10am-5pm

Chalmers Restaurant

CARVERY DINNER $22.50

EVERY FRIDAY & SATURDAY FROM 5.30PM

Early Bird Special

5.30pm - 6.30PM

FREE

DESSERT

Family Friendly

SUNDAY NIGHT BUFFET $27

EVERY SUNDAY FROM 5PM-8PM

PERFECT FOR SPECIAL OCCASIONS & FAMILY EVENTS!

COMING UP

SUNDAY 27 MAY

BRENDAN DUGAN

50TH ANNIVERSARY SHOW

feat. FAMILY & FRIENDS

2PM. TICKETS $20

SATURDAY 9 JUNE

A TRICK OF THE LIGHT

THE PINK FLOYD PROJECT

SATURDAY 23 JUNE

STARS IN THEIR EYES

feat TONY WELLINGTON

AS ROY ORBISON and

EDDIE SIMON AS LEO SAYER

The Hornby Club | ph 03 349 9026 | 17 Carmen Rd | Hornby

www.hornbywmc.co.nz | Members, guests & affiliates welcome
---
SELWYN TIMES Latest Christchurch news at www.star.kiwi

Wednesday May 16 2018 29

Classifieds Contact us today Phone our local team 03 379 1100

Caravans, Motorhomes

& Traliers

CARAVAN Wanted to

buy. Up to $5000 cash

today 027 488-5284.

Gardening

& Supplies

PEA STRAW

For Sale

Ellesmere Lions

have pea straw

available

Small Bales

at $6.00

Medium Squares

at $50

All a delivered price

in the Selwyn Area

Ph for orders

324 4094

Select Services

Need a hand?

✤ Lawns & Edges

✤ Landscaping

✤ Gardening

✤ Hedge Trimming

✤ Handyman Jobs

✤ Casual or One Off

Phone Mike Lineton

022 341 8848

Your local

Selwyn District

GARDENER/

HANDYMAN

Select Services

NEW YEAR, NEW

ACCOUNTANT?

Mobile local accountant.

CA qualified. www.

advance-accounting.com

& request free consult.

NEW BUSINESS?

Need an accountant. www.

advance-accounting.com

& request free consult

Storage

STORAGE

CONTAINERS.

$35 pw. 350 Brookside

Rd, Rolleston. Brookside

Storage on Trademe. Ph

0210650934.

AUTO ELECTRICIAN

Ellesmere

Auto

Electrical

• Air Conditioning • Alternators

• Starter Motors • Wiring Repairs

• Diagnostics • Lighting • Batteries

Mobile Auto Electrician

022 644 9664

Farmlands Card Accepted

Select Services

POWER, FIBRE, PHONE

• Mains Power Cable

• Phone Cable/ Fibre

• Water Pipe

• Sales and installation

• Cable locating and repairs

• Orion Network connections

• Trenching

powercable.direct@xtra.co.nz

0272 379 742

Select Services

DECORATING

DO YOU NEED A

PAINTER?

Painting,

Wall Coverings,

Interior & Exterior,

Spray Painting,

Water Blasting,

FREE QUOTES

Phillip J Fisher

Painter & Decorator

P: 021 228 2889 or

A/H: 03 342 9391

E: phillip.fisher@pjf.co.nz

www.phillipjfisher.co.nz

Select Services

Hedge tRimming

& gaRden

maintenance

• Hedge Trimming

• Small Trees and Shrubs Topped,

Shaped or Removed

• Trenching and Digging Buckets

• Garden Maintenance

• Landscaping

• Cleanups Available

• Wood Splitter for Hire

JuSt Small

HedgeS

Stu Reid OWNER OPERATOR

Phone: (03) 325-4664 | Mobile: 021-500-519

hedgesandmore.co.nz

BOUNDARY TRIMMING

Shelterbelt Trimming

Contractor

Call Tony Dempsey

Ph 03 325 3256 Mob 0274 323 943

Select Services

building/decorating

Building and

Renovating

Solutions

CARPET carpet/furnishings

/ FURNISHINGS

Di's Carpet

BinDing

Have your carpet

off-cuts bound

124 Halswell Junction Rd, Halswell

Phone 322 1103 Mobile 027 586 4830

Hours Mon - Fri 9.30am - 5.00pm

Locally

based in

West

Melton

New Builds or Alterations

• Kitchens & bathrooms

• Painting & decorating – interior & exterior

• Roof painting

• Plastering, tiling, wallpapering

• Plumbing & electrical

• Maintenance - complete roof repairs,

leaky homes, weather board replacement,

brickwork

• Window repair & replacement

• Decking, pathways, driveways

Christchurch Building

& Decorating Ltd

Contact David & the Team on 0800 766 378

Email: clearwater.painting@xtra.co.nz

Reliable service, excellent results

To Let

RENT ME!

Ideal as an extra

bedroom or office.

no bond required

Fully insulated and double glazed for warmth.

Three convenient sizes from $70 a week:

Standard 3.6m x 2.4m

Large 4.2m x 2.4m | Xtra-large 4.8m x 2.4m

Visit our website

www.justcabins.co.nz

for display cabin locations

www.justcabins.co.nz

Tours

Adelaide and Murray River

Departs 25th July 2018

12 days including 5 nights on the Murray

$5250pp twin share

Hokianga and Far North

Departs 21st September 2018

8 days - $2250.00 pp twin share

Tasmania

Departs 30th October 2018

12 days - $4900.00 pp twin share

Call Reid Tours 0800 446 886

www.reidtours.com

carpet layer

CARPET

LAYER

45 YRS + EXPERIENCE

Repair, Uplifting, Relaying,

Restretching

*Selection of underlay available

All preparation work undertaken

*Also GARAGE CARPET

Phone John 027 208 7383

jandcbennett@xtra.co.nz

Trades & Services

BUILDING REPAIRS

GIBB STOPPING | FENCING

YARD CLEARING / CLEAN UP

SMALL DIGGER WORK

DRIVEWAYS & CONCRETE REPAIRS

RC MAINTENANCE

no job too small

LTD

ROSS CHESTNUT

ROSS Owner CHESTNUT

/ Operator

Owner / Operator

021 969 654

021 969 654

ross@rcmaintenance.co.nz

ross@rcmaintenance.co.nz

PO Box 92010

PO Box 92010

Farringdon, Rolleston

Rolleston 7650

BUILDING REPAIRS | GIBB STOPPING | YARD CLEARING / CLEAN UP

SMALL DIGGER WORK | FENCING | DRIVEWAYS & CONCRETE REPAIRS

• Irrigation • Drainage • Driveways

• Auger Hole Drilling

• Land Clearing & Development

• Culvert Installation • Construction Site Works

• Tree & Hedge Removal • Concrete Breaker

Phone Mike: 027 272 8058 OR 03 324 4323 A/H

g.m.contracting@xtra.co.nz

www.gmcontracting.co.nz

"Totally Dependable"

Maintenance & Servicing | New Housing | Hot Water Systems

Upgrades | Solar Hot Water | Central Heating

Commercial & Backflow Prevention | Pumps & Filtration

Town & Rural

Laser Plumbing Christchurch West

Phone: 03 348 6920

Email: chchwest@laserplumbing.co.nz

www.laserplumbing.co.nz

Garage Doors, Auto Openers,

EQC Quotes, Repairs and

Maintenance, One off Custom

Made Designs...

Showroom at

Larcombs Road and

Home Ideas Centre,

Mandeville Street

The genuine custom made

garage door professionals

vinyl laying

VINYL

EQC &

insuranCE

rEPairs

TyPEs of garagE doors:

Cedar Door, Glass & Acrylic doors, Flat Panel insulated range,

Pressed Panel Doors, Ribline doors, Tilt doors, Roller Doors,

flush mounted doors.

Proud to support your local community

Phone: 0800 661 366 • Fax: 03 347 8363

Factory: 276 Larcombs Road, R.D. 8 Weedons,

Christchurch

www.custommade.co.nz

LAYING *

*SPECIALISING

IN VINYL PLANK

Selection available or

customer supply

All floor preparation

undertaken

Contractors rates

Phone John 027 208 7383

jandcbennett@xtra.co.nz

9020599AA

Trades & Services

MACROCARPA &

BLUEGUM Trees

wanted for

firewood or

sawmilling grade.

Ph Kent

021 325 661

EASY CLEAN GLASS

NANOCOATING

• Showers

• Glass Balustrades/

Windows

• Glass Splashbacks

• Glass Restoration

0800 EZClean (08003925326)

Easycleangs@gmail.com

SCOTT'S TREE

TRIMMING &

TOPPING

• Shelter Belt & Trimming

• Tree Topping

• Root Racking

• Full Hedge Removals

• Stump Removals

• Excavations

Sam 027 918 5155

Bill 027 433 7869

Email:

nathanandhayley@

scorch.co.nz

ROOF

PAINTING

Rope & harness

a speciality,

no scaffolding

required,

30 years of

breathtaking

experience.

FREE QUOTES

Exterior staining,

exterior painting,

moss and mould

treatment and

waterblasting

Phone Kevin

027 561 4629

Heatpump

Cleaning

Is your heatpump

ready for wInter?

• Save power, Save Money

• Cleaner healthier air

• Friendly, professional

service

Bemer

Heatpump

Cleaning

Rob Spink

• 0800 423 637

• (A/H) 03 325 2713

spinkfam@xtra.co.nz
---
30

Latest Christchurch news at www.star.kiwi

Wednesday May 16 2018

SELWYN TIMES

Classifieds Contact us today Phone our local team 03 379 1100

Trades & Services

BUILDING SUPPLIES

25%

OFF

acm

panels

600mm by

2200mm

Was $20

Now $15 per panel

MUSGROVES

3 Musgrove Close (off Wigram Rd) Chch

www.musgroves.co.nz • 03 322 7922

or Freephone 0508 468 747

CONCRETE

Concrete Removal

& Trucking

Driveways, paths, sheds, garages, site clearances.

We also deliver and spread landscaping supplies –

topsoil, bark chip, shingle etc.

3 Tonne Digger and operator available for hire.

For fast friendly service phone

Nick on 0274 324 124

keacontracting@yahoo.com

Driveways

SWAINS KIWI KERB

DRIVEWAY

CONSTRUCTION

Free Measure & Quote

• Asphalt

• Driveways

• Kerb

25%

OFF

denim blue

ranchsliders

2.4m high

Was $1,595

Now $1,195 each

DECORATORS

New Paint • Repaints

Wallpapering • Fences

Repairs • Feature Walls

Floor & Roof Painting

Spray Painting

Light Commercial

Restoring Timber

Selwyn based but service the whole of Canterbury

www.andertondecorators.co.nz

www.facebook.com/andertondecorators

027 724 6846 027 PAINTIN

Quality Workmanship -

Over 10 Years Experience

• Chipseal

• Chip

PH 0800 081- 400 • 980-1123

Mob 0274 325 457

electrician

Excavations

• Driveways

• Car Parks

• Site Cleaning

• Demolition

• Farm Tracks

• Drain Cleaning

• Stump & Hedge

Removal

• Ashpalt Concrete

Trades & Services

Wide range

oF TruckS

• Registered Electrician

• Over 20 years

experience

FOR ALL YOUR

RESIDENTIAL & COMMERCIAL

ELECTRICAL NEEDS

Light Up Electrics Pty LTD

FREE QUOTES

CALL DANIEL 027 570 3534

or 03 3477 213

lightup@live.com.au

• Tennis Courts &

Swimming Pools

• Chip Seal Driveways

• Diggers – 2 Ton

up to 20 Ton

• Excavators

• Bobcat & Drilling

• For Posthole &

Fence hole

For a Free Quote

on your next project

Phone Steve on 021 338 247

or 325 7922

LANDSCAPING

Free

QuoTe

landscaping

Landscape

Construction and

Garden Maintenance

You can have your gardens, trees,

shrubs, plants and lawns maintained to look their best

all year round, for a great price.

Residential & Commercial Landscaping

• Maintenance • Pruning • Reconstruction & Rejuvenation

• Rental Property and Commercial Maintenance

• Pre-Sale Tidy-Ups

New Home Landscaping

Lawns • Gardens • Decks • Paving • Water Features

• Quality • Value for money • Experienced • Punctual

• Professional • Flexible • Knowledgeable • Reliable

Call Ross Legg - 027 222 0388

Email ross@revivelandscaping.co.nz

www.revivelandscaping.co.nz

Paving, Irrigation, Lawns,

Planting, Fences, Pergolas,

Water-features, Outdoor fires,

Raised Vege beds, Decks,

Artificial grass & more...

Call Aaron & the team today!

Phone: 03 3474422 or 021542402

Email: landscapeyouroutdoorspace@gmail.com

Locally based Selwyn Landscape Design and Construction

www.theoutdoorspace.co.nz

Trades & Services

GARDEN SUPPLIES

CHCH'S LARGEST SELECTION OF

BARK • COMPOST • SHINGLES

Remember...

we are NOT in

Parkhouse Road

Landscape Lane (off Lunns Rd)

P. 348 2915 OPEN 7 DAYS

nO GREEn wastE In anY OF OUR COMPOst

Trades & Services

ACE HIGH

PLUMBING

All Plumbing

Gasfitting

Drainlaying

Blocked Drains

Log Fires,

Wetbacks

Gas Hotwater

Phone

021 454 864

BATHROOM

RenOvATiOns

complete service from

start to finish, free quotes,

ph Dave 027 334 4125

CARPeT & vinyl

lAying

Repairs, uplifting,

relaying, restretching,

E mail jflattery@xtra.

co.nz

ph 0800 003 181

or 027 2407416

CARPenTeR

HAnDyMAn

Small Job Specialists,

Carpentry, Repairs,

Decking & Maintenance,

40 years experience, no

job too small, Ph Warren

03 322-1103 or 027 697-

8541

COnCReTe CUTTing

Affordable

Concrete

Cutting with Quality, and

removal work. Free quote.

No job to small. Phone 027

442-2219, Fax 359-6052

a/h 359- 4605

FenCing

Quality timber fencing -

gates & repairs, ph Ryan

027 951 8892

Bellamy's

Furniture

Furniture made to

order and restoration

by tradesman with

35yrs experience.

PH Stephen

021 073 2624

JOineRy

& KiTCHen

alterations. Rangehood

fitting, fridge and oven

cabinet alterations.

New kitchens and built in

joinery. www.freeman

kitchens.co.nz

Ph Chris 0280 211 566

Trades & Services

lAnDsCAPing

Paving, Lawns, Irrigation,

Decking, Fencing.

Kanga & small digger

services. Check out Squire

Landscaping on facebook.

FREE QUOTES. Ph

Arthur 347-8796, 027

220-7014 Edwin 027 220-

7154

MAsOnRy

DAMAgeD MAsOnRy

Rock and Blocks Work Ltd

for all your brick, block

and tile laying needs.

Friendly service Licensed

Building Practitioner

phone Devon on 021 375-

888 or 03 329-5511

RJB PlUMBing

Renovations, New Houses,

Hot Water Cylinders,

Kitchens Bathroom

Upgrades, Laundries,

General Maintenance ,

Water Filters. Phone Mark

0278690026

Tiling

Quality jobs done on time.

All aspects of tiling. Reg

Master Tiler. Ph Dave 027

334 4125

T.v. seRviCe

CenTRe

Repairs, tvs, microwaves,

stereos, DVD. Aerial

installations and kitsets,

480 Moorhouse Ave, ph 03

379 1400

WeeDOns

FenCe HiRe

Temporary Fencing for

construction sites, events,

pool fencing etc, Long

term/Short term hire, great

rates, ph 027 391 0966

ADD SOME

COLOUR

TO YOUR ADVERT!

Wanted To Buy

TOOLS Garden,

garage, woodworking,

mechanical, engineering,

sawbenches, lathes, cash

buyer, ph 355-2045

2018 ANNUAL

GENERAL MEETING

Wednesday 6th June, 7.30pm

ADVERTISE YOUR BUSINESS HERE

Public Notices

Lincoln and Districts

Community Care

Association Incorporated

A Registered Charity

Habgood Lounge,

Lincoln Event Centre,

15 Meijer Drive, Lincoln

Public Notices

ELLESMERE

TENNIS

AGM

Springston

Sports Grounds

30th May

7.30pm

All Welcome

Phone for further details

Wanted To Buy

TOOLS Garden,

garage, woodworking,

mechanical, engineering,

sawbenches, lathes, cash

buyer, ph 355-2045

Rolleston

softbAll

Club

Annual General

Meeting

7.30pm Rolleston

Rugby Club Rooms

Wed 30 May 2018

Any further enquiries

can be emailed to the

Club Secretary at

rollestonsoftball@

hotmail.co.nz

All members

welcome

(03) 379 1100
---
(unle s sold prior)

Sarah Yeates

Contact:

Mobile: 0274 472 719

Email: sarahy@pb.co.nz

SELWYN TIMES Latest Christchurch news at www.star.kiwi

Wednesday May 16 2018 31

Classifieds Contact us today Phone our local team 03 379 1100

Situations Vacant

LEESTON

MEDICAL CENTRE

MEDICAL

RECEPTIONIST

We require a part-time Medical

Receptionist to join our team

(Mon pm and Friday am)

The ideal candidate will have:

• Excellent computer and telephone skills

• Ability to work efficiently under pressure

• Empathy with people

• Experience with Medtech 32 is an advantage

The successful candidate will also be

expected to cover for upcoming maternity

leave (Monday am, Tuesday am and pm and

Wednesday pm) and for colleagues during

sick and annual leave.

Please send your CV with covering letter

before 25 May 2018 to:

practicemanager@leestonmed.pegasus.net.nz

DARFIELD

HIGH SCHOOL

Years 7 to 13

DAY RELIEVERS

We are seeking to expand

our pool of Day Relievers.

Trained and registered Primary and Secondary

teachers interested in being considered for day relief

should in the first instance email their interest to:

pe@darfield.school.nz

The Day Relief Co-ordinator

Darfield High School

PO Box 5 Darfield Tel: 03 318-8411

Situations Vacant

AgResearch is the Crown Research Institute tasked with delivering leading

agricultural science and innovation to benefit the wider New Zealand economy.

Our internationally-recognised scientists work across the agricultural sectors in

collaboration with a range of stakeholders both nationally and internationally, putting

science and innovation at the forefront. We are a unique organisation that is driving

prosperity by transforming agriculture.

Grounds and Maintenance Support

AgResearch are looking for an enthusiastic Grounds and Maintenance Support

person for our Lincoln Campus. This role will be a 2 year fixed-term contract with

the possibility of extension. Ideal working hours would be Mon to Fri 9am to

3.30pm (30 minute lunch break).

Being prepared to help out and good at hands-on tasks will make this role interesting

for you. You must be willing to learn new skills and attend training if required.

What you will be doing

• Assisting to keep the grounds tidy and general maintenance of buildings and

equipment.

• Helping to arrange prices for grounds and maintenance work.

Your ideal background

• Hands-on building, equipment and grounds experience - the ability to fix basic

building or equipment issues, and know when to call in dedicated trade expertise.

• Clean drivers licence essential, plus H&S knowledge.

For more info or to apply go to: www.agresearchcareers.co.nz

For a confidential discussion contact Jeff Fitzharding-Jones on 021 391 133.

Applications close: 18th May 2018.

Bright Minds Leading the Way Significance Balance

www.agresearchcareers.co.nz

Situations Vacant

PCW-PARTNERSHIP

COMMUNITY WORKER

34 hours per week

Do you want to make a difference to people experiencing

health and wellbeing issues?

The Services to Improve Access PCW – Partnership

Community Worker Service is focused on ensuring

eligible Maori, Refugee, Migrant and low income people in

Canterbury, have access to primary health care services.

The PCW role based in Lincoln.

The duties and responsibilities include:

• Assess and identify needs impacting client health and

wellbeing

• Provide information and education about support and

resources available in the community

• Facilitate access to health, social services and

community support services

• Support people to attend appointments if necessary

• Accurate, timely management of client information and

reporting

Skills and experience

• Relevant tertiary qualification (eg Social Work) and/or

relevant experience within the health sector.

• Has strong relationship building and networking skills

• Creative problem solver and very organised

• Culturally competent

• IT competent

The closing date for application is 1st June 2018.

COMMUNITY CARE LINCOLN.

Please reply to Partnership Community Worker

p.mnoonan@farmside.co.nz

HEAVY TRAFFIC

LICENCE COURSE

INTEREST FREE TIME PAYMENT

(conditions apply)

Advertising

Sales Assistant

2018

Star Media is looking for a pro-active administrator in the Selwyn

OTHER COURSES/LICENCE

ENDORSEMENTS AVAILABLE ARE:

area who can provide assistance to our Selwyn Times Advertising

Class 3, 4 & 5, Vehicle Recovery, Wheels, Tracks, Account Executive.

Rollers, Dangerous Goods

job: C61064

Driving Related Health & Saftey Training You will need to be an outstanding communicator who is

Passenger, Logbook & Load Security :ezis Training

16 x 3 organised. :tamrof

If b&w you can multi-task, think on your feet and be great

DRIVETECH publication LTD

at building relationships run date and position keeping a professional sort cost manner (excl at gst) all

FREEPHONE 0508 2 DRIVE (37483) OR 03 348 8481

info@drivetech.co.nz | www.drivetech.co.nz times, this is the job for you. You will have the ability to stay ahead

Selwyn Times Tues 8 May Sits Vac $380.64

of the game and work well under pressure.

Vehicles Wanted

Tues 15 May $380.64

Selwyn and Ashburton Outlook Tasks and Wed duties: 2 May Sits Vac $508.80

• Advising clients Wed 9 of May when their copy/imagery for $508.80 advertising is due

CAR REMOVALS

and answering any questions

$$CASH PAID$$ • Completing layouts for features

• Work within our Synergy Booking System including the booking

CARS, VANS, UTES

of advertising when required

& 4X4 WANTED

• Providing a liaison between the production team and clients

• Use of our client database system

• Organise writers for features and ensure copy and photos are

delivered on time

W ek co mencing WeDneSDAY, 4TH Apr i l 2 018

For this role you will need to be competent in Excel, Word and

Outlook. You will have your own reliable transport and a NZ Driver's

Licence. Star Media will provide you with a laptop and give you the

necessary training and resources.

If this sounds like you, please send your CV to Lynette

Lynette.Evans@starmedia.kiwi or call me on 364-7434

pUBliSHeD eVerY WeDneSDAY

NOT JUST CURB APPEAL!

With manicured lawns and designer features this

279m2 beauty wi l impre s before you open the

d or. An expansive home on 1204m2 showcases

outstanding ind or/outd living options and an

impre sive r ofline extension with exposed tru s

details.

The luxury kitchen complete with large WIP and

90cm fr estanding oven complements the spacious

living area and designated dining space. A l 3 living/

dining areas flow so easily ou to an enviable covered

outd or entertaining space. There is a spacious master

bedr om, exce lent walk in robe and pampering

ensuite with double-head, fu ly-tiled shower. The

remaining 3 bedr oms are a l of double-size and have

wardrobes to match. A sought after, 3 car garage with

drive through opens to a huge parking pad, garden

sheds and lush gr en lawn beyond. There is obvious

pride taken here, not only with the design of the home

but careful and meticulous maintenance that wi l

capture the eye (and hearts) of many.

Address: 18 Shadbolt Lane, Ro leston

Deadline Sale – Closing Thursday

19th April 12pm

WEDNESDAY, APRIL 4, 2018 Loca ly Owned

www.star.kiwi

FROM FULL CAR (Class 1)

TO FULL TRUCK (Class 2)

(Road code & pre-assessment driving training provided)

• Media Industry

Courses in Christchurch, Invercargill,

Cromwell & Mosgiel

• Hours: Up to 20 hours per week

Proof read daily. by:_______________________________ With: _______________________________ Date:_______________________________

Other areas by arrangement

• Work from home

"TRAINING TOMORROWS DRIVERS TODAY"

Safety 'ignored'

No flashing lights for

Prebbleton cro sing

Animals to benefit from students' book

Open home: Sunday 8th April 3.00pm -3.30pm

Page 3 Page 19

Darfield High School students Elyse Ke r (left) and Bridget Leach have teamed with the SPCA to create

an a l-in-one colouring-in and storybook. As part of the Young Enterprise Scheme competition, the

students created the book for children aged five to 13, to teach them how to care for animals properly.

The books wi l be sold nationwide, with a percentage of profits going to the SPCA.

PHOTO: MARTIN HUNTER

•Story, p 1

New sections

available

There's no be ter place to settle out wes than at Falcon's Landing. Pop in to our sales and

information office, 17 Branthwaite Drive, this Thursday, Friday or Sunday from 1pm to 3pm

to find out more. Contact us on 03 741 1340 or mail enquiries@yoursection.nz anytime.

revisions:

advertising proof 1 2 3 4 5

NZ OWNED

AND

OPERATED

FOR

24 YEARS

We use world class vehicle

depollution systems

0800 8200 600

www.pickapart.co.nz

Injury ends season

Lincoln half-back prevented

from playing 3 0th game

Take a break

w.selwyn.govt.nz

• By Georgia O'Co nor-Harding

PLEAS HAVE b en made to

have a stop sign insta led at an

a cident-prone Wa dington

intersection.

Residents have asked for the

sign to be insta led a the

intersection of State Highway 73

and Waimakariri Gorge Rd to

prevent future crashes.

Already two serious crashes have

b en recorded a the intersection

this year, one a fatal.

Fox Glacier man Ioane Sitivi, 36,

He was one of eight people hurt

died from injuries he sustained when

two vehicles crashed in January.

in the crash. He and another person

were critica ly injured, while

two others were moderately injured

and four had minor injuries.

In February, a sport utility vehicle

failed to give way and was hit

by a truck. One person sustained

serious injuries while the other had

minor injuries.

Thr e other crashes that resulted

in both serious and minor injuries

were recorded a the intersection

betw en 2014-2016.

The i sue was presented by

resident Bob Sco to the Sheffield-

Wa dington Community Commi

t e in February.

•Turn to page 7

Heading away?

drivesmart

Stay refreshed

Share the load

Residents

call for stop

sign at busy

Waddington

intersection

ADVERTISING

Closing date

checked:

ACCOUNT MANAGER

URL

tested:

If your serious about selling and like to

achieve outstanding results, then you are

the person $0 we $0 are $25 $50 looking $75 for!

We are looking for someone who has:

PLEASE • NOTE: Experience in selling B2B

that we have prepared this

advertisement • Proven proof based success on our record of winning new

understanding business of the instructions

received. In approving the

advertisement, • Maintain it is client's and responsibility grow existing client base

to check

•

the

Listen

accuracy

and

of both

relate

the

well to our clients to

advertisement, the media and the

position nominated. provide the best solutions

Cancellation We will of adverts offer you booked an with excellent base salary as

media will incur media cancellation

fee of

well

$50.

as a commission system with no cap.

You will be part of a successful team

your selling contact: our free Amy newspapers, magazines

and digital solutions to our clients, which

are all experiencing strong growth in our

marketplace.

I am keen to hear from you, if you can

take me through your proven sales process

and deliver an intelligent sales solution to

customers.

It's an exciting and fun time to join our

media team.

You will get support and structure provided,

to ensure your success in our team.

Please send your application and CV via

email to Steve McCaughan

steve@starmedia.kiwi
---
32 Wednesday May 16 2018

Latest Christchurch news at www.star.kiwi

SELWYN TIMES

Riley Chaise Sofa

ONLY $

1199

Riley 3 Seater Sofa

ONLY $

799

Riley 2 Seater Sofa

ONLY $

699

Grey

Glacier

Feeling

the chill?

Snuggle in with our warm Winter trends.

Monaco 3 Piece

Bedroom Package

Queen Bed plus 2 Bedsides

ONLY $

1197

Cnr Blenheim & Curletts Rds, Christchurch Ph: 0800 TARGET (0800 827438)

Shop with us online at: targetfurniture.co.nz

Offers and product prices advertised here are part of our Winter Sale.

Winter Sale ends 28/05/18. Sale excludes Manchester and Accessories.
---
PUBLiSheD eVeRY WeDneSDAY

Week commencing WeDneSDAY, 16th mAY 2018

Just like new and ready for you!

Like new & ready for you this recently completed family

home features 4 bedrooms, 2 beautifully tiled bathrooms

(including ensuite) and fully engaged open concept living. All

bedrooms benefit from generous wardrobes with the master

further advantaged by a walk-in robe. Gourmet kitchen

offers the chef high-end appliances including 90cm gas hobs

and faces into the lounge over an expansive central island

for optimised host inclusion. Log-burner in the living area

provides a warm & welcoming ambience while twin sliders

opening to extensive decking sets you up for a summer of

sunshine. Durable flooring in service areas are complemented

by premium grade carpets in social zones set off to perfection

by neutral tones sure to sit well with your furnishings. Come

& go with the ease of auto-opening internal access double

garaging with loads of room for utility storage. Immaculately

presented with scope to enhance the 4,060sqm grounds

with further landscaping & shaping. Hassle-free, turn-key

living ideal for a downsize, second home step or anyone

insistent on privacy, quality and location.

Price: $665,000

Amy Jones

Contact:

Mobile: 021 077 9945

Email: amy.jones@pb.co.nz

Address: 105 Bangor Road, Darfield

Viewing by appointment

Best nest in

the west

There's no better place to settle out west than at Falcon's Landing. Pop in to our sales and

information office, 17 Branthwaite Drive, this Thursday, Friday or Sunday from 1pm to 3pm to

find out more. Contact us on 03 741 1340 or mail enquiries@yoursection.nz anytime.
---
2

Hastings McLeod Limited Licensed under the Real Estate Agents Act 2008 rolleston@pb.co.nz 03 929 0306

FAMILY HAVEN WITH 90M2 GARAGING!

COUNTRY CHARMER

NEW LISTING

WEB ID ROU62014

ROLLESTON

15 Byron Street

Lovingly maintained and renovated this 4 bedroom, 2

bathroom property on the classic quarter acre section is

often sought and rarely found. Stunningly presented

and with the added bonus of fantastic garaging tucked

down the rear of the property, you're going to want to

see this!

Located in Rolleston School zone, this property

represents fantastic buying for a wonderful family home,

large section and garaging. If you're wanting more than

a standard 3 bedroom 1 bathroom home in an entry

level price bracket put this one at the top of your list.

Call Sarah today!

DEADLINE SALE

VIEW 20 & 27 May 11.00 - 11.30am

DEADLINE SALE closes Tuesday 29th May, 2018 at 4.00pm,

(unless sold prior)

Sarah Yeates

Mobile 027 447 2719

Office 03 929 0306

sarahy@pb.co.nz

RURAL LIFESTYLE SECTIONS - KIRWEE PLAINS

4

2

6

WEB ID DFL61319

DARFIELD

342A Bangor Road

VIEW Sunday 20 May 11.00 - 11.30am

Set on 1.7 hectares in sheltered grounds on the outskirts

of Darfield is this well presented character home that

provides an outstanding opportunity for those looking

to enter the rural lifestyle market.

Featuring a large open plan country style kitchen that

flows through to separate formal dining room, with

French doors opening onto a large deck excellent for

outdoor entertaining. A generous separate lounge

provides a peaceful escape.

Gareth Cox

If you're looking for well established property where you

Mobile 021 250 9714

can add your touch then look no further!

Office 03 929 0306

Offers invited over $570,000.

gareth@pb.co.nz

BY NEGOTIATION

Rental Property

Mangement Selwyn

3

1

1

We take the stress out of owning

investment property. With years of

experience, place your trust in us.

WEB ID DFU61229

KIRWEE

Kirwee Plains

View By Appointment

Kirwee Plains are excited to announce the release of

stage one, offering a wide range of generous lifestyle

sections within the vibrant country village of Kirwee.

• Sections priced from $175,000

• Great range of sections 1000m2-5000m2

• Power, fibre & town water supplied

• Septic tank consent approved

• House & land packages available

To secure your convenient rural lifestyle call today!

Gareth Cox

Mobile 021 250 9714

Office 03 929 0306

gareth@pb.co.nz

www.propertybrokers.co.nz

BY NEGOTIATION

Lisa Oquist

M 027 643 2358 P 03 929 0306

lisao@pb.co.nz

Bev Saunders

M 027 666 1219 P 03 313 8022

bev.saunders@pb.co.nz
---
3

FOR SALE

Greenpark/Motukarara

469 Ridge Road

10 Hectares

$850,000 ONO

• 3brm brick home 179m2

• En suite, open-plan living

• Superb outlook to peninsula

• Tasteful furnishings

• Two double garages

• 6 paddocks with stock water

• Handy to racecourse

• GMR11095

Greenpark/Motukarara

481 Ridge Road

4.5 Hectares

$795,000 ONO

• 4brm brick modernised home

• 3 living rooms, wood- burner,

tile open fire, smart kitchen

• Appealing furnishings

• 4-car garaging, 3-bay hay/

implement shed

• 3 paddocks with stock water

• GMR11096

Rolleston

12 Cezanne Grove

$595,000

• Potentially 5 bedroom

• 3-4 brm dwelling

• Two brm studio offering

versatility - Ideal cottage industry,

office, workshop etc

• Double garage, ample parking

• Tranquil, mature setting, 1,115m 2

• GMR11082

Bob Paton

027 432 1758 or 343 9490 (anytime)

bob@glassmiles.co.nz

Servicing the Central Canterbury area for nearly

4 decades. Focusing in the Lincoln, Rolleston,

Tai Tapu, Ladbrooks, Broadfield, Prebbleton and

Springston areas. Specialising in subdivisions

both rural and urban. Resource consents, Selwyn

District Council regulation and by laws. Small

holdings and rural bare land. Residential sales.

A wealth of knowledge in soil types, water

consents, covenants and farming activities.

Bob Paton

027 432 1758

bob@glassmiles.co.nz

glassmiles.co.nz

Licensed REAA 2008
---
4

$649,000

Auction

30th May 2pm (USP)

33 Zabeel Street Lincoln

4 2 2 2 2

Quality Built in Quality Location Built with high end kitchen appliances, tiled bathrooms, quality fixtures &

fittings, engineered stone benchtop, polystyrene rib raft foundation and pull down attic stairs for extra storage.

Completion due late August. Quality built in one of the most sought after subdivisions in Lincoln by the experienced

local team from BT Builders Ltd. This team personally commit themselves from design to completion, providing that

peace of mind for the lucky new owner. Why buy before it's built? Provide yourself with the option of

changing a detail or choosing your fixtures & fittings without having to start from scratch.

View at fourseasons.harcourts.co.nz ID#RL1903

Caine Hopcroft - 027 330 1002

Deadline Sale

29th May (USP)

55 Scarlet Oak Drive West Melton

4 1 2 1 2

A Secret Hide Away! If your dream is to own a lifestyle property on 2.3800 hectares (6 acres approx) then tick

this desirable property to view. Seldom does an opportunity come along to enter the lifestyle market at this level

and so close to all amenities. North West facing, 3 double bedroom plus 1 single or an office, good sized open plan

kitchen with two living areas and internal laundry. The quietness and serenity of 55 Scarlet Oak Drive will truly

impress especially with the trees on all boundaries, giving you the feeling of being miles from anywhere. The

good sized two bay shed is ideal for a stable, hay or as an implement shed. The current owners are downsizing

after 28 years of 'living the dream' so secure this opportunity so their dream can now become yours.

View at fourseasons.harcourts.co.nz ID#RL1905 | Fergus Spain 027 608 4768

Boundary lines indicative only

15 Bartlett Street Riccarton

Attention All Developers / Investors

As is where is.

4 1 1 1 4

• 1004m2 Freehold site (in 2 titles).

• Astute buyers will appreciate the underlying value of this very sought after location.

• So close to Hagley Park, Riccarton shops, bars and top restaurants.

• Zoned Medium Density under new scheme, so has massive potential for multiple townhouse development or

just build 2.

• Potential for motels, live / work offices or medical rooms (Subject to Resource Consent).

• The home features 4 double bedrooms, big living areas plus bonus of 4 car garage with potential to renovate.

• Vendors have been paid out by Insurance company and are wanting SOLD on Auction day or before.

• Fantastic opportunity to develop, land bank for the future.

LOCATION, LOCATION, LOCATION - First time offered in 20 years - don't miss it!

View at fourseasons.harcourts.co.nz ID#HR4879

Nicholas & Lyn Martin 027 228 8499

Regional Awards

Harcourts Canterbury 2017/18

Top 5 Office Rolleston Office

We would like to take the opportunity to thank our local community for all your on going business and

support over the years. We take pride in working harder, adding value and getting the best results

for you.

Inspiration Award Four Seasons

We are so proud to have been acknowledged for the Harcourts Foundation Inspiration award for our

support of ParaFed Canterbury.

Do you know of any local organisations in need of funding?

Our Harcourts Foundation provides grants to community based organisations which need funding for

projects and initiatives designed to benefit as many people as possible.

For more information or to apply: http://harcourtsfoundation.org/apply

Four Seasons Realty 2017 Ltd | Licensed Agent REAA 2008

Your home for local property
---
5

Congratulations to...

Harcourts Rising Star for 2017/18

Best in Canterbury

Professionalism, dedication and the understanding of clients

expectations have made our rising star shine. For outstanding

results or to find that brilliant new home, talk to our star.

Caine Hopcroft

027 330 1002 caine.hopcroft@harcourts.co.nz

"When you sell with Harcourts

you're not just selling with me,

you're selling with 463* sales

consultants."

"Unlike other companies, Harcourts sales

consultants work very closely together. Our

commision is split 60/40 between our listing

and selling consultants. What this means to

you is we could list your property in Darfield

and a consultant in New Brighton could

have the buyer for it. We work very closley

with our buyers and the Harcourts family to

match the right people to your property -

This is the power of Harcourts."

Caine Hopcroft

*Number of sales consultants within Harcourts Canterbury 10th May 2018.

Artist Impression

$649,000 $650,000

Artist Impression

65 Craig Thompson Drive Lincoln

High Quality Home in Popular Location

Built with high end Westinghouse kitchen appliances, tiled bathrooms, quality fixtures & fittings, engineered stone

benchtop, polystyrene rib raft foundation and pull down attic stairs for extra storage. Completion due late August.

Quality built in one of the most sought after subdivisions in Lincoln by the experienced local team from BT Builders

Ltd. This team personally commit themselves from design to completion, providing that peace of mind for the

lucky new owner. Why buy before it's built? .....

Provide yourself with the option of changing a detail or choosing your fixtures & fittings without

having to start from scratch.

View at fourseasons.harcourts.co.nz ID#RL1887 | Caine Hopcroft- 027 330 1002

$710,000

4 2 1 1 2 15 Camden Street Dunsandel

Price Reduced! Owner needs a Sale!

Due to a change in circumstances, our owner needs to downsize and move closer to the city. If you're looking

for a practical Bed & Breakfast or a great rental investment.... KEEP READING! 7 Bedrooms, 3 Ensuites & 1

Main Bathroom.- Large Separate Laundry. Large Living and Dining spaces. 11min to Rolleston, 20min to

Lincoln. RV $675,000. Salmon fishing on the Rakaia River. Take this opportunity to capitalize on the lack of

accommodation in the Selwyn District! The southern motorway extension is also well underway bringing you

so much closer to the city! You must view this property to truly appreciate what's on offer!

View at fourseasons.harcourts.co.nz ID#RL1873

Caine Hopcroft- 027 330 1002

Deadline Sale

5th June (USP)

7 4 1 2 5 2

13 Marvell Lane Rolleston

4 2 1 2

Purchased And Ready To Go!!

The owners of this beautifully presented home have purchased in the country and need a sale to make the move!

Loaded with plenty of extras including log burner, a pool, 4 camera security system, stunning water feature, 2 heat

pumps ........ just look at the chattels list! Open plan living, generous sized bedrooms, in-house separate laundry,

spacious linen/storage cupboard and an amazing outdoor entertainment area. This home is NOT your standard

Rolleston home and must be viewed to fully appreciate whats on offer!

Look out for the scheduled open homes or call Caine to organise a private viewing.

View at fourseasons.harcourts.co.nz ID#RL1904

Caine Hopcroft- 027 330 1002

Four Seasons Realty 2017 Ltd | Licensed Agent REAA 2008

16 Barnsley Crescent West Melton

Spacious, Affordable, Quiet

Here's your chance you own a slice of West Melton paradise!

4 2 1 1 1 3

A change in lifestyle requires these owners to make the move to the city!

Spacious outdoor and indoor living, triple car garaging, large garden shed providing plenty of storage, all located

in a quiet corner of the exclusive Gainsborough subdivision.

Owners are very motivated and pre-deadline offers are encouraged!

Look out for scheduled open homes or call Caine to organise a private viewing.

View at fourseasons.harcourts.co.nz ID#RL1887

Caine Hopcroft- 027 330 1002

Your home for local property
---
6
---
7
---
8
---
9

Ray White Selwyn Property Management

Brendan 'Big Red' Shefford

Business Owner

Steve Morgan

Business Owner

Leanne Morgan

Business Owner

Paul Clement

Business Development

Manager - Lincoln

Laura Mooney

Business Development

Assistant - Rolleston

Sarah John

Property Manager

Debbie Drewett

Property Manager

Lucy Campbell

Property Management

Administrator

Andrea Wright

Inspections

Agent

FREE Rental Appraisal

Contact us today if you would like to arrange a

FREE no obligation rental appraisal

of your property

Ray White Selwyn

Property Management

Paul: 027 522 8210

Laura: 027 456 1133

Office: 03 325 7298

Red Chili Property Management Ltd
---
10

M-A

MATSON & ALLAN

REAL ESTATE LIMITED

'The

Selwyn

Experts'

Residential

Lifestyle

Rural Property

Licensed REAA2008

HORORATA - 107 Substation Road

MILL FARM HOMESTEAD

• This is a one off opportunity for the lovers and

renovators of classic Canterbury Homesteads

• Set in an established mature setting of old trees and

gardens

• 230m 2 Homestead with three bedrooms and three

separate living and dining areas

• 13,646m 2 section (3.1 acres)

• Set well back off road providing privacy and security

• Easy commute to Christchurch City

• Offered for genuine sale by our vendors with immediate

possession available

• All offers to be presented on or before 4pm, Thurs

14th June 2018 (Unless sold prior)

ROLLESTON - 16 Broomleigh Drive

EXCEPTIONAL NEW BUILD!

• Generous 241m 2 home on 719m 2 section

• Two separate living areas & dining area

• Centrally located kitchen - granite benchtops, soft close

drawers, quality appliances & walk in pantry

• North facing living & outdoor entertaining

• Four double bedrooms

• Beautifully specified tiled bathrooms with underfloor

heating & walk in wardrobe

• LED lighting throughout

• Built in gas fireplace

• Separate laundry, heat pump & gas hot water

• Exposed aggregate driveway & patios

• Spray lawn & internal privacy fencing

ROLLESTON - 43 Masefield Drive

THIS HAS GOT TO GO!

• New build

• Five double bedrooms

• Master with ensuite and WIR

• Quality fixtures and fittings

• 2 x heat pumps

• Two living areas

• Separate lounge

• Sleek modern kitchen

• Large section

• Double internal access garage

OPEN HOME

Viewing: Sun 1.00 – 2.00pm

Sale by Deadline Private Treaty

View: www.marealestate.co.nz/385

Chris Flanagan Mb 027 433 4657

chris@marealestate.co.nz

Viewing: Sun 1.15 – 1.45pm

Price: Neg Over $645,000

View: www.marealestate.co.nz/363

Jackie Derrick Mb 027 636 3576

jackie@marealestate.co.nz

Viewing: Sun 2.00 – 2.30pm

Price: By Negotiation

View: www.marealestate.co.nz/269

NEw LISTINg

OPEN HOME

OPEN HOME

ROLLESTON - 5 Thames Drive

SIMPLY STUNNING – MOVE IN NOW!

• GJ Gardiner build home

• Four double bedrooms

• Two separate living areas

• Log burner and heat pump

• Beautifully specified bathrooms

• Sleek modern kitchen

• Walk in pantry

• Attic storage

• Reticulated gas

• Landscaping complete

ROLLESTON - 36 McLenaghan Road

DESIRABLE AND STYLISH NEW BUILD

• Quality brand new build

• Four bedroom family home

• Open plan kitchen & dining area

• Sleek modern kitchen with stone bench tops and quality

appliances

• Two versatile living areas

• Large master with ensuite and WIR

• Private and secure section

• Zoning for Clearview primary school and a 2 minute

drive the Rolleston township

ROLLESTON - 9 Exeter Lane

THREE BEDROOMS WITH EXTRA LARGE

LIVING

• 217m 2 brand new high quality home

• 626m 2 north facing fully fenced section

• Two extra large living including separate lounge

• Walk in pantry

• Separate laundry

• High spec fittings & fixtures throughout

• 10 year guarantee

Viewing: Sun 12.30 – 1.00pm

Price: Neg Over $635,000

View: www.marealestate.co.nz/372

Jackie Derrick Mb 027 636 3576

jackie@marealestate.co.nz

Viewing: Sun 2.45 – 3.15pm

Price: Neg Over $570,000

View: www.marealestate.co.nz/371

Jackie Derrick Mb 027 636 3576

jackie@marealestate.co.nz

OPEN HOME

Viewing: Sun 1.00 – 1.30pm

Price: Neg Over $595,000

View: www.marealestate.co.nz/384

OPEN HOME

OPEN HOME

ROLLESTON - 80 Shillingford Blvrd

LOOK FORWARD TO THIS!

• Due to be completed in July 2018

• Well designed brick four bedroom home

• Walking distance to Faringdon South Point shops

• Walk-in pantry, quality Westinghouse appliances

• Separate living area

• Ensuite & walk-in robe

• Separate laundry

• Sits nicely on section to maximise sun

• LED lighting & heat pump

• Double glazing & insulation

• Fully fenced with patios & landscaping

wEST MELTON - 904 Hoskyns Road

PARK LIKE PARADISE

• 4 hectares

• Three double bedrooms

• Two living areas

• Established private park like grounds

• Native bush walk

• Well subdivided paddocks

• Range of outbuildings

Jackie Derrick Mb 027 636 3576

jackie@marealestate.co.nz

Price: Neg Over $549,000

View: www.marealestate.co.nz/291

Jackie Derrick Mb 027 636 3576

jackie@marealestate.co.nz

OPEN HOME

Viewing: Sun 12.15 – 12.45pm

Price: Neg over $890,000

View: www.marealestate.co.nz/360

Andrew Taylor Mb 027 4355930

andrew@marealestate.co.nz

ROLLESTON - 73 Dynes Road

SUMPTUOUS FIVE BEDROOMS WITH

TRIPLE GARAGE

• Fabulous executive living

• Five double bedrooms plus study

• Three separate living areas

• Stunning kitchen with stone benchtops

• Walk in pantry

• Beautifully specified bathrooms

• Ducted heat pump system throughout

• Triple car garage

• Delightful street appeal

wEST MELTON

- 798 weedons Ross Road

WHEN SIZE MATTERS

• 300m 2 four double bedroom superior quality home

• 1201m 2 north facing section

• Extra-large kitchen/living area

• Separate lounge

• Excellent indoor outdoor entertaining areas

• Pool and built in spa

• 3+ car garaging

• Pop up irrigation

Andrew Taylor Mb 027 4355930

andrew@marealestate.co.nz

Price: Neg over $795,000

View: www.marealestate.co.nz/313

Jackie Derrick Mb 027 636 3576

jackie@marealestate.co.nz

Price: Price by negotiation

View: www.marealestate.co.nz/346

Andrew Taylor Mb 027 4355930

andrew@marealestate.co.nz

ROLLESTON PH: 03 347 9949 LEESTON PH: 03 324 3704 DARFIELD PH: 03 318 8204 www.marealestate.co.nz

Chris Flanagan

027 433 4657

Andrew Taylor

027 435 5930

Jackie Derrick

027 636 3576

Stephan Knowler

027 229 9522

Cameron McRae

027 769 6696

Paul Robinson

021 277 2690

Sue Robinson

021 409 050

Charlotte Knowler

027 532 5931

Jo Barrett

021 859 006

Emily Newcome

021 645 695
---
11

STORAGE KING ROLLESTON

Happy to be serving the Rolleston Community!

Storage King Rolleston is a brand new,

custom-built storage facility located in

Izone. Husband and wife team Chris and

Ayyam O'Brien are managing the new

store. There are 283 units, all secure,

individually alarmed, and 15 exterior

vehicle storage parks, all safe and secure

with electric security fencing, individual

unit alarms and continually monitored by

CCTV.

Short term – with a one month

minimum – or long term storage – with

some discounts available for long term

contracts - is available for residential

and commercial clients. Whether you

need to store business equipment or

product, household goods between moves

or during renovations, or accumulated

possessions you just can't let go, Storage

King Rolleston has the perfect solution.

Various sized units to cater to your

requirements, all the boxes, packing

paper, tapes and dispensers, and packing

items you could ever need. There is also

a super handy "space estimator" on the

website so you can calculate what size

unit you will need. Alternatively, the

team can arrange a free in-home appraisal

to ascertain what size unit you require for

your contents.

Other services and features available at

Storage King Rolleston are:

- free move-in truck use for storage clients

- free fibre internet for clients at the

facility

- easy access for bulky items such as

pianos and other large belongings

- tailored insurance for storing available

- truck hire for non-storage clients

- free delivery of all packing materials

purchased to your home for Rolleston

residents

Storage King Rolleston are the

"Kings of Storage, Moving and More."

In addition to the secure storage of

residential and commercial items. Storage

King Rolleston can arrange all things

needed to make your move or transition

hassle and stress free. Packing, moving

and cleaning services, they can even

arrange a babysitting service to ensure

the children are taken care of while the

packing and moving is done.

Chris and Ayyam, having recently

made Rolleston their home, are keen

to support the local community and

surrounding areas of Burnham, West

Melton, Prebbleton, Lincoln, Springston,

Tai Tapu and beyond. With the help of

Kat in the office, the team at Storage King

Rolleston are very well placed to help

with all your simple storage solutions.

The website is www.storageking.

co.nz/rolleston, follow us on our

Facebook page www.facebook.com/

rollystorage/, and our contact phone

number is 0800 220 210 or 03-347-2400.

A fully manned office and moving supplies shop

open 8:30am-5pm Mon – Fri and 9am – 1pm Sat

55 Link Drive, Rolleston

Phone: 0800 220 210 or 03 347 2400

Email: rolleston@storageking.co.nz | Web: storageking.co.nz

Facebook: www.facebook.com/rollystorage

We are the Kings of Storage, Moving and More and are happy to be serving the Rolleston Community!
---
2

12 [Edition datE]

Your guide to Show Homes & New Sections

in the Selwyn District

Dream it, build it

Occasionally when you step into a show home,

you instantly recognise it is quite unique. Such is the

experience at R & B Builders' Faringdon show home.

R & B Builders' directors Ryan Neal and Brett

Armstrong are Licensed Building Practitioners, have each

spent many years in the building industry and are very

proud to bring a range of architecturally designed houses

to the market. Their fresh approach to design and build

and attention to detail, is second to none.

In addition to being experienced builders, Ryan and

Brett are creative types who like to embody their business

motto, "Dream It, Build It" with an innovative use of

materials and design features. The show home at 91

Ledbury Drive, Faringdon is a fantastic example of this

and the quality workmanship R & B clients can expect.

The four bedroom, two storey, 240sqm house

exemplifies a practical use of space while remaining

open and welcoming. Cathedral ceilings throughout

both floors, and especially in the large lounge, enhance

the already spacious feel. A central staircase with glass

balustrade leads to a mezzanine living space between two

of the bedrooms and a powder room. It is a perfect area

for children or teenagers. Skylights bring in additional

light.

A generously sized master bedroom on the ground

floor, features an en-suite and walk-in wardrobe with

sliding doors to the deck outside.

There is plenty of storage space and the centralised

kitchen features high-end appliances and fittings with

a large walk-in scullery which also incorporates the

laundry.

It is a beautiful home, made more so by Interior

Consultant Carol Hartnell, Ryan and Brett's motherin-law.

Carol is the face of the R & B show home and is

based there from 12pm to 3pm, Wednesday to Saturday

for viewings; on Sundays Brett or Ryan will be there.

Carol is very friendly and approachable and works closely

with Brett and Ryan. They enjoy client interactions

and are big on communication and keeping clients

informed throughout the building process. They can all

provide advice and ideas, or take your ideas and make

them a reality. They work with a highly motivated and

experienced team of builders, architects and suppliers to

bring quality architecturally designed homes to buyers.

Read more about this family run business, and see

more examples of their designs and houses at www.

rnbbuilders.co.nz

Artisan Homes

Builders of superior homes. Built to last.

Winners in Registered Master Builders House of the Year Awards

Visit our new show home - Faringdon South Show Home Village

East Maddisons Road | Phone: 03 374 9172

Phone 03 374 9172 Rob 021 324 876

email robin@artisanhomes.co.nz

www.artisanhomes.co.nz
---
13

Buying your

first home?

Think Flemington

You will be surprised at how easy it is build your first home at Flemington.

Head along to our Showhome Village onsite and check out the amazing

showhomes from some of Canterbury's top builders.

Showhome Village open Wednesday to Sunday, 11am-4pm.

First National Real Estate

Sue Mullins

027 244 1325

Visit Us Onsite Corner of Birches Road and Craig Thompson Drive, Lincoln.

Barry O'Neill

021 364 422

www.flemington.co.nz
---
14

Show

home

Guide

Competitive

pricing from

$1498 per sq.m

www.homesbyparklane.co.nz

Standout Homes for

an Outstanding Price

New Showhome

6 Craig Thompson Drive,

Flemington, Lincoln

Wednesday to Sunday

12pm - 4pm

Office & Showhome

2 Harvard Avenue,

Wigram, Christchurch

Monday to Friday

9am - 5pm

(03) 341 3000 or 029 201 2453

Registered Master Builders House of the Year 2017

Gold Award Winning Builder

Homes by Parklane

"Standout Homes for an

Outstanding Price"

Flemington, Lincoln

6 Craig Thompson Drive

Wed to Sun 12pm - 4pm

Wigram

2 Harvard Avenue

Mon to Fri 9am - 5pm

Master Builders House of the

Year 2017 Gold Reserve Award

Winning Showhome

(03) 341 3000 or 029 201 2453

www.homesbyparklane.co.nz

LOOKING FOR DESIGN INSPIRATION?

Visit one of our three stunning showhomes to gather ideas for your dream home

97 Ledbury Drive, Faringdon 37 Prestons Park Drive, Marshland

39 Prestons Park Drive, Marshland

Signature Homes

Rolleston

97 Ledbury Drive, Faringdon.

Open Wed to Sun 12noon – 4pm

Prestons Park

37 & 39 Prestons Park Drive

Marshland, Chch both Open Wed

to Sun 12noon – 4pm

Show Room/Office:

31 Watts Road, Sockburn

0800 8444 88 or 03 3427788

www.signature.co.nz

Jennian Homes Canterbury North

Rolleston

7 Lemonwood Drive, Faringdon

Wednesday to Sunday, 12pm to 4pm

Rangiora

9 Westpark Boulevard

Wednesday to Sunday, 12pm to 4pm

www.jennian.co.nz

Peter Ray Homes

Prestons

28 & 30 TeRito Street

Wigram Skies, Wigram

32 & 34 The Runway,12pm to 4pm

Faringdon, Rolleston

572 & 574 East Madisons Road

www.peterrayhomes.co.nz

To advertise in

The Showhome Guide

Contact Elaine: (03) 364 7436

elaine.moon@starmedia.kiwi

SHOWHOMES:

All three showhomes

Open Wed-Sun 12pm-4pm

Two New Display Homes Now Open...

Jennian Homes Canterbury North have two new Display Homes that are now open.

With their outstanding features and functional design, they are sure to impress.

7 Lemonwood Drive, Faringdon, Rolleston

Open: Wednesday - Sunday, 12pm - 4pm

SHOWROOM / OFFICE:

31 Watts Road, Sockburn

Open Mon-Fri 8am-5pm

Jennian Homes Canterbury North

212 Main South Road, Sockburn

P 03 741 1436 E canterburynorth@jennian.co.nz

jennian.co.nz

0800 844 488

signature.co.nz

9 Westpark Boulevard, Rangiora

Open: Wednesday - Sunday, 12pm - 4pm

At Jennian Homes Canterbury North we pride ourselves on delivering the home you've

always wanted. So, what are you waiting for? Come on over and see for yourself what life

could be like in a Jennian Home.

Gabbie and Alexis

have a busy family.

Luckily we created plenty

of space for them to

play and relax.

Start your own story

03 348 1994

www.peterrayhomes.co.nz

To promote your

showhome in our

Show home

Guide

Contact Elaine Moon

Ph. (03) 364 7436

Mob. 021 914 335

elaine.moon@starmedia.kiwi
---
15

This Week's

11.00am – 12.00pm

1.00pm - 2.00pm

2.00pm – 2.30pm

2.00pm – 2.30pm

ThURsDAY 17Th mAY

9 Clydesdale Way, Barton Fields, Lincoln

Harcourts Hornby

2/82 Heaton Drive, Tai Tapu

Ray White Rolleston

2313 Main South Road, Burnham

Harcourts Hornby

12 Tod Place, Lincoln

Ray White Lincoln

sATURDAY 19Th mAY

12.15pm – 12.45pm

12.15pm – 12.45pm

12.15pm – 12.45pm

12.15pm – 12.45pm

12.15pm – 12.45pm

12.30pm – 1.00pm

12.30pm – 1.00pm

904 Hoskyns Road, West Melton

Matson & Allan Rolleston

83 High Street, Southbridge

Matson & Allan Leeston

1 Waiuku Street, Leeston

Matson & Allan Leeston

1 Fiona Place, Hei Hei

Ray White Rolleston

95 Neave Road, West Melton

Ray White West Melton

3A Mahoe Street, Templeton

Harcourts Hornby

7 Elizabeth Street, Rolleston

Harcourts Hornby

1.30pm - 2.00pm

1.30pm – 2.00pm

1.30pm – 2.30pm

1.45pm – 2.15pm

1.45pm - 2.15pm

2.00pm – 2.30pm

2.00pm – 2.30pm

40 Millstream Drive, Lincoln

Harcourts Rolleston

4 Bonecrusher Street, Lincoln

Harcourts Rolleston

64 Petticoat Lane, Doyleston

PGG Wrightson Real Estate Canterbury

15 Clausen Avenue, Leeston

Matson & Allan Leeston

28 Oak Tree Lane, Rolleston

Ray White Rolleston

4 Te Waikare Street, Lincoln

Ray White Lincoln

14 Marion Place, Lincoln

Ray White Lincoln

12.00pm - 12.30pm

12.00pm – 12.45pm

12.30pm – 1.00pm

1.30pm - 2.00pm

1.30pm – 2.00pm

1.30pm – 2.00pm

2.00pm - 2.30pm

2.45pm – 3.15pm

3.00pm – 3.30pm

3.00pm – 3.45pm

11.00am – 11.30am

11.00am – 11.30am

11.00am – 11.30am

11.00am – 11.30am

11.00am – 11.30am

11.00am – 11.30am

11.00am – 11.30am

11.30am – 12.00pm

11.30am – 12.00pm

11.30am – 12.00pm

11.30am – 12.30pm

11.45am – 12.15pm

11.45am – 12.15pm

12.00pm - 12.30pm

12.00pm – 12.30pm

12.00pm – 12.30pm

12.00pm – 12.30pm

12.00pm – 12.30pm

3 Kajens Court, Lincoln

Harcourts Rolleston

79 Edward Street, Lincoln

Harcourts Rolleston

7 Elizabeth Street, Rolleston

Harcourts Hornby

40 Millstream Drive, Lincoln

Harcourts Rolleston

7 Russley Road, Russley

Ray White West Melton

2C / 1 Riwai Street, Templeton

Ray White Rolleston

37 Globe Bay Drive, Templeton

Harcourts Rolleston

615 Waterholes Road, Broadfield

Ray White Rolleston

2313 Main South Road, Burnham

Harcourts Hornby

24B Jozecom Place, Rolleston

Harcourts Rolleston

sUNDAY 20Th mAY

8A Tavistock Place, Avonhead

Ray White Rolleston

224A Lowes Road, Rolleston

Ray White Rolleston

20 Caroline Way, Northwood

Ray White Rolleston

15 Gift Street, Coalgate

Ray White West Melton

15 Byron Street, Rolleston

Property Brokers

18 Ocean View Place, North Rakaia

Matson & Allan Leeston

342A Bangor Road, Darfield

Property Brokers

16 Barnsley Crescent, West Melton

Harcourts Rolleston

8 St John Street, Southbridge

Matson & Allan Leeston

1/25 Cicada Place, Hei Hei

Ray White Lincoln

2/82 Heaton Drive, Tai Tapu

Ray White Rolleston

25 Goldrush Lane, Rolleston

Ray White Rolleston

6 St James Street, Southbridge

Matson & Allan Leeston

3 Kajens Court, Lincoln

Harcourts Rolleston

1 Chanel Place, Prebbleton

Ray White Lincoln

65 Burnham School Road, Rolleston

Ray White Rolleston

15 Goldrush Lane, Rolleston

Ray White Rolleston

151 Rolleston Drive, Rolleston

Ray White Rolleston

12.00pm – 12.30opm 5a Austen Place, Rolleston

Ray White Rolleston

12.00pm – 12.30pm

12.00pm – 12.30pm

12.00pm - 12.30pm

12.00pm – 12.45pm

12.00pm – 1.00pm

38 Woodville Street, Leeston

Ray White Lincoln

2313 Main South Road, Burnham

Harcourts Hornby

3 Kajens Court, Lincoln

Harcourts Rolleston

79 Edward Street, Lincoln

Harcourts Rolleston

49 Strauss Drive, Rolleston

Property Brokers

12.30pm – 1.00pm

12.30pm – 1.00pm

12.30pm – 1.00pm

12.30pm – 1.00pm

12.30pm – 1.00pm

12.30pm – 1.00pm

12.45pm – 1.15pm

12.45pm – 1.15pm

12.45pm - 1.15pm

1.00pm – 1.30pm

1.00pm – 1.30pm

1.00pm – 1.30pm

1.00pm – 1.30pm

1.00pm –1.30pm

1.00pm – 1.30pm

1.00pm – 1.30pm

1.00pm – 1.30pm

1.00pm – 1.30pm

1.00pm – 1.30pm

1.00pm – 1.30pm

1.00pm - 1.30pm

1.00pm – 1.30pm

1.00pm – 1.45pm

1.00pm – 2.00pm

1.00pm – 1.30pm

1.15pm – 1.45pm

1.15pm – 1.45pm

1.15pm – 1.45pm

1.15pm – 1.45pm

1.15pm – 1.45pm

1.15pm – 1.45pm

1.15pm – 1.45pm

1.15pm – 1.45pm

1.30pm – 2.00pm

1.30pm – 2.00pm

1.30pm – 2.00pm

5 Thames Drive, Rolleston

Matson & Allan Rolleston

13 Marvell Lane, Rolleston

Harcourts Rolleston

10 Charlbury Drive, Rolleston

Matson & Allan Rolleston

89 Carnaveron Drive, Lincoln

Ray White Lincoln

22 Christie Place, Rolleston

Ray White Rolleston

1016 Weedons Ross Rd, West Melton

Ray White West Melton

24 Brittan Drive, Rolleston

Ray White Rolleston

13 Berners Way, Rolleston

Ray White Rolleston

12 Northmoor Boulevard, Rolleston

Ray White Rolleston

574 Birchs Road, Lincoln

Ray White Lincoln

15 Ardrossan Way, Tai Tapu

Ray White Rolleston

17 Coleridge Street, Rolleston

Ray White Rolleston

39A Leeston & Lake Road, Leeston

Matson & Allan Leeston

9 Exeter Lane, Rolleston

Ray White Rolleston

11 Goh Street, Lincoln

Ray White Lincoln

46 Ormond Road, Leeston

Ray White Lincoln

35 Chapman Street, Leeston

Farmlands Real Estate

17 Coleridge Street, Rolleston

Ray White Rolleston

9 Marvell Lane, Rolleston

Ray White Rolleston

13 Patiki Street, Lincoln

Ray White Lincoln

6 Allingham Lane, Rolleston

Harcourts Rolleston

26 Charlbury Drive, Rolleston

Property Brokers

9 Clydesdale Way, Barton Fields, Lincoln

Harcourts Hornby

107 Substation Road, Hororata

Matson & Allan Darfield

144 Rolleston Street, Rakaia

Property Brokers

6 Louis Lane, Rolleston

Ray White Rolleston

32 Bavaria Drive, Rolleston

Ray White Rolleston

3 Ranui Street, Hornby

Ray White Rolleston

16 Broomleigh Drive, Rolleston

Matson & Allan Rolleston

18 Oak Tree Lane, Rolleston

Matson & Allan Rolleston

3 Riverside Lane, Tai Tapu

Ray White Rolleston

25 Jacks Drive, West Melton

Ray White West Melton

33 Carston Street, Leeston

Matson & Allan Leeston

4/50 Stonebrook Drive, Rolleston

Ray White Rolleston

6 Bonecrusher Street, Lincoln

Farmlands Real Estate

3 Fuchsia Place, Halswell

Harcourts Hornby

2.00pm - 2.30pm

2.00pm - 2.30pm

2.00pm – 2.30pm

2.00pm – 2.30pm

2.00pm – 2.30pm

2.00pm – 2.30pm

2.00pm – 2.30pm

2.00pm – 2.30pm

2.00pm – 2.30pm

2.00pm – 2.30pm

2.00pm – 2.30pm

2.00pm – 4.00pm

2.15pm – 2.45pm

2.15pm –2.45pm

2.15pm – 2.45pm

2.15pm – 2.45pm

2.30pm – 3.00pm

2.30pm – 3.00pm

2.30pm - 3.15pm

2.45pm – 3.15pm

2.45pm – 3.15pm

2.45pm – 3.15pm

2.45pm – 3.15pm

3.00pm – 3.30pm

3.00pm – 3.30pm

3.00pm – 3.30pm

3.00pm – 3.30pm

3.00pm - 3.30pm

3.00pm - 3.30pm

3.00pm – 3.45pm

3.15pm – 3.45pm

3.15pm – 3.45pm

3.15pm – 3.45pm

3.15pm – 3.45pm

3.30pm – 4.00pm

3.45pm – 4.15pm

37 Globe Bay Drive, Templeton

Harcourts Rolleston

4 Peel Close, Rolleston

Harcourts Rolleston

12 Tod Place, Lincoln

Ray White Lincoln

43 Masefield Drive, Rolleston

Matson & Allan Rolleston

13 Chapman Street, Leeston

Matson & Allan Leeston

55 Masefield Drive, Rolleston

Matson & Allan Rolleston

6 Nightingale Place, Papanui

Ray White West Melton

95 Preston Avenue, West Melton

Ray White West Melton

19 George Street, Rolleston

Ray White Lincoln

34 Rembrandt Drive, Rolleston

Ray White Lincoln

4 Appleton Court, Rolleston

Ray White Rolleston

Torlesse Estate, Creyke Road, Darfield

Matson & Allan Darfield

21 Clausen Avenue, Leeston

Matson & Allan Leeston

10 Byron Street, Rolleston

Ray White Rolleston

16 Rembrandt Drive, Rolleston

Ray White Rolleston

113 Adams Road, West Melton

Ray White Rolleston

175 Seabridge Road, Motukarara

Ray White Rolleston

39 Clausen Avenue, Leeston

Matson & Allan Leeston

15 Camden Street, Dunsandel

Harcourts Rolleston

248 Dunns Crossing Road,Rolleston

Ray White Rolleston

36 McLenaghan Drive, Rolleston

Matson & Allan Rolleston

20 Barewood Grove, West Melton

Ray White West Melton

7 Brinsworth Avenue West Melton

Ray White West Melton

8 Melville Crescent, Rolleston

Ray White Rolleston

405 Trents Road, Prebbleton

Ray White Lincoln

11 Ormond Road, Lincoln

Ray White Lincoln

4 Dewar Lane, Prebbleton

Ray White Lincoln

56 Bellvue Avenue, Papanui

Ray White Rolleston

79 Newman Rd, Rolleston

Mike Pero Real Estate, West Melton

24B Jozecom Place, Rolleston

Harcourts Rolleston

81 Manse Road, Leeston

Matson & Allan Leeston

1/58 Epsom Road, Sockburn

Ray White Rolleston

11 Jozecom Place, Rolleston

Ray White Rolleston

63 Rossington Drive, West Melton

Ray White West Melton

4 Emerson Lane, Rolleston

Ray White Rolleston

782 Weedons Ross Rd, West Melton

Ray White West Melton

For full details of all

Open Homes, please

contact the Real Estate

companies

RAY WHITE

ROLLESTON 03 347 9988

www.rwrolleston.co.nz

WEST MELTON 03 347 9933

www.rwwestmelton.co.nz

LINCOLN 03 325 7299

www.rwlincoln.co.nz

FARMLANDS www.farmlands.co.nz

FARMLANDS LINCOLN 03 325 2889

FARMLANDS LEESTON 03 324 3189

FARMLANDS DARFIELD 03 317 9070

HARCOURTS ROLLESTON

www.fourseasons.hornby.co.nz

HARCOURTS HORNBY 03 349 9919

HARCOURTS ROLLESTON 03 347 4711

MATSON & ALLAN

www.marealestate.co.nz

ROLLESTON 03 347 9949

DARFIELD 03 318 8204

LEESTON 03 324 3704

MIKE PERO ROLLESTON

03 347 1111, www.mikepero.com

PGG WRIGHTSON

CANTERBURY

03 318 7850, www.pggwre.co.nz

PROPERTY BROKERS

ROLLESTON

www.propertybrokers.co.nz

ROLLESTON 03 929 0306
---
16