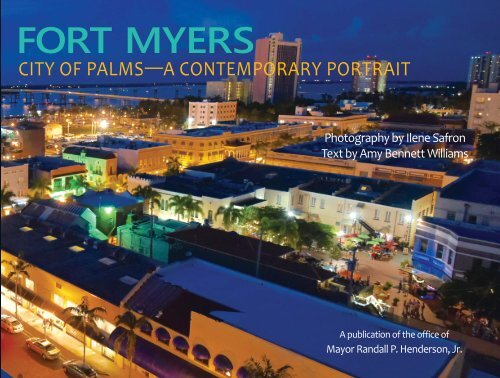 Fort Myers: City of Palms—A Contemporary Portrait
A full-color, photography book showcasing Fort Myers, Florida, paired with the histories of companies, institutions, and organizations that have made the city great.
A full-color, photography book showcasing Fort Myers, Florida, paired with the histories of companies, institutions, and organizations that have made the city great.
SHOW MORE
SHOW LESS
You also want an ePaper? Increase the reach of your titles
YUMPU automatically turns print PDFs into web optimized ePapers that Google loves.
FORT MYERS

CITY OF PALMS—A CONTEMPORARY PORTRAIT

Photography by Ilene Safron

Text by Amy Bennett Williams

A publication of the office of

Mayor Randall P. Henderson, Jr.
---
Thank you for your interest in this HPNbooks publication. For more information about other HPNbooks publications, or

information about producing your own book with us, please visit www.hpnbooks.com.
---
CITY OF PALMS—A CONTEMPORARY PORTRAIT

Photography by Ilene Safron

Text by Amy Bennett Williams

HPNbooks

A division of Lammert Incorporated

San Antonio, Texas

A publication of the office of

Mayor Randall P. Henderson, Jr.
---
First Edition

Copyright © 2017 HPNbooks

All rights reserved. No part of this book may be reproduced in any form or by any means, electronic or mechanical, including photocopying, without permission in writing from the publisher.

All inquiries should be addressed to HPNbooks, 11535 Galm Road, Suite 101, San Antonio, Texas, 78254. Phone (800) 749-9790, www.hpnbooks.com.

ISBN: 978-1-944891-28-2

Library of Congress: 2017934039

Fort Myers: City of Palms—A Contemporary Portrait

photographer: Ilene Safron

author: Amy Bennett Williams

designer: Glenda Tarazon Krouse

contributing writer for Fort Myers partners: Scott Williams

FORT MYERS: City of Palms—A Contemporary Portrait

2

HPNbooks

president: Ron Lammert

project managers: Mary Hanley, Barry Black

administration: Donna M. Mata, Lori K. Smith, Melissa G. Quinn

book sales: Joe Neely

production: Colin Hart, Evelyn Hart, Tim Lippard, Tony Quinn, Christopher D. Sturdevant
---
Contents

Legacy Sponsors ...........................................................................................4

A Mayor's‐Eye View by Fort Myers Mayor Randall P. Henderson, Jr. ...6

Fort Myers City Council.................................................................................8

Introduction.................................................................................................10

Chapter 1

Building Blocks of the Past....................................12

Chapter 2 Fueling a Dynamic Economy ...............................20

Chapter 3 Celebrating Fascinating Places..........................36

Chapter 4 Living the Dream in Subtropical Style...........74

Chapter 5 Fort Myers People....................................................106

Fort Myers Partners...................................................................................132

About the Photographer..........................................................................190

About the Author.......................................................................................191

Sponsors ....................................................................................................192

CONTENTS

3
---
LEGACY SPONSORS

Through their generous support, these companies

helped to make this project possible.

Lee Health

P.O. Box 2218

Fort Myers, Florida 33902

239-343-2000

www.LeeHealth.org

Mark Loren Designs, Inc.

13351 McGregor Boulevard

Fort Myers, Florida 33919

239-482-4664

www.marklorendesigns.com

Dean Steel Buildings, Inc.

2929 Industrial Avenue

Fort Myers, Florida 33901

239-334-1051

www.deansteelbuildings.com

FORT MYERS: City of Palms—A Contemporary Portrait

4
---
Henderson, Franklin, Starnes & Holt, P.A.

1715 Monroe Street

Fort Myers, Florida 33902

239-344-1100

www.henlaw.com

Parker/Mudgett/Smith Architects, Inc.

2136 McGregor Boulevard

Fort Myers, Florida 33901

239-332-1171

www.pmsarch.com

Victory Layne Chevrolet

3980 Fowler Street

Fort Myers, Florida 33901

239-603-7069

www.victorylaynechevrolet.com

Aim Engineering & Surveying, Inc.

5300 Lee Boulevard

Lehigh Acres, Florida 33971

239-332-4569

www.aimengineering.com

T3 Communications, Inc.

2401 First Street, Suite 300

Fort Myers, Florida 33901

239.333.0000

www.t3com.com

Barraco and Associates, Inc.

2271 McGregor Boulevard

Fort Myers, Florida 33901

239-461-3170

www.barraco.net

LEGACY SPONSORS

5
---
A mayor's-eye view

It seems fitting that I started falling in love with Fort Myers

at an airport, because now, as mayor, one of my great joys

as a pilot is surveying the city from above.

From the air, it all unfolds before me—the place I first saw

in 1976 as a nineteen-year-old undergrad who had awakened

in the frozen grey chill of North Carolina, hopped a plane to

visit his girlfriend, then stepped onto the Page Field tarmac

and into Fort Myers' sunny, seventy-degree embrace.

As fate would have it, I would end up falling in love

with the girl I had come to visit as well as her hometown,

so I made it my business to secure a job in Fort Myers,

then convince Virginia (Ginny) to marry me. I felt like I had

died and gone to heaven when I won both.

How my adopted city has grown and what it has become

in the following four decades, from a place with a small

local airport to a major destination served by the regional

Southwest International Airport (as well as a still-vital Page

Field) is the subject of this book.

It is a snapshot of the city I commonly refer to as our

paradise. The faces in its pages reveal the beauty of the

citizens who share a city connected to the Gulf of Mexico by

the magnificent Caloosahatchee River. You can get everywhere

from here!

Thomas Edison knew he had found treasure in Fort

Myers, so he made it his winter home, where his working

vacations added to his list of inventions and our collective

body of knowledge. The Wizard was one of the pioneers

of the "live, work, play" concept now prevalent in modern

city visioning and planning. It was Edison who said,

"There is only one Fort Myers, and ninety million people

are going to find out," yet I am sure by now, even given his

genius, that number is an underestimation.

Contemporary Fort Myers features a diverse, rich culture,

growing in the arts, spawned by modern development and

merged with historically significant features in the core of

the city known as the River District. You will see this in

these pages, and I know you will feel the allure of this

great city. As my colleague on city council, resident architect

Mike Flanders likes to say, the River District is everyone's

living room.

The bustling downtown fronts one of the most beautiful

intercoastal waterways in the country: the Caloosahatchee

River. With its endless regional network of tributaries,

creeks and canals, Fort Myers is among the most attractive

water communities in the world, boasting some of the best

boating, beaches and sport fishing in the world.

Whether you are here to find love, start a family, build

a business or find a new path through life, you will never

regret discovering Fort Myers, Florida. Thank you for

your interest in our city, and I trust you will find this book,

which presents its portrait, extraordinary and inspiring.

I want to express my appreciation to The United States

Conference of Mayors, where I learned of the opportunity

to highlight my city in this book. I want to thank the

publisher, for their patience and steadfast pursuit of

the book. I hand-picked two of the finest professionals

I know for its production, photographer Ilene Safron,

and writer Amy Bennett Williams, who stayed with this

project through thick and thin to assure we had the best

product available.

Finally, the Fort Myers City Council: my colleagues.

Teresa Watkins-Brown, Johnny Streets, Terolyn Watson,

Mike Flanders, Forrest Banks, and Gaile Anthony, are

among the finest political professionals and leaders I

have ever known. This team has demonstrated their love

of our city through hard work and dedication. I respect

them. There is always more to do, and this will be the

case throughout history, as leaders labor to leave the city

a better place than when they arrived.

I must also acknowledge City Manager Saeed Kazemi,

and his team of professionals for implementing the

council's policy by planning for a livable, walkable city.

Don Paight, a thirty-year-veteran of city planning, best

practices implementation (and one of the finest minds

in the nation on developing modern, relevant cities),

has left a huge mark on ours. And my heartfelt gratitude

to the countless volunteers who dedicate their time and

resources to make Fort Myers better. That there are too

many to mention here speaks volumes about the quality of

our citizens.

Please note the legacy and new business participants in

the book's production. You will see the faces and stories of

those who not only love Fort Myers, but have contributed,

and continue to contribute, to the ongoing growth and

beauty of this city we call home.

Randall P. Henderson, Jr.

Mayor, City of Fort Myers

FORT MYERS: City of Palms—A Contemporary Portrait

6
---
❖

Mayor Randall P. Henderson, Jr.

"When I set out to become a public servant, I had the encouragement, confidence and counsel

of two of the finest women I have ever known. With their support, I have been able to face this

office's daily challenges, and I owe them a debt of gratitude and recognition. We lost our beloved

Mrs. Corbin on November 16, 2016; Ginny was her caregiver to the end. Ginny is quite simply

the love of my life: partner, co-pilot, flight engineer and much more. There is nothing else I

can say. These two beloved First Ladies have given much to the citizens of Fort Myers—quietly,

deliberately, and unconditionally."

–Mayor Randall P. Henderson, Jr.

Left: Left to right, Mayor Randall P. Henderson, Jr., with two Fort Myers First Ladies,

the late Wilhelmina Mathis Corbin, wife of the late Fort Myers Mayor Oscar Corbin,

who served 1967-1976 and Virginia "Ginny" Corbin Henderson.

A MAYOR'S—EYE VIEW

7
---
Fort Myers City Council

2014

The faces in this photo reflect the genuine spirit of the elected leadership for our city in this snapshot of time. It is one

of my favorite photos of all the time I have served. It is respectful, hopeful and confident. Civility is not a sign of weakness;

it is a demonstration of leadership, statesmanship and respect for others—including all citizens that reach out to our city.

Left to right: Johnny W. Streets, Jr., Mike Flanders, Mayor Randall P. Henderson, Jr., Teresa Watkins-Brown, Forrest Banks and

Tom Leonardo.

FORT MYERS: City of Palms—A Contemporary Portrait

8
---
Fort Myers City Council

2017

Fort Myers has benefited from political cohesiveness and collegial governance. While discussions are sometimes spirited

and robust, there is always respect and heartfelt deliberation. Citizens benefit from political stability and predictability.

If you want people to come to your city, this approach will accommodate and encourage growth and interest from all.

Left to right: Mike Flanders, Terolyn Watson, Teresa Watkins-Brown, Mayor Randall P. Henderson, Jr., Johnny W. Streets, Jr.,

Gaile Anthony and Forrest Banks.

FORT MYERS CITY COUNCIL

9
---
Introduction

Fort Myers: City of Palms—A Contemporary Portrait

Illuminating the life, times and people of the Fort Myers area, the book's

richly illustrated narrative showcases the region's dynamic heritage, cultural

offerings, stunning environment and diverse economy.

Perilous as depending on first impressions can sometimes

be, an elevated one-glance sweep of Fort Myers' downtown

is truly telling.

First seen: the Caloosahatchee, a storied river that flows

to the Gulf of Mexico and the region's alluring islands and

beaches. The river defines the city's heart and its heritage.

The river is what brought people here in the first place,

beginning with the Native Americans who settled its banks

long before soldiers and European explorers staked their

claims as well. And the river's waters remain key to the city's

vibrant life and the cultural/commercial district that bears

its name.

Next, tall buildings, shouldering against the sky, filled

with those who have chosen a downtown home. Most of

them arrivals from other places, their presence speaks to

the city's powerful appeal to outsiders who come, settle and

make the region theirs.

Buttressing the towers, the sturdy sweep of government

buildings, courthouses, commission chambers (Fort Myers

is Lee County's seat), justice centers, tax collectors, administrative

hubs and city hall. Here is where the people's official

business is done, in handsome, often historic buildings.

Those historic buildings are another of the city's distinct

assets. Perhaps more than any other city in South Florida,

the physical foundation of Fort Myers remains. The presence

of the past is everywhere downtown. People lunch in an

airy 1800s courtyard, watch independent films in a restored

Works Progress Administration federal building, worship

in churches built by city fathers and mothers and sign

contracts in offices bordering cobbled streets oxcarts once

rumbled over.

Ribboned throughout the cityscape, the green of trees

and subtropical foliage. Fort Myers' trademark palm trees,

to be sure, but also stately live oaks, sprawling banyans, a

fruit salad of mangos, guavas, tamarinds and kaleidoscopic

poincianas, jacarandas and bombax.

And finally, people, the city's lifeblood and future—some

75,000 in Fort Myers, part of the growing county's 680,000.

Walking their dogs, taking in plays, buying sweet corn

or checking out library books, they enliven and sustain

Fort Myers and Southwest Florida. Midwesterners, descendants

of slaves, Florida Crackers and Europeans—laughing,

arguing, worshipping, playing, but inextricably bound

together, all drawn and held by this singular city.

Caloosahatchee River sunset.

—Amy Bennett Williams

FORT MYERS: City of Palms—A Contemporary Portrait

10
---
INTRODUCTION

11
---
Building Blocks

of the Past

❖

Financed by Fort Myers matriarch Tootie McGregor and named in honor

of her son, the 115-year-old Bradford Hotel was the largest building in

Fort Myers in its day, providing its guests with ground-floor stores,

electric-lit rooms and modern conveniences.

Fort Myers is justly proud of its rich heritage and history.

Once a remote outpost where cattle roamed the streets, its subtropical climate made it a haven for well-heeled winter visitors

and new residents who helped it develop into a bustling city that retains its small-town charm. Fort Myers' past is remarkably

well-preserved in a riverfront downtown rich with historic buildings and treasures like the Edison & Ford Winter Estates.

Though a relatively young city (Europeans began to populate it in earnest in the mid-1800s) Fort Myers continues to reinvent

itself while cherishing the best of its history.

chapter

FORT MYERS: City of Palms—A Contemporary Portrait

12
---
❖

THEN: The Leon Building back in

the day.

❖

NOW: The first floor of the 1905 exotic revival Leon Building

has housed a bank, a clothing store and a pharmacy

in its lifetime, as well as a popular British café.

Once a hotel, the second story now

contains residences.

❖

Left: Framed view of the Leon Building from the Bradford Hotel.

CHAPTER 1

13
---
FORT MYERS: City of Palms—A Contemporary Portrait

14
---
❖

Opposite: Wreathed by bougainvillea, the fountain commonly (though mistakenly) known as

Rachel at the Well graces the McGregor Boulevard entrance to Edison Park. Created by sculptor

Helmut von Zengen, its official title is The Spirit of Fort Myers.

Opposite, bottom: Left is the depot where Atlantic Coastline Railroad's Gulf Coast Special once stopped;

the City of Fort Myers still owns the Mediterranean revival building.

Right: Fort Myers Senior High: Fort Myers High School, one of the oldest in Florida, has been educating

"Greenies" since 1911, while consistently earning high honors in national rankings of publications

including Newsweek and U.S. News & World Report.

Bottom, left: For nine decades, the Dunbar High School building has been the educational heart of

the mostly-black community on the city's east side. Built during segregation, it was later replaced by a

nearby integrated Dunbar High, but the graceful Mediterranean revival school, which is on the National

Register of Historic Places, continues to serve its community as an adult education center.

Bottom, right: In 1926, Thomas Edison, whose winter home is nearby, attended the cornerstone-laying of

the Edison Park Elementary School, which is on the National Register of Historic Places and is still open

today, with an emphasis on the arts.

The city began its life as a series of military strongholds

in the Seminole Wars. It was reactivated as a Union fort in

the Civil War, and one of the southernmost battles of the

conflict was fought on its shores.

That marriage of present and past gives it a unique identity,

rooted in tradition but embracing a dynamic future.

Situated on the shore of a subtropical river that flows to

the Gulf of Mexico, the City of Palms is an unabashed beauty.

Its appeal is elemental. Water, warmth and sun are the

dependable constants that have drawn people here for

centuries, starting with the Calusa, the ancient tribe that lent

their name to the city's defining river, the Caloosahatchee.

CHAPTER 1

15
---
Those who have come since have created a vibrantly

diverse community, with multi-generational families and

a steady stream of new arrivals seeking the abundant

pleasures and economic opportunity the region offers.

The seat of Lee County, Fort Myers is the region's

government and cultural center.

With signature palms shading its brick-paved streets,

its handsome downtown, known as The River District,

mixes modern and abundant historic buildings. Law

offices and banks alternate with galleries and theaters.

Coveted apartments atop shops overlook it all. Tourists

mix with locals at open-air cafés. Deals are sealed in offices

with stunning views of the river.

Riverfront Centennial Park hosts festivals and farmers

markets alike. Business and commerce happen here, of

course, but against a unique backdrop.

FORT MYERS: City of Palms—A Contemporary Portrait

16
---
❖

Opposite, top: The Lee County Courthouse.

Opposite, bottom: A tropical fountain splashes in front of city hall, named for former Fort Myers Mayor

Oscar M. Corbin, Jr., as its mirrored front reflects the brickwork of the building across the street.

Left: Built of now-protected Florida Keys coral-rock limestone, this Depression-era masterpiece was an

open-air post office, a federal courthouse and now the Sidney & Berne Davis Art Center.

Below: Come nightfall, a pair of illuminated bronze cylinders, The Caloosahatchee Manuscripts,

by artist Jim Sanborn spangle the Sidney & Berne Davis Art Center with native American legend and

plant names.

CHAPTER 1

17
---
FORT MYERS: City of Palms—A Contemporary Portrait

18
---
❖

Left: If those leaves could talk, what tales this nearly century-old banyan tree could tell. It has shaded Lee County's old courthouse, which now holds its commission chambers, since the 1920s.

Above: Anchored by the Florida Repertory Theatre company, the century-old Arcade building is one of the River District's cultural and shopping mainstays.

CHAPTER 1

19
---
Fueling a

Dynamic Economy

❖

Left: For more than four decades, the Fort Myers Boat Show has brought

the best on the water to the River District.

Opposite, top: Southwest Florida International Airport.

Opposite, bottom: Since World War II, pilots have been flying in and out

of Fort Myers' Page Field. Now serving primarily business and private

plane-owning customers, the newly constructed complex offers flight

school, charters, aircraft maintenance and hangar rentals.

The region's economy is powered by tourism, healthcare, education, retail trade and an educated, productive workforce.

Visitors are the economy's cornerstone, and the tourism and hospitality industry is the region's most important, with some three million

people staying in Lee County's accommodations annually, bringing in some $3 billion to the county and funding at least 40,000 jobs.

FORT MYERS: City of Palms—A Contemporary Portrait

20
---
CHAPTER 2

21
---
❖

Left: Even the littlest players get hands-on attention from Rich Lamb, the longtime Fort Myers Country Club Director of Golf, who has

trained generations of PGA and LPGA professionals.

Below: Thomas Edison himself played on the historic 1917 Fort Myers Country Club Golf Course, created by legendary designer

Donald Ross. In 2014, after six months and $5.8 million in renovations by Steve Smyers, the course reopened with enhanced turf, six new

water hazards and filter marshes that use environmental best practices to store and clean stormwater before it enters the Caloosahatchee.

Opposite: Would-be Olympians churn through the water at the Open Water National Championship at Miromar Lakes Beach & Golf Club.

FORT MYERS: City of Palms—A Contemporary Portrait

22
---
CHAPTER 2

23
---
❖

Southwest Florida produces winter tomatoes that feed the nation,

and for generations, Lipman Family Farms has led the industry.

The largest field tomato grower in the U.S., Limpan scientists work to

improve the flavor, sustainability and yield of the company's produce

offerings, which include cucumbers, peppers, potatoes and watermelon.

FORT MYERS: City of Palms—A Contemporary Portrait

24
---
❖

Board-certified dermatologist Dr. Shari Skinner

uses state-of-the-art technology to treat a patient.

CHAPTER 2

25
---
FORT MYERS: City of Palms—A Contemporary Portrait

26
---
Outside of the urban centers, agriculture remains a key part of the region's economic picture.

Citrus farming, cattle ranching and row crops all contribute, and Southwest Florida remains the nation's winter tomato

capital, providing more than ninety percent of the nation's supply during the cold season.

The region offers a number of public and private institutions of higher learning, including Florida Gulf Coast University,

Florida SouthWestern State College, Barry University, Hodges University and others.

And several international firms have chosen the Southwest Florida region as their corporate home, including Hertz,

Chico's FAS and U.S. Sugar.

❖

Opposite: A number of area high schools hold graduation ceremonies

at downtown's Harborside Event Center; this is Cypress Lake High School's

senior class.

Above: True Tours with Florida Gulf Coast University students.

CHAPTER 2

27
---
❖

Right: On Little Hickory Island, FGCU's Vester Marine and Environmental Science Research Field Station

serves as the waterfront base for the university's marine science programs.

PHOTOGRAPH COURTESY OF FGCU.

BELOW: PHOTOGRAPH COURTESY OF FGCU.

Bottom, right: The FGCU Eagles keep the crowds gasping as they pull off a one-point win against the

U Mass Minutemen, winning 77-76 at the final buzzer.

PHOTOGRAPH COURTESY OF FGCU.

FORT MYERS: City of Palms—A Contemporary Portrait

28
---
Florida Gulf Coast

University

❖

Top: Life's a beach at FGCU's student housing.

Where else do dorm rooms overlook sunlit sands? Just one advantage of studying in paradise.

Bottom: They do not ask FGC-who? anymore. After charging into 2013's Sweet Sixteen of the NCAA Division I men's

basketball championships, Florida Gulf Coast University earned a new nickname: Dunk City. For locals, though, the university has

been a cultural and educational mainstay since 1997. For Florida Gulf Coast University, the state's tenth, ecological sustainability is a core value.

Some 400 acres of its campus, many of them wetlands, are environmental preserves functioning as living laboratories of natural systems management. Before graduating,

each of its more than 15,000 students must complete a multidisciplinary colloquium course: "A Sustainable Future" focusing on sense-of-place, the environment and the future.

CHAPTER 2

29
---
Florida SouthWestern

State College

❖

Since 1962, Florida SouthWestern State College has been preparing

students for the future. Originally called Edison Junior College, it now

offers Associate in Arts, Associate in Science, and Baccalaureate degrees,

plus certificate programs at its Thomas Edison Campus in Fort Myers,

as well as others in Charlotte, Collier, and Hendry Counties.

Opposite: Florida SouthWestern student athletes warm up before a

softball game at City of Palms Park.

FORT MYERS: City of Palms—A Contemporary Portrait

30
---
CHAPTER 2

31
---
Every spring, Fort Myers becomes a baseball mecca, as the Boston Red Sox and Minnesota Twins

and legions of their fans move in to warm up for the baseball season. The Red Sox train at JetBlue

Park, affectionately known as Fenway South, and the Twins play at CenturyLink Sports Complex.

❖

Fort Myers becomes Fenway South as the Boston Red Sox move in to warm up for the baseball season at JetBlue Park.

Like its namesake, the field boasts a "Green Monster," a manual scoreboard and the chance for fans to greet their favorite players.

Opposite: Though it retains many of the charms of its vintage namesake, JetBlue Park, which can accommodate some 11,000 fans,

is an architecturally striking state-of-the-art year-round facility with six outlying training fields.

FORT MYERS: City of Palms—A Contemporary Portrait

32
---
CHAPTER 2

33
---
FORT MYERS: City of Palms—A Contemporary Portrait

34
---
❖

Opposite: Anchored by Hammond Stadium, which seats 9,300, the refurbished

CenturyLink Sports Complex, where the Minnesota Twins spend spring training, offers a

360-degree boardwalk, a player development academy and five other fields used by the

team's minor league affiliates, including the Fort Myers Miracle.

When Minnesota is still famously frozen, the Twins and their fans are enjoying the

Southwest Florida sunshine as the team works out in Hammond Stadium.

CHAPTER 2

35
---
Celebrating

Fascinating Places

Stroll scenic, palm-lined streets, enjoy world-class shopping or

take in a game—leisure pursuits in the Fort Myers area abound.

❖

Lee County's Manatee Park is not just home to the gentle giants

who are attracted to the warm water discharged by the nearby

Florida Power & Light Plant; it is a showcase for many

native plant communities, including rare rosemary scrub.

chapter

FORT MYERS: City of Palms—A Contemporary Portrait

36
---
❖

With an elegant Victorian-style glass conservatory, complemented by shopping

and dining, the Butterfly Estates have helped power the revitalization of the city's

Gardner's Park neighborhood. Visitors are treated to an array of flowering

plants populated by colorful clouds of the attraction's namesake critters.

CHAPTER 3

37
---
FORT MYERS: City of Palms—A Contemporary Portrait

38
---
❖

Opposite, top: Concertgoers head to their seats at the Barbara B. Mann Performing Arts Hall.

Opposite, bottom: Under the baton of Maestro Nir Kabaretti, the Southwest Florida Symphony plays to a packed house at the

Barbara B. Mann Performing Arts Hall on the campus of Florida SouthWestern State College.

Above: Screenings at the Fort Myers Film Festival often include a lively question-and-answer session with the audience.

Left: Fort Myers Mayor Randy Henderson joins Fort Myers Film Festival hosts Melissa Tschari DeHaven and Eric Raddatz.

CHAPTER 3

39
---
❖

From Ireland to Fort Myers: The Screaming Orphans wow a crowd

at one of the Lee County Alliance for the Arts' regular outdoor concerts.

Opposite: A string quartet serenades shoppers at the Alliance for the

Arts' Saturday GreenMarket.

FORT MYERS: City of Palms—A Contemporary Portrait

40
---
CHAPTER 3

41
---
FORT MYERS: City of Palms—A Contemporary Portrait

42
---
Fine arts options include symphonies, professional

theaters, galleries and museums that cater to kids, history

buffs and science enthusiasts.

❖

Opposite: Art is everywhere downtown—during the city's annual ArtFest,

which draws artists from around the nation to the River District.

Above and top, right: The River District's regular Art Walks always hold

surprises—whether the gallery debut of a soon-to-be-discovered artist or

performance pieces featuring live "mannequins."

Right: Art exhibit at the Alliance for the Arts.

CHAPTER 3

43
---
❖

Left: Performers at Music Walk are as diverse stylistically as they are in age.

Above: Law offices by day, the front of the historic Edison Theater building transforms into an open-air Latin jazz club come Music Walk.

Opposite: Live music and art blend seamlessly at Music Walk nights in the River District.

FORT MYERS: City of Palms—A Contemporary Portrait

44
---
CHAPTER 3

45
---
❖

As one of USA TODAY's Top Ten Must See Holiday Historic Homes, visitors to the

Edison & Ford Winter Estates Holiday Nights events will enjoy lights, decorations, music and food.

Opposite: On winter evenings, when nighttime temperatures hover around sixty degrees, audience

members enjoy Fort Myers Film Festival al fresco screenings in front of the Sidney & Berne Davis Art Center.

FORT MYERS: City of Palms—A Contemporary Portrait

46
---
CHAPTER 3

47
---
❖

Visitors to Thomas Edison's winter estate can walk the

floorboards the inventor once did—and even read his mail.

FORT MYERS: City of Palms—A Contemporary Portrait

48
---
❖

Built in 1928, Thomas Edison's newly

refurbished Botanic Research Laboratory

is a National Historic Chemical Landmark

showcasing the work he did in pursuit of a

source of domestic rubber.

CHAPTER 3

49
---
❖

Do not let the name fool you—the Shell Factory & Nature Park

is all that and more—by a factor of ten. This vintage attraction is

part museum, part amusement park, part zoo and part indoor mall

with a handful of eateries to round it out.

FORT MYERS: City of Palms—A Contemporary Portrait

50
---
❖

Housed in a former water plant, the Imaginarium Science Center offers

hands-on discovery for all ages, with permanent and rotating exhibits featuring

technology, meteorology, physics, touchable sea creatures and baby alligators.

Visitors include such notables as Florida Governor Rick Scott.

CHAPTER 3

51
---
FORT MYERS: City of Palms—A Contemporary Portrait

52
---
❖

Opposite: Once home to a 1930s hardware emporium, this Art Deco-style building (one of only a few downtown) is now a one-of-a-kind

potpourri of shops, micro-galleries and teeny boutiques that also regularly hosts live music and other cultural events.

Below: Held at the foot of the Caloosahatchee bridge, the popular downtown Thursday Farmer's Market

is as much a friendly gathering place as it is a showcase for the freshest local produce.

CHAPTER 3

53
---
FORT MYERS: City of Palms—A Contemporary Portrait

54
---
❖

Opposite: Just a short stroll from the River District,

vintage bungalows and cozy cottages line the palm-shaded

streets of the historic Dean Park neighborhood.

In season, the popular River District Trollies carry

shoppers, revelers and sightseers to stops downtown.

CHAPTER 3

55
---
❖

The historic Post Office Arcade,

built in 1925, also serves as the

main entrance for the Hotel Indigo.

FORT MYERS: City of Palms—A Contemporary Portrait

56
---
❖

Firmly embracing the library-as-cultural-center concept, Cornog Plaza is

the outdoor extension of the downtown library's mission, and regularly hosts

traveling art exhibits (this giant horse sculpture is part of one such show),

poetry readings and gourmet food trucks.

CHAPTER 3

57
---
FORT MYERS: City of Palms—A Contemporary Portrait

58
---
❖

Opposite and below: Thousands convene at Centennial Park for fun, fellowship and a healthy

cardio workout as part of the American Heart Association's annual Lee County Heart Walk.

CHAPTER 3

59
---
FORT MYERS: City of Palms—A Contemporary Portrait

60
---
The great outdoors beckons with beaches, waterways and plenty

of watchable wildlife. Lee County's Conservation 20/20 program

offers a variety of parks and preserves, including some for kayakers

and equestrians.

❖

Opposite: On the banks of the Caloosahatchee, the nonprofit Edison Sailing Center

has been teaching people to ply the water safely for more than three decades.

Below: Aerial view of Whiskey Creek.

PHOTOGRAPH COURTESY OF MIKE SHAPIRO.

CHAPTER 3

61
---
FORT MYERS: City of Palms—A Contemporary Portrait

62
---
❖

Bridges slice across the Caloosahatchee from

downtown Fort Myers to North Fort Myers.

CHAPTER 3

63
---
❖

Four-stories of historic brick house The Firestone, a cosmopolitan blend of

cocktails and fine dining topped by its Sky Bar's incomparable river view.

Opposite: With its expansive view of the Caloosahatchee and its fountained

inlet along Edwards Drive, The Firestone's Sky Bar is a favorite place to

gather and watch the river.

FORT MYERS: City of Palms—A Contemporary Portrait

64
---
CHAPTER 3

65
---
❖

The 1929 Castianos are not the only things smokin'

at the World Famous Cigar Bar, the comfortably elegant

Hendry Street venue also regularly hosts live bands.

FORT MYERS: City of Palms—A Contemporary Portrait

66
---
❖

Not only has he helped power the River District's live music renaissance,

Raimond Aulen, who has owned the popular Indigo Room since 1995,

plays a mean guitar.

CHAPTER 3

67
---
FORT MYERS: City of Palms—A Contemporary Portrait

68
---
❖

Opposite: Fronting historic First Street, The Lodge is a dazzling blend

of up-North woodlands aesthetics with locally sourced meat and

produce and a wide array of craft beer.

Clockwise, starting from the top:

Downtown's Hotel Indigo hosts a number of up-and-coming acts during

the annual Island Hopper Songwriter Fest.

Performers include local favorite Sheena Brook, playing here at the

Twisted Vine Bistro.

Participants in the annual Island Hopper Songwriter Fest mingle at the

Twisted Vine Bistro, one of the free event's venues.

CHAPTER 3

69
---
❖

New Year's Eve is a family- and flip-flop-friendly event in downtown Fort Myers.

Opposite: Painted-on fireworks are just the start of fun during the

River District's Independence Day celebration.

FORT MYERS: City of Palms—A Contemporary Portrait

70
---
CHAPTER 3

71
---
❖

The historic courtyard's live alligators

are gone, but the Patio de Leon remains

a favorite space to shop, sip and dine.

FORT MYERS: City of Palms—A Contemporary Portrait

72
---
❖

Downtown's Caloosahatchee inlet is not just a lovely place for a stroll; the almost

two-acre water basin helps clean the streets' rainfall runoff before it reaches the river.

CHAPTER 3

73
---
Living the Dream

in Subtropical Style

❖

Evening settles over homes lining the Caloosahatchee.

Opposite, top: Scenic McGregor Boulevard figures into the favorite route of

many joggers.

Opposite, bottom: Events throughout Thomas Edison's birthday month

of February include a 5K race through downtown that attracts

runners from around the world, as well as a kids' version.

chapter

Lifestyle choices run the gamut in Southwest Florida—sports, boating, fishing, water and beach recreation,

festivals, arts, culture, and faith.

And they always have.

FORT MYERS: City of Palms—A Contemporary Portrait

74
---
CHAPTER 4

75
---
FORT MYERS: City of Palms—A Contemporary Portrait

76
---
❖

Opposite: Bikers pass the holiday-lit Burroughs Home as they head downtown. Motorcycle-friendly Fort Myers regularly hosts bike nights.

Above: The Fort Myers Track Club sponsors a kids' race as part of the Edison Festival events.

CHAPTER 4

77
---
❖

Groups of bicyclists, most notably Critical Mass, work to make the city's

streets more bike-friendly and regularly meet for group rides.

FORT MYERS: City of Palms—A Contemporary Portrait

78
---
❖

More than just brightly lit outings, the nighttime rides sponsored by Critical Mass create

solidarity in the biking community and emphasize the need for safe streets.

CHAPTER 4

79
---
Food lovers flock to the city's diverse range of restaurants and farmers' markets. They can enjoy

fried green tomatoes or tableside Caesar salads in the historic Veranda, sample fresh-caught "pink gold"

(wild Gulf shrimp) on Fort Myers Beach or eat tacos al pastor on Palm Beach Boulevard.

❖

Once the grand Morgan Hotel, the historic Dean building is now home to the popular Ford's Garage

as well as residences and executive and commercial suites.

FORT MYERS: City of Palms—A Contemporary Portrait

80
---
More than a century ago, this is how the Fort Myers Press (precursor to its contemporary News-Press) described the region's

charms in a 1913 front-page story headlined "Mecca for lovers of outdoor life, fishing and hunting—yachts dot harbor."

The article began: "America has no duplicate of the Fort Myers section.... Here in Fort Myers, a man is alive every moment

of his time and he plans for enjoyment with a zest equal to that he feels in his winter sports in the North."

Those words ring true today, where the region is graced with whole communities focused on golf, tennis or boating.

CHAPTER 4

81
---
❖

Before integration, Fort Myers' white people had their parade and pageant honoring Thomas

Edison every February. And while African-Americans were not barred per se, if they wanted to

march, they had to do it at the very back of the parade—behind the horses, even, says historian

Nina Denson-Rogers. So Evelyn Sams Canady took it upon herself to give the Dunbar community

its own springtime tradition. A well-loved third-grade teacher and dedicated churchwoman,

Sams was married to Walter Canady, a Negro League baseball player. Though she never had

children of her own, Sams regularly took in kids who needed a home. And it was that love of

children that led her to found the Dunbar Easter Parade in 1945. It remains a celebration of

faith and of Fort Myers' African-American residents.

FORT MYERS: City of Palms—A Contemporary Portrait

82
---
CHAPTER 4

83
---
FORT MYERS: City of Palms—A Contemporary Portrait

84
---
❖

Opposite: Every year, a junior set of royalty is chosen to preside

over the Edison Pageant of Light.

Though it is certainly the highlight, February's annual Edison

Festival of Light is much more than a nighttime parade.

CHAPTER 4

85
---
FORT MYERS: City of Palms—A Contemporary Portrait

86
---
❖

Opposite: Kids also get their own parade,

presided over by the junior King and Queen

of Edisonia and their royal court.

The King and Queen of Light reign over the

mythical kingdom of Edisonia, waving to

their subjects from an illuminated float in

the Festival of Light's Grand Parade.

CHAPTER 4

87
---
FORT MYERS: City of Palms—A Contemporary Portrait

88
---
❖

Young singers from one of the city's youth groups lift their voices.

CHAPTER 4

89
---
❖

Fort Myers Mayor Randy Henderson helps judge the popular Mutt Strutt.

This Edison Festival event is a chance for dog owners to parade their pets.

It also includes wiener dog races and obedience trials.

FORT MYERS: City of Palms—A Contemporary Portrait

90
---
CHAPTER 4

91
---
❖

Beach volleyball downtown? Absolutely.

It is just one of Centennial Park's many surprises.

FORT MYERS: City of Palms—A Contemporary Portrait

92
---
❖

Hundreds gather along Centennial Park's riverfront for Yoga on the Steps,

a morning of fundraising for breast cancer sponsored by Chico's,

which is headquartered in Fort Myers.

CHAPTER 4

93
---
FORT MYERS: City of Palms—A Contemporary Portrait

94
---
❖

Opposite: A repurposed fish house makes the perfect setting for a boys' angling adventure in Pine Island Sound.

Above: Once upon a time, Pine Island Sound's historic fish houses were the outposts to which fishermen brought

their catch, which was then dumped on ice and boated to the mainland. Pine Island Sound's fish houses are now

mostly weekend retreats.

Right: With its abundant sea grass beds and low-tide shallows, Pine Island Sound is a favorite with anglers of

all ages.

CHAPTER 4

95
---
FORT MYERS: City of Palms—A Contemporary Portrait

96
---
❖

Opposite: Kayakers gear up to paddle out of Cayo Costa—a kiss for luck, then they are on their way.

Above: Cayo Costa is a favorite getaway. Its wide beaches offer superlative shelling and its interior hides a quiet lagoon.

CHAPTER 4

97
---
❖

With its gentle surf and silver sand, Fort Myers Beach

brings out the happy kid inside most visitors.

Opposite: Cayo Costa sand.

FORT MYERS: City of Palms—A Contemporary Portrait

98
---
CHAPTER 4

99
---
❖

Above: Beachgoers enjoy another splendid day on Fort Myers Beach both in and out of the water.

Right: Whether zipping around on a Jet Ski or strolling in search of shells, visitors to Fort Myers

Beach have myriad ways to get around.

FORT MYERS: City of Palms—A Contemporary Portrait

100
---
CHAPTER 4

101
---
FORT MYERS: City of Palms—A Contemporary Portrait

102
---
❖

Opposite: Inspired by jazz music sculptor David Black heard

while in Centennial Park, Fire Dance has graced the park's

Edison Circle since 2012.

Below: Not only does the city's Caloosahatchee riverfront inspire

romance, it makes a perfect backdrop for a wedding celebration.

CHAPTER 4

103
---
❖

Left: Roseate spoonbills rest on a rookery island in the Caloosahatchee,

just minutes from the River District.

Below: Wood storks and an anhinga gather in the mangroves of a Caloosahatchee Island

close to downtown Fort Myers.

FORT MYERS: City of Palms—A Contemporary Portrait

104
---
For the last twenty-five years, Fort Myers has been recognized by the

National Arbor Day Foundation as part of its Tree City USA program, and

no wonder. Beyond its "City of Palms" nickname, Fort Myers is graced by a

myriad of trees: venerable live oaks that create green tunnels, stately avenues of

mahoganies and trees that flower in a rainbow of shades throughout the year.

❖

Top, left: This tropical tree's many common names speak to its clarion brightness, but whether you call it

golden rain or silver trumpet, Tabebuia aurea is a streetside highlight.

Top, right: The city's royal poincianas blaze with color, making another of their common names quite

understandable: flamboyant tree.

Right: The brilliant bougainvillea hedge at the Edison & Ford Winter Estates that spreads over the

eastern garden entrance was installed by the late renowned landscape architect and Edison Ford Trustee,

Helen Johnson Hendry.

CHAPTER 4

105
---
People Who

Made Fort Myers

What it is Today

Fort Myers is shaped by its people—they create the character of the

area through their diversity and shared values. Here are portraits of

some of the region's residents, though it is only the briefest sampling

of Southwest Florida's most precious resource: its residents.

❖

chapter

Fort Myers Mayor Randy Henderson presenting

Olivia Williams with the key to the city.

FORT MYERS: City of Palms—A Contemporary Portrait

106
---
O LIVIA

W ILLIAMS

For more than three decades, Olivia Williams has been

the sweet soul of the Farmer's Market, another venerable

Fort Myers institution. Famous for her sweet potato pies

and rock‐solid culinary skills, cooking has been central to her

life since she was twelve and learning at her mother's side.

In recognition of how many stomachs and hearts she has

filled over the years, Fort Myers Mayor Randy Henderson

recently presented her with the key to the city, and she

presented him with a radiant smile for the ages.

CHAPTER 5

107
---
S AEED

K AZEMI

RIVER DISTRICT VISIONARIES

He is the calm in the center of occasional chaos, the one who keeps his focus

on the city's goals while moving deliberately forward. That methodical progression

mirrors the arc of his own career. From city engineer to director of public works to

interim city manager to the unanimously selected permanent holder of that office,

Kazemi has worked his way up the administrative ladder, learning from each step.

The challenges he faces include strengthening the citizenry's sometimes‐troubled

relationships with law enforcement and continuing redevelopment momentum.

But his work is powered by the greatest force of all. "I love this city," he says.

"And I want to give back."

FORT MYERS: City of Palms—A Contemporary Portrait

108
---
D ON

P AIGHT

Like downtown Fort Myers? Thank Don Paight, who has spent the last three

decades making it work. As founding director of the Fort Myers Community

Redevelopment Agency, the steady, soft‐spoken Paight has shouldered

plenty of blame for slow progress, conflicting visions and cumbersome

construction. Now, finally, he can bask in some on the credit for the River

District's renewed vibrancy. Scout, matchmaker, referee, cheerleader and

always its champion. Paight's genial service under five different mayors speaks

to his diplomatic acumen, and the crowds that now fill the city's once‐echoey

streets, restaurants, offices and condos testify to the power of his vision.

J ARED

B ECK

Jared Beck can do a lot of things: guide development, create consensus, and engineer alliances. But there is one thing

he cannot do, and that is walk down First Street without smiling. Seriously. The man is so taken with its historic‐yet‐vibrant

mix of cafes, shops, homes and landscape that no matter what else is going on, he has to grin. For Beck, a professional

planner who also runs the River District Alliance, the city's ongoing success is as gratifying professionally as it is personally.

"My friends couldn't understand it when I moved here from Naples," he says, "but I can't imagine being anywhere else."

CHAPTER 5

109
---
RIVER DISTRICT DIVAS

S TEPHANIE D AVIS

DOWNTOWN DIVA

To anyone who has consumed media in Southwest Florida for any

length of time, the voice is unmistakable. Not just because it is heard

on local radio waves and ringing from area theater stages, Stephanie

Davis' clever lilt of a voice is perhaps clearest on the printed page,

where she (right) is best‐known as the Downtown Diva. The Diva is

that hilariously incisive friend we all wish we had—brilliant, always

ready for fun, yet kindhearted to a fault. Her wildly popular society

columns, accompanied by her own expert photography, radiate her

singular wit and charm. But Davis photographs more than people.

She frequently turns her iPhone lens on downtown Fort Myers—

"my beautiful neighborhood"—then shares the images on her equally

popular Facebook and Instagram accounts.

FORT MYERS: City of Palms—A Contemporary Portrait

110
---
S HARON M C A LLISTER

ART DIVA

One of the tricks up arts whirlwind Sharon McAllister's

colorful sleeve is an uncanny ability to avoid the word

"no." That ability, skillfully deployed, has helped her

make ArtFest Fort Myers the city's signature annual

celebration of fine art. But the multi‐day event, which

she directs, is more than a collection of two‐ and threedimensional

pieces from artists around the country—it

is music, fine food, educational kids' activities and a

colorful street party. Thanks to McAllister's philanthropic

vision, the festival, which draws some 85,000 visitors

downtown each year, has become a powerful engine for

philanthropy, providing arts education to young people

with competitions, grants and classes.

CHAPTER 5

111
---
RIVER DISTRICT DIVA

G INA T AYLOR

HISTORY DIVA

Maybe it has happened to you: You pass an old building hundreds

of times without ever really seeing it, let alone knowing

its history. Gina Taylor's mission is to change that—at least in

downtown Fort Myers. With True Tours, Taylor and her corps of

guides lead guests through the city's past. But make no mistake:

This history is far from dry or dusty; it is infused with the richness

of the characters that created it. Taylor's business fits into a

key downtown niche—heritage tourism, a growing sector of

the visitor economy. Taylor, who led the nonprofit Lee Trust for

Historic Preservation before striking out on her own, points out

the city has the largest concentration of historic buildings in

Southwest Florida. "This gives us a secondary revenue source

instead of just the beaches."

FORT MYERS: City of Palms—A Contemporary Portrait

112
---
L YDIA

B LACK

As the poised ringmaster of a swirling cultural hub,

Lydia Black keeps the Alliance for the Arts spinning. The

ten acre campus includes galleries, classes and theater

space, sure, but her vision also encompasses a thriving

green market, poetry slams and rockin' food festivals.

Black takes the arts' place in society very seriously.

In 2011, she helped spearhead a county‐wide economic

impact study and is working to enrich the alliance

even further by adding more theater, classroom and

administrative space. Bottom line, she says: "(The) arts

are essential to the health and vitality of our Southwest

Florida communities."

CHAPTER 5

113
---
E ARNEST

G RAHAM

Once a hometown hero, always a hometown hero. After a sterling football

career with the University of Florida and the Tampa Bay Bucs as a running back,

Earnest Graham is now shaping the next generation of greats as head coach at

North Fort Myers High School. He is also now president of Pro Player Insurance

Group in downtown Fort Myers. That seems a perfect fit for a player one of

his own coaches once nicknamed "Insurance" because he could always

be counted on. A dedicated philanthropist, Graham also started the nonprofit

Giving in Earnest, which aims to support and mentor at‐risk girls.

FORT MYERS: City of Palms—A Contemporary Portrait

114
---
S AM G ALLOWAY, JR .

Since 1927, the Galloway family has been a linchpin

in the Fort Myers economy. They owned the city's

first Ford dealership, providing cars via Henry Ford to

Thomas Edison. Now helmed by the third‐generation

of Galloways, Sam, Jr., a Fort Myers native and Fort

Myers High School graduate, is the president of the

Galloway Family of Dealerships. But his influence extends

far beyond the business community. A dedicated

philanthropist, he is a senior advisor of the Southwest

Florida Community Foundation and has served as president

of the Edison & Ford Winter Estates Foundation,

the Edison Festival of Light, Community Cooperative,

the Salvation Army and many others. So it is hardly a

surprise that when Lee Interfaith Volunteer Caregivers

named their inaugural Altruist of the Year Award in

2000, they honored Sam Galloway, Jr.

CHAPTER 5

115
---
R OBERT

C ACIOPPO

In a trade notorious for its volatility, Robert Cacioppo

has managed the nearly impossible: stability. Powered by

a passion as intense as his gaze, he and his wife, Carrie

Lund Cacioppo run the Florida Repertory Theatre in the

River District. Sure, there have been good and bad years,

but for more than two decades, Cacioppo and crew have

been a dependably high‐profile force in Southwest Florida

theater. His top‐flight company (the Wall Street Journal

called it "one of America's top repertory companies")

makes its home in the historic Arcade building, where

Thomas Edison once caught shows, and has become a

mainstay of downtown culture, proving that yes, the arts

can make very good business sense in Fort Myers.

FORT MYERS: City of Palms—A Contemporary Portrait

116
---
W ILLIAM

G LOVER

His strength radiates from his faith and his servant's heart—a heart he says God has fashioned into the shape of Africa, mother

continent to humanity. As senior pastor of Mount Hermon Ministries, Inc., Dr. William L. Glover ministers to one of the Dunbar

neighborhood's oldest and best‐attended churches, but he also tends the wider community. As co‐president of Lee Interfaith

for Empowerment, he works with other congregations and nonprofits to improve the justice system. And as a board member

of Lee Community Healthcare, he works to keep bodies thriving as well. That mission recently got decidedly (and amusingly)

personal, as a series of videos his wife, Cheryl, shot of him singing during their exercise walks went viral on Facebook. CHAPTER 5

117
---
A BDUL'HAQ

M UHAMMED

Since stepping foot in Fort Myers some thirty years ago,

Abdul'Haq Muhammed has worked to make strides for the

city's black community. After a successful business and real

estate career in the Bronx, he turned his attention south, to a

city once called the region's most segregated. He founded the

Quality Life Center—fondly referred to as "The Q" twenty‐five

years ago as an incubator for at‐risk kids. It is a place where they

can get a big hug or a talking‐to, depending in what they need,

from a corps of dedicated grown‐ups who also teach them

everything from dance to personal finance. Says Muhammed:

"It's all about erasing the victim mentality and replacing it with

self‐respect and dignity."

FORT MYERS: City of Palms—A Contemporary Portrait

118
---
J IM

G RIFFITH

It is hard to imagine the River District without Jim Griffith's

contributions and connections. The thriving cultural hub that is

the Sidney & Berne Davis Art Center would not have happened

without his dogged pursuit of a vision marrying cultural progressiveness

to historic preservation. Griffith marshalled the team

and the money to convert an elegant‐but‐moldering post‐officeturned‐federal‐courthouse

into a downtown jewel. A Juilliardtrained

violist who happened onto his instrument (and his

future) in a Cape Coral Middle School band class, Griffith spent

college summers working construction, which helped as he

piloted the building's transformation. And in the process,

Jim Griffith's unwavering determination helped put Fort Myers

firmly on the cultural map.

CHAPTER 5

119
---
C HRIS

P ENDLETON

As president and CEO since 2001, Chris Pendleton has been

the keeper of one of Fort Myers most precious treasures:

the Edison & Ford Winter Estates. Bringing several decades

of museum administration in science, history and art history,

she quickly reformed the mission to encompass the legacy

of the inventors. Think children's science camps, garden

workshops, art and history coming to life and other creative

uses. As one of the nation's top ten most visited historic

home sites; it is visited annually by upwards of 275,000

people. Today, the site has won top awards from the

National Trust, National Garden Club of America and achieved

landmark status for lab restoration and stewardship. Boil

it down and her mission has been to illuminate, invent

and sustain the site. The estates' original owners would

be justly proud as the site looks forward to a great future.

FORT MYERS: City of Palms—A Contemporary Portrait

120
---
D ANIEL

K EARNS

Daniel Kearns and his team at Kearns Restaurant Group

are a Fort Myers success story writ large—very large. After

a strong track record of owning/operating restaurants and

nightclubs in Connecticut, Kearns seized the opportunity

to remake the venerable Fort Myers Country Club's eatery

into The Edison, before turning his attention to the

historic downtown, where he opened the popular Ford's

Garage (now with multiple locations) followed by The

Firestone Wood Fired Grille, Martini Bar & SkyBar, The

Lodge, Los Cabos Cantina, and Capone's Coal Fired Pizza

(and creating upwards of 500 jobs in the process). Not

surprisingly the Kearns' destination dining concept has

caught fire and is expanding nationwide.

CHAPTER 5

121
---
T ERRY

T INCHER

He is the other mayor of Fort Myers—the informal

one—working for his beloved city not in budget workshops

or council chambers, but at gallery openings and

café tables. With his arty spectacles and megawatt grin,

Tincher is one of the most recognizable of River District

characters, and also one of its most authentic. As art

dealer, businessman and boulevardier, Tincher has made

it his mission to create and sustain cultural conversations.

Not only did he help create the city's well‐loved ArtWalk,

he was in the vanguard of urban re‐settlers, taking up

residence in a historic downtown building.

FORT MYERS: City of Palms—A Contemporary Portrait

122
---
J ARRETT

E ADY

Jarrett Eady did not have to come back. Florida State

University's one‐time student government president and

Senior Hall of Famer could have rocketed to a bright future

somewhere in a big city, but instead, the fourth‐generation

Fort Myers resident returned to teach middle schoolers, before

getting kicked upstairs to the district, where he is now a

professional development and leadership specialist—and that

is just his 9‐to‐5. In his spare time, Eady (among other things)

chairs the Lee County Black History Society, serves on the

Fort Myers Community Redevelopment Agency Advisory

Board and the Dunbar Festival Committee and attends historic

Friendship Baptist Church.

CHAPTER 5

123
---
M ADELINE

B OHANNON

Want to know something—anything—about tropical

fruit? Fort Myers grower Madeline Bohannon can

tell you. And she will probably offer you a bite of it to

go with your newfound knowledge. On her jungly

acreage that wraps around Billy's Creek, Bohannon

cultivates a dazzling array of exotica ranging from

the expected mango and guava to the decidedly

uncommon: monstera, cecropia and gak. Though she

does sell much of what she grows ("Those macadamia

trees are my retirement fund," she jokes) Bohannon

also shares generously with friends and neighbors,

and less willingly, with appreciative squirrels.

FORT MYERS: City of Palms—A Contemporary Portrait

124
---
J OE

P LEDGER

The tradition of riverboat captaining may be rooted in history, but Joe Pledger adds

twenty‐first‐century expertise to create singular experiences for passengers aboard the

three‐level, 130‐foot‐long Capt. JP.

Pledger calls his paddlewheeler a banquet hall with ever‐changing scenery, but it is

also transport to another time, when the Caloosahatchee was an engine of commerce.

Going on half a century, Pledger's family has launched from the Fort Myers Yacht Basin, and

before that, they operated the popular Jungle Cruise boat on the Orange River. Pledger's

wife, sister, and sons work at the family business as well. He is grateful for that, as well as

a career that has given him unparalleled knowledge of the river. Perhaps best of all, he says,

is the satisfaction of having "given a lot of people enjoyment and cherished memories."

CHAPTER 5

125
---
W OODY

H ANSON

Native son? Where Woody Hanson is concerned, it is more like native great‐great‐grandson. Few can claim the bilateral

family ties to Fort Myers that Hanson can. His maternal great‐great grandfather, Captain Manuel A. Gonzalez, was one

of the original pioneers who repurposed the Union Civil War fort for his first home near the Caloosahatchee. On his

father's side, the real estate broker and appraiser traces his lineage to Dr. William Hanson, his great‐grandfather,

who helped forge the family's deep ties to the Seminole and Miccosukee Tribes (great‐great grandpa Manuel traded

with them also). Woody, who recently earned a master's degree in Florida studies, is now the keeper of his family's rich

and massive archive—which is the region's good fortune.

FORT MYERS: City of Palms—A Contemporary Portrait

126
---
M ARCUS

J ANSEN

As a Gulf War veteran who once sold his wares on

the street, Marcus Jansen may seem an unlikely fine art

ambassador, but then again, that gritty pedigree makes

him the perfect champion of Urban Expressionism, an

art movement he pioneered. His work, hailed by critics

around the globe, is vividly disturbing and achingly

thought‐provoking. Calling his downtown Fort Myers

studio, UNIT A, his world headquarters is no hyperbole

either. In recent years, Jansen's shows and exhibits

have taken him to New York, Italy and Germany, and

he was recently the subject of a documentary film:

Examine and Report.

CHAPTER 5

127
---
E MAD

S ALMAN

To the children who count on him to save their

lives, the state‐of‐the‐art medicine and therapies

Dr. Emad Salman deploys are almost as important

as his loving heart. Almost. Always quick with a

hug or a gentle smile, Salman's trademark hightech/high‐touch

philosophy has helped make the

Hematology/Oncology department he directs at the

Golisano Children's Hospital of Southwest Florida

the premiere treatment destination in the region

for children with cancer and blood disorders. And

Dr. Salman's plainspoken kindliness is a profound

comfort for his patients' often anxious parents.

FORT MYERS: City of Palms—A Contemporary Portrait

128
---
I SRAEL

S UAREZ

Social service dynamo and ordained minister Israel Suarez founded his nonprofit

Nations Association in 1978, and has been doing a world of good ever

since. Though it has changed focus over the decades, one thing has remained

consistent: Suarez' relentless energy and enormous heart. Over the years,

Nations has run a soup kitchen and a thrift store, housed the homeless, found

jobs for teens, taught English, counseled runaways, taken kids on field trips

and readied them for college. Not bad for a Puerto Rican shoeshine boy who

came to New York as a teenager and ran a laundromat as a young man.

CHAPTER 5

129
---
W ANDA

L UNGER

She is the plainspoken queen of a Fort Myers classic: City Fish. Yet Wanda

Lunger's homespun market offers fare fit for royalty: the freshest gifts of the sea,

served up with sweet tea and boiled peanuts. Need blue crabs or a mess of mullet?

Fresh‐fried shrimp? Tender hushpuppies? Lunger's got you covered. City Fish has

been feeding Fort Myers since 1944, when it was on a sliver of what was then

called Anderson Avenue—now Dr. Martin Luther King Jr. Boulevard. Located just

over the railroad tracks in a storefront in the gritty State Farmer's Market, the

fare is not fancy, but what it may lack in elegance, it more than makes up with

authenticity. Lunger's food, her kitchen and her customers are all the real deal.

FORT MYERS: City of Palms—A Contemporary Portrait

130
---
D AVE

M OODY

In a place where fifth‐generation businesses are rare as snowfall, Futral's Feed Store has pulled it off, with more than seven

decades of provisioning critters and their humans. While a downtown feed store might seem a tad incongruous, Futral's fits

as comfortably as a pair of old boots, mixing cow feed with vegan dog kibble. Never mind that traditional farming in Lee County

has all but disappeared, Futral's remains the informal headquarters of the region's country community, where transplants are

greeted as warmly as old‐timers by David Moody, Jr., who is following in his grandfather's and father's footsteps.

CHAPTER 5

131
---
FORT MYERS: City of Palms—A Contemporary Portrait

132
---
FORT MYERS PARTNERS

Profiles of businesses, organizations, and families that have

contributed to the development and economic base of Fort Myers

Lee Memorial Health System..................................................................................134

LeeSar, Inc. ........................................................................................................140

Parker/Mudgett/Smith Architects, Inc. .....................................................................144

Dean Steel Buildings, Inc. .....................................................................................146

Henderson, Franklin, Starnes & Holt, P.A. ...............................................................148

Southwest Florida International Airport ..................................................................150

Page Field ..........................................................................................................151

Galloway Auto.....................................................................................................152

Mark Loren Designs, Inc. ......................................................................................154

Florida SouthWestern State College.........................................................................156

Alliance for the Arts ............................................................................................158

AIM Engineering & Surveying, Inc..........................................................................160

Victory Layne Chevrolet........................................................................................162

Barraco and Associates, Inc. ..................................................................................164

T3 Communications, Inc........................................................................................166

Hope Healthcare ..................................................................................................168

Fort Myers .........................................................................................................170

Johnson Engineering, Inc. ......................................................................................172

Ad-Ler Roofing, Inc..............................................................................................173

Broadway Palm Dinner Theatre ..............................................................................174

Chico's FAS, Inc. .................................................................................................175

Canterbury School ...............................................................................................176

Boylan Environmental Consultants, Inc....................................................................177

The Salvation Army of Lee, Hendry and Glades Counties............................................178

Fischler Property Company....................................................................................179

Hotel Indigo, Fort Myers Downtown River District ....................................................180

Barbara B. Mann Performing Arts Hall....................................................................181

WCI Communities, Inc. .........................................................................................182

Delta Sigma Theta ...............................................................................................183

Markham Norton Mosteller Wright & Co., P.A. .........................................................184

Gulfcoast Coin & Jewelry, . ...................................................................................185

Edison & Ford Winter Estates ................................................................................186

Corbin Henderson Company...................................................................................187

Allure and ONE...................................................................................................188

Main Sail Video Productions, Inc............................................................................189

FORT MYERS PARTNERS

133
---
❖

Right: Early 1900s, First Street.

Below: The original Lee Memorial Hospital, c. 1916.

LEE MEMORIAL

HEALTH SYSTEM

PHOTOGRAPHS COURTESY OF THE SOUTHWEST FLORIDA HISTORICAL SOCIETY

AND LEE MEMORIAL HEALTH SYSTEM.

From humble beginnings, Lee Memorial Health System

grew with and evolved to meet the healthcare needs of our

community. As we celebrate 100 years of caring, we are

proud to share a brief history that showcases our evolution

and our unwavering commitment to leading-edge, high

quality, patient-centered care.

The Lee Memorial Health System origins in the early

twentieth century include a bonfire, a shotgun toting county

commissioner, a gang of 150 men, numerous meetings

and more.

Much of the history happened before the hospital's doors

first opened on October 3, 1916, in a wood frame, two story

building at the corner of Grand and Victoria Avenues in

what is now downtown Fort Myers.

What twenty-first century Lee County residents know as

a state-of-the art health system with gleaming buildings,

high-tech medical wizardry and thousands of highly-trained

and skilled employees began in a much different world.

Before the hospital opened, it took four years of meetings,

planning, fundraising and other activity to make Lee

Memorial a reality.

The town of Fort Myers was growing in the 1910s and

so was the need for medical care. The U.S. census counted

2,463 people in Fort Myers in 1910 and all of Lee County,

which then included land that is now Collier and Hendry

Counties, contained 6,294 people.

To put that in perspective, in 2015 the Lee Memorial

Health System employed 11,800 people, another 4,089

people volunteered and Lee County's population was

more than 600,000. That does not include Collier and

Hendry Counties, which were carved out of Lee County in

the 1920s.

By 1912, when a hospital organizing committee first met,

the town was on its way to becoming a city and needed a

suitable hospital.

Not everybody, though, thought a hospital was needed,

according to a 1984 history of Lee Memorial that appeared

in a publication called Tampa Bay History. Writer Alberta C.

Rawchuck noted, "That some citizens clung to the belief

that a hospital was only a place to go and die."

Many other citizens, though, thought otherwise. The Lee

County Hospital Association held its first meeting in 1912.

The Fort Myers Press celebrated the group in an editorial

on January 11, 1912, nine days after the first meeting.

"It certainly is gratifying to see a public movement

command such enthusiastic support as is being accorded

the proposition to establish in Fort Myers an emergency

hospital," the paper wrote in that editorial. "At the meeting

in the council chamber Tuesday night, the greatest interest

was displayed and there was unanimity of opinion in

favor of pushing the project to as speedy a consummation

as possible."

It took more than four years from that meeting

to consummation.

As the hospital committee inched closer to building a

hospital, one of the most dramatic incidents in Lee County

history occurred.

FORT MYERS: City of Palms—A Contemporary Portrait

134
---
The minutes of the April 3, 1915, hospital board meeting

provide a clue. From those minutes: "The material of the

old courthouse was donated by the county. The laborers

donated part of their wages. The merchants and material

men furnished everything at wholesale prices."

On October 24, 1914, the Lee County Commission

voted 3:2 to build a new courthouse, replacing one built

in 1894. Although the commission voted in favor of the

new courthouse, a faction of businessmen in town, led by

Harvie Heitman, were opposed to the new courthouse. So,

his supporters boarded a 4 p.m. train for Arcadia where

they hoped to get a court injunction to stop the project.

While Heitman's faction traveled to Arcadia, Commission

Chairman William Towles gathered 150 men. Their mission

was to dismantle the old courthouse overnight, working by

the light of a bonfire.

In a 1949 book, The Story of Fort Myers, author Karl

Grismer detailed the event.

"A huge crowd gathered," Grismer wrote. "Men, women

and children cheered the workmen on. It was great sport.

Never before had anything like this happened in Florida.

Old-timers' say Towles sat on steps nearby with a shotgun

in his hands."

The lumber from the old courthouse was set aside and

used to build a hospital. By the fall of 1916, the four years

of work, planning and fundraising had paid off. Lee County

had a hospital.

Here's a headline in the Fort Myers Press from October 3,

1916: "Large Donation Is Received." The paper reported

that Walter G. Langford, president of First National Bank,

donated the "equivalent" of several hundred dollars.

From the newspaper: "The donation, which consists of

a complete and up-to-date surgical equipment for the

operating room of the new hospital, recently completed by

the association and which it is understood will shortly be

opened for active service, is held as an endorsement of the

work accomplished by the association, and those who have

been identified with the work of completing."

The paper reported that the gift was the largest the

association had by then received. The paper added: "It is

understood that Mr. Langford at first refused to allow the

mention of his name in connection with the gift."

The paper closed its report with this: "It is stated that

cases will be taken up to the capacity of the building, which

at present is limited to fifteen, including accommodations

available in the wards. Private rooms will also be available to

those desiring such accommodations the charges for which

will be placed at a minimum."

What Sam Thompson needed to do and how the hospital

responded set a pattern of care and commitment that has not

wavered in 100 years and counting. Thompson, then thirtynine,

was on horseback in the woods near LaBelle on a fall

day in 1916 when he was gripped with pain. He rode his horse

to a new Fort Myers hospital, which was not yet finished.

The only available surgeon was Dr. Daniel McSwain of

Arcadia. Dr. McSwain boarded a train in Arcadia around

❖

Above: Lee Memorial Hospital's first nursing staff.

Left: Dr. Daniel McSwain, Lee Memorial Hospital's first surgeon, c. 1916.

FORT MYERS PARTNERS

135
---
❖

Above: Mattie and Sam Thompson (first patient).

Right: Groundbreaking for Lee Memorial Hospital on

Cleveland Avenue, 1939.

10 p.m. He arrived at the hospital about an hour later and

using kerosene lamps for light, he operated on Thompson.

Then at 7 a.m., Dr. McSwain boarded a train for the return

trip to Arcadia.

The appendix operation was a success and Thompson

lived into his eighties. He was a hearty man and successful

in many ways. He started a grocery store, served as guide

on hunting trips, worked as a game warden by oxen and

horseback and helped lay the first telephone lines from

Fort Myers to Buckingham.

Like Thompson, the other patients who entered what

evolved into the Lee Memorial Health System, knew they

could rely on the men and women, the doctors, nurses,

administrators and volunteers who make the system run.

Whether appendicitis or childbirth or heart surgery or

broken bones, they have trooped through the hospital's

doors, either at its first location or one of its current

locations throughout Lee County, from HealthPark Medical

Center to Cape Coral Hospital to Gulf Coast Medical Center

in south Fort Myers and the new Golisano Children's

Hospital of Southwest Florida and more.

The wooden structure at Victoria and Grand was all

there was of Lee Memorial Hospital until 1943 when

a new building opened on

Cleveland Avenue.

This was a huge news story

in Fort Myers and The News-

Press lavishly covered it in

the days leading up to and

following its April 18, 1943,

opening. The new hospital

was described in the paper as

a "handsome structure of buff

brick on Cleveland Avenue

near Katherine Street."

A grand opening celebration was held on a Sunday

and the public was invited to the new $200,000 facility.

News-Press reporter Rufe Daughtrey was given a tour a

couple days earlier and his account was published the day

before the opening ceremony.

"That new hospital out on Cleveland Avenue is just about

the nicest place imaginable to be sick in," Daughtrey wrote.

"It's got just about everything from magnificent sun decks

to a cozy parlor where you can play cards in front of a log

fire on a chilly evening."

He provided a description.

"Here is how the plant looked on a rehearsal tour yesterday,"

Daughtrey wrote. "To begin with, the front is in back

and the back is in front. In other words, that side facing

Cleveland Avenue is in the back. To get to the front you

follow a winding road around under the pines to the offside

of the building.

"From your car you step onto a narrow porch and into

the big reception room. That's the room that has the oldfashioned

fireplace and would make a good place for gettogethers

on chill evenings. Joining the reception room is

the bookkeeper's office and the office of the superintendent

of nurses.

FORT MYERS: City of Palms—A Contemporary Portrait

136
---
"The office opens into a wide corridor. To the right is a

long wing. This wing fronts on Cleveland Avenue—in fact

they all do, the two wings downstairs and the two upstairs.

They are faced with solid windows of glass from floor to

ceiling, a perfect sun deck."

The reporter described numerous details of the hospital's

appearance concluding with the operating room.

"And last but not least is the operating room," Daughtrey

wrote. "This is the pride and joy of the new hospital. It really

is an eye-full. Walls and floors to the ceiling are a restful

green. In the center is the latest in operating tables where

doctors can cut you open and with special lights so they can

see what makes you tick.

"This operating table is something like a glorified barber

chair. With it, doctors can stand you on your head, double

you into a ball or turn you sideways. After seeing this you

may be glad you can walk out under your own power."

The community's growth, though, soon outpaced the

building so in 1968 a bigger Lee Memorial Hospital building

opened. It was a $5.5 million project.

The building alone cost $4.2 million and the rest of the

cost went to the architect ($267,000), land purchase

($140,000), equipment ($800,000) and another $51,300 for

what was listed as "miscellaneous."

"The opening of the new Lee Memorial Hospital represents

another milestone in the development of Lee County,

signaling the assumption of public responsibility for the

provision of healthcare facilities for the first time," the

News-Press reported on October 16, 1968.

Then, the paper put the building in perspective.

"The new hospital, a gleaming white $4.5 million

structure—is not yet the hospital that many people would

have it be, but it is far better than Lee County ever had

before," the paper reported.

But it was not done growing.

In 1991, HealthPark Medical Center opened several

miles away with 220 beds. Of those 220 beds, seventy-five

were dedicated to pediatrics and named the Children's

Hospital of Southwest Florida.

The contrast between the two-story wood building that

opened in 1916 and HealthPark Medical Center was striking.

The facility included a tiled courtyard, trees, glass elevators

and plush furniture. The original hospital did not even have

an elevator. HealthPark's corridors and patient rooms were

festooned with artworks.

❖

Above: Lee Memorial Hospital, 1955.

Left: Future site of HealthPark Medical Center, 1985.

FORT MYERS PARTNERS

137
---
❖

Right: Cape Coral Hospital.

Below: Gulf Coast Medical Center.

HealthPark's four-story atrium was taller than the original

hospital. It looked more like a hotel than a hospital.

"The idea is that you won't feel like you're coming to

a hospital, but to a multiservice facility that happens to

have a hospital buried inside it," Lee Memorial Hospital

President Jim Nathan told the News-Press before HealthPark

opened. "The traditional hospital is confining in its nature.

You see patients on gurneys and doctors and nurses hustling

down the hallways. All that adds to the emotion of going to

the hospital."

HealthPark's grand opening was a big deal. The News-Press

covered the event with a story carrying this headline:

"HealthPark leaves visitors in awe."

In 1996, with the acquisition of Cape Coral Hospital,

all the hospitals became part of what is now known as Lee

Memorial Health System.

In 2006, Gulf Coast Hospital and Southwest Florida

Regional Medical Center were merged into the Lee Memorial

Health System and in 2009 they were consolidated into one

hospital. That one hospital is Gulf Coast Medical Center,

which is located on Daniels Parkway in south Fort Myers.

In 2014, Lee Memorial announced plans for a $140

million health campus in south Lee County. It would

include a freestanding emergency room, outpatient surgical

center, doctors' offices, imaging, and rehabilitation services.

Plans called for the facility to be built on a thirty-acre site

just south of the upscale Coconut Point Mall.

The expansions and acquisitions were needed to keep

pace with Lee County's growth. The county was growing by

more people per year than lived in it when Lee Memorial

opened in 1916.

From 2002 to 2003, for example, Lee County's population

grew from 475,073 to 497,022. That is an increase of 21,949,

a 4.6 percent rise.

FORT MYERS: City of Palms—A Contemporary Portrait

138
---
To put the growth in perspective, the addition of 21,949

new residents in that year was nearly the equal of the county's

population in 1950, 23,404.

Hospitals do not appear by waving magic wands. That

was true in the years from 1912 to 1916 when Lee County

residents met, planned, worked and raised money to build

the county's first hospital.

That has been the case since the 1990s as work has

progressed on building the $244 million, 128-bed Golisano

Children's Hospital of Southwest Florida. By the summer of

2015 the Golisano Children's Hospital was halfway finished.

"Miracles happen here," Jim Nathan said in September of

2015 as hospital construction reached its halfway point.

"People said you couldn't do this. But we said, 'We have to.'"

It was done in many ways. One was raising more than

$100 million in private donations. The biggest individual

chunk came from Naples billionaire B. Thomas Golisano,

who donated $20 million to the project. Golisano made

the offer contingent on if other private donors could match

that total.

"When I announced my commitment in 2012 I hoped

that it would leverage support from everyone in the

community, that it would motivate everyone to contribute

in a meaningful way to this important endeavor," Golisano

said at the groundbreaking ceremony for the hospital.

Although Golisano's gift was the largest; huge sums

came from others. The Southwest Florida Wine & Food Fest

donated $10 million up to that point. Lee HealthCare

Resources had chipped in $5 million and another $10

million came from Sanibel Captiva Cares.

The Anderson Family Foundation gave a sum identified

by the system as greater than $1 million. Chico's FAS donated

$1 million. Local businessman Jim Doyle gave $1 million

in 2013.

It is not mere good luck that all those people and organizations

donated to Lee Memorial Health System.

"Donors give to winners," Nathan said.

"Donors don't usually give to losers. They

give because they trust the people that they're

donating to and they trust the mission of

what they're doing. And when you look

through the entire history of Lee Memorial,

we have been blessed even in those small

dollar amounts by today's terms, but they were

large dollar amounts by yesterday's terms."

Although the world is vastly different than

it was when the hospital first opened in 1916,

some things remain the same.

"The commitment to the community

doesn't change," said Dr. Larry Antonucci,

Lee Memorial's chief operating officer. "The

numbers are bigger and the scale is bigger.

But the people wanting to do the right thing for their community

and raising the money and the gathering the wood

and building the facility is not unlike what happens today."

❖

Left: Pediatric patient, early 1980s.

Below: Epilepsy Monitoring Unit, Golisano Children's Hospital of

Southwest Florida, 2014.

FORT MYERS PARTNERS

139
---
LEESAR, INC.

In 1998, with healthcare costs continuing to climb,

Jim Nathan, president of Lee Memorial Healthcare System,

and Dr. Duncan Finlay, then-president of Sarasota Memorial

Healthcare System, met to discuss an innovative idea they

believed would save the hospitals millions of dollars every

year. The idea was to create two separate organizations

owned by the two hospital systems that would negotiate

with and buy directly from suppliers and resell to the two

hospital systems.

In other words: Eliminate the middle man.

Eliminating the middle man is a time-honored business

strategy that sounds like a no-lose proposition. Buy directly

from the supplier, eliminate the profit charged by the

middle man, and save. The problem with this strategy is

executing it is often more difficult than one might imagine,

and that is exactly what happened in the first two years

after LeeSar (named for the two hospitals) and Cooperative

Services of Florida, which handles negotiations and

contracting, went into business.

LeeSar's troubles stemmed from the fact that they initially

outsourced the management of the two corporations. In

the beginning, LeeSar's fill rate (a measure of the percentage

of orders correctly filled) was around sixty-four percent,

and because its performance was so low the company

grew slowly or not at all, operating only two departments

and employing no more than thirty people.

Today, LeeSar/Cooperative Services of Florida, which

operates twenty-four hours a day, seven days a week,

boasts more than twenty departments, employs more

than 400 people, opened a 205,000 square foot regional

service center in Fort Myers in 2012, and has plans to

add another 100,000 square feet to accommodate its

growing business. LeeSar provides hospitals, physicians

offices, and ambulatory and outpatient surgical centers

with a variety of healthcare supply chain services including

the acquisition and distribution of medical supplies;

packaging of pharmaceuticals; surgical instrument

sterilization; surgical pack manufacturing; repair and

express delivery of surgical instruments; food preparation;

centralized purchasing; and contract management

and negotiations.

What happened to spark such a turnaround? Much of

the credit goes to President and CEO Bob Simpson,

whom LeeSar hired to run its operations in 2002. Unlike

his predecessors, Simpson, a true visionary, quickly

applied business principles to operations. Within three

months, fill rates improved to the ninety-eight percent

level and today remain consistently above ninetynine

percent.

FORT MYERS: City of Palms—A Contemporary Portrait

140
---
Since Simpson joined the company, LeeSar/CSF has

grown at an annual rate of eighteen to twenty percent.

Original members Lee Memorial Healthcare System and

Sarasota Memorial Healthcare System have been joined

by Central Florida Health Alliance and Huntsville Hospital

in Huntsville, Alabama. Each of the four members has

representatives on LeeSar's and/or CSFs board of directors.

Both members and non-members (referred to as participants)

receive requested services and are then billed at a

lower overall cost than if the members and participants

attempted to acquire them from other providers. Members

and participants benefit from LeeSar's straightforward

mission to: "provide the right product and service at the

right time to the right patient at the lowest possible cost."

LeeSar's approach is more efficient, accessible, and affordable.

It also allows hospitals and other providers to free up

space so they can perform their most important task: taking

care of patients.

FORT MYERS PARTNERS

141
---
The process of saving money for its members and

customers begins with Cooperative Services of Florida

(CSF), which is housed inside LeeSar Regional Service

Center. CSF exists to contract directly between members

and manufacturers of supplies, equipment, and services.

It believes in driving value at both ends of the healthcare

supply chain, meaning that both clinicians and suppliers

benefit. Clinicians benefit from getting supplies they want

at lower costs, and suppliers benefit from lower costs

and an easily-forecasted sales stream and market share.

Audited results show CSF has been so successful in

direct negotiations with manufacturers that their costs to

clients are among the lowest three percent in the nation

when compared to similar-sized operations.

The next step is building an inventory of supplies, equipment,

and service providers who can respond to member and

customer needs quickly and accurately. Much of that takes

place at the LeeSar Regional Service Center, which manages

and houses mission-critical healthcare operational services

for healthcare organizations. The benefits of such a system are

numerous. Many hospitals have a large, central supply room

where nurses or nurses' aides go to get supplies. Sometimes

the supplies are out of date or someone has already taken

the last item and no one has had time to reorder. Removing

this process from the healthcare provider reduces waste and

the hospital's liability and increases space for patient care.

Reducing waste is one of the factors behind a recently

added service known as reposable reprocessing. One reason

healthcare costs have been so high in the past is that items

were used once and discarded even when it was safe to reuse

them. Studies by the Food and Drug Administration have

found that many items can be reused under the right conditions.

At LeeSar, approved items at Lee Memorial Hospital

and Sarasota Memorial Hospital are collected, cleaned,

tested, sterilized, repackaged, and resold at a highly reduced

cost, resulting in savings and less waste in area landfills.

That sort of innovative thinking is what sets LeeSar apart.

Creativity and innovation are encouraged at LeeSar and

senior management is allowed to be creative, try new

things, and even to make mistakes. In recent years, LeeSar

began carrying mothers' milk for premature babies and

for babies whose mothers are unable to nurse. They also do

IV compounding using robots and provide pharmaceutical

repackaging to free up hospital pharmacists to focus on

more important work. Pharmaceutical repackaging involves

taking a large amount of medicine—such as pills—and

breaking them down into the smaller numbers needed

for individual patients. This leads to less waste and fewer

bedside medical errors.

FORT MYERS: City of Palms—A Contemporary Portrait

142
---
LeeSar provides record retention for

members and customers, archiving patient

records, X-rays, and other items and

retrieving them when needed.

LeeSar's Culinary Solutions Department

provides cook-and-chill services in which

they cook foods, freeze them, and ship

them to hospitals and other customers,

which then finish preparing the food,

place the food on a plate, and deliver it

to patients. The department also provides

catering for hospital events and fundraisers

and some private outside events.

Although most of its operations are

based at the LeeSar Regional Service

Center, the company also operates a

nuclear pharmacy facility and custom

surgical pack operation at other sites.

Surgical pack operations involve assembling

sterile packs that physicians open in

the operating room to perform a surgical

procedure. These packs are customized to

meet each physician's specifications.

Since its inception in 1998, the company

has been recognized for its innovation

and progressive business practices with numerous awards

and accolades. LeeSar received the Senator's Choice Award,

presented by Senator Michael Bennett, recognizing LeeSar

as "The 2011 Most Innovative Company" in the State of

Florida. In January 2016 it received the Pride of Florida

Award from State Senator Lizbeth Benacquisto.

Although LeeSar is not a business-to-consumer entity,

it believes in doing the right thing to support the communities

in which it conducts business. LeeSar's staff has

been very active in a wide range of charities including the

March of Dimes, Make A Wish Foundation, and efforts to

support children's hospitals.

As for the future, LeeSar plans to continue growing while

maintaining its ability to turn on a dime. The company will

keep its finger on the healthcare industry's pulse by keeping

track of what the market and customers need and then

moving to fill those needs. As reimbursement becomes more

difficult for hospitals and other providers, LeeSar's role will

become even more critical in helping to ensure that the

healthcare system is sustainable, affordable, and successful.

FORT MYERS PARTNERS

143
---
❖

PARKER/MUDGETT/SMITH

ARCHITECTS, INC.

Edison Junior College, Lee County Campus.

Since 1966, Parker/Mudgett/Smith Architects, Inc., has

provided professional planning and architectural services for

clients throughout Southwest Florida. Beginning its fiftieth

year in 2016, the firm now has four registered architects and

nine employees.

The roots of Parker/Mudgett/Smith Architects were sown

in 1952 when former principal Bolton McBryde moved

from Tennessee to Florida and opened an office in downtown

Fort Myers, where it remains to this day. During

the 1950s, the firm established itself as a practice dedicated

to educational, medical, commercial, and governmental

clients. These early projects included the offices of the

Naples Post Office and a major remodel of the Lee County

Sheriff's Station/Jail Complex at a cost of $50,000.

Wiley M. Parker was raised in South Carolina and was

working for an architectural firm in Atlanta when he

connected with McBryde. The firm, at that time known as

McBryde & Frizzell Architects, was embarking on the master

plan for the newly established Edison Junior College. This

project was the first of the firm's strategic alliances with

nationally esteemed architectural design firms. In 1962,

Parker joined the firm as project manager and design

architect for the Edison Junior College campus project.

Upon the breakup of McBryde & Frizzell, Parker became

a principal in 1966 and the business reflected the change

as McBryde & Parker Architects, Inc., creating the present

corporation. Parker, an avid sailor and conservationist,

set the tone for the firm's respect for nature and its vigilance

for environmental concerns.

The firm continued to thrive, producing a variety of public

and private projects. Educational projects throughout

Southwest Florida became a core competency, along with

medical clinical facilities, and commercial office buildings.

Many projects for the region's school districts were products

of the firm. As the area's population and commerce expanded,

office buildings were designed and constructed to meet

growing demands. Many of the religious facilities designed

by the firm, such as St. Michael's Lutheran Church and

St. Luke's Episcopal Church, remain fully functional landmarks.

William A. Mudgett, an Illinois native, joined the firm

in 1968, and he and Parker enjoyed a synergy few firms

ever have. Residential work proliferated. Additionally, the

partners' shared passion for educational projects enabled

the firm to grow into educational master planning, design,

and construction experts.

Mudgett became a principal in 1973 and for six years the

group operated as McBryde/Parker/Mudgett Architects. When

McBryde retired in 1979, the firm became Parker/Mudgett

Architects. During the ensuing fifteen years, the firm's portfolio

of major educational projects grew to include additions to

the Edison Junior College campus, five new high schools,

and master planning of new middle and elementary schools

throughout Southwest Florida. A serendipitous spinoff evolved

into addressing athletic facilities, ushering in the era of modern

sports facilities in and around Lee County.

Roger L. Smith, a Lee County native, began his career as

a general contractor. After gaining invaluable knowledge in

the field, he joined the firm in 1972. Collaborations expanded

in the size, scope and complexity of its projects. The firm's

portfolio of medical clinical projects grew. It established

repeat clients specializing in oncology, radiology, family

practice, and the dental arts. Smith became a principal in

1987, which established the current name of the firm.

W. Jeffrey Mudgett joined the firm in 1992. His passion

increased the firm's efforts related to the environment and

historic preservation. The firm continues to be a leader in

sustainability, providing highly efficient, cost-effective,

award-winning facilities. These include the Archbold

Biological Station Lodge & Learning Center, which received

LEED Platinum, and Six Mile Cypress Slough Preserve

FORT MYERS: City of Palms—A Contemporary Portrait

144
---
Interpretative Center, the first LEED-certified building in

Lee County. Parker/Mudgett/Smith Architects includes two

staff members who have held the LEED AP BD+C credential

since its inception by the U.S. Green Building Council.

Mudgett became a principal in 2001, and a focus on

historic preservation grew that year when the firm began

its relationship with the Edison & Ford Winter Estates. The

firm provided the master site plan and architectural services

for the $10 million project that restored every portion of

the estates. The buildings were painstakingly dismantled,

restored or repaired, and reassembled to their original 1929

configuration with close considerations of sustainability and

conservation. Through the multiyear project, along with many

awards, the firm won the respect and confidence of the estates

staff and preservation organizations.

The firm's transition to a second generation of ownership

truly began when Mudgett became president. The transition

included an increase in the number and size of strategic

alliances with internationally acclaimed architectural design

firms. These collaborations have enabled Parker/Mudgett/Smith

Architects to be completely immersed in large-scale projects,

such as the redevelopment of downtown Fort Myers; JetBlue

Park, spring training home for the Boston Red Sox; and

Hammond Stadium at CenturyLink Park, spring training

home of the Minnesota Twins.

The core beliefs and philosophies of Parker/Mudgett/Smith

Architects thrive today. Sean P. Gilmore and Tyler F. Patak

became principals in 2016. Gilmore, who grew up in Lee

County, holds the LEED AP BD+C credential. Patak, a

Lee County resident since 1977, also is LEED AP BD+C

credentialed. This expansion has enabled the firm to address

security and safety realities of today's world. Patak was

one of the first twenty professionals nationwide to receive

the professional Crime Prevention Through Environmental

Design designation.

Parker's service on the Lee County Planning Commission

in the 1970s and the Conservation 20/20 environmental

movement established a corporate attitude of embracing

the community. This legacy is sustained through service on

a variety of committees, boards, and organizations.

The firm's business model ensures principal involvement

at every stage of each project. Bill Mudgett, Roger Smith,

Jeff Mudgett, Tyler Patak, and Sean Gilmore offer 150

years of combined experience in Southwest Florida. This

special combination of experience has served clients well

in every aspect of individual projects, from the original

conceptual design, through construction to completion.

The company's longevity and success are the result of

its traditional architectural expertise combined with a

committed respect for the environment and in-depth

knowledge of the region's construction industry.

Parker/Mudgett/Smith Architects, Inc., is located at

2136 McGregor Boulevard, Ft. Myers, Florida 33901.

Contact: (239) 332-1171 or PMSArch.com.

❖

Top, left: The Archbold Biological Station Lodge & Learning Center.

Top, right: Edison & Ford Winter Estates.

Below: JetBlue Park.

FORT MYERS PARTNERS

145
---
DEAN STEEL BUILDINGS,INC.

❖

Left to right, the Metallic Building Company representative,

Charles and Robert Dean sign the dealership contract in 1968.

Dean Steel Buildings, Inc., is the largest manufacturer of

metal building systems in Florida and continually works to

increase its market share by providing outstanding customer

service and experience in high-wind building designs.

With annual sales of $15 million and climbing, Dean

Steel Buildings, Inc., employs ninety to 100 people at

facilities in Fort Myers; Cedartown and Thomasville,

Georgia; and San José, Costa Rica. Principal customers are

contractors and metal building installers throughout the

Southeast United States and the Americas as well as direct

sales to government agencies and end-use customers.

The genesis for all this success goes back to Robert "Bob"

Dean, a welder and son of a welder, who owned and operated

a welding shop on Anderson Avenue in Fort Myers. In the

early 1950s, Bob began selling and erecting pre-engineered

metal buildings throughout the southern half of Florida,

including the Florida Keys. Originally called Bob Dean Steel

Buildings, Inc., the company purchased and installed metal

buildings manufactured by Stran-Steel Buildings.

His youngest son, Charles, a mechanical engineer, joined

his father in the business in 1967, earned a contractor's

license, and with his father continued the practice of selling

and erecting pre-engineered metal buildings. The company's

growth was not without obstacles. In the late 1960s, the

City of Fort Myers refused to issue permits for metal roofs

to be used on commercial buildings. Charles had to

convince the head city building officials that if metal

roofs were good enough for the early settlers—such as

Thomas Edison and Henry Ford—they should be good

enough for commercial buildings of that time.

By 1971, operating under the name Dean Steel Buildings,

Inc., the company purchased and installed metal buildings

made primarily by Metallic Building Company. The company

did so well that between 1970 and 1972, Dean Steel

Buildings, Inc., was the largest volume builder in the

country for Metallic Building Company. In 1973, Charles

purchased the business from his father and was immediately

confronted with a problem: A steel shortage forced Metallic

Building Company to cancel orders placed by the company

and other builders it worked with.

To his credit, Charles saw an opportunity rather than

just a problem and began traveling the state to meet

with builders and ask them if they would buy from him

if he started producing his own building line. The

overwhelmingly positive response he received put Dean

Steel Buildings in the manufacturing business for good.

In 1985 the State of Florida mandated that all Florida

counties develop a land-use plan that eventually required

every commercial building in the state to go through a long

permitting process. This occurred at the same time the economy

began slipping into a recession. To remain competitive,

a major modernization of equipment and processes began in

1988, including the use of computer-aided drafting and the

ability to electronically move information from drafting

directly to the manufacturing machines. All work was done

in-house, a process that continues to this day, allowing the

company to be self-sufficient and highly efficient in its

industry sector.

It was about this time that Charles' wife, Karen Dean,

daughters, Nanette Dean, Julie Dean Fisher, Jeanie Dean

Richards, Charlotte Dean Edwards, and sons-in-law Ken

Fisher and Jeff Richards joined the organization in various

roles. They joined Charles and Bob, who continued to work

in a support role until Bob's death in 2006.

In 1992, while the rest of the industry went to China or

India, the company started an engineering and drafting

office in San José, Costa Rica. In a time when the Internet

was still in its fledgling stage, Dean Steel Buildings was

transmitting digital drawings and material lists through

commercial servers in California.

FORT MYERS: City of Palms—A Contemporary Portrait

146
---
Today, Dean Steel Buildings, Inc., is a member of the Metal

Building Manufacturers Association, is certified ISO 9001,

and accredited to AC-472. Achieving ISO 9001 certification

has allowed the company to focus its operations on:

• Customer satisfaction, providing products with the highest

quality standards possible.

• Problem-solving techniques and continuous improvement

of systems, procedures, products, and people.

• Teamwork, continual training, and employee support.

With the company's innovative systems, advanced

computer-aided design and manufacturing technology,

there is no limit to its creativity. Dean Steel Buildings, Inc.,

has become the modern, economical form of construction

for practically every building application. From large

commercial and industrial facilities to neighborhood

shopping centers, office buildings, commercial banks, and

even private homes.

The company has four decades of hands-on experience in

every component and every system it produces. Its tradition

of quality and reliability, combined with design flexibility

and personalized service, allows Dean Steel

Buildings to enjoy an outstanding reputation

among architects and contractors.

The company believes competence can only

be achieved if the organization is capable

of managing the training needs of its

staff. The company makes every employee

directly involved in each step of the

process because it depends on its people,

their experience, abilities, and knowledge.

As for the future, Dean Steel Buildings,

Inc., plans to welcome the next generation

into this family owned business as Charles

and Karen's grandchildren join the company. Dean Steel

Buildings, Inc., will continue providing the quality service

and products its customers have come to expect while

evolving into a more customer-centered business using social

media and Internet advertising. As a result of these efforts

and more, Dean Steel Buildings, Inc., is positioned to grow

its business as the communities in which it operates grow.

❖

Top, left: McArthur Farms.

Top, right: Roi's Bar-B-Que Restaurant.

Above: Dollar General Store.

FORT MYERS PARTNERS

147
---
❖

HENDERSON, FRANKLIN,

STARNES & HOLT, P.A.

Top, left: James A. Franklin, Sr.

Top, right: Robert A. Henderson, Jr.

Law firms do not usually come to mind when one

recounts the history and growth of a city, county, or state,

but without good legal advice growth takes place slowly,

erratically, or not at all. Southwest Florida would not

have grown as it has in the past century had it not been

for Henderson, Franklin, Starnes & Holt, P.A., and the

efforts of its two founders and the many talented attorneys

who followed.

The partnership that began in 1924 when James A.

Franklin, Sr., moved to Fort Myers to join Robert A.

Henderson, Jr., to practice general law has grown into

Below: The Henderson, Franklin, Starnes & Holt Building.

one of the largest law firms between Tampa and Miami

with more than fifty attorneys practicing in a wide range

of legal specialties. The main office is set in a five-story

building in the heart of downtown Fort Myers, across

the street from the Lee County Justice Center and two

blocks from the federal courthouse. Two additional offices

are located on Sanibel Island and Bonita Springs.

The firm's original site was located on First Street

where the two founders played important roles in shaping

Fort Myers. Henderson helped organize the Caloosahatchee

River Bridge Company, started the Fort Myers Building &

Loan Company (later becoming First Federal Savings &

Loan), and helped bring in the Atlantic Coastline Railroad.

Franklin, Sr., served in both World Wars, in the state

senate for three terms, and as president of the Florida

Bar Association. He finished World War II as a lieutenant

colonel after helping establish the military government in

Frankfurt, Germany, and accepting the surrender of the

Nazis. For his wartime efforts, Franklin, Sr., received a

Bronze Star and four campaign ribbons.

In 1942, F. E. Starnes and Parker Holt joined as partners

and the firm took on the name it has maintained to

FORT MYERS: City of Palms—A Contemporary Portrait

148
---
this day. James A. Franklin, Jr., followed in his father's

footsteps by joining the firm in 1949, becoming its

sixth lawyer. Holt later became city attorney for

Fort Myers, which forced Franklin, Jr., into the role

of trial lawyer, where he earned the moniker of the

"Silver Fox."

In 1951 the firm moved to the second floor of the Lee

County Bank Building at the corner of Main and Hendry

Streets. Ten years later, a one-story office on Second Street

was built to house its nine attorneys and support staff.

A second story was added in 1964. During the 1970s,

the office expanded more than once, and as the decade

came to a close the firm boasted twenty attorneys.

By 1988 the firm had broken ground on a five-story

office building at 1715 Monroe Street adjacent to the

Second Street building. The firm had become full service

with sixteen legal practices and eventually grew to over

sixty attorneys. In 2014, Henderson, Franklin, Starnes, &

Holt celebrated its ninetieth anniversary.

Such longevity does not come easily or by accident.

It is the result of hard work, talented people, and a guiding

philosophy that serves clients and enhances the legal

professional. Henderson, Franklin, Starnes & Holt, P.A.,

holds itself to the highest standards of the profession.

Its goal is to continually demonstrate the firm's capabilities

and experience and to build and maintain trust with

its clients.

The firm continues to uphold the principles of its

founders and its commitment to the communities of

Southwest Florida. Franklin, Sr., understood the importance

of giving back to the community and worked to hire

associates who were "imbued with high ideals and filled with

the desire to be of service to the community."

Henderson Franklin follows that example to this day.

It believes that to be real leaders its commitment must

extend beyond work. Its attorneys have contributed to

the communities of Southwest Florida by serving as city

attorney, school board attorney, and as members of the

Florida Legislature. Many of its attorneys have provided

leadership to the Lee County Bar Association and the

Florida Bar, serving as presidents, committee and section

chairpersons, or both. Several of its attorneys have moved

on to become judges in various courts.

The firm takes pride in supporting charitable organizations

throughout the region and helping others achieve

success. Through the years, the firm and its staff have

served on the boards of many community and philanthropic

organizations, including the American Cancer Society,

American Heart Association, Big Brothers Big Sisters,

Children's Home Society, Community Cooperative, Foster

Care Council of Southwest Florida, Habitat for Humanity,

Harry Chapin Food Bank, Hope Hospice, Junior

Achievement, March of Dimes, PACE Center for Girls of

Lee County, Southwest Florida Community Foundation,

United Way, and many others. The firm also provides

scholarships to students at Florida Gulf Coast University,

Florida SouthWestern State College, and for the City of

Cape Coral Mayor's Scholarship Fund.

Henderson Franklin was named as an Industry

Appreciation Honoree as part of an annual statewide celebration

of business to raise public awareness of the positive

contributions that industry makes to local communities.

Its strict adherence to excellence, high ethical standards,

and serving the interests of clients is the cornerstone

of the firm's practice and will serve it well in the

future. Whether in the courtroom or the boardroom,

the depth of Henderson, Franklin, Starnes & Holt

sets it apart so clients can enjoy the peace of mind that

comes with experienced representation and exceptional

client service.

FORT MYERS PARTNERS

149
---
SOUTHWEST FLORIDA

INTERNATIONAL

AIRPORT

Southwest Florida International Airport (RSW), operated

by the Lee County Port Authority under the supervision of

the Lee County Board of Port Commissioners, was certified

for operation in May 1983 and is one of the newest airports

in the nation. Located in Fort Myers, RSW is the front door

to some of the most beautiful and unique destinations in

the world along Florida's Gulf Coast, including Sanibel,

Captiva, Naples, Marco Island and the Everglades.

After decades of record-breaking growth, a

new state-of-the-art terminal complex opened

in 2005, offering travelers a spacious, bright,

open terminal with 3 concourses and 28 gates,

with future expansion to 65 gates. RSW has

local and nationally branded food, beverage

and retail establishments, ample charging

stations, free Wi-Fi throughout the terminal

and an on-site rental car service center.

Recent projects completed to handle future

growth and enhance the customer experience

at RSW included the opening of the I-75

Airport Direct Connect roadway and the addition

of Airport Plaza, with a large cell phone

lot adjacent to a gas station and convenience

store. Long-term projects include widening

the airport's entrance road, as well as design and construction

of a new Air Traffic Control Tower and second runway.

RSW is a Class A Port of Entry with full-service customs

and immigration services and an international transit lounge.

The entire airport is designated as a Foreign Trade Zone, which

provides special customs procedures advantageous to U.S.

companies engaged in international trade-related activities.

RSW also has significant land opportunities at Skyplex,

which encompasses approximately 1,100 acres for commercial

development including non-aviation and aviation businesses.

Southwest Florida International Airport serves millions of

travelers annually and is in the top fifty U.S. airports for

passenger traffic. Major airlines serve RSW with nonstop

service throughout the U.S. and multiple international

flights to Canada and Germany, as well as convenient

connections worldwide.

Southwest Florida International Airport is a six-time

recipient of the Florida Department of Transportation's

(FDOT) Commercial Service Airport of the Year Award.

RSW also ranked highest in medium-sized airports for

traveler satisfaction in the 2015 J.D. Power North American

Airport Satisfaction Study. In addition, the airport has

been recognized by regional, state and national industry

organizations for its construction, environmental, safety and

communications projects.

A 2014 FDOT Economic Impact

Study shows RSW's total contribution

to the region's economy, through

direct and indirect sources, is $4.3

billion annually and 45,000 jobs.

Southwest Florida International

Airport is committed to providing

the finest amenities and best travel

experience to the millions of visitors

who use the airport each year.

FORT MYERS: City of Palms—A Contemporary Portrait

150
---
Located in the heart of Fort Myers, Page Field (FMY) is

Southwest Florida's premier business and general aviation

airport. The Lee County Port Authority, under the supervision

of the Lee County Board of Port Commissioners, operates

Page Field and provides services to corporate, commercial

and private aviators through their business arm and

fixed-base operator, Base Operations. As the reliever airport

for the region's commercial airport, Southwest Florida

International Airport (RSW), Page Field is vital to the

air transportation system in Southwest Florida. With an

average of more than 87,000 annual operations, Page Field

is a thriving community airport that is home to more than

320 privately operated aircraft, 189 T-hangars, 3 bulk

hangars and 16 on-field businesses. The total contribution

from airport operations to the region's economy is $109.3

million annually and more than 1,000 jobs, according to

the Florida Department of Transportation (FDOT) 2014

Economic Impact Study.

Page Field was certified for operation in 1927 and has a

rich military history. The airport was named after Captain

Channing Page, a local World War I fighter pilot and

the first Floridian to receive commission into the Army

Air Corps. During World War II, the airport was an

important bomber and advanced fighter training base. After

World War II, FMY served as Southwest Florida's primary

commercial service airport until RSW opened in 1983.

The new 22,613-square-foot Base Operations at Page

Field terminal opened in 2011. The facility was designed to

honor the past, while providing modern, state-of-the-art

amenities to support the future of business and general

aviation. The project also included easy access from

runways with a new parallel taxiway, a new 24,000-squarefoot

itinerant aircraft hangar and 600,000 square feet

of adjacent ramp space for business aircraft parking.

The terminal building has a spacious lobby featuring

World War II memorabilia, a weather briefing and flight

planning room, pilot lounge, recreation room, snack room,

pilot and gift shop, executive conference

room and seminar facilities. The awardwinning

team of experienced line service

agents and helpful customer service

representatives at Base Operations take

pride in providing expert care for pilots,

passengers and crews.

Page Field has been awarded the FDOT

General Aviation Airport of the Year three

times. In addition, Base Operations at

Page Field has been ranked among the top

twenty percent of all fixed-base operators

in the Americas by Aviation International

News for four consecutive years.

Page Field is proud of its storied past

and today continues an impressive legacy

of aviation services in world-class facilities.

PAGE FIELD

FORT MYERS PARTNERS

151
---
❖

GALLOWAY AUTO

Above: Lee Motors, c. 1927.

Below: Sam Galloway Ford located on Colonial Boulevard.

In 1927, Fort Myers, Florida, was recovering from a

devastating hurricane that had destroyed much of the

city the previous year. It was a time of great growth and

population boom. Gladiolus fields were abundant, farming

was the primary industry, Model T's ruled the road, and

Fort Myers' most famous residents were American icons

Thomas Edison, Henry Ford, and Harvey Firestone. With

the much-anticipated opening of Tamiami Trail connecting

Miami to Fort Myers, Miami residents and business owners,

Theresa and David Shackelford, purchased Tropical Motors

in downtown Fort Myers.

The business, which was

located on Main Street

where the Lee County

Justice Center now sits, was

renamed Lee Motors and

became the first Ford dealership

in Southwest Florida.

Lee Motors prospered

throughout much of its

history. Having survived the

Great Depression, the 1940s

brought growth and change when Sam Galloway, Sr.,

married Theresa and David Shackelford's daughter, Mary

Ann, in 1943. Sam and Mary Ann married in Miami and

immediately moved to Fort Myers where Sam accepted

operating control of the dealership.

In 1963, at the urging of the Ford Motor Company

Lee Motors changed its name to Sam Galloway Ford and

relocated from downtown Fort Myers to the corner of

U.S. 41 and Colonial Boulevard. Sam, Sr., and Mary Ann

remained owners of the dealership until 1970 when their

eldest child, Sam Galloway, Jr., purchased the dealership

at the age of twenty-six, becoming the youngest Ford

dealer in America. Although young, Sam, Jr., did not lack

experience. He grew up in the dealership and began

working immediately upon graduating from Fort Myers

Senior High School. He did everything from repairs to sales

and everything in between working hard and gaining

knowledge of the business as he went. Under Sam, Jr.'s

leadership, Sam Galloway Ford grew from a small motor

company to one the largest Ford dealerships in the United

States and one of the largest employers in Lee County.

By the mid-1990s, Lee County was in a major growth

phase. Sam, Jr., saw the growth moving south and took a

chance by purchasing a large parcel of land on the newly

constructed Boy Scout Drive. In 1996, just shy of the

organization's seventieth anniversary, Sam Galloway Ford

relocated from their iconic corner on U.S. 41 and Colonial

Boulevard to their current location at 1800 Boy Scout Drive.

There, the family tradition continues. Today, the fourth

generation, made up of Sam, Jr., and Kathy Galloway's

three children, Sam Galloway III, Katherine Galloway

Dougherty, and Robert Galloway are all partners in the

family of dealerships known as Galloway Auto.

Galloway Auto (as of 2016) is made up of Sam Galloway

Ford Lincoln, Coconut Point Ford, and Galloway Direct.

FORT MYERS: City of Palms—A Contemporary Portrait

152
---
❖

Left: Galloway Ford located at 1800 Boy Scout Drive in Fort Myers.

Below: Coconut Point Ford located at 22400 South Tamiami Trail in Estero.

The Galloway Auto Group prides itself on the longstanding

tradition of excellence that began with Lee Motors in 1927.

Sam Galloway Ford has been a member of the Ford Motor

Company's One Hundred Club since the award's inception.

The One Hundred Club recognizes the Top 100 dealers

in the country for distinguished sales performance each

year. Coconut Point Ford in Estero (as of 2016) has

won three consecutive President's Awards, Ford Motor

Company's highest honor for customer satisfaction. The

award that has the most meaning to the entire family

and organization, however, is Sam Galloway Ford's Salute

To Dealers Award. Ford Motor Company recognizes

select dealers with this award for their compassion and

dedication to causes that make a significant difference in

the lives of people in need. This recognition is especially

meaningful to the family because it recognizes their efforts

in philanthropy and community support, which has been

a hallmark of both the Galloway family and businesses

for four generations. Whether it is supporting the men and

women of law enforcement, feeding the homeless and

hungry, or providing shelter to abandoned and abused

animals, the Galloway family feels compelled to support

the community that they have belonged to for the better

part of a century. Often times, they are asked why they serve

their community so vigorously and their answer is simple:

"It's the right thing to do."

FORT MYERS PARTNERS

153
---
MARK LOREN DESIGNS, INC.

Mark Loren Designs, Inc., is not the type of place people

peruse for a few minutes on their way to some other place.

It is a destination in and of itself. It is a place where people

who enjoy jewelry, design, and art converge to revel in an

environment that combines the quirky with the elegant.

This award-winning jewelry and design gallery attracts

people with curious minds and an appreciation for the

aesthetic, whether it is at the 13351 McGregor Boulevard

goldsmithing studio/gallery or the Mercato store that opened

in Naples at 9118 Strada Place, Suite 8120, in 2012. At

Mark Loren Designs, a talented team of expert artisans works

to create treasured pieces that have earned them celebrity

status with both industry critics and jewelry mavens.

While other jewelers purchase parts and assemble them,

Loren and his staff combine traditional jewelry with antique

items they either find themselves or receive from customers.

What often follows is a dialogue between customer and

craftsman that results in a one-of-a-kind creation that often

become beloved heirlooms. Commitment to creativity and

design rather than an assembly-line attitude has led

Southwest Floridians to designate Mark Loren Designs as the

region's favorite custom jewelry designer. It also has earned

him and his staff a national reputation for offering unique

and rare gemstones, innovative diamond rings, exceptional

engagement and wedding bands, and items you will not find

in traditional jewelry stores.

Items such as fossils and minerals, antiquities, and Toe

Touches–Mark Loren Designs' exclusive custom-fit locking

gold and diamond toe rings. A visit to either of their stores

or their website at www.marklorendesigns.com will reveal a

menagerie of necklaces, bracelets, rings, and earrings, along

with pieces designed to appeal to men. Cufflinks, money

clips, and knives are among the items popular with men

along with less traditional pieces such as a pair of black jade

dice with opal inlay.

Words and phrases like "unique," "one-of-a-kind," and

"works of art" do not do justice to the riches you will find

here. A sampling of treasures reveals the following:

• Viking bronze fibula (900 A.D.) paired with a glittering,

pear-shaped rainbow titania agate druzy accented by

diamonds and a brilliant trillion-cut peridot.

• National award-winning 14-karat white-gold pendant set

with Bernd Munsteiner-cut bi-color tourmaline accented

with blue and white diamonds.

• 14-karat rose gold hammered cuff bracelet with an

ancient cross affixed with baguette diamonds.

• hand-fabricated 14-karat gold ring created with an English

gold sovereign minted in 1903 accenting a tension-set,

lab-grown oval purple sapphire.

• ancient Roman glass and pearl reverse wire earrings in

14-karat white gold set with ancient Roman glass segments

and black pearls, accented by Marquis-cut diamonds.

FORT MYERS: City of Palms—A Contemporary Portrait

154
---
Words cannot do justice to what you will see at Mark

Loren Designs, and space does not permit a full sampling of

the creations you will find there. A visit to one of his stores

or to his website is mandatory to completely appreciate the

variety, although it takes more than one visit to take it all in

and new additions guarantee that each visit will be unique.

Repeat customers make a pilgrimage to this mecca of

creativity on a regular basis. Through the years, this

Chicago native and his equally talented staff have won

an array of awards, including several Spectrum Awards

presented by the American Gem Trade Association. People

in the industry equate winning a Spectrum Award to

winning an Academy Award, and Loren's skills continue

to receive recognition. His work was included in

Masters: Gemstones—Major Works by Leading Jewelers by

Lark Books/Sterling Publishing Company, a publication

featuring major works by thirty-nine master artists.

Many of those who have discovered Mark Loren Designs

are affiliated with local nonprofit organizations, and thus

began a symbiotic relationship that endures decades after

it began. Loren began donating items to charity auctions,

and many of the people who attended these functions took

note and began turning to him for their jewelry needs.

He met many of his top clients through philanthropic

work. The benefit to donating to worthy causes comes

in helping nonprofits raise money to help people and

improve the quality of life in Southwest Florida while

sparking relationships with people with whom he already

has something in common.

Relationships are what keeps Mark Loren Designs

thriving. Personal relationships. Business relationships.

Relationships between like-minded craftsmen. Loren

estimates he knows sixty percent of the customers who

walk through his McGregor Boulevard doors, and he is

getting to know a growing percentage of the clientele who

regularly visit the Mercato in Naples. Open and friendly is

the atmosphere Loren promotes, giving customers another

reason to head to his stores excited and expectant.

You never know what you will find at Mark Loren Designs,

and this sense of discovery makes the journey all the

more exciting.

FORT MYERS PARTNERS

155
---
FLORIDA SOUTHWESTERN

STATE COLLEGE

❖

The Florida SouthWestern State Buccaneers at the City of Palms Park

playing a night baseball game.

Over fifty years ago, the region's first college was launched

in Fort Myers. The original buildings, constructed in the 1960s,

were surrounded by fields in an area that was considered

the outskirts of a bustling and growing city. Today, Florida

SouthWestern State College's (FSW) campus, called the

Thomas Edison Campus, continues to grow, not only in the

number of students, but also in the variety of offerings.

Florida SouthWestern State College is part of the economic

engine that not only provides employment for 1,400 full and

part-time professionals, but also impacts the lives of thousands

of students and their families. FSW has nearly 22,000 students

enrolled annually on campuses in Naples, Fort Myers, and

Punta Gorda, and a regional center in LaBelle. The college's

region covers 5,448 square miles, and in Lee County alone,

the overall economic impact is over $410.6M.

Students can earn professional certifications, associate

and bachelor degrees that are focused on workforce careers.

At FSW, learning has no boundaries. The college launched its

Center for International Education to enhance study abroad

opportunities, in addition to actively recruiting students

from this area and beyond. FSW also launched an office of

sponsored programs to encourage faculty and student research

opportunities. The college has faculty and students researching

subjects from AIDS and its interference with human DNA to

comparative politics that include trips to Managua, Nicaragua;

students also have experienced French immersion in Annecy,

France. Not only are students learning abroad, but also coming

to FSW from other countries.

FSW's degrees and certifications are focused on workforce

careers, from health professionals and teachers to business

specialists, technology experts, and public safety administrators.

The college has five schools: School of Health Professions;

School of Business & Technology; School of Education; School

of Pure & Applied Sciences; and School of Arts, Humanities and

Social Sciences. Many of the college's programs are nationally

ranked. Graduates of FSW's nationally accredited Associate

FORT MYERS: City of Palms—A Contemporary Portrait

156
---
of Science in Dental Hygiene program have had 100 percent

passing rates on the National Board Dental Hygiene

Examination for seventeen years. Graduates of FSW's

nationally accredited Associate of Science in Radiology

Technology have had 100 percent passing rates on the

certification examination for the past eight years. This passing

rate ranks the program in the top fifteen percent nationally.

FSW is the state leader in fiscal management for

CareerSource's FloridaFlex Grants. These grants are designed

to support customized training for new hires and new

businesses. In the past six years, FSW has managed $6.1M

to train 3,500 new hires.

The college is also known for its dedication to the arts. In

2016, FSW celebrated the thirtieth anniversary of the Barbara

B. Mann Performing Arts Hall, which is an integral part of the

college. It is here where residents and visitors alike can enjoy

a wide variety of world-class performances, from Broadway

Series shows ranging from Phantom of the Opera, Jersey Boys,

Dirty Dancing and 42nd Street, to The Sound of Music and

Camelot. Concerts and performances range from Jay Leno,

Jerry Seinfeld and Steve Martin to Harry Connick, Jr., Trisha

Yearwood, Diana Ross and Tony Bennett to Styx and

IL VOLVO. The Hall is also home to FSW's Jazz Ensemble,

Orchestra and Symphony.

The Bob Rauschenberg Gallery at FSW includes numerous

exhibits open to the public featuring artists of modern and

contemporary art in all mediums, including the works of the

late Rauschenberg and international names like Yoko Ono.

Within the Richard H. Rush Library, we also have the Rush

Collections Gallery on the ground floor. The Black Box

Theatre is home to FSW's stage productions.

FSW has long offered students an exceptional academic

experience and a vibrant student life with almost thirty clubs

plus intramural sports. To give students the complete college

experience, FSW has added intercollegiate athletics to its

offerings. The Buccaneers baseball and softball teams played

their first home games in recent times at City of Palms Park,

which is the former spring training site for the Boston Red

Sox. More recently, the Suncoast Credit Union Arena on the

Fort Myers campus opened to serve as home to the men's and

women's basketball teams and the women's volleyball team.

In addition to athletic events, the arena is home to community

events, concerts, and graduation ceremonies.

FSW has earned a Gold Tier ranking and scored perfectly

in the areas of job placement and completer entry-level wages

based on a recent state initiative to reward student outcomes

instead of enrollment. FSW officials believe the rating

validates what people in Southwest Florida have long known:

Florida SouthWest State College is a leader in public higher

education. The results highlight the talents of FSW's faculty

and staff, who encourage, inspire, and lead students to

achieve greatness in the classroom today and in the

community tomorrow.

❖

Left: The Florida SouthWestern State Jazz Ensemble on stage at the

Barbara B. Mann Performing Arts Hall.

Below: A Florida SouthWestern State student from the School of

Health Professions.

FORT MYERS PARTNERS

157
---
ALLIANCE FOR THE ARTS

Nestled on a ten-acre campus on historic McGregor

Boulevard on the western edge of Fort Myers is an organization

that has had a major impact on the culture of

Lee County for more than forty years. Its mission is to

connect people to the arts, and to each other. Its members,

volunteers and staff believe those kinds of connections

make people, and their community as a whole, stronger.

They believe there is a direct correlation between the

strength of the arts community and the overall quality of

life of everyone who lives in Southwest Florida.

Forty years ago, there was no unified arts community

or venue where it all came together. So in 1975, a group of

visionary leaders: Fort Myers Attorney Charles B. Edwards,

Architect William R. Frizzell, Edison State College President

David G. Robinson, Barbara B. Mann, Tom Walters and dance

instructor Jeanne Bochette, donated land, raised funds for

construction and organized an Alliance for the Arts, which

opened officially in a small farmhouse in December of 1978.

The farmhouse has been replaced by facilities that include

three art galleries; which account for sixteen exhibits and a

total of 325 exhibition days a year; a 150-seat theater which

presents more than 100 theatrical performances annually, and

an open-air amphitheater for concerts, plays and festivals.

From its eight classrooms, the Alliance offers classes, camps,

and other youth education programs that serve more than

2,500 kids annually. Studio courses, workshops and adult

education art classes that attract more than 1,000 students

annually. Classroom, conference, and studio space for area

artists, businesses, and other local organizations is available.

On the grounds outside, even folks not inclined toward the

arts enjoy fresh produce, gardening workshops, yoga, drum

circles, and musical performances at the Alliance's popular

GreenMarket, as well as outdoor family movie nights,

bluegrass concerts, and other large community festivals.

Not only is the Alliance a venue where amateur and professional

artists can obtain the instruction they need to hone

and develop their skills and talent, it is a place where new

generations of visual and performing artists, dancers, singers

FORT MYERS: City of Palms—A Contemporary Portrait

158
---
and musicians are inspired to pursue art-based careers. Since

1989, Open Doors program has provided students referred

by educational and social service organizations who demonstrate

artistic talent or interest the ability to take art classes

at no charge. The program gives students a venue to create

and learn about art, express themselves freely, develop

their creative potential, and exhibit their work all under the

creative eyes of artist mentors. Since 2002 the Alliance has

partnered with area art teachers to provide elementary, middle

and high school students the chance to show their work

in a month-long exhibit, giving them a chance to feel what it

is like to have their artwork displayed in a formal gallery.

The Alliance for the Arts entertains through concerts,

plays, festivals and more. It educates through year-round

classes for all ages and summer, winter and spring camps

for kids. It provides opportunities for artists to display their

work in three galleries, sell their work in its gift shop,

and teach classes and workshops. It provides a space for

organizations and clubs to get together for meetings and

events. It is a community center where people from all walks

of life come together to celebrate the arts.

The Alliance is not just a host and presenter. It is also a vocal

advocate for the importance of the arts beyond its campus. The

Alliance for the Arts is the county's state-designated Local Arts

Agency. Together with its more than 1,200 members and fifty

plus nonprofit arts partner organizations, the Alliance works to

make the region's economy broader and even stronger through

the arts, benefitting tourists, residents, and local businesses.

Thanks to data collected by a team of volunteers coordinated

by the Alliance, we know that in 2010—at the height

of the Great Recession—Lee County's nonprofit arts and

culture industry generated $68.3 million in economic activity,

supported 2,038 full-time equivalent jobs and produced $9.4

million in revenue for the City of Fort Myers, Lee County and

the State of Florida. The Americans for the Arts & Economic

Prosperity IV study found that Lee County's nonprofit arts

and culture organizations spent $23.2 million during fiscal

year 2010, which included wages and salaries, supplies,

contract services and related expenditures. Those dollars, in

turn, generated $21.3 million in household income for local

residents and $3.1 million in local and state government

revenues. In other words, the arts mean business!

The Alliance for the Arts is many things to many people.

It works daily through its energetic and dedicated staff,

volunteers and members to facilitate and nurture the

creation, development, promotion and education of arts and

culture in Lee County. They do it because it is their passion.

They love the arts. They love Lee County. They love helping

to create a community in which the arts and culture flourish.

And it shows.

FORT MYERS PARTNERS

159
---
❖

AIM ENGINEERING &

SURVEYING, INC.

Right: AIM surveying the original I-75 bridges over the Peace River in

Charlotte County.

Below: Larry Bennett and James D. Hull, founders of AIM Engineering

& Surveying, c. 1980.

AIM Engineering & Surveying, Inc., is synonymous with

Florida's growth, having started in 1980 as a partnership

between two professional engineers and land surveyors

licensed in the State of Florida. During the next threeplus

decades, AIM played a major role in everything from

surveying to flood control to construction management on

a wide range of projects integral to the state's growth.

AIM is now a full-service planning, engineering, surveying

and construction management company with multiple

locations throughout Florida. The company offers a wide

range of services to assist clients during all phases of project

delivery from planning through construction and backs

every project with experience, talented staff, and superior

service. AIM, which backs its work with a corporate commitment

to total quality management, has extensive experience

working with federal, state, and local agencies. It has a

successful history of providing innovative, cost-effective

projects and is committed to providing economical, highquality

services on every project.

AIM's mission is: "to cultivate a corporate culture and

entrepreneurial spirt to maximize the capabilities and opportunities

of our staff. Through this culture, AIM will develop

the premier professional staff to provide our clients with

the best value in the industry through innovation, superior

quality, and personalized customer service."

Some of AIM's specialties include:

• Planning

• Project Development & Environment

• Surveying and Mapping

• Transportation Design

• General Site Civil

• Water Resources (stormwater, water management, hydraulic

analysis and modeling)

• Marine and Coastal Engineering

• Environmental and Permitting

• Utility Design (potable water, sanitary sewer, reclaimed

water systems, pumping/lift stations)

• Subsurface Utility Engineering

• Construction Management and Inspection

• Public Outreach/Information

AIM did not begin with such a wide-ranging repertoire of

expertise. It began when Larry Bennet and James D. Hull,

who were both engineers and surveyors, founded the

company in 1980. Hull had retired after twenty years with

the Florida Department of Transportation (FDOT) after

helping build Interstate 75 in Southwest Florida in the

late 1970s. He retired as assistant resident engineer for

FDOT's Fort Myers Construction Office.

When AIM was founded, Fort Myers was not nearly as

developed as it is now, so the company started out doing a

lot of survey work. In 1986, AIM began doing construction

engineering and inspection (CEI) for FDOT—some of the

first consulting CEI work FDOT had ever done.

AIM soon worked on the construction of I-595 in Fort

Lauderdale—at the time, one of the largest infrastructure

projects in the country—for many years then expanded

around Florida doing FDOT work in CEI, surveying and

design. As water resource work increased in importance,

AIM expanded into that area, participating in projects

FORT MYERS: City of Palms—A Contemporary Portrait

160
---
designed to control water in the Everglades. Several flood

control projects such as canals, water levies, and water control

structures followed as flood control became increasingly

important with projects in the 1980s and 1990s. In recent

years, the purpose behind such work has been more about

maintaining the correct water levels and environmental

aspects of water control. AIM also worked for owners of

many citrus groves after the freeze in the 1980s.

Beginning in the late 1980s and into the 1990s, AIM experienced

rapid growth because of all the FDOT work triggered

by Florida's rapid growth. AIM participated in work on water

resources projects, such as flood control in the Caloosahatchee

Basin. It also was involved in the design and construction

of many major local roads and diversified to include more

services such as environmental consulting, planning, project

development and environment, subsurface utility engineering,

hydrographic marine geomatics, and aerial photogrammetric

capabilities. In an effort to further diversify, AIM also expanded

into construction management at risk.

AIM Construction Contracting, LLC, a sister company

to AIM Engineering & Surveying, Inc., is a relatively new

venture that brings AIM's expertise in civil engineering to

the construction management field, especially infrastructure

projects such as streets, street scraping, utility, roads,

bridges, and transportation. The company started as

the engineer/owner representatives due to its expertise in

roads, civil projects, and water resource projects. AIM later

expanded into working with traditional general contractors

that build vertical buildings.

AIM, originally headquartered in Lehigh Acres, moved to

downtown Fort Myers in 2017. It has technical offices in

Tampa and Bartow, a construction office in Fort Myers,

and project offices throughout Florida. Today, the company

is incorporated and is managed by President and Chief

Executive Officer Jerron K. Hull, PE, and one of the company's

two founders, Chairman of the Board James D. Hull, PE,

PLS, CGC. AIM employs more than 120 people and strives

to maintain a family atmosphere and a place that provides

great career opportunities.

As for the future, AIM will continue playing an important

role in Florida's growth by providing clients with the best

value in the industry while always striving to innovate,

enhance quality, and provide unsurpassed personalized

customer service.

❖

Top: One of AIM's early bridge surveying projects, c. 1980s.

Above: AIM founder James D. Hull (left) inspecting the Sunshine Skyway

Bridge in the early 1980s.

FORT MYERS PARTNERS

161
---
VICTORY LAYNE CHEVROLET

Victory Layne Chevrolet is more than just a clever

name. The Layne family, now in its second generation of

ownership, is committed to making the Chevrolet brand

and the Fort Myers dealership that bears its name the

number one car brand and dealership in the country.

A commitment to its product and the people and community

it serves permeates this Southwest Florida institution,

bringing "victory" to everyone involved.

President Jaime Layne and Manager Stacie Layne inherited

their love of Chevrolets and the car business in general from

their father, who worked at and later owned the dealership

for thirty-eight years. Ronnie Layne, a Tennessee native

who grew up in Flint, Michigan, was raised in a family that

had very little from a financial standpoint, and although

he never finished high school, he was a hard worker and

ambitious so when he stopped into what was then known

as Bill Branch Chevrolet in 1971 looking for a job, they

hired him.

He may not have had much education, but Ronnie

was smart and wise and that wisdom combined with hard

work allowed him to rise through the

ranks and eventually purchase the

dealership from Branch in 2004.

Fortunately for him, his youngest

daughter, Jaime, had fallen in love

with the car business from the first

time she went to work with him at

age six, and his oldest daughter, Stacie

followed suit.

It was a Saturday morning when

Jaime pleaded with her father, who at

that time worked as manager, to go

to work with him for the first time,

and what she saw left her awestruck.

Maybe it was the new car smell or

the gleaming paint on the brand new

cars, but regardless of the cause, Jaime

found herself enamored with the

business as well as the Chevy brand.

She likes to tell people she "grew up

Chevy" and that Chevy put food on her

table and clothes on her son, Austin's,

back. She is proud to be affiliated with

an iconic American car brand that has

shaped the American culture.

FORT MYERS: City of Palms—A Contemporary Portrait

162
---
The Chevrolet Motor Company, formed in 1911 in a

Flint, Michigan, garage, was a cooperative venture between

Belgian-born racecar driver Louis Chevrolet and William

Durant, an entrepreneur and founder of General Motors.

Despite early struggles with the first Chevrolet, Durant

instinctively knew that a high style yet affordable car could

challenge the domination of the utilitarian Ford Model T.

Within ten years of joining the General Motors family

in 1917, Chevy became the top-selling car brand in the

United States.

The Layne family's love for Chevy has not been

without its challenges. One of the greatest occurred in

2009 when General Motors filed for reorganization under

Chapter 11 of the United States Bankruptcy Code. As

part of that plan, approximately 1,100 of the company's

6,000 dealerships would have to be closed, and no

one knew for certain whether Victory Layne Chevrolet

would survive.

By that time, Jaime had taken over as president from

her father, who passed away that year, and with the

economy on the skids, General Motors on the verge

of collapse, and the American automobile industry in

peril, Jaime found herself in a tough predicament.

Employees fretted over whether they would have a

job after the closings were announced. Jaime felt as

powerless as anyone in regard to the future, but she

knew that she and her co-workers had done everything

Chevrolet had ever asked them to do and that their sales

were good.

Employees spent the fateful day of the announcements

by keeping an eye out for the Fed-Ex man, whom everyone

thought would deliver the bad news. The day ticked

past like a watch running in slow motion, and by the time

the day ended the Fed-Ex man had not appeared and

Victory Layne Chevrolet had survived.

Today, Victory Layne Chevrolet is as strong as it has ever

been, and the products Chevrolet produces keeps getting

better and better. The dealership's passion for the Chevy line

is renewed whenever the new cars are introduced. Camaros,

Corvettes, and Silverados, just to name a few, bring as much

awe to the people who sell them as they do the people who

buy them.

Keeping the customer experience as friendly and comfortable

as possible is one of the main reasons Victory Layne

Chevrolet remodeled its dealership at 3980 Fowler Street in

2013. The $1.8 million renovation, which allows customers

to browse the selection of new and used cars and trucks

in comfort, is part of a nationwide General Motors plan

for its dealerships called Essential Brand Elements.

Customers have no

problem finding Victory

Layne Chevrolet. They

just look for the 1,800

square foot U.S. flag

that flies atop a 130-

foot pole, a beacon that

has guided customers

to this family-owned

dealership since 1984.

The Layne family wants

people to feel like part

of the Victory Layne

Chevrolet family when

they walk in the door, and by investing in an upgraded

facility they are sending the message that they not only

value their customers but are here to stay. They love the

Fort Myers, Lee County, and Southwest Florida communities

and hope to continue their successful relationship for

many years to come. Victory Layne Chevrolet will continue

to be the region's GM award-winning Chevrolet dealer.

❖

Above: Customers look for the 1,800 square foot U.S. flag that waves above

the Victory Layne Chevrolet dealership.

Left: The Layne family.

FORT MYERS PARTNERS

163
---
❖

BARRACO AND

ASSOCIATES, INC.

Above: Left to right, Tom Holmlund and Carl Barraco, P.E. on their first

business day.

Barraco and Associates, Inc. (BAI), was established in

1998 when three of the firm's principals, who had worked

together at the time for eleven years in Southwest Florida,

decided to combine their expertise to start their own

engineering firm featuring a controlled and cohesive work

team built on trust and loyalty.

This history of shared work experience of Carl Barraco,

P.E., Tom Holmlund, and Chris Van Buskirk provided a

solid foundation on which to build the firm and quickly

established BAI as a regional leader of professional consulting

firms in Southwest Florida. The three original founders

had worked together on the design and construction of

the six-lanes of Daniels Parkway from U.S. 41 to I-75 in

the early 1990s, while Barraco, Van Buskirk, and Amy

Fontaine, one of the firm's three original employees, had

worked together on construction of the Midpoint Bridge

Corridor, connecting the City of Cape Coral to the City

of Fort Myers. Both projects became—at the time of their

completion—the largest capital improvement project in

Lee County history.

The three founders of

the firm credit several

factors to the success

of the firm but with an

emphasis on a few key

people including their

wives, Sandy Barraco,

Doreen VanBuskirk and

Toni Holmlund and

Amy Fontaine (office

administrator) and Scott

Wheeler (vice-president

surveying), who all

played a key role in the

company's success.

The BAI team consists of professional engineers, an

AICP planner, professional surveyors, and LEED-accredited

professionals. Professional services include civil engineering,

land surveying, land planning, construction engineering

inspection, and sustainable design for public and

private clients.

Barraco and Associates, Inc., is a professional and innovative

team that continually strives to exceed expectations

in service, quality, and integrity. Since its inception, BAI has

been involved in the planning, design and surveying of

some of the finest projects in Southwest Florida. BAI staff

works in partnership with public and private sector clients

locally and regionally to help plan and design new developments

and infrastructure for the ever-growing Southwest

Florida community.

BAI offers clients an integrated service approach with a

commitment to value and performance. Policy frameworks,

regulatory requirements, public improvements, and the

face of urban and suburban development are constantly

changing. BAI helps their clients manage change in ways

that transform communities and create opportunity.

BAI's mission is to assist clients achieving their project

objectives by providing highly responsive, technically

sound, cost-effective services. Barraco and Associates'

sincere commitment to consistently providing clients

outstanding customer service is tied directly to its attention

to detail and dedication to projects and clients.

In the company's first eighteen years, BAI won

several prestigious awards for its work, including: 2014

Lee Building Industry Association Summit Award for

"Best Project for The Isles of Collier Preserve;" 2013

Lee Building Industry Association Summit Award for "Civil

Engineering Firm of the Year;" 2013 Lee Building Industry

Association Summit Award for "Project Infrastructure

for Bonita Isles;" First Place from the Citizens Panel for

FORT MYERS: City of Palms—A Contemporary Portrait

164
---
"Lee County Smart Growth Transit-Oriented Design;"

and Second Place from the committee for "Lee County

Smart Growth Transit-Oriented Design." In recognition of

their service and contributions to the Southwest Florida

community, BAI has received Platinum and/or Gold

Awards from the United Way of Lee County repeatedly

since 2000, as well as a Community Service Award from

the City of Fort Myers for participation in the city's

Adopt-A-Canal program.

The first BAI office at 2121 West First Street in Fort

Myers measured less than 900 square feet. In January

2002 construction on the current site at 2271 McGregor

Boulevard was completed. Due to its success, the firm

initiated a significant expansion that included a second

floor and additional first-floor office space. The expansion

was completed in December 2007 and is now the working

home of thirty-nine Southwest Florida residents. This is

BAI's only office and is conveniently located in the heart

of Fort Myers, blocks from the City of Fort Myers City

Hall and Lee County Public Works building, as well as

other federal, state and local review agencies.

Members of the BAI management team and staff

members alike have served on numerous community

and foundation boards of directors including the boards

of Lee Health Resources, HealthPark Cypress Cove,

Habitat for Humanity, Tiger Bay Club, United Way,

Lee County's Conservation 20/20 Advisory Committee,

Florida Gulf Coast University (FGCU), Whitaker College of

Engineering Advisory Committee, and Florida Engineering

Society (FES) president; Fontaine serves on the board of

directors of the United Way; Jennifer Sapen, AICP,

was appointed to the Lee County Land Development

Code Advisory Committee and is a member of the Urban

Land Institute and the Women's Leadership Initiative;

Wes Kayne, P.E., served as an officer of FES, rising through

the ranks to become president at the age of twenty-nine,

as well as holding a position on the FGCU Department of

Environmental and Civil Engineering Advisory Committee;

and Carl Barraco, Jr., P.E., served on the City of Fort Myers'

Historical Preservation Committee, the board of directors

of the Lee Building Industry Association (BIA) and FGCU's

Lutgert College of Business Advisory Committee.

BAI's philosophy of giving back to the community in

which its employees live and work is evidenced by its

involvement in various charitable organizations and

community projects. Among other things, BAI has

volunteered to clean Billy's Creek on a periodic basis

through the City of Fort Myers Adopt-A-Canal program,

donated to the United Way via employee payroll contributions

and corporate contributions since the firm's inception

in 1998, employees volunteered their time and manpower

building Habitat for Humanity homes, dispatched a team

of volunteers to Charlotte County to help residents clear

debris from Hurricane Charley in August 2004, as well as

donated to food drives to stock food pantries and participated

in food packaging events sponsored by the United Way.

These events provide healthy pre-packaged meals to

families in need.

BAI employees also have participated in meal preparation

events at the Ronald McDonald House at HealthPark

Florida so families staying in the facility would have

prepared meals when they return to the house after

visiting their children in the hospital, provided Christmas

stockings to less fortunate children in the community, and

sponsored and coached numerous school and community

athletic teams.

BAI's community commitment is an extension of the company's

values. Its success and reputation will continue to be

maintained through exceptional client and employee relationships

in an enjoyable, hard-working, family atmosphere.

❖

Barraco and Associates, Inc., Habitat for Humanity crew, 2005.

FORT MYERS PARTNERS

165
---
T3 COMMUNICATIONS, INC.

T3 Communications, Inc., was founded to meet the

needs of a growing business community, enabling them to

communicate and compete in the global market from the

local level. In 2002, a group of local business people came

together and discussed what their telecommunications

companies were providing them compared with what they,

as business people, wanted and needed.

The founders of T3 and a group of local investors committed

themselves to the project of creating a successful

telecommunications company and they soon succeeded in

their endeavor. T3 is built on the principles of providing

the best communications service and customer service,

all the while bringing the newest advancements in telecommunication

technologies to Southwest Florida. Over

the years, the company has successfully weathered the

economic storms to become the go-to telecommunications

company for local businesses. T3 has established itself as

a leader by employing people who understand their client's

needs for personal attention while also providing them

world-class global communications services.

T3's current Board of Directors is made up of Chairman of

the Board Steven C. Jones; the current City of Fort Myers

Mayor is Vice Chairman Randall P. Henderson, Jr.; Director

Stuart P. Conrad; Director Tad M. Yeatter; and President and

CEO Josh P. Reel. Josh, who has over twenty-five years of

telecommunications industry experience and has led several

telecom companies to market leadership in the communities

that they serve, joined the company in 2011.

T3's focus since its inception has been to meet the needs

of Southwest Florida businesses and exceed the expectations

of our clients with a robust selection of communications and

IT solutions. Backed by cutting-edge technology, superior

reliability, and unrivaled support, T3 Communications is the

answer for voice and data solutions. Some of the current

offerings from T3 Communications are:

Cloud-Based Hosted PBX—Hosted Voice is a cloud-based

phone system that makes your employees more productive

and your business run smoother.

Integrated Voice and Data—Business Class integrated voice

and data solutions are flexible and affordable for any business.

Broadband and Metro Ethernet—T3 employs multiple data

technology options including Fiber, Fixed Wireless, T1, and

DSL depending on specific speed and capacity needs and goals.

Colocation and Disaster Recovery—T3's data centers are

specifically constructed as mission critical facilities with a

combined 85,000 square feet of flexible colocation space at

either of our Fort Myers or Orlando locations. With the

annual threat of hurricanes, offsite backup facilities are a

necessity for local businesses to keep their information safe

from destruction.

Secureboost—Secureboost equipment brings speed, reliability,

and a feeling of security to your business Internet

because it combines multiple Internet connections to

failover to if one becomes unreliable.

Accession Communicator Application—Allows you to

receive calls from an app on your smartphone that will

seamlessly connect customers calling your desk phone.

Since its start in 2002, it has always been the core value

of T3 to give back to the local community. They provide

for nonprofit organizations in Southwest Florida in many

diverse ways that range from donating funds and/or

volunteering, to sponsoring local events, to providing communications

services to them as a customer. T3 recognizes

the only way to ensure growth in your local economy is to

actively support each other. We would like to mention some

of the organizations T3 has supported over the years and

tell a few of their stories:

2016: 239-333-GIVE has found a new home—Southwest

Florida Community Foundation reached out to T3

Communications to see if they could provide them a local

FORT MYERS: City of Palms—A Contemporary Portrait

166
---
number that spelled out "GIVE." The only number they

had fitting the criteria was being used by another T3 customer,

Healthcare Coding and Consulting Services. T3

contacted HCCS and they quickly and graciously agreed

to give "GIVE" the number to Southwest Florida Community

Foundation. T3 then assigned 239-333-GIVE (4483)

to them and they use this easily remembered number

when reaching out to the community and offering their

support. This was a great example of local businesses

working together to achieve a greater good!

2016: 2-1-1 is the story that needs to be told—The United

Way 2-1-1 service exists to help people navigate their way

through the maze of human and social service agencies by

providing the most adequate resources for the client's situation.

This process promotes prevention and self-sufficiency

by giving the clients easy access to services they normally

would not be aware of. T3 Communications recently provided

a new communications system to help United Way of Lee,

Hendry, and Glades Counties run their 2-1-1 service more

efficiently. Through this process, T3 learned a lot about

United Way's 2-1-1 and the good that it provides in their

community. It is not meant to be a secret, so please spread

the word! Everyone knows someone who needs help.

2015: When there is a need, you help—Last year T3

made the decision to forgo sending holiday gifts of appreciation

to their customers. T3 instead decided to dedicate that

money and give it to a local charity. It was not easy selecting

which charity to give to because there are many quality local

charites that need community support. The one that came

to the forefront was Children's Advocacy of SWFL and their

facility in Fort Myers. T3 was incredibly impressed with the

services they provide and the dedication of the staff who

work there, because of this they decided to help them reach

their goal in 2015 of purchasing a van that was desperately

needed. T3 also donated childrens' clothing in various sizes

for their clothes closet, which gets used when children

are displaced.

Other notable T3 contributions to the local economy:

hosting blood drives through Lee Memorial Health System;

volunteering to serve food to families at the Ronald

McDonald House; hosting a Toys-for-Tots donation center,

hosting a supply drive for the military; volunteering to sort

donated food for the Harry Chapin Food Drive; hosting

water stations at the Hooters Half-Marathon; volunteering

assistance in building a Habitat for Humanity home;

participating in the Susan G. Komen Stiletto Sprint to benefit

Garden of Hope and Courage; and several sponsorship

and/or monetary donations provided to other nonprofits.

Growth does not occur by chance, it is usually the result

of a vision and the efforts of diverse entities working together

to join forces and bring their unique abilities and skills to

succeed at a common goal. As T3 Communications continues

to grow and progress, they intend to continue supporting

their local community to help it grow and progress. They

know it is their role to lend support to the local economy,

businesses, and people that reside in their own backyard.

❖

Above: Vice Chairman of T3 Communications, Fort Myers' Mayor

Randall P. Henderson, Jr., at his desk, c. 2003.

FORT MYERS PARTNERS

167
---
❖

HOPE HEALTHCARE

Right: Samira honors military veteran Joseph Pre-Genzer for his service to

our country.

Below: Lush landscaping surrounds the Hope Hospice Houses, located in

Bonita Springs, Cape Coral, Fort Myers, and Lehigh Acres.

Through the passion and commitment of Fort Myers

volunteers, H.O.P.E. Hospice—Hospice Oriented Program

for Everyone—began providing care in 1979. Their goal was

to help people remain at home during their last chapter of

life. In these early years, community donations ensured the

volunteer nurse had the gasoline needed to visit patients

throughout the city.

In 1984 the State of Florida provided licensure to Hope

Hospice, and the organization's twenty-nine volunteers

welcomed nurses, aides, social workers, clergy and a physician.

By 1989, Hope had grown to care for more than 100 individuals

each day throughout Fort Myers. In 1991 the organization

welcomed Samira K. Beckwith as president and CEO.

"People asked me, 'Why don't you change the name?

Don't you provide care when it's time to give up hope?'" said

Beckwith. "But I always liked the name because no matter

what phase of life we are in, there is always hope. It's just

what we hope for that changes."

She added, "For those who need our care, what they hope

for most is relief. They hope for respite from pain or to breathe

with ease. They hope to enjoy a meal again or have the energy

to laugh with family and friends. What people want most when

they come to Hope is an improved quality of life for the duration

of the time they have left—however long that may be."

In addition to providing exceptional end-of-life care,

dignity, and quality of life, Beckwith's vision for Hope

included the expansion of services for the elderly and for

children. With the creation of these new services, Hope

Hospice became Hope Healthcare.

Today, Hope Healthcare serves more than 2,000 individuals

and their families every day. The organization provides

programs and services throughout seven counties in

Southwest Florida. This comprehensive model of care has

garnered the attention of healthcare agencies, policy makers,

and associations around the country.

The expansion of Hope's services created a continuum of

person-centered care, enabling adults to live comfortably

through their later years and into their final chapter of life. The

organization has given hope to children coping with complex

medical issues, serious illness, and grief. With Hope's support,

isolated seniors can look forward to warm meals delivered to

their home, caregivers who deliver medicine and monitor

their health, and aides who provide housekeeping too.

"We can still give people things to hope for. If not a cure,

then quality days, quality experiences, quality conversations

with their loved ones,' said Beckwith.

As healthcare continues to evolve in the future, the people

of Southwest Florida can rest assured that Beckwith and the

entire Hope Healthcare team will continue providing their

unique brand of comforting, compassionate care. With the

full support of this generous community, Hope can fulfill

their mission of helping everyone with serious illness for

decades to come.

FORT MYERS: City of Palms—A Contemporary Portrait

168
---
Programs and Services of Hope Healthcare include:

• Hope Hospice—allows everyone to live the last phase of

their life with dignity and in comfort, regardless of their

financial circumstances.

• Hope Palliative Care—provides help for those with

serious illness as they navigate the complexities of care

and treatment. Support is available from the time of

diagnosis through the entire course of illness.

• Hope Kids Care—offers comforting care for children

with complex medical conditions and their families.

We also provide Rainbow Trails Camp to help children

cope with grief and loss.

• Hope at Home—extends personalized services and

assistance with daily activities for those who require

home healthcare or private duty nursing.

• Hope PACE ® —a Program of All-Inclusive Care for the

Elderly, includes medical and dental care, therapies, personal

care, medications, medical supplies, and essential

transportation. With our help, participants can live safely

in their own homes.

• Hope Connections—provides practical support to the

seniors of Hendry and Glades Counties through home

delivered meals, social centers, transportation, housekeeping,

and personal care.

• Hope Parkinson Program—coordinates events, classes,

and social opportunities for individuals with Parkinson's

disease and their care partners. We help people experience

the best possible quality of life while coping with the

effects of this chronic illness.

• Hope Healing Hearts—supports individuals with grief

issues or emotions related to experiences of change or

loss. Professional bereavement counselors provide the

tools needed to address difficult feelings and to continue

along the path of healing.

• Hope VALOR—honors veterans for their service to our

country with a personalized recognition ceremony. By

recognizing the unique needs of America's veterans, Hope

can guide them toward a more peaceful ending.

• Hope Pet Program—allows furry friends to provide

unconditional love, companionship, and comfort.

• Hopeful Wishes—make life extra special at a unique

moment. By granting heartfelt wishes, we can do

more than provide medications and therapies—we can

fulfill dreams.

• Hope Expressive Therapies—provide an outlet for relaxation

and stress relief. Through art, music, or massage

therapy, individuals may gain insight into emotions,

establish new pathways for healing, and experience peace

of mind.

Additional information is available at www.hopehcs.org.

❖

Above: Hope volunteers Pam Hoctel and Truffles visit with Louise Cottrell to

share stories and smiles.

Left: Gavin Lowrey benefits from the Hope Kids Care program, designed to

improve quality of life for children facing serious illness.

FORT MYERS PARTNERS

169
---
FORT MYERS

Recently, Fort Myers ranked No. 1, out of the top 20

places people are moving to in the United States. Most

likely, the reason is because it offers all the amenities

of a twenty-first century urban city, combined with the

quaintness and charm that comes from preserving its

historic architecture.

This city of more than 75,000 is nestled alongside the

Caloosahatchee River in Southwest Florida. It has become

a must-see Florida destination, with a variety of places

to shop, dine, have cocktails, and be entertained.

Known as the "City of Palms" for the tropical palm trees

lining its main streets, Fort Myers features an attractive,

lively downtown, with highly-rated accommodations, oneof-a-kind

boutiques, outdoor cafes and themed restaurants.

Throughout the city, there are museums, parades, festivals,

theaters, music, parks, historical sites, and art galleries,

providing an array of activities to enjoy throughout the

year. Its major waterways wind their way to the Gulf of

Mexico, offering plenty of recreational opportunities for

boaters, kayakers, sailors and anglers.

Fort Myers is the government center of Lee County.

It owes much of its notoriety to two American legends,

Thomas Edison and Henry Ford, who were attracted to the

warm climate and natural beauty. Both resided in winter

homes, side-by-side, in Fort Myers where Edison worked

on many of his important inventions.

Fort Myers is now the home of the Edison & Ford Winter

Estates, one of the top ten most visited historical homes

in the United States. The grounds feature award-winning

exhibits, including Edison's original inventions and Ford's

antique cars, like the Model T.

Prior to Edison and Ford's arrival, Fort Myers enjoyed a

long, storied history, beginning with Ponce de León, who

explored the area during the 1500s. He preceded Spanish

and Cuban settlers who were responsible for creating

temporary fishing and farming camps along the coast.

Fort Myers was constructed on the site of the Seminole War

post Fort Harvie, which was built after Florida became a

U.S. territory in 1821. In the mid 1800s, the site was

renamed Fort Myers, after Colonel Abraham Myers.

Following the Civil War, the fort was deactivated, and its

officer's quarters became some of the first houses of the

Fort Myers settlement. By 1885, Fort Myers had grown

into one of the largest Florida towns on the Gulf Coast, with

cattle ranching and logging as the area's primary industries.

In 1886, it became incorporated as a city.

Fort Myers continued to prosper until the Great

Depression. It was later revived when U.S. military air

bases were opened in the 1940s, bringing in thousands of

military personnel, many who took up permanent residence

after completing their service.

FORT MYERS: City of Palms—A Contemporary Portrait

170
---
Today, tourism is a significant economic engine for

Fort Myers, thanks to its year-round tropical climate,

well-maintained historical landmarks and easily navigable

rivers that serve as a gateway to the world-renowned beaches

on Fort Myers Beach and Sanibel and Captiva islands.

Southwest Florida International Airport has fourteen airline

partners with non-stop service to forty-five cities throughout

the United States, Canada and Germany.

Fort Myers has the youngest population in Lee County

with a median age of thirty-two. Married couples slightly

outnumber singles, and more than twenty percent of

its residents have incomes of $75,000 a year or greater.

Thanks to the city's commitment to making Fort Myers

a great place to live and visit, the City of Palms boasts

one of the most vibrant, cultural atmospheres on the

Gulf Coast. The Barbara B. Mann Performing Arts

Hall, Broadway Palm Dinner Theatre, and the Florida

Repertory Theatre are world-class venues for plays,

musicals and concerts.

With plenty of sunshine, warm temperatures and natural

beauty, Fort Myers has attracted the attention of residents

and visitors interested in active outdoor activities. City

parks and attractions, like nature centers and butterfly

gardens, along with ample public boat ramps and marinas,

provide residents and visitors ways to enjoy quality

family time. Historic downtown tours, museums for

children and history buffs, cultural events, dining and

shopping are among the top reasons people explore the

Fort Myers downtown River District. Annual events like

the Edison Festival of Light, honoring Thomas Edison, and

major sports tournaments, bring people to Fort Myers from

all over the country.

Millions of visitors come to Fort Myers every year.

Like so many, some decide to stay and make Fort Myers

their home. That is because it is a great place to play, live,

work, go to school, raise a family, or retire.

If you would like more information about Fort Myers,

go to www.cityftmyers.com.

❖

Opposite, top: Historic photograph of Thomas Edison (left) and Henry Ford.

PHOTOGRAPH COURTESY OF THE EDISON & FORD WINTER ESTATES.

Opposite, bottom: Fort Myers Water Basin.

Left: Fort Myers Golf Course at Fort Myers Country Club.

Right: Downtown Fort Myers high rises.

FORT MYERS PARTNERS

171
---
JOHNSON ENGINEERING, INC.

❖

Right: Carl E. Johnson at the Carl E. Johnson Recreational Area in Lovers

Key State Park.

Below: Johnson Engineering Presidents, from left to right, Archie Grant,

Forrest Banks, Steven Morrison and Lonnie Howard.

The success that Johnson Engineering, Inc., has enjoyed in

recent decades did not come easily or quickly. Like most

prosperous businesses, it developed over time, the product of

hard work, good people, and a dedication to excellence. Today,

this civil engineering firm is a cohesive team of professionals

helping guide city, county, and state government as well as private

companies through the challenges that accompany growth.

Johnson Engineering has participated in an extensive list

of well-known Florida roads, shopping centers, schools,

hospitals, residential communities, resorts, and commercial

developments. Well-known projects such as the City of Fort

Myers Downtown Basin, Fort Myers Country Club, Southwest

Florida International Airport (RSW), Hammond Stadium,

Jet Blue Park, Gulf Coast Town Center, and Lee Memorial

HealthPark are a few products of Johnson Engineering's local

expertise in Lee County.

No one could have predicted such success when Clewiston

surveyor, Carl E. Johnson, purchased the assets of a local

surveying company in 1946 and began working out of a small

office on Main Street in Fort Myers. Johnson spent the next two

decades surveying Florida lands and in the late 1960s came up

with the idea of connecting the barrier islands with a causeway

from the south end of Fort Myers Beach to Bonita Beach.

Johnson helped convince several large landowners to donate

land for the project and surveyed and designed the road, and

today his legacy lives on through Lovers Key Carl E. Johnson

State Park, a popular tourist attraction that each year attracts

thousands of nature lovers and recreational enthusiasts. Each

year since 2003, Johnson Engineering employees volunteer to

help the state park with a variety of needed park repairs.

Throughout its history, Johnson Engineering has benefitted

from great leadership from the president's position on down,

and the company's success combined with an enjoyable

work environment has resulted in impressive longevity

among its employees. The company employs second- and

third-generation employees. The average employee tenure has

remained consistently above 10 years, and many have been

with the company for 20 years, 30 years, or more.

The company has known only five presidents, Carl E.

Johnson (1946-1968), Archie T. Grant (1968-1979), Forrest

H. Banks (1979-1997), Steven K. Morrison (1997-2012), and

Lonnie V. Howard, who became president in 2012. Each

contributed significantly to the company's development, but

much credit for Johnson Engineering's success goes to Grant,

who put the company on sound financial footing and

established it as the "go-to" firm for surface-water management.

Through the years, the company has added new areas to

its expertise and today is home to professional engineers,

ecologists, scientists, geologists, surveyors and mappers,

certified land planners and landscape architects, who

continue to contribute to Florida's growth and stability.

Johnson Engineering's present and future generations of

professionals will continue to honor the company's legacy

while expanding into new specialties and fields of study as

it continues to shape Florida's communities.

FORT MYERS: City of Palms—A Contemporary Portrait

172
---
Ad-Ler Roofing, Inc., was built on generations of roofing

experience in Southwest Florida. Family owned and operated,

the company is a leader in the roofing industry. Ad-Ler

Roofing not only follows industry best practices, but in many

cases, created them. The Curriers represent the history of the

making of concrete roof tile in Fort Myers since the 1960s!

Eddie Currier III, president of Ad-Ler Roofing, learned the

business from the bottom up. He worked in his family's

business throughout his teen years and earned his state

certified roofing license in 1982. He then went on to serve

as a director on the board of the roofing association. He has

also assisted with writing some of the roofing codes that

govern the way roofs are now installed.

In 1980, Eddie married his sweetheart, Ann, and they

had two sons. Eddie and Ann started Ad-Ler Roofing, Inc., in

October 1988, naming the company after their sons—Adam

and Tyler. They began the business in a bedroom in their

home, with Ann handling the administrative side of the

business and Eddie doing the actual repairs. In 2001, Adam

continued the family tradition by joining the business. Their

youngest son, Tyler, followed in 2008. Adam, and his wife,

Krista, have started the fourth generation of roofers—Bailey

and Dace. What started as a mom and pop company has

grown into one of the largest residential roofing companies

on the West Coast of Florida. It goes to show that the

American Dream of building a successful business is still

alive and well.

Eddie and Adam have made it a priority to surround

themselves with an incredibly competent staff. Many former

employees learned the trade with Ad-Ler and have gone on

to open their own businesses.

Ad-Ler also has several employees who have been with

them since they began their careers. Eddie has been the only

boss they have ever known.

Eddie, Ann, Adam and Tyler believe family is important.

They believe in taking care of their employees and giving back

to the community. Several years ago they started purchasing

school supplies for their employees' children, and now this

is a yearly tradition. Ad-Ler also recently partnered with the

Affordable Homeownership Foundation to donate materials

and labor to reroof the houses of two veterans who were in

danger of losing their homes.

Ad-Ler Roofing was initially focused on repairs,

maintenance, and reroofs. The company continues to

grow and prosper and has now expanded into custom and

tract new construction homes with tile or metal roofs.

Geographically, the company has grown from one location

in Fort Myers to three locations servicing from Tampa to

Marco Island and east to Orlando. The future plans are to

add a Tampa location and create a specialty design center.

The focus now is "Building the future, restoring the past."

We want to thank SWFL for all of the business then and

now that has made Ad-Ler a success in the roofing industry!

AD-LER ROOFING, INC.

FORT MYERS PARTNERS

173
---
BROADWAY PALM

DINNER THEATRE

Broadway Palm Dinner Theatre is Southwest Florida's

most entertaining destination with two performance venues,

an art gallery, a gift shop, and a bar. Since opening its doors

in October 1993, this 36,000 square foot facility—renovated

from a former Publix Supermarket—has hosted performances

that entertained more than 3.3 million people.

An estimated 1,000 motor coaches visit Broadway Palm

each year with half originating from outside Lee County.

More than one-third of these visitors include an overnight

stay, making Broadway Palm one of Fort Myers' top tourist

attractions and an economic engine that drives the economy.

The facility includes:

• Broadway Palm Dinner Theatre: A 448-seat main stage

venue featuring full-scale professional Broadway musicals

and specialty concerts. Each year this venue hosts eight

main stage shows, four children's theatre productions, and

numerous concerts, functions, meetings, and special events.

• The Off Broadway Palm Theatre: A 100-seat black box

theatre, which showcases five smaller-scale musical

revues and comedies each season.

• Café Cabaret: Opened in late 1994, offering Off Broadway

and main stage overflow dining. It is available for rental

for parties and events for as many as 125 people. It

features a small stage with lighting and a sound system.

• Broadway Palm Art Gallery: A display space for works

by Southwest Florida artists. The exhibits change with

each main stage show and may feature paintings,

sculpture, basketry, wood working, weaving, collage,

and other art forms.

• Broadway Palm Gift Shop: A unique shop with a theatrical

flair, which features one-of-a-kind gifts, including jewelry,

collectibles, theatre memorabilia, and more.

• Busty's Bar: Named after long-time bartender, Sebastian

"Busty" Lanza, the lobby's full-service cocktail bar is

open in the evenings, before the show, at intermission,

and after the show. The bar features a selection of fine

wines and specialty drinks.

Broadway Palm has grown since it opened from twentyfive

employees to approximately 125 today. Each musical

production features a live orchestra and professional actors

are hired from national auditions. Costume creation, set

construction, and rehearsals take place on site.

More than 250 private functions are held each year at

Broadway Palm, including business meetings, training

seminars, fundraisers, and social functions. Broadway Palm

is a long-standing member of area chambers as well as a

sanctioned Florida Attraction. Broadway Palm has helped

many local charities by donating money, goods and services,

and/or volunteer hours.

More than two decades after its first opening curtain,

Broadway Palm remains a top entertainment destination in

Southwest Florida and is positioned to remain as such for

many years to come.

For more information on Broadway Palm, please visit

www.broadwaypalm.com.

FORT MYERS: City of Palms—A Contemporary Portrait

174
---
Chico's FAS, Inc., is a leading specialty retailer of

women's apparel and accessories. It's three iconic and

powerful brands, Chico's, White House Black Market and

Soma, are known for high quality, exclusively designed

styles and exceptional customer service.

Chico's was founded by Marvin and Helene Gralnick.

The couple met in 1972 while living in Guadalajara,

Mexico. In 1983, after moving to Southwest Florida, they

opened a tiny Mexican folk art gift shop in Periwinkle Place

on Sanibel Island. They named the boutique "Chico's Folk

Art Specialties," after Helene's best friend's parrot, Chico.

At first, the store sold art and a few clothing items, including

cotton sweaters, which soon outsold everything else.

Chico's quickly became a specialty fashion boutique, offering

unique styles and a friendly atmosphere that connected with

customers in a personal way. In 1985, Chico's opened a second

boutique on Captiva Island. Many more soon followed.

Since its inception, Chico's has been known for its

original styles, flattering fits, and exclusive travel and

active wear collections. Every piece is designed to help

women look and feel fabulous. Chico's is passionate about

customer service, welcoming customers as friends and

empowering them to create their own signature style.

In 2003, White House Black Market was acquired by

Chico's FAS, Inc. Although named for the simplicity of its

iconic black and white fashions, White House Black Market's

curated collections feature the latest colors, prints, and

styles. White House Black Market's style experts are dedicated

to offering exceptional personal service and inspiring

women to be stylishly successful in all that they do.

In 2004, Soma became the third brand to join the

Chico's FAS family. Soma offers beautiful and sensual

lingerie, loungewear and beauty. Home to the warmest

personal service, Soma embraces women with luxuriously

soft fabrics, innovative fashion and an always perfect fit.

Chico's FAS is built on a core set of values and guiding

principles that support its commitment to women's and

children's health, well-being, and education. Its charitable

efforts focus on positively affecting the lives of its associates,

customers, and communities. Through volunteer hours and

monetary donations, Chico's FAS directly supports many

local organizations in Southwest Florida. On a national

level, Chico's FAS contributes and partners with several

women's and children's philanthropic organizations.

Even as Chico's FAS has grown, its values remain at the

heart of the company today; beautiful apparel, exceptional

service and a deep appreciation for its customers.

CHICO'S FAS, INC.

FORT MYERS PARTNERS

175
---
❖

CANTERBURY SCHOOL

Below: The school mascot, the Canterbury Cougars.

Canterbury School, founded in 1964, is a Pre-K3 through

grade 12 nonsectarian, independent, coeducational school

that prepares students for academic and professional excellence

within a caring and supportive community with a strong

emphasis on character, leadership, and service. Canterbury

School stresses individual growth, skill development, highcaliber

instruction, collaboration, and standards of excellence.

Canterbury School provides all of its students with an

opportunity to challenge themselves and take risks in

an atmosphere of mutual respect and partnership among

students, parents, and teachers. The school's talented and

dedicated faculty work to build a close-knit community of

learners where the whole child is nurtured and developed,

and where the model of a liberal arts education thrives.

Currently located at 8141 College Parkway, this thirtytwo-acre

campus is a place where a strong athletic program

and commitment to the arts combine with academic

excellence in a secure and modern facility. The school's vision

is to prepare students of ability, promise, and diverse backgrounds

for success in the art of leading a meaningful life.

Canterbury school's population of more than 630

students is divided into three levels: Lower, Middle, and

Upper School. With a student-to-faculty ratio of 10:1 and an

average class size of sixteen, students receive the individual

attention they need to prepare them for the next step in

their academic careers and to achieve success in the most

demanding post-secondary institutions and professions.

A wide range of honor societies are available to students,

and the school is accredited by or a member of several

prestigious academic associations.

Athletics, clubs, and organizations play key roles in student

life. Canterbury School offers football, soccer, baseball,

basketball, volleyball, swimming, tennis, golf, cross-country,

track and field, cheerleading, and lacrosse. Need-based financial

aid is available and, on average, approximately one-fourth

of Canterbury School students receive aid. Fifty percent of

faculty hold advanced degrees with ten percent holding a

doctorate. More than twenty percent of faculty have international

teaching experience, and the average teacher has

worked as a teacher for more than eighteen years.

Students pursue a rigorous schedule of college preparatory

classes for all four years in the Upper School. All classes are

taught on the honors level with Advanced Placement (AP)

and Independent Studies providing extra challenges. Students

consistently test above Lee County, Florida, and national averages

in both the SAT and ACT, and students are encouraged to

participate in a school-wide community service program.

College and university officials say Canterbury School

students are prepared for college and academic success,

representing a value to the college at the time of admission.

The school stresses personal integrity and service and expects

graduates to be lifelong learners and responsible citizens

who are well-prepared to help shape a changing world.

FORT MYERS: City of Palms—A Contemporary Portrait

176
---
BOYLAN ENVIRONMENTAL

CONSULTANTS, INC.

Boylan Environmental Consultants, Inc., is an environmental

consulting firm providing technical and economically feasible

solutions to today's environmental issues. The company offers

a selection of services including due diligence environmental

assessments, wetland and wildlife surveys, environmental planning

services for zoning and development, environmental

resource permitting applications, wetland impact assessments,

habitat management plans, and design of mitigation and

restoration projects. Located in Fort Myers, the company

has provided a wide range of services on numerous projects

throughout the state, including residential, commercial, industrial,

agricultural, and governmental activities.

Boylan Environmental Consultants, Inc., was founded by

Rae Ann Boylan in 1989 and has been providing environmental

consulting services to both private and governmental

entities in South Florida ever since. Rae Ann continued to

grow and operate the business until 2011, when she sold

her interest in the company to her longstanding employee

Kimberly (Kim) Schlachta. A native of Fort Myers, Kim

began her career at Boylan in 1998 and now serves as

president where she manages the company and continues

to maintain the reputation and quality of work established

over the years. The experienced gained as an employee is

also reflected in the commitment and attention to the quality

of the working environment for team members.

Boylan remains committed to employ qualified environmental

professionals with the experience needed to provide

the specified ecological services required by today's regulations.

The staff has the necessary academic backgrounds

for this field and participates in a range of continuing

educational programs to remain current on the continuing

changes in the scientific methodologies employed in the

field and the regulatory rule changes.

The team's local knowledge and experience with South

Florida have given Boylan Environmental Consultants, Inc.,

added expertise in this area. The advantages of this expertise

ranges from specific knowledge of the flora and fauna of

the area to a familiarity with the needs and requirements of

the regulatory agencies. The staff provides all clients the

required services in a timely and economic fashion. The

quality of work is reflected by the many long term and repeat

clients established and maintained over the years.

The company also has a broad range of technical field

equipment and programs to support its environmental programs.

Its extensive computer capabilities include AutoCAD,

ArcMap, a large database of GIS information, historical and

current aerial photography, a large array of graphic programs

along with complete Windows support software.

The company has been certified as a Florida Minority/

Women Business Enterprise (MBE)/(WBE) and a Disadvantaged

Business Enterprise (DBE) by the U.S. Department of

Transportation (DOT). Boylan is also a member of the Greater

Fort Myers Chamber of Commerce and supports the Florida

Sherriff's Association. Boylan also supports the America

Cancer Society and other worthy causes.

Moving forward, and as environmental issues continue to

play a critical role in the future balance of responsible growth

and conservation, Boylan is committed to continue its focus

on expertise and quality of work and services in contributing to

the environmentally sustainable future of Southwest Florida.

FORT MYERS PARTNERS

177
---
THE SALVATION ARMY

OF LEE, HENDRY AND

GLADES COUNTIES

The Salvation Army expanded to Fort Myers in 1951

when Captains Arthur and Viola Sanders began leading

efforts to minister to the poor from what was initially a small

office and church. In the more than six decades since they

arrived, The Salvation Army has grown into an extremely

large organization that today serves more than 30,000 people

annually in Lee, Hendry, and Glades Counties.

The Salvation Army, an international movement founded

in 1865 by a young British minister named William Booth,

preaches the gospel of Jesus Christ, meeting human needs in

His name without discrimination. Working with his wife,

Booth "reached for the worst" rather than ministering to the

more comfortable, and the movement spread throughout

the British Isles and, in 1880, arrived in the United States.

Booth's ministry recognized the interdependence of

material, emotional, and spiritual needs. In addition to

preaching the Gospel, Booth began providing food for the

hungry, shelter for the homeless, and alcohol rehabilitation

for the addicted.

This same focus is present in The Salvation Army

of Lee, Hendry, and Glades Counties. In one year,

The Salvation Army impacted 38,303 lives through a variety

of outreach services ranging from help with utility

bills to residential substance abuse programs for men.

Utilizing a staff of approximately 175 employees and

6,000 volunteers, The Salvation Army each year provides

more than 250,000 meals and more than 12,000 bed

nights. It also runs a thirty-five bed substance abuse

treatment facility for men and a residential program

for women and children. It also provides more than

2,500 bed nights through its Medical Respite Unit and

assistance to more than 150 clients in federal and state

correctional facilities.

The Salvation Army helps people attain their goals

of housing and stable employment while fostering a sense

of greater self-determination. They do this by providing

vital services and programs and by connecting clients

to local service providers. Approximately 350 of its

volunteers are physicians who provide care to The Salvation

Army's clients through more than 6,000 hours at no cost.

In all, The Salvation Army operates out of seventeen

buildings in the three counties it serves, including three

thrift stores and mission stations in Bonita Springs, Cape

Coral, Clewiston, LaBelle, and Lehigh Acres. It also operates

The Salvation Army Church, formerly home to McGregor

Baptist Church, where a diverse population from the homeless

to successful physicians worship together.

The Salvation Army's work would not be possible without

the continued support from a generous Southwest Florida

community. Its work is and always will be motivated by

the love of God. It is that love that motivates the staff and

volunteers to soldier on despite the obstacles, providing

basic human necessities without discrimination in the name

of Jesus Christ.

FORT MYERS: City of Palms—A Contemporary Portrait

178
---
Fischler Property Company is doing more than developing

mixed-use, multifamily and commercial properties across

the country. It is building a legacy in its community, among

its clients and within the firm's culture.

Founded in 2009 by Phil Fischler, this Fort Myers-based

company is a unique commercial real estate advisory firm

known for taking on the most challenging projects,

preserving the region's history, and playing an instrumental

role in the area's growth. The company, its principals and

its employees believe in projects that matter and enhance

their communities.

Fischler Property Company delivers services, buildings

and outcomes it points to with pride. Its people strive

to be innovative producers, impresarios, developers,

instigators and creators. They identify opportunities,

develop a vision for the future, and are driven to be

resourceful, entrepreneurial and collaborative.

The company's experiences range from civil engineering

to development to brokerage. Its people move confidently

between several industry elements, including finance and

investment, marketing and brokerage, construction and

design, planning and entitlements, legal and technical,

and leadership and client relations. The company celebrates

opportunities to solve problems in an effective manner.

To do so, it partners with superb industry leaders who

offer unmatched talent and contribute enormously to the

firm's successes.

Fischler Property Company is a privately held firm

focused on three main areas:

• Development: The company develops commercial

properties for its own portfolio. It also provides fee

development services to property owners and tenants.

• Brokerage: The company provides brokerage services

to a select group of clients looking for opportunities

that leverage its approach: focused, strategic and

relationship-driven.

• Advisory services: The company brings a fresh perspective

to its clients and is constantly seeking ways to assess,

protect and multiply the value of its clients' assets.

Since its inception, the company has been involved in

millions of square feet of mixed-use, multifamily and

commercial properties. Much of its focus has been in

Southwest Florida between Marco Island and North Tampa,

west of I-75. The company has guided the acquisition and

disposition of several high-profile waterfront and urban

investment deals in downtown districts between Fort Myers

and Bradenton. It has also guided several regional banks

on commercial OREO portfolios and partnered with bank

executives on their asset disposition approach.

Fischler Property Company is passionate about urban

revitalization. Its strategy focuses heavily on downtown

redevelopment opportunities to best serve its clients,

improve its communities and build a legacy.

For additional information on Fischler Property Company,

please visit www.fischlerco.com.

FISCHLER

PROPERTY COMPANY

FORT MYERS PARTNERS

179
---
HOTEL INDIGO

FORT MYERS DOWNTOWN

RIVER DISTRICT

Hotel Indigo, located in the Fort Myers Downtown

River District, puts its guests in the heart of this historic

neighborhood, near great shopping, attractions, and local

businesses. Like other Hotel Indigo properties across

the country, this Fort Myers hotel is inspired by the area's

creative community and serves as the only boutique hotel in

the neighborhood. The adjoining Post Office Arcade, which

serves as the entryway into the hotel's main reception area,

is a historic building housing restaurants and commercial

office space.

No two neighborhoods are alike, so neither are any two

Hotel Indigo properties. When guests stay at a Hotel Indigo

property, they are not just staying anywhere, they are staying

somewhere—within a vibrant community, in a unique

boutique hotel that combines authentic local experiences,

modern design and intimate service, and yet with the

peace of mind and consistency that comes from staying with

one of the world's largest hotel groups. The Hotel Indigo in

Fort Myers is included as a stop on downtown's monthly

Music and Art Walks featuring local musicians and artists,

and the colorful mural by our rooftop pool was created

by a local artist.

Back Bay Resorts SWF, LLC, is the company behind

the Hotel Indigo Fort Myers Downtown River District. This

Boston-based firm was founded in Massachusetts more than

forty years ago, investing in apartment buildings, hotels,

research and development space, land, and commercial

buildings in and around Boston. In 2004 the first Hotel

Indigo property opened its doors in Atlanta. Today,

culturally rich communities all over the world are home

to a Hotel Indigo, from New York to Paris, London to

Shanghai, Hong Kong to Singapore—all the places people

want to visit and do business in.

Back Bay Resorts began searching for business opportunities

in Florida in 2010-2011 and identified the Hotel

Indigo property as a potential investment. It also recognized

that Fort Myers offered visitors music, culture, and art

events that attracted thousands of visitors and residents to

downtown every month. It seemed only natural for Hotel

Indigo to be a part of that experience.

Each Hotel Indigo is as individual as its surroundings

and is also a reflection of them. Guests can taste the local

flavor on their menus and see it in the art and photography

displayed on the walls. Guests get great advice from our

team members on what to see and do in the neighborhood,

meet locals in our hotel bars, and experience the relaxed and

inviting feeling the makes Hotel Indigo a great place to stay.

Team members go out of their way to make each stay

memorable and neighborhoods easy to discover and

appreciate. From must-see, hear, and eat experiences to

hidden gems off the beaten path, guests can trust team

members to provide great local recommendations.

Hotel Indigo properties feature unique design at every

turn without compromising guest comfort. A vibrant

modern color palette, complemented by natural light and

locally influenced design and decor, make for an inviting,

stylish, and refreshing atmosphere.

FORT MYERS: City of Palms—A Contemporary Portrait

180
---
BARBARA B. MANN

PERFORMING ARTS HALL

The Barbara B. Mann Performing Arts Hall at Florida

SouthWestern State College, which celebrated its thirtieth

anniversary in 2016, serves as the entertainment showcase

for Fort Myers and the rest of Southwest Florida, attracting

National Touring, Tony ® Award-winning Broadway productions

and providing a venue for world-class entertainers

such as Jay Leno, Diana Ross, Ringo Starr and more.

This 1,873-seat facility, located on the campus of Florida

SouthWestern State College, is named for a remarkable

woman who was involved in the creation of almost every

arts organization in Southwest Florida, including the Fort

Myers Symphony Orchestra and Lee County Alliance for

the Arts, serving as the alliance's charter president. In 1949,

Barbara Mann founded Fort Myers Community Concert

Association and served as its president for fifty-seven years.

Each year, the association hosts five performances: a ballet,

opera, symphony performance, and two recital pieces.

The series began at area elementary schools before

moving up to high schools and, beginning in 1986, to the

Barbara B. Mann Performing Arts Hall.

Her son, Frank Mann, was instrumental in convincing the

Florida Department of Education to appropriate the funds

to build the hall on the campus of what was then known

as Edison State College. Having played an important role in

promoting the arts in the region, it seemed only fitting that

the new facility should be named after Mann, who passed

away in 2013 at the age of 100.

The Hall is home to an average of 190 performances

per year and annually attracts more than 200,000 visitors. It

features the largest proscenium stage between Tampa and

Miami, measuring twenty-nine feet high and fifty-six feet

wide. The stage is forty-seven feet deep by 106 feet wide. In

addition to serving as a performance venue for nationally and

internationally renowned performers, the Hall is home to the

Southwest Florida Symphony and the Gulf Coast Symphony.

Major milestones for the Barbara B. Mann Performing Arts

Hall include launching the second national tour of Wicked

and the national tour of Chitty Chitty Bang Bang. In 1998

the Hall was expanded to accommodate larger shows such

as The Phantom of the Opera and renovating the backstage

dressing rooms to provide more space. In 2014, the Hall's

original seats were replaced at a cost of $1.1 million.

Through the years, almost every legendary entertainer has

performed at the Hall such as: Tony Bennett, Liza Minnelli,

Smokey Robinson, James Taylor, and the Moody Blues. The

Hall plans to continue to provide Southwest Florida with the

best in live entertainment. The Barbara B. Mann Performing

Arts Hall at FSW—Where Broadway Comes to You!

FORT MYERS PARTNERS

181
---
❖

WCI COMMUNITIES, INC.

Below: Hampton Park.

Bottom: The Pelican Preserve Plaza del Sol.

WCI Communities has a long-standing tradition of

excellence in Fort Myers and throughout Southwest Florida.

With an established reputation and strong brand recognition

for developing amenity-rich, lifestyle oriented masterplanned

communities, WCI and its predecessor companies

have a legacy that spans seventy years.

A lifestyle community developer and luxury homebuilder

of single and multifamily homes in coastal Florida,

WCI has nearly 700 full-time employees,

as well as relationships with approximately

1,800 independent licensed real estate agents

through their brokerage business.

WCI prides itself on delivering exhilarating

communities filled with championship golf,

active clubhouses and sporting clubs, tennis,

boating, beaches, health and wellness facilities,

nature trails and more. WCI provides the highest

quality construction and service for their

valued customers. Today, more than 150,000

residents call a WCI Community home.

Recently earning the 49th spot on Builder

Magazine's annual Top 100 list, WCI offers

a vast selection of primary, vacation and

retirement homes—from the beachfront to the

lakeside to the fairways—which encompass

a broad spectrum of styles ranging from the

mid-$100,000s to over $1 million.

Arborwood Preserve, WCI's newest 332-acre

master-planned community in Fort Myers,

offers a resort lifestyle for today's active

resident. Intimate neighborhoods present

a selection of WCI's popular home designs

nestled among seventy-three acres of lakes

and more than twenty acres of preserves—plus

the convenience of a full-service town center.

Residents of WCI's Hampton Park enjoy the intimacy of

their gated neighborhood, along with the added amenities

of the surrounding 3,000-acre Gateway community—a

combination that provides the ultimate live, work and play

lifestyle. Hampton Park is convenient to major employers,

neighborhood schools, parks and recreational attractions,

including JetBlue Park, the wintertime home of the Boston

Red Sox. Hampton Park residents quickly discover they

never have to go far to have it all.

Nearby, the intimate Timberwood Preserve combines the

convenience of a Gateway location with the sought-after

flexibility of WCI's home designs.

Pelican Preserve, WCI's fifty-five and-better lifestyle

community in Fort Myers, enjoy twenty-seven holes of

Chip Powell-designed championship golf and a 24,500

square foot Golf Club featuring fine and casual dining, a full

calendar of events, and a fitness center with spa treatment

rooms. The community's town center offers nearly every

imaginable activity—from indoor fitness and swimming, to

arts and crafts studios and a ninety-nine seat theater.

Cypress Bend at Shadow Wood Preserve where residents

enjoy the outdoors close to home with an eighteen hole Arthur

Hills-designed championship golf course and access to clubhouse,

tennis courts, two miles of walking paths and fitness

trails, a tot lot, and a canoe and kayak park. After a day of play,

Cypress Bend is also minutes away from exciting shopping,

entertainment and restaurant destinations at Coconut Point.

For decades, WCI has set the standard in Fort Myers

and beyond for building exceptional communities and

developing amenities that challenge and exhilarate, while

upholding an unwavering commitment to the places they

call home. The company's mission to "Think Boldly, Build

Quality, Deliver Excellence, Enrich Lives and Create

Value"—permeates every community they create.

WCI Communities: Your Best Address.

FORT MYERS: City of Palms—A Contemporary Portrait

182
---
Delta Sigma Theta Sorority, Inc., founded 1913 by

twenty-two women students at Howard University in

Washington, D.C., has distinguished itself as a publicservice

organization that boldly confronts the challenges

of African-Americans, and, hence, all Americans. The

founders sought to use their collective strength to help

society's less fortunate.

Delta Sigma Theta Sorority, Inc., is a private, nonprofit

organization whose purpose is to provide services and

programs to promote human welfare. As a sisterhood of

more than 300,000 predominately Black, college-educated

women, the sorority has more than 940 chapters nationwide

and internationally in Germany, Haiti, England, Japan,

Liberia, Virgin Islands, Bermuda, the Republic of Korea,

Jamaica and Nassau, Bahamas. The sorority's focus is

centered on the organization's Five-Point Program:

• Economic Development

• Educational Development

• International Awareness and Involvement

• Physical and Mental Health

• Political Awareness and Involvement/Social Action

More than fifty years ago, thirteen dynamic women established

a Delta Sigma Theta chapter in Lee County, Florida.

The Fort Myers Alumnae Chapter (FMAC) was the first

Greek letter organization in Southwest Florida, established

on December 18, 1965. Charter members were: President

Marie Mallory Ackord, Theora Hamilton Austin, Ida Speed

Baker, Annette Johnson Booker, Alma Livington Cambridge,

Mary Gillings Leon, Richardeen Ellis Jones, Ann Murphy

Knight, Melvin Smallwood Morgan, Gwendolyn Primus

Mosley, Geraldine Simpkins Ware, Constance White-Davis,

and Celestene Johnson Williams.

Many programs have been implemented in the Fort Myers

communities, such as scholarship awards, breast cancer

screening, Adopt-a-Black Business, Super Seniors Thanksgiving

Luncheon, College and Career Conference, Adopt-a-Sister,

Purple Soir`ee (domestic-violence education), Habitat For

Humanity, Red Tea Awareness of heart disease; The Legal

Clinic; Political Candidates Forums, Saving our Sons Forum;

Public Forum, Featuring Senator Carrie Meek, E.M.B.O.D.I.;

Dr. Ella Piper Christmas Toy Chest; Total Woman-Mind, Body

& Spirit; Community Action Promoting Success Using Law

Enforcement (C.A.P.S.U.L.E.); the Dr. Betty Shabazz Delta

Academy; Dr. Jeanie Noble Delta G.E.M.S., International Day

of Service (HIV Awareness); Omega Psi Phi Achievement

Week 2014; and Walk2Connect Audit Program 2015.

The FMAC has made financial contributions to groups

such as United Negro College Fund, American Cancer Society,

Love a Child Ministry, United Way and American Heart

Association. The chapter has received several

awards from local and regional organizations

including the Quality Life Gulfshore; Life

Award; Junior League of Fort Myers; Project

Play; Zeta Phi Beta Organization of the Year

Award; Alpha Kappa Alpha Accolades Service

Award; Phi Delta Kappa Outstanding Service

to Education Award; Lee County Community

School Service Award; and Dr. Martin Luther

King, Jr. Birthday Celebration Committee

Service Award. On December 7, 2015, FMAC

received a proclamation from Mayor Randall P.

Henderson, Jr., declaring December 18th as

the Fort Myers Alumnae Chapter of Delta

Sigma Theta Sorority, Inc. Day.

The FMAC is known for its annual

fundraisers to support scholarships and

organizations that improve human welfare:

Sepia Fashion Revue, Miss Jabberwock, Delta

Sweetheart/Esquire and Steppin Towards

Greatness Step Show.

DELTA SIGMA THETA

FORT MYERS PARTNERS

183
---
MARKHAM NORTON

MOSTELLER WRIGHT &

CO., P.A.

Since 1979 the partners and team members of Markham

Norton Mosteller Wright & Co., P.A. (MNMW) have demonstrated

a passion for serving their community and helping

their clients realize financial success by providing personalized

guidance and exceptional client service to individuals and

businesses. MNMW is among the most respected CPA firms

in Southwest Florida with offices in Fort Myers and Naples.

With her perseverance and a vision for the future, L. Gail

Markham, the firm's founder, now works alongside three

partners, Joni Norton, Karen Mosteller, and Randy Wright.

Together, they have established a team of skilled professionals

and have expanded their services to include tax planning,

bookkeeping, general accounting, medical and dental

practice consulting, and mediation services and forensic

accounting services. The partners have always envisioned a

unique client service-oriented culture for the firm and have

worked diligently over the years to establish exactly that.

MNMW is diverse in its active approach to community

involvement, charities and special events. One of many

examples is being an avid supporter of the United Way; the

firm has been recognized as a pacesetter company for many

years. As a testament to its team member's commitment and

values, the firm has also been recognized for numerous

awards such as Florida Trend magazine's "Best Places to

Work" for the past several years, as well as "Best Accounting

Firm" by Gulfshore Business magazine. The firm has also

received the Uncommon Friends Foundation's Business

Ethics Award and the State of Florida Blue Chip Award.

As trusted advisors, the team at MNMW maintains

steadfast dedication to integrity, excellence, and responsibility.

The team takes pride in their work, exhibited by their

unwavering enthusiasm and uncompromising values.

MNMW looks forward to many more successful years by

exceeding their client's expectations and making a positive

impact by supporting the community.

FORT MYERS: City of Palms—A Contemporary Portrait

184
---
In the early 1970s, Mike Joyce and his partner, both college

students at the time, began buying and selling rare coins in

Tampa, Florida. From humble beginnings in a single-wide

trailer, Gulfcoast Coin Brokers was born. In 1975, Gulfcoast

Coin Brokers opened its doors in Fort Myers, Florida, dealing

in rare coins, paper money, silver dollars, and gold coins.

Gulfcoast also became dealers in all U.S. Mint products

including proof sets, mint sets, stamps, and paper money.

As the precious metals boomed, Gulfcoast Coin Brokers

became, and still continues to be, a major bullion dealer in

South African Krugerrands, Gold American Eagles, Canadian

Maple Leafs, Austrian 100 Coronas, Mexican Fifty Pesos,

Chinese Pandas, Platinum Nobles, as well as gold and

platinum bars. Gulfcoast makes a market in silver bullion,

U.S. 90 percent silver coins, 100-ounce bars, 10-ounce bars,

one-ounce bars, war nickels, Franklin Mint silver, and all

types of sterling silver flatware and hollowware. Gulfcoast

now offers security—insured private depository for our

clients to store their purchased valuables. The Gulfcoast

private depository allows our clients to buy and sell all rare

coins and precious metals without any security risks.

After skyrocketing growth in the early 1980s, with gold

and silver hitting $800 and $50 respectively, Gulfcoast had a

name change and hired Denise Taylor (now Denise Joyce,

managing partner) to manage the fine jewelry department.

Denise dramatically expanded the jewelry and diamond

department and turned Gulfcoast into Southwest Florida's

premier jewelry exchange. Denise is one of the foremost

diamond and high-end watch dealers in the area. Her

product knowledge and expert appraisal services are called

upon frequently by attorneys, banks, and clients.

In the 1990s, Gulfcoast Coin & Jewelry, LLC, started

conducting local and international auctions. The auction

business model was to bring intelligent buyers and sellers

together to auction all types of high-end personal property.

Being the first company to conduct international online

monthly auctions gave clients the opportunity to offer

valuable family heirlooms on the international stage and

always receive top dollar. Auction items include rare coins,

diamonds, paper money, estate jewelry, new jewelry, bridal,

sterling, fine art, luxury apparel, firearms, antiques and

furniture, and all types of high-end collectibles.

Gulf Coast Coin & Jewelry, LLC, is one of the oldest and

most respected precious metals dealers and numismatic firms

in the country. Mike is one of the few numismatists to be

inducted into the prestigious Professional Numismatic Guild,

Accredited Precious Metals Dealers, International Society of

Appraisers, Life Member American Numismatic Association,

and Life Member Florida Auctioneers Association.

With more than four decades of experience in the business

of buying, selling, appraising, and auctioneering, Gulfcoast

Coin & Jewelry, LLC, is where the educated consumer

conducts business.

❖

Left: Mike and Denise Joyce.

GULFCOAST COIN &

JEWELRY, LLC

FORT MYERS PARTNERS

185
---
❖

Above: Chris Pendleton.

EDISON & FORD

WINTER ESTATES

Over a century ago, Thomas Edison said "There is

only one Fort Myers in the United States, and there

are 90,000,000 people who are going to find it out." There

are a lot more people in the nation these days and

they continue to discover the Edison & Ford Winter

Estates, along with many more residents who regularly

enjoy the site, plus an ever-growing worldwide tourist

audience. Edison's prediction has proven true as the latest

visitation numbers show an annual visitation and usage

of almost 270,000.

Edison arrived in Fort Myers in 1885, and fell in love

with the tiny town of less than 350. He immediately

purchased thirteen and a half acres which spanned a cattle

trail (now McGregor Boulevard) and fronted on the river.

In 1916, his colleague, Henry Ford, also became enamored

with Fort Myers and purchased the neighboring property.

Together, the Edison and Ford families would create

a residential and research site of more than twenty acres,

with more than a dozen original buildings, beautiful and

useful plants, and dazzling river frontage.

Edison's interest in bamboo as a filament for his light

bulb, dynamos and self-sufficiency for his beloved property

created a model and brought modern technology to

Fort Myers. In 1885, Fort Myers incorporated as a city

and more than a decade later, electricity, street lights and

modern devices of the day were introduced.

In 1916, Ford was already an automotive magnate and the

Ford Motor Company was an international phenomenon.

Ford helped to introduce automobiles and new roads

to Southwest Florida. By 1929, the new Tamiami Trail

(now U.S. Highway 41) connected Tampa to Miami,

making Fort Myers and Naples increasingly accessible to

the world.

Edison received an astounding 1,093 patents, which were

mind-boggling in their diversity, ushering in the new era of

household conveniences and industrial technology to the

world. Ford held 161 patents, which helped to introduce

the world to an age of automobiles and airplanes. Together

with their families, Edison and Ford were very influential

on a global scale, and Fort Myers was one of the beneficiaries

of that influence.

The population of Fort Myers has grown from 350

residents in 1885 to a bustling and growing population of

75,000 today. The properties of Edison and Ford are

now joined as the Edison & Ford Winter Estates, Inc.

Owned by Fort Myers and governed by a nonprofit board

of trustees who manage the site and govern its preservation

and expansion. The team includes a board of trustees,

a paid staff of 70, over 250 volunteers, and more than

7,000 members. The historic site is open daily and adds

an economic impact to the community of more than

$90 million. The Edison & Ford Winter Estates is listed

on the National Historic Register, has been designated as

a National Historic Chemical Landmark, and has received

the top award for excellence from the National Trust for

Historic Preservation and the National Garden Clubs. It is

truly a treasure for the City of Fort Myers and the world

and is to be visited, experienced and cherished.

We know that Thomas and Mina Edison and Henry and

Clara Ford would be very proud of the preservation of their

homes and legacy here in Fort Myers. We also know that

they would be very proud of the new developments and education

programs that continue to add so much to the lives of our citizens

and visitors and to the economy of the region. Over the past

130 years, the Edison and Ford legacy in Fort Myers has

meant a great deal to the development of this great little city

and to Florida. There's a very exciting future ahead for this

property and for the City of Fort Myers. We are a unique

public private partnership.

–Chris Pendleton, president/CEO

FORT MYERS: City of Palms—A Contemporary Portrait

186
---
Corbin Henderson Company is a real estate brokerage,

property management, and consulting firm in Fort Myers

that combines a strong local knowledge of the real estate

market with an equally strong understanding of its clients'

business. The company's extensive entrepreneurial history

in developing its own commercial projects enables the

leadership group to look at its clients' projects through the

eyes of an owner.

Local knowledge allows the firm to better serve its clients

by finding the best real estate decision given their unique

organizational requirements. Chartered as a Florida corporation

in 1976 by Oscar M. Corbin, Jr., Corbin Henderson

Company's expertise also includes development of new

projects as well as condominium and apartment projects of

more than 200 units, office buildings, professional centers,

warehouses, and other real estate-oriented activities.

The leadership team at Corbin Henderson Company

consists of Brokers Randall P. Henderson, Jr. and

Virginia C. Henderson; Sales Associates John Carrington,

Justin Stockman and Randall P. Henderson, Sr.; and Office

Manager Ann LeFever. The experienced and knowledgeable

team at Corbin Henderson helps developer and investor

clients to identify market opportunities and to coordinate

project designs that ensure a proposed project meets

market demands.

Broker Randall Henderson, Jr., left the banking industry

in 1986 to become CEO of Corbin Henderson Company.

As CEO for more than three decades, he has primarily

been engaged in professional office facilities, multifamily

housing, warehouse and light industrial real estate.

Broker Virginia Henderson has been a company officer

since 1983, serving in numerous capacities including professional

office management, leasing, business administration

and sales. She has been involved in Fort Myers community

activities for many years, serving as past president of

Edison Park Elementary PTA, Dunbar Middle School PTA,

and Fort Myers Woman's Community Club.

Carrington joined Corbin Henderson Company in 2006,

gaining local knowledge and prospective for Fort Myers

area real estate investing. A commercial real estate agent

in Fort Myers since 2004, Carrington became a certified

commercial investment manager and is involved in the

local community.

Stockman joined the company in 2009. In

addition to practicing real estate, Stockman

practices law and is a partner at Geraghty,

Dougherty, Edwards & Stockman, P.A.

in downtown Fort Myers. He is actively

involved in the community, including

serving on the board of the Boys and Girls

Clubs of Lee County as well as the City of

Fort Myers Planning Board and as an alternate

on the City of Fort Myers Abatement Board.

Henderson, Sr. joined the team in 2014.

He retired to Fort Myers from North Carolina

after an extensive history in business development.

He contributes to the leadership

team's high quality competitive services.

LeFever brings a background of accounting

and systems design to the firm. Her

commercial management experience includes

Class A office buildings, retail centers, and industrial

parks. With Corbin Henderson Company since 2006, she is

responsible for budget preparation, financial record-keeping

and reporting, collections, and hiring and supervising

contractors for both maintenance and construction.

Corbin Henderson Company is excited to be a part of

the history of Fort Myers. The team is committed to quality

real estate services and making their contribution to the

vibrant beautiful city of Fort Myers, Florida.

❖

The Corbin Henderson Team.

CORBIN HENDERSON

COMPANY

FORT MYERS PARTNERS

187
---
ALLURE AND ONE

The luxury condominium projects known as Allure

and ONE are the latest manifestation of a commitment to

the Fort Myers area made by developer JAXI following

the real estate bust in 2008. Headed by Abel Ramirez

and Eduardo Caballero, the firm is an accomplished real

estate developer with a wide range of experience in

Southern Florida.

JAXI was the first real estate development company to

take a chance on the Fort Myers market after the economy

hit bottom at the end of the millennium's first decade.

They saw opportunity where others saw risk and made a

commitment to the area that is ongoing. In addition to Allure

and ONE, JAXI is building two forty-unit condominium

buildings in the Royal Pointe neighborhood of Majestic

Palms, an existing gated community off Majestic Palms

Boulevard in south Fort Myers.

Prime locations on the banks of the Caloosahatchee River

in the historic Fort Myers River District combined with

stellar amenities make these properties the premier choice

for condominium buyers in Southwest Florida. Residents

will enjoy living in the midst of the charm the Gulf Coast's

treasured downtown Fort Myers has to offer. An array of

shops and boutiques, popular restaurants, theaters, galleries,

and nightspots line its brick streets.

Allure, 2601 First Street, and ONE, 2583 First Street,

offer residents choices in condominium ownership and the

lifestyle that goes with it. Allure is more than a name. It is an

acronym that makes a statement about the lifestyle offered

there. Allure stands for Amazing, Luxury, Living, Unique,

Relaxing, Experience. Allure features two thirty-two story

towers with 292 for sale condominium residences with

sweeping views of the river, while the boutique tower of

ONE located next door features one fifteen story tower with

twenty-four exclusive for sale condominium residences.

Both projects boast cutting-edge designs and amenities inside

residences and the buildings that hold them—all within

a short walk or trolley ride of the Fort Myers River District.

JAXI's managing partners are committed to the long-term

success of the Fort Myers River District. The company believes

very strongly in the continued growth and popularity of this

tropical urban paradise and plans to remain in the market

for years to come.

FORT MYERS: City of Palms—A Contemporary Portrait

188
---
❖

MAIN SAIL VIDEO

PRODUCTIONS, INC.

LEFT: PHOTOGRAPH COURTESY OF AVA ROEDER.

Below: Owner and videographer Ilene Safron up close at spring training.

Bottom: Videotaping the triathalon event at the 2012 Summer Olympics

in London.

Main Sail Video Productions, Inc., is a full-service Emmy

Award-winning professional video production, photography

and design company, that can take a vision from concept

through delivery. Based in Southwest Florida since 1989,

Main Sail uses only the highest quality, cutting-edge technology,

combined with personal service.

Main Sail Video Productions, Inc., has created thousands

of award winning video presentations, in Florida, nationally

and around the world. The company has always been

a leader in the video production industry, whether it is

designing digital art and motion graphics, producing

news and documentaries, or "going live" on social media.

Services include promotional videos, video news segments,

television commercials and documentaries.

National clients include NBC Nightly News, CBS Sunday

Morning, New England Sports Network/FOX Sports, PBS,

E! Entertainment Television and VH1/MTV, the United

States Olympic Committee NGBs, and many Fortune 500

companies. Florida-based organizations and government

agencies include the City of Fort Myers, the Lee County

Visitor & Convention Bureau, the Town of Fort Myers Beach

and Southwest Florida International Airport.

Main Sail Video Productions, Inc. specializes in capturing

compelling images and meticulously editing them

together to bring about positive results.

For more information on Main Sail Video Productions,

Inc., call 239-337-5888 or visit www.mainsailvideo.com.

FORT MYERS PARTNERS

189
---
About the Photographer

I LENE

S AFRON

PHOTOGRAPH COURTESY OF MIKE SHAPIRO.

With an eye for capturing the moment and the creative talent to add the flair, Videographer/Photographer Ilene Safron

relies on her vivid pictures to tell the story.

A thirty-five year television veteran, Ilene began her career at ABC Network News in New York. Her first assignment was

carrying Barbara Walters' mink coat. She worked her way up through ABC World News Tonight as a researcher, collaborating

with Science Correspondent Jules Bergman and Environmental Correspondent Roger Caras. She went on to be a production

associate, special assignments researcher and assistant field producer.

After relocating to Southwest Florida, she joined the CBS affiliate (WINK-TV) in Fort Myers, Florida, and then was hired

by the NBC affiliate (WFLA-TV) in Tampa, where she was a sports and news videographer. She later joined the team at

Tampa Bay PM magazine (WTSP-TV), as a segment producer and videographer. This was the first of many jobs that led her to

travel and take pictures all over the world.

Since 1989, Ilene has been the president and owner of Main Sail Video Productions, Inc. She has worked with thousands

of clients over the years and has won many prestigious regional, national and international awards. The list includes several

"Communicator Awards", Florida's "Henry Flagler Governor's" Award, Florida Public Relations "Golden Image" Awards,

a Suncoast "Emmy" Award for Videography, an International "Louis Wolfson II Media History Center for Film and Video"

Award, "The American Association of Museums" Award, as well as several "UPI" and "AP" Broadcast Awards.

Ilene earned her Bachelor of Science degree in environmental biology with a focus on bio-photography from the University

of Connecticut. That led to her success in creating award-winning videos on The Everglades and other natural locations

across Florida.

She and her husband, business attorney Guy Whitesman, and her children, Joey and Jena have enjoyed living in Fort Myers

for over twenty years.

FORT MYERS: City of Palms—A Contemporary Portrait

190
---
About the Author

A MY B ENNETT W ILLIAMS

With a decidedly non-journalistic background in anthropology and Spanish, Amy Bennett Williams came to The News-Press

in 1988 as an ashtray-emptying, obituary-writing clerk/reporter, then moved through a series of assignments at the paper,

covering everything from cake contests to tuberculosis outbreaks.

She left The News-Press to edit the regional magazine Gulfshore Life for four years. During that time, she was named Editor

of the Year by the Florida magazine association. She returned to The News-Press as its Lifestyles editor in 1998.

In 2001, Williams conceived the paper's award-winning weekly Tropicalia magazine, where her column, Field Notes appears.

Her current job title is the coolest she can imagine: watchdog and storyteller.

Over the years, her work has won top honors from Gannett, the Florida Society of News Editors, the Florida Magazine

Association and Public Radio News Directors, Inc. Her reporting ranges from sense-of-place essays to investigative reporting

on child welfare, water quality issues and monkey farms.

Along the Caloosahatchee River, Williams' pictorial history book, was released by Arcadia publishing in 2011, and she is

at work on a second.

Her sense-of-place essays air weekly on local NPR affiliate WGCU. Williams lives in rural Alva with her husband,

Roger (also a writer), two sons and an ever-changing menagerie.

ABOUT THE AUTHOR

191
---
Sponsors

Ad-Ler Roofing, Inc. ...........................................................173

AIM Engineering & Surveying, Inc. .......................................160

Alliance for the Arts...........................................................158

Allure and ONE .................................................................188

Barbara B. Mann Performing Arts Hall ..................................181

Barraco and Associates, Inc. ................................................164

Boylan Environmental Consultants, Inc. .................................177

Broadway Palm Dinner Theatre ............................................174

Canterbury School..............................................................176

Chico's FAS, Inc. ................................................................175

Corbin Henderson Company .................................................187

Dean Steel Buildings, Inc.....................................................146

Delta Sigma Theta..............................................................183

Edison & Ford Winter Estates ..............................................186

Fischler Property Company ..................................................179

Florida SouthWestern State College .......................................156

Fort Myers........................................................................170

Galloway Auto ...................................................................152

Gulfcoast Coin & Jewelry, LLC .............................................185

Henderson, Franklin, Starnes & Holt, P.A. .............................148

Hotel Indigo, Fort Myers Downtown River District...................180

Hope Healthcare ................................................................168

Johnson Engineering, Inc. ....................................................172

Lee Memorial Health System ................................................134

LeeSar, Inc........................................................................140

Main Sail Video Productions, Inc. .........................................189

Mark Loren Designs, Inc......................................................154

Markham Norton Mosteller Wright & Co., P.A.........................184

Page Field.........................................................................151

Parker/Mudgett/Smith Architects, Inc. ...................................144

Southwest Florida International Airport.................................150

T3 Communications, Inc. .....................................................166

The Salvation Army of Lee, Hendry and Glades Counties ..........178

Victory Layne Chevrolet ......................................................162

WCI Communities, Inc. .......................................................182

FORT MYERS: City of Palms—A Contemporary Portrait

192
---
LEADERSHIP SPONSORS

ISBN: 978-1-944891-28-2