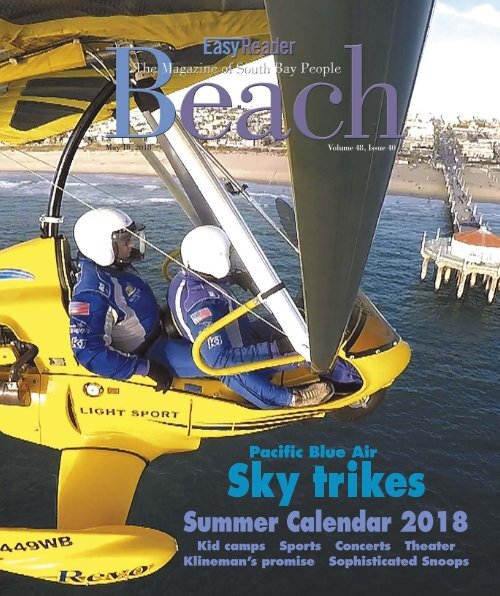 Create successful ePaper yourself
Turn your PDF publications into a flip-book with our unique Google optimized e-Paper software.
May 10, 2018

Volume 48, Issue 40

Summer Calendar 2018

Kid camps Sports Concerts Theater

Klineman's promise Sophisticated Snoops
---
Stocking Dealer

Free parking in our 6th Street lot

635 Pacific Coast Highway - Hermosa Beach

310-374-3406

Call Our Dexperts

South Bay's oldest lumber yard

• Trim

• Doors

• Siding

• Decking

• Lumber

• Windows

• Hardware

• Referrals
---
TAKE A RIDE IN A YELLOW

SEMI-SUBMARINE

View Underwater Sealife

SSV LOOKING GLASS BOAT

310-909-3179

www.fastkayak.com/lookingglass.html

visitkingharbor.com

4 Easy Reader / Beach magazine • May 10, 2018
---
King Harbor Association

Invites You To

Think Summer

PEDAL BOAT &

KAYAK RENTALS

Super wide and stable SUP's

for 1 st time paddlers.

SUP Lessons Available by Appt

Reservations required

(310) 909-3179

Redondo Beach Marina

• Dining

• Sport Fishing

• Boat Rides

• Water Activities

• Boat Hoist

• Special Events

• Slip Rentals

• Shopping

• Mooring Rentals

More Fun in the Sun

181 N. Harbor Drive

Redondo Beach, CA 90277

(310) 374-3481

www.rbmarina.com

visitkingharbor.com • facebook.com/visitkingharbor • instagram.com/visitkingharbor

May 10, 2018 • Easy Reader / Beach magazine 5
---
May 10, 2018

Volume 48, Issue 40

ON THE COVER

Reporter Dexter Ford aboard a

Pacific Blue Air sky trike.

Photos courtesy of

Pacific Blue Air

BEACH PEOPLE

14 Feet in the sand by Randy Angel

Former Mira Costa and Stanford indoor volleyball star Alix Klineman finds

the transition to beach volleyball challenging and promising.

26 Sky trikes by Dexter Ford

Even though they look like a combination lawn dart, espresso machine

and bloated bobsled, sky trikes are serious airplanes.

30 Sophisticated Snoop 2018

The 45th annual running of the American Martyrs School fundraiser opens

doors to private art collections and homes that themselves are works of

art.

14 Beach volleyball

16 International Surf Festival

18 Beach runs

19 Beach triathlons

21 Beach tennis

22 MB Grand Prix

23 Paddle, Surf

29 Beach theater

SUMMER CALENDARS

40 Kids beach camps

44 Wine and Dines

47 Farmers markets

48 Shakespeare in the Park

48 Beach films

50 Beach concerts

53 Kids land camps

61 Home services

STAFF

PUBLISHER Kevin Cody, ASSOCIATE PUBLISHER Richard Budman, EDITORS Mark McDermott, Randy

Angel, David Mendez, and Ryan McDonald, ARTS & ENTERTAINMENT Bondo Wyszpolski, DINING

EDITOR Richard Foss, STAFF PHOTOGRAPHERS Ray Vidal and Brad Jacobson, CALENDAR Judy Rae, DISPLAY SALES

Tamar Gillotti and Amy Berg, CLASSIFIEDS Teri Marin, DIRECTOR OF DIGITAL MEDIA Hermosawave.net,

GRAPHIC DESIGNER Tim Teebken, DESIGN CONSULTANT Bob Staake, BobStaake.com, FRONT DESK Judy Rae

310.937.3902 700 S. Aviation Blvd.

Manhattan Beach

EASY READER (ISSN 0194-6412) is published weekly by EASY READER, 2200 Pacific Cst. Hwy., #101, P.O. Box 427, Hermosa

Beach, CA 90254-0427. Yearly domestic mail subscription $150.00; foreign, $200.00 payable in advance. POSTMASTER: Send

address changes to EASY READER, P.O. Box 427, Hermosa Beach, CA 90254. The entire contents of the EASY READER newspaper

is Copyright 2018 by EASY READER, Inc. www.easyreadernews.com. The Easy Reader/Redondo Beach Hometown News

is a legally adjudicated newspaper and the official newspaper for the cities of Hermosa Beach and Redondo Beach. Easy Reader

/ Redondo Beach Hometown News is also distributed to homes and on newsstands in Manhattan Beach, El Segundo, Torrance,

and Palos Verdes.

CONTACT

n Mailing Address P.O. Box 427, Hermosa Beach, CA 90254 Phone (310) 372-4611 Fax (424) 212-6780

n Website www.easyreadernews.com Email news@easyreadernews.com

n Classified Advertising see the Classified Ad Section. Phone 310.372.4611 x102. Email displayads@easyreadernews.com

n Fictitious Name Statements (DBA's) can be filed at the office during regular business hours. Phone 310.372.4611 x101.

6 Easy Reader / Beach magazine • May 10, 2018
---
May 10, 2018 • Easy Reader / Beach magazine 9
---
2018 Summer Indoor

Volleyball Camps &

Clinics

• 7 week-long

Beginning Camps

(Ages 7-11)

for players just starting to

play volleyball

• 7 week-long

Intermediate Camps

(Ages 11-16)

for Players with some

volleyball experience

• Great Student to Coach Ratio:

Usually 6 to 1 or better

• Campers placed in groups of

similar age & experience

• Coaches: Strong role models and

strong volleyball coaches

• Players can participate in:

• Morning Camp (9am-12pm)

• Afternoon Camp (1pm-4pm)

• All-day Camp (9am-4pm)

• Lunch included

Camp Locations

• Week 1: July 9th - 13th in Palos Verdes

• Week 2: July 16th - 20th in Manhattan Beach

• Week 3: July 23rd - 27th in Manhattan Beach

• Week 4: July 30th - August 3rd in Torrance

• Week 5: August 6th - 10th In Torrance

• Week 6: August 13th - 17th in Torrance

• Week 7: August 20th - 24th : Brentwood

• 6 weeks of High Performance Clinics also available

For Online Signups, Directions & more information regarding our camps and high performance clinics, visit us at

www.Beachcitiesvbc.com

or call 310-546-9150.

10 Easy Reader / Beach magazine • May 10, 2018
---
PEDAL YOUR CRUISER

TO THE PIER ... PLAY & STAY

HAVE FUN ALL DAY ... YOUR WAY

Redondo Beach Pier and Boardwalk

12 Easy Reader / Beach magazine • May 10, 2018
---
May 10, 2018 • Easy Reader / Beach magazine 13
---
each sports

determined to take advantage of

every day of training and do everything

we can to maximize our

growth as a team."

A summer full of volleyball

Mira Costa High School alum Alix Klineman has quickly risen up the ranks since beginning her pro beach volleyball

career last season. Photo by Ray Vidal

by Randy Angel

Over the last decade, South

Bay beaches have become

home to numerous professional

players who take advantage

of the mild climate and deep sand.

This year, there is a new player to

focus on. Alix Klineman rose to

fame as the 2006-07 Gatorade National

Volleyball Player of the Year

at Mira Costa High School. She continued

her standout career at Stanford

University, followed by a stint

with the U.S. National Team and a

career overseas.

Seeking a new challenge, the 6-

foot-4 Klineman retired from the indoor

game and has quickly risen

through the ranks of beach volleyball.

Last year she was named the

AVP Rookie of the Year award.

"From a physical aspect, it took a

lot longer than I thought it would to

get my sand legs," Klineman said. "I

also had to take a step back and

look at the demands of the beach

game and change the way I train

(both on the court and in the weight

room) to increase my fitness and

have the endurance to play two to

three intense matches a day for two

to four consecutive days. Volleyballwise,

blocking and setting have definitely

been the most challenging

skills to pick up on the beach. Setting

is difficult just because that's

something I didn't train for indoors,

and blocking has been an adjustment

because the timing and the

strategy are so much different on

the beach."

After partnering with former

Mira Costa standouts Jace Pardon

and Lane Carico, Klineman has

joined forces this season with April

Ross, a proven winner on the domestic

and international circuits.

Ross won the silver medal at the

2012 London Olympics with Jennifer

Kessy and the bronze at the

2016 Rio de Janeiro with Kerri

Walsh Jennings.

"The partnership has really been

going smoothly. Not just because

we won a tournament, but I think

the way we work and compete

mesh really well together," Klineman

said. "She's been incredibly

patient with me as I've tried to

adapt to the international level. She

does so many things well, but the

things that stand out are her ability

to always better the ball, her constant

talk throughout the play, and

her ability to anticipate how the

play is going to unfold. I'm constantly

taking note of all these 'little'

things she's great at and trying

to incorporate them more into my

game."

In January, the pair won gold at

the DELA Beach Open, a four-star

FIVB World Tour event, at The

Hague, Netherlands.

They beat Brazil's Carolina Solberg

Salgado and Maria Antonelli

in the final, 21-12, 21-15. They

went 10-0 in the tournament, including

two country quota

matches and two qualifiers before

beginning pool play.

They came home to compete in

last week's FIVB four-star tournament

in Huntington Beach and

have their sights on the 2020

Olympics.

"Our goals are big and we're

aiming to win tournaments," Klineman

added. "We have a lot of room

for improvement still, but we

know when we play our best we

can compete with anyone. But on

a more basic level, I think we are

AVP Tour returns to

Hermosa

Thurs. -- Sun., July 26, 29

The AVP returns to Hermosa

Beach for the first time since 2010.

The Hermosa Open had previously

been held every year since 1984. In

1990, NBC's inaugural telecast of

beach volleyball took place at the

event.

The Hermosa Beach Open will

consist of 24 Main Draw teams for

men and women – 14 auto entries,

2 wild cards and 8 qualifier teams.

The Manhattan Beach Open, the

"Wimbledon" of beach volleyball,

takes place Aug. 16-19. The winning

male and female will have

their names placed on bronze

plaques on the Manhattan Beach

Pier.This year's tournament is the

second of three events of the AVP

Gold Series, with a purse of

$225,000 compared to the $150,00

of regular AVP tournaments. The

Manhattan Beach Open will be

made up of 32 Main Draw teams

for men and women – 14 auto entries,

10 wild cards (with many of

them coming from the AVPNext

circuit) and 8 qualifier teams.

General admission is free for

both events.

Avp.com

Collegiate Beach

Championships

Wed. -- Sat., May 9 - 12

Hermosa Beach

The 2018 Team USA Summer

Champions Series presented by

Xfinity makes its first stop at the

Bridgestone USA Volleyball Collegiate

Beach Championships.The

dual-gendered event returns with a

32-team women's bracket and an

8-team men's competition. Main

draw action, which consists of pool

play and a single-elimination

bracket, begins Thursday. Players

will vie for a spot to compete in the

FISU World University Championships

in Munich, Germany, July

9-13.

Teamusa.org

AAU

Sun., May 20

Sun., June 10

Tues. - Sat., July 10 - 14

The Amateur Athletic Union's

14 Easy Reader / Beach magazine • May 10, 2018
---
each volleyball season continues

with three tournaments in Hermosa

Beach, including the Los Angeles

Open (May 20), California Regional

Championships (June 10) and Girls

Junior National Beach Championships

(July 10-14).

Aaubeach.org

CBVA

Throughout the summer

The California Beach Volleyball

Association holds numerous tournaments

for men, women, boys and

girls, including the Men's and

Women's $1500 Opens (Saturday,

May 26) and the popular Mike

Cook Mixed (July 7) at Marine

Street, which includes a

father/daughter and mixed coed

tournaments. The season culminates

with the Cal Cup in Hermosa

and Manhattan Beach. Adults play

Sept. 1-2 and youth (Manhattan

Beach) Aug. 25.

Youth compete in the Premier

Tour, comprised of 12 stops including

Manhattan Beach (July 12-15)

and Hermosa Beach (Aug. 18-19).

The winning team in each age

group of all the tour stops is invited

to play in the Championship tournament

on Aug. 25 at Manhattan

Beach Pier.

cbva.com

Smackfest

Sat., June 14

Hermosa Beach

Combining beach volleyball,

fashion and music, the beach culture

is celebrated each year at

Smackfest. Smack apparel founder

Bill Sigler' tourney is celebrating its

24th year and features costumedthemed

coed 4s and Pro 4s tournaments.

New this year on Sunday,

June 15 will be the Smackfest Juniors

and Recruiting Showcase.

(310) 318-5062

Smackfestevents.com

Father's Day Beach

Volleyball Tournament

Sun., June 17

Manhattan Beach Pier

Open to players ages 10 and up,

the pool play tournament takes

place from 9 a.m. to noon. In this

tournament, children compete with

their fathers while their mothers

cheer them on. Action takes place

on the short course, with four-person

matches held on the long court.

Registration is $50 per person (18

and Under Divisions) and $100

(four-person team). All participants

will receive a T-shirt and other giveaways.

For more information.

citymb.info

(310) 802-5448

BarryBob

Sat., June 30

Manhattan Beach

The 12th annual 4-person tournament

takes place at 9th Street and

The Strand in Manhattan Beach.

It's hosted by former pro volleyball

players Mike Walmer and Kevin

Cleary in memory of their dads

Barry and Bob, who were best

friends for over three decades before

passing away in the 1990s.

kpcleary@yahoo.com

USA Volleyball HP

Championships

July 30 - Aug. 1

Hermosa Beach

The highlight event for the Beach

High Performance Program (U13,

U15, U17, U19) features an international

style of match play over three

days. Athletes must either be a part

of the 2018 A1 National Training

Team or qualify through the 2018

A2 program at selected competitions.

International teams are welcome

to compete.

Email beachhp@usav.org or visit

Teamusa.org

Charlie Saikley 6-Man

Volleyball

Manhattan Beach

Fri. - Sat. Aug. 3-4

The Charlie Saikley 6-Man Beach

Volleyball Tournament is the premiere

6-man beach volleyball tournament

in Southern California,

drawing over 50,000 spectators

each year. The 2018 event has been

moved to Friday and Saturday to

make team participation more convenient.

Don't let the costumes

make you think it's not a serious

tournament. (Last year's winners

were Team Fletch and Horny Unicorny).

On Sunday, Aug. 5 the 4th annual

Manhattan Beach Junior 6-Man

Beach Volleyball Tournament takes

place and is open to boys and girls

ages 10-18. There will be boys, girls

and co-ed Divisions (registration

deadline Aug.1). Prizes awarded for

the best costume. For more information

call:

(310) 802-5448

Surffestival.org B

May 10, 2018 • Easy Reader / Beach magazine 15
---
16-23_Layout 1 5/11/18 8:25 AM Page 16

The black stripe on Ryan Bullock's shoulder during last year's Dwight Crum Pier to Pier Swim was in memory of retired lifeguard Ed Nelson, who died when

he reached the Manhattan Beach pier in the 2016 race .Bullock has won the swim the past four out of five years. Photo by Ray Vidal

by Randy Angel

Two of the area's top swimmers look to return as winners of the

Dwight Crum Pier-to-Pier Swim during the 56th edition of the International

Surf Festival, to be held at local beaches Wed., August 1

through Sun., August 5.

Redondo Beach is the host city for this year's competition presented by

BeachSport.org, the Chambers of Commerce, the Cities of Hermosa Beach,

Manhattan Beach, Redondo Beach and Torrance, and the Los Angeles

County Fire Department and Department of Beaches and Harbors.

Lifeguard Ryan Bullock, of Torrance, and Lifeguard El Segundo's Kelsey

Cummings have been the top swimmers in recent years with Bullock looking

for his third straight victory and fourth in five years.

In last year's victory, the 33-year-old Bullock held off Kevin Fink, of San

Pedro, with a winning time of 41 minutes, 16 seconds. Fink won the race

in 2015 and 2013.

"I always know Kevin will be the guy to beat," Bullock said after the 2017

race. "He's only 21 so the age factor comes into play. Except for the strong

current moving south in the second half of the race, the conditions were

great. The water was warm and clear and I could see schools of fish underneath

me."

Bullock was also a member of the Redondo/Torrance/Cabrillo team that

won the Bud Stevenson Intracrew Relay in 2016 and swam for the LA

County Southern championship team in the Judge Taplin Medley Relay

team that won titles in 2015-17.

"I'm aiming to defend my title, however you never know who's going to

show up," Bullock said. "It's my favorite event of the year because of the

great atmosphere surrounding it with the International Surf Festival. The

hardest part of the race is managing the start then hanging on with a good

pace for the entire two miles."

On the women's side, Cummings captured her second title in three years

with a time of 46:48. She finished second in 2016.

"The water was beautiful and warm," Cummings said. "The first half of

the race was great. Then it became a little bumpier as we headed to the

Manhattan Beach Pier. I just focused on the men in front of me and did my

best not to get passed."

She also competed in the Bud Stevenson Intracrew Relay Friday night,

lifeguarded in Santa Monica on Saturday then returned to Hermosa Beach

Saturday night for the Taplin Medley competition.

Cummings was a member of the LA County team that competed at the

United States Lifesaving Association (USLA) National Championships in

Daytona Beach, Florida, where she has finished second in overall points in

the women's division the last two years.

Swimmers who did not complete the 2017 Pier-to-Pier swim must register

for the swim online and then pass a 500-meter "check out" swim which

will be held at the Hermosa Beach Pier on July 14, 21 and 22 from 9-11

a.m. New swimmers can also qualify by competing in the inaugural Redondo

Beach Open Water Swim on Sunday, July 15 at Miramar Park, 201

Paseo De La Playa.

After the Los Angeles County Lifeguard Medal of Valor Dinner is held

Wednesday, Aug. 1 at 6 p.m. in Redondo Beach, Surf Festival competition

begins in earnest on Friday with the two-day Charlie Saikley Volleyball

Tournament beginning at 9 a.m.

The LA County Lifeguards Championship take place at 7:30 p.m. at the

Hermosa Beach Pier.

Action continues Saturday with a full schedule of events including, the

International Bodysurfing and Surfing Championships, R-10 Paddleboard

Race, Dick Fitzgerald Two-Mile Run and Southern California Lifeguard

Championship event including the Judge Taplin Three-Mile Lifeguard Medley

Relay.

Competition wraps up on Sunday with the Velzy-Stevens Pier-to-Pier Paddleboard

Championship, Sand Castle Design Contest, Jr. 6-Man Beach Volleyball

Tournament (boys & girls 12-18), Paul Matthies Dory Race and South

Bay Youth Swims and Paddles.

Surffestival.org. B

16 Easy Reader / Beach magazine • May 10, 2018
---
16-23_Layout 1 5/11/18 8:25 AM Page 17
---
16-23_Layout 1 5/11/18 8:26 AM Page 18

310.539.6685 310.884.1870

310.326.9528

866.BEYOND.5

310.534.9560

310.539.2993

310.530.3079

310.517.0324

310.326.8530

TORRANCE

TOWNE BEAUTY

CENTER

310.539.3526

310.997.1900

www.cflu.org

CUT * COLOR * STYLE

310.539.2191

310.326.3354

310.530.4888 310.534.0220

310.326.4477

310.530.0566

424.347.7188

310.325.2960 310.891.2237

310.530.8411

310.530.5443

New Smiles Dentistry

Stephen P. Tassone, DDS

310.791.2041

310.517.9366

310.530.3268

310.539.1808

WineShoppe

310.539.1055

Northwest Corner of

Crenshaw Blvd. & Pacific Coast Hwy. in Torrance

~ For Information, Call 310.534.0411

A LA CAZE DEVELOPMENT COMPANY PROJECT

beach fun runs

by Randy Angel

Amid a sea of red, white and

blue, beach runners begin

their Independence Day celebration

by competing in the annual

Village Runner 4th of July 5K.

Now in its 25th year, the UCLA

Health-sponsored race begins and

finishes in Redondo Beach's Riviera

Village, a well-known spot for Juan

Paredes who will be seeking his

third straight victory at this year's

event

"It's exciting to win the race two

years in a row," the East Los Angeles

resident said. "I love the community

race atmosphere. It's a cool

course, which is why I came back

and I'll be back next year. The

course is a little challenging on the

way out but it's downhill at the end

making for fun finishes."

Last year, Paredes crossed the finish

line in 15 minutes flat and was

later joined by his girlfriend Valerie

Sanchez who posted the women's

winning time of 16:59. All participants

receive a 4th of July Run T-

shirt with age division awards and

cash prizes given to the top three

overall male and female finishers.

The event also features the Firecracker

Dash for kids who each receive

finisher medals.

$35 for the 5K and $25 for the

Firecracker Dash by June 5 (add $5

thereafter).

Registration at Village Runner

stores. (310) 376-7900. Or at

Villagerunner.com

Roundhouse Fun Run for

the Oceans

May 12

Manhattan Beach

Benefitting the Roundhouse

Aquarium, the 6th Annual Run for

the Oceans 5K run/walk begins on

the north side of the pier. The $35

entry fee includes electronic timing,

commemorative T-shirt, participation

medal and refreshments.

The 1st through 3rd place finisher

in each division receive a medal.

There will also be a raffle after the

race for more fun and prizes.

Register at

Roundhouseaquarium.org

Armed Forces Day 5K

Saturday, May 19

Torrance

Village Runner hosts the 3rd annual

Armed Forces Day 5K for

Freedom race at 8 a.m. The course

begins and ends on Madrona Avenue

in front of the Del Amo Mall.

All finishers receive a 5K for Freedom

T-shirt. There will be chip

timing and sponsor refreshments.

$40.

Register at Villagerunner.com.

Conquer Our Run

Sat., June 9, Manhattan Beach

Sat., July 7, Hermosa Beach

The Conquer Our Run's Father's

Best and It's Hot ConQuest races

begin at 7 a.m. and benefit Lupus

Redondo Mayor Bill Brand runs for

reelection in the Village Runner 4th

of July 5K. Photo by Randy Angel

LA, Breast Cancer Charities and

other charities. $29 (5K) and $32

(10K).

Active.com or visit Conquerour-

Run.org and click SoCal.

Champions for

Children 5K

Saturday, June 23

Ernie Howlett Park

25851 Hawthorne Blvd., RH Estates

The Fifth Annual Champions for

Children 5K Trail Run/Walk, sponsored

by South Bay Children's

Health Center, will raise money

for quality mental and oral health

services for underserved children,

teens and young adults. Participants

can join either the 5K Trail

Run, beginning at 8 a.m. or the 5K

Trail Walk, beginning at 9:15 a.m.

The event includes vendor booths,

and a Kids Fun Run. Fees are $35

for adults, $25 children 8-12 and

children 7 and under participating

in the Kids Fun Run are $15.00.

Register at Sbchc.com. B

18 Easy Reader / Beach magazine • May 10, 2018
---
16-23_Layout 1 5/11/18 8:26 AM Page 19

beach sports

Summer triathlons at the beach

by Randy Angel

Redondo Beach Triathlon

Redondo Beach hosts the first of

two beach triathlons on Sunday,

June 10 at 7:30 a.m. at Veterans

Park. The Redondo Beach Triathlon

will be celebrating its 14th year.

Last year's event was highlighted

by the emergence of younger winners

when 19-year old Duncan

Reid, a former Palos Verdes High

School distance runner, and 18-

year-old Victoria Woolfolk of Santa

Ana claimed the men's and

women's titles.

Reid finished the course with a

time of 41 minutes. Woolfolk placed

21st overall with a time of 50:04.

"It's nice to see new faces win

and the younger generation become

so competitive," Race Director Rick

Crump said. "It's great for the

sport."

The scenic, USAT sanctioned

event consists of a 1/2-mile swim, 6-

mile bike, and a 2-mile run. A noncompetitive

mini-sprint (half the

distances) is also scheduled.

Awards will be given to the top

three finishers in each division and

the top two relay teams.

Limited to 600 entries, the event

includes a sprint race ($80 for ages

13-19 and 65 and older; $95 for ages

20-64), sprint relay ($130), mini

sprint ($75) and mini sprint relay

($100). Add $5 beginning June 1.

rbtri.com

Hermosa Beach Triathlon

This year's Hermosa Beach

Triathlon takes place June 24 at 7

a.m. The swim begins on the south

side of the Hermosa Beach Pier and

ends on the north side. The swim is

followed by a 10 mile bike course,

which begins with a small climb up

Pier Avenue and then heads up Valley

Dr. toward Manhattan Beach.

The run course is out-and-back

along the Hermosa Beach Strand

with scenic ocean views.

Defending champions are local

athletes Mark Tripp, of Redondo

Beach, and Megan Cross, of Hermosa

Beach.

Dayatthebeach.com. B

May 10, 2018 • Easy Reader / Beach magazine 19
---
16-23_Layout 1 5/11/18 8:26 AM Page 20

20 Easy Reader / Beach magazine • May 10, 2018
---
16-23_Layout 1 5/11/18 8:26 AM Page 21

beach

sports

Redondo's Beach Karue Sell

used a strong backhand

to claim the 2017

Men's Open title at the

Manhattan Beach Tennis Open.

Photo by Kevin Cody

MB Tennis Open

hits mid-century

by Randy Angel

The Manhattan Beach Tennis Open begins its second half century of

play with its 51st annual competition Thur., July 26 through Sun.

29. Players 16 and older of all skill levels compete.

Competition will be held on the Live Oak Park and Mira Costa High

School tennis courts beginning at 8 a.m. Sundays finals will be played at

the Manhattan Country Club, 1330 Parkview Ave., beginning at 10 a.m.

"The Manhattan Beach Open Tennis Tournament is a great showcase of

tennis talent in the South Bay," said Recreation Supervisor Michael Hudak.

The level of play continues to be stellar, with champions and runner-ups

coming back year after year to defend their titles.

"A special thanks goes out to all of our sponsors, including our title sponsor

Pacific Audi, and all of our supporting sponsors: Manhattan Country

Club, Penn, Head, Essentia water, and Kind bars."

The single-elimination tournament includes Men's and Women's Open

Singles and Doubles Divisions to Amateur Division.

Prizes and trophies are awarded to all division winners and each participant

receives lunch, a T-shirt, and a goodie bag.

In last year's Men's Open Singles championships, Redondo Beach's

Karue Sell defeated Connor Chance of Torrance.

Jenna Moustafa of Los Angeles captured the Women's Open title, defeating

Redondo Beach's Libby Judas.

Brothers Austin and Connor Rapp of Rancho Mirage won the Men's

Double tournament while Judas and Elizabeth Ferris, of Anaheim, joined

forces to capture the Women's Doubles title.

For more information or to register, visit citymb.info or call (310) 802-5000. B

May 10, 2018 • Easy Reader / Beach magazine 21
---
16-23_Layout 1 5/11/18 8:26 AM Page 22

Chevron MB Grand Prix

in its 57th year

Cyclists adapted to the sharp turn at 15th Street during last year's course reversal

at the Chevron Manhattan Beach Grand Prix. Photo by Kevin Cody

by Randy Angel

After reversing course direction last year, the Chevron Manhattan

Beach Grand Prix is sticking with the change for the 57th annual

race on Sunday, July 22 beginning at 7 a.m.

The 1.3-mile course begins across from Live Oak Park (1800 Valley Drive)

and includes a tight opening turn at 15th Street before riders jockey for

position.

Co-sponsored by the South Bay Wheelmen and founded by Ted Ernst in

1961, the event includes Men's and Women's Pro racers from across the

United States beginning with the women's competition at 1 p.m.

Defending champions include Cory Williams and Anita Stenberg, who

won the Men's Pro 1-2 and Women's Pro 1-3 events, respectively.

The event begins with the Cat 4 race followed by the 50/60+ 1-4, Male

35+ ¾, Junior 15-19 1-4 and Men's Cat 3 divisions.

The popular Community Kids races take place at 12 p.m. with every entrant

receiving a T-shirt. Boys and girls ages 6-12 compete with two-wheel

bikes in the 300-meter race.

Younger riders ages 2-6 (tricycles and small bikes - training wheels approved)

line up at noon at the crosswalk just south of the start/finish structure

for the 50-meter race. B

22 Easy Reader / Beach magazine • May 10, 2018
---
16-23_Layout 1 5/11/18 8:26 AM Page 23

Paddlers and surfers can find

a South Bay event to compete

in just about every

weekend through the summer.

> sports > waterworks

South Bay Paddle

Saturday, June 9

The inaugural South Bay Paddleboard

Race is being organized by

Catalina Classic's Scott Rusher and

South Bay Boardriders' Matt Walls.

It will be the first paddleboard race

to start in Hermosa Beach since the

Hennessey World Paddleboarding

Championships in 2011 (pending

City approval). The SB Paddle

starts at the Hermosa Beach Pier at

7 a.m., goes south to Torrance

Beach, then out to the R10 buoy

and back to the Hermosa Pier, for

a distance of 15 miles. This is for

"hands only," stock (12-foot and

under) and unlimited prone

boards. Divisions: Groms (under

18), Open Men, Open Women,

Legends (50+).

PaddleGuru.com/races/

TheSouthBayPaddle

Open Prone Paddle

Saturday, June 9

Kurt Fry and the South Bay

Boardriders Club have organized a

"short" course race to start after the

South Bay Paddle. Open Prone

Paddle is a new organization

formed to encourage young paddlers.

SouthBayBoardriders.com

Rock2Rock

Sunday, June 24

The annual Rock2Rock begins at

the Catalina Isthmus and ends at

Cabrillo Beach. The 22.17 mile

downwinder is open to both individual

competitors and relay

teams, prone and SUP. Rock2Rock

is a qualifier for the Catalina Classic

and Molo2Oahu races in August.

The race attracts up to 100

prone and stand-up paddleboards.

Escort boats are required. Proceeds

benefit the Ocean of

Hope/Sacroma Alliance.

Rock2RockRace.com

South Bay Dozen

Saturday, July 1

The South Bay Dozen was

founded in 2006 by Los Angeles

County Lifeguards Mike and Brian

Murphy and benefits the Jimmy

Miller Foundation. The familyfriendly

event includes paddleboard,

surf ski, outrigger, swim

and running races. Points are accumulated

for each event participated

in, making for a full day of

water sports. Torrance Beach.

southbaydozen.com

ISF Body Surfing Contest

Saturday, August 4

The International Body Surfing

Championship features eight

men's and women's age divisions.

Age groups are determined immediately

before the contest begins

and will be approximately equal in

size. Limited to 108 male contestants

and 36 female contestants.

The top 2 finishers in each preliminary

heat will advance. The ISF

Body Surfing Championships are

run by the Gillis Beach Bodysurfing

Association. Participants range

in ability from the novices to former

World Champions. Swim fins

only. Check in begins at 6:15 a.m.

north side of Manhattan pier.

SurfFestival.org

ISF Surfing Contest

Saturday, August 4

Contest director John Joseph is

hoping (their website solicits

prayers) for surf this year. Divisions

will include men's and

women's' shortboards, longboards

and stand-up paddleboards. Advance

registration is advised.

Beach entries only if there are division

openings. Check ins begin at

7:30 a.m. south of the Manhattan

pier.

SurfFestival.org.

ISF Riviera Mexican Grill

R-10 Paddleboard Race

Saturday, August 4

The Riviera Mexican Grill R-10

race is a seven mile, in and out race

from Torrance Beach to the R-10

buoy off Rocky Point. 8 a.m. The

event is open to paddleboards,

SUPs, and surfboards (boards

under 10-foot-6). There are shorter

races for kids and less serious paddlers,

too. The race is affiliated

with the International Surf Festival.

SurfFestival.org

ISF Velzy-Stevens Pier to

Pier Paddleboard Race

Sunday, August 5

The Velzy-Stevens race, named

after paddleboard builder Dale

Velzy and champion paddler Terry

Stevens. The race starts off the end

of the Manhattan Beach Pier at

7:30 a.m. and finishes on the

beach, south of the Hermosa

Beach Pier. It's family-friendly,

with parents and kids paddling

310.937.3902 700 S. Aviation Blvd.

Manhattan Beach

May 10, 2018 • Easy Reader / Beach magazine 23
---
Michael Burstein is a probate and estate planning

attorney. A graduate of the University of California,

Hastings College of the Law in 1987, he is admitted

to the California, Kansas and Oklahoma Bars and

is a member of the Order of Distinguished Attorneys

of the Beverly Hills Bar Association.

As an estate and probate lawyer, Michael has prepared

approximately 3,000 living trusts and more

than 4,000 wills.

An Estate Planning,

Estate Administration,

and Probate Attorney

l Living Trusts

l Wills

l Powers of Attorney

l Asset Protection

l Veterans Benefits

l Pet Trusts

l Advance Health

Care Directives

l Insurance Trusts

l Probate

l Conservatorships

l And Much More!

Call us to schedule an appointment or for our

FREE Guide:

Selecting the Best Estate Planning Strategies

111 North Sepulveda Boulevard, Suite 250

Manhattan Beach, California 90266

310-545-7878

Paddlers of all ages and on all manner of boards compete in the International

Surf Festival Velzy-Stevens Paddleboard Race, from the Manhattan to

the Hermosa pier. This year's race is Sunday, Aug. 5. Easy Reader File

Photo

solo and tandem and others riding

all sorts of boards.

SurfFestival.org

Grom O Rama

Sunday, August 12

A day of paddling and instruction.

Boards provided free. Organized

by Open Prone Paddle, a new

organization formed to encourage

young paddlers. 9:30 a.m. at 22nd

Street, Hermosa Beach.

SouthBayBoardriders.com

Catalina Classic

Sunday, August 26

The Catalina Classic is the oldest

(established 1955) and longest (32

miles) organized paddleboard race

in the world. Legendary watermen

Greg Noll, George Downing, Rick

Gregg and Tom Zahn were among

the 13 paddlers who competed in

the first race. It continues to be the

most prestigious prone paddleboard

race in the world, attracting paddlers

from all over the world. Sorry,

no stand-ups. Starts from the island

Isthmus and finishes at the Manhattan

Pier.

CatalinaClassicPaddleboardRace.org

Paddling resources

Stand up paddleboard lessons and rentals are available in Hermosa

Beach at Spyder Surf (Spydersurf.com), and Pier Surf; in Manhattan

Beach at Nikau Kai (NikauKai.com); in Redondo Beach at Tarsan

Stand-up (tarsanstandup.com), Paddle House (paddle-house.com) and

Dive N' Surf (DiveNSurf.com); and in Torrance at Olympus Board

Shop (OlympusBoardshop.net).

PADDLING, HAWAIIAN STYLE

Lanakila Outrigger Canoe Club in King Harbor trains half a dozen

men and women teams, ranging in experience from novices to world

champions and girls and boys 8-person teams. People who have never

paddled are encouraged to come out and compete in novice races. Visiting

paddlers are also welcome. Novice practices are Monday and

Wednesday evenings for women and Tuesday and Thursday for men.

The practices begin at 5:30 p.m. and continue until dark. Weekend

practices are scheduled at various times.

Lanakila.com.

US Outrigger Championships

September 8, 9

The 59th annual Catalina Channel Crossing/US Outrigger Championships

is the longest Polynesian canoe race in the continental U.S.

The women's race begins in Newport and finishes 26 miles later, in

Avalon. The men's race departs Avalon the following morning for

Newport. Proceeds support local charities.

Catalinacrossing.org. B

24 Easy Reader / Beach magazine • May 10, 2018
---
May 10, 2018 • Easy Reader / Beach magazine 25
---
each flight

Reporter Dexter Ford and pilot Henry Boger,

owner of Pacific Blue Air.

Photos courtesy of Pacific Blue Air

26 Easy Reader / Beach magazine • May 10, 2018
---
trikeFord

Otherwise known as

weight-shift-control light sport aircraft because

that's how you steer them — by shifting your weight

You've seen them buzzing along the beach like

monstrous bees, or swooping low like Skittlescolored

seagulls off the Manhattan Beach

Roundhouse. They look—and sound—like the unholy

spawn of a hang glider and an industrial-strength leaf

blower. Some people love these carefree, airborne symbols

of freedom and fun. Others, not so much. As with

many loud, brightly-colored adult toys, from Ducatis to

Lamborghinis to jet skis, these tiny, open-air airplanes

look incredible fun if you're the one steering. For the

rest of us, those of us staring up at all the noise and merriment,

uninvited from the aerial fun-fest—well, your

emotions may vary.

But where do these things come from? Is there an airborne

biker bar hidden somewhere on the industrial

side of the 405? Is there a secret Batcave that houses

these bat-like airplanes, presumably owned by a reclusive,

wealthy thrill seeker, a kind of Beach Cities Bruce

Wayne?

A few seconds on Google provided some answers.

These airplanes are flown by Pacific Blue Air, a flight

school that specializes in what are called Weight-Shift-

Control Light Sport Aircraft. From its base hangar at the

Hawthorne Airport, just south of the 105 Freeway, Pacific

Blue conducts introductory flight lessons that just

happen to go over some of the most beautiful and interesting

sites in Southern California. After the first,

fun-oriented intro lesson, Pacific Blue can also take you

all the way to earning a full Light Sport Pilot's License,

setting you loose to fly across the country if you want.

G-Whizz

They may look a little Backyard Buck Rogers at first

sight, but these airplanes are FAA certified, exhaustively

tested and rigorously engineered. Small single-engine

airplanes, like routine Pipers and Cessnas, are typically

built to withstand about three times the force of gravity

— that is, to support three times their loaded weight.

The LSA that Pacific Blue flies, the Evolution Revo, is

designed and tested to twice that—6gs. So even though

it may look like a combination of a lawn dart, espresso

machine and bloated bobsled, it is very much a serious,

civilized airplane.

Instead of conventional controls, these trikes, as they

are called in the business, are steered by the pilot adjusting

the angle of the wing relative to the body of the

plane hanging underneath. This method of control is

older than the first airplane. The gliders that inspired

the Wright brothers, flown by German pioneer Otto

Lilienthal, were controlled this way, as are the thousands

of unpowered hang gliders. Instead of a control

yoke or a joystick, the pilot holds the bottom of a big

aluminum triangle that is rigidly attached to the wing

flying above, while the fuselage, complete with engine,

pilot and passenger, actually dangles beneath like a

plumb bob. It sounds sketchy, but it works.

The Blueberry Sea Dragon

Pacific Blue Air's headquarters hangar is located just

a couple hundred feet north of Elon Musk's SpaceX

compound. When I arrived, peeling off the 105 freeway,

I saw a bizarre contraption touching down on the runway,

a crazy-looking, blueberry-colored gyrocopter that

looked like a cross between Barney the Dinosaur and a

Leafy Sea Dragon from an aquarium shop. Sure

enough, the madman who was flying it was going to be

my own personal madman, errr, flight guide.

Henry Boger, the company's owner, is a Certified

Flight Instructor, fully examined and licensed by the

FAA. He has been flying for over 25 years. He's fun,

smart and warmly proficient, with the rare ability to

teach without making learning feel like work. Since I'm

already a licensed pilot, Henry cut to the chase, giving

me a quick walk around our bright yellow Zonker of an

airplane, setting me up with a flight suit and helmet,

complete with headphones and microphone, and strapping

me into the rear seat of the Revo. You don't so

much sit in a Revo as on it; my manly legs were soon

wrapped tightly around Henry. Most Light Sport Aircraft

flying is done from smaller, uncontrolled airfields,

but Hawthorne is a bona-fide big boy airport, complete

with business jets and an FAA control tower. Which

meant that when Henry wasn't chatting to me over the

headphones and intercom, he was talking to Hawthorne

tower as we taxied out, did our preflight checklist and

engine run-up, and then, cleared for takeoff, trundled

out onto the runway. The 5,000-foot runway at

Hawthorne could be considered excessive for our purposes.

Henry gunned the throttle of our 100-horsepower

Rotax engine, and had our lightweight craft well into

the air after only about 500 feet. "That's Harrison Ford's

new hangar complex, for his airplane collection," he

said as we climbed over the runway, pointing out a massive

3-hangar construction site on the northeast corner

of the airport. Hawthorne Airport is right on the boundary

of the LAX restricted airspace. It felt bizarre to be

climbing in a vibrating, open-air June bug, humming

over the gray expanse of the city, flying parallel to huge

Airbus A380s descending into LAX just the other side

of the 105 freeway.

On Top of the World

We climbed to a bit over 1,000 feet and set sail for the

coast, the afternoon sun reddening as we flew. True to

his instructor nature, Henry had me take the controls

to get acclimated to flying this odd beast. If you're an

experienced pilot, everything you know is suddenly

wrong. In a normal Cessna — or, for that matter, an F-
---
18 — you pull back on the flight controls to go up, and push forward to go

down. The Revo works exactly the opposite. Which made my first attempts

to keep us flying straight and level an exercise in doing anything but. "Pilots

make some of the worst students," said Henry, laughing. "New students

don't have to break any old habits before they can start making new ones."

Pacific Blue Air will take you anywhere in the Los Angeles area you want

to go. Many out-of-towners choose a tour of the Hollywood sign. But their

usual flight path — which I have observed many times from the comfort of

my backyard hot tub — takes them along the Valley/Ardmore green belt,

over Manhattan Beach to the pier, then follows the coast south to Palos

Verdes. Once over the ocean, Henry dived down to wave-to-the-surfers altitude

— FAA regulations allow this type of slow, lightweight craft to fly as

low as desired above water or deserted areas, so long as they are not over

people or structures. This is far safer than it looks, or feels. Because of our

slow speed and short landing distance, we could pop down onto the sand

and land in a few seconds if we had an engine problem, with little risk to

ourselves or anyone on the ground.

The low, slow hello

The experience was gorgeous. The entire Los Angeles basin was laid out

underneath us, as if we were flying in our own private beach chairs. We

were low enough to wave to people on the pier and people walking along

the beach, and see them happily wave back. It felt a bit like being the

mayor, waving to the crowd in a July 4th parade. Or like Charles Lindbergh,

waving to the crowd at Le Bourget airport outside Paris after his long, lonely

flight over the Atlantic.

We hummed along over the blue/green Pacific, keeping our eyes peeled

for dolphins and grey whales, swooped down to check in at the Hermosa

pier, and then approached King Harbor. The airspace south of the harbor

is managed by the Torrance Airport control tower, but it took just a quick

radio call to get clearance to fly through — we were so low, there was little

chance we would interfere with Torrance air traffic. Then it was on to Palos

Verdes, skimming along just a couple hundred feet above the cliffs. I pointed

out where my wife and I were married, on a cliff just west of Point Vicente.

"We sometimes go all the way out to Catalina," Henry said. "But with the

sun going down in an hour or so, I think we'll turn around and start heading

back." I had cleverly failed to wear a jacket over my official Pacific Blue

Air jumpsuit, and my hands were starting to ice up in my thin gloves. Note

to self: Flying in February, at 80 mph, in a completely open airplane, suggests

dressing warmly. As a veteran pilot and motorcyclist, I blame myself.

Next time, it's the full winter riding gear and big, fuzzy ski gloves.

Thar she blows

We did spot one whale blowing, just off the kelp line, as we circled over

the Catalina Channel, shadowing a whale-watching boat out of King Harbor.

But the whale sounded after that breath and disappeared from view. We

tracked back north up the coast, watching seagulls pirouette beneath us.

"I've never had a bird come too close to our planes," Henry said. "My guess

is we are going so slowly, they have plenty of time to see us coming and get

out of the way."

I had told my next-door neighbor, Kevin Barry, that I would circle over

our Manhattan Beach Tree-Section street during my flight. Sure enough, I

soon spotted our house, with its solar-panel array on the roof, and we took

the time to spiral overhead. I couldn't see Kevin from our FAA-required altitude

of 1,000 feet above the city, but he told me later that he had, indeed,

spotted us and waved, this time from the comfort of his hot tub.

To the Batcave

After landing at Hawthorne, we quickly taxied back to Pacific Blue Air

headquarters. With the engine shut off, Henry used our momentum to coast

right back into the hangar. From the control tower, it looked like we had

simply disappeared from view. "The controllers like to call our hangar The

Batcave," Henry said. "We pop in and out, right onto the taxiway, just like

the Batmobile".

Your turn

Introductory LSA flight lessons, like the one I took, start at $175 for a 30-

minute flight. Bring a nice warm ski parka and big, toasty gloves. For more

information, visit pacificblueairla.com. B

28 Easy Reader / Beach magazine • May 10, 2018
---
y Bondo Wyszpolski

> theater

Surf City Theatre

As Hermosa's only regular theater

company, Surf City Theatre

needs to be smart, entertaining,

and adventurous. It has two productions

opening between now

and the end of summer, beginning

with "An Evening of Durang," comprised

of comedic one-acts by

Christopher Durang, best known

for "Vanya and Sonia and Masha

and Spike," which won the Tony

Award for Best Play in 2013.

"An Evening of Durang" is performed

from May 25 to 27. Performances,

Friday and Saturday at

8 p.m. and Sunday at 2 p.m.

This will be followed by Robert

Harling's "Steel Magnolias," which

first appeared as a play in 1987 and

then in 1990 as a film with Sally

Field and Julia Roberts.

"Steel Magnolias" is performed

from June 16 to July 1. Performances,

Friday and Saturday at 8

p.m. and Sunday at 2 p.m. Tickets,

$25.

The Second Story Theater is an

intimate venue so it's best not to

wait as shows often sell out

quickly. 710 Pier Ave., Hermosa

Beach. (424) 241-8040 or surfcitytheatre.com.

Torrance Theatre Co.

Adding to the cultural arts scene

in Old Torrance, The Torrance Theatre

Company is concluding its regular

five-show season with "A

Catered Affair," a musical by Harvey

Fierstein (book) and John

Bucchino (score) that tells the story

of a Bronx mother's efforts to give

her only daughter the elaborate

wedding she never had… and the

bride never asked for. During its

Broadway run it received the

Drama League's 2008 award for

Best Musical. It also garnered 12

Drama Desk Award nominations

and three Tony nominations.

"A Catered Affair" is performed

from May 12 through June 17 at the

Torrance Theatre, 1316 Cabrillo

Ave., Old Torrance. Show times are

Friday and Saturday at 8 p.m. and

Sunday at 2 p.m., plus a Thursday

evening performance on June 14,

followed by a Q&A with the cast.

Tickets, $30. Call (424) 243-6882 or

TorranceTheatreCompany.com.

"Encore: A Murderous Mystery"

is being presented by the Friends of

the Torrance Theatre Company and

it's their annual fundraiser. This

dinner theater event takes place at

the Doubletree Hotel by Hilton,

21333 Hawthorne Blvd., Torrance.

Doors at 5:30, dinner at 6, and show

at 7 p.m. Tickets are $110 if you're

quick and $125 if you're not. For information,

(424) 243-6882.

"How to Succeed in Business

Without Really Trying" is this year's

big summer show, running August

11 to 25, which the Torrance Theatre

Company is staging in the

James Armstrong Theatre, 3330

Civic Center Drive, Torrance. Abe

Burrows, Jack Weinstock, and

Willie Gilbert wrote the book, and

Frank Loesser handled the music

and lyrics. Reserved seating starts at

$25, but tickets don't go onsale to

the general public until June 1.

More information by contacting the

Torrance Theatre Company or the

Armstrong box office at (310) 781-

7171.

3-D Theatricals

Formerly Fullerton-based, next

season the company moves permanently

to the Cerritos Center.

They've staged a few seasons locally,

most recently presenting "Million

Dollar Quartet" and

"Spamalot." Jason Robert Brown

and Alfred Uhry's "Parade" will be

their swan song in the South Bay.

"Parade" is a Tony Award-winning

murder mystery musical and it will

run from June 15 to 24 at the Redondo

Beach Performing Arts Center.

It stars Davis Gaines, Jeff

Skowron, and Rufus Bonds, Jr. T.J.

Dawson directs. Details to come.

More at 3dtheatricals.org.

Kentwood Players

One of the longest-running theater

companies locally, Westchesterbased

Kentwood Players are

presenting "Match," by Stephen Belber.

It's a Tony-nominated comic

drama about two journalists who

arrive to interview a famous dancer

and choreographer. Clearly, the interview

veers into uncharted and

unsettling territory. "Match" opens

on May 11 and runs through June

16. Performances are Friday and

Saturday at 8 p.m. and Sunday at 2

p.m. Tickets are $22, less $2 for seniors.

"Daddy's Dyin' Who's Got the

Will" follows "Match," onstage from

July 13 through August 18. The

weekend schedule is also Friday

and Saturday at 8 p.m. and Sunday

at 2 p.m.

All shows take place at the

Westchester Playhouse, 8301

Hindry Ave., Westchester. (310) 645-

5156 or go to kentwoodplayers.org.

B

HANDYMAN

SCHATAN

• Reasonable & Reliable

• All types of jobs

welcome

• No job too small

MATT

310 540-4444

unlic.

May 10, 2018 • Easy Reader / Beach magazine 29
---
homes

The 45th Annual Sophisticated Snoop home tour might more accurately

be called the home and art tour. The homes, themselves, are works of

art. But so also are the owners' collections of work by local and internationally

renowned artists. Proceeds benefit American Martyrs School in

Manhattan Beach. Sophisticated Snoop 2018

A French view

This custom contemporary Tree Section home was designed with personal touches

throughout. After stepping through its lush front gardens, past the French limestone

fountain, you'll find yourself transported to Provence. It took six years to perfect this

French-inspired residence, from the artistic owner's stained glass creations in the grand

front door to the hand-sculpted herringbone oak floors in the dining room. Notice the imported

French limestone fireplace and mantle in the living room, hand-carved by local

craftsmen. Don't miss the lower level, custom-built wine cellar, which stores an impressive

8,500 bottles of curated vintages. The hobby room reveals an extensive model train collection,

and the kids' lounge features upholstered walls and its own kitchen. The top floor's

arched entrance to the master suite is encased in maple, and the hand-painted ceiling is a

showstopper. The kitchen is an open floor plan and highlights hand-painted panels to further

enhance the French interiors. The home serves to exhibit the art loving owners extensive

collection of paintings by their favorite artists. Vive la France!

Coordinators: Beth Bayerd, Alex Sheehan, Anne Gumm

Friday, Saturday, Sunday

May 18, 19 and 20, 10 a.m. to 4 p.m.

Donation: $35 Presale: $30

Proceeds benefit American Martyrs School

TICKETS AVAILABLE AT

Manhattan Beach: American Martyrs, Grow, The Produce Shop, Patterson Cleaners,

Tabula Rasa, Bristol Farms, Look! Optometry and Pages

Hermosa Beach: Aaron Brothers Art & Framing and Uncorked — The Wine Store

Redondo Beach: Card de A

Rolling Hills: Bristol Farms

El Segundo: Banner Stationers

Sophisticated Snoop Committee:

Chairperson – Debbie Walmer • Home Descriptions – Catherine Coberly

Photography– Liz Chalmers, Geoff Captain Studios • Staffing – Mary Kutsenoa

Hospitality – Linda Cronkite, Heather Rezner, Chris Mancini

Home Renderings and Ticket Cover – Maryann Nash • Ticket Layout – Lauren Harger

30 Easy Reader / Beach magazine • May 10, 2018
---
The Jerry Carew Team

1716 Manhattan Beach Blvd. Suite A, Manhattan Beach • www.3LeafRealty.com

$1,669,000 $1,799,000 $1,799,000

$3,375,000

1747 2nd St., MB

3 bed/2 bath

1108 Vincent St., #A, RB

4 bed/3 bath

1108 Vincent St., #B, RB

5 bed/4 bath

628 Elvira Ave., RB

6 bed/6 bath

$1,399,000

$1,429,000

IN ESCROW - $999,000

FOR LEASE - $8,500

2309 Clark Ln., #A, RB

4 bed/4 bath

Thank you for your continued support...

Large enough to serve you.

Small enough to know you.

J e r r y C a r e w 310-714-1416 Jerry@3LeafRealty.com

Broker

2309 Clark Ln., #B, RB

4 bed/4 bath

1209 Steinhart Ave., RB

3 bed/2 bath

701 Loma Dr., HB

3 bed/2.5 bath

BRE#01374136

May 10, 2018 • Easy Reader / Beach magazine 31
---
Sand Section family farmhouse

This beautifully appointed, five-bedroom modern farmhouse in the Sand Section of

Manhattan Beach was built in 2008 and recently renovated for a busy family's every

need. From the moment you open the oversize Dutch door and view the spa room on

your right, you will appreciate its classic beauty and updated features. The spa room (formerly

the living room) has vaulted ceilings and a fireplace – it's a perfect family hang-out

spot. The open floor plan features walnut floors throughout. A handsome herringbone-tiled

fireplace warms the dining area, and the custom finishes in the kitchen keep the space personalized

and family-friendly. Turn the corner to head downstairs to the customized teen

"apartment," consisting of a bedroom and living space, and a full bath. The first floor powder

room is decorator-perfect with painted grey and white stripes from floor to ceiling. A bright

and light second floor features an office, two additional bedrooms and a cozy master suite,

bedecked in blue and white and showcasing a stone fireplace and stunning view of the Hill

Section. It is the perfect family abode.

Coordinators: Janelle Merriman, Genaide Kilduff, Tracy Horan

32 Easy Reader / Beach magazine • May 10, 2018
---
For more information email us at support@openhouseday.com

May 10, 2018 • Easy Reader / Beach magazine 33
---
Distinctively modern

This stunning, contemporary home, built in 2016 in the Hill Section of Manhattan

Beach, features a dramatic front door and custom wood siding that give its modern

design its own distinctive flair. Upon crossing the threshold you will find yourself in

an open space that lends itself to family living. Upstairs, the dramatic living room offers incredible

views. The airy patio shares an open floor plan with a separate bar and wine cave,

custom-made for the space, as well as a gourmet kitchen and dining room. A mahogany

trellis runs the length of the entire floor, connecting all living spaces with a uniquely artistic

architectural detail. On the second floor, note the master and two bedrooms, the office with

mahogany built-ins, and the large media room with a barn door and clean lines. The yard

boasts a hot tub, ping pong table, fire pit and seating area for privately entertaining guests.

On the ground floor are a glass walled gym, sauna and steam room and two additional bedrooms,

plus elevator.

Coordinators: Seana Daniel, Erin Pieronek, Tamara Garrett Wyatt

34 Easy Reader / Beach magazine • May 10, 2018
---
A contemporary coastal statement

This custom built, contemporary coastal masterpiece at the end of a private cul-de-sac

offers sweeping views of the Pacific Ocean from the top of the Hermosa Hill Section.

The extraordinary combination of stone, marble and Venetian plaster surfaces are visible

from the incredible grand entrance, which features soaring, 20-foot ceilings, travertine

floors and glass sphere chandeliers. From the toy room to the modern formal dining room

to the expansive kitchen with massive island, architectural details characterize every space.

The formal living room has a stacked, stone fireplace and gorgeous built-in bookcases accompanying

the distinctive dropped ceiling. The substantial, outdoor patio features an oversize

stone spa, built-in barbeque and plenty of seating for enjoying the ocean view. The

central stairway boasts bleached oak floors and commissioned, glass railings. The upstairs

walkway leads to five bedrooms and the graceful master suite, which includes a massive

closet, expansive bath and an inviting balcony with panoramic ocean views. The paintings

and sculptures, several by local artists, reflect the owners' love and support of the arts and

are a fitting complement to this elegant estate.

Coordinators: Keri Simms, Dana Speicher, Lauren Forbes

36 Easy Reader / Beach magazine • May 10, 2018
---
May 10, 2018 • Easy Reader / Beach magazine 37
---
Hospitality haven

Ahospitality hideaway is in the backyard of this elegant Santa Barbara style residence.

The game house and guesthouse of this gorgeous family homestead are in the center

of an abundant outdoor entertainment area. The stylish guest house is perfect for

extended family and out-of-town visitors. It features a full kitchen, cozy bedroom and inviting

living space, with pale blues reflecting the tranquil pool and complementing the lush

landscaping of the yard. The three-story game house is every kid's dream. The first floor

includes full-size arcade games, waterproof flooring and a kitchenette. The top floor encompasses

an inviting family room theater, complete with plush custom seating and an oversize

screen. For a round of cards or just to polish their swing, "big kids" can head to the lower

floor and try their hand at the golf simulator while envisioning being on the 18th hole at

Pebble Beach. Embodying casual California living in the most stylish of settings, this family's

sanctuary is a place you'll never want to leave.

Coordinators: Noelle Stroyke, Tracy Gallagher, Kathy Glynn

38 Easy Reader / Beach magazine • May 10, 2018
---
May 10, 2018 • Easy Reader / Beach magazine 39
---
camps

Camps teach the sport of

surfing and ocean safety

by Ryan McDonald

One of the most common

questions directed at Chris

Brown, a Hermosa Beach

native and the owner and executive

director of Campsurf, is, 'How

do I know when my kid is ready to

learn to surf?' To find out, Brown

said, all you have to do is listen.

"When your kid is saying, 'I

want to surf,' that's when it's the

right time. Some kids are early

adopters, They want to charge at a

young age, five or six. Others are

more reserved. It takes until they

are 11 or 12 to feel comfortable

surfing on their own. There is no

right or wrong time," Brown said.

CampSurf marks 21 years in

business in the South Bay this year.

The camp is open year 'round, but

its business shifts with the seasons.

It's a reflection of the fact that, in

Southern California, there are just

two kinds of people: those who

want to learn how to surf, and

those who already know how.

"We have people from all walks

of life. We offer a camp year-round

so that makes us a little different.

We do primarily adults in winter,

and then primarily kids in the

summer when they're out of

school. But really it's anybody who

wants to learn. We get people in

their 70s who say, 'I've always

wanted to learn how to surf.' And

then we get three- and four-yearolds.

If I'm able to focus on them,

I can teach them. What it really

takes is the desire," Brown said.

Surf camps are scattered up and

down the South Bay beaches during

the summer. CampSurf sets up

its tents on the sand near Rosecrans

Avenue in Manhattan Beach.

The camp benefits from the large

parking lot and lifeguard facilities

nearby, Brown said, but the main

attraction is the surf itself.

Even within the South Bay, there

is tremendous variation among

surf breaks, Brown said. Some

areas may not be exposed to the

south swells that are the dominant

wave makers in the summer, while

others don't draw as well from the

Billy Atkinson, now a Mira Costa High team surfer, shows how much fun a

grom can have with a little instruction and lots of practice. Photo by Steve

Gaffney (SteveGaffney.com)

northwest swells that predominate

in the winter. The El Porto area can

take in both, Brown said. The area

also benefits from a large undersea

canyon just off shore, which picks

up open-ocean swells further out to

sea than other areas, and draws

them in.

"At El Porto, the waves break further

out. When you're learning, we

start you out in the white water. But

there, you can get pushed in on

white water and still have some

time, and really learn how to surf,"

Brown said.

Once customers commit, equipment

is their next concern. Some

people show up with their own

boards. Brown said that, in that

case, camp staff will give an honest

assessment of the surfer and indicate

whether he or she might benefit

from a different size board.

Once the customer has a board

picked out, camps often go over the

physical basics of surfing, emphasizing

popping up and spring to

one's feet. Before they get in the

water, though, there's often another

question that always generates a

chuckle out of long-time surfers like

Brown.

"It seems like people who don't

surf are much more concerned

about and interested in sharks than

people who do. Are there sharks

out there? We all know that there

are all sorts of fish out there. But

you are a million times more likely

to be hurt driving your car down to

the beach," Brown said.

The surf camp business is competitive

in the South Bay, with

many options to choose from. So

how do the camps keep things affordable?

Well, they typically don't

have to spend much on human resources:

at the beach and in the

water, recruitment kind of takes

care of itself.

"Kids come to camp one summer,

then they come back again and

again, because they're really bonding

with the instructors. Eventually,

some of them will say, 'Wait, how

old do you have to be to work

here?' We keep an eye on the good

surfers, the kids with the best people

skills, and that's where we find

a lot of our future instructors,"

Brown said. B

BeachSports

BeachSports Surf & Beach Camps

is celebrating it's 23rd year. Programs

start at age 4 and include 4

camps: Surf Camp, Beach Camp,

Beach Volleyball Camp, and Junior

Lifeguard Ocean Safety Program.

Camps are located at these Lifeguard

Tower locations: 14th St.,

Manhattan Beach, 15th St., Hermosa

Beach. Ave. I, Redondo

Beach. Vista del Mar, Redondo

Beach.

BeachSports.org

Camp Surf

Camp Surf is the official surf

camp for the City of Manhattan

Beach, and 2018 will mark their

21st year. All instructors are accomplished

surfers and CPR certified.

Camp Surf also distinguishes itself

through its partnership with the

Jimmy Miller Foundation, a pioneer

in the field of ocean-based therapy.

Instruction is available year round

from the group's base at 38th Street

in El Porto, at the south end of the

parking lot. Summer surf camps

feature morning, afternoon and allday

camp options.

(424) 237-2994.

campsurf.com

Champ Camp

Voted "Best Kids Camp," in Easy

Reader's "Best of the Beach

reader's poll. Kids decide on the

beach activities for the day. Director

Trevor Elder is a South Bay native,

certified lifeguard and EMT.

Champ Camp staffs about 15 firstaid

and CPR-certified college grads.

Full day sessions, 9 a.m. - 4 p.m.

Half day sessions 9 a.m. to 1 p.m.

(310) 283-4509.

ChampCampKids.com

Freedom Surf Camp

June 11 through Aug. 31

Freedom Surf Camp offers

morning and afternoon sessions in

Manhattan Beach, Venice, Santa

Monica and Malibu. Ages 5-7:

Water safety, boogie boarding,

sand sculpting, sand crabs, dodgeball,

and other games. Surfing 101

for kids who want it. Ages 8-12:

Surfing, boogie boarding, water

safety, and environmental education.

Ages 13-14: Depending on

skill level, all water and beach activity

are offered. Groms: competitive

level surfing.

(310) 770-4410 . freeedom.org

Hermosa Beach

Skateboarding Camp

The South Bay's longest ongoing

skateboard camp. Classes start

June 20 and are Monday through

Friday, 9:30 a.m. to 10:30 a.m. Students

must supply their own skateboard,

helmet, knee pads and

elbow pads, and should come with

a drink and snack. Hermosa

Skatepark, 710 Pier Ave.

Hermosabch.Org,

Sp23tione@yahoo.com.

Hermosa Surf Camp

Hermosa Surf Camp is celebrating

26 years at the Hermosa Beach

Pier. Learn safety and surfing basics

in 1-1/2 or 3 hour classes, Monday

through Friday. Instructors

will be in the water helping kids

get through the surf and catch

waves. Instructors are credentialed

teachers and there is always a L.A.

County Lifeguard on duty. T-shirt,

lycra surf shirt, goodie bag and

three photos of included.

Vince Ray (310) 370-1918.

surferjay@losangeles.usa.com.

Hermosasurfcamp.com

40 Easy Reader / Beach magazine • May 10, 2018
---
7/15/2018 7/15/2018

May 10, 2018 • Easy Reader / Beach magazine 41
---
Friendship Circle Surf

Camp

The Hermosa Beach Circle Surf

Camp is for children and adults

with special needs. Ages 7 and up.

2:1 teacher-to student ratio. Teen

volunteers paired with each student.

BZ soft surfboards provided.

All students receive a T-shirt, lycra

surf shirt and three photos of

themselves. Children must be able

to swim.

(310) 214-6677 or (310)-214-4999.

GotFriends.com or

HermosaSurfCamp.com.

Manhattan Beach

Aquatics

City-offered camp offers oceansafety,

fitness and beach games for

kids 5-13. Morning and afternoon

classes are available. Program runs

June 19 to August 11.

(310) 802-5448.

Citymb.info/registration.

Meistrell private,

advanced surfing

Professional surf coach Jamie

Meistrell draws from his worldwide

surf travels and 12 years as a

professional surfer. His detailed

curriculum emphasises strengthening

drills, contest strategy and the

general stoke of surfing. CPR,

AED, and First Aid certified.

(310) 753-5436.

JamieMeistrell@gmail.com

PCH Skate

Learn to skateboard or take your

skills to the next level. Beginner to

intermediate level skate and safety

instruction, focusing on basic ollies

and turns, flip tricks, grinds, vert

skating and more. Ramps, rails and

fun boxes positioned differently

each day. All campers are required

to wear full pads. Private skate instruction

available at Manhattan

Beach and new Redondo Beach

Pier locations. PCH Skate runs in

association with BeachSports.org

and Body Glove Camps.

PCHSkateCamps.com

Perfect Day Surf Camp

The Quiksilver/Roxy-sponsored

Perfect Day Surf Camp has locations

in Torrance, Redondo, Manhattan,

Dockweiler, Marina Del

Rey and Santa Monica. Surf and

beach camps are offered for ages 3

to 17. Lessons cover stand up paddling

and surfing and beach workouts.

8 a.m. to noon, noon to 3

p.m. and all day. Daily and weekly

rates.

(310) 985-1458.

PerfectDaySurfcamp.com.

PV Surf Camp

PV Surf teaches ocean safety,

surfing, surf etiquette and appreciation

for the power and beauty of

the ocean. Instructors are trained

in CPR. The camp is surrounded

by picturesque cliffs of Torrance

Beach and Palos Verdes, which

keep the surf gentle. Weekly camp

sessions with a 4:1 ratio are offered

for kids ages 6-15, June 11 -- August

17.

(310) 908-8164. PVSurfCamp.com

Skatedogs

Skateboarding Summer

Camp

Skatedogs brings their mobile

private skate park to Manhattan

Heights Park in Manhattan Beach

and Perry Park in Redondo Beach.

Monday through Friday from 8:30

a.m. to 11:30 a.m. and 3:30 p.m. to

6:30 p.m. Skateboard, helmet,

knee pads and elbow pads are required.

Ci.manhattan-beach.ca.us,

redondo.org.

Tarsan SUP

SUP Camp is for kids of all ages

(ideally 10 and up). Monday-Friday

with full day classes and half days

from 9 a.m. to noon and in the afternoon

from 1 to 4 p.m. June 26

to Sept. 1. Kids must know how to

swim. $299/child per week. 10 percent

off for additional siblings

(same week only). $275/child per

week if parent is a Preferred Member.

Private dock access. Instructors

are CPR and First Aid

certified. Students will learn water

etiquette, ocean safety, handling a

board in and out of water and

proper technique. (310) 798-2200.

831 N. Harbor Drive, Redondo

Beach.

Tarsanstandup.com

A day in the life

Summer at the Manhattan

Beach Art Center

Depicting "leisure and recreation

through the eyes and

lenses of local artists," "Day

in the Life of Manhattan Beach"

opens June 29 with a reception

B

from 6 to 9 p.m. at the Manhattan

Beach Art Center. Consisting of

original work by members of the

community, in a variety of media,

this show depicts "the hometown

feel of the city" and is "a portrait of

Manhattan Beach and its progressive,

laid-back lifestyle familiar to

all."

Even more promising is "Can't

See the Forest for the Trees," which

features the works of several notable

artists: Lowell Nickel, Jacalyn

Lopez Garcia and Nicholas Cesar

Colon, Robert Glenn Ketchum,

Anita Bunn, and Fatemeh Burnes.

The opening reception is August

17 from 6 to 9 p.m., and the show

will be up through October 14.

More information to come, but

"Can't See the Forest for the Trees"

is being described in these words:

"To discern an overall pattern from

a mass of detail; to see the big picture,

or the broader, more general

situation." That cryptic teaser will

be replaced as we get nearer to the

opening which, judging from the

artists involved, should be a good

one.

The Manhattan Beach Art Center

is located at 1560 Manhattan

Beach Blvd., Manhattan Beach.

(310) 802-5440 or go to

citymb.info/exhibition. B

Saturday May 12

Artist Unlimited

Artists Unlimited celebrates

their fourteenth group exhibition,

"Kaleidoscope." Enjoy the art, refreshments,

and classical guitar

music. The exhibit features a wide

variety of works by eight artists

from the Palos Verdes Peninsula,

Torrance, and San Pedro. 1 - 4 p.m.

Malaga Cove Library Gallery, 2400

Via Campesina, Palos Verdes Estates.

Free. Many artworks will be

for sale, with 20 percent of sales

benefitting the Palos Verdes Library

District.

(310) 548-8570

Entries submitted for

the "Day in the Life

of Manhattan

Beach" art exhibit

may be viewed on

Instagram at

#manhappenings.

The show opens

Friday, June 29.

Friday, May 18

Late Night at the Library

The Manhattan Beach Art Center

is partnering with the Manhattan

Beach Library for Late Night at

the Library. Talk with Rachel

Shimpock, one of the artists featured

in the exhibition currently on

display at the Manhattan Beach

Art Center. Hot Stuff, Contemporary

Sculptural Jewelry. Free. Food

and drinks provided by Critics

Choice Catering. Live music by

Lisa Ritchie. 8 - 10 p.m. Manhattan

Beach Library, 1320 Highland

Ave., Manhattan Beach.

(310) 545-8595

Saturday, May 19

Vitality

Artlife Gallery group exhibition

brings "Vitality" to the South Bay.

Local artists in an array of styles

and subject matter appeal to a

wide audience. Music performances.

6 - 9 p.m. Plaza El Segundo,

Artlife Gallery, 720 Allied Way, El

Segundo.

(310) 938-2511

Sunday, September 23

Rod, Rides and Relics

Along the Waterfront at the Redondo

Beach Pier, a collection of

carefully selected antique automobiles

will be exhibited at the 15th

Annual Rods, Rides, and Relics,

Classic Car Show. With the Beach

Boys singing "Fun Fun, Fun" in the

background, prepare to be transported

to a different era among the

100 classics on display. 10 a.m. - 3

p.m. Redondo Beach Pier, 100

Fisherman's Wharf, Redondo

Beach. redondopier.com. B

42 Easy Reader / Beach magazine • May 10, 2018
---
MasterCard®

®

AMERICAN EXPRESS ®

SM

• All New Model Cars

• Stick-Shift & Automatic

• Friendly & Experienced

• Free Pick-Up & Return

• Fully Insured & Bonded

(DMV Lic #3609)

outh Bay Driving School

LOW RATES – BEST QUALITY

TRAINING FOR TEENS & ADULTS

Classroom and Online Driver's Education

310-791-1111

SAVE

$30

With this Beach

coupon

3614 Pacific Coast Hwy, Torrance • www.southbaydriving.com

Buying or Selling

"Since 1992"

Don Ruane

Serving the South Bay Beach Cities and beyond

Office: 310.546.3441

Cell: 310.643.6363

Email: Donruane@verizon.net

DRE#01036347

G e t R e a d y F o r S u m m e r !

Say Goodbye to Stubborn Fat....

• Skin Cancer & Mole Removal

• Mohs Micrographic Surgery

and Reconstruction

• Cysts, Acne, Warts & Rashes

• Leg Vein Sclerotherapy

• Acne & Accutane Treatments

• Pre-Cancer Treatments

• Propecia Available

Two Coolscuplting Devices to Treat Two Areas at Once!

• Age Spots

• Glycolic & Chemical Peels

• Sculptra, Radiesse, Perlane ® ,

Juvéderm & Restylane ®

• BOTOX ® & Dysport

• Pediatric Dermatology

• Ultraviolet B & PUVA

• Latisse for longer, darker lashes

Get Ready For The New Year

Discounts Offered Now!!

Call Our Office For Details!

• Laser Surgery

• GentleLASe-Hair Removal

• IPL-Rosacea/Sun Damage

• Smoothbeam-Acne/

Wrinkle Reduction

• Vbeam-Redness/Broken Capillaries

• Fraxel – Melasma/Wrinkle Reduction

• XTRAC laser for treatment of

Psoriasis and Vitiligo

Fariba Seraj,

NP/PA-C

Providing Full

Dermatological

Medical Treatment,

in addition, Provides

all Laser and

Cosmetic Services.

Intense Pulsed Light

Treats Sun Damage, Brown Spots,

Age Spots, Broken Capillaries, Sun

Induced Freckles, Rosacea

NO DOWNTIME!

Special Introductory Price

$200* (Complimentary Consulation)

*New Clients only. Must bring ad for discount.

Shelby Reed

Also providing services: Steven E. Gammer, M.D. and Geover Fernandez, M.D.

www.beachcitiesderm.com

BEACH CITIES DERMATOLOGY MEDICAL CENTER

CERTIFIED, AMERICAN BOARD OF DERMATOLOGY

Also Providing

Licensed Aesthetician

Services

• Glycolic and Salicylic

Chemical Resurfacing Peels

• Microdermabrasion

Erika La Ponza • Progressive Acne Treatments

Hamaguchi

Jennifer

FREE INITIAL CONSULTATION! PLUS...

State-of-the-Art Skin Care With a Personal Touch

Rolling Hills Estates – 827 Deep Valley Drive, Suite 101

Redondo Beach – 520 N Prospect Avenue, Suite 302

Culver City – 3831 Hughes Avenue, Suite 504 B

ALL PPOS ACCEPTED l EVENING & SAT. APPTS. AVAILABLE

310-798-1515

William J. Wickwire, M.D.

Get Two FULL

HOUR Microdermabrasion

Treatments

for $160.

A Savings of

$100.00

Neal Ammar, M.D.

May 10, 2018 • Easy Reader / Beach magazine 43
---
wine & dines

Greek dancing, food, retsina are all part of the annual St Katherine's

Church Bay Greek Festival the weekend of July 13 -- 15. Photo by Patrick

Fallon

Two for the world

Restaurant dining makes many cuisines available, but doesn't tell you

much about the people behind the food. The South Bay has two festivals

that bring you in contact with their cuisines in a more personal way. The

Be Romanian For A Day festival (Ernie Howlett Park, Rolling Hills Estates.

Sat., Sun., May 26-27) and St. Katherine's Greek Festival (St. Katherine's

Church, Redondo Beach. Fri.-Sun., July 13-15). Both feature hospitality

more like what you would find in a home than a restaurant. You can meet

the people, enjoy their music, learn a dance or two, and sample their culture

as you enjoy their cuisine. You only get one chance a year at these, so

put them on your calendar now.

Farm and Vine

Dinner Series

Mar'sel at Terranea Resort

Thursday, May 17

Five courses by Chef Andrew

Vaughan using produce from Murray

Family Farms of Bakersfield and

wines from Napa's Daniel Vu of

Heitz Cellars. 6 p.m. The farmer

and winemaker will be present.

$217. 100 Terranea Way, Rancho

Palos Verdes.

Store.terranea.com

Savage Alchemy chef

R6 Distillery

Friday, May 18, 6:30 PM

Noted chef Paul Buchanan of Savage

Alchemy presents four courses

paired with spirits and cocktails

made by R6 Distillery in their

Sleepy Hollow speakeasy. $70 includes

pre-dinner tour of the distillery.

909 E. El Segundo Blvd., El

Segundo.

r6distillery.com

South Bay Beer & Wine

Festival

Ernie Howlett Park

Sunday, May 20

The fifth annual event offers tastings

from over 80 exhibitors who

set up tents on the grass at Ernie

Howlett Park. 1-5 p.m. Proceeds

benefit the Rotary Club. $75. A $39

upgrade gets you VIP access, preferred

parking, and early admission.

25851 Hawthorne Blvd.,

Rolling Hills Estates.

Eventbrite.com

Paul Hobbs Wine Dinner

Sea Change (Chez Melange)

Monday, May 21

Paul Hobbs, of Paul Hobbs Winery,

visits from Sonoma to preside

over a five course dinner that includes

braised lottefish, smoked

salmon salad, and Provençale 6

hour leg of lamb with rosemary

sauce. 7 p.m. $95. 1611 S. Catalina

Ave., Redondo Beach.

Reserve at (310) 540-1222

44 Easy Reader / Beach magazine • May 10, 2018
---
Oregon Pinot Noir

Second City Bistro

Monday, May 21

Tastes from 20 Oregon wineries

with appetizers for only $25. 6

p.m. 223 Richmond St., El Segundo.

Reserve at (310) 322-6085

Umbrian Regional Dinner

Gaetano's Restaurant

Wednesday, May 23

Enjoy three courses of the cuisine

of central Italy for only $36.

Try crostini with English peas and

pancetta, handmade pasta with artichokes

and truffle oil, and eighthour

baby back ribs with polenta

fritters and escarole. Wine and

dessert are extra. 2731 Pacific

Coast Hwy., Torrance.

Reserve at (310) 326-3354

The Manhattan Beach Chambers Bite at the Beach, at MBS Studios, is one

of the summer most anticipated dining and drinking events.

Photo by Kevin Cody

Be Romanian For A Day

Ernie Howlett Park

Saturday-Sunday, May 26-27

Try Romanian hospitality at a

two-day festival featuring music,

dance, songs, and storytelling, plus

traditional Romanian wines, beers,

and food. 11 a.m. – 7 p.m. Admission

$10. 25851 Hawthorne Blvd., Rolling Hills Estates.

Eventbrite.com

BBQ, Beer, Bourbon and Blues

Shade Manhattan Beach

Saturday, June 2

Sip a selection of bourbons and beers while enjoying live music and feasting

on stylish versions of Southern comfort food. $55 includes barbecue

feast, one cocktail or beer (cash bar available for subsequent drinks), and

SINCE 1927

dancing to live music. 2 to 7 p.m.

1221 N. Valley Dr., Manhattan

Beach.

Eventbrite.com

Triple B Romp and

Stomp

The Depot

Sunday, June 3

Enjoy tastes of 14 bourbons, offerings

from local microbreweries,

wine, all-you-can-eat BBQ, and

great blues music from three

bands. $75. 1 to 5 p.m. Proceeds

benefit the Torrance Del Amo Rotary

Scholarship Fund and City of

Hope. 1250 Cabrillo Ave., Torrance.

Reservations at (310) 787-7501

Manhattan Beach Wine

Auction

Manhattan Country Club

Saturday, June 9

Sample food from 40 restaurants,

beverages from 80 wineries, distilleries,

and breweries, and bid in

both live and silent auctions. Live

music and dancing under the stars

will follow. 4:30 – 11 p.m. Proceeds

benefit the Manhattan Beach

Education Foundation. General ad-

HAPPY "COCKTAIL" HOUR MON- FRI: 10am - 6pm

Our Well includes: Smirnoff Vodka, Jim Beam Whiskey, Don Benito Tequila,

Gordon's Gin, Ron Rico Rum, Scoresby Scotch, Christian Bros. Brandy

(Must be 21)

Don't miss our Daily Specials!

Tues & Thurs at 6pm: $2 Tacos (chicken & steak)

Wednesday at 5pm: 2 BURGERS for $10 - the BEST anywhere!

EVERYDAY: $2 Dodger Dogs!

Thank You

for voting us

Best Bar Food,

Best Hamburger Restaurant,

Best Cocktails, runner

up

for Best Neighborhood

Bar, Best Bartender

(Mike Benavidez)

in the

Open 7 Days A Week

1101 Manhattan Avenue Manhattan Beach (310) 372-1997

May 10, 2018 • Easy Reader / Beach magazine 45
---
mission $300. 1330 Parkview Ave.,

Manhattan Beach.

Manhattanwineauction.com

L.A. Beer Week Kickoff

Brewport

Thursday, June 14

Stone Brewing Co. will take over

all 48 beer taps, offering many special

and limited releases not yet to

be poured in Los Angeles. Charity

raffle will feature limited edition

merchandise. Special food menu to

pair with beer selections on hand.

4 p.m to midnight. Free. 204 Main

St., El Segundo.

BrewportTapHouse.com

LA Beer Week

June 16-24

Various South Bay breweries,

restaurants and bars.

LABeerweek.org

Chef's Table Summer

Solstice

Mar'sel at Terranea

Thursday, June 21

An intimate dining experience

featuring Central Coast wines from

Brewer-Clifton, chosen by Master

Sommelier Nick Hetzel. 6 p.m.

Proceeds benefit LA Waterkeeper.

$297 includes a room at hotel for

two. 100 Terranea Way, Rancho

Palos Verdes.

Reserve at (310) 265-2805

Patz and Hall Wine

Dinner

Chez Melange

Monday, June 25

Five course dinner (menu TBA)

hosted by winemaker Anne Moses.

$95 plus tax and service. 7 p.m.

1611 S Catalina Ave., Redondo

Beach.

Reserve at (310) 540-1222

Hess Winery Dinner

Second City Bistro

Thursday, July 1

The five course dinner will include

tastings of eight premium

Napa Valley wines from Hess Cellars.

6 p.m. (menu TBA) $75. 223

Richmond St., El Segundo.

Reserve at (310) 322-6085

July 4 Block Party BBQ

Wednesday, July 4

Outdoor celebration on Brewport's

adjacent parking lot. 3 to 7

p.m. Special beer selections, live

The Hermosa Beach Friday's Market is a favorite, healthy hangout for

Hermosa Beach school kids. Photo by Kevin Cody

music. 204 Main St., El Segundo.

BrewportTapHouse.com or

(310) 648-8972

Dine LA Week

July 13-27

Various South Bay venues.

discoverlosangeles.com

South Bay Greek Festival

St. Katherine's Church

Friday - Sunday, July 13-15

Homestyle Greek food prepared

by the congregation, with Greek

wines and beers. Live music and

traditional dance, plus a Greek marketplace.

$2 at the door. 722 Knob

Hill Ave., Redondo Beach.

SBgreekfestival.com

Bastille Day

Dominique's Kitchen

Saturday, July 14

Celebrate the French Revolution

with complimentary kir royale and

special menu of French country

dishes. All evening. 522 S. Pacific

Coast Hwy., Redondo Beach.

Reserve at (424) 247-9054

Chefs and Cellars

Catalina View Gardens

Sunday, July 15

Benefit for the Palos Verdes Art

Center, hosted on a working farm

and winery on the Palos Verdes

Peninsula. 4 to 7 p.m. Come for an

elegant dinner by local restaurants

and caterers in the midst of fruits

and vegetables ready for harvest,

and drink wine made from

grapevines you can see. 6001 Palos

Verdes Dr. S, Rancho Palos Verdes.

CelebrateChefs.com

Farm and Vine Dinner

Terranea Resort

Thursday, July 19

Five courses by Chef Andrew

Vaughan using produce from Regier

Family Farms of Bakersfield and

wines from Sonoma's Flowers Winery.

6 p.m. The farmer and winemaker

will be present to explain

their products. $217. 100 Terranea

Way, Rancho Palos Verdes.

Reserve at store.terranea.com

Walk With Sally

Sunday, July 28

12th annual White Light White

Night, with food from 25 Los Angeles

area restaurants, wine and craft

cocktails, live music. 6 p.m. Plaza at

Continental Park, 870 S. Nash

Street, El Segundo.

Tickets at walkwithsally.org

Chef's Table Dinner

Terranea Resort

Thursday, August 9

"Tribute to Queen Bee" is the

theme of an intimate dining experience

for only 20 people, featuring

wines from Grgich Estate. 6 p.m.

Profits benefit Vistas For Children.

$297 includes room night at hotel

per two. 100 Terranea Way, Rancho

Palos Verdes.

Reserve at (310) 265-2805

Bite at the Beach

MBS Campus

Saturday, August 11

Come to the New York City

movie set at MBS Studios to enjoy

beer from 30 craft breweries, nibbles

from 30 restaurants, live music

and Vox DJ. 2 to 6 p.m. $45. $60

VIP. 1600 Rosecrans Ave., Manhattan

Beach.

ManhattanBeachChamber.com

Summerfest at the

Depot, Torrance

Sunday, August 12

Drinks will flow at the martini,

wine and beer bars and there will

be live and silent auctions. The

Depot will provide their summer

BBQ dinner buffet, live music, and

fun, fun, fun. 4 to 8 p.m. Benefits

Torrance Chamber of Commerce.

(310) 212-5009 or

debby@torrancechamber.com

Evening Under The Stars

American Honda

Saturday, August 25

This benefit for the Torrance Memorial

Medical Center is the South

Bay's largest annual celebration of

food and wine. Over 80 wineries

contribute their best, with food

from as many as 50 restaurants,

plus a performance by saxophonist

Kenny G, silent auctions, and

more. 4 p.m. Price not available at

press time. 1919 Torrance Blvd,

Torrance.

TorranceMemorial.org

Celebration of Food

and Wine

Terranea Resort

Fri. to Sun., September 7-9

Terranea Resort's annual Celebration

of Food & Wine includes

seminars about food and drink

plus meals with seasonally themed

menus prepared by Terranea Resort's

award-winning chefs. The locally

and sustainably grown and

foraged ingredients draws connoisseurs

from around the state as well

as locals. Event prices and schedule

not available at press time. 100

Terranea Way, Rancho Palos

Verdes.

Store.terranea.com

Farm to your kitchen

by Richard Foss

If you are determined to make a

caprese salad in February, you

should go to a supermarket.

The tomatoes won't be good, but

they will be there. However, if

you're keeping the season in mind

or are flexible about the menu,

farmer's markets offer produce

picked at its peak. If you're planning

a party, do what restaurant

B

46 Easy Reader / Beach magazine • May 10, 2018
---
chefs do: ask growers what will be

available next week. You will be

able to plan a meal using perfect

produce, and your skill in the

kitchen will complement their skill

in the fields.

Farmers markets featuring farm

fresh fruit and vegetables and a

wide range of hot meals can be

found somewhere in the South Bay

every day, except Mondays.

South Bay Farmers

Markets

Tuesdays

Manhattan Beach Farmers Market:

11 a.m. to 5 p.m.

At 13th St. and Morningside Dr.,

behind City Hall.

DownTownManhattanbeach.com

Torrance Farmers Market:

8 a.m. to 1 p.m.

Wilson Park, 2200 Crenshaw

Blvd.

Torranceca.gov

Wednesdays

Hermosa Beach Farmers Market:

1 to 6 p.m.

Pier Plaza.

HBchamber.net

El Segundo Farmers Market:

10 a.m. to 2 p.m.

In front of the Whole Foods at

760 Sepulveda Blvd.

ElSegundo.org

Thursdays

Redondo Beach Farmers Market:

8 a.m. to 1 p.m.

In front of Veteran's Park, just

south of the pier.

Redondo.org

El Segundo Farmers Market:

3 to 7 p.m.

Downtown, at Main St. and

Grand. Ave.

ElSegundo.org

Fridays

Hermosa Beach Farmers Market:

Noon to 4 p.m.

At 11 St., and Valley Dr., next to

Clark Field.

HermosaBeachFarmersMarket.org

Saturdays

Torrance Farmers Market:

8 a.m. to 1 p.m.

Wilson Park, 2200 Crenshaw

Blvd.

Torranceca.gov

B

May 10, 2018 • Easy Reader / Beach magazine 47
---
arts

Loading up the carts

Shakespeare by the Sea hits

the road with "The Merry

Wives of Windsor" and

"The Winter's Tale"

by Bondo Wyszpolski

Each year, and this is their

21st, Shakespeare by the Sea

literally begins, and ends, by

the sea, at Point Fermin Park in San

Pedro. Then, like the troupers and

troubadours they are, they take

their productions up and down the

coast and inland to such cities as

Whittier and South Pasadena. By

now the company has attempted

all but one or two of the Bard's

plays, and the annual repertoire almost

always features one comedy

and one drama, or something light

and something sobering. And this

year?

The ensemble begins with "The

Merry Wives of Windsor," which

is being described as "a rollicking

romantic comedy that tells of Falstaff's

folly: courting two married

women at the same time. It's mischief

and mayhem galore."

The play is being directed by

long-time company member (director

and actor) Cylan Brown. This is

what he says about tackling it:

"I am fascinated with 'Merry

Wives of Windsor' because it is

Shakespeare's only portrayal of the

Elizabethan middle class. It's also

the only play he named solely after

his female characters, which is fitting

as it is a sheer delight to watch

the two wives of Windsor pull

their delicious pranks on the overconfident

Falstaff. With colorful

characters including bombastic

French doctors, secret young

lovers, jealous husbands and comically

awkward suitors, we are

treated to lighthearted shenanigans

as the denizens of this small borough

gossip, hatch plans and plot

revenges against one another."

Opening a week later and then

running in tandem with "Windsor"

is "The Winter's Tale," this being

"the story of Leontes, a King who

banished his family wrongfully,

only to be taught the meaning of

forgiveness through the inspired

plan of a wise, loyal woman."

Stephanie Coltrin directs this

one, and like Cylan Brown she's

been with Shakespeare by the Sea

Shakespeare by the Sea returns to Valley Park in Hermosa Beach with "The

Winter's Tale" on Wed., July 11 and "The Merry Wives of Windsor" on

Thurs., July 12. Photo by Kevin Cody

for many years. She begins with a

direct quote: "It is required you do

awake your faith."

"'The Winter's Tale' is one of

Shakespeare's final and finest creations

and I am thrilled to be directing

it for our 21st season," she says.

"The story illustrates the epic,

heartbreaking, tragic consequences

of jealousy, but, unlike Shakespeare's

tragedies, provides redemption

and forgiveness in the

form of a miracle. Filled with extraordinary

language, its drama is

matched by its comedy, and

throughout there is a sense of the

magical power of grace. When

what's gone and what's past help is

not past grief, the story reminds us

that what was lost can indeed be

found."

All events are free (but you can

donate). Bring food, blankets, and

comfortable clothes. These are the

various South Bay locations:

San Pedro

Point Fermin Park

807 Paseo del Mar, 8 p.m.

The Merry Wives of Windsor

June 14, 15, 16, 28, 30, July 6, August

18

The Winter's Tale

June 21, 22, 23, 29, July 5, 7, August

17

Rancho Palos Verdes

Hesse Park

29301 Hawthorne Blvd., 7 p.m.

The Merry Wives of Windsor

July 9

Hermosa Beach

Valley Park

2521 Valley Dr., 7 p.m.

The Winter's Tale

July 11

The Merry Wives of Windsor

July 12

Torrance

Charles H. Wilson Park

2200 Crenshaw Blvd., 7 p.m.

The Winter's Tale

July 27

The Merry Wives of Windsor

July 28

Manhattan Beach

Polliwog Park

1601 Manhattan Bch. Blvd., 7 p.m.

The Winter's Tale

August 10

The Merry Wives of Windsor

August 11

For more information, call (310)

217-7596 or go to shakespearebythesea.org.

B

South Bay

Film Society

A first-rate, never ending

film festival

by Bondo Wyszpolski

If you appreciate the artistry of

film, and we're not talking

about crowd-pleasing blockbusters,

you may have heard about

Randy Berler and his ongoing success

at bringing high-quality motion

pictures to the South Bay.

Maybe it's his charm, who can say,

but the films he has managed to

find and screen (often before their

runs in L.A. or New York) are often

nothing short of astonishing. To

date, the South Bay Film Society

has shown over 200 new foreign

language and indie films in its six

years of existence, renting theater

rooms at the AMC Rolling Hills in

Torrance. Many times there are

after-screening discussions, and because

many filmgoers know a good

thing when they've found it, seats

fill up faster and earlier than they

would for a standard, commercial

film. Tickets are sold online

through the website at

southbayfilmsociety.com.

Upcoming films:

Wed. May 23: "Lean On Pete" -

That's the name of the film and

the aging racehorse that a teenage

boy named Charlie saves from the

glue factory. The two embark on

an odyssey across the new American

frontier.

Wed. May 30: "Venus" - Having

recently embraced her own identity,

Sid, a transgender woman,

finds herself tangled in a complex

web of expectations and aspirations

when she discovers she has

a 14-year-old son. This is a new

drama/comedy from Canada.

Wed. June 6: "Skid Row

Marathon" - is an inspiring documentary

about Judge Craig

Mitchell, who has changed the

lives of countless people he met

at the Midnight Mission Shelter

on Skid Row in Los Angeles. Q&A

with Judge Mitchell and the filmmakers

follows the screening.

Wed. June 27: "Three Identical

Strangers" - Identical triplets become

separated at birth and

adopted by three different families.

Their reunion years later becomes

a global sensation, but it

also unearths an unimaginable secret

that has radical repercussions.

This is a remarkable

stranger-than-fiction documentary

Wed. July 11: "Puzzle" - A woman

who has a talent for assembling

jigsaw puzzles sneaks away from

her suburban town and goes to

New York City, where she partners

with a man for a puzzle tournament

in Atlantic City.

Experiencing independence for

the first time, she begins to view

her value, and the pieces of her

own life, in a whole new light.

Mon. July 23: "The Wife" - The

faithful wife (Glenn Close) of a famous

New York novelist decides

to leave her husband on the eve

he's scheduled to receive a prestigious

literary prize. The life-altering

decision unearths the many

dark secrets of their marriage. B

48 Easy Reader / Beach magazine • May 10, 2018
---
PENINSULA SPORTS CAMPS

SUMMER 2018

Founded in 1972

Ages: Boys and Girls 5-14

w w w . p e n i n s u l a s p o r t s c a m p s . c o m

If your cosmetic provider offers the

"latest and greatest treatments", it might

just mean that you're the guinea pig.

46 h Annual Peninsula Basketball Camp – July 16-20, July 23-27, July 30-August 3

41 st Annual Peninsula Baseball Camp – July 23-27

41 st Annual Peninsula Soccer Camp – July 16-20, July 30-August 3

Location: Palos Verdes High School, 600 Cloydon Rd. Palos Verdes Estates

Time: 9:00am – 4:00pm or 9:00am – 12:00pm, Monday – Friday

Fees: $270 Full Day, $150 1/2 Day, Transportation $45.00 Weekly (Full Day Only)

22 ndt Annual 1 ⁄2 Day Peninsula Soccer Camp – July 23-27, August 6-10

14 th Annual 1 ⁄2 Day Peninsula Baseball Camp – July 30-August 3

Ages: Boys and Girls, 5-12

Location: Hesse Park, Rancho Palos Verdes

Time: 9:00am – 12:00pm, Monday – Friday

Fees: $140

Call for More Info!

Contact Info: Tom Maier at (310) 213-5433

May 10, 2018 • Easy Reader / Beach magazine 49
---
music

South Bay

Summer Concerts

by Mark McDermott

Summer is like one big, ongoing

concert in the South Bay,

with music in parks, plazas, libraries,

up in the hills and of

course on the beach. The Hermosa

Beach Summer Concert Series is at

the apex of the scene, celebrating

beach life every Sunday night in

August with a mix of nationally

headlining bands — think Everclear,

Robert Randolph and the

Family Band, and the Door's

Robby Krieger — attracting a

crowd of 10,000 blissed out musical

souls as the sun goes down on

the beach.

Concert guru Allen Sanford, who

has produced the Hermosa concerts

for the last 10 years and

Music on the Meadows at Terranea

the last five years, will take his

game to another level with new

festivals in October and next spring

at Redondo Beach's Seaside Lagoon.

Though the lineups have yet

to be announced, the intention is

to create a nationally prominent

West Coast music festival.

"I just tried to find a way to contribute

positivity to the world,"

said Sanford, who owns and operates

music club Saint Rocke and

several local restaurants but has

tapped into a larger vision with this

ambitious series of concerts. "I

found my niche. The world is in a

weird place right now. So if we

give 10,000 people an afternoon to

forget about their problems and all

the bad things happening in the

world, then we've succeeded."

Nothing brings people together

quite like music, and the scene at

any of the summer concerts listed

here delivers moments of simple

communal joy.

"Every year there is probably

one song that is sung where everybody

gets in sync," Sanford said of

the Hermosa Beach Summer Concerts.

"I think last year it was Everclear,

other years the English Beat,

Jimmy Buffett — where everyone

on the beach is singing the same

words, dancing to the same

rhythm. There's just really a beautiful

energy to that. It's really fun

to watch."

The Hermosa Summer Concerts

take place August 5, 12, 19, and 26

beginning at 5 p.m. at the pier.

Concerts at the Beach at the Hermosa Pier draw big crowds and big name

bands. This year's concerts are every Sunday in August. Photo by Kevin Cody

May 13

Mother's Day concert

Treat mom to a Mother's Day

concert as the Palos Verdes Symphonic

Band plays at the South

Coast Botanic Garden. Tickets are

free with a garden admission.

Adults $9, seniors $6, children $4,

students $6, toddlers free. Bring a

picnic lunch, a blanket or a beach

chair for outdoor seating. No alcohol

is allowed but snacks, beer and

wine will be for sale. 26300 Crenshaw

Blvd, Rancho Palos Verdes.

(310) 544-1948.

Pvsband.org

southcoastbotanicgarden.org

May 18

Late Night at the Library

The Manhattan Beach Public Library's

Late Night series features

artist Rachel Shimpock and singer

songwriter Lisa Richie, 8 to 10 p.m.

June 27

Sounds of the Caribbean

In a show tailored for kids, the

Manhattan Beach Public Library

features the Caribbean music of

Joseph Peck. 11 a.m.

July 1

Concerts in Polliwog Park

This year marks the 40th anniversary

of the Manhattan Beach Concerts

in the Park, now presented by

OneWest Bank. Every Sunday for

10 weeks enjoy live music at Polliwog

Park, beginning July 1 with

Salute to the Troops. Now in its 4th

year, Salute to the Troops honors

the military service and sacrifice of

South Bay men and women in uniform;

Navy Band Southwest, a 45-

piece ensemble which is one of the

Navy's oldest and finest, is the

headliner. New to this year, local

bands will kick off festivities at 3:45 p.m.

July 4

Music On The Meadows

Terranea Resort's annual oceanfront

concert Music on the Meadows

has become a highlight of the

music scene locally, an afternoon

that features nationally touring

bands such as Big Voodoo Daddy

and the Ol' 97s, farm-to-table cuisine

and local breweries. The

lineup has yet to be announced,

but keep an eye on terranea.com/

events/music-on-the-meadows for

updates.

July 5

Redondo Concerts on the Pier

The Redondo Beach Summer of

Music Festival kicks off on its International

Boardwalk stage with Tenn

West performing from 6 to 8 p.m.

July 7

Redondo Concerts on the Pier

Smokin' Smitty and the Masters

of Music perform on the Redondo

Beach pier from 6 to 8 p.m.

July 8

Manhattan Concerts in Park

The Dropoffs, an R&B outfit, and

the African music of Ricardo

Lemvo and Makina Loca are featured

at Polliwog Park from 3:45 to

7 p.m.

July 11

El Segundo Music at the Point

The Point in El Segundo kicks off

its summer music series with local

legends Feed the Kitty from 6:30 to

8:30 in its outdoor plaza.

July 12

Malaga Cove Concerts in the Park

Malaga Cove Concerts in the

Park kicks off with The Motown

Thang, featuring singer Angela Carole

Brown. The show starts at 7

p.m. but you can save your place

on the grass by putting a blanket

down as early as 3 p.m.

Redondo Concerts on the Pier

The Redondo Beach Summer of

Music features Beatunes from 6 to

8 p.m. on its pier stage.

July 14

Redondo Concerts on the Pier

Dark Desert Highway performs

on the Redondo Beach pier 6 to 8

p.m.

July 15

Manhattan Concerts in the Park

Local wunderkind Jamison

Jarvis and tribute band Petty and

the Breakers play Polliwog Park.

Music begins at 3:45 p.m. and goes

til 7 p.m.

July 18

El Segundo Music at The Point

The Radio Rebels jam '80s tunes

at The Point's summer concert series

from 6:30 to 8:30 p.m.

July 19

Redondo Summer of Music

The Wild Kings play the International

Boardwalk in Redondo

Beach from 6 to 8 p.m.

Malaga Cove Concerts in the Park

Malaga Cove's concert series

continues with the Hodads, a

Beach Boys tribute band, beginning

at 7 p.m.

July 21

Redondo Concerts on the Pier

Big Mess plays the Redondo

Beach pier from 6 to 8 p.m.

July 22

Manhattan Concerts in the Park

Concerts in the Park continue in

Manhattan Beach with the alt rock

of Alinea and the classic covers of

The Pine Mountain Logs. 3:45 to 7

p.m.

July 25

Show for kids

The Manhattan Beach Public Library

features multi-instrumentalist

Craig Newton's "Celebration of

Songs" at 11 a.m. as part of its summer

programming for children.

50 Easy Reader / Beach magazine • May 10, 2018
---
May 10, 2018 • Easy Reader / Beach magazine 51
---
El Segundo Music at The Point

Americana band Barley play The

Point from 6:30 to 8:30 p.m.

July 26

Malaga Cove Concerts in the Park

Local legends Andy and Renee

play Malaga Cove's Concert in the

Park beginning at 7 p.m.

Redondo Concerts on the Pier

The Summer of Music continues

on the Redondo pier with the Laurie

Morvan Band from 6 to 8 p.m.

July 28

Redondo Concerts on the Pier

1969 play the Redondo Beach pier

from 6 to 8 p.m.

July 29

Manhattan Concerts in the Park

Fate Unbound, rockers from Redondo

Union, and the Afrofunk outfit

Jungle Fire play Polliwog Park.

3:45 to 7 p.m.

July 31

Kid's music

The Manhattan Beach Public Library

presents "Kid's Imagine Nation"

at 11 a.m.

August 1

El Segundo Summer music series

The Kevin Sousa Band plays The

Point in El Segundo from 6:30 to

8:30 p.m.

MATTUCCI

Plumbing

D E P E N D A B L E • P R O F E S S I O N A L • A F F O R D A B L E

w w w . m a t t u c c i p l u m b i n g . c o m

Since 1990 • License # 770059, C-36 C-34 C-42

Vote!

SUMMER SPECIALS

$ 9 8 0

Residential Water Heater

40 gal. installed! ($1080 - 50 gal. also available)

Includes hot & cold water supply lines

Expires September 30, 2018

August 2

Redondo Concerts on the Pier

Franks and Deans perform on the

Redondo Beach pier from 6 to 8

p.m.

Malaga Cove Benoit Concert

Jazz great David Benoit plays a

show for his hometown at Malaga

Cove's Concerts in the Park. 7 p.m.

August 4

Redondo Pier Summer of Music

The L.A. Swing Barons play the

Redondo pier from 6 to 8 p.m.

August 5

Manhattan Concerts in the Park

Alt rockers Good Vibe and rockabilly

band Aileen Quinn and the

Leapin' Lizards play Polliwog Park

3:45 to 7 p.m.

August 8

El Segundo Music at The Point

Jack Dani's '90s Rock Review

continue the music series at The

Point from 6:30 to 8:30 p.m.

August 9

Concerts in the Park

The Peaceful Easy Eagles play

Malaga Cove. 7 p.m.

Concerts on the Pier

King Chris plays the Redondo

Beach pier from 6 to 8 p.m.

FULL SERVICE PLUMBING

SEWER VIDEO INSPECTION

ROOTER SERVICE

COPPER REPIPES

$ 7 5

Rooter Service - Main Line

Must have clean-out access. Some restrictions may apply.

Expires September 30, 2018

F R E E

E S T I M A T E S

M e n t i o n t h i s a d w h e n

s e t t i n g u p a p p o i n t m e n t .

3 1 0 . 5 4 3 . 2 0 0 1

August 11

Redondo Concerts on the Pier

Danny Dean and the Homewreckers

play the Redondo Beach

pier from 6 to 8 p.m.

August 12

Manhattan Concerts in the Park

Local singer songwriter Kato Rose

and Beatle's tribute band Hard

Day's Night play Manhattan

Beach's Concerts in the Park 3:45 to

7 p.m.

August 15

El Segundo Music at The Point

Rock out with Detour at The

Point from 6:30 to 8:30 p.m.

August 16

Malaga Cove Concerts in the Park

The Malaga Cove summer concert

series continues with Bad Haggis,

the Celtic rock band featuring

Eric Rigler, the locally-based bagpipe

player famous for his work on

the "Braveheart" soundtrack. 7 p.m.

Redondo Concerts on the Pier

Identity Theft plays the International

Boardwalk as part of the Redondo

Beach Pier's Summer of

Music from 6 to 8 p.m.

August 18

Songs of Polynesia

The Manhattan Beach Public Library

features "From Polynesia to

California: Polynesian Music and

Dance" from 11 a.m. to 1 p.m.

Thank You

For Your

2013

ON CALL

24 HOURS

7 DAYS

Redondo Concerts on the Pier

C.C. Stugino plays the International

Boardwalk in Redondo from

6 to 8 p.m.

August 19

Manhattan Concerts in the Park

Classic rockers Minor Problem

and Country & Western outfit the

Doo-Wah Riders play Polliwog

Park from 3:45 to 7 p.m.

August 22

El Segundo Music at The Point

Rockit play top 40 music from

6:30 to 8:30 p.m.

August 23

Malaga Cove Concerts in the Park

Jim Curry and Company sing the

songs of John Denver at Malaga

Cove. 7 p.m.

Redondo Concerts on the Pier

In Contempt play on the Redondo

Beach pier from 6 to 8 p.m.

August 25

Redondo Concerts on the Pier

Like Zeppelin play the Redondo

Beach Pier from 6 to 8 p.m.

August 26

Manhattan Concerts in the Park

Pop and rock band Pier Pressure

and jazz/blues/Motown outfit Blue

Breeze Band play Polliwog Park

3:45 to 7 p.m.

August 29

El Segundo Music at The Point

The summer music series at The

Point wraps up with the blues and

soul of Pink Roach from 6:30 to

8:30 p.m.

August 30

Malaga Cove Concerts in the Park

Malaga Cove closes out its concert

series with the honky tonk of

the Cody Bryant Show. 7 p.m.

Redondo Concerts on the Pier

The Redondo Beach Pier's Summer

of Music concludes with

Strange Days from 6 to 8 p.m.

September 2

Manhattan Concerts in the Park

Chroma Haze and DSB, a Journey

cover band, rock out the final

installment of Manhattan Beach's

Concerts in the Park from 3:45 to

p.m. B

52 Easy Reader / Beach magazine • May 10, 2018
---
land camps

Into the Wilderness: Nights in Redondo's backyard unique

among the city's summer camp options

by David Mendez

Wilderness Park is a patch

of parkland that's one of

the few public places in

the South Bay that a person is allowed

to sleep outdoors. The missile

site-turned-park has become a

hub of activity since it was opened

by the City of Redondo Beach in

1977, particularly in the summer

months.

Summer Wilderness Camps, offered

by Redondo's Community

Services Department, fill up

quickly each year, and the summer

of 2018 is no different — many sessions

are already waitlisted, and

camps don't begin until June.

"What's wonderful about it is not

only the location, but it's one of

our smaller camps – it caps out at

35 campers each, so it's almost like

a classroom setting," according to

Monica Bruno, an after-school

recreation assistant.

All of the camp activities are

planned with enrichment in mind.

Often, they're nature-themed

crafts or projects, alongside games

that take advantage of the treelined

setting.

"The kids are going to come

home tired and dirty, making

friends, but it's nice that way,"

Bruno said.

Families can also get in on the

action through the city's Family

Camp nights. Permits for overnight

camping on weekends at Wilderness

Park are available year-round,

but the special weekends planned

by the City offer themed activities

and games that allow families to

enjoy the woods from their own

backyard.

"Locals don't have to drive far.

Some families set up their campsites

and have dinner at a restaurant,

while others will get as close

to camping as possible," Bruno

said.

The Wilderness Park summer activities

are only a sample of the

land-side selections offered by Redondo

Beach. The city offers 17

camp options, including soccer,

skateboarding, horseback riding

and dance camps. The City also offers

creative camps focused on art,

computer coding, filmmaking and

Lego engineering.

"We seemingly never can have

enough programs to get families

and their kids booked into," said

Redondo Beach Community Development

Director John LaRock.

His department is constantly

looking to add programs for campseeking

customers. They've even

tossed around the concept of putting

together a "free-agent" membership,

for people to attend

multiple camps.

"Especially with children – socially,

varietally – we're trying to

give them as much to absorb, and

we're trying to stay ahead in their

interests," LaRock said. "Give the

people what they want, and what

they want is more cool stuff."

Redondo's camps begin on June

25, with new sessions beginning

weekly for most camps. Prices

vary by program.

Wilderness Park is at 1102

Camino Real, Redondo Beach.

For more information on Redondo

Beach's camp offerings, call

310-318-0610, ext. 3460, or visit redondo.org/camps.

B

Herons are among the many

breeds of birds that find refuge in

Wilderness Park. Photo by Bev

Morse

Dance 1 Summer Camps

The owners of Redondo's Dance

1 believe their studio to be a place

for all learning dancers to train in

a comfortable, secure environment.

The 3D Camp, for ages 6 to

12, is themed "Take Me to the

Movies," featuring songs from

"Trolls," "The Greatest Showman,"

"Descendants 2" and "Annie." The

3D Jr. Camp, for ages 3 to 5 years

old, is built on different daily

themes, and will teach children elements

of ballet, jazz, tap and hiphop

dance styles.

$360 per session for 3D Camp,

running July 16 to July 20 and Aug.

6 to Aug. 10, and $150 for 3D Jr.

Camp, from June 25 to June 29.

redondo.org/camps

PlayWell TEKnologies

Summer Camps

The LEGO-centrict PlayWell

Summer Camps are designed to let

kids explore their imaginations –

and STEM concepts – through

LEGO sets and pop-culture franchises.

Engineer-designed projects

allow campers to complete objectives

through the lens of Minecraft

and Star Wars-inspired worlds.

Camps are for kids aged 5 to 6 and

7 to 11, and are offered by both the

City of Hermosa Beach and the

City of Redondo Beach. Camps

begin June 25. Hermosa camps

cost $184 for residents, and $194

for non-residents. Redondo camps

cost $165.

redondo.org/camps or

hermosabch.org

Code to the Future

Video game lovers can become

budding game designers and programmers

with Code to the Future,

a camp designed to help curious

campers modify games through

coding. Minescratch will teach

campers programming through a

block-based tool called "Scratch,"

while Minecraft Modding will give

campers the tools to modify the

popular game Minecraft through

the Java programming language.

Minescratch costs $171, and is for

kids 7 to 12 years old. Minecraft

Modding costs $242, and is for kids

9 to 14 years old. Both programs

are at the Aviation Dance Room at

Aviation Park, 1935 Manhattan

Beach Blvd., Redondo Beach.

redondo.org/camps

• Serving the South

Bay for over 35 years

• Full Service Contractor

• Complete Installation

• New Construction

• Remodeling

• Second Floors

• Additions

• Cabinets

Visit Our

Kitchen &

Bath

Showroom

4203 Spencer St., Torrance, CA 90503 (310)214-5049 • www.pevelers.com

Appointments Are Recommended

Showroom Hours: Tuesday, Wednesday, Thursday 10-5 • Friday 9-3 • Monday by Appointment

Closed Saturday and Sunday • License #381992

May 10, 2018 • Easy Reader / Beach magazine 53
---
Aqua Surf

Begins June 11

Beach fun, and surfing for kids and teens. Aqua Summer Camps instill ocean safety

and surfing skills while creating lifelong skills, incredible lasting memories, and treasured

friendships. Instructors tailor the experience based on the needs of each individual,

while maintaining a group/family-style atmosphere. Aqua Surf accommodates complete

beginners to kids and teens learning to surf at a pro-level with a 3 to 1 ratio (students

to teacher) to ensure the highest quality of safety practices and personalized

attention for each student. Students can attend by the day or by the week. Summer

camps run Monday - Friday, for the entire summer break. Half days run from 9 a.m. -

noon. or noon - 3 p.m. and full days are from 9 a.m. - 3 p.m.

(310) 902-7737 info@aquasurf.com

Beach Cities Volleyball

Begins July 9

Established in 2000, BC Volleyball's mission statement is to "Teach life skills and volleyball

skills to young people." BCVC works very hard to help create successful, well balanced

adults through wonderful volleyball experiences. BCVC teaches beginning,

intermediate, and advanced players from different communities, ethnicities, and income

levels. Priorities are to have fun and build volleyball skills. Players are placed in groups

of similar age and experience, and then progress from station to station, followed by

spirited competition allowing the players to practice the skills they just developed.

(310) 546-9150 BeachCitiesVBC.com

BeachSports and PCH Skateboard camps

Begins June 11

Make your summer awesome! Starting at age 4, BeachSports camps are designed

with parents and campers in mind. BeachSports collaborated with lifeguards and teachu

summercamps

CAMPS & SCHOOLS FOR SUMMER FUN

May 10, 2018 • Easy Reader / Beach magazine 55
---
56 Easy Reader / Beach magazine • May 10, 2018
---
camps&schoolsforsummerfun

ers to create a program that is inclusive, fun, educational and, most importantly, safe

for all campers. Camp activities include surfing, boogie boarding, beach volleyball,

ocean safety exercises, Jr. Lifeguard skills, skateboarding, age-appropriate games and

more! Learn to skateboard or take your skating to the next level, with PCH Skateboard

Camps. Camps in Manhattan and Redondo Beach provide beginner to advanced

skateboarding instruction for boys and girls age 5 and up.Flexible day pass system

and extended hours make parents' lives easy and allow campers to experience all the

fun activities BeachSports and PCH Skateboard have to offer.

(310) 372-2202 BeachSports.org PCHSkateCamps.com

Camp Surf

Begins June 4

Camp Surf is "Los Angeles' Premier Surf School", according the LA Business Journal. It

offers surf instruction in Manhattan Beach for all ages and abilities, with both private

and group lessons. Lessons include summer surf camps, after school programs, birthday

parties and corporate events. Instruction is available year round with a 1:4 instructor

to surfer ratio. Surfboards and wetsuits are provided. Camp Surf also offers youth and

adult volleyball classes and clinics through their CampVolley programs.

(424) 237-2994 Campsurf.com

Destination Science

Begins June 25

The fun science day camp for curious kids! Top notch, enthusiastic educators and leaders

make STEM learning an adventure! Topics include: Science Makers & Inventors;

Amusement Park Science; Transforming Robots; Rovers Rocketing to Space plus special

Minecraft 101: Mod Design for campers entering 5th, 6th, 7th grade only. Enroll now

save $20/wk. Enroll for 3 weeks and save an additional $10/week.

South Coast Botanic Garden - 26300 Crenshaw Blvd, Palos Verdes

Richmond St School - 615 Richmond Street, El Segundo

United Methodist Church - 540 Main Street, El Segundo

Trinity Lutheran Church - 1340 11th Street, Manhattan Beach

• Private Parties

• Private Lessons

• Summer Surf Camps • Corporate Lessons

• Birthday Parties • Group Lessons

Our instructors are all CPR and First Aid Certified

Los Angeles' Premier Surf School

and

The Official Surf School for the City of Manhattan Beach

424-237-2994 info@campsurf.com

May 10, 2018 • Easy Reader / Beach magazine 57
---
funcamps&schoolsforsummerfuncamps&schoolsforsummerfuncamps&schoolsfor

Valor Christian Academy - 525 Earle Lane, Redondo Beach

(888) 909-2822 destinationscience.org

Freedom Surf Camp

June 18 - August 31

Freedom Surf Camp offers a wide range of activities at camps in Manhattan Beach,

Venice, Santa Monica and Malibu. Morning and afternoon sessions. Ages 5-7: Water

safety, boogie boarding, sand sculpting, sand crabs, dodgeball, and other games.

Surfing 101 for kids who want it. Ages 8-12: Surfing, boogie boardin, water safety,

and environmental education. Ages 13-14: Depending on skill level, all water and

beach activity are offered. Groms: competitive level surfing.

(310) 770-4410 freeedom.org

Montessori Preschool of Manhattan Beach

July 2 - July 27 July 30 - August 24

Explore Camp Hawaii at Montessori Preschool of Manhattan Beach. Tennis lessons

by Hotshots, soccer by Kickin It Youth Soccer, Polynesian dance performance by

Tausala Polynesia, Hawaiian singer performance, ukulele lessons for ages 3 - 8, SEA

Lab's Traveling Tide Pool, Mobile Zoo of Southern California, Hawaiian style cooking,

crafts and fun facts. Two locations!

Ages 18 months - 6 years old; 2617 Bell Ave. (310) 545-8104

Ages 2 - 8 years old; 315 S. Peck Ave. (310) 379-9462

Montessorimb.com

Our Lady of Guadalupe School

Ongoing

Entering its 9th season in summer programming, OLG offers 6 weeks of fun and learning.

The program is divided into a 2 week Summer Adventures Camp and 4 weeks

of Summer School/Camp, providing opportunities to students entering grades K-8 and

their families. Offerings include academics, enrichment, performing and visual arts,

and summer camp! Summer at OLG will be filled with learning, fun, friends, and great

memories.

340 Massey St., Hermosa Beach

(310) 372-7486 summeratolg.com

SUMMER AT OLG

PLAY • LEARN • GROW

340 Massey Street, Hermosa Beach, CA 90254 • 310-372-7486 • ourladyofguadalupeschool.org

58 Easy Reader / Beach magazine • May 10, 2018

Performing Arts Workshops

Begins June 18

Winner of BEST Summer Camp "LA Parent Magazine!" It's the ultimate arts experience

for kids ages 5-14. PAW teachers are nurturing, skilled instructors who have or working

towards their Bachelors or Masters degrees in their respective disciplines. Their teaching

experience and knowledge combined with the PAW philosophy provides students a

level of training comparable to private studios and conservatories. "Our kids don't need

to be experts – just have a curiosity and love for performing," says Cheryl Appleman,

PAW President. "Each session campers participate in a free performance attended by

family and friends." Award-winning camps include Musical Theater, Guitar, Laugh Out

Loud, Rock The Mic, Filmmaking, Magic, Photography, Stage F/X Makeup and Debate

Camp.

(310) 827-8827 PerformingArtsWorkshops.com

Rolling Hills Country Day

June 25 - August 17

Join Rolling Hills Country Day School for summer fun with academic and camp programs

for grades K-8! A traditional 6-week summer school academic program and

weekly Experium Science camps are offered. Camps are filled with fun activities that

include swimming, arts & crafts, cooking, dance, sports, imagination & creation, and

weekly themes and shows. Art camp, swim camp, private swim lessons, and extended

day care are available until 6 p.m. Request a brochure online or call for information.

Our Lady Guadalupe

Summer School Camp

We are offering 6 weeks of fun and learning:

• 2 week Summer Adventures Camp

• 4 weeks of Summer School/Camp

Academics, Enrichment,

Performing & Visual Arts, and Summer Camp

Join us this summer for learning, fun,

friends, and great memories!

Ages K-8

Summer Registration please visit:

summeratolg.com

(310) 377-4848, ext. 7051

msandoval@rhcds.com

rhcds.com

South Bay Art Dept.

Ongoing

South Bay Art Department aims to nurture

individuality and confidence through personal,

creative expression. Classes for

kids and teens include: Introduction to

Fine Art (ages 5-11), Comics and

Manga, Fashion Illustration, Intro to Cartooning,

Fundamentals of Painting, Fundamentals

of Drawing. For adults:

Contemporary Painting, Figure Drawing

sessions. In addition to classes, day

camps, week camps, private lessons,

kids and adults parties, custom events,

and space rentals are offered.

1075 Aviation Blvd.,

Hermosa Beach

(310) 379-5879

Sbartdept.com

u
---
May 10, 2018 • Easy Reader / Beach magazine 59
---
Beach Cities Volleyball

2018 High Performance Clinics

• Week 1: Advanced High Performance Clinic for current High School Players

looking to future college careers! (13s & 14s on Gold Division Club teams & current

college players also invited)

• This clinic is coached by college coaches, for future college players. Coaches include:

• Christian Cammayo, Head Coach Los Angeles Harbor College

• Chrissie Zartman Courtney, Head Coach, Marymount California University

• Matt DeLotto, Whittier College, NCAA Division 1 National Championship for UC Irvine

• Sophia Ahumada, former coach at Cal State Dominguez Hills, Head Coach Narbonne High

• Richell Squire, former coach at Portland State University, Head Coach Torrance High

• Ryan Cronin, former coach at Holy Cross University, Head Coach North Torrance High

• Martha Baillif, former coach at LB City College, Head Coach Banning High

• Monday July 9th - Friday July 13th, 1-4 PM LA Galaxy Volleyball Courts,

540 Maple Ave., Torrance

• Clinic includes discussions & materials on how to market yourselves to college coaches

• Beach Cities Volleyball alum currently play on their college teams across the country

• Over the last 3 years, over 150 offers to play in college have been made to Beach Cities

players graduation from high school

9th Grade & Under High Performance Clinics

• For school & strong club players 12-15 years looking to become high level high school players

• Coached by College & high school coaches, to players expecting successful volleyball careers

in high school & college (High School players also invited)

• Coaches include in addition to the coaches listed above:

• Kevin Williams, Head Coach, Peninsula High School

• Brenda Gonzalez, Peninsula High School

• Christine Regadio-Auberry, Head Coach, Hawthorne High School

• Tony Mayrie, Former Head Coach, Serra High School

• Tyler Sompa, South Torrance High School

• Week 2 & Week 3: Mondays through Fridays July 16th through 20th & July 23rd through 27th,

1 to 4 PM at Manhattan Beach Middle School, 1501 N. Redondo Ave.,m Manhattan Beach,

CA 90266

• Week 4m 4 & 6: Mondays through Fridays, 1 to 4 PM, July 30th through August 3rd, August 6th

through 10th, and August 13th through 17th, LA Galaxy Volleyball Courts, 540 Maple Ave.,

Torrance

• Week 7: Monday through Fridays, 1 to 4 PM, Brentwood Presbyterian Gym, 12000 San Vicente,

Brentwood (southwest corner of Bundy & San Vicente)

• Each season, over 200 Beach Cities Volleyball players compete for their school teams across

Los Angeles!

For more information &/or to sign up online, please connect to www.Beachcitiesvbvc.com, or call 310-546-9150

60 Easy Reader / Beach magazine • May 10, 2018
---
Best Paints and

Window Coverings

1002 S Pacific Coast Hwy, Redondo Beach | (310) 540-4456

708 N Sepulveda Blvd, Manhattan Beach | (310) 376-2444

Classifieds

HANDYMAN

Handyman

Services…

Fix It Right

the

First Time

What we do…

Plumbing, Electrical,

Drywall, Painting

& more.

Valente Marin

310-748-8249

your space in the

next

Magazine

Pub Date: June 14

Deadline:

June 1

Call direct

s

(424)

Unlic.

Reserve

Beach

269-2830

STONE

MORRIS

Cleaning & Restoration

• Marble polishing

• Travertine & Limestone

honing & polishing

• Tile & Grout

cleaning & sealing

Free Advice

& Estimates

Call George

310-545-8750

www.CleanRestoreProtect.com

Lic. #1005861

Call Direct

424

269-2830

424.269.2830

PLUMBING

WINDOW

CLEANING

TOTAL SATISFACTION

GUARANTEED!!

KIRBY'S

WINDOW CLEANING

THE SCREEN DOCTOR

SINCE 1978

PRESSURE WASHING

SERVICES

• RELIABLE & PROFESSIONAL

TECHNICIANS

• EXCELLENT REFERENCES

FREE

WEATHER TOUCH UPS

FREE ESTIMATES

310-374-7895

CALL TODAY

KirbysWindowCleaning.com

May 10, 2018 • Easy Reader / Beach magazine 61
---
64 Easy Reader / Beach magazine • May 10, 2018