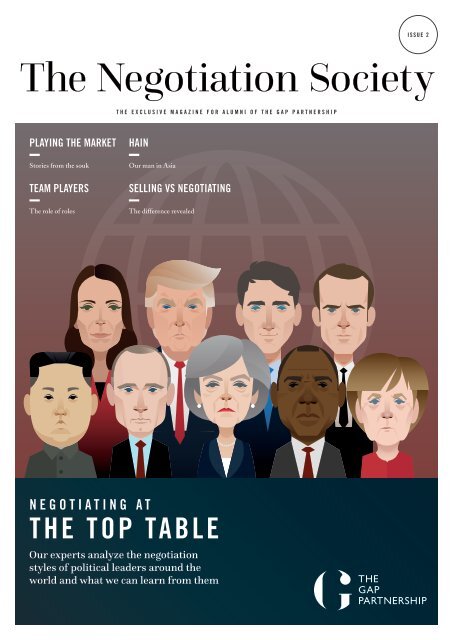 The Negotiation Society - Issue 2
The exclusive magazine for Alumni of The Gap Partnership
The exclusive magazine for Alumni of The Gap Partnership
SHOW MORE
SHOW LESS
Create successful ePaper yourself
Turn your PDF publications into a flip-book with our unique Google optimized e-Paper software.
ISSUE 2

The Negotiation Society

THE EXCLUSIVE MAGAZINE FOR ALUMNI OF THE GAP PARTNERSHIP

PLAYING THE MARKET

Stories from the souk

TEAM PLAYERS

The role of roles

HAIN

Our man in Asia

SELLING VS NEGOTIATING

The difference revealed

NEGOTIATING AT

THE TOP TABLE

Our experts analyze the negotiation

styles of political leaders around the

world and what we can learn from them
---
THE NEGOTIATION SOCIETY

INSIDE THIS ISSUE

OUR CONTRIBUTORS

06 12

Negotiating at

the Top Table

Playing the

Market

Analysis of the negotiation

style and strategy of some

of the world's most highprofile

leaders.

16 22

Team

Players

The importance of roles

and responsibilities in a

negotiation, even when

going solo.

A highly skilled negotiator

gets more than he bargained

for in a Moroccan souk.

Hain

29 32

Ask Alistair

Negotiation guru Alistair

White returns to answer

alumni queries, including

how to handle it when

things get emotional.

Our man in Asia talks about

the restless pace of change

in the region, and why he's

excited for the future.

Selling and

Negotiation

Teasing apart the distinction

between these two most

critical of commercial skills.

WELCOME FROM STEVE

Welcome back, or for our new alumni members

a warm welcome to this, our second edition of

The Negotiation Society. The home of staying in

touch with all things relevant to the art and science

of your negotiations.

Following the success of our first edition, here at

The Gap Partnership we have set our sights on no

less than the world! Well, to be specific, world leaders

and their fascinating and differing negotiation styles.

We complement our front page story with subjects

as broad as negotiating with our kids to negotiating

in souks. I'm confident there's something here to

keep everyone entertained and most

importantly challenged.

Is your job to sell or to negotiate or both? For

that matter what's the difference? Read on. Every

moment of every negotiation matters because

nothing happens by accident in negotiation and with

so much value in the balance is it any wonder that

the contributors to this second edition have so much

to share from their own experiences?

I hope you enjoy the read and look forward to

the feedback via The Negotiation Society group

on LinkedIn or feel free to email us at

alumni@thegappartnership with your views.

Steve Gates

CEO, The Gap Partnership

Simon Dent Anna Monusova Emma Dutton

Simon started professional life

as a lawyer, and then became

a sports agent representing

Premiership footballers, Olympic

gold medalists, Rugby World Cup

winners and even a Hollywood

movie star. In 2016 he co-founded

Dark Horses, a sports marketing

agency, and now works with brands

like Nissan, DHL, Under Armour

and Southampton FC.

Raised in Russia, Anna

moved to Paris to attend the

prestigious Ecole Normale

Supérieure. She joined Danone

and became global sourcing

lead for an ingredients portfolio,

developing procurement strategies

and leading change management

projects. In 2015 she joined The

Gap Partnership and now works

on multilingual projects with

clients across Europe.

Emma's military career saw her

negotiating with the Taliban

in life-and-death scenarios, for

which she received an MBE.

An expert in influence,

Emma now leads an elite

team who work with businesses

to improve their performance

and profitability. She has a

passion for film and is a partner

in a boutique media company.

Martina Hui Chris Atkins Mike Kamins

With a background in market

research, Martina has a deep

understanding of consumer

analytics, allowing her to

translate data into insights and

actionable recommendations

for her clients. Since joining

The Gap Partnership in

2017, Martina has brought

her experience to bear in

negotiation capability with

clients throughout Asia.

Chris honed his management

skills at Coca-Cola, Courage

Beer and HP Bulmer. His

global career has delivered

a track record of profitgenerating

turnaround plans and

restructuring. Chris heads up

Global Consulting at The Gap

Partnership, and is a passionate

believer in the transformative

power of negotiation.

A keen student of negotiation,

Mike holds a BS in Conflict

Analysis Dispute Resolution,

and an MS in Negotiations

and Conflict Management.

He also has extensive commercial

experience in client management

strategy, supporting businesses

in multiple sectors to achieve

rapid ROI. Mike is now head

of The Gap Partnership's UK

& MEAN practice.

2 3
---
THE NEGOTIATION SOCIETY

MY HEAD

EMMA DUTTON

EMMA SERVED FIVE TOURS OF AFGHANISTAN IN MILITARY INTELLIGENCE,

LEADING TEAMS TO COLLECT LIFE-SAVING INFORMATION. SHE NOW HEADS

UP THE APPLIED INFLUENCE GROUP AND HELPS INDIVIDUALS AND

BUSINESSES IMPROVE PERFORMANCE AND PROFITABILITY.

How did you end up working in

military intelligence?

I was sponsored at University by the

RAF, and after graduation I began my

first tour in a tactical communications

unit. I served one tour of Afghanistan

in 2009 looking after the navigation

aids on Camp Bastion airfield, and

absolutely loved it! When I returned,

I wanted a role which would allow me

to make a more direct contribution,

which led me to Specialist Debriefing.

I completed another four tours of

Afghanistan in this role.

What was the most satisfying part

of your role?

Seeing my efforts make a tangible

impact on the battlespace. From the

recovery of IEDs (improvised explosive

devices), to gaining an important piece

of information about a senior insurgent

that meant we could prevent an

attack…it was very humbling.

And the most challenging?

Dealing with the fact that the highstakes

results were extremely difficult

to achieve! And knowing what failure

could mean. It was challenging having

to influence our way into collecting

life-saving information from the

Taliban, but so too having to influence

our way through a highly charged

political environment with multiple

'dotted lines' pulling on us, delivering

our information to some of the world's

most demanding customers. I realized

that we were using the same influence

skills with the politicians as we were

with Taliban fighters and smugglers.

How important was the skill of

negotiation?

Incredibly important. We used the

fundamental principles every day. Most

of our work occurred at 9 – 12 o'clock

on the Clockface; it was complex,

relationship-based negotiation with

multiple stakeholders in an everchanging

landscape. There was the odd

hard bargain though, looking back on it!

How important are negotiation skills

to the art of influence?

Negotiation is one application of the

ability to influence. Influence is the

ability to effect change in another

person or organization in a mutually

beneficial way. Negotiation has many

more required skills than the ability to

influence, and influence has many more

applications than negotiation.

What has been your greatest

negotiation achievement?

Possibly convincing my 4-year-old

nephew to hand over the control to the

novelty Christmas doorbell on Boxing

day. It was a tedious hour before that!

Any negotiation disasters?

Plenty! But I've learned something

from each. When we started our

business and began negotiating

commercially, we were approaching it

from our exclusively military reference

points. We had a huge amount of

knowledge, skill and experience,

but never before had we taken

responsibility for a P&L, commercially

negotiated with a client, or had to

worry about the intricate "watch-outs"

in a supplier's contract. But you

learn quickly.

What's the most important lesson that

you've learned as a negotiator?

As above, learn quickly! Not just

about yourself, or individuals you're

negotiating with to get inside their

head, but learn about other perspectives

on the skill itself. Don't ever just see

negotiation as what you do inside

your business and within your role,

constantly develop yourself and look for

new methodologies and interpretations

in unfamiliar places.

What's the best advice you've ever

been given?

Have conviction in your judgments and

unconscious response; if it feels wrong,

it usually is.

Children make natural negotiators, unhindered by a sense of fairness and

in possession of some very effective tactics. We asked TGP'ers and alumni

to tell us their stories of when a small person out-negotiated them.

"My 9-year-old has the simple tactic of devaluing the

thing you are negotiating on. It is amazing how quickly

he no longer cares about his Xbox!"

Rich Bradley

"I have always said for years that it is impossible to

negotiate with children, perhaps because of one particular

experience with my daughter. She threw something on the

floor which smashed into pieces. I asked her why she did it,

and her response was 'It wasn't me…!'. How can you possibly

negotiate with someone who is so unencumbered by the

normal values of society?"

Roger Greenfield

"My 8-year-old daughter will always open extreme and will

ask for three or four cookies when I offer her one, knowing

full well that she will then settle for two. She also trades

concessions very well in trying to negotiate an ice cream

for eating her vegetables – even the ones she likes to eat.

And then when we have a deal on an amount of vegetables

to be eaten, she will try to reopen the negotiations and

negotiate a smaller quantity of vegetables. It's

almost like she's read the tactics list we feature

in our negotiation notebooks."

Sven Mermans

"My children use conditionality instinctively,

although quite often they get the 'If you…,

then I' the wrong way round. For example,

they'll turn off their tablets if I let them stay

up late; or they'll eat their broccoli if we let

them have an ice cream after dinner."

Simeon Barnett

"My son Billy once said, 'OK Daddy,

here's the deal. I only watch five

minutes more TV and you read

me a story'. Of course, I'd be

happy to read him a story

anyway – but I was

impressed with his

use of conditional

trading and

anchoring!"

John Clements

"My nephew went with his dad to get the family car serviced,

and they were waiting in the coffee area of the BMW

showroom. As a bored 9-year-old he went off to look at the

shiny cars. The salesman came over to him and my nephew

decided to negotiate for the new 4 Series Convertible.

The salesman was so impressed that he played along, and

as they shook hands on a deal at half the asking price the

salesman told him to come back when he was 18 to pick up

his car and see if he wanted a job. He then gave him a BMW

cap and backpack. It's amazing what you can get if you are

just cheeky enough to ask!"

Graham Stimpson

"My 6-year-old daughter is a master in competitive

negotiations, expertly trading concessions with me: 'If you

take away my iPad, I will take away your phone'; 'if you give

me the last ice cream, then I will be nice to my brother'."

An Moisson

"In Russia kids get two gifts for Christmas – one from

Santa Claus (or rather its local version Ded Moroz),

and one from their parents. My sister let my

mom believe that she still believed in Santa

Claus until she was 11. It's a great example

of getting inside the other party's head and

making low cost/high value trades. She

figured out that my mom loved the idea that

her little girl was still little, and she was

getting two gifts. Win-win!"

Anna Monusova

"My 5-year-old daughter's answer to

my explanation about why she must

do something and what she can

get in return 'If you…, then we'

was always a direct and firm 'no'.

Then after only one or two moves

from my side she was ready to

accept it, feeling that she had

got something on top of the

original offer (satisfaction).

She is now 7 and has

become even more

sophisticated, adding

a cry (flinch) to my

initial offer to make me

concede more quickly."

Ruben Ter-Minasyan

4 5
---
THE NEGOTIATION SOCIETY

N E G O T I A T I N G A T

THE TOP TABLE

How do the most powerful people on the planet negotiate,

and what can we learn from them? Steve Gates, CEO of

The Gap Partnership, introduces our special report.

The skill of effective negotiation is not only

critical to commercial contracts, partnership

agreements and problem solving but also

to how nations trade, manage conflicts and

promote their economies. It has always been of

great fascination to me how our political leaders

with their different personalities, backgrounds and

negotiation styles, shape the world that we live in.

Of course there are some obvious differences

between political and commercial negotiations.

Political negotiators are more likely to be

driven by their values and ideologies than those

negotiating in the business world. The result of

a political negotiation could have an impact as

significant as whether the negotiator is selected

for or retains their political office. Yet there is

something fundamental that negotiators from the

worlds of politics and business have in common

– a desire to reach the best possible outcome for

themselves that is also acceptable to the other side.

We asked TGP consultants from around the

world to set politics aside and assess the negotiation

style and strategy of just a few of the personalities

who are currently influencing world events.

ILLUSTRATIONS: STANLEY CHOW

ANGELA MERKEL

BY THOMAS STRACK

Angela Merkel – crowned "The

World's Most Powerful Woman"

by Forbes Magazine for the seventh

consecutive year – has enjoyed a

meteoric rise to the top. Within 18

months from her first political steps

she was running her own ministry,

and subsequently became leader of

the Christian Democratic Union

Party (CDU), and then the first

female German Chancellor.

Circumstance endowed Merkel

with many vote-winning credentials

that the CDU needed – she was female,

Protestant, East German and crucially

had no "Stasi" associations. But it was

her shrewdness and negotiation skill

in one critical meeting that sealed

her political future. Taking place at a

CDU convention the evening before

German reunification, she spotted

an opportunity to have an audience

with Chancellor Kohl. Three months

later she was sworn in as the Federal

Minister for Women and Youth.

Merkel later admitted the result

of this meeting with Kohl – and

the negotiation it surely contained

– exceeded her expectations. But

it's possible to deduce some likely

principles from her approach that can

be applied in the commercial world:

1. Understand the perceived balance

of power you hold. Find out how the

other party views you. You may have

more power than you think!

2. Use time and/or circumstances to

your advantage to obtain more power.

For example, if you (in Procurement)

know one of your suppliers has just

lost a huge contract, you may be able

to source from them under better

conditions than was previously possible.

Equally, if you (in Sales) know your

customer has run out of stock and

desperately needs your product, you

may be able to sell at better conditions

than was previously possible.

3. Don't automatically credit a

higher-ranking colleague with more

power than they have. Your boss may

need you much more than you think

(even if only to shine themselves).

4. Build relationships of trust

with key decision makers to find out

about underlying interests, priorities,

opportunities and possible (new)

negotiation variables.

5. Seek to maximize the value of the

agreement, rather than aim for what

you want. If you already have a defined

objective in mind, you might achieve

it – but miss out on additional value

that the other party may have been

willing to give to you if you had been

more ambitious.

JUSTIN TRUDEAU

BY IVAN JANKOVIC AND ALEX STEFAN

Prime Minister Trudeau is a

charismatic leader, whose youth,

pleasant demeanor and looks are

regularly commented on by the world's

press. But what kind of negotiator is

he? As a Canadian, it should be no

surprise that he prefers negotiating

collaboratively. He feels at home in

situations with high levels of trust,

where both parties are able to reach

agreement and grow mutual value.

However, while some believe he can

be too "fair", he has shown leadership

and authority in tougher negotiations,

often using silence and his right not

to answer questions to his advantage.

In the ongoing North America

Free Trade renegotiations, which the

US presidential election campaign

placed firmly on the agenda, Trudeau

has prepared Canada well. He has

demonstrated an understanding

of negotiation strategy and the

importance of planning, using the Law

of Satisfaction by premeditatedly losing

ground on certain issues in order

to deliver satisfaction to the other

party and gain advantage elsewhere.

Of course, he is not negotiating

alone, and Trudeau clearly understands

that a negotiation team is only as strong

as the individuals within it. He has

assembled a commercially experienced

team led by Foreign Affairs Minister

Chrystia Freeland, alongside chief

negotiators from the Trans-Pacific

Partnership and the EU-Canada

Comprehensive Economic and Trade

Agreement. In short, these are Canada's

best trained professional negotiators

within the public policy arena.

Coolheadedness is a trait that all

skilled negotiators possess. Trudeau's

has been tested by Donald Trump's

claim that America has a trade deficit

with Canada. Despite the provocation,

he has remained silent and forbidden

both cabinet ministers and senior

officials from responding. Instead

he appeals to the common sense

of his counterparts, pointing out

the consequences of not getting to

a deal, and remaining steadfast in

his positioning.

Trudeau's preparation, team,

and resoluteness on key issues for

Canada will be the driving forces

behind securing a good and mutually

satisfactory trade deal for all parties

involved. Only time will tell exactly

how successful he will be.

VLADIMIR PUTIN

BY PYOTR SVIRIDOV

In March Putin secured a fourth

term in office in a landslide victory

in the Russian presidential elections.

It should come as no surprise that

this most experienced of world

leaders is an expert in negotiation

strategy with a vast repertoire of tactics

at his disposal. Here is just a selection

of the methods he uses to gain control

and secure his objectives.

6

7
---
THE NEGOTIATION SOCIETY

The waiting game

Putin's tardiness is legendary. He was

the only world leader who was late to

meet the Queen. That was by a mere

14 minutes; the Pope had to wait for

50 minutes and the Prime Minister of

Japan for over an hour. If deliberate,

this tactic can be used to instill anxiety

and a loss of control in a counterparty,

leaving them weakened before the

negotiation has started.

The fear factor

Angela Merkel may have wished Putin

had kept her waiting, when in a now

infamous incident he allowed his large

black Labrador to stroll into the room

where they were meeting – knowing

she was terrified of dogs. The resulting

TV footage shows the German

Chancellor looking nervous as the dog

prowls around her, while Putin sprawls

on his chair, surveying the scene with

an amused expression.

Charm offensive

There is no doubt that Putin can

"play nice". Possessed of great personal

charm, he can be humble, courteous,

and entertaining company. But at

the same time he talks tough on the

issues. The effect on his counterparty

is discombobulating, and can lead to

concessions being given away

more freely.

Talk about your number

There is one opposition leader whose

name Putin refuses to say, even when

asked a direct question about him.

At The Gap Partnership we teach

the importance of talking about your

number, not theirs. This is a very

personal application of that principle.

Eye to eye

Putin looks up and to the right when

speaking. Research has shown that

looking upwards to your left can be

associated with lying, and looking up

to the right with telling the truth – so

always looking up and to the right will

confuse anyone who is trying to decode

your body language.

As any student of negotiation will

recognize, Putin's tactics are, quite

literally, "by the book". It's reputed

that even Donald Trump refrained

from using his famous steel-like grip

handshake on him, as if he knew it

would be no match.

THERESA MAY

BY TIM GREEN

heresa May's negotiation capability

T has come under intense scrutiny

as the move towards the final terms

of Brexit draw closer. How successful

that deal will be is hard to predict, not

least because she has little international

negotiation experience. While on paper

that may not seem ideal, ironically it

could play to her advantage, since her

27 counterparties will not have much

to go on to build a picture of her.

Some commentators suggest May has

abundant qualities that will benefit

Britain at the Brexit negotiation table;

her critics are able to put together a

counterargument just as easily. But

what objective evidence is there that

gives an indication of how she

will perform?

May's style as a politician was

dogged determination and an unshowy

focus on simply getting the job done.

Perhaps this less than headlinegrabbing

modus operandi explains

the fascination the media have with

her more extrovert taste in shoes. But

media coverage notwithstanding, David

Cameron was quoted as saying she was

the person he least liked negotiating

with because of this persistence and

unwavering focus.

Indeed, according to her former

Chief of Staff, Andrew Griffiths,

May recognized early on that being in

government requires an unrelenting

attention to detail, meticulous

preparation and planning, and plain

old fashioned graft. These are all traits

that any successful negotiator will

recognize. But there is a downside; her

critics suggest that May's obsession

with understanding all of the detail can

hamper her decision making. When the

clock is ticking on a negotiation, the

ability to be decisive is crucial.

A quiet character, May presents

as calm and authoritative, seemingly

highly unlikely to succumb to an

emotional outburst. In the inevitably

heated atmosphere of the multi-party

negotiation that will be Brexit,

this would serve her well. But her

reserve can project as icy and cold,

and may make it hard for her to

leverage personal relationships or use

charm to influence others at the table.

It will be fascinating to watch the

Brexit negotiations play out to their

conclusion, with Theresa May at the

helm. However it unfolds, it seems

likely that her reputation as a

negotiator will be firmly sealed in

one direction or another.

DONALD TRUMP

BY CHRIS WEBBER

Donald Trump is not a man about

whom people have no opinion.

Love him or loathe him, it is hard to

ignore him simply because he is one

of the most powerful men on earth.

But if you were to negotiate against

him, how would you get inside his

head and understand the man

behind the persona?

The first step is to ignore rhetoric

and opinion and gather facts.

For example:

The 13-year-old Trump was sent to

military boarding school after being

caught traveling into Manhattan

without permission.

He studied real estate at university.

He vowed to be bigger and better than

one of his inspirations, property developer

William Zeckendorf.

He became a TV personality, appearing in

The Apprentice.

He is a prolific "tweeter", using the

medium to communicate his thoughts

and opinions around the world.

In considering these facts, what

conclusions could his counterparty draw?

He is independent and maverick.

External recognition of his achievements

is important to him. He enjoys the

limelight and is a master at overcoming

negative PR.

He is competitive.

He uses preconditioning. His statements

and tweets are indicators of intent, ahead

of any action. They prepare counterparties

for what is to come and pave the way for

his desired outcome.

A negotiation in which he has

shown some of these traits is the

North America Free Trade Agreement

(NAFTA), a deal between Canada,

the US and Mexico. Trump's stated

priority to protect the US economy

at the expense of all others, and his

threats to cancel the agreement and

close US borders to Mexico, has left

some in no doubt that he could walk

away from NAFTA – even if from a

macroeconomic perspective this may

be viewed as illogical.

Whatever your opinion of

Donald Trump, he should not be

underestimated as a negotiator. His

qualities of pride, competitiveness

and independence, and his ability to

control the media message and leverage

power (both real and perceived), give

him a perceived position of strength.

As perception in negotiation is reality,

any counterparty of Trump's must

understand his traits and how they

may play out by thoroughly planning,

preparing and "getting inside his head".

That is, if they want to give themselves

a chance of securing a good deal.

EMMANUEL MACRON

BY CYRIL FONTAINE

Emmanuel Macron's position as

France's youngest ever elected

President, coupled with the speed

with which he rose to power, is

remarkable. How has he achieved

such success? Three negotiation

tactics have contributed.

Identify opportunities presented through

time and circumstance

In the 2013 hit movie, "Now You See

Me", an FBI agent and an Interpol

Detective hunt a team of illusionists

who pull off bank heists during their

shows. Perhaps film-goers were drawn

to the subject matter of magic and

one of its principles, "misdirection",

in which the attention of an audience

is focused on one thing in order to

distract its attention from another.

Macron has benefited from

misdirection. Dominique Strauss-

Kahn's arrest in New York before the

French elections, and the series of

scandals revealed against Macron's

rival François Fillon at a similarly

politically sensitive time, both served to

"misdirect" public attention unfavorably

to the two main political parties. These

events represented a power shift to

Macron which he duly maximized,

quietly building momentum for his

own campaign.

The art of preparation and

relationship building

Before Macron launched his

campaign, he built a support base

in two environments – business

and government. As an investment

banker he was responsible for a

multibillion dollar deal between

Nestlé and Pfizer that gained him

some rich and influential friends.

Upon moving into politics he served

as Deputy Secretary General in

François Hollande's government,

and was then appointed Minister of

Economy, Industry and Digital Affairs.

Both careers gave Macron a legion of

allies. In negotiation, especially when

collaborative, relationships are key.

Phrases that progress

At The Gap Partnership we have two

phrases which appear contradictory,

but actually complement each other:

"The more you say, the more you give

away", and "Words that caress, phrases

that progress". Talking too much

may hamper a negotiator, but verbal

dexterity can reap powerful results.

Macron has cleverly demonstrated this.

He is adept at gaining broad support

by stating two conflicting things at the

same time, so appealing to both camps.

One of Macron's favorite phrases, "et en

même temps" ("while" or "meanwhile"),

enables him to segue from one

opposing philosophy to another in

the same sentence. Et voilà! – the

opposing factions both agree with

what he's saying.

KIM JONG-UN

BY IVAN HUNG

The leader of North Korea's secretive

regime, Kim Jong-un, is perhaps

not a believer in the saying, "Don't

judge a book by its cover". He appears

to care deeply about his image, which

suggests that he understands the power

of appearance, and the associations that

go with that – something the skilled

negotiator should also be aware of. In

Jong-un's case, this has meant a new

hairstyle, a hat, considerable weight

gain, and rumoured plastic surgery.

Korea-watchers say he is modeling

himself on his grandfather, Kim Il-sung,

who ruled between 1945 and 1994 and is

unassailable in North Korea.

Such tactics could be compared to

the concept of "putting your negotiation

jacket on" – deliberately assuming

a persona for your negotiation that

may not be reflective of your own

personality, but will achieve the best

possible outcome. And at the very least,

it is highly appropriate that you give

thought to your appearance to ensure

it sends the message you want it to – if

you are in a formal meeting, wear the

appropriate attire unless there is an

advantage in not doing so.

Of course it's also actions that matter

in negotiation. Kim has shown skill in

managing expectations. In 2017, CNN

reported that North Korea conducted

multiple missile tests, executed

"criminals" in school yards, and that

Kim had assassinated his half brother,

Kim Jong-nam.

8 9
---
THE NEGOTIATION SOCIETY

It had been a tumultuous and,

to the rest of the world, disquieting

year. Then on January 1st 2018, Kim

Jong-un reminded the world that he

has "a button" on his desk. With the

Winter Olympics in South Korea

just weeks away, the situation was

delicate. Kim finally announced his

intention to participate in the Games.

His declaration was enthusiastically

welcomed by the administration of

Seoul, whose expectations had been

suppressed to rock bottom levels. Kim

had delivered maximum satisfaction

to them by opening extreme (a year of

reported aggression) and then moving

from that opening position (confirmed

attendance at the Games).

There is plenty of evidence that

the Supreme Leader is a man who

deliberately and expertly calculates the

effect of everything he does. Something

that a skilled negotiator should also do.

JACINDA ARDERN

BY ANGELA BARBAZENI

Jacinda Ardern was sworn in as Prime

Minster of New Zealand in October

2017. It followed weeks of intense

negotiations with the Green and NZ

First parties. It may have come as a

surprise to the world, and to some

extent Ardern herself, but in fact her

rockstar-like popularity and youth has

already drawn comparisons to those

other likable liberal leaders Trudeau

and Macron.

Her critics dismiss her as more

personality than policies, but it

could be argued that she has deftly

used elements of her personality to

gain power at the negotiating table.

Described as having an "uncultivated

charm", her down to earth nature and

straightforward approach to politics

is becoming synonymous with her

success. And while her empathy

undoubtedly won her votes, it may

also have enabled her to get inside

her counterparts' heads during the

coalition negotiations.

Indeed, Ardern's winning over

of NZ First leader Winston Peters

appears to be due to her focus on

shared ground, such as rejecting foreign

investment and a renegotiation of trade

deals, rather than differences on social

issues. Reportedly she brought Peters'

favorite cookies to their negotiations, a

canny touch designed to smooth talks

with the cantankerous elder statesman.

Openness is another Ardern trait.

She spoke about both her desire to

have a family and her anxiety about

achieving the elusive work-life balance.

While some see this as weakness,

it has also helped to build trust and

disarm critics. Combine this openness

with the steeliness of purpose that she

exhibited when forced to respond to

repeated questions about her plans for

parenthood – "It is totally unacceptable

in 2017 to say that women should

have to answer that question in the

workplace" – and you have a

formidable negotiator.

Inevitably "Jacindamania" will fade,

and only time will tell how successful

Ardern will be in office. What is not in

doubt will be her need to draw on her

considerable negotiation expertise.

CYRIL RAMAPHOSA

BY CAMPBELL GRAHAM

If a phrase could epitomize Cyril

Ramaphosa, it would be "the

negotiator". His charm and charisma,

ruthless eye for his opponents'

weaknesses, and expertise in the art

of "letting them have his way", have

underpinned his success in both

political and business life. Yet he also

cuts a determinedly low-key figure,

the very definition of a man who

makes himself hard to obtain.

His negotiation prowess has been

demonstrated over decades with a

line-up of achievements – a key figure

in the struggle to dismantle apartheid;

the creator of a business empire and

personal fortune; President of the

African National Congress (ANC).

Then in February 2018, Ramaphosa

fulfilled his long-held ambition

and took office as the President

of South Africa.

His reputation for being a wily

dealmaker was forged in the 80s when

he fought for improved wages and

conditions for miners. Astutely, he

focused on getting benefits for both

the workers and the mining industry.

This pragmatism was accompanied

by toughness and an understanding of

how the balance of power can be tilted

with a simple maneuvre. Above all,

he showed "conscious competence" –

capable of displaying immense charm

or controlled anger, as appropriate.

These skills caught the eye of

Nelson Mandela, who identified

Ramaphosa as "one of the ablest of the

new generation of leadership". Making

him lead negotiator for the ANC in

talks over the end of apartheid paid off

handsomely when he got the minority

National Party government to agree

to fair elections for a democratic state

governed by a progressive constitution,

in effect authoring their own demise.

He achieved this with the same clinical

precision as from his union days,

showing relentless persuasiveness,

pragmatism, and a mastery of tactics

and planning.

"The negotiator", if it were his

moniker, is one well-earned. Cyril

Ramaphosa is a man who recognizes

and demonstrates mastery of this most

critical of political and commercial

skills. South Africa has a leader who

can negotiate. TNS

The Negotiation Society: What did you do before

becoming a negotiation consultant?

Martina: My background is in market research,

specializing in the FMCG and Retail sectors. I led and

managed qualitative and quantitative research projects

on a variety of brands and products – everything from

washing powder to orange juice and cars. My research

was used to define brand proposition, stress test

marketing strategy, agree pricing frameworks and

set commercial targets.

TNS: How has that helped your understanding

of negotiation?

Martina: Well, the very first thing we did at the start of

any research project was a deep dive into understanding

our client and the business problem or issue that they

had asked us to help solve. What we were doing was

"getting inside their head" – a concept that I now refer

to on a daily basis as I advise and support businesses

and individuals with their negotiations.

TNS: Any tricks of the trade for how to "get inside the

other party's head" before a negotiation?

Martina: It's not rocket science, but it does require a

systematic and strategic approach, and enough time to

do it properly. Whether it's a market research project

or you are preparing for a negotiation, you should

be looking at four things: the company, individuals,

market trends, and the end user. A good starting place

will always be the annual report and other published

information to get a handle on how the business is

doing. Although this seems obvious it's amazing how

many people don't bother looking at this! But it's

publicly available information that anyone can access,

and can provide valuable insight into how the business

is performing, what challenges they are facing, and

what their outlook on the future is.

It's also well worth investing the time talking to

people – and listening! This helps to build up a detailed

picture of what's driving both the individuals, and

the business issues. Another benefit is that you start

to speak their language. This creates the perception

of common ground and paves the way for more

collaborative working, something that will help in any

high-level commercial project. At the end of the day

it's people you're working with and for.

Tricks of my Trade

In the first of a new series we ask a TGP consultant to tell us

a way in which their commercial experience has influenced

the way they think about negotiation. Martina Hui from the

Hong Kong office is first in the hot seat.

TNS: What if you can't talk to someone?

Martina: A simple tip is to look at their LinkedIn

profiles – obvious I know, but again it's surprising how

many people either don't bother doing this, or have

only a quick look. But you can get so much useful

information from it – not just an idea of who they are

through their personal profiles and experience and

backgrounds, but also what makes them tick – look at

who's in their networks, whether they've recommended

anyone, or been recommended, which groups they

are following, what activity they've liked. You can

also check out whether they are a member of

The Negotiation Society, which indicates a high

level of negotiation expertise – good news for any

collaborative negotiation.

TNS: Any favorite other external sources

of information?

Martina: Yes. The World Happiness Report is a

survey that ranks 156 countries on various measures,

to get an overall happiness score. This can help brands

assess things like how much consumers in different

countries are likely to spend (the happier they

are the more the wallet comes out!), whether

they will support more varieties, what colors

appeal the most, etc. And if you're in a

category like travel or outdoor ice cream,

you can expect higher consumption in

a happier year. It's a fascinating way of

linking global trends of emotion with the

resulting consumer behavior.

TNS: Can you ever have too

much information?

Martina: Maybe. Negotiation is about

power, and power is about information.

But it has to be relevant. You need

to select and filter it and use the

relevant bits. As part of this,

carefully choose what you are

going to share in order to

build trust – and equally,

what you are not if that

is to your advantage.

10

11
---
THE NEGOTIATION SOCIETY

PLAYING

THE

Market

Mike Kamins considered himself a pretty skillful

negotiator. But a visit to a Moroccan souk with his

wife showed how emotion can derail even the most

embedded of negotiation principles.

Let me tell you about my wife. She's

more intelligent than I am – brighter,

more creative and imaginative. She's

also more thoughtful and caring, more

well-rounded and polished. She has

a knack for finding the beauty in people. (And

homewares). I mean, you marry up in life, right?

I succeeded.

But I fancy myself a decent negotiator, and if

forced to pick between the two of us, I'd venture

that I might stand a bit taller in the world of

commercial negotiation. Bear all of this in mind as

I now relay for you a story.

My wife and I moved to the UK from America

on 1st March 2017. Among the many exciting

opportunities this continental shift allowed,

nothing was more thrilling than the ability to travel

outside the fifty states to faraway, magical places.

Fast forward to February 2018, and the best

laid plans... Apart from work trips to a few places

in the UK, Sarah and I had only taken one real

trip together since moving to London. That

was to Paris – not so far and not so away, albeit

magical. For all the allure of its stylish bars and

warm baguettes, having been a few times prior,

we yearned to go somewhere new. Somewhere

with mystique and panache, somewhere rife

with excitement and perhaps just a bit of danger.

Somewhere with...a kiddie pool. (Yep, I

have a nearly 3-year-old, my right hand man.

If you're thinking, "why bring him?", then that

conversation is for another day). We chose the

wonders of Marrakesh.

It wasn't lost on us that Morocco has become

a bit of a tourist destination, but for this lessthan-world-traveled

American family, exploring

Africa seemed pretty damn

exciting, not to mention a great

shopping opportunity. As longtime

design mavens (well, in

any case, Architectural Digest

subscribers), Sarah and I had

longed for a real Moroccan

carpet that was not mass

produced and retailed

by the likes of Pottery

Barn. Not only did this

destination cover exotic

and magical, it was also a

consumer savvy selection.

With the picturesque Atlas Mountains

as our background, we embarked on our adventure

where we were soon to learn that food tastes fresher

than at my local Whole Foods, riding a camel is

commonplace for some but thrilling for others

(me), cabbies chatter in English until bartering the

fare, and negotiating for everything from carpets to

trinkets in souks was each day's mission. All in all,

this seemed a perfect trip.

On our third day, we decided our son deserved a

holiday of his own (read: a morning in kids club at

the hotel), and off we went, two naïve Americans,

seeking out the joys and challenges of the souk.

We prepped – oh man, did we prep. Sarah and I

had discussed on the flight over that we sometimes

make decisions emotionally, and that our impending

carpet purchasing opportunity should be strategic.

"Negotiation should not be driven by emotion,"

I advised Sarah wisely, adding that a successful

negotiator can "read the other party's body language

and adjust accordingly, shifting the other party's

behavior to our benefit." My wife nodded,

Mike and Sarah

Kamins venture

into the souk

looking for

a good deal.

12 13
---
THE NEGOTIATION SOCIETY

How to haggle

in the souk

confirmed that she understood, and

was ready to see me in action. To say I

was supremely confident would be an

overstatement. But equally, to say I was

eager would be a supreme understatement.

Having been warned of the men with the monkeys on

their shoulders, relentlessly seeking out dirham for picture

opportunities, I gave Sarah a firm and final warning as we

stepped out of the cab: "There's no need to be your normal

lovely, polite, engaging self. Although we'll be pleasant, we

(you) can be firm with these folks and say 'no'."

We made it at least ten feet. Sarah grasped the first

outstretched hand positioned her way, sweetly saying, "Good

morning!" The uncomfortable sensation was immediate. An

animal we had only ever experienced from the other side of

a cage was now sitting on her shoulder. Many hundreds of

dirham later and a beautiful picture or two, we made our way

into the winding alleys of the inner souk, minus the monkey.

Rarely do things in life meet or exceed expectations.

"Although we'll be pleasant,

we (you) can be firm with

these folks and say 'no'...

In this case, the souk was exactly as imagined, and even

more thrilling. We wended our way through the vast sea

of vendors, each saying their prices could be less than

usual for us because we were "the first customer of the day,

which is good luck!" We smiled knowingly at each other.

What marvelous good fortune, huh? Who knew that of the

hundreds of locals and tourists meandering through, we

were the first people purchasing anything, at any kiosk,

from any vendor?

We had an agenda, a plan – and a potty-training kid at

kids club that we needed to get back to relatively quickly – so

we hurriedly went deeper into the winding stalls, seeking out

the carpet that would bring happiness (and style) to our lives,

and our home.

As is often the case, things happened in an instant.

A man befriended us and we were led hand-in-hand

through countless purveyors of distinct weaves and blends.

We fast-stepped by vibrant reds, greens, and blues through

a door that felt much too small to enter, deep into a shop

that felt much too large to ever exit. Ceilings and staircases

beautifully crafted, rich with the skilled designs of a master

Thuya manipulator, surrounded the most fantastic array of

carpets we'd ever seen. In truth, there must have been thousands.

As mint tea was offered, not accepted, yet poured and

sipped, Sarah and I were taken on a shopping, or rather, a

spending experience like none other. After what felt like

close to an hour (twelve minutes or so), we found the size,

style, and look we (she) wanted.

Now it was my turn. The stage light shone down on

me, and my job as "Chief Negotiator" began. Armed with

an M.Sc. in Negotiations, a career of successful outcomes,

and six years working for TGP, I was ready.

The music started, and the dance begun.

"$600", said the man with the engaging smile.

"No thanks", I said, careful not to mention the number so

as not to give it credibility. "Listen friend, we've only just

arrived at the souk, so we'll go take a look at other vendors

and come back." Clearly he had heard this line (and every

other line) before. He now exchanged engaging for a bit of

mischievous, and the smile signaled our move from 'waltz' to

'swing'. Back and forth we swayed, two professionals at work,

trading tactics and techniques as we continued along the

price narrative. As we steered towards $300, I thought we

were finally getting somewhere. Cue our demise.

It wasn't her fault. In truth it was no one's fault. It creeps

up on you, and before you know it, that sneaky fella named

emotion jumps out. "That sounds fair. We could put it on

credit!", came innocently from Sarah's lips. Let's be clear, I

was also thinking it.

Quicker than a blink, he had us. Perceived power swung

across the negotiation Clockface, and my talent took a

backseat to my bemusement. My skilled friend moved away

from the 60-40 split of attention he had with us and went

90-10 hard. Sarah was now the object of his affection. One

carpet became "a deal" at two, and $300 now became his

"best and final". As if there ever is, or was, such a thing.

I'll save you the outcome in order to protect my ego and

marriage, but do know one thing. You may arm yourself with

impeccable skill, immense learning, and professional tools

and tactics in negotiation. However, none of them holds a

candle to the raw human emotion you feel when negotiating

for something that your loved one (and you) desperately

wants. Whether or not I got that price under $300 is not the

lesson here. The lesson here is we bought an authentic, Beni

Ourain carpet from Morocco, and damn if it doesn't make

Sarah smile. Me too, of course.

Whether the juice was worth the squeeze? Well, I sure

think so. I'd have paid so much more for the smile. TNS

THE MORE YOU SAY, THE MORE YOU GIVE AWAY

The number one watch-out in negotiation is talking too much. When

faced with an uncomfortable situation like silence, people have the

tendency to fill the gap. The rug seller doesn't need to know that you've

already imagined where the rug will go in your house, or that you might

have space on a credit card for the purchase. Sharing information of this

nature diminishes your strength within the situation, making it harder

to stand firm on price.

OPEN EXTREME

If the intention is to negotiate, why open with the exact amount of

money you will pay or accept? Instead open lower than the expected

cost. When you do this, three things happen. Firstly, you shift the

expectations of the seller, i.e. you may alter their initial thoughts – in

a downward direction – about how much you will be prepared to pay.

Second, you do so to give a bit of it away. Yes, you heard right! You'll

be able to show concessions in price (albeit in a planned way) in order

to invoke the Law of Reciprocity. Third, you are testing the assumption

of the seller's breakpoint. Your ability to gauge their behavioral reaction

can, and often does, allow for you to maximize more of the deal.

(Although bear in mind the average souk-stall owner in Morocco

is a master of the flinch!).

GET YOUR NUMBER DOWN FIRST

Often, allowing the other party to speak their number first is considered

good negotiating, and this might be appropriate at times. People reason

that this allows them to play off of the initial proposal and therefore

determine their move plan. However, if you allow the stall owner

to go first, you have inadvertently allowed them to gain 'home field

advantage', and risk having your initial proposal altered based on their

perceived expectations. Try putting your number on the table first and

then watch for the behavioral cues that determine if they are able to

meet your position. Skilled negotiators lead, they rarely follow.

TRY ANCHORING

Make your initial proposal and prepare for a counter proposal. When

it comes, try not moving off of your price, instead utilize silence. Then

reiterate your position and allow for silence to again take over. After

some time has passed, begrudgingly (and with a set plan) begin to move

in ever decreasing amounts. Anchoring your position can lead to more

advantageous deals, as well as removing the generosity that significant

and numerous moves shows within a hard bargaining situation. Always

remember, people value things that are hard to obtain. Make them work

for it. In Morocco, that's all part of the fun!

14

15
---
THE NEGOTIATION SOCIETY

Whether you're fielding a large negotiation team, or handling it all yourself,

understanding and implementing the different roles required will help you

deliver a great result. Kelly Harborne explains why.

INSTRUCTION MANUAL FOR A

WINNING NEGOTIATION LINEUP

Imagine your favorite team sport – soccer, netball, hockey...

whatever gets you excited – in which the players are not

assigned a position. No shooters or center forwards; no

defense, midfield or wingers. Even, and quite possibly

the most disastrously, no goalkeepers. Or if you're not such a

sports fan, picture instead a management team with no CEO,

CFO, CMO…and so on. I'm fairly certain the results would

be chaotic. And although it's stretching credibility to imagine

such scenarios in the first place, I will never cease to be

amazed at how often in the commercial world a negotiation

team will fail to assign each other specific roles. It is just as

remiss and with the same potential for a suboptimal result.

On our workshops there is a pivotal moment in which

group roles are explained, assigned and practiced in case

study role plays. And things start to fall into place. If you are

one of our alumni you will recall that there are four critical

roles in a negotiating team: Leader, Spokesperson, Figures

Person and Observer.

The Leader is the manager and decision maker.

The Spokesperson is the communicator and

first line of contact.

The Figures Person is the commercial engine room,

manging the numbers.

The Observer is the team's eyes and ears, getting

inside their head.

That's all well and good if you have a team of four

people or more, but the reality for most people is that they

frequently negotiate alone or in teams of two people. So I'm

going to focus on the four roles and consider two things – the

activities of each role, and how we combine these activities

when negotiating solo or with a single colleague.

Let's go back to first principles for a moment and

understand why, as negotiators, we need a separation of

activities. The simple fact is that humans are not very good at

multitasking. While we can combine basic or well-practiced

tasks that use unrelated mental and physical resources – for

example listening to the news on the radio while driving –

once you add in any degree of complexity, things start to get

messy. The additional demands on the brain can result in

interference with performance on one or more of the tasks.

To put this in a negotiation context, if you're trying to record

proposals and work out what the numbers mean, you will

find it challenging to observe the body language of your

counterparty at the same time. (It's worth noting at this point

that it's estimated that around 2.5% of the population are

"supertaskers" who are better than the norm at multitasking,

but to put it politely the chances are you're not one of them).

The four negotiation roles can be categorized into these

activities: Thinking, Talking, Calculating, and Watching

and Listening. Essentially, whether in a team or especially

if you are alone, you should only be engaged in one of the

Thinking, Talking or Calculating activities at any one time

– although it's certainly true that it is very difficult to watch

and listen at the same time as you are calculating.

The reason for this is one of quality control. I can only

think about a decision I need to make if I am sure I have

completed my calculations correctly. I can only communicate

clearly if I am sure I have reached the right decision. I can

only watch and listen once I can see the reaction to my

communication. And I can only recalculate effectively if I

have some form of reaction or response on which to base my

recalculation. Contrary to some Hollywood-style portrayals

of commercial negotiations, a really professionally conducted

negotiation is a deliberate, even laborious process – not the

most compelling spectator sport, unless you are a bit of a

negotiation obsessive like I am.

When we negotiate alone it is still a recommended mental

discipline to consciously be aware of which activity we are

presently performing and to focus on that activity until we

have completed it and can move on to the next activity

in the sequence.

The simple fact is that

humans are not very good

at multitasking.

So, when I am negotiating alone, I will first assume the

role of Leader. I will introduce myself in tone and language

which are consistent with the climate I want to create and

make a short Statement of Purpose outlining what I want to

achieve from the discussion. I will then consciously switch

into a Spokesperson role and make a pre-prepared proposal

or ask a question. As I do this, I have my head up with my

eyes scanning those opposite and my ears pricked, watching

and listening for a reaction as an Observer. At some stage, I

will get a counterproposal, at which point I will give a brief

response as Spokesperson before reverting to my Figures role

to evaluate the commercial impact of their offer, before again

slipping once more into Leader role to decide whether this is

acceptable or whether I should formulate a further proposal,

starting the cycle of activity again.

16 17
---
THE NEGOTIATION SOCIETY

THE LEADER

• Aside from making the decisions and creating the required

climate the Leader's job is to manage the team.

• Direct your Figures colleague on the kind of analysis you need

or the kind of proposal you want formulated.

• Instruct your Spokesperson on the line of questioning you want

them to pursue. Use your Spokesperson as a shield – if you, as

ultimate decision-maker, engage in direct dialogue with the

counterparty, you run the risk of being put under pressure which

is not where a decision-maker wants to be. Political leaders will often

send a spokesperson to make significant announcements because a

spokesperson can legitimately refuse to answer journalists' questions

on the grounds of empowerment.

• Whenever you know that your Spokesperson is about to make a

significant, or potentially deal-closing proposal, tell your Observer

to be on their toes and watch the reaction.

• It is not inappropriate for a Leader to make interventions but

employ The Law of Scarcity and be selective. If you have been

sitting for half an hour without saying anything and then you speak,

your words carry more weight by invoking The Law of Authority.

• If you adjourn or take a time-out, tell your counterparty what aspect

of the deal you want them to focus on during the recess and what

you expect to hear upon resumption in terms of a proposal.

THE FIGURES PERSON

• Have a few ready reckoners to hand – know

the gross profit impact of an extra 100,000

units of volume.

• Create proposals that automatically generate

value through "cause and effect" – "For every

additional 50,000 units we buy, we automatically

receive an additional 1% discount".

• Create proposals that give options. This

generates satisfaction because it affords the

other side the chance to choose. They then

think they are in charge but they are choosing

from my menu.

• Identify key variables which need to be

progressed in the early stages – you can

mop up some of the detail later.

• Make sure you don't trade away all the lowcost,

high-value opportunities early on. The

temptation is to make rapid progress but

every negotiation has an endgame and it is

important to retain some leverage to get the

deal over the line.

THE SPOKESPERSON

• Trust your colleagues. You may not understand the proposal your

leader is giving you but they have had the time to think, the access

to the numbers and the support of their Figures person. Don't

undermine the proposal with an incredulous glance at your colleagues.

• Build trust in early exchanges by offering up information.

Make it obvious that you are taking them into your confidence.

This creates a greater willingness for them to reciprocate and

disclose information in return.

• You can create subconscious empathy by "mirroring" the tonality,

pace, volume and nonverbal communication of your counterparty.

People empathize with others who are like them so study your

counterparty's style and adapt your behavior accordingly.

• Table "sample" proposals in early exchanges – along the lines of, "So,

if we came back to you with a proposal seeking a longer contract in

return for improved pricing, is that something you would listen to?"

That gives you a clear steer on the proposal you need to work on and

reduces potential resistance since they know what is coming.

• Don't sacrifice clarity for climate – if a message needs to be

communicated, make sure it lands, even if they won't like it.

Climate is about trust, integrity and credibility, not treading on

eggshells. You can always repair any climate damage.

THE OBSERVER

• Learn to read upside down.

• Make sure you sit in a position where you can

easily scan all the faces opposite without having

to shift in your seat.

• When a multivariable proposal is made, listen to

which variable they comment on first. There is

usually a reason for that.

• Don't watch their Spokesperson, everyone else

is looking at them. Watch the Leader and the

Figures guy – they know where the deal stands,

the Spokesperson doesn't.

18 19
---
THE NEGOTIATION SOCIETY

IF I WERE A

CHIEF NEGOTIATION

OFFICER

By Chris Atkins

CNO DAY ONE | To do

Thorough review of all

negotiating departments

and their practices

It might be easier to look around the

business and assess which departments

are not involved in negotiation in one

form or another. There are, however, the

obvious ones: Sales, Procurement, Supply

Chain, Employee Relations, IT, Marketing

and Facilities Management. How do they

negotiate? What is their annual negotiation

timetable and planning process? I would

want to understand not just where the

biggest savings could be derived, but also

where are the quick wins? It's likely that

Procurement will have well-established

processes, but FM, IT and Marketing may

be less disciplined in their approach,

despite the huge budgets involved.

Redefine negotiation processes

Next, I'd want to develop a common

framework for negotiation. It's a truism that

negotiation is the same process whether you

are a buyer or a seller; two sides of the same

coin. So, how much can we standardize,

which would ease reporting, reduce

complexity and embed a common language?

Create an organizational

structure for success

If I worked on the principle of a negotiationled

structure, I would organize those

negotiation-heavy departments in a

different way, with different reporting

structures and oversight.

Install governance process and

stakeholder communications

I would want to make sure that negotiations

of similar value were treated alike and

I

recently wrote an article for The Negotiation Society

online, suggesting that the time was right to appoint

a Chief Negotiating Officer. While I had thought I

was on to something, the reaction to the article was really

encouraging – not only did it create a great deal of debate

and positive comment, there were even a number of applicants!

This led me to consider what it would be like turning up

for work on day one at a large multinational organization as

their newly-appointed CNO. What are the "Things To Do"

that I would write on my iPad? I'm sure that there are

many more sub-tasks and refinements along the road,

but I'm confident that, if all of these 'to-dos' were actioned

effectively, we'd have a strong chance of success.

Now, where did I put those CVs?

that a clear escalation and communication

procedure was in place, based on certain

parameters. This would ensure that

all stakeholders were supporting the

negotiations and providing sound guidance.

Create a common organizational

negotiation toolkit

Tools need to be just that – an aid to greater

success. So developing a toolkit that aids the

planning and thinking in negotiation will ease

pressure on the doing. It will also bring the

benefits of easier reporting and provide

a "corporate memory" of past negotiations.

Develop capability

It would be vital that, if we were going to

integrate a negotiation culture, we should

ensure that the skills and behaviors of

negotiation were understood at every level

– top to bottom. There is no point in training

junior team members if their manager doesn't

get it and destroys their learning. There is

no point in training your CPO if the CEO

has the final word and can overturn great

negotiation practice.

Understand the payback

opportunities from the investment

Of course, there would be a payback

expectation. Many of the items further up

the list will require investment and will cause

disruption while being implemented; it has

to be worthwhile.

The business case for negotiation

improvement is easier than some, as the ROI

is directly measurable. But, defining the

ROI measure and all of the components that

drive ongoing success takes greater effort.

I'd want to start on that immediately.

Simon Dent has worked with some of the

world's top sporting talent, negotiating high

value deals on their behalf. Here he reflects

on his own personal negotiation style and

what tactics have served him well.

Negotiation is a huge part of the

job when managing talent.

In fact, it plays such a key role

in what you do that it almost

becomes unconscious, to the

point that you don't realize you

are doing it. Even so, one of my firm

beliefs about negotiation is that you

should always make a conscious effort

to avoid damaging relationships.

Life is too short, and you never know

when you'll be needing them again.

With that in mind, below are

the five negotiation principles

that I can personally vouch for

to achieve success.

1 2 3 4 5

MAKE IT MUTUALLY

BENEFICIAL

The key to negotiation is not to

merely make the other party do what

you want them to do. The aim is to

persuade them to want to do what

you want them to do, so they feel like

they are getting the best deal. Locking

horns and tearing each other to shreds

aggressively is of no benefit to anybody

in the long term. It will impact future

business between the parties and in

extreme cases, burn a bridge.

I recall a negotiation that took

place when a client was leaving a

Premier League football club. The

player in question had two years left

on his contract, but wasn't getting first

team football and wanted to leave.

Contractually he was still owed £2m

in salary. This situation had to be

managed carefully as the player wanted

the salary owed, but he also wanted to

leave. The club saw the situation as an

opportunity to save some money.

A meeting was held with the

club's Managing Director, First Team

Manager, and player. We asked the club

to make the first offer. It was 75% of

the salary due. Quite quickly 80% of

the owed salary was agreed on. I had

agreed beforehand with the player

that he would accept 65% of the salary

owed, so this was already more value

than we had anticipated achieving. The

club's opening offer suggests that they

had a maximum figure (or breakpoint)

in mind of more than 80%. So in terms

of expectations and relationships, this

was mutually beneficial to all involved

and everyone won. (Although, perhaps I

can say that my client won a little more).

1 2 3 4 5

FACE TO FACE IS

ALWAYS BETTER

I strongly believe that negotiation is

a lot easier done in person. This is

especially hard in the age of email and

global transactions, and while some

people prefer this engagement, for me

nonverbal communication is key.

Some have estimated that 60% of all

human communication is nonverbal.

It can reinforce what is already

being said, and reveal what isn't. It's

especially important when dealing with

counterparties who speak a different

language to you. If you're not face-toface,

you are not doing yourself justice.

1 2 3 4 5

1 2 3 4 5

1 2 3 4 5

DON'T MAKE THE

FIRST OFFER

Whether you are buying or selling,

my advice is to never make the first

offer. The other party may offer a price

that is a much better deal than the

one you initially had in mind. Also,

whenever you have made your offer,

do not volunteer another unless and

until the other party has responded.

Expect negotiations to be a back-andforth

process. Stand firm until you

have a response and remain confident

throughout. This is something that I

live by daily. Not just when I was an

agent but also now in my day-to-day

role running a creative agency.

USE SILENCE

AS A TACTIC

This can be especially hard when a

player's livelihood is at stake. It's a

different situation when negotiating

on behalf of a company. Advising a

professional footballer to sit tight and

let the club make the first move is one

of the hardest things I've had to do.

Using silence in response is equally

key. You should never respond too

quickly to an offer. Pause and suspense

in negotiations convey that you're not

desperate to close a deal and that you

have other options available. Silence

can force a surprising amount of

pressure on the other party as well.

This is a great tactic and has often

worked in my favor especially on

transfer deadline day. The clock is

ticking. Staying cool during that

time can have huge benefits.

KEEP IT

CIVIL

I never want to let negotiations become

too tense. Always feel free to smile and

inject humor into the conversation.

Lightening up the mood can relax

the person you're dealing with, while

conveying your strength at negotiating.

I believe that negotiation is one

of the most enjoyable parts of any

commercial role. To succeed in it,

you need to use tactics that you can

implement as and when you need

them. For me, it's an ongoing learning

journey with a set of skills that I'm

continually looking to improve.

In the words of the great Lionel

Messi, "My ambition is always to

get better and better".

20 21
---
THE NEGOTIATION SOCIETY

HAIN

Hain MacKay-Cruise, TGP's Head of Asia, is a man on a mission to embrace the fast

pace of innovation in the region. Alistair White sat down with him to find out more.

Hain Edward MacKay-Cruise is unique. No,

seriously, he is. To the best of our knowledge

he is the only person in the world called Hain

Edward MacKay-Cruise. Before our interview

I searched the internet and, slightly to my annoyance, could

not find anyone, anywhere who has the same name. His first

name comes from a historical family association with the

Hain Shipping Line which was bought by P&O Shipping

in 1917. He was even christened on board a Hain Line

ship. The MacKay part of his name can be traced back

to the MacKay clan which

originates around Inverness

in Scotland. "Cruise" is

an Anglo-Norman name,

"Asia's different. It is

multi-ethnic in the same

way that Europe is but

much, much more dynamic.

originally from France,

which spread to England

after the Norman invasion

of 1066. I could find

nothing of note about his

middle name of Edward,

other than it was the name

of his great-grandfather, but

I suppose you cannot win

them all.

Interestingly, there is

a record of a Cruise family who emigrated from England

to Australia in 1855. That is only interesting because Hain

himself was born in Australia and still carries an Australian

passport. The nomadic traditions of his forebears continued

to be a feature of his upbringing and he spent parts of his

childhood and youth living in Singapore, Dubai and Paris.

He spent ten years as an officer in the Australian

Army before embarking on a twenty-year career,

initially in consultancy (EY and Cap Gemini), then in

telecommunications incorporating periods of residence in

Australia, then Singapore, Japan, the United Arab Emirates,

and back to Singapore before finally joining The Gap

Partnership in Hong Kong in 2013 as Regional Head of our

Asia Pacific business.

Why am I telling you all this? His ancestral history of

migration, his personal history of relocation, his career

history of moving from the military to big-ticket consultancy

to telecommunications to The Gap Partnership goes some

way to explaining Hain's personal quality that surfaces

throughout much of our conversation. Restlessness. He

wants to call it drive, I playfully suggest impatience, but

eventually we settle on restlessness. A constant desire to

explore new horizons, the curiosity of the explorer, the

itchy feet of the pioneer.

"I just want to get stuff done", he says at one point in our

conversation. (That's not quite true, he actually uses another

word beginning with "s" to

describe what he wants to

get done but I'll spare our

more delicate readers.)

And nowhere does this

restless drive to achieve

shine through more

brightly than when he

talks about the potential

in Asia for businesses.

"Asia's different", he

proclaims. "It is multi-ethnic

in the same way that Europe

is but much, much more

dynamic. People in Europe

and America still think of Asia as a developing region,

even third-world. But China, in particular, is an incredibly

sophisticated nation. Of the top ten most expensive cities in

the world, five are in Asia – Singapore, Hong Kong, Tokyo,

Shanghai and Seoul."

Hain is also at pains to stress how some Asian countries

are ahead of many Western countries in terms of their

development, fueled by what he calls "the leapfrog factor".

"Lots of Asian countries have bypassed, or leapfrogged,

whole cycles of development. People in Europe still use

Skype, for example, but most Asians have adopted more

sophisticated means of communications, especially instant

messaging apps like WeChat or Line, because they never had

the legacy of outdated systems like Skype in the first place.

The same is true of landlines. Cell phone uptake quickly

replaced the use of landlines in Asia, and in some

22 23
---
THE NEGOTIATION SOCIETY

cases even before landlines had

established themselves in newer cities

like Shenzhen. Hence most young

Asians have never bothered acquiring

a landline in the first place – they just

went straight to cell phones. I have

lived in Asia for the last seven years

and I have never had a landline."

"The explosion of technology

in Asia is phenomenal. It far

outstrips the influence of modern

telecommunications technology in

Europe and North America.

That, coupled with the fact that the

average age of the population in Asian

countries is significantly lower than in

Europe and the US, means that the

influence of the millennial generation

is much, much greater. They are going

to be demanding new ways of learning,

delivered by technology. I am not

saying that the old classroom-based

way of learning, as in our Complete

Skilled Negotiator workshop is going

to become redundant in Asia – there

is still a place for that – but, if we are

to service the Asian market effectively,

we need to develop alternative,

complementary ways of delivering

learning. That might be digitally

enabled, it might be modular in nature

rather than taking people out of the

workplace for three days at a time, I

don't know…but I do know that the

traditional models that have worked in

the West for the last two or three decades

will not necessarily work in Asia."

So where is this innovation going

to come from, I ask? Is it incumbent

upon Western companies to design

and invent solutions to service evolving

Asian needs? "I don't think so," replies

Hain. "I think it is much more likely

that Asian markets, with their unrivaled

technological expertise and consumer

awareness of technology, will begin

to originate their own solutions. In

so many sectors I think we will start

to see the flow of innovation and

adoption change from West-to-East to

East-to-West."

Hain is already shifting my

perception of the Asian market and

business culture and I find myself

reassessing my established view of Asia

– China in particular – as a region with

a deep sense of tradition and history,

somewhat closed to the West in an

attempt to preserve their identity in the

face of increased exposure to Western

products, Western media, Western

values. I confess as much to Hain.

"Don't get me wrong, mate," – he

might not have lived in Australia for

the last twenty years but he still has the

breezy "g'day" informality of a typical

Outbacker – "I am only talking about

products and technology here. The way

business is done between companies

and individuals is still very traditional

and rooted in conventional Asian

culture. The old adage that people buy

people is truer than ever in Asia. The

Chinese have a word, 'Guangxi' which

is difficult to translate but it means

'network' or 'relationships'. It means not

just the people you know but also how

other people know and regard you.

It is about how you develop and protect

those relationships and contacts. For

example, I know a lot of people in

China and other people often ask

me to introduce them to one of my

connections. I am always really careful

about that because I know that if my

connection doesn't like or respect the

person I am introducing, it will reflect

badly on me and my 'Guangxi' will

suffer as a result. There are different

words in different countries but the

concept of 'Guangxi' is universal

throughout Asia."

Hain has been the Regional Head

of The Gap Partnership's Asia Pacific

division for the last four years and has

built on solid foundations to record

year-on-year growth rates of over

30% in each successive year. How

optimistic is he about the future?

"I am wildly optimistic about

what we can achieve here. We haven't

even begun to scratch the scratch on

the surface of the surface. Just think

about this – if I consider just our top

five potential markets – China, India,

Indonesia, Philippines, Vietnam –

that is 42% of the world's population!

The potential is unlimited. There are

a couple of things we have to get right

to tap into that potential – I already

talked about technology and alternative

ways of delivering learning, but we

also have to factor in the consideration

that salaries here have not yet reached

Western levels so the readiness to invest

in the development of individuals is

not as great as in the West. Having

said that, there is a huge pool of young,

Western-educated talent returning

to their home countries, so that will

change in the coming years."

"At the minute, we are a Western

company with an Asian subsidiary. To

be really successful, we need to become

an Asian company with a European

parent. That means, for example, that,

in the near future, we will have to set up

a company in mainland China, headed

up by a mainland Chinese person with

mainland Chinese consultants and staff.

The same will be true in other parts of

Asia when the time comes. I see it as

"One of my commanding

officers wrote in my

performance review that

I was 'an outstanding

officer in the field but

a nightmare in the

barracks'. I suppose

I have always been a

natural rebel, always

wanting to challenge

established wisdom.

my job to lead that transition."

He has been talking animatedly for

about twenty minutes now, enthusing

about the potential of Asia and the

need for innovation. I decide to redirect

the conversation and ask him about his

military experience. Hain's eyes narrow

and I sense a distinct reluctance. Does

he not want to talk about it? Is he not

allowed to talk about it? I rephrase the

question: given that he sees his role as

one of leadership, how much has his

military experience influenced his

style of leadership? He pauses before

he responds.

"If you're asking me whether I'd do it

again, the answer is yes, in a heartbeat.

The military taught me about problemsolving.

I'd be in charge of a small team

and we would have an objective. My

job was to deconstruct the various tasks

we needed to achieve that objective,

assess the risks and build an operational

plan to hit the objective. One of the

things I learned in the military about

leadership was to surround myself with

people who were better than me and

subtly influence them to achieve their

potential. I have taken that insight into

my current job. I have a fabulous team of

people in our Asia Pacific team and I am

super confident in their ability."

One word strikes me as not very

Hain-like. Subtly? I ask him about it.

Is he a democrat or an autocrat? The

response is instant – "A democrat".

The reconsideration that follows is

equally immediate. "Maybe not. Look,

you cannot run a military operation,

or a business, entirely as a democracy.

I need to create the environment for

others to be successful. So maybe I am

a benevolent autocrat."

Is there anything else from his

military career that he has taken

into his business life? "One of my

commanding officers wrote in my

performance review that I was 'an

outstanding officer in the field but a

nightmare in the barracks'. I suppose

I have always been a natural rebel,

always wanting to challenge established

wisdom. I am constantly asking myself

and others if there isn't a better way

to do things." There's that

restlessness again.

A final question: would Steve

Gates (our CEO) describe you as "an

outstanding manager in the region but

a nightmare in the boardroom?"

The eyes narrow again, just a bit

more this time. "I dunno mate, you'd

better ask him."

Maybe I will. But for now I'd put my

money on the answer being yes. TNS

24 25
---
THE NEGOTIATION SOCIETY

THE

J U D G E

Mickel Ouweneel

Head of Benelux, The Gap Partnership

SAN

FRANCISCO

APRIL 6 TH & 7 TH

2018

As I boarded my plane to San Francisco, I was curious

to discover how The Negotiation Challenge would measure

and compare to my day job of working with professional

negotiation teams. It did not disappoint!

Judging the competition was fascinating. How would the

negotiation style exhibited by the Chinese team differ from

that of team Mexico or Iceland? Each round was judged

differently. At 4 o'clock points were rewarded solely on the

deal agreed, whereas at 10 or 11 o'clock more weight was

attributed to negotiation behaviors and value creation.

What stood out was the teams' eagerness to learn, and keep

learning. They sought feedback after each round, and applied

that learning in their next negotiation. The competition

element was essential to the learning.

It created pressure and time constraints,

gave them a sense of something at stake,

and made them behave differently.

In short, it brought the teams as close to a real

negotiation as possible in a simulated environment.

My advice for next year's competitors? Bring together

a team that understands and can recognize different types

of negotiations, who can both hard bargain but also create

mutual value. And for anyone looking for any practical

assistance next year…I know of a coach who would be

delighted to clear his diary and head out to The Negotiation

Challenge 2019 in Kyoto!

The Negotiation Challenge

In April 2018, eighteen teams and their coaches from

the world's leading graduate law and business schools

traveled to San Francisco, USA to take part in the

eleventh annual Negotiation Challenge competition.

The Negotiation Challenge (TNC) is an international

competition founded in 2007 by Dr. Professor Remigiusz

Smolinski and Dr Peter Kesting, two of the foremost

negotiation academics. It brings together the world's best and

brightest graduate student negotiators to negotiate through a

series of real life and often highly complex business scenarios.

Participating teams of three compete in four qualification

rounds. The first, an online negotiation, takes place before

the teams arrive at the host location. Thereafter they travel

through three subsequent rounds, each testing a wide variety

of negotiation skills and scenarios. After the conclusion of

the fourth round, points are added up and the two leading

teams advance to a live final to negotiate a collaborative deal

in front of the other contestants as well as an international

jury comprising of TGP business leaders, lawyers and

academic professors.

The competition provides a unique opportunity for

teams to not only hone their class-taught negotiation skills,

but to do so in a highly pressurized and time-sensitive

environment often opposite counterparties from vastly

different backgrounds and cultures. The result is a heady mix

of intense competition and an intoxicating enthusiasm for

the science and indeed art of negotiation, resulting in lifelong

friendships forged through a mutual love of the subject.

The Gap Partnership is excited to announce that

we are running our first negotiation competition

for professionals in September 2018. We are busy

signing up teams of three from businesses around Europe

to take part in The Negotiators 2018. For more information

please contact your TGP consultant. TNS

THE

F O U N D E R

Dr Remigiusz

Smolinski

Negotiation Professor

and Founder of The

Negotiation Challenge

We started The Negotiation Challenge as a platform for

graduate students and over time it has become like a world

championship in negotiation. Every year we bring together

eighteen teams from leading universities across Europe, Asia

and North and South America. It's a fantastic opportunity for

the students. They mix with professionals taking the same skill

really seriously as part of their careers, and are exposed to some

of the best thinking internationally about negotiation.

During the competition it's important that the negotiation

scenarios are as realistic as possible. To successfully master the

challenge, the students must apply the appropriate methods

from the whole spectrum of their negotiation skills in the right

situations – or in other words demonstrate what we call their

"negotiation intelligence". Next to formal negotiation skills,

the judges also evaluate the participants' communication

skills such as active listening, convincing argumentation,

communication within the team, their contribution to

understanding the interests of the other party and identifying

issues, as well as their ability to create and claim value.

The competition is truly a global one. Each year we move

continents and bring together a cohort of future leaders to

experience each other's culture. To learn from each other's

individual styles of negotiation. To develop an understanding

as to how to work collaboratively when often there seems little

at face value that they share in common. In an ever-political

world, fraught with tension between nations and businesses,

bringing our future leaders together can only serve to be a

positive endeavor.

THE

C O A C H

Professor

Jessica Rubin

Director of Legal

Practice, University

of Connecticut

Law School

The Negotiation Challenge is a terrific educational

experience. It provides our graduate-level law and business

students with opportunities to develop negotiating skills

in an international setting, which are invaluable to their

professional education.

We select our team through an internal negotiation

competition at our University. Each team must have at least

one law student and one business student. Twenty teams

participate and the winning team earns the opportunity to

apply to The Negotiation Challenge. A special feature of The

Negotiation Challenge is its interdisciplinary and realistic

focus, including both legal and business issues, so we try to

send teams with expertise and experience in both areas.

In order to prepare our team for The Negotiation

Challenge, we observe and critique practice negotiations

– individually and as a team – and teach negotiation

techniques to them. This mooting process allows team

members to strengthen their communication skills within the

team and with opposing teams.

During the intense four-day competition, I witness

students' growth as negotiators and international citizens.

Engaging in multiple negotiations with teams from across

the globe, and receiving detailed feedback from experienced

professional judges, students strengthen negotiating

skills, develop increased confidence and network with

international colleagues from legal and business disciplines.

The most valuable and lasting lessons about negotiation

derive from experience. As an educator who values

experiential learning, I love seeing students develop essential

skills in an exciting, international setting. The Negotiation

Challenge offers wonderful opportunities for experiential

learning, which is why I am thrilled to be a part of it.

W

THE

I N N E R

John P

Waterman

LLM & MBA Student,

American University,

Washington

I entered The Negotiation Challenge for two reasons.

First, I wanted to develop my negotiation skills in the

international arena among top students from around the

world. Secondly, I believe in the competition's purpose – to

create better negotiators for smarter agreements to make

our world a more peaceful place.

I really enjoyed the diversity of the competitors, the

variety of the simulations, and the unique aspects of the

event locations. I also enjoyed socializing, networking,

and learning from my peers as we communicated and

collaborated to solve problems. To prepare, my team

focused on skill-building and unity. Our practices

involved a variety of simulations and strategies to

develop our negotiation toolkits and synergize the unique

strengths of our team members. Adaptability and trust in

each other were the keys to our success.

The final was fantastic. Win or lose, I was very

grateful to represent my university in the final and

to negotiate on the main stage before the competition

coordinators, university educators, and my scholastic

peers. It was a special experience that I will treasure

forever. At the start I was unsure but optimistic. I tried

to maintain a positive approach with each step of the

competition. We trusted our training and believed in

ourselves. Our faith in our abilities and each other carried

us through to victory.

The competition was fantastic. Each round revealed

new challenges, as well as new doubts and concerns over

our performance. It was difficult to gauge our standing

among the other competitors, but we rallied to overcome

each obstacle as it arrived. I would wholeheartedly

recommend the experience to any team of negotiators

whether student or professional!

26 27
---
THE NEGOTIATION SOCIETY

ASK ALISTAIR

Negotiation expert Alistair White returns

to answer questions from our alumni.

Ever heard a phrase in a meeting and couldn't be sure

what it meant? Refresh your knowledge with our business

lingo guide and be baffled no more.

Dutch auction

[duhch awk•shuh•n]

An auction in which the auctioneer

begins with a high asking price, and

lowers it until a participant accepts the

price, or it reaches a predetermined

reserve price.

a troy ounce

[ey troi ouns]

A unit of measurement for weighing

precious metals. Dating back to the

Middle Ages, its name comes from

Troyes in France. One troy ounce is

equal to 31.21 grams, according to

the UK Royal Mint.

negotiation ZOPA

[ni•goh•shee•ey•shuh•n zo•pa]

Abbreviation Negotiation Zone of

Possible Agreement.

The range or area in which an

agreement is satisfactory to both

parties involved in the negotiation

process. Can also be referred to as

the "Contracting Zone".

bad faith negotiation

[bad feyth ni•goh•shee•ey•shuh•n]

When a party pretends to negotiate,

but secretly has no intention of

compromising.

Japanese auction

[jap•uh•neez awk•shuh•n]

The opposite of the Dutch auction.

The price starts low and you leave the

room when you no longer want to stay

in. The last person in the room wins

whatever is being auctioned.

collective bargaining

[kuh•lek•tiv bahr•guh•n•ing]

A negotiation process that occurs

between employers and unions to

negotiate issues such as wages, hours

of work and other conditions of

employment. It normally results in

a written contract that is defined

by specific time duration – "life of

the contract".

buyer's remorse

[bahy•er•s ri•mawrs]

The sense of regret after having made

a purchase, usually expensive such as a

car or house.

zero-sum game

[zeer•oh suhm geym]

Also known as distributive, positional

or hard-bargaining negotiation, which

attempts to distribute a "fixed pie"

of benefits. Any gain one party makes

is at the expense of the other and

vice versa.

integrative negotiation

[in•te•gra•tive ni•goh•shee•ey•shuh•n]

Also known as non-zero sum game,

win-win game, interest-based,

merit-based or principled negotiation.

A set of techniques that attempts

to improve the quality and likelihood

of negotiated agreement by

taking advantage of the fact that

different parties value various

outcomes differently.

IPO

[pronounced as initials]

Abbreviation Initial Public Offering.

A company's first sale of stock to

the public. Often tendered by young,

small companies attempting to

release equity capital and find a

public market.

stalking horse

[staw-king hawrs]

A buyer who has agreed to make

a minimum bid before a

bankruptcy auction.

logrolling

[log•roh•ling]

A negotiation technique in integrative

negotiations that involves trading one

favor for another.

Q: What is TGP's advice to

deal with highly emotional

communication? In many

cases, especially with C-level

stakeholders, I observe that

demands are not fact based.

Procurement, Service

Industry, Europe

A: We need to remember that

negotiations are conducted

by human beings, not robots.

The day we have robots is the

day I am out of a job! Humans

are both emotional and rational

beings – the balance between the

two will differ but we all have these

two facets to our negotiation persona.

Even on occasions when negotiators

stick to the "facts", people are also

very selective about which "facts" they

choose to substantiate their case. Just

think back to the last election campaign

in your country if you don't believe

me! Very often we can make "facts"

say whatever we want them to say.

For me, the more interesting questions

are: 1) Why do certain individuals state

demands in very emotional terms?

And 2) Why do you not like this? The

answer to the first question is very

often (not always) because people feel

insecure about the

proposal or demand

they are making,

so they resort to

emotionally charged

appeals to cover up

the lack of substance,

rationale or logic

to their demand.

Keeping a clear head

will help you to

realize this. When

a C-level individual

does this, it is often akin to the bully

at school who liked to throw their

weight about. Whatever you do, do not

try to stop the emotional outburst or,

even worse, retaliate with an emotional

reaction of your own.

The more you resist, the stronger

their urge will become to vent their

emotions even further. Which brings

us to the second question. If you

demonstrate that you do not like, or

are even intimidated by emotionallydriven

behavior, your counterparty

will come to see it as a successful

strategy. We always describe one

aspect of successful negotiators as the

ability to be "comfortable with being

uncomfortable". Just weather the storm

"You cannot change the hand

you are dealt. All you can do is

play the cards you have got as

intelligently as you can

and try to betray no sign of discomfort

or distress. Stay quiet and calm.

Perhaps even smile. Rise above it and

set a higher standard of behavior. That's

the best way to take the wind out of

their sails and embarrass them into

moderating their behavior.

Q: How do I negotiate a price

increase in a saturated market?

General Manager, FMCG, Europe

A: A saturated market is

saturated for a reason. Either

demand has fallen or there is

over-supply. Negotiators are

not magicians and there is

no negotiator on earth who

can un-saturate a market

overnight. The answer to your

question, as you have phrased

it, is – with great difficulty and a

serious risk of loss of sales. Let's

ask a different question, "How

should I negotiate in a saturated

market?" That will depend on the

nature of the product or service you are

selling. If your product is significantly

differentiated from its competition,

then it may be possible to negotiate a

price increase, but let's assume that is

not the case. There are potentially lots

of things you could negotiate in return

for maintaining price stability or even

offering a slight reduction.

A longer contract, incremental

business with additional products,

international referrals if the customer

has a global presence, sole supplier

status on specific products, joint NPD

projects. I am sure

you could come up

with an even longer

list given a bit of time

and a blank page.

Ultimately the market

is the market. You

cannot change the

hand you are dealt,

all you can do is play

the cards you have

got as intelligently

as you can. TNS

If you have a question for Alistair and

would like it to be considered for our

next issue, please email it to

alumni@thegappartnership.com

28 29
---
QUESTION

Negotiation may be a critical skill in business,

and indeed our personal lives. But are some

things off limits? Our panel of experts tackle the

ultimate negotiation question – "Is anything ever

non-negotiable?"

Ricardo Serrano Lance Ward Hulda Björg Þórisdóttir Juan Carlos Manzano

MD

PSYCHIATRIST

Recently my patient and I were

discussing the need to be careful when

we use the words "always", "forever"

or "never". The reason is simple: you

are probably not going to be able to

keep your word. The conflicts between

how we think we are ("I always…",

"I never…") and how we really are

bring a number of interpersonal

conflicts. Saying that something is

non-negotiable could be indicative of

a rigid, dichotomist perspective (black

or white) – a dangerous approach when

it comes to negotiating. On the other

hand, when something is negotiated

it can bring a positive perspective that

enriches not only the deal, but a part of

your life.

So, I would not be so sure about

non-negotiable things. Life occurs in

a sea of uncertainty, a universe of new

and unexpected possibilities. These

possibilities are often unseen and

omitted because of what our experience

tells us. Being prepared to negotiate is

akin to being open to discovering new

possibilities that were hitherto unseen.

Before putting a stopper on

apparently "non-negotiable" items,

practice mindfulness. Allow yourself

to connect with the moment and the

opportunities it gives you. Then watch,

listen and perceive openly and actively.

Never lose sight of your objective. Be

aware of who you are and your role, and

act accordingly.

How does this translate to behavior?

Do not waste the first minutes of

your negotiation. Go directly to your

point. This will decrease anxiety at the

meeting and put something "tangible"

on the table. Making decisions will

be easier – better for you and your

counterpart.

Last but not least, be on time,

dress appropriately, and be respectful

to others. Being a good human being

will promote your image as an agent

for change, which is a great start in

any negotiation.

VICE PRESIDENT,

THE GAP PARTNERSHIP

Yes, but not nearly as often as people

portray it to be. People typically claim

variables are non-negotiable in order

to find the most direct path to a deal.

Often, a "non-negotiable" variable is

quite simply the most difficult one

for someone to give on and probably

requires levels of empowerment that

are far beyond the remit of the person

across the table from you. In order to

direct you toward the variables that

are more under their control, thus

expediting the deal, they make these

variables appear as if they are

'off limits'.

The real question is should anything

ever be non-negotiable? The reality is

that it depends on the situation. When

you are having collaborative discussions

and creating value, then in theory

nothing should be non-negotiable.

You need to indicate when it will be

extremely difficult for you to move on

specific variables and the ramifications

of that movement. In order to execute

these trades it will require significant

amounts of additional value to be

contributed by the other party and will

most certainly extend the timeline for

coming to a deal. Having said that, the

most value-accretive deals are achieved

by exploring and potentially giving on

variables that far too often are hastily

labeled as non-negotiable.

If you are engaged in a competitive

negotiation where you have equal or

more power than your counterparty,

then it may be advisable to limit the

scope of the negotiating variables.

This is accomplished by showing very

limited flexibility in most areas and

even by taking an item off the table

by communicating that it is nonnegotiable.

When you do this, just

remember that your counterparty will

most likely meet this action with an

equally competitive response.

CHEMICAL ENGINEER, M.Sc.

MBA STUDENT AT REYKJAVIK UNIVERSITY

We learn at a young age that many

things can be negotiated. Playtime

is flexible if we promise to finish our

homework; chocolate can be negotiated

as a reward for good behavior. As we

grow up we negotiate issues like where

to go on vacation with our family, work

benefits and salaries. We negotiate all

day every day for everything in our

personal lives and at our workplace.

All of these negotiations are built

on the fact that the issues can be

negotiated, and all follow the rules

of our society.

However there are many subjects

that cannot be negotiated. Most of

those are not negotiable due to religion,

the values of society, or upbringing.

When negotiating across cultures,

one must be aware that there are parts

of our society and the society of our

counterpart that are a big part of who

we are and how we do things. Issues

such as beliefs, principles and values

are deeply rooted into all of us and can

vary enormously between different

societies and religions. People have

opinions that might be vastly different

from yours, but nevertheless they are in

line with the upbringing of that person.

Peoples' opinions can be argued, but

not negotiated.

On an individual level there are a

few issues that cannot be negotiated

either. It would be strange to attempt

to negotiate whether a person is happy

or not, as it involves feelings and

experience. Similarly, there are little

grounds to negotiate about a person's

health, since it's about facts. Would it

not be nice to agree on being healthy

on Fridays?

Instead of trying to negotiate issues

that cannot in real life be negotiated,

we should rather focus on finding those

variances and respecting the difference.

ATTORNEY, THUNDERBIRD SCHOOL

OF GLOBAL MANAGEMENT

When we talk about negotiating,

we think of something tradable and

to which we give a price – that is,

something tangible and of value in

money. So it is by assigning a value,

after discussion and then agreement,

which concludes the subject.

But what happens when in this

situation other factors such as feelings,

emotions or principles are involved?

That is, we´re talking about elements

that are far from the material and the

marketable – then, in that case, would

we find ourselves with the existence of

some limit of something negotiable?

Napoleon Bonaparte once said:

"Every man has his price", but in my

personal opinion, perhaps Napoleon

should have said: "Every man who has

no respect for himself has his price".

Because I believe in today's world

of business, work, friendship and

even love, there are limits to what is

negotiable – for example dignity, selfesteem,

respect for yourself – and these

can never be negotiable.

What is respect for yourself? It is to

know you, to accept you and to love you

as you are, to appreciate your personal

worth above all things. When that

happens, you generate confidence in

your abilities and in your spirit, in the

nobility of your feelings. You become

a person who, as well as being willing

to accept challenges, takes risks and

embarks on new horizons. You are also

ready to renounce anything, however

tempting it may be, if it requires you

to give up your principles, your ethics,

your own respect.

Because that respect for yourself

belongs to you, only to you. And that,

dear readers, is out of any conversation

and is not negotiable.

30

31
---
THE NEGOTIATION SOCIETY

SELLING

NEGOTIATION

WHY KNOWING THE DIFFERENCE CAN MAKE ALL THE DIFFERENCE

When should selling stop and negotiation begin? Anna

Monusova spells out the importance of understanding

the fine line between the two.

PHOTOGRAPHY: SHUTTERSTOCK

N

early every salesperson in the world will

have pondered how best to answer the

classic interview question – "Sell me this

pen!", so colorfully acted out by Leonardo

DiCaprio in "The Wolf of Wall Street". A quick internet

search will reveal hundreds of smart suggestions for the

perfect response, including from the real-life version of

DiCaprio's character in the film, Jordan Belfort.

Surprisingly though, there is little thought given to one of

the easiest ways to sell the infamous pen: offer it at a much

lower price than that at which it is usually sold. But would

that sale be worth it? The issue is that the question lacks an

important qualifier. Consider the difference in meaning if we

add five words, so it changes from "Sell me this pen", to "Sell

me this pen at the highest possible price". All of a sudden, it

forces us to think in an entirely different way. The challenge

becomes not just about selling, but also about negotiating.

Negotiation is a crucial skill for every salesperson, but it

is a different skill to selling. I am frequently amazed at how

people with years of commercial experience so often confuse

the two. A conversation that I regularly have with potential

clients starts with their request for negotiation training for

their field sales people. What can quickly transpire is that

they are really asking for sales training. Cue twenty minutes

of explanation from me about why that isn't possible, as we

specialize exclusively in negotiation – which of course we can

absolutely offer once they are trained in sales.

Here is another common misconception. A friend of

mine, who worked as a buyer and didn't like his job much,

told me once: "I'm going to quit and go sell some nice

products so that I don't have to negotiate anymore!".

I remember thinking – oh my dear, with this attitude your

clients will eat you alive. The truth is many salespeople are

scared of negotiating. Negotiation is uncomfortable, and

they feel it puts them at risk of not making the sale. Since

closing the deal is one of their biggest fears, they very often

credit the other party with more power that it actually has,

and prefer to secure an "okay" deal rather than risk losing

it by trying to maximize it. The funny thing is that at the

other side of the table buyers also quite often go into "selling

mode" during negotiations. They sell their company, their

brand, the future potential for business – all in the hope of

getting a lower price. Because, guess what, they also credit

the other party with more power, and are also afraid of not

achieving their objectives.

So what is selling and what is negotiating? Both are part

of the commercial process, and one comes after the other.

First, a need has to be recognized or created. That's the

selling part. Once the other party is in principle okay to work

with you, you need to agree on the conditions under which

the deal will be done. And that's the negotiation part.

But how can you identify the moment at which selling

stops, and negotiation begins? Imagine the process from the

moment both parties start talking to the final deal as a road.

The roadblock where you switch from selling to negotiating

will not always be at the same point. If you have a product

that is significantly superior to the competition, unique

"I am amazed at how people

with years of commercial

experience so often confuse

the two.

Leonardo Di Caprio plays Jordan Belfort

in "The Wolf of Wall Street"

Beware of the

over-vigorous sell

A salesperson came to my parents' house to

demonstrate the features of a supposedly very efficient

but also very expensive vacuum cleaner. He cleaned the

entire house and talked endlessly about all the magical

properties of the product. My father challenged the

high price and the sales guy started explaining the same

things even more vehemently. At which point, even my

father, by no means a professional negotiator, became

suspicious: why is he overdoing it? He clearly knows

the price he is asking is way too high! My dad got the

vacuum cleaner half price. He probably could have got

it for a third of the original ask.

32 33
---
THE NEGOTIATION SOCIETY

Beware of talking too much

Before being a negotiation consultant, I was an ingredients buyer for a major food company. One account manager was

so keen on keeping the business he had with us that he could not stop talking about their company and products. I was

already ready to buy from him as his conditions were better than the competition, but instead of asking me questions,

getting inside my head and realizing the power he had, he kept talking. In the waterfall of information that he drowned

me in, he mentioned that they had just done some major upgrades in their factory. After some questions, I realized they

made considerable gains in efficiency that lowered their production costs. The negotiation went very differently than it

would have, had he been able to actually shut up and negotiate instead of selling.

and your customers absolutely can't live without it, you

barely need to negotiate and you can just impose your terms.

This is unfortunately not the case for most businesses.

Take for example the job of an account manager in a

consumer goods company. Negotiation is a much bigger

part of it than selling. In principle, most retailers want to

have their products on shelves, so the trick is to agree on

conditions. But before thinking about negotiating, don't

forget that selling is a crucial first step. The better the

selling is done, the easier the negotiation. That's why those

account managers first go to the buyers to present their

business plans and category initiatives, and only then send

out price increases.

But beware a situation in which the only tools you have

in your commercial skills toolbox are selling techniques.

When people go back to selling during a negotiation, it

demonstrates to the other party that they are not confident

in their own position and subconsciously feel it needs an

additional boost. Remember, if you've done everything right,

the selling part is done by this point – the buyer is interested.

Time to switch to negotiation techniques and behaviors.

Another problem with selling during a negotiation is that

selling generally involves much more talking. When you

talk, you give the other party information, and if you are not

careful with what you say, they are going to use it against you.

Another mistake many people make because they are too

focused on making the deal rather than maximizing profit, is

giving away too much too early.

Remember that selling and negotiation are two very

different things. Watch out for the moment when you can

switch from one to the other. If you are too consumed by

your own fear of not closing a deal, you will miss buying

signals from the other party. Listen actively, and once you

spot those signals, start negotiating. Which means the

time for trying to persuade the other party, for presenting

arguments in your favor, for explaining the features of your

product with enthusiasm, is over. You have done it already

and the other party heard you. Now it's time to get the best

deal possible.

Negotiators say considerably fewer words than people

who are selling. Negotiation is about listening to understand

the other party's needs and pressures. Once you get inside

their head, you can properly analyze the balance of power

and think how to shift it in your favor. Then you can focus

on making a plan of proposals that will allow you to use the

power you have and leave the other party satisfied while

maximizing value for yourself.

So what about that pen, the one immortalized in a

Hollywood film and many a real life job interview? Well,

if it's about maximizing the price and not just getting it off

your hands, your negotiation skills will be just as critical to

success as your selling technique. TNS

Don't give things

away for free

A delegate on one of my workshops runs a small

coaching and training business of her own. At the end

of the program she confided that she realized how

much money she had been leaving on the table. For

example, she would offer extra services for free to her

clients, like customization of programs, additional

people on the training, etc. She thought it would show

the client how great her service level was. Which it

probably did, but the problem is the client still wanted

a discount afterwards and she had nothing to trade

it against. Generosity in negotiation has only one

effect: it engenders greed in the counterparty. If you

give things for free, they will want more. And if you're

not able to give them more, they will perceive you as

rigid and uncollaborative and be unwilling to move

in your direction. So beware of giving too much away

during the selling part of the process. My client now

charges for some of those services and trades others in

negotiation to give satisfaction to her customer.

Tim Green

Don't chicken

out of saying

sorry

In February this year, KFC, the eponymous fried chicken restaurant chain,

suffered an embarrassing and widely publicized issue with its core product in

the UK less than a week into a contract with a new distributor. They ran out of

chicken! A chicken restaurant chain with no chicken – it doesn't get any worse.

In the face of such a crisis, many companies would turn on the offensive, point the

finger and accuse others of creating the issue, absolving themselves of blame.

Not so KFC. Refreshingly, they did what so many fail to do. They said sorry.

Very simply, and very creatively – with one particular press ad featuring their

famous striped bucket with a reordering of their three letter logo on it to read

'FCK' and a simple "we're sorry" strapline next to it.

This idea of saying sorry, especially when the thing that has happened was

either not one's own direct fault, or certainly not intentional, is something that

many struggle with. I see it with my kids

all the time. My daughter came in crying

the other weekend that her brother had

landed on her while they were playing

"Often it is ego that prevents

someone from realizing the

upsides of apologizing.

on the trampoline. Her issue wasn't that

he'd landed on her, but rather that he was

refusing to say sorry for hurting her. My

son was adamant that if it was an accident

and it wasn't his intention to hurt her, why

should he apologize? As my investigation

into what had happened continued, he

began to protest more vehemently, trying

to blame her for laying where he landed,

and even me for buying a trampoline that was "too bouncy". But the more he

protested, the worse his situation became, and the harder he had to work to get

his sister to speak to him again at all that weekend.

In a commercial scenario, saying sorry often doesn't sit at all well with lots of

people and indeed corporations; they see it as a sign of weakness that represents

only risk and downsides to their reputation. Often it is ego that prevents someone

from realizing the upsides of apologizing. But for a company, especially a well

known household name, saying sorry, acknowledging the error or situation,

showing some humility, even if they are not directly responsible for the issue,

does one essential thing that any subsequent recovery will need.

It builds trust.

Firstly, it builds trust between the parties involved. The Gap Partnership

is a firm advocate that commercial negotiations should be conducted on the

collaborative sections of the negotiation Clockface. Here, both parties are

34

35
---
THE NEGOTIATION SOCIETY

36

working with each other to optimize

the value available within a negotiation,

and as the relationship deepens and

dependencies become greater, the one

factor that more than any other impacts

success will be trust, especially if, as in

the case with KFC, there is a significant

problem that affects one or both parties'

reputations and ultimately bottom lines.

KFC's relationship with its

distributor, DHL, was brand new and

the decision to switch to them from

food delivery specialists Bidvest would

certainly have been one where trust

that they would deliver fresh chicken

daily to its nationwide network of stores

was of paramount importance. KFC

will have needed to trust that DHL

was doing everything it could to rectify

the situation to minimize its impact.

And, when disaster struck, DHL will

have needed to trust that KFC would

work with them at the time of the

issue to help resolve it, rather than

go on the offensive. And this is just

what KFC did – to try and help DHL

alleviate pressure on the distribution

warehouse in Rugby where the issues

were centered, KFC sourced additional

warehousing options for its nonperishable

supplies like mops, gloves

and brushes to free up space.

KFC's approach of not publicly

attacking its new distributor will

doubtless go a long way to ensuring

that both parties are able to move on

from this situation, whether they stay together or not, with

minimized damage to either's reputation. As the public face

of the issue, KFC has ensured that by simply addressing it

openly, its impact at the till or the trading floor should also

be minimized.

Secondly, it builds trust with the customer. The public

reaction on social media was overwhelmingly supportive,

with a consistent theme of comments appreciating the fact

they were not trying to hide from the issue and were showing

humility. There was arguably never an issue over quality of

product for KFC with the public, and showing this more open

side may well have built

brand image in the eyes

of many.

Thirdly, it builds trust

with staff too. Imagine

being a KFC restaurant

employee the day they

reopened their stores.

How much will they

have dreaded the angry,

disgruntled regular who

couldn't get his Zinger® Tower Burger for a few days, or the

sudden influx of the habitual moaners who turn up to the

opening of a door just to point out that it needs a bit of oil

on its hinges? KFC's owner, Yum! Brands, is a business

"KFC has ensured that by

simply addressing it openly, its

impact at the till or the trading

floor should be minimized

that prides itself on staff satisfaction and loyalty. With

this knowledge, perhaps their reaction to the crisis is less

surprising. Their approach to laugh creatively with everyone

else at their own misfortune will arguably have helped ensure

that its restaurant staff were subject to far less abuse and

criticism than if KFC had tried to pass the blame elsewhere,

or shown no remorse at all. Happy staff = happy customers.

Win win.

Finally, it builds others' trust in the business long-term.

Any new supplier getting into partnership with KFC or any

other Yum! Brands-owned business will feel assured that

if ever they suffer an issue

themselves they can trust that

the reaction will be to work

with them to solve it.

So, what does the future

hold for KFC? Well, once the

dust from the Colonel's secret

blend of herbs and spices

finally settles, its reputation

for its food with consumers

is unlikely to be adversely

affected. More interestingly, however, is any current or future

negotiation with Bidvest – if ever there was a case study for a

shift in the balance of power in a negotiation, this could take

some beating! TNS

You've Got Mail

Like Comment

The Gap Partnership

Wheeler Dealer

In the market for a new car? Then check out Alex Stefan's

article on how he got a great deal on his new motor

through an understanding of time. Essential reading if

you're looking for new wheels – or because you want a

reminder on the importance of timing in negotiation.

Like Comment

The Gap Partnership

OVERHEARD :

CONVERSATIONS IN THE NEGOTIATION SOCIETY

Catch up with negotiation thinking and debate online at The Negotiation Society,

the private group exclusively for our alumni. Here are some recent highlights…

With negotiations by email becoming increasingly the

norm, Callum Knox examined its psychology and pros and

cons. One alumni pointed out an advantage of email

negotiation – the ability to precisely formulate your

position – "If you…, then we…". Although the downside

of course is that this clarity can be a double-edged

sword, allowing your counterparty to formulate their

own precise counter-offer that removes value from you.

A fascinating and topical debate.

54

42

11

8

2d

5d

Brexit Brouhaha

Like Comment

The Gap Partnership

Winner Doesn't Take All

John Clements made a persuasive case for RFP owners

to stop and think about whether a competitive

negotiation strategy is always the most appropriate to

adopt. One alumni commented that they wished more

procurement departments would pay heed to John's

advice. Another shared a story of a supplier filing for

bankruptcy within 12 months of winning a major RFP –

they'd traded margin for market share too aggressively

and the terms weren't sustainable. Food for thought for

anyone involved with RFPs.

Like Comment

The Gap Partnership

The mother of all negotiations got its inevitable

consideration in Alex Adamo's article, in which he

discussed the real meaning of the 2021 time extension

given to Brexit – and in so doing brought to life a

fundamental principle of negotiation that we would all

do well to remember.

To find out more and apply to join, visit thegappartnership.com/alumni

46

36

1

2

3d

7d

37
---
THE NEGOTIATION SOCIETY

CROSSWORD

Our fiendishly challenging British-style crossword returns. The first

letter of each of the across clues spells out the name of a TGP competition.

20 Attainments from a leader,

briefly forceful, he disappeared

before Sabbath (12)

23 Tagalog Nation's partly

reviewed dance (5)

24 Old rich lags appallingly

becoming fat cats (9)

25 Root from artist's bowl (6)

26 Smartly retiring, entertaining

naughty lewd rector (8)

The ABC of negotiation

is for Anchoring

– my place

not yours

is for Bargaining

Range –

to maximize,

of course

is for Confidence

– the way

to propose

is for Dealing – a

choice I suppose

DOWN

ACROSS

1 Try consuming drink that's

most flavorsome (8)

5 Humidity primarily is a disaster for

those raising mushrooms (1-5)

9 E-fit describing Parisian who

has trial at the beginning, which

is even-handed (9)

11 Number of players exposing

open goal? (5)

12 Executive is European on course

shortly with heartless groom (12)

14 Gloomy Spanish king succeeds

George the First (4)

15 Obese initially embarrassed, it

rankles for those carrying bulk (3,7)

17 Tactic hero used when ruled

by priests (10)

18 Is after Rhode Island's

revolutionary flag? (4)

1 Starts to trim really elegant,

exotic plant (4)

2 Lock up quiet mutt regularly (4)

3 Sheltered target? (6)

4 Broadcast on radio set but playing

second fiddle (11,2)

6 This may involve person drinking

gin recklessly (8)

7 Day 10 for example, run out

in country (10)

8 Posed, short Irish Terrier

surprisingly at first wags (9)

10 White shipmate swimming

for support (9,4)

13 Rang Edward after lens scratched

twice at the end (10)

14 Fetch dad, tense for having

originally put on weight (3,6)

16 Grades fish, working steadily at the

beginning around Switzerland (8)

19 Way airmen start to

execute attack (6)

21 Manchild's regular tart (4)

22 Spot Bond on the internet? (4)

For solutions email

alumni@thegappartnership.com

is for Extreme

– somewhere

to start

is for Influence

– the choices

they make

is for Money –

what it's all about

is for Quiet –

something to keep

is for Fairness

– it should play

no part

is for Justify –

indicates a fake

is for Negotiation

– an art form

no doubt

is for Reciprocate

– but don't be led

like a sheep

is for Grow – a

strategy for all

is for Killer

Question – but

don't go to war

is for Open – the

time to go first

is for Scarce –

builds value

you see

is for Hold –

do nothing,

don't call

is for Losing

– the way to

get more

is for Position

– yours should

be conversed

is for Trust – just

enough to agree

is for

Uncomfortable –

why you get paid

is for Value – low

cost is the trade

is for Winning –

not what we do

is for

X-efficiency –

the competitive

view

is for Yes –

that is the aim

is for Zealous

– keeping you

in the game

"READY FOR YOUR FIRST LESSON IN CONFLICT RESOLUTION?"

THE NEGOTIATION ALPHABET

FOLLOW IT TO THE LETTER

38 39
---
© The Gap Partnership, 2018. All rights reserved.