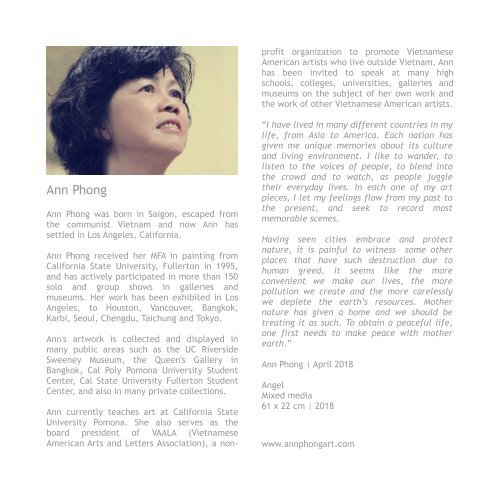 Yumpu_Catalogue_Peacemaking
Do you know the secret to free website traffic?
Use this trick to increase the number of new potential customers.
Ann currently teaches art at California State

University Pomona. She also serves as the

board president of VAALA (Vietnamese

American Arts and Letters Association), a nonprofit

organization to promote Vietnamese

American artists who live outside Vietnam. Ann

has been invited to speak at many high

schools, colleges, universities, galleries and

museums on the subject of her own work and

the work of other Vietnamese American artists.

Ann Phong

Ann Phong was born in Saigon, escaped from

the communist Vietnam and now Ann has

settled in Los Angeles, California.

Ann Phong received her MFA in painting from

California State University, Fullerton in 1995,

and has actively participated in more than 150

solo and group shows in galleries and

museums. Her work has been exhibited in Los

Angeles, to Houston, Vancouver, Bangkok,

Karbi, Seoul, Chengdu, Taichung and Tokyo.

Ann's artwork is collected and displayed in

many public areas such as the UC Riverside

Sweeney Museum, the Queen's Gallery in

Bangkok, Cal Poly Pomona University Student

Center, Cal State University Fullerton Student

Center, and also in many private collections.

"I have lived in many different countries in my

life, from Asia to America. Each nation has

given me unique memories about its culture

and living environment. I like to wander, to

listen to the voices of people, to blend into

the crowd and to watch, as people juggle

their everyday lives. In each one of my art

pieces, I let my feelings flow from my past to

the present, and seek to record most

memorable scenes.

Having seen cities embrace and protect

nature, it is painful to witness some other

places that have such destruction due to

human greed. It seems like the more

convenient we make our lives, the more

pollution we create and the more carelessly

we deplete the earth's resources. Mother

nature has given a home and we should be

treating it as such. To obtain a peaceful life,

one first needs to make peace with mother

earth."

Ann Phong | April 2018

Angel

Mixed media

61 x 22 cm | 2018

www.annphongart.com