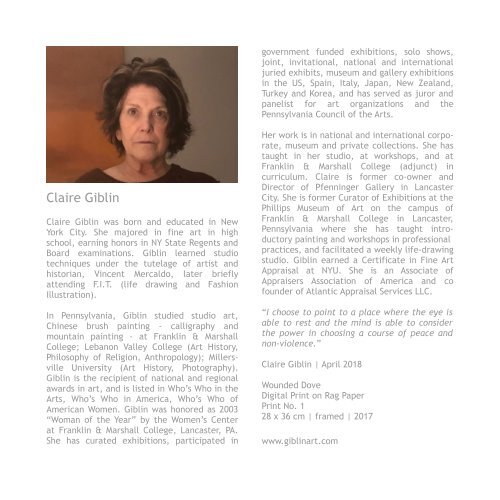 Yumpu_Catalogue_Peacemaking
Do you know the secret to free website traffic?
Use this trick to increase the number of new potential customers.
government funded exhibitions, solo shows,

joint, invitational, national and international

juried exhibits, museum and gallery exhibitions

in the US, Spain, Italy, Japan, New Zealand,

Turkey and Korea, and has served as juror and

panelist for art organizations and the

Pennsylvania Council of the Arts.

Claire Giblin

Claire Giblin was born and educated in New

York City. She majored in fine art in high

school, earning honors in NY State Regents and

Board examinations. Giblin learned studio

techniques under the tutelage of artist and

historian, Vincent Mercaldo, later briefly

attending F.I.T. (life drawing and Fashion

Illustration).

In Pennsylvania, Giblin studied studio art,

Chinese brush painting - calligraphy and

mountain painting - at Franklin & Marshall

College; Lebanon Valley College (Art History,

Philosophy of Religion, Anthropology); Millersville

University (Art History, Photography).

Giblin is the recipient of national and regional

awards in art, and is listed in Who's Who in the

Arts, Who's Who in America, Who's Who of

American Women. Giblin was honored as 2003

"Woman of the Year" by the Women's Center

at Franklin & Marshall College, Lancaster, PA.

She has curated exhibitions, participated in

Her work is in national and international corporate,

museum and private collections. She has

taught in her studio, at workshops, and at

Franklin & Marshall College (adjunct) in

curriculum. Claire is former co-owner and

Director of Pfenninger Gallery in Lancaster

City. She is former Curator of Exhibitions at the

Phillips Museum of Art on the campus of

Franklin & Marshall College in Lancaster,

Pennsylvania where she has taught introductory

painting and workshops in professional

practices, and facilitated a weekly life-drawing

studio. Giblin earned a Certificate in Fine Art

Appraisal at NYU. She is an Associate of

Appraisers Association of America and co

founder of Atlantic Appraisal Services LLC.

"I choose to point to a place where the eye is

able to rest and the mind is able to consider

the power in choosing a course of peace and

non-violence."

Claire Giblin | April 2018

Wounded Dove

Digital Print on Rag Paper

Print No. 1

28 x 36 cm | framed | 2017

www.giblinart.com