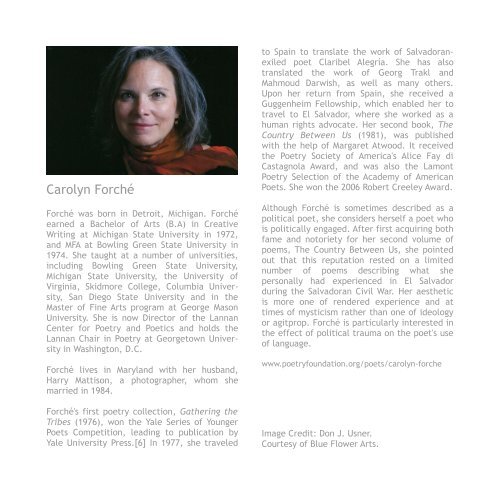 Yumpu_Catalogue_Peacemaking
You also want an ePaper? Increase the reach of your titles
YUMPU automatically turns print PDFs into web optimized ePapers that Google loves.
Carolyn Forché<br />
Forché was born in Detroit, Michigan. Forché<br />
earned a Bachelor of Arts (B.A) in Creative<br />
Writing at Michigan State University in 1972,<br />
and MFA at Bowling Green State University in<br />
1974. She taught at a number of universities,<br />
including Bowling Green State University,<br />
Michigan State University, the University of<br />
Virginia, Skidmore College, Columbia University,<br />
San Diego State University and in the<br />
Master of Fine Arts program at George Mason<br />
University. She is now Director of the Lannan<br />
Center for Poetry and Poetics and holds the<br />
Lannan Chair in Poetry at Georgetown University<br />
in Washington, D.C.<br />
Forché lives in Maryland with her husband,<br />
Harry Mattison, a photographer, whom she<br />
married in 1984.<br />
Forché's first poetry collection, Gathering the<br />
Tribes (1976), won the Yale Series of Younger<br />
Poets Competition, leading to publication by<br />
Yale University Press.[6] In 1977, she traveled<br />
to Spain to translate the work of Salvadoranexiled<br />
poet Claribel Alegría. She has also<br />
translated the work of Georg Trakl and<br />
Mahmoud Darwish, as well as many others.<br />
Upon her return from Spain, she received a<br />
Guggenheim Fellowship, which enabled her to<br />
travel to El Salvador, where she worked as a<br />
human rights advocate. Her second book, The<br />
Country Between Us (1981), was published<br />
with the help of Margaret Atwood. It received<br />
the Poetry Society of America's Alice Fay di<br />
Castagnola Award, and was also the Lamont<br />
Poetry Selection of the Academy of American<br />
Poets. She won the 2006 Robert Creeley Award.<br />
Although Forché is sometimes described as a<br />
political poet, she considers herself a poet who<br />
is politically engaged. After first acquiring both<br />
fame and notoriety for her second volume of<br />
poems, The Country Between Us, she pointed<br />
out that this reputation rested on a limited<br />
number of poems describing what she<br />
personally had experienced in El Salvador<br />
during the Salvadoran Civil War. Her aesthetic<br />
is more one of rendered experience and at<br />
times of mysticism rather than one of ideology<br />
or agitprop. Forché is particularly interested in<br />
the effect of political trauma on the poet's use<br />
of language.<br />
www.poetryfoundation.org/poets/carolyn-forche<br />
Image Credit: Don J. Usner.<br />
Courtesy of Blue Flower Arts.