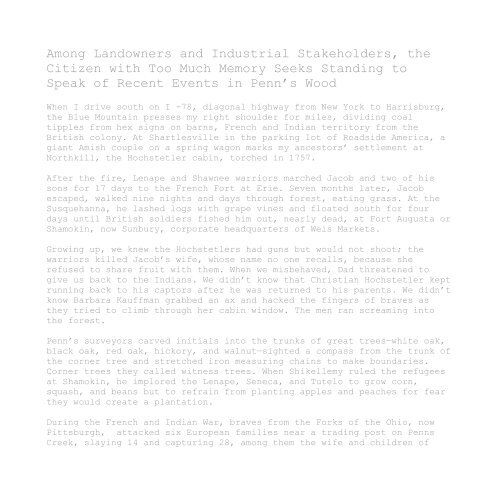 Yumpu_Catalogue_Peacemaking
Do you know the secret to free website traffic?
Use this trick to increase the number of new potential customers.
Among Landowners and Industrial Stakeholders, the

Citizen with Too Much Memory Seeks Standing to

Speak of Recent Events in Penn's Wood

When I drive south on I -78, diagonal highway from New York to Harrisburg,

the Blue Mountain presses my right shoulder for miles, dividing coal

tipples from hex signs on barns, French and Indian territory from the

British colony. At Shartlesville in the parking lot of Roadside America, a

giant Amish couple on a spring wagon marks my ancestors' settlement at

Northkill, the Hochstetler cabin, torched in 1757.

After the fire, Lenape and Shawnee warriors marched Jacob and two of his

sons for 17 days to the French Fort at Erie. Seven months later, Jacob

escaped, walked nine nights and days through forest, eating grass. At the

Susquehanna, he lashed logs with grape vines and floated south for four

days until British soldiers fished him out, nearly dead, at Fort Augusta or

Shamokin, now Sunbury, corporate headquarters of Weis Markets.

Growing up, we knew the Hochstetlers had guns but would not shoot; the

warriors killed Jacob's wife, whose name no one recalls, because she

refused to share fruit with them. When we misbehaved, Dad threatened to

give us back to the Indians. We didn't know that Christian Hochstetler kept

running back to his captors after he was returned to his parents. We didn't

know Barbara Kauffman grabbed an ax and hacked the fingers of braves as

they tried to climb through her cabin window. The men ran screaming into

the forest.

Penn's surveyors carved initials into the trunks of great trees—white oak,

black oak, red oak, hickory, and walnut—sighted a compass from the trunk of

the corner tree and stretched iron measuring chains to make boundaries.

Corner trees they called witness trees. When Shikellemy ruled the refugees

at Shamokin, he implored the Lenape, Seneca, and Tutelo to grow corn,

squash, and beans but to refrain from planting apples and peaches for fear

they would create a plantation.

During the French and Indian War, braves from the Forks of the Ohio, now

Pittsburgh, attacked six European families near a trading post on Penns

Creek, slaying 14 and capturing 28, among them the wife and children of