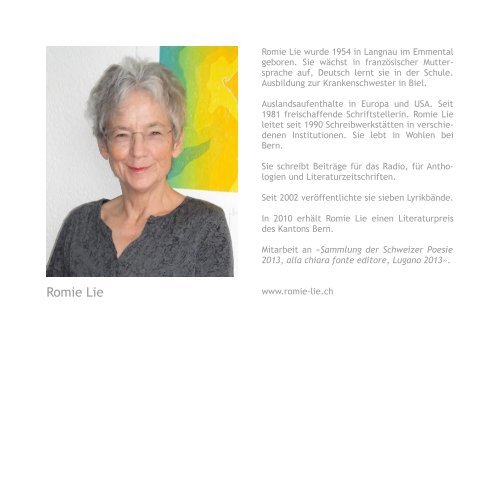 Yumpu_Catalogue_Peacemaking
Do you know the secret to free website traffic?
Use this trick to increase the number of new potential customers.
Romie Lie wurde 1954 in Langnau im Emmental

geboren. Sie wächst in französischer Muttersprache

auf, Deutsch lernt sie in der Schule.

Ausbildung zur Krankenschwester in Biel.

Auslandsaufenthalte in Europa und USA. Seit

1981 freischaffende Schriftstellerin. Romie Lie

leitet seit 1990 Schreibwerkstätten in verschiedenen

Institutionen. Sie lebt in Wohlen bei

Bern.

Sie schreibt Beiträge für das Radio, für Anthologien

und Literaturzeitschriften.

Seit 2002 veröffentlichte sie sieben Lyrikbände.

In 2010 erhält Romie Lie einen Literaturpreis

des Kantons Bern.

Mitarbeit an «Sammlung der Schweizer Poesie

2013, alla chiara fonte editore, Lugano 2013».

Romie Lie

www.romie-lie.ch