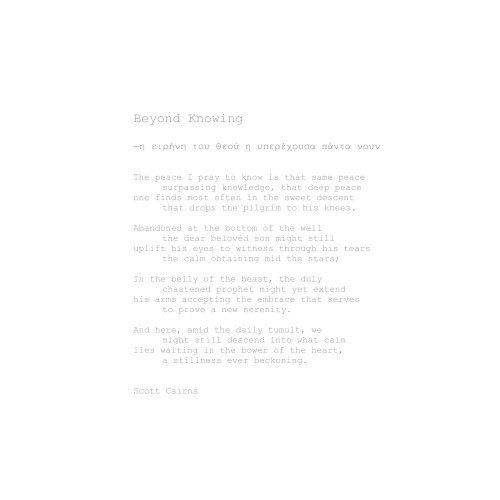 Yumpu_Catalogue_Peacemaking
Do you know the secret to free website traffic?
Use this trick to increase the number of new potential customers.
Beyond Knowing

—η ειρήνη του θεού η υπερέχουσα πάντα νουν

The peace I pray to know is that same peace

surpassing knowledge, that deep peace

one finds most often in the sweet descent

that drops the pilgrim to his knees.

Abandoned at the bottom of the well

the dear belovéd son might still

uplift his eyes to witness through his tears

the calm obtaining mid the stars;

In the belly of the beast, the duly

chastened prophet might yet extend

his arms accepting the embrace that serves

to prove a new serenity.

And here, amid the daily tumult, we

might still descend into what calm

lies waiting in the bower of the heart,

a stillness ever beckoning.

Scott Cairns