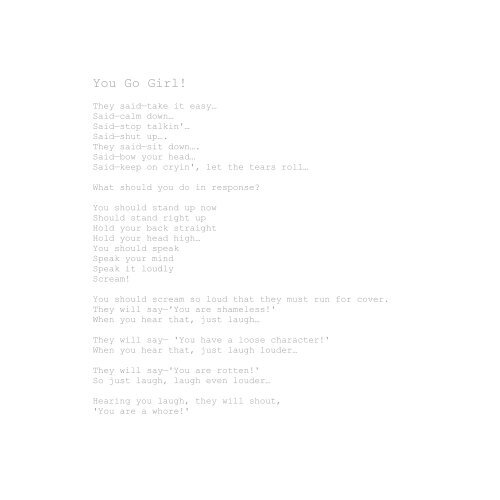 Yumpu_Catalogue_Peacemaking
Do you know the secret to free website traffic?
Use this trick to increase the number of new potential customers.
You Go Girl!

They said—take it easy…

Said—calm down…

Said—stop talkin'…

Said—shut up….

They said—sit down….

Said—bow your head…

Said—keep on cryin', let the tears roll…

What should you do in response?

You should stand up now

Should stand right up

Hold your back straight

Hold your head high…

You should speak

Speak your mind

Speak it loudly

Scream!

You should scream so loud that they must run for cover.

They will say—'You are shameless!'

When you hear that, just laugh…

They will say— 'You have a loose character!'

When you hear that, just laugh louder…

They will say—'You are rotten!'

So just laugh, laugh even louder…

Hearing you laugh, they will shout,

'You are a whore!'