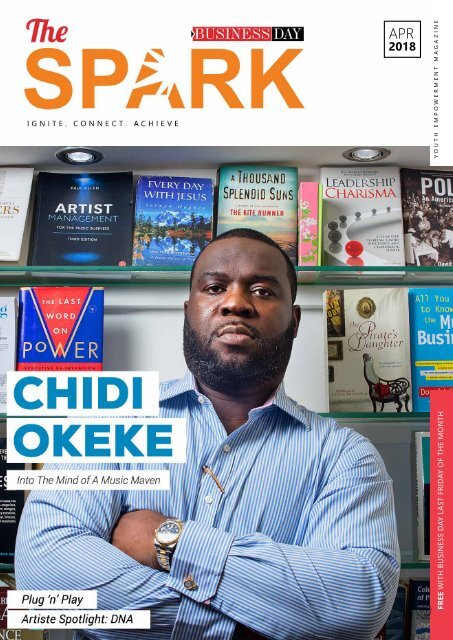 You also want an ePaper? Increase the reach of your titles
YUMPU automatically turns print PDFs into web optimized ePapers that Google loves.
www.thesparkng.com

The Spark | Ignite/Connect/Achieve

APR

2018

YOUTH EMPOWERMENT MAGAZINE

@thesparkng

01

FREE WITH BUSINESS DAY LAST FRIDAY OF THE MONTH
---
www.thesparkng.com

The Spark | Ignite/Connect/Achieve

Contributors

From Our Guest Editor

Segun Adekoye

Lehlé Baldé

is a writer of poems, short stories and feature stories. A digital

marketing strategist, lifestyle and technology enthusiast, trained at

the New York Film Academy, Harvard Business School and Kellogg

School of Management. His write-ups have been featured on BBC UK,

CP Africa, YNaija, 360nobs, naijaPOSE and Nairobi-based technology

journals.

Zebra Villa Works

is a creative firm dedicated to building educative and engaging

games such as board games, puzzles and teasers. Using advanced

methods and gamification strategies, they provide a better way to

educate users (learners and players).

holds a BA in communication from the University of Waterloo in

Canada and a Masters in International Marketing Strategy from

the University of Northampton in the United Kingdom. Originally

from Senegal, she is a pan African strategy and communications

professional, who has lived in over 12 countries and currently works

at Business Day as a strategy and partnerships associate. She also

interviews some of Africa's brightest millennials through the various

Business Day platforms.

Osa Seven

is a Nigerian graffiti artist, brand developer and GFX designer. His

work ranges from portraits of iconic characters to scenic images,

brand designs, abstract art, and tribal art designs. He has since

worked with companies like MTV, Jameson, Absolut Vodka, Pernod

Ricard, HP, Africa, Guinness, Smirnoff, Heineken, The Federal

Government of Nigeria.

Plug 'n' Play

he grind, late nights, rehearsals, shows, events

and fans is what makes us want to do more.

TEveryone loves the latest hit song. With itchy ears and

a thirst for what's new, the audience strap in, hit play

and enter into a world created by some of the best

talent on earth.

Behind the scenes, we compress over a thousand

hours of sweat and decibels into a few minutes of

good music just so everyone else can easily hit Play.

Damilola Oyewusi

is a Content and Digital Marketing Strategist working in the Social

Innovation sector. She uses the power of strategic content and the

dynamic nature of marketing communications to influence and

amplify life-changing innovative solutions to social problems.

Oye Akideinde

is the Regional Director, West Africa – Boomplay Music for Transsnet

Music Limited and is responsible for strategically developing and

managing key relationships in the continent to fulfill its vision of

becoming Africa's largest sustainable music ecosystem. He is also

the co-founder of 360nobs Limited, a technology driven marketing &

entertainment services firm. With a vast experience in web strategy

& development, he has transformed 360nobs.com platform into 1

of Africa's biggest lifestyle & entertainment websites catering to

millions of unique visitors monthly.

Ronke Bamisedun

is the founder of BWL Agency, a boutique PR agency based in Lagos,

Nigeria. A highly seasoned PR expert, Ronke has advised

multinational companies such as PANDORA, MOET HENNESSY as

well as many non-government, looking to expand their foot print

in Africa. She studied Media and Communications in Birmingham

City University where she graduated with an Upper 2:1. She holds a

Chartered Institute of Public Relations (CIPR) Diploma in Public Affairs

and Communications.

Kikelola Ojewale

is an Associate in the corporate and commercial department of ACAS-

Law. Her areas of interest include intellectual property, corporate

restructuring, corporate finance matters and media, sports and

entertainment. She advises clientele on diverse areas of Intellectual

Property Law and Media Entertainment Law including patents, the

exclusivity of brands and enforcement of trademarks, industrial

designs, copyright matters, brand endorsement transactions and

media matters involving television, music, sports, cinema, advertising,

theatre and film.

Bizzle Osikoya

We've seen the music industry crawl, stagger, walk

and run. Now, we're set to make it fly. How? By

empowering the artistes, producers, promoters,

entrepreneurs and others in between, with a

framework they can plug into to hit the success they

desire.

This is why we joined The Spark by BusinessDay as

Guest Editor for this month with a focus on The

Business of Music. From our elite list of veterans as

contributors to our cover feature full of nothing but

sound advice for the enthusiasts in the industry, it

was all planned out to give your journey to stardom a

plug and play effect.

The Plug

Guest Editor

Asa Asika

Godwin Tom

Agwu Obinna

is the founder of The Godwin Tom Company and iManage Africa, a

talent management and events company. He focuses on developing

tailor-made strategies that suit the business needs and goals of his

clients. With almost 10 years in the industry and practical experience

at management level for Marketing, Public Relations, Image

Consulting, Branding and Publishing; Godwin brings professionalism

to the Entertainment industry with an understanding of the demands

of a business environment.

Oluyemisi Falaye

is the head of the Entertainment Law Group of the law firm of

Adepetun Caxton-Martins Agbor & Segun (ACAS-Law). She has over

the years garnered in-depth experience in providing premium legal

advice and representation to individuals and organisations in the

entertainment industries in Nigeria, which include film, music, theatre,

art, television, radio, publishing and digital media.

Asides entertainment law, 'Yemisi also has a wide-range experience in

Intellectual Property, Immigration and Company Secretarial matters

in Nigeria. She focuses on prosecution of trademark, patent,

copyright and design on behalf of clients.

is an A&R, Talent Manager and Music Business Consultant who is

passionate about the music business and the great heights that are

attainable for the African continent. Writer of the now concluded The

Mob's Take article and reviews series. Agwu Obinna is senior partner

at the Lagos based TwoGoodHeads Inc, which he co-runs with his

brother and partner.

Dayo Adeyelure

is a dynamic marketing professional and the CEO of Uber

Sponsorships, with significant experience in front line marketing

strategy, sponsorship leveraging and evaluation, Content acquisition

and monetization, business development and events management.

Expertise in developing effective alliances and Partnerships, crossselling

activations, mass communication deployments and event/

strategy conception, ideation and implementation processes.

Published By

Publisher

Frank Aigbogun

Head of Business Development &

Client Services

Ikenna Onuorah

Head of Marketing

Akintunde Marinho

Head of Business & Growth

Oghenevwoke Ighure

Editor

Anthony Osae-Brown

Head of Advertising & Sales

Kola Garuba

Guest Editor

The Plug (Bizzle Osikoya &

Asa Asika)

Creative Director

Segun Adekoye

Art director

Kola Oshalusi

Advertising

Linda Ochugbua

Head of Strategy & Planning

Bankole Jamgbadi

Managing Editor

Lanre Solarin

Project Manager

Lehlé Baldé

Specialist Editor

Michelle Edoreh

Associate Editors

Ayandola Ayanleke

Akpobome Otobrise

Design

Sodeinde Oladapo

In-house Photographer

James Otihi

Address:

The Spark: 21, Military Street, Off King

George V Street, Lagos Island.

BusinessDay Media Ltd: 6 Point Rd,

Apapa, Lagos.

Enquiries:

+2348123183458, +2347030951270,

+2348182799268

Email: info@thesparkng.com

Website: www.thesparkng.com

Social media:

@thesparkng

Copyright © 2018 Ice-One. All rights reserved. No part of this publication may be reproduced, stored in a retrieval system or be transmitted in any form or by any means, electronic or

mechanical, without prior permission of Ice-One.

Head of Operations

Fabian Akagha

We do not endorse any products or services mentioned in any of the articles and are not responsible for the outcome of using such products or services.

@thesparkng

1
---
The Spark | Ignite/Connect/Achieve www.thesparkng.com www.thesparkng.com The Spark | Ignite/Connect/Achieve

3

5

Bottom Line

Content

Building A Sustainable Brand

BOTTOM LINE

Building A Sustainable Brand

WIREDIN

1. Innovation and Music

2. The Ultimate App Guide To Music

Production

Dayo Adeyelure is the MD/CEO of Uber Sponsorships – a sponsorship consultancy, brand

partnership, and talent booking agency in the entertainment industry. In this exposé, Dayo

shares key insights on how up and coming artistes, producers and entrepreneurs in the

industry can acquire funding, grow sustainable businesses and build kickass brands.

- By Dayo Adeyelure

9

FASTFORWARD

The Future of Music Distribution

10 14

PRO BONO

1. Music Publishing: The New Wave

2. Understanding Music Laws In

Nigeria

VITAL SIGNS

Growth And Music

18

FREESTYLE

Art and Music

Funding A Career In The Music Industry

The basic misconception in 'funding' a career is the one of

'money'. In actual terms, funding a career is simply ACCESS.

Access can come in varying forms, the most common being

money. It is important to note that aside from money there are

several critical things needing to align for a successful career; the

singular most important being human capital and networking.

To fully understand the proper way to fund a music career,

the concept of 'Value or Value Added' must be appreciated.

Everything you get, earn or have access to use for economic

benefit is Funding. This can include something as intangible as

goodwill, a reference to actual tangible value of cash or use of

assets (equipment).

I tend to see issues and setbacks as obstacles to overcome to

reach your goals, and in response to the aforementioned

challenges, I'd say NETWORK. It is incomparable the amount of

goodwill, opportunities and 'deals' you would find if you insert

yourself in the right positions to meet people. Networking is also

not just about 'meeting' as it takes significant work to strategize

on who, how and when to approach an investor, partner or

company and pitch your position. So it's not about being at all

the parties or events, its more about selecting the right places

and people to meet, and be readily armed with your pitch, a

good story to tell, and a winning smile. Networking has always

been the strongest platform in my career. I try to put myself in a

position or environment where I can meet people who I think can

be of support at some point in time.

19

20 24 28

As a consultant, my first advice to a person looking for funding,

is to identify and quantify all the requirements they need to

achieve their objectives and identify the cash and non-cash

components. We are able to provide business advisory, core

intellectual property management and general logistic and

operational support. While you can't deposit these offerings,

they are provided with economic capital of time, resource

allocation and most importantly intellectual investment, and YES

they have to be paid for in CASH.

START UP

Music 101

THE SPARK EFFECT

30 32 33

BRANDSPARK

CHIDI OKEKE

Into The Mind of A Music Maven

ENGAGE

NativeMag vs Culture Custodian 1. The Chef

2. Alpha-Beta

FEATURES

1. Artiste Spotlight: DNA

2. Building A Solid Music Career

WHAT NEXT?

INTUNE WITH…

Ronke Bamisedun on Music and

Tourism

Human capital remains the single most important platform for

entrepreneurs looking to start a business in the industry. Success

is normally measured by the quality of people you surround

yourself with. However, cash remains king, and is a quick and

seamless way of those key pieces of hardware and equipment,

so I guess an equal and even split of efforts in generating cash

and cultivating human capital/building a network of support

(Infrastructure or Goodwill) would be my position.

The Challenges

One major challenge is that many newbies get very desperate

and accept anything that looks like cash. They are likely to

do anything and accept any term in exchange for funding.

They practically sell themselves in exchange for cash. Due to

the nature of our industry environment of man-know-man

or "come back with experience," it is very hard for newbies to

break through. It becomes practically impossible for a talented

yet unconnected person to make it primarily due to the lack of

opportunity, funding and infrastructure.

2 3

@thesparkng

@thesparkng
---
The Spark | Ignite/Connect/Achieve www.thesparkng.com www.thesparkng.com The Spark | Ignite/Connect/Achieve

The Role Of Music Labels

Wired In

There are two schools of thought; people who feel the music labels are a

waste of time and people who feel they are the foundation. Music labels

in Nigeria are not currently doing what they're supposed to do. These

labels want to be the booking agent, the talent manager, the record label,

publisher, among others. The labels try to position themselves as all-inone

and that is one of the major challenges of operating with music labels

in Nigeria. I believe they should specialize in just producing music and

leave the rest to the specialist experts in distribution, publishing, booking,

etc. Doing the right thing will help them protect their investments. They

can have royalties and percentages across board which means higher

profits for all. It is important to re-focus the labels in the vein, as the issues

you find are primarily due to the labels being stretched thin, fingers in

every pie, and doing everything but actual music production!

Forming Strategic Partnerships For Growth

There are quite a number of partnerships across the different sectors. In

music distribution, there are those who do the distribution of hard copies

(CD and DVD) and those who do it digitally like Spotify, Cloud 9, iTunes,

etc. It is becoming a bit easier because these platforms constantly look

for content, regardless of the popularity. The world is going digital and

rightly so, artistes should ensure that they can follow the new trend of

digital distribution, from a knowledge and operational standpoint. I put

knowledge before operations, simply because of the sheer number of

failed partnerships, ventures and music deals. It's easy to point fingers

and lay blame, but the foundation of most music partnerships are based

on shaky grounds. Take a label, working to do and become everything

from distribution to branding to road management to everything, and

justifying this with increased 'share'. The artiste will at some point, feel

the amounts generated by his/her brand and talents, are not reaching

him/her from a personal standpoint. This is where the 'What did you sign'

and 'Contract review' issues come up creating distrust, real or perceived

slights and the general breakdown in communication. There also remains

a significant responsibility for the artiste to clearly understand what sorts

of partnership terms and commitments he is willing to enter into, and

critically for how long.

There remains a need for strategic partnership, but the number one factor

should be transparency, following which knowledge gained and applied

can be used for mutually beneficial relationships. I've always believed in

professional advice for both artiste and label, which is one of the functions

our entity provides, from a position of strength garnered from years of

experience in both good and not so good strategic relations.

Working with Managers

The first thing you do before you hire/work a manager, is to get a Lawyer!

(Preferably one with experience in entertainment matters). Despite

the cumbersome and difficult legal process in Nigeria, the benefits

far outweigh any other issues. It is critical to define the performance

indicators of managers, and identify simple measuring tools for them.

Number of gigs, number of road shows, endorsement deals, etc. Simple

and quantifiable metrics will ensure that the review periods are seamless

and transparent. It is also important to note that the manager's ability is

largely dependent on your talent. If you have quality content, it's only

reasonable to expect some attention and buzz, which the manager will

harness and turn into monetization opportunities, wherein he gets paid.

I fully believe that a Manager/Artiste relationship should be a strategic

partnership, with both parties having skin in the game to ensure goal

congruence. This eliminates issues of pricing, transparency and drives

collective behaviour.

Financial Prudency Regardless Of The Glitz And Glam

There is a certain level of opulence the music industry promotes. However,

it is important to note that even Superstars live in moderation! Sure you

"

Nowadays, organisations pay for

positive social media influence.

They are moving from music

artistes to influencers. Build your

base of influence.

"

can buy expensive designer wear for the biggest red carpet, but daily, it's

better to be in the studio in tee and jeans, trust me no one will check your

labels. Artistes who started from scratch and made a name for themselves,

are quite well off, but yet have decorum and prudence with their finances

and purchases. You will find them in some glitzy razz matazz, but it's all for

the 'camera' as they say, and when they get home, it's grinding and more

music. I have been privileged to work with a few of them, and honestly

the glitziest thing you can do is continue to make chart topping music,

everything else is for the 'gram' and therefore not as important. These

guys know the value of money and try not to abuse it. My advice is for new

artistes to try to align with the financial management and economic savvy

of these artistes. You can have the glitz and glam but focus on delivering

value through your content and you will be fine.

Getting Your First Endorsement Deal Through Social

influence

The idea of endorsement only started getting popular about five years

ago, and before then, artistes were making it big. You can't have just

one or two hit songs and then feel it's good enough to start getting

endorsement deals. Companies don't just throw endorsements away,

there is always an objective. And if you figure out what the objectives of

the company are, you can then tailor yourself to be an ambassador for

that brand.

Nowadays, organisations pay for positive social media influence. They are

moving from music artistes to influencers. Build your base of influence,

pick two or three organisations with a problem you can solve through

your music or through your online influence and make a proposal. It all

still boils down to networking; who have you met, who do you know,

whose hands have you shook and who have you had a discussion with?

Those are the guys that will fight your battles for you.

Even if you're not an artiste with popular music but you know how social

media works and you have millions of subscribers, you can begin to

monetise your followership. That is measurable impact for brands because

you can track response and reach to sponsored ads. If you are not selling

music, go social.

Giving Back Through Investment

Those who have succeeded reinvest in talent so they can control the

ecosystem. They look for talent that will come under them and start that

process all over again. That is the best way to reinvest, if you want to

remain in the industry. There are other ways to invest, but the best is to

groom people that you can control and then you can start a business

from there.

In Summary

Always seek professional help. Don't assume you know everything and

don't try to emulate everyone. Not all tactics are right. Find your own

grounds, sit with people who know the business, who understand the

business, communicate your objectives and then build a plan around it.

You can then just come over to Uber sponsorships and talk to us.

Innovation

and Music

Oye Akideinde is the co-founder of 360nobs

Limited, a technology driven marketing and

entertainment services firm. In this expose,

he talks about the innovations, trends and

future of the Nigerian music industry in this

technological driven era.

- By Oye Akideinde

The Future Of The Nigerian Music Industry

The demand for homegrown music has never been this high which has

helped to drive a creative and exploitative boom in the country's

thriving music industry.

I believe it is headed in the right direction with production, composition,

music arrangement along with its support system (skillsets, distribution

platforms, music services, publishing, and touring), improving and getting

better structured.

Nigerian artistes are now collaborating internationally more and more.

The Big 3 (Sony, Universal and Warner) are divvying up our biggest and

most promising acts amongst each other. Our music keeps getting played

worldwide.

This growth can be tied to a number of factors working in

our favour;

• Home court advantage: Most of the songs or videos played on

radio; TV stations and public spaces are Nigerian music. Compared

to 10 years ago, the acceptance and demand for local music over the

international ones is simply amazing.

• The African diaspora: Consumers help drive popularity and virality

of music generally so by having a huge diaspora who hunger for

entertainment from home, Nigerian music has been successfully

exported in volumes to cater to the global market. Live events

like One Africa Music Fest have also turned out to become very

successful.

• The sound: Nigerian producers have been able to successfully fuse

African elements into hip-hop, reggae, soul, pop, RnB, dancehall

along with our own Nigerian and African genres.

• Size: The volume of music being churned out in Nigeria by artistes is

astounding.

Innovations to Look out For

Digitalization has affected the Nigerian music industry in a big way. As

music moves online, so does the consumer experience. Through

technology, artistes can now make music from their laptops and mobile

phones. They can also distribute to over 170 stores globally.

As we continue to see the Nigerian music industry grow, these are some of

the innovations I look forward to:

• Micropayments: Building a successful micropayment solution will act

as a driving force to grow music consumption and revenues for the

artistes. Nigeria and Africa continue to cry for that killer mobile

payment solution that works within our issues – offline, online,

banked, under-banked, and unbanked and will allow consumers the

freedom to utilize their digital wallets.

• New music services and apps: The opportunities for music related

apps in Nigeria is huge as the growth in Smartphone usage continue

to rise. As long as App developers can create killer apps that solve

problems, appeal or are very useful to Nigerians, adoption of these

apps will grow in tandem with the smartphone growth.

• Sound Engineering for Live Events: I see an opportunity to make the

sound quality at events better. Some of the events I have been to

have such terrible user experience and I know a lot of artistes who say

this is the reason why they rather mime to sound recordings than do

live performances.

• Virtual Reality, Augmented Reality & Live Streaming of Events: It

provides more access to those who can't readily go and watch their

favourite artistes. It can also give musicians the valuable exposure

they need to be successful as it can be difficult for artistes to

physically tour and reach a wider audience, but with VR, AR, and live

streaming, they can be in more places than one. Imagine having

a sold out concert at Eko Hotel with over 10,000 attendees and a

further 100,000 experiencing it using a smartphone from the comfort

of their own homes.

Promoting Longevity In The Industry

There are a number of things that artistes and other game players in the

industry can do to ensure longevity in the music industry.

• See this as a career. Treat music like a proper job …like an 8 to 5.

• Be very hardworking, have the hunger to improve; and an insight into

the market you are releasing your records to.

• Be creative and innovative with your sound so it can appeal to

Nigerians.

4 5

@thesparkng

@thesparkng
---
The Spark | Ignite/Connect/Achieve www.thesparkng.com www.thesparkng.com The Spark | Ignite/Connect/Achieve

• As with any other chosen career, you will need to research the music

industry. Find out what's popular, what's doing well, and what's

fading.

• Keep up with the trends …don't be behind the times — be ahead!

• Believe you can DIY (Do It Yourself) - Connect with fans; Have a brand

identity & awareness; play to your strengths;

• Manage your finances; save for the rainy periods.

• Keep plugging away. Rejection is very common in the music industry.

No one wants to help out; competition is very fierce. Just stay

consistent. Never give up (unless you find out that you truly have no

talent). Rejections lead to success.

• Read, learn, practice. Just keep acquiring knowledge in the field and

try to be the best you can be. Also acquire knowledge on music

business and other services that support your craft.

• Remember to always stay positive and believe in yourself! Keep

working hard and stay focused.

In the end, there isn't any right or wrong way to achieve longevity but

these tips above do help.

Leveraging Tools Available

First realize that no one is waiting for your music. If people are going to

become fans of your music, you must approach the promoting of

releases with the same planning and professionalism as the artistes

whom you admire have promoted their music. Marketing music has

changed drastically in the age of the Internet and social media. This digital

technology has the potential to take your music to the world.

Use the Internet and all its tools to your advantage. Besides having your

own domain name and website where you promote releases and shows,

you definitely need a presence on Facebook, Twitter and Instagram. Try

not to over-commit your time to social media, however. It's better to have

an execution plan and schedule for your social media rather than do a

poor or infrequent job of staying in touch with your fan-base. Make access

to your music easy through Boomplay Music, YouTube, or promotional

sites like 360nobs.com and SoundCloud.

Permission-based marketing using emails to your fanbase is a proven

winner—these are people who clicked on the subscribe link and showed

willingness to stay updated with your news and new releases! Having a

newsletter which people can join is one of the best ways to communicate

and build up relationships with fans.

Contribution of New Media to the Music Industry

New Media has helped in breaking down the walls between musicians and

fans and is responsible for possibly the biggest shift in the music industry.

In today's digital music environment, access to content for music fans has

never been easier. Consumers now have more choice than ever to stream

songs using a range of 'all-you-can-eat' services such as Boomplay Music,

Spotify, Apple Music & SoundCloud.

New Media has given musicians more control over the distribution of their

music and through the use of these DIY services; many Nigerian artists

now have the option to bypass the industry conventions completely and

promote their music to a larger audience.

Social media has also played a massive role, as artistes no longer need to

appeal to millions of people to succeed and make their mark. Instead, a

group of even a few hundred loyal fans on the gram can enable Nigerian

artistes to pursue their dreams.

Furthermore, due to the rise in digital music production software such as

Fruity Loops, music creation is now more accessible than ever before.

Because of this, there are now loads of Nigerian artistes, which ultimately

leads to more variety and choice listeners.

Leverage the data provided by the social media platforms. Tapping into

the analytics can help you further your own creativity. You get to

understand how fans feel about your music and the demographics of your

fan-base. Do remember that Marketing and social media aren't easy, but

it's what gets your music heard.

The Ultimate App Guide To

Music Production

Music production from ideation to promotion has been made easy with mobile apps. You can

now make the music of your choice with just a click on your mobile phone.

Music is a universal language, even though it appeals to us

in different ways. It can be a way to cool off after a

stressful day, a source of entertainment, inspiration,

etc. It is no wonder that music is as old as man himself. And like

everything, it has witnessed constant change and improvement.

There was a time when music was only played with musical

instruments because studios were not a thing. Then technology

made it possible to record in a studio and fine tune the music.

Now, there are apps that can actually help make your music from

ideation to completion. If you are an independent musician who

cannot afford studio time just yet or you just want to try your

hands at music on your own, this list will help you get started

easily.

- By Ayandola Ayanleke

Song Writing

You better believe it; there apps that help you with song writing.

But no, they do not actually write the lyrics, but they provide help

that you might need in bringing the lyrics together.

• Hum: Although it is a paid app, it comes handy in helping

you write your songs. The app allows song writing and

recording simultaneously. So while playing around with the

idea of your lyrics, you can hum the words as well and it will

keep it safe for you till you can get to it.

• Songwriter's app: The beauty of this app is that it provides

suggestions on words and phrases that rhyme as you start

writing and it saves it for you if you need to go back for

more inspiration. But it could even serve as an inspiration

giving you ideas on words or phrases to use next. As with

Hum, you can also record and even add chord notation to

your lyrics.

Mixing

You don't have to worry so much about becoming an expert at

mixing music with these apps. They can teach and help you

practice at being your own DJ.

• Mixpad: This app is at your disposal if you want to become

an expert at mixing audio on your mobile device. Featuring

different audio and recording effects, the app offers you

the chance to mix your own music, create podcasts, mix

instrumentals, and other music mash-ups.

"

Digitalization has affected the

Nigerian music industry in a big way.

As music moves online, so does the

consumer experience.

"

• Edjing: Edjing DJ Music Mixer Studio offers you the DJ

software in a mobile phone. It can pull music from Deezer,

Soundcloud and your own folder to mix at a click with DJ

features.

6 7

@thesparkng

@thesparkng
---
The Spark | Ignite/Connect/Achieve www.thesparkng.com www.thesparkng.com The Spark | Ignite/Connect/Achieve

Album Cover Design

The album cover is almost as important as the music itself because the

appeal of an album cover draws the audience to the music. So you want to

take advantage of these apps to design awesome album covers.

• Album cover maker: Providing you with different photo effects as

well, you are on your way to creating your own album cover. And the

great thing is that it allows you to own your own design.

Recording

You have nothing to worry about when recording amazing music because

these apps are here for you. However, most recording apps come at a little

price but they are worth it.

• Chord: Chord is free for Android users but comes at a price for IOS.

The app allows you record songs with different accompanying

instruments at your disposal.

FastForward

The Future of

Music Distribution

Constantly updated technology assures that the future of music distribution is

something interesting to watch out for.

Segun Adekoye

• Adobe Spark: You can find Adobe Spark as a website and an app. You

might prefer going through the website to sign in. It also makes it

possible to create designs for your album cover and offers flexibility

as well.

Audio Editing

You don't have to worry about spending a lot to get audio editing software.

These apps have got you covered.

• WavePad Audio Editor: The app allows you to record, edit and even

add special effects to your music. Reviews from users says it is easy to

use. Also, you can share to another device to continue editing.

• Mp3 Cutter: This app assists you in cutting and merging audio files.

Featuring many audio editing features, it is easy and fun to use.

Making Beat

Making great beats have been made easy with these apps.

• Korg Koassilator: With this app, you can record any type of music

because it comes with special features that will help you work on the

songs as well.

Sales

When you are done with the production of your music, the dream of every

musician is to be able to make some revenue from their work. You don't

have to worry for long; you can use these apps to make some money from

the sales of your music.

• Ecwid: It is like an online mall where you can have your own online

store. It provides the opportunity to sell whatever, including apps and

music from other channels like Facebook and eBay. You will be able

to track your orders and inventory. You must have an Ecwid account

and paid subscription to use.

• Amazon: You can also sell your music on Amazon. All you need is an

account as well and then you can upload your music. And because

Amazon has many subscribers or shoppers, you have the opportunity

to promote your music to a larger audience.

"Music and me

Go together; perfect harmony

Soft and mellow

Or so hard it'll make your speakers explode

Stay with me

And together we'll live out this dream,

My music and me"

One of the most intriguing things about our world is the human nature's deep

romance with music. While almost all other relationships fall apart and

sometimes become almost irreconcilable, it is harder to fall out-of-love with

music. From the vibrations we feel in our mothers' wombs to the way our world is

interspersed with trebles and clefs, we become more interested in how we carry our

songs than what they convey to us.

From the era of transistor radios, which kicked off in 1954, till it morphed into

Boomboxes in the early to mid '70s, music distribution was still in its primordial era.

This was due to the fact that listening to your favourite songs was heavily reliant on

electronic signals from radio stations. This improved with the introduction of the

Sony Walkman in 1979 and the Discman in 1984, which rocked into the early to late

'90s. The most impressive part is the introduction of portable music storage devices

like the MP3 players and iPods at the turn of the millennium allowing for the storage

of near-infinite number of songs with high quality audio outputs.

Now, what we have is the fusion of music storage and streaming devices with the

mobile phones. One of the prominent reasons consumers seek for phones with large

storage memory sizes is to store audios and videos. Vehicles are now branded with

Bluetooth and MP3 logos to indicate compatibilities with mobile phones for easy

music streaming. This kills the need for compact discs.

Listening to music has also evolved from using earphones with connecting jacks to

wireless earphones like the Airpods, Bose or Beats headphones. While it is easy to

buy your favourite songs from street hawkers in Lagos, or from the 'Computer Village

boys', it is even easier to download them to your devices from sites like NotJustOk or

apps like Apple Music and BoomPlay.

• Music Maker Jam: Having over 300 Mix Packs in its database, you

have the opportunity to own your own beat and create your own

sounds. You can also record, edit and share your music directly to

social media.

• FL Studio Mobile: FL Studio is a popular beat making software and

now, the mobile app is available. You can now make your own beats

with their different music styles and you can even upload songs you

have been working on earlier to the app to continue.

Promotion

If you are interested in promoting your music to a large audience, you can

use any of social media sites like Facebook, Instagram, Twitter and

Youtube. Facebook and Instagram in particular, have an option for ads

that you can pay a token for.

Sharing

Sharing your music has also been made easy with apps like Shazam,

Spotify, Soundcloud. Millions of people are subscribed to these apps and

you will expose your music to that large audience. And if you are just a

lover of music, then you can play around and share your music with your

friends with these apps.

This list is by no means exhaustive. While this is not a replacement for

standard tools, you will be surprised at the number of apps you will find

that actually help in one way or the other. These apps above can however

assist you from ideation to the promotion of your music.

"

The only foreseeable technologies

that will impact on music

distribution in the future will be

wearables, cloud storage and

connected devices (IoT)

"

Musicians, more than ever, understand consumers' need of portability and easy

access, and therefore seek possible distribution touch points to access their fan base.

Although the present is evident, there isn't a crystal ball that perfectly gives what

distribution of music will look like in the nearest future. The only foreseeable

technologies that will impact on music distribution in the future will be wearables,

cloud storage and connected devices (IoT). With the advent of the Apple Watch's

cellular connectivity, it is possible to listen to music remotely while your phone is

several miles away. Several other wearables will adopt this technology to make music

streaming even more portable. Internet of Things (IoT) has begun to play its role in

distribution using AI devices such as the Apple HomePod, Google Home or Amazon's

Alexa. The future will see the introduction of other devices that fit well into the office

or home architecture to distribute music with the help of AI, while songs would be

hosted on the cloud.

These are beautiful thoughts. No matter what happens, humans would always ensure

that they take their favourite jams everywhere they go, even if it means weaving audio

files into their fabric yarns to improve portability.

8 9

@thesparkng

@thesparkng
---
The Spark | Ignite/Connect/Achieve www.thesparkng.com www.thesparkng.com The Spark | Ignite/Connect/Achieve

Pro Bono

- By Kikelola Ojewale

Music Publishing:

The New Wave

Kike Ojewale is an Associate at Adepetun, Caxton-Martins, Agbor & Segun (ACAS-Law), a top

Law firm in Nigeria, offering a wide range of services. In this piece, she shares some insight on

how best artistes can benefit from music publishing, but from a legal perspective.

Key Points To Look Out For In A Publishing Agreement

Again, never sign a publishing agreement without the advice of a lawyer.

On a practical scale, the best way to engage a publisher as an artiste, is to

ensure you create a good body of work that is actually attractive to the

publisher. Anything less than attractive puts more risk on the publisher.

The main points to look out for in a publishing agreement are;

1. The term of the agreement. The term of the agreement is the length

of the agreement. Most publishers would either insist on a specific

term or until a specific number of songs have been delivered.

2. The territory. Would the agreement cover Nigeria or would it be a

worldwide deal? A worldwide territory allows a publisher to maximise

its earnings as a wider territory is being covered.

3. The scope and the composition. Agreements should be specific on

the songs which form part of the publishing deal.

4. The ownership. This is one of the most important terms in a

publishing deal. In most publishing agreements, a publisher would

aim to own 100% of the copyright. However, it is important for an

artiste to insist on 100% ownership or at the very least, a 50/50 split.

5. Administration. This grants publishers the right to exploit and

control that composition. This also allows publishers to collect

monies from rights granted to third parties. Industry practice is

about 10-15% depending on the bargaining power of the artiste.

Securing Your Rights As A Music Artiste

This is mainly contractual and such rights must be negotiated based on

the advice of a lawyer. An artiste can take legal actions if there is a breach

of any of the terms of the agreement. Such options for legal action should

be defined clearly in the agreement. For example, the parties can agree

to resolve any issues within thirty days of the notice of said issue. In the

event that the matter is not resolved within the stipulated thirty days, the

agreement can be terminated or the matter may be referred to court or

other alternative dispute resolutions such as arbitration or mediation.

Terminating Contracts

This should not be overlooked in an agreement. It is advisable to ensure

that any of the parties cannot terminate the agreement without notice or

cause. In the event that the agreement does not state that reasons must

be given for termination, it should include a notice period at least. A welldrafted

agreement should have an exit clause for both parties to give the

parties an opportunity to seek other options or exit the relationship.

Handling Piracy

In an industry such as ours, we need to take more drastic measures in

tackling the issue of piracy. It would appear that the existence of online

platforms where direct downloads are restricted - sometimes for a fee

- has restricted piracy to a certain extent. If there is a restriction on the

methods in which music is distributed, this could contribute largely to the

fight against piracy.

The Future of Music Publishing in Nigeria

There has been an increase in the number of publishing companies being

established in Nigeria. It appears that these companies are educating

themselves on publishing and applying that knowledge to the industry

here in Nigeria. The recently established Music Publishers Association

of Nigeria (MPAN) is also a step in the right direction. Members or the

entertainment industry must be educated and fully informed of their

rights with respect to publishing and copyright as a whole. It appears to

be a very slow process but there is certainly hope for the future.

- By Kikelola Ojewale

The Association between Law and Music Publishing

"

The best way to

engage a

publisher as an

artiste, is to ensure

you create a good

body of work

that is actually

attractive to the

publisher.

"

Publishing is a new and developing segment of the music industry in Nigeria. It is essentially

the monetisation of your copyright. Copyright grants the creator of an original work

exclusive rights for its use and distribution. The relationship between a music publisher

and an artiste is crystallised in a publishing agreement which is executed by all parties

involved. Although we do not have specific laws that govern music publishing in Nigeria, the

fundamentals can be found within our copyright laws.

The general issue in Nigeria is the basic understanding of what music publishing entails. There

are a number of "publishers" who establish companies without the basic knowledge of

publishing or how the administrative angle of publishing works. Also, some artistes are yet to

grasp the concept of publishing and as such are not totally aware of their rights. Most times,

artistes unknowingly sign away all of their rights to the benefit of the record or publishing

companies. It is advisable to engage the services of a lawyer when negotiating a publishing

deal.

The Importance of a Lawyer When Signing a Contract

It is extremely important to engage the services of a lawyer when negotiating a publishing

deal and drafting a publishing contract. We have worked with a number of artistes who have

regrettably signed deals that have not been favourable to them. Unfortunately, some artistes

with an incredible catalogue of music, have lost potentially, millions of dollars to unclaimed

publishing rights.

Need legal advice? Send in your questions. See page 33.

10 11

@thesparkng

@thesparkng
---
The Spark | Ignite/Connect/Achieve www.thesparkng.com www.thesparkng.com The Spark | Ignite/Connect/Achieve

Understanding Music

Laws In Nigeria

'Yemisi Falaye is the Head of Entertainment Law Group at Adepetun, Caxton-Martins, Agbor

and Segun (ACAS-Law), a top law firm in Nigeria. In this interview, she discusses the music laws

in Nigeria and why the game players in the music industry cannot do without them.

- By 'Yemisi Falaye

What is music law and why is it a significant aspect of law?

Q: Q:

Music law is essentially a part of entertainment law that

A: A:

Q:

A:

Q:

A:

guides specific issues in the music industry such as

music publishing, music licensing, copyright ownership,

amongst others. Music law is a highly significant aspect

of law because, as I said earlier, it guides the affairs

of the stakeholders in the industry and it regulates

their conducts accordingly. Like every other aspect of

human endeavours, the entertainment/music industry

is governed by laws. Music law basically provides

protections for players in the music industry. It governs

the activities of musicians, producers, record labels

and their employees. In order to guarantee sanity in

the industry, music law is extremely significant and

important.

Artistes and Producers in the space are more concerned

about making good music. Why should they understand

the laws that govern their work?

As an artiste or a producer in the music industry, it can

never be overemphasized that understanding the laws

that govern the industry is compulsory. The truth is, the

music business is actually a complex one and so it is

important for the game players to at least understand

the basic legal aspects of the industry. A lot of artistes,

producers, record labels and other people working in

the music industry face complicated legal troubles

that on the long run, ruin their career. This can be

avoided by simply understanding the different basic

laws related to the music industry; such as copyright

ownership, performance, licensing, contracts and other

common music industry practices and regulations. Most

importantly however, it is best to hire a well-grounded

entertainment lawyer who is not only an expert in music

law, but also very conversant with the practical aspect of

the music industry.

Please share some of the most important laws that must

not be ignored, even by newbies in the industry.

Copyright Law, Merchandising Law, Trademarks Law,

Law of Tort, Contract Law, Tax Law. All these laws,

amongst others, aid the regulation of the music industry.

Therefore, every stakeholder in the industry must get

acquainted to the laws.

What common issues can be faced due to ignorance of

such laws?

The most common issue faced by artists in the music

industry is the record label and recording agreement.

Ordinarily, the main role of a record label is to

manufacture, distribute, market, promote and sell its

artiste's songs. An agreement is usually entered between

both parties, where the duration of the agreement will

be stated; number of songs to be recorded by the artiste;

territory; ownership of copyright and catalogue; royalty

split, etc. will also be stated. A lot of times, artistes

usually sign these agreements without understanding

the nature of the same and also without consulting

an entertainment lawyer. They therefore sell off their

intellectual property rights (and more) in perpetuity in

exchange for nothing.

Another common issue in the music industry is music

sampling. This is an act of recording a part of an already

existing song with or without the permission of the

owner of the existing song. The problem usually arises

when an artiste samples a song without the permission

of the original owner. This amounts to infringement of

copyrights and may end up being a litigation issue if not

properly managed. It is therefore advisable for an artiste

to legally sample a song by seeking the permission and

approval of the owner(s) of the existing song. Permission

from copyright owners is required before sampling, no

matter how little the portion of the song is.

Music publishing is another major issue faced by artistes

due to ignorance. As far as I am concerned, music

publishing is the core of music business. I tag music

publishing as a copyright owner's pension. It is what a

copyright owner relies on as his/her source of income

as long as he/she is entitled to the copyright of the work

(musical and/or literary). Music Publishing is simply the

business of exploiting a song and generating revenue

for such exploitation. A lot of artistes do not realize

that publishing income is not derived from copyright

ownership in sound recordings. It is actually derived

from ownership of the copyrights in the lyrics/songs.

Therefore, songs writers typically own the copyrights in

the lyrics and should earn from the use of the songs.

It is advisable for artistes to sign with a publishing

company that can assist with keeping a track of the use

of the songs and also collect the revenue generated

accordingly. There are several agreements that can be

entered into between a publishing company and an

artiste; it is therefore important to hire the service of

an entertainment lawyer to ensure proper negotiation.

Q:

A:

Q:

A:

As an artiste or producer, what basic legal documents

should they have in place when getting started? Many just

start off without having solid legal foundations.

As an artiste or a producer, once you have decided to

commence business in the music industry, the first step

to take is to hire an entertainment lawyer. The lawyer

will assist in providing the requisite agreements to

hire other experts required for the business, such as a

personal manager, business manager, booking agent

etc. It is also important for the artiste or producer to

be conversant with industry agreements such as split

sheet, producer agreement, performance agreement,

recording agreement, management agreement,

publishing agreement, amongst others. By doing this,

the artiste or producer will develop a solid foundation

and chances of making costly mistakes will be reduced,

if not totally eradicated.

The government has requirements from businesses in all

industries. Are there any ones peculiar to the music

industry?

There are no specific or peculiar government

requirements for businesses in the music industry.

Other than the usual business requirements such as

incorporating the company at the Corporate Affairs

Commission, paying taxes etc, there are no other

government regulations governing business in the

music industry.

However, I must mention that the federal government

recently granted pioneer status to companies in the

entertainment industry, specifically for music production,

publishing and distribution etc. Pioneer Status is granted

by the government to exempt beneficiaries from paying

corporate income tax and withholding tax from pioneer

profits for an initial period of three years, which may be

extended for another year or two.

Q:

A:

Q:

A:

"

The most

common issue

faced by artists

in the music

industry is the

record label

and recording

agreement.

"

How are businesses in the industry (such as labels,

Producers) taxed?

Music industry businesses are subject to several taxes

like other types of business in Nigeria. All businesses are

required to pay income tax on the profit of the business;

value added tax on consumer of goods and services;

employment tax for employees; personal income tax for

individuals etc.

What legal advice(s) do you have for up and coming

musicians?

Be patient. Never be too much in a hurry to sign deals or

agree to any.

Get a lawyer. This is extremely important; a lawyer will

help ensure that you build the right foundation.

Be original. You may have mentors/idols but never

aspire to be anyone else; carve a niche for yourself, build

your own brand and be committed to it. It will pay off

eventually.

Build a formidable team. Hire a good entertainment

lawyer, business development manager, personal

manager, accountant etc.

Seek advice. Always check with your lawyer, fellow

artistes and other industry stakeholders if you are in

doubt of anything.

Learn to be professional and hardworking. Good

etiquettes will give an artiste a higher advantage over

the one without the same.

Need legal advice? Send in your questions. See page 33.

12 13

@thesparkng

@thesparkng
---
The Spark | Ignite/Connect/Achieve www.thesparkng.com www.thesparkng.com The Spark | Ignite/Connect/Achieve

Vital Signs

Growth And Music

conversation and using technology this could be a hugely profitable,

structured venture that could change the way revenue from Nigerian

music downloads is made/distributed.

• Stock market. Why are music labels not listed on the Nigerian Stock

exchange? This again goes to show that more work needs to be

done to create synergy between stakeholders, to truly bring out the

potential of the music industry as a truly viable and profitable one for

the Nigerian economy

My conversation with Altims left me with a lot of questions and opened

me up to a world that I was ignorant about. This is why conversations are

important. It is vital to engage in conversations about the challenges and

opportunities in various industries to continuously improve and innovate.

Music is the universal language that unites people regardless of race, tribe,

religion or ethnicity. It is vital to recognize the value that the music industry

brings to Nigeria, and find ways to unite relevant and important bodies to

make the industry truly viable and profitable for all parties involved.

The opportunities in the music industry abound. While the industry puts money into the

pockets of talent, it can also aid the health of the nation through economic growth. But only

if the opportunities are leveraged by stakeholders in the music industry, the government

and corporate bodies.

Nigeria has a very popular and vibrant music scene that

reflects the country's cultural richness, and over the years

this has translated into international recognition for

many. With a huge population of over 150 million, the country

offers a domestic market large enough to sustain and ensure

the commercial success of most artistic endeavours, so much

so that unlike other African artists who maintain success locally,

many Nigerian artists have found success beyond Nigeria's

borders into continental Africa and overseas. Artists like Wiz

Kid, Davido, Tiwa Savage, Tekno, Mayorkun, Korede Bello and

many others have conquered their locality and have been able

to maintain an equilibrium of carrying the pride and success of

a 'local champion', while still keeping international appeal and

marketability.

Whether you are in Cape Town, London Accra or Toronto, it is

very likely that you will hear a Nigerian song as you go about

your day, on the radio, at restaurants, in the club or at the gym.

Nigerian music is penetrating the world's eardrums and the

world is more than happy to listen.

The Nigerian music industry is arguably the most popular music

genre/industry on the African continent. If one were to critically

take a look at the Nigerian music in its entirety, the relevance

and importance of Nigerian music on the continent and beyond

is evident and cannot be ignored.

Music is the core of many aspects of society. Walk by any street

anywhere in Lagos and you are guaranteed to hear the

electrifying beats that will get you in a good mood. Be it at the

local Suya spot down your street, high society weddings like the

one of Halima Dangote where Davido and Wiz Kid performed,

corporate end of year parties, you name it, almost every aspect

of Nigerian society benefits from the wonderful and creative

sounds that come out of the Nigerian music industry. Not only

does Nigerian music make billions of people feel good, but it is

also a highly profitable industry.

According to a report by Pricewater Cooper, the Nigerian music

industry was worth $40 million in 2011 and $47 million in 2015.

By 2020 this figure is expected to double to $86 million which is

approximately 30 Billion Naira.

Given the huge profits brought in by the industry, which has a

direct correlation on the Nigerian economy, including benefits

like job creation and cultural exportation, one would think that

there would already be structures in place between government/

- By Lehlé Baldé

corporates to enter into mutually beneficial collaborations

that will enhance the viability of the music industry as well

as encourage musically inclined youth to follow their music

paths, but in doing research and having conversations with

stakeholders on this topic, it is evident to see that there is little

to no ongoing collaborations.

I had a conversation with Altims aka Aluku Timothy, one of Mavin

Music's top producers, about potential ideas that could enhance

and improve the structure and industrialization of the Nigerian

music industry. Here is a recap of our conversation…

• Change of mindset is vital. Given the sometimes, negative

image that the music industry has, many corporate and

government bodies do not get involved with musicians

further than their end of year parties and endorsement

deals… this is a good start but it shows that there are steps

that need to be taken to bridge that gap.

• Endorsements/Collaborations with popular brands are

great for musicians, but it is important to recognize that

those in the music industry can do more than endorse an

alcoholic drink or a soft drink. The reach that the music

industry has is limitless. For example, many in the music

industry do not have health insurance, which is why we

see a lot of artists on platforms like Go fund me, looking

for funds for life-threatening illnesses. If health insurance

companies did brand ambassadorships with musician and

those in the music industry, can you imagine how many

more youth would be encouraged to follow their music

dreams? This would alleviate a lot of the uncertainty that

those entering the music industry face. Furthermore…

imagine if banks gave out loans to video producers, stylists

etc to get started in their career. Those in the music industry

create music that unites people, therefore they should be

given varied opportunities.

• Music conferences that bring together stakeholders in the

music industry (artist, producers, DJ's, video producers etc.)

and relevant corporate and government entities to see how

synergies can be created to work hand in hand to support

those in the music industry. Vice President Osinbajo, just

did a tech tour around Lagos visiting hubs that represent

the future or tech in Nigeria. It would be encouraging to see

a tour like that for Nigerian music.

• African streaming mediums. Why is it that we have to go

Apple music or Spotify to buy Nigerian music? With further

100

90

80

70

60

50

40

30

20

10

0

Music Industry

The Nigerian music industry was worth

$40 million in 2011 and $47 million in

2015. By 2020 this figure is expected

to double to $86 million which is

approximately 30 Billion Naira.

Report by Pricewater Cooper

14 15

@thesparkng

@thesparkng
---
FUNBI, DJ SOSE. DEMILADE UTI NDU SCOTT, BIG TAK

RIC HASSANI LIZ, SHAY, IDIA, MIMI FOLU, EHIS

ESE

DJ ANONYMOUS

LYNXXX

DJ SENSEI

SOUND SULTAN

SENSEI

LANRE, AJEBUTTER

BIZZLE & FRIENDS KORAL BD & WOFAI SEYITAN DJ OLUWABRUCE URANTA, BOLLY, WOFAI, & UTI SERIOUS BANTA CREW

TOSIN & FRIENDS DJ NANA BIZZLE & OLAMIDE BOBBY URANTA & NIKKY KUNLE & NEDU BRAZIL SEYI SHAY

DJ RUUD

www.hotfm.ng

KACH SOLIDSTAR PRAIZE TOYOSI & CHUICHU MARINE & SOUND SULTAN
---
The Spark | Ignite/Connect/Achieve www.thesparkng.com www.thesparkng.com The Spark | Ignite/Connect/Achieve

Freestyle

Art and Music

Osa Seven is a Graffiti Artist, Graphics

Designer and Brand Developer.

The artist, whose full name is Osa

Okunkpolor, was compared to Banksy –

the renowned anonymous British graffiti

artist regarded as one of the world's

greatest street artists – by CNN Africa. In

this interview, he spoke about his art and

it's association to music.

- By Osa Seven

To me, art means freedom. It is an expression of my thoughts,

desires, and emotions. I started Graffiti, despite its

unpopularity, because I had an urge to be different, and also

to impact and inspire people.

The journey has not been without a few challenges. The acceptance

of graffiti as a form of expression and art and also availability of

art supplies have been the major challenges that I have been faced

with.

I've done more than street art, as I created the album art for

WizKid's award-winning Superstar album as well as the set design

for the 2010 video by Sound Sultan ft. MI Abaga. This was possible

because I believe art and music are both forms of self-expression,

just in different mediums; Visuals and Sound. I think they're both

very similar, as they produce and promote messages that tell a

story and resonate with people.

In the music industry, there are actually a lot of opportunities for

artists. An artist can serve in set design, merchandising, make up

for videos, visual branding among many others. Being an artist is

more than the technical hard skill, it is more in the mind before

the skill. The creativity of an artist can be used to accomplish

innovation in the music industry.

To get started, know your strength in the area you want to go into.

Learn and improve daily. Beyond the art, there is a place for

understanding the brand and business side, or getting someone

who can manage those aspects for you. It is not enough to

just be interested in the industry. To succeed in any industry,

including music, talent is not enough. You need focus, passion and

persistence.

The future is here already! I have had live performances with

several artistes. While they were singing, rapping or playing an

instrument, I was on stage creating live art. As the industry grows,

the opportunity for merchandising and experiential engagements

will be there to explore further.

There is so much more to look forward to.

One of the first steps to take is getting a product. So, you

need to find a way to make the music. You could either

build a relationship with a studio/producer that believes

in you and is ready to work with you or source for funding from

family and friends to get the product out. Become adept at

marketing your music on social media. The most important thing

is to START. If you're having a hard time getting a deal, your other

option is to go on your own and build.

Understand that growing a fan base is germane to your success.

No fan base/following, no money. Period. While it is important to

have mentors to guide and fast track your success, mentorship

is still overrated. Always remember that the fan is king, so taking

them for granted is not an option.

Covers are a great way to start your music journey and build

some following because you have to break through the melee

and be heard, which is a massive challenge (unless you have a lot

of money). They also help you hone your music skills, so if you

like a song, COVER IT! Then, get a manager who believes your

music is the best thing since DMs.

But if you're more interested in starting up your own label,

instead of creating music, it's important you build a team of

people which will include: A&R, Lawyer, Social Media Manager,

Graphics Guy and Accountant. The good thing is these guys do

not have to work for the company full time, because one of the

challenges you can face when starting out is funding. You also

need adequate knowledge of how labels work. While there are

no certifications required in order to have a record label or be

in the music business, you need to have a heart for the music

and study about the business and industry extensively to have a

successful label.

However, being a music artiste is not the only way to earn in this

industry. You could be a Songwriter, publisher, music pluggers

for radio and TV, music journalist, professional studio manager,

venue manager, business manager or accountant, booking agent,

tour manager, vocal coach, publicist, social media manager, etc.

Regardless of what line you choose, family is the first line of

support, both financial and moral, for any budding entrepreneur

and it's no different for an artiste. However, you must resist the

urge to bring in family members to play critical roles on your

team. Your career will rise and fall on the calibre of talent on your

team. You should only hire family or friends if they are the most

qualified people that you know for the job. Nine times out of

ten, they are not. They may sometimes tell you what you want to

hear, so flee from yes men and sycophants; make it easy for the

people around you to be brutally honest with you. Be wise; don't

abort your career before it's even birthed.

START UP

Music 101

If you could receive a 5 minute quickie on how best to start in the music industry, what

would it be? Well, here's an example. Obinna Agwu shares some insight on how best new

game players (artistes, producers, entrepreneurs, etc.) can get started in the industry.

- By Obinna Agwu

"

Covers are a great way to start

your music journey and build

some following because you

have to break through the

melee and be heard.

Music 101

"

18 19

@thesparkng

@thesparkng
---
The Spark | Ignite/Connect/Achieve www.thesparkng.com www.thesparkng.com The Spark | Ignite/Connect/Achieve

Chidi

Okeke

Into The Mind of

A Music Maven

By Lanre Solarin

With several meetings back to back, after only returning from a business

trip the day before, Chidi Okeke, a veteran entrepreneur in the music

and entertainment industry, greeted me warmly as I was ushered

into his stylish office. Chidi is the founder of Mcomm Solutions and Services, a

technology driven company offering a wide range of content, mobile technology

and music based solutions and services across the African continent.

Chidi, a graduate of Electrical and Electronics Engineering from the Federal

University of Technology, Owerri (FUTO), specialized in Communications and

thus setting the trajectory for who he has become today. Fresh out of school,

he worked at MTech, a company owned by his childhood friend, Chika Nwobi.

MTech provided services to GSM companies when mobile phones initially

stormed the Nigerian market.

20 21

@thesparkng

@thesparkng
---
The Spark | Ignite/Connect/Achieve www.thesparkng.com www.thesparkng.com The Spark | Ignite/Connect/Achieve

Early Years

"I started in the industry about 16 years ago. When MTech started, I was

brought in to join the networking department, but I moved from that to

business development unit and took an interest in music which became

my focus".

Chidi's career advanced within the company leading to high profile

assignments such as the setup of the Abuja office to expand local

operations. He then grew to assume international responsibilities in Cote

d'Ivoire and Ghana. Within 8 months in Ghana, MTech became the number

1 VAAS provider in Ghana. After his stint in Ghana, he came back to

Nigeria to lead the MTech Group as Group CEO after Chika Nwobi stepped

down. During his time as Group CEO, Chidi successfully implemented

turnkey solutions that enabled MTech halt and reverse its negative growth

by focusing on the music industry.

"After a few years as Group CEO, I left Mtech to start Mcomm. I wanted to

focus more on the music industry; specifically, how to successfully leverage

mobile technologies to deliver value in the industry. Since 2011, when

we commenced operations, we've masterminded several digital content

releases, some of which were revolutionary at the time – such as use of

MTN's mobile radio platform to launch new and exclusive music content."

"We've built relationships with different artistes and have been behind

endorsement deals of some of the biggest artistes in the country, including

artistes like Davido, Wizkid, D'Banj, Mo' Hits and so many more". Mcomm,

has successfully and notably carved a niche for itself at the intersection

of music and technology and demonstrated, as evidenced by the various

industry awards on display in Chidi's office.

"My background is in technology, and consequently, this plays a substantial

role in the solutions and services that we develop. For instance, our current

project, which is still in beta testing, leverages advancements in technology

– IoT, data analytics – in music distribution. I may be in the entertainment

business, but our work is facilitated by technology."

Setbacks In The Industry

Chidi is an entrepreneur with significant experience across multiple

regions, this enables him to give insights into the challenges in the

industry. One of which, is poor access to talent development opportunities

in the industry. "In South Africa for example, if you're talented, you have

access to the infrastructure you need to develop and harness your talent.

Young, school age children who realize they can sing, can access classes

designed and available to help children develop their talent. This is not an

opportunity readily available in Nigerian schools."

in Nigeria to invest in the industry. "This is a long-term investment with

long term pay-offs," he stated. "Building a state-of-the-art recording /

mixing and mastering studio will cost nothing less than 1.5m dollars for

equipment alone. It's an expensive, but worthwhile venture. We need more

studios, purposely built concert venues and music streaming platforms

tailored for the local market."

One of the reasons why some of our accomplished artistes travel to create

music is due to the availability of infrastructure abroad. He further stated

that international artistes are interested in creating music with us. "They

have said to us several times that if we had proper studios here, they'll fly

to Nigeria to record with our artistes."

Unfortunately, the music industry has not acquired the level credibility in

the eyes of investors as for instance, the oil and gas sector or agriculture.

It is still perceived by most as an industry of misfits. This is debatable,

however, misfits or not, the music industry has substantial influence with

commercial value domestically and internationally.

Leveraging Positivity In The Industry

"Our Nigerian artistes are doing well. In Africa, Nigeria arguably produces

the best music content. Our artistes are popular across the continent,"

Chidi stated. "We're getting the attention required. The next frontier

necessitates that we develop capabilities to improve the quality of the

music (sound) to meet international standards. Our music has good

melody, but for some of our songs, foreign engineers usually have to

re-mix because they're not mixed and mastered properly, so they don't

sound right there. This also limits the growth of the industry. However,

access to the right infrastructure is not the only challenge. There is also

a paucity of the skill and "know-how" required to operate the types of

equipment I have been describing."

Having said this, despite the challenges, African music still has something

unique to offer the world. "You may recall that D'Banj at a point was

signed to Kanye West's label. What you may not know is how that came

about. D'banj and I met Kanye at the Dubai International airport and

D'Banj gave him tracks to listen to. He listened to five different tracks

and was immediately impressed with what he heard," Chidi stated. To

him, international artistes have covered a lot of ground and are looking

for something new. We have Afrobeat, which is what they're looking for.

Artistes need to stay true to their local sound.

In summary I see three key things that need to be addressed; access to

state-of-the art recording and sound equipment, purpose-built venues for

shows/concerts, etc. and digital music streaming platforms.

Every big player in the industry needs to be structured well enough so that

artistes can focus on their talent and how to make their music better. A

professional who is trustworthy can handle the business side and other

parts. It's never possible to effectively do all because eventually, one part

will suffer.

The Role of Passion When Challenges Hit

I firmly believe that passion should be at the fore of whatever you do in

life. Not every venture will be profitable, with some projects, you'll only

manage to recover your cost and some projects will just consume all of

your investment. However, if you are driven by passion, the experience will

be worthwhile and if you're fortunate, prove a useful learning experience.

"Mcomm has executed projects that did not generate as much profitability

as we had planned at the onset, however, I believe that we have grown and

improved as an organisation through those experiences."

In our environment, it is possible to be swayed by necessities rather than

passion. That's why you hear statements like, "I just want to make money

so I can eat". This kind of thinking does not engender the staying power

required to be successful in the long-term. New artistes may succeed in

creating one good hit, but if the passion for music isn't present, sustaining

the career will be impossible because of the challenges that'll come.

According to Chidi, when he talks to new Artistes who want to be bigger

than our established artistes, he looks out for the story behind what they

want to do. That's how he judges their motives. "You can be 17 years of

age, but have a story that spans 7 years in music."

A Future For New Artistes

Streaming would power the music industry's growth in Africa. As smart

phone penetrations continue to rise and cost of data continues to dip,

an artiste can create music content, upload on the available streaming

platforms in the territory and if the audience likes it, he or she can

generate significant revenues. So now the onus lies on the said artiste to

create good content.

"There are numerous streaming platforms available in this territory,

Boomplay, Music plus, Cloud9, iTunes, Spotify and even YouTube. I would

always advise an upcoming artiste to endeavour to get their music

uploaded on all unless they are getting a special deal from one."

"In other developed countries, artistes generate revenues when their

songs are played on the radios, shopping Malls, clubs, etc. Anytime a

song is played someone is making money. But in this part of the world we

are still catching up but clearly there are changes in the right direction."

According to Chidi, the first thing is to discover yourself and package that

talent in a way you can show someone ready to help. Spend your time

developing your talent and always show that through the content you

create. You need to have a story because there are no overnight successes.

As the revenues generated in the Music Industry continues to rise, more

investors would be attracted to the sector. The industry would only get

bigger.

Free Recording Deal for One Talent

"To me, youth empowerment is basically the process of providing an

enabling environment or providing ways the youth can be encouraged to

take a hold on their lives better by using either their talents or resources.

But to make this easy, the infrastructure has to be in place and the

talented person has to be educated enough about what he or she wants

to do," Chidi advised. At this point, he requested for one of his books to

be brought to his office.

"I'm looking out for raw talent," Chidi stated. He is looking to help one

young music artiste reach greatness.

In the industry, you have to do the work. People will only support you as

an artiste when they see what you have created. "If you come to me as

an artiste and say you have talent, I'll ask you to play me what you have.

This could be your unreleased tracks," Chidi stated. "If I'm able to see that

there's talent, then I can support."

Unfortunately, to get to that point where the artiste has material, he must

have had some money to go to a recording studio, sit down, and pay for

studio time. "In Nigeria, it's hard to get anyone to support you without

hearing anything. You need to put one leg forward first. And I know

getting this money can be difficult for many."

The Importance of Structure

The reason why artistes love working with Mcomm is because of the

structure provided. A lot of artistes want to simultaneously be the

performing musician and manage their careers single-handedly, but it is

impossible to execute both roles simultaneously.

"One of the reasons why D'banj flourished and was so successful is because

he always had a solid team of professionals supporting him and whom he

allowed to manage the 'business'." Mcomm was part of this team and was

responsible for delivering business development objectives.

Again, because we have a limited number of studios here in Nigeria, a new

artiste can decide to record with his devices in his room, which only leads

to poor quality of work. "When such aspirants make such presentations, it

takes a real expert to spot the talent hidden behind poor quality technical

sound. We don't have the tools, software and infrastructure. But despite

this, this industry has still flourished and produced great artists. Now

imagine what would be if the infrastructure were in place. The lack of

infrastructure also has an impact on established artists, specifically quality

of the sound reproduced on stage also affects the audience's experience.

Chidi believes that this is an opportunity for foreign production companies

Similar to any successful business, music is no exception, a multi-functional

team is a prerequisite for success. Finance, legal, management are

essential to ensuring that there are enough unencumbered resources to

operate – in this case make music. "A friend of mine used to say, 'ensure

you surround yourself with people smarter than you'. It's wrong for me to

be the smartest guy in my company. If I am, then I'll be in trouble. I may

be good at some things like sales, but I need someone who is the best

in technology, Finance etc. I cannot know everything, and this goes for

everyone else."

Would you be the one? See page 33 for how to apply now.

22 23

@thesparkng

@thesparkng
---
The Spark | Ignite/Connect/Achieve www.thesparkng.com www.thesparkng.com The Spark | Ignite/Connect/Achieve

6. Who/What/Where do you guys draw your inspiration from?

We draw a lot of inspiration, first from ourselves because we have a lot of

drive. However sometimes when one of us is slacking behind, the other

tries to lift the spirit and ensure that the drive is there.

Musically, we have lots of artists that we listen to and a lot of people that

we study. In Nigeria we draw inspiration from our boss "Don Jazzy",

because he is a very intelligent, spiritual and calculated person and he

has taught us a lot during our journey so far. We also learn a lot from

production and making music.

Then mostly we draw inspiration from God, the vibes around us and the

people around us as well in a positive way because we are very allergic

to negative vibes and negative people. At the end of the day positivity

drives us.

the Government might start taking it seriously but we think they should

start from now because at the end of the day when they start taking it

seriously, every youth is going to benefit from it.

10. How can readers connect with you guys online and/or offline?

You can hit us up on our social media platforms:

Instagram/Twitter: itz_dna

Facebook: DNA Twins @DNAOFFICIAL

You can reach us personally through our management contact on our

social media pages.

7. Tell us about one of the projects you guys worked on or activities you

engaged in that really made you guys believe in yourselves...no matter

how small.

Features

Artiste Spotlight: DNA

The music industry is arguably the largest on the continent with most

of the best musical talents across the continent coming out from

the country, talking about the likes of Tiwa Savage, Wizkid, Davido,

D'banj, Don Jazzy, Olamide and so much more. However whilst we

celebrate the already established musicians, we also would like to

shine the light on the talented and hardworking upcoming musicians

who are fast growing to become the next musical Gold in the

continent. It is in this light that we met up with the DNA Twins whom

we highly consider to be arguably the best young musical sensations

in the country. They sing, they dance, they act, and we believe this

exclusive interview will help you understand the intricacies of being a

young, upcoming talent in the entertainment industry.

- By Akpobome Otobrise

We would say the GLO X-Factor back in 2013. The plan wasn't actually to

go for it but we just decided to take the risk and when we did, we saw the

love and support we got from it. We actually knew before then that we

wanted to do music but that just stamped it for us. Another one would

be way back in high school when we represented our school in music

amongst numerous schools from around the country and then we went

on to win the competition even though students from other schools were

pretty good. These two incidents were key moments for us that made us

confirm that we actually needed to do music full time.

8. What opportunities are you guys looking for or open to taking

advantage of?

Business opportunities, music business opportunities like huge

endorsement deals, good musical collaborations, massive shows. Talking

about collaborations, we just dropped a song with Mayorkun. The visual

for the song is out and we think you would love it if you already haven't

seen or listened to it yet. So go check it out.

9. What do you guys think about youth empowerment? How can the

Nigerian youth be empowered?

This is a wide topic though but empowerment is basically from the mind,

so the youth need to be empowered to have a very positive mind-set

towards working hard and to go for whatever they want, because in the

end you can have great thoughts but if you don't make a move towards

them, then they just remain thoughts.

Some Nigerian youths just always want to blame the government for "this

and that" but truth is, it all starts with us. What change do you want to

see in your life? What move do you feel you can make to change your

situation? Instead of just sitting down waiting for the government to do

what you're supposed to do for yourself, why not try to help yourself first

because opportunities mostly come to those that are prepared for it.

1. What are your full names?

Blair Roberts and Clinton Roberts

2. Do you have an alias (that is, an a.k.a.)? If yes what is it?

DNA

3. In one sentence, tell us about your music.

DNA signifies the musical connection between us. Our music is basically

happy music, chilled music and sometimes conscious music.

4. How did you guys get started in music?

We have been singing for a long time now. We started out in high school

singing in the church choir and then we went for the GLO X-Factor reality

TV show which brought us to the limelight and praise be to God, now

we're here.

5. We all face challenges. What challenges have you guys faced so far as

music artists?

One of the challenges we have experienced so far is the fact that there are

a lot of artists in the world and in the country, so trying to make sure

that we differentiate our sound and music from every other artiste is a

challenge. However it's a good challenge because it makes us want to

work harder to understand our craft better.

Then another challenge is the fact that people have a whole lot of

expectations from us and sometimes even ten times more than what

we have within ourselves but in the end it helps make us work harder

to want to meet up to these expectations. We can't always meet those

expectations, so in the end we just go at the pace we know best and just

leave the rest to God.

However, there are a whole lot that the government can do to empower

youths, like in music, lots of money is being made and lots of youths can be

empowered through entertainment. For example, when producing a song,

the producer is most likely going to be a youth, when shooting the video,

almost everyone on set are young people that are hungry for success as

there are young people in every sector of music from set designers to the

make-up artists and more. So the government can actually invest into

entertainment and take it a little bit more serious than they currently are

because it is actually one of Nigeria's goldmines. We don't know if they

have noticed it yet but the entertainment industry is actually very big and

few years from now, people are going to see how massive the Nigerian

music and entertainment industry is going to become. Maybe at that time

24 25

@thesparkng

@thesparkng
---
The Spark | Ignite/Connect/Achieve www.thesparkng.com www.thesparkng.com The Spark | Ignite/Connect/Achieve

Building A Solid

Music Career

Godwin Tom is the founder of Godwin Tom Company and iManage Africa,

a talent management and events company. In this interview, Godwin

shares a career roadmap every game player in the industry can follow.

- By Godwin Tom

"

When I started in the industry as a

manager in 2008, I would have

achieved more in less time if I

had people telling me about their

challenges and mistakes.

"

1. Prepare For the Industry Through Learning

The first thing to do is learn. Learn about the business and the

industry. Understand the peculiarity of the Nigerian and African

market and then the global market. Then practice. You will make

mistakes. That is inevitable but make sure you are taking notes and

learning from them. For a newbie, this should be the focus. By doing

these things well, networking will happen and people will notice you

for the work you do not just for randomly being at every event.

2. Tap Into Overlooked Jobs/Opportunities

I cannot mention everything here; there are a lot of overlooked jobs.

Apart from being the artist, there is the A&R, the manager, the label

executive, the promoter, the PR person or publicist, the music plugger,

the content aggregator and distributor and many others. Then there

is the opportunity for entertainment lawyers, accountants, auditors,

event organisers among others. The music industry can be one of the

biggest employers of labour if or when run properly.

3. Build The Right Structure

It really depends on the direction and start up budget of the label. An

ideal situation is to get lawyers, accountants, PR, A&R and Artist

development, marketing and brand management team. If you do not

have distribution solution, a label will struggle as the entire purpose

of setting up a label and signing artist is to distribute and sell.

4. Acquire Needed Professional Knowledge

You don't necessarily need a professional certification to run a music

label. However, an understanding of Business Management would

help. Business is Business. Application may vary but the principles

apply across industries. Running a label is like running any business.

There are several moving parts and it is important that the people

running the business are prepared mentally to the task. An education

will help but most people end up learning on the job, especially in a

peculiar market like Nigeria's. However, no matter how unstructured

the industry is, one must know how business works as the goal is to

be global and it would be a shame if you get to the point where your

growth is dependent on an understanding of business management

principles and leadership has no clue what to do.

5. Get A Mentor

Having a mentor is imperative. It would help you make fewer mistakes.

When I started in the industry as a manager in 2008, I would have

achieved more in less time if I had people telling me about their

challenges and mistakes. That is why I do workshops, training

programs and internships. Intern with such a mentor or work with

a company you see doing what you are trying to do. I am currently

writing a book called "10 Years a Learner" and producing a podcast

series. The industry will grow faster when we empower the people

coming after us. The true test of power is in its distribution.

6. Stay Grounded

Improve yourself and stay consistent. Travel and learn cultures and

other ways of life; it expands your view of life and humbles you. Take

artist development seriously and understand that you are a business

and most importantly, if you do not take yourself seriously, no one

will.

7. Let Your Audience Validate You

There is no one way to do it. What is important is to understand

where you are in the artiste life cycle. Validation is important. Just

because you get feedback from family members and friends does

not make you "a star with the next big hit". Validation is when people

you do not know confirm that you can sing. This happens when the

artist takes time to perform at locations to develop him/her self.

While labels can provide funding, most artistes forget it is a loan. The

internet has provided all the tools to create and distribute content.

So, if you do not find a label willing to take a gamble on you, take

that gamble on yourself. Either way, it is in the artiste's hands really.

A fan base will help you make money. Do not put the cart in front of

the horse. Build an audience and a following and you will have an

audience to sell music to.

8. Prepare For Challenges Ahead

Like every start up business, there are the following stages; Start up,

Struggle, Success and Growth. The excitement of starting something

new is usually quickly destroyed by the reality of the cost of running

a business with the bills, competition and change in policies that

were not considered during the set up stage. You quickly learn that

the audience is not as predictable and people do not really have a

buying culture. The industry and lifestyle is expensive and because

the market is very visual and bases most of its assumptions on

perception, the artiste who does not show the lifestyle are seen as

broke or lacking money.

You will also learn that success can also drown you. The more

successful you get, the harder it is to do things you sometimes enjoy

doing like going to the movies, etc. While you can do it once in a

while, it would have to be properly planned.

Another issue is that there is too much dependence on show money

because people are yet to understand the importance of publishing

revenue among other things. There are broke producers in the

country that do not realise that they have a lot of money scattered

across the globe.

You would also have to prove yourself so it is okay if people do not

respond to you when you start. People only want to associate with

success. Stay consistent and create good quality content.

9. Tread Carefully with Family and Friends

Family should support. However, unless a family member has the

needed skills for the role the artiste wants them to do; it is advisable

not to involve family in the business. While it is understandable that

some artistes may not have help when they start, so a family member

fills the void of a manager or PR consultant, it is important for the

artist to be honest with self and identify when growth has occurred

and when the family may not be able to operate in the scale that is

now required. There are a few instances where family members have

done great work, but I would advise that if family members working

with the artistes do not deliver on KPIs, the talent or artiste should

let them go and get professionals.

26 27

@thesparkng

@thesparkng
---
The Spark | Ignite/Connect/Achieve www.thesparkng.com www.thesparkng.com The Spark | Ignite/Connect/Achieve

Intune With...

Ronke Bamisedun

on Music and

Tourism

As founder of a boutique PR agency in Lagos – BWL

Agency – Ronke Bamisedun takes the stage here and

reveals the intersection between music and tourism and

how best artistes and other game players in the industry

can leverage tourism for massive promotion.

- By Ronke Bamisedun

the sponsor pays for will determine the venue. It doesn't mean the artiste

can fill up the venue but for the sponsors, they just put down the money, it

doesn't matter. There is really not much technique to it though, it is simply

business sense. An up and coming artiste would, for instance, not be put

on a large stage. And many of the current successful artistes have gone

through that phase of performing on smaller stages when they were just

starting out. Picking locations is simply based on numbers.

"

What you need to ask yourself as an

artiste in Nigeria is how you can

promote Nigeria internationally.

Earning Big with Tourism

"

Tourism is not all about getting endorsements and brand sponsorships.

What Nigerian artistes need to ask themselves is how they can promote

Nigeria out there. For instance, they can leverage the culture and tourism

industry to support their travels outside the shores, if they can drive their

case on how their music or performance will promote Nigeria and its

culture. The point is for them to show value.

Getting Started with Tours

It is impossible to effectively organise tours if management is poor. We

come from a culture where many musicians have family or friends as

members of their team; maybe people that supported them when they

started. And these people often times are neither experienced nor do they

have the qualifications to be managers. Looking at the music industry, you

see that it is hardly structured as a business.

In the West, there are organisations and other professionals in charge of

putting together tours on behalf of the artistes or the record labels. It is

not a one-man manager or record label show. There is a lot of work that

goes into it and a team of one and even five cannot put it together. But we

don't have that here in Nigeria.

Before I can give advice to an artiste who seeks for affordable ways to go

on tour, I will ask certain questions like; what kind of artiste are you and

why are you going on tour? Who is going to come to it? Is it going to be

a free gig? There has to be an amount of revenue brought in before you

think of music tours. Exceptions could be University tours or open mic

sessions to promote and build your fan base.

The most affordable way is to look for opportunities where you don't have

to pay for your cost; transport, logistics, a location you can get to without

having to spend the night, friends you can spend the night with, etc.

Secondly, find out the existing platforms that you can key into. You can

also be an opening act for another more successful artiste. That way, you

can tap into their fan base and use their instruments. But, they might not

pay you except you are lucky enough to find one who does.

Thirdly, be conscious of the nuances of that environment. Nigeria is very

different; different cultures abound. For instance, if you are going to a

dominantly Muslim environment, will you drink freely or stay modest?

Stay away from anything that can tarnish your brand. Artistes should have

people who give them media training and show them how to behave in

specific environments. Maintaining a professional front with fans is also

important. You have no business giving a fan a lift or taking him or her

to your room.

If you're travelling with a band, it's also not difficult. It all depends on inhouse

structure. You have to make clear arrangements before accepting

to perform. State what you require; the number of people in your

band, the instruments they are using, the type of transportation and

accommodation and talk it through. Difficulties only occur when people

are not prepared. Everything should be settled way ahead.

Go Global

The simplest and most effective way to be heard internationally is via

social media. Social media is very powerful right now. Be very active on

social media, upload your work and get your friends to share it. You never

know who might hear it. Connect with DJ's and give them your music. The

more locations your music is played at, the more recognition you receive.

Music and football, I believe, are massive deals for Nigerian tourism. The sound on the street

globally right now is African and Nigeria is leading. We are music people; music is very

important to us culturally, that is why many companies use people from the music industry

as their brand ambassadors. Due to this, there is no better time to tap into the tourism industry.

The African sound of the street can draw people into Nigeria. For instance, people should come

to Nigeria because they want to see Fela's shrine. We can also have a big music festival like the

Coachella festival in California that will attract people from all over the world who are fans of

Nigerian musicians.

The Role of Tourism in Promoting Artistes

Tourism helps in promoting the artistes and the artistes as well help in promoting tourism, whether

we are importing or exporting culture. For example, when international artistes come to Nigeria,

they get to interact with their fan base in Nigeria and promote their art. In the same vein, all of these

artistes have a fan base and following in their home country. When they come, their experiences in

Nigeria are amplified on social media and it looks like they are having fun. It gives someone who has

never been to Nigeria another perception of the country, thereby promoting our culture. And that

changes the narrative that they were used to.

Choosing Locations

In the UK, for example, choosing a venue is based on capacity and how much the label thinks the

artiste can generate. There are certain venues that would work for certain types of artistes and

locations can also be chosen based on fan base. The goal is to fill up the venue. It also works that

way in Nigeria but it is slightly different because the artistes work with sponsorship. The location that

28 29

@thesparkng

@thesparkng
---
The Spark | Ignite/Connect/Achieve www.thesparkng.com www.thesparkng.com The Spark | Ignite/Connect/Achieve

BrandSpark

NativeMag vs

Culture Custodian

The music industry is becoming more structured in Nigeria and one of the pillars that will ensure it

stands over time is how well the stories, lessons and inspiration behind the musicians and their music are

recorded. In this edition of BrandSpark, we beam the light on two curators of music news in Nigeria.

By Damilola Oyewusi

The Nigerian music industry, like most other industries in the

country suffers from a documentation deficit. The average

individual and business is eager to get things done and hit

milestones. But only a few people take notes and record the

journey to the victories or failures. Most of what each generation

learns about the past are snippets compared to the robust

stories that make up the lives of our music heroes.

The rise of digital media and the increased appetite for

information has definitely changed the narrative in many ways.

However, it is also important that the focus is not only the gossip

and soft sells from blogs and social media influencers.

This is what makes both of these brands impressive as they

intentionally celebrate the best of and curate information

about the Nigerian music industry; telling stories to influence

the trajectory of the business, inspire a generation and give a

blueprint as new dreamers begin their journey in the industry.

NativeMag

The NativeMag is your quintessential platform for music and

entertainment news. The online magazine has its special focus

on the music industry, offering their audience information on

the latest music releases, trends and happenings around the

industry. One of the key features of the Native is influencing

the popular music culture by bridging the gap between the

niche genres of underground music and the widely accepted

mainstream sound. Their interesting angles to stories, interviews

and opinions cut across different styles of music and art, giving a

new flavour to the culture of entertainment. Content is delivered

in a mix of videos, easy-to-read text, audio and inviting imagery.

While they are largely focused on the Nigerian music industry

and her musicians, the publication also travels across Africa and

the diaspora, soaking in the African culture across the continent.

In addition to music, NativeMag also curates neo-African fashion,

art and style, topping it all up with social awareness and staying

in touch with salient issues that affect the Nigerian youths.

Outside of the platform, Native has hosted two editions of its

flagship NativeLand, an event that brings musicians, curators,

cloth brands and food vendors together for an entertaining

evening.

"With more projects like

these, aspiring

musicians and talents

across the value chain

have an index point

on the map to music

business success.

"

Culture Custodian

Culture Custodian is not exclusively centred on music. The

platform is a potpourri of everything that concerns the youth,

from politics, to sports, fashion, music and more. However,

content about the music industry on the site takes a different

route from the pop rhetoric of trends and gossip. The interviews

seem mostly drawn from foreign websites but the articles are

original and insightful, with the right dose of sharp opinions.

With a piece like 'The absence of protests in Nigerian pop

culture', the team is not only highlighting the culture of social

consciousness in the country's musical history. They are also

raising a necessary question about the value system of the

industry.

A key part of their strategy is giving little known brilliant

underground acts the same attention to detail as established

artistes. Bridging this gap is essential for the overall growth of

the industry.

Their podcasts are largely pop culture talk shows while the

Culture Custodian TV hosted on YouTube covers various angles

of the music business using interviews, event coverage and

showcasing numerous artistes.

Beyond the original and engaging content on both platforms, we

have to commend the sites for their simplicity and use of white

space.

In conclusion, both platforms hold great value for the everyday

youth with interest in the music industry. It would be great to

see them include in-depth analysis of different aspects of the

business and branch out into interviews and stories on the talent

managers, publishers, distributors, lyricists and more. With more

projects like these, aspiring musicians and talents across the

value chain have an index point on the map to music business

success.

What do you think? Which brand captures the heart of the

youth more?

30 31

@thesparkng

@thesparkng
---
The Spark | Ignite/Connect/Achieve

www.thesparkng.com

Engage

Show us what you've got by playing these

games…and winning...#winks

What Next?

- By Zebra Villa Works

#1: The Chef #2: Alpha-Beta

The Spark Connect

WIN a free Goody bag

The objective of this game is for players to prepare or make a

specific recipe for a certain number of people at a given time

using the provided ingredients in the best, easy, healthy and

economical way possible.

Do you know you can make Pizza with ripe Plantain? Oh…

now you know

WIN a free Goody bag

The objective is for players to build a specific number of

words concerning a significant part in English, from the given

letters, following the rules.

Palindrome

Get Empowered

Apply now and stand a chance to be empowered

with cash grants, Mentorship and more. Visit

thesparkng.com/connect to get started.

>

Pro Bono

Have legal questions concerning your business?

Visit thesparkng.com/probono to ask now.

These are the ingredients

• large ripe Plantains

• cups of flour

• cups of butter

• cups baking powder

• cups of milk

• Eggs

• cups of sugar

• Salts

• vegetable oil

• Blended pepper, tomato

(mixed)

• chicken breasts(sliced thinly)

• cups of chopped garbage

and carrots

• scotchs bonnet peppers

• bulbs of red onion(sliced)

• cloves of garlic

• seasoning cubes

• chopped parsley

Make a healthy, quick and tasty plantain pizza of any type from

these ingredients. There are more than enough ingredients,

you're free to use some or all of it.

Build 30 English Palindrome words.

Each word must be between

6 to 10 letters.

Palindrome is a word, phrase, number or any other sequence

of units which has the property of reading the same forwards,

as it does backwards, character for character.

How to win

The person with the highest number of correct and

unrepetitive words according to the rules wins. Send us

your "words" with your Full name and Location to any of our

social media pages - @thesparkng and our email - info@

thesparkng.com.

Engaged By

Vital Signs

Have questions related to mental health? Visit

thesparkng.com/vital-signs to ask now.

>

FreestyleX

FreestyleX gives you an opportunity to showcase your heart and

art in our monthly exhibition. Send in your art works (videos,

audios, poems, paintings, etc) and get published on our website.

Visit thesparkng.com/freestyle to submit your work of art.

Submissions are then screened and the artists invited for the

event.

Terms & conditions apply...

BrandSpark

Participate in our monthly BrandSpark poll and tell

us what you think about brands. Follow us on social

media - @thesparkng - to participate.

The best recipe wins.

If you don't know how to prepare plantain pizza, this is an

opportunity for you. Research or follow-up.

How to win

Profiles

Send us your Recipe with your Full name and Location to any of

our social media pages, Facebook, Twitter, Instagram - @

thesparkng and our email - info@thesparkng.com.

Are you an entrepreneur doing something positive? Let

us profile you. Send an email to info@thesparkng.com

signifying your interest.

Engaged By

32

Terms & conditions apply...

Winners will be published on social media

@thesparkng