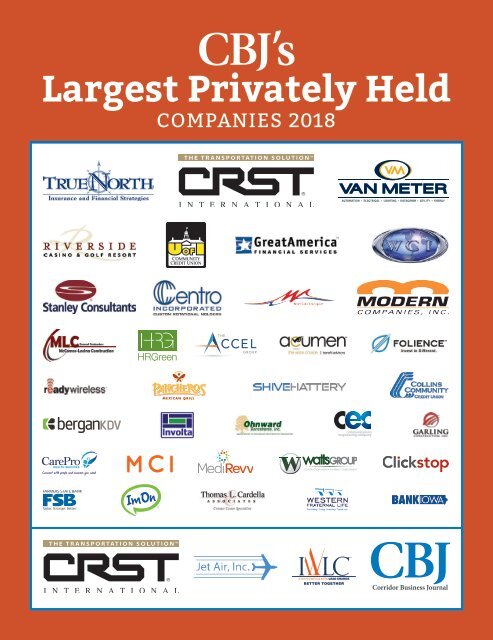 CBJ's Largest Privately Held Companies 2018
Create successful ePaper yourself
Turn your PDF publications into a flip-book with our unique Google optimized e-Paper software.
CBJ's

Largest Privately Held

COMPANIES 2018

®
---
2 CBJ'S LARGEST PRIVATELY HELD COMPANIES 2018
---
CBJ'S LARGEST PRIVATELY HELD COMPANIES 2018 3
---
Largest Privately Held Companies

Celebrating private enterprise

We are proud to publish for the fourth time

a list of the largest privately held companies

headquartered in Iowa's Creative Corridor.

We feel it is important to recognize and

celebrate these

companies

and their leaders

every other

year because

they are foundational

to our

region's economy,

and also

because much

can change in

just a few years.

We have

seen Apache,

Integrated

JOHN F. LOHMAN DNA Technologies

and Diamond

V, among the largest of our region's

privately held companies, get sold to major

publicly-traded corporations based outside

of the region. That's not always bad, but it

certainly changes the dynamics of those that

are acquired.

The main purpose in producing this special

publication is to show our readers that

Iowa's Creative Corridor has a vibrant private

sector that is the very engine driving our

economy. Most of these companies and their

owners work extremely hard and don't receive

the recognition they rightfully deserve.

This publication is a small token of our appreciation

for their hard work and success.

To be listed, company owners had to provide

their gross revenue amounts from 2017.

As many of them mentioned to us when we

sought this confidential information, one of

the benefits of being a privately held company

is that they don't have to provide this

information to anyone other than the government.

Fortunately, many were willing to

disclose it to us for publication.

This special supplement includes the

CBJ's List of the Largest Privately Held Companies

with revenues above $20 million.

This list is obviously not comprehensive,

as there are thousands of businesses in our

region, but it does give a good representation

of many of the largest. We unfortunately

weren't able to publish submitting companies

with revenues under $20 million, due to

space constraints.

We have also profiled the largest companies

on our list, and included details on their

leadership teams, boards and support structures,

when provided.

CRST International tops the list once

again, and should get a tremendous amount

of appreciation and respect from our readers.

This homegrown company has provided

many good-paying jobs and supported many

philanthropic efforts here in the Corridor.

The company's new headquarters in downtown

Cedar Rapids has helped anchor a new

phase of growth and commitment in the

area, and shows the depth of CRST's dedication

to the community.

We were pleased to celebrate all of the

participating companies and their executive

teams in May during a Celebrating Private

Enterprise reception at the Cedar Rapids

Country Club, sponsored by CRST, IWLC

and Jet Air.

We look forward to publishing this list every

other year and helping our readers celebrate

the region's private enterprises with us.

John F. Lohman

CHIEF EXECUTIVE OFFICER & PUBLISHER

Corridor Business Journal

MAY 2018

CHIEF EXECUTIVE

OFFICER & PUBLISHER

John F. Lohman

VICE PRESIDENT

Aspen N. Lohman

CHIEF OPERATING OFFICER

& ASSOCIATE PUBLISHER

Andrea Rhoades

EDITOR & CHIEF CONTENT OFFICER

Adam Moore

WRITERS

Katharine Carlon

Dave DeWitte

Jennie Morton

Jim Offner

Emery Styron

GRAPHIC DESIGN MANAGER

Becky Lyons

GRAPHIC DESIGNER

Julia Druckmiller

MAGAZINE & SPECIAL

PROJECTS EDITOR

Angela Holmes

MAGAZINE MEDIA CONSULTANT

Judith Cobb

CBJ MEDIA CONSULTANT

Kelly Meyer

EVENT MARKETING COORDINATOR

Ashley Levitt

EVENT MEDIA CONSULTANT

Rhonda Roskos

MARKETING & DISTRIBUTION

MANAGER

Jean Suckow

INSIDE

5........CBJ List of LPH 1-11

6........CRST International

8........TrueNorth Companies

10......Van Meter Inc.

12......Elite Casino Resorts

14......UICCU

16......GreatAmerica Financial

18......World Class Industries

20......Stanley Consultants

22......Centro Inc.

24......West Side Transport

26......Modern Companies

27......CBJ List of LPH 12-24

28......LPH by the Numbers

30......CBJ List of LPH 25-35

Contents are registered to Corridor

Media Group. Reproductions or

other use, in whole or in part, of the

contents of the publication without

permission is strictly prohibited.

2345 Landon Road, Ste. 100

North Liberty, IA 52317

319.665.NEWS

www.corridorbusiness.com

4 CBJ'S LARGEST PRIVATELY HELD COMPANIES 2018
---
Largest Privately Held Companies

Largest Privately Held Companies

(Ranked by 2017 (Ranked Revenues) by 2017 Revenues)

(Ranked by 2017 Revenues)

RANK Name/Address

RANK Name/Address

Contact Information

Contact Information

Year

Established Year

Established

Top Local

Executives Top Local

Executives

2017 Revenue

2017 Revenue

Number of

Employees Number of

FT/PT Employees

FT/PT

1

CRST International Inc.

201 CRST First International St. SE Ste. Inc. 400

Cedar 201 First Rapids, St. SE IA Ste. 52401 400

Cedar Rapids, IA 52401

(800) 736-2778

(800) 736-2778; fax (319)

390-2785B (800) 736-2778; fax (319)

www.crst.com

390-2785B

www.crst.com

1953

1953

John Smith

David John Smith Rusch

Hugh David Ekberg Rusch

Hugh Ekberg

$1,555,000,000 7,494

$1,555,000,000 - 7,494 -/- -

- -/- -

2

TrueNorth Companies LLC

500 TrueNorth First St. Companies SE LLC

Cedar 500 First Rapids, St. SEIA 52401

Cedar Rapids, IA 52401

(319) 364-5193; fax (319)

862-0612 (319) 364-5193; fax (319)

www.truenorthcompanies.com

862-0612

www.truenorthcompanies.com

2001

2001

Duane Smith

Jason Duane Smith

Bill Jason Teubel Smith

Dru Bill Teubel Bridges

Dru Bridges

$813,200,000C 320

$813,200,000C 305/15 320

305/15

3

Van Meter Inc.

850 Van 32nd Meter Ave. Inc. SW

Cedar 850 32nd Rapids, Ave. IA SW52404

Cedar Rapids, IA 52404

(800) 247-1410

(319) (800) 366-5301; 247-1410 fax (319)

366-4709 (319) 366-5301; fax (319)

www.vanmeterinc.com

366-4709

www.vanmeterinc.com

1928

1928

Lura McBride

Melanie Lura McBride Fisher

Doyle Melanie Fisher

Mike DoyleGassmann

Brian Mike Gassmann Bytnar

Jeff Brian Miller Bytnar

Alicia Jeff Miller Murphy

Alicia Murphy

$365,300,000

$365,300,000

512

- 512 -/- -

- -/- -

4

Elite Casino Resorts LLC

3184 Elite Casino Highway Resorts 22 LLC

Riverside, 3184 Highway IA 52327 22

Riverside, IA 52327

(877) 677-3456

(319) (877) 648-1234; 677-3456 fax (319)

648-5800 (319) 648-1234; fax (319)

www.kehlmanagement.com

648-5800

www.kehlmanagement.com

2015

2015

Dan Kehl

Ken Dan Bonnet Kehl

Bobby Ken Bonnet Kehl

Karalyn Bobby Kehl Ollendick

Karalyn Ollendick

$251,100,000

$251,100,000

1,667

1,458/209 1,667

1,458/209

5

University of Iowa

Community University of Credit Iowa Union

2355 Community Landon Credit RoadUnion

North 2355 Landon Liberty, Road IA 52317

North Liberty, IA 52317

(800) 397-3790

(319) (800) 339-1000 397-3790

www.uiccu.org

(319) 339-1000

www.uiccu.org

1938

1938

Jeffrey Disterhoft

Todd Jeffrey Fanning Disterhoft

Jim Todd Kelly Fanning

Sue Jim Kelly Freeman

Dick Sue Freeman Noble

Steve Dick Noble Quigley

Amy Steve Henderson Quigley

Scott Amy Henderson Wilson

Scott Wilson

$216,300,000

$216,300,000

435

- 435 -/- -

- -/- -

6

GreatAmerica Financial

Services GreatAmerica Financial

625 Services First St. SE

Cedar 625 First Rapids, St. SEIA 52401

Cedar Rapids, IA 52401

(800) 234-8787

(319) (800) 261-4188; 234-8787 fax (319)

261-6188 (319) 261-4188; fax (319)

www.greatamerica.com

261-6188

www.greatamerica.com

1992

1992

Tony Golobic

Stan Tony Herkelman Golobic

David Stan Herkelman Pohlman

Joe David Terfler Pohlman

Joe Terfler

$183,000,000

$183,000,000

516

503/13 516

503/13

7

World Class Industries Inc.

925 World N. Class 15th Ave. Industries Inc.

Hiawatha, 925 N. 15th IA Ave. 52233

Hiawatha, IA 52233

(319) 378-1766; fax (319)

378-1493 (319) 378-1766; fax (319)

www.worldclassind.com

378-1493

www.worldclassind.com

1953

1953

Brent Cobb

Sandy Brent Cobb Kaloupek

Patrick Sandy Kaloupek Patterson

Patrick Patterson

$172,200,000

$172,200,000

142

- 142 -/- -

- -/- -

8

Stanley Consultants Inc.

225 Stanley Iowa Consultants Ave. Inc.

Muscatine, 225 Iowa Ave. IA 52761

Muscatine, IA 52761

(563) 264-6600

www.stanleyconsultants.com

(563) 264-6600

www.stanleyconsultants.com

1913

1913

Kate Harris

Gayle Kate Harris Roberts

Bill Gayle Harper Roberts

Bill Harper

$166,100,000

$166,100,000

838

723/115 838

723/115

9

Centro Inc.

950 Centro N. Bend Inc. Drive

North 950 N. Liberty, Bend Drive IA 52317

North Liberty, IA 52317

(319) 626-3200; fax (319)

626-3203 (319) 626-3200; fax (319)

www.centroinc.com

626-3203

www.centroinc.com

1970

1970

Brian Olesen

Tripp Brian Traicoff Olesen

Alvin Tripp Spence Traicoff

Alvin Spence

$119,400,000

$119,400,000

950

- 950 -/- -

- -/- -

10

10

West Side Transport

4201 West 16th Side Ave. Transport SW

Cedar 4201 16th Rapids, Ave. IA SW52404

Cedar Rapids, IA 52404

(800) 373-2957

(319) (800) 730-1651; 373-2957 fax (319)

390-7311 (319) 730-1651; fax (319)

westsidetransport.com

390-7311

westsidetransport.com

1968

1968

Don Vogt

John Don Vogt Dalrymple

Ron John Joseph Dalrymple

Ron Joseph

$114,000,000

$114,000,000

700

- 700 -/- -

- -/- -

11

11

Modern Companies

500 Modern Walford Companies Road SW

Cedar 500 Walford Rapids, Road IA 52404 SW

Cedar Rapids, IA 52404

(888) 871-0062

(319) (888) 364-0131; 871-0062 fax (319)

364-8368 (319) 364-0131; fax (319)

www.moderncompaniesinc.com

364-8368

www.moderncompaniesinc.com

1939

1939

Ken Brown

Dave Ken Brown

Matt Dave Huber Brown

Matt Huber

$105,000,000

$105,000,000

360

- 360 -/- -

- -/- -

Note: Entries may be edited for length and clarity.B (319) 390-2649 sales fax. C Revenue includes premiums

Note: Entries may be edited for length and clarity.B (319) 390-2649 sales fax. C Revenue includes premiums CONTINUED ON PAGE 27 & 29

CBJ'S LARGEST PRIVATELY HELD COMPANIES 2018 5
---
CRST International

1

CRST International continues to lead the pack of largest

privately held companies in the Corridor, with some

big acquisitions driving revenue at a time when organic

growth has been hard to achieve.

The Cedar Rapids-based company is one of the most

diversified carriers in the country, with eight operating

companies serving different segments of the market and $1.55

billion in revenue. It is likely the largest privately held trucking

company in the United States after a rival carrier, Schneider National,

went public in 2017.

CRST serves shippers with

8,100 company drivers and

independent contractors and

about 6,100 trucks. In 2017,

it was ranked the nation's

19th largest for-hire carrier by

Transport Topics magazine,

up from 24th in 2016.

Being privately owned

by the Smith family of Cedar

Rapids has helped CRST

take advantage of many

growth opportunities while

also taking care of its home

DAVID RUSCH

PRESIDENT & CEO

community, according to

CEO David Rusch.

"Being privately held gives

us a lot of flexibility in the

marketplace because we can react much quicker to our shipper's

needs than some of the large publicly-held companies that have

more bureaucracy," Mr. Rusch said. Difficult decisions such as

whether to acquire another company or make a major investment

can be made faster, he added.

Chairman John Smith and his wife Dyan have been leaders

in the city's recovery from the flood of 2008, showing confidence

in the flood-affected downtown area by building a $36

million office tower, donating more than $1 million to neighborhood

rebuilding effort Block by Block and supporting wetlands

restoration efforts in the Cedar River watershed that will

reduce future flooding.

CRST has drawn growth in recent years from its 2016 acquisition

of California-based Gardner Trucking, which added

about $400 million in revenue, and its 2015 acquisition of Pegasus

Transportation, a Kentucky-based carrier specializing in

time-sensitive loads such as blood plasma and pharmaceuticals.

Without those acquisitions, Mr. Rusch said growth would

have been elusive. Shipping demand rose rapidly when the

economy first began recovering from the last recession in 2010.

Many carriers had gone bankrupt, leaving the surviving, larger

carriers with all the business they could handle. Those companies

then went on a truck-buying spree, and by 2016, there was

overcapacity, meaning carriers were unable to raise rates even as

costs continued to escalate.

"Our legacy companies, like most of our peers, were forced

to cut fleet size over the last couple of years," Mr. Rusch said.

"Freight wasn't strong, utilization dipped a bit and we just

couldn't get the drivers." Without CRST's recent acquisitions, he

said overall revenue would have declined.

Although shipping demand has picked up since last year,

CRST and most other

carriers have been

hard-pressed to take

advantage of it. Heavy

Duty Trucking magazine

reported that

many shippers began

having trouble as early

as September 2017

finding enough trucks

to satisfy customers'

shipping needs. That

shortage has bloomed

into a "capacity crisis"

in recent months.

"It's the worst driver

shortage I've seen

in my 38 years in the

industry," Mr. Rusch

said. "The only difference

between 2010

and today is that none

of us can get drivers."

CRST announced a

pay enhancement program

in January that

will cost it about $14

THE TEAM

EXECUTIVE TEAM

John Smith, Chairman

David Rusch, President & CEO

Hugh Ekberg, COO

BOARD OF DIRECTORS

John Smith, Chair

Dyan Smith

Ian Smith

John Bowron

Tony Golobic

Dave Kulik

Robert Lake

Peter Latta

John Larkin

Henry Royer

SUPPORT TEAM

Cedar Rapids Bank & Trust

RSM US LLP

Simmons Perrine Moyer

Bergman PLC

million this year in an effort to attract and retain more drivers.

One operating company, CRST Specialized Transportation Services,

introduced a $12,000 bonus program that pays the driver

an extra $1,000 per month for the first 12 months on the job.

The inability of trucking companies to raise rates during the

recent period of overcapacity has slowed the company's pace toward

$2 billion in annual revenue, Mr. Rusch said, but he's confident

CRST can reach the goal within the next couple of years.

"We're entrepreneurial," Mr. Rusch said. "We just don't take

'no' for an answer. When there's a challenge out there, we have

solutions. We understand them, we know what we have to do

to fix them and I'm confident in my management team that we

can execute and achieve our goals."

- Dave DeWitte

PHOTO MIRANDA MEYER

6 CBJ'S LARGEST PRIVATELY HELD COMPANIES 2018
---
Let our employee benefit

expertise benefit you.

...the wise choice.

We'll create a winning game plan with you.

Employee Benefit Consulting | Benefit Plan Management | Insurance Brokerage

Phone: 855-731-0277 | www.acumenadvisors.com

Cedar Rapids, IA | Des Moines, IA | Joplin, MO | Davenport, IA | North Liberty, IA

CBJ'S LARGEST PRIVATELY HELD COMPANIES 2018 7
---
TrueNorth Companies

2

When TrueNorth Companies set about preparing its

2017 annual report, there was only one logical thing

to title it: Evolve.

In what CEO Duane Smith called "a year of transformation

and evolution," TrueNorth announced a transition

in leadership, 60 new team members, four new

acquisitions and a new talent development program designed to

help employees grow both personally and professionally.

That's without even mentioning its $813 million in revenue,

a figure that ranks the Cedar Rapids-based insurer and financial

services provider as the

second-largest privately held

company in the Corridor,

and puts it well on its way to

reaching a goal of $1 billion

in sales by 2020 and $2 billion

by 2025.

"We're right on track to hit

that $2 billion in 2025," said

Mr. Smith, adding that True-

North's growth has been split

about 70-30 between organic

growth and acquisitions over

the past two years.

"It's a good thing," he

DUANE SMITH

CEO

joked of the rapid change.

"But be careful what you ask

for, you just might get it."

Since 2015, four new firms

have begun operating under the TrueNorth umbrella, including

Community State Bank Insurance of Ankeny, Edwards-Brandt

and Associates of Mason City, Weinman Insurance of Indianola

and Nimble Insurance of Chicago.

Thanks to consolidation in the industry, competition is

fierce, and Mr. Smith said TrueNorth looks at about 20 acquisition

targets for every deal that gets completed.

"Private equity groups have found that the reoccurring revenue

our industry generates is attractive to them," he said, adding

that TrueNorth's unique ownership structure has given it an advantage

others can't match. Since the company was established

in 2001, it has grown from six owners to 60 – and counting.

"It's because we give entrepreneurs the ability to have a say in

their own business and their own specialty, subject to our owners

manual, and to own part of their future growth, income and

ability to grow equity in their respective profit center," Mr. Smith

explained. "They're making their own decisions about their businesses

everyday versus just being employees of a larger firm and I

think that resonates in the partnerships we build with our clients."

The company's organic growth has largely been driven by

its insurance products and industry-specific services for construction,

medical, transportation and other fields. Over the

next 10 years, the company hopes to add another 400-500

employees, ideally half through its acquisition strategy and

half from within.

"We've been building out our level of expertise so we can

focus on really specific industries," Mr. Smith said. "We're

active within their associations, we really get to understand

what problems they are facing. In a perfect partnership with

our clients, we're only spending 25-30 percent placing insurance

products and

spending the other 70

percent helping solve

other business issues

… many of our competitors

don't focus

that deep."

The company earlier

this year made

good on its long-held

succession plan, with

Mr. Smith's son, Jason,

set to take over

as CEO in 2020. Jason

Smith, who now serves

as president, has taken

over business development

and growth initiatives,

his father said,

"and has done a great

job of really building

out a structured focus

on organic growth."

Planning for a new

generation of leadership

is perhaps the

biggest challenge the

company faces going

into the future – and

on a personal level,

Mr. Smith said, the

toughest evolution.

THE TEAM

EXECUTIVE TEAM

Duane Smith, CEO

Jason Smith, President

Bill Teubel, CFO

Dru Bridges, COO

BOARD OF DIRECTORS

Loren Coppock, Chair

Duane Smith

Jason Smith

Bill Teubel

Dru Bridges

Randy Rings

Trent Tillman

Max Smith

Josh Budke

Devin Pipkin

Dave Verhille

Pete Layden

Jim Swift (board observer)

SUPPORT TEAM

Bankers Trust

BankIowa

Bohr, Dahm, Greif & Associates

Cedar Rapids Bank & Trust

Rings Law PLC

"At 62, I now have about two and a half years and counting,"

he said. "What that does is require you to really develop

a plan and what we call an 'owners manual' to hand off to the

younger generation. One of the key components of building a

successful company is really the ability to hand it off and have

it prosper beyond the hand-off … building an enterprise that

will stand the test of time."

-Katharine Carlon

8 CBJ'S LARGEST PRIVATELY HELD COMPANIES 2018
---
Gary Watts

President & CEO

Building a Better Tomorrow

Leading the industry in better homes, businesses, and communities.

With over 40 years of experience, we are proud to have

been called the "one-stop shop" for all things real estate.

Brian Watts

Director of Business

Development

WATTSGROUP.COM 425 E. OAKDALE BLVD., SUITE 101, CORALVILLE (319) 338-4100

Grow Your People. Grow Your Business. Grow Your Future.

DEVELOP PEOPLE

CREATE ACCOUNTABILITY

ENGAGE TEAMS

DELIVER RESULTS

People and organizational development.

Engaging. Proven results.

Award winning programs.

Karen Schumacher, Owner

(319) 431-4148

Sales@CrescendoLD.com

www.CrescendoLeadershipDevelopment.com

Crescendo

Leadership Development

"Turn your learning into action."

CBJ'S LARGEST PRIVATELY HELD COMPANIES 2018 9
---
Van Meter Inc.

3

LURA MCBRIDE

PRESIDENT & CEO

Van Meter Inc. is unique among the Corridor's largest

companies, in that it is 100 percent owned by its employees.

It's an approach that makes every worker an

active guardian of the electrical distributor's bottom

line and has fueled its growth since its last appearance

on the CBJ's Largest Privately Held Companies list in

2016, according to President and CEO Lura McBride.

In addition to an acquisition in downtown Chicago, Van Meter

has also opened a branch

in Omaha. The 85-year-old

company based in Cedar

Rapids now has 15 locations

throughout the Midwest.

"Nebraska is a true extension

of our Iowa marketplace,"

Ms. McBride said of

the new location. "We are

listening to our customers

and expanding to where they

need us to have a presence."

Van Meter has also formed

relationships with national

commercial contracting clients,

offering a new avenue

for growth. It continues to

serve numerous other verticals

as well, from education

and health care to manufacturing and agriculture.

A perennial leader in building staff engagement and positive

workplace culture, the company recently created a 2025

vision to guide how it will continue to provide lasting value.

This roadmap was crafted by the entire organization, and incorporated

input from customers and partner suppliers as well.

"To foster buy-in, we had to ensure that the direction was

aligned with our people. Everyone from our receptionists and

delivery drivers to managers and product specialists had the

opportunity to contribute," Ms. McBride explained. "When everyone

understands how their role is critical to our vision, the

goals are easier to achieve."

The company also continues to invest in its workforce. Van

Meter encourages its employee-owners to nurture their purpose

outside of work. With a parental leave program that recognizes

both mothers and fathers, employee sabbaticals, and a

"5-7 Challenge" that discourages after-hours work, the company

ensures work-life balance is an authentic habit and not just

a buzzword.

The results are paying

off as Van Meter

has grown its employee-owner

base to more

than 500 – a 10 percent

increase from 2016.

Part of that progress

stems from deliberately

building relationships.

Van Meter's mission

rests on five core principles:

people, partners,

progress, place

and profit. According

to Ms. McBride, a business

can reach new

heights only when its

people come first.

"Employee benefits

aren't the only way to

invest in people – you

THE TEAM

EXECUTIVE TEAM

Lura McBride, President & CEO

Melanie Fisher Doyle, CFO

Mike Gassmann, EVP & Chief

Growth Officer

Brian Bytnar, Chief Development

Officer

Jeff Miller, VP Information

Technology

Alicia Murphy, Chief

Organizational Effectiveness

Officer

BOARD OF DIRECTORS

Bruce Lehrman

Barry Boyer

Hillary Hughes

Lura McBride

Jeff Siegfried

Duane Smith

should strengthen

your day-to-day culture

as well" she said.

"Van Meter achieves

this by heavily developing our own leaders. We want our leaders

to lift up each individual person in our company. When

leaders empower, enable and support every team member, our

employee-owners are inspired and motivated to innovate for

our customers."

To keep people at the forefront and reinforce its ownership

culture, Van Meter has made intentional and strategic investments

in how it recruits and hires new members. It has also

focused on inboarding, which is a type of support given to existing

employee-owners to help them succeed not only in their

current role but ones they may hold in the future.

"Van Meter is different because we are both privately held

and employee owned. The employee-ownership model not

only provides accountability, but it also makes profitability accessible

to every single person in the company, regardless of

their position," Ms. McBride said. "When employees think, act

and serve like an owner, it creates a company culture that delivers

better service, value and outcomes for everyone."

- Jennie Morton

"When employees think, act

and serve like an owner, it

creates a company culture that

delivers better service, value

and outcomes for everyone."

- LURA MCBRIDE

10 CBJ'S LARGEST PRIVATELY HELD COMPANIES 2018
---
LARGEST

PRIVATELY

HELD

As we look back over the years, we reflect on the lessons

we've learned in order to grow our business to what it is

today. We understand the real complexities of a privately

held company, because that's who we are.

Let us help you be proactive in your business planning. We

can protect and maximize your business through our unique

services and innovative solutions.

Local professionals solving the world's

biggest engineering challenges

www.stanleyconsultants.com | 563.264.6600

truenorthcompanies.com

CBJ'S LARGEST PRIVATELY HELD COMPANIES 2018 11
---
Elite Casino Resorts

4

"We try to do things that will change the landscape

here in the state," said Dan Kehl, whose family obtained

the first riverboat gambling license in Iowa

more than 25 years ago, pioneering the state's modern

gaming industry.

Mr. Kehl, CEO of Elite Casino Resorts, which owns

three gaming complexes generating more than $225 million

per year in combined revenue, is currently overseeing a $10

million revamp of its first

land-based venture, Riverside

Casino & Golf Resort, located

south of Iowa City. Elite's

other properties are Grand

Falls Casino, near Larchwood

in far northwest Iowa, and

Rhythm City Casino Resort,

located at the intersection of

I-80 and I-74 in Davenport.

Riverside has seen tens of

millions of visitors in its 12-

year lifetime and was due for

renewal, Mr. Kehl said. The rehab

includes upgrading all the

DAN KEHL

CEO

finishes and furniture, redoing

two food venues, reworking a

bar, installing facilities for "grab

and go" dining and giving the

show lounge a makeover. Work at the Rees Jones-designed casino,

hotel, golf course and spa is expected to be complete in August.

The improvements are also aimed at making the casino

"more relevant to millennial clientele," he said. Elite is "dabbling

in some skill-based gaming," such as Topgolf Swing Suites

– golf simulators featuring comfy lounges, massive screens and

a selection of virtual games for golfers and non-golfers – although

90 percent of the gaming floor will remain devoted to

slot machines and table games.

Rees Jones' firm also designed the Grand Falls Casino &

Golf Resort, serving the Sioux City-Sioux Falls market. The facility

has been open seven years, with the golf course featuring

a 30-foot waterfall since 2014.

"It's going well up there. We will start a remodel of our facility

there in a couple of years," Mr. Kehl said.

Elite's latest venture, Rhythm City, began with purchase

of the old Treble Clef

gambling boat docked

on Davenport's riverfront

in 2014. Its

gaming moved inland

to the Elmore Avenue

corridor two years ago

with the completion

of the $100-million

casino-hotel-events

center complex. That

change has been "well

received in the marketplace,"

Mr. Kehl said.

THE TEAM

EXECUTIVE TEAM

Dan Kehl, CEO

Ken Bonnet, COO

Bobby Kehl, Executive Director

of Golf

Dan White, GM Shared Services

Karlyn Ollendick, CIO

Each of Elite's casinos are outperforming Iowa's broader

gaming industry, which saw its gambling revenue tick up just

1.1 percent last year according to the Iowa Racing and Gaming

Commission. Adjusted gross gaming revenue increased 4.75

percent at Riverside to $88.1 million, 2 percent at Grand Falls

to $55.6 million, and a whopping 25 percent at Rhythm City,

reaching $65.3 million.

Three separate casino companies were combined in 2015

to form Elite, which is owned by 1,200 Iowans. That's a fairly

large number of shareholders for a privately held firm, so Elite

acts somewhat like a public company, Mr. Kehl said, but with

key differences. The company is not burdened with quarterly

reports to the Securities Exchange Commission, worries "about

what the stock price did this quarter" or regulations that govern

publicly traded firms.

Adequate financing has been available thus far from local

banks, so going public would "create a lot of issues we don't

have to worry about," Mr. Kehl said.

"We look to increase our revenue every year. Our focus is

on maintaining a strong balance sheet through debt reduction

and deploying capital where it makes sense," he added. A small

executive team allows the firm to make decisions and investments

quickly and easily. "That makes us pretty nimble."

Elite keeps a close eye on the state for game-changing opportunities.

If the right situation comes along, the company

might consider expanding outside the state, or even a public

offering, Mr. Kehl said. A new division, Elite Hospitality Group,

is pursuing non-gaming opportunities as well.

— Emery Styron

RIVERSIDE CASINO

& GOLF RESORT

12 CBJ'S LARGEST PRIVATELY HELD COMPANIES 2018
---
Building Better

Communities!

Enhancing the quality of life in our community is a top priority at FSB.

In addition to our financial contributions, our employees volunteer an

average of 5,000 hours each year to support community events and

help raise funds for local non-profits.

Join us at our annually sponsored events...

• Alburnett Road Clean Up

• March of Dimes, March for Babies

• Marion Arts Festival

• Marion by Moonlight Concert Series

• Hiawatha Fun Fest

• Marion Uptown Markets

• Life 101.9 Christian Concerts

• Linn County Fair

• Summer Fiesta Block Party

• Customer Appreciation Picnic

• Alburnett Children's Benefit Days

• Uptown Getdown Concert Series

• Swamp Fox Festival

• Harvest Moon Chocolate Walk

• Christmas in the Park Member FDIC | myfsbonline.com | 319-377-4891
---
UICCU

5

JEFF DISTERHOFT

PRESIDENT & CEO

University of Iowa Community Credit Union continued

its climb up the Corridor Business Journal's Largest Privately

Held Companies list this year, breaking the top five

and setting a new bar for the state's banking industry.

The North Liberty-based credit union ranked No. 5

on this year's list, with $216.3 million in revenue and

435 employees in 2017. That's a revenue increase of 46 percent

over 2015's numbers, when it ranked No. 7, and 95 percent

over 2013, when it ranked No. 9.

For President and CEO Jeff

Disterhoft, the organization's

growth has been both a constant

and a challenge over the

past few decades.

"We've been averaging

about 20 percent a year for

20 years, so in that regard our

growth has been comparable

the last couple years to what

we enjoyed 10 years ago, or

maybe even 20 years ago,"

Mr. Disterhoft said. "But I'm

not naïve enough to not realize

that 20 percent growth today

is a little different than 20

percent growth 20 years ago."

UICCU has faced its share

of growing pains, Mr. Disterhoft

offered, and is working hard to "get folks in the right

seats on the bus," but it has also grown into a lending and

retail banking giant. It reported $4.67 billion in assets and

$3.53 billion in deposits at the end of last year, making it the

largest financial institution chartered in Iowa. It is also the

largest purchase mortgage lender, and often the largest auto

lender in the state.

The credit union has found an organic formula for success

in competitive rates and a methodical branch expansion plan

that has added one or two new branches each year. That has

taken UICCU's black-and-gold brand into Black Hawk County,

the Quad Cities and the central Iowa region – a move that "has

gone really well for us," Mr. Disterhoft said.

Its newest branch opened in Waukee this April and an office

in nearby Ankeny is planned for the fall.

Another piece of the formula is UICCU's focus on "capturing

its own business" through its five-year old UICCU

Insurance division. Policy sales are up 40 percent year over

year, Mr. Disterhoft said, and offer a promising avenue for

future growth.

"We have really gone back to basics, and trying to capture

the insurance on our home loans, our own car loans," he said.

"Once we get that part figured out, maybe we can go out marketing

to the rest of the world, but right now we're just trying

to make sure we're taking care of our own business, and we're

doing a better job of that finally."

UICCU's success hasn't come without a price, however. The

credit union is the frequent target of attacks by the state's banking

industry, which charges that its nonprofit status allows it

to undercut the competition and grow more aggressively. A

$1.2 billion tax cut reform bill passed by the Iowa Senate in

late February included

a measure that would

impose new taxes on

credit unions and lower

them on banks, although

a separate bill

backed by Gov. Kim

Reynolds and the Iowa

House does not include

the provision.

Mr. Disterhoft expressed

confidence

in the legislative process,

noting that the

House and the Governor's

Office have

been "very supportive

of credit unions," and

reiterated his industry's

position that its

tax status saves Iowans

money.

A final agreement

on a tax reform bill

had not yet been

reached as of this

deadline.

Culturally, UIC-

CU continues to lead

in the Corridor, with

the company recently

transitioning to an

unlimited PTO model,

where employees

are allowed to take

THE TEAM

EXECUTIVE TEAM

Jeff Disterhoft, President & CEO

Todd Fanning, SVP & CFO

Jim Kelly, SVP Marketing

Sue Freeman, SVP HR

Dick Noble, SVP Operations

Steve Quigley, SVP Retail Services

Amy Henderson, SVP Mortgage

Scott Wilson, SVP Commercial

BOARD OF DIRECTORS

Karin Franklin, Chair

Sarah Fisher Gardial, Vice Chair

Dean Borg

Laurel Day

Fred Mims

Mark Rolinger

Lynsey Engels

Tom Lepic

Marc Moen

Dave Wright

Andre Perry

SUPPORT TEAM

Raddon Financial Group

RSM US LLP

TMG Financial Services

Wilary Winn LLC

as much time off as they need. Mr. Disterhoft acknowledged

some anxiety about the policy change before it was instituted

at the start of this year, but said it has ultimately been a positive

step for the institution.

"It's going great. I think there was some trepidation by folks

at the tail end of last year that nobody was going to show up

for work on Jan. 1, but we're coming up on the end of the first

quarter, and lo and behold, our world works just fine."

- Adam Moore

14 CBJ'S LARGEST PRIVATELY HELD COMPANIES 2018
---
Strategic Financial

Solutions is a values

based financial services

firm, dedicated to

providing expertise

and a unique, ongoing

service experience.

Corporate Retirement Plans

Executive Retirement/

Compensation Strategies

Wealth Management for

individuals and endowments

Individual Financial Planning

200 2nd Avenue SE

CEDAR RAPIDS

(319) 363-2509

(800) 253-7991

www.sfsolutionsllc.com

Info@sfsolutionsllc.com

CREATING STRONG

.

PARTNERSHIPS

.

TO FUEL

GROWTH JOBS INNOVATION

PROFESSIONAL SERVICES THE MIDWEST WAY

business. financial. technology.

START HERE.

bergankdv.com

CBJ'S LARGEST PRIVATELY HELD COMPANIES 2018 15
---
GreatAmerica Financial Services

6

TONY GOLOBIC

CHAIRMAN & CEO

GreatAmerica Financial Services passed the quarter-century

mark last year, but it hasn't lost the lean,

hungry attitude that propelled it from an upstart in

the commercial equipment finance business to a major

player.

The Cedar Rapids-based company's assets have

topped $2 billion, up from $1.8 billion in 2016 when Great-

America placed fourth on the CBJ's Largest Privately Held

Companies list. In the meantime, the company has increased

its employee base from 460 to 516 and broadened its information

technology capabilities,

Chairman and CEO Tony

Golobic said.

GreatAmerica aims to

grow an average of 10 percent

per year, but it doesn't

meet that goal by focusing

solely on dollars, Mr. Golobic

noted.

"We want to be the best at

helping our customers be more

successful. Revenue growth is

important, and it has always

followed – year over year since

inception – our strategic objective

of being a business without

competition."

GreatAmerica is "planning

for a more IT-centric future

that provides a frictionless environment for our customers,"

Mr. Golobic added. "Though we are still in the primary business

of financing equipment and software for our resellers'

customers, we want to strengthen our online presence for customers

and prospects who need answers to questions beyond

financing and more about running their businesses."

Recruiting and retaining talented employees and maintaining

a strong corporate culture have been strengths from

the outset. GreatAmerica shares that expertise via its human

resource consulting arm, which helps clients with the selection

and training of personnel in sales, information systems, managed

services and other areas.

The company's Collabrance and Portfolio Services business

units have also "grown nicely," Mr. Golobic said, adding that

jobs in those areas require emerging skillsets in IT, database

management and systems analysis.

Collabrance provides managed IT customers with U.S.-

based, live-answer service desk and network operations functions,

including private label programs that allow clients to

have customer calls answered as if by their own company.

Portfolio Services allows clients such as banks, equipment

leasing companies and solar finance companies to outsource

contract servicing at reduced costs and with fewer operational

barriers. That allows them to concentrate on their core strengths.

Other value-added services include FleetView, a remote

monitoring system for printing devices on a network, and Info-Zone.com,

a secure network that gives proprietary access to

customer files and details of individual leases.

The widening focus has led GreatAmerica to increase its

hiring of beginning to mid-level IT specialists over the last two

years, and change its

recruiting strategy to

include more social

media engagement

and greater use of online

tools such as Indeed,

LinkedIn and

Google. Internal employee

referrals have

gone from about 40

percent of hires to 50

percent, Mr. Golobic

said.

Despite the challenges

of continuous

growth, GreatAmerica

has elected to stay private

rather than access

public markets to raise

additional capital.

"Being public has

some pluses and many

drawbacks," Mr. Golobic

said. "Publicly-held

companies tend to face

THE TEAM

EXECUTIVE TEAM

Tony Golobic, Chairman & CEO

Stan Herkelman, President

David Pohlman, COO

Joe Terfler, CFO

BOARD OF DIRECTORS

Tony Golobic, Chair

Stan Herkelman

Doug Olson

Paul Rhines

Emmett Scherrman

Doug Sedlacek

John Smith

SUPPORT TEAM

Bank of America

Deloitte

KPMG

Simmons Perrine Moyer

Bergman PLC

Wells Fargo

quarterly pressures

that put short-term

results ahead of long

term objectives. The

ultimate direction and future of publicly owned companies is

subject to pressures from different ownership groups."

Fortunately for GreatAmerica, "our profitability has enabled

us to generate our own capital for growth and buy out our investors,"

Mr. Golobic noted. "We now have the luxury of being in

control of our future by being a family-owned private company."

— Emery Styron

16 CBJ'S LARGEST PRIVATELY HELD COMPANIES 2018
---
ADVERTISEMENT

BankIowa: Your financial future

is our professional passion

Being a neighbor to the

community and having an

undisputed commitment to

our clients are just parts of

the solid foundation that

makes BankIowa Iowa's

hometown bank.

For over 95 years, BankIowa has stood firm

and true to these core values that BankIowa

staff live by every day. BankIowa serves

clients from eleven offices that are located

in Cedar Rapids, Norway, Waterloo, Cedar

Falls, Jesup, Lamont and Independence.

Professional Leadership

As a locally owned, community bank, a

strong component of BankIowa's success

is the fact that it has remained an

independent business driven by the core

values of appreciating clients, being a

neighbor to the community, and believing

in each other to exceed clients' expectations.

Experience and longevity of

the staff at BankIowa is impressive. CEO,

Rob Robinson, has been with BankIowa

for 35 years, and the bank's Chairman

of the Board, Dolph Leytze, has been a

banker in Iowa for more than 50 years,

with the majority of these years dedicated

to BankIowa. With a staff of 140

that shares a vast amount of experience,

it's hard to find a group who has more

knowledge than the team at BankIowa.

When asked in employee surveys why

they work at BankIowa, the top response

is consistently about the people and the

commitment to fellow employees and to

clients. The president of the bank, Alison

Urbina, said that, "All of us have a lot of

pride in being a 'BankIowan.' The teamwork

across departments and offices puts

client care at the center of what we do."

Passionate Service

Given the BankIowa team's notable combined

length of service, the breadth of

products and the knowledge that comes

with it, BankIowa has truly grown to be a

single stop for all financial needs. Beyond

the basic checking and savings account offerings,

BankIowa also has a solid menu of

services that include consumer and business

deposit services, commercial and agriculture

business banking, trust services,

investments, mortgages and insurance.

With the local decisions, customized

products, and seasoned staff, BankIowa

has been claimed by some to be the

"hidden jewel" in the market. BankIowa

has the ability to go head-to-head with

larger financial institutions, possessing a

lending limit and array of products that

could be perceived as something only

larger banks have the capacity to offer.

"We feel very fortunate every day to

have the opportunity in our market area

to create long standing banking relationships.

We truly believe and practice our

bank-wide mission of 'Your financial

future is our professional passion,'" stated

Russ Breazeale, Senior Vice President

and Cedar Rapids Market President.

In recognition of BankIowa's commitment

to the financial field, it recently

received a 5-Star Superior rating by BauerFinancial,

Inc. BauerFinancial, Inc. is

the nation's leading independent bank

and credit union rating and research

firm. No institution can pay for or opt

out of a BauerFinancial rating. BankIowa

has earned the highest rating for 28

consecutive quarters. A 5-Star Superior

rating indicates that BankIowa is one of

the strongest banks in the nation, excelling

in such areas as capital, loan quality,

profitability and much more.

Hometown Commitment

A business and its staff are only as strong

as the communities they serve. Knowing

this, BankIowa is dedicated to not only

investing in its communities, but also

supporting its employees' dedication

to the countless hours they spend helping

their communities be strong and

healthy places to live, work and play. Being

a good neighbor is part of life in the

BankIowa family; supporting educational,

recreational and social service initiatives

come naturally to the organization.

Whether it's volunteering at the Freedom

Festival Freedom Ride event, contributing

dollars to the building of a new

school or community pool or volunteering

at HACAP and in classrooms, BankIowa

has never hesitated to take a lead

role when needed.

"Nothing makes me feel more satisfied

and proud about the work of every

BankIowan than when I receive unsolicited

feedback about how we made a

positive impact in someone's life," Rob

Robinson said. •

FOR OVER 95 YEARS, Banklowa has provided its customers

quality financial products and services, and has proudly remained an

independent and locally owned institution.

Your Financial Future is Our Professional Passion.

CEDAR RAPIDS

2701 Edgewood Pkwy SW, 52404 / 319.654.9444

7045 C Avenue NE, 52402 / 319.395.9100

NORWAY

102 E. Railroad Street, 52318 / 319.227.7146

Member FDIC

CEDAR FALLS CEDAR RAPIDS INDEPENDENCE JESUP LAMONT NORWAY WATERLOO

CBJ'S LARGEST PRIVATELY HELD COMPANIES 2018 17
---
World Class Industries

7

After hitting a soft patch during the downturn in the

farm economy, World Class Industries in Hiawatha is

getting back to the kind of growth that has made it

one of the Corridor's largest privately held companies.

The Hiawatha-based supply chain specialist provides

contract management and supply chain consolidation

services to leading equipment manufacturers including

Deere & Co., Caterpillar, CNH and Bobcat. It's been focused on

providing more value and services to existing customers, a strategy

that has allowed it to tap the trend toward manufacturers

building deeper relationships

with fewer suppliers.

"Parts in – assemblies out,"

is a simple shorthand for what

World Class Industries (WCI)

does, President Brent Cobb

said. The company's business

peaked in 2013, then slowed

as the decline in ag commodity

prices cut deeply into farm

incomes, resulting in fewer

orders from customers like

Deere and CNH. That spurred

the company to pursue other

sectors for growth, including

BRENT COBB

PRESIDENT

the aviation and aerospace

industries.

Mr. Cobb said the decline

hit a bottom in 2016, and

finally showed a rebound effect this year. Employment is up

about 50 full-time equivalent positions from the market bottom

and revenue has risen to $172.2 million.

World Class Industries is building its eighth facility next to

a factory where Deere builds Family Compact Utility Tractors

in Grovetown, Georgia, and is also moving to improved facilities

in Kaiserslautern, Germany, and Des Moines. The new

50,000-square-foot facility in Grovetown, expected to open this

year, will place WCI in an entirely new region, and allow the

company to better service equipment manufacturers located in

the southeast.

"This year, we're half market-driven and half new projects,"

Mr. Cobb said.

A major undercurrent

in the manufacturing

industry that

drives WCI's business

is product complexity.

Customer preferences

are driving more complex

assemblies and

systems. As a result,

manufacturers prefer

to have certain components

preassembled

to avoid bogging down

lines at their main assembly

plants.

The rebounding ag

market has also helped

drive demand. Mr.

Cobb said agricultural

THE TEAM

EXECUTIVE TEAM

Brent Cobb, President

Sandy Kaloupek, Vice President

Patrick Patterson, Director of

Operations

BOARD OF DIRECTORS

Brent Cobb

Michael Rosberg

James Schrempf

Kevin Code

SUPPORT TEAM

Bradley & Riley PC

Cedar Rapids Bank & Trust

CliftonLarsonAllen

producers continued

to expand the size of

their operations even during the downturn, and appear to be

buying new equipment because reliability is even more critical

during key harvest and planting seasons due to the acreage at

stake. Deere and Caterpillar have both issued upbeat sales forecasts

for 2018, which bodes well for WCI.

Adding customer value is always key for the roughly 140

WCI employees and about 25 temporary employees. The company's

investments in its Enterprise Resource Planning (ERP)

purchasing system in particular have helped drive down procurement

prices for clients, as the company can look for advantageous

price breaks and buy certain commodities in bulk.

"So instead of having someone go part by part and deciding

what we want to do, we're having that be more algorithm-driven,

and having those orders go out automatically and using some of

those same resources," Mr. Cobb previously told the CBJ.

Although the company's work is anything but simple, the

work it does makes things easier for equipment manufacturers.

"We like to say, 'We simplify supply chain,'" Mr. Cobb said.

- Dave DeWitte

"This year, we're half

market-driven and half

new projects."

- BRENT COBB

18 CBJ'S LARGEST PRIVATELY HELD COMPANIES 2018
---
How to future-proof your business:

planning for IT adoption

It's an exciting and challenging time

to be a business leader. Technology

is leveling the playing field between

businesses of all sizes, but it's also

creating a steep curve for leaders who

don't understand that tech adoption

is now a key competency in an

organization.

Luckily, "adopting technology" doesn't

have to mean doing everything

in-house or expensively. In fact,

outsourcing some areas of your IT can

allow you to reduce costs, increase

quality, and re-invest in tech areas that

closely impact your customer or core

product.

3 ways to take control of IT adoption

for your business

Take your business'

future into your own

hands by enlisting the

help of ours.

CCR specializes in strategic

business alignment of

technology solutions for

small & medium businesses.

Contact Us Today

319-362-2384 | sales@ccr.net

www.ccr.net/it-as-a-service

845 Capital Dr. SW

Cedar Rapids, IA 52404

1. Start by really looking at your budget. Many business leaders struggle

to accurately account for their IT spend, which leads them to believe that

additional investments are out of the realm of possibility. Review your budget

again in 2018 and make sure you are accounting for staff, hardware, software

and project expenses.

2. Make sure your IT priorities are aligned with your business' key strategies.

Create a roadmap to replace outdated or inefficient systems with ones that will

be easy to replace in the future when newer technologies become available.

(Always pretend that this is sooner than you'd think.)

3. Focus on the core, and enlist help for the rest. IT service desk and support,

IT maintenance, security, and backup/recovery are all incredibly important to

your business. But in today's business climate, they should not be taking up

the time and resources of people on your team who could be preparing for

the future.

For all these reasons, it's no surprise that many businesses are beginning

to seek outside help where technology implementation is concerned. The

investment in this type of relationship can be key to scaling technology for

the future of your business – by bringing focus and expertise to an area that

supports your business behind the scenes.

CBJ'S LARGEST PRIVATELY HELD COMPANIES 2018 19
---
Stanley Consultants

8

Balancing its long legacy with today's challenges is

what has kept 105-year-old Stanley Consultants at the

top of the engineering industry, decade after decade.

"We won't compromise who we are," said President

and CEO Kate Harris, who was elected to her

current post at the global engineering and consulting

firm in 2017, taking over for Gayle Roberts, who became chair

of the board. "We are incredibly respectful of our legacy. It's

so important as a foundation for our values – our long history

provides us with equilibrium."

Founded as Central States

Engineering in 1913, the

Muscatine-based firm originally

focused on regional

jobs like drainage work. It

went international in 1957

and never looked back, now

counting offices not just

across the United States, but

in the Caribbean, the Middle

East, South Asia and the Pacific

region.

Today, Stanley Consultants

is the largest engineering

firm in Iowa with more

KATE HARRIS

PRESIDENT & CEO

than 900 member-owners

in 30 offices worldwide. The

company ranks No. 78 out of

the top 500 engineering design

firms in the U.S. and has been named among the nation's

top 50 designers in power, fossil fuel, water, wastewater and

transportation by Engineering News-Record.

"Those that know us love us," Ms. Harris said. "People will

be surprised to learn that Stanley Consultants has designed

some of the largest projects in the world."

Some of the firm's highest-profile projects include the

world's largest desalination water plant in Algeria and providing

master planning and program management services to the

U.S. Army Corps of Engineers to reconstruct Iraq's infrastructure

following the second Gulf War.

Stanley Consultants isn't content to rest on its laurels, however.

The firm is currently providing master planning services

at Abu Dhabi International Airport, and its design of the new

$95 million Fox River

Bridge along the Illinois

Tollway has garnered

multiple awards,

as well as a finalist nod

for the American Society

of Civil Engineers'

prestigious Outstanding

Civil Engineering

Achievement award.

"With buoyant

markets, Stanley

Consultants is well

positioned in the

power and infrastructure

markets with

THE TEAM

EXECUTIVE TEAM

Kate Harris, President & CEO

Gayle Roberts, Board Chair

Bill Harper, VP & CFO

BOARD OF DIRECTORS

Gayle Roberts, Chair

Steve Hammes

Kate Harris

Mike Helms

Mike Hunzinger

Douglas Smith

Bob Uhler

long-standing relationships

and great

expertise," Ms. Harris

said. "The firm is capitalizing

on the strength within the company and supplementing

it with new skills and acquisitions to ensure clients

are provided with the best service, expertise and advice."

The firm is not averse to growth through acquisition, having

purchased Hartwig & Associates, a Denver, Colorado-based

engineering and construction firm in February 2016. But Ms.

Harris said Stanley Consultants, which has bucked the trend

toward "mega firms with many thousands of employees," will

continue to prioritize its values and clients over growth for

growth's sake.

"Consolidation in the engineering industry has created a

bifurcated market," she said. "There are some mega firms with

incredible depth and reach but they sometimes struggle to successfully

provide some of the basic client services that come as

second nature to Stanley Consultants."

Ms. Harris stressed that Stanley Consultants' brand stands for

longevity and ethics, as well as "smart and creative solutions."

"As a privately held company, we can take a longer partnership-based

approach rather than relying on short-term returns,"

she said. "This allows us to think more creatively, dream bigger

dreams and do things in a bold, yet balanced way, calling on

decades of experience and the appropriate risk management."

- Katharine Carlon

20 CBJ'S LARGEST PRIVATELY HELD COMPANIES 2018
---
Celebrating 11 Years

in the Corridor Area!

TLC ASSOCIATES

is a an award winning leader in driving business to

business revenue in outsourced customer contact centers

for Fortune 500 leaders.

tlcassociates.com

3735 Queen Ct SW | Cedar Rapids, IA | (319) 730-4000
---
Centro Inc.

9

BRIAN OLESEN

PRESIDENT & CEO

It's been a long three years, but there appears to be

light at the end of the tunnel for Centro Inc.

The rotational molding company headquartered

in North Liberty with offices in the U.S., Ireland and

Brazil has weathered three consecutive years of a significant

down cycle in its core markets of agriculture

and construction equipment, and is now seeing a "very robust

bounce back," according to President and CEO Brian Olesen.

Centro has seen its construction sales surge in particular

as its clients – manufacturers

such as Deere & Co., Caterpillar

and Toro – have responded

to stronger global demand

for infrastructure and homes.

The ag sector appears to be

trending upward as well.

Centro is also reaping the

benefits of its investments

in its R&D and engineering

operations, which have kept

demand up and attracted new

customers. Innovations like

its diesel exhaust fluid (DEF)

tanks and its patented RotoLoPerm

process, which limits

fuel vapors from leaking

from molded gas tanks, have

helped manufacturers meet

increasingly stringent environmental regulations, while also

creating new licensing streams for the company. New markets

have similarly opened up, ranging from molded lawn and garden

items to Gunner Kennels.

"Engineering is one of those resources that can set us

apart from other rotational molders in the industry today,"

Vice President of Engineering Alvin Spence previously told

CBS2/FOX28. "Centro has always had a vision of setting

ourselves apart providing solutions to the OEMs that they

can't get anywhere else."

The company hit $119.4 million in revenue in 2017, and is

up 25 percent year over year eight months into its current fiscal

year, Mr. Olesen said.

"Interest rates remain low, consumer and business leader

confidence is high, and we support good strong companies

in industries that will

prosper," Mr. Olesen

wrote in an email.

"The overall fundamental

of population

growth needs infrastructure

and food to

sustain it, and those

are our key markets."

Indeed, if anything

could derail the good

times, it's the company's

ability to hire people

to make its products.

Centro has grown

over the past two

years from about 850

employees to nearly

1,000; if all of its open

positions were filled,

the company would

cross the 1,000 mark, Mr. Olesen said.

THE TEAM

EXECUTIVE TEAM

Brian Olesen, President & CEO

Tripp Traicoff, VP Operations

Alvin Spence, VP Engineering

BOARD OF DIRECTORS

Diane Flynn

Brian Olesen

Gary Rozek

SUPPORT TEAM

Bradley & Riley PC

CliftonLarsonAllen

Wells Fargo

Centro currently finds itself capacity constrained at its largest

plants, and has instituted "significant wage increases" at all

of its locations in a race to keep up with the global economic

recovery. In North Liberty, the company is now hiring workers

at $16.20 per hour to start without experience, with full benefits,

Mr. Olesen said.

"It's all about the labor. Our biggest constraint managing

our growth is people, or the lack of them," he said. "If our local

businesses are to continue growing, we need growth in the

labor pool."

Part of the solution to the company's workforce challenges

will have to come from a regional willingness to reevaluate

and promote manufacturing jobs as a viable profession, Mr.

Olesen added.

"I just read that in January there were 425,000 open manufacturing

jobs [in the country], so it is felt everywhere," he

added. "We need to do a better job in promoting manufacturing

as a career opportunity. All nine of our Centro manufacturing

locations are being run by long-term associates that started

without any experience and at an entry-level position."

- Adam Moore

22 CBJ'S LARGEST PRIVATELY HELD COMPANIES 2018
---
ADVERTISEMENT

F & M Bank – Continuing to

Exceed Client's Expectations

The F & M Team at 'Bowl for Kids Sake' sponsored by Big Brothers Big Sisters

of East Central Iowa. Pictured: Jim Bell, Jen Finn, Elaine Yanda, Bec Schneiter,

Chad Kellogg, Kris Wetrich, Nate Dunn, Julie Herzog and Natasha Jones

Community banks continue to thrive

in the Corridor and F & M Bank is no

exception. With strong leadership and

commitment to providing quality products

to its clients, F & M simply wants to

be the best bank in the corridor. F & M

Bank continues to cultivate current and

develop new markets in order to grow

the organization.

As it experiences this growth, F & M

offers the technology-based banking that

clients and prospects demand, but insists

that personalized, relationship-based

banking continues to be the core of what

they do. "We strive for controlled growth

as we look to the future. We want to develop

opportunities with new and existing

clients that result in a mutually beneficial

relationship for the client and the bank,"

states Michael W. Dunn, President.

F & M Bank's team of financial experts

and strong family connections differentiates

them from other banks. Investing

in, and development of their team are

top priorities for the bank's leadership.

To date, F & M's team of 120 financial

professionals have a total of over 1,500

years of banking experience. That is experience

you can trust. The cumulative

years of experience has allowed F & M to

create a culture that supports growth for

its employees and its clients. This culture

is based on integrity, trust, performance

and reward. F & M knows that creating a

strong, healthy organization results in a

stronger, more viable organization.

Understanding our client base and

tailoring our services to them is why F &

M Bank has continued to thrive throughout

the bank's history. A genuine commitment

and active involvement in the

communities where our clients live and

do business is a big part of what we do.

The F & M Bank Cares program, which

we originated in the year 2000, connects

our team members with their local communities

and allows us to make a difference.

The F & M team members have

personally donated over $120,000 to local

families and charities.

A locally owned institution for 93

years, F & M currently has three generations

of the Dunn family involved in the

management and operations of the bank.

Mutual respect and setting the highest

expectations for one another are key elements

to the success of the bank, as well

as building lasting relationships with its

clients. We hold ourselves accountable

for not only our performance but for the

success of our clients. The focus continues

to be on offering prompt, personalized financial

services and proactively assisting

clients in achieving their financial goals.

"F & M's personal touch has proven

to be successful," said Dunn. "We care

about our client's success. Our mission

is to exceed clients' expectations, and it's

our people that make the difference."

Whether visiting one of F & M's branches

or speaking with a team member over

the phone, it's the bank's personal and

professional way of doing business that

continues to make it "the right choice"

for customers throughout the Corridor. •

CBJ'S LARGEST PRIVATELY HELD COMPANIES 2018 23
---
West Side Transport

10

Today Cedar Rapids, tomorrow the world.

That might be an oversimplification of West

Side Transport's long-term business plan, but

it certainly captures its essence, according to

COO Ron Joseph. The 45-year-old trucking

company has been growing rapidly as of late,

spurred by the recent success of its West Side Logistics arm.

"I think the biggest change is we've done a lot of expansion

– we've kind of spread our

wings out," Mr. Joseph said.

Founded by Dale Vogt to

salvage and resell spilled grain

found in railroad yards, West

Side Transport's traditional

customer base has long been

located around Cedar Rapids.

In the last three years, however,

the company has added

full-service facilities in Chicago

and Columbus, Ohio

to terminals in Glenwood,

Illinois, St. Paul, Minnesota

and Indianapolis, boosting

RON JOSEPH

COO

employment by more than

220 employees in the process.

Another new facility in Harrisburg,

Pennsylvania is set to

come online later this year, adding 100 employees.

There has been some local expansion as well. The company,

now led by owner and CEO Don Vogt, has built a new

drop yard south of Cedar Rapids and will move its corporate

office to the site in 2019. It has also opened a new office by

The Eastern Iowa Airport for its logistics company, which has

grown in the last three years from zero to $12 million in revenue,

Mr. Joseph said. That company forecasts revenues of $16

million next year.

"That [logistics

business] started with

a couple of employees

and now has over 15,"

he noted, describing

it as a truck brokerage

that functions "basically

as an intermediary

between trucking

and shippers."

The trucking business

is changing, Mr.

THE TEAM

EXECUTIVE TEAM

Don Vogt, Chairman & CEO

John Dalrymple, SVP & CFO

Ron Joseph, COO

Joseph said, adding that "finding a driver to live in a truck

for a week is a challenge." The creation of new trucking

hubs around the country has helped West Side create more

home-daily jobs, and thus recruit and retain more drivers.

"That means they drive a truck and start at 8 a.m. and come

home at 5 at night, like anyone else, compared to over-the-road

jobs, where they leave on Sunday and come back Friday or Saturday,"

he said. "It's a tough life. I think expansion and logistics

have been our big initiatives the last couple of years."

The goal is to keep the logistics arm growing by 20 percent

annually, Mr. Joseph said, and its core trucking business by

5-10 percent a year.

"We expect our non-assets – managing freight and customers

– to be as big as our assets – our drivers and trucks," he said.

With all of the headwinds facing the trucking industry, West

Side's strong and varied clientele has helped sustain its growth.

"We have account managers, salespeople inside and outside

that are focused on winning new business every year," Mr. Joseph

said. "Last year, we started doing business with Procter &

Gamble, General Mills and Target. We have International Paper,

Chrysler, Lowes, Walmart and Toyota, so we have a really

blue-chip base of customers and there's so much opportunity

to grow with those customers."

- Jim Offner

"Last year, we started

doing business with

Procter & Gamble, General

Mills and Target. We

have International Paper,

Chrysler, Lowes, Walmart

and Toyota, so we have a

really blue-chip base of

customers and there's so

much opportunity to grow

with those customers."

- RON JOSEPH

24 CBJ'S LARGEST PRIVATELY HELD COMPANIES 2018
---
FOCUSED ON

BUILDING

QUALITY

Chauncey, Iowa City

Scheduled completion – Fall 2019

319.338.1125

1310 Highland Court, Iowa City

mccomaslacina.com

LOCALLY OWNED FOR 40 YEARS

helping your

business make the right

connections

Our belief in providing a great local experience

extends far beyond our Internet, voice and

data services. It's in everything we do!

Don't just take our word for it, see why other

businesses have chosen the ImOn Difference:

"ImOn gave us everything that was promised

- great service, the speed we paid for, and

exceptional support during and after the

installation.....They rate a 5 star in our book!"

- Kelly Beckler, MMS Consultants

Internet • Voice • Data | 319-298-6484 | ImOn.net/Business

CBJ'S LARGEST PRIVATELY HELD COMPANIES 2018 25
---
Modern Companies

KEN BROWN

CEO

11

Modern Companies has evolved and expanded

across the region over the past seven

decades as mergers and acquisitions have

reshaped the firm, from its start as Modern

Refrigeration in 1939 to Modern & Puth to

Modern Piping in the 1960s. But it wasn't until

the turn of the 21st century that things really started to heat

up for the company, according to CEO Ken Brown.

"The early 2000s was really the beginning of our growth and

expansion with the development

of the Dubuque market

and our entrance into the

Minneapolis market when we

were selected for a large biopharmaceutical

project, the

largest of its kind at the time,"

Mr. Brown said. "This is really

the beginning of the culture

of the company where we

look for opportunities that

fit our skillsets. We have been

expanding into different services

and markets based on

client requests, market conditions

and new technologies

for more than a decade."

Today, the Cedar Rapids-based

fabricator counts

336 employees, including dozens stationed at offices in Des

Moines, the Quad Cities, Dubuque, Minneapolis and Oklahoma

City. Those outlying markets have helped fuel the company's

recent expansion, with revenues growing by more than

300 percent in Modern's Des Moines office in 2017 alone,

and Oklahoma City's Mid-Continent Group – in which Modern

Companies is a minority investor – seeing "tremendous

growth" and contracts on specialty projects as far away as

South Korea, Mr. Brown said.

Modern Companies most recently acquired the service division

assets of Johnson Contracting Co. in Moline, Illinois,

giving it a better foothold in the western Illinois market.

"The strategic acquisition allows us to better serve our current

customers in the Quad Cities and increases our number of

service technicians from 18 to 31, including Des Moines operations,"

Mr. Brown said. "The Quad Cities is a larger market than

Cedar Rapids, and we feel that it is underserved in our space."

Two of Modern's newest divisions – Modern Compressed

Air (MCA) and Modern Control Services (MCS) – are growing,

too, Mr. Brown said.

Modern Compressed Air supplies aluminum tubing and fittings

for compressed air and inert gas distribution in addition

to air compressors, dryers, hose reels and accessories. MCA

also represents Powerex medical gas components for use in any

medical gas delivery system.

Modern Control Services represents building automation

and analytics solutions from Siemens, Delta and CopperTree

Analytics, in addition to building entry control and lighting

control solutions, Mr. Brown said.

The company is also pushing to develop its own technologies

in the competitive construction industry. It last year launched

FabPro LLC, a software

company that has

developed "the only

solution for fabrication

shop productivity

tracking in the construction

industry" and

has other products under

development, Mr.

Brown noted.

The company's

wide range of construction

expertise

and technologies has

earned it a role in a

number of high-profile

Corridor projects,

including the University

of Iowa's Stead

THE TEAM

EXECUTIVE TEAM

Ken Brown, CEO

Dave Brown, Director

Matt Huber, CFO

BOARD OF DIRECTORS

Ken Brown

Dave Brown

Kristin White

SUPPORT TEAM

F&M Bank

RSM US LLP

Simmons Perrine Moyer

Bergman PLC

Family Children's

Hospital, the new Hancher Auditorium and the UI's new

Visual Arts Building.

"Without the investments in virtual design construction

and our fabrication facility in Cedar Rapids, we could have not

completed these projects efficiently," he said.

Strategic partnerships are set to be a focus for Modern Companies

in 2018, Mr. Brown said. The firm is working with other

"like-minded" partners in Des Moines and Minneapolis, and

plans to have agreements in place this year. It's a logical evolution

for a company that has grown through relationships and

alignments with other firms, and is fighting hard to stay relevant

in a rapidly changing industry.

"I wouldn't have thought five years ago we would be rounding

out our services, looking into other opportunities and developing

software," he said. "The construction industry is moving

faster than ever before."

- Jim Offner

26 CBJ'S LARGEST PRIVATELY HELD COMPANIES 2018
---
Largest Privately Held Companies

(Ranked by 2017 Revenues)

Largest Privately Held Companies

(Ranked by 2017 Revenues)

RANK Name/Address Contact Information Year Established Top Local Executives 2017 Revenue

Number of

Employees

FT/PT

12

McComas-Lacina Construction

1310 Highland Court

Iowa City, IA 52240

(319) 338-1125; fax (319) 338-5964

www.mccomaslacina.com

1977

Mike Hahn

Al Morelock

$92,000,000

155

- -/- -

13

HR Green Inc.

8710 Earhart Lane SW

Cedar Rapids, IA 52404

(800) 728-7805

(319) 841-4000; fax (319) 841-4012

www.hrgreen.com

1913

Steven Heyer

Richard White

Michelle Byard

$86,700,000

436

385/51

14

The Accel Group LLC

3100 Oakland Road NE

Cedar Rapids, IA 52402

(800) 765-8611

(319) 365-8611; fax (319) 365-6919

www.acceladvantage.com

1928

Tim Gassmann

Mike Byl

Kevin Mease

$86,500,000

75

73/2

15

Acumen

425 Second St., Ste. 1275

Cedar Rapids, IA 52401

(319) 731-0500; fax (319) 366-3636

www.acumenadv.com

2012

Andrew Morf

Kirby Moss

$85,000,000B

39

- -/- -

16

Folience

230 Second St. SE, Ste. 100

Cedar Rapids, IA 52401

(800) 397-8333

(319) 200-2800

www.folience.com

1884

Daniel Goldstein

Cathy Terukina

$78,400,000

509

- -/- -

17

Ready Wireless

955 Kacena Road, Ste. A

Hiawatha, IA 52233

(800) 516-0414

(319) 294-6080; fax (319) 294-6081

www.readymobile.com

2005

Dennis Henderson

Fred Haumesser

Scott Kokotan

$71,400,000

135

132/3

18

Pancheros

2475 Coral Ct. Ste. B

Coralville, IA 52241

(319) 545-6565; fax (319) 545-6570

www.pancheros.com

1992 Rodney Anderson $69,000,000

222

- -/- -

19

Shive-Hattery Architecture &

Engineering

316 Second St. SE., Ste. 500

Cedar Rapids, IA 52401

(800) 798-0313

(319) 362-0313; fax (319) 364-2883

www.shive-hattery.com/

1895

James Lee

Shawn Lueth

Phil Larson

$58,700,000

380

346/34

20

Collins Community Credit Union

1150 42nd St. NE

Cedar Rapids, IA 52402

(800) 475-1150

(319) 393-9000; fax (319) 378-3399

www.collinscu.org

1940

Stefanie Rupert

Benjamin Wickum

$57,600,000

301

293/8

21

BerganKDV

2720 First Ave. NE, Ste. 300C

Cedar Rapids, IA 52402

(800) 741-7087

(319) 294-8000; fax (319) 294-9003

www.bergankdv.com

1945D

Loren Viere

Vince Ellison

Cori Power

Brittani Von Roden

$52,100,000

355

347/8

22

Involta

460 12th Ave. SE, Ste. 100

Cedar Rapids, IA 52401

(855) 364-3061

(319) 261-3008; fax (319) 362-1046

www.involta.com

2007

Bruce Lehrman

Jim Buie

Ken Kremer

$47,500,000

198

- -/- -

23

Ohnward Bancshares Inc.

665 Marion Blvd.

Marion, IA 52302

(319) 373-1371

www.ohnwardbank.com

2009E

Abram Tubbs

Kevin King

$47,200,000

261

- -/- -

24

CEC (Communications Engineering

Company)

405 Boyson Road

Hiawatha, IA 52233

(800) 377-0271

(319) 294-9000; fax (319) 395-6096

www.cecinfo.com

1946

Jim Smith

Matt Dlouhy

$42,000,000

250

- -/- -

Note: Entries may be edited for length and clarity.B Revenue includes premiums C Other location: 2530 Corridor Way Ste. 301; Coralville, IA 52241 D Merger in 2015 created BerganKDV E Ohnward Bancshares, Inc. was

formed in 1967

CBJ'S LARGEST PRIVATELY HELD COMPANIES 2018 27
---
LPH by the Numbers

EMPLOYEE BASE

(TOP 10 COMPANIES)

TOP SUPPORT

ORGANIZATIONS

(AS DETERMINED BY COMPANY

RESPONSES IN 2016 & 2018)

BANKS

Cedar Rapids Bank & Trust

Wells Fargo

LAW FIRMS

Bradley & Riley PC

Simmons Perrine Moyer

Bergman PLC

ACCOUNTANTS/

CONSULTANTS

RSM US LLP

CliftonLarsonAllen

18,000

16,000

14,000

12,000

10,000

8,000

6,000

2012 2014 2016 2018

TOTAL REVENUES

(TOP 10 COMPANIES)

$4,500

MILLIONS

$4,000

$3,500

$3,000

$2,500

$2,000

$1,500

2012 2014 2016 2018

2: WOMEN-LED

COMPANIES

on the 2018 list (Van Meter &

Stanley Consultants), up from 1 in

2014 and 2016, and none in 2012.

6: THE MOST

SPOTS JUMPED

by a company making the Top 10,

by Ruffalo Noel Levitz

(No. 14 in 2012 to No. 8 in 2016).

28 CBJ'S LARGEST PRIVATELY HELD COMPANIES 2018
---
LPH by the Numbers

2018 INDUSTRY BREAKDOWN

(TOP 35 COMPANIES)

PROFESSIONAL SERVICES.................. 8

BANKING/FINANCE............................. 6

CUSTOMER SERVICE............................ 5

CONSTRUCTION/DEVELOPMENT..... 4

INSURANCE........................................... 4

TECH........................................................ 3

MANUFACTURING................................ 2

TRANSPORTATION............................... 2

GAMING.................................................. 1

MILLHISER

SMITH IS

NOW

BUILDING TRUST.

DELIVERING SOLUTIONS.

Get local expertise and the service you deserve

from The Accel Group's dedicated team!

EMPLOYEE BENEFITS

BUSINESS SOLUTIONS

You have our word on it!

RISK MANAGEMENT

PERSONAL SOLUTIONS

WEALTH MANAGEMENT

AGRIBUSINESS

www.acceladvantage.com

Mike Byl, President

Tim Gassmann, CEO

Serving clients across Iowa with offices in

Cedar Rapids | Waverly | Cedar Falls

CBJ'S LARGEST PRIVATELY HELD COMPANIES 2018 29
---
Largest Privately Held Companies

Largest Privately Held Companies

(Ranked by 2017 Revenues)

(Ranked by 2017 Revenues)

RANK Name/Address Contact Information Year Established Top Local Executives 2017 Revenue

Number of

Employees

FT/PT

25

Garling Construction Inc.

1120 11th St.B

Belle Plaine, IA 52208

(319) 444-3409; fax (319) 444-2437

www.garlingconstruction.com

1973

Doug DeMeulenaere

Troy Pins

Rick Maas

$42,000,000

50

- -/- -

26

CarePro Health Services

1014 Fifth Ave. SE

Cedar Rapids, IA 52403

(800) 575-8810

(319) 363-4554; fax (319) 896-4347

www.careprohealthservices.com

1971

Michelle Jensen

Brent Bormann

$41,100,000

175

- -/- -

27

MCI, LC

2937 Sierra Ct. SW

Iowa City, IA 52540

www.mci.world 2015 Anthony Marlowe $38,200,000

1,400

1,100/300

28

MediRevv Inc.

2600 University Parkway

Coralville, IA 52241

(888) 665-6310

(319) 665-2901; fax (319) 665-6070

www.medirevv.com

2007

Chris Klitgaard

Brad Baldwin

Mike Goedken

$35,800,000

630

- -/- -

29

Watts Group

425 E. Oakdale Blvd., Ste. 101

Coralville, IA 52241

(319) 338-4100

www.wattsgroup.com

1978

Gary Watts

Mike VanDyke

Brian Watts

$35,000,000

27

26/1

30

Clickstop Inc.

202 Blue Creek Drive

Urbana, IA 52345

(800) 383-0592

(866) 322-7883

www.clickstop.com

2005

Tim Guenther

Todd Kuennen

Chad Brandmeyer

$34,500,000

166

145/21

31

Farmers State Bank

1240 Eighth Ave.

Marion, IA 52302

(319) 377-4891

www.myfsbonline.com

1927

Gene Neighbor

Steve Neighbor

$33,600,000

151

136/15

32

ImOn Communications LLC

625 First St. SE, Ste. 250

Cedar Rapids, IA 52401

(319) 298-6484; fax (319) 261-4636

www.imon.net

2007

Patrice Carroll

Jeremy Wild

$32,900,000

108

106/2

33

Thomas L. Cardella & Associates

3735 Queen Court SW

Cedar Rapids, IA 52404

(319) 730-4000; fax (319) 393-3901

www.tlcassociates.com

2007

Thomas Cardella

Tom Moroney

Ashley Hahesy

$31,000,000

1,353

1,135/218

34

Western Fraternal Life Association

1900 First Ave. NE

Cedar Rapids, IA 52402

(877) 935-2467

(319) 363-2653; fax (319) 363-8806

www.wflains.org

1897 Craig Van Dyke $29,800,000

34

- -/- -

35

BankIowa

2701 Edgewood Pkwy. SW

Cedar Rapids, IA 52404

(877)-275-7034

(319) 654-0525; fax (319) 395-9422

www.bankiowa.com

1921

Rob Robinson

Dolph Leytze

Alison Urbina

$28,300,000

139

113/26

Note: Entries may be edited for length and clarity.B Also office at 5210 20th Ave. SW, Cedar Rapids, IA 52404: (319) 398-3340

30 CBJ'S LARGEST PRIVATELY HELD COMPANIES 2018
---
World Class Industries simplifies supply chains. We work

with our customers, helping them to meet their brand

promises. Trusted by the world's largest OEMs, WCI is a

leader in innovation and cost reduction processes.

KITTING CLEAN ROOM ASSEMBLY/SUBASSEMBLY

SUPPLY CHAIN INTEGRATION SUPPLIER CONSOLIDATION

ORDER FULFILLMENT GLOBAL SUPPORT

Call today to see how World Class Industries can

help make your process more efficient and

effective, saving you time and money!

(319) 378-1766 smk@worldclassind.com

WorldClassInd.com

Corporate Headquarters

World Class Industries, Inc.

925 North 15th Avenue

Hiawatha, IA 52233

LOCATIONS

CRYSTAL LAKE (IL)

EAST MOLINE (IL)

CEDAR FALLS (IA)

DES MOINES (IA)

HIAWATHA (IA)

AUGUSTA (GA)

WORCESTER (UK)

KAISERSLAUTERN (GERMANY)

CBJ'S LARGEST PRIVATELY HELD COMPANIES 2018 31
---
CRST TIME LINE

Proud to call

Cedar Rapids

home for over

60 years!

CEDAR RAPIDS HAS ALWAYS COME FIRST FOR US.

It's been over 60 years since we began operations

as Cedar Rapids Steel Transportation. Thousands of

employees and millions of miles later, we've never

lost sight of our home. We know the extraordinary

dedication and work ethic of the people in this

community have been the power behind our success.

That success has allowed CRST to support not only

a large local workforce but to invest millions of

dollars in this community. We believe supporting

many deserving non-profit organizations helps

to make Cedar Rapids a better place to live...and

keeps CRST a great place to work.

Visit us at www.crst.com/careers

1955 Cedar Rapids Steel Transportation is founded by

Herald Smith.

1963 CRST reaches $1 million in annual revenue.

1968 Herald Smith purchases BOS Lines to quadruple

the size of CRST and set the stage for growth in the

1970s.

1974 CRST expands into dry freight and refrigerated

commodities. Cedar Rapids Steel Transport changes

name to CRST, Inc.

1977 Paul Shawver becomes President; Herald Smith

remains Chairman of the Board.

1983 John Smith becomes President; Paul Shawver

becomes Vice Chairman of the Board.

1984 Malone Freight Lines is acquired.

1985 CRST International, Inc. is formed.

1991 CRST Logistics is formed.

1997 John M. Smith purchases company from his family.

2007 CRST Dedicated Services is formed.

2008 Driver Training Center is opened on Cedar Rapids

campus.

2010 John Smith becomes Chairman of the Board;

Dave Rusch is appointed President and CEO.

2011 Specialized Transportation, Inc. is acquired. CRST

reaches $1 billion in revenue. Transport Topics names

CRST the Fastest Growing Carrier.

2013 Special Products Division of Allied Van Lines and BESL

are acquired.

2014 CRST breaks ground on new head-quarters in

downtown Cedar Rapids. CRST launches culturechanging

Gold Rules driver retention initiative.

2015 CRST acquires Pegasus Transportation and celebrates

60th Anniversary. Joe Scherbring achieves 5 million

accident-free miles.

Herald Smith, beloved company founder passes away.

2016 CRST acquires Gardner Trucking, California's largest

private carrier.