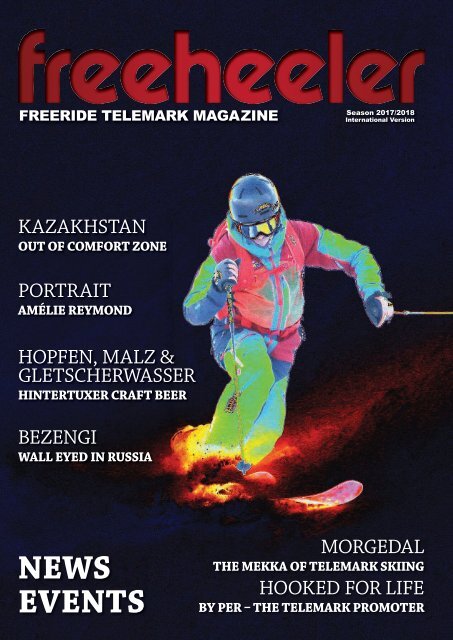 Freeheeler-17-18 Nachdruck
Create successful ePaper yourself
Turn your PDF publications into a flip-book with our unique Google optimized e-Paper software.
Season 2017/2018

International Version

KAZAKHSTAN

OUT OF COMFORT ZONE

PORTRAIT

AMÉLIE REYMOND

HOPFEN, MALZ &

GLETSCHERWASSER

HINTERTUXER CRAFT BEER

BEZENGI

WALL EYED IN RUSSIA

NEWS

EVENTS

MORGEDAL

THE MEKKA OF TELEMARK SKIING

HOOKED FOR LIFE

BY PER – THE TELEMARK PROMOTER
---
Telemark Only Festival *

Mürren Schilthorn

Switzerland

4.- 6. May 2018

*

The

Schilthorn in Mürren (Switzerland) will be open exclusively for Telemark

skiers during the «Telemark Only Festival». No free heel – no skiing.
---
ditorial

Telemark

Is telemark a dying sport?"

Was sich auch immer die

Redakteure vom US Podwer

Magazin gedacht haben - eines ist

sicher: Telemark Skiing ist nicht

tot. Es ist aber auch nicht mehr

das, was es einmal war. Leder und

Loden sind passé, Telemark ist cool statt angestaubt.

Sicher haben die Powder Jungs Recht, wenn sie sagen,

das Material sei zu schwer und viele Telemarker

würden daher auf's leichte Low Tech Tourenmaterial

umsteigen. Aber das ist zu kurz gedacht. Telemark hat

dank Rottefella, die 2006 auf der ISPO die Weichen

für die Revolution im Telemark-Markt stellten, eine

Art Wiedergeburt erlebt.

Mit dem NTN System, New Telemark Norm, das von

den drei Telemark-Schuhherstellern Crispi, Scarpa

und Scott in ihren neuen Modellen verwendet wird,

holt Rottefella zum großen Schlag aus und präsentiert

eine völlig neue Bindung. Eine Bindung, die ohne den

bekannten Schnabel auskommt. Nach Auslaufen des

Patentschutzes für das NTN System von Rottefella

und für die Low Tech Bindungen von Dynafit, hat

die Entwicklung bei den Telemarkbindungen einen

weiteren großen Entwicklungsschritt getan und

alle drei Telemark-Schuhhersteller haben ihre NTN

Telemark Schuhe mit sogenannten Insert, seitlich in

der Schuhspitze ausgerüstet.

Dies ermöglichte wiederum sechs Bindungsfirmen,

die dafür passenden Telemarkbindungen zu entwickeln.

Die sind leicht, komfortabel und überzeugen mit einer

außergewöhnlichen Fahrperformance.

Der weitere Schritt wird in den nächsten Jahren von

der Schuhindustrie kommen. Die Telemarkschuhe

werden leichter und dabei trotzdem stabil bleiben.

Erste Gerüchte besagen, dass in USA Telemarker

mit den ersten Scarpa Prototypen unterwegs seien.

Es ist stets leicht Dinge schlecht zu reden, aber: Tot

gesagte leben bekanntlich länger.

Auf unserer Freeheeler Testival Tour könnt Ihr alle

auf dem Markt erhältlichen NTN/Low Tech Schuhe

sowie Bindungen testen. Alle Infos unter www.

freeheeler.eu.

Whatever the Editors of the US

Powder Magazine might have

thought, one thing is for sure:

Telemark skiing is not dead! It

may not be what it once was;

leather and Loden are passé, but

Telemark's not in mothballs yet. Powder hounds are

correct when they say that the gear is too heavy, and

many have changed over to the light weight Low Tech

touring equipment. But don't be too short sighted

yet. Rottefella set the stage at the 2006 ISPO for a

new revolution with the NTN system, (New Telemark

Norm), and now Telemark is undergoing a re-birth

you could say. Rottefella is creating sensational,

completely new binding that the three main Telemark

boot producers, Crispi, Scarpa and Scott are all

employing in their new models. A binding that works

without the familiar cables and levers.

After the patents for the NTN system from Rottefella,

and the Low Tech binding from Dynafit expired, the

development of the Telemark binding made another

great technological advancement. All three boot

manufacturers equipped their NTN Telemark boots

with the side 'inserts' on the toe. This in turn enabled

six binding companies to develop corresponding

bindings. They're light and comfortable with

extraordinary performance.

The next big developments will come from boot

manufacturers. Telemark boots will become lighter

yet remain stable. Rumor is that the first telemarkers

are already trying out the Scarpa prototypes in the

U.S. It's always too easy to talk bad about things: but

there's still life in Telemark yet!

At our next Freeheeler Testival tour you can try every

NTN/Low Tech boot and bindings available on the

Market today. More info at www.freeheeler.eu

Tele ho

Richard Schürf

Tele ho

Richard Schürf

4. EDITORIAL

PAGE | FREEHEELER.EU
---
- - - - - - - - - - - - -

The Worst Crew is proud

to announce the finest :

TELEMARK LOVERS AND FIRST-TIMERS!

- - - - - - - - - - - - - - - - - - - - - - - - - - - - - - - - - - - - - -

MARCH 10th & 11th 2018

- - - - - - - - - - - - - - - - - - - - - - - - - - - - - - - - - - - - - -

GRYON // ALPES VAUDOISES // SWITZERLAND

- - - - - - - - - - - - - - - - - - - - - - - - - - - - - - - - - - - - - -

- First-Timer Telemark Clinics

- Gear Demos - Try the latest Skis, Boots & Bindings

- Daily Après Ski Live Music. Party Time!

- Our Famous Telemark Fun Comp!

Informations : www.facebook.com/worstcrew // www.worstcrew.com

by :
---
INHALT

PAGE 8

Event-Kalender

PAGE 10

Telemark Händler

PAGE 12

Produkte

PAGE 24

Portrait Amélie Reymond

PAGE 26

Kazakhstan: Out of comfort zone

PAGE 32

Mariano Valcanover

PAGE 34

Freeheeler European und FIS Ski

Worldcup Telemark Open

PAGE 38

Hooked for Life by Per

PAGE 42

Tuxer Craft Beer

PAGE 44

Bezengi - Wall Eyed in Russia

PAGE 48

Morgedal - Mekka of Telemark

PAGE 52

Telemarkfest Kleinwalsertal

PAGE 56

Freeheeler's Choice

PAGE 58

Telemark Only Festival Mürren

26

Kazakhstan

Out of comfort zone

58

Mürren

Telemark Only Festival
---
44

Bezengi

Wall eyed in Russia

TITELBILD:

Photo:

Hedi Tumbasz

Skier:

Geri Tumbasz

IMPRESSUM

48

Morgedal

The Mekka of Telemark Skiing

Herausgeber:

Richard Schürf (V.i.S.d.P.)

Chefredaktion:

Richard Schürf

Layout & Produktion

Stephanie Heinl

Geschäftsführung, Verlag & Anzeigen

Richard Schürf GmbH

Solothurner Str. 49

D-81475 München

Tel. +49 (0) 171/148 13 55

E-Mail: richard.schuerf@freeheeler.eu

Vertrieb:

Das freeheeler Telemark Magazin erscheint auf Deutsch

und Englisch. Der Season Guide 2017/18 wird kostenlos

bei Events und in Shops verteilt und ist als E-Paper

unter www.freeheeler.eu erhältlich. Redaktion und

Verlag übernehmen keine Haftung für unaufgefordert

eingesandte Text- oder Bildmaterialien.

printed by:
---
2017/18

Der Telemark-

Event-

Kalender

01.-03.12.2017

Freeheeler European &

FIS WC Telemark Opening

Austria / Hintertux // www.freeheeler.eu

15.-17.12.17

Telemark-Pfalz Fire Opening

Austria / Stubai // www.telemark-pfalz.de

06.-07.01.2018

Swiss Telemark Festival

Switzerland / Davos // www.swissTelemarkFestival.ch

12.-14.01.2018

"Biag di Knia" Telemark Austria

Austria / Leogang // www.telemark-austria.at

19.-21.01.2018

Kappl Freeride Days

Austria // www.kappl.at

25.-28.01.2018

Bregenzer Telewald

Austria / Warth/Schröcken // www.bregenzertelewald.de

Feb-18

Freeheeler Hausberg Telemark Testival

Germany / Garmisch Partenkirchen // www.freeheeler.eu

03.-04.03.2018

Freeheeler Testival Skiwelt/Wilder Kaiser

Austria / Wilder Kaiser // www.skiwelt.at

02.-05.03.2018

Telemarkcamp Erzgebirge

Germany // www.telemarkcamp.de

10.-11.03-2018

ÖsterreichischeTelemark Meisterschaften

Austria // www.telemark-austria.at

07.-11.03.2018

Scufoneda

Italy / Moena // www.scufons.com

10.-11-03.2018

The Worst Crew "Telefest"

Gryon/Switzerland// www.worstcrew.com

14.-18.03.2018

Telemarkfest im Kleinwalsertal

Austria / Riezlern // www.telemarkfest.de

17.-23.03.2018

La Skieda

Italy / Livigno // www.skieda.com

24.-25.03.18

Ostalpen Telemarktage (mit Telecross)

Austria / Hochkar // www.telemark-austria.at

30.-31.03.2018

Meidjo Telemark Festival

France / La Grave / meidjotelemark.com

31.3.-2.04.2018

Scuol Freeride&Telemark Festival

Switzerland / Scuol // www.bergbahnen-scuol.ch

10.03.2018

SSD 4.0 SnowSchoolDay 2018

Germany / Oberjoch / www.online-ssv.de

14.-15.04.2018

Flower Pow(d)er Wochen mit Freeheeler

Workshops und Testival

Austria / Hintertux // www.freeheeler.eu

27.04. - 01.05.2018

Chill & Ride, Telemark Pfalz,

Austria / Stubai // www.telemark-pfalz.de

28.-29.04.2018

Black Shoe Telemark Festival

France / Tignes // www.tignesnet.com

04.-06.05.2018

Telemark Festival

Switzerland / Mürren // https://telemark-only.com

8. EVENTS

PAGE | FREEHEELER.EU
---
TELEMARK

Education / Fortbildungen

Telemark Austria:www.telemark-austria.at

01.12.2017

Eignungsprüfung Austrian Telemarkinstruktor

Austria / Hintertuxer Gletscher

15. – 18.01.2018

Fortbildung für Telemarkinstruktoren

Austria / Zauchensee

27. – 28.01.2018

Großglockner Telemarktage

Austria / Heiligenblut

01. – 04.03.2018

Basismodul Telemarkinstruktor

Austria / Wien

02. – 13.04.2018

Schneekurs Telemarkinstruktor

Austria / Obertauern

Telemark im BSV

15.-17.12.2017

Fortbildung Telemarken 12/17

Austria / Stubai

20.-21.01.2018

Fortbildung für Fortgeschrittene/Könner

Austria / Sudelfeld oder Spitzingsee

04.-06.05.2018

Fortbildung fürBuckel- Freeride Kurs

Austria / Stubai

01.-03.122017

DSV Telemark Sichtung GS/INST

Austria / Hintertuxer Gletscher

FIS TELEMARK

WORLD CUPS & RACES

Info @ www.fis-ski.com

01.-03.12.2017

FIS Ski Weltcup Opening Telemark,

Austria / Hintertux

06.01.2018

FIS Ski Race Telemark

France / Les Houches

07.01.2018

FIS Ski Race Telemark

France / Les Saisies

12.-13.01.2018

FIS Ski Weltcup Telemark by GBR

France / Pralognan-laVaniose

20.-22.01.2018

FIS Ski Weltcup Telemark

USA / Suicide Six Ski Resort

25.-27.01.2018

FIS Ski Weltcup Telemark

USA / Sugarbush Resort

03.-04.02.2018

FIS Ski Weltcup Telemark

Germany / Hindelang/Oberjoch

03.-04.02.2018

FIS Ski Race Telemark

France / Lélex, Mont Jura

07.-08.02.2018

FIS Ski Weltcup Telemark

Slowenien / Krvavec

17.-18.02.2018

FIS National Championships

Switzerland / Sörenberg

04.03.2018

FIS Ski Race Telemark

Switzerland / Thyon

14.-17.03.2018

FIS Ski Weltcup Telemark

Norwegen / Rjukan

15.-19.03.2017

FIS Ski Weltcup Telemark

Frankreich / La Plagne/Montchavin-les-Coches

21.-25.03.2018

FIS Ski Weltcup Telemark & FIS Junior World

Telemark Championships

Switzerland / Mürren

30.3.-02.04.2018

FIS National Championships

France / Pra Loup

EVENTS .9

FREEHEELER.EU | PAGE
---
Telemark Händler

ÖSTERREICH

Bergfuchs

Wien

Sport Holzner Gmbh Obertauern 134

Intersport Stubaier

Gletscher Gamsgarten Neustift

Verleih

Sport Nenner Hintertux 767 Verleih

Sport4you Sölden Verleih

Sporthütte Fiegl

GmbH

Sölden

Verleih

Sport Pete GmbH St.Anton Verleih

Sport Wielander St. Johann im Pongau Verleih

Mountainshop Saalfelden Verleih

Telemark Center Zell am See Verleih

DEUTSCHLAND

GLOBETROTTER

AUSRÜSTUNG

Dresden

Verleih

Outdoor Company Chemnitz

Telemarkstore Thalheim/Erzgebirge Verleih

Mont K.

Berlin

Sport Kiefer

Erlebnis-Center

Freiburg

Bittl Schuhe + Sport

GmbH

München

Sport Conrad GmbH Penzberg

Condition Steigenberger

GmbH

Aschau

Bergzeit

Gmund am Tergernsee

SNOWSTARS Gaimersheim Verleih

Skistadl Wertach Verleih

Rad & Sport

Blaichach

Out of Bounds Oberstdorf

Schindele GmbH Ronsberg

Sport Jakob GBR Wangen i. Allgäu

Telemarkbibel Neu-Ulm/Pfuhl Verleih

Telemark Experts Rohrstetten Verleih

HOLLAND

Zwerfkei

Outdoor & Travel

Outfitters B.V.

Slee Buitensport

CR Woerden

JD Roosendaal

AW Utrecht

Verleih

ITALIEN

Mottini Sport Livigno Verleih

Makalu Sport Rovereto (TN) Verleih

Sportler Alpin Bozen

SCHWEIZ

Fullmoons GmbH Davos Platz Verleih

Passe Montagne SA Lausanne

Yosemite

Lausanne

Valaysport

Monthey

Theytaz Sports Thyon-Les Collons

Heavy Duty AG Thun

Intersport Zürcher Frutingen

STRUBEL SPORT LENK i. Simmental

Anorak El Cap SA Zermatt

Ski und Sport

Achermann

Alpnach Dorf

OKAY Telemark Shop Engelberg Verleih

Exodus

Chur

Cresta Sport Mode AG Obersaxen Affeier

Heini's Skichirurgie Wangs SG

Sport Heinrich Scuol/Schuls Verleih

CLOUD 9 Distribution

Winterthur

AG

Verleih

Bikestopstation Ennenda/GL

Marty Sport

Unteriberg

10. TELEMARK HÄNDLER

PAGE | FREEHEELER.EU
---
Telemark Ausrüstung

Von Bergsportlern für Bergsportler

ONLINE: www.bergzeit.de

OUTDOOR: Am Eisweiher 2 • 83703 Gmund

ALPIN: Tölzer Straße 131 • 83607 Holzkirchen
---
NTN oder Low Tech?

Nach Auslaufen des Patentschutzes für das NTN System

von Rottefella und für die Low Tech Bindungen von Dynafit,

hat die Entwicklung bei den Telemarkbindungen

viele Früchte getragen. Alle drei Telemarkschuhhersteller

haben ihre NTN Telemark Schuhe mit sogenannten Insert

seitlich in der Schuhspitze ausgerüstet und 6 Bindungsfirmen

haben dafür passende Bindungen entwickelt.

Die Freeheeler Testival Tour stellt erstmalig alle Marken

und deren Produkte zum Testen und direkten Vergleichen

zur Verfügung.

Telemark Ski Boots

SCOTT

MINERVA NTN

TELEMARK

FÜR FRAUEN

Der Minerva ist der robusteste Freeride-Telemark-Schuh

für Frauen von SCOTT. Dieser Schuh gleicht dem Voodoo,

nur mit einem weicheren Flex, und ist das Nonplusultra

für alle weiblichen Telemark-Fans. Zusätzlich verfügt

der Minerva NTN Schuh über Dynafit®-zertifizierte

Tech-Einsätze.

Farbe: bermuda blue/white

Gewicht: 1500 gr. (24.5)

Größen: 22-27,5 Mondo size.

www.scott-sports.com

SCOTT

VOODOO NTN

TELEMARK

FÜR HERREN

Der Voodoo, das kraftvolle Telemark-Modell von SCOTT,

überzeugt durch einzigartige Seitensteifigkeit und einen,

progressiven Flex. Zusätzlich verfügt der Voodoo

NTN Schuh über Dynafit®-zertifizierte Tech-Einsätze.

Farbe: white/black

Gewicht: 1823 gr. (27,5)

Größen: 25-30,5 Mondo size.

www.scott-sports.com

SCOTT

SYNERGY 75 MM

TELEMARK

FÜR HERREN

Der Synergy ist der stärkste und stabilste Schuh der

SCOTT Telemark-Kollektion. Dieser Schuh mit vier

Schnallen eignet sich für die breitesten Ski an den verschneitesten

Tagen. Der Synergy ist nur in 75 mm Norm

erhältlich.

Farbe: white/blue

Gewicht: ca. 1900 g (Größe 24,5)

Größen: 25/38–30,5/46

www.scott-sports.com

12. PRODUKTVORSTELLUNG

PAGE | FREEHEELER.EU
---
Telemark Ski Boots

EVO

NTN WORLD CUP

TELEMARK

Der Evo NTN World Cup ist der Refernez Telemarkschuh

im FIS Telemark Welt Cup. Er ist das konsequente Ergebnis

einer ständigen Fortentwicklung auf dem Telemarksektor.

Der EVO NTN erfüllt sämtliche Wünsche der

Telemarker, die nur das Beste akzeptieren können. Das

macht den EVO NTN zur ersten Wahl der Weltmeister!

Schaft und Schale sind aus Pebax ® gefertigt, das Verschlusssystem besteht aus vier mikrometrische

Aluminiumschnallen und einem breiten Klettband als "fünfte" Schnalle. Der Ski-/Gehmechanismus

ist mittels Kipphebel mit einen einfachen "Klick" schnell zu bedienen. Das exklusiv

durch CRISPI® patentierte "Carbon Side Support" System sorgt für maximale Stabilität der Schale.

Die revolutionäre Dual-Density-Manschette sorgt für optimalen Halt und das "Bellow Flex Control"

System ermöglicht die volle Flex- und Vorlagekontrolle in jeder Situation.

Größe Mondo Point: 24.5 - 30.5

Flex: Hart

Sohle: CRISPI® Kogatz Evo

Innenschuh: CRISPI® Dynamic Liner

www.crispi.it

Gewicht: 1815 gr

Schale: Pebax® Carbon

Schnallen: Microregulierbare Aluminiumschnallen

Bindungssysteme: NTN System- Low Tech Binding

EVO

NTN

TELEMARK

Der Evo NTN ist ein absolutes Spitzenprodukt mit herausragenden

Leistungsmerkmalen und läst Sie in den 7ten Telemarkhimmel

schwingen. Baugleich mit dem EVO NTN Welt Cup aber einem etwas

weicheren Flex, ist er die perfekte Powderwaffe im Freeride.

Größe Mondo Point: 24.5 - 30.5

Flex: Mittel

Sohle: CRISPI® Kogatz Evo

Innenschuh: CRISPI® Dynamic Liner

www.crispi.it

Gewicht: 1815 gr

Schale: Pebax® Carbon

Schnallen: Microregulierbare Aluminiumschnallen

Bindungssysteme: NTN System-Low Tech Binding

SHIVER

NTN

TELEMARK

Größe Mondo Point: 24.5 - 30.5

Flex: Weich

Sohle: CRISPI® Kogatz Evo

Innenschuh: CRISPI® Dynamic Liner

www.crispi.it

Im SHIVER NTN kommt die gesamte Erfahrung aus der EVO

Serie zum Einsatz und macht diesen Schuh zum "must have" für

alle ambitionierten Telemarker, die fortschrittliche Technologie,

Leichtigkeit und beste Performance und direkteste Kraftübertragung

suchen.

Gewicht : 1610 gr

Schale: Pebax® Carbon

Schnallen: Microregulierbare Aluminiumschnallen

Bindungssysteme: NTN System - Low Tech Binding

XR

75 MM

TELEMARK

Dieser Schuh benötigt keine großen Worte. Der XR ist der ultimative

Freeride Telemark Schuh und wer den XR gefahren hat, weiß

wovon wir reden. Die Performance des XR ist einzigartig und auf

jeden Fall wert "erfahren" zu werden.

Größe Mondo Point: 23.5/37 – 31.5/48

Flex: Hart

Sohle: CRISPI® Kogatz Evo

Innenschuh: CRISPI® Dynamic Liner

www.crispi.it

Gewicht : 1850 gr

Schale: Pebax® Carbon

Schnallen: Microregulierbare Aluminiumschnallen

Bindungssysteme: 75 mm

14. PRODUKTVORSTELLUNG

PAGE | FREEHEELER.EU
---
photo: Jacob Slot - rider: Sebastien Mayer - location: St.Anton am Arlberg

XR

EVO

NTN

CRISPI ®

TELEMARK

A NEW SENSE OF STABILITY

CARBON POWER SYSTEM

• Carbon Power Insole

• Power Extension Cuff

• Carbon Side Support

• Bellow Flex Control

WWW.CRISPI.IT
---
Telemark Ski Boots

TX

COMP

TELEMARK

Der TX Comp ist das Top Produkt der NTN Linie und DER Schuh für

"Free Heeler", Wettkämpfer und der optimale Partner für schwieriges

Gelände. Er hat eine Schale mit "Triple Injection Technology" , eine

"Power Block Tour" Geh-Steh Mechanik die den Flex noch verstärkt

und eine direkte Kraftübertragung dank 4 Schnallen und dem "ACTIVE

POWER STRAP".

Farbe: antracite/acid green

Obermaterial: Pebax

Größen: 23.5/37 – 30.0/46

Gewicht: 1710g. / Gr. 27

www.scarpa.com

TX

PRO

TELEMARK

Der vielseitigste SCARPA Telemarkschuh! Die immer weiter verbreitete

NTN Technologie wird hier durch die TLT-Inserts ergänzt und ist somit

mit den neuen Bindungstechnologien der Szene kompatibel und bietet

darüber hinaus auch die Option zum Tourengehen.!

Farbe: lyons blue/red orange

Obermaterial: Pebax

Größen: 24.5/38 – 30.0/46

Gewicht: 1750g. / Gr.27/42

www.scarpa.com

TX

PRO W's

TELEMARK

Der vielseitigste SCARPA Damen-Telemarkschuh! Die immer weiter

verbreitete NTN Technologie wird hier durch die TLT-Inserts ergänzt

und ist somit mit den neuen Bindungstechnologien der Szene kompatibel

und bietet darüber hinaus auch die Option zum Tourengehen.

Farbe: emerald/ice blue

Obermaterial: Pebax

Größen: 22.5/36 – 27.0/42

Gewicht: 1585g. / Gr.25/39

www.scarpa.com

T1

TELEMARK

Mit dem T1 fing alles an – heute, in der aktuellen Ausführung, ist er

immer noch der Telemarkschuh schlechthin! Das Modell in der Thermo-Version,

mit "Speed Pro G"-Innenschuh, ist ideal für alle Telemarker,

die ein energisch reagierendes, zugleich aber leichtes Modell suchen.

Die Doppelinjektions-Technologie erlaubt es, dem Schuh unterschiedliche

Dicken und damit einerseits Steifigkeit, anderseits Schutz an sensiblen

Stellen zu geben. Auf dem Schaft ist eine Schnalle dazugekommen,

die noch mehr Halt und Präzision beim Fahren gewährt.

Farbe: antracite/teal

Obermaterial: Pebax Rnew

Größen: 24.5/38/ – 31.0/47

Gewicht: 1940g. / Gr.27/42

www.scarpa.com

16. PRODUKTVORSTELLUNG

PAGE | FREEHEELER.EU
---
8. swiss

telemark

Festival

06.01. - 07.01.2018

Davos Rinerhorn

- GROSSER MATERIALTEST

- WORKSHOPS

- USW

Infos / Anmeldung

swisstelemarkfestival.ch
---
Telemark Bindungen

THE

M-EQUPMENT

MEIDJO 2.0

TELEMARK

Die Meidjo 2.0 (Update-Version DEZ 2015) Telemarkbindung

ist kompatibel mit NTN Schuhen mit Lowtechinserts.

Performance: Meidjo ist die Lösung zwischen der Abfahrtorientierten

NTN-Bindungen (Rottefella NTN-System) und

den Forteilen der Pinbindungen für den Aufstieg.

Optionen: Stopper, Befestigung für Dynafit Harscheisen

und Fangriemen erhältlich. Die Bindung ist in zwei Größen

erhältlich:

Größe S: für Schuhhändler 22,5-26 Mondopoint

Größe L: für Schuhhändler 26,5-31 Mondopoint

Gewicht: ca.975 g pro Paar (Größe L), damit ist es eine sehr

leichte Telemarktourenbindung.

www.the-m-equipment.com

MOONLIGHT

MOUNTAIN GEAR

PUR TELE

TELEMARK

Die Pur Tele von Moonlight Mountain Gear wurde für die

Saison 2016/17 komplett überarbeitet und kann mit jedem

NTN Low Tech Telemarkschuh gefahren werden

Im Tourenmodus ohne Federn und Kabel, die man beim

Losgehen einfach aushängt, beträgt das Gewicht 200 gr.

Vor dem Runterfahren, hängt man alles wieder ein und es

geht mit einer 500 gr. leichten Telemarkbindung wieder

talwärts.

www.moonlightmountaingear.com

BISHOP

BMF-R

TELEMARK

Völlig neuentwickelte Telemarkbindung mit Tourenfunktion,

wahlweise mit 75 mm oder NTN Schuhaufnahme erhältlich.

Die Switch Plate Technologie ermöglicht einen schnellen

Wechsel mit mehreren Skiern. Mit Skibremse und integrierter

StepIn Funktion.

Gewicht: 2070 gr. inkl. Skibremse

Skibremse: 100, 115, or 125mm Breite

Steigehilfe: 7 und 14 Grad Steighilfe

www.bishopbindings.com

BISHOP

BMF-3

TELEMARK

Völlig neuentwickelte Telemarkbindung mit Dowhillfunktion,

wahlweise mit 75 mm oder NTN Schuhaufnahme erhältlich.

Die Switch Plate Technologie ermöglicht einen schnellen

Wechsel mit mehreren Skiern. Mit Skibremse und integrierter

StepIn Funktion.

Gewicht: 2060 gr. inkl. Skibremse

Skibremse: 100, 115, or 125mm Breite

www.bishopbindings.com

18. PRODUKTVORSTELLUNG

PAGE | FREEHEELER.EU
---
MEIDJO 2.1 / free touring telemark

© Jacob Slot

so light

so easy

even more pleasure

Come test it to FIS telemark world cup

Nov 30 to Dec 3 - Hintertux (Austria)*

*Find all tour stops of The Freeheeler Testival Tour at

www.freeheeler.eu/freeheeler-testival-tour/

www.the-m-equipment.com
---
Telemark Bindungen

TTS TELEMARK

TECH SYSTEM

TELEMARK

Die TTS war erste die Telemarkbindung mit Low Tech

System auf dem Markt. Eine sehr leichte und pure Telemarkbindung

Größen: Short 23-25, Long 25.5 und größer.

Gewicht: 905 gr.

www.telebuddy.ch

22 DESIGNS

OUTLAW

TELEMARK

Die Outlaw NTN von 22Designs ist eine robuste, mit

Aufstiegsfunktion ausgestattete NTN-Telemarkbindung.

Das Step-In System garantiert einen einfachen Ein- und

Ausstieg. Im Tourenmodus lässt sich die Bindung mit

einem Öffnungswinkel von 50° öffnen, um höchsten

Gehkomfort zu gewähren. Die Feder der Bindung ist

fünfstufig einstellbar und überzeugt mit einer hohen

Robustheit.

Größen: S bis 26,0 Mondo Large: ab 26.5 Mondo.

Standhöhe: 28 mm

Gewicht: S 1525gr. L 1590 gr.

www.twentytwodesigns.com

ROTTEFELLA NTN

FREEDOM

TELEMARK

Rottefella Freedom ist die Bindung für diejenigen, die

Freiheit und Herausforderung abseits präparierter Pisten

suchen. Das geringe Gewicht, der einzigartige leichtgängige

Gehmechanismus und großer Öffnungswinkel

machen die Bindung zum perfekten Begleiter für den

Aufstieg und den Tiefschneehang.

Gewicht: 1.500 gr. / Paar

Standhöhe 25mm

Steighilfe: 35mm und 65mm

Skistopper: Standard 110mm

Größe S: Mondopoint: 22,0 - 26,0 Größe L: Mondopoint:

26,5 -31

www.rottefella.com

ROTTEFELLA NTN

FREERIDE

TELEMARK

Die Rottefella Freeride Telemarkbindung ist ein Mix aus

Telemark- und Freeridebindung. Hier vereinen sich die

Einfachheit und Sicherheit einer klassischen Alpinbindung

- die Freeride ist einfach mit der Skistockspitze zu

öffnen - mit der nötigen Technik, um den Fersen genug

Freiheit zu lassen.

Ein Fersenhebel wird dabei überflüssig und ein neues,

direktes Fahrgefühl wird möglich. Unübertroffen ist die

Seitenstabilität und die Kantenkontrolle, genauso wie

der einstellbare Flex zur unmittelbaren Energieübertragung

vom Schuh auf die Kante und die Release-Funktion

zur Seite hin.

Gewicht: 1850g

Standhöhe: 30mm

Größe S: Mondopoint: 22,0 - 26,0 Größe L: Mondopoint:

26,5 -31

www.rottefella.com

20. PRODUKTVORSTELLUNG

PAGE | FREEHEELER.EU
---
Telemark Bindungen

7TM

POWER XR

TELEMARK

Die 7 TM Power XR ist die perfekte Bindung für Telemarker

mit höchsten Ansprüchen: perfekt für den Wettkampf, eisige

Pisten, Vollgasabfahrten – und alles was dazwischen liegt! Sie

bietet als weltweit einzige Telemarkbindung eine TÜV geprüfte

und DIN-genormte Sicherheitsauslösung von Z 4-11. Jetzt

mit stärkerer XR Feder im Fersengehäuse und StepIn Funktion

erhältlich.

Standhöhe: 22mm.

Schuhgröße: 4,5-12,5

Mondopoint: 24-30,5.

Z-Wert: 4-11

Gewicht: 1380 gr./Paar

StepIn Funktion

7TM

POWER TOUR XR

TELEMARK

Die 7tm Power Tour XR ist die einzige Telemarktourenbindung

der Welt mit TÜV geprüfter Sicherheitsauslösung. Durch den

herausnehmbaren Power Pin wird der Drehpunkt (Pivotpunkt)

nach hinten verlagert und man bekommt deutlich mehr Zug

auf die Bindung. Dieser Zug verläuft über den Fersenhub nicht

gleichmäßig, sondern nimmt zum Ende spürbar zu. Der Power

Pin lässt sich bei Bedarf leicht entfernen, wodurch man eine 7tm Tour mit 3 Pin

Feeling erhält. Die "XR Power" in der 7tm Power Tour Power XR gibt dem Telemarker

über die härtere Feder im Fersengehäuse mehr Ski-Kontrolle und die Kraftübertragung

wird dadurch wesentlich verbessert. Die StepIn Funktion erleichtert das

Einsteigen auch im schwierigen Gelände ohne sich umständlich Bücken zu müssen.

• Power Pin bietet Wahl zwischen "Power" und "Allmountain"

• Schneller Tourenmoduswechsel durch einen Hebel an der Außenseite der Bindung

• zweistufige Steighilfe

• Bindung löst aus & eignet sich für die Piste, Freeride und perfekt für's Tourengehen.

• StepIn Funktion

Gewicht: 1.480 gr./Paar

Z-Wert: 4-11

Standhöhe: 33 mm

Zubehör: Stopper und Harscheisen 105 mm

VOILE

SWITCHBACK

TELEMARK

Das amerikanische Label Voile hat sich in der Szene durch

seine soliden und nützlichen Backcountry-Produke einen hervorragenden

Ruf erarbeitet. Die Switchback Telemarkbindung

von Voile ist eine extrem leichte Hardwire-Bindung mit superschnellem

Wechsel von Aufstiegs- auf Abfahrtsmodus. Die

Verriegelung des Gehmechanismus befindet sich vor der Bindung

und ist ganz einfach mit dem Stock zu bedienen. Zwei

zur Steighilfe (+65mm/100mm) hochklappbare Bügel sorgen

für einen angenehmen Aufstiegskomfort. Die Bindung wird in

Utah (USA) hergestellt und besteht aus rostfreiem Stahl.

Für Schuhgröße 24 - 30,5 in zwei Größen. Short und Standard.

G3

ENZO

TELEMARK

Die Enzo R von G3 ist die Telemarkbindung für die beste Performance,

wenn Power, Präzision und Kontrolle gefragt sind.

Die lange Fronttplatte und die breite Bauweise sorgen für eine

optimale Kraftübertragung auf den Ski.

4 verschiedene Activity-Settings

3 verschiedene Federhärten

6-Loch-Befestigung

Gewicht: 1.674 kg

Größe: 22,5-32 (one Size fits all)

22. PRODUKTVORSTELLUNG

PAGE | FREEHEELER.EU
---
"Die fabelhafte Erfolgsgeschichte

der Amélie"

Außer Konkurrenz. Im wahrsten Sinne: Die

erfolgreichste Telemarkerin der Welt räumt seit

Jahren Kugel für Kugel ab. Ein Portrait über

Disziplin, Hingabe und Leidenschaft.

Bei Sportlern ist das meistens wie bei Sängern.

Eine Zeit lang gibt es da jemanden, der

sahnt reihenweise ab, was es abzusahnen

gibt. Bei denen läuft, sagt

man dann im Volksmund.

Normalerweise läuft es für

gewöhnlich aber nur für ein paar Saisons,

ein paar Hits – selten mehr als zwei, drei

Jahre in Folge. Die 30-jährige Schweizerin,

Amélie Reymond, gehört zu jenen seltenen

Ausnahmen, die es alle hundert Jahre mal gibt und

ist alles andere als gewöhnlich. Nicht umsonst wurde sie von

den Medien bereits "außerirdisch" genannt: Seit dem Beginn

ihrer Karriere vor genau zehn Jahren, gewann Amélie mittlerweile

über hundert Weltcup-Rennen des Internationalen

Skiverbands, der FIS. Damit lässt sie nicht nur den glorreichen

Alpin-Skiläufer der 80er, Ingemar Stenmark, blass aussehen,

auch die erfolgreiche Schweizer Freestyle-Skifahrerin

Conny Kissling hat Amélie bereits überholt.

"Ich kann sehr

hart zu mir sein"

Wie das geht? "Ich kann sehr hart zu mir sein", sagte sie einmal

lächelnd in einem Interview auf die Frage nach ihrem

Geheimnis. Härte. Eine wichtige Zutat im Reymondschen

Erfolgsrezept. Aber auch Disziplin, Durchhaltevermögen

und Leidenschaft sind eklatante Wegbegleiter ihrer Karriere.

Während der Wintermonate steht auf Amélie Reymonds

Schedule täglich: Training, Training, Training. Doch

weil der Telemarksport leider immer noch nicht so wertgeschätzt

wird, wie seine alpinen Brüder,

können selbst Telemark-Profis wie Amélie

nicht davon leben. Die ETH-Absolventin

arbeitet daher das ganze Jahr mit einem

reduzierten Pensum auf der Dienststelle

für Gesundheitswesen im Kanton Wallis.

Neidisch auf die Alpinen Disziplinen ist sie

nicht. "Diese erhalten zwar mehr Geld und Aufmerksamkeit.

Wir holen dafür die Kugeln."

Vor rund zehn Jahren stieg die 30-Jährige auf die fersenfreien

Telemarkbindungen um. Wie sie damals dazu kam? "Im

Telemark kannst du jedes Gelände fahren, Piste, Tiefschnee,

Sprünge, Flachstücke... einfach göttlich", schwärmt sie. Zum

Glück entdeckte Amélie Reymond das Telemarken – denn

göttlich ist auch ihre Karriere.

Übrigens, für die Saison 17/18 hat Amélie Reymond mal für eine Saison das Equipment gewechselt.

24. PORTRAIT

PAGE | FREEHEELER.EU
---
PORTRAIT .25

FREEHEELER.EU | PAGE
---
Out of comfort zone

The Tian-Shan Mountain chill-out

Skiing, and telemarking particularly,

is my passion. I've

shared this passion for years

with the friends I love. We ski a

lot in my home country, Slovakia,

but we travel to ski abroad

even more. Not only beyond the borders of

our country, but beyond the boundaries of

our comfort zones. It is here, outside your

normal comfort zone where you disconnect

from all the things you have to do, and

where you experience things that cannot be

planned in advance. It's our common nirvana,

a state where you have a permanent

smile on your face and feel inner joy. It is a

state that is best described as shared joy. I

had a very intense experience like this in

2007, during our ski trip in northern Russia,

on the Kola Peninsula in the Murmansk

region. Ten years later, we had an intense

feeling of deja-vu in the mountains of Tian-

Shan in Kazakhstan. Read our story, be inspired

and go. Out of your comfort zone.

Peter Kollár (peter@greenzone.sk)

26. REPORTAGE

PAGE | FREEHEELER.EU
---
The story:

February 2015,

Georgia, Gudauri ski resort

During my second visit to the Gudauri

ski resort in Georgia I meet local guide

Rustam Ibragimov. This fellow works for

the Snowlab company that does group

guiding in the Tian-Shan mountains in

Kazakhstan. After his presentation of

the skiing possibilities in this area we

have a short discussion and exchange

our contact details. Who knows, maybe

one day...

October 2016, Slovakia

My skiing friend Patrik Mayer calls me.

Several times. He keeps trying to convince

me that it's time to have our ski adventure

again, preferably somewhere in

the post-Soviet area. That's where things

are happening. If you were not there, you

won't believe, can't imagine. Our small

community of telemarkers and friends

of telemarkers has already rushed to the

north of Russia – to the Kola peninsula,

the Russian Caucasus, Italy, Kamchatka,

Pamir in Kirgizstan, Swiss, Austria,

Armenia, Georgia. We have always experienced

exceptional situations full of

adventures and some vodka. Patrik is

relentless, so I call Rustam, discuss conditions

and prices, and start looking for

flights.

January 2017

Good news – from 1 January 2017 we do

not need a visa for Kazakhstan. I contact

friends and offer participation. The next

step is emailing with Rustam, fine tuning

our trip program, equipment, skiing

details and other conditions.

February 2017

"Maybe" now becomes reality. We buy

flight tickets, the trip is confirmed. There

are 13 adventurers in the group, including

2 girls. The expedition consists of an

electrician, an outdoor clothing manufacturer,

a climbing wall manager, a

sports equipment dealer, a music teacher,

a heart surgeon, an IT project manager,

a toy seller, a travel agency director, a

production project manager and three IT

consultants. The national formula is (7 x

Slovak) + (6 x Czech), the skiing formula

is 10 telemarkers and 3 lock-heelers.

D-Day, 29 April 2017

The Slovak group departs from Vienna,

the Czechs go from Prague. We meet at

the airport in Kiev, have some Ukrainian

beer and then fly to Almaty in Kazakhstan.

30 April 2017

Landing. It's early in the morning, 4

o'clock local time. Jet lagged and slightly

hung over, we meet the taxi driver sent

by Rustam. On the way to the Shymbulak

Ski Resort, we do some shopping in

the supermarket. Alcoholic beverages

cannot be sold before 10am, so we just

buy ordinary things. We have to get

beer somewhere else. Among the socialist-type

houses, the taxi driver shows us

a small shop where we can buy beer. They

also have a special tap to pour beer into

original plastic bottles. Three kinds of

beer are available. Where is a will, there

is a way. Upon our arrival in the hotel we

have breakfast before some of us go to

bed, while others opt for skiing. Outside,

it is half-raining, half-snowing.

1 May 2017

There is 10 to 15 centimeters of new snow

and it is overcast the whole day. We go on

an acclimatization tour. First we use the

lift, where we, a foreigners, can get a discount

on the ski pass. But we must claim

the discount with our flight ticket – the

one we handed over when boarding the

aircraft, of course. Some of us did not

even have it because we used an electronic

one. But we have to produce the paper,

otherwise there won't be any discount.

We still have Rustam, who solves all our

problems, and an hour later we have our

ski passes. I'm struck by the technological

improvements I see for the first time.

Gondolas and four-seater chairlifts are

hung on one rope together. Behind the

first two four-seaters, there is one gondola,

and the pattern then is repeated. Is the

weather nice and you want to enjoy the

sun? No problem, take the four-seater. Is

it windy and you need cover? Get on the

gondola. Such an original style. From the

top station we start our short acclimatization

tour up to 3,800 meters above sea

level. For better acclimatization, we sleep

at the top station bar, called 3,200 Bar.

In the evening, we take over of the bar,

singing and playing guitars. Mountain

mood as we know it. Our Czecho-Slovak

telemark rock band rules. No big rock hit

is left out. It starts snowing outside.

2 May 2017

After a tough party night, it's hard to get

up. For breakfast, we get some hot red

oily water with three - four French fries

thrown in. A rough guy will eat half of it,

others will do what the stomach allows.

You cannot expect gourmet specialties

here. Outside, the weather is perfect. 30

centimeters of fresh snow and sunny, no

clouds. We go skinning, take pictures,

enjoy the views. After about 2.5 hours we

reach the highest point, just above 4,000

meters. Rustam's stomach will not hold

REPORTAGE .27

FREEHEELER.EU | PAGE
---
last night's exhilarating party. But then

we start skiing and everyone enjoys the

powder on the sun-covered slopes. We

finish at the Shymbulak resort hotel. In

the evening, we relax in the traditional

Uighur saunas – a tent, hot stones, fragrant

essential oils, twigs, eucalyptus oil

massage, cooling directly in the glacier

creek and excellent herbal tea.

3 May 2017

Heli-skiing the Kazakh way. We move

from the hotel to Almaty. First, the necessary

procedure in the military airport

before entering the helicopter takes

place. This involves checking of luggage,

passports and people. Then pre-flight

instructions and skiing rules. Our helicopter

is the big Russian MI-17 which is

18 meters long with maximum take-off

weight 13,000 kilograms. There are 17 of

us, including the guides. We divide into

two groups and the helicopter alternately

flies one and then the other group. It is

an amazing feeling when more than 10

tons hover above you and then fly away

over your head. We again enjoy skiing in

powder. After two runs, we break for half

28. REPORTAGE

PAGE | FREEHEELER.EU

an hour and then ski again. The weather

is fantastic – it is sunny with great visibility.

After our last run, we ski to the

glaciological base on the Tuyuksu Glacier

at the altitude of 3,200 meters. A total of

5 runs in a beautiful area. At the base, a

permanent scientific crew explores the

movements and behavior of the glacier.

We stay in old Soviet-era huts that are

falling apart. We relax in the sun in front

of the huts, play the guitar and enjoy ourselves.

4–5 May 2017

We ski around the base. It is still sunny

and warm, but we can always find powder,

so skiing is always great. Our member

José does not follow our group and

gets lost a little, and so does not entirely

deliberately ski his own magic line from

4 000 meters high Peak Molodyozhi.

Fortunately, nothing happened to him,

even though he had to cross clear ice at

the end of the descent. In a few minutes,

he becomes a local celebrity. Surrounded

by the stunning mountain scenery, it is

a pleasure not only to ride, but also to

relax and enjoy time spent with friends.

Telemark, beer, guitar, lots of fun and

friends. That's why we are here. A mountain

chill-out.

6 May 2017

In the morning, we wake up into a cloudy

day. We have breakfast, pack and descend

to Shymbulak ski resort. It's hard to believe

how good the weather was until

now. Thanks to the good snow conditions,

we are able to ski relatively close to

the Shymbulak resort – we only have to

walk with our skis on the backpacks for

about 15-20 minutes. After dinner, we go

to the sauna again. At the bar they serve

the last drinkable Kazakh beer, and now

only have some miserable weizen, so we

drink some of the not very tasty Chinese

bottled beer. Outside it is already raining,

the weather has held very well.

7 May 2017

In the morning, it is raining. We have

planned a trip to Charyn Canyon. The

canyon is 4 hours by bus to the east of

Almaty. On the way, we stop for food,

picking something typical for this area. A

lot of vegetables, especially peppers with
---
meat. Kazakhs are famous horse breeders,

so I hope it was beef as it said in the

menu. The weather is getting better, no

rain, more sun. The entrance to the canyon

is crowded because it is a public holiday

– "Kazakhstan's Day of Defense" – so

there are many people here. We can walk

through the canyon, talk to each other

about the impressions of the countryside,

skiing, people and the area. We have

a great time. In the evening, we return to

Almaty and do the final packing.

8 May 2017

Wake-up call is at 2am. We get on the bus

and listen to Rustam's touching goodbye

speech. It is 30 minutes to the airport

where we have our final adventure

with our avalanche backpacks, which,

after about half an hour ends with our

victory, or rather with the condescending

resignation of the local airport authority.

Then the flight back home. Human

energy blended into an experience with

friends. If you were not there, you won't

believe, can't imagine.

Travel details:

Kazakhstan is the 9th largest country

in the world, but has only about 18

million inhabitants. The currency is

the Tenge (KZT), the rate was 1 € =

375 KZT. The prices for normal tourist

needs are lower than the European

average. If you order lunch at an

ordinary restaurant, you will pay 3-4

€. You can buy beer for less than 1 €.

As for food, you can get everything you

need at the supermarket in Almaty.

In the country, the selection will be

limited. Kazakhs speak Kazakh and

still Russian, some English. As most

of us understand or speak Russian, we

did not have problems with conversation.

Rustam communicates in Russian

and partly English. During the stay at

the hotel we had a meal in the hotel

restaurant (breakfast, dinner), the grilled

lamb meat with onions was really

great. At the Tuyuksu glacier, Rustam

prepared food (breakfast, dinner)

himself, but it was not always edible.

It is best to have your own "add-ons"

to Rustam's culinary creations, like

salami, cheese, bread, waffles, etc.

Equipment. You will need common

ski-touring equipment – skis, skins,

poles, avalanche equipment (transceiver,

probe, shovel, avi-backpack), crampons,

ice axe. You won't need a harness,

slings, carabiners, rope. Very important

is sun protection cream, lipstick,

sunglasses, cap. During the day it is too

hot, but cold in the evening, so a down

jacket is quite in order. For sleeping you

need sleeping bags with comfort rating

at around -10 degrees. Electricity provided

by gas generators in the evening.

They have 220V European standard

sockets.

Transport. We used Ukrainian International

Airlines (UIA) for air transport.

With the transport of avalanche

backpacks on the way to Almaty there

was no problem, but we had some issues

on our way back from Almaty. It is

important to ask staff during baggage

claim to clearly declare whether a pressure

bomb should be carried as cabin

luggage or checked baggage. The final

price for the entire ski trip with airline

tickets and heli-skiing was around €

1,700 - € 1,800. More details at: info@

snow-lab.com or http://snow-lab.com/
---
Bregenzer TeleWald

Das gemütliche Telemarker Fest im Bregenzer Wald

Möchtest Du

Telemarken

lernen, Deine

Telemark-Fähigkeiten

verbessern,

nette

Leute kennen lernen und gemeinsam

eine schöne Zeit im Schnee verbringen?

Dann bist Du bei dem Hüttenwochenende

in Au genau richtig!

Seit Jahren findet hier der "Bregenzer

TeleWald" statt, eines der größten

Telemarker-Feste im deutschsprachigen

Raum – organisiert vom SSV,

den Tannnberger Telemarkern, TelemarkPlus

und dem DAV Überlingen.

2017 war es die größte Telemark Fortbildung

jemals in einen Deutschen

Skiverband; die Kurse werden als

Fortbildungen des SSV angerechnet,

somit kann man hier auch seine DSV

Skilehrer Marke verlängern.

Spaß zu haben. Neben einem "Umsteiger"-Kurs,

der besonders für Alpin-Skifahrer

geeignet ist die das

Telemarken ausprobieren wollen, gibt

es auch ein breites Angebot an Kursen

für Fortgeschrittene, Freerider, und

für solche die Freerider werden wollen

– die Ausbilder des Bundeslehrteams

Telemark, SSV und Nachwuchsausbilder

sind bestens auf die verschiedenen

Gäste vorbereitet. Auch die Jugendarbeit

kommt nicht zu kurz – es

werden, dem Niveau der Teilnehmer

angepasst, zwei Kinder-Gruppen angeboten.

So können Erfahrene Ihre

Fähigkeiten weiter ausbauen, während

Anfänger die Gelegenheit haben,

das Telemarken in passender Atmosphäre

zu erlernen. Freeheeler, Telemark-Plus

und die Tannberger Telemarker

stellen Leih-Material bereit;

für Anfänger gratis, für Fortgeschrittene

gegen eine kleine Gebühr

Das Wochenende beginnt Freitagabend

mit einer ordentlichen Brotzeit

auf der Hütte – genug Essen um

den ersten Hunger zu stillen, und

genug Zeit erste Bekanntschaften zu

knüpfen. Samstag gibt es dann einen

organisierten Reisebus, der ins

Skigebiet Warth-Schröcken an die

Saloberbahn fährt. Samstag Abend

gibt es dann eine gemeinsame Abfahrt

aller Teilnehmer und Ausbilder

zum Holzschopf, einer urigen kleinen

Après-Ski Hütte. Nach einer Runde

Apres-Ski geht es dann zurück auf die

Hütte in Au, wo ein leckeres Abendessen

wartet. Sonntag werden am

Hang die Offenen Schwäbischen Telemark

Meisterschaften ausgetragen;

der Lauf ist "Anfänger-freundlich"

gesteckt, es können also neben den

Profis auch diejenigen teilnehmen,

die erste Erfahrungen im Rennlauf

sammeln möchten.

Rund 100 Telemarker aus Deutschland,

Österreich, Schweiz, Holland

und Italien kommen zusammen, um

gemeinsam den Sport zu leben und

Im Rahmen des Freeheeler Testival

Tour Stops, wird auch das neueste

NTN/Lowtech Telemark-Euipment

für eine Testgebühr verliehen.

Interesse geweckt? Weitere Informationen

zum Bregenzer TeleWald

gibt's unter www.Bregenzertelewald.de
---
A PASSION FOR LIFE.

By TelemarkSnowEvents's team

Interski is among the most important meetings for

the worldwide ski instructors and it is refered to as

the Olympic games for teaching ski. In the edition

of 1983, in Sesto Pusteria (Italy), Paul Parker introduced

and successfully demonstrated the telemark

technique on behalf of the American Ski School.

Some Italian professional skiers remained fascinated by the

proposition and decided to explore the technique and work

on it. Among them, Paul Parker's friend, professor and professional

skier Giorgio Daidola, became a supporter of the

telemark technique, which well suits his passion for travelling

the world and for fully experiencing ski mountaineering.

Where in the 90's, a friend of his and great mountain enthusiast

decided to try the telemark experience. This sport soon

became his life passion and as time passes he felt the need to

involve all his friends in it and started organizing meetings

during the winter weekends.

Mariano Valcanover, class of 1954, well-known promoter of

social and sport events, is the founder of Lagorai Telemark

Club, which represents the seed for the future and great challenges

to improve telemark diffusion in Italy and abroad as

and that can be seen as the precursor of TSE

In fact, in 2005, he decided to accept a new challenge: he and

some other enthusiasts started TSE with the aim of actively

coordinating and organizing telemark events across the Italian

ski resorts and of proposing the technical basis with the

help of some professional and driven telemark skiers for free.

The success arrives soon and the Italian telemark crew grows

more and more every year after year.

Mariano's passion for telemark influences a huge amount of

beginners and experts and telemark finally finds his place

among winter sports Italian parade. For instance, Telemark

Snow Events opening in Val Senales will be the starting point

of the winter season for ten years. Another example is the

participation in Modena Skipass with the purpose of discussing

about telemark development possibilities and evenly

spreading about 20 events between northern and southern

Italy. For some years, the collaboration with some driven

journalists and writers has led to the publishing and diffusion

of a dedicated magazine "TelemarkMAG" to collect telemark

stories and experiences.

The collaboration between TSE and professional skiers allowed

to improve the quality of the teaching approach by

developing a short sequence of exercises for telemark beginners.

Moreover, Mariano and the TSE team were active in the

organization of InterTELE, an international meeting of professional

telemarkers, with the aim of discussing about the

development of the teaching approach.

So, at the beginning of May 2017 InterTELE World meeting

took place in Breuil-Cervinia and Mariano is one of the leading

actor organizing workshops and events. The meeting was

a success and both Mariano and the other people involved

showed enthusiasm and the willingness to gather again soon.

Unfortunately, the story takes an unexpected turn. On May

12st, social media reports something that has left everybody

shocked and incredulous: Mariano is gone. During the night

our beloved friend has decided to take a break, a timeless

rest. His friends have been standying by the family, but the

void he left will not be easy to fill. His passion and his ideas

have been strong, challenging and often provocative, but always

in positive prospection. He taught us the beauty of telemark

and infused his enthusiasm towards it to everybody

who knew him. He mostly taught us how to live and love the

mountains and last, but not least, to free the heel.

32. NACHRUF

PAGE | FREEHEELER.EU
---
UNA PASSIONE PER LA VITA.

scritto dal Team di TelemarkSnowEvents

Esiste un appuntamento molto importante per i

maestri di sci di tutto il mondo, si chiama InterSKI,

sono le Olimpiadi dell'insegnamento

e nel 1983, a Sesto Pusteria/SEXTEN Italia, la

scuola Americana presentò, con un dimostratore

di eccellenza di nome Paul Parker, la tecnica

del Telemark. In Italia alcuni professionisti colsero la proposta

e si misero a lavorare su questo particolare modo di praticare lo

sci, anche un esperto sciatore amico di Paul Parker, il Professor

Giorgio Daidola, si innamora di questa tecnica perche ben si

addice alla sua passione, quella di girare il mondo e di vivere

intensamente i viaggi di esplorazione con gli sci.

Il Professore lavora e vive nelle vicinanze di Trento e tra gli

amici che frequenta c'è un appassionato di montagna che

decide di provare questa esperienza e, a metà degli anni '90,

inizia a praticare questo sport e contemporaneamente a coinvolgere

gli amici in quella che si rivelerà la sua passione per

la vita.

Mariano Valcanover, classe 1954, già organizzatore e promotore

di molte attività tra le più disparate, da quelle politiche

a quelle sportive, fonda il Telemark Club Lagorai con il quale

inizia a frequentare meeting e festival dedicati proprio al

telemark.

Nel 2005, Mariano insieme ad alcuni amici, decide di intraprendere

una nuova avventura che, a suo parere, può diventare

un qualcosa di veramente interessante e, dopo avere pianificato

le possibili attività da promuovere, fonda Telemark

Snow Events, una realtà che si propone di organizzare e coordinare

gli eventi che si succedono in Italia oltre che a promuovere

gratuitamente la tecnica con l'aiuto di professionisti o

meno che si mettono a disposizione durante i week end. La

proposta riscuote un grande successo e fioccano le collaborazioni

con le stazioni sciistiche che decidono di ospitare il

team di TSE nei week end consentendo la promozione, primo

obiettivo dell'ormai rodato sodalizio Telemark Snow Events.

Mariano diventa il perno di un'attività che sembra finalmente

avere acquisito il suo spazio all'interno del mondo degli

sport invernali. Tra gli appuntamenti che riesce ad organizzare

c'è l'apertura della stagione in Val Senales e la partecipazione

a numerose edizioni della Fiera SKIPASS di Modena

dove, durante ogni edizione, vengono organizzati convegni

di discussione e incontro con le Aziende di settore e i professionisti

dell'insegnamento. Insieme al Team organizza più di

venti week end su territorio Italiano ogni anno, dalla Calabria

alle Alpi. Per alcuni anni, con l'aiuto di alcuni giornalisti

appassionati di telemark e di scrittori professionisti o meno

ha prodotto la rivista TelemarkMAG, dove si è parlato in particolare

di esperienze e di passione che Mariano non perde

l'occasione di manifestare ogni volta che ne a il modo.

Dopo un percorso alla ricerca di un riscontro sempre maggiore,

con l'aiuto di alcuni primi attori del settore collabora

all'organizzazione dell'InterTELE, una manifestazione parallela

all'InterSKI che permette ai professionisti appassionati

di mettersi a confronto sulla tecnica e sulla didattica dell'insegnamento

nella quale Mariano crede in maniera spasmodica.

La primavera del 2017 vede Breuil-Cervinia sede di questo

importante meeting e Mariano è uno dei collaboratori nella

gestione degli eventi. Cinque giorni di workshop e di scambi

di esperienze, serate a tema e dimostrazioni collettive. Ancora

entusiasmo da parte sua e da parte dei partecipanti e alla

fine la promessa di rivederci tutti il più presto possibile.

Il 12 Maggio, i social riportano una notizia alla quale nessuno

è preparato; nella notte Mariano ha pensato di prendersi

un periodo di riposo dal quale non c'è ritorno. Gli amici si

sono stretti vicino alla famiglia ma il vuoto che ha lasciato

non sarà facilmente riparabile, ne per la famiglia tantomeno

per chi era ormai abituato a dipendere dalle sue proposte,

spesso provocatorie ma sempre azzeccate, e, per la bellezza

del gesto del telemark ma molto di più, per l'entusiasmo che

lui metteva nel fare quello che a noi tutti piace fare, anche

grazie a lui; vivere la montagna e liberare il tallone.

NACHRUF .33

FREEHEELER.EU | PAGE
---
Freeheeler

European Opening 2017

Zum siebten Mal war das Gletscherskigebiet

Hintertuxer Gletscher vom 1.-3.12. wieder

das Mekka des Telemarks: Bei super Stimmung,

strahlendem Wetter und traumhaften

Scheebedingungen trafen sich viele hundert

Telemarker zur Saisoneröffnung des Telemarkwinters

am Hintertuxer Gletscher.

Während des Freeheeler European Openings haben sich am

Hintertuxer Gletscher in der Freeheeler Testival Area, die

Teilnehmer der zahlreich gebuchten, von den Freeheeler Guides

durchgeführten Telemarkworkshops vom Telemark Style

begeistern lassen.

Ausgiebig wurden die von der Freeheeler Telemark Testival

Tour kostenlos angebotenen Neuheiten der Saison gestestet

und verglichen. Alle NTN und LowTech Telemarkbindungen,

wie die Meidjo 2.1 von M-Equipment, TTS, Rottefella und

Outlow von 22 Design konnten mit den Schuhen von Scarpa,

Crispi und Scott getestet werden.

Bei heißer Karotten/Ingwer Suppe, zubereitet von Guschti

Poltera aus Laax und Macher von Telebuddy.ch und leckerem

Glühwein, konnten auch die eisigen -20° in der Freeheeler

Testival Village am Tuxer Fernerhaus schadlos überstanden

werden.

Am Freitag Abend bot Freeheeler in Lanersbach im Tux Center

erstmalig die Möglichkeit beim Meet&Greet sich kennenzulernen,

auszutauschen und gemütlich das neue Freeheeler

Bier zu pro"bier"en. Die Vorträge von Peter Kollar über Kasachstan

und Per's "beeindruckende Hooked for Life" Story

sorgten für Spannung und sehr gute Unterhaltung.

Samstag Abend nach der Siegerehrung für die Gewinner der

FIS Weltcup Telemark Sprints vom Freitag und Samstag wurde

dann ausgelassen in der "Kleinen Tenne" bei schnellen

Beats, aufgelegt von DJ Tom, bis tief in die Nacht abgefeiert.

Das feedback aller Teilnehmer war ausgesprochen positiv

und fand auch Einklang im Resümee des Veranstalters und

Freeheeler Chefs Richard Schürf: "Das Freeheeler European

Opening 2017 war das Beste und Schönste der letzten sieben

Jahre"

In diesem Sinne freuen wir uns alle auf eine schneereiche

Telemarksaison und sehen uns sicher bald wieder in Hintertux

zum Telemarken.

34. REPORTAGE

PAGE | FREEHEELER.EU
---
REPORTAGE .35

FREEHEELER.EU | PAGE
---
FIS Ski Worldcup T

Der fünfte FIS Telemark-Weltcup mit knapp 100 teilehmenden

Athleten aus 12 Nationen wurde im Rahmen einer

Eröffnungsfeier am Musikpavillon in Tux Lanersbach

vom Obmann des Tourismusverbandes Tux-Finkenberg

feierlich eröffnet. Zahlreiche Besucher und Telemarker

aus dem In- und Ausland weilten der kurzweiligen Veranstaltung

bei. Eine beeindruckende Modelhubschrauber-Show

und der Lasermann sorgten für viel Zuspruch

im Publikum und die Startnummernvergabe im Rahmen

einer kleiner Feierstunde rundeten das Programm ab.

Johanna Holzmann (GER) und Bastien Dayer (SUI)

sind die Sieger des "Parallelsprints", der Höhepunkt des

FIS-Telemark-Weltcups 2017 in Hintertux.

Das bedeutete nicht nur Spannung pur bei den begeisterten

Zuschauern an den Seiten und am Fuße der

Rennstrecke am Tuxerferner-Haus, sondern selbstverständlich

auch höchste Konzentration und Adrenalin

bei allen Wettkampfteilnehmern.

Die extrem spannenden und emotionalen Rennläufe

bildeten in der Kombi mit den zum dritten Tag in Folge

fantastischen Wetter- und Schneebedingungen auf dem

Hintertuxer Gletscher, den perfekten Abschluss des dieses

Jahr bereits zum 5. Mal stattfindenden dreitägigen

einzigartigen, sportlichen Wettkampfes.

36. REPORTAGE

PAGE | FREEHEELER.EU
---
Telemark Opening

Die beiden Sprints am Freitag und Samstag konnten wie folgt entschieden werden:

Freitag 01.12.2017

Damen:

1. Zimmermann Beatrice SUI

2. Holzmann Johanna GER

3. Taylor Jasmin GBR

Samstag 02.12.2017

Damen:

1. Holzmann Johanna GER

2. Zimmermann Beatrice SUI

3. Argeline Tan Bouquet FRA

Männer:

1. Bastian Dayer SUI

2. Matter Stefan SUI

3. Loeken Trym Nygaad NOR

Männer:

1. Michel Nicolas SUI

2. Loeken Trym Nygaad NOR

3. Lau Philippe FRA

REPORTAGE .37

FREEHEELER.EU | PAGE
---
HOOKED FOR LIFE

BY TELEMARK PROMOTER PER

I

am sitting in a Mongolian Yurt on the border between

China, Kazakhstan, Mongolia, Russia – far away

from any civilian town – with the representative of

Xinjiang region, local Altai people and one of Chinas

most known traditional singers. I have just finished

my speech, as a member of a group of 15 Norwegian

Telemark skiers, invited to the Altay Region by the Chinese

organizers, in front of a large group of the Chinese society and

all kinds of media, in order to promote the opening of Chinas

first heli-skiing-operation. How did I end up here!?

Like most Norwegians I have learned skiing on wooden skis

and with leather boots when I was really young, with free

movement all the way. At the age of 12, from my first earned

money, I was able to buy my first pair of alpine boots and a

pair of jet skis. After that, I became a member of the local alpine

ski club.

After some years in the wasteland of alpine skiing, I found my

country roots and learned how to telemark in 1980. An extra

ordinary ski day in virgin champagne powder, through open

birchwood and wide open fields, got me hooked for life.

In the early 80is in Norway, no new telemark equipment was

available. We had only one TV channel, one radio station, no

VHS, CD or computers, but we had magazines…

We got ski and surf magazines from USA. Skateboarding (illegal

in Norway at that time), snowboarding, monoskiing and

telemark skiing influences was flushing over from America.

I took an interest in all of those sports, and I have tried and

learned them all.

Photos: Per Ståle Grude

1984 I went on a world-trip, to ski, surf and experience. I was

able to ski the areas I so far only knew from the magazines.

In Park City, Utah, I found out that there were a telemark

gate competition going on. Also I stumbled over the book,

"Cross-Country DOWNHILL" by Steve Barnett. This book

give me greater knowledge about telemark skiing.

38. PORTRAIT

PAGE | FREEHEELER.EU
---
Photo: Morten Strøm Eriksen

Photo: Per Ståle Grude

Back in Norway, I learned new telemark equipment was available

two places. I managed to inspired some of my friends

to start telemark skiing, and flew to Bergen to buy telemark

equipment at Platou Sport, for all of us. Asolo Extreme boots,

Rottefella 3 pin, Fischer, Kästle, and Atomic telemark skis.

A friend sold me my first SIMS snowboard. From the winter

1984 it was telemark skiing in the morning and snowboarding

in the afternoon, my only sport on snow at that time.

My first ski trip to Austria was in 1985, to St. Anton. At that

time, telemark and snowboarding was really not very well

known. They would not even let me use the T–bar lift with the

snowboard nor the telemark skies. They stopped the lift and

kicked me out. When I entered the famous afterski place "Krazy

Kanguruh" after a few days on telemark, the whole bar went

silent. For them, I was the crazy "Langläufer". Four years later,

the first Austrian Telemark World Championship was held in

St. Anton. What a development.

You 'd probably think my life was now only filled with telemark

skiing, competitions, and snowboarding around the world,

but no. A farmers education, daily work, got married, started a

family with 3 beautiful kids, kept me a little bit busy and away

from the snow play for many years.

In 1998 I bought my first plastic telemark boot. The new stability

made me try to mount 3 Pin telemark binding on a GS

alpine skies, and realized I could keep up with my friends on

alpine equipment. Telemark skiing in such high speed without

a release system, gave me fear for hurting myself and risk my

farming business. With a love for technical stuff and clever

innovations, I ended up inventing a telemark binding with

a release system. TShark was born. This kept my busy in my

workshop on the evenings, when the family was watching TV

Shows.

Between 2007 and 2010 the TShark telemark binding prototypes,

was build and tested.

In 2006 I moved my business into the offshore oil industry,-

My kids was more independent, so I got more time for my favorite

sport, telemark skiing.

2010, I started again to spend more time with telemark, and

went for the first time together with the Norwegian Telemark

Federation to the Hintertuxer glacier, for there early season

start in October. I have joined them every October sins.

In 2011, after a great telemark skiing day, I was sitting on my

balcony at the Hotel Jäger in Lanersbach, and I saw a white

VW Bus with a big Freeheeler sign on the roof at the parking

place right across from the Hotel. I was running down to meet

this guy, shaked hands and started talking about the telemark

community. It was Richard Schürf, the publisher of the Freeheeler

Telemark magazine. I told him, that I had picked up my

first Freeheeler mag in Norway at Platou Sport. He handed out

the new printed Freeheeler mag and invited me to the Freeheeler

European Opening, which he organzed in Hintertux for

the first time at the end of November 2011.

This trip with the NSF Telemark in October, the participation

at the Freeheeler European Opening and the new friendship

with Richard Schürf, was a major turning point in my freeheeler

life.

Richard had organized the Stubaier Telemark Festival, ten

times, with more than 600 visitors at the last edition. His idea

Photo: Per Ståle Grude

PORTRAIT .39

FREEHEELER.EU | PAGE
---
Photo: Per Ståle Grude

was to move the festival to Hintertux and start a new and

bigger promotion of telemark with a great support from the

Hintertuxer Cable car and the Tux tourismus, and hosting the

first FIS Ski Worldcup Telemark Opening in connection with

the telemark festival within two years. In 2013 the first FIS

Ski Worldcup Telemark Opening took place at the Hintertuxer

glacier and all of the telemark tribe was celebrating a great

telemark opening at the end of November 2013.

I was so lucky to join this event and to have the chance to be

part of the process and the organizing team. It was a huge inspiration

and an amazing feeling to be with all these people in

Hintertux. I can't wait until December 1st to 3rd to be part of

the 7th Freeheeheler European Opening, and the 5th time of

the FIS Ski Worldcup Telemark.

I have had a great time with telemark the last years and it is a

big fortune and pleasure to join and be part of so many Telemark

Worldcups, Festival, Camps and telemark gatherings all

over the world. Meeting so many great people and get to know

their culture and spending time with them, was and is so extra

ordinary and impressive to me.

The two last years I have been traveling with my Telemark

Promoting Van to most of the events from Norway to draw attention

to the beautiful style and culture of telemark skiing, reclaiming

the word SLALOM, promoting the birthplace of telemark

in Morgedal, and their great son and founder of Telemark

Skiing "Sondre Norheim". Reporting a view from these events

and more on the TShark facbook profile. My biggest wish is to

see telemark skiing being part of the Olympic Games. This was

in fact also a reason, why I was invited by the Chinese people to

Altai in January 2017, to promote telemark skiing for Olympic

in Peking 2022.

Another great telemark season has ended and a new season

will start very soon in Hintertux with the Freeheeler European

and FIS Ski Worldcup Telemark Opening 2017 from November

30th until December 3rd.

Telemark is my passion and a big part of my life. From my point

of view, kind of a family and I hope that I could join and meet

you again very soon at all the telemark festivals all over the

world. Maybe in the future I could manage it as a full time job.

Per – the telemark promoter

That would be just "Per-fect"

Photo:

Terje Nødland

40. REPORTAGE

PAGE | FREEHEELER.EU
---
Photo: Per Ståle Grude

Photo: Per Ståle Grude

Photo: Per Ståle Grude

Photo: Per Ståle Grude

Photo: Per Ståle Grude

Photo: Per Ståle Grude and Maren Krings

Photo: Per Ståle Grude

Photo: Maren Krings
---
Hopfen, Malz und

Gletscherwasser

Neil Vousden und Timothy Jones brauen

Craft-Beer. Klingt nach einer fancy

Brauerei in den USA. Ist aber im österreichischen

Tux. Ihre wichtigste Zutat?

Quellwasser – straight out of the Tuxer

Gletscher. Wie es zur Brau-Idee kam und

weshalb man beim Genuss des Tuxer Biers nicht nur glücklich,

sondern auch wohltätig wird.

"Tux1280. Die Seehöhe von Tux-Lanersbach und das Jahr,

in welchem das Dorf am Fuße des Hintertuxer Gletschers

erstmals urkundlich erwähnt wurde, dienten als Inspiration

bei der Namensfindung von Neil Vousdens und Timothy

Jones selbstgebrauten Craft-Beer: "Wir wollten für unser

Craft Beer nicht nur irgendeinen Namen – wir wollten eine

Geschichte erzählen. Eine wahre Geschichte."

Die beiden Engländer leben seit einigen

Jahren in Tux und lieben, eh klar, Berge

und Bier. Kennengelernt haben sie das

Tuxertal, wie so viele, beim Skifahren

in den Wintermonaten. "Dann kam

irgendwann der Entschluss und die

Möglichkeit, nach Tux zu ziehen. Nun

wachsen meine Kinder hier auf. Sie lernen

zuerst Tuxerisch, dann Deutsch

und dann Englisch", freut sich Timothy, dass sein Traum

von einem Leben in den Bergen in Erfüllung gegangen

ist. Neil, der passionierter Tüftler, ist in seinem Brotberuf

Hausmeister in einem der vielen Hotels in Hintertux. Er lud

eines Abends seinen Freund Tim auf ein "Guinness" ein und

bat ihm dabei sein selbstgebrautes Craft-Beer, welches er in

kleinen Bottichen bei sich Zuhause selbst braute, an. Tim,

der heute für das Marketing ihres Biers zuständig ist, war

damals sofort begeistert und schon wurden die ersten Pläne

geschmiedet.

"Beer with Attitude

and brewed

at Altitude"

IHR GEHEIMNIS? TUXER WASSER

Gemeinsam experimentierten die beiden über Monate in

Tims Keller, bis die Rezepturen für die mittlerweile fünf

Craft Beer Sorten passten. Keine leichte Aufgabe, denn ihre

wichtigste Zutat sollte das Tuxer Quellwasser werden. Und

das kann recht launisch sein: "Das Wasser ist jeden Tag anders,

selbst innerhalb eines Tages ändert sich die Zusammensetzung",

erklärt Neil die Herausforderung. Der Gletscher

spielt in den natürlichen Abläufen des Tuxertals eine

enorm wichtige Rolle. Es mussten also Rezepte her, die sich

den unterschiedlichen Gegebenheiten anpassen lassen. Im

Herbst 2016 war es dann so weit. In stylische Flaschen gefüllt,

präsentierten Neil und Tim den Tuxertaler Wirten ihr

Craft Beer zu heimischen Spezialitäten – die perfekte Ergänzung.

Hergestellt werden "Wit Bier", "Mountain Porter",

"Himbeerbier", "Pale Ale" und "Alpine Amber Ale" – auf den

Etiketten erhält der Biergenießer gleich noch Empfehlungen

zu welcher Speise die jeweilige Sorte

besonders gut passt. "Für unser Bier

verwenden wir ausschließlich frische,

natürliche Zutaten. Neben Hopfen und

Malz geben wir ihm mit Orangenschalen,

Himbeeren, Vanilleschoten oder

Schokolade eine besondere Note", verrät

Braumeister Neil das Geheimnis

des Tux1280. "Auch an uns selbst stellen wir höchste Ansprüche.

Damit soll unsere Wertschätzung für das Tuxertal

zum Ausdruck kommen", erklärt Tim.

Heute wird das "Tux1280" in Bars, Restaurants und Gasthäusern

des Tuxertals ausgeschenkt. Woche für Woche

brauen die zwei 1.000 Liter Bier, die sie per Hand in Flaschen

und Fässer abfüllen. Im Frühjahr 2017 wird investiert

und der Ausstoß der kleinen Tuxer Craft Beer Brauerei

auf wöchentlich 2.000 Liter verdoppelt. Wie es weiter

gehen soll? "Unser Bier steht für höchsten Trinkgenuss.

Wir möchten schon noch etwas wachsen, aber immer eine

Craft Beer Brauerei aus dem Tuxertal bleiben", so Tim. Denn

Unterstützung haben sie von allen Seiten bekommen und

42. REPORTAGE

PAGE | FREEHEELER.EU
---
möchten davon nun ein Stück zurückgeben. "Das grüne Alpine

Amber Ale haben wir der Bergrettung gewidmet. Ein

Teil des Verkaufspreises jeder Flasche geht direkt an die

Ortsstelle Tux", erklärt Timothy Jones, der selbst Bergretter

ist.

"Beer with attitude, brewed at altitude." Der charmante

Slogan von TUX 1280 bleibt im Kopf, auch dem Freeheeler

Team um Richard Schürf. Und was hätte mehr Attitude, als

sein eigenes Freeheeler-Bier trinken zu können? Neil und

Tim sahen das ganz genauso und schon war das exklusive

Freeheeler-Bier geboren:

Gemeinsam mit Rab, dem neuen Team-Bekleidungspartner

des Freeheelers wird künftig das "Freeheeler Wit Craft Beer"

mit Hintertuxer Gletscherwasser gebraut – freut Euch auf's

exklusive Tasting zum Freeheeler European Opening, sowie

den gesamten Winter über auf der Freeheeler Testival Tour.

Telehoi und Prost!

REPORTAGE .43

FREEHEELER.EU | PAGE
---
Bezengi

Wall eyed in Russia

By Bob Mazarei

We were astonished. My three

comrades—John Falkiner (Australia);

Luca Gasparini (Italy);

Nikolay Shustrov (Russia—Snow

Leopard Master of Alpinism)—

and I (USA) roped up, and with

deliberate pace started skinning up the immense glacier.

Off to our right was a steep wall of snow, rock, and ice, five

thousand meters in height that carried on for 12 kilometers.

Straight ahead was just as impressive. We were here

to explore this wild region on skis, and fortune seemed

with us as the terrain to our left held a likelihood of good

possibilities.

Wir waren erstaunt. Meine drei Kameraden

- John Falkiner (Australien), Luca

Gasparini (Italien), Nikolay Shustrov

(Russland-Schnee-Leopard-Meister

des Alpinismus) und ich (USA) - haben

uns angeschnallt und begannen

im bewussten Rhythmus, den riesigen Gletscher zu entwirren.

Rechts von uns eine steile Wand aus Schnee, Fels und Eis, fünftausend

Meter hoch, 12 Kilometer lang. Wir waren hier, um diese

wilde Gegend auf Skiern zu erkunden, und das Glück schien

mit uns, denn das Gelände links von uns bot einige gute Möglichkeiten.

44. REPORTAGE

PAGE | FREEHEELER.EU
---
There are ten peaks over five thousand meters in Europe

and they are all situated in the Caucasus Range in Russia.

The peaks are located, more or less, in a line. At the east

end of the range sits 5047m Kazbek. Situated at the west

end is the more well-known, highest mountain in Europe,

5642m Mt Elbrus. The other eight sit in a realm not often

visited by westerners, the Greater Caucasus region of Bezengi.

Here sits the daunting Bezengi Wall, the aforementioned

12-kilometer long, almost Himalayan-scale barrier

that is the natural frontier separating Europe from Asia.

In Soviet times Bezengi was a venue of high alpine drama in

which climbers were motivated by the possibility of being

chosen for State-supported climbing expeditions abroad.

Inspired competition ensued, and boundaries, limits, and

standards were raised chasing this rare privilege.

We spent the first few days working up the valley east of the

comfortable Bezengi Alpine Camp. Not until we passed the

grass, scree, the immense dark wall of rock bordering the

lateral moraine, did the scale of the region start to sink in.

Onto our skis at last, we felt the pull of this grand cirque of

mysteries. Our initial scrutiny revealed slopes that looked

too steep and dangerous to try to ski. Still, like the troupe

in the Land of Oz, we were drawn ahead. Always forward,

always wanting to see beyond the next curtain.

In Europa gibt es zehn Gipfel über fünftausend Meter, die alle in

der Kaukasuskette in Russland liegen. Die Peaks befinden sich

mehr oder weniger in einer Linie. Am östlichen Ende des Gebirges

befindet sich Kazbek mit 5047m. Am westlichen Ende des Berges

befindet sich der bekannteste und höchste Berg Europas, der 5642

m hohe Elbrus. Die anderen acht befinden sich in einem Bereich,

der nur selten von Westlern besucht wird, in der Kaukasusregion

Bezengi. Hier befindet sich die gewaltige Bezengi-Mauer, die bereits

erwähnte zwölf Kilometer lange, fast himalayaähnliche Barriere,

die natürliche Grenze zwischen Europa und Asien.

Bezengi war zu Sowjetzeiten ein Ort hochalpiner Dramatik, in

dem sich die Kletterer durch die Möglichkeit motiviert sahen, für

staatlich geförderte Expeditionen ins Ausland ausgewählt zu werden.

Es folgte ein inspirierender Wettbewerb, Grenzen und Limits

wurden gesteigert, um dieses seltene Privileg zu verfolgen.

Die ersten Tage verbrachten wir östlich des gemütlichen Bezengi

Alpin Camps im Tal. Erst als wir das Gras, den Geröllhalden, die

gewaltige dunkle Felswand an der seitlichen Moräne, passierten,

begann die Größe der Region zu sinken. Endlich auf den Skiern

spürten wir den Sog dieses großen Mysterienkessels. Unsere erste

Prüfung ergab, dass die Pisten zu steil und gefährlich waren, um

sie zu befahren. Aber wie die Truppe im Land Oz wurden wir nach

vorn gezogen. Immer vorwärts, immer hinter den nächsten Vorhang

sehen wollen.

REPORTAGE .45

FREEHEELER.EU | PAGE
---
Two days of effort up this Mishirgi Glacier cirque yielded

inspiring skiing but also an inability to get more then

halfway up a long hidden couloir we'd found. The warm

temperatures had conspired against us, leaving snow collapsing

under ski, and tons of snow and rock falling off

the walls in unpredictable waves. We did what we could in

the dangerous conditions, laying the first telemarks in the

region, using alpine-width skis, plastic boots, and simple

but strong telemark bindings.

If we felt a need for restraint in trying to get up the couloir,

it was because we had yet to glimpse the actual Bezengi

Wall: the Mishirgi was just a sideshow and we were trying

to get past the funhouse mirrors without getting too distorted.

A long, difficult, circuitous trek up the jumble of the lower

Bezengi Glacier unveiled the west end of the Bezengi

Wall. It was like a lab rat release as we at last got onto

smooth snow and were able to step into our ski bindings.

Connected by rope and skinning our way up the immense

Bezengi Glacier, it was easy to see why the region is sometimes

referred to as the Russian Himalaya. In a growing

whiteout we located the small A-frame hut at 3200m that

would be our base of operations. Safe in the hut, away from

the undeniable possibility of getting pummeled to borscht

paste by a Peter the Great-sized avalanche, we slept well

till morning.

Nikolay yelled and then we heard a roar. It could just be

one thing. The three of us piled outside and stood next

Zwei Tage Arbeit auf diesem Mishirgi Glacier Kar brachten inspirierenden

Skisport, aber auch die Unfähigkeit, mehr als die Hälfte

eines langen, verborgenen Couloirs, das wir gefunden hatten, in

die Höhe zu bekommen. Die warmen Temperaturen hatten sich

gegen uns verschworen und hinterließen unter den Skiern einen

Schneefall und Tonnen von Schnee und Fels fielen in unvorhersehbaren

Wellen von den Wänden. Wir haben unter den gefährlichen

Bedingungen getan, was wir konnten, indem wir die ersten

Telemarks in der Region gelegt haben, mit Alpinskis, Plastikschuhen

und einfachen aber starken Telemark-Bindungen.

Wenn wir beim Versuch, das Couloir hinaufzusteigen, Zurückhaltung

brauchten, dann deshalb, weil wir noch nicht die eigentliche

Bezengi-Mauer gesehen hatten: Der Mishirgi war nur eine

Nebenattraktion und wir versuchten, an den Funhouse-Spiegeln

vorbeizukommen, ohne zu verzerrt zu werden.

Eine lange, schwierige und umständliche Wanderung durch

das Durcheinander des unteren Bezengi-Gletschers enthüllte

das westliche Ende der Bezengi-Mauer. Es war wie eine Laborrattenauslösung,

als wir endlich auf glatten Schnee kamen und

in unsere Skibindungen einsteigen konnten. Durch Seil verbunden

und den gewaltigen Bezengi-Gletscher hinauf gehüpft, war

es leicht nachzuvollziehen, warum die Region manchmal auch

als russischer Himalaya bezeichnet wird. In einem wachsenden

Weißlicht haben wir die kleine A-frame Hütte auf 3200m

gelegen, die unsere Basis wäre. Sicher in der Hütte, abseits der

unbestreitbaren Möglichkeit, sich von einem Peter dem Grossen

von einer Lawine zur Borschtpaste geschlagen zu bekommen,

schliefen wir bis zum Morgen gut.

46. REPORTAGE

PAGE | FREEHEELER.EU
---
to Nikolay slack-jawed. My cohorts and I had seen many

avalanches over the years, some amongst the largest of

mountains, but this behemoth took the glacier-pounding

cake. Within minutes the sun was obscured and we were

engulfed in what could only be described as a blizzard—

maybe the shortest blizzard ever, but a blizzard nonetheless.

But the sunshine was soon back and with it, to our relish,

firm snow. Skinning right from our front door, we started

up the more ski-suitable Lateral Range across from

the Bezengi Wall. With views of these magnificent mountains

expanding with each step, we reached a point that

was reminiscent of a cul-de-sac of snow with steep salad

bowl sides. Crampons gave us access to the ridge that connected

to 4054m Pik Sumanovskogo and 5198m Dykhtau.

The frontier of Europe and Asia was right in front of us,

the Bezengi Wall befitting as the ramparts separating the

great continents. And off in the distance, 60 kms away, the

mountain King of Europe, the elephantine bulk of Mt Elbrus.

With that, Luca, John, and I, three telemarkers from

three continents, stepped into our bindings and pushed

off following Falkiner's lead.

Peter the Great once said, "I have conquered an empire but

I have not been able to conquer myself." As we were arcing

turns down the perfect Russian corn snow in this empire

of celestial peaks, it was evident that no mountain can be

conquered, and no amount of bravado changes that truth,

above all in the majestic Bezengi. Conquering ourselves is

another story – a life-long story. The Bezengi enhanced our

collective mind-eye memoirs in profound ways. For the

three of us this mountain chapter was unforgettable – set

in a realm fit for a Tsar.

Nikolay schrie und dann hörten wir ein Gebrüll. Es könnte nur

eine Sache sein. Wir drei stapelten uns nach draußen und standen

neben Nikolay slack-jawed. Meine Kohorten und ich hatten

im Laufe der Jahre viele Lawinen gesehen, einige unter den

größten Bergen, aber dieser Riese nahm den Gletscherkuchen.

Innerhalb weniger Minuten war die Sonne verdunkelt und wir

waren in etwas vertieft, was man nur als Blizzard bezeichnen

könnte - vielleicht der kürzeste Blizzard überhaupt, aber trotzdem

ein Blizzard.

Aber der Sonnenschein war bald wieder da und mit ihm, zu unserem

genussvollen, festen Schnee. Direkt vor unserer Haustür

haben wir die Lateral Range, die besser zum Skifahren geeignet

ist, gegenüber der Bezengi Wall in Betrieb genommen. Mit Blick

auf die herrlichen Berge, die sich mit jedem Schritt ausdehnen,

erreichten wir einen Punkt, der an eine Sackgasse aus Schnee

mit steilen Salatschüsseln erinnert. Steigeisen gab uns den

Zugang zu dem Grat, der mit 4054m Pik Sumanovskogo und

5198m Dykhtau verbunden ist. Die Grenze Europas und Asiens

lag genau vor uns, die Bezengi-Mauer, die als Schutzwälle zwischen

den großen Kontinenten geeignet war. Und in der Ferne,

60 km entfernt, der Berg König von Europa, der Elefantenhaufen

des Elbrus. Damit traten Luca, John und ich, drei Telemarker

von drei Kontinenten, in unsere Bindungen und schoben

uns nach Falkiners Führung ab.

Peter der Große hat einmal gesagt:"Ich habe ein Reich erobert,

aber ich konnte mich nicht selbst erobern": Als wir in diesem

Reich der himmlischen Gipfel den perfekten russischen Maisschnee

abknickten, war es offensichtlich, dass kein Berg erobert

werden kann und keine Menge Bravour die Wahrheit ändert,

vor allem nicht im majestätischen Bezengi. Sich selbst zu besiegen

ist eine andere Geschichte - eine lebenslange Geschichte.

Die Bezengi bereicherten unsere kollektiven Erinnerungen auf

tiefgreifende Weise. Für uns drei war dieses Gebirgskapitel unvergesslich

- in einem Zarenreich.

REPORTAGE .47

FREEHEELER.EU | PAGE
---
Due to the snow-heavy winters,

for Sondre Norheim

skiing had always been an

integral part of his daily

life as skis were used as

the main form of transportation

– be it for hunting, collecting wood or

social activities. Sondre, a skilled craftsman

and athletic figure, born as a poor farm labourer

1825 in Morgedal, Norwegen, changed

the way people saw skiing: He designed and

crafted a shorter and shaped ski (the normal

length for skis in this period was about 3 metres

long) which enabled him to master slopes

in ways never seen before. Also, Sondre used a

new heel binding design (the original Telemark

binding) which held the skis firmly to the feet.

Skiing so suddenly got exciting and dynamic.

Being that passionate about skiing, he established

in Morgedal a ski culture which soon

would become kind of legendary.

48. REPORTAGE

PAGE | FREEHEELER.EU
---
REPORTAGE .49

FREEHEELER.EU | PAGE
---
In 1868, Sondre and fellow skiers from Morgedal

travelled the tough 200 kilometre journey into

Christiania, Oslo, in order to compete and demonstrate

their new skiing skills. They totally dominated

the competition. The crowds having gathered to

watch were fascinated as they had never seen anything

like this before. Their skiing was a revelution... Sondre

and his crowd created a sort of "ski fever" that would change

the way the world would ski!

Under Norheim's tutelage the ski cauldron in Morgedal produced

a succession of famous skiers and world firsts. Svein

Sollid, from Morgedal as well, was the first to win the famous

Kings Cup in what is now the world famous Holmenkollen

ski jumping competition. He also was the world's first

recorded as jumping over 100 feet (33 metres) on skis.

The brothers Torjus and Mikkel Hemmestveit, from – where

else – Morgedal as well, started the world's first ski school

in Olso and then started travelling with their new skis and

technique to Europe and America. Olav Bjaaland also from,

bien sûr, Morgedal, a skilled ski maker and international

jump champion then was the first managing to reach the

South Pole.

From transport to sport, skis were now being used for the

pure joy of the downhill, jumping and racing to the bottom

of the snowy hills. It was the dawn of modern ski sport and

it spread from Morgedal on a pair of Telemark skis!

The word "Sla-lom" has its origins in the hills around Morgedal

being dialect word meaning "traces in the snow down sloping

terrain." Morgedal's influence on the world of ski sport was

then fully recognised in 1952 when the inaugural Winter

Olympic flame was lit in no other than Sondre's cabin, being

then transported to Oslo in order to launch the Oslo Winter

Games. The flame is still burning in the valley today.

Morgedal remains virtually untouched since those glory

days in the 1860's – Sondre's cabin still sits on its own high

on the hillside. There are no towering ski liftes, fancy resort

lodges or flashy ski suits – Morgedal still is the valley where

people have always loved to ski.

50. REPORTAGE

PAGE | FREEHEELER.EU
---
52. REPORTAGE

PAGE | FREEHEELER.EU
---
TELEMARK-FEST

IM KLEINWALSERTAL

Markus Hoefle und Max Huebner

REPORTAGE .53

FREEHEELER.EU | PAGE
---
Auch 2018 geht es im Kleinwalsertal wieder

rund: Beim Telemark-Fest kommen

vom 14. bis zum 18. März mehr als 400

Telemarker zusammen, um gemeinsam

den Sport zu leben und Spaß zu haben.

Ein- und Umsteiger können hier das Telemarken ausprobieren,

aber auch für Fortgeschrittene und Profis wird einiges

geboten: wie jedes Jahr gibt es ein breites Angebot

an Kursen mit Ausbildern des Deutschen Skiverbandes.

Die Technik kann erlernt und verfeinert werden, es kann

an den ersten Schwüngen neben der Piste gefeilt werden,

und erfahrene Freerider können sich von unseren Experten

unberührte Spots im Gebiet rund um den Ifen zeigen

lassen.

Dieses Jahr steht das Fest unter dem Motto "1888" – das

ist zwar nicht das Jahr in dem Telemarken erfunden wurde,

jedoch das erste Jahr in dem es tatsächlich so benannt

wurde: nach der Region Telemark in Norwegen. Das Motto

zieht sich diesmal nicht nur durch die gemeinsamen

Aktivitäten abseits der Piste, wie das gemeinsame Apres-Ski,

das Mountain Dinner, und natürlich die große

Party am Samstagabend. Auch auf der Piste selbst gibt es

dieses Jahr einiges neues. Bei einer gemeinsamen Abfahrt

in traditioneller Kleidung werden die schönsten Kostüme

54. REPORTAGE

PAGE | FREEHEELER.EU

prämiert – und selbstverständlich kann auch das Telemarken

mit dem Alpenstock endlich einmal ausprobiert

werden!

Für das Fest gibt es flexible Pakete zu buchen, die Workshop

Teilnahme, Liftkarte und Events beinhalten. Für

Ein- und Umsteiger bietet sich ein Ein-Tages-Paket zum

Schnuppern an; für sie organisiert Telemark Plus e.V.

auch das Leihmaterial, das ebenfalls im Paket inkludiert

ist. Für die, die mehr wollen, gibt es alternativ zwei- und

drei-Tages-Pakete, und die, die nie genug bekommen wollen,

kommen mit dem vier-Tages-Paket auf ihre Kosten.

Hier gibt es ein limitiertes Frühbucher-Spezial: die ersten

Anmeldungen beim vier-Tages-Paket bekommen das

Mountain Dinner mit dazu – also schnell registrieren!

Ein weiterer Höhepunkt des Telemark-Fests sind die vom

Telemark Plus e.V. im Auftrag des Deutschen Skiverbandes

ausgerichteten länderoffenen deutschen Telemark

Meisterschaften im Sprint am Samstag. Wir freuen uns

über eine rege Teilnahme - neben den Profis können auch

Einsteiger ihr Können beweisen -- diese werden in einer

eigenen Klasse gewertet.

Interesse geweckt?

Weitere Informationen zum Telemarkfest

im Kleinwalsertal gibt's unter

www.Telemarkfest.de
---
REPORTAGE .55

FREEHEELER.EU | PAGE
---
Die ultimativen Begleiter durch Schnee und Eis:

Handschuhe

Blizzard black

Naked Optics

Troop Flamingo

Jacke Rab

Sharp Edge

Ski

Scott "SUV"

Jacke Rab,

Continuum

Rab Merino Long

Sleeve Zip Tee

Hose Rab

Sharp Edge

Bindung

Meidjo

Schuhe

Crispi XR

56. EQUIPMENT

PAGE | FREEHEELER.EU

BOYS
---
GIRLS

Naked Optics

Force Camo

Ski

Scott "SRV"

Jacke Rab

Sharp Edge

Rab Merino Long

Sleeve Zip Tee

Hose Rab

Sharp Edge

Schuhe

Scarpa 550e

Bindung

TTS

EQUIPMENT .57

FREEHEELER.EU | PAGE
---
Telemark only"

Festival Murren

Der Berg ist bereit. Wunderschönes

Wetter, Schnee in Hülle und Fülle,

perfekte Pisten und ein tolles Rahmenprogramm.

Zum zweiten Mal hat James Bond

dafür gesorgt, dass die Telemarker only die Pisten am

Schilthorn in Mürren rocken konnten. 200 Freifersler

haben bei besten Bedingungen und frischen Pulverschnee

im Mai unter ihren Latten, die einmalige Gelegenheit

genutzt, unter sich zu sein.

Am Samstag Abend sorgte dann die ultimative Band aus

Ski- und Telemarklegenden Gary Bigham and the Crevassehole's

mit John Falkiner & Bob Mazarei für den

After Snow Rock.

Vom 4. - 6. Mai 2018 werden wir wieder die Pisten vom

Schilthorn bis ins Engetal exklusiv für das Telemark

Only Festival mieten. Das heisst zwischen 2'400 und

3'000m.ü.M. sind 4 Pisten, eine Gondelbahn und ein

4er Sessel von 08.00h bis 14.00h für uns offen. Und das

an 3 Tagen vom Freitag 4. Mai bis Sonntag 6. Mai 2018.

Das Schilthorn ist sehr schneesicher und erfahrungegemäss

hat es Anfang Mai immer sehr viel Schnee und Top-

Bedingungen.

Auch für ein Rahmenprogramm und Überraschungen

wird gesorgt sein.

Aber es steckt noch mehr hinter Telemark Only. Der

Verein bezweckt allgemein die Förderung des Telemark

Sportes und will Telemärkler vermehrt zusammen auf

die Piste bringen.

Auf geht's nach Mürren zum exklusiven Saisonabschluss.

Mehr Infos unter: www.telemark-only.com

58. EQUIPMENT

PAGE | FREEHEELER.EU
---
We are

fresh

tracks at

first light.

Sharp Edge – Schutz und Komfort, während Du deine Grenzen verschiebst.

Entwickelt, um die hohen Anforderungen auf Skitour und beim Freeriden zu erfüllen, setzt die Sharp

Edge neue Maßstäbe bei Komfort und Bewegungsfreiheit. Während des Aufstiegs glänzt sie mit

bester Atmungsaktivität, während sie Dich bei der Abfahrt vor den Elementen schützt – die Jacke

bietet Dir alles, damit du dich nur auf die perfekte Linie konzentrieren kannst.

WWW.RAB.EQUIPMENT