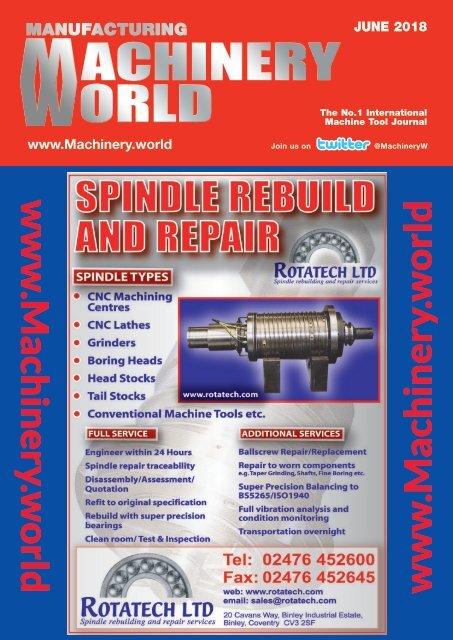 Manufacturing Machinery World June 2018
Machinery World was launched in 1982 to serve the machinery & production engineering market. Editorially Machinery World is a news and information source that gives direct contact with the provider of innovative services and equipment. Editorial is available both online and as hard copy.
Machinery World was launched in 1982 to serve the machinery & production engineering market. Editorially Machinery World is a news and information source that gives direct contact with the provider of innovative services and equipment. Editorial is available both online and as hard copy.
SHOW MORE
SHOW LESS
Create successful ePaper yourself
Turn your PDF publications into a flip-book with our unique Google optimized e-Paper software.
JUNE 2018

www.Machinery.world

Join us on

The No.1 International

Machine Tool Journal

@MachineryW

www.Machinery.world

www.Machinery.world
---
CONTENTS JUNE 2018

Front Cover:

Rotatech Ltd

MANAGING DIRECTOR:

Carole Titmuss

NEWS EDITOR:

Pat Fairfax

FEATURES EDITOR:

Danielle Titmuss MSc

SALES:

Lorraine Compton

PRODUCTION:

Ian Purves,

James Kennett,

Jonathan Milburn

SUBSCRIPTIONS:

Kay Knight

PUBLISHER

Carole Titmuss

This journal includes editorial

photographs provided and paid for

by suppliers.

Manufacturing Machinery World is

available on subscription annual rate

UK £44, Europe £66, Overseas £90

Single Copies £4 UK, £8 Overseas.

Published by:-

SHEEN PUBLISHING LTD

50 QUEENS ROAD

BUCKHURST HILL, ESSEX IG9 5DD

TELEPHONE: 020 8504 5912

020 8504 1661

International: +44 20 8504 1661

FACSIMILE: 020 8505 4336

International: +44 20 8505 4336

www.machinery.world

Email: info@machinery.world

Twitter: @MachineryW

AUCTIONS 40-42

FEATURES:

Robotics, Chucks, Clamps & Workholding Equipment. 12-16

LOOK BACK AT MACH 20-34

SERVICES DIRECTORY 36-39

Our comprehensive guide to Product & Service Providers to the

manufacturing industry.

NEXT MONTHS FEATURES

Honing & Lapping, Deburring & Finishing, Cleaning & Degreasing,

Waste Management.

MANUFACTURING MACHINERY

WORLD is published monthly and is

circulated to senior personnel who

influence the buying and selling of

new and used metal working

machinery worldwide.

©Sheen Publishing Ltd. All rights

reserved. No part of this publication

june be reproduced or transmitted in

any form or by any means, including

photocopying and recording, without

the written permission of the

publishers. Such written permission

must also be obtained before any

part of this publication is stored in a

retrieval system of any nature.

Zoomorphism is the literary term

used to describe the attribution of

animal characteristics to inanimate

objects.

Page 16

The future of collaboration. Cobots have

the potential to radically change the

manufacturing sector.

Page 14

w w w . m a c h i n e r y . w o r l d

Machinery World, June 2018 3
---
NEWS NEWS NEWS

VERO DESIGNER – "THE NEW

STANDARD" SAY MANUFACTURES

Delegates on the first training courses for Vero

Software's new specialist direct modelling

CAD for CAM system say it will become the

new industry standard.

As a stand-alone optional application for

its CAM portfolio, Designer enables users to

create new designs or modify existing

geometry from third party CAD systems.

Focusing on specific needs of machinist

programmers, it provides a quick, dynamic

editing and modelling environment, where

users sketch, drag, hold, push or twist, to

create and modify models…and it is not

dependent on having a series of parameters

that drive it, or a feature tree.

David Garner, Managing Director of CNC

Training Centre, says Designer is easier to use

than traditional methods. "It's much smoother

Swift-Cut is thrilled to announce that we

have won the highly coveted 2018 Queens

Awards for International Trade. The Queens

Awards for Enterprise are awarded to

businesses who excel in one of four

categories: International Trade, Innovation,

Sustainable Development and Promoting

Opportunity. The International Trade

Award recognises the outstanding success

we have had since our mission to expand

globally began.

Since its inception in 2011, Swift-Cut

Automation has risen from a company

designing and manufacturing just one CNC

plasma cutting table in the UK to a global

success story – launching in 35 countries,

exporting over 80% of our business globally

and producing a range of highly sought after,

extremely efficient cutting machinery with

an enviable reputation for innovation,

affordability and quality.

This is a recognition of the highest order

from the Prime Minister and the Queen,

proving that Swift-Cut has made remarkable

progress internationally, representing UK

manufacturing on a global scale and

demonstrating the very best of British design

and workmanship.

and far less clunky. I'd been looking for a

good modelling system for some time…but I

don't need to look any further now. This is the

best way forward and I believe it'll become the

new standard way of doing things."

Vero Applications Engineer Ben Miller,

who is delivering the first courses, says they

cover functionality in all three Designer

licenses, from Essential to Advanced, and are

aimed at getting users into the mindset of

direct modelling.

"Delegates will be able to prepare and

produce models much faster and easier than

in a traditional history-based modelling

system."

Ben Miller states they are expecting to

provide additional training courses in the

coming months, following the considerable

interest shown at the recent MACH

exhibition. "Visitors to our stand were

particularly impressed with Designer's

ability to read native CAD data, clean up

any poor geometry, close gaps, stitch it

into a solid, and then make modifications

that are important to the CAM process,

such as the suppression of features, or the

modification of draft angles."

Tel: 01189 756084

stewart.bint@verosoftware.com

SWIFT-CUT AUTOMATION WINS

QUEEN'S AWARD FOR ENTERPRISE

Swift Cut's International Global

Development Director Neil Smith is

understandably delighted at the recognition.

He said, "We are thrilled that our international

growth and success has been recognised by the

Queens Award, arguably the most prestigious

business award in the UK and a testament to

our product, our team and our vision."

Dr Liam Fox, Secretary of State for

International Trade recently opened Swift-

Cuts new factory and said, "Success stories

like Swift-Cut Automation are flying the flag

for British quality and expertise, bringing a

boost to their local economies."

Tel: 01543 473300

madalina.pirvu@swift-cut.co.uk

TIGHTENS ITS

GRIP

Three years ago, Industrial Tooling Corporation

(ITC) made a strategic decision to become the UK

agent for the BIG KAISER brand of precision

tooling. Since signing that agreement, sales of the

BIG KAISER product lines have more than trebled

in the UK.

The UK has rapidly become the 5th largest

European market for BIG KAISER and

establishing this market position in such a short

period of time is credit to the dedication and

professionalism of the ITC sales network and the

quality of the Swiss manufactured brand.

Prior to the merging of KAISER and Big

Daishowa in 2015, the KAISER brand was sold in

the UK by KAISER UK, a dedicated subsidiary

that closed in 2008. Simultaneously, the Big

Daishowa brand was sold via machine tool

manufacturers as a supplement to existing

product lines and sales channels. Following the

merger, BIG KAISER re-evaluated its position and

recognised the need to work in synergy with an

OEM with a successful high-quality brand that

targeted the 'entire' industry as opposed to a niche

aspect of the machine tool industry.

Discussing the founding of the relationship

with ITC and how the partnership has flourished

over the last three years, Giampaolo Roccatello,

BIG KAISER Head of Sales for Southern Europe

says: "When we wanted to target growth in the

UK, we spoke with numerous companies at

MACH 2014. It was very important that we found

a partner that would compliment, rather than

conflict with our brand. We spoke with ITC and

found they were very focused, passionate and

technically competent and this fitted our

philosophy perfectly."

"Furthermore, we wanted to work exclusively

with a competence partner that would work sideby-side

with us. ITC has fully embraced our

brand, culture and technology and their technical

expertise has really catapulted our brand in the

UK. We had an ambition to reach sales of £1m in

the UK by 2020; this target will be reached well

before this date. We set goals every year.

However, we can never make any concrete longterm

prediction as the market is always

changing."

Tel: 01827 304500

sales@itc-ltd.co.uk

www.itc-ltd.co.uk

4 Machinery World, June 2018
---
Tel : +44 (0) 161 330 4242

Fax + 44 (0) 161 343 1347

Email : Sales@newcentury.co.uk

www.newcentury.co.uk

Unit 2 Riverside Industrial

Estate,

Margaret Street,

Ashton-under-lyme.

Lancashire. OL7 0QQ

Morrisflex Chamois Polisher, 200mm

x 25mm max mop size, speeds

1500rpm, As new never used £POA

Mori Seiki MH50 twin pallet horizontal

machining centre, MSC 516 CNC,

BT50, twin pallet, 500mm sq, BT50,

speeds to 6000rpm, 60 ATC, X=800

Y=650 Z=750mm capacity £POA

LVD PPEB 80-20 CNC press brake,

Cadman 8 axis CNC, 1550mm

between frames, light guards,

wandering control, 200mm stroke, 80

tons x 2050mm capacity £POA

Boxford 330 centre lathe, QCTP,

toolholders, 3 jaw chuck, speeds to

2240rpm, Metric, 35mm spindle bore,

330 x 750mm capacity £POA

Guilfil HC30-160 Hydraulic press

brake, light guards, wandering foot

control, 2550mm between frames,

manual backgauge, 150 tons x

3100mm capacity

£POA

Edwards Pearson GA 4080/4 guillotine,

Swissax controlled backgauge, blade

adj, sq arm, supports, foot control,

rake adjustment, 4080 x 4mm capacity

£POA

Safan VS 310-6 hydraulic guillotine,

Power backgauge, sq arm, front

supports, blade adjustment, 40

strokes per minute, 3100 x 6mm

capacity

£POA

Morrisflex The Antelope bandfacer,

Unused, Bandfacer, 1500rpm motor

speed, 6.5m/sec belt speed, 278 x

226mm work table, emergency stop

£POA

Tel: +44 (0) 161 330 4242 Fax: +44 (0) 161 343 1347

Email: hq@newcentury .co.uk Website: www.newcentury.co.uk

TOP QUALITY MACHINERY

www.newcentury.co.uk

Machinery World, June 2018 5
---
NEWS NEWS NEWS

ALITECH RACES TO SUCCESS WITH ITC

As a subcontract motorsport machine shop,

Alitech Precision Ltd is a company that is

rapidly evolving and this is credit to its

aggressive investment programme,

enthusiasm and love for all things

motorsport.

Since its inception little over three years

ago, the Silverstone Company has purchased

three HAAS machining centres, OPEN

MIND CAM software, a simultaneous 5-axis

Spinner machining centre and cutting tools

from Industrial Tooling Corporation (ITC).

Like any subcontract business in its infancy,

the team at Alitech Precision has acquired its

machine tools and peripheral equipment

based on expert advice, trial and error,

conferring with customers and competitors

alike and personal experiences.

It is these factors among others that led

the Northamptonshire business to

implement hyperMILL CAM software, the

Spinner U-620 5-axis machine and solid

carbide cutting tools from ITC. Whilst the

'design to manufacture' subcontractor

utilises cutting tools from a variety of

suppliers, it is Tamworth based ITC that has

stood out for special tools and end mills for

machining steel components.

The relationship between Alitech and ITC

started just over 18 months ago when the

Alitech team encountered tool life and

performance issues with an existing tooling

vendor when machining steel. The Alitech

engineers were exercising a 'trial and error'

process that was proving fruitless. Alitech

picked up the phone to ITC and local ITC

engineer Mr Gary Bambrick was

immediately on-hand to advise.

Despite the company name being a major

clue to the fact that Alitech primarily

undertakes aluminium machining, the

Motorsport Valley subby frequently

produces towing eyes for race cars and

bonding brackets for CFRP from EN24 steel.

Commenting upon the intervention of ITC,

Alitech Precision Senior 5-axis Programmer,

Mr Charlie Watts says: "The ITC engineer

came in and trialled the four flute 4081 Cyber

Series of solid carbide end mills. The results

were remarkable. After undertaking so many

trials with a multitude of cutting tool

suppliers, we were always going to be a little

sceptical of any tooling engineer that came

through the door. However, Gary Bambrick

offered a level of expertise and advice that

included intuitively optimising the speed

and feed parameters of the 4081 Series. This

delivered really impressive results."

Since the initial trial success, Alitech has

now widely implemented the ITC 4081 Series

for steel jobs and titanium parts, purchasing

4, 6, 8, 10, 12, 16 and 20mm diameter end

mills.

With regard to machining performance on

aluminium, Alitech is more than happy with

its existing vendors. However, when it came

to the profile machining of deep port pockets,

it was ITC that stepped up to the challenge

with its industry leading lollipop cutters. The

majority of projects undertaken by Alitech

involve the complex simultaneous 5-axis

machining of parts such as billet inlet

manifolds, valve seats, inlet port heads, billet

turbo manifolds and much more. Reaching

deep into ports is a complex challenge for the

machine tool kinematics, the CAM software,

the cutting tools and toolholding. At the

sharp edge is the ITC 4101 Series of lollipop

end mills that permit Alitech to reach

surfaces around corners and deep inside

manifold ports.

Tel: 01827 304500

sales@itc-ltd.co.uk

www.itc-ltd.co.uk

BEST-IN-CLASS RESULTS

Tests on the new nesting engine unveiled in

Alphacam 2018 R2 show a 17 per cent

improvement in material yield.

Using proprietary technology to deliver

what Brand Manager Hector Henry says are

"best-in-class geometry," toolpath optimisation

and part handling, the nesting engine also

provides faster calculation times, along with

improved feedback and graphics.

And he says the overall theme of the latest

release is to save time and improve

productivity.

Parametric Rules have now been migrated

to C# and have an enhanced GUI and

functionality, allowing for greater control,

improved UX and simpler, more streamlined,

logic statements, which he says has improved

productivity and reliability.

The Face Milling Cycle has been enhanced,

and is now part of Alphacam's Core

Functionality, creating intelligent toolpaths,

allowing user to face (surface) mill irregular and

multiple geometries. "This improves

productivity, as the user doesn't need to create

several operations to achieve the same result."

Productivity has also been improved

through the new Order by Intersecting

Geometry function which saves significant time

when ordering the sequence of a complex job. It

works by letting the user select a previously

created geometry to define the order of

geometries or toolpaths, based on those which

intersect the selected geometry first.

The Parametric Sketcher is now

considerably more powerful, thanks to an

updated UI, meaning the window can be

resized. "This provides greater visibility over

the Parameters and Actions list, which will be

essential for managing complex projects." There

are also improvements to the Sketcher's

geometry creation tools, for creating fillets and

chamfers as part of the Geometry creation tool

set. This improves productivity as it does away

with the need to calculate those points.

Enhancements to Alphacam's dimensioning

system provide greater clarity when printing

and presenting information. User-defined

suffixes for both the primary and alternate units

– as well as a scale factor – mean that two

separate values can now be displayed.

Importing CAD models has been updated

through the support of SolidWorks

configurations. "Alphacam now has a new

interface for users to select which configuration

of an assembly to import, without the need to

ascertain that the last version saved in

SolidWorks matches the one they want," says

Hector Henry.

www.Alphacam.com

6 Machinery World, June 2018
---
NEWS NEWS NEWS

TECHNI-GRIND CAPITALISES ON

WALTER'S VISION

Techni-Grind (Preston), one of the leading

suppliers of precision tool regrinding services

to the aerospace industry, has installed its

sixth Walter high specification CNC tool and

cutter grinder to increase capacity levels – a

Helitronic Vision 400L with integrated robot

handling and wheel changer.

The new machine not only extends the

length of tooling that can be processed - to 420

mm long - but its automated handling and

wheel changing capability will also, says

Techni-Grind's Manager Michael Bell,

"further extend our ability to confidently run

the Vision 400L unmanned and in a lights-out

mode, thus further increasing our

productivity levels".

Capable of processing tools up to 315 mm

diameter and 420 mm long, and weighing up

to 50 kgs, the Vision 400L has travels in X, Y

and Z axes of 500 mm, 350 mm and 700 mm,

respectively. Rapid traverse rates are up to 50

m/min, and the machine boasts linear and

radial resolutions of 0.0001 mm and

0.0001deg, respectively.

Grinding wheels up to 254 mm diameter

can be accommodated within the eightstation

wheel changer, and grinding spindle

speed is up to 10,500 revs/min.

The Vision 400L joins the company's

existing portfolio of Walter tool grinders and

tool measuring machines that have been

progressively installed - a Classic Power, a

Power, a Power Regrinder and two Helitronic

Visions (one with robot loading), plus a

Helicheck Basic tool measuring machine.

Now, with the new machine meaning that

two of the company's Visions are equipped

with robot loader and pallet-held tools, these

automation devices "are key to our often nonstop

24-hour running which, of course,

contributes greatly to the production

efficiencies we attain", says Managing

Director David Higham.

Tel: 01926 485047

neil.whittingham@walter-machines.de

www.walter-machines.com

IRREGULAR SURFACE DRILLING –

A FORMALITY

Rainford Precision has now extended its already impressive drilling range with the arrival of the

new UTDF 2-fluted carbide coated flat bottom drilling line from Union Tool. The flat-bottomed

drilling range has been added to the Rainford Precision armoury to provide a drilling solution

for angular, radial and other irregular surfaces.

The impressive new solid carbide drilling range is available in diameters from 2mm to 12mm

with plus sizes offered for drilling pre-thread holes for M4, M6, M8, M10 and M12 threads. As

with all tools from the Union Tool brand, the new UTDF drills are manufactured from a highquality

solid carbide composition with a precision ground shank and Union Tool's latest

generation coating technology that extends tool life and performance.

Added to this, the new UTDF drills have a flat-land and 30 degree helix angle that combine

to provide a robust geometry design that generates exceptional chip removal and stability. This

results in highly-efficient drilling cycles and prolonged tool life on a range of materials that

includes alloyed, structural, pre-hardened and carbon steels as well as cast iron and aluminium

alloys.

The new UTDF drills have also been developed with an innovative web-thinning design and

double margin that both enhance performance with regard to swarf evacuation, edge sharpness

and stability. Depending upon selected diameter sizes, the UTDF drills have an overall length

from 50 mm to 100 mm and flute lengths from 8 mm to 48 mm. For more information on the

performance characteristics of these exciting new drills, please contact Rainford Precision.

Tel: 01744 889726

sales@rainfordprecision.com

www. precisiondrills.co.uk

TDT

TECHNOLOGY

BECOMES

TDT

MACHINE

TOOLS

TDT Technology Ltd has changed its name to

TDT Machine Tools Ltd with effect from 1 May

2018. The move reflects the increasing number

of leading international machine tool

manufacturers now represented by TDT in the

UK.

"With a growing portfolio of machine tool

solutions to supply the UK market, the time was

right to ensure the company name better

matches our product offer," says Managing

Director Simon Hewson. "Today we have a very

comprehensive range of machine tools that

includes a number of familiar brands. We are

currently on a strong growth trajectory and our

name change will serve to support the company

as it continues to capture market share."

Arguably the cornerstone of the TDT offer is

the KAFO range of three-, four- and five-axis

vertical, horizontal and double-column

machining centres which are growing in

popularity across the UK. Among recent takers

is Rotherham-based Newburgh Precision Ltd, a

world leader in the contract manufacture of

high-specification, project-critical component

parts and assemblies. Newburgh has installed a

new KAFO KMC-4140 double-column CNC

machining centre for use on a new defence

contract.

Underlining the growing popularity of

KAFO machines were a number of key sales at

the recent MACH 2018 exhibition. Among the

models sold to show visitors were a doublecolumn

BMC2015 (displayed on the stand) and

a KMC3127 CNC machining centres – the latter

to a customer in the northwest.

MACH 2018 proved to be highly successful

for TDT, which also reports lots of interest in the

Feeler FTC-20 CNC lathe on the company's

stand. In fact, TDT offers a full range of Feeler

machine tools, including lathes (boxway and

linear), vertical CNC lathes, vertical machining

centres (linear and boxway), five-axis machining

centres, multi-axis mill-turn centres and

horizontal machining centres.

Supporting these marques are four brands

from Italy: Fidia, IMT, OMG and Pama. TDT

offers a range of Fidia five-axis high-speed

milling machines and five-axis gantry machines,

IMT vertical lathes, OMG heavy-duty lathes,

and Pama boring/milling machines with table

loading capacities up to 600 tonnes.

01788 570411

sales@tdt-technology.co.uk

www.tdt-technology.co.uk

8 Machinery World, June 2018
---
METROL

High accuracy

sensors.

Used on CNC

Lathes, Machining

Centres and

Grinders.

Supplied by CNC Systems Ltd UK

and European distributer.

Tel : 01932 830492

Email: offices@cncsystemsltd.co.uk

Web: www.cncsystemsltd.co.uk

Machinery World, June 2018 9
---
Tel: 01733-233199

Fax: 01733-371313

Web: www.gpsengineering.co.uk

Email: sales@gpsengineering.co.uk

BROADBENT STANLEY HS7

HOLLOW 7" SPINDLE GAP BED CENTRE LATHE

58" Between Centres. 19" Swing Over Bed.

16 Spindle Speeds 21 - 800 RPM. 12.5 HP Main Motor.

Complete With:

Newall Digital Readout. Taper Turning Attachment. 3 & 4 Jaw Chucks. Quick Change

Toolpost and Holders. 3 Point Steady. Coolant System. Lo-Vo Light. Handbook and

Drawings

Manufactured 1985 Serial No.8943.

Full Rebuild in 2007 by GPS Engineering Co Ltd. Little used since.

Very Good Condition.

For any further details please call 01733 233199 and ask for Annie or Simon.

Can be viewed under power by appointment.

Please contact Simon or Annie Skelton for your.

MACHINERY – SPARES –

REBUILDING & RETROFITTING REQUIRMENTS

SubconDrillingLtd

Gundrilling - Honing - CNC Machining - Superfinishing

Subcon Drilling Limited is a highly professional

company whose entire experience and energy is

focused solely on Gun Drilling, Deep Hole Drilling,

Honing, CNC Machining and Superfinishing.

With the knowledge and extensive experience

of over 30 years, Subcon Drilling continually

provides a professional and personal approach

with total dedication to quality to a list of long

serving clients.

Our BS EN ISO9001:2008 Quality Management

System is an integral part of our business. Focused

on quality, Subcon Drilling is recognised

as the leading Gun drilling and specialist machining

is recognised as the leading Gun drilling

and specialist machining provider in the U.K.,

continually meeting and exceeding our

customer's demands.

Subcon Drilling Ltd

Unit 6, The Heron Business Park, Eastman Way, Hemel Hempstead, Hertfordshire HP2 7FW

Tel: 01442 205960 Fax: 01442 205961

www.subcondrilling.co.uk Email: dean@subcondrilling.co.uk

10 Machinery World, June 2018
---
www.bigkaiser.com

MIDLAND

METROLOGY LTD

Specialists in New and Used Measuring Equipment, Calibration Service

VIRTUALLY ELIMINATES RUNOUT

FOR LONGER TOOL LIFE AND

WE'LL

PROVE IT.

DRILL LIFE VS. RUNOUT

NO. OF DRILLED HOLES

160

140

120

100

80

60

40

0.002 0.005 0.010 0.015

T.I.R.

CARBIDE,

5xD

HSS, 3xD

HSS, 5xD

MATERIAL:

DIN 1.1209

DRILL Ø:

3mm

The MEGA Micro Collet Chuck offers the industry's

highest runout accuracy —especially critical for

micro cutting tools. Since 0.01mm is generally considered

good runout, tool life could double or even

triple with a quality holder with guaranteed runout

of ≤0.003mm microns.

Don't believe us? Test the MEGA Micro Chuck in

your factory to see the proof.

• Profile Projectors & Vision systems

• Measuring machines

• Calibration Laboratory

• Hardness testers

• Height measuring machines

• Surface finish test equipment

• Slip gauges (Gauge blocks)

Granite Tables,

Plates and Squares

We now supply an

extensive selection of new

black granite surface

plates and tables.

Also available in our new

granite range: Squares

& Tri-Squares, Vee Blocks,

Parallels & Straight Edges.

Visit www.itc-ltd.co.uk/testus to request your

MEGA Micro Chuck no-risk trial.

www.midland-metrology.co.uk

Tel: 02476 638 280 Email: sales@midland-metrology.co.uk

Unit G3 Little Heath Industrial Estate, Old Church Road, Coventry CV6 7ND

Sole distributor for the UK and Ireland

www.itc-ltd.co.uk, Tel: 01827 304500

Machinery World, June 2018 11
---
ROBOTICS

FEEDING THE MACHINE

When manufacturers in low-cost economies

such as the Far East and Eastern Europe first

began to threaten the market share of machine

shops in the west, many looked to automation in

the hope that it would level the playing field.

Certainly, the rationale makes sense: eliminating

the labour cost negates the sole advantage of

competitors able to leverage a low-cost

workforce. However, how many UK machine

shops have actually adopted such a strategy?

Among those able to raise their hand is

Rousant Sherwood Manufacturing (RSM), a

family-owned company based at Henley-on-

Thames that specialises in the subcontract

manufacture of complex machined components

for industries such as medical, aerospace and oil

and gas.

RSM has 11 Nakamura-Tome multi-axis,

multi-turret, twin-spindle turn-mill centres,

complemented by the latest 13-axis sliding-head

turning and four-axis milling capability. As a

result, the company has minimised both cycle

times and the number of set-ups required.

However, faced with an increasingly

competitive global marketplace, the 35-

employee company wanted to make further

efficiency gains, deciding to focus its attention

on automation.

Surveying the entire range of industrial

robots available, RSM concluded that six-axis

Universal Robots from RARUK Automation

were the ideal match for its machine-tending

requirements, largely due to their ease-ofprogramming,

competitive price and

collaborative operating capabilities.

Collaborative robots ('cobots') use sensor

technology (programmed with a predetermined

force) to stop safely in the event of

human contact. As a result, around 80% of the

thousands of Universal Robots in use

worldwide operate with no safety guarding

(after risk assessment).

"The ability to use the robots unguarded was

something that appealed, as was ease-ofprogramming,"

states general manager Robin

Salter. "Programming is very intuitive; it can

take as little as 10 minutes to program one of our

robots for a new part. What's more, we recently

trained one of our apprentices and he picked it

up in an hour."

In total, RSM has invested in five UR5 (5kg

payload) and two UR10 (10kg) Universal

Robots. The robots are busy tending the

company's 14 CNC machine tools, and are

relocated to different machines in line with

customer/contract demands. One of the UR10

robots is currently serving a Nakamura-Tome

Super NTJX multi-tasking turn-mill centre on a

24-7 basis. The robot loads square billets of

aluminium into the machine, where they are

turned into aerospace components as part of a

40-minute cycle.

"Just to be clear, we have not invested in

robots to save on headcount, we've done it to

win contracts," says Robin Salter. "We could

never have tendered for this job without

automation. Using a robot makes us profitable

on work where we wouldn't normally be able to

compete."

To aid automated machining even further,

investing in the latest workholding solutions can

make a genuine difference. Indeed, some

automation systems combine robots with vices,

such as the Lang Robo-Trex automatic handling

system from Thame Workholding. Robo-Trex

operates a machining centre from an automation

trolley, which serves as a storage medium for

the vices. Depending on the component size, the

trolley can store up to 42 vices. Robo-Trex is

optionally available with up to four trolleys,

which means that the storage capacity can be

increased to up to 168 vices.

The patented vertical positioning of the vices

ensures maximum space utilisation and

guarantees best accessibility when being picked

up the robot. Furthermore, external pre-loading

of the automation trolleys allows Robo-Trex

Automation to be re-equipped within seconds.

Continuing the machining centre theme,

recently introduced by 1st MTA is a new zeropoint

clamping system from V-Tech. For

clamping workpieces on CNC machining

centres, this pneumatic quick-change system

features 24kN retraction of the clamping pin in

each receiver, and a positioning accuracy of

better than 5µm.

Mechanical vices, clamping chucks and bars,

and special workholding fixtures, can be

accommodated in the receivers, while

positioning slots allow precise 90° indexing. The

self-clamping mechanism, which uses highpower

springs to secure the workpiece and

fixture, ensures that the force is still applied after

the air has been disconnected. Pneumatic power

is only required again for release. Clamping

bases are available to hold one, two, four or six

receivers, which are 135mm in diameter but

only 41mm high, so little Z-axis travel is lost.

Elsewhere, now added to the portfolio of

Leader Chuck Systems is the Piranha Clamp

range of centring vices. The Swiss-manufactured

vices replace the usual dovetail guides found on

many vices with parallel twin-cylindrical jaw

guides that are said to offer better precision and

clamping force.

Designed to act much like a hydraulic press,

the hardened and coated spindle guides provide

an increased surface area for load distribution,

while the drive spindle has been tested to

withstand pressures above 1300 Nm². This

capability supports high-pressure workpiece

clamping with a minimal depth of just 3 mm, so

material waste is kept to a minimum.

A built-in zero-point clamping system on the

base of the Piranha Clamp provides the interface

with the machine tool's work table and achieves

a repeatable loading accuracy of 0.01mm.

However, the quick-change location system can

be specified to fit any zero-point design, with

adapter plates making the vices totally

interchangeable.

Of course, not all workholding devices rely

on mechanical gripping force to secure

components. Leader, for example, now offers

freeze clamping plates from AMCC, which the

company says are an excellent alternative to

magnetic fixtures when securing non-metallic

and non-magnetic components. At the MACH

exhibition in April, visitors were able to see the

plates in action so they could fully appreciate the

holding strength available with ice.

For those required to hold thin-walled or

fragile ferrous parts, the latest Magnos magnetic

chucks from Schunk are designed to offer lowdeformation

workpiece clamping, accessibility

and fast workpiece changeovers. To improve

ease of operation, the company has recently

released Magnos square pole plates equipped

with a status display by default. The display

shows the current clamping status continuously,

even when the magnetic chuck has been

disconnected from the control and is in pallet

storage with a clamped workpiece, for instance.

Schunk is also launching a modular control

unit that gives users a high degree of flexibility

and operating comfort. The Magnos KEH Plus is

suitable for all Schunk square and radial pole

plates. One, two, four or eight magnetic chucks

can be actuated at the same time, depending on

the base version.

To ensure process reliability in automated

applications, users can monitor each individual

magnetic chuck, an action that is facilitated by

transmitting the individual clamping state via a

PLC interface to the system control.

12 Machinery World, June 2018
---
ROBOTICS

MAZAK HOSTS NEW AUTOMATION EVENT

AutomatiON, a new event designed to

encourage machine users to 'switch on' to the

benefits of automation, has been scheduled for

June at Mazak's European headquarters in

Worcester.

The event, which will include automation

solutions from a range of providers, including

Mazak, FANUC, RoboJob, Indunorm,

Hydrafeed and Iemca, is designed to highlight

the wide range of automation options available

to machine users across Europe and has been

organised by Sadik Atay, European Strategic

Development Director, and Mike Sykes,

Automation Systems Manager at Mazak.

AutomatiON, runs from 19th to the 21st of

June 2018, and will feature eight different

automation solutions that can be easily utilised

to increase productivity and profitability.

Robot machine-tending solutions on display

will include the QUICK TURN 250MY TA-

12/200, a 'plug and play' turning centre and

Sawyer completes jobs quickly and accurately,

works safely alongside co-workers and is an

integral part of the workforce. However,

Sawyer is not your average employee — he is a

robot. Here, Jonathan Wilkins, marketing

director at obsolete industrial parts supplier, EU

Automation, explains how advances in

technology are changing the way that humans

interact with robots.

There are now technologies that allow

humans to work side by side with robots,

known as collaborative robots, or cobots for

short. But, what makes them collaborative?

Benefits

"Collaborative robot is a verb, not a noun. The

collaboration is dependent on what the robot is

doing, not the robot itself," explained Pat

Davison, director of standards for the Robotic

Industry Association (RIA). A collaborative

robot is defined by the type of task it performs

and the space where it operates.

Cobots are becoming more popular in

factories as they are affordable, adaptable and

easy to install. Cobots also support human

workers by completing the heavy lifting and

repetitive jobs that can cause human strain. This

gives human workers more time to complete

creative and intricate work.

robot which has been

developed by Mazak and

RoboJob, using a FANUC M-

10iA robot controlled by

Mazak's SmoothG CNC. In

addition, FANUC will also be

demonstrating its collaborative

robot capabilities, in

partnership with a QUICK

TURN 250MSY.

One of the highlights of the

show is likely to be the

VARIAXIS i-300 AWC, an

integrated 5-axis automation

cell developed for lights-out

machining of complex

workpieces in high mix, low volume

production. The machine has a compact

footprint and a field expandable magazine that

can hold up to 505 tools and is capable of

machining applications up to Ø350mm x

THE FUTURE OF COLLABORATION

Safety

A key consideration for manufacturers is how

to keep workers safe. Cobots have features that

prevent them from injuring humans when in

operation, such as rounded and soft surfaces to

reduce the risk of injury if a human gets too

close to the machine. They are also fitted with

sensors that stop the machine if a human gets

too close.

Manufactures must also comply with

regulations, such as ISO 10218-2:2011, that

control how facilities integrate robotics into the

assembly line to ensure all workers are kept

safe.

The future

Cobots have the potential to radically change

the manufacturing sector. However, there are

still some skills that a robot has not been able to

perfect. A robot may be able to complete a

repetitive task with complete accuracy, but it is

not as agile as a human. Cobots lack dexterity

and therefore cannot complete more intricate

tasks that humans can.

However, in comparison to traditional

industrial robots, cobots are more capable and

can adapt more easily to the requirements of the

facility. In future, advancements in machine

learning and artificial intelligence could further

increase their capabilities.

Unlike older, industrial robots, cobots have

design features to keep workers safe. Facilities

managers must combine the machine strength

and precision of robots like Sawyer, with

human ability to see, think and adapt for the

perfect factory. So, if you find out you'll be

working next to a robot like Sawyer, you can

sleep well knowing that he will be a safe,

supportive and efficient colleague.

Tel: +44 (0) 845 521 3088

jonathan.wilkins@euautomation.com

www.euautomation.com

315mm with a maximum weight of 60kg.

Continuing with automation in the 5-axis

category, the event also features the VARIAXIS

j-600/5X with an ultra-compact Indumatik®

Toolchanger storing 250 tools. This combination

offers a high-performance yet cost-effective

solution to reduce set up time and unit cost for

complex workpieces.

Also on display will be Mazak's MPP (Multi

Pallet Pool) which is being demonstrated with

an HCN 4000 horizontal machining centre. The

MPP, specifically designed for lights-out

running, offers high-speed pallet transfer and

an economic footprint – up to 40% smaller than

a comparable PALLETECH system – and is

controlled using the SmoothG CNC, which is

equipped with Mazak's SMOOTH MPP

software application.

For automotive manufacturers and

subcontractors working with high-volume,

large lot production, the MULTIPLEX W-200Y

+ GL-100 combines a twin-spindle, two-turret

machine with a superfast gantry loader for

ultimate productivity. The GL robot features a

new rack and pinion drive system boasting

rapid rates of 75/160 m/min in the A/B axis,

yielding up to 25 per cent reduction in

load/unload time.

Barfeed solutions will be represented by the

Iemca BOSS, an automatic barfeeder capable of

loading bar lengths from one to six metres. The

BOSS bar feeder has bar change times as low as

18 seconds which reduces headstock idle times

and increases lathe productivity.

Richard Smith, European Group Managing

Director at Yamazaki Mazak, commented: "We

firmly believe that further automation is vital if

machine users are to continue to improve their

productivity and enhance their

competitiveness. This is a European event that

is designed to encourage machine users to

switch on to the potential of automation

solutions, because even the smallest machine

shop can benefit from a simple robot machinetending

solution. The automation solutions on

display from Mazak and our partner companies

offer best-in-class productivity solutions and I

would urge all machine users to put this date in

their calendar."

Tel: 01905 755755

sales@mazak.co.uk

www.mazakeu.co.uk

14 Machinery World, June 2018
---
Tayside Machinery Ltd

United Kingdom

Suppliers to the Machinery Trade Worldwide

Mazak

Slant Turn

50N CNC

Oil Country

Lathe

Mazatrol T

Plus control

Capacity:

792 x

3000mm

Tryax VMC

1050

Vertical

Machining

Centre

Year: 2010

Bridgeport

Variable

Speed Turret

Mill

With Digital

Readout

Ex –

University

Harrison

Alpha 1460

XS Manual

/ CNC Lathe

Year: 2006

Capacity:

460 x

1500mm

Colchester

Student

1800 Gap

Bed Lathe

25"

between

centres /

with digital

readout

Ex –

University

Mostana

Stanko Heavy

Duty Lathe

Capacity:

1000mm x

2800mm

176 Perth Road, Dundee, Scotland UK DD1 4JS

TEL: +44 (0) 1382 200 797 FAX: +44 (0) 1382 202 853

www.taysidemachinery.co.uk sales@taysidemachinery.co.uk

FLEXIBLE, EASY & FAST

QUICK CHANGE, ACCURATE WORKHOLDING

The HAINBUCH modular system

with the NEW jaw module

sales@hainbuch.co.uk

Tel: 01543 278731

www.hainbuch.com

Machinery World, June 2018 15
---
ROBOTICS

HOW ZOOMORPHISM CAN TEACH US TO MAKE

BETTER ROBOTS

Zoomorphism is the literary term used to describe the attribution of

animal characteristics to inanimate objects. But, have you ever considered

its potential to change the way humans innovate in the robotic sciences?

Here, Jonathan Wilkins, marketing director at obsolete equipment

supplier EU Automation, explains how zoomorphism can teach us to

make better industrial robots.

The nation was touched when the groundbreaking BBC

documentary, Spy in the Wild broadcast a group of Indian langur

monkeys mourning the apparent death of a baby robot monkey that

they had accepted into their group. The robot monkey was filming the

goings-on of the group when it fell from a height and was taken out of

action. As it lay still, a hush spread through the group and, one by one,

the monkeys began to hug and console each other in a show of grief.

This is a touching story that helped scientists learn about group

behaviour in a new and novel way and it also demonstrates how

engineers can create a robot so natural in its movements and mannerisms

that a group of relatively intelligent animals

could not tell it apart from their own.

While humans are yet to overcome the same

uncanny valley for human androids, there is a

lot we can learn from the development of robots

that exhibit animal characteristics. Three areas

that are particularly interesting are grippers,

limbs and artificial intelligence software.

One of the biggest barriers to the adoption of

industrial robots in picking and packing lines

has been the use of adequate grippers that can

pick objects of varying size, shape and weight

quickly and accurately without damaging or

deforming the product.

This is especially important in the food and

beverage sector, such as supermarket

fulfilment centres, where soft hand-like

grippers with fingers covered in tiny suckers

are used to pick and pack items of food such as

heads of lettuce without damaging the product.

At the same time, the grippers are durable

enough to handle glass bottles and heavier

metal cans of soup continuously.

Although there is a tendency to create robots

after our own image, why create robots with

human limitations? Modelling the limb

movements of robots after those of arthropods,

insects and four-legged mammals, such as dogs

and cheetahs, offers engineers the ability to

create robots that can traverse rough terrain

quickly and efficiently, recovering more easily

from falls and setbacks.

While this is particularly useful for military

applications, it also offers opportunities for

industrial use in factories and plants where

such robots could provide use in a more diverse

range of applications, replacing the need for

single-use robots such as automated guided

vehicles (AGVs), cranes and forklifts.

By learning the right lessons and embracing

what the natural world offers, engineers can go

beyond the ordinary and create robots that

illicit a truly emotional response.

Tel: 0845 5213088

www.euautomation.com

FANUC LAUNCHES LIGHTWEIGHT ROBOT FOR

SMALL-TO-MEDIUM PAINT APPLICATIONS

FANUC UK has extended its family of paint

robots with the launch of the light-weight P-

40iA intelligent robotic arm.

The latest addition to the range is ideally

suited to a wide variety of painting and coating

applications, and has a maximum payload and

reach of 5kg and 1300mm respectively.

As with all FANUC robots, the P-40iA is

manufactured from aluminium, and is designed

to seamlessly integrate into an end-user's paint

or power system. Benefiting from the same wrist

design as the highly popular FANUC Paint

Mate 200iA, the P-40iA provides end-users with

the reliability and proven technology

synonymous with all FANUC products. It can

also easily adapt to small lot sizes and other

modifications.

The robot is IP67-rated to adequately protect

the internal workings of the arm from any

residual paint or coating material, as well as

dust and oil mist from the factory working

environment. The purged and pressurised arm

of the P-40iA is also FM and ATEX Class Div. 1

approved, while the robot benefits from an

enclosed riser for cable connections and the

purge flow switch.

The inherent versatility of the P-40iA is

further enhanced by the model's slim arm,

lightweight design, and various mounting

positions, including pedestal, wall, angle and

invert. As such, it is the ideal choice for

operating environments in which space is at a

premium.

The robot is also equipped with FANUC's

new R-30iB Compact Plus Control, complete

with the iPendant Touch – a lightweight

ergonomic control panel with a touchscreen

graphical user interface (GUI). Employing R-

30iB base hardware, first-time users can create a

program and execute it in just 30 minutes. The

control panel also offers a multi-window display

for fast access to key information, as well as any

in-process modifications to the program. 4D

graphics are also available, to bring tool frame

settings, safety zones and robot paths to life.

Andy Armstrong, Sales and Marketing

Manager at FANUC UK, comments: "Painting

and coating applications have long been

undertaken using automated technologies,

given the time and cost-savings this can

generate for end-users. However, many smaller

manufacturers – or those with limited floor

space – have often been excluded from using

automated paint and coating solutions due the

lack of compact technology available on the

market.

"Given the versatile mounting options and

compact arm design, the P-40iA will go a long

way towards opening up automated painting

and coating applications to those manufacturers

who are tight on space. Crucially, despite its

compact footprint, the P-40iA offers the same

level of robustness, quality and ease-of-use that

operators have come to expect from a FANUC

robot."

www.fanuc.eu/uk

16 Machinery World, June 2018
---
Suppliers of Quality

Used Machine Tools

CINCINNATI V 750 VMC C/W

FANUC

XYZ DPM CNC BED MILL

C/W GUARDING

XYZ VM 3500 CNC MILL

RICHMOND ENVOY

RADIAL ARM DRILL

BUTLER

HYDRABORE

HARDINGE CONQUEST 42

CNC LATHE

HARDINGE TALENT 8/ 52

CNC LATHE

JONES & SHIPMAN 540 GRINDERS

( 5 )

COLCHESTER TORNADO 220M

CNC LATHE

WERA RM 80 CNC

C/W SIEMENS CONTROL

HARRISON ALPHA 330

PLUS 1 MTR B/C

WANTED SURPLUS MACHINES

COLCHESTER TRIUMPH 2000

REFURBISHED LATHE

STARTRITE HB 280 COLCHESTER MASTIFF 80"

KASTO PBA 1060

FULLY REFURBISHED

BANDSAW

1302 JONES & SHIPMAN

GRINDER
---
The UK's largest exhibition for

advanced engineering professionals

10th

ANNIVERSARY

YEAR

AERO

ENGINEERING

COMPOSITES

ENGINEERING

AUTOMOTIVE

ENGINEERING

PERFORMANCE METALS

ENGINEERING

CONNECTED

MANUFACTURING

NUCLEAR

ENGINEERING

NEW FOR 2018

"A fantastic opportunity to support our

industry partners in meeting new clients.

This year was no exception, and indeed has

been the most successful ever, delivering

more leads, more contact with suppliers

and, as importantly, the ability to meet

strong existing customers and partners."

John Darlington, TenCate's Global Director

for Product and Market Strategy

BOOK YOUR STAND TODAY

Book now for the best rates and stand location:

www.advancedengineeringuk.com

F O U R

O U T L E T S

01462 491919

Ø1/8" TYP-0

Ø1/4" TYP-1

Ø1/2" TYP-2

Ø3/4" TYP-3

w w w . f l o y d a u t o m a tic. c o . u k

sale s@floydau tomat ic.co.u k

THE TOOLING

SPECIALIST

The original SWISS-MADE

stainless steel adjustable and

lockable coolant nozzle system.

STABLE & RELIABLE FLOW

OF COOLANT, OIL OR AIR.

FOR PRECISION

COMPONENT

MACHINING

18 Machinery World, June 2018
---
MYFORD

MG12 Series Grinders

JONES & SHIPMAN

Grinders

PG Optidress

Diaform

Spares and Accessories

WANTED: PG OPTIDRESS E Attachment

JUBILEE MACHINE TOOLS

T: 01332 348749 www.jubileemactools.com F: 01332 342416

Machinery World, June 2018 19
---
LOOK BACK AT MACH

CITIZEN BREAKS SALES RECORDS

Citizen Machinery UK (CMUK) left MACH

2018 exhibition on a high with 46 machine

orders worth over £6.3 million directly linked

to the show of which 18 were confirmed and

concluded during the week and a further 28

pending final specification agreement,

application discussions or financial approval.

Said Managing Director Edward James:

"This was an important endorsement to the

activities of the new management team and

especially rewarding to the effort put in by

everyone in the company to achieve record

exhibition sales at a UK event."

He then recollected how this rolls on from

the new team's success in 2017. He said: "We

achieved a record year in sales, the first

quarter of 2018 set a further standard and the

Japanese recognition of the business strategy

has been rubber stamped with the setting up

of our £2 million new CMUK facility with 600

m2 showroom in the West Midlands. This is

in addition to our headquarters in Bushey,

Watford."

Important in the new order placements

were totally new customers to the Citizen

Over 3000 visitors to its stand at MACH plus

hundreds of enquiries and 20 machine tool

orders taken at the Show, put Mills streets

ahead of the competition.

Mills CNC, the exclusive distributor of

Doosan machine tools in the UK and Ireland,

has announced that its attendance at MACH

2018 was a 'tremendous success' and,

according to Managing Director, Kevin Gilbert,

"was the best MACH Show in the company's

history."

Mills CNC exhibited 16 Doosan machines

on its stand at MACH. Many of the machines,

including the Doosan DVF 5000 (5-axis

machining centre), the Doosan NHP 4000

(horizontal machining centre) and the Doosan

V8300M were new models making their UK

debuts at the Show.

In addition to new machines the company

also showcased a number of its popular, bestselling

Lynx and Puma lathes and DNM

vertical machining centres at the event.

Mills, as always, invested heavily in its

presence at MACH.

As well as having one of the largest stands

Cincom sliding head and Miyano fixed head

technology. Said Deputy Managing Director

Darren Wilkins: "Of orders placed so far

from the show or are under final discussions,

14 involved totally new customers. I also

want to endorse the reaction to our patented

Low Frequency Vibration (LFV) technology

demonstrated on Cincom L20 and L12

machines plus the first introduction to the

Miyano range through the BNA-42GTYLFV.

In total, 18 orders were taken at the show for

LFV machines worth some £1.9 million."

Mr Wilkins followed on by explaining

how 'Citizen's Finance' has proven to be

such a vital contributor to the show's success

helping customers justify their planned

investment. He said: "Securing competitive

funding and providing a professional service

for something considered as a challenging

subject by many has further strengthened the

confidence in the Citizen and Miyano

brands."

CMUK sales, application and finance

teams are running flat out following up each

positive enquiry, confirmations and intended

order placements while helping with internal

justification and machining cycle

applications of some customers. He said:

"The arrangement and confirmation of any

finance arrangements can be quite involved

but the level of support we are giving will

lead to further significant order placements

over the coming weeks."

Tel: 01923 691500

www.citizenmachinery.co.uk

ALL ROADS LEAD TO MILLS CNC

at MACH, the company showcased its range of

machines and services from, what was

described as 'an eye-catching and thoughtprovoking

"themed" stand' that impressed

visitors and customers alike.

Says Tony Dale, Mills CNC's Technical

Director:

"We were delighted with visitor and

customer reaction to the stand and, despite the

new location of the MACH exhibition at the

NEC, our stand drew in the crowds."

At this year's MACH event, Mills surpassed

its own high expectations and welcomed over

3000 visitors onto its stand. The company also

reported that hundreds of 'serious' enquiries

were generated at MACH and that 20 machine

tool orders were also taken.

www.millscnc.co.uk

ACADEMY WAS A

STAR ATTRACTION

The CNC Training Academy, the

independently operated training division of

Mills CNC, has announced that its

attendance at MACH 2018 was an unrivalled

success.

The company has reported that over the

five days in excess of 300 serious enquiries

were taken by the Academy for its range of

CNC Programmer and Operator training

courses and its recently-introduced Predator

Software machine tool monitoring and shop

floor control technologies.

Says CNC Training Academy Manager,

Jeff Hart:

"We were busy from day one right

through to the last day of the Show.

"Particularly encouraging and worthy of

special mention was the positive reaction by

visitors to our Predator Software solutions.

"Although we only signed the deal with

US-based Predator Software Inc. to become

their main UK and Irish distributor in late

December last year, we were bowled over by

the response from manufacturers attending

MACH who wanted to find out more about

how Predator solutions could improve their

productivity and performance."

To help convey the unique strengths and

sophistication of Predator solutions, CNC

Training Academy Manager, Jeff Hart, ably

supported by Mr Jim Abbassian (President of

Predator Software Inc.) and Mr Brian Ross

(Director of Sales at Predator Software Inc.).

ran a number of planned and impromptu

information and awareness presentations

from the CNC Training Academy stand.

In total the CNC Training Academy took

over 140 enquiries for Predator solutions

during the MACH Show.

The CNC Training Academy is actively

following up the leads and enquiries taken at

MACH and, with demand for its services

being so high, will soon be announcing a

number of new appointments to its team of

trainers.

Tel: 01926 736736

sales@millscnc.co.uk

20 Machinery World, June 2018 2018
---
New in Stock - Fibre Laser Cu er with Working

Area of 1500 x 3000mm. OFFER - £6 ,500 + VAT

Cu ng Head Raytools (Switzerland)

Guide Rail

Servo Motor & Drive

Electrics

Lubrica ng

CNC-So ware

HIWIN/PMI (Taiwan)

Y Axis Dual Drive 1 00w (Japanese)

German (Siemens)

Automa c

Cypcut

External

External

Delivery

Offloading

Install & Training

Warranty

Phase KVA Voltage Stabilizer

Tongfei Refrigera on Unit

Included

Included

Included

2 Years Parts and Labour

Machinery World, June 2018 21
---
LOOK BACK AT MACH

DIVERSITY DRAWS THE CROWDS AT

MACH 2018 FOR FLOYD

The 2018 MACH exhibition was a roaring

success for Floyd Automatic with the Baldock

based sliding head tooling experts claiming that

it was the diversity of its collets, guide bushes,

indexable tooling ranges and the application

expertise that sent small turned parts

manufacturers directly to the distinctive orange

stand.

The extensive turning lines from Applitec

and the sheer diversity of its portfolio were

certainly points of note. Providing his feedback

on yet another successful MACH exhibition,

Floyd Automatic Tooling Managing Director,

Mr Richard Floyd said: "We generated more

enquiries at MACH 2018 than at many of the

previous events and what stood-out for us was

the high enquiry level from both new customers

and overseas clients too.

The high level of new enquiries is partially

down to more subcontractors embracing the

benefits of sliding head technology whilst the

overseas lead generation can be largely

attributed to language barriers and a reluctance

to engage in technical dialogue when English

From the perspective of promoting new

product lines and meeting the industry, MACH

2018 was a major success for Guhring. The

Birmingham cutting tool manufacturer yielded

lead generation that surpassed previous

exhibitions with a high level of new business

contacts collected. From a personnel

perspective, MACH 2018 was the swansong

exhibition for longstanding Managing Director

Mike Dinsdale.

Mike Dinsdale has spent the last 39 years

serving Guhring and the wider industry with

distinction. On the penultimate day of the

show, the MTA recognised this achievement by

presenting Mike with a cake on the Guhring

stand that said 'with congratulations and

thanks from the industry'. Presented by MTA

President Geoff Bryant, who has also recently

retired from Citizen, the presentation was an

emotional occasion filled with tales of days

gone by.

From a product perspective, the Guhring

stand was filled with new products that were

globally launched at EMO in 2017, many seen in

the UK for the first time. Commenting on the

show, Guhring National Sales Manager, Mr

isn't your first language."

"We also invested in the Pokem technology

at MACH with eight contact points that enabled

us to identify what product lines generated the

greater interest at the show."

From the Pokem technology utilised at

MACH, Floyd Automatic noted a high level of

interest in the new Masa Microconic sub spindle

collets. Precise and stable clamping of small

workpieces in the sub-spindles of sliding head

machines has long been an issue for turned part

manufacturers; this is now solved by the

revolutionary precision workholding system.

The Microconic over-grip collet system

consists of a cartridge and precision collet and

the over-grip collet fits inside a cartridge and is

accurately adjusted before it is fitted directly

into the existing collet sleeve with no machine

adaptations required. The patented over-grip

collets can open up to 4mm larger than the

clamping diameter and also incorporate an

ejection guide sleeve blank. This helps the end

user to solve the difficulty of ejecting parts from

the collets after machining. For manufacturers

of high-precision parts in the connector,

medical and electronics sector, the Microconic

over-grip collet system was great find.

Floyd Automatic is renowned for the

unfathomable depth of its product lines, so, if

you didn't make it to MACH 2018 please

contact Floyd Automatic for further details.

Tel: 01462 491919

info@floydautomatic.co.uk

www.floydautomatic.co.uk

GUHRING CELEBRATES

PRODUCTS AND PERSONNEL

Dave Hudson said: "The show was excellent for

us. We generated well over 500 sales leads and

our range of micro tools from 0.5mm to 3mm

proved particularly prominent. Everything

from our end mills, drills, gun-drills, reamers

and thread-mills were very popular whilst the

new 104 and 106 Series for grooving, boring,

broaching and threading and the three-fold

interchangeable 305 system for external and

internal machining also drew interest."

info@guhring.co.uk

www.guhring.co.uk

SCHUNK

CELEBRATE

20TH

ANNIVERSARY

MACH 2018 was a huge success for SCHUNK

Intec Ltd with the company announcing that

lead generation was significantly higher than

the 2016 event. With a stand more than 20%

larger than in 2016, the gripping systems and

clamping technology specialist received a high

level of interest in a complete range of product

lines.

SCHUNK used MACH as an opportunity to

hold a special ceremony on its Stand to

celebrate the company's 20th anniversary in the

UK. Since entering the UK and Irish market 20

years ago SCHUNK Intec Ltd, has earned a

reputation as a technology leader and

innovator; gaining market recognition,

continuous growth and adding value to the

manufacturing industry through its

revolutionary products and services. At

MACH, established product lines won plaudits

and generated a high level of enquiries;

however, it was new technology like the new

VERO-S Aviation stationary clamping system

that really sparked the interest of MACH

visitors.

Making its MACH debut, the VERO-S

Aviation stationary clamping system is a

pneumatically actuated zero-point clamping

system developed for the direct clamping of

structural components in the aerospace

industry.

Also making its MACH debut and exciting

the crowds was the new Co-act (collaborative

actuator). As part of SCHUNK's gripping

system program for safe human-robot

collaboration; the world's first intelligent

gripping module for human/robot

collaboration was certainly a central focal point

at MACH. The new Co-act permits adjustments

to the gripping process to be made in real-time

using diverse sensor systems.

A stand out solution on the SCHUNK stand

at MACH was the 'pick and place' unit that

demonstrated the company's competence

leadership in the field of automation.

Highlighting how SCHUNK is a leading

automation solution provider, the enclosed

automation system certainly drew the attention

of stand visitors.

Tel: 01908 611127

info@gb.SCHUNK.com

www.gb.SCHUNK.com

22 Machinery World, June 2018
---
IMTS Grinding Technology Ltd, Unit 11, Castleview Business Centre,

Gas House Road, Rochester, Kent. ME1 1PB

www.imtsgrinding.com info@imtsgrinding.com

Tel: (01634) 844477 Fax: (01634) 844599

●

●

●

●

●

●

●

●

●

Special Purpose Machines – Solutions where mass produced

machines fail

CNC Retrofit – we can retrofit an existing machine to the specification

equivalent of a new machine

Rebuild – Full or partial.

Consultancy – we offer a comprehensive service to source answers to

your production questions

Second-hand machines – see our website for latest additions

Service & Spare Parts – we provide on-site service and have an

extensive stock of spare parts for most types of grinding machine.

Obsolete parts – visit our website to view our vast range of parts for

obsolete grinding machine

Grinding machine Manuals – we can supply Machine & Operating

Manuals for most types of grinding machines.

Ballscrew Repair and Service

Machines for Sale – View website

Studer S35

1m BC. 175 mm CH

Grinding length 500 mm

Grinding wheel 500 x 80 x 203 mm. 8.5 degree swivel on wheelhead. Fully rebuilt by

IMTS. Retrofitted with Fanuc 0i Control with digital motors

Active flagging

Automatic wheel balancing

In-process gauging available upon request.

www.imtsgrinding.com

Machinery World, June 2018 23
---
LOOK BACK AT MACH

NEDERMAN

DEBUT PROVES A

HUGE SUCCESS

As one of the world leading suppliers and

developers of environmental technology

solutions for the manufacturing sector, the

debut appearance at MACH 2018 proved a

resounding success for Nederman.

Preston based Nederman introduced

three of its leading product lines and each of

the three products generated sales at the

event. Particularly pertinent at MACH was

the Filtac OMF2000 Series of extraction units

that is regarded as the most efficient oil mist

filtration technology in the machine tool

industry. Incorporating Nederman's patentpending

FibreDrain technology, the

OMF2000 has been specially designed for

continuous operation on turning, milling and

grinding machines to effectively remove and

control airborne oil mist particles within the

machine envelope.

Appearing alongside the OMF2000 was

the industry leading Filterbox line of dust

and fume extraction systems that is available

as a fixed or mobile unit for 'at-source' dust

and fume extraction. This system proved a

huge crowd pleaser with three sales at

MACH as well as an extremely high enquiry

level. The Filterbox is the solution of choice

for welding, fabrication and other workshop

dust and fume applications

Commenting upon the successful MACH

debut, Nederman Business Manager for

Products, Mr Tony Hopkins said:

"Committing to any exhibition for the first

time is always an unknown exercise.

However, MACH 2018 was a huge success

for Nederman. Our Filtac OMF Series gained

some real traction at MACH and we were

extremely pleased with the high quality leads

we generated at the show. What topped it for

us was the sale of four Filtac OMF units at the

show. Our patented FibreDrain technology is

far superior to alternate products and stand

visitors quickly realised this. We also used

MACH as a networking opportunity to form

relationships with machine tool

manufacturers to introduce the technology to

the OEMs, this is also likely to yield results in

the aftermath of the show."

Tel: 08452 743434

info@nederman.co.uk

www.nederman.co.uk

SPOTLIGHT ON PRODUCTIVE ADDITIVE

MANUFACTURING

At MACH 2018, global engineering

company Renishaw, showcased the benefits

of its additive manufacturing products range

to manufacturers. The company exhibited its

additive manufacturing products and

software in the 3D Printing Zone as well as a

stand dedicated to its extensive range of

metrology products. During MACH,

Renishaw was visited by Sir Ben Ainslie,

Team Principle and Skipper for the Land

Rover BAR America's Cup team, who

thanked Renishaw for its significant

contribution to the team.

On its additive manufacturing stand, in

the 3D printing and additive manufacturing

zone, Renishaw exhibited its work as part of

Land Rover BAR's Technical Innovation

Group (TIG) for the 2017 America's Cup.

Renishaw contributed encoder technology

and an additively manufactured manifold to

the technologically advanced foiling race

boat.

"Renishaw was lucky enough to be

visited by Sir Ben Ainslie, who officially

opened the show, on the first day of MACH,"

explained Stephen Crownshaw, Business

Jemtech welcomes over 700 visitors to its

stand at MACH 2018 and takes over 300

significant leads and enquiries over the five

days.

Jemtech UK, the exclusive distributor of

Blaser Swisslube metalworking fluids in the

UK and Ireland, and supplier of Oracle

advanced fluid management systems has

reported that its attendance at MACH 2018

was a resounding success.

Exhibiting from its largest stand ever at a

MACH Show, Jemtech used the event to

showcase not only a range of products and

services from its extensive and impressive

portfolio, but to also impress upon visitors the

critical role that metalworking fluids (and

their management) have in making machining

processes more reliable and secure.

According to Stewart Coull, Jemtech's

Managing Director, "the approach paid

dividends and helped Jemtech substantiate

Manager at Renishaw's Additive

Manufacturing Products Division. "He was

impressed with the technology we provided

for the America's Cup, as well as Renishaw's

measurement equipment, including the

Equator gauge.

"Sir Ben Ainslie launched the show with

a powerful opening speech about fostering

engineering in the UK, encouraging young

people to get involved in engineering and the

TIG. Renishaw is proud to work with Land

Rover BAR, as it shares these values."

Across MACH, there was a focus on

connectivity, robotics and automation and

productivity. Renishaw tapped into this

trend by highlighting its latest additive

manufacturing system, the RenAM 500Q,

which can increase productivity up to four

times in the most commonly used platform

size and boasts automated powder and waste

handling systems. Renishaw also showed

videos of InfiniAM Spectral, a software

product which allows real-time analysis of

build data.

www.renishaw.com

MISSION ACCOMPLISHED!

and reinforce its position as a market-leading

metalworking fluid management specialist."

Key products showcased by Jemtech at

MACH included Blaser Swisslube's Vasco

7000 - a vegetable ester-based fluid specifically

designed to machine exotic and difficult-tomachine

materials that include titanium,

Inconel and stainless steels.

Tel: 01825 767640

sales@jemtech.co.uk

www.jemtech.co.uk

24 Machinery World, June 2018
---
Hole drilling operations can

sometimes deliver unexpected and

unwanted results associated with

chip jamming and chip crowding.

If you experience these problems

when drilling holes - we can help.

Seco Tools is committed to tackling

the root cause of our customers'

machining problems by working in

partnership to eliminate them.

Rather than start by suggesting

you use a different drilling tool -

we'll first investigate all aspects of

your drilling process to get the

bottom of things. Then, and only

then, will we recommend

alternatives.

Seco Tools UK: the last thing we

talk about is the cutting tool.

CHIP JAMMING:

WE HAVE THE SOLUTION

WWW.SECOTOOLS.COM
---
Kemet

KEMET TAILORED LAPPING &

POLISHING SERVICES

If your components require optimum

flatness to perform to specification, are

difficult to lap, or you have a

particularly tight deadline to meet,

Kemet's ISO 9001: 2015 qualified sub

contract service might be the answer.

With lapping and polishing machines,

ranging from 12" to 48" and including

spherical polishers along with the latest

Mitutoyo surface measuring and flatness

inspection equipment, a fast turn-round

is guaranteed.

Renowned for service, reliability and

quality, Kemet's expertise is wide and

varied and their machines, equipped

with standard and special lapping plates,

enable them to process components up to

530mm dia (approx. 21"). Materials can

be processed to a specific surface finish

or flatness including shouldered

components (those with a raised centre

or shaft), all with a certificate of

conformity covering the generated

surface finish and flatness, relative to the

customer's drawing or specification.

If a perfect, blemish free, mirror

finished components is required Kemet

also has the experience to produce these

high quality finishes on all materials,

hard or soft, with polishing processes

tailored to their structure, brass, for

example being completely different to

the that required for tungsten carbide.

After lapping/polishing components

can be aqueous cleaned to the customers

requirement in ultrasonic cleaners in

Kemet's cleaning technical centre

As well as providing a trouble free

Contract Lapping Service, Kemet is able

to conduct tests on customers'

components in order to recommend a

suitable process and a turnkey solution

for component finishing. Companies

Kemet has assisted over the years

contains some of the biggest names in

Automotive, Medical, and Aerospace.

Lapping and polishing training courses

are also available which can be an

introduction to lapping in general, or

more process orientated, depending on

requirements.

K

m

g

For more details contact Kemet on +44 (0) 1622 755287, sales@kemet.co.uk www.kemet.co.uk

26 Machinery World, June 2018
---
Kemet

Precision Lapping | Polishing | Cleaning | Materialography

Falling behind? Don't get lapped!

Components require optimum flatness and/or finish? Are difficult to lap? A tight deadline?

Kemet provide a precision lapping and polishing service with a fast turnaround.

Renowned for reliability and quality, our facilities and expertise enable us to lap and polish

most components and materials to a specific surface finish and flatness, all with a CoC to a

given specification and precision cleaned in our Cleaning Technical Centre.

Contact us for a free quotation.

Kemet International Ltd, Parkwood Trading Estate, Maidstone, Kent, ME15 9NJ, UK

+44 (0) 1622 755287 sales@kemet.co.uk www.kemet.co.uk
---
LOOK BACK AT MACH

CONFIDENCE WAS

HIGH

Across the board at MACH confidence was

high and while machine tools may have been

the focus of many, modular workshop and

storage solutions also proved popular, with

System Store Solutions having a busy week

discussing the efficiency and productivity gains

that can be made through careful planning and

design of the workspace.

"It was interesting to see just how busy the

exhibition was with figures indicating a

significant increase on the previous MACH. It

was also encouraging to see the diversity of

visitors to our stand, we had everyone from

small sub-contractors through to OEM

companies from the engineering sector, and

surprisingly for an engineering exhibition a

good number from the medical sector," says

Paul Hill, Area Sales Manager, System Store

Solutions.

Of particular interest on the System Store

Solutions stand was the new Master Series

range of storage systems from long-term

partner Fami. Master Series is a modular range

of cabinets that redefines workplace storage

through the ability to reconfigure the system as

a company grows or requirements change. As

expected from one of the leaders in storage

STARRAG TAKES MULTI-MILLION

ORDERS

In addition to receiving orders valued at multi millions of Euros, Starrag UK reports a hugely

successful MACH week "with many positive comments by visitors who in particular were

very surprised – and pleased – at how affordable and available the new range of Heckert

machining centres are".

Lee Scott, Starrag UK Director for

Sales and Applications, also added:

"Visitors also commented favourably

on our extensive experience of

Industry 4.0 and automation, aspects

of modern production that are

proving increasingly important to

companies of every size across all

industry sectors."

The stand promoted all product

ranges marketed under the Starrag

brand - Berthiez, Bumotec, Dörries,

Droop+Rein, Ecospeed, Heckert,

Scharmann, SIP and Starrag – though

the focus was on the Heckert range of affordable yet highly productive and high-speed four-

/five-axis horizontal machining centres.

Heckert's recently-announced new machine series has been designed to cost-effectively

meet the needs of a wide range of companies of any size within supply chains across multiple

industries.

Tel: 0121 359 3637, www.starrag.com

'ALL THINGS MICRO'

solutions the construction of the Master Series is

to very high standards, with design features

such as front bearing ensuring smooth drawer

action, drawers being freely configurable and

users having personalisation options available

through a choice of 10 colour schemes and

branded labels for each drawer. With security in

mind the system also offers options of manual

and electronic (PIN number controlled)

locking/unlocking.

"A professional review of storage systems

can make a massive difference to the efficient

running of a workshop and it was refreshing to

listen to so many at MACH who recognised this

fact and wanted to discuss how System Store

Solutions can work with them to provide a onestop-shop

from design through to installation to

make these gains a reality."

sales@systemstoresolutions.com

www.system-store.com

Rainford Precision has long been recognised as

the 'go-to' company for all your micro

machining applications, but applying this

rationale at MACH yielded the company's best

results ever at the biennial event.

According to Managing Director, Mr Arthur

Turner the huge flow of visitors to the Rainford

stand was credit to having 'something

substantial to show' MACH visitors. In essence,

the figurehead of the St Helens' company was

referring to the first MACH appearance of the

KERN Micro Pro machining centre, the Finecut

micro abrasive waterjet cutting machine and the

Finespin® polishing and deburring machines

that were all complemented by an extensive

cutting tool portfolio.

"We received a huge number of enquiries

and that was because we gave MACH visitors

something completely new and unique to see.

People genuinely made the effort to attend

MACH just to see the KERN, the Finecut and

the Finespin machines. Attendees were even

bringing fliers distributed prior to the show via

the trade press; such was their appetite for our

technology. Of course, once visitors had seen

the micro technology they came for; we used

the opportunity to introduce the Iwata Tool,

Union Tool, Osawa, Hobe, Louis Belet,

Delmeco, Gloor and Xactform ranges of cutting

tools for hard machining and micro machining

applications. This strategy gave end-users a

chance to investigate all our product lines. It

also gave us greater market penetration with all

our product lines generating enquiries from all

around the UK with a complete spectrum of

industry sectors showing intent to purchase".

The ultra-precise KERN machine tool brand

took centre stage with the innovative tool and

workpiece magazine configuration integrated

into the compact machine footprint of less than

4 square metres. On display was a 90 station

HSK40 tool magazine combined with a 30

station workpiece changer that can carry pallets

70 x 70 mm with workpieces up to 150 mm tall.

Whilst KERN takes precision to a level far

beyond anything that 99% of the machine tool

sector can achieve, it is the high precision

consistency in dimensions that MACH visitors

were looking for.

Tel: 01744 889726

sales@rainfordprecision.com

www.precisiondrills.co.uk

www.rainfordprecision.com

28 Machinery World, June 2018 2018
---
XYZ 3000 SLV Turret Mill, Table size 58" x 12", Long

Travel 40" Power Feeds & rapids to X & Y, Spindle

40ISO. C/w DRO £6,750

XYZ SLX 555 x 1.75M CNC Lathe, New 2011, Swing

560 x 1750 mm b.c, Spindle bore 104 mm, Speeds 30 -

1800 rpm C/w 4 station indexing tool-post £POA

COLCHESTER MASCOT 1600 Gap Bed Centre Lathe,

Swing 450 mm x 1000 mm b.c, C/w 3 jaw chuck & fixed

Steady

£POA

AJAX CLEVELAND No. 4 Vertical Mill, Table size 1800

x 350 mm, Long Travel 1330 mm, 50int Spindle. C/w

Machine vice.

£POA

MODUL ZFWF 1250 / 3 GEAR HOBBER with

Tangential Feeds, Max Wheel Dia 1250 mm Gear width

600 mm. C/w equipment £POA

EDWARDS TRUECUT MODEL DD 2.5 X 1270

GUILLOTINE Capacity: 2.5 mm x 1270 mm, Rack &

Pinion Back Gauge Front Sheet Supports, Squaring Arm

Rear Safety Guards, £6,950

VISIT OUR WEBSITE AT: www.philgeesinmachinery.co.uk

Machinery World, February 2010 29

TO VIEW PHOTOGRAPHS & FULL STOCK LIST

WANTED MODERN USED MACHINE TOOLS AND FABRICATION EQUIPMENT – PLEASE OFFER US YOUR REDUNDANT MACHINERY.

GAUGES LTD

PENICO ROTARY

GRINDING TABLE

• Converts surface grinders

to rotary work

• Robust construction

For further details contact

Penico Gauges Ltd

Tel: 01274 511044

Fax: 01274 510770

Email:

penicogauges@yahoo.co.uk

Web: www.penico.com

Machinery World, June 2018 29
---
LOOK BACK AT MACH

CONSIDERABLE

INTEREST

Partnership arrangements with machine tool

manufacturers, along with considerable interest

in its new Designer CAD for CAM system, were

Vero Software's highlights at the MACH

exhibition.

With a total of 18 partner hotspots around

the UK's premier production engineering show,

Edgecam programmed 12 CNC machines on

nine manufacturers' stands, demonstrating 5-

axis simultaneous machining, Waveform

turning and milling, mill/turning, wire EDM,

and certified posts.

DMG Mori ran Edgecam on their DMU 60

Evo Linear machine with a 5-axis simultaneous

program, and an NTX 2000 for mill/turning

operations. UK Showroom Manager

Christopher Cooper says MACH was the

perfect venue to highlight their top level

engineering expertise and their machine tools.

"The linear machine is especially dynamic,

moving at 80 metres a minute, and we created

an impeller from an aluminium block which

was the maximum size for our handling system

– 410 mm wide and 200 mm high. We used

Edgecam to produce code which would show

the machine's full capabilities, moving the part

around and removing material in the most

efficient way.

Matsuura also programmed two machines

with Edgecam for mill/turn and 5-axis.

"Visitors to our stand were particularly

impressed with how Edgecam produced a

highly complex part that looks like a puzzle or

optical illusion. It was challenging to program,

but Edgecam took it in its stride on our MX 330.

"We work very closely with Edgecam,

which ensures customers get the very best out

of their machine tool. We couldn't do what we

do without Edgecam."

Vero's UK Strategic Partnership Manager

Wesley Tonks says: "Partnering in this way

gives a better understanding of a

manufacturer's specific requirements, and

allows the machine tool supplier to introduce

the applicable Vero solution."

www.verosoftware.com

VOLLMER GRINDS OUT GREAT

RESULTS

The MACH exhibition once again proved to be

a huge success for Vollmer UK with the tool and

saw blade grinding and sharpening specialists

winning an order at the show as well as

generating a high number of enquiries.

Vollmer had three machines on its MACH

stand and each of the machines for cutting tool

and saw blade production was very well

received by show visitors.

Making its debut at MACH 2018, the Loroch

K850-M for processing metal-cutting saw

blades got proceedings off to a flier with

Birmingham based Precise Saw & Tool Ltd

placing an order at the show. Purchased to add

capacity to its existing operation, the Loroch

K850-M has a 50 blade capacity and robotic

load/unload for extended unmanned running.

The centrepiece of the Vollmer stand was the

new Vgrind 360 tool grinding machine that also

made its UK exhibition premiere. The next

generation Vgrind 360 is the successor to the

Vgrind 160 model, now equipped with

enhanced travel distances for accommodating

carbide drills and milling cutters whose blanks

are made from either solid carbide or carbidetipped

steel bodies up to 200mm diameter.

With groundbreaking kinematics that

incorporates two vertical spindles, the Vgrind

360 allows multi-level machining. This gives

customers the facility to produce large numbers

of milling cutters and drills quickly and

precisely. At MACH 2018, the Vgrind 360 and

its HP 160 loading facility for around-the-clock

unsupervised machining generated a constant

crowd and enquiry levels were unprecedented.

'BUYING BRITISH'

The 2018 edition of MACH proved to be the

most successful event that Industrial Tooling

Corporation (ITC) has participated in so far.

While many commentators will pin the show

success on a buoyant market and a new floor

layout; for Tamworth manufacturer ITC, the

crowds were drawn in by a stunning stand

design, a Suter MMX500 racing bike and the

sheer diversity of its product range.

Generating more enquiries than at any of

its previous MACH appearances, ITC had a

huge level of interest across the Widia, BIG

KAISER and ITC product ranges. And whilst

the Suter racing bike drew visitors to the

Vollmer UK's Technical Sales Engineer, Mr

Kieran Rosling said: "Enquiries for the Loroch

K850-M and the flexible CHC840 sharpening

machine for carbide-tipped circular saw blades

up to diameter 840 were particularly high. We

conducted a number of demonstrations on both

machines during MACH week and we have

already booked further trials with a number of

manufacturers showing serious levels of

interest. However, the Vgrind 360 tool grinding

machine was most certainly the show-stopper

for us. The machine demonstrates a serious

investment with results and a return on

investment that is unparallelled. At MACH, the

innovation of the Vgrind 360 was evident and

the enquiry level and the number of follow-on

meetings we have booked-in for the weeks

beyond MACH is really encouraging. The show

was most certainly a success for Vollmer and

this will be qualified in the weeks and months

after the show."

Tel: 0115 9491040

admin-uk@vollmer-group.com

www.vollmer-group.com

spacious and inviting stand, it was the

technology that made visitors stay, enquire

and show genuine interest in the latest product

lines.

Commenting upon the extraordinary levels

of interest, ITC's Marketing & Internal Sales

Manager, Georgia Stewart-Jones says: "The

racing bike pulled crowds to the stand and as

soon as visitors had a glimpse of the high

precision 'Bluetooth' boring technology from

BIG KAISER that was next to the bike, general

interest suddenly turned to serious discussions

with our technical engineers. We had

numerous enquiries from manufacturers that

didn't realise BIG KAISER products were

available in the UK, some visitors didn't realise

that ITC was a UK manufacturer or that we do

specials whereas some visitors couldn't

comprehend how extensive our portfolio of

product lines has become. The fact that ITC is

a UK manufacturer of standard and special

tooling lines with fast-turnaround times has

already won us business from MACH."

Tel: 01827 304500

sales@itc-ltd.co.uk

www.itc-ltd.co.uk

30 Machinery World, June 2018
---
£11,450

Machinery World, June 2018 31
---
LOOK BACK AT MACH

MITSUBISHI ADDS SPARK TO MACH

Mitsubishi Electric used MACH 2018 as the

platform to introduce its groundbreaking new

CNC control unit on its established and

industry leading MV Series of EDM machines.

The Mitsubishi EDM stand at MACH was

furnished with the MV1200S and the

MV2400R Series of EDM technology that

introduced the latest advancements in

Industry 4.0 and power supply technology.

The compact

M V 1 2 0 0 S

machine with its

400 by 300 by

220mm (X, Y & Z

axes) travel offers

c o s t - e f f e c t i v e

production in a

small footprint whilst the larger MV2400R

boasted Mitsubishi's V350-V AEII Power

Supply DMX-S (Digital Matrix Sensor) that

shapes each spark to reduce electrode wear

considerably and the World's first Linear Shaft

Drive System XYUV. This combination

delivers smooth, highly controllable

movements and unparalleled precision and

productivity levels.

Quality is in the DNA of the Mitsubishi

brand and the MV-R and MV-S Series at

MACH both demonstrated the pre-installed

Crash Protection System, Intelligent Auto

Wire Threading, the latest Power Master

The new floor-plan at MACH 2018 certainly

reaped rewards for Rochdale based Kerf

Developments. The plasma, waterjet and oxyfuel

cutting manufacturer yielded a greater

number of sales leads from a more diverse client

base than at previous MACH exhibitions.

MACH 2018 was the launch-pad event for the

new Plasmaster HD (High Definition) and the

PythonX robotic plasma structural steel

fabrication system and both machines along with

the established RUR and RUM machines were

hugely successful among visitors.

Commenting upon why the show was such a

success among a diverse audience, Kerf

Developments Sales Director, Mr Craig Walsh

says: "The new Plasmaster 3015 was on show at

MACH and this machine really excited visitors

with its cut-quality and flexibility at such an

affordable price-point. The Plasmaster was onshow

with the Lincoln Electric Flexcut 125 and

the 200HD high-definition plasma unit with

example test pieces to highlight the cut-quality

and precision available at such an affordable

price.

Alongside the extremely popular Plasmaster

was the established RUR2500 and the heavy duty

RUM4500 machine with four cutting heads on a

single gantry.

At the other end of the scale from the

Control for process stability and a host of

additional innovative features. Central to

both machines on the stand was the

revolutionary new CNC control system.

Globally launched at EMO 2017 and

receiving its UK exhibition premiere at

MACH, the new control system incorporates

Industry 4.0 features in abundance.

Advanced technology and a new user

interface can be a daunting prospect for any

machine operator; Mitsubishi Electric has

overcome this by offering both the new and

established interface in a single control. With

the flick of a switch, the new CNC interface

can revert to either type, offering existing

and experienced users the familiar interface

whilst providing all the benefits of the new

technology. The machine operator has a large

screen monitor and modern gesture controls

that boost comfort with a configurable

interface that supports the user by allowing

the main function elements to be freely

arranged for daily work. Furthermore, the

step-by-step dialogue guidance pilots less

experienced operators through the entire

process with checklists taking operators from

programming through to machining.

Tel: 01788 577288

info@mitsubishiedm.co.uk

www.mitsubishiedm.co.uk

KERF QUALITY SHINES THROUGH AT

MACH 2018

Plasmaster range, the PythonX robotic plasma

system was hugely successful among

manufacturers in the structural steel industry.

"Whilst the PythonX represents a new

innovative method of manufacture, show

visitors could see the potential of the machine to

replace 5-6 existing machines through its high

level automation and productivity. This machine

really is something that is astounding to see in

action. People passing the stand were watching

the PythonX footage on our monitors and

stopping in the aisles and with Lincoln Electric

experts on-hand; we could discuss applications

with interested attendees."

"Overall, MACH 2018 was hugely successful

for Kerf and if we could, we'd do MACH every

year. The comments on the technology and cut

samples that we had on show were very

complimentary; MACH was most definitely a

major success for Kerf," concludes Mr Walsh.

Tel: 01706 757 670

sales@kerfdevelopments.com

www.kerfdevelopments.com

HAINBUCH SETS

NEW RECORDS

Workholding and clamping innovators

Hainbuch have started 2018 in spectacular

fashion and the first quarter performance is set

to continue after an outstanding MACH 2018.

Recording its best first four-month period ever,

MACH 2018 yielded a lead generation rate

more than double that achieved during the 2016

event.

Commenting upon the exceptionally high

enquiry level at MACH 2018, Hainbuch UK's

Managing Director, Mr Nick Peter says: "We

recieved more than double the enquiries at

MACH than we did two years ago. We are very

particular about the names we take as we only

want to be speaking with manufacturers that

have a serious interest. The Hainbuch team has

already qualified the leads and we have to

either visit or quote upwards of 100 businesses.

Of these companies, at least 60% are new names

to our business and this is great news for

Hainbuch. We have a quote to order ratio in the

region of 70-80%, so we'll be expecting to

generate a lot of new business as a result of

exihibting at MACH."

"The diversity of enquiry covers the

complete range from the Hydrok hydraulically

actuated stationary chuck and the Manok

stationary chuck through to the TestIT

clamping force gauges, the TOPlus and

SPANNTOP mini chucks, the new MANDO

Adapt series, the Centrex face drive attachment

and the new Magnetic Modules. There was also

a number of Hainbuch clamping systems on

machine tools around the exhibition and a

number of stand visitors came over from

machine tool stands, as they had purchased

machines at MACH that will be supplied with

our technology. This emphasised the value of

our collaboration with machine tool builders

and how our product lines complement and

maximise the flexibility and capability of

industry leading machine tools," concludes Mr

Peter.

With everything workholding on the

Hainbuch stand from 5-axis component

clamping through to stationary and rotary

solutions, the Staffordshire Company offered

something for all industry sectors and

manufacturing applications. If you couldn't

make it to MACH and you would like to find

out why Hainbuch is the first name in clamping

technology, please contact Hainbuch for more

information.

Tel: 01543 278731

www.hainbuch.com

32 Machinery World, June 2018
---
TINBASHERS

USED ROLLFORMERS,

DECOILERS, LEVELLERS,

CUT TO LENGTH AND

SLITTING LINES

FOR SALE OR WANTED

CONTACT TOMMY SHEEHAN

0789 984 7925 or 0161 429 8710

Email: sales@tinbashers.com

BEARINGS WANTED

Cut out the middle men –

Deal Direct

martin@thebearingwarehouse.co.uk

Mob: 07802 928128 Tel: 0800 0180310

Fax: 01302 727791

Est 1988. 24000 sq ft warehouse

Massive stocks, contact us to sell or buy

USED RIVETING MACHINE FROM

THE MARKET LEADERS

❋* MOST TYPES AVAILABLE

❋❋* FULLY CHECKED

❋❋* TOOLING

❋❋* FIXTURING

❋❋*❋ GENERAL ADVICE

❋❋* THOUSANDS OF MACHINES SOLD DURING

OUR TWENTY FIVE YEARS IN BUSINESS

CONTACT BILL CHALLENOR

54 Coventry Road, Pailton,

Rugby, Warwickshire CV23 0QB

Tel: (01788) 833301 Fax: (01788) 833481

Email: wgcrivet@gmail com

Web Site: www.wgchallenor.co.uk

WANTED!

JONES & SHIPMAN 540E, 540X, 1400X,

Techmaster Easy

MYFORD MG12-M, MG12-HM, MG12-HPM

OKAMOTO Surface Grinders

DECKEL S11, SOE, SO Tool & Cutter Grinders

EWAG WS11

TECHNICA Centre Grinder

HENNINGER Centre Grinder

PG OPTIDRESS E Attachment

BOWERS Powered Rotary Magnetic Chuck

JUBILEE MACHINE TOOLS

T:01332 348749 F: 01332 342416

www.jubileemactools.com

PRECISION SPINDLE

REBUILDING

We offer a complete rebuild service of cnc

machining centre spindles, cnc lathe heads,

Grinding spindles (both belt driven & high

frequency types), tailstocks, Fine boring

spindles, Milling spindles, centre-less grinding

spindles, workheads, wheelheads etc.

technova precision ltd

tel: 02476 366503 • Fax: 02476 361979

www.technovaprecision.com • email: will@technovaprecision.com

We now sell NEW LED WORKLIGHTS

for machine tools.

Please visit WWW.SECWORKLIGHTS.COM to see the range.

ONLINE

VIEW THE LATEST NEWS FROM

FREE UK DELIVERY

www.machinery.world

Machinery World, June 2018 33
---
LOOK BACK AT MACH

MASTER ABRASIVES MAJOR SUCCESS

Exhibiting the widest range of grinding and

finishing products in its 50 years of trading,

Master Abrasives was as busy as expected at the

MACH show this year.

At the centre of their stand stood the eco 200

grinding machine by Micromatic Grinding

Technologies, being exhibited for the first time in

the UK. To complement this, the Master® range of

grinding wheels was displayed with its updated

brochure available to match the brand's new look.

Paul Batson, Master Abrasives Managing

Director comments: "MACH was ideal platform

for the full range of machinery and grinding

products we now offer. We were pleased to

welcome hundreds of visitors onto our stand to

view the eco 200 grinding machine. One of the

highlights at the show was making the sale of the

eco 200 to Border Ballistics Technologies."

The economical eco 200 received a lot of

attention being a basic but high-precision grinder

which can be used for external, internal or face

grinding applications. The machine was

displayed with a range of the additional

accessories offered by Micromatic, including the

digital read-out. Its small footprint and low cost

combined with its ability to hold tight tolerances

makes it a great economical entry model machine

for tool rooms requiring precise and accurate

repeatability of wheel slide within ±0.001mm.

Master Abrasives also used the show as an

opportunity to announce their new agency for

Alex Machine Tools, which are now available in

the UK & Ireland. ALEX has developed a

comprehensive range of surface grinding

machines over the past 30 years, including the

reciprocating hydraulically-operated surface

grinder, the high power rotary surface grinder

and the precision double disk grinders. This range

includes a wide variety of sophisticated elements

including computer numerical controls,

automatic in-process gauging and other material

handling automation, depending on the

customer's need and application.

With machines for grinding and

superfinishing and a full range of abrasives and

measuring equipment, there was something for

everyone at Master Abrasives stand.

"I'm sure visitors will have been impressed by

what they saw of Master Abrasives at MACH, but

I guarantee a visit to our grinding and finishing

showroom and tour of our facilities in

Northamptonshire is even more impressive,"

concludes Paul Batson.

Tel: 01327 703813

sales@master-abrasives.co.uk

www.master-abrasives.co.uk

A NEW ERA IN UK CAM SOFTWARE

MACH 2018 started in spectacular fashion for

OPEN MIND Technologies with the CAM

specialist selling three seats of hyperMILL CAM

software in the first two days, an additional four

by the end of the show and another three in the

week after MACH. Located at the entrance to Hall

17, the prime position yielded an unprecedented

level of enquiries and sales.

Four of the seats were sold to prestigious

subcontract manufacturers whilst another seat

was sold to Iver based Newmax Precision. The

Buckinghamshire aerospace and defense

manufacturer is taking delivery of its first 5-axis

Mills CNC, the exclusive distributor of Doosan

machine tools in the UK and Ireland, showcased 16

advanced high-performance machines on its stand

at MACH 2018.

A number of the machines exhibited were

making their debuts at the Show, and amongst

these was Doosan's latest addition to its already

impressive 5-axis machine tool portfolio - the DVF

5000.

The machine, as was the case with all the

Doosan machines being showcased, proved

machining centre in July, a Matsuura MX330.

Realising its existing CAM software will not

deliver the 5-axis machining strategies to drive the

Matsuura, Newmax Precision Director Mr Adrian

Bundy visited MACH to buy a seat of 5-axis CAM

software. hyperMILL was the preferred choice.

For engineers looking for a paradigm shift in

turning strategies, OPEN MIND had the answer

here too. The new Vandurit rollFEED® turning

system is a collaboration between Vandurit and

OPEN MIND that now offers an exclusive

hyperMILL® CAM strategy to match the

groundbreaking roll turning development. This

THEY CAME. THEY SAW. IT CONQUERED

popular during MACH and its addition has helped

further substantiate Mills CNC's position as a

market-leading 5-axis machine tool provider.

The DVF 5000 is rigidly built machine and

provides precision component manufacturers with

full simultaneous 5-axis machining capability. The

machine is equipped with a powerful

18.5kW/12,000rpm directly-coupled spindle. (An

18,000rpm built-in spindle variation is available as

an option).

Initially the DVF 5000 will be available from

Mills with the Heidenhain iTNC640 control. DVF

5000 models with Fanuc and Siemens controls will

be available later in the year.

Says Tony Dale, Mills CNC's Technical Director:

"Precision, speed, process reliability and flexibility

accurately sum up the credentials of the new

Doosan DVF 5000 machining centre.

Tel: 01926 736736

sales@millscnc.co.uk

www.millscnc.co.uk

collaboration introduces a new solution for CNC

turning that increases process reliability and

significantly reduces machining times and toolwear

by up to a staggering 90%.

Commenting upon OPEN MIND

Technologies performance at MACH, Sales

Director Mr Ken Baldwin says: "We had a couple

of hundred leads from MACH and we did

countless demonstrations. We were

phenomenally busy throughout the week and at

times the interest level was quite overwhelming.

Compared to MACH 2016, it is evident that the

OPEN MIND brand has really grown and there is

a huge swing in the industry from other CAM

vendors to hyperMILL. There were very few

'casual' walk-on visitors at MACH; everyone that

approached us was a serious buyer that was

seeking us out.

"We were also really pleased that the MTA

had grouped all the CAM suppliers close to each

other as our stand and the demonstration parts

were really eye-catching and that made our

technology instantly appeal to visitors. This was

supplemented by some very impressive

demonstration parts on the Mazak, DMG Mori,

XYZ and FANUC stands that were all applying

hyperMILL to highlight the capabilities of their

machines through our software."

Tel: 01869 290003

Mobile +44 (0) 7867 971 519

adrian.smith@openmind-tech.com

www.openmind-tech.com

34 Machinery World, June 2018
---
tuRN suRpLus aNd IdLE assEts

fROM a BuRdEN INtO a BENEfIt!

Wanted used Modern Welding and Cutting Machinery

Make money on surplus and idle assets quickly and painlessly. Westermans buys and sells single machines and

entire facilities. Take advantage of our worldwide network, unmatched marketing ability, and 50+ years of industrial

welding asset sales experience. As one of the largest and most respected Welding & Cutting sales companies we

offer a variety of solutions to monetise your assets.

Wanted

* aMI, polysoude or Orbimatic tube to tube Orbital welders

* Gullco automated tractors for pipework

* CNC mechanised plasma cutters & modern Oxy-fuel profile

cutters

* Nederman and Lincoln fume extractors

* Welding positioners & pipe Rotators

* submerged arc & Boom welders.

Reward paid

Introduce us to Sellers of modern surplus Welding and CNC

Plasma Cutting Plant and you will be rewarded plus 10%

Commission paid on successful leads.

Why sell to us?

fair price - We know the market and will

always give the best valuation

fast Response - We respond quickly and

our Team will help throughout

Quick payments - Once the deal is agreed

we will pay you promptly

hassle free - We handle inspections,

dismantling and the collection. Easier than

Ebay!

Established Reputation - A family owned

business established for over 50 years

5* Rating - 95% top reviews. Read

comments from our Network and

Customers on Trustpilot.

Investing in a new

Laser Cutter?

Great News…….

We will buy your plasma, waterjet or laser machine

We will pay you MORE than the part exchange deal.

You can then negotiate a good price on your shiny,

new equipment.

fOR a REvIEW Of YOuR

suRpLus MaChINERY aNd a

dIsCussION ON hOW tO tuRN

It IN tO Cash IMMEdIatELY

CONtaCt:

pEtER WEstERMaN

tEL: 0116 298 8636

EMaIL: peter@westermans.com
---
S E R V I C E S D I R E C T O R Y

ASSOCIATIONS

THE MANUFACTURING TECHOLOGIES ASSOCIATION

62 Bayswater Road, London WS 3PS

Tel: 0207 7298 6400 Web: www.mta-org.uk

AUCTIONEERS

APEX AUCTIONS LIMITED - ONLINE MACHINE TOOL AUCTIONS.

PO Box 329, Brighton BN1 1TQ, United Kingdom.

Tel: UK Office: +44 (0) 1273 224466 US Office: +1 630 718 9804

Email: info@apexauctions.com Web: www.apexauctions.com

AMS (UK) LTD

Unit 5, Church Farm Business Centre, Church Road, Leckhampton, Cheltenham,

Glos GL53 0QJ

Tel: +44(0) 1242 241111 Fax: +44(0)1242 527777

Email: info@amsauctions.co.uk Web: www.amsauctions.co.uk

PEAKER PATTINSON AUCTIONEERS Ltd.

The Grange Offices, Aunby, Stamford, Lincs PE9 4EE, England

Tel: 01778 590111 Fax: 01778 590730

Email: info@ppauctions.com Web: www.ppauctions.com

London Office: Tel: 0208 944 1898 Fax: 0208 879 7269

Email: london@ppauctions.com

AUCTIONS & VALUATIONS

LAMBERT SMITH HAMPTON

Email: plantsales@lsh.co.uk Web: www.lsh.co.uk

Bristol Office:

Tower Wharf, Cheese Lane, Bristol BS2 0JJ. Tel: 0117 926 666

Birmingham Office:

Interchange Place, Edmund Street, Birmingham B3 2TA. Tel: 0121 236 2066

Exeter Office:

Pynes Hill Court, Exeter EX2 5AZ. Tel: 01392 880180

Leeds Office:

9 Bond Court, Leeds LS1 2JZ. Tel: 0113 245 9393

Southampton Office:

3rd Floor, Enterprise House, Ocean Way, Southampton, Hampshire SO14 3XB.

Tel: 023 8033 0041

London Office:

UK House, 180 Oxford Street, London W1D 1NN. Tel: 0207 198 2000

Manchester Office:

6th Floor, 3 Hardman Street, Manchester M3 3HF. Tel: 0161 228 6411

Nottingham Office:

First Floor, City Gate East, Tollhouse Hill, Nottingham NG1 5FS. Tel: 0115 950 1414

Newcastle Office:

41-51 Grey Street, Newcastle Upon Tyne NE1 6EE. Tel: 0191 232 6291

Solent Office:

1st Floor, 2 Manor Court, Barnes Wallis Road, Fareham PO15 5TH. Tel: 0203 461643

LIQUIDITY SERVICES UK

LONDON – United Kingdom Head Office.

1st Floor, 1 Alie Street, London, E1 8DE, United Kingdom.

Tel: +44 20 7098 3700 Fax: +44 20 7098 3795

Email: CustomerService@liquidityservices.com

BIRMINGHAM – 7th Floor, Livery Place, 35 Livery Street, Birmingham B3 2PB, United

Kingdom. Tel: +44 121 236 2880 Fax: +44 121 236 2890

Email: CustomerService@liquidityservices.com

BRISTOL – 1 Friary, Temple Quay, Bristol BS1 6EA, United Kingdom.

Tel: +44 117 922 0790 Fax: +44 117 344 5150

Email: CustomerService@liquidityservices.com

LEEDS – 31/32 Park Row, Leeds LS1 5JD. United Kingdom

Tel: +44 113 246 5570 Fax: +44 113 246 5590

Email: CustomerService@go-dove.com

Email: sales@liquidityservices.com Web: www.go-dove.com

BARRELING/SUPER FINISHING

SHARMIC ENGINEERING LIMITED

Vibratory/shotblast finishing. New & Used vibratory machines, repairs &

consumables

Baldwin Road, Stourport-on-Severn, Worcs.

Tel: 01299 878123 Fax: 01299 879409

Email: info@sharmic.co.uk Website: www.sharmic.co.uk

BORING HEADS / TAPPING HEADS

KAL ENGINEERING

Small Tool Repairs. Boring Heads, Tapping Heads Driven Tooling, DTI repairs and

sales, new or reconditioned to precision engineering tooling.

6 Oak Avenue, North Elmham, Dereham, Norfolk NR20 5JL

Tel/Fax: 01362 668394

Email: kalengrepairs@talktalk.net Web: www.kalengineering.co.uk

BROACHING AND KEY WAY CUTTING

ALCESTER BROACH & TOOL CO. LTD.

Comprehensive sub-contracting broaching facilities, including own tooling. Broach

manufacturing and re-grind & repair services. The total broaching service.

Pipers Road, Park Farm South, Redditch, Worcs B98 OHU

Tel: 01527 523107 Fax: 01527 526137

Email: sales@alcesterbroach.com www.alcesterbroach.com

CNC CRT MONITOR SCREEN REPAIRS AND

REPLACEMENTS

PENNINE AUTOMATION SPARES

NEW replacement CRT and TFT Moniitors for Fanuc, Siemens, Mazak, Mitsubishi,

Okuma, Heidenhain and KME Large stock 12 to 24 month warranty.

Tel: +44 (0)1422 370109 Fax: +44 (0)1422 371338 Web: www.pennineuk.com

CNC GRINDING

AARON MANUFACTURING LTD

ISO 9001 : 2008 registered. 4 machines, cylindrical and fully universal internal /

external, Int Process gauging, modern manufacturing facility.

Unit K, L & M, 25-27 Willis Way, Poole, Dorset BH15 3TD

Tel: 01202 670071 Fax: 01202 682952

Email: aaron@aaroncnc.co.uk Web: aaronmanufacturing.co.uk

CENTRAL GRINDING SERVICES LTD

Precision Internal & External C.N.C. Grinding, 50 offs up to large qtys, all materials

including Exotics, Carbide & Coatings. ISO 9001-2000.

3A Pomery Drive, Oadby Industrial Estate, Oadby, Leicester LE2 5NE.

Tel: 0116 271 8188 Fax: 0116 271 8199

Email: info@centralgrinding.co.uk Web: www.centralgrindingservices.co.uk

CNC MACHINE TOOLS SPARES AND

SERVICE, REPAIRS

CNC SYSTEMS LTD

Fanuc Systems & Fuji AC and DC drive repairs, supply of spares and installation.

40 Redwoods, Addlestone, Surrey KT15 1JN Tel: 07740 187341 Tel: 01932 830492

Email: office@cncsystemsltd.co.uk Web: www.cncsystemsltd.co.uk

PENNINE AUTOMATION SPARES

The largest stock in the UK of CNC spares, drives, motors, controls, boards,

encoders all makes Fanuc, Siemens, Allan, Bradley, Contraves, Gettys and more.

Check out our web site www.pennineuk.com for part of our stock.

Tel: +44(0) 1422 370109 Fax: +44(0) 1422 371338

Email: spares@pennineuk.com

CNC PROGRAMMING & TRAINING

GARDNER CNC

For Training: Programming: CAD/CAM Systems: Technical Assistance and more.

Help is just a phone call away.

1 Green Hill Farm, Bishop Itchington, Warwickshire CV4 72SS

Tel: 01926 614882 Fax: 01926 614884 Email: info@gardner-cnc.co.uk

CNC RETROFITTING

INDUSTRIAL MACHINE TOOL SERVICES LTD

Grinding machine specialists. Increase productivity, higher specification machine

Unit 11, Castleview Business Centre,Gas House Road, Rochester,

Kent ME1 1PB

Charles Thurston, Tel: 01634 844477 Fax: 01634 844599

Email: info@imtsgrinding.com Web: www.imtsgrinding.com

MACHINERY PLANT SERVICES LTD

Specialists in Retrofitting all types of Press Brakes and Guillotines - App. UK Agent

for CYBELEC Controls

38a Doddington Road, Earls Barton, Northampton NN6 0NF

Tel: 01604 811634 Fax: 01604 811123

Web: www.cybelec.co.uk Email: info@machinery-plant-servs.com

CNC SYSTEMS

CNC SYSTEMS LTD

Fanuc & Yaskawa repairs and supply of spares, also memory upgrades.

40 Redwoods, Addlestone, Surrey KT15 1JN

Tel: 07740 187341 Fax: 01932 828011

Email: office@cncsystemsltd.co.uk Web: www.cncsystemsltd.co.uk

CNC TURNING / MILLING

B & H MACHINE TOOLS

Spur, helical, bevel. racks and pinions, sprockets, timing pulleys, worms and

wormwheels, gear crowning/barrelling/tapering, splining, serration, broaching,

internal and external gears.

Star Ironworks, Greenacres Road, Oldham, Lancs. OL4 2BT

Tel: 0161 627 4610 Fax: 0161 628 3141

Email: sales@bandhgears.co.uk Web: www.bandhgears.co.uk

S E R V I C E P R O V I D E R S - I n c r e a s e y o u r c u s t o m e r b a s e f o r l e s s t h a n £ 2 a w e e k

36 Machinery World, February 2018
---
S E R V I C E S D I R E C T O R Y

CNC VERTICAL BORING

N.A.B. PRECISION TOOLING LTD

Up to 2 metres Diameter CNC Turning.

Knowl Piece, Wilbury Way, Hitchin, Herts SG4 0TY

Tel: 01462 456565 Fax: 01462 420039

Email: nab_sales@btconnect.com Web: www.nabprecisiontooling.com

CRANKSHAFTS

POWER PRESS REPAIRS LTD

Crankshafts for presses, press brakes, guillotines, cold headers and other

machines. New or refurbishment. Large Turning capacity up to 3.6 metres long. All

machining enquiries are welcome 1off or small batch.

69 Kings Rd, Tyseley, Birmingham, B11 2AX

Tel: 0121 772 1698 Fax: 012 1772 5323

Email: sales@powerpressrepairs.co.uk Web: www.powerpressrepairs.co.uk

DEEP HOLE BORING

HONE-ALL PRECISION LTD

CAPACITY AVAILABLE! 9100:2009 & 9001:2008 & Rolls Royce approved supplier of

Deep Hole Boring, Deep Hole Drilling, CNC Honing 2.5mm – 240mm internal

diameter x 3.3 metres long & CNC Turning up to 4 metres long. Prototype or

production batch, aluminium to aermet, call today for the highest levels of quality

and service.

Cherrycourt Way, Leighton Buzzard, Beds. LU7 4UH.

Tel: 0845 555 5111 Fax: 0845 555 5222 Email: sales@hone-all.co.uk Web: www.honeall.co.uk

SUBCON DRILLING LTD

ISO 9001 : 2000 Quality Assured Company. The UK Leader in Ejector Drilling, Gun

Drilling & Honing, fast response and turnaround.

Subcon Drilling, Unit 6, The Heron Business Park, Eastman Way,

Hemel Hempstead HP2 7FW. Tel: 01442 205960 Fax: 01442 205961

Email: dean@subcondrilling.co.uk Web: www.subcondrilling.co.uk

DEEP HOLE DRILLING

HONE-ALL PRECISION LTD

CAPACITY AVAILABLE! 9100:2009 & 9001:2008 & Rolls Royce approved supplier of

Deep Hole Boring, Deep Hole Drilling, CNC Honing 2.5mm – 240mm internal

diameter x 3.3 metres long & CNC Turning up to 4 metres long. Prototype or

production batch, aluminium to aermet, call today for the highest levels of quality

and service.

Cherrycourt Way, Leighton Buzzard, Beds. LU7 4UH.

Tel: 0845 555 5111 Fax: 0845 555 5222

Email: sales@hone-all.co.uk Web: www.hone-all.co.uk

DIGITAL READOUTS

WARREN MEASUREMENT SYSTEMS

Independent DRO company offering sales & service on all makes of DRO.

9 Woodford Road, Burton, Latimer, Northants, NN15 5UX

Tel: 01536 722712 Fax: 01536 609025

Email heather@warrenmeasurement.co.uk

FINANCE FOR MACHINERY

CITY AND EUROPEAN ASSET FINANCE LIMITED

Independent finance broker funding machinery of all types, new or used on Hire

Purchase or Lease.

Bay Tree House, Ricksons Lane, West Horsley, Surrey, KT24 6HU

Tel: 01483 280111 Fax: 01483 280117

Email: dmcphillips@leasingfinance.com Web: www.cityandeuropean.co.uk

Contact Name: Duncan McPhillips.

GEAR CUTTING

B & H MACHINE TOOLS

Spur, helical, bevel. racks and pinions, sprockets, timing pulleys, worms and

wormwheels, gear crowning/barrelling/tapering, splining, serration, broaching,

internal and external gears.

Star Ironworks, Greenacres Road, Oldham, Lancs. OL4 2BT

Tel: 0161 627 4610 Fax: 0161 628 3141

Email: sales@bandhgears.co.uk Web: www.bandhgears.co.uk

GRINDING

CENTRAL GRINDING SERVICES LTD.

Precision grinding, 1 offs - batchwork, all materials, universal, surface, centreless

and thread grinding universal up to 2 metres long

3 Pomeroy Drive, Oadby Industrial Estate, Oadby, Leiceester, LE2 5NE

Tel: 0116 2718188 Fax: 0116 2718199 Email:info@centralgrinding.co.uk

Website: www.centralgrindingservices.co.uk

GRINDING CONSULTANTS

IMTS GRINDING TECHNOLOGY LTD

(IMTS Consultancy can offer assistance in, grinding techniques, machine design,

software design, dressing requirements, product devlopment, the grinding of

bearings, turbine blades, fuel injection systems, hydraulic spooles, knives,

punches, cams, tungsten and PCD. Hands on site visits).

Castleview Business Centre, Gas House Road, Rochester, Kent ME1 5QH

Tel: 01634 844477 Fax: 01634 844599

Email: info@imtsgrinding.com Website: www.imtsgrinding.com

GUARDING

CRESCENT MACHINERY LTD

PUWER Inspections, all types of machinery guarding. Mechanical barriers or infra-red

guarding, full perimeter interlock guarding.

Unit 6 Brearley Mills, Brearley Lane, Luddenfoot, HX2 6HU

Email: info@crescentmachinery.co.uk Tel: 01422884888

GUILLOTINE BLADES

CRESCENT MACHINERY LTD

Regrinding + Turning Service, same day regrinding if pre-booked. New blades any

size or make of machine. To cut all materials. Onsite service all makes of

Guillotines.

Unit 6 Brearley Mills, Brearley Lane, Luddenfoot, HX2 6HU

Email: info@crescentmachinery.co.uk Tel: 01422884888

GUN DRILLING

HONE-ALL PRECISION LTD

CAPACITY AVAILABLE! 9100:2009 & 9001:2008 & Rolls Royce approved supplier of

Deep Hole Boring, Deep Hole Drilling, CNC Honing 2.5mm – 240mm internal

diameter x 3.3 metres long & CNC Turning up to 4 metres long. Prototype or

production batch, aluminium to aermet, call today for the highest levels of quality

and service.

Cherrycourt Way, Leighton Buzzard, Beds. LU7 4UH.

Tel: 0845 555 5111 Fax: 0845 555 5222

Email: sales@hone-all.co.uk Web: www.hone-all.co.uk

SUBCON DRILLING LTD

ISO 9001 : 2000 Quality Assured Company. The UK Leader in Ejector Drilling,

Gundrilling & Honing, fast response and turnaround.

Subcon Drilling, Unit 6, The Heron Business Park, Eastmman Way, Hemel Hempstead.

Tel: 01442 205960 Fax: 01442 205960

Email: subcondrilling@aol.com Web: www.subcondrilling.co.uk

HONING

APPERLEY HONING LTD

Honing capacity available from 3.00mm to 750.00mm diameter and lengths up to

15metres. ISO 9002

Contact: Charles Sanders,

Malmesbury Road, Kingsditch Trading Estate, Cheltenham GL51 9PL

Tel: 01242 525868 Fax: 01242 224738

Email: admin@apperleyhoning.co.uk Web: www.apperleyhoning.co.uk

HONE-ALL PRECISION LTD

CAPACITY AVAILABLE! 9100:2009 & 9001:2008 & Rolls Royce approved supplier of

Deep Hole Boring, Deep Hole Drilling, CNC Honing 2.5mm – 240mm internal

diameter x 3.3 metres long & CNC Turning up to 4 metres long. Prototype or

production batch, aluminium to aermet, call today for the highest levels of quality

and service.

Cherrycourt Way, Leighton Buzzard, Beds. LU7 4UH.

Tel: 0845 555 5111 Fax: 0845 555 5222

Email: sales@hone-all.co.uk Web: www.hone-all.co.uk

SUBCON DRILLING LTD

ISO 9001 : 2000 Quality Assured Company. The UK Leader in Ejector Drilling, Gun

Drilling & Honing, fast response and turnaround.

Subcon Drilling, Unit 6, The Heron Business Park, Eastmman Way, Hemel Hempstead.

Tel: 01442 205960 Fax: 01442 205960

Email: subcondriling@aol.com Web: www.subcondrilling.com

INSPECTION EQUIPMENT

MIDLAND METROLOGY LTD

Profile projectors, vision systems, hardness testers, granite plates/tables/squares –

used inspection equipment, calibration laboratory.

Unit G3, Little Heath Industrial Estate, Old Church Road, Coventry CV6 7ND

Tel: +44 (0) 2476 638280 Fax: +44 (0)2476 638772 Email: sales@midland-metrology.co.uk

JIG GRINDING

SPINDLE SERVICES LTD

Holes ground from 1.5mm to 200mm dia – up to 75mm deep – 560mm max

component weight.

Units 9–12, Central City Industial Estate, Red Lane, Coventry, England CV6 5RY

Tel: +44 (0)24 7663 7771 Fax: +44(0)24 7663 7772

Email: sales@spindleservices.co.uk Web: www.spindleservices.co.uk

LAPPING

KEMET INTERNATIONAL LTD

70 years experience in Lapping and Polishing Systems and Consumables, fast and

efficient contract Lapping service.

Cuxton Road, Maidstone, Kent ME15 9NJ

Tel: 01622 755287 Fax: 01622 670915

Email: sales@kemet.co.uk Web: www.kemet-lapping.co.uk

LAPPING

PRECISION LAPPING LTD.

16 Marine Way, Hogwood Lane Industrial Estate, Finchampstead, Berks RG40 4RF

Tel: 0118 973 5989 Fax: 0118 973 7241

Web: www.precision-lappping.co.uk

LASER CALIBRATION

C.D. MEASUREMENTS LTD

Specialists in laser calibration of machine tools & measuring equipment. UKAS

accredited. No. 0344 for on site calibration.

Chomlea House, Hadfield Road, Hadfield, Glossop, Derbys. SK13 2ER

Tel: 01457 852929 Fax: 01457 860619 www.cdmeasurements.com

S E R V I C E P R O V I D E R S - I n c r e a s e y o u r c u s t o m e r b a s e f o r l e s s t h a n £ 2 a w e e k

Machinery World, February 2018 37
---
S E R V I C E S D I R E C T O R Y

MACHINE TOOL REBUILD

BLUE DIAMOND MACHINE TOOLS LTD

Suppliers of new and used machine tools, rebuilding and repairs, suppliers of new

tooling and sub-contract slideway grinding, CNC retrofitting.

Unit 6B, Hackworth Park Industrial Estate, Shildon,

County Durham DL4 1HG

Tel: 01388 776052 Fax: 01388 774770

Email: sales@bdmtools.co.uk Website: www.bluediamond-machinetools.co.uk

PRECISION ENGINEERS / WORK HOLDING

BRM PRECISION ENGINEERS & TOOLMAKERS LTD

Machined Precision Parts, Jigs, Fixtures, Work Holders, Small Fabrications, Press

Tooling.

Unit 3, Brook Street Business Park, Brook Street, Colchester, CO1 2UZ

Tel: 01206 794617 Fax: 01206 793839 Email: bob.rayner@btconnnect.com

PRODUCTION CONTROL SOFTWARE

PSL DATATRACK

Production control software for sub-contractors and precision engineers.

Quotations, Sales & Works Orders, Process Layouts, Stock Control, Purchasing,

Scheduling, Shop Floor Data Collection, Quality & Tooling, Traceability, Financial,

CRM.

Lily Hill House, Lily Hill Road, Bracknell, Berkshire RG12 2SJ

Tel: 01344 827312 or 08456 345931

Email: machworld@psldatatrack.com Web: www.psldatatrack.com

PRESS SERVICING MAINTENANCE

BRUDERER UK LTD

Power Press servicing, repairs and installations, service contracts, training, press

moves / relocations.

Unit H, Cradrock Road, Luton LU4 0JF

Tel: 01582 560300 Fax: 01582 570611 Email: m.crawford@bruderer.co.uk

CRESCENT MACHINERY LTD

Spares, Repairs, Rebuilding & Onsite Maintenance. All makes of Machines:

Kinghorn, HME, Bentley etc.

Unit 6 Brearley Mills, Brearley Lane, Luddenfoot, HX2 6HU

Email: info@crescentmachinery.co.uk Tel: 01422884888

POWER PRESS REPAIRS LTD.

Spares, repairs, onsite service and maintenance, HME, Rhodes, Bentley etc.

69 Kings Road, Tyseley, Birmingham, B11 2AX Tel: 0121 772 1698 Fax: 0121 772 5323

Email: sales@powerpressrepairs.co.uk Web: www.powerpressrepairs.co.uk

ROLLFORMERS

TINBASHERS MACHINERY SUPPLIERS LTD

Rollformers Lockformers cut to length and Slitting Lines serviced or resited also

wanted.

Park Works,Clegg Street,Bolton,BL2 6DU. Tel: 0161 429 8710 Fax: 0161 429 8720

Email: sales@tinbashers.com Web: www.tinbashers.com

FORMIT LTD

Design & supply of cold Rollform Equipment & Tooling, Press Feeding & Coil

Processing Equipment. New & Used Machinery For Sale

Unit 6, Morgan House, Folkes Road, Lye, Stourbridge, West Midlands DY9 8RG

Tel: 01384 895150 Fax: 01384 895303

Email: sales@formit.co.uk Web: www.formit.co.uk

ROLLING MILLS

DURSTON ROLLING MILLS

Rolling mills for all applications

Progress House, Hospital Hill, Waterside, Chesham, Bucks, HP5 1PJ

Tel: 01494 535388 Fax: 01494 792966

Email: sales@durston.co.uk Web: www.durston.com

ROTARY TABLES

1st MACHINE TOOL ACCESSORIES

4th & 5th Axis tables and custom-buillt solutions.

1 The Headlands, Downton, Salisbury, Wilts SP5 3JJ

Tel: 01725 514000 Email: enquiries@kitagawaeurope.com

SAWING

ADDISON SAWS LTD

(Sawing machine and consumables specialists. Est. 55 years)

Attwood Street, Lye, Stourbridge, West Midlands DY9 8RU

Tel: 01384 264950 Fax: 01384 264955

Email: sales@addisonsaws.co.uk Web: www.addisonsaws.co.uk

ADS PRECISION LTD

For all your metal cutting needs. Suppliers of new & used metal sawing bandsaws

& circular saws (from manual to automatic CNC), Bahco bi-metal & carbide

bandsaw blades, spare parts for a wide range of saws, breakdown, repairs &

servicing, lubricants and in house subcontract cutting/sawing, CNC milling, turning

and machining.

710a-716 Penistone Road, Hillsborough, Sheffield, South Yorkshire, S6 2DF

Tel: 0114 2347352 Fax: 0114 2347362

Email: sales@adsprecision.com Web: www.adsprecision.com

SAWING

JHP MACHINE SALES LTD

UK agents for BEWO and RUSCH Sawing Machinery, Manual to Automatic and

CNC Bandsaws, Automatic Tube Saws, Circular Saws, Blades, Breakdowns,

Spares, Service and Repairs to a wide range of machinery.

EchoENG: A wide range of Machine Tools i.e., Press Brakes, Guillotines, Machining

Centers. Lathes, Mills and much much more.

UK agents for DYNOBEND Bending and Tube end forming Machines.

Unit 2 Phoenix Park Ind Est, Chickenhall Lane, Eastleigh SO50 6PQ

Tel: 02381 942827 Email: sales@jhpengineeringservices.co.uk

PROSAW LTD.

Sawing specialists for 40 years. Complete range of metal sawing machines,

manual, mitre, semi/fully automatic, special application systems. Hydraulic

steelworkers also available 35 - 165 ton capacity.

First class service & support throughout the UK. Spares & consumables available

on a nex day delivery. Demonstrations at Prosaw or at your own premises.

Tel 01536 410999 Fax 01536 410080

Web: www.prosaw.co.uk Email: sales@prosaw.co.uk

SAWS (UK) LTD

Leading bandsaw specialist and metal saw, bandsaw blade supplier.

For advice, spare parts, new bandsaws, aluminium saws, chopsaws, circular saws,

blades or service.

Wealden Industrial Estate, Farningham Road, Crowborough, East Sussex TN6 2TR.

Tel: 08448 804511 Fax: 01435 862205 Web: www.sawsuk.com

SCRAP METAL RECYCLING

H. A. MASON (METALS) LTD

Buyers of all non-ferrous scrap metals

Two Woods Lane, off Mill Street, Brierley Hill, West Midlands DY5 1TA

Tel: 01384 79841 Fax: 01384 76414

Email: info@masonmetals.co.uk Web: www.masonmetals.co.uk

SERVO MOTOR & DRIVE REPAIRS

EUROSERV LIMITED

Specialist Repairs to all Manufactures of Servomotors, Spindle Motors and Drives +

Associated Equipment.

Unit 16 & 17, Whitworth Road, Armstrong Industrial Estate, Washington, Tyne & Wear

NE37 1PP. Tel: +44 (0)1915 193344 Fax: +44 (0)1915 368707

Email: enquiries@euroservltd.net Web: www.euroservltd.net

SERVICE & REPAIR

INDUSTRIAL MACHINE TOOL SERVICES LTD

Highly skilled engineers will respond quickly. specialists in Grinding Machines.

Unit 11, Castleview Business Centre,Gas House Road, Rochester,

Kent ME1 1PB Charles Thurston, Tel: 01634 844477 Fax: 01634 844599

Email: info@imtsgrinding.com www.imtsgrinding.com

TPH MACHINE TOOLS

Offer Service & Repair on most Metalworking & Fab Machines, both Electrical &

Mechanical. We have experience of both manual and CNC machines.

Tel: +44 (0)1708 523916 Email: machines@tphmachinetools.co.uk

SHOT BLAST MACHINE ENGINEERS

DOUG BOOTH & SONS (SHOTBLAST) LTD.

The largest UK stocks of new and re-conditioned shotblast machines of all types.

Olympia Works, Church Street, Ossett, Wakefield, West Yorks WF5 9DG

Tel: 01924 274887 Fax: 01924 262219

Email: paul@dougbooth.co.ukWeb: www.dougbooth.co.uk

MNB PRECISION

MNB offer precison services including CNC Milling and Turning, Jig Boring, Spark-

Erosion, Wire-Erosion, Grinding and Shot Peening up 8M long.

Units 3-5 Binns Close, Torrington Avenue, Coventry, CV4 9TB

Tel: +44 (0) 2476 695 959 Fax: 08721116698

Email: info@mnbprecision.com Web: www.mnbprecision.com

SLIDEWAY GRINDING

BLUE DIAMOND MACHINE TOOLS LTD

Suppliers of new and used machine tools, rebuilding and repairs, suppliers of new

tooling and sub-contract slideway grinding, CNC retrofitting.

Unit 6, Hackworth Park Industrial Estate, Sheldon, County Durham.

Tel: 01388 776052 Fax: 01388 774770

Email: sales@bdmtools.co.uk Web: www.bluediamond-machinetools.co.uk

ODIN ENGINEERING LTD

Slideway Grinding up to 1.7 metres x 4.2 metres on WALDRICH COBURG

MACHINES

Unit 4, Fullwood Close, Aldermans Green Ind. Est., Coventry, England, CV2 2SS

Contact: Sam Tel: +44 (0)2476 602622

SLOTTING

MALIN BRIDGE ENGINEERING LTD

Keywaying & Splining on 9 Machines to 30" Stroke. ISO 9002 approved

40 Worthing Road, Sheffield S9 3JJ Tel: 01142 750860 Fax: 01142 750405

SPARK EROSION

SES (GLOS) LTD

Suppliers of new and used Spark Erosion Machines, Fast Hole Drills,

Refurbishment, Training, Servicing and all EDM consumables. Specialists in

Glevum, Sparcatron and Hurco equipment.

Unit 19A Lower Road Trading Estate, Ledbury, Herefordshire, HR8 2DJ

Tel: 01531637206 Email: service@sparcerosion.biz

S E R V I C E P R O V I D E R S - I n c r e a s e y o u r c u s t o m e r b a s e f o r l e s s t h a n £ 2 a w e e k

38 Machinery World, February 2018
---
S E R V I C E S D I R E C T O R Y

SUB-CONTRACTING - GRINDING

CENTRAL GRINDING SERVICES LTD

Precision Internal & External C.N.C. Grinding, 50 offs up to large qtys, all materials

including Exotics, Carbide & Coatings. ISO 9001-2000.

3A Pomery Drive, Oadby Industrial Estate, Oadby, Leicester LE2 5NE.

Tel: 0116 271 8188 Fax: 0116 271 8199

Email: carl@centralgrinding.co.uk Web:www.centralgrindingservices.co.uk

SUB-CONTRACTING - MACHINING

INTOCO – MACHINING DIVISION

Medium & Large Capacity CNC Turning, Milling & Vertical Boring to diameter

3000mm. Specialists in the supply & machining of Tool-steels, Duplex & Super-

Duplex, Austenitic & PH stainless grades.

Bamfurlong Industrial Park, Staverton, Cheltenham, Glos., GL51 6SX.

Tel: 01452 712519, Fax: 01452 714786,

Email: sales@intoco.co.uk, Web: www.intoco.co.uk

N.A.B. PRECISION TOOLING LTD

Up to 2 metres Diameter CNC Turning.

Knowl Piece, Wilbury Way, Hitchin, Herts SG4 0TY

Tel: 01462 456565 Fax: 01462 420039

Email: nab_sales@btconnect.com Web: www.nabprecisiontooling.com

SUB-CONTRACTING - SAWING, MACHINING,

MILLING, TURNING & LATHE SERVICES

ADS PRECISION LTD

For all your metal cutting needs. Suppliers of new & used metal sawing bandsaws

& circular saws (from manual to automatic CNC), Bahco bi-metal & carbide

bandsaw blades, spare parts for a wide range of saws, breakdown, repairs &

servicing, lubricants and in house subcontract cutting/sawing, CNC milling, turning

and machining.

710a-716 Penistone Road, Hillsborough, Sheffield, South Yorkshire, S6 2DF

Tel: 0114 2347352 Fax: 0114 2347362

Email: sales@adsprecision.com Web: www.adsprecision.com

THREAD CUTTING

KINGSTON ENGINEERING Co (HULL) LTD

(Aerospace approved) - Power Transmission screws & nuts ex stock

Pennington Street, Hull, HU8 7LD

Tel: 01482 325676 Fax: 01482 216438 www.kingston-engineering.co.uk

TOOL MAKERS

BRM PRECISION ENGINEERS & TOOLMAKERS LTD

Specialist at Tooling for Aluminium and Plastic Collapsable Tubes for

Toothpaste/Packaging.

Unit 3, Brook Street Business Park, Brook Street, Colchester, CO1 2UZ

Tel: 01206 794617 Fax: 01206 793839 Email: bob.rayner@btconnnect.com

TOOL MAKERS

JCP SERVICES LIMITED

Tooling For Tin Box & Bakewake Plus Precision Engineers. We specialise in the

manufacture of tin box, bake ware and progressive tooling. Press work also

undertaken. We also offer a large variety of precision engineering CNC machinery.

Unit 50, Wakefield Commercial Park, Engine Lane, Bridge Road, Horbury Junction,

Wakefield, West Yorkshire WF4 5NW. Tel: 01924 278585

Email: johnpenn50@btconnect.com Web: www.jcpservices.org.com

TUBE MANIPULATION

HLP TUBE FORMERS LTD

Specialists in CNC Bending, Cutting, Welding & Fabrication

Unit 17 Pant Glas Industrial Estate, Bedwas, Caerphilly, CF83 8DR

Tel: 029 2086 2122 Fax: 029 2086 0823

Email: info@hlptube.co.uk Web: www.hlptube.co.uk

VALUATION PLANT & MACHINERY

MARRIOTT & CO.

Professional and Independent Valuers and Auctioneers of Plant/Machinery.

19 East Street, Farnham, Surrey GU9 7SD.

Tel: 01252 712083 Fax: 01252 737613

68 Lombard Street, London EC3V 9LJ. Tel: 020 7868 1716

Email: mail@marriottco.co.uk Web: www.marriottco.co.uk

VERTICAL BORING

MALIN BRIDGE ENGINEERING LIMITED

(5 machines upto 84 inch diameter plus copy)

40 Worthing Road,Sheffield S9 3JJ. Tel: 01142 750860 Fax: 01142 750405

N.A.B. PRECISION TOOLING LTD

Up to 2 metres Diameter CNC Turning.

Knowl Piece, Wilbury Way, Hitchin, Herts SG4 0TY

Tel: 01462 456565 Fax: 01462 420039

Email: nab_sales@btconnect.com Web: www.nabprecisiontooling.com

WORKHOLDING

1st MACHINE TOOL ACCESSORIES

High quality work holding, fixturing, clamping, chucks & collets available from

stock.

1 The Headlands, Downton, Salisbury, Wilts SP5 3JJ

Tel: 0800 783 0510 Email: enquiries@1stmta.com

If you would like to be included in our SERVICES DIRECTORY, just enter your details and return them together with

a remittance of £75 (U.K. advertisers please add 20% VAT) for a full year's insertion to:

SHEEN PUBLISHING LTD, 50 Queens Road, Buckhurst Hill, Essex IG9 5DD, UK

HEADING.................................................................................................................................................................................

COMPANY NAME....................................................................................................................................................................

Short Description of service(s) offered....................................................................................................................................

.................................................................................................................................................................................................

ADDRESS.................................................................................................................................................................................

.................................................................................................................................................................................................

................................................................................................... POSTCODE..........................................................................

TEL............................................................ FAX.......................................................... EMAIL..................................................

CONTACT NAME.................................... ................................................WEBSITE.................................................................

SIGNED...................................................................................DATE.......................................................................................

I enclose cheque for *£72 (UK) / £60 (Overseas) (* please delete as appropriate)

made payable to Sheen Publishing Ltd.

Please debit my *Mastercard/Visa

Expiry date..................................................................

y

3 Digit Security Code

e Signature.....................................................................

39 Machinery World, June 2017
---
40 Machinery World, June 2018
---
FUTURE SALES

IMPERIAL CHEMICAL INDUSTRIES LTD

(trading as ICI PAINTS AKZONOBEL)

On-Line Auction

Viewing: TUESDAY 5th JUNE 2018

On-line Auction Date: THURSDAY 7th JUNE 2018

Over 400 Lots inc: Paint Mixing Lines, Pallet shrink wrapping lines, Labelling machines,

Stainless Steel tanks: heated / mixing / static, BIO Dosing units, 3 way valves, pumps,

gearboxes, bead mills, mixers, mini silo system, powder wetting out system, flow meters, RO water plant, platforms,

trolleys, barrel loaders, pallet trucks, lifting, compressors, modular building, water coolers, toolroom, factory plant,

miscellaneous, cardboard compactor / balers, conveyors etc.

PHILIPS RESEARCH UK

On-Line Auction

Viewing: WEDNESDAY 6th JUNE 2018

On-line Auction Date: FRIDAY 8th JUNE 2018

Over 350 Lots inc: Qty electronic test equipment, Leica TCS SP5 II confocal microscope system (2011), microscopes,

ovens, antivibration table, water purification system, nitrogen generator, freezers, ice cube maker, filtration fume

cupboards, autoclaves, incubators, centrifuges, spectrophotometer, rotators, galvanostat, shaker, Qty lab equipment,

workbenches, storage cabinets, office furniture, canteen / kitchen, compressor, workshop etc.

MARINE & GENERAL SERVICES LTD

On-Line Auction

Viewing: TUESDAY 26th JUNE 2018

On-line Auction Date: THURSDAY 28th JUNE 2018

Over

Over 250 Lots inc: Machine Tools: Aciera single spindle drill, Mecof 35C radial arm drill, Bridgeport Series 1 turret mill,

XYZ 1550 gap bed lathe, Rusch horizontal bandsaw, Qty small tooling, inspection equipment; Sheet Metal / Welding: SMT

hydraulic guillotine, Edwards Truefold box & pan folder, Geka Hydracrop 80/A metal worker (2006), tube bender,

manipulators, pipe threaders, hydraulic press, Migatronic, ESAB, Kemppi welders (2015), welding tables, fume extraction,

Factory Plant / Miscellaneous: Linde FLT (1995), overhead crane, 'A' frame, racking, ladders, scaffolding tower,

maintenance spares, 20ft container (2011), Ford Transit Connect, Mercedes Van (2012), Containerised Heating Plant

(2011) etc

POPE MACHINERY LTD

On-Line Auction

Viewing: TUESDAY 3rd JULY 2018

On-line Auction Date: THURSDAY 5th JULY 2018

Over 150 Lots inc: Universal Grinders: Jones & Shipman 1307EIT, 1300EIT, 1300EIU, 1314, 1077EIU,

1076EIU, Surface Grinders: Jones & Shipman 1430, 1400L, 540L, 540P, 540, wheel balancing units, Cylindrical

Grinders: Myford MG12-HPM, MG12-HM, MG12-HP, MG12-HA, MG12-ME, MG12-M,

Machine Tools / Factory Plant: Myford 254s centre lathes, Filtermist FX4000 & FX6000 air mist

extractors, Tripet Mur MUR100 internal grinder, Aciera 6.T1 high speed bench drill, Delapena

Speedhone E hone, Christen 1-32/100A drill / tool grinder, Christen 0.5-10 drill grinder, Vixen

Jetwash JW84 parts washer (2014), PG Optidress wheel forming attachment, Diaform wheel

forming attachments, Qty various small tooling etc.

Peaker Pattinson (Auctioneers) Limited

HEAD OFFICE: THE GRANGE OFFICES, AUNBY, STAMFORD, LINCS PE9 4EE. ENGLAND

TEL: +44 (0)1778 590111 FAX: +44 (0)1778 590730 EMAIL: info@ppauctions.com

Machinery World, June 2018
---
Online Auction Sale

CNC Lathes, Machining Centres, Conventional Equipment and

Ancillaries no longer required by A Unique Ltd

Bidding Ends: Thursday 7th June 2018 at 3.00pm (UK Time) Viewing by Appointment only

∙Mazak Quick Turn Smart 250 CNC Lathe

with Mazatrol Smart Control (2012)

∙HAAS CNC Lathe TL1 – 1CE

with HAAS Control (2005)

∙(2) Hurco VM3 Vertical Machining Centres

with Max Control (2005)

∙(3) Hurco VMX 24 Ultimax Vertical Machining

Centres with Ultimax Control (2001 - 2003)

∙Barwell Vacuum Press CPT – 100 (2015)

∙BSA Lathe CB246 X 1500 Gap Bed Lathe

∙Colchester Bantam 1600 Lathe

∙Gate PMB 2080 Turret Mill

∙Seedtec YSG – 618 AHR Surface Grinder

∙Delapena Speedhone

∙Clarke Metal Worker Pedestal Drill

∙Clarke Shot Blast Cabinet

∙FJ Edwards Bearing Press

∙Faro Arm Measuring Machine

∙3D Ideawerk Printer

∙Mitutoyo Linear Height 600

Digital Height Gauge

∙Qty Granite Surface Tables,

Digital & Metric Bore Gauges,

Micrometers and other

Inspection Equipment

∙Qty Tools, Vices, Chucks,

Drills plus many more items

For Full Information please visit our Website: www.cottandco.com

Please Contact Our Office for Further Information: Cottrill & Co, 401—407 Tyburn Road, Erdington, Birmingham, B24 8HJ

▪ Tel: + 44 (0) 121 328 2424 ▪ Fax: + 44 (0) 121 327 9550 ▪

▪ Email: info@cottandco.com ▪ Website: www.cottandco.com ▪

Cottrill & Co is a Trade Name of Cottrill & Associates Ltd

1st Machine Tools Accessories . . . . . . . . . . . .13

Advanced Engineering . . . . . . . . . . . . . . . . . . 18

Amada . . . . . . . . . . . . . . . . . . . . . . . . . . . . . . . . . 9

AMB International . . . . . . . . . . . . . . . . . . . . . .10

Bearing Warehouse . . . . . . . . . . . . . . . . . . . . . 33

Blue Diamond . . . . . . . . . . . . . . . . . . . . . . . . . 17

Citizen . . . . . . . . . . . . . . . . . Inside Front Cover

CNC Systems . . . . . . . . . . . . . . . . . . . . . . . . . . . 9

Cottrill & Co . . . . . . . . . . . . . . . . . . . . . . . . . . . 42

Egin GmbH . . . . . . . . . . . . . . . . . . . Back Cover

Excel Machine Tools . . . . . . . . . . . . . . . . . . . . . 7

Floyd Automatic . . . . . . . . . . . . . . . . . . . . . . . 18

GPS Engineering. . . . . . . . . . . . . . . . . . . . . . . .10

Hainbuch UK Workholding . . . . . . . . . . . . . .15

IMTS Grinding Tech . . . . . . . . . . . . . . . . . . . . 23

ITC Big Kaiser . . . . . . . . . . . . . . . . . . . . . . . . . 11

Jubilee Machine Tools . . . . . . . . . . . . . . . . . . . 19

Kemet . . . . . . . . . . . . . . . . . . . . . . . . . . . . 26 & 27

Mantech . . . . . . . . . . . . . . . . . . . . . . . . . . . . . . .21

Midland Metrology . . . . . . . . . . . . . . . . . . . . . 11

ADVERTISERS INDEX

New Century . . . . . . . . . . . . . . . . . . . . . . . . . . . 5

Peaker Pattinson (Auctioneers) Ltd . . . . . . . 41

Penico Gauges Ltd . . . . . . . . . . . . . . . . . . . . . .29

Phil Geeson Machinery . . . . . . . . . . . . . . . . . .29

Prosaw . . . . . . . . . . . . . . . . . . . . . . . . . . . . . . . . 11

RK International . . . . . . . . . Inside Back Cover

Robotics . . . . . . . . . . . . . . . . . . . . . . . . . . . . . . .14

Rotatech . . . . . . . . . . . . . . . . . . . . . . Front Cover

Saws UK . . . . . . . . . . . . . . . . . . . . . . . . . . . . . . 31

SEC Services UK Ltd . . . . . . . . . . . . . . . . . . . .33

Seco Tools . . . . . . . . . . . . . . . . . . . . . . . . . . . . . 25

SubCon Drilling . . . . . . . . . . . . . . . . . . . . . . . . 10

Tallon . . . . . . . . . . . . . . . . . . . . . . . . . . . . . . . . . 40

Tayside Machinery . . . . . . . . . . . . . . . . . . . . . 15

Technova Precision . . . . . . . . . . . . . . . . . . . . . 33

Tinbashers . . . . . . . . . . . . . . . . . . . . . . . . . . . . .33

Tower Machine Tools . . . . . . . . . . . . . . . . . . . 19

Jubilee Machine Tools . . . . . . . . . . . . . . . . . . . 33

WDG Challenor . . . . . . . . . . . . . . . . . . . . . . . . 33

Westermans Int'l . . . . . . . . . . . . . . . . . . . . . . . 35

42 Machinery World, June 2018
---
Supplying New & Used Machines since 1951

Quality Machines | Quality Service | Quality Assured

AVAILABLE FROM STOCK:

LAGUN BS4 Bed Type Mill

4000 x 1200 x 1500mm travels.

Heidenahin TNC640 control

AVAILABLE FROM STOCK:

LAGUN BM4 & BM5 Bed Type Mill

4000 / 5000 x 1200 x 1500mm travels.

Heidenahin TNC640 control

LAGUN BS Series Bed Type Milling Machines

AVAILABLE FROM STOCK - LAGUN BS4

Equipped with:

• HEIDENHAIN TNC640 CNC control

• Automatic head with 2.5deg indexing (144 x 144 positions)

• Simple guarding

• 4000rpm spindle

• 20bar Thru Spindle Coolant

• 24 station ATC

LAGUN BM Series Bed Type Milling Machines

with increased Y / Z travels

AVAILABLE FROM STOCK - LAGUN BM4 & BM5

Equipped with:

• HEIDENHAIN TNC640 CNC control

• Automatic head with 2.5deg indexing (144 x 144 positions)

• Simple guarding

• 4000rpm spindle

• 20bar Thru Spindle Coolant

• 24 station ATC

LAGUN TM Series with unique XYZ and V Axis

travels for large capacity machining

Cross Moving Column T Type Milling Machines

• 1500 x 1500mm table with 10,000Kg load

• X axis of 2000 / 3000 / 4000mm

• 1200mm Y axis

• 1500mm Z axis with 2000mm option

• V axis with 1000mm or 1500mm option allowing

components upto 2500mm diameter to be machined

within a compact oorspace

LAGUN CM Series of Travelling Column type

machines with upto 12,000mm travels

Travelling column milling machines with a xed

table.

• From 4000mm to 12,000mm X axis travels

• Y axis travels of 1200mm with 1300mm option

• Z Axis travels of 1500mm with a 2000mm option

• Table loads of upto 6000Kg/m 2

• Wide range of Millng machine heads including

2.5deg, 1.0deg, 0.003deg indexing & high speed

Turning | Milling | Grinding | Drilling | EDM

Thread Rolling | Sawing | Sheetmetal

With more than 60 years experience,

LAGUN manufacture a full series of milling

machines from the traditional bed-type

machine to the most innovative highperformance

milling machines.

Tel:

Email:

Web:

Twitter:

+44(0) 1322 447611

sales@rk-int.com

www.rk-int.com

@rkimachinetools
---
44 Machinery World, June 2018