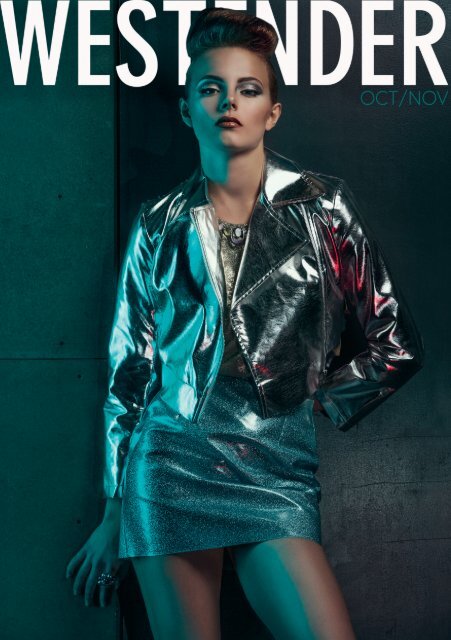 Create successful ePaper yourself
Turn your PDF publications into a flip-book with our unique Google optimized e-Paper software.
www.westendermagazine.com | 1
---
'hello'

next step

2 | www.westendermagazine.com

Be where you want to be.

Corum's property knowhow gets you there.

Contact Corum West End today.

Contact us on

0141 357 1888

Visit our website

corumproperty.co.uk

Corum West End

82 Hyndland Road, Glasgow G12 9UT the best sellers
---
www.westendermagazine.com | 3

Contents

6 Fashion pages

fashion upgrade

14 West End Live

with Greg Kane

16 All change at Monty's

Restaurant & Bar

18 Sweet Liberty

20 WIN! A cut & colour

at Kennedy + Co and

WIN! A meal for two at

One Devonshire Gardens

21 WIN! Tickets to the

BBC good food show

22 WIN! A Boozy Brunch

for six at Bar Soba and

WIN! A Style makeover

at RRI Great Western Rd

23 WIN! Tickets to

The Country Living

Christmas Fair

25 Decadent Sundays

at Gleneagles

27 Restaurant Review

Elena's Bar & Restaurant

29 Bar Review Dram!

30 Doggy days out

34 Top Things

37 Mum's Notebook

38 Designs on you

43 Accountancy Matters

with Murrison & Wilson

44 Writer's Reveal meets

Malachy Tallack

49 Health Matters

52 Local charity

CommonWheel

54 Interiors article:

Energy efficiency

59 Settle in style

61 The Wee

Kitchen Shop

62 Moody hues

66 Legal Matters with

Mitchells Roberton
---
4 | www.westendermagazine.com

contributors

Suzanne Martin

Editor

Gregor Reid

Photographer

Tracy Mukherjee

Writer

Liberty Vittert

Writer

David McPhee

Writer

Loraine Patrick

Writer

Advertise today!

Call 07905 897238

Or email: info@westendermagazine.com

for a media pack.

Westender is on facebook and twitter

Publisher: Westender Magazine

Whilst every care has been taken to ensure that

the data in this publication is accurate, neither the

publisher nor its editorial contributors can accept, and

hereby disclaim, any liability to any party to loss or

damage caused by errors or omissions resulting from

negligence, accident or any other cause.

Westender Magazine does not offi cially endorse any

advertising material included within this publication.

No part of this publication may be reproduced, stored

in any retrieval system, or transmitted in any

form – electronic, mechanical, photocopying,

recording or otherwise – without prior permission of

the publisher.
---
www.westendermagazine.com | 5

Shake

things up

this Christmas

at Crieff Hydro

Join us for a

famously warm

welcome, family

traditions, twinkling

trees and fantastic

Scottish ceilidhs.

Our Christmas and New Year

breaks include:

• Three nights' accommodation in Crieff Hydro

• All your meals

• Action packed entertainment programme

• FREE childcare for 2 – 12 year olds

• FREE access to leisure pool, gym and cinema

• Special events including welcome drinks

reception and Hogmanay party in our

Melville Hall

Christmas

Package

Only £499

per person

for three nights

New Year

Package

Only £799

per person

for three nights

Self-catering

breaks

From £60

per person,

per night

Book now crieffhydro.com/festive | 01764 655 555

Terms: Based on two adults sharing standard double accommodation, arriving on 24 or 30 December 2017 for three nights.

Subject to availability, full terms on request.
---
6 | www.westendermagazine.com
---
www.westendermagazine.com | 7

FASHION

UPGRADE

Images Gregor Reid

Stylist jacki clark

Dress, FIONA KENNEDY. BAG, PINK POODLE. NECKLACE, LIQUORICE TREE
---
8 | www.westendermagazine.com

TOP, JASMINE

TROUSERS, Fictional Character

Jewellery, LIquorice Tree

Shoes, Daniel FOOTWEar

opposite page

dress, boutique noir

Jewellery, pink poodle
---
www.westendermagazine.com | 9
---
10 | www.westendermagazine.com

Jacket, Jewellery, & Bag, jasmine. shoes, daniel footwear

opposite page - skirt & jacket, fictional character

shoes, daniel FOOTWEAR. top, jasmine

jewellery, liquorice tree
---
www.westendermagazine.com | 11
---
12 | www.westendermagazine.com
---
dress, boutique noir. necklace & bag, liquorice tree. shoes, charles clinkard

model eilidh alexander @ Coloursagency.com MUA terri craig, terricraig.co.uk

stylist jacki clark, jackiclark-stylist.co.uk location swG3, swg3.tv

photography gregor reid, gregorreidphotography.com

www.westendermagazine.com | 13
---
14 | www.westendermagazine.com

LIVE

October

Late Night Tuff Guy

Saturday 7th October 9pm

SWG3, swg3.tv

It's gonna be a beautiful night.

Cam Bianchetti is one of Australia's

most enduring dance music artists.

An influencer during house and

techno's formative years of the early

'90s in both Australia and Europe as

DJ HMC, he now dominates the global

disco and house edits scene as Late

Nite Tuff Guy. This seminal figure in

Australian dance music brings his

Prince tribute night to Glasgow's

home of dance, SWG3. LNTG's USP is

how he interprets 'old' music in a way

that younger people can understand.

There could be none more fitting to

curate a night of Prince dance floor

fillers. A talented musician in his

own right, Cam Bianchetti is also a

true Prince fan.

Choice Track: Late Night Tuff Guy

'Do I Believe In God'

Suzi Quatro, David Essex,

The Osmonds and Hot Chocolate

Friday 13th October 6.30pm

SSE Hydro, thessehydro.com

Your extended family, there's always

two distinct sides to it. Mine's no

different. On the one side there are

my older cousins who, in the 70s,

listened to Roxy Music, Bowie, Joni

Mitchel, Van Morrison … on the other

side of my family they listened

to David Essex, The Osmonds, The

'Rollers, Showaddywaddy. One side

lived through in the capital, the

other much closer to the East End of

Glasgow. One side's house parties

were the most fun. You could hear

Devilgate Drive or Hold Me Close as

soon as you pressed the buzzer and

opened the door to their ever pungent

close, with welcoming screams

echoing from the landing above. But

whilst through in Edinburgh they

were quietly sipping a single malt

appreciating the virtuosity on the

album Avalon, back through in the

East End of Glasgow we were staying

up late and having way more fun than

we should have been.

This gig is going to be the fun party

and is probably the best one to go to

this month. I encourage you to do so.

Choice track: David Essex 'Rock On'

Baywaves

Tuesday 24th October 7.30pm

The Hug & Pint, thehugandpint.com

Baywaves are a four piece Gen. Z

band from Madrid in Spain, they

describe their sound as 'hipnopop:

catchy pop with a dreamy, moody

skin.' I hear a lot of Brian Wilson

in what they do. This type of music

stands or falls on it's nuances and

the loose summery feel these guys

seem to conjure must be influenced

by the climate they live in. Another

reference to their sound is the

celebrated US singer/songwriter

Josh Rouse. Interestingly he moved

to Spain half way through his career

and has a similar sound.

Members of Baywaves have also

formed the 'Suave' collective in

Madrid. Consisting of bands who

don't necessarily share a common

genre but do share views on what

having a band is. You can feel there's

a scene bubbling here and bands will

start to break out soon, it's exciting.

Choice Track: Baywaves 'Gliss'
---
www.westendermagazine.com | 15

by Greg Kane

November

Harry Styles

Thursday 2nd November 6.30pm

SEC Armadillo, sec.co.uk

My brother and I recently toured with

Matt Goss (of 80's pop band Bros fame).

It was quite a surreal experience.

His gig was 30% singing and 70%

him cathartically pouring his heart

out to an adoring audience during

excruciatingly over egged song intros.

I be-friended Matt back in the 80s, he

was a pleasant enough geezer if a wee

bit hazy. But he was a proper pop star.

All the stories about him were mostly

PR fabricated and fashioned to hook

the tabloids. What a horrible existence

that must have been.

Will history repeat itself with

our Harry Styles? I hope not, but

unfortunately I fear for him that it

won't be about his singing (Harry is

a good singer), or his dancing (the

grooves on his new record are pretty

much nailed), or his song writing

(his album has some great songs on

it too), it'll be about adulation, the

Directioners' obsessiveness and his

hair! I'm starting to feel sorry for him

already. He's made a decent album and

you should go have a listen to it. Good

luck to you Harry.

Choice track: Harry Styles 'Carolina'

Blondie

Tuesday 14th November 6.30pm

SSE Hydro, thessehydro.com

All the band members of Blondie came

across well in a recent documentary on

BBC4 Blondie's New York – The Making

Of Parallel Lines. Even the usually

insufferable Clem Burke (drummer) was

sufficiently humble for you to stay

engaged when he appeared on screen

(couldn't have been easy for him). But

what I really hadn't appreciated was

how skilful a lyricist Debbie Harry

was. The 25 million people who bought

their album Parallel Lines obviously

did. Hanging On The Telephone, One

Way Or Another, Picture This, Sunday

Girl and Heart Of Glass, all on the one

album? With their attitude and highly

stylised imagery they kind of invented

the genre Pop/Punk and are a reminder

of that punk/chic of 80s New York cool.

A bit older, a lot wiser and with all

those great songs in their vault to pull

out live, they are still a force.

Choice Track: Blondie 'Heart Of Glass'

And So I Watch You From Afar

Saturday 25th November 7pm

Òran Mór, oran-mor.co.uk

Northern Irish Instrumental Maths

Metal anyone? My partner lectures

in music. Many of the young'ns she's

confronted with love to play her their

favourite Maths Metal tracks. She

comes home usually quite perplexed

reaching for the Pinot whilst playing

me some of these songs and asking me

my take on it. As a musician listening

to this music I can totally respect the

skill and ability required to pull it

off. I find myself watching them live

waiting and wanting for one of them to

make a mistake as the music looks so

bloody difficult to execute, but they

never do and that takes chops. It's

brilliant live, mesmerising at times.

Scotland's own Mogwai have carved out

a very successful career for themselves

playing this type of instrumental

music so there's no reason why And

So I Watch You From Afar shouldn't do

likewise.

Choice track: And So I Watch You From

Afar 'A Slow Unfolding Of Wings'
---
16 | Westender www.westendermagazine.com

Magazine Promotion

a whole different Monty's

If you haven't visited the brand new Monty's

Bar & Restaurant on Radnor Street yet,

wow you're in for a treat.

Life long friends, Ryan Dexter and Ross

Beattie, worked together in Ryan's family's

City Centre restaurants and are passionate

foodies and Westenders. 'Ross and I have

lived and socialised in the West End of

Glasgow for years,' says Ryan, 'so it's always

been our goal to open up a restaurant/bar on

what we consider to be our home turf – the

Finnieston area is a real melting pot of people

and communities which is really electric.

Obviously the Hydro has a huge influence on

the desirability of the area to dine in but we're

also really enjoying having regulars who are

locals in the area and have been for years.'

The recent full-on refurbishment has exposed

brick, highlighted ornate cornicing and seen

the installation of a brand new mezzanine

Image I Gregor Reid

level (panic not, the world map is still there

from its Montgomery's days!). The restaurant

is warm and welcoming for breakfast or

brunch after walking the pooch in Kelvingrove

Park (they allow well-behaved four legged

friends until 6pm) and yet cosy and intimate

for evening dining with a maximum of 70

covers. The mezzanine can also be booked

separately for parties of up to 30.

In season Scottish produce is the mainstay

of Monty's menu, with Venison Loin with

creamed savoy cabbage and bacon, featuring

alongside dishes of Shetland mussels or

Cumbrae oysters. Ross and Ryan's food

influences are global however, as shown by

their transformation of Cullen Skink into a

risotto and dishes such as Mutton dopiaza

and Tunisian lamb in filo pastry. 'I would say

we are all really passionate about food and

drinks from all over the world however we're

very lucky to have such fantastic produce
---
Westender www.westendermagazine.com Magazine Promotion | 17

Image I Gregor Reid

Image I Gregor Reid

within Scotland,' explains Ross. 'In our

opinion the best fish and meat comes from

Scotland so why go elsewhere. Our menu has

a focus on producing predominately Scottish

dishes with influences from our own personal

food journeys across the years.'

The young entrepreneurs grounding in the

restaurant business held them in great stead

when the Radnor Street unit came on the

market. 'We've been very fortunate to have

build up a good network of people from the

industry over the years so when plans were

first in fruition for Monty's we made sure to

secure a good team early on,' says Ryan.

'We just want people to leave Monty's having

had a great experience!' concludes Ross.

'Whether you've come for Sunday brunch,

your Saturday night out or just for a coffee or

glass of wine in the Copper Bar our aim is to

make sure everyone leaves happy. Our goal

is make Monty's a firm favourite within the

Finnieston area.'

With the two owners working front of house,

and sous chef Bradley and Head Chef Stuart

looking after the honest and creative kitchen,

Ross and Ryan have the right recipe for what

a foodie Finnieston wants.

SPECIAL OFFER: 20% discount off

Monty's a la carte food menu when

booking in October/November 2017.

Just quote Westender Magazine

when booking online or by phone.

Monty's Bar & Restaurant

9 - 11 Radnor Street G3 7UA

0141 357 1666

montysfinnieston.co.uk
---
18 | www.westendermagazine.com

Guilty Pleasures from Westender's American in Glasgow

Hide from the weather

with this fast and easy

comfort recipe!

Image I Gregor Reid
---
www.westendermagazine.com | 19

skillet pumpkin s'mores

by Liberty Vittert

When I think of s'mores, I think of sitting

around the campfire curled up in a flannel

blanket all cozy and warm from a long day

on the water. When I think of pumpkin,

I think of sitting around a fireplace curled

up in a flannel blanket all cozy and warm

from a long day playing in the leaves. Stick

em' together and you have just the most

perfect combination that has ever been

created for a chilly fall day. It doesn't hurt

that the whole process takes about ten

minutes (fall is busy as you know!). Crunchy

biscuits, gooey chocolate, spicy pumpkin, and

those sweet mellows with a hint of smoke,

man o' man, sign me up!

K

Shopping List

16 Graham Crackers

1 can of pumpkin

100g unsalted butter

120mL whole milk

2 tsp cinnamon

1/2 tsp nutmeg

½ tsp allspice

½ tsp ground cloves

½ tsp ground ginger

20 large marshmallows

200g chocolate (milk or

dark – your choice)

L

Method

1. Preheat oven to 180C.

2. Stirring gently, melt the pumpkin,

butter, whole milk, and all the spices

over a low heat until smooth. Remove

from the heat and add four crushed

Graham Crackers.

3. Line the bottom of a large skillet with

the remaining twelve Graham Crackers.

Pour the pumpkin mixture on top of

this.

4. Break up the chocolate and sprinkle

over the top of the mixture. Lastly place

the marshmallows on top.

5. Put in the oven for about four minutes

until the marshmallows are soft. Lastly

pop it under the grill for one minute to

colour lightly. Watch it closely!

6. Snuggle under your fleecy blanket

next to a roaring fire with rain pouring

down the windows, and enjoy. Bliss.

papyrus

SPECIAL

OFFER

Mini Saucepan

RRP £8.50

£5 *

*Exclusive offer for

WESTENDER readers

at Papyrus,

374 Byres Road
---
20 | Westender www.westendermagazine.com

Magazine Promotion

Win! Cut & Colour

with Carmen

K

ennedy + Co Hairdressing are

delighted to introduce Carmen to

their West End team.

Trained – Vidal Sassoon Academy and

worked in various Sassoon salons including

Glasgow, Covent Garden and Edinburgh.

Favourite Service – Hard to say as I'm

passionate about all hair types. Balayage as

it's so individual and creative with each head

being like a different painting, design cutting

and the challenge of curly hair.

Favourite Product – Without doubt Olaplex

- the patented technology prevents damage

and relinks broken bonds providing real

structural repair ... what's not to like?

Top Tip – Invest in your hair and use

professional brands such as Kérastase

– I promise, you will notice the difference.

WIN! A Bespoke Consultation, Cut and

Colour at Kennedy + Co Hairdressing

with Carmen worth £120. Go to

westendermagazine.com by the

30th November 2017 to enter.

Kennedy + Co Hairdressing

436 Dumbarton Road, West End

0141 339 1555

Book online 24/7 @ kennedyhair.co.uk

Bistro dining at

One Devonshire

Chateaubriand is a very special cut of

meat and a highlight of the One

Devonshire Garden bistro menu. The

dish for two is served to table along with two

sides, two sauces and a bottle of Hotel du Vin

Chardonnay or Merlot – and all for only £59

per couple*.

The bistro also features a very reasonable

two course Prix Fixe menu* at £21.95, or

£26.95pp for three courses. With a selection

of three starters, mains and desserts – which

tasty option to plump for will be the only

hardship. From starters of confit duck leg,

chicken and pistachio roulade, broad beans,

Parma ham chicory and baby herb salad

with a citrus dressing, to mains of Gilthead

sea bream with lightly curried lentils and

coriander oil, guests are delighted with the

seasonal and local Scottish produce on offer.

With desserts of dark chocolate delice, salted

caramel sauce, banana and peanut butter ice

cream, or a selection of three cheeses for the

renowned George Mewes, the small menu

packs a massive punch for local suppliers.

*Only available at specific times – please check when

booking.

WIN! One Devonshire is offering two

couples a three course dinner with

a bottle of Hotel du Vin Merlot or

Chardonnay, followed by tea, coffee

a n d p e t i t f o u r s . C l i c k o n c o m p e t i t i o n s

at westendermagazine.com by the

30th November 2017 to enter.

Bistro du Vin

One Devonshire Gardens, G12 0UX

0141 378 0385

events.glasgow@hotelduvin.com
---
www.westendermagazine.com | 21

BBC good food SHOW returns

Explore the finest local flavours this

October as the BBC Good Food Show

returns to Glasgow's SEC Centre.

Our Scotland show will once again play host

to an impressive line-up of your cooking

heroes including Tom Kitchin, the Hairy

Bikers, Tom Kerridge and more. Why not

pose a question to the stars as you pick up

top culinary tips and discover the secrets

of cooking success. Taste your way around

the city's culinary scene at the Pop-Up

Restaurants, plus taste and shop from

Scottish specialities from local and artisan

producers.

Pick up the latest cook books and get them

signed by the authors themselves in book

signing sessions – you might even get the

chance to snap a selfie!

New for 2017

• Nadiya Hussain joins the line-up for the

first time

• 'Eat Like A Local' sessions with local

chefs

WIN! Westender Magazine

has 5 pairs of tickets* to the

BBC Good Food Show taking

place at the SECC, Glasgow

this October! For your chance

to win click on competitions

at westendermagazine.com by

Wednesday 11th October 2017.

*Ts&Cs Tickets valid for general admission to

the BBC Good Food Show at Glasgow SEC

Centre on any day except Saturday, subject to

availability. Excludes BBC Good Food's Feast

events. Complimentary tickets do not include

Big Kitchen, but tickets can be purchased on the

day for £3, subject to availability. Details correct

at time of print. Not all celebrities appear on all

days.
---
22 | Westender www.westendermagazine.com

Magazine Promotion

Bar Soba launch

Boozy Brunch

Looking for Pan Asian street food with

cocktails to celebrate the weekend?

With two courses and four cocktails,

beers, or Prosecco coming in at only £25pp

– Bar Soba have you and your mates covered!

Start with a Sharing Platter of Chicken and

Vegetable Gyoza Dumplings, Bang Bang

Chicken Wings, Tiger Prawn Tempura

and Crackers – all served with their own

homemade dipping sauces. Your mates are

going to thank you for your indepth knowledge

of West End brunch deals – especially

when they see the four cocktails: including

Drumstick Caipirovska and Strawberry Sail

Daiquiri, or four glasses of Prosecco or

bottled beers, that come with it. When they

also see the Bar Soba main course faves of

Pad Thai Chicken Noodles and Chicken Katsu

Curry (to name but two) that accompany your

Boozy Brunch deal, a legend has been born.

Bar Soba's newly refurbished Byres Road pad

looks amazing with it's jaw dropping geisha

graffiti – book you and your besties in now!

WIN! Bar Soba is giving away a

Boozy Brunch for six people.

Go to westendermagazine.com by

the 30th November 2017 to enter.

*offer has no cash value and cannot be refunded or

exchanged. Strictly over 18s. Management reserve

the right to refuse entry or withdraw offer. Valid

only at Byres Road location*

Bar Soba

116 – 122 Byres Road G12 8TB

0141 357 5482

barsoba.co.uk/brunch

RRI

G

by John Parker

reat news! Our Artist Directors Suzie

McGill from our Uddingston salon

and Dylan Brittain from our George

Square salon, are finalists for the second year

running at the British Hairdressing Awards

to keep their title of Scottish Hairdresser

of the Year and are also finalists for the

Schwarzkopf Professional British Colour

Technician of the Year category too! The

winners will be announced on the 27th

November 2017 at the Grosvenor House

Hotel in London – we are all rooting for you

Suzie and Dylan!

Meanwhile, Daisy completes her 3 months

in our academy on the 23rd of September

and will be back in salon offering 20 free

haircuts from the 25th September until

17th November. If you want to be in with

the chance of receiving a free haircut,

apply by giving the salon a call and quote

'Westender Daisy' upon booking, please

note this offer is for new customers only.

follow – Rainbow Room GWR

Rainbow Room International

607 Great Western Road G12 8HX

0141 337 3370

rainbowroominternational.com

WIN! Rainbow Room International

are offering one lucky reader a hair

makeover in their Great Western Rd

salon. For your chance to win go to

westendermagazine.com and click

on competitions by the 30th Nov'17.
---
www.westendermagazine.com | 23

The Country Living Magazine Christmas

Fair is back at the SECC, Glasgow from

the 23-26 November 2017. This annual

celebration of all things festive is a must for

anyone who enjoys a great day's shopping.

We have 8 pairs of tickets for this fabulously

festive show to be won. If you don't win

you can purchase tickets saving 10%

on the Advance Ticket price by visiting

countrylivingfair.com and enter the code

LIVING10.

Over 300 of the UK's finest craftsmen and

women will gather to offer unique gifts,

decorations, crafts, food and inspired interior

ideas, to help bring that magical Christmas

sparkle to every home. There's also three

informative theatres where experts will

offer invaluable advice and entertaining

demonstrations.

• The Country Living Kitchen will delight and

inspire as top Scottish chefs demonstrate

preparing tempting seasonal dishes, using

delicious, fresh ingredients. Visitors can pick

up professional tips.

• The Country Living Corner where experts

will offer advice on how to make the most

of your home over the festive period, with a

series of talks and demonstrations.

• Over in The Country Living Crafting

Workshops there will be a varied daily handson

programme where visitors will have the

chance to create something special to take

home.

• The Drunken Duck Champagne Bar

– The perfect day out wouldn't be complete

without a relaxing glass of fizz.

For further information or to book tickets visit

countrylivingfair.com/ticket-prices, or call

0844 581 1385.

WIN! We have 8 pairs of tickets for

this fabulously festive show to be won.

For your chance to win go to

westendermagazine.com by the

31st of October 2017 and click on

competitions.
---
24 | www.westendermagazine.com

£100

£395 £44.95 £28.95 £33.95

Winter Wonders
---
Westender www.westendermagazine.com Magazine Promotion | 25

Gleneagles' Birnam Brunch

Could Gleneagles newest restaurant,

the Birnam Brasserie, be hosting

Scotland's most indulgent Sunday

brunch? The new brasserie is inspired by the

grand Parisian cafés of the early twentieth

century and offers elegant, yet relaxed,

family dining for long lazy Sunday brunches.

The no-holds-barred access to Gleneagles'

banquet takes place on the first Sunday of

every month.

Being Gleneagles the spread showcases the

very best of the seasonal Scottish produce

to be found on Gleneagles' doorstep. Brunch

guests can tuck into an array of fresh shellfish

and crustaceans alongside a wide range of the

best charcuterie and cheeses Scotland and

the continent has to offer. After the cold bar

has been indulged in guests are free to order

as many dishes from the main menu as they

wish – all washed down with a choice of drinks

from the Bellini, Mimosa, and Bloody Mary

station. Indulgence was mentioned remember!

If room can be found the ice-cream cart and

the pancake and waffle station will win the

family vote, while a specially-curated list of

French wines and a smorgasbord of delicious

French-inspired desserts complete the feast.

Shall I sign us all up now? See you there.

The Birnam brunch experience, served

on the first Sunday of the month from

12.30pm – 3.30pm, is £37 for adults;

£20 for children aged 5 – 12, and free

for under-5s. The drinks package is an

additional £25 per head.

Gleneagles Hotel

Auchterarder, Perthshire PH3 1NF

0800 389 3737

gleneagles.com
---
26 | www.westendermagazine.com
---
www.westendermagazine.com | 27

@

ELENA'S

Image I Gregor Reid

Reviewed by David McPhee

You know that feeling you get when

you're on holiday in a hot country?

You're sitting outside late in the evening,

the warm air soothing your soul by the

second, a cold beer at your hip, waiting for

your meal to arrive and you think: 'Why can't

it be like this back home?' Elena's is a little bit

like that.

Somehow they've managed to export

the thing you'd consider to be the least

transportable. How they got it through British

customs is anyone's guess.

On the night in question I was with a few

friends enjoying a couple of Finnieston

libations when the subject of food came up –

but it was 9:15pm, who would still be serving

food at such an ungodly hour?

'Not a problem' came the answer from our

amiable innkeeper at Elena's. Not only were

we welcome, they didn't even rush around

trying to squeeze everything in before the

kitchen closed, it just stayed open a little

later. Here you get the sense that nothing is

worth getting worked up over, and getting

worked up makes no sense.

On this particular evening we were in a

sharing kind of mood, which is handy

because Elena's serve 'raciones', small

dishes which are a bit bigger than tapas and

perfect for group dining.

The Tortilla española is as dense and

satisfying as anything you'll experience in the

Cantabrian region from which these dishes

derive. While the Patatas bravas (fried potato)

comes with a delicious accompanying spicy

sauce it's the Galician style octopus you

won't be able to take your tentacles off. The

dish is cooked just right so it's crunchy on the

outside and soft on the inside.

The main course of Chuletas de cordero

a la parrilla or grilled lamb cutlets are truly

sublime and a favourite of the house, they

melt in the mouth and are seasoned perfectly.

The Tempranillo we ordered was so damn

good, we ordered another bottle. It worked

with everything, including the level of

conversation at my table

A dessert of Crema Catalana was a fitting

end to the great meal and a wonderful

Spanish take on the French classic crème

brulee. The consistency and flavour are so

moreish it will have you dancing back up

Old Dumbarton Road sometime soon for a

second sitting.

Any successful establishment needs a

person who exemplifies what that place

rightly stands for. Elena Xavier has brought

the food from her Spanish region to our

fair city for you to sample, and sample you

should.

Like Elena herself, this restaurant is full

of passion, brimming with flavour and, on

occasion, just the right amount of 'loco'.

Elena's Spanish Bar & Restaurant

90 Old Dumbarton Road G3 8PZ

0141 237 4730

elenastapas.com
---
Jun/Jul 2016

Free

Aug/Sep 2016

Free

www.westendermagazine.com | 1

www.westendermagazine.com | 1

28 | www.westendermagazine.com

C U R A T E D C O N T E M P O R A R Y L I F E S T Y L E

6 5 H Y N D L A N D S T R E E T / G L A S G O W

0 1 4 1 3 5 7 0 2 6 8

* worth £19.50, when you

FREE GIFT spend £20 or more.

Image I Gregor Reid

Image I Gregor Reid

ADVERTISE WITH US

// Glasgow's best FREE bi-monthly mag

// Great editorial features: fashion, dining out,

health & beauty, what's on, local authors

& artists, interiors & more

// Massive potential business audience

// 12,000 copies per edition

Shearer Candles 388 Byres Road | Glasgow G12 8AR

T: 0141 357 1707 Mon To Sat 10-6pm | Sun 11-5pm

* T&C's apply

For more info or to advertise

call: suzanne@westendermagazine.com

for a media flyer, or call 07905 897238

westendermagazine.com
---
@

DRAM!

Reviewed by

Emily Donoho

At first I called it 'the pub formerly

known as the Uisge.' The Uisge

Beatha a much loved West End

institution on Woodlands Road welcomed

university clubs, traditional music sessions,

locals and students. With its Victorian

portraits, taxidermy and dark wooden décor,

its atmosphere struck the right balance,

somewhere between an old man's beer

drinking establishment and a lively studentfriendly

pub. To our dismay it closed in 2010

for expansion, refurbishment and rebranding.

It reopened as DRAM!, a name we all thought

was pretty naff. But if it was still a good pub

we could live with the name.

The pub retained its essential character, the

antique furniture and the taxidermy on the

walls. But it was bigger with an expanded

kitchen and the main bar divided into three

sections with plenty of tables and booths. It

also kept its annex 'the Wee Dram,' where

they host open mikes, stand-up comics,

sessions, and other events. Even on a busy

Friday night the pub doesn't feel rammed.

When the Uisge changed into the Dram we

bemoaned its transformation into yet another

trendy gastropub. Change might be hard to

swallow but the Dram's menu isn't. The food

is basic Scottish pub fare with an American

BBQ twist. Haggis sits next to slow-smoked

chicken wings, and you can choose between

fish and chips, a steak and ale pie, or nachos.

Or really push the fusion boat out and have

haggis on your nachos. Their lunch ciabattas

are excellent, made with fresh bread, and the

one I had contained homemade hummus and

roasted peppers.

www.westendermagazine.com | 29

But at its heart it's still a whisky bar. The

Dram has about 66 whiskies. All the standard

malts you'd expect at any Scottish pub,

like the ten year Laphroiag, Glenmorangie,

etcetera. But they also have rarer ones

like Scapa from Orkney, or Edradour from

Pitlochry. The collection is smaller than the

Pot Still or the Oran Mor but it's big enough

to have some variety and great whisky.

It serves two rotating cask ales. Sometimes

their choices are eccentric like a blackberry

wheat beer, but at least it changes every

week. If the cask ale is too bizarre they have

a large number of beers on tap including

Tennants, Belhaven, Stella Artois, Peroni,

Joker IPA, rotating beers from Brewdog, and

a larger selection of bottled craft beers and

ciders.

The Dram is one of those pubs that has

something for everyone, whether it's a pub

meal, a dram, or a pint. You can watch sport

on TV or live comedy, listen to traditional

music and even bring your dog. The bar staff

are people who like their jobs and take the

time to get to know the regulars. There are

small touches that give patrons a warm fuzzy

feeling, like the collection of phone chargers

behind the bar you can use if you need one.

I think the West End has gotten over the

name change and it remains a popular

establishment for students and locals alike.

DRAM!

232-246 Woodlands Road G3 6ND

0141 332 1622

dramglasgow.co.uk

Image I Gregor Reid
---
30 | www.westendermagazine.com

Doggy Days Out

What's to be done? Shorter days, longer nights and our

four legged friends looking mournful as we, yet again,

leave them inside. But it doesn't have to be that way as

the woof-friendly West End is tailtastically filled with dog

friendly establishments. A stretch of the legs, a browse round the

shops and a gargantuan array of bow wow brasseries; lead on my

canine companion! By Tracy Mukherjee

Lucy is a rescue dog who came into our

lives five years ago. She had severe

separation anxiety and would be really

upset whenever we would leave her at home

for even the shortest of time. Our West End

ways were going to have to change. No more

lovely meals out or afternoon wanders around

our favourite eateries and boutiques. Well

we could – except we would spend our time

thinking of you-know-who back home.

Fast forward 5 years and one Nannycam

later (really) and Lucy is more than happy to

have a two hour snooze alone at home. As it

happens we now have the separation anxiety

– hence the Nannycam. I know. But what's

so fantastic about where we live is it doesn't

need to be. Glasgow and, in particular the

West End, is one of the most dog friendly

places around. So here are Lucy's favourite

doggy days out. Eh, we go too…
---
www.westendermagazine.com | 31

The Kelvin Walkway

Before you do anything of a morning, make

your way down to Cottonrake, Great Western

Road and grab your first cup of coffee and

simply delicious pain au chocolat to set you

on your way. The staff are more than happy to

let your four legged friend sit in and although

it can be a squeeze at times, no one seems

to mind. Why not try Cottonrake's sourdough

with honey? Divine.

And off to the Kelvin we go. If you are a

dog owner in the West End, you KNOW this

walkway. Or do you? The history on our

doorstep is incredible. Entering through the

Kirklee Gate, you find yourself on Half Penny

Bridge, with Half Penny House just beyond.

Take a detour up to Queen Margaret Road,

beyond Queen Margaret Bridge and visit

Greek Thomson's Sixty Steps overlooking

the original remains of Queen Margaret

Bridge. Retrace your steps and observe the

herons and egrets as they fish on the weir

underneath the bridge. Beyond, on your way

downstream, is North Woodside Flint Mill.

The mill originally opened in 1765 as a grain

mill and was even used for grinding gun

powder during the Napoleonic wars.

On the side wall of the walkway beside

the mill look out for the mysterious stone

carvings. Heading down towards Kelvingrove

the bridges over the Kelvin have such a

vibrant history and are well worth a closer

look than we tend to give them. As you reach

the park following the underpass at Gibson

Street, you might notice a stone cairn circle.

The An Clachan memorial remembers a

popular exhibit of a highland village, designed

and on show during the 1911 Scottish

National Exhibition.

With so much history to take in, it's time

for 'a little something' as Pooh might say.

A favourite doggy spot for elevens' is Sonny

and Vito's, Park Road. A quite delightful deli,

the guys in here will very much welcome you

and doggy. Serving breakfast from 9-12, there

is a great choice of waffles, breakfast staples

such as poached eggs with organic bread

and Ramsay's crispy bacon. For something

a little more substantial, Sonny and Vito's

soups, sandwiches and salads are to die

for. With Union Roast coffee and too many

tempting pastries to avoid, it's a great spot to

while away the remainder of the morning with

Fido happily snoring at your feet.

The Clyde Canal

Our choice for an afternoon amble is the

Clyde Canal running through Maryhill.

We all know this artery of our industrial

heritage is there, but have you ever visited

it? Interspersed with housing estates and

main roads you may well have seen the blue

signage guiding you to the canal. Follow it

and not only do you get a pleasant walk with

the dog, there's lots to learn. And it's a great

little meander of an afternoon.

You can join the towpath off the canal just

beyond Kelvindale station on Cleveden

Road. Heading city bound there's a whole

host of examples of the canal's history.

On joining the canal you'll see the bridge

keepers cottages built for the canal workers.

A little further on the vast Kelvin aqueduct

transverses the river 400ft across and 70ft

high. Before long you will reach Maryhill

locks and basin which is a really pretty spot

to stop and enjoy the view. Behind you rise

the Collina Street flats, home to Still Game's

Jack and Victor. Continue along the length

of the canal and view the Mackintosh Ruchill

Church, designed by Rennie Mackintosh in

1899. What's so lovely about this walk is the

care Scottish Canals have taken to keep you

well informed with numerous information

boards dotting the way. Look out for the

board by East Park noting Roy Rodgers and

Triggers visit to Maryhill in 1954!

Beyond the Bilsland Drive aqueduct you can

rejoin Maryhill Road and look forward to that

well deserved lunch. A favourite spot and

super dog friendly venue is The Strathmore,

Maryhill Road. Renovated in 2015, this

gorgeous pub/restaurant doesn't confine

you and your hairy pal to the bar. Instead,

go inside and enter the quite stunning

conservatory, elevated and totally glass

fronted. Lucy quite happily sits watching

through the window for any squirrel or fox

action. There is also a lovely outside elevated

decked area with sparkling fairy lights

overhead. Staff always ensure that dogs have

their water, while you can look forward to

some top notch grub, including the
---
32 | www.westendermagazine.com

glasveggie burger and some truly authentic

curries of the week. It's a little hidden gem

– but that just makes the canal walk more

enticing.

Time for a little look around the shops.

Making our way down onto Queen Margaret

Drive, the incense haven known as Opal

Moon and gift sanctuary of Ae Fond Kiss

are more than happy to have well behaved

doggies (and their owners) browse their

wares. Further down on Byres Road,

a top choice of Lucy's (okay, I may have

something to do with it) is S&S Argento.

Again there is no problem taking the well

behaved pooch about town inside for an ogle

at the exquisite jewellery and bags on display.

'A nap? Anyone?' say Lucy's eyes. Well if you

insist…

Finnieston Fest

A night on the town need not be a dog free

one. Head down to Finnieston and you'll often

find more dogs out on the tiles than students.

A stroll around Kelvingrove Galleries, lit in all

its rosy red glory, then it's off to The Duchess

of Argyle, Argyle Street. This restaurant has

some of the most delicious Mexican food

in the city. No stodge and tex mex staples

for these guys; it's all about quality, fresh

ingredients and authenticity. Not to mention

the world's only Tapatio frozen margarita

machine. And doggy gets well watered too.

A popular choice for a great meal, without

having to leave your buddy behind.

How can we end a great doggy day out?

With some super smooth drinks, that's how.

Whether it be the vast array of craft gins

available in The Finnieston, or simply the best

cocktails in town in uber stylish Kelvingrove

Café. A night cap is most certainly well

deserved.

The only thing bothering Lucy as she snoozes

under the table? Why is she wearing heels,

when her feet are almost always wellington

shaped?

For more detailed information on the

above walking routes visit –

scotcities.com/westend/kelvinwalkway

static.visitscotland.com/pdf/scottishcanal-walking-guide.pdf
---
www.westendermagazine.com | 33

GLASGOW HARBOUR

RISING ABOVE THE NORTH BANK OF THE RIVER CLYDE,

BETWEEN THE DYNAMIC CITY CENTRE AND FASHIONABLE WEST END,

GH2O IS GLASGOW'S MOST DESIRABLE WATERFRONT ADDRESS.

1 bedroom riverside apartment

READY TO MOVE IN - £134,950 *

LAST 1 REMAINING

Call 0141 342 4495 or visit gh2o.co.uk

* Subject to availability.
---
34 | www.westendermagazine.com

Top Things To Do

in the West End

by Tracy Mukherjee

Autumn: cascades of golden leaves fall, the

air smells of bonfires, toffee apples and our

favourite scarf and glove combo has a first

outing. As the first frost covers our landscape

with an array of glistening crystals, let's embrace

the darkening days and see what tricks and

treats are amid the autumn embers.

Top for Art Then And Now

This year we celebrate the 30th anniversary of

'The Vigorous Imagination: New Scottish Art'.

This memorable art exhibition was originally

presented in 1987 at the Scottish National

Gallery of Modern Art. It's no exaggeration to

say the body of work presented was seminal,

showcasing vibrant new ideas and styles. Since

then, many of the artists such as New Glasgow

Boys Peter Howson and Steven Campbell,

sculptor David Mach and painters Mario Rossi

and Gwen Hardie, to name but a few, have

become renowned within the art world. To

celebrate this classic exhibition, 'The Vigorous

Imagination, Then and Now: 30 years on' revisits

those groundbreaking works and explores

the artists' journeys since then. With original

pieces, archive material and new works, it's a

rare opportunity to observe how Scottish and

International art has been influenced by those

innovative artists and that pivotal exhibition.

The Vigorous Imagination, Then and Now:

30 years on, Thurs Oct 26th – Fri Oct 27th

Roger Billcliffe Gallery, Blythswood St. G2 4EL

Top for A Fine Coffee

If, like me, you are incapable of the spoken

word before your first sip of java, you will be

delighted to hear that super smooth coffee spot

Paper Cup now has its own roastery in Belmont

Lane. Opened in August 2017, Paper Cup fine

roasts their own delicious varieties of beans

from all over the world. With a little café on-site

serving cake and, well, coffee, it's a nice little

corner of the West End that you might never

have visited. Just behind Great Western Road,

away from the hustle and bustle of the A82,

browse the time away inhaling the rich aromas of

Kenyan and Ethiopian beans (I'm informed that

it is African coffee season). The roastery also

stocks everything you might need to enjoy that

authentic Paper Cup Coffee experience at home.

Filters, coffee guides, even training sessions

are available to sharpen up those barista skills.

With recent floristry events on site and plans

for pop up art galleries running up to Christmas,

the Paper Cup roastery is the very definition of a

'one stop shop'.

12 Belmont Lane, G12 8EN

w: papercupcoffeecompany.bigcartel.com

e: info@papercupcoffee.co.uk

Top for All Things Puppet

Puppets + kids = happy mums and dad. Bringing

something a little special to puppetry is Ella

Mackay of Nudge Puppets. Based in the

Hidden Lane, Ella makes her own puppets and

produces shows for young and old alike. With

an impressive resume from Glasgow School of

Art and The Curious School of Puppetry, this

talented young puppeteer brings her own style

and talent to the genre. Ella's newest venture is

Watch, Learn, Create, Play, and is an opportunity

for children to be involved in theatre and be

hands on with the puppets. The session is

suitable for small groups of between three and

ten children from 4-8 years old. Ella is happy

to discuss dates, times, even off site venues if

space is appropriate. With shape shifting fairies,

demonstration of different puppetry styles

and fun by the bucket load, Nudge Puppets will

transfer your children to a magical world… if only

for an hour or two.

w: ellamackay.co.uk/kids

e: nudgepuppets@gmail.com
---
www.westendermagazine.com | 35

Top Things To Do

in the West End

Top for Fusion Music

Prepare for a real treat for the senses this

November as Indian violinist Jyotsna Srikanth

presents her contemporary blend of indo-jazz

with her band Bangalore Dreams. For one night

only, Jyotsna will be appearing at Cottiers

theatre. Having trained in both Carnatic and

European classical violin, she has played

with the London Philharmonic Orchestra at

Wembley Stadium and has recorded on some

250 Bollywood soundtracks. Srikanth is

influenced by jazz as well as rock; there is even

some beatboxing elements blended through

her music. Watching NS Manjunath (drums)

perform Carnatic beatboxing is something you

won't forget for a very, VERY long time. This isn't

a normal evening of music. It's a spellbinding,

unique experience.

Jyotsna Srikanth and Bangalore Dreams

Cottiers Theatre, Hyndland St G11 5PU

Thurs 9th Nov 7.30pm w: cottiers.com

Top for Theatre

Make a note in your diary for Wed the 22nd of

November and support Shake with Laughter.

This benefit night at The Stand Comedy Club,

is in support of Parkinson's UK. Parkinson's

affects 127,000 people in the UK with someone

being newly diagnosed every hour. Although

often thought of as a disease of old age, in

fact many younger people can be affected too.

Although PD is a progressive illness, it can be

well managed with the right drug treatments

and continuing research to find a cure is vital.

That's why benefits of this kind as a fund raising

event are so important. Shake with Laughter is a

hilarious night of stand up with comedians Mark

Nelson, Joe Heenan and your host, Rob Deering

already confirmed. So why not have a good night

out and do your bit to further PD research? After

all, laughter is the best medicine.

Shake with Laughter, Wed 22nd of November

The Stand, Woodlands Road G3 6NG

w: thestand.co.uk

For more information on Parkinson's Disease

visit – parkinsons.org.uk

Top for A Perfect Girly Day

I know boys love pizza JUST as much as girls.

But pizza AND prosecco as a heaven sent

duo? Now that's a full on girlie utopia! Who

could be so kind, so giving as to put these 2

giants of Saturday-nights-in under one roof in

one celebratory event, namely the Pizza and

Prosecco Festival? None other than the god

fathers of gastronomic pop up events SWG3.

This event was initially scheduled for one day

only on 4th Nov. So popular was it amongst

the great and good that it sold out within 4

hrs; as such a further event has been added.

The festival, on Saturday 18th Nov runs from

2pm-10pm. With live music all day, there will

be 20 different kinds of prosecco to try. With

your ticket you are also entitled to a half glass

of prosecco which you can sip as you peruse the

local pop up pizza traders, or go for a snuggle

under the blanket beside the outdoor heaters

and join in some sing-a-long pop? Come to

mention it, the possibility of some Kylie karaoke?

Hubby may well beat me to the ticket queue…

Pizza and Prosecco Festival, SWG3

Saturday 18th November (tickets

available at time of writing)

w: fatsoma.com/pizza-prosecco-festival
---
36 | www.westendermagazine.com

(S222) PV - Westender Ad - Autumn Campaign 17 - AW.pdf 1 23/08/2017 15:00

explore

+44 (0)1700 811075

info@portavadie.com

portavadie.com

C

M

Y

CM

MY

CY

Autumn is your time to reflect

CMY

K

5 Star Ground floor

Luxury Apartments ..................from £289 per night

sleeps up to 4

Lodge rooms.................................from £119 per night

family rooms available

Studio Apartments.....................from £145 per night

good dogs welcome

5 Star 3 Bedroom

Luxury Apartments ..................from £346 per night

sleeps up to 6

4 Star Couple's Retreat............from £195 per night

sleeps 2 / good dogs welcome

4 Star Cottages from................from £218 per night

sleeps 4 / good dogs welcome

All rates include access to Leisure Experience and Full Scottish Breakfast served in the Marina Restaurant and Bar. All rates are subject

to availability and may vary. Self-catering only rates are available on Cottages and Couples Retreat. 2 night minimum stay applies on all

Luxury Apartments, Cottages and the Couples Retreat.
---
www.westendermagazine.com | 37

Endmum's

West

notebook

by Michele Gordon thelanguagehub.co.uk

'M

" um, Leon and I have decided on a

Halloween costume. Can we buy it

today?'

This was Ruby last week when talking about

Halloween this year. If I'm honest, I'm not

that bothered about Halloween. It is not

something that is traditionally celebrated in

Germany, it just didn't exist when I was a

child. However, like many other things from

the US, it has found its way into the German

calendar too in recent years, after all, it is an

opportunity to party. And Ruby and Leon like

a good party!

They have both decided they will dress up

as Thing 1 and Thing 2. 'Are there costumes

for this? Where will we get them? How much

will they cost?' 'On ebay, mum, of course, I

checked already, and they are quite cheap.'

'Really?' Gosh, when did this happen? My

fault I guess, my kids know that I love saving

time by ordering things online. So, as a

result, we now already have two Thing 1 and

2 t-shirts plus one pair of read leggings for

Ruby and one pair of red jeans for Leon. They

will dye their hair blue and will look just great

I am assured. German planning at its best,

I dare say! Now we just need to organise a

round of guising, prepare some jokes and off

we go. But go where exactly?

This year, Halloween falls on a Tuesday, a

bit unfortunate as it is our busiest day of the

week. So, after school, once we've been to

German class, finished swimming and picked

up Ruby from guides. Hmm, you see our

dilemma. But I am certain, Ruby and Leon will

want to go out guising. I am convinced it is

part of their secret annual sweets calculation.

I am not surprised as guising in our

neighbourhood can be a lucrative opportunity

to collect loads. I am amazed every year how

many people in so many streets in Kelvindale

put a lot of effort into Halloween, it's great.

The kids love it, and I am pleased to say,

they actually have to put some work into

receiving their treats too. So,we will probably

skip guides and go guising straight after

swimming, sorted. However, it doesn't end

there, Ruby always likes to make the most of

having a new costume, wearing it only for one

day really doesn't make sense.

Sadly, there don't seem too many child

friendly events on throughout the West End

this year. Usually, the Children's Wood at

North Kelvinside Meadow put on a Halloween

night in the woods which is great if the

weather holds up (thechildrenswood.co.uk).

Or choose the Goulish Glasgow bus tour

for children. It says in their description that

'Ghoulish Glasgow is all about Glasgow

and its history but the tales it tells about

the city and its buildings are focused on

the ghoulish, gory and downright horrible

from its past.' The tour runs several times

a day, not only on Halloween by the way

(citysightseeingglasgow.co.uk).

If you don't want to depend on the weather

too much you may want to try one of the

Halloween events at the Scottish Mask

and Puppet Theatre. They will be running

four Halloween events over the 28th, 29th

and 31st of October. There will be a puppet

making workshop and three shows with

Alex the magician (maskandpuppet.co.uk).

No doubt, we will be attending at least one

of them.

Now we only need to buy some pumpkins

for carving, make some yummy soup and

buy some treats for kids coming to our door.

Happy Halloween everyone!
---
38 | www.westendermagazine.com

Iolla's Stefan Hunter and Brian McGuire

designs on you

Loraine Patrick meets the entrepreneurs behind

West End design businesses Iolla, bluebellgray

and Paulin Watches, to discover what it takes to

launch a successful design business in Glasgow.
---
What do lampshades, glasses and

watches have in common? This is

not a riddle – they are all designed

here in the West End by companies taking

a fresh approach to their industries. First

up a visit to spectacles showroom with a

difference.

Iolla is aiming to revolutionise the eyewear

market. Gaelic for 'sight' or 'to see' every pair

of glasses regardless of prescription costs

£65. No hidden extras. Company founders

Stefan Hunter and Brian McGuire set out to

simplify the way we buy glasses and haven't

looked back.

Growth has been extraordinary confirms

marketing associate Kirsty Humpherson,

'I have been with the company since start up

and year on year we have seen 100 percent

growth. We recently opened our own optical

workshop so as well as designing glasses

in-house, now lenses are glazed and finished

here in Glasgow too.'

www.westendermagazine.com | 39

flat and fixed price,' Kirsty emphasises. 'We

like to keep it nice and simple and within the

reach of everyone.'

With 36 styles to choose from, glasses can

be bought online or from the Argyle street

showroom. Interestingly for a product that

is mainly sold by being tried on, 20 percent

of business comes from online sales. 'Every

few months we bring out a new style and

we listen to what our customers want. Our

customers are very engaged and tend to see

a new pair of glasses as an accessory rather

than a necessity,' Kirsty adds.

The company has big plans to expand and

by early next year they hope to have their

second Scottish showroom open. Watch this

space!

Brought together by a university placement,

optician Brian and business school graduate

Stefan saw a gap in the market for customers

to buy glasses out-with what can often be a

high pressure sales environment. 'Ours is a
---
40 | www.westendermagazine.com

SMALL BUSINESSES

START-UPS

CHARITIES

Ruthven Mews, 57 Ruthven Lane

Glasgow | G12 9BG

hello@bnassociates.co.uk

0141 334 1318

@bnassoc
---
www.westendermagazine.com | 41

Next we move on to Park Circus where the

bluebellgray showroom provides a vibrant

splash of colour in an otherwise austere and

grand building. The brainchild of Fort William

designer Fi Gray, bluebellgray's hand painted

prints are in demand around the world.

'We are all about spreading happiness

and colour,' says Marketing Co-ordinator

Lara Black. 'Fi has a very clear style with

oversized blooms and painterly abstracts

being her signature. We are sold all over the

world, from upmarket department stores like

Bloomingdales in the US to customers as far

afield as Australia and Hawaii.'

Every piece from cushion cover to wall

panel is designed at the Park Circus HQ.

'Fi paints and our designers scan using

printing techniques which make sure

every brush stroke and colour is captured

true to life.

John Lewis is one of the companies

biggest stockists. 'We are best known for

our bedding with our fabrics and cushions

coming a close second,' but Lara adds, 'most

business is done online and by phone, with

daily visitors to the showroom particularly for

our curtain making service.'

A former Glasgow School of Art student Fi

made a handful of cushions after graduating

and showed them at a trade fair. Business

snowballed from there and now bluebellgray

employs thirteen staff. Lara says, 'Fi is

passionate about creating jobs here. 'She fell

in love with Glasgow after studying here and

the vibe of the city sets it apart, there really is

nowhere better to be when the sun shines!'
---
42 | www.westendermagazine.com

This sense of creative community

encouraged the Paulin sisters to set up their

concept store on Great Western Road. Shop,

watch workshop and creative space all rolled

into one, it gives the siblings the opportunity

to meet the customers who buy their iconic

timepieces.

'We definitely do more business in store

rather than online,' confirms youngest sister

Eleanor. 'It's so friendly here.' The shop also

gives westenders an opportunity to see our

watches if they haven't come across them

before.'

With five models on offer currently, Paulin

watches are intended to last a lifetime.

Designed by the sisters it takes about eight

months from drawing board to finished

product and this year the team have created

their own numerical font, inspired by art deco

typefaces. The distinctive geometric style has

cleverly spaced gaps allowing the eye to fill

in the blanks. 'We wanted to keep the range

simple but have something unique and I think

we have achieved that,' Eleanor says.

Creativity really does run in this family,

with the girls citing their great grandfather,

sculptor George Henry Paulin, as their

inspiration. 'He worked across both World

Wars,' Eleanor says. 'And you can still

see his work today in both the Botanics

and Kelvingrove Park. We followed in his

footsteps and all studied at the same art

school.'

Like Paulin, Iolla and bluebellgray there are

dozens of design led creative companies

in this part of the city, doing innovative and

exciting things. So what keeps them here?

The answer from our three case studies is

that the West End has a real sense of close

knit community. For the Paulin sisters its like

a happy family. 'There is no sibling rivalry

here,' Eleanor concludes. 'It's a real team

effort. My middle sister Elizabeth works

remotely and my eldest sister Charlotte

has just started a family so if she wants to

take a day off I am around to help look after

the baby.'

iolla.com

bluebellgray.com

paulinwatches.com
---
Westender www.westendermagazine.com Magazine Promotion | 43

Accountancy

Matters

by Bruce Wilson & Simon Murrison

'21% of small business directors are

over retirement age'

For many business owners running a

business long after retirement age is a

choice. For others a necessity as they

failed to hit the pause button and establish an

exit strategy and plan for a secure financial

future.

Succession planning and tax planning work

hand in hand. The key to preserving your

personal wealth and dealing with inheritance

tax and capital gains tax is good tax

planning.

Only a tax expert fully understands the

complexities of protecting assets,

changing business ownership or dissolving

company assets. A solid exit plan is

structured in tax efficient ways for the

owner and the buyer.

Succession planning involves establishing

clear business objectives, preparing

accounts, organising paperwork and making

your business more tax efficient and more

profitable. Above all, ready for a strong

valuation.

If you have any Succession Planning

questions, like the ones below, then call

Bruce Wilson now on 0141 290 0262.

• What is the true value of my business?

• How do I stabilise my business for a

takeover?

• How do I manage Capital Gains Tax and

Inheritance Tax?

• How do I attract potential buyers?

Murrison & Wilson, CA is a full service

accountancy firm specialising in

business and tax planning for private

individuals, the self-employed and

small to medium sized businesses.

Offering a free consultation, fixed

and competitive fees, why not get

in touch on 0141 290 0262.

Working towards your future, today, has

a number of financial and emotional

advantages for you and your business.

Talking to an expert who is impartial and asks

tough questions opens up a frank and honest

discussion about your future and that of your

business.

Murrison & Wilson Chartered Accountants

10 Newton Terrace G3 7PJ

0141 290 0262

info@muwca.co.uk

muwca.co.uk
---
44 | www.westendermagazine.com

Writer's Reveal

meets Malachy Tallack

WORDS LORAINE PATRICK IMAGE GREGOR REID
---
www.westendermagazine.com | 45

route through America's Midwest. Starting

in North Dakota just as major oil protests

were ending, the pair travelled south through

the Great Plains, South Dakota,Nebraska

and Kansas. Their route then took them

across country to Kentucky through the

Appalachians and Mississippi before finishing

up in Louisiana.

A whirlwind of a journey covering some 5000

miles and 17 states certainly got the creative

juices flowing. 'It was such an intense

experience to do in such a short period of

time with someone who was a complete

stranger,' Malachy explains. 'I went with

the intention of writing travel essays and I

came back with notebooks full of all kinds of

thoughts and observations.'

So what has actually come from the

experience are ideas for his next two books.

One is a novel based on a former utopian

community he visited and the other is a non

fiction book which came out of conversations

and ideas thrown up by the trip. 'I went

thinking I was going to write one thing and

it now turns out that I am probably going

to write two completely different books but

that's how it goes.'

All but two of the states Malachy visited were

Republican. 'It was a deliberate attempt to

understand the unfamiliar,' he says. 'There

seems to be many reasons why people have

gone in Trump's direction and there's little

surprise about what is happening. Most

Americans just don't feel the shock we did on

Trump getting elected.'

Earlier this year Malachy Tallack was one

of a handful of Scottish authors picked

to take part in a journey across

America for a project aimed at offering

new perspectives on our political times.

'Outriders' saw five writers undertake five

extraordinary journeys each accompanied

by a local writer from the area they would

explore.

Malachy teamed up with Boston novelist

Jennifer Haigh and planned a three week

Malachy was taken aback by the poverty

he saw in West Virginia. 'There is absolute

desperation in parts of the Appalachians

on a scale we just don't see here. There are

communities with nothing. Their land has

been ravaged by the coal industry and it is a

desperate place.'

Outriders explored the idea that in shifting

times writers contribute immeasurably to

understanding the world and the ten writers

involved in the project took part in lively

discussion at this year's Edinburgh Book

Festival. Malachy believes there are different

roles that writers fill in times like these. 'There

are writers who do activism very well,' he
---
46 | www.westendermagazine.com

says. 'But we seem to have this deep division

and people are not hearing the voices on the

other side. In the US, liberals are not listening

to conservative voices and vice versa, so

activists are only speaking to people who

agree with them. What's missing from a lot

of the debate is empathy and understanding

and that hopefully is what writers can try and

put back into the conversation.'

The land and its relationship with its people

has long been a fascination for Malachy with

his first two books looking at the idea of

'place'. In his first work Sixty Degrees North,

he visited each of the countries on the circle

of latitude that is 60 degrees north starting

and ending in Shetland where he grew up,

exploring the personal relationships that

people have with their place as well as his

own relationship with Shetland.

His second book The Un-Discovered Islands

explores two dozen mythical and imagined

islands – places that may not exist but people

have believed in and had stories about.

Beautifully illustrated in full colour it is part

travelogue part folklore.

So where does a writer who is fascinated by

so many places call home? Malachy is clear

it's not Glasgow where he has lived for the

last four years. 'I think Glasgow rather than

feeling like one complete place feels like a

city with numerous communities within it.

I think if you spoke to most Shetlanders and

asked them where home was they would

say Shetland. I suspect rural places have a

stronger hold on people.'

Coming out next year and set in the familiar

territory of home is Malachy's first novel.

Called The Valley At The Centre Of The

World, it is partly about the idea of centrality.

'I am trying to turn around that notion that

Shetland is often written off as a remote

place in the middle of nowhere and I wanted

to write about this valley as being an absolute

centre of everything. I want readers to care

about people who don't normally get much

attention'

Writing full-time feels like the right thing

for Malachy to be doing. 'I have been very

lucky since the first book came out that I am

able to work full-time on writing. I couldn't

have written the first book until I had been

through an awful lot of life experiences. I was

resistant to the idea of writing about myself

at first until other people pointed out I needed

to be there – I think sometimes the writer is

the last person to know what they are actually

trying to do!'

malachytallack.com

Out now:

60 Degrees North – Around The World In

Search of Home

The Un-Discovered Islands

Competition!

We have two copies

of The Un-Discovered

Islands, to give away. Go to

westendermagazine.com and

click on competitions by the

30th of November 2017.

The Un-

Discovered Islands

£5

OFF

*

RRP £14.99

*Exclusive offer for WESTENDER readers

at Waterstones 351-355 Byres Road

branch only, by 30th November 2017.
---
www.westendermagazine.com | 47

0141 959 5772

New NHS & Private Patients Welcome

Call now to book your free NHS exam

or free private consultation

For a limited time we are offering all patients who are interested in

private dental treatment at the practice FREE consultations.

Including dental implants, Smilelign invisible braces,

teeth whitening and more!

Facial Aesthetics

Reduce the appearance

of wrinkles

Smilelign Braces

An invisible brace for

straighter teeth

Over 50 Years

Providing dental care for

the whole family

Victoria Park Dental Practice

1406 Dumbarton Road Glasgow, G14 9DR

T: 0141 959 5772 W: victoriaparkdentalpractice.com
---
48 | www.westendermagazine.com

THERE ARE SO MANY

WAYS TO LOVE

JOIN // HOST // SHOP

For more information:

www.stelladot.co.uk/lorainepatrick

lorainepatrick1@me.com

PI ATES

*Flexi-Class passes available * One-to-ones

* Relaxing West End locations * Good for Posture

Great for Runners, Cyclists, Golfers, Desk Workers..

* Suitable for Beginners *Great for de-stressing!

www.pilatesglasgow.com 0787 647 3381

kerrystewart07@hotmail.com

Glasgow Line Dancing

Beginners Line Dancing

No partner, no fancy clothes or footwear

required. Fun easy to follow routines.

All welcome – Mondays 6.15pm - 7.15pm

Broomhill Church of Scotland, 64/66 Randolph Rd G11 7JL

(Westend of Glasgow). £4 pay as you go. Please wear flat shoes.

For further details contact Allison

on 07783 027 757 or email info@glasgowlinedancing.co.uk

For a full timetable of classes, please check the website -

www.glasgowlinedancing.co.uk

ADVERTISE

FOR AS LITTLE AS

£75

email: suzanne@westendermagazine.com

for a media flyer, or call: 07905 897238

westendermagazine.com

Soleful Podiatry

available at Six Rooms on Highburgh Road.

We provide friendly and professional

treatments, which include nail cutting,

callus and corn removal

and much more.

Give us a call or pop in to book an appointment.

Quote westender for a £5 discount

off your treatment.

6 Highburgh Road | 07426 335860
---
www.westendermagazine.com | 49

Health Matters

GP Dr. Pamela Leggate, of Glasgow West Medical Practice,

discusses lycra, sweat and rescue dogs – the benefits of

exercise are legion and not always what you'd think. Read

on for a mental workout that'll have you reaching for your

nearest exercise App.

Those of you who have read my column

before will know how important a good

diet and regular exercise are to overall

health and wellbeing. So here are a few

reasons why everyone should try to get a bit

fitter.

1. You will feel better! Exercise has been

shown to boost natural endorphins and

improve mood. It is an effective treatment for

anxiety and depression.

2. You will sleep better. Exercise improves

sleep quality as long as you don't do anything

too strenuous, too close to bed time.

3. You will look good. Even if you don't lose

weight, you will tone up. Also fitness fashions

have improved over the years and are much

more flattering and forgiving than the fluorescent

Lycra outfits of the 80s. Rainbow leg

warmers are no longer necessary.

4. If you twist your ankle, it is a 'sporting

injury' rather than embarrassing evidence

that you tripped over your own feet (libations

involved, or not).

5. You might lose a bit of weight (though

to achieve this you really do need to do the

healthy diet bit too).

6. Your heart and lungs will perform better

– so instead of puffing and panting after

walking up a hill, you will stroll elegantly while

chatting on your phone.
---
50 | www.westendermagazine.com

7. You reduce the risks of high blood pressure

and can improve your cholesterol level,

thereby reducing your risk of heart attacks

and strokes.

8. You will reduce the risk of developing Type

2 Diabetes. In fact there is some evidence

that if you are diabetic you can reverse the

effects of the condition by losing weight and

exercising.

9. Exercise will help keep your bones,

muscles and joints healthy. Arthritis pain is

reduced by regular exercise and low back

pain responds better to exercise than to

medication.

10. Cancer risk will be reduced. Breast and

bowel cancer are around 25% less likely in

people who are active.

So what should we be doing about it? The

World Health Organisation recommends

adults should do 150 minutes per week of

moderate intensity exercise, which sounds

like a lot! However, there are lots of ways to fit

exercise into your day to day routine without

having to go near a gym.

1. The best type of exercise is something you

can do regularly without too much preparation

or effort. So maybe walking to work?

Walking briskly is an ideal form of exercise

for most people. For best results, you should

aim to get your heart rate up and be slightly

sweaty.

2. Do something you actually enjoy and it

won't feel like exercise. Gardening, swimming,

dancing, housework, badminton… all

count as moderate activity.

3. Listen to music, a podcast or an audiobook

while walking or jogging. That way you can

take your mind off exercise while educating or

entertaining yourself. Multitasking or what?!

4. If you want to build up your fitness

there are lots of Couch to 5K programmes

designed for people who do very little

exercise. They allow you to build up gradually

and safely. Look up nhs.uk/LiveWell/c25k/

Pages/couch-to-5k. You get free weekly

podcasts, support and inspirational stories

from others who have been there.

5. Parkrun! You know I love parkrun and

you will find me in the park most Saturday

mornings at 9.30. But it's not just for runners.

Parkrun is becoming more inclusive and trying

to encourage walkers to start off walking

the course and build up gradually (or not if

you just want to walk!). You burn just as many

calories walking 5k as running it. You will get

a lot of support and encouragement from

the volunteers and might make some new

friends. Bring your dog! parkrun.org.uk

6. Get a dog. So if you haven't got one to

bring to parkrun, you could invest in a puppy

or a rescue dog (dogstrust.org.uk). Although

not a commitment to enter into lightly, a dog

will give you motivation and company during

those dark wintery nights (also known as

summer in Scotland).

7. Join a gym? I think this is my least favourite

option, but it does suit a lot of people. The

Glasgow Club gives you access to all council

run gyms in Glasgow. You can pay as you

go or pay a monthly fee. You get access to

classes, gym programmes and weights. If

you commit to an exercise class, you are

more likely to be motivated to keep going.

glasgowclub.org

8. Enter an event. I was going to say race

but for most of us the aim is to take part,

not to win! Entering a 5 or 10k run gives you

something to aim for as well as a free T-shirt

and usually a medal. Some events even allow

you to bring your dog. dogjog.co.uk

9. Get a fitness tracker. Trying for 10,000

steps per day seems hard at first but it's

amazing how it builds up with a walk at

lunchtime, an evening stroll or a shopping

expedition.

So, no excuses. Get out there and do

something!
---
www.westendermagazine.com | 51

Come and try us out for free with a friend.

Simply email glasgow@sweatunion.com

to arrange your free visit.

Skypark, 54 Finnieston Square,

Glasgow G3 8EP.

Terms and conditions apply.

danceSing_Westender advert_July 17_Layout Offer 1 valid 13/07/2017 until Thursday 17:5830th Page November 2 2017.

• D A N C I N G • S I N G I N G • K E E P I N G

F I T •

Classes run during Term Time

First Class is a FREE TASTER

Wednesday

10.30am - 12pm

The Western Baths Club

Glasgow G12 8BZ

Membership NOT required

Call Natalie on 07712 862823

www.dance-sing.uk

F u n & F r i e n d s h i p • H e a l t h & W e l l b e i n g
---
52 | www.westendermagazine.com

CommonWheel

a charity creating a meaningful cycle

by Floraidh Clement

From the outside, CommonWheel

resembles any other bike workshop.

There's wall-to-wall frames of all colours

and sizes, a friendly team of engineers and

a strong sense that everyone in the building

is hard at work. But what sets this workshop

apart is its social mission, striving 'to enrich

the lives of those suffering from mental illness

through providing meaningful activities'.

Launched in 2001 (and receiving charitable

status in 2003) CommonWheel's vision

is clear: for people with mental illness in

Glasgow to be able to live a meaningful

and satisfying life and contribute to society.

While the charity began with a specific focus

on bike recycling as occupational therapy,

CommonWheel has since expanded to

include a wider range of activities.

The music projects supports individuals

in singing, playing and composing music,

while the visual arts project Carnival Club

gives individuals the opportunity to design

and produce large scale art pieces to be

displayed in parades around the city.
---
www.westendermagazine.com | 53

Since 1997 marked the development of the

concept of bicycle recycling as occupational

therapy, twenty years on seemed a fitting

time to catch up with CommonWheel to

discuss the impact of the charity in North

West Glasgow and beyond.

Speaking from their Maryhill workshop,

Project Manager Emma Razi is optimistic

concerning how each of the activities can

positively impact individuals in more ways

than one. While the three activities currently

offered by CommonWheel are very different,

each one aligns with the goals of the charity.

She says, 'The idea behind each activity is

the same: to reduce isolation felt by people

with mental illness, to improve skills and to

improve overall mental wellbeing. For some

that might lead to employment, education,

and training, but for others, that might just

be a case of staying well and staying out of

hospital.'

Clients are referred to these courses by

mental health support workers or other

agencies, such as the Scottish Association

for Mental Health (SAMH). CommonWheel

also collaborate with local hospitals and care

homes, and currently work with around 300

individuals who are in-patients or residents in

care homes per year.

Yet no matter where these individuals are

referred from, the CommonWheel team are

keen to stress the positive impact of running

these courses in an environment which

mimics the workplace. While each course

retains similar elements to employment,

volunteer mechanics demonstrate clear

empathy towards clients and understand

their unique situations. The Build Your Own

Bike workshop is one such course, where

attendees spend ten weeks learning how to

rebuilding an old bike into one they can keep.

Emma highlights, 'You don't need to

know anything about bikes, but clients

are expected to come on time and follow

instructions, and to be directed through a

syllabus of tasks to be completed per week.

In that sense, it's a little bit like employment;

it's structured, but it's also super supportive.

If somebody comes in and just isn't into it

that day, they can go home, or come back

next week. If somebody comes along and

struggles, they will get lots of support.'

For some clients, their attendance on the

Build Your Own Bike course has brought

about meaningful change in both their lives

and for the charity itself. Not only do they

keep the charity going, but they sincerely

benefit from the experience.

'It gives me something constructive to do,

it gives me peace…and it makes me feel

better,' one client beams.

Another agrees, praising the sense of routine

the workshop has given him, 'I come here

three times a week, every week, and it gives

me a bit of structure. I've always ridden a bike

so this is great for me!'

With glowing testimonies like these, the

future of CommonWheel looks bright. After

receiving the Evening Times' Glasgow

Community Champion Award in 2015, the

team are keen to continue their impactful

work in local communities and championing

the wellbeing of those struggling with mental

health.

Emma explains, 'There are one in four

people in the UK experiencing mental health

problems. Some say that it's even worse in

this city due to the Glasgow Effect, so we

have no shortage of people who would want

to come and use this service. We want to

reach as many of those people as we can.'

There are several ways in supporting

CommonWheel to achieve that goal (so

long as you give them a ring, first – these

engineers could be busy at work). Members

of the public are encouraged to donate an

unused bike, which can be used for the Build

Your Own Bike courses. They can also bring

in their own bikes for servicing, as well as

buying newly re-serviced bikes from the

workshop.

As you can see, there's no shortage of ways

to help this innovative charity maintain their

progressive cycle.

commonwheel.org.uk

samh.org.uk
---
54 | www.westendermagazine.com

Homes & Interiors

by Susan

Robertson

© The Glasgow Shutter Company

Powering

our homes

efficiently

With the imminent onset of our Scottish winter,

Susan Robertson looks for some of the best ways

to keep warm, for less.
---
www.westendermagazine.com | 55

Quick Tips

1. Switch off lights in empty rooms

2. Use low energy light bulbs

3. Use daylight – keep windows and

skylights clean and clear

4. Turn off electrical appliances

– don't leave them on standby

5. Wash clothes at a lower temperature

6. Set the heating thermostat at 18 degrees

(costs rise by 8% for every degree increase)

7. Keep radiators clear – don't block with

furniture

8. Draught-proof doors and windows

9. Install loft insulation (ideally 200mm,

if less than 100mm, top it up)

10. Install double or secondary glazing.

This is the time to be thinking about how we prepare

our homes to give us the best protection from the

elements, but also to be considering how we can

play our part in looking after our environment,

and making the most efficient use of the resources

we have.

There are some great resources online for the

best ways to do this and organisations like Home

Energy Scotland can talk you through options and

suggestions. They will do a free Home Energy Check

over the phone to give you a good starting point for

where savings and efficiencies can be made, and will

also be able to advise you on reputable suppliers and

any available loans or financial incentives available

to you. If you have a business, there are also excellent

resources available to help you save money and reduce

waste. Resource Efficient Scotland, part of Zero Waste

Scotland, offers interest-free loans to small businesses

to allow investment in this area.

In general, for our homes, there are two main factors

to consider – your energy systems themselves, and

the fabric of your home to make most efficient use of

them.

Firstly – consider your energy system. Is your boiler in

need of a service, or does it need upgraded? If changes

are needed, could you consider a different approach?

There are really accessible renewable energy sources

now, is it worth considering some solar panels, do you

have plenty outside space for a small turbine? Keep an

open mind and make sure you make use of the expert

advice available – if you're considering an investment

of any size, you may be able to make further savings

in the long run if you look at contributing to your own

energy needs.

Depending on the type of home you are blessed with,

there will be different ways to reduce energy wastage

and keep warm for less. There are some key big areas

to think of first. If you're in a house, consider the roof

in the first instance as heat is often lost through this

route. It's important that you have really good loft

insulation as a starting point. You can also consider

further insulation into walls and floors depending on

the construction of your home.

Another culprit for heat loss is the windows. If they

can be upgraded to quality double or triple glazing,

this will make a massive difference. If you have

traditional sash and case types, or your building is

listed, you can make big improvements by getting

an expert to maintain these for you. Aging putty

and wood can be repaired, glazed sections replaced

and experts can provide full draught-proofing for

traditional windows.

You can also consider adding secondary glazing inside

the windows. This can be practically invisible but a

great idea for traditional windows or dealing with

condensation issues. The other possible option here

is to consider having shutters installed, these can be

elegant, and also practical in traditional buildings.

But even if you're not in the market for big changes
---
56 | www.westendermagazine.com

Homes & Interiors

or investment in these areas, there are still some easy

ways to make meaningful improvements.

Think about thick, heavy curtains at draughty

windows. It's also an option over front doors too.

In older buildings, you might not have, or want to

change your front door but you can add draughtexcluding

products to the letter box and along the

bottom of the door, and I like a big heavy curtain you

can pull over anyway once you've locked up for the

night and you're snuggling in.

Think about your lighting, and change to the newest

and most efficient types of energy-saving bulbs.

They're a bit pricier in the first instance, but worth it

longer term.

Generally being a bit more conscious in your activities

makes a difference too. I've just had to get up to go

and turn off the kitchen light and the TV that was on

standby in the other room as my conscience is nudged

by writing this. We do often have some bad habits

that have developed over the years and these can be

easily changed with just a bit of thought. If we all do

this, not only can we save money and reduce waste,

but we can contribute to thoughtfully improving the

environment in our beautiful city.

Organisations and resources

energysavingtrust.org.uk/scotland/

home-energy-scotland

greenerscotland.org/home-energy/

using-your-home-energy-well

ofgem.gov.uk/consumers/energy

-guides

carbontrust.com/home

resourceefficientscotland.com

West End Suppliers

B.Smith Plumbing & Heating, Gas boiler services:

bsmithplumbing.com, 0141 301 1180

Eco Home Installer, Heating & Renewables:

ecohomeinstaller.co.uk, 0141 374 2567

The Glasgow Shutter Company, Wooden shutter

installation: glasgowshutters.co.uk, 0141 357 2104

The Radiator Gallery, Radiators:

radiatorgalleryglasgow.co.uk, 0141 337 3345

West End Services, Sash Windows experts:

wesglasgow.co.uk, 0141 341 2034

© Timorous Beasties
---
www.westendermagazine.com | 57
---
58 | www.westendermagazine.com

Reseal Service | Professional Tile Installation | Waterproof Bathrooms

The no.1 Tile Installation and Restoration

Specialist in Central Scotland

We are a fully insured, reliable family run business with over

40 years combined experience. We use the best and most up to date

products and materials and pride ourselves on our attention to detail

and excellent customer reviews.

BEFORE AFTER BEFORE AFTER

Our Reseal Service can restore your tiles by carefully

removing all of your existing grout and sealant using

non-abrasive chemicals and high precision diamond

technology. Specialist chemicals are used to wash

your tiles to remove soap scum, body fat, mould and

mildew. Antimicrobial grouts and sealants are then

professionally applied

Our Reseal service includes;

// Sealant Applications

// Bonded Bath & Shower Seals

// Chemical Sealants

// Re-grouting

// Two-part Sealants

// Waterproof Tanking Systems

FROM ONLY

£150

SUPPLIED

& FITTED

Bonded Bath and Shower

Seals – Our unique and

most popular product.

T / 0141 611 9534 M / 0781 782 8681

E / info@resealscotland.co.uk W / www.resealscotland.co.uk
---
Homes & Interiors

Settle in style

This is the time of year for some quality time at home

snuggling in by the fire. Whether you're catching up

on your favourite box set, escaping into a good book,

or just enjoying some family time, there are plenty

of options around the West End to bring some cosy

touches to your home.

www.westendermagazine.com | 59

Bronte Cushion,

£45,

The Store Interiors

Nordic Style Footstool,

£198,

Nancy Smillie

LSA Whisky Decanter,

£85, Spirito

Hugo Turquiose Armchair,

£365, Nancy Smillie

Glass Bubble Lamp with Shade,

£129, The Store Interiors

Nancy Smillie, 53 Cresswell Street, 0141 334 4240, nancysmillieshop.com

Spirito, 317-319 Crow Road, 0141 337 3307, spiritogifts.com

The Store Interiors, 26 Munro Place, 0141 950 1333, thestoreinteriors.co.uk
---
www.westendermagazine.com | 1

www.westendermagazine.com | 1

60 | www.westendermagazine.com

Jun/Jul 2016

Aug/Sep 2016

Free

Image I Gregor Reid

Free

Image I Gregor Reid

ADVERTISE WITH US

// Glasgow's best FREE bi-monthly mag

// Great editorial features: fashion, dining out,

health & beauty, what's on, local authors

& artists, interiors & more

// Massive potential business audience

// 12,000 copies per edition

For more info or to advertise

email: suzanne@westendermagazine.com

for a media flyer, or call: 07905 897238

westendermagazine.com

READERS

OFFER!

FREE

Gas Certificate

PAT Test

Legionella

Assessment

Are you a Landlord?

Thinking of Letting?

Changing Agent?

When you quote

Westender

" Problem Solved"

Call or email for a free market appraisal

E: glasgow@zoneletting.com T: 0141-333-0990 W: www.zoneletting.com

SERVING: GLASGOW • EDINBURGH • LONDON
---
Westender www.westendermagazine.com Magazine Promotion | 61

Image I Gregor Reid

Wee Kitchen Shop

Beautiful Custom Made Contemporary & Traditional Kitchens

On a visit to Broomhill to visit her

cousin, June and husband Lindsay

from Barrhead noticed a lovely wee

kitchen shop on Crow Road. Their dated

kitchen – with feature collapsing ceiling –

spurred the couple on to talk to owner, Greg.

'We immediately felt Greg had the skills and

experience to manage the complexity of the

project but also shared our love of the quirky

charm of our old kitchen, originally a scullery,'

says June. 'Our anxieties had led us to delay

renovation far too long: the lathe and plaster

ceiling was sagging and crumbling in places,

we also needed new wiring, windows and

one wall internally insulated before the fit out

could even begin.

'A major worry now we are retired was our

tight budget, as until the work began we

couldn't be sure how much the essential

repairs would actually cost. Greg's detailed

estimates and readiness to adjust the

finishing details helped us move confidently

from one stage to the next. Greg's

background in cabinet making was a key

attraction as we knew he would bring both

creativity and precision to the final design.

'Within our small space we gained modern

functionality yet retained a traditional feel,

and the customising used every millimetre

effectively. The wooden shelves and top

drawers bring warmth and link to the original

doors, the waste and recycling is hidden, the

deep drawers are a delight and we love the

housing for the fridge freezer!

'Since the kitchen was completed we have

really enjoyed preparing meals together. We

each have a workspace due to the re-sited

fridge, cooker and microwave and the bigger,

more balanced worktop areas. We have also

re-discovered the pleasure of eating there

with the garden views around us.'

30% off Silestone, Corian & Granite

worktops ordered before the 30th

Nov' 2017. Please call ahead for a

FREE consultation appointment at

The Wee Kitchen Shop premises.

The WEE Kitchen Shop

304 Crow Road, Broomhill G11 7HS

0141 334 4747

www.theweekitchenshop.co.uk

info@theweekitchenshop.co.uk
---
62 | www.westendermagazine.com

by Susan

Robertson

Homes & Interiors

Changing seasons always have their

palettes attached, the light, the colours

and the weather all play a part in setting

the mood. Susan Robertson explores

how we can harness these elements

and identify how to bring the best bits

into our homes.

Moody

Hues

© Farrow && Ball

Autumn and winter both serve up very different

moods. Autumn has the warmth of oranges and

umbers with a hint of crispness, leading into winter

with its blues and icy whites and solid dark greys.

Even envisioning these colour palettes, with all their

vibrant differences, you can see them together in a

room, very confidently working together in a shared

space. My colour mood preference for this season

transition is solid darkest blue/grey with highlighting

strokes of vibrant orange and maple red. Bold and

cosy. Elegant and uncompromising.
---
www.westendermagazine.com | 63

The stories of colour always inspire me and I love the

way we can create new moods in our lives so differently

with little more than a lick of paint. You can make such

a big impact with just a few quids' worth of paint, it's

all in the selection of the colour.

I currently live surrounded by crisp white and light

wood. I like it, it's a change for a while, but we're not

bedding in. My inclination at this time of the year

however is still to get cosy, go dark, shut the curtains,

put the fire on.

I chatted with Laonie of 1272 Decorating to get some

expert input into the colour conversation. I love her

take on it all – particularly talking about applying

colour in small spaces. I've always had really boldly

decorated small rooms everywhere I've stayed, just for

fun really, and because I think, if you get the lighting

right – it's the way to go.

Leonie told me, 'When it comes to small spaces, there's

the temptation to use light tones to give the illusion of

the space being larger. White is often too stark, so an

off-white will feel gentle and warmer. However, unless

there are other features in the room it may feel bland.

Instead, to give the space a wow factor – embrace the

dark side! I have a very small vestibule with little

natural light, but I decided to go really dark, "Farrow

& Ball Downpipe" dark, and the end result is that it is a

space that makes an impression.'

I think this is a great approach and can work well in

this current season. The deep, dark colours are great

backdrops to add some bright warm touches and gear

up for fairy lights at Christmas.

Another key consideration is to think about the

practical usage of each room and match that to the

colour and mood. Leonie told us, 'Depending on the

size of the home, some dining rooms are often only

utilised in the evening. It's important to remember

this when choosing the wall colour, as it will generally

only be seen in unnatural light. Electric bulbs tend

to give off a yellowish light, so this will affect colours,

particularly blues and greys."

This is a great tip to bear in mind when picking mood

colours in this season.

Leonie adds, 'if you have a lot of artwork to be hung,

choose a colour that is going to complement the pieces,

acting more as a canvas rather than another feature.

© 1272 Decorating

Study the colours within the artwork and choose a tone

that will enhance the paintings. In a room with less

artwork that requires another feature, then choosing a

colour from one of the paintings and creating an accent

wall gives an alternative point of interest"

One thing I always forget about with colour is the

room direction. Sometimes our home can feel like

we're in various different worlds because of where it's

situated. We have blinding sunrises in one bedroom in

the morning while another is cosy and dark, and the

vibrant sunsets in the evening knock into our relaxing

time in the living room.

Laonie highlighted this for us. She said, 'if your room

is North facing, these rooms give off cool light so it's

a good idea to avoid cold greys, and instead choose

neutrals with yellow tones. Similar to small spaces, an

attitude could be adopted to embrace the fact that the

room is never going to look bright, and instead choose

dark tones to create a warm and sophisticated space.'

So there's easy impact to be made in creating a mood

for the season in your home but it's important to make

a considered choice of colour, and if you're unsure

there are experts on hand to help.

With thanks to Laonie Robertson of 1272 Decorating,

1272@email.com, 0845 233 1272 / 07919 254667
---
64 | www.westendermagazine.com

Westender Magazine – Interiors & All Trades

Westender Magazine

Interiors & All Trades

Keeping your home working for

you. Whatever you need whenever

you need it – find reliable local

tradespeople here.

With over 25 years' experience,

we offer a wide range of plumbing,

gas & building services.

0141 374 2567

info@ecohomeinstaller.com

Unit 26,

Anniesland Business Park,

Glasgow G13 1EU

Gas boilers, Plumbing

and Renewables

Installation, servicing and repair

Friendly, Reliable and Local!

➤ Central heating installations

➤ Gas installations & repair work

➤ Landlord gas safety certificates

➤ Plumbing & emergency repair work

➤ Bathroom/kitchen installations & upgrades

➤ Specialists in renovation & building projects

➤ All trades supplied

➤ Gas Safe registered

Quote 'Westender Magazine'

for a 10% discount off new

boiler installations.

0141 301 1180 | 07949 092 475

www.bsmithplumbing.com

info@bsmithplumbing.com

Painter & Decorator » Plaster Skimming

Ames Taping & Coving » Period Windows

Hand-painted Kitchens

Call Frank – 07906 395341 / 0141 945 3975

francisscullion@yahoo.co.uk

West End

Handyman

✓ all trades

✓ fast & reliable

✓ local & accessible

✓ reasonably priced

✓ no job too small

part of

Call Radek

07810 728 025

SUPERTYLIN

WALL & FLOOR TILING

Bathrooms, Kitchens, Conservatories,

Outdoor Steps, Repairs

Trade prices on tiles

For a Free Quote Call Gordon

07828034580

gordonu2@hotmail.co.uk
---
www.westendermagazine.com | 65

Before

Do you have cornice

in need of repair?

After

www.reproplaster.co.uk | Tel: 0141 7761112

Visit our showroom at Period House, 5 Campsie Road, Kirkintilloch, G66 1SL

Experts in the repair of ornamental plasterwork | Comprehensive product range also available

Traditional Roofing,

Leadwork and Building

Specialists

CITB Registered

Call 0141 429 8484 Email info@tmcm.co

Web www.tmcm.co
---
66 | Westender www.westendermagazine.com

Magazine Promotion

Legal Matters

Words from Donald Reid, chairman at Mitchells Roberton:

Sam Goldwyn, one of the founders of MGM Studios, allegedly said:

'a verbal contract isn't worth the paper it's written on'. Apparently he

didn't say it (but he liked that people thought he had). What is true is

that people often find themselves in contractual disputes for similar

reasons. Even with a written contract, when a disagreement arises it can

be unclear what the terms actually mean. Luckily Scots Law has some of

the very cleverest people working on the problem (and I don't mean me).

Dodgy builders, parking tickets, and very clever people

We spend our days immersed in

contracts without ever thinking about

it. From buying a bus ticket or cup

of coffee, to turning up for a day's work,

to speaking on our mobile phone, we are

forming new contracts and playing our

parts in existing ones. Given the volume of

contracts in existence, the percentage that

go wrong is tiny. Even when there is a 'breach

of contract', it is often resolved between

the parties quickly and easily through swift

discussion and agreement.

Not everything can be resolved that way

however and the Scottish Law Commission

– a body of some of the best and brightest

legal minds – has been consulting on the

available remedies for breaches of contract

in Scots Law. To look at a common dispute,

such as whether a tradesman has carried out

their work properly, the SLC wants our law to

focus 'on performing the contract as agreed

... keeping the parties working together for

solutions ... rather than ending up in court'.

one in England where a QC refused to pay

£85 for over-sleeping in a motorway service

station (but won).

That said, regardless how many very clever

people consider this area of law, two people

can always disagree over what a contract

means (or if there is a contract at all) and

there will be lawyers available to give advice.

Experts are saying, however, that soon

computers will be programmed to give this

advice instead (provided the person loading

up the computer's software

clicks 'to accept terms'

of course...).

If Joel can help please

contact him by phoning

0141 552 3422, or email

jmc@mitchells-roberton.co.uk.

The SLC is also currently considering penalty

charges and looking at how contracts are

formed. Both those issues came up when the

immensely intelligent judges on the Supreme

Court considered high parking charges, such

as where parking is free for a certain period

but a large fixed charge is sent through the

post if you overstay. Since then, there was

a recent case in Dundee where the court

said someone needed to pay £24,500 for

repeatedly parking in a private car park and

Mitchells Roberton Solicitors

& Estate Agents

George House

36 North Hanover Street G1 2AD

0141 552 3422

www.mitchells-roberton.co.uk

E
---
www.westendermagazine.com | 67

EST 1999

SALES

LETTINGS

MORTGAGES

LET INFINITI TAKE CARE OF IT

EST 1999

1016 Argyle St, Finnieston, Glasgow G3 8LX

0141 553 2677
---
68 | www.westendermagazine.com