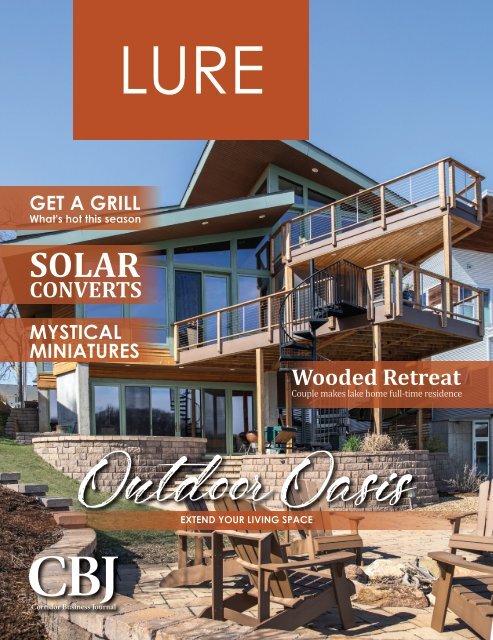 Create successful ePaper yourself
Turn your PDF publications into a flip-book with our unique Google optimized e-Paper software.
LURE

GET A GRILL

What's hot this season

SOLAR

CONVERTS

MYSTICAL

MINIATURES

Wooded Retreat

Couple makes lake home full-time residence

Outdoor Oasis

EXTEND YOUR LIVING SPACE
---
FROM THE EDITOR

Soaking in the sun

I spoke too soon in the March issue when I said winter was winding down. After a wild

and wintry April, I feel confident that Iowa's warm season is here to stay (for a few

months, at least).

Eastern Iowa is a great place to be during the summer as there are countless activities

in communities big and small, from sweet corn festivals to huge outdoor concerts. Of

course, if you're the type who prefers to avoid the crowds and just chill at home, you

don't have to travel any further than your backyard.

In this issue, we offer a glimpse of fabulous outdoor living spaces in the Corridor,

including pools, kitchens, bars, patios and landscaping that could

rival a high-end resort (pages 4-11).

TrueNorth CEO Duane Smith and his wife Laura developed a

"staycation" environment at their Cedar Rapids home. The pool,

pergola and fire pit surrounded by lush landscaping provide

the perfect setting for an intimate family gathering or a party

entertaining more than 100 guests.

And while Jeff and Sarah Clark love the outdoor area of their home

– Lake Macbride is located right in their backyard – they also are

able to soak in nature while indoors (pages 16-23). Floor-to-ceiling

windows give them a view of the lake from the living and dining

rooms as well as the kitchen, located in the center of the home.

Each outdoor area featured in this issue has its own

distinctive gardens and landscaping. A popular trend gaining

ground is fairy gardens. These personalized gardens can be planted in anything from a

glass jar to a wagon, and can include whatever interests you, whether it be miniature

animals or a mystical theme. Josh Spece, co-owner of Country Gardens & Gifts in

Independence, was an early pioneer of the trend and offers pointers for creating your

own one-of-a-kind miniature garden (pages 24-29).

Of course, an outdoor oasis wouldn't be complete without some good eats. To

help with your summer grilling plans, we asked several local experts for their

recommendations. North Liberty-based Spotix shares their suggestions on the hottest

grills on the market, courtesy of their Kick Ass Grills division (pages 12-13), while Grill

Works owner Lisa Gilliatt shares a few of her favorite sauces, seasonings and rubs from

the more than 200 she keeps in stock.

Earlier I mentioned the lure of Iowa's summer festivals. One of the state's most

popular annual events will again make its way through our neck of the woods. The

Register's Annual Great Bicycle Ride Across Iowa – better known as RAGBRAI – will

travel through Washington and Johnson counties, ending up with an overnight stop in

Iowa City on July 27. Check out what small towns on the route are planning to welcome

thousands of riders and guests, and discover a few pitstops along the way (pages 34-38).

Whether you prefer to stay at home in your own outdoor oasis or enjoy a lively

festival, get out and enjoy the lure of summer in Iowa.

SUMMER 2018

Chief Executive Officer

& Publisher

John F. Lohman

Vice President

Aspen N. Lohman

Chief Operating Officer

& Associate Publisher

Andrea Rhoades

Magazine & Special Projects Editor

Angela Holmes

Writers

Tricia Brown

Cindy Hadish

Angela Holmes

Adam Moore

Ruth Paarman

Photographers

Brian Draeger

Cindy Hadish

Dan Kempf

Tim Schoon

Josh Spece

Doug Thompson

Graphic Design Manager

Becky Lyons

Graphic Designer

Julia Druckmiller

Magazine Media Consultant

Judith Cobb

Chief Content Officer

Adam Moore

CBJ Media Consultant

Kelly Meyer

Event Marketing Coordinator

Ashley Levitt

Angela Holmes

Editor

GET A GRILL

What's hot this season

SOLAR

CONVERTS

MYSTICAL

MINIATURES

LURE

Outdoor Oasis

EXTEND YOUR LIVING SPACE

Wooded Retreat

Couple makes lake home full-time residence

ON THE COVER

Jeff and Sara Clark tore down a dilapidated

structure on the lot they purchased along

Lake Macbride near Solon and built a

three-level home with floor-to-ceiling

windows facing the lake. The Cedar Rapids

couple love their lake home so much, they

are making it their permanent residence

this summer. See more, starting on page 16.

Event Media Consultant

Rhonda Roskos

Marketing & Distribution Manager

Jean Suckow

Contents are registered to Corridor Media

Group. Reproductions or other use, in whole

or in part, of the contents of the publication

without permission is strictly prohibited.

2345 Landon Road, Ste. 100

North Liberty, IA 52317

319.665.NEWS

www.corridorbusiness.com

2 LURE SUMMER 2018
---
CONTENTS

4

Outdoor Oasis

Extend your living space

12

Get a grill

What's hot this season

14

Hot Sauces (and Rubs)

Enhance your grilling

16

Wooded Retreat

Solon couple soaks in natural setting

24

Mystical Miniatures

Imagination takes over in fairy gardens

30

Solar Converts

CR couple installs ground mount system

34

Ride or Dine?

Eastern Iowa's RAGBRAI route

4

16

24

LURE SUMMER 2018

3
---
4 LURE SUMMER 2018

Out
---
door Oasis

Extend your living space with a

custom-made, at-home resort

BY RUTH PAARMANN

Duane and Laura Smith have created a "staycation" atmosphere at their

Cedar Rapids home. Making the project happen were landscaper Damon

Vaughn, architect Greg Sundberg of Sundberg Design in Cedar Rapids, pool

construction manager Rick Whiteaker of Pool Tech in Cedar Rapids, and

pond design by Prairie Creek Nursery in Cedar Rapids. Photo Tim Schoon

LURE SUMMER 2018

5
---
magine raising a toast with friends

under the stars, warmed by a roaring

fire. Or watching the kids swim under

the sun while you float in the pool. Several

homeowners have embraced these visions,

translating them into inspiring and functional

outdoor spaces.

"Many people seek to create an outdoor

paradise at home that has the look and feel of a

resort location," Dan Power of Power Concrete

Construction in North Liberty said. "Whether

it's a custom concrete fire bowl, in-ground pool

or outdoor bar, homeowners can experience

the feeling of being away from it all."

Although the Midwest's weather can constantly

change, residents can make the most of

the outdoors most of the year.

"Iowa has nice weather for about eight

months a year, and people want to extend their

TOP: Keith and Theresa Bornbach's wading cement pond, designed by Rick

Whiteaker of Pool Tech in Cedar Rapids, is the perfect retreat for them and their

grandchildren. Photo Dan Kempf

ABOVE: Steve and Rene Ridge love to host family and friends at their pool

designed by Rick Whiteaker of Pool Tech. Photo Doug Thompson

living spaces outside," architect Greg Sundberg of Sundberg

Design in Cedar Rapids added.

He said outdoor kitchens, patios, pergolas, pools, water

features, seat walls, raised gardens and fire pits are popular

choices for people who want to enjoy fresh air with

family and friends.

Sundberg designs a lot of outdoor living spaces with

water features, pools and fire pits.

"Fountains and waterfalls provide a sense of tranquility,

movement and sound," he said, noting that incorporating

multiple elements in an outdoor setting allows the homeowner

to use it more often.

When it comes to helping people enjoy the water, Rick

Whiteaker, senior construction manager at Pool Tech, a

WGHK Inc. Company, has seen it all. The Cedar Rapids

company builds custom pools and spas and sells Jacuzzi

spas. Water can be used in many ways to provide a great

experience and excellent value. >

6 LURE SUMMER 2018
---
LURE SUMMER 2018

7
---
Pool Planner

The experts at Pool Tech, a

WGHK Inc. Company, in Cedar

Rapids, share some ideas for

planning your dream pool area:

TYPES

In-ground concrete

In-ground vinyl

Portable hot tub

Endless pool

Attached spa

SHAPES

Round

Rectangle

Oval

Freeform

Natural

SPECIAL FEATURES

Benches

Vanishing edge

Waterfall

Fountain

Rain wall

Diving board

Basketball/volleyball

Slide

FOR MORE

INFORMATION, VISIT

WWW.POOLTECH.COM

TOP: Keith and Theresa Bornbach's outdoor living space in Marion,

designed by architect Greg Sundberg of Sundberg Design in Cedar Rapids,

provides an oasis to read, have a drink or just relax. Photo Dan Kempf

BOTTOM: This rectangular pool with fountains in Cedar Rapids, designed by

Rick Whiteaker of Pool Tech in Cedar Rapids, includes an ample deck and

a pool house designed by architect Greg Sundberg. Photo Tim Schoon

8 LURE SUMMER 2018
---
"Elements like moving water drown out

the sound of traffic, and a spa with a pool

provides therapy as well as recreation,"

Whiteaker said. "To get started, we find out if

they've been around pools and water features

that made them feel great. We ask about their

daytime and nighttime activities as well as

children and safety. Once we get the elements

on the table, we figure out how we can bring

the experience they're seeking to reality."

Many people question the usefulness of an

in-ground pool in Iowa – especially with unpredictable

weather – but heaters and covers

provide Iowans considerable swim time.

"In Arizona, they don't heat pools, so they

don't swim until May," Whiteaker explained.

"Here, we typically open pools from late March

to mid-April. With heaters and auto covers,

you can swim until mid-October."

Lighting, ceiling fans and heaters can be

added to porches and pergolas to extend the

seasons of usage.

"Pergolas are popular now because you

get a sense of openness to the sky but also a

sense of enclosure," Sundberg said.

Anytime is a good time to plan an outdoor

space. Design may take several months as

ideas evolve. Experts note that major outdoor

construction projects are weather dependent

and require curing time. >

Steve and Rene Ridge's upper fire pit area, designed

by Dan Power of Power Concrete Construction in North

Liberty, overlooks their sport pool. Photo Doug Thompson

From

inspiration

to sensation,

we create

custom

kitchens,

baths,

and more!

Custom Cabinets & Millwork Inc.

295 12th Street Marion 319-366-8331 customcabinetsandmillwork.net

LURE SUMMER 2018

9
---
Activities Galore

Rene and Steve Ridge made functionality for their kids and

grandkids the priority at their woodland home nestled along

Crystal Creek near Cedar Rapids.

"We set out to make Terrace Ridge a destination for our 15

grandkids. The sport pool is situated with full visibility from the

four-season porch, the upper deck, the lower patio, the gazebo

and the fire pit landing," Rene said.

The Ridges love the natural setting with its clear view of the

night sky and "critters of all kinds." But their pool is tricked out

with a tube slide and basketball and volleyball systems. A climbing

wall, swing set and mini golf course are among the other activity

options. An app controls the fountains, bubblers and music.

"The pool and recreation area round out our ability to host

other families as guests," Steve said. "This is an estate that could

serve many generations."

TOP: Garden walls and lush landscaping outline Laura and Duane

Smith's pool, pergola, fire circle and waterfall at their Cedar Rapids

home. Photo Tim Schoon

ABOVE: Dr. Charles and Barbara Clark updated their outdoor living

space in Iowa City to be more natural. Involved in the remodel were Rick

Whiteaker of Pool Tech in Cedar Rapids, Dan Power of Power Concrete

Construction in North Liberty and Beale Landscaping. Photo Tim Schoon

Chill Out

Theresa and Keith Bornbach adore their low-maintenance

waterfall and stream, wading pond and gazebo at their Marion

home. Not only have their grandkids enjoyed the shallow pond,

but Theresa enjoys it, too.

"I love putting my lawn chair in the water by the waterfall and

plants. It's great for think time – or not thinking!" she said.

The Bornbachs' criteria included that it had to be very low

maintenance while dressing up the end of the driveway. Friends

recommended a water feature as a relaxing part of the plan, and

Sundberg and Whiteaker worked with the couple and Smith

Massman Landscape & Design in Cedar Rapids to make everything

flow together.

"We can be engaged in the outdoors in a very low-maintenance

way," Theresa said. "We can be outside more – reading

the paper, having a drink and watching the football games – in a

space that is completely different than inside the house." >

10 LURE SUMMER 2018
---
Staycation Bliss

Developing a "staycation" environment

was the goal for Laura

and Duane Smith. Garden walls

and lush landscaping beautifully

outline their pool, pergola,

fire circle and waterfall at their

Cedar Rapids home.

"We spend as much time as

we can in this space during the

warm seasons. We've used it for

simple family dinners to bigger

family events and get-togethers

like bridal showers – and even

for larger events of 150 people,"

Laura said.

Like most of these projects,

plans evolved and the scope

changed at the Smiths'. The need

for showers got wrapped into a

"man cave" garage project that

can hold more than 10 vehicles.

"Our favorite part of having

the space is the family time

we've spent outside with our

children and grandchildren,"

Laura said. |

The outdoor bar area in Cedar Rapids, designed by Dan Power of

Power Concrete Construction in North Liberty, provides a natural

setting to watch the game or take in a movie. Photo Dan Power

LAST 2 LEFT

Only 2 Luxury Condos Remain!

Two 2300 sq. foot luxury condominiums with heated private

garage remain in the beautiful and secure Metropolitan building.

The Metropolitan is conveniently located across the

street from the McGrath Amphitheater/downtown and is the

home of luxury owner-occupied condominiums.

www.hobarthistoricrestoration.com

LURE SUMMER 2018

11
---
et a grill

what 's hot this season

The folks at Spotix know a thing or two about

outdoor living trends. The North Liberty

e-commerce company sells fireplaces, fire pits,

grills and related accessories to consumers and

retailers, through its store Kick Ass Grills. Here are

a few of the staff's favorites:

BEST PORTABLE

Napoleon TQ285X-BL

LIST PRICE: $353

MOST INNOVATIVE

Lynx 42-Inch SmartGrill

LIST PRICE: $10,359

BEST VALUE

Napoleon PRO500RSIB

Gas Grill

LIST PRICE: $2,359

With Napoleon's Prestige

500 Series, you get all of

the high-end grill features

without the high-end cost.

Stainless steel tube burners

with Napoleon's distinct

stainless steel "wave" grill

grates offer professional

style sear marks while the

included infrared rotisserie

burner and side infrared

sear zone provide enough

space for larger meals.

This portable propane

grill from Napoleon

provides a high

performance grill for the

on-the-go enthusiast.

It features a large 285

square inches of grilling

surface and a 12,000 BTU

capability. The durable

porcelain cast iron

cooking grid ensures a

quality sear capable of

surviving transportation. It

sets up in 10 seconds and

uses standard portable

propane cylinders.

BEST SMOKER

Primo Round LG 280

All-In-One Ceramic Smoker

LIST PRICE: $953

The Round LG 280 All-In-

One Ceramic Smoker by

Primo is one of the most

innovative kamadostyle

grills on the market,

featuring a stainless steel

cradle with two stainless

steel side shelves, an ash

tool and grid lifter. Primo

has also included an

ergonomic handle to make

it even more user-friendly.

The driving force behind

this grill is the one-of-a-kind

SmartApp and integrated

electro-mechanical

control valves that allow

users to control the

temperature remotely and

monitor the grilling process.

It features a 1.5Ghz Intel

processor, 64GB of storage

for music or recipes and

Wi-Fi, making it the perfect

summer companion for

your iOS or Android device.

12 LURE SUMMER 2018
---
BEST LUXURY

Fire Magic Echelon

E1060s-51 Gas Grill

LIST PRICE: $12,684

SEXIEST

American Muscle 36-Inch

LIST PRICE: $10,699.88

MOST POWERFUL

Summerset Alturi

42-Inch Grill

LIST PRICE: $7,299.88

Centered around its

distinctive cast red brass

burners, each Summerset

Alturi Series grill can throw

out some serious heat. By

using a durable material

like brass, it naturally holds

up better to the elements

than inferior materials and

can produce consistent

high temperatures for

maximum BBQ ability.

At the heart of each

Echelon grill rests the

distinctive E-shaped

burners made from cast

stainless steel. Each is rated

for up to a 28,750 BTUs

for superior heat output

and professional-style

grilling. Bells and whistles

include the Magic View

Window, integrated digital

grill thermometer, backlit

LED control knobs, interior

halogen lights, a built-in

wood chip smoker and the

robust side power burner.

MOST UNIQUE

EVO Professional Series Grill

LIST PRICE: $4,619

The EVO is designed like

a professional hibachi grill

or your favorite diner's

flat cooktop. Sear steaks,

chops, chicken and fish

for a restaurant-style crust

or griddle hamburgers

just like classic diners. If

you're more of a breakfast

person, cook pancakes,

eggs and bacon on this

handsome cooktop.

The American Muscle Grill

is modeled after the 1969

Shelby GT 350 Mustang,

complete with LED-lit grill

knobs. This grill combines a

dual fuel setup providing

the convenience of gas

with the unmistakable

flavor of charcoal. The

stainless steel construction

stands up to the high

temperatures produced by

wood and charcoal.

Get gorgeous with North America's #1 choice.

Brighten up a beautiful New Year with the best warranty out there.

Call now for your

free consultation at home!

Latour Cellular Shades

Panel Track Roller Shades

25% OFF

Selected Signature

Series Window

Coverings

319-393-4626

www.BudgetBlinds.com

Blinds • Shutters • Shades

Drapes • Home Automation

Sheer Window Shadings

Roman Shades

*Applies to selected window treatments and Enlightened Style products from Budget Blinds. Restrictions may apply, ask for details. Minimum purchase required. Valid for a limited time, not valid with any other

offers, discounts, or coupons. Offer good at initial time of estimate only. At participating franchises only. ©2018 Budget Blinds, LLC. All Rights Reserved. Budget Blinds is a trademark of Budget Blinds, LLC and

a Home Franchise Concepts Brand. Each franchise independently owned and operated.

LURE SUMMER 2018

13
---
Hot Sauces (and Rubs)

The Grill Works at 763 Eighth Ave. in Marion carries more than 200 sauces, seasonings and

rubs to enhance your grilled ribs, chicken, steak or veggies. It may seem overwhelming, but

samples are offered on every product, so you can try before you buy. Owner Lisa Gilliatt

shares a few of her recommendations:

John Henry's

Pecan Rub – This

sugar-based rub

is fantastic on ribs,

pork shoulder,

pork loin, chicken,

popcorn and

more. The Grill

Works carries a

full line of John

Henry's products.

Blues Hog

Smokey

Mountain BBQ

Sauce - The

Grill Works'

best-selling

BBQ sauce, it

combines sweet

and smoky

along with a little

kick at the end. The perfect finishing

or basting sauce for chicken, ribs,

pork, beef, and can be used in side

dishes such as baked beans.

Obie-Cue's

Steakmaker –

Awarded "Best Rub

in the Planet" in 1995,

this spice mixture

features lemon,

Worcestershire, garlic

and black pepper

that brings the zing

to steaks, burgers,

fish, shrimp, veggies,

mushrooms, gravies

and dips.

"Sure Shot" Sid's

Gunpowder – The

Grill Works' bestselling

product, this

smoky seasoning is

the perfect flavor

enhancement to

burgers, steaks and

veggies. It is also

great on popcorn,

scrambled eggs

and french fries.

Char Crust

Roasted Garlic

Peppercorn –

Savory roasted

garlic and

fresh cracked

peppercorns

showcase this

seasoning used

on steak, lamb,

fish and roasted

potatoes. Pour into a zip-lock

bag, add meat and shake until

well-coated. Then, place on a

pre-heated grill. The seasoning will

create a crispy crust on the outside

while sealing the juices inside.

Galena Canning

Company Sweet

Bourbon Glaze –

Brush on grilled or

smoked salmon,

pork chops, pork loin

or steak. Great as a

finishing glaze or a

dipping sauce.

Kosmos Peach

Habanero BBQ Sauce –

Sweet peachy tartness

combined with the kick

of habanero pepper

results in the perfect

sauce for grilled

favorites like chicken,

ribs or pork.

Brannen's Sweet Habanero -

This BBQ sauce is made with

Sierra Nevada Brewery ales and

mustards and

contains no

tomatoes.

It's a perfect

combination

of sweet and

spicy that

compliments

chicken, pork,

spring rolls, hot

wings and more.

For more information, visit www.thegrillworks.net.

Galena Canning

Company Apple

Hickory BBQ

Sauce – Try this

old fashioned,

sweet, thick

and smoky BBQ

sauce on chicken, burgers

or ribs. It's also the perfect

accompaniment to meatballs

or little smokies in the crock pot.
---
Building a new home?

We can protect you from

rising interest rates!

Our special Lock and Build SM extended lock option can

help your dreams of home ownership come true while

providing the peace of mind that comes with locking

into an affordable rate. Also available is the option of

floating down to a better rate or flipping into a fixed rate

loan. Shoot an e-mail or text our way, or give us a call.

We'll be happy to provide the details!

Aim High. Bank Strong.

Melissa Myers

Mortgage Loan Originator

NMLS #729958

Cell (319) 458-0059

melissa.myers@cbibt.com

Washington/Kalona Area

Eric Olsen

Mortgage Loan Originator

NMLS #446561

Cell (319) 330-6689

eric.olsen@cbibt.com

Iowa City/Coralville Area

Art Floss

Market President

NMLS #543221

Cell (319) 631-3379

art.floss@cbibt.com

Iowa City/Coralville Area

Member FDIC

LURE SUMMER 2018

15
---
Wooded

Retreat

Solon lake home becomes

couple's permanent residence

BY TRICIA BROWN

PHOTOS BY BRIAN DRAEGER
---
BEFORE

AFTER

Jeff and Sara Clark, who love to cook together, designed the kitchen

in their Lake Macbride home to be in the center of the space to

maximize the view. The Clarks tore down the dilapidated structure on

the lot in 2012 and built their dream home facing the lake.

LURE SUMMER 2018

17
---
Jeff and Sara Clark had two basic priorities when they began looking for a lakefront

property: He wanted to fish; she wanted to kayak.

After deciding that Lake Macbride near Solon was a desirable location – the Cedar

Rapids couple first entertained thoughts of a lake house in Minnesota but soon realized

a seven-hour drive was impractical – they kept a watchful eye for properties to

go on the market.

In October 2011, they jumped at the chance to purchase an overgrown, south-facing lot

on Lake Macbride that included a small house in "tear-down" condition.

"We bought it and we were like, 'Oh my gosh, what did we do?' Jeff recalled. "We never

spent a night in that house."

The dilapidated structure was torn down in 2012, and the Clarks continued to be drawn

to the pristine view of the lake with an undeveloped shoreline along the state park. >

ABOVE: The open dining room is adjacent to the kitchen and den. Below, the kitchen

is equipped with ample cupboard space as well as a separate wine refrigerator. It also

includes a stainless steel double oven and stove. The home features nearly a dozen varieties

of wood, including mahogany and two kinds of oak.

18 LURE SUMMER 2018
---
The screened porch,

located just off the main

living area, offers an

outdoor dining option

and a spectacular view

of the lake.

THE LARGEST

SELECTION OF

FLOORING IN

EASTERN IOWA.

Carpet | Tile | Hardwood | Window Treatments

randysflooring.com

LURE SUMMER 2018

19
---
ABOVE: The outdoor patio is partially covered by the upper

level deck. BELOW: A drawer in the master bath contains

a strip of electrical outlets to keep Sara's hair styling tools

handy, but out of sight. The master bedroom features

walnut flooring hung horizontally on the wall in place of a

headboard. The bed frame and nightstands, also in walnut,

are built into the wall.

Evolving Plans

Their initial plans for a cabin evolved

into a house. In November 2013, the

foundation was poured and plans were

underway to build a four-bedroom,

three-and-a-half bath dream home

where they would soon find themselves

spending most of their time.

Fast forward almost eight years to

this summer, when Jeff and Sara will

permanently move to their Lake Macbride

address.

"We never bought it with the intent

of staying here," Sara said. "But we just

love it."

There's a lot to love.

The home was designed by Cedar Rapids

architect Greg Sundberg and built by

Flynn Homes. It's a stunning combination

of art and nature, with every detail accounted

for to suit the couple's interests.

Natural Entertainment

Jeff and Sara love to cook together, so the

kitchen is located the middle of the main

level rather than to one side so they can

enjoy the view of the lake while standing

at the stove or sink.

On the opposite side of a breakfast

bar topped in Brazilian granite is the living

room, with comfortable seating facing

the floor-to-ceiling windows. There's

no flat screen TV above the stone-front

fireplace, and that's by design.

"This is our entertainment," Sara said,

gesturing toward the lake. "We want to

look outside."

The home features nearly a dozen

varieties of wood, which adds to its

architectural interest.

The varieties include hickory in the

kitchen, mahogany in the den, red birch

in the mud room and lower level bath,

knotty alder doors, two kinds of oak,

beech in the laundry room and walk-in

closet, bamboo in the master bath, walnut

in the master bedroom, and a knotty pine

ceiling in the living room.

It's also special at every turn.

While floor-to-ceiling windows face

south, windows on the east and west

side of the home offer privacy for the

Clarks and their neighbors. The north

windows are above the sight line, much

closer to the ceiling than the floor. On the

west side, a grid of 12-inch square glass

blocks — flood the home with light on

the first and second floors.

The floor on the main level is Number

2 oak, meaning it has knots and an

oiled finish that makes it appear matte

instead of glossy. The planks are also of

various widths, adding to the already

unique character. >

20 LURE SUMMER 2018
---
Let us make

your home,Your

Castle

Celebrating 20

Years in Business

ABOVE: The soaking tub in the master bath was special-ordered

from Germany. Sara likes to soak while enjoying natural light

and a view of the water. BOTTOM: The open staircase leading

to the second level was Jeff's vision. The two-story glass block

window floods the home with light while providing privacy.

240 CLASSIC CAR CT. SW CEDAR RAPIDS 319-866-9816

WWW.CANTEBURYKITCHENS.COM

LURE SUMMER 2018

21
---
Transom windows in the master

bath provide natural light to the

adjacent hallway on the second level.

In the master bath is a soaking tub

the Clarks ordered from a company in

Germany. Sara likes to soak and look

out at the water through the south-facing

window.

In the master bedroom, walnut

flooring hung horizontally on the wall

serves as a design detail in place of

a headboard, and the bedframe and

night stands – also in walnut – are

built into the wall instead of sitting on

the floor.

The open staircase from the first to

the second level is a beautiful oak and

iron structure that Jeff admits he was

particular about.

"Architectural appeal was a priority

and I was pretty adamant about having

stairs like this," he said. >

The lower level of the home features a

family room for watching TV and playing

games. It has a kitchenette and full

bathroom along with two bedrooms, to

accommodate overnight guests.

22 LURE SUMMER 2018
---
Full-Time Vacation Home

Outdoors, a custom-made spiral staircase provides

easy access from the main level deck to the patio on

the ground level.

"People will boat by and yell at us that they like

the staircase," Sara said.

These and other show-stopping details, in tandem

with impeccable furnishings in an organic color palate,

make the home feel comfortable and inviting.

In the mornings, Sara sits in the living room with

a cup of tea, looking out at the water and perhaps

catching a glimpse of a bald eagle or an osprey, or

watching a sailboat glide by.

"It's a good way to start the day," she said. "It's so

peaceful."

Jeff likes to spend time in his workshop, located on

the lower level in a 20-by-20 room under the garage.

Here he's building his third boat, a 15-foot rowboat –

further proof that he was meant to live on the water.

The lower level is equipped to host their two

grown daughters and their husbands – and first

grandchild – complete with a kitchenette, full bath

and TV room with sliding glass doors leading directly

to the water.

Aside from realizing the need for a bit more

storage space, Jeff and Sara said there's nothing they

would change.

"When we walk in the door, we still pinch ourselves,"

Jeff said.

"We feel like we're on vacation," Sara added.

"Which is why we love being here." |

TOP: The floor-to-ceiling windows give the

Clarks a serene view of Lake Macbride.

ABOVE: Jeff is building a rowboat in his

workshop in the lower level of the home.

LURE SUMMER 2018

23
---
Mystical Miniatures

Imagination takes center stage in fairy gardens

BY CINDY HADISH

Josh Spece, co-owner

of In the Country

Garden & Gifts, was

on the cutting edge of

a garden trend when

his shop in rural

Independence opened

seven years ago. >

Sue Spece and her son Josh own In the Country

Garden & Gifts in Independence where they offer

a variety of sedum plants, shown above, that are

used for ground cover. Photos Cindy Hadish

24 LURE SUMMER 2018
---
Fairy gardens were coming in vogue at the time and have

since seen their popularity soar, moving into the mainstream

with accessories sold even at big box stores.

At first, Mr. Spece had to search to offer the miniature

cottages, animal figurines and other embellishments that

gardeners use to personalize the tiny gardens.

"Now, every garden company makes their own line," he said.

"Pretty much anything you can think of, they make it in miniature:

benches, arbors, stepping stones, gazing balls, animals."

At his family-owned business, hostas – the popular foliage

plants that thrive in shade – are the number-one sellers, but

fairy garden accessories and the plants that grow in those

gardens also remain hot items.

Spece cites the wide array of plants and whimsical accessories

among the reasons for the popularity of fairy gardens,

along with the space requirements. >

Fairy gardens can come in all shapes and sizes

and include plants and miniatures reflecting the

owner's tastes. Photos Cindy Hadish

Squaw Creek

Millwork

WINDOWS · DOORS

DOOR HARDWARE · LOCKS

CUSTOM MOULDING · STAIRPARTS

CABINETS · COUNTERTOPS

(319) 373-1067

1540 Stamy Rd • Hiawatha

www.squawcreekmillwork.com

LURE SUMMER 2018

25
---
Tips

Josh Spece suggests the following

for planting a fairy garden:

n Use plants that won't outgrow the space. Some

companies sell "baby" plants that eventually grow too

large for fairy gardens.

n Succulents, which tolerate drought and in many

instances, stay small, are the main plants Mr. Spece

recommends for fairy gardens.

n For fairy gardens planted in the shade, some

miniature varieties of hosta work well, but don't

combine with succulents, which need sun to grow.

n Plant in a wooden box, old wagon, shallow drawer

or other container to bring inside during the winter.

Some plants can survive Iowa's cold, but others do not

and the accessories will last longer if brought indoors.

n Potting soil can be covered with materials such as

pebbles, terrarium bark or dried Spanish moss for a

natural look.

Containers for fairy gardens can

be anything from a rusty wagon to

a stone bowl. Photos Josh Spece

26 LURE SUMMER 2018
---
WATER TOUCHES EVERYTHING

IN YOUR HOME.

WHOLE-HOME

Better water in

every room your

family uses water.

ON YOUR TERMS

Buy, rent or

finance­—whateverworks

for you.

FEWER CHORES

Enjoy spotless glasses,

softer laundry and less

scrubbing.

PEACE OF MIND

Reduces­contaminantsthat­may­be­inyour

water.

Culligan Water Conditioning

4855­Chandler­Ct,­Marion

(319) 377-6441

Vetter's Culligan Water

3414­Merchant­St,­Coralville­

319-209-4707

Interior Design | Furniture | Gifts

331 Kirkwood Avenue | Iowa City

351-4653 | Hours: M-F 10-5

www.designsurroundings.com

Iowa's Source for

Professional Glass Service

Our Products

& Services

• Commercial

• Residential

• Glass Repair

• Custom Glass Fabrication

• Shower Doors

• Custom Mirrors

• Tabletops

• Backsplashes

• Cabinet Glass

• Colored Glass

Serving Iowa For

Over 50 Years!

PLEASE VISIT US ONLINE

www.alliedglassproducts.com

LURE SUMMER 2018

27
---
Accessories are just as important as the plants in

a fairy garden as shown is in this miniature farm

and fairy air arrangement. Photos Cindy Hadish

"It's a fun thing that anyone can do," he said. "You

don't need much room. You can put it outdoors or

even have one indoors."

A fairy figurine in a flowing purple dress sits in a

tiny swing hung from a tree branch, surrounded by

mystical plants, colorful toadstools and miniature

stepping stones in a scene set up inside the shop earlier

this spring.

Pinterest offers a seemingly endless number of

ideas for fairy gardens, with twig chair tutorials,

tiny sun-catchers, mini lanterns made by gluing an

acorn cap on a marble and many more do-it-yourself

projects.

For would-be gardeners needing a bit of guidance,

In the Country offers an annual fairy garden workshop,

or can provide private sessions for small groups.

Spece said children enjoy the workshops, but

adults – mostly women – are equally enthralled with

fairy gardens.

Many return to the shop regularly, attracted by the

latest lines of accessories and new varieties of plants.

"We're always looking for something new and

different," Spece said. "People are demanding more,

so the industry is responding."

Some of that includes new varieties of old favorites,

such as hen & chicks, those cold-hardy, drought-tolerant

mainstays in many grandparents' gardens, but in

brilliant colors beyond the standard green, including

shades of yellow and pink. Other succulents come in

unusual shapes, such as corkscrews. >
---
Many of the latest tropical-looking succulents are not winter

hardy in Iowa, but can be brought indoors, Spece noted.

In addition to the increasingly popular succulents, he

is looking at other gardening trends, including air plants,

which take on an otherworldly appearance and can be grown

without soil – though they do need light and moisture – and

Mangaves, a hybrid plant created by cross-breeding Agave

and Manfreda that comes in a variety of unusual foliage

patterns. The Mangaves are not fairy-garden-sized, but are

drought-tolerant.

As far as accessories, fairy figurines are one mainstay, "because

everyone has to have a fairy in a fairy garden," Spece

said. Tiny cottages are best-sellers that some gardeners use

to create entire fairy garden neighborhoods.

"They can go as extravagant or as simple as they want," he

said. "There is no rhyme or reason to make a fairy garden. As

long as you like it, that's all that matters." |

These fairy gardens display a

tranquil scene of nature. Photos

Josh Spece and Cindy Hadish

Warehouse Pricing

QUALITY Workmanship

Gray's

Hardwood

Flooring

From installing to sanding, staining, finishing and

repairing, Gray's Hardwood Flooring does it all.

Wood floors aren't just our bread and butter.

We live and breathe high quality wood and detailed

craftsmanship. Presenting our customers

undeniable service at competitive prices sets us

apart from your average flooring contractor.

www.grayshardwoodflooring.com

830 33rd Ave. SW | Suite H | Cedar Rapids

Call Us Now! (319) 362-2386

LURE SUMMER 2018

29
---
SOLAR CONVERTS

Chris and Eryn Cronbaugh installed a

ground mount solar-powered system

at their Cedar Rapids home in 2014.

30 LURE SUMMER 2018
---
A PUBLICATION OF THE

CBJ MAGAZINES

What continues to make print ads valuable

is the (nearly) undivided attention that

readers give to magazine and newspaper content,

rather than multitasking like they do when

consuming digital content. *

TAKE A TOUR OF A

MODERN FARMHOUSE

LURE

KITCHENS

with style

Corridor restaurants

go farm to table

Container

Gardening

SALVAGED ITEMS

BECOME ART

Lush photography and lifestyle stories of

Corridor residents, their distinctive homes,

construction, remodeling, improvements,

decorating, gardening and more.

SEPT. 10 - DEADLINE - JULY 27

DEC. 3 - DEADLINE - OCT. 19

CR COUPLE INSTALLS

SYSTEM AMID

ENVIRONMENTAL,

ECONOMIC CONCERNS

BY CINDY HADISH

PHOTOS BY BRIAN DRAEGER

Chris and Eryn Cronbaugh had multiple

reasons to "go solar" with their

home in Cedar Rapids.

The two cited their concern for

the environment, stewardship of the

Earth's resources and economics behind

the decision to retrofit their 1929

home with a ground mount system.

"It seemed like a good thing to

do for the planet," Dan said. "Also, it

made economic sense at the time we

did it."

The Cronbaughs used state and

federal tax credits, along with a rebate

from Alliant Energy to make the

project affordable.

"For the price of a used vehicle, we

realized we could do this and cut down

on our electric bills," Dan said of the

system that was installed in 2014. >

Homegrown business in Eastern

Iowa. From mom-and-pop shops, hip

startups to large-scale manufacturing,

Corridor Native celebrates our local

entrepreneurs, innovators and inventors

PRST STD

U.S. POSTAGE

PAID

PLATTEVILLE, WI 53818

PERMIT NO. 124

2017

WORKFORCE

LEADERS

Corridor Business Journal

2345 Landon Road, Ste. 100

North Liberty, IA 52317

OCT. 1 - DEADLINE - AUG. 10

Homegrown Businesses in the Corridor Spring 2018

HAND

in hand

BoWood partners

use special skills in

woodworking startup

HERE TO STAY

Frontier Co-op thrives in its rural

Iowa roots

FRESHLY-BAKED

BEDS

Lebeda Mattress Factory delivers

straight from factory

KEEP PUSHING

Bug Soother not an easy ascent

Identifying challenges attracting and

retaining workers, recruiting trends

and best practices of companies that

are ahead of the curve in creating and

maintaining their workforce talent.

DEC. 1 - DEADLINE - NOV. 13

RESERVE YOUR AD SPACE TODAY!

Judith Cobb, Magazine Media Consultant

319.665.6397, ext. 318

judith@corridorbusiness.com

www.corridorbusiness.com/custom-publications

*Originally published in the April 2015 issue of Marketing News.

LURE SUMMER 2018

31
---
The Iowa Energy Center at Iowa State University notes that solar electricity-producing

devices, called photovoltaics, have universal appeal in their

ability to directly convert light into electricity.

"Working photovoltaics have no moving parts, are relatively simple in

design, need very little maintenance and are environmentally benign," the

center notes on its website. "They simply and silently produce electricity

whenever they are exposed to light."

Don Otto, owner of Iowa City-based DPO Construction, said photovoltaic

systems are becoming more affordable for both homeowners and businesses.

"It's starting to be more feasible," said Otto, who has been building energy-efficient

homes since 1978. "It's certainly a thing that can pay for itself in

seven to 10 years."

He noted that a building's site must be suitable for photovoltaic installation,

with the roof properly orientated to the sun or adequate space to

install a ground mount system, as the Cronbaughs did.

The 4.5 kilowatt ground mount

system spans about 27 feet from

end-to-end and towers more than

10 feet high in the Cronbaughs'

backyard. The system covers about

four-fifths of their energy needs.

CHECK IT OUT

For tips on how to make energy efficiency

work for you, visit:

Iowa Energy Center Home Series:

iowaenergycenter.org

Energy Star: energystar.gov

U.S. Department of Energy, Office of

Energy Efficiency and Renewable Energy:

energy.gov/eere/efficiency/homes

Eryn said the couple considered a roof system, but did not have enough

south-facing roof on their home, located in southeast Cedar Rapids.

They also considered a tracking system, which follows the sun across the

sky, but could not get the necessary equipment into their backyard, she said,

citing that system's higher cost as another facet in their decision.

The couple began their process by getting estimates and interviewing

companies and individuals with solar expertise. Once they found the right

"fit," they needed to first update the electrical panel in their home from a

fuse box to a breaker system.

They decided to size the system so it would cover about four-fifths of their

energy needs, opting for a 4.5 kilowatt ground mount system, spanning about

27 feet from end-to-end and more than 10 feet high in their backyard.

The 15 panels have microinverters – meaning there is an inverter for

each panel – which reduces problems with shading and increases efficiency

for each panel.

Three galvanized steel posts are anchored into the ground, with concrete

footings to support the steel rack for the panels.

Eryn said the system is tied to the energy grid, so it inverts energy at the

panels, then runs to the house where the couple's energy production and

consumption are calculated by a dual meter on the house. >

32 LURE SUMMER 2018
---
"In the summer, we obviously produce

more because there are more daylight hours,

but we typically have consumed more as

well, because we're running the air conditioner,"

Eryn said.

Alliant lists a credit when their system

produces more than they use, which can be

used in the future.

"Sometimes we are about even, which

leaves us with a bill that is the basic connection

fee to the grid," she said. "Other times,

we do pay, but it's certainly nowhere near

what we'd pay without our solar."

The Iowa Energy Center's "Solar PV

Energy Guide" offers tips for sizing a photovoltaic

system and calculating the return on

investment.

Mr. Otto said advancements in technology,

such as Tesla's solar roof tiles, demonstrate

the future of photovoltaic systems that combine

energy efficiency with aesthetic appeal.

"I think it's a wonderful thing we can do for

ourselves, for our pocketbooks and the Earth,"

he said of solar energy. "It's an added expense

now, but it pays you back in the future." |

Chris and Eryn Cronbaugh track their

energy usage and savings provided

by their ground mount solar system.

LURE SUMMER 2018

33
---
Ride or Dine?

How About Both

Enjoy rural Eastern Iowa

on RAGBRAI route

BY ANGELA HOLMES AND ADAM MOORE

Bicycles and food (and beer) go so well together,

you'd swear they were made for each other.

Bikes are one of the athletic world's best calorie

burners – about 650 an hour, give or take –

while local foods and craft beers help ease the

sting after a long ride and replenish your energy

for the next one. What's not to love?

The Corridor is an especially great place to

savor the pairing, with dozens of bike-accessible

independent restaurants, atmospheric dives,

cafes, microbreweries, bakeries, markets and

more. Considering that RAGBRAI XLVI is headed

through Washington and Johnson counties this

year, and the fact that it will be the fourth easiest

ride in its history, there's really no excuse not to

hit the trails this summer.

Day 6 of RAGBRAI will begin July 27 in

Sigourney and wind up in Iowa City after 57.6

scenic miles through such Corridor small towns

as Wellman, Kalona, Riverside and Hills.

Whether you need some motivation during

training or will be joining the ride when it rolls

through Eastern Iowa, here are a few spots to

replenish your energy.
---
Step into a world of

Flooring Possibilities

Visit our showroom to see the latest styles and designs in Tile,

Carpet, Hardwood, Luxury Vinyl, Area Rugs & Window Fashions!

PHOTO DJ'S

WELLMAN

DJ's Casual Café

603 Ninth Ave.

(319) 646-9705

www.facebook.com/

dalejennifercafe

Dale and Jennifer (that would be

DJ) Bennett have pretty much

seen everything in the 23 years

they've been running their family

restaurant. Wellman's annual Fourth

of July parade brings about 500-

1,000 extra people to town – many

of them hungry. In 2016, when

RAGBRAI went through nearby

West Chester, many of the support

vehicles stopped at DJ's, which sits

right along Highway 22. Although

there was a constant flow of RVs,

buses and everything in between

from morning until night, Dale says

his staff had no problem feeding

the masses. "I've been around – We

know how to do things," he said.

This summer when RAGBRAI runs

through Wellman, DJ's will be ready

with a quick-grab area outside the

restaurant, serving homemade

pie and ice cream bars and grilling

chicken and hamburgers. Inside, the

full menu will be available, dishing

up everything from breakfast to ribs

and sirloin steak.

319-337-4054 • 600 HIGHWAY 1 W • IOWA CITY

Showroom Hours: Mon & Thu 9-7 • Tue, Wed and Fri 9-5 • Sat 9-3

DRIVE www.IowaCity.AbbeyCarpet.com

GREEN AND SAVE

2032R COMPACT TRACTOR

• Test drive the new 2R Family

• Easy-on / Easy-off implements

• Comfort and Safety built-in

DRIVE

DRIVE

GREEN

GREEN

AND

AND

60 MONTHS#144C

SAVE

SAVE

INTEREST WAIVER FOR

2032R COMPACT TRACTOR

JOIN OUR DRIVE • 2032R Test GREEN drive COMPACT the EVENT new 2R Family TRACTOR

DRIVE GREEN AND SAVE

• Test Easy-on drive / Easy-off the new implements

2R Family

LOCATION City Tractor Co., • North Easy-on Comfort Liberty / Easy-off IA

2032R and COMPACT Safety implements

built-in TRACTOR

DATE & TIME Friday/Saturday, • June Comfort • Test 8, drive 9 and the Safety new 2R built-in Family

Plan to attend our annual DRIVE GREEN event. • Easy-on Test / drive Easy-off and implements

INTEREST compare compact

tractors, Gator vehicles, and Z-Trak mowers

INTEREST

.• Register Comfort

WAIVER FOR

to and win Safety

WAIVER

a national built-in grand

FOR

prize

JD 1025R tractor. Plus coupons for up to $500 savings.

60 MONTHS#144C

60 MONTHS#144C

INTEREST WAIVER FOR

60 MONTHS#144C

JOIN OUR DRIVE GREEN EVENT

CITY JOIN TRACTOR OUR DRIVE CO. GREEN EVENT

LOCATION City JOIN Tractor OUR Co., DRIVE North GREEN Liberty EVENT IA

LOCATION

DATE & TIME LOCATION

City Friday/Saturday, Tractor Co., North Liberty IA

www.citytractor.com

City Tractor Co., June North 8, 9 Liberty IA

DATE & TIME DATE & TIME

Friday/Saturday, June June 8, 8, 9 9

Plan to attend 645 our annual Penn DRIVE Ct GREEN (I-380 event. at Exit Test drive 4) and compare compact

tractors, Gator vehicles, and Z-Trak mowers . Register to win a national grand prize

JD 1025R tractor. Plus North coupons Liberty, for up to $500 IA 52317 savings.

Phone 319-665-6500

Plan to attend our annual DRIVE GREEN event. Test drive and compare compact

Plan tractors, to attend Gator vehicles, our annual and DRIVE Z-Trak GREEN mowers event. . Register Test to drive win and a national compare grand compact prize

tractors, JD 1025R Gator tractor. vehicles, Plus coupons and Z-Trak for up mowers to $500 . Register savings. to win a national grand prize

JD 1025R tractor. Plus coupons for up to $500 savings.

City Tractor Co.

CITY CITY TRACTOR CO. CO.

CITY TRACTOR CO.

645 Penn Ct | North www.citytractor.com

Liberty | 319-665-6500

www.citytractor.com

www.citytractor.com

#

Offer valid on qualifying purchases made between 01 May 2018 to 31 July 2018. 144 For consumer, ag, or commercial use only. No-interest waiver

for 60 Months followed by rate based on customer qualification. $_______ per month for every $1,000 financed. c \u0027Subject to approved installment

credit with John Deere Financial. Available at participating U.S. dealers. Prices and models may vary by dealer. Offer available on new

equipment only. Prices and savings in U.S. dollars.

A0B01BYCU2N59735-00047423

645 Penn Ct (I-380 at Exit 4)

645 Penn North Ct Liberty, (I-380 at IA 52317 Exit 4)

645 North Penn Phone Liberty, Ct (I-380 319-665-6500 IA at 52317 Exit 4)

North Phone Liberty, 319-665-6500 IA 52317

Phone 319-665-6500

LURE SUMMER 2018

35

#

Offer valid on qualifying purchases made between 01 May 2018 to 31 July 2018. 144 For consumer, ag, or commercial use only. No-interest waiver

for 60 Months followed by rate based on customer qualification. $_______ per month for every $1,000 financed. c \u0027Subject to approved in-
---
KALONA

Kalona Brewing Company

405 B. Ave.

(319) 656-3335

www.kalonabrewing.com

As the meeting town for riders and their

support teams on July 27, Kalona will

be a prime spot for lunch. The route will

lead bikers into town on Highway 1 and

through downtown where activities and

vendors will line the streets, according

to City Administrator Ryan Schlabaugh.

Stages for bands will be set up from

9 a.m.-3:30 p.m. near Tuscan Moon, a

quaint Italian restaurant at 203 Fifth

St., and the Kalona Brewing Company

(KBC) at 405 B. Ave. General Manager

Elliot Lamb said KBC will have beer and

food tents in the downtown area, as well

as a limited menu inside the brewery/

restaurant for customers looking for a

sit-down meal. While they are working

on a special beer for that day, the folks

at KBC also recommend Free Range or

Kalona Classic for drinkers in the mood

for a light beer and Sucha Much for

those wanting a full-bodied IPA.

PHOTO MURPHY'S BAR AND GRILL

PHOTO KALONA BREWING COMPANY

RIVERSIDE

Murphy's Bar and Grill

71 E. First St., Riverside

(319) 648-2888

www.facebook.com/

MBGriverside

As a RAGBRAI rider himself, owner

Jerry Murphy has been in many bars

during the ride. As a bar and grill

owner, he has always had opinions of

what works well and what could be

done better. Now he gets his chance.

Although Riverside has been hosting

Trekfest in June for Star Trek fans,

an event the size of RAGBRAI has

never been in town. With upward

of 10,000 people traveling through,

he realizes he has to operate his

business a little differently that

day. "Riders aren't looking for

full, heavy meal," he says out of

experience. "They are looking for a

snack." With that in mind, Murphy's

regular menu will be "nonexistent

until after 6 p.m." Instead, they will

feature just four or five items, such

as hamburgers and half-breaded

tenderloins. "There will be smaller

portions and smaller prices," Murphy

says. While riders are welcome to

come in, he plans to have tents out

back to add extra space.
---
HILLS

Old 218 Tap

108 E. Main St.

(319) 679-2277

www.facebook.com/Old218Tap

Old 218 Tap is no stranger to events

that attract big crowds. For the past

couple years, the Hills hotspot has

hosted a Poker Run benefit that

brings in about 250 motorcycles,

plus their riders and passengers.

Co-owner Daniel Zwick says the full

menu won't be available the day

RAGBRAI rolls into town. "It will

be a little different than what the

riders will get at other places," he

said. That will likely include burgers

made fresh by hand, including crowd

favorites "Old 218" and "Country

Boy." The beer garden in the back

will be extended to accommodate the

exhausted bikers who are nearly at

the end of their ride that day. A local

band will provide entertainment for

those wanting to sit back and relax

with a cold one or those with enough

energy left to get up and dance.

HOME

LIFE

HEALTH

TrueNorth offers real solutions that are designed with

you in mind.

Don't leave your priorities to chance. At TrueNorth, we specialize in

developing plans that help you manage your personal risks to meet your

unique insurance needs.

truenorthcompanies.com

Why work

with Hills Bank?

100% financing available.

No 1% Origination fee.

Low closing costs and rates.

Local processing and underwriting.

Flexible

Meet us:

• In person

• Via telephone at 1-800-445-5725

• Online at HillsBankMortgage.com

To apply online, schedule an appointment,

or find helpful information on home

buying visit HillsBankMortgage.com.

PHOTO SELMA PEPIC

R

Member FDIC

LURE SUMMER 2018

37
---
IOWA CITY

The July 27 ride will end up in

Iowa City, which is hosting its

first overnight stop since 1976.

Downtown Iowa City will be the

hub of entertainment in true blockparty

style. "RAGBRAI riders should

expect a truly authentic Iowa City

cultural and culinary experience,"

Nancy Bird, executive director of the

Downtown Association and member

of the executive committee, said at

the reveal event in April. "Not only is

Iowa City home to the Hawkeyes, but

also to more than 100 restaurants

and bars that will provide exceptional

local flavor." For more information,

visit www.iowacityragbrai.com.

PHOTO UNIVERSITY OF IOWA
---
BEST. DECISION. EVER.

When it comes to your dream home – making sure it is perfect means tons of tough decisions. Let our

knowledgeable product experts relieve the stress and restore the fun while introducing you and your

design team to our extensive collection of products from the most sought after brands.

Request your appointment today at fergusonshowrooms.com

CEDAR RAPIDS

FERGUSONSHOWROOMS.COM

©2018 Ferguson Enterprises, Inc. 0418 818572