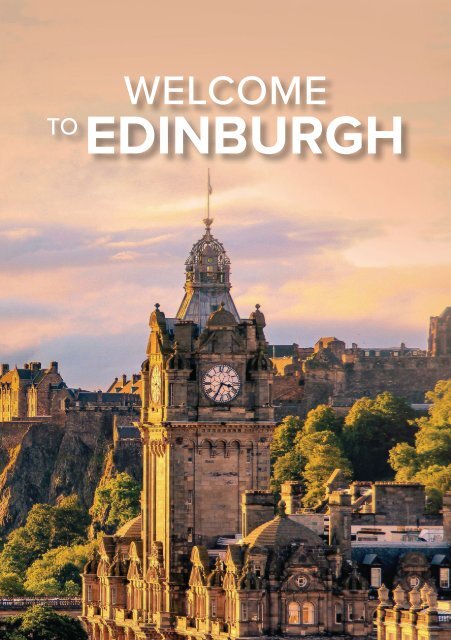 Create successful ePaper yourself
Turn your PDF publications into a flip-book with our unique Google optimized e-Paper software.
WELCOME

TO

EDINBURGH
---
WELCOME TO

EDINBURGH

One of the first things that will impress you as you wander

through the streets of Edinburgh is how stunningly beautiful

this city is. Scotland's capital is steeped in history and this is

embodied in the majestic architecture rising all around you.

Delve deeper and you will find a friendly city, with a wealth of

options for entertainment, eating out and enjoying a drink with

friends and colleagues. If you're keen on shopping look no

further than the Royal Mile, whilst if its spectacular views you're

after, head on up Calton Hill and prepare to be amazed.

2
---
TABLE OF

CONTENTS

4

6

8

12

16

20

DISCOVER EDINBURGH

OLD TOWN

LEITH

DEAN VILLAGE

NEW TOWN

COST OF LIVING

3
---
DISCOVER YOUR

EDINBURGH

text

The Edinburgh Fringe Festival sees international artists and comedians

come to the city every year, putting on thousands of shows across

hundreds of venues.

text

Ceilidh, pronounced 'Kay-lee', is a fun, traditional Scottish Social

Dance. Ceilidh dance nights are held locally in halls and community

centres.

text

A brisk hike up Edinburgh's extinct volcano Arthur's Seat makes for a

refreshing break from the hustle and bustle of the city.

text

Victoria Street is a thriving shopping hub in the Old Town, with

independent boutiques sitting alongside fragrant and alluring cheese

shops.

text

Make your way up the winding staircase of Scott's Monument, the

majestic Gothic spire rising out of the beautiful greenery of Princes

Street Gardens.

text

Edinburgh is home to 112 parks and has more trees per head than any

other city in the UK.

text

Edinburgh was the first city in the world to have its own fire service,

with fierce blazes being fought by able firemen as far back as 1703.

text

There are more listed heritage buildings in Edinburgh than anywhere in

the world, with around 16000 historical buildings from various eras.

text

Edinburgh Marathon takes place every year, attracting thousands,

and the route covers many of Edinburgh's major landmarks and iconic

buildings.

4
---
text

Edinburgh Castle is the ultimate Scottish Heritage site. Enjoy stunning

views over the city, taking in a mix of architectural styles that date back

centuries.

5
---
OLD TOWN

The entirety of Edinburgh Old Town has been named

a World Heritage Site, and after a quick look around,

you'll find it's easy to see why. First you'll spot Edinburgh

Castle, looming large from its position at the top end of

the Royal Mile, whilst at the other end you'll see the grand

architecture of the Palace of Holyroodhouse. The Royal

Mile itself is an energetic place to spend a day, exploring

the museums, shops, pubs, and quaint cobbled stairways

that splinter away from it.

6
---
Our tip

Dunbar's Close Garden provides a peaceful retreat

from the busy streets of the Royal Mile. The splendid

greenery here offers a glimpse of how a wealthy

landowner's garden may have looked in the 17th

century. You'll find it near Canongate Kirk, towards

the bottom end the Royal Mile.

7
---
24 HOURS IN

OLD TOWN

YOUR MORNING

Kick-start your day with a tasty deli breakfast at Edinburgh

Larder on Blackfriars Street. It's likely to be busy, but that's

a good sign, and it's well worth the extra wait. They serve

up a tempting menu of locally sourced favourites - try their

Crombies of Edinburgh sausage - and you can choose to sit in

or takeaway.

YOUR AFTERNOON

Wander down the Royal Mile, where you're sure to see a street

performer or two, and take in the majestic medieval architecture

all around you. Pop in gift shops, veer off down a narrow lane

or two, and find yourself a cosy spot for lunch. For something

a little different, try Camera Obscura, a colourful, tech-centred

way to discover the history of the city.

8
---
YOUR EVENING

If you thought the Old Town was a delight to walk through by

day, wait till you catch sight of it illuminated at night. For your

evening dinner you might try Angels with Bagpipes on the High

Street; set inside a beautiful 17th century building, their locally

sourced menu changes with the seasons. If you fancy a drink,

there's cask ales on offer at Ensign Ewart at Lawnmarket and a

burning log fire at the Jolly Judge on James Court.

MUST SEE

SIGHTS

Palace of Holyroodhouse

Real Mary King's Close

Scottish Parliament

The Writer's Museum

9
---
LEITH

This recently regenerated waterfront area has been a

thriving maritime port for many centuries and still retains

its historic charm. The award-winning Royal Yacht Britannia

is anchored here and there's some beautiful walks along

the waterfront. Leith also boasts plenty of food and drink

venues, with Edinburgh party-goers often coming here for

a night on the town.

10
---
Our tip

First held in 1907 Leith Festival brings the local

community together with live music, galas, funfairs

and assorted arts performances. Head to the

waterfront in June for a fund-raising event to remember.

11
---
24 HOURS IN

LEITH

YOUR MORNING

Enjoy a refreshing early morning stroll along the Water of Leith

Walkway. You'll find some charming eateries when you come

to a road called Shore. There's Cafe Truva, a bistro style cafe

serving Turkish and Mediterranean, and Mimi's Bakehouse,

where you can savour a range of pastries and hot drinks within

1940s style decor.

YOUR AFTERNOON

There's plenty of shopping opportunities in Leith, with the

stores here having a character all of their own. Find one-of-akind

treasures for your home in Georgian Antiques on Pattison

Street or some eco-friendly goods in the quirky independent

shop Flux, near the Water of Leith on Bernard Street. For lunch,

head to Nobles Cafe Bar on Constitution Street. It's a friendly

neighbourhood pub with good food and an elegant Victorian

setting.

12
---
YOUR EVENING

For your evening meal you should try some fresh seafood,

fished from off the Scottish shore. Fishers restaurant on Shore

is one of the best. Located in a 17th century watchtower their

menu is affordable and delicious, with Clam Vongole a popular

choice in these parts. After that, enjoy a beer or wine at any

number of exciting nightlife venues.

MUST SEE

SIGHTS

Royal Yacht Britannia

Corn Exchange Gallery

Water of Leith Walkway

Ocean Terminal

13
---
DEAN VILLAGE

Often referred to as the most picturesque area of

Edinburgh - which is some achievement in this beautiful

city - Dean Village boasts fabulous 19th century

architecture and plenty of hidden places to explore. The

Water of Leith meanders through here, meaning it was

a prime spot for water mills in centuries past. Nowadays

Dean Village is home to charming streets and galleries.

14
---
Our tip

Walk west along the Water of Leith and on your right

will be the Scottish National Gallery of Modern Art. Here

you'll find outstanding examples of contemporary art.

15
---
24 HOURS IN

DEAN VILLAGE

YOUR MORNING

With few cafes to speak of in Dean Village, the best spot for

a bit of breakfast on your way here is sure to be Söderberg

Bakery Shop, where you can enjoy delicious fresh pastries

and a spot of light jazz (if you visit on a Sunday). Then take a

relaxing 10 minute stroll along Lynedoch Place, into the heart

of Dean Village.

YOUR AFTERNOON

Take in the stunning Victorian architecture of Well Court, in the

heart of Dean Village, designed by architect Sydney Mitchell in

1883. With the Water of Leith running by it, this World Heritage

site, made from distinctive red sandstone, was restored in 2007

and today has an expensive apartment to rent inside. Then

pop into the Scottish National Gallery of Modern Art to savour

exquisite artwork from the region.

16
---
YOUR EVENING

By this point you should have worked up quite the appetite.

Fortunately, there is a fine restaurant serving top notch

European cuisine south of the Water of Leith from the village.

The Restaurant at The Bonham serves seasonal Scottish

recipes in a classy, minimalist space. It's set in a Victorian hotel

and is the perfect way to round off your day in Dean Village.

MUST SEE

SIGHTS

Well Court

Dean Bridge

St George's Well

Scottish National Gallery

of Modern Art

17
---
NEW TOWN

Edinburgh's New Town is actually not that new at all,

with much of this visually stunning area of neo-classical

buildings was mostly built in the 18th century. So what

sets it apart from Edinburgh's Old Town? For a start it's the

artistic centre of the capital, with 3 national art galleries

within walking distance of each other, plus there's the

world-renowned Edinburgh Playhouse and the aweinspiring

views to be had from atop Calton Hill.

18
---
Our tip

It's a relatively easy walk up Calton Hill and you'll be

rewarded with far-reaching, panoramic views of this

picturesque city. Head there on New Year as its a

prime spot for enjoying firework displays across the city.

19
---
24 HOURS IN

NEW TOWN

YOUR MORNING

Fredericks Coffee House is a popular place for breakfast,

where you can try artisan blend coffees amid bright decor and

a friendly, welcoming atmosphere. There are a variety of fresh

salads and soups available, as well as a few choice handmade

cakes. A perfect pick-me-up to start your day.

YOUR AFTERNOON

Walk your breakfast off with a brisk climb up Calton Hill, take

in the wonders of the Edinburgh skyline, then dash back down

and head to one of the acclaimed galleries in the area. The

Scottish National Portrait Gallery is perhaps the pick of the

bunch, which offers a fascinating glimpse into the people who

shaped Scotland's history.

20
---
YOUR EVENING

You'll be spoiled for choice when it comes to restaurants in New

Town. Dishoom on St Andrew Square serve ever-reliable Indian

food, Hendersons on Thistle Street is a much talked-about

vegan restaurant, whilst Michael Neave Kitchen and Whisky Bar

on Old Fishmarket Close serve Scottish favourites with a fine

selection of malts and cocktails for when you're finished.

MUST SEE

SIGHTS

Edinburgh Playhouse

Charlotte Square

Edinburgh Farmers Market

Calton Hill

21
---
COST OF

LIVING

£2.24

12 eggs

£0.90

1 gallon

of milk

£1.02

a loaf of

bread

£6.20

1 Kg of chicken

breasts

Rent

Bills

Gym

Phone

Transports

Groceries

Going out

£700

£120

£30

£15

£55

£180

£130

22
---
Open

COFFEE

CINEMA

PUB

RESTAURANT

Movie

Beer

Meal

£2.55 £10 £4 £12

PUBLIC

TRANSPORT

The public transportation system in Edinburgh is famous for its

reliability and efficiency, with a government subsidised bus company

– Lothian Buses - offering quick and cheap routes to every suburb of

the city.

The Ridecard

When using public transport frequently it is cheaper to purchase a

Ridecard than single tickets. Ridacards allow for unlimited usage of

Lothian buses and trams and are available for different lengths of

time, with the 4 week pass the most commonly purchased model.

23