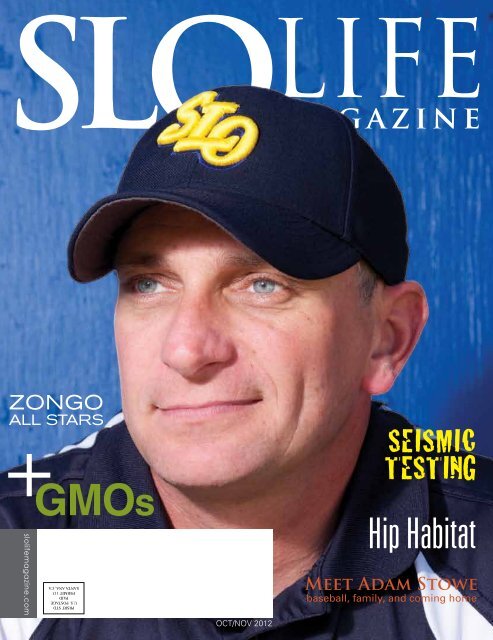 You also want an ePaper? Increase the reach of your titles
YUMPU automatically turns print PDFs into web optimized ePapers that Google loves.
SLO LIFE

magazine

ZONGO

ALL STARS

+

slolifemagazine.com

GMOs

PRSRT STD

U.S. POSTAGE

PAID

PERMIT 113

SANTA ANA, CA

OCT/NOV 2012

SEISMIC

TESTING

Hip Habitat

Meet Adam Stowe

baseball, family, and coming home

SLO LIFE Magazine oct/nov 2012 | 1
---
2 | SLO LIFE Magazine oct/nov 2012
---
Book your

Holiday

Party

now!

There's

always

a reason to celebrate.

DINNER NIGHTLY ✶ RESERVATIONS (805) 772-0677

www.windowsmb.com

On The Water ✶ 699 Embarcadero (Upstairs), Morro Bay

SLO LIFE Magazine oct/nov 2012 | 3
---
4 | SLO LIFE Magazine oct/nov 2012
---
SAGE Ecological Landscapes & Nursery

1188 Los Osos Valley Road • Los Osos, CA 93402

(805) 574-0777 • www.SageLandscapes.net • facebook.com/SageEcologicalLandscapes

Extended Spring & Summer Nursery Hours • Mon - Fri 9-6 . Sat 9-5 . Sun 9-4

LANDSCAPE SERVICES

Sustainable Landscape Design

Construction | Maintenance

Habitat Restoration

NURSERY, GARDENS & GIFTS

California-Friendly Plants

Pottery | Fountains

Statuary | Display Garden

Outdoor Furniture

Visit us the first Saturday of every month at 10am for free Garden Discussion Topics

2 little monkeys jumping

on the bed...

When one fell off and bumped her head,

Mama took her to the French Hospital

Medical Center Emergency Room, and

now they're jumping again.

At the French Hospital ER, the average wait time to be seen by a

Board Certified Emergency Physician is 20 minutes or less and we

never ask you to pay a pre-registration fee. Just a few reasons why

the French ER is nationally ranked for patient satisfaction.

frenchmedicalcenter.org | arroyograndehospital.org | marianmedicalcenter.org

SLO LIFE Magazine oct/nov 2012 | 5
---
| CONTENTS

SLO LIFE

magazine

October/November 2012

8 | Publisher's Message

10 | Info

12 | Notes

14 | Timeline

16 | Q&A

18 | Places

24

20 | Meet Your Neighbor

24 | The Way We Live

28 | SLO City Real Estate

30 | SLO County Real Estate

32 | No Place Like Home

34 | Choose Your Adventure

36 | To Your Health

20

38 | Alternative Health

42 | Music

44 | Special Feature

46 | Arts

48 | Recipe

50 34

50 | After Hours

52 | Community Calendar

6 | SLO LIFE Magazine oct/nov 2012
---
SLO LIFE Magazine oct/nov 2012 | 7
---
| PUBLISHER'S MESSAGE

Underoos and

World Peace

Seriously, can there possibly be anything better than Underoos?

When I was a kid they were all the rage, and I am happy to report that they are making a comeback.

My three-year-old son, Harrison, has recently discovered what I have known most of my life: Underoos have

secret powers. Since discovering this fact for himself, he pretty much wears nothing else.

And, which Underoos you choose to wear says a lot about

who you are (I'm surprised that a pop-psychology book was

never written, "My Underoos, My Identity"). Harrison has

chosen Spider-Man and loves to climb and jump off of just

about everything in the house. Plus, he has learned how to

shoot webs from his wrists (he makes an "L" shape sticking

out his thumb and forefinger). But, most of all, he is busy

looking after the safety of our neighbors.

The interesting thing about Underoos is that there really

are no bad guy Underoos. To clarify, from the Star Wars

collection they have Darth Vader, but we all know he

became a good guy after he finally took off his mask. And

there was Boba Fett, who was a bounty hunter, but he was

just so amazingly cool that the Underoos executives had no

choice but to make an exception.

In this season of politics and elections and propositions,

I would like to propose mandatory adult Underoos for

everyone. That's right. And I want to be The Flash. Can

you imagine how the world would change if we all wore

Underoos? I mean, you cannot help but step up your

game when you are a superhero under your street clothes.

The world would be a better place as millions of Wonder

Women and Supermen strode off to work each day

answering to the higher calling of their Fruit of the Looms.

We would be constantly looking out for each other and

ethical decisions would be a snap. Imagine if Jeffrey Skilling at Enron had been wearing Green Lantern Underoos

under his custom Italian suit? Obviously there have been some people who have been wearing theirs already. The

guy who safely landed his commercial jet in the Hudson River comes to mind—rumor has it he was sporting

Captain America 'roos.

Clearly, we, as a community, have some big issues ahead of us including one brewing in the waters off of Diablo

Canyon [see "Seismic Testing" on page 44] as well as Proposition 37, which is bound to have an effect, one way

or another locally [see "GMOs" on page 38], but I am completely confident (well, at least as confident as I can be

because, as of this writing I have not yet received my government-issued Underoos) that, if we can call on our best

selves, even if it means squeezing into colorful, old school "tighty-whities," it will mean good things for all of us.

I would like to take this opportunity to give a shout out to all of the people who had a hand in producing this

issue of SLO LIFE Magazine. And, to our advertisers, thank you for making it all possible.

Live the SLO Life!

Tom Franciskovich

tom@slolifemagazine.com

8 | SLO LIFE Magazine oct/nov 2012
---
"It's important to find an estate planning attorney who you can trust. Estate and Tax Planning

is complicated. Call me today for a FREE review of your will or estate plan and let's talk about

your plan for the future. You and your family will be glad you did. "

Offering caring, qualified legal representation in the following areas:

Estate & Tax Planning • Trust Administration • Will, Trust & Conservatorship Litigation

IRS Disputes • Personal Fiduciary Services • Elder Law Planning & Litigation

Currently serving San Luis Obispo County and Northern Santa Barbara County.

Jed D. Hazeltine

LL.M. Taxation

Attorney At Law

778 Osos Street, Suite C

San Luis Obispo, CA 93401

805.439.2323

www.coastfiduciarylaw.com

SLO LIFE Magazine oct/nov 2012 | 9
---
| INFO

We want to hear from you!

Have some comments or feedback about something you've

read here? Or, do you have something on your mind that you

think everyone should know about? Let us know! To have

your letter to the editor considered for publication in the

"Notes" section, please email it to notes@slolifemagazine.com.

Be sure to include your full name and city. And, it's best to

keep it to 250 words or less.

Promote your business!

So many of the stories we publish

come from our readers' great

leads. We are always looking for

interesting homes to profile (see

"The Way We Live" on page 24),

have a recipe that your friends and

family love? Share it with us! To

get an idea, check out "Recipe"

on page 48. Is there a band we

should know about? Something

we should investigate? Go to

slolifemagazine.com and click

"Share Your Story."

buy

local

Tell us your story!

Subscribe!

Our advertisers get great results and

we would like to tell you about it, but

first we want to know about you and

the objectives of your business. Call

us at (805) 543-8600 to talk with

our publisher, Tom, about different

advertising programs—we have

something for every sized budget. Or,

go to slolifemagazine.com/advertise

We can send you a complete media

kit and loads of testimonials from

happy advertisers.

Ready to live the SLO Life all year long? Be sure

to go to slolifemagazine.com/subscribe. It's just

$12 for the year. And don't forget to set your

friends and family up with a subscription, too. It's

the gift that keeps on giving!

SLO LIFE

magazine

4251 S. HIGUERA STREET, SUITE 800

SAN LUIS OBISPO, CA 93401

SLOLIFEMAGAZINE.COM

info@slolifemagazine.com

(805) 543-8600 • (805) 456-1677 fax

PUBLISHER

Tom Franciskovich

CREATIVE DIRECTOR

Sheryl Disher

CONTRIBUTING WRITERS

Jeanette Trompeter

Paden Hughes

CONTRIBUTING PHOTOGRAPHERS

Chris Bersbach

Elliott Johnson

Lance Kinney

Katie Osekowsky

CONTRIBUTIONS

Submit your story ideas, events, recipes

and announcements by visiting us

online at slolifemagazine.com

Contributions chosen for publication

may be edited for clarity and space

limitations.

ADVERTISING

If you would like to advertise, please

contact Tom Franciskovich by phone

at (805) 543-8600 or by email at

tom@slolifemagazine.com

NOTE

The opinions expressed within these

pages do not necessarily reflect those

of SLO LIFE Magazine. No part of this

publication may be reproduced in whole

or in part without the expressed written

permission of the publisher.

CIRCULATION, COVERAGE AND

ADVERTISING RATES

Complete details regarding circulation,

coverage and advertising rates, space,

sizes and similar information are

available to prospective advertisers.

Please call or email for a media kit.

Closing date is 30 days before date of

issue.

LETTERS TO THE EDITOR

notes@slolifemagazine.com

4251 S. Higuera Street, Suite 800

San Luis Obispo, CA 93401

Letters chosen for publication may be

edited for clarity and space limitations.

10 | SLO LIFE Magazine oct/nov 2012
---
SLO LIFE Magazine oct/nov 2012 | 11
---
| nOTES

MINTON INSURANCE

& FINANCIAL SERVICES

Insuring what you value most

AUTO • HOME • LIFE • HEALTH • COMMERCIAL

We provide the personal

service you deserve

SHAWN MINTON

Multiple Line Broker

Lic# OF43815

1042 Pacific Street, Suite E, San Luis Obispo

805.546.8113

www.minton-insurance.com

Central Coast

College Consultants

Know your options. Follow your dreams.

Erin Ogren

Call us for guidance

through the college

admissions process.

cccollegeconsultants.com

805.546.8230

info@cccollegeconsultants.com

12 | SLO LIFE Magazine oct/nov 2012

HOMELESS FEEDBACK

The article about homelessness in the last issue

("Understanding Homelessness in San Luis

Obispo") struck a chord with many of you.

Clearly this is a big issue, but nearly all of the

readers we heard from seem conflicted in a

similar way. On one hand, there appears to be a

deep compassion for those that genuinely need

help, but on the other hand, there exists a lot

of frustration for those that do not necessarily

want to change their situation (identified in the

article as the "will-nots"). Thank you to all of

you that wrote in. Below is just a sampling of

what we heard…

Dear SLO LIFE,

Thank you for the insightful and informative

article regarding the homeless situation in San

Luis Obispo. Most compassionate citizens

wish to aid and assist the "have-nots" and "cannots"

as described by the author in the article.

The frustration many have with the proposed

plan for the new Homeless Shelter building is

in regard to the "will-nots", who are distorting

the homeless numbers and taxing the already

thin resources designated for those in need.

I often eat lunch at Mitchell Park as it is

close to my office in San Luis Obispo. Many

willfully homeless congregate in the park and

I have personally witnessed multiple episodes

of drinking, drug use, and belligerence in the

proximity of children playing at the park. You

can barely walk a block in downtown San Luis

Obispo without passing a 20 something yearold

homeless male with a dog, a cell phone

and a sign and wonder if this is a condition or

a chosen lifestyle. I hope the decision makers

in San Luis Obispo work with the Police in

considering all of the facts about the homeless

issue before turning what was supposed to be a

safety net for those in need into a hammock.

Sincerely,

Andrew Wright

San Luis Obispo

Dear SLO LIFE,

The article on homelessness in the August/

September issue was interesting to me and

brought back memories of my career at Social

Security. When Social Security acquired

the aged, blind and disabled (renamed

Supplemental Security Income or SSI)

programs from the Department of Social

Services in 1974, we discovered an entirely new

type of beneficiary. It is true that there was

(and probably still is) a west coast homeless

route. Back then it began in Washington and

moved up and down the coast to San Diego

depending on the season of the year.

The article mentions homeless receiving

'social security' a couple of times. To receive

retirement, survivor or disability as a social

security benefit, one must have FICA

earnings to qualify. To receive SSI, one must

meet financial requirements and disability

requirements if under age 65. More likely,

the homeless are receiving other benefits from

social services.

Susan Crosson

Dear SLO LIFE,

Your story on homelessness clarified the issue

for me for the first time ever. In the 23 years

I have lived here, this is something that has

always puzzled me especially in recent years,

where many of the homeless do not appear to

be simply down on their luck. It's something

I have struggled with because I do consider

myself a very compassionate person and my

heart hurts for those that are truly in need. I

can't begin to imagine what that must be like

to not have a roof over your head. That makes it

all the more confusing when you see people out

there who are of sound mind and body taking

up resources for those that really do need

it. Not to mention that it can be somewhat

scary and intimidating by some of these folks

who are quite aggressive in asking for money.

Anyway, I wanted to say thank you for bringing

some understanding to such a confusing

subject. I just wanted to offer some feedback.

Carol

San Luis Obispo

BIG BIRD!

Dear SLO LIFE,

You are never too young to start birding!

Bird Watching at Port Hartford Pier

Tom Slater

Slater Photography

ANYTHING FOR A LAUGH

Dear SLO LIFE,

I just finished reading the Publisher's Message

in SLO LIFE about the treadmill desk. It

made me laugh because I had often thought

of putting together the same sort of thing

for myself when I was primarily working in

an office. I had originally heard that Donald

Rumsfeld had something similar set up, and

that's how I got the idea. Glad I didn't go to
---
the trouble of actually trying it now that I

read how difficult it was to actually put it into

practice! Thanks for the laugh :)

Cindy Dobyns

Shell Beach

ALSO SWEET

Dear SLO LIFE,

Adore the magazine. Thanks for the article on

"Splenda" --- I tell everyone I know about it.

Also, I have just published my autobiography

"Linda Allsoh" - all true and on Amazon.com.

I would love the chance to share my story from

moving from Iowa to California. Lots to say to

help others who have been in my situation and

need to get out.

Linda Kay Stillwell

San Luis Obispo

GOTTA HAVE IT

Dear SLO LIFE,

I have just finished reading your current issue

(Aug/Sept) and would like to know how I can

get a copy of the picture of Montana de Oro

shore line taken by Elliot Johnson?

We often take family and friends there and

walk the trails shown and it would be great to

have this fantastic viewpoint hanging in our

home. Please let me know who to contact or

where I might be able to purchase a copy.

Thanks,

Herb Klein

Atascadero

Thanks for your inquiry, Herb—we have

heard from quite a few readers about that

shot wondering where they can purchase

a copy, so we figured there are probably

many more who would like to know. The

photo was taken by Elliott Johnson, who is

a professional photographer based in Los

Osos. His number is (805) 550-2380 and his

email is elliott@elliottjohnson.com. Be sure

to tell him we say "hello." SLO LIFE

GETTING THE WORD OUT

Dear SLO LIFE,

I was wondering what your policies are

for advertising events on your community

calendar. We have monthly restoration

parties at our Nature Preserve and this

winter is going to be especially critical that

we have a high turnout, because we have

3000 plants to put in. It's a favorite for the

community – getting the word out is the key.

Holly Sletteland

Morro Bay

Sounds like a great event, Holly. We don't

have a set policy for placing events in the

community calendar, but we try to do a

good job of recommending just a few to

our readers. Please send us some additional

information and we will see what we can do.

SLO LIFE

OOPS, WE DID IT AGAIN

Dear SLO LIFE,

Would you please stop telling everybody

about all the little secrets around here?

Seriously - my favorite thing in the world is

to go to the Lido Restaurant after work on

Thursday nights to have myself a cold beer

and watch Three Martini Lunch. Since your

article came out the place is packed! And I

never get my favorite seat anymore. Just pipe

down and keep it to yourself already!!

James

Arroyo Grande

NICE WORK

We failed to properly credit Chris Bersbach

for the amazing photography in the "Meet

Your Neighbor" feature including the cover

shot in last issue. Although Chris is currently

away on his honeymoon, we would like to say

"thank you" and job well done. And, congrats

and best wishes on tying the knot! SLO LIFE

Would you like to have your letter published?

notes@slolifemagazine.com

facebook.com/slolifemagazine

slolifemagazine.com/feedback

Letters may be edited for content and clarity. To be considered for publication your letter must

include your name, city, state, phone number or email address (for confirmation purposes).

SLO LIFE Magazine oct/nov 2012 | 13
---
| TIMELINE

Protestors gathered at Cal Poly, the location of the

only Chick-fil-A outlet in SLO County to hold a

"kiss in." The fast food chain's president, Dan Cathy,

who had made controversial statements regarding

gay marriage failed to show up at the protest

prompting some to call him "Chikin."

By a unanimous decision, SLO

County Supervisors denied

Excelaron's application to build

a dozen oil wells in the Huasna

Valley. As the vote was tallied,

the chamber erupted with the

emotional cheers and highfives

of local residents who had

banned together to send the

multinational energy company

packing.

Arguing that it violates the

California Environmental

Quality Act (CEQA), a group

called "Save the Plastic Bag

Coalition" sues SLO County

over its ordinance banning

the use of plastic bags in

grocery stores, which had

been scheduled to take effect

on October 1st. As of this

writing, Superior Court Judge

Charles Crandall has yet to

answer the question: "Will

that be paper or plastic?"

August 10

August 23

August 3

August 22

August 30

This summer's "Whale-a-palooza" reached a crescendo as

visitors and national media descend on Avila Beach to catch

a rare glimpse of our friends from the deep. Concerned about

whale safety, the NOAA issues a warning to bystanders

requiring them to remain at least 100 yards away, prompting

one seismic testing protestor to respond: "Seriously? We can't

get near the whales, but you are going to allow them to be

blasted to Kingdom Come?"

In a settlement with the SLO Homeless Alliance, the

City Council agrees to dismiss all tickets written for

illegal overnight car camping during this year. City

Attorney Christine Dietrick explained that it was just

too expensive to continue hiring outside lawyers (the

tab was $120,000 at the time) and that she and her staff

did not have enough time to do the work themselves.

City Council has vowed to find alternatives to prevent

overnight car camping.

14 | SLO LIFE Magazine oct/nov 2012
---
A 77-year-old father and his

36-year-old son count their lucky

stars as the single engine plane

they had been flying to British

Columbia for their annual fishing

trip lost power and crashed off the

coast of Cambria. The pair waited for

two hours in heavy seas until a Coast Guard helicopter

gave them a lift. As their pontoon plane sank to the

bottom they were notified that they would have to pay

to retrieve it because it's in a marine sanctuary. Figuring

fishing the plane out was going to cost quite a lot, they

denied medical assistance, rented a compact car and

headed to Wal-Mart to buy some dry clothes.

PG&E receives another in a series

of approvals in its steady march

toward seismic testing off the

shores of Diablo Canyon, scheduled

to begin November 1st. This time,

the Public Utilities Commission

(PUC), approves PG&E's request

to pass off the cost of the test to

local rate payers—all $64 million of

it will be paid by its customers.

September 6

September 10

September 15

September 9

September 13

Before the sun came up, someone saw

something that didn't look quite right

on a remote beach about 12 miles

north of Hearst Castle: it was a bunch

of fast-moving guys carrying large

packages from a boat to an RV parked on

Highway 1. One phone call was all it took

for a massive law enforcement response

that included planes and helicopters.

At the end of the day, 3,000 pounds of

marijuana with a street value estimated

at $4.5 million had been seized and 20

smugglers were in federal custody.

Trial begins for SLO

Firefighter, John Ryan

Mason, who fought Los

Osos furniture maker

Jory Brigham in Pappy

MacGregor's men's room

following a wedding

reception. Brigham's injuries

were likened to a car crash

victim by the prosecution as

he suffered 17 facial fractures

including a broken nose and

jaw and was left

unconscious

by Mason, who

had no

wounds.

A rodeo clown at the Creston

Classic Rodeo makes racist

comments involving Michelle

Obama while addressing the

crowd on the public address

system prompting executives

at the rodeo headquarters to

consider using a mime next year.

SLO LIFE

SLO LIFE Magazine oct/nov 2012 | 15
---
| Q&A

Kara Woodruff Blakeslee

During her time with the American Land Conservancy, she played a key role in the Hearst Ranch Conservation Project,

which prevents any future development on all of the 82,000 acres surrounding Hearst Castle. In 2005, after years of

work on the project, she became vice president of the financial planning firm, Blakeslee & Blakeslee, at a time when her

husband's political career was starting to take off. Today, she strives for balance in a hectic life that includes a full-time

career, raising two daughters, and volunteer fundraising for the Wild Cherry Canyon project. We stopped by one morning

to see how things were going…

Thanks for meeting with us today,

Kara. By the way, that's a great

photo there behind your desk.

That picture is taken at San

Simeon Point. After the Hearst

Ranch project was successfully

completed, Sunset Magazine did

an article and they needed a tour

around the property, so I brought

my daughter who is now a junior

at SLO High School. We toured

around the property and we were

standing there and he took our

picture, I did not know he was

taking it. And then we walked

away and he took it again without

us, and that picture without us ran

in the magazine. But then after

the fact, the photographer, sent it

to me to say, "Thanks for the day."

It's a very important picture to me

because my daughter is there and

we're out at San Simeon Point

looking over to Hearst Ranch.

I love it. It has a lot of personal

significance. My older daughter

really lived through Hearst Ranch

and my younger daughter, who

is in fourth grade now, has lived

through Wild Cherry Canyon. I

kind of define projects by which

daughter had to go through all of

the public hearings. [laughter]

Why conservation?

I grew up in San Diego. From the

time I remember my earliest days

to the time I left high school, I saw

such an enormous change right

there in my backyard. The open

fields where I used to play literally

are now high-rises. When I came

to Cal Poly I was so impressed by

the fact that when you drove out

to Morro Bay at night, it was all

dark. And I loved that feeling of

darkness at night when it wasn't

flooded by artificial light. And, I

think when I started contemplating

what my career would be, a good

part of the reason I went to law

school was that I wanted to prevent

unbridled, unplanned development

from occurring in places that I love.

So, what did you do?

Prior to working at the Nature

Conservancy, I was in a 35-story

office building in the financial

district of San Francisco practicing

corporate law in the environmental

land use field. A year later I found

myself working in downtown

Guadalupe, on the Guadalupe-

Nipomo Dunes, in a little, tiny

shoebox office and I could not have

been happier. And, my salary went

down significantly, too. [laughter]

But, I loved it, every minute of it.

It was quite a change and exactly

the change I was looking for. I've

never been a big city gal. And,

so working in Guadalupe, being

surrounded by wonderful people,

spending a lot of time out on the

dunes which are just so beautiful

and peaceful and calm, I love them.

There are some incredible botanical

resources and wildlife there, too.

Can you give us some background

on Wild Cherry Canyon?

I started working on the project in

1999 and it has been a series of

successes and obstacles along the

way. At this point we are very close

to completing the project, and

yet getting it past that last hurdle

has been very challenging. It's

a $21 million deal and if we are

successful we will protect 4,000

acres which would be added to

Montana de Oro. And, one of the

truly wonderful aspects of this

project is that it completes the

connection between Avila Beach

and Montana de Oro. So, if we

acquire the property it will go to

the State, and you will be able to

wake up in the morning, maybe

have breakfast in Avila, walk

twenty-some miles, camp if you

want to, but you could continue on

and have dinner in Morro Bay; and

not see any cars along the way. It

would be fabulous.

These conservation projects must

really benefit by the fact that you

are married to a state senator.

There have been times when

Sam's position as an elected

official has actually worked

against the project. And, the

most glaring example was

when Arnold Schwarzenegger

was the governor. We had the

project very much put together

as a package and it was set to go

before the Public Works Board,

which would have been the final

approval. But, right on the eve

of the scheduling of that agenda

item, the governor killed the

project. And, we were told very

directly by people who talked

to the governor's staff that the

reason was that the governor

was dissatisfied with Sam's vote

on the budget. So, as a way of

punishing Sam, he took it out on

the project, although those two

things were only connected by the

fact that Sam and I are married.

So, it felt extremely frustrating, to

say the least.

These projects go on for years

and years. How do you keep

pushing forward?

There's an old Calvin Coolidge

quote about persistence that

I keep on my computer. It's a

pretty long one, but I will go

ahead and read it to you. I just

love it. It is probably his most

famous quote. Here goes…

"Nothing in the world can

take the place of persistence.

Talent will not; nothing is more

common than unsuccessful men

with talent. Genius will not;

unrewarded genius is almost a

proverb. Education will not; the

world is full of educated derelicts.

Persistence and determination

alone are omnipotent. The slogan

'Press on' has solved and always

will solve the problems of the

human race." Like many others,

I have certainly faced a number

of personal and professional

challenges, but what can you do?

You get up, it's a new day and

press on! [laughter]

SLO LIFE

16 | SLO LIFE Magazine oct/nov 2012
---
Your friends value

your hearing

We value your hearing too!

Call us today for your consultation

805541-1790

www.KarenScottAudiology.com

Helping You Hear The Things You Love

SLO LIFE Magazine oct/nov 2012 | 17
---
| PLACES

AVILA

18 | SLO LIFE Magazine oct/nov 2012
---
BEACH

Known for some of the best and consistently warm weather in the world, south facing Avila Beach is uniquely sheltered by a series

of geological improbabilities. And, it is very rarely the subject of a dramatic storm photograph such as this one. But winter stuck

around well into April this year giving Avila-based professional photographer and self-described "storm lover," Lance Kinney, a

unique opportunity to capture his hometown in a different light. Standing on rain-soaked Dog Beach, facing the Cal Poly Pier

(the Avila Pier is in the background) just before 6:30 in the morning Kinney took five shots in rapid succession, the first two were

underexposed, the third was as-is, and the last two were overexposed. Then, blending them together in a technique called "HDR"

(high dynamic range) he developed what you see here, a sharply contrasting and true-to-life reproduction of the real thing. "I love it

when I get a local image that people don't immediately recognize," explains Kinney. "It's interesting how people project themselves

into the photo, but this one is different, even many locals are surprised to learn that this was taken right here in Avila." SLO LIFE

Do you have an amazing photo to share? Email it to places@slolifemagazine.com

SLO LIFE Magazine oct/nov 2012 | 19
---
| MEET YOUR NEIGHBOR

Adam

Stowe

In this installment of our "Meet Your

Neighbor" series, SLO LIFE Magazine

sits down for a conversation with Adam

Stowe. Born in San Luis Obispo and

raised in Los Osos, he has had a lifelong

passion for sports, especially baseball. He

went off to the University of Michigan but

graduated from Cal Poly. He and his wife,

Lauren, a speech therapist, moved to New

Orleans a week before Hurricane Katrina

arrived. Together they have a three-year-old

daughter, Quinzi, and live a stone's throw

from Sinsheimer Stadium in the same

family house that Stowe did at that age.

Today, he is three years into his tenure as

General Manager of San Luis Obispo Blues

Baseball, where he has been engineering a

remarkable turnaround of the organization,

which just a few years ago was on the brink

of shutting its doors. For two years running

the Blues have finished in first place and

this year they played in the World Series in

Wichita, Kansas.

Here is his story…

So, Adam, where do you get your passion for the game?

Some of my earliest memories are of attending sporting events with

my father. My dad was a baseball player. He played Triple-A ball

before he decided that he needed to support a family, so he went back

and got his Ph.D. in physics and became a professor at Cal Poly. He

loves baseball and comes out to the park all the time. He and my mom

were a host family this year and had a Blues player living with them at

their house. They even ran the concession stand a couple of years back.

They volunteered to run it, but they'll never volunteer to do that again.

[laughter] Long hours and terrible pay. I won't let them work at the

concession stand again. I love them to death for doing that, but that was

more than anyone can ask.

What did you want to be when you grew up?

I wanted to be a baseball player or a fireman. I was always an organizer,

though. From the time I was probably five-years-old I was organizing

neighborhood baseball games or soccer games or whatever you wanted to

do that day. I was always the one making the phone calls and making sure

everyone was coming and had rides. At one of the local neighborhood

baseball games I organized, I must have been ten-years-old, someone had

fouled off a pitch and I went to retrieve it and found that the baseball

had gone straight into a beehive. All of a sudden a thousand angry bees

are charging at me. I look down and my sweater is just covered in bees.

Somehow I managed to take it off and throw it down on the street

without being stung. But all of the other kids that were out there with me

that day got stung, and they were all banned from playing baseball with

me for a couple of weeks. It was torture.

20 | SLO LIFE Magazine oct/nov 2012

Tell us about your family.

I think I am the luckiest guy alive because I don't think that any other

woman in the world would put up with someone who puts in so many

hours for something that pays so little. It just happens that she's a sports

fan and understands my drive. It wouldn't even be enjoyable without her.

If I didn't get to share all of our successes and problems I don't think

it would mean half as much to me. We have a beautiful three-year-old

daughter, Quinzi, which is Lauren's mother's maiden name. She loves to

go to Blues games. When I get up in the morning on the day the Blues

are playing I wake her up by saying, "Hey, Quinnie, what day is it?" And

she says, "Game day!" She's got her own Blues hat and she walks in the

stadium very proudly. She's adorable. I guess I'll give her a couple more

years before I make her my official ticket taker. Lauren and I originally

met in San Luis when she was a travelling speech therapist, which I find

a little bit ironic because my mom was also a speech therapist. But, by the

time that we really started talking, her assignment was up and she moved

back East. We continued talking more and more and the relationship

developed and we decided that one of us needed to move or we needed

to call it off. So, she decided to move with the stipulation being that in a

few years, when it was time for her to go off to school, I would go with

her. A few years later she wanted to get her Ph.D. from Tulane because

they were doing the kind of research she wanted. We went down there

for a weekend and put an offer on a house. She went down and closed the

sale and started decorating and moving in. Then a week later Hurricane

Katrina hit. She had to evacuate. Our house was flooded and whatever

wasn't damaged was stolen. She was in Northern Louisiana for four

(continued on page 22)
---
Relax in confidence with state-of-the-art,

gentle and experienced dental care.

the clear alternative to braces

Cosmetic | Laser | Metal-Free Dentistry

Come experience the difference!

1250 Peach Street • Suite E • San Luis Obispo

(805) 543-0814 • www.slotownsmiles.com

Maintaining

ExcE llE ncE

Building trusted relationships for 36 years.

Offering: Mercedes A & B Services,

Audi & VW Services, BMW

Inspections.

2584 Victoria Ave San Luis Obispo 805.541.1082

1149 W. Tama Lane Santa Maria 805.922.7742

RizzolisAutomotive.com

Bring this ad in for $10 off your next service!

Expires 12/31/12

SLO LIFE Magazine oct/nov 2012 | 21
---
| MEET YOUR NEIGHBOR

or five days before being able to fly back here. We spent the next six

months flying between San Luis and New Orleans trying to fix our new

house. I hate talking about it because so many people were so much less

fortunate than us.

You lived in New Orleans for four years. What was that like for you?

I had done the whole corporate marketing thing, it was great, but it just

wasn't for me. You can only get so excited about selling widgets. When I

got down there I contacted athletic directors all over the area. I talked to

LSU, Tulane, University of New Orleans, Alabama, and on and on. They

all said the same thing, "You have great business experience but nothing

in athletics. Our advice to you is to get some experience… volunteer, take

tickets, pick up trash after the game. It doesn't matter, just get your foot in

the door." So, the University of New Orleans needed an intern in sports

marketing promotions. I started as a volunteer there with my first task

being to promote women's basketball. Two months later they fired their

director of marketing and hired me. I held that position for a couple of

years and then moved up to the president of their athletic foundation. I

was their chief fundraiser.

What brought you back to SLO?

Once we found out that Lauren was pregnant we decided that we didn't

want to raise our child in New Orleans. We literally picked up when she

was eight months pregnant, packed up our whole house and moved cross

country with two U-Hauls and two cars in tow. [laughter] But, we were

trying to figure out how it was going to be possible, financially, to come

back. She could work as a speech therapist. There is a lot of need for

speech therapy out there right now, but she couldn't do it full-time because

we had a newborn. I contacted Cal Poly, they were very interested but in a

budget freeze. Cuesta didn't really have a spot in their athletics department

for my position. I contacted the Blues and my timing was great because

they had just decided that week that they didn't know anything about sales

and marketing and that they needed to hire somebody. So, I flew back and

checked out a Blues game and they asked me what I needed to be paid

and I told them and they said, "Ummm, yeah… we can't afford that." So

I said, "What can you afford?" A few days later they called me to say that

they had come up with a creative idea where one of their sponsors, Ultrex

Business Products, and the Blues would each offer me a part-time job to

make one full-time position. So, in that first year I was splitting time, six

months at Ultrex and six months with the Blues.

Tell us about the Blues.

It's collegiate summer ball. The way the NCAA works is that, most of

the preseason is spent by their coaches finding their players places to play

during the summer. By NCAA rule, coaches can only have organized

practices or coach their kids for so many hours during the course of the

year. But, they also want them to stay active during the summer and the

kids want to improve their skills so they'll look to farm them out to teams

like us. Because we have amateur athletes we can't pay them, so we find

them local host families who give them a room. They play against teams

from all over California, even Las Vegas. Our team is made up of kids

from around the country, we have kids from Kentucky, and Texas, and

Villanova, Washington, all over the place. Nationwide, there are about

400 collegiate teams during the summer with about 40 leagues. So, within

those leagues there are probably 200 legitimate college teams represented.

Our league, the California Collegiate League, or CCL, is currently made

up of five teams and it's considered probably one of the top five leagues

in the country, behind Cape Code and the Alaskan League it's probably

number three or four.

The Blues have had a colorful history, particularly in the past five years

or so. Can you give us some background?

Oh, wow. I'm not sure I can do that justice honestly. I really just have

secondhand information. I don't know the specifics, but I can give you

the order. It started off with Tim Golden. He took a failing product

and turned it into a viable entity in San Luis Obispo. He eventually ran

into financial trouble and brought in an outside investor. That investor,

Joe Vergara, dumped a ton of money into the Blues. A lot of which, in

retrospect, probably wasn't spent exactly wisely. As money kept being

invested it wasn't coming back so they brought in another partner, Stevie

Mac, who ended up, to the best of my knowledge, being mostly a con

man. When he went to jail the team nearly folded. Joe said, "I have no

more money, I can't pay anymore." Stevie Mac was in jail. They were going

under and the coaches were looking at each other a couple of weeks before

the season and saying, "Are we even going to try to do this?" And they

decided that if they could raise enough money to get through the first few

weeks of the season that they could then figure out a way to foot the bill

for the remainder. That's when they approached Jim Galusha, who was an

ex-sports agent and the owner of Silverado Stages. The coaches pitched

him on the idea of funding it and he said, "Sure. I'll do that." That year, the

2009 season, they got through. The next year they brought me on.

Anything stand out for you as you began your tenure?

One of my very first games with the Blues this ambulance rolls up and

I didn't even know that someone was hurt. I kind of got panicked and

started running around asking, "Who's hurt, who's hurt?" And they said

one of the players is hurt; he separated his shoulder. And, I said, "What,

we called an ambulance for that?" And they said, "No, the ambulance is

for the trainer." And, I said, "What are you talking about?" He said, "Well,

she took one look at the player's shoulder and said, 'I think I am going

to pass out,' and I thought she was kidding but then she really passed

out." Apparently, one of the coaches caught her but then someone called

the ambulance because the trainer had passed out looking at a separated

shoulder. I thought to myself, "Oh boy, what have I gotten myself into?" I

don't think she's in that line of work anymore. [laughter]

What's new with you as GM?

One of the first things I asked when coming on board was, "Have you

ever considered becoming a non-profit?" I thought it would be a great

benefit to the organization, most importantly it would allow donors to

make tax-deductible donations. Last year was the first time we officially

became a 501(c)(3). We would not have been able to send our team to the

World Series in Witchita this year without our non-profit status. We had

an anonymous donor come forward and because of our non-profit status

he was willing to fund up to $15,000 for the trip. Beyond that, I have had

this picture in my mind for how to run a clean, family baseball program

here in San Luis since, I don't know, probably college. And, it has taken

me three years to get to the point that I consider a baseline. A lot of it

was recovery and I have had a lot of help along the way. But, number one,

I want it to be family entertainment; number two, I want to provide the

players the opportunity to play against top-level competition; and number

three, I wanted to make best use of the most underutilized resource on the

22 | SLO LIFE Magazine oct/nov 2012
---
Central Coast, Cal Poly, by starting a thorough internship program where

they actually "learn by doing" like their motto says. I think we are finally

where I would like to start. I mean, I think the year before I came on

their annual attendance was 7,000. This last season it was 22,000, so it has

basically tripled in three years. But that's our starting point.

What comes next?

This is where I can really start to get creative. Now that we are basically

breaking even I can try things. We've thrown so much against the wall

some of it was bound to stick. I really want to give it a minor league feel. I

want it to be interactive with the crowd and the staff and the players. The

last thing I want is a separation between the field and the fans. I want it

to be sort of one big neighborhood barbeque with a baseball game going

on at the same time. I want to have more fireworks shows, I want to do

more special events at the ballpark, I want to have more theme nights. I

want to get more involved in the community. I want to have more local

non-profits come out to games. You know, I'd like to team up with local

non-profits to do fundraisers all year long. I'd like to give back to the city

every year to make improvements to Sinsheimer Stadium. The city does

an amazing job of keeping that facility going during the summer. It is so

highly used and it is a picturesque facility. I mean, I really don't think we

could ask for anything better. I really want the Blues to be a communitydriven

team. And that is where I see us going and all of my efforts will

be directed toward that end. My latest marketing idea is, you know those

Napa Auto Parts trucks that drive around town? They've got those Napa

baseball caps on top. I am so getting one of those! Do you know where I

can get one of those? I want to put a Blues hat on my car. Actually, I could

probably just buy one from Napa, paint it myself and put it on my car.

That would be awesome to have a little Blues car driving around town!

Well, the Blues are going places. Reflect on your recent trip to the

World Series for a moment, what goes through your mind...

I have been humbled by the amount of support from the community.

People truly want to see the Blues succeed. Some people may be

hesitant and not confident yet, based on the recent history, but people

are trying. These are still challenging times and people are coming

forward to help out whether it is volunteering or being a new sponsor.

I'm amazed. And it actually makes me prouder to be a member of

this community to see all of these different people coming forward to

help. We have an incredible manager and recruiter in Chal Fanning.

Jim Galusha and his wife, Sharron, have been wonderful. They have

allowed me an amazing amount of leeway. I was very fortunate from

the get-go that they put a lot of trust in me and allowed me to try

things. Some of which failed, some of which worked. But, because of

that, we are now back to where we should be. I'm just thankful they

put their faith in me.

It really seems that you have gone full circle in so many ways.

That's true. My family and I are now living in the house that I was born

in. My grandmother lived there, my great grandfather lived there. So, I

have had many Christmases in that house with great memories of my

grandparents and family already. Then after college I lived there again with

a bunch of buddies. I made the Ox for the Blues in that backyard, then

when we came back from New Orleans—I'm there again. So this is the

third time I have lived there. It's awesome, I mean, my daughter is now

in my old room where I was when I was her age. I can't imagine anything

better. I get to have my parents and my wife and daughter at a Blues game.

It doesn't get any better than that. I get to sit next to my dad, and instead

of him worrying about how many hotdogs need to be on the grill, he talks

to me about how this batter needs to be more aggressive or that fielder

needs to get in front of the ball. It's ideal. It's a true family business, from

grandparents to grandkids.

Adam, it has been great talking with you and we wish you much success

in the coming season.

Thank you, anytime and Go Blues! SLO LIFE

Supporting

a Healthy

Future for

Your Children

Quality • Safety • Eco-Friendly

Located Downtown SLO

863 Monterey Street • 805.540.7222

Store Hours

Tues.-Sat. 10am-6pm • Sun. 12-5pm

Closed Mondays

www.ShopEcoBambino.com

A Beautiful Solution

Laleh Shaban, M.D.

Internal Medicine & Cosmetic Practice

Obagi Skin Care

Restylane/Perlane

Dysport & Botox

Juvaderm

Latisse

Radiesse

Sculptra

Titan/Mini Face Lift

Acne Treatment

Fraxel Skin Resurfacing

Microdermabrasion

and Peels

Laser Hair Removal

Laser Vein Removal

IPL

Gift Certificates

Free Consultations

Evening & Saturday

Appointments Available

665 Main Street, Suite B, Morro Bay

(805) 771-8478 | LShabanMD.com

SLO LIFE Magazine oct/nov 2012 | 23
---
| THE WAY WE LIVE

PHOTOS BY ELLIOTT JOHNSON

24 | SLO LIFE Magazine oct/nov 2012
---
HiP HabitaT

It was a Thai restaurant in Pismo Beach that brought Tricia Hamachai to San Luis

Obispo. In 2003 her father, who was looking to "semi-retire" on the Central Coast

decided to start a restaurant. Demand was stronger than expected and the first-time

restaurateur became overwhelmed and needed help, so Hamachai took a leave of

absence from her employer, a Los Angeles-based architectural firm, to give him a hand.

After a few months away, Hamachai began to realize just how much she loved

architecture and missed the creativity needed to contribute to the renaissance taking

place in downtown Los Angeles where she had specialized in "adaptive reuse" projects.

"We would take a dilapidated, old, rundown 1920's vintage high-rise, for example, and

repurpose the upper stories as loft space and the lower level as retail," she explains.

BEFORE AND AFTER

above CURB APPEAL

The use of Ipe wood and corrugated

metal combined with a drought-tolerant

landscape work to bring the Hamachi-

Wiseman home up-to-date.

top left MODERN STYLING

Lime green walls, sophisticated

furnishings and a metal stair rail create a

relaxed, contemporary living space.

bottom left INDUSTRIAL CHIC

Stainless steel appliances and backsplash,

sleek cabinet handles and a concrete

slab countertop make up a beautifully

modern kitchen.

The restaurant had found solid footing and Hamachai returned to the hustle and bustle

of the big city, but after her time in Pismo Beach something had changed in her and

she had persistent thoughts about the Central Coast that she could not seem to shake.

The trips north became more and more frequent, but it was when her daughter, Jade,

was set to start preschool that things started to click. Hamachai kept an open mind

and started to speculate that "maybe this is where my path is taking me." A series of

serendipitous events then unfolded, which included the establishment of a remote

working relationship with her firm that allows for the best of both worlds—she now

commutes to Los Angeles once a week to see clients.

When the time came in 2007 for Hamachai and her husband, Jason Wiseman, a selfemployed

internet marketing specialist, to buy a home they searched for a small scale

rehab project. "We wanted a home that had good bones and we found this one, which

was originally built in the seventies and was ready for a remodel," recalls Hamachai,

who likens the project to a micro version of what she does in downtown Los Angeles. "I

believe in wasting no space because you can really do a lot in small spaces."

The couple started by opening up the interior, mostly by removing the existing

low profile walls and installing industrial looking steel rails which allowed for an

abundance of light. The brightness allowed for darker flooring, mostly bamboo (their

young son, Xavier, finds it perfectly suited for launching stomp rockets down the

hallway). Attention to detail is apparent in the kitchen where full-extension drawers,

an "appliance garage" and a vent hood are hidden behind cabinet doors. The childrens'

bedrooms closet doors also function as giant blackboards, and a cozy reading nook is

found tucked beneath the stairs.

Outside, the split-level home underwent a dramatic transformation when it was covered

with Ipe wood, which is a renewable hardwood that is resistant to fire, termites, and dry

rot. Add two-tons of corrugated metal to the exterior and it can be difficult to know

whether you are in a cutting edge, downtown Los Angeles loft or in a 1970's-era singlefamily

home in Sinsheimer —Hamachai would say that it's the best of both worlds.

SLO LIFE Magazine oct/nov 2012 | 25
---
| THE WAY WE LIVE

INSPIRED DESIGN

Trading half walls for open metal railing and increasing window

sizes throughout the home work seamlessly to create a bright,

spacious environment.

MODERN MAKEOVER

This once basic bathroom now shines

with designer details and clean lines.

Lic. no. 887028

The garden connects us to Nature and to each other.

It is a refuge for rejuvenation, a sanctuary for the spirit,

and a haven for having fun.

visit gardensbygabriel.com -or- call 805.215.0511

26 | SLO LIFE Magazine oct/nov 2012
---
SIMPLE PLEASURE

The solarium was dismantled to reveal a beautiful

covered patio, bringing the outside in and creating flow

through the home's modern sliding doors.

SLO LIFE

smart, eclectic, art to live on

181 Tank Farm Road, Suite 110

(at Cross & Long Streets, behind Trader Joe's)

805.544.5900 | sloconsignment.com

Hours : Monday - Saturday 10-6pm

SLO LIFE Magazine oct/nov 2012 | 27
---
| SLO CITY REAL ESTATE

by the numbers

laguna

lake

tank

farm

cal poly

area

country

club

foothill

blvd

johnson

ave

Total Homes Sold

Average Asking Price

Average Selling Price

Sales Price as a % of Asking Price

Average # of Days on the Market

Total Homes Sold

Average Asking Price

Average Selling Price

Sales Price as a % of Asking Price

Average # of Days on the Market

Total Homes Sold

Average Asking Price

Average Selling Price

Sales Price as a % of Asking Price

Average # of Days on the Market

Total Homes Sold

Average Asking Price

Average Selling Price

Sales Price as a % of Asking Price

Average # of Days on the Market

Total Homes Sold

Average Asking Price

Average Selling Price

Sales Price as a % of Asking Price

Average # of Days on the Market

Total Homes Sold

Average Asking Price

Average Selling Price

Sales Price as a % of Asking Price

Average # of Days on the Market

Total Homes Sold

Average Asking Price

Average Selling Price

Sales Price as a % of Asking Price

Average # of Days on the Market

*Comparing 1/1/11 - 9/20/11 to 1/1/12 - 9/20/12

YTD 2011

37

495,904

478,189

96.30

117

YTD 2011

22

624,032

608,795

97.63

92

YTD 2011

15

551,727

527,166

95.20

107

YTD 2011

18

903,456

849,444

94.87

121

YTD 2011

24

674,702

604,263

92.89

98

YTD 2011

26

540,953

516,480

95.86

55

YTD 2011

32

544,281

518,331

95.46

92

YTD 2012

37

566,124

556,824

98.16

72

YTD 2012

24

576,963

563,605

97.61

57

YTD 2012

19

519,953

495,881

95.36

47

YTD 2012

11

815,455

785,772

96.58

158

YTD 2012

36

593,008

579,241

98.27

62

YTD 2012

39

524,029

518,719

99.21

30

YTD 2012

42

611,702

594,114

98.34

67

+/-

0.00%

14.16%

16.44%

1.86%

-38.46%

+/-

9.09%

-7.54%

-7.42%

-0.02%

-38.04%

+/-

26.66%

-5.76%

-5.93%

0.16%

-56.07%

+/-

-38.89%

-9.74%

-7.49%

1.71%

30.58%

+/-

50.00%

-12.11%

- 4.14%

5.38%

-36.73%

downtown

+/-

50.00%

-3.13%

0.43%

3.35%

-45.45%

+/-

31.25%

12.39%

14.62%

2.88%

-27.17%

SOURCE: San Luis Obispo Association of REALTORS

®

SLO LIFE

28 | SLO LIFE Magazine oct/nov 2012
---
Put your Money

to Work with

Trust Deed

Investments

Reap the rewards of a lender

in today's real estate market.

Call today and let us show you how.

Making your money make money

IRAs, 401k plans, and Trusts are eligible.

WWW.TRIADSLO.COM

865 AEROVISTA PLACE SUITE 110 SAN LUIS OBISPO CA 93401 INFO@ TRIADSLO.COM

REAL ESTATE BROKER – CA DEPT OF REAL ESTATE – LIC# 01866199

SLO LIFE Magazine oct/nov 2012 | 29
---
| SLO COUNTY REAL ESTATE

by the numbers

REGION

NUMBER OF

HOMES SOLD

AVERAGE DAYS ON

MARKET

MEDIAN SELLING

PRICE

YTD

2011

YTD

2012

YTD

2011

YTD

2012

YTD

2011

YTD

2012

Arroyo Grande

219

240

106

105

456,000

455,000

Atascadero

222

232

93

100

300,000

320,500

Avila Beach

9

10

70

241

735,000

580,000

Cambria/San Simeon

92

111

129

109

462,000

480,000

Cayucos

35

44

200

149

645,000

633,000

Creston

5

10

90

239

331,000

434,500

Grover Beach

71

80

78

105

300,000

311,000

Los Osos

77

142

104

80

309,000

320,075

Morro Bay

102

85

116

118

405,500

397,000

Wealth

ManageM ent

Nipomo

160

183

117

91

340,500

400,000

InvESTMEnT RETIREMEnT InSuRAnCE

Oceano

48

37

84

97

249,500

231,000

Risk Management | Estate Planning

Accumulation | Taxation | Business

Planning | Retirement Planning

Pismo Beach

Paso (Inside City Limits)

77

310

77

294

127

95

120

83

560,000

302,000

570,000

317,000

David S. Nilsen

President & Chief Financial Advisor

FREE

PORTFOLIO

REvIEW

Ca l l t o d ay t o

g e t s t a r t e d !

1301 Chorro Street, Suite A

San Luis Obispo, CA 93401

805.541.6500

ObispoWealthManagement.com

David Nilsen is a Registered Representative and Investment Advisor Representative with/

and offers securities and advisory services through Commonwealth Financial Network,

Member FINRA/SIPC, a Registered Investment Advisor, Insurance Lic. #0B50436. Fixed

Insurance products and services offered by Obispo Wealth Management are separate and

unrelated to Commonwealth.

30 | SLO LIFE Magazine oct/nov 2012

Paso (North 46 - East 101)

Paso (North 46 - West 101)

Paso (South 46 - East 101)

San Luis Obispo

Santa Margarita

Templeton

Countywide

72

68

62

203

14

72

1,918

50

76

57

262

19

88

2,097

*Comparing 1/1/11 - 9/20/11 to 1/1/12 - 9/20/12

110

127

84

106

92

107

110

85

120

147

67

64

95

97

225,000

243,500

281,600

535,000

272,200

484,500

360,000

224,000

334,750

325,000

529,500

272,100

412,500

385,000

SOURCE: San Luis Obispo Association of REALTORS ®

SLO LIFE
---
When Elected Mayor, Steve Will:

1551 Bishop Street

Suite D-420

San Luis Obispo

805.547.7010

slodentalpractice.com

facebook.com/slodental

Instill fiscal accountability

Review short and long term city expenditures

Maintain personal accessibility to constituents

Restore trust in local government

Steve

BARASCH

for Mayor!

Vote

New Patient Special $99

Dental Consultant, Exam

X-Ray & Standard Cleaning

"Accountability Counts"

www.steveformayor2012.com

merry maids Relax. It's Done.®

The

HOLIDAYS

are just

around the

corner, let

Merry

Maids

Receive

$50.00 OFF

when you mention

this SLO LIFE Ad!

help your

house

SHINE!

(805) 542-9400

285 Prado Road, Suite A | San Luis Obispo

805.542.9400 | merrymaids.com | merrymaidsofslo@yahoo.com

SLO LIFE Magazine oct/nov 2012 | 31
---
Become Computer

Competent!

Windows & Mac

Classes for adults

re-entering the job

market AND small

business owners

and their employees

NEW! Take ONLINE

Classes From Home!

Prefer to teach yourself?

Buy simple Do It Yourself Guides

To find out more visit

RightClickClasses.com

| NO PLACE LIKE HOME

(805) 441-9562

321 Main Street, Templeton

Founder/Owner Elisabeth Neary, MSEd

teaching locally for over 10 years

Zoey's

home consignments

lighting | furniture | art | rugs

patio & garden | jewelry

3566 s. higuera street

san luis obispo

805.596.0288

www.zoeyshomeconsignments.com

Open Monday-Saturday 10am-6pm

32 | SLO LIFE Magazine oct/nov 2012

Reservoir

Canyon Trail

BY JEANETTE TROMPETER, KSBY NEWS

We are surrounded by beautiful mountains,

hills, and canyons. It's always amazing to me,

no matter how much you hike, there always

seems to be uncharted territory to explore.

It's just another reason, There's No Place

Like Home.

Just beyond the city limits of San Luis

Obispo toward the bottom of the Cuesta

Grade, you'll find this little escape off

Reservoir Canyon Road. There's just

something about waterfalls. Big or

small; they capture your attention with

their soothing serenade. "It feels kind of

Edenistic," says Bryan Quigley of San Luis

Obispo, who comes here often with his son.

And this waterfall is barely a few hundred

yards off the highway over the Cuesta Grade.

"It feels good! You know with the water and

the moisture and the green and the sun and

knowing where it's tucked in this little place.

It's just, it's amazing!" exclaims Quigley.

And if the waterfall isn't enough to get you

off the highway, maybe the cave will be.

Behind the cascading waters an adventure

awaits. Depending on what time of year you

go, you may want to bring your mud boots if

you plan on exploring all 70 feet of the cave

that tunnels into the rocky mountain. "It

kinda looked like a gold mine," said Jayleen

Quigley of San Luis Obispo. "It looked

like, it looked like a train tunnel," added

exploring partner for the morning, Oak

Emmons. "I was thinking Sasquatch went in

there," Jayleen continued as they shared the

tale of their adventure.

And once you've conquered the cave, and

frolicked in the falls, there is that mountain

to climb. It's about 6.5 miles to the top and

back, and well worth every step. Because,

as is the case with so many hikes along the

Central Coast, the scenery changes around

every corner. "It's one of the gems of San

Luis Obispo," proclaims Kevin Toque, who

hadn't been in a while, but wonders why he

doesn't come more often. "I normally go over

to Montana de Oro or Pismo or something,

but for SLO this is such a cool hike to look

out over the valley."

It's a moderate climb for the most part, but

there are times when the steps get steep. "It's

a really good aerobic workout going up," said

Virginia Jensen of Los Osos, who shares that

she hikes this trail fairly often. It's a little

trek, but when you get to the top it's worth

it. And if you plan ahead, you can avoid

retracing your steps on the way back down

by leaving a car on the other side.

Give yourself at least a couple of hours to

complete the journey. And I recommend

scheduling extra time to take it all in once

you hit the top.

"Think of how many people drive by this

highway and have no idea that this little

spot is just so easy!" says Quigley. And it's

all right in our own backyard offering more

proof, There's No Place Like Home. SLO LIFE

Jeanette Trompeter, KSBY News anchor and

reporter, hosts the "No Place Like Home" series

every Tuesday evening at 6pm.
---
THE SPECIALIST LOCALS TRUST

FOR DEALER QUALITY SERVICE

3460 Broad Street . San Luis Obispo . 805 549 0100

Now Offering

over 50 classes a week to

choose from!

REGISTERED YOGA SCHOOL

Call Today for a free consultation

and

let your yoga journey begin

NEW STUDIO

OPEN!

NOW OFFERING

CHILDCARE

Vinyasa - Power Flow - Kids Yoga - Yin - Ashtanga - Beginner - Gentle Yoga - Intro to Yoga and more!

1880 Santa Barbara St. Suite 140 - San Luis Obispo 805.598.7100 yogacentre.com

SLO LIFE Magazine oct/nov 2012 | 33
---
| CHOOSE YOUR ADVENTURE

Bob Jones Trail

WRITTEN BY PADEN HUGHES

city to the sea

34 | SLO LIFE Magazine oct/nov 2012
---
I think it comes with the territory to evaluate your "greenness"

when you hail from the Central Coast. One of my personal

challenges as a local to San Luis Obispo is to get outside more

and find transportation alternatives to my car. I rely too much on

my CR-V to get me from A to B. But, if you're like me, and you

are ready to dedicate a few hours to getting out to see the beauty

around, keep the car parked.

By the time the weekend rolls around I get the urge to hear the

calming sound of waves, lay out and enjoy the sunshine. But this

time, I'll be getting to the beach on a different set of wheels.

Do you remember how old you were the first time you rode a

bike? Teetering back and forth insecurely in the beginning, and

increasingly becoming confident enough to speed down hills and

race your friends. It was magic! For me it still is... aside from the

moments you inhale a hideous amount of exhaust from those less

excited about alternative transportation.

That is why I crave bike paths away from the red lights, merging

lanes and drivers who are rocking out to Def Leppard or updating

their Facebook status as they careen past you.

This Saturday I decided to go on my favorite bike ride in San Luis

Obispo. My choice may surprise more serious members of the

cycling community.

There are a wonderful number of bike trails and routes locals will

recommend. When asked for my personal favorite, I would have

to say biking through SLO to Avila via the Bob Jones Trail. It's by

no means a hard route, but it is a fairly long one for a recreational

biker. Plus the trail rewards you with panoramic views of the

sparkling blue ocean swells, warm sunshine and sounds of happy

tourists playing in the water with their children.

For those wanting to avoid the road hazards I hinted at above,

perhaps it may be worth the drive through town, at least until

you get to Johnson Ranch on Ontario Road. You can take South

Higuera until you go under Highway 101. Once there, avoid the

ramp that intends to spit you out onto Highway 101 and turn

right instead. From here you can park, gear up, and bike alongside

the highway from a much more secure roadway that dips up and

down, winding its way toward Avila. If you would like to start the

Bob Jones Trail from the beginning, which I recommend, negotiate

crossing San Luis Bay Drive carefully, and then continue down

Ontario Road until you come to the park and ride, which marks

the start of the trail to the right.

Through the canopy of large oaks, along a slow river, I coast, I

climb, I veer right or left, and breeze through the beauty around

me. This 2.84-mile pathway is paved and winds past San Luis Bay

Estates and the Avila Bay Club recreational area. From there the

trail snakes through the golf course, up and over the bridge and

alongside the town of Avila. If you want to hit the beach, you can

turn left into the town. Or you can continue on headed for the

piers further away and enjoy cycling along the curve of the bay.

Fall is such a beautiful time of year in San Luis Obispo, the sun is

still warm but the air can have a slight crispness to it that makes it

perfect for riding. I hope you venture out and give Bob Jones Trail

a try. It's well worth the effort. SLO LIFE

Arriving safely...

1. If you are going to bike on public roads, know your road signals so drivers know your intentions.

2. If you are biking in a group, do not bike more than two deep.

3. Avoid listening to music or talking on the phone during the trek, it could prevent you from hearing what is coming up from behind

you or around the next bend.

SLO LIFE Magazine oct/nov 2012 | 35
---
| TO YOUR HEALTH

PERSONALIZED FITNESS

NO ENROLLMENT FEES

NO CANCELLATION FEES

Interval

Training

NO MEMBERSHIP REQUIRED

DROP-INS WELCOME

You can get more out of that spin class, run, or lap swim by alternating short bouts of high-intensity

exercise (yes, you have to work hard!) followed by a few minutes or seconds of rest. With interval

training, you stress out your cardiovascular system and build up lactic acid in the muscles—which

boosts body fuel, strength, and stamina—while then letting yourself recover and prepare for the next

tough interval.

The trend toward interval training isn't new for seasoned athletes, but the technique is gaining

popularity among general fitness buffs looking for big gains in a short amount of time.

get more out of your workout...

According to the American College of Sports Medicine, not only are more calories burned in short,

high-intensity exercise, but cardiovascular improvements happen faster with something as simple as

30-second sprint workouts than they do with long, steady endurance exercise.

We SUPPORT the fight!

Call or email us to learn more

about REV Fitness!

Now is the time to be Rev Fit!

Also Offering Chiropractic Care and Massage

VISIT revslo.com FOR

MORE INFORMATION!

755 Alphonso Street

[off Broad Street]

San Luis Obispo, Ca 93401

805.439.1881

revslo.com

36 | SLO LIFE Magazine oct/nov 2012

Evidence shows that with high-intensity interval training, participants can increase their maximum

aerobic capacity—how well their body uses oxygen for energy at their greatest heart rate—more

than those who participate in a continuous exercise program, such as going for more than a

20-minute run, bike, or swim at a steady, moderate pace. The more oxygen your body can convert

to energy, the stronger and faster you become. As your body adapts to the stress of interval training,

your fitness level improves along with your muscle function.

Doing bursts of hard exercise not only improves cardiovascular fitness but also the body's ability to

burn fat, even during low or moderate-intensity workouts according to a 2007 study published in the

Journal of Applied Physiology. Eight women in their early twenties cycled for ten sets of four minutes

of hard riding, followed by two minutes of rest. Over two weeks they completed seven interval

workouts. After interval training, the amount of fat burned in an hour of continuous moderate

cycling increased by 36 percent, said Jason Talanian, the lead author of the study and an exercise

scientist at the University of Guelph in Ontario, Canada. Cardiovascular fitness—the ability of the

heart and lungs to supply oxygen to working muscles—improved by 13 percent.

And, it didn't matter how fit the subjects were before. Borderline sedentary subjects and the college

athletes had similar increases in fitness and fat burning. "Even when interval training was added on

top of other exercise they were doing, they still saw a significant improvement," clarifies Talanian.

why we like it...

An advantage to interval training is that it allows athletes to spend more time doing high-intensity

activity than they could in a single sustained effort. "The rest period in interval training gives the

body time to remove some of the waste products of working muscles," explains Barry Franklin, the

director of the cardiac rehabilitation and exercise laboratories at the William Beaumont Hospital in

Royal Oak, Michigan.

To go hard, the body must use new muscle fibers. Once these recent recruits are trained, they are

available to burn fuel even during easy-does-it workouts. "Any form of exercise that recruits new

muscle fibers is going to enhance the body's ability to metabolize carbohydrates and fat," points out
---
the most efficient workout in town, leaving you feeling stronger,

taller and changing your silhouette in as few as 10 classes

$79 New

Client Special

One Month of

Unlimited Classes

for a limited time only

Ed Coyle, the director of the human performance laboratory at the

University of Texas at Austin.

"Interval training also stimulates change in mitochondria, where fuel

is converted to energy, causing them to burn fat first—even during

low and moderate-intensity workouts," adds Talanian.

Improved fat burning means endurance athletes can go further before

tapping into carbohydrate stores. It is also welcome news to anyone

trying to lose weight or avoid gaining it.

853 Monterey Street, at the end of Rose Alley, San Luis Obispo

805.242.3566 sloassets.com

Unfortunately, many people aren't active enough to keep muscles

healthy. At the sedentary extreme, one result can be what Dr. Coyle

calls "metabolic stalling"—carbohydrates in the form of blood glucose

and fat particles in the form of triglycerides sit in the blood. That, he

suspects, could be a contributing factor to metabolic syndrome, which

is the combination of obesity, insulin resistance, high cholesterol and

elevated triglycerides that act as the perfect storm, increasing the risk

of heart disease and diabetes.

By recruiting new muscle fibers and increasing the body's ability

to use fuel, interval training could potentially lower the risk of

metabolic syndrome.

Interval training does amount to hard work, but the sessions can be

short. Best of all, this workout leaves little time for boredom.

getting started...

There is no single accepted formula for the ratio between hard work

and a moderate pace or resting. In fact, many coaches recommend

varying the duration of activity and rest.

But some general guidelines apply. The high-intensity phase should

be long and strenuous enough that a person is out of breath—

typically one to four minutes of exercise at 80 to 85 percent of their

maximum heart rate. Recovery periods should not last long enough

for their pulse to return to its resting rate.

Also people should remember to adequately warm-up before the first

interval. Coaches advise that, ideally, people should not do interval

work on consecutive days. More than 24 hours between such taxing

sessions will allow the body to recover and help you avoid burnout.

Your best bet is to consult a personal trainer prior to designing an

interval training program. SLO LIFE

SLO LIFE Magazine oct/nov 2012 | 37
---
| ALTERNATIVE HEALTH

GMOs

engineering profits and why you should care about prop. 37

You could say it is human nature to desire efficiency and improvement.

And when it comes to factory farming the end goal is, by definition, an

efficient, abundant crop. This brings us to the increasingly hot topic of

GMOs (Genetically Modified Organisms). The term GMO refers to a

living organism whose genetic code has been altered in order to give it

characteristics that it does not have naturally. Scientists can now transfer

genes between species that otherwise would be incapable of mating, for

example, a goat and a spider. This is called transgenic technology and has

been used in over 40 species of plants for food and fibers. In crops, the

technology has generally been used to incorporate genes that are intended

to enhance resistance to insecticides, herbicides or pesticides, enhance

drought tolerance, encourage higher yields or promote the ability to plant

more in a smaller area. Little is known about the long-term effects of such

manipulations on both humans and the environment. And while some see

GMOs as the way to the future, others believe that scientists have gone

too far in tinkering with the essence of life.

"

"

...nearly 70% of processed foods on

supermarket shelves—from soda to

soup, crackers to condiments—contain

genetically engineered ingredients.

According to the Center for Food Safety, 85% of US corn is genetically

engineered (or, GE, which is synonymous with GMO), as are 91%

of soybeans and 88% of cotton (cottonseed oil is often used in food

products). GE sugar beets were introduced in 2008, and within the

first year, 90% of the sugar beets grown in the US were genetically

engineered—now that number is up to 95%. It has been estimated that

nearly 70% of processed foods on supermarket shelves—from soda to

soup, crackers to condiments —contain genetically engineered ingredients.

The most popular herbicide-tolerant GMOs are Monsanto Company's

"Roundup Ready" crops, which are engineered to be resistant to the

company's own flagship glyphosate herbicide, Roundup. This enables

growers to use large quantities of Roundup on their fields, which will kill

everything except the genetically modified crop. Monsanto at one time

claimed that Roundup was biodegradable, but this was later proven false.

According to RP Siegel of the watchdog website Triple Pundit, Roundup

is among the top three causes of pesticide-related illness among farm and

landscape workers in California, and the New York Attorney General has

required them to remove "environmentally friendly" from the label.

Impact on Farmers

There have been many arguments justifying the incorporation of GMOs

into the food supply. However, one of the main issues debated is the

uncontrollable cross-pollination, known as "out-crossing," by means of

wind, insect pollination, or other transfer. According to the World Health

Organization, this is a very real risk, which can radically alter entire

ecosystems if the hybrid plants thrive.

While non-GMO and organic farmers may take every preventive measure

to stop GMO contamination of their crops, cross-pollination and drift

from other farms is out of their control. There is a legitimate concern

that non-GMO farmers will be punished due to GMO proliferation.

Since the new genes have been patented, if they spread to other non-

GMO commercial fields and that farmer selects the modified plants

for subsequent planting, then the patent holder has the right to control

the use of those crops. Yes, you read that right. If a farmer downwind

38 | SLO LIFE Magazine oct/nov 2012

is using GMO seeds, and they happen to go up in the air and pollinate

a neighbor's non-GMO crops, the patent owner can now own those

crops—as was the ruling in Monsanto Canada Inc. v. Schmeiser.

The customary practices of farmers to save, reuse, share and develop plant

varieties comes into direct conflict with the bottom line of agricultural

biotechnology corporations like Monsanto Company. In fact, customers

who buy patented transgenic seeds from Monsanto must sign a contract

not to save or sell the seeds from their harvest.

Monsanto has received a backlash as a group of 83 farmers representing

non-GMO seed producers are filing suit against the company in an effort

to get them to stop suing farmers. The plaintiffs in the suit are led by

the Organic Seed Growers and Trade Association (OSGATA) and their

complaint is aimed at Monsanto's so-called "seed police," whose tactics

include suing farmers for patent infringement any time pollen or seeds

from a farm growing GMO plants nearby drift onto their land, as was

featured in the film Food Inc. The group is being represented pro-bono

by the Public Patent Foundation, an organization that "represents the

public interest against undeserved patents and unsound patent policy."

They claim that Monsanto has filed 144 lawsuits against farmers between

1997 and 2010, and that they investigate some 500 farms each year. The

group presented their opening arguments at the US District Court in

Manhattan in February 2012 as some 200 supporters rallied outside.

OSGATA President, Jim Gerritsen, an organic farmer from Maine, said,

"We want nothing to do with Monsanto. We don't want their seed. We

don't want their technology. We don't want their contamination."

Impact on the Environment

Another concern with out-crossing is the depletion of crop diversity

resulting in resistant "super-weeds" and "super-pests." As many critics

have long maintained, the proliferation of genetically modified crops

would eventually lead to the proliferation of herbicide-resistant superweeds,

such as pigweed, which is exactly what has happened. Despite the

initial assurances that less herbicides and pesticides would be needed, the

increase of GMO crops and the super-weeds that accompany them has

led to an increase of 318 million more pounds of herbicides and pesticides

used in the past 14 years.

In response to the appearance of these super-weeds that are resistant

to their best-selling weed killer Roundup, Monsanto submitted an

application to the USDA, which is poised for approval, for permission to

sell a new seed that is resistant to the herbicide 2,4-D, a key ingredient in

Agent Orange. A review of 2,4-D appearing in the January 2012 issue of

BioScience written by David Mortensen, and a team of scientists from Penn

State, Montana State, and the University of New Hampshire, describes

the effects on agriculture from an over-reliance on glyphosate (patented

and sold by Monsanto as Roundup) and an overuse of genetically modified

seeds. It also discusses at length the risks of using new seeds that "stack"

resistance to various pesticides into one genetically engineered package.

What these scientists conclude is that with so many weeds resistant to

glyphosate already, it will not take long for them to develop resistance to

2,4-D as well. According to the study's authors, almost half of the nearly

40 species of weeds that are already resistant to two pesticides have arisen

since 2005 (that is, since the Roundup Ready era began). In short, the

crisis 2,4-D is promising to head off, is already here.

But, that's not the only problem with 2,4-D. It has a strong link to cancer

and a much greater tendency to drift in the wind (and thus contaminate

(continued on page 40)
---
Need a reason to advertise?

"Not only does SLO LIFE play

an important role for us in terms

of marketing and reaching our

desired audience, but I have

to say that they also serve

an important function in our

community. I read it and love it

and everyone else I know reads it

and loves it too."

- Todd Davidson,

Sage Ecological Nursery

"We tripled our business last year and the only

place we advertised was SLO LIFE Magazine.

Since we are a small company and get to know

all of our customers personally we always get

around to asking them how they heard about

us and, more often than not, they say that they

saw us in SLO LIFE."

- Dan Melton & Rachael Hill, SLO Veg

"When I decided to advertise with SLO LIFE Magazine, I

was hoping to share my brand and get some exposure

but I wasn't really expecting real sales. I was shocked

to see so much response, which has led to many new

clients. My investment has paid for itself many times over

and I just started! I'm absolutely thrilled with the results."

- Julia Pickslay, Assets

Call SLO LIFE Magazine publisher, Tom Franciskovich, for more information @ 805.543.8600

Studio • Karen Krahl

Returning Point Ranch

Get the benefits of your good choices.

Call for Wellness Coaching today!

(805) 203-6524

www.RobertAlexander.me

slolifemagazine.com

paintings • drawings • oil • gouache • watercolor • mixed media • photography

#148 in the OPEN STUDIOS ART TOUR Catalog ( first weekend only)

Saturday October 12, and Sunday 13th • 10-5 both days

more info 805-550-5358

Dr. Arnie Horwitz

HEALTHY RELATIONSHIPS

Are you feeling overwhelmed

and confused? I can help.

Specializing in

- Relationship Conflicts - Parenting & Self-Esteem

- Separation and Divorce - Personal Life Planning

- Grief and Loss - Career Uncertainty

Therapy/Counseling/Coaching

Dr. Arnie Horwitz • 30 yrs. Experience

805-541-2752

www.doctorarnie.com

Certified Massage Therapist

•

Deep Tissue Massage

•

Hot Stone Massage

•

Pregnancy Massage

•

Book Appointments Online

805.234.2144

www.massagebybrianne.com

SLO LIFE Magazine oct/nov 2012 | 39
---
| ALTERNATIVE HEALTH

(continued from page 38)

nearby fields and waterways)—problems that the development of the less

toxic, less volatile glyphosate was supposed to have solved.

There is, however, an alternative—and one that does not require a total

transition to organic agriculture. Mortensen and his team describe in

detail a practice called Integrated Weed Management (IWM). Like its

sibling, Integrated Pest Management (IPM), IWM does involve the use

of chemical pesticides. But it is a judicious use that can act as a last resort

rather than a first line of defense. As the paper states:

IWM integrates tactics, such as crop rotation, cover crops, competitive crop

cultivars, the judicious use of tillage, and targeted herbicide application, to

reduce weed populations and selection pressures that drive the evolution of

resistant weeds.

It is designed for large-scale production agriculture and would likely

increase farmer profits since farmers would get the benefit of reduced seed

and pesticide costs and no real loss of productivity.

Impact on Health

Regardless of what the FDA says about GMOs, there are many people

who are concerned that these foods have not been sufficiently tested to

guarantee their safety. And they might have good reason for thinking

so. Several studies have already suggested that existing GE foods might

present a health risk. For example, The International Journal of Biological

Sciences showed evidence in their 2009 study that Monsanto's Bt corn—

engineered to kill the larvae of beetles, such as the corn rootworm—causes

organ damage in lab animals. In 2011, doctors at Sherbrooke University

Hospital in Quebec found Bt-toxin in the blood of 93% of pregnant

women tested, 80% of umbilical blood in their babies and 67% of nonpregnant

women. What's more, according to a June 2012 article published

in the Digital Journal by Anne Sewell, a new resistant strain of rootworm

or "super-bug" is emerging as a direct result of Bt corn.

Then there is the 2002 Japanese study in Cell Structure and Function,

which showed that GE soybeans can alter mice on the cellular level—an

indication that genetically modified material survives digestion and is

active in animals that consume it. Monsanto's position according to its

company website is that:

There is no need to test the safety of DNA introduced into GM crops. DNA

(and resulting RNA) is present in almost all foods … DNA is non-toxic and

the presence of DNA, in and of itself, presents no hazard … So long as the

introduced protein is determined to be safe, food from GM crops determined to

be substantially equivalent is not expected to pose any health risks.

However, a recent study, performed by researchers at China's Nanjing

University and published in the journal Cell Research, found that a form

of genetic material—called microRNA—from conventional rice survived

the human digestive process and proceeded to affect cholesterol function

in humans. This is a powerful finding because the Chinese study happens

to involve exactly the kind of genetic material—microRNA—that biotech

companies hope to use in their next generation of genetically modified foods.

Today's GMOs are almost entirely based on adding new genes to crops

like corn, soy, sugar beets, and cotton in order to alter the way the plants

function. And, even then, new functions are mostly limited to making

plants either able to tolerate herbicides or to produce their own. But if

biotechnology companies are successful in their efforts, there may soon be

genetically modified foods that use microRNA—simply put, snippets of

RNA whose potency were only discovered around a decade ago—to target

and block the function of specific genes in pests.Thus the news that plant

microRNA can survive digestion and affect human systems brings into

question the wisdom of pursuing this kind of technology in food.

As explained by Doug Gurian-Sherman, senior scientist for the Union of

Concerned Scientists and expert in genetically modified foods, microRNA

technology is an area that biotech companies are actively pursuing.

40 | SLO LIFE Magazine oct/nov 2012

Monsanto itself has a whole web page devoted to the technology, which

they call "RNA interference." Gurian-Sherman notes that the Chinese

study—though requiring confirmation and follow-up research—raises

"an initial red flag." It calls into question "any general statement that

[microRNA] technology would be inherently safe," he adds. He observes

that humans and insects share a surprising amount of DNA material—

evolution favors reusing and recycling genes, even among creatures as

different as insects and humans. If this research bears out, then it is

entirely possible that microRNA meant to target a specific insect gene

will also have an effect—possibly unpredictable—in humans. This is

especially true because, for technology like this to work as a pesticide,

the microRNA must be present in high levels in the plant, which makes

it even more likely the genetic material will make it all the way into the

human gut. Dr. Michael Hansen, Senior Scientist at Consumers Union

agrees that the study "showed that the microRNA not only survived

digestion [in humans] but also was taken up and moved to other parts of

the body where a specific impact was noted."

Gurian-Sherman also pointed out that microRNA techology poses an

even greater environmental risk. There are many beneficial insects, such as

various beetle species, that are closely related to crop pests and can coexist

in the same field. It is therefore difficult to imagine being able to find a

gene to target in a pest that will not also hurt their beneficial cousins.

So where does this new research leave us? It suggests that, given the

possibility of affecting humans and other bystander species, microRNAbased

technology would require unimaginably high safety standards. And

neither the biotech industry nor federal regulators have really shown an

appetite for that kind of rigorous testing. According to a 2007 Report of

the Subcommittee on Science and Technology, the FDA does not have

the capacity to ensure the safety of food for the nation. The report states,

"FDA's inability to keep up with scientific advances means that American

lives are at risk."

Impact on the Future

There is a ballot initiative up for vote next month here in California,

Proposition 37, which would require all GMO foods to be labeled.

Biotech executives have admitted that the financial impact of this would

be devastating to companies like Monsanto, considering that 70% of

all foods on US grocery shelves now contain genetically engineered

ingredients. The proposition would also prohibit the common practice

of labeling genetically engineered foods as "natural" or "all natural." The

biotech industry is not about to let this pass without a fight—Monsanto,

the Farm Bureau, the Grocery Manufacturers Association, and corporate

agribusiness are raising millions of dollars in an effort to defeat the

California ballot initiative, just like they did a decade ago in Oregon.

At that time a faction of corporations, including Monsanto, DuPont,

General Mills Inc. and H.J. Heinz, calling themselves the "Coalition

Against the Costly Labeling Law," outspent the pro-labeling group 30

to 1 and successfully defeated the initiative with a campaign that told

voters labeling genetically engineered foods was unnecessary and would

raise food prices (sound familiar?). They did it again in the state of

Washington in April, where, according to Dr. Joseph Mercola, campaign

contributions to three of the eight politicians on the Senate Agriculture

Committee (Democrat Brian Hatfield and Republicans Jim Honeyford

and Mark Schoesler) guaranteed the bill's demise in committee. Right

now the biotech industry is also working to defeat similar GE-labeling

bills in Vermont, Hawaii, and Connecticut. According to the Union of

Concerned Scientists, Monsanto spent $8 million on their lobbying efforts

in 2010 alone and gave more than $400,000 in political contributions.

Monsanto also spent $120 million on advertising to convince consumers

that genetically engineered foods are safe. Americans have been slow to take

up the GMO debate, which has raged across Europe and elsewhere for several

years. Some 15 countries now require food labeling for GMOs and 30 have

significant restrictions placed on GMOs. SLO LIFE
---
Masters

atMedicare.

We can help you sift through the many options

Medicare offers. Call us today at (805)548-8410.

• • •

Prescription Drug Plan Open Enrollment

October 15th through December 7th, 2012

1

2

3

REGISTER

join FunRide for just

$30 per year

RESERVE

24/7 reservation online

RIDE

your fob* gives you

access to the car

Find out how your business,

your family, and you can

save money using

FunRide!

Serving

College

Students

Age 18+

Susan

KellyAnn

Kelly

*fob: electronic device that unlocks the door to

all FunRide vehicles where your key awaits!

1443 Marsh St., San Luis Obispo • (805)544-6454

www.susanpolk.com • Corporate Lic# 0D44015

HEALTH • LIFE • LONG-TERM CARE • MEDICARE • GROUP

"I stand on my record and am committed to serving the

citizens of San Luis Obispo with the utmost integrity

and fiscal responsibility to ensure a quality of life that

we can all be proud of."

Dan Carpenter

San Luis Obispo City Councilman

Vice Mayor

A committed leader. A voice for citizen's priorities.

Paid for by Committee to Elect Dan Carpenter for SLO City Council 2012 ID #1346426

SLO LIFE Magazine oct/nov 2012 | 41
---
| MUSIC

ZONGO

All Stars

PHOTO BY DEAN SULLIVAN

The type of music that Zongo All Stars plays is so unique that they have come up with

their own name for it: "Cali-Cubano." Drawing inspiration from an Afro-Caribbean

sound, the band infuses it with its own brand of laid-back Central Coast vibe. Then they

shake, mix and blend it together as something that can only be described as up-tempo

beach party dance music.

Everything centers around the drums, then throw in the congas and timbales and

you are only just scratching the surface. The eclectic group of seven adds bass, guitar,

trumpet, saxophones, flutes, among other things, and, of course, steel drums to delight

the senses. This is music that you can feel as much as you can hear.

The band members have been making music together for twenty years under various

names, most recognizably Mozaic, a popular Central Coast Afro-Funk band in the

early 90's that included six of the current seven players. But, as life pulled the band

members in different directions Mozaic broke up. Dylan Johnson and Jacob Odell

both left to attend the Berklee School of Music in Boston. Jennings Jacobsen went on

to tour professionally with Rock Steady Possee and then with Damon Castillo Band.

Justin Perkins left to play with various bands while Andrew Wise and Paul Irving

worked together to develop over fifty of Wise's original compositions.

Fast forward ten years and Johnson had returned to the Central Coast from New

York where he had received his masters degree in jazz studies at SUNY Purchase

Conservatory of Music. Wise and Irving invited him to lunch to welcome him back

and talk soon turned to forming a new band. By the time the trio had calculated

the tip for their meal all available napkins had been excitedly scribbled on and there

was a palpable excitement for what was to come. Odell and Perkins received calls

immediately afterward. They were both in. Drummer Sean Sullivan (he was replaced

later by Jacobsen) was recruited and John Lee, a multi-instrumentalist with a masters

degree in Latin Jazz rounded out the new band.

The group quickly gelled and in 2007 Zongo All Stars made its debut at the Baywood

Park Oktoberfest. By all accounts, the crowd went nuts for the new and unusual sound,

which set off a string of gigs that continues to this day. SLO LIFE

bottom row (left to right) Justin Perkins (percussion,

steel drums), Paul Irving (trumpet), Jennings Jacobsen

(drums), John Lee (tenor/bari saxes, flute, percussion)

top row (left to right) Dylan Johnson (bass), Jacob Odell

(guitar), and Andrew Wise (vocals, alto sax, flute)

42 | SLO LIFE Magazine oct/nov 2012
---
MUSIC VIDEO

Coming soon... go to slolifemagazine.com and click

on "See our Commercials" to watch "How SLO Can

You Go?" written and performed by Zongo All Stars.

SLO LIFE Magazine oct/nov 2012 | 43
---
| SPECIAL FEATURE

SEISMIC TESTING

BY TOM FRANCISKOVICH

Early one morning this summer, the fog was hanging around and the seas

were calm, so I decided to take a cruise around Avila Bay on my stand-up

paddleboard. Far off in the distance, I would guess it was about a halfmile

or so, I spotted a pair of humpback whales breaching the surface,

spraying plumes of water vapor into the air, lifting their massive tails out

and then back in. This continued for a while as they kept a steady pace,

swimming toward the rock jetty at Port San Luis. I started paddling out

for a closer look and, after a while, I was within about 100 yards of them.

As I stood there marveling at how a 40-ton animal could be so graceful, I

was mostly thinking about how lucky we were to live in such an amazing

place that we could hang out with whales before breakfast. I continued to

take it all in when I realized that it had been a while since my new friends

had surfaced. I wondered where they would pop up next. As I scanned

the horizon thinking they may now be out of range, a wall of gray

barnacle-speckled mass rose out of the water ten feet in front of me and

seemed to eclipse the sun. My knees buckled, my stomach dropped, and

my heart pounded. The pair exhaled and gracefully disappeared, swimming

directly below my board; the shifting water seemed to pull me along with

them. It was one of the most unique and incredible experiences of my life.

And, it got me thinking…

• • •

Despite much initial controversy, since construction started in 1968

Diablo Canyon has been a good neighbor. The nuclear power plant has

generated mostly carbon-less electricity, provided a huge amount of

property tax, employed friends and family, sponsored local sports teams,

and on and on. It would be fair to say that a lot of goodwill has been

created between Diablo Canyon and the community since its inception.

But, perceptions began to change on March 11th of last year when a

massive earthquake erupted off the coast of Japan. The resulting tsunami

with its surging seawater, as high as 130 feet in some cases, sped toward

Japanese nuclear reactors, which had been strategically built on its

coastline to use the cold ocean water to cool their cores. Three reactors

suffered meltdowns and at least three experienced explosions. In the days

that followed uncertainty reigned and it was not inconceivable that Japan,

as we knew it, could have disappeared under a mushroom cloud.

The aftermath caused much handwringing and introspection here as

policymakers turned their attention inward to America's aging nuclear

infrastructure, and at the top of the list was Diablo Canyon, one of two

California reactors, which is perched atop the Hosgri fault (this was

discovered after it was built). Later, in 2008, a second active fault was

found running along the shoreline. Considering what happened in Japan,

it would be logical to want to know more about the risks presented

by these faults. It would make sense then to employ whatever means

necessary to attempt to predict the likelihood that those faults would

generate an earthquake. So, AB 42, a bill sponsored by San Luis Obispobased

State Senator, Sam Blakeslee, which requires PG&E to conduct

seismic testing, became law. PG&E has since sought permits to begin

testing along a 90-mile stretch of water off the shores of Diablo Canyon

beginning next month.

Originally developed in the 1920's, seismic testing has been used primarily

for two purposes: first, to locate oil and natural gas reserves for which it

has proved incredibly effective; and, second, to analyze and map fault lines

(some claim it is also able to actually predict earthquakes, but that has

proved dubious at best). Although the sophistication of the equipment

44 | SLO LIFE Magazine oct/nov 2012

used has evolved considerably, it is still based on the same relatively

basic science: create massive shockwaves capable of reaching miles below

the seafloor and then use sensitive listening equipment to receive the

reverberations of those sound waves as they bounce back. The result is a

three-dimensional map of whatever is below the Earth's crust.

While basic in its science, the resulting aftermath has been much more

complicated and it seems that everywhere seismic testing has gone

controversy has followed. It has been argued, although unsuccessfully,

that by agitating and blasting a known active fault line with powerful

shock waves, it may artificially trigger an earthquake. By definition,

a fault is a point where two tectonic plates intersect; they exist under

tremendous force that is constantly seeking release—any disturbance to

this homeostasis could potentially cause a sudden and dramatic slippage

or shift, also known as an earthquake.

''

Their focus has been on the damage

that may be done to the marine wildlife

as a 240-foot ship tows a quarter-mile

array of eighteen 250 decibel "air

cannons" that send out blasts every

twenty seconds, twenty-four hours

a day for 42 days straight.

But, it is not earthquakes that local opposition groups such as Stop the

Diablo Canyon Seismic Testing has been worrying about. Their focus has

been on the damage that may be done to the marine wildlife as a 240-foot

ship tows a quarter-mile array of eighteen 250 decibel "air cannons" that

send out blasts every twenty seconds, twenty-four hours a day for 42 days

straight. How loud is 250 decibels? To put it in perspective, each unit of

measurement is ten times louder than the last one, so 2 decibels is louder

by a factor of ten than 1 decibel and so on. A gunshot measures 133

decibels, 164 decibels is like being inside a jet engine, eardrums burst at

195 decibels, at 202 decibels the sound waves become lethal to humans,

and a nuclear bomb generates 278 decibels. Would opponents then be

correct by asserting that PG&E would be effectively carpet bombing a

sensitive marine habitat that includes the protected Point Buchon State

Marine Reserve with sound waves strong enough to instantly kill a human

being and is approaching the energy blast created by a nuclear warhead?

The size and scope of the proposed seismic test is unprecedented and

would, at least according to California Fish and Game Commissioner,

Richard Rogers, "cleanse the Point Buchon State Marine Reserve of all

living marine organisms."

An article earlier this year in Scientific American, attempts to answer

the question as to why a massive number of dolphins (at the time of its

publication the count stood at 2,800) had washed up dead on remote

Peruvian beaches. The article quoted local veterinarian, Carlos Yaipén,

who is also the founder of Lima-based Scientific Organization for the

Conservation of Aquatic Animals (ORCA). The article stated that "All of

the 20 or so animals Yaipén has examined showed middle-ear hemorrhage
---
and fracture of the ear's periotic bone, lung lesions and bubbles in the

blood. To him, that suggests that a major acoustic impact caused injury,

but not immediate death." Although the article goes on to offer different

hypotheses for the dolphin die-off, including toxins that may have been

present in the water, only one seems plausible in that it is consistent with

the injuries sustained: seismic testing by a petroleum company believed to

be searching for oil deposits in the area.

© Reuters

Dolphin carcasses washed ashore along a remote Peruvian beach.

Anticipating the effect testing may have on the local fishing industry,

PG&E has offered $1.2 million as compensation for the loss of revenues

during November and December. Giovanni DeGarimore, who owns and

operates Giovanni's Fish Market & Galley in Morro Bay says, "Initially,

when I first heard about this, I took a somewhat self-centered position

and it all came down to how much will PG&E be compensating me?

But, the more educated I became on the subject the more I realized how

much bigger this is than me. And, I'm not a political activist type, but at

some point you have to stand up for what you believe in." In many ways

DeGarimore is at the center of Morro Bay's fishing industry. In addition

to selling fish in his market, he is also in the business of unloading the

daily catch from commercial fishing vessels as well as selling fuel to the

fisherman who almost never lack an opinion. "It's been really refreshing

to see the fisherman go from saying, 'How much can we get from PG&E'

to saying, 'Hey, we don't want this it all, I don't care how much you pay us.

This is bad; really, really bad.' We're not just looking at total devastation

of the mammals, but also the fish and who knows if it ever comes back.

And all this for what? So, PG&E can get a new map to renew their

license for another 20 years?" It's worth noting that the cost of seismic

testing is estimated at $64 million, which PG&E will be charging to their

customers—you and me—in order to cover the expense.

While policymakers' intentions appear to be noble—looking after the

safety of Central Coast residents—it is not entirely clear how the results of

seismic testing would achieve that goal. Just how do highly detailed threedimensional

maps of the area's spider web of fault lines change anything

currently taking place at Diablo Canyon? There is nothing that can be

done to, say, add steel bracing to shore up a fault line here or fill in with

cement a fault line over there. Eventually they will produce an earthquake.

That's just what faults do and there is nothing that can be done to stop it.

And it is unclear how the information we gain by doing the testing, which

may or may not—depending on who you ask—come at a great cost to

our sensitive local marine ecosystem, would mitigate the disaster resulting

from a massive earthquake. It would be one thing if seismic testing was

able to forecast earthquakes. For example, if by doing this we knew that

next summer the Hosgri fault would produce somewhere between a 7.0

and 8.0 earthquake, then that would certainly change the equation, but

predicting earthquakes with seismic testing has long been debunked—it

just doesn't work. Any way we slice it, for better or worse, we are left with

an aging nuclear power plant resting upon a hotbed of seismic activity

perched on the side of an ocean cliff. Besides, no amount of retrofitting, it

seems, could have prevented the Japanese meltdowns resulting from what

turned out to be a 9.0 earthquake. Realizing this reality, Japan last month

announced that it is phasing out all 50 of its nuclear reactors by 2040.

Although seismic testing is on schedule to begin next month, there is

still one big hurdle to clear: the California Coastal Commission. The

group will be hearing the issue in Oceanside on October 10th and it

appears they may be leaning toward approving the project, as they gave

PG&E the green light to install six seismic monitoring devices on the

seafloor near Diablo Canyon in April.

• • •

Maritime lore is rich with a history of harrowing shipwrecks and sailor

survival stories. Many of them feature a friendly sea mammal, typically

a dolphin or a whale showing the way to safety or providing a lift to

someone in dire need, often just before death. In those instances sailors

describe a unique bond and a method of communicating between species

that is difficult to comprehend, and probably impossible unless it is within

the context of some extreme emergency or crises. After briefly interacting

with the humpbacks myself this summer, I can begin to see how there

may not be as much separating us as we may believe. Although I likely

encountered the whales early on in their visit to Avila Beach—probably

just as they entered the bay—so many of us were able to have our breath

taken away by these majestic creatures who paid us a very special visit this

summer. But, maybe, they were here for a reason. Maybe they were trying

to tell us something. SLO LIFE

Want to know how you can weigh in on seismic testing?

Contact the California Coastal Commission before their

meeting on October 10th to voice your opinion.

California Coastal Commission

Energy & Ocean Resources

Cassidy Teufel

45 Fremont Street, Suite 2000

San Francisco CA 94105

(415) 904-5502

(415) 904-5400 fax

c.teufel@coastal.ca.gov

SLO LIFE Magazine oct/nov 2012 | 45
---
| ARTS

John Ramos

Nestled smartly in an impossibly enchanted grove

of gnarled, twisting oak trees in the hills above Los

Osos, it is difficult to imagine a more conducive

setting for John Ramos to perfect his craft. "I really

don't want to classify myself," Ramos explains while

sipping a hot cup of coffee on a sundrenched porch

overlooking the oaks one recent morning. "But, my

work does have an enduring theme: ocean, surfing,

Mexico, wish-I-was-there landscapes, Jimmy Buffett,

nostalgia." Jimmy Buffett, yes, but also Jack Johnson

and Donavon Frankenreiter, who happens to be

Ramos' son-in-law.

After operating an art gallery in downtown San

Luis Obispo for 11 years, Ramos and his wife,

Donna, learned in 2003 that the building they were

occupying would have to be closed for earthquake

retrofitting. Ramos turned to his wife and suggested a

wild idea, "Rather than start over in a new space, let's just pack it up and move to Mexico." The couple found Lareto, in Baja where they bought a 100-yearold

gallery that they operated for nearly five years. The environment was rich with colorful subjects and the experience full of inspiration for Ramos, who

captured the laid-back local vibe with soft oil paints. Today, the couple is back in their Los Osos studio—which includes a "by appointment only" gallery

for visitors—where they stay busy shipping out prints to customers nationwide. Ramos, who is somewhat camera shy and clearly most at ease while

discussing his art, observes that, "I'm not really into aggrandizing myself. I let my work speak for itself; they are the emissaries that I send out to the world."

above KILLERS surf spot

north of Cayucos

far left THE SECRET SPOT

foggy eucalyptus grove along

the coast of Montana de Oro

near left THE SEGO PALM

FLOWER commissioned

painting for a cancer

research fundraiser

below STAR-EY NIGHT

nod to Van Gough from the

perspective of Ramos' studio

46 | SLO LIFE Magazine oct/nov 2012
---
For a Thriving, Sustainable San Luis Obispo

Vote Jan Marx for Mayor

www.janmarx.com

SLO LIFE Magazine oct/nov 2012 | 47
---
| RECIPE

SLO Roastin'

With fall upon us our cravings are for all things comfort food. We're sharing two of our

favorite recipes that are sure to make you feel warm and fuzzy inside. We recommend

using locally grown, organic produce and free-range poultry whenever possible.

PASTA WITH ROASTED BUTTERNUT SQUASH, SAGE AND TOASTED PECANS

1 butternut squash, peeled and cubed

16 ounces pasta

1 to 2 tablespoons olive oil

3 garlic cloves

1 medium onion, peeled, quartered and sliced

1/2 cup pecans, chopped

3 tablespoons fresh sage, chopped

1/3 cup shaved parmesan cheese

sea salt and fresh ground pepper, to taste

48 | SLO LIFE Magazine oct/nov 2012

1. Preheat oven to 400 degrees.

2. Toss butternut squash with onions, garlic cloves, sea salt, fresh

ground pepper and olive oil.

3. Roast for 45 to 60 minutes stirring every 15 minutes until

butternut squash is golden. Add pecans to baking tray for the

last 5 minutes to toast.

4. Meanwhile, cook pasta per package directions and drain. Toss

roasted vegetables into pasta. Serve with a drizzle of olive oil,

fresh chopped sage and sprinkle with shaved parmesan cheese.

*

What we love!

If you haven't tried quinoa pasta, you've been missing out—not only is it nutritious and delicious, it's also gluten free.
---
CENTRAL COAST FARMERS' HARVESTS

DELIVERED TO YOUR HOME OR BUSINESS

SLO ROASTED CHICKEN

4 teaspoons sea salt

2 teaspoons smoked paprika

1 teaspoon dried minced onion

1 teaspoon dried thyme

¼ - ½ teaspoon cayenne pepper

fresh ground pepper to taste

½ teaspoon garlic powder

1 onion, halved

1 lemon, halved

2 whole chickens (aprox. 4lbs each)

Fresh Picked & Locally Grown

Pesticide Free Produce

Weekly or Bi-weekly Delivery

No Contract Required

1. Remove giblets and neck from chickens and rinse cavity.

2. In a small bowl, mix together herbs and spices.

3. Rub each chicken inside and out with spice mixture.

4. Place half of an onion and half of a lemon into the cavity of each chicken.

5. Refrigerate overnight.

6. Preheat oven to 250 degrees.

7. Place chickens side-by-side in roasting pan and bake uncovered for 5 hours

to a minimum internal temperature of 180 degrees.

8. Let the chickens rest for 10 minutes before carving.

*try this!

Save the left over carcass from your

chicken to make a delicious broth.

Simply place bones in a large pot or

dutch oven with an onion, carrot,

celery stalk, bay leaf, garlic clove,

tablespoon of apple cider vinegar,

sea salt, fresh ground pepper and

enough water to cover (aprox. 8

cups). Simmer for about an hour

and strain. Once cooled, refrigerate

or freeze broth for later use.

Have a recipe to share? Go to slolifemagazine.com to tell us about it.

SLO LIFE

SERVING

San Luis Obispo | Avila | Los Osos

Five Cities | Nipomo

sloveg.com

805.709.2780

SLO LIFE Magazine oct/nov 2012 | 49
---
| AFTER HOURS

mike roberts

PHOTO BY KATIE OSEKOWSKY

A little more than two years ago, local photographer and videographer Mike Roberts was invited to video something that he was told would

"blow his mind." He set up his equipment and waited until a pack of longboarders came whizzing by at about 35-miles-per-hour. Wearing

special gloves made of leather and hard plastic they dragged their hands on the ground while negotiating a turn ahead. The video turned out so

well that the company, who had sponsored one of the riders, sent Roberts a board of his own. A few weeks later he mustered the courage to try

it himself and has been hooked ever since. In this photo Roberts is somewhere in the Huasna Valley. Asked what he was thinking about, he says

"That's what I love about it. Everything leaves my mind and I am just totally in the flow. All of my attention is pulled to staying on the board;

my mind is completely clear of anything else." In light of the exploding popularity of downhill skateboarding in recent years, the International

Gravity Sports Association (IGSA) strongly encourages safe practices, such as wearing full gear and a helmet and using spotters. Roberts, who

has had his share of injuries and near misses, says he will not even skate to his neighborhood market without wearing a helmet. SLO LIFE

50 | SLO LIFE Magazine oct/nov 2012

What do you do after work? Tell us about it at slolifemagazine.com
---
SCENIC LANDSCAPE and DESIGN

design / build / maintain

At R&R Dental Care we offer

several options to get your

smile looking its best including

1 hour whitening,

and no shots, no drills

Veneers.

Artist renderings for preliminary approvals • Plans

Installation • Project Management

Maintenance Program • Redesign existing landscapes

Public risk analysis related to landscape in public areas

Native plant/drought tolerant installations

Instructive signage • Consultation • Onsite public relations

Now offering extended evening and weekend

hours. Please call for more information.

878 Boysen Avenue

San Luis Obispo

(805) 544-9440

www.rrdentalcare.com

805.459.5001 • info@scenicld.com

CA License #907167

WBE & SBE Certified

Gardens of Avila Restaurant

at Sycamore Mineral Springs Resort

FARM | TO TABLE | CUISINE

Locally Inspired. Seasonal Ingredients.

New Menu by Chef Robert Trester

Dine with us:

Open Daily | Serving Breakfast, Lunch and Dinner

Alfresco Dining on our Patio • Romantic Dining Room

VIP Dining Packages • Bar and Lounge

Private Events from 10-100 Guests

Gift Cards available to redeem Resort Wide all year long

www.sycamoresprings.com | 805-595-7302

1215 Avila Beach Drive | San Luis Obispo

SLO LIFE Magazine oct/nov 2012 | 51
---
HappiestCi t yi ntheUSA

| COMMUNITY CALENDAR

C A L I F O R N I A

San Luis Obispo Gift Baskets

805•544•4449

1027 B Marsh Street, San Luis Obispo

Plein Air Festival

Oct 1 - 7

San Luis Obispo County

sloma.org

The nation's top plein air artists are selected to venture outdoors to paint the unspoiled landscapes,

seascapes and cityscapes of San Luis Obispo County. Come discover the talent and techniques behind

this exciting art phenomenon called plein air. Watch over the shoulder of a world-class artist while

a painting comes to life before your eyes. Wander the lovely backroads and find artists capturing a

scenic vista on canvas. Share the anticipation of being the first to view the juried exhibition on Friday

night. Experience the excitement of the Quick Draw on Saturday morning when the artists have two

hours to create a painting in the downtown area near the Museum of Art. Watch live auction of the

Quick Draw painting in the Mission Plaza amphitheater Saturday afternoon.

scanning • digital restoration • in-house printing

photo finishing • darkroom supplies • passport photos

805 543-4025 • photoshopslo.com

Passport to the Arts

October 6

Downtown San Luis Obispo

Presenting the best

in professional

entertainment at the

Performing Arts Center!

WWW.CALPOLYARTS.ORG

The Central Coast Center for Arts Education at Cal Poly, the San Luis Obispo Museum of Art and

ARTS Obispo (the San Luis Obispo County Arts Council) have joined forces to entice families to

come downtown to experience the arts for free throughout the city center. Beginning at the Museum

of Art at the Mission Plaza families will receive a passport in which children can get the signatures

or stamps of performers at several sites, as well as a reusable bag of information about upcoming arts

events, lessons and performance information for the year.

The Best Man

October 12 – November 4

SLO Little Theatre

slolittletheatre.org

The Best Man puts you in the front row of one of

the most heated, vicious presidential campaigns ever

imagined. William Russell, is a wit and scholar with

high liberal principles. Joseph Cantwell is a ruthless and

hard-driving young man, a dirty fighter who will let no

scruples stand in the way of his ambitions. On the eve of

the convention, Cantwell got ahold of papers indicating

that his rival once suffered from a mental breakdown,

which he cannot wait to use in order to destroy his

opponent. This Tony Award-winning play set the bar

for all political thrillers. Don't miss it.

52 | SLO LIFE Magazine oct/nov 2012

SLO LIFE
---
Headquartered in SLO, Advantage Answering Plus offers live and

local telephone reception service for businesses large and small.

Having important business calls answered professionally around

the clock will:

Improve customer satisfaction

Increase operational efficiency

Capture additional business opportunities

Reduce business costs

Let's talk about how we

can make a positive difference

in your business, today.

To learn more, go to

advantage-plus.com

or call us at

805.545.8282

SLO LIFE Magazine oct/nov 2012 | 53
---
| COMMUNITY CALENDAR

Hot Shaves • Cold Beer • ESPN • Quality Service

Monday - Saturday 10am-6pm • Sunday 11am-4pm

1351 Monterey Street . San Luis Obispo

(805)783-2887 . clippersbarber.com

Bravo SLO!

October 21

10:00am – 4:00pm

Christopher Cohan Center

pacslo.org

Back by popular demand, the Performing Arts Center is offering a preview of its upcoming season

at BravoSLO, a free performing arts showcase. In addition to enjoying instrumental and choral

ensembles, dance groups, film shorts, and the Forbes Pipe Organ, attendees will be eligible to

win from a fantastic assortment of door prizes and receive complimentary coffee and pastries.

BravoSLO is a fantastic, free community arts event that has something for everyone.

Mud Mash

October 27 – 28

Laguna Lake

mudmash.com

Dog Training • Premium Daycare • Boarding • Grooming

FIRST DAY OF DAYCARE FREE!

173 Buckley Road • San Luis Obispo

(805) 596-0112

thousandhillspetresort.com

Shalimar

iNDiaN rESTaUraNT

Lunch Buffet

Mon - Sat 11:30am - 3:00pm $8.99

Monday Dinner Buffet

5:00pm - 10:00pm $9.99

Sunday Brunch

$9.99

2115 Broad Street, SlO

805.781.0766 | shalimarslo.com

54 | SLO LIFE Magazine oct/nov 2012

Tougher than the tough ones, and more fun than the fun ones: the All Out Way! The Mud Mash

is a 5k and 10k mud run with dirty obstacles, wall climbs, lake scramble, hay bales, slip and slide

and, of course, a huge, nasty mud pit. Not to mention some tough trails that will be even tougher

when you're wet and muddy! A portion of Mud Mash proceeds benefit SLO County's Special

Olympics who are dedicated to providing year-round sports training and athletic competition to

more than 2.25 million people with intellectual disabilities worldwide.

Cal Poly Symphony Fall Concert

November 18

3:00pm

Christopher Cohan Center

pacslo.org

The Cal Poly Symphony kicks off its season with music inspired by—and interpreted

through—visual art. The centerpiece of the concert features a collaboration with Sky Bergman,

an internationally exhibited and published photographer who serves as the chair of Cal Poly's

Art and Design Department. Bergman will re-interpret Modest Mussorgsky's "Pictures at an

Exhibition" with her own images of people and cultures across the globe. Mussorgsky's music itself

was inspired by illustrations by the composer's friend, Viktor Hartmann.

SLO LIFE
---
Is your Internet Marketing

putting customers to sleep?

Central Coast Web Services can help!

Website Maintenance • Email Marketing

Facebook Pages and Ads • Google Ads

Search Engine Optimization • Pinterest

Contact us today for your free website, facebook and email analysis!

Central Coast Web Services

805.602.2777

davek@centralcoastwebservices. com

for a good time

call 543-8600

Our Publisher, Tom Franciskovich, has a long track

record of helping companies just like yours achieve

their marketing objectives. Call him, he'll let you

know how we can help you. Plus, he's a lot of fun.

slolifemagazine.com/advertise

SLO LIFE Magazine oct/nov 2012 | 55
---
www.HomesofSLO.com

The Payne Team

Available for complete or fractional ownership.

www.AvilaLuxury.com

Our approach to real estate is about much more than property...

it's about people.

The Payne Team

Jed Damschroder

805-550-7960

Kate Hendrickson

805-801-1979

Gavin Payne

805-550-3918

Chris Engelskirger

805-235-2070

962 Mill Street, San Luis Obispo, California 93401

56 | SLO LIFE Magazine oct/nov 2012